Whether on the backyard, front porch, deck, or patio, you can make use of your home's outdoor space.
With the beauty of nature and ambient lighting, these areas make for the perfect gathering place.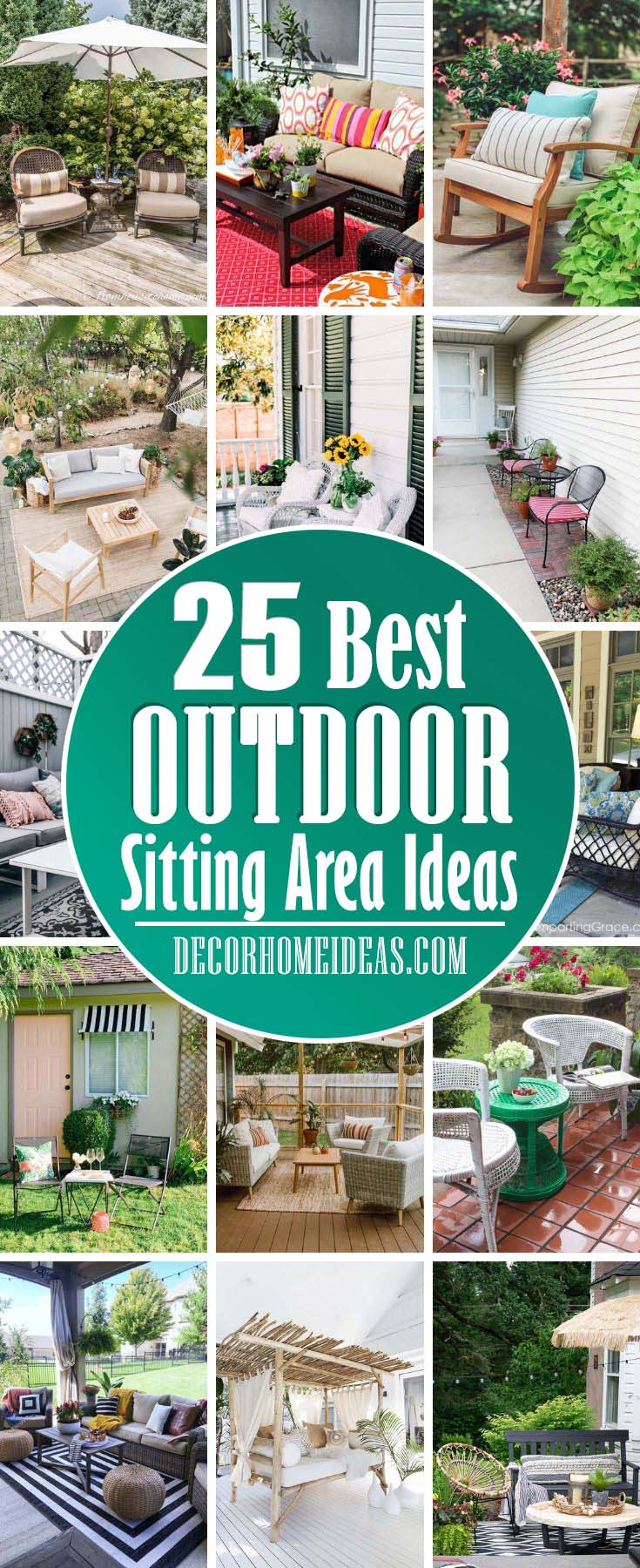 Check out these twenty-four inviting outdoor sitting area ideas for outdoor seating and find your next design project.
1. Create an Outdoor Oasis with an Ornate Bench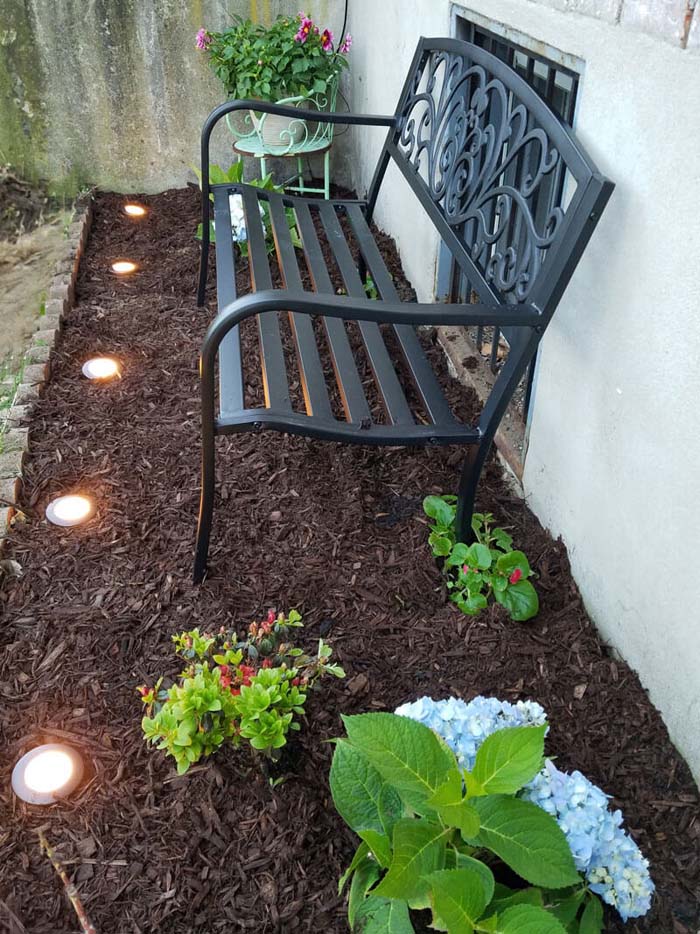 This idea uses an ornate bench to create a wonderful outdoor sitting area.
In a well-manicured area of the backyard, a simple, but ornate black bench is placed.
To help set the mood, round outdoor lights and pink flowers in vases are placed around the bench.
via Moms Crafters
2. Outdoor Gathering Space with Wooden Furniture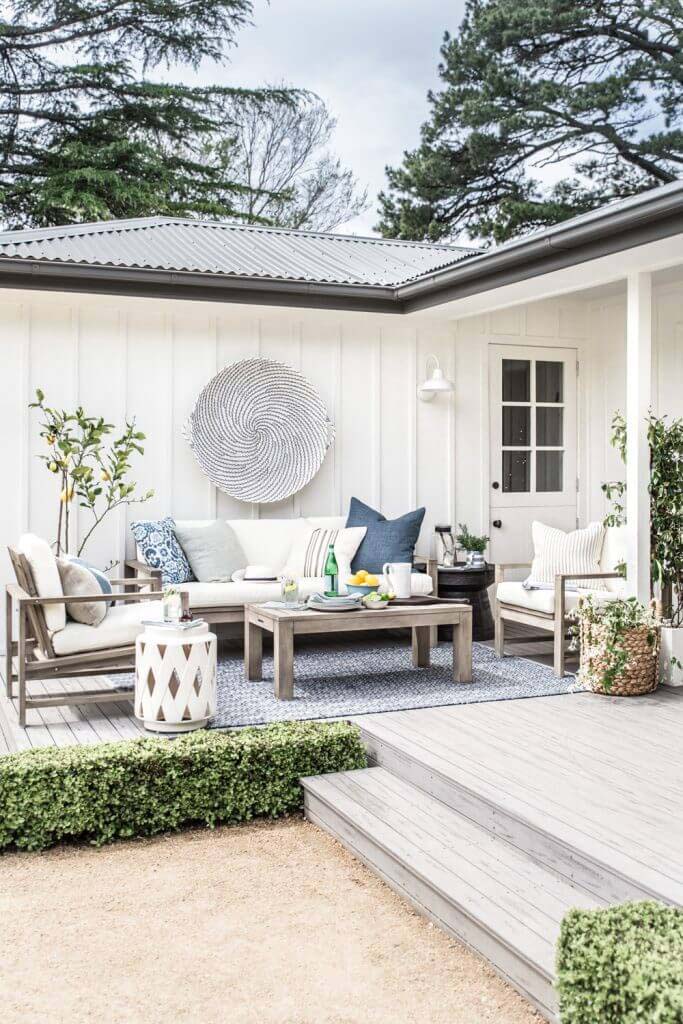 Creating an intentional outdoor gathering area, this design uses a set of lightly tanned wooden furniture.
Two oversized chairs and a couch, center around a coffee table atop a geometric blue rug. A lemon tree, blue pillows, and wicker wall art add detail to the look.
via Cotton Wood
3. Make an Outdoor Nook with a Sectional Sofa and Succulents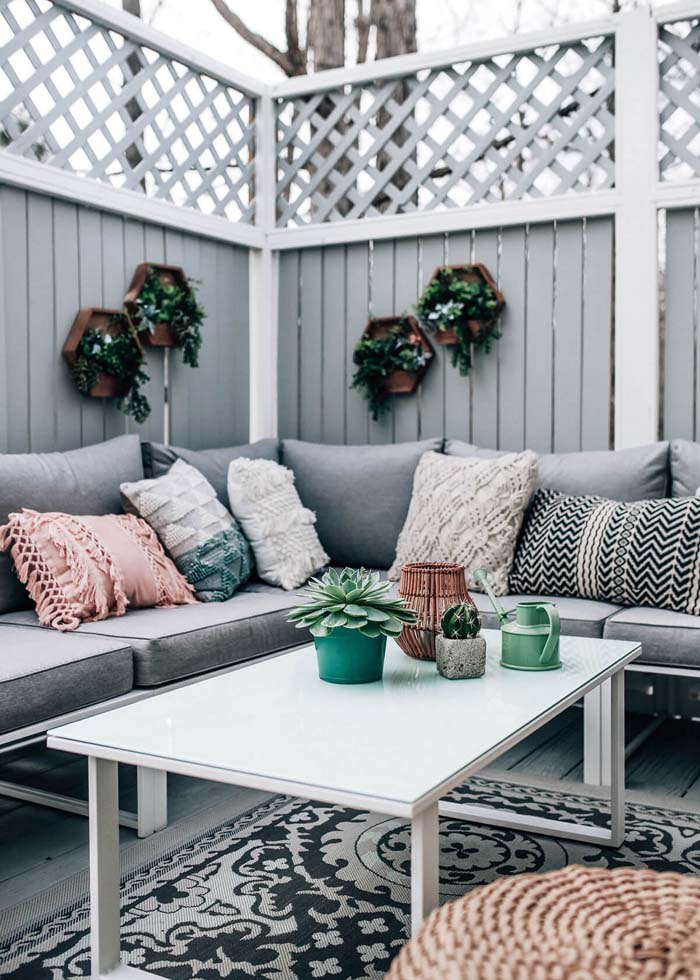 This outdoor sitting design builds an intimate nook in the backyard.
Set in front of high gray walls, a corner sectional couch rests around a white coffee table. Succulents and textured pillows add dimension to the area.
4. Modern Outdoor Space with Brown Wicker Furniture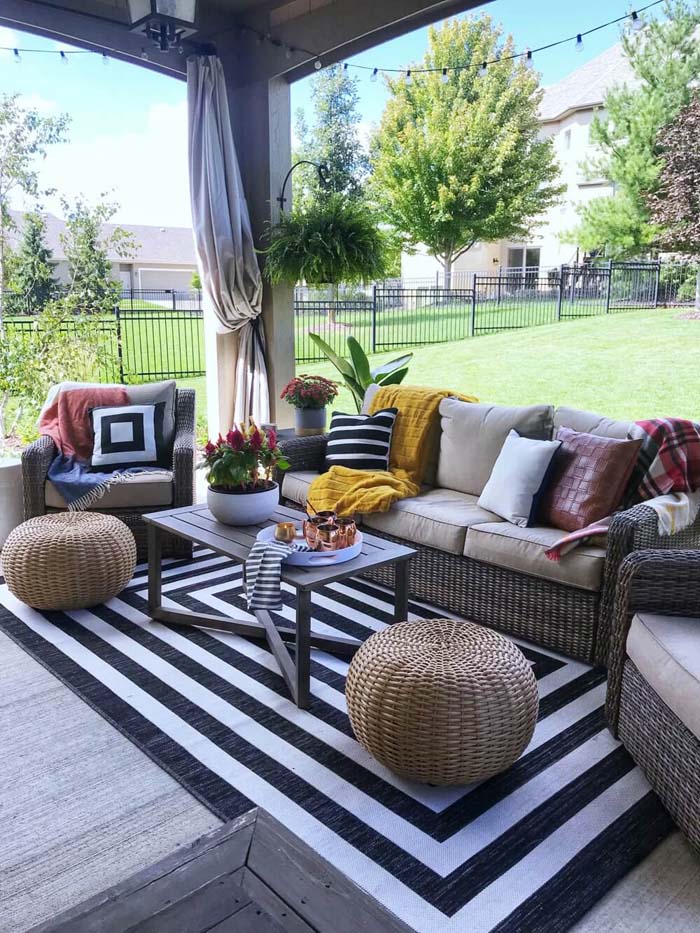 Transforming your deck into a lovely outdoor space, this design features brown wicker.
A couch, two chairs, and two wicker footrests are arranged around a simple wooden coffee table.
The look is very modern with its striped designs, hanging plants, and leather pillow.
via Life Love Larson
5. Enjoy Twilight Vibes with Wicker Furniture and Hanging Lights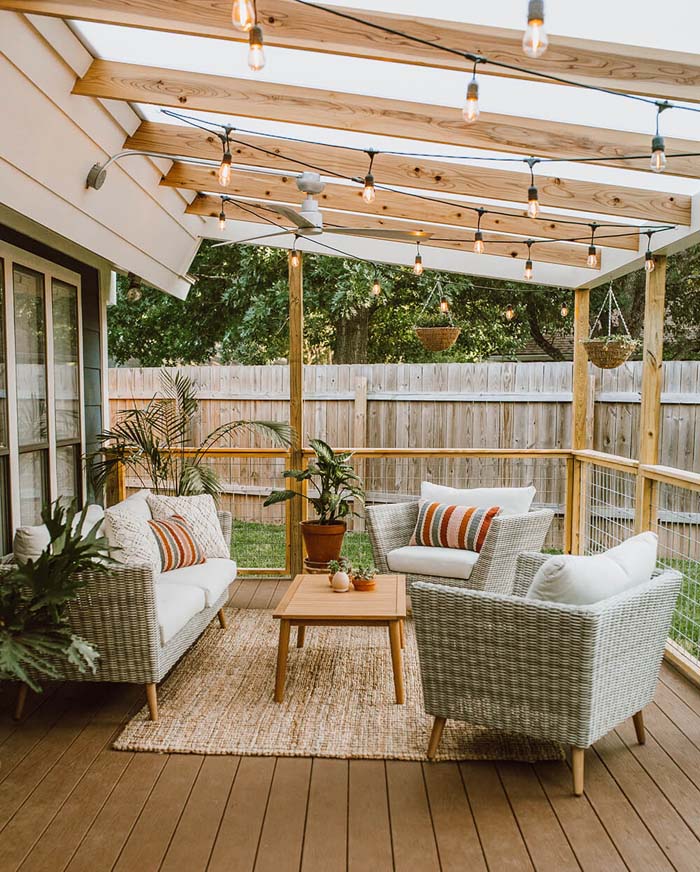 This outdoor seating arrangement is perfect for twilight entertainment.
A white wicker furniture set circles around a bamboo coffee table and a woven rug. Above the area, hanging bulbs are strung to add ambient lighting.
via Livvy Land
6. Outdoor Sitting Area Ideas with Blue and Turquoise Accents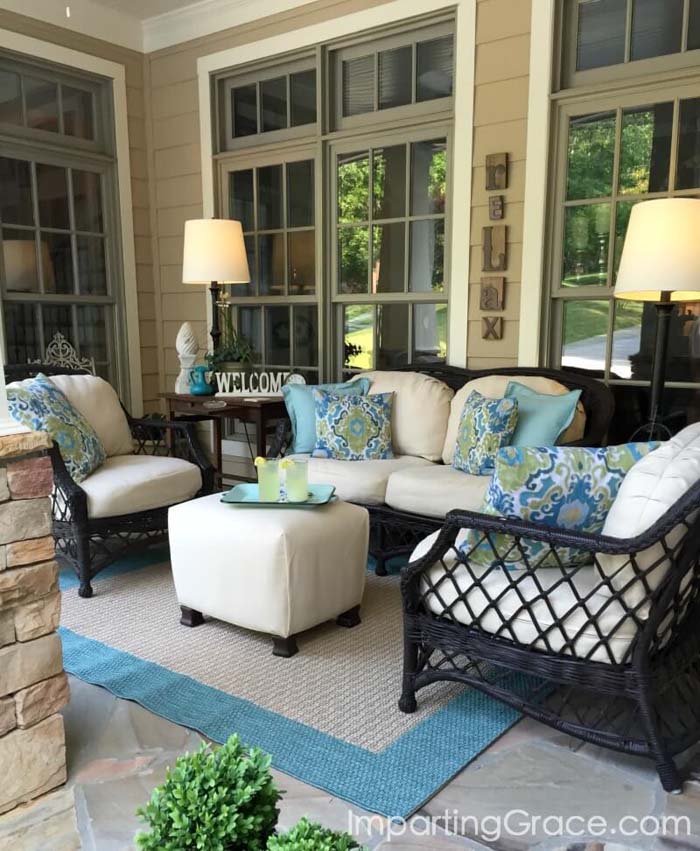 In a calming blue tone, this outdoor sitting design aims to relax.
With large white cushions and turquoise blue throw pillows, black furniture rests between two outdoor floor lamps.
A blue-trimmed woven rug is used to define the space meant for relaxation, as a nearby sign suggests.
via Imparting Grace
7. Romantic Outdoor Tea and Brunch Getaway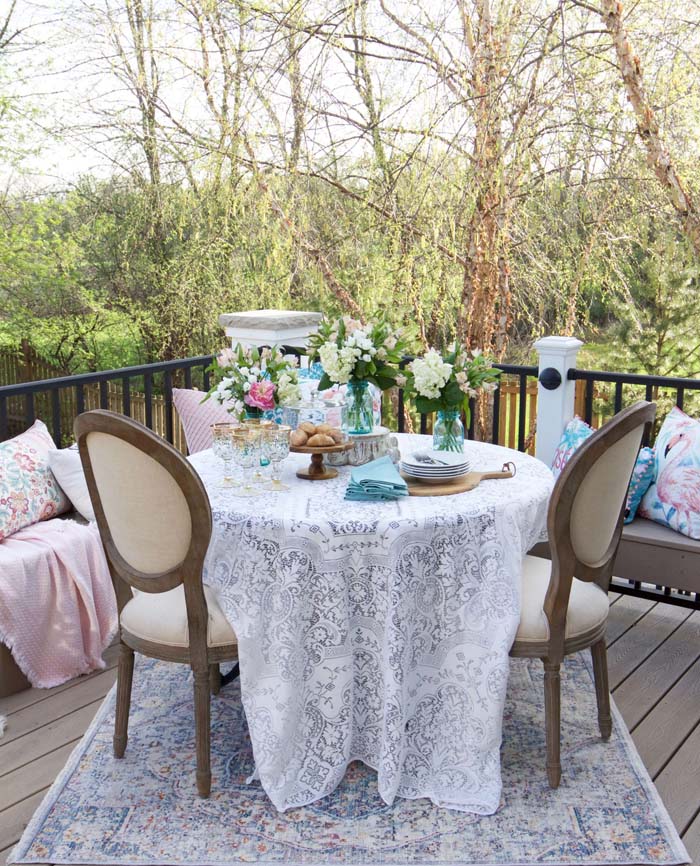 This outdoor design creates the perfect romantic location for tea, brunch, or any other intimate meal.
A lace table cloth hangs over a small round table with three ivory-padded wooden chairs. It is decorated with pastels and large floral blooms.
via Styled With Lace
8. Summer Oasis with Black Wicker Furniture and 70s Pillows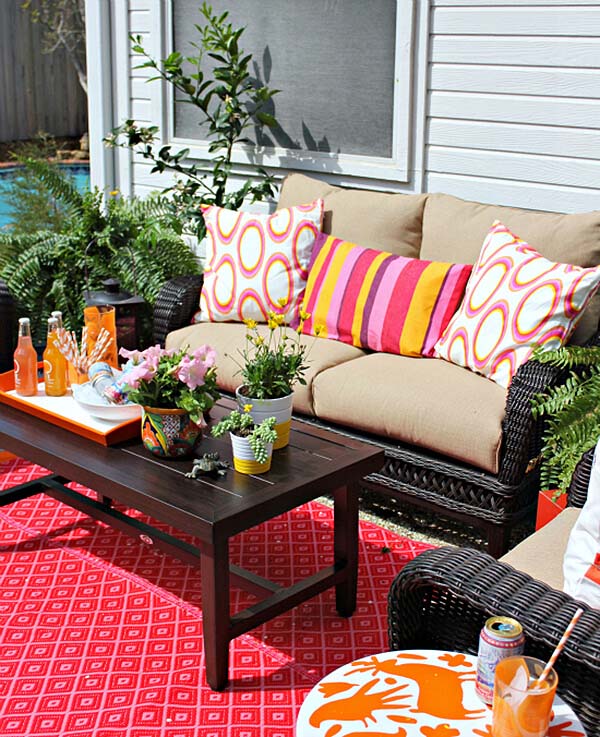 Creating a vibrant summer oasis, this outdoor look features pops of color atop black wicker furniture.
Around a black wooden coffee table, a love seat and chair are adorned with 70s inspired pillows colored in pinks and yellows.
The area is set on a bright red, geometric rug in a background of green ferns.
via Hi Sugraplum
9. Relax and Unwind in a Beach-Inspired Outdoor Sitting Area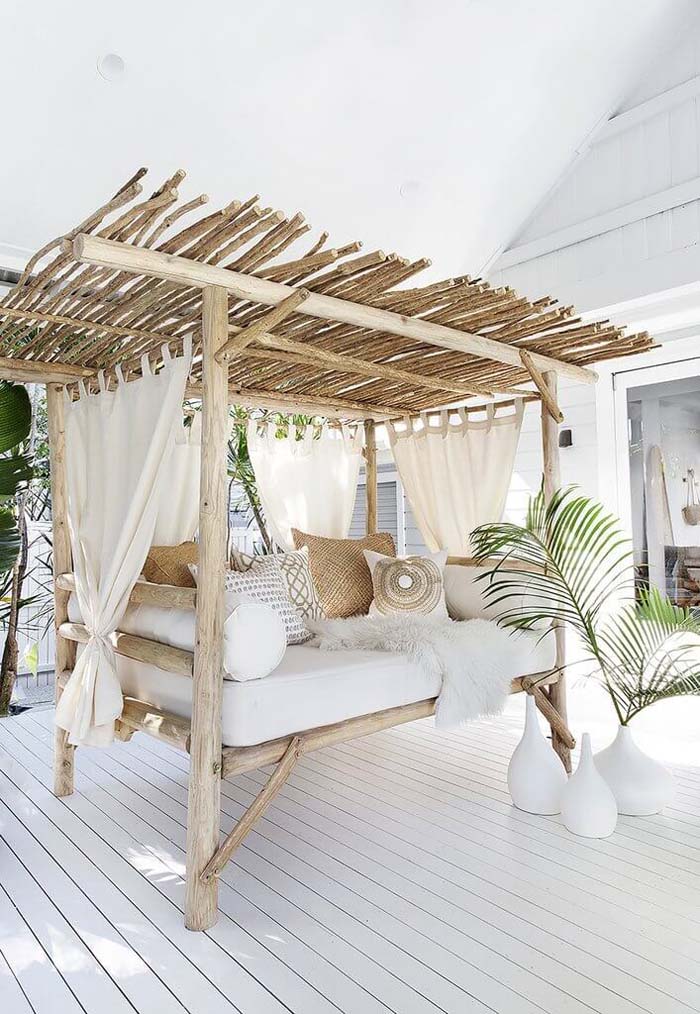 With a beach vibe, this outdoor sitting design gives you the ambiance of ocean air and simplistic times.
A wooden daybed rests on a white-painted porch. The daybed itself features a thatched roof and four white linen curtains that provide shade and privacy.
With woven, designed, and white pillows the daybed is made to comfort.
10. Enjoy Sunset from the Rustic Porch Retreat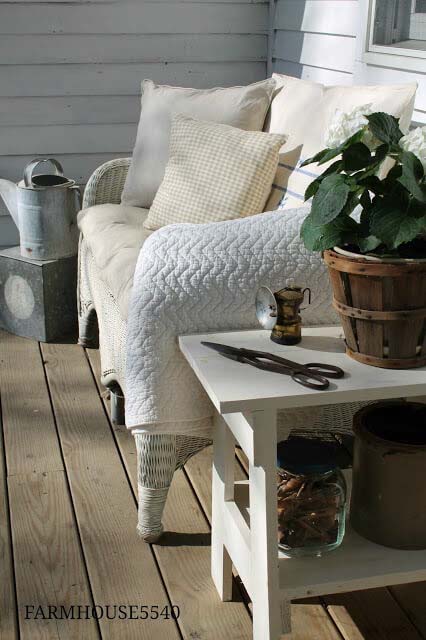 A relaxing retreat, this sitting idea is perfect to watch the sunset.
A white wicker love seat is placed on the porch with a small white wooden side table.
The farmhouse look is tapped into with a nearby metal watering can and bucket-style planters.
via Farmhouse 5540
11. Enjoy the Comfort of an Outdoor Seating Arrangement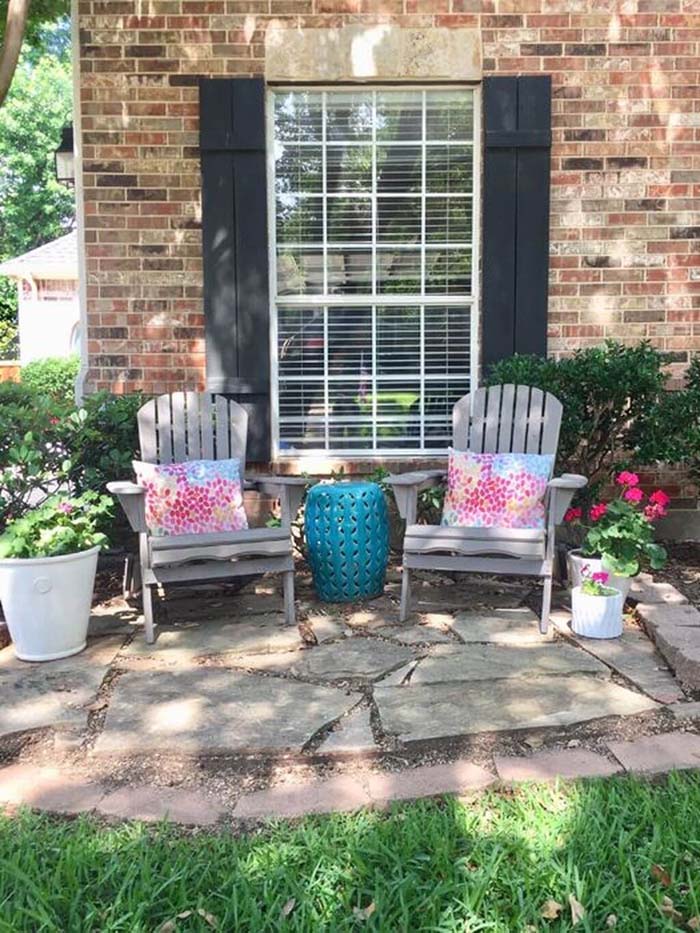 Simple, but intentional, this backyard seating arrangement provides space to take it all in.
Two gray Adirondack chairs are nestled together on a stone path in the backyard. The pink and blue pillows are offset by a nearby blue metal side table and pink roses.
via Stacy Savings
12. Upgrade Your Patio with a Inviting Sitting Area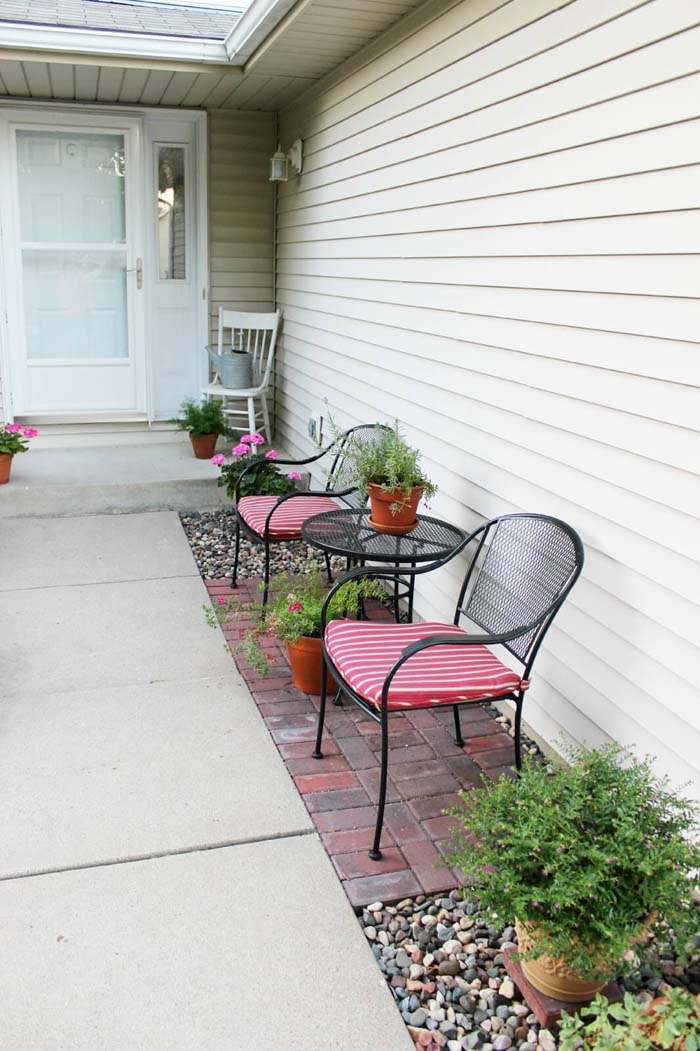 This fun idea rethinks and up-cycles your patio entranceway into an unobtrusive sitting area.
Two metal chairs with red and white striped cushions sit atop a brick area on the side of the walkway. In between rests a black metal side table, supporting potted plants.
via Happy at Home
13. Serene Outdoor Sitting Area with Ambient Lighting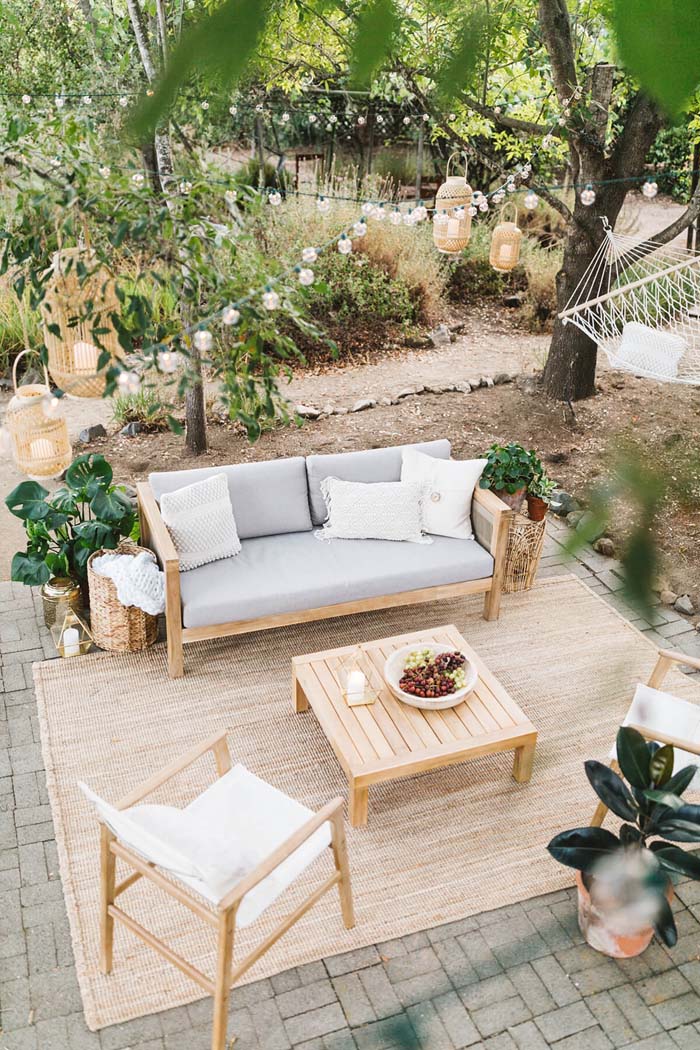 In calming neutral tones and ambient lighting, this outdoor seating design creates a wonderful gathering area.
Centered around a woven tan area rug and a square wooden coffee table, two chairs, and a couch covered in slate cushioning are arranged. String bulb lights hanging from the trees above.
via Hannah Westby
14. Outdoor Retreat with Zen-Inspired Minimalist Design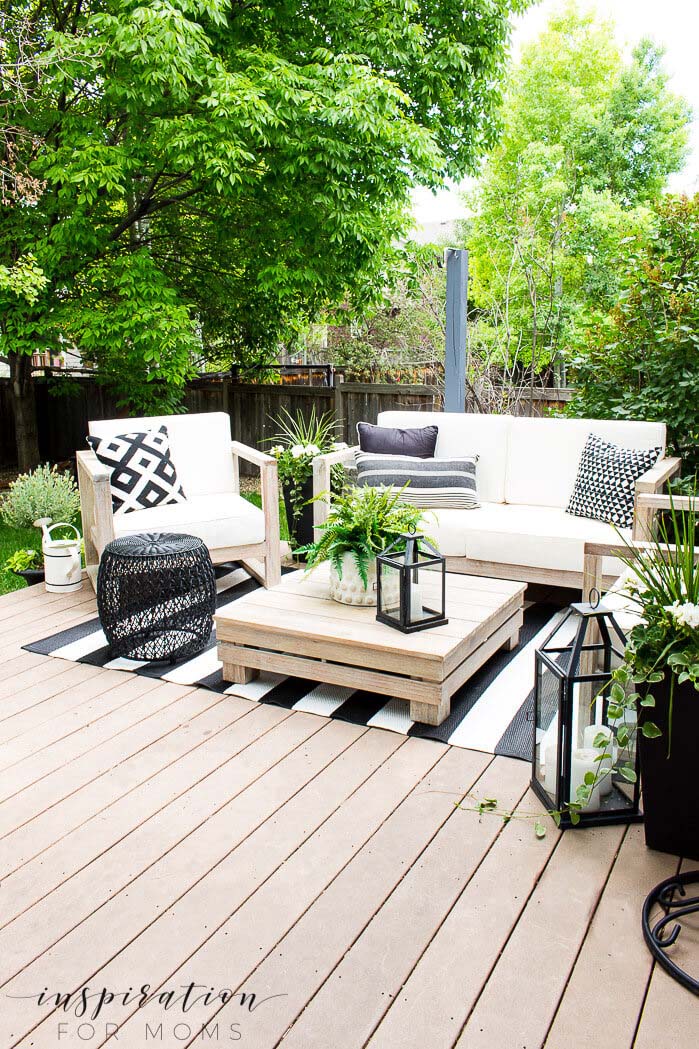 With a zen, minimalist design, this outdoor arrangement gives you the perfect space to connect with yourself and nature.
Centered around black and white geometrical designs, a simple set of light wooden furniture is placed. Large black lanterns and lush green nature make this look.
15. Outdoor Porch Space with a Wicker Sectional and Chandelier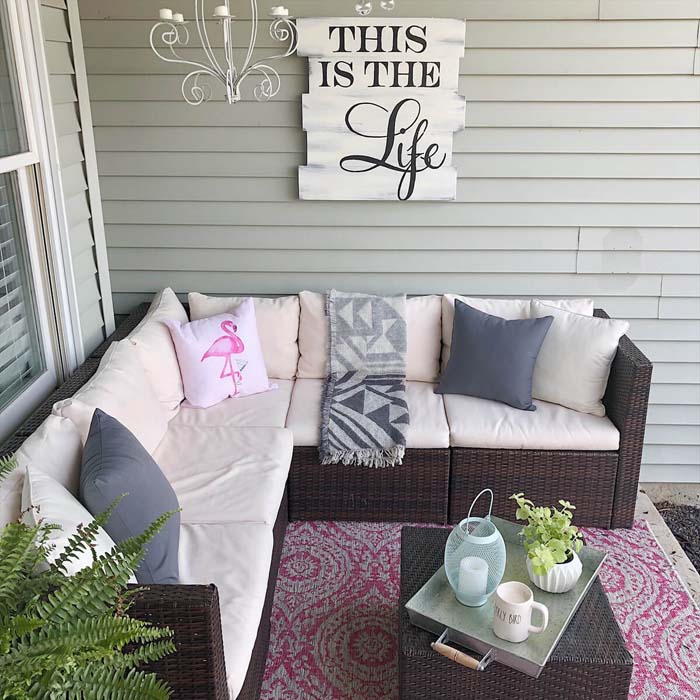 This outdoor design uses a small corner of your front porch to create a cozy gathering place.
A brown wicker sectional couch rests on a pink geometric area rug. The look is elevated with a white metal chandelier adorned with tea lights.
16. Inviting Gathering Place with a Fire Pit and Pea Gravel Patio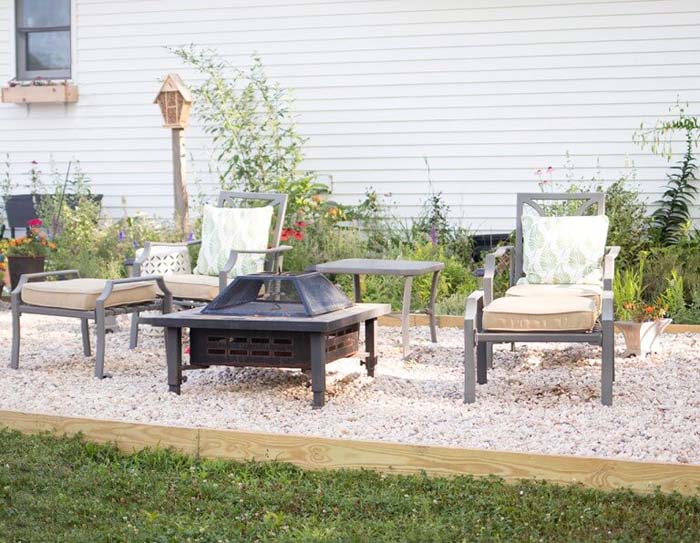 Giving your backyard the perfect patio, this idea establishes an outdoor gathering place with pea gravel.
In a sectioned part of the backyard, two metal gray chairs with footrests lay around a floating brick fire pit. A tall birdhouse on a post adds an element of whimsy to this look.
via Gina Michele
17. Two-Person Porch Hangout with Chair Swings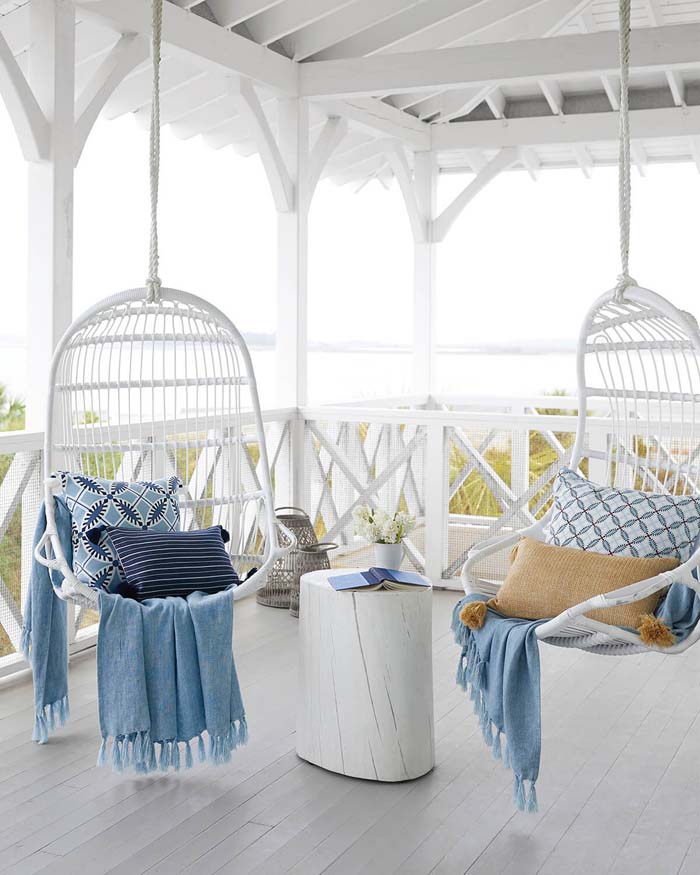 Using a small space on the porch, this design makes for the perfect reading and gathering place for you and another.
Two white wicker chair swings hang from the roof of the porch. A white wooden block is used as a shared side table.
The chair swings are decorated with blue pillows and a soft blue blanket with tassels.
via Serena and Lily
18. Enjoy Nature with an Oversized Rocking Chair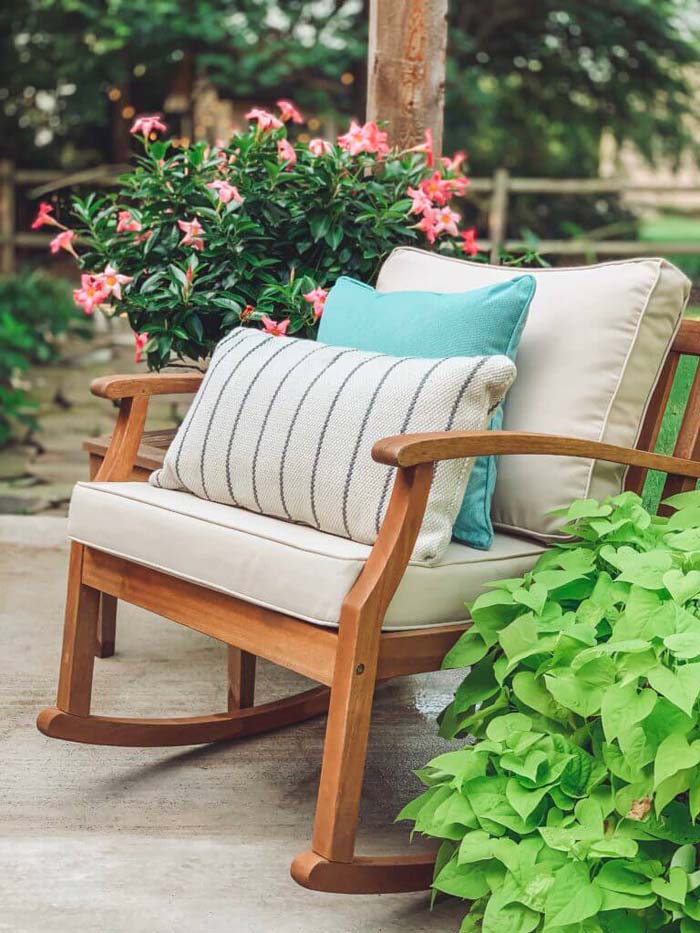 This outdoor seating idea uses a simple rocking chair to create a space for people to gather.
An oversized rocking chair with a low back has potted plants and flowers on either side. Three pillows are used to add the most comfort possible.
via Cotton Stem
19. Porch Design Idea with Sunflowers and Wicker Furniture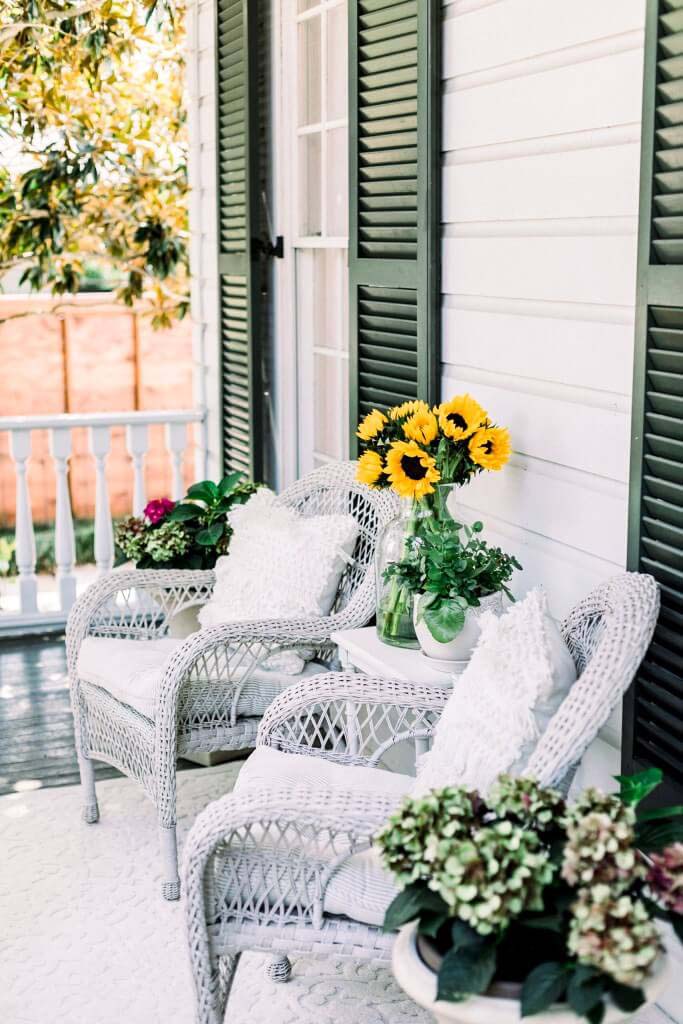 With a simple ambiance, this porch design idea gives everyone an inviting place to gather and watch the day unfold.
Centered around a vase of sunflowers, two white wicker chairs face away from the house. Textured white pillows add a sense of levity and comfort.
via Kinsey Walsh
20. Modern Minimalist Outdoor Design for Two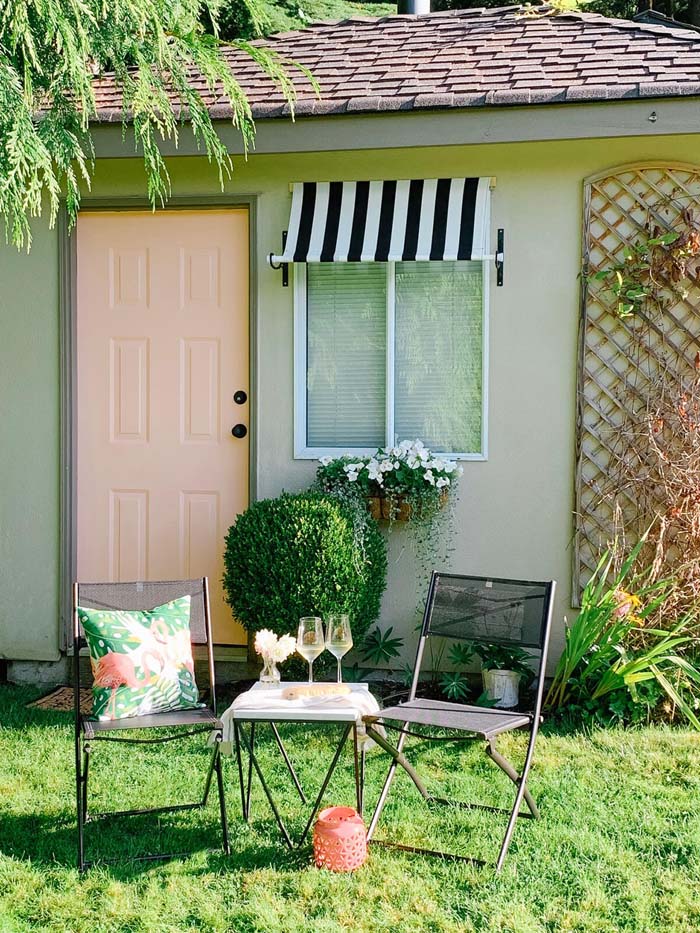 Using a minimalist and modern approach, this outdoor design makes a cozy gathering spot for two.
In the backyard, two metal folding chairs are laid next to a small marble-topped table. The look is made with a decorative flamingo throw pillow and a salmon-colored candle holder.
21. Outdoor Seating with Surrounding Floral Accents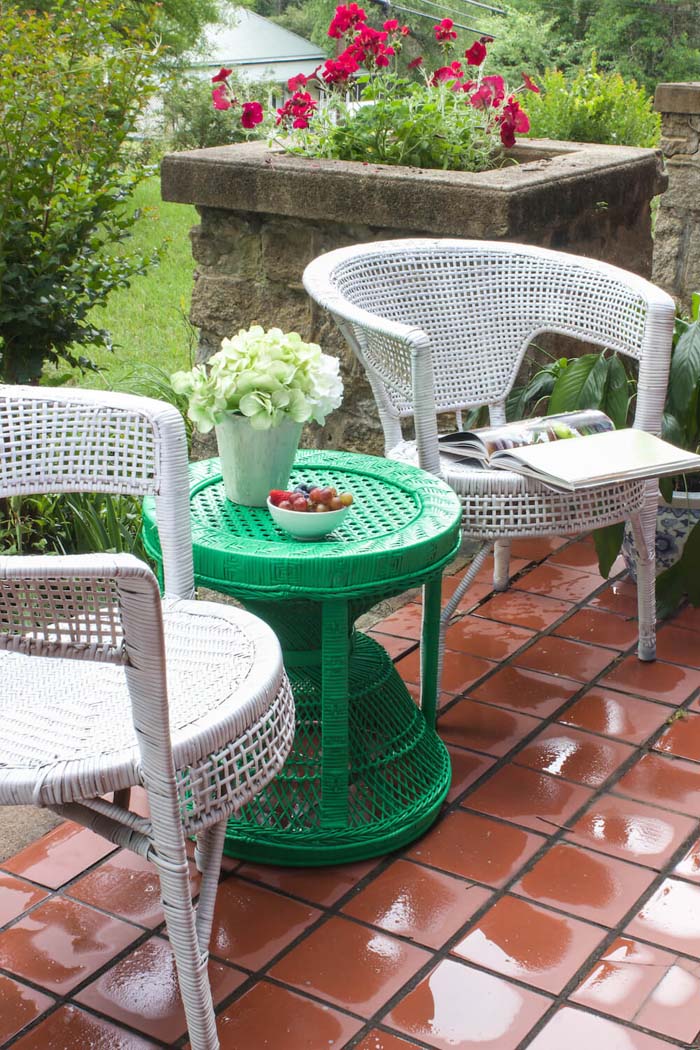 This seating arrangement uses surrounding flowers to invite people to stay and gather outdoors.
Two white wicker chairs rest next to a green wicker side table atop a tiled area of the backyard. Flowers, bushes, and potted plants can be found everywhere in this look.
via Delightsome Life
22. Fire Pit Gathering Spot with Comfy Seating and Serving Tray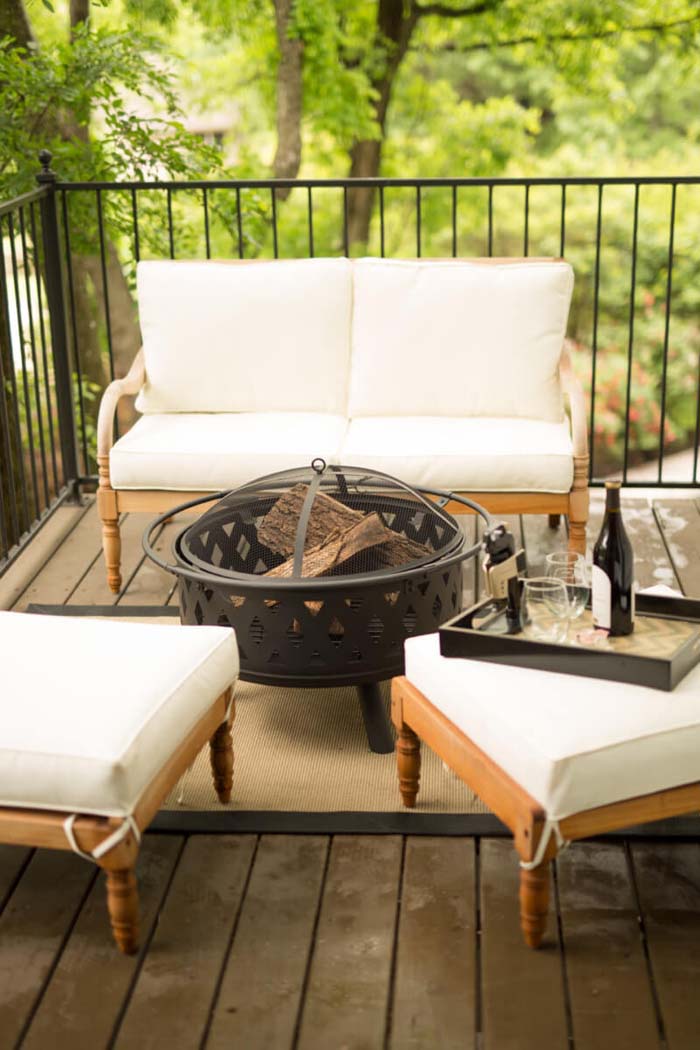 With the warmth of a fire pit, this outdoor design creates the perfect chilly evening gathering place.
A finely crafted love seat with two footrests is arranged around a metal fire pit that sits on a small area rug.
A serving tray can be used to add simple elegance and utility to the space.
23. Enjoy Shade with an Elephant Umbrella and Wicker Chairs Set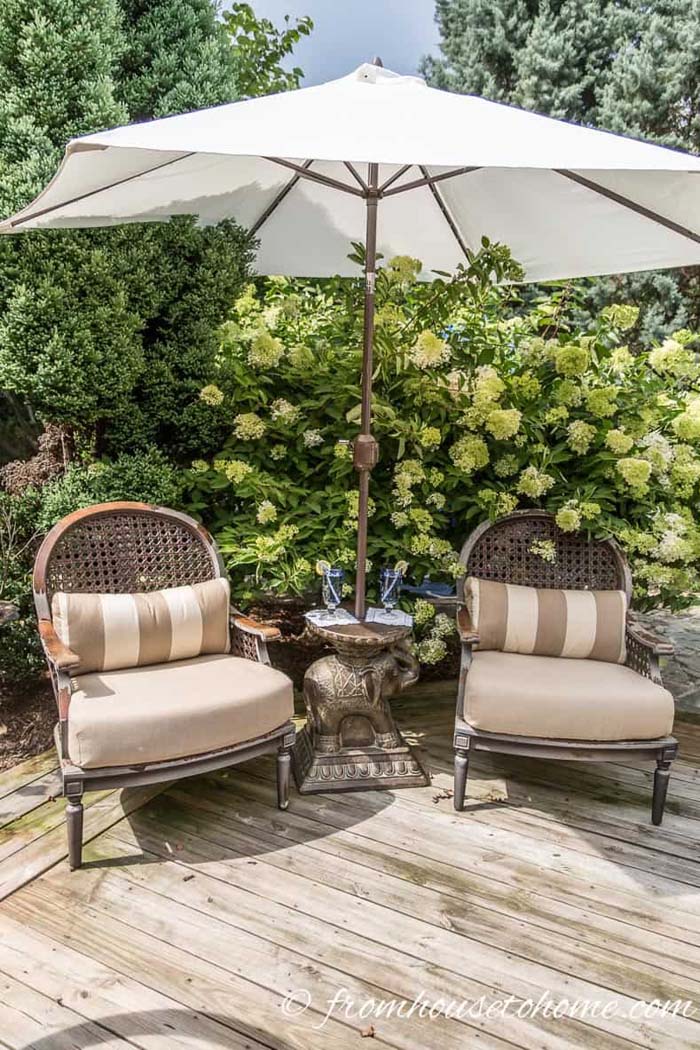 This outdoor gathering place is made cool with a large overhead canvas umbrella.
Two brown wicker chairs nestled around a metal elephant umbrella base and side table.
24. Relax in a Bohemian-Inspired Outdoor Space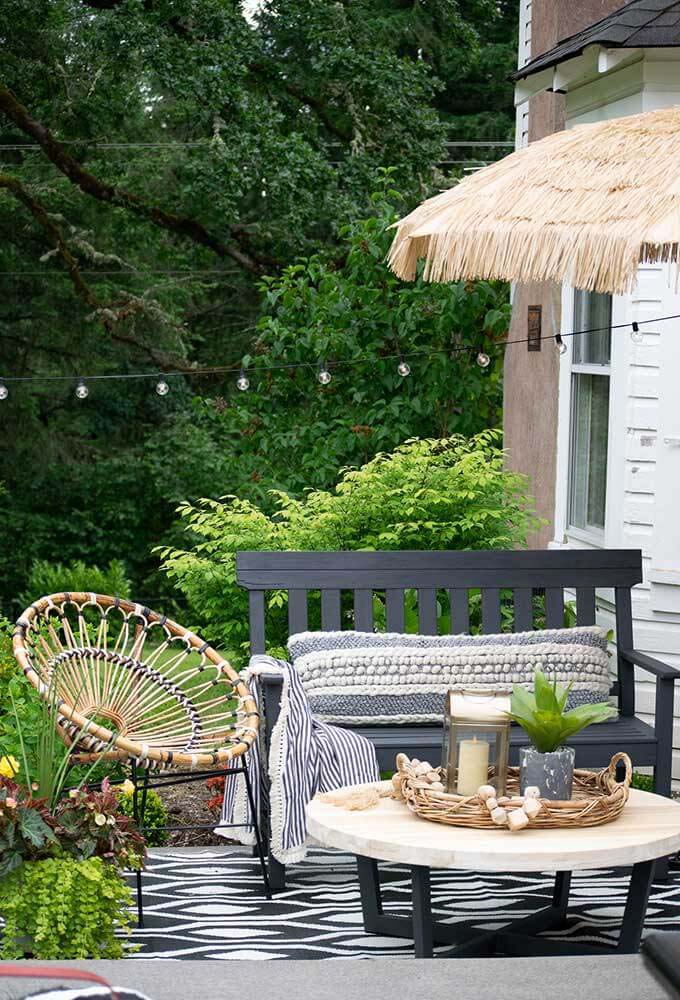 With bohemian vibes, this outdoor space creates a relaxing gathering place for all.
A low circular coffee table centers around a woven chair and black wooden bench, covering with a textured body pillow.
via Hallstrom Home