The main entrance to the house must be welcoming and appealing for guests to come in. Making the porch more hospitable is an easy task if you use particular decoration elements.
The most important decoration of the porch is the planters. Plants look fascinating in large containers, positioned on both sides of the front door.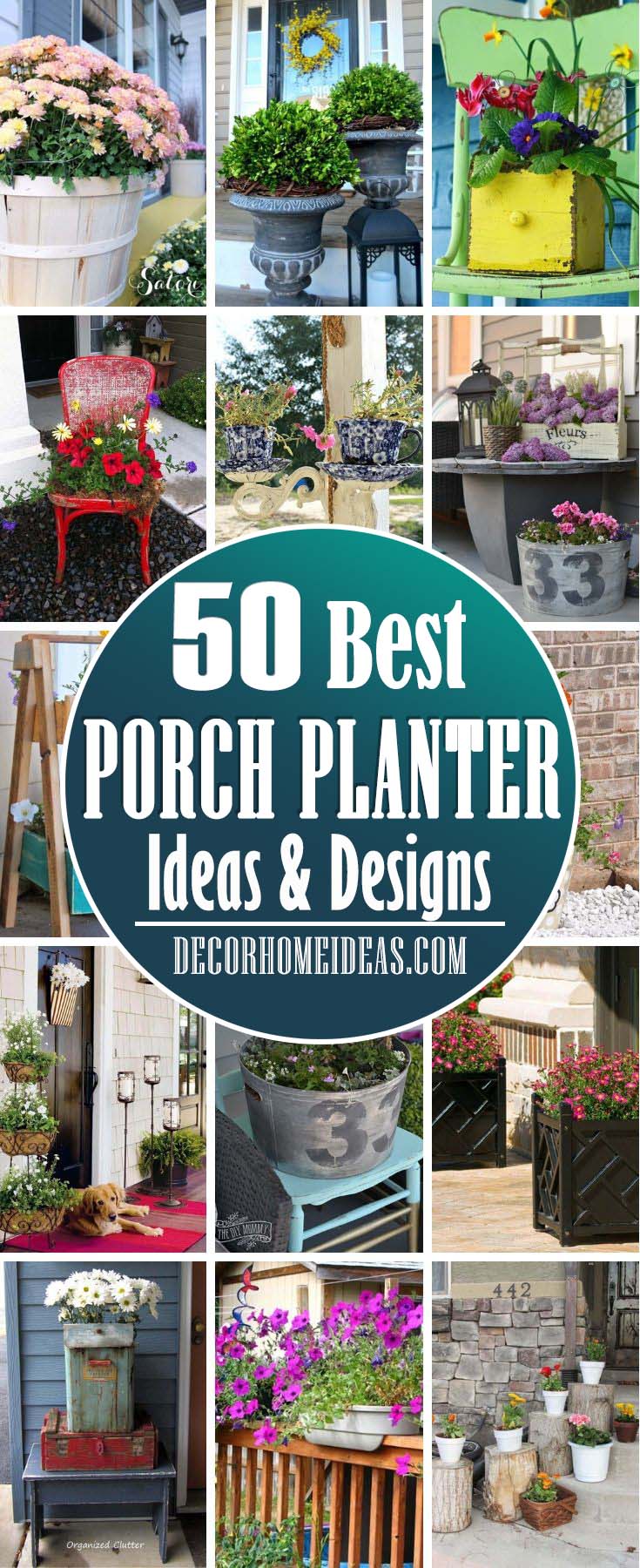 They could also become an impressive live element when many small flower pots are arranged along the porch perimeter.
Knowing how important the porch is as being the mirror of our interior and housekeeping abilities, we have gathered for your the best porch planter ideas and designs for this year that will increase the beauty and welcome value of your home.
1. Barrel Planter with Petunias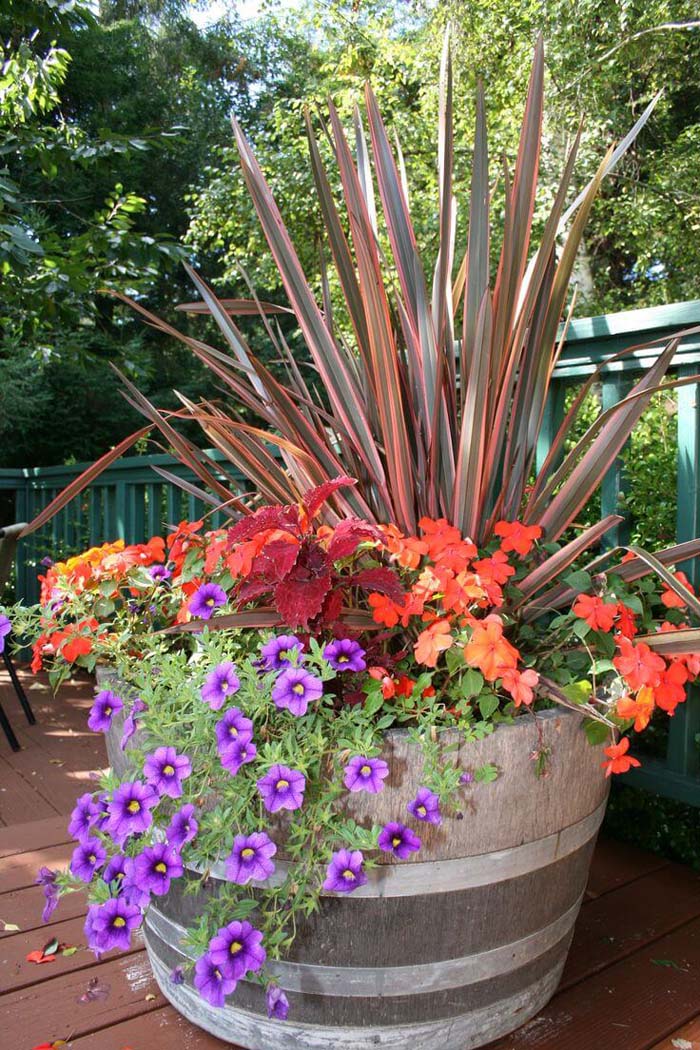 The barrels are very large and beautiful. You can take advantage of these properties and turn them into your porch focal point. The wide diameter allows a combination of many plants.
2. Barrel Planters with Chalkboard Sign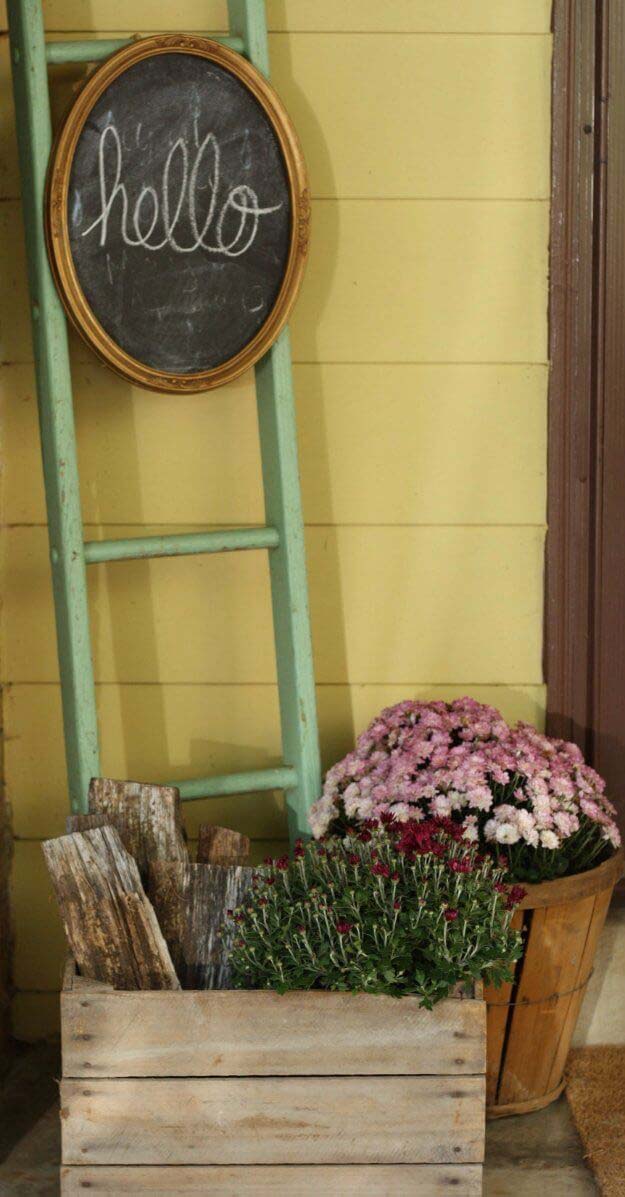 Repurpose a crate and a barrel into flower planters and combine them with a welcome sign. The set is inspired by farmhouse living and will naturally increase the welcome level.
3. Concrete Planters with Blooming Tulips and Pansies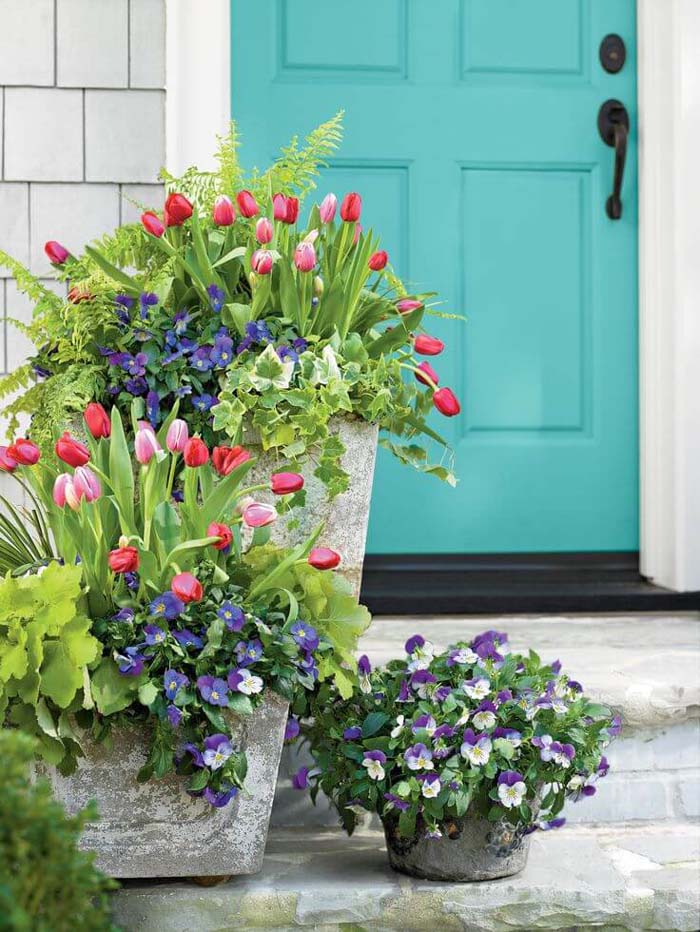 Concrete decorative items are very trendy these days. The concrete planters easily match every décor and give it a contemporary appeal.
via Southern Living
4. DIY Hanging Rain Gutter Planters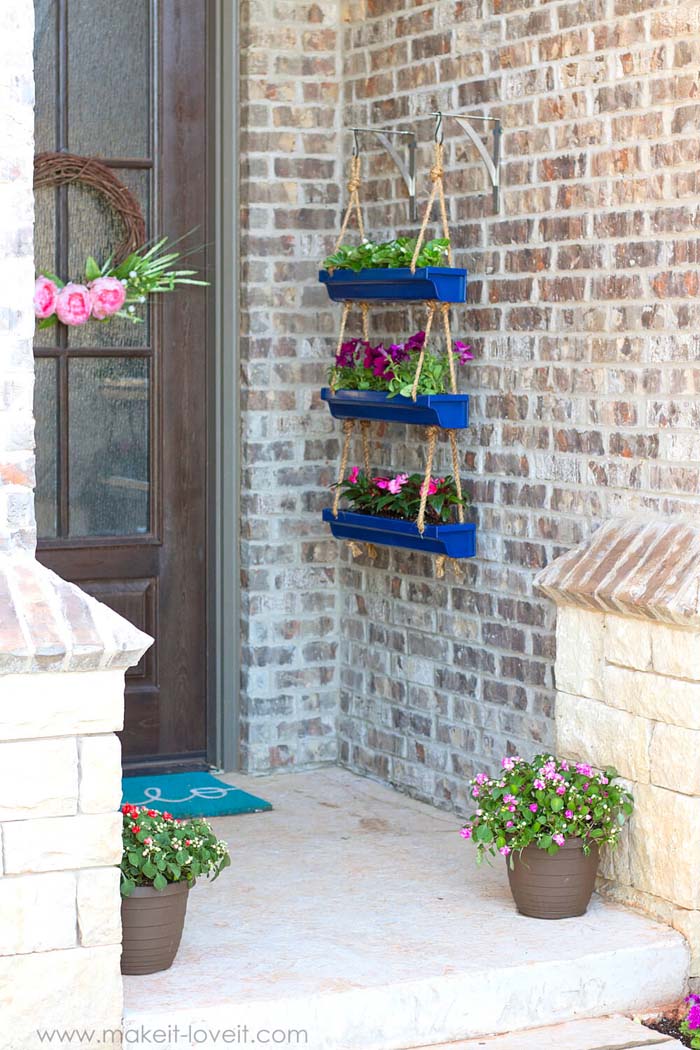 Even when the porch is small, there is a way to increase its beauty with planters. Use vertical ones to utilize cleverly the space. Tiered rain gutters hung on the wall are a remarkable porch summer decoration.
via Make It Love It
5. DIY Planter Tutorial

If you are keen on DIYs, these wooden planters will become part of your list of weekend projects. They are tall, rustic and remarkable which easily promotes their must-be-on-the-porch state.
via Cherished Bliss
6. Flowers in a Barrel and Watering Cans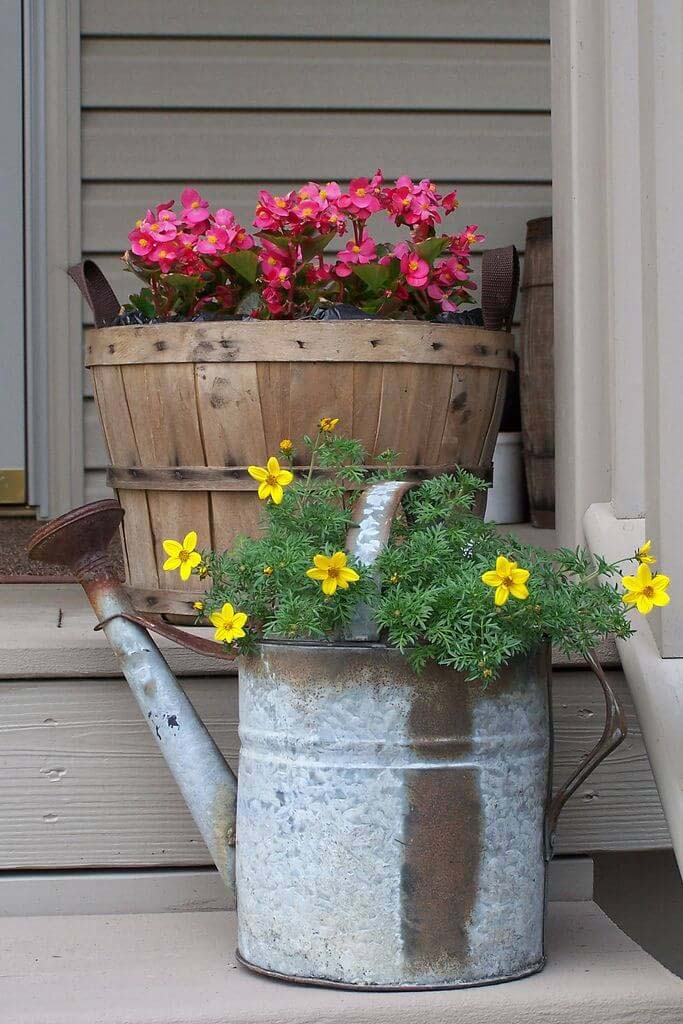 If you are looking for suitable planters for your country house or if you prefer farmhouse-inspired decorations, look for old barrels and galvanized cans at the thrift shops.
via Arlene Brenneman
7. Front Porch Planters With Hydrangeas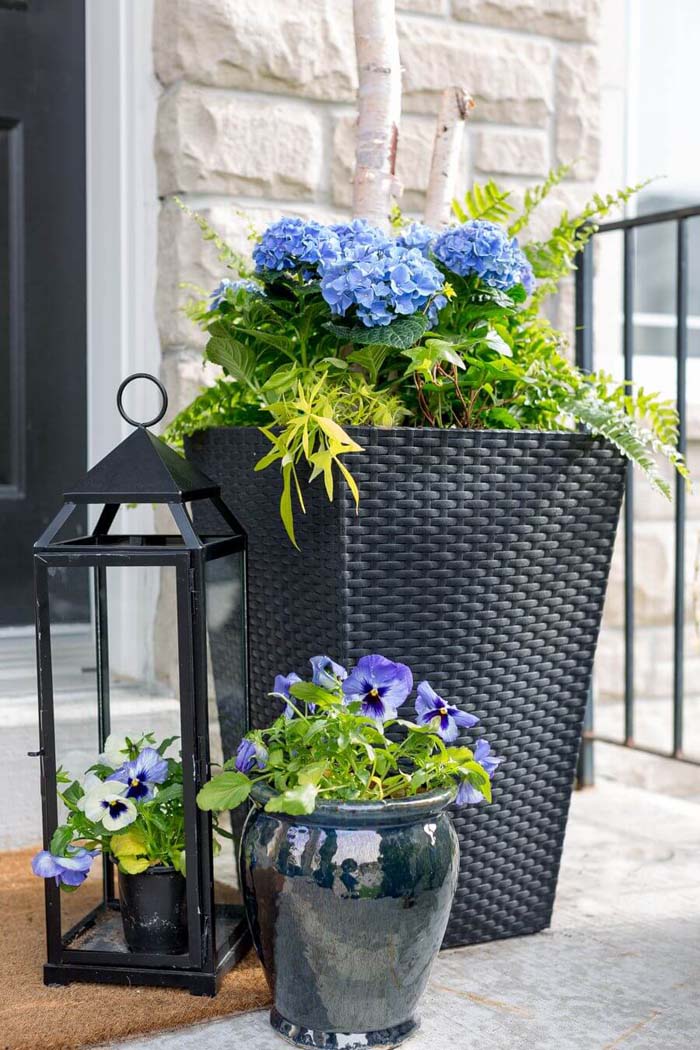 If your porch is sunny, plant hydrangeas in your planters. They are a symbol of summer and are very outstanding because of their rich tufts.
via Craft Berry Bush
8. Front Porch Welcome Post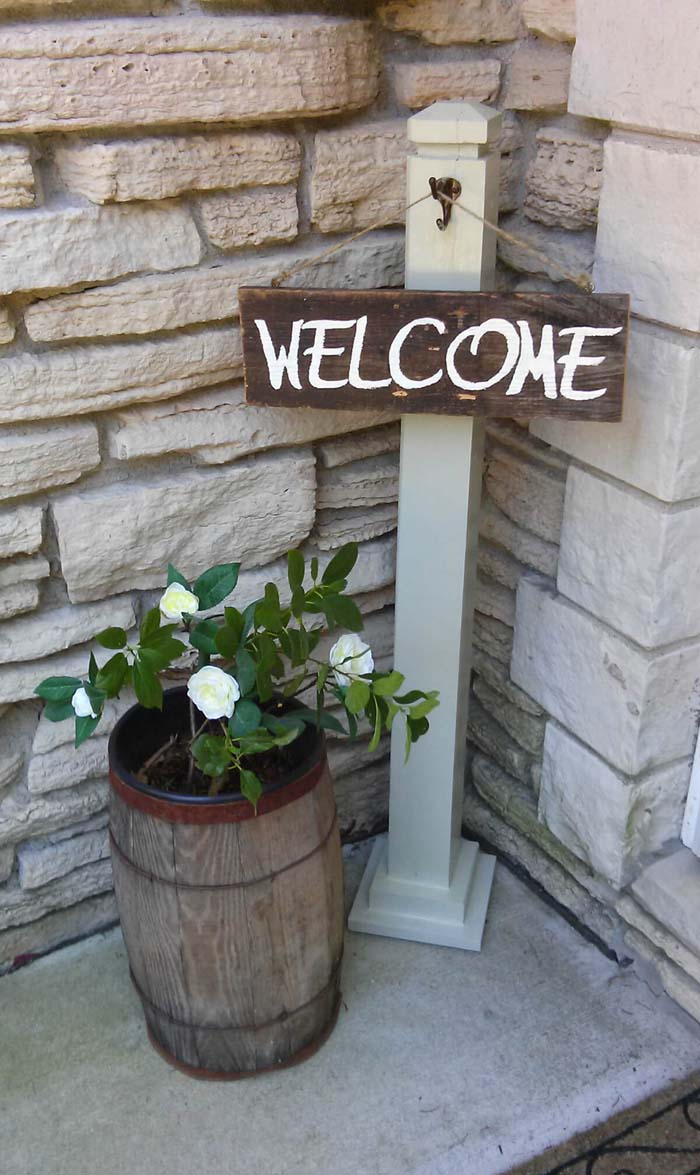 Combine the welcome statement of a sign with the beauty of the flowers in a rustic arrangement on the porch, next to the front door. You can make these elements yourself with the help of basic tools.
9. Geraniums on an Old Chair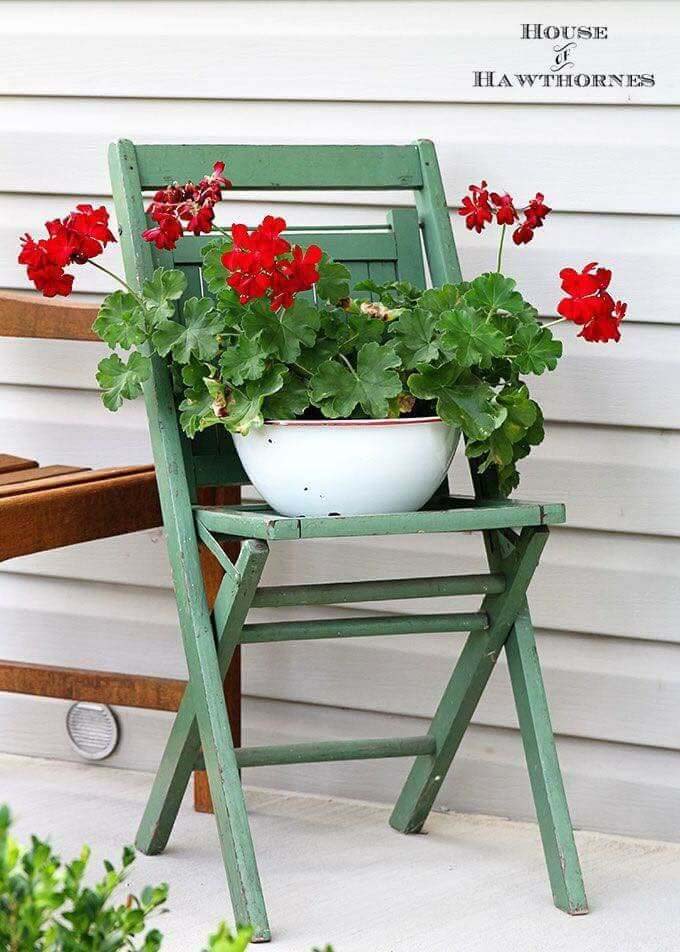 Geraniums look well in any type of container and at any place. If you would like to use the variety and richness of these flowers, plant them in an old porcelain bowl and place them onto an old wooden chair. It is very vintage and very chic.
10. Hanging Coir Planters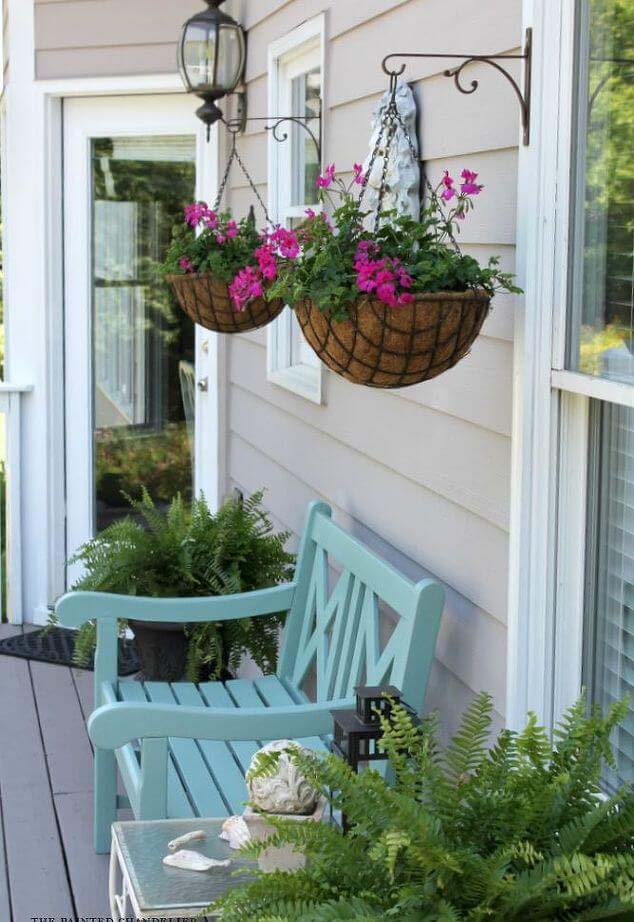 Coconut coir pots come in various sizes and provide an excellent environment for all types of flowers. Put them in metal baskets, hanging on lamp brackets on the porch wall.
11. Large Footed Planters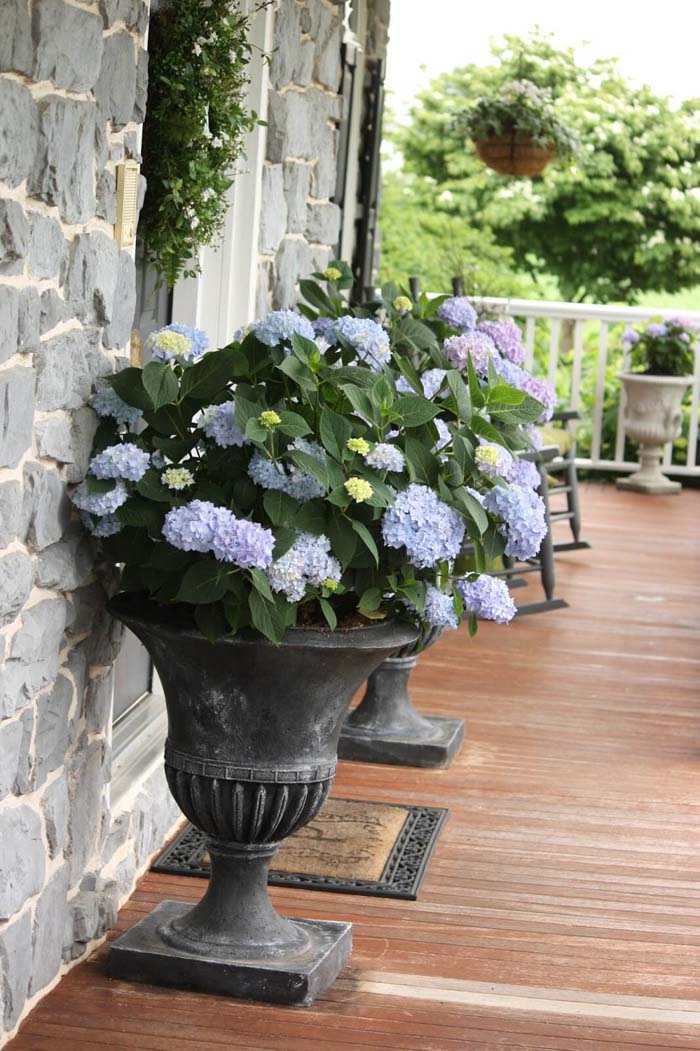 Large footed planters have very defined sculpture texture and that makes them preferred containers in the royal properties. Luckily, nowadays we can find such affordable planters and give our porches a more refined look.
via Stone Gable
12. Large Planters with Greens and Gerbera Daisies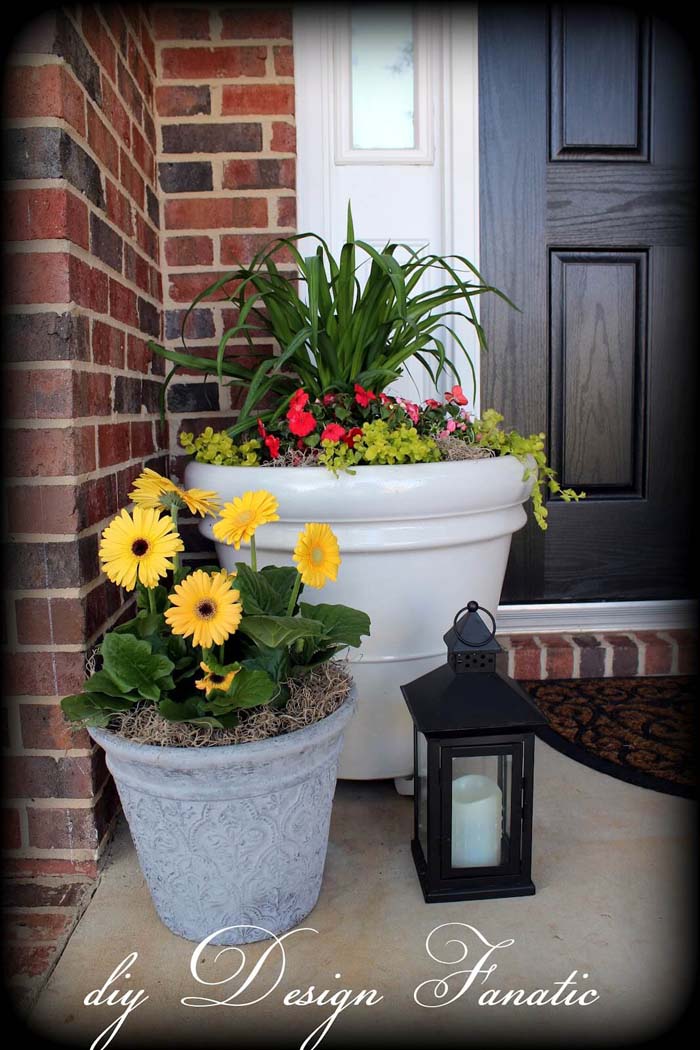 Put large pots of different textures on both sides of your front door. For a bigger impact, play with the colors of the containers and with the flower arrangement.
13. Make Your Own Hanging Gutter Planter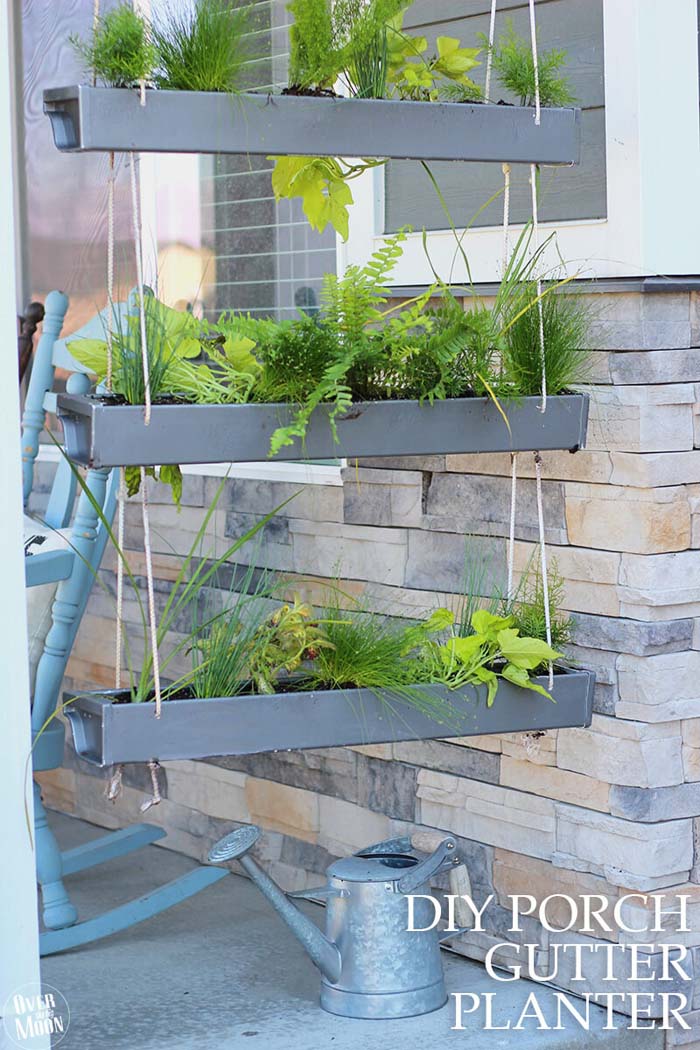 Use a tiered metal gutter planter as a multifunctional porch decoration. In addition to the increased planting places, you can use it as a space divider.
14. Metal Planters with Flowers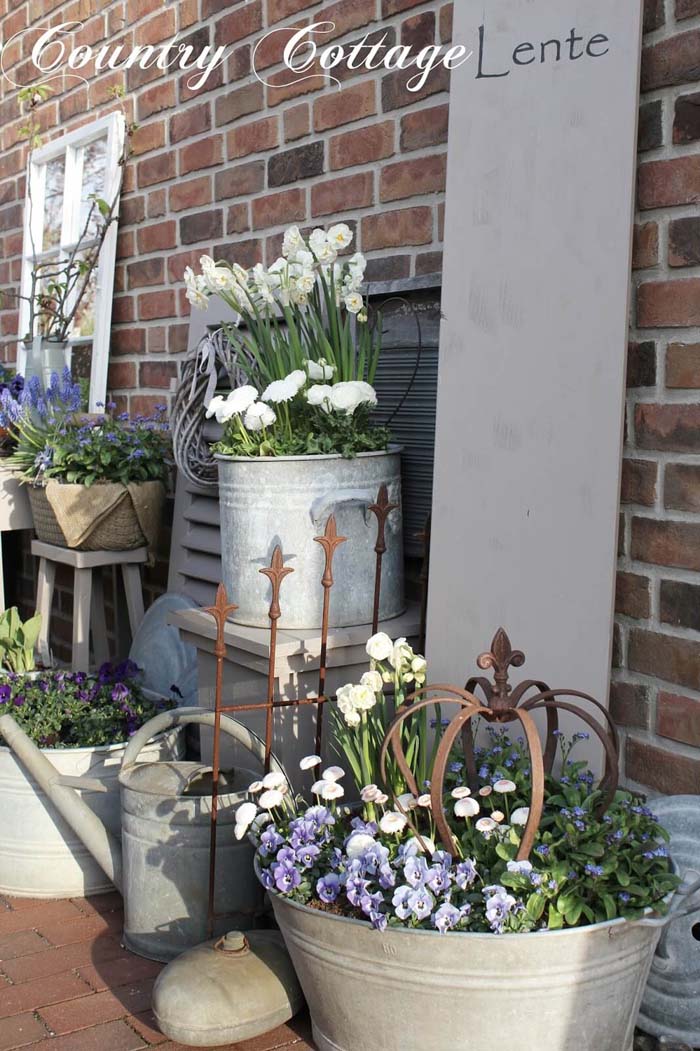 Another idea of how to repurpose old galvanized containers in a contemporary home. Plant seasonal flowers and arrange in a group on your porch for increased farmhouse influence.
15. Multi-Level Flower Arrangement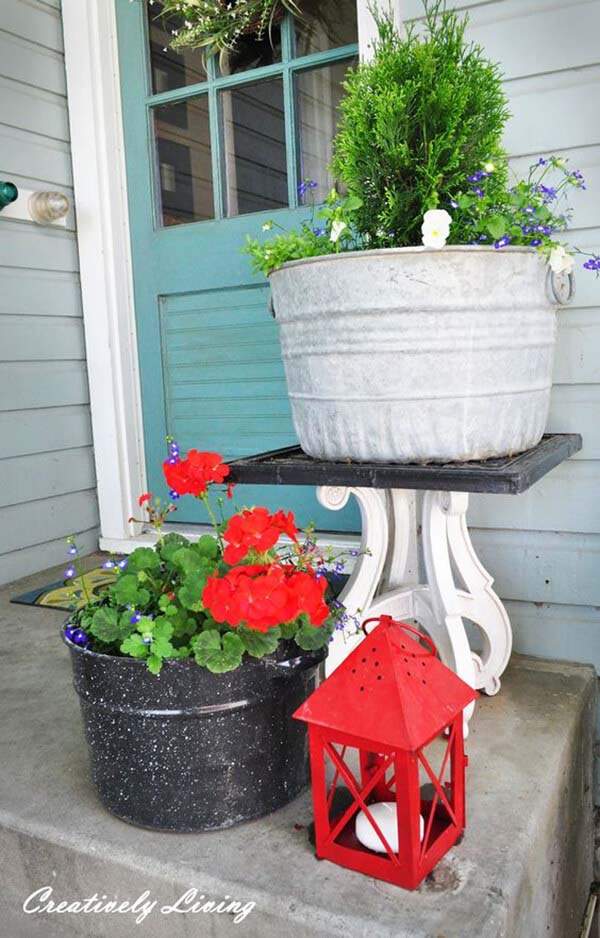 When your porch is small, you can either use the vertical space of the walls or use a flower stand because of its small footprint. This interesting multi-level arrangement is influenced by the countryside living.
16. Multi Level Pots with Charming Flowers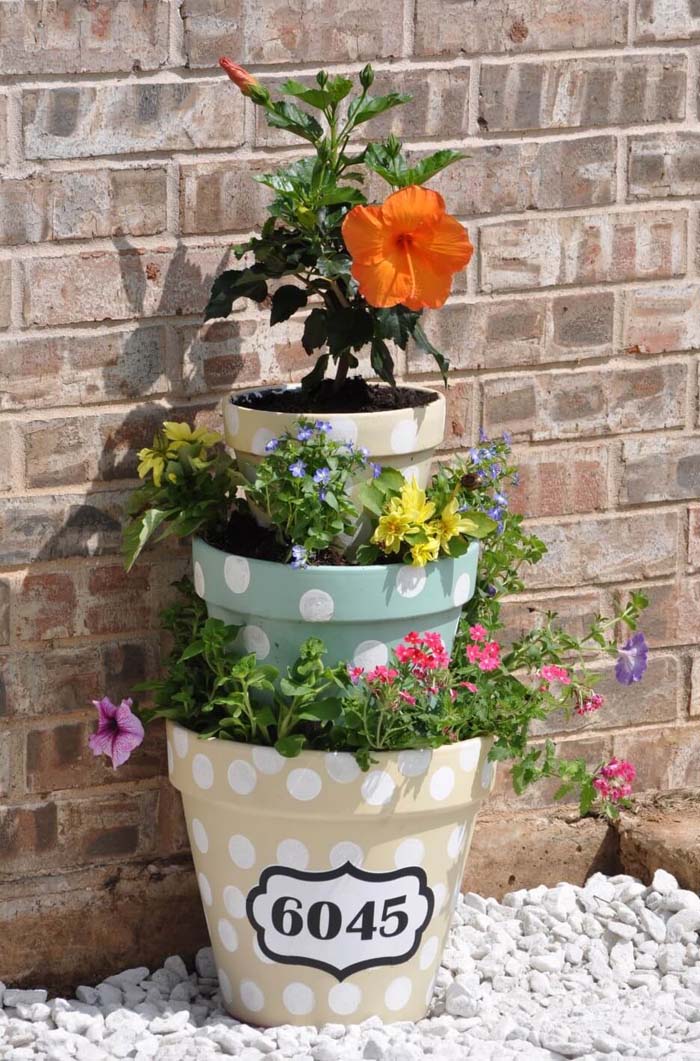 If you have terra cotta pots of three different sizes, make yourself an easy and impressive tiered stand. Paint polka dots in a pattern and add your home number on the bigger pot.
17. Old Furniture Repurposed Planter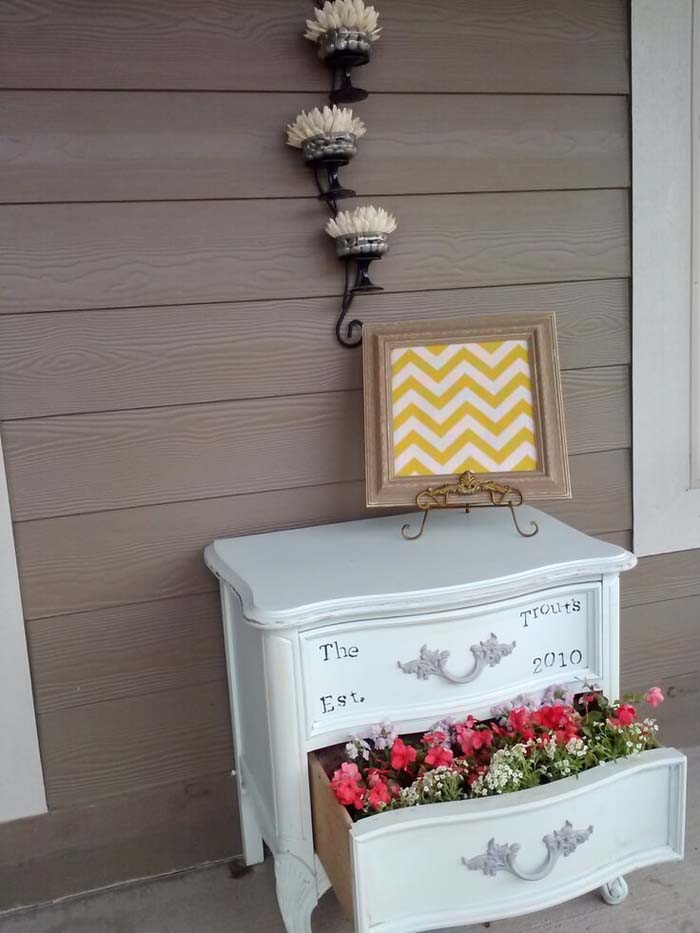 We have always been amazed by the interesting ideas when it comes to repurposing old furniture. One of the possible applications of an old bedside cabinet is for a plant holder. Grow real flowers in the drawer or put a bouquet of faux ones.
18. Old Pails Hanging from a Ladder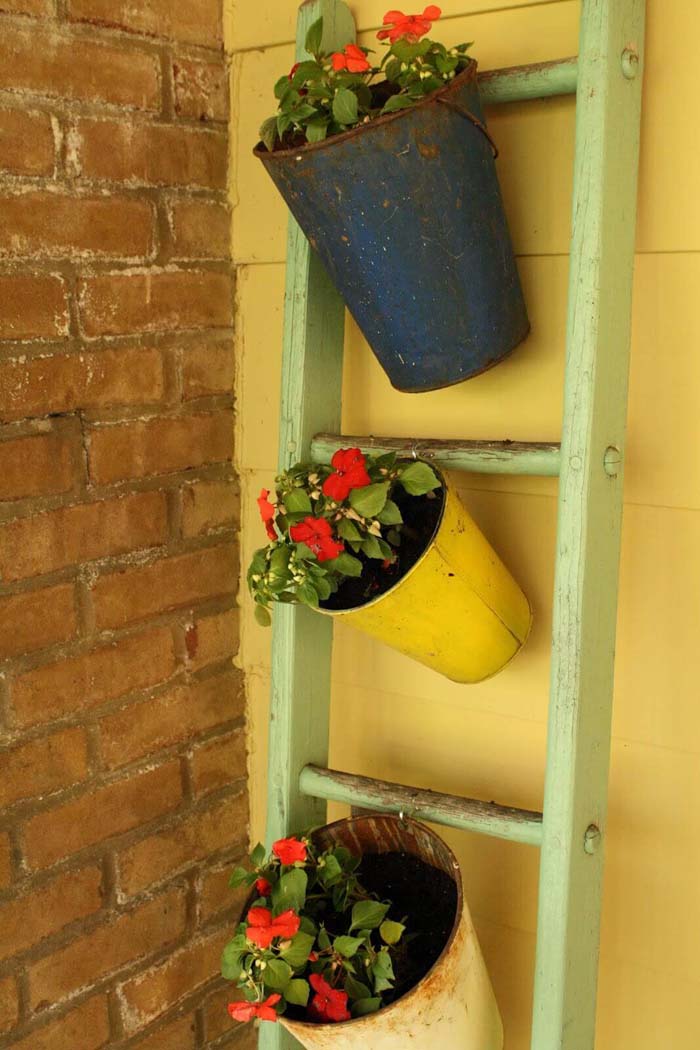 If you like the vintage decoration, here is a cute inspiration for your porch – an old ladder with sap buckets for flowers.
It saves space, it doesn't require any special tools, it repurposes old and otherwise useless containers and it instantly transforms the porch.
19. Old Steamer Trunk Planter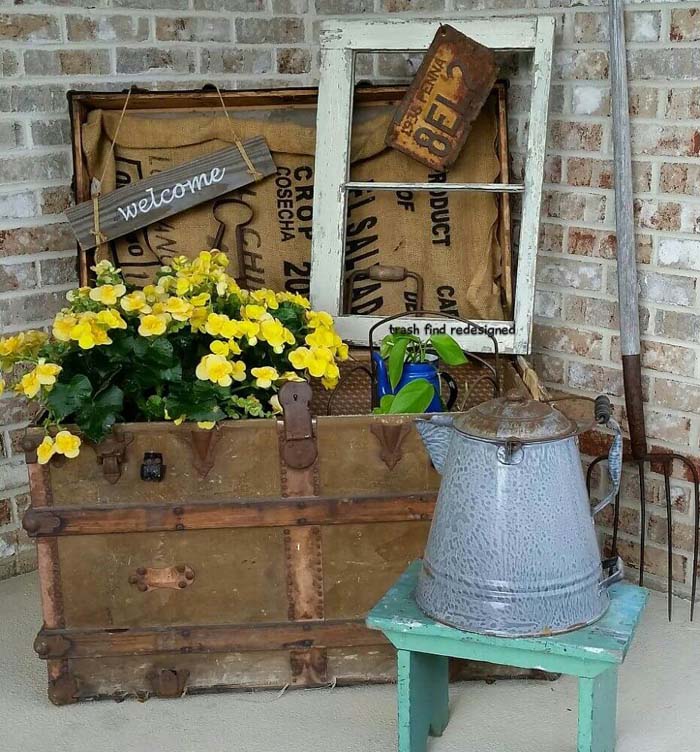 An old chest becomes a cozy place for the seasonal flowers on the porch. Just put the flower pots you like in and enjoy the vintage welcoming nook.
via Hometalk
20. Pallet Planter for Butterflies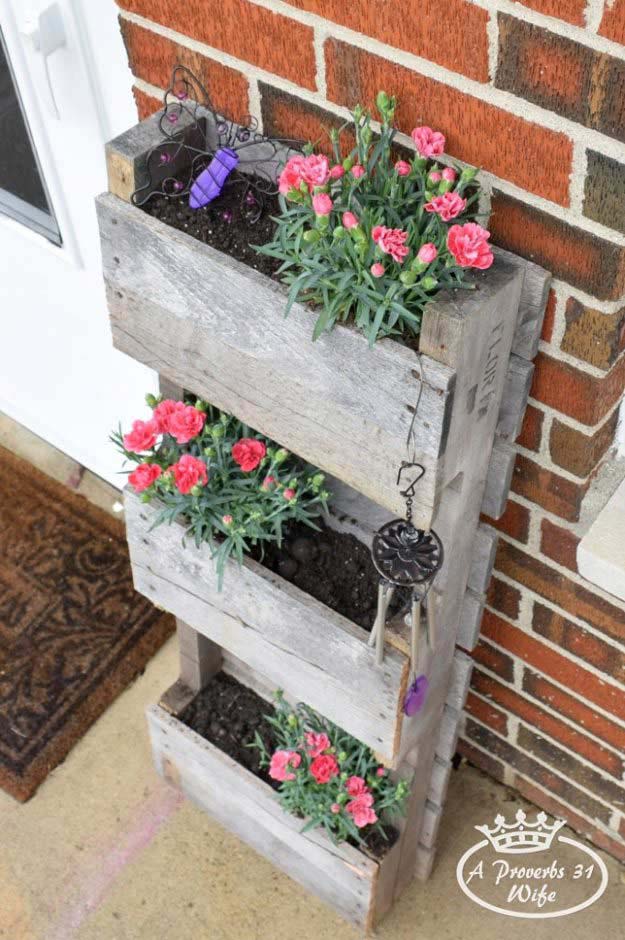 A half of a pallet is easily transformed into a side front door planter. Use the slots to plant blooming flowers and lean against the wall.
For increased impact and beauty, make two of these and lean symmetrically on both sides of the front door.
21. Patriotic Basket Flower Planter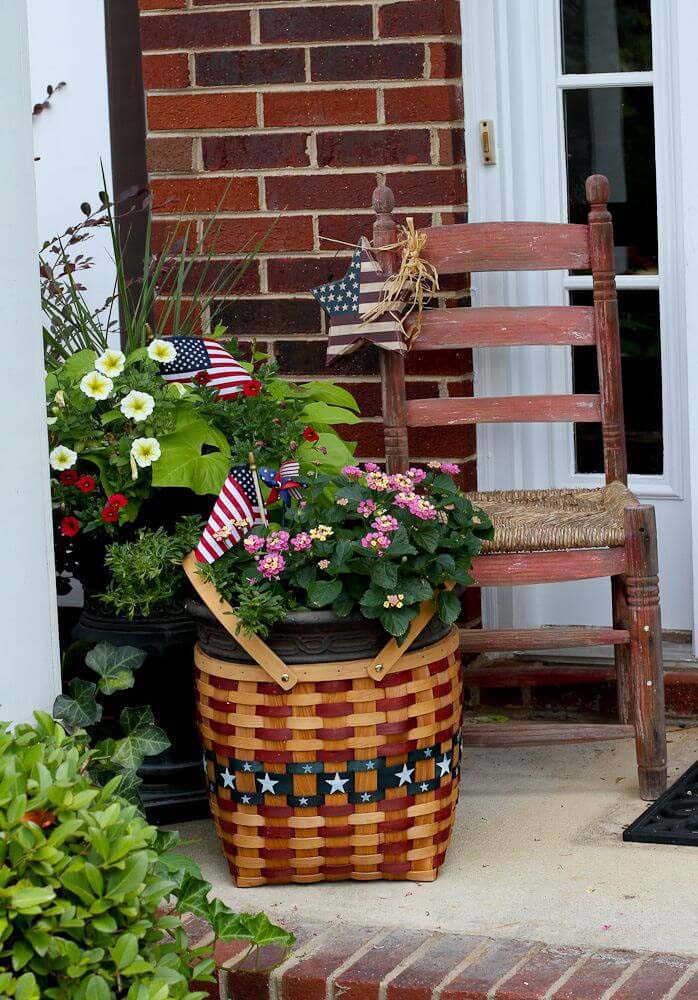 Celebrate 4th July with a rattan basket with a patriotic element. Put a beautiful flower pot inside and place it in the front of your porch to celebrate the independent spirit.
22. Patriotic Red Geraniums In Simple Planters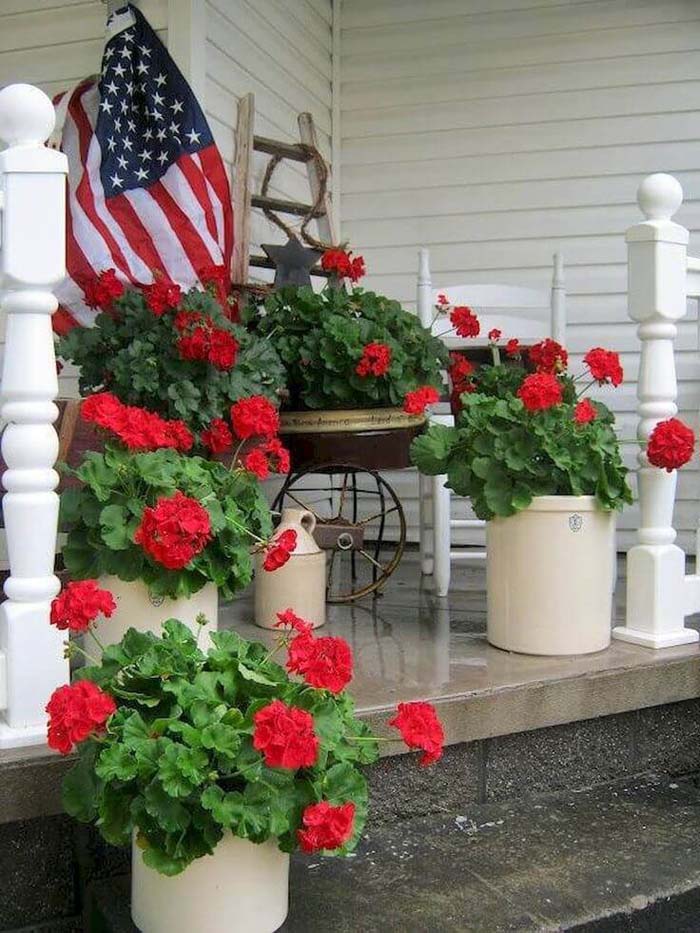 The red blooms of the geraniums are placed in white flower pots on purpose, to make a symbolic representation of part of the national flag. A memorable live patriotic decoration.
23. Plant Pots Set on Rustic Stumps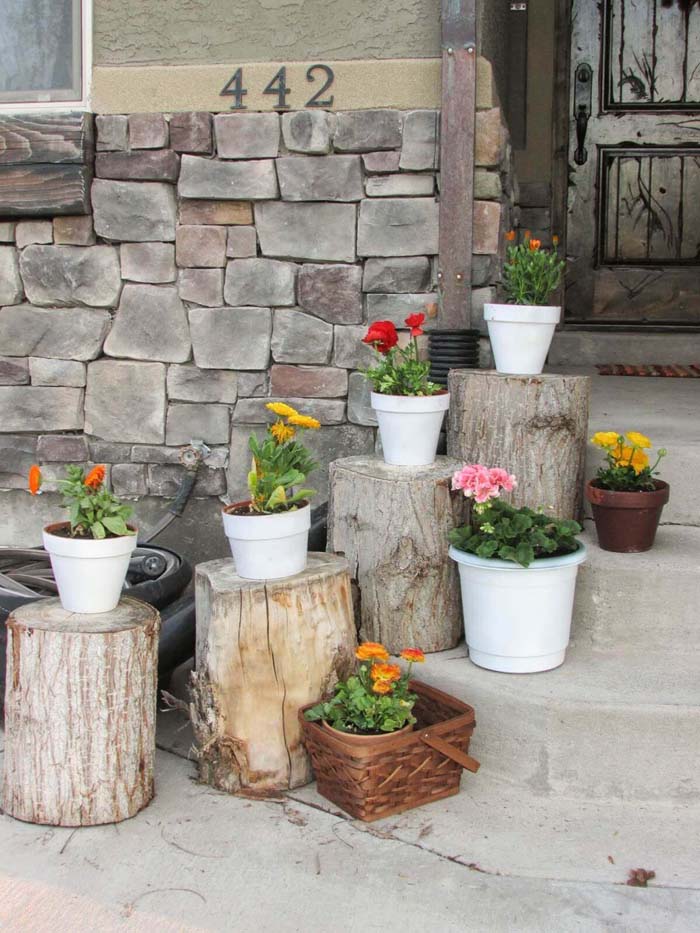 Use large logs as flower stands. Place on each step or group them on the porch.
24. Planter Made of Old Drawers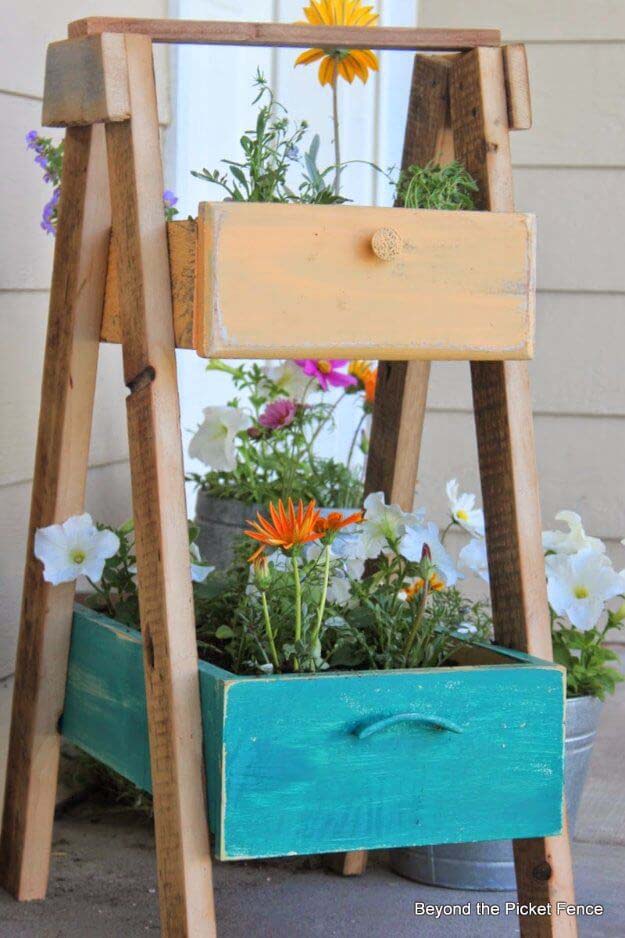 This handmade flower planter will give the porch a colorful shabby chic.
Made of a wooden A-frame and two repurposed drawers, it will take only a weekend to make it entirely by yourself.
25. Planters From Garden Junk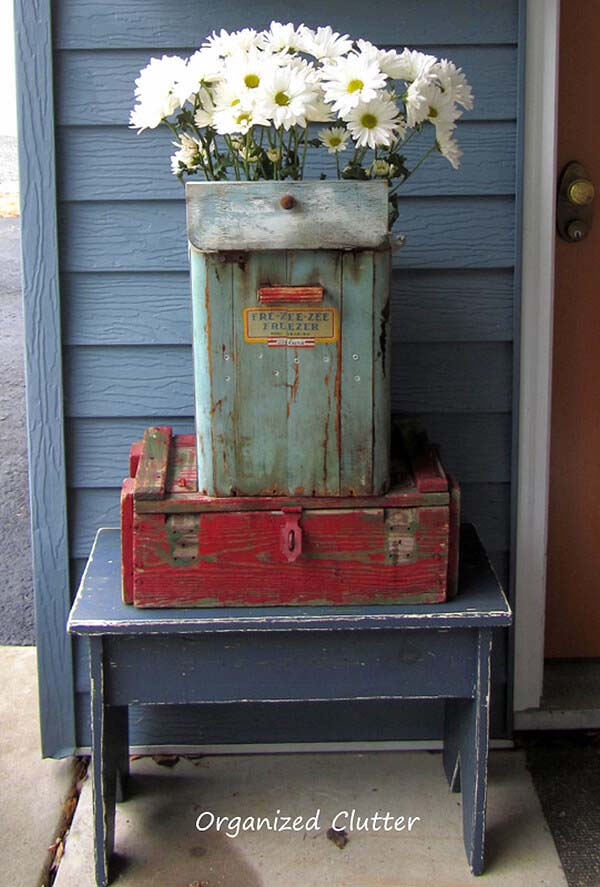 As long as you have a collection of old stuff, it can become a spectacular porch decoration.
Stack an old side table, a small chest, a freezer container and a drawer and put a bouquet of fresh flowers on top.
26. Porch Planter Ideas with Lilacs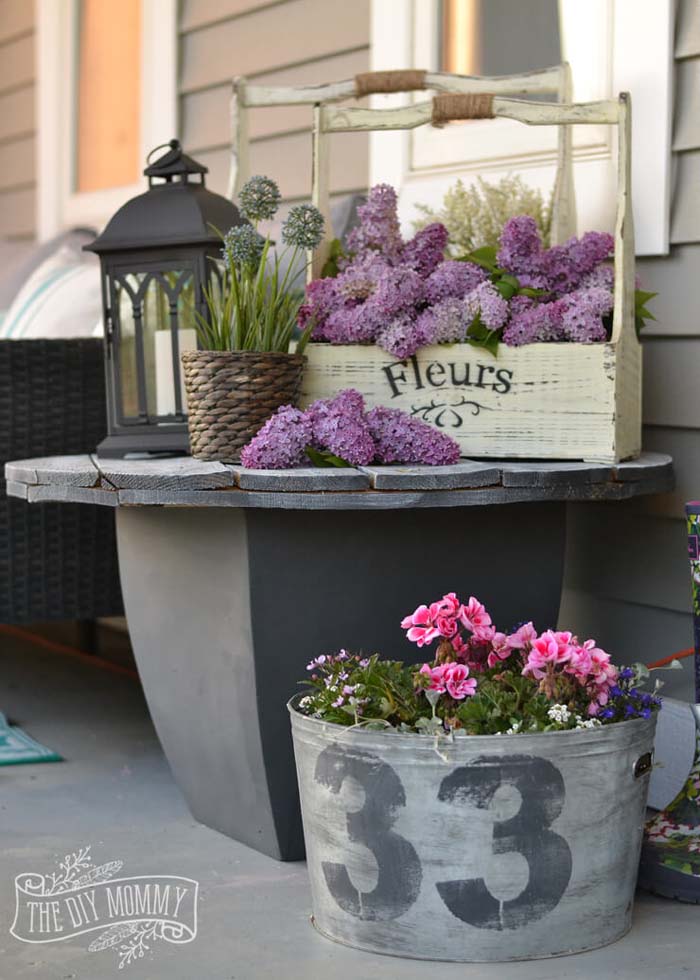 This is a flower planter idea taken from a porch inspired by the country farmhouse design.
Some of the elements can be found at the vintage stores, others are repurposed and given new life, so you can easily recreate the same oasis at your porch.
via The DIY Mommy
27. Preserved Boxwood Makeover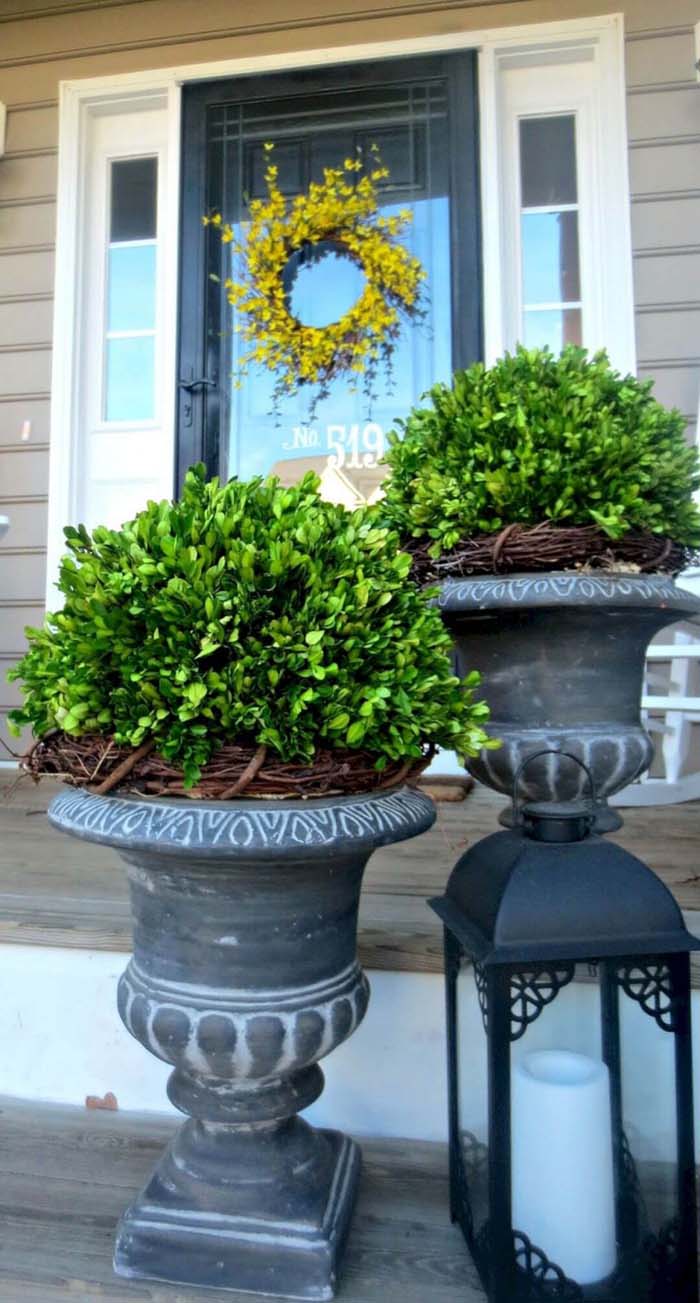 Urns look dramatic and give a royal touch to the porch. To add more elegance, consider placing shrubs like boxwood instead of blooming flowers.
28. Railing Planters With Petunias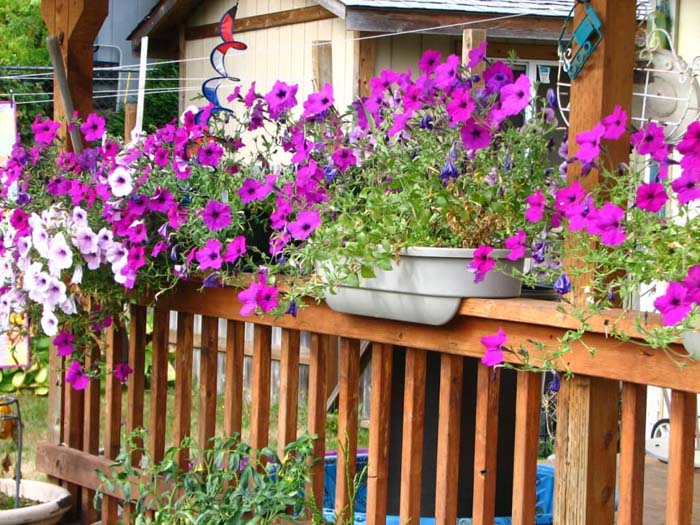 When there is a railing along your porch, it is a must that you decorate it with flowers.
Petunias will make that part of the porch more colorful and will enjoy with their rich and aromatic beauty.
29. Reclaimed Washtub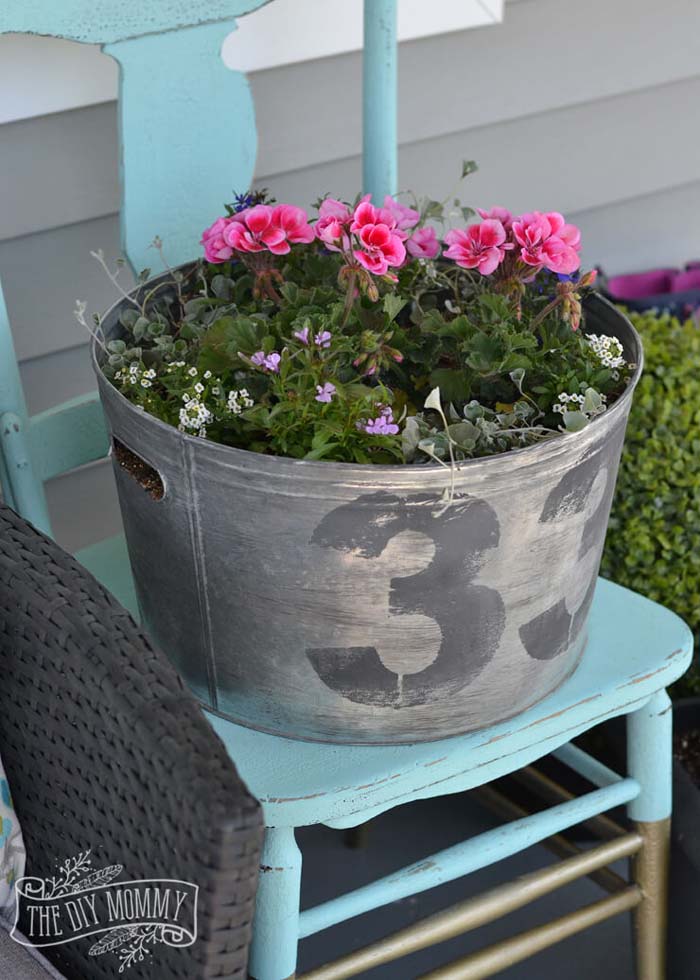 Washtubs are ideal to accommodate seasonal flowers.
If you like the vintage charm of this galvanized container, place it on a side table or a chair on your porch.
via The DIY Mommy
30. Reclaimed Wooden Box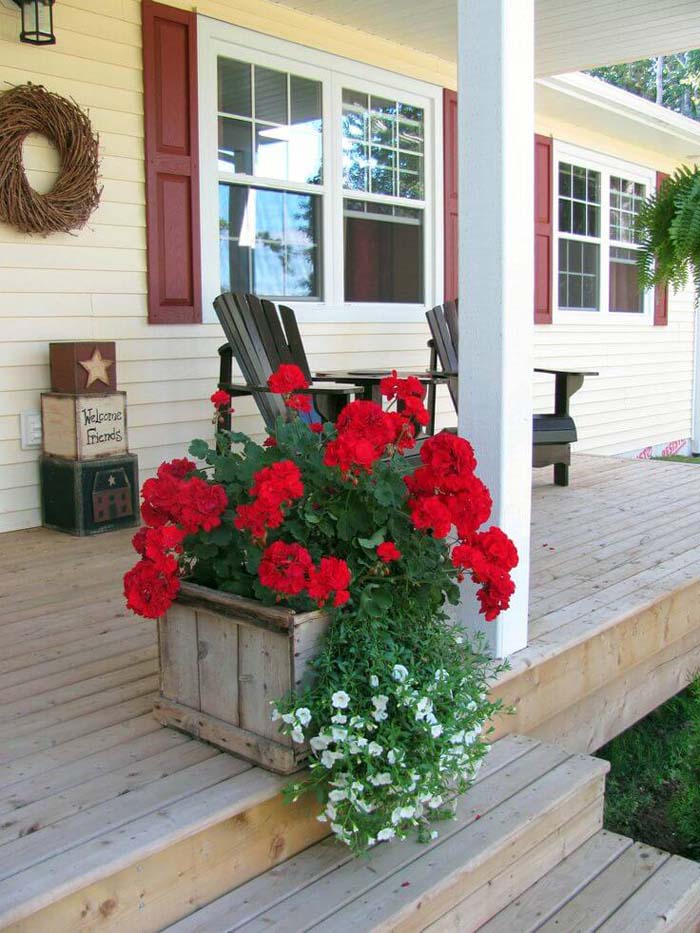 An old wooden crate or box possesses just enough charm to make the porch more welcoming when used as a flower planter. Plant cascading flowers or shrubs.
31. Red Picket Fence Planter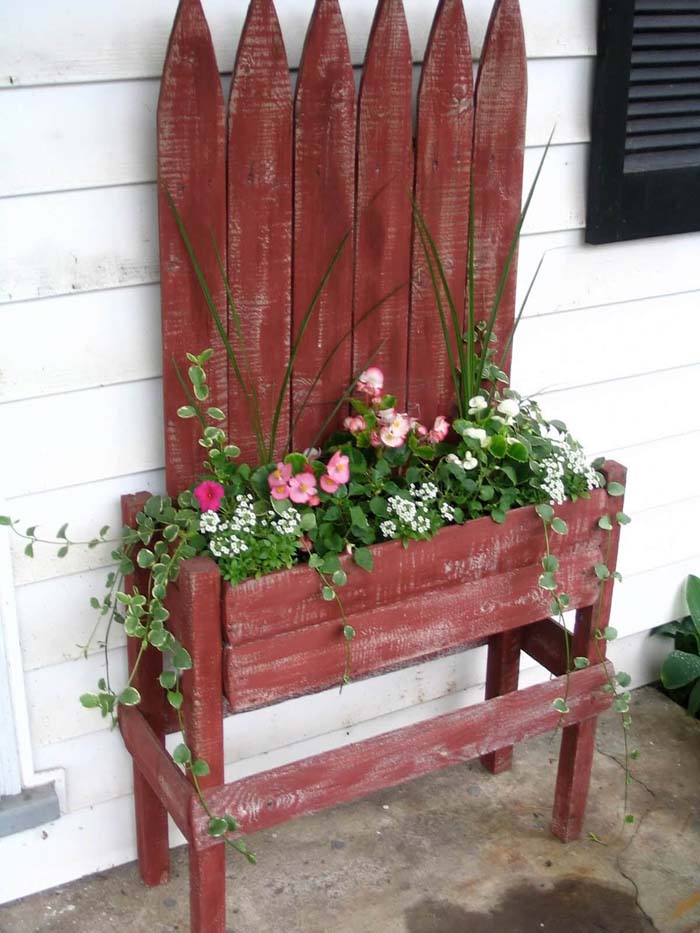 This is an idea of how to make yourself a flower stand out of reclaimed wood.
An old piece of no longer used fence and the legs of a worn-out table create a large flower container with the possible use of the fence as a trellis.
32. Scalloped Planters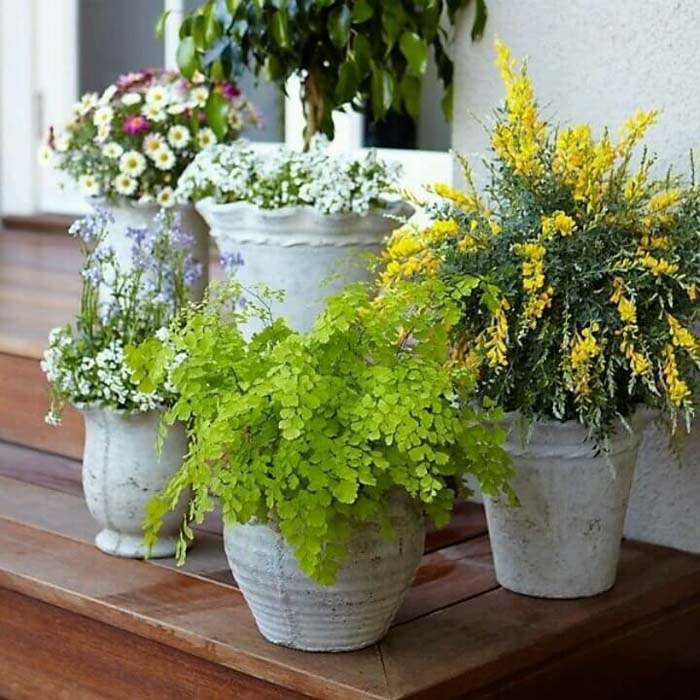 Grouping of similar flowers or identical flower pots will give a great aesthetic impact to the porch décor.
33. Simple Rectangular Concrete Planters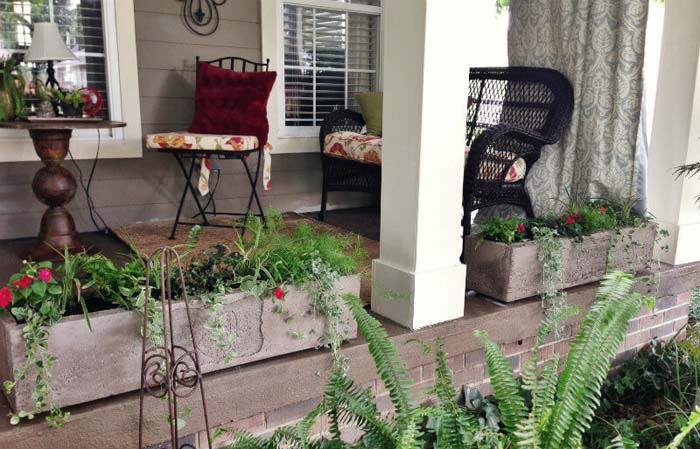 If your porch is opened, you can make concrete planters that will serve as a multifunctional edging. Concrete is suitable material as it is easy to work with, it is affordable and also gives a contemporary touch to the decor.
34. Solid Wood Chippendale Planter Box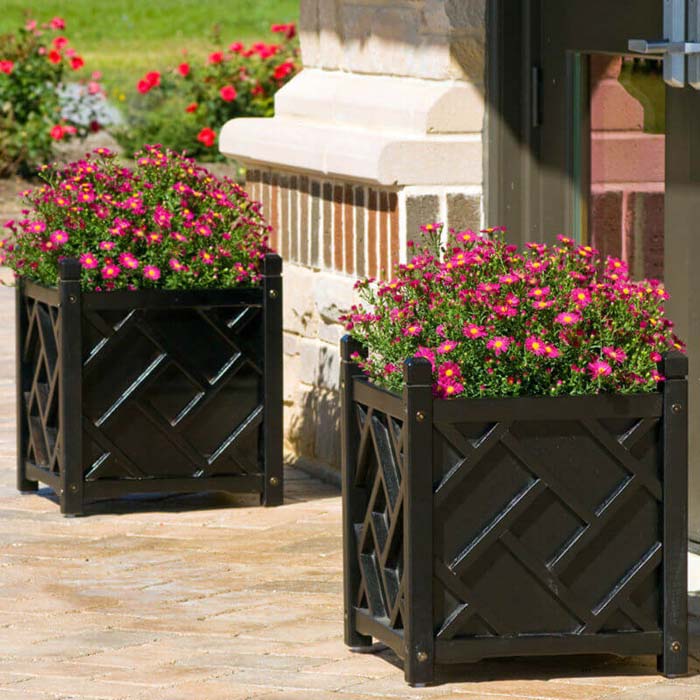 These planters impress with their size and identical pattern on each side.
They will look great if placed on both sides of the front door. You can choose among four colors.
via Walmart
35. Stenciled Welcome Planter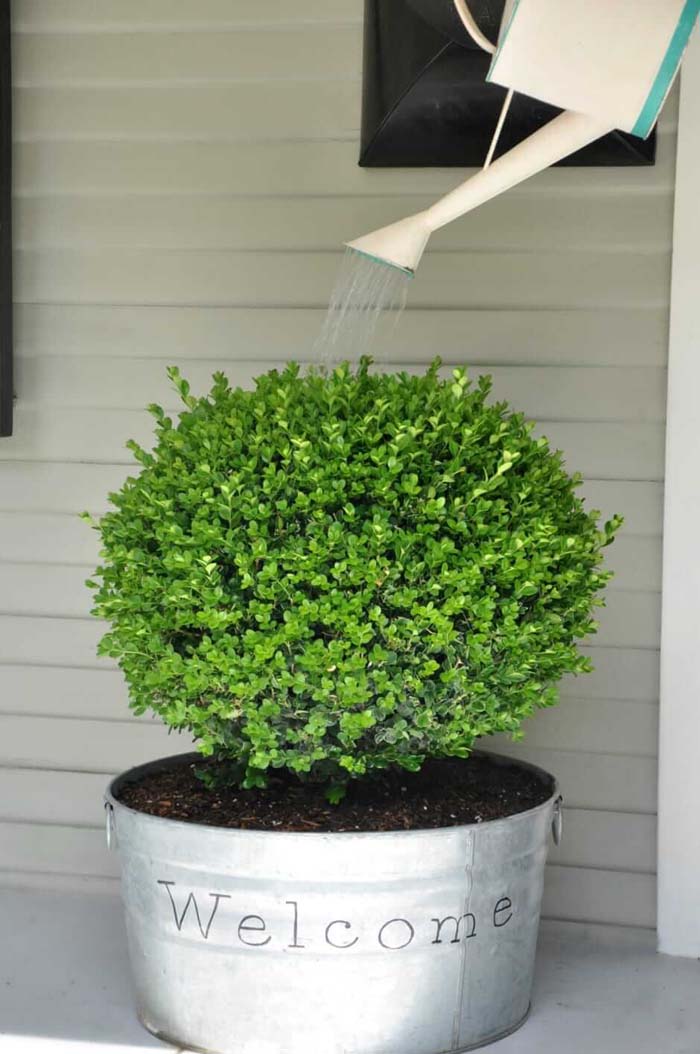 A washtub is turned into a functional porch decoration. The front of the surface is stenciled and serves as a sign. It contains a beautiful small boxwood shrub formed into a globe.
via She Knows
36. Teacup Sconce Planters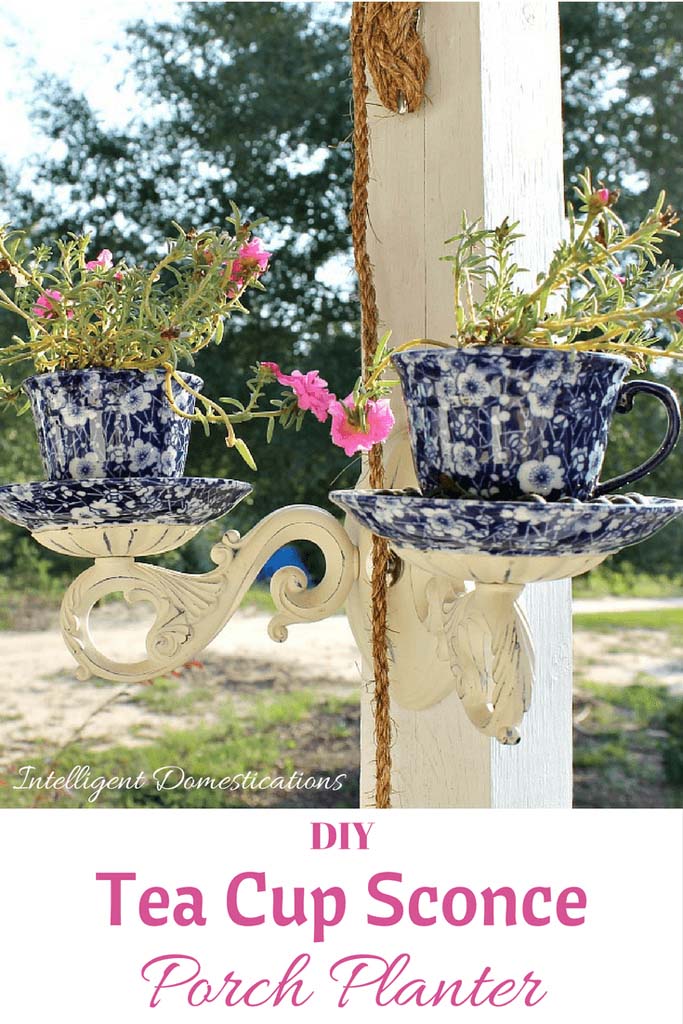 If you are looking for an idea for a hanging planter for your porch, this one will intrigue you. A lamp sconce is repurposed to hold two beautiful cups instead of light bulbs.
The peeking flowers look very cute into these identical teacups.
37. Three Level Coir Planter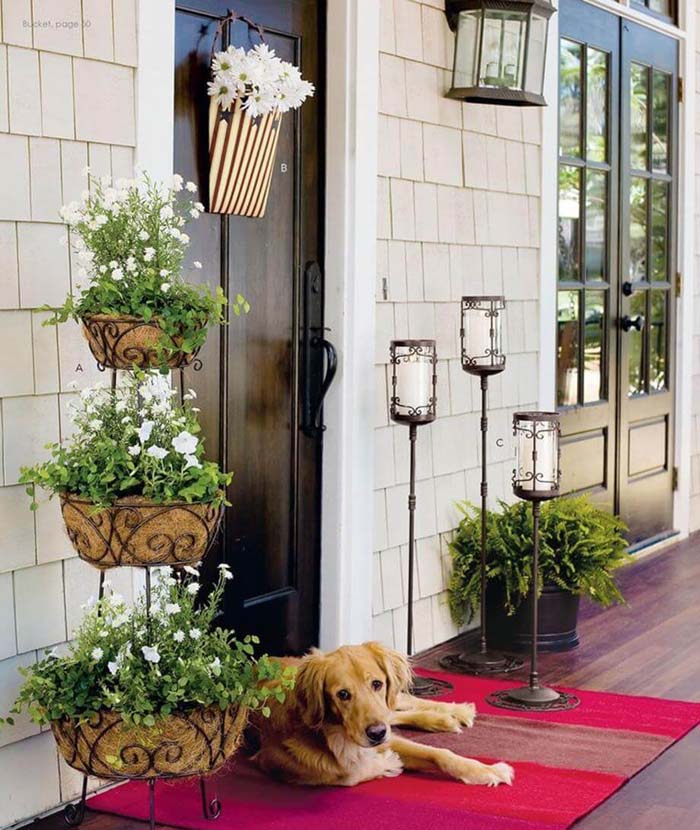 If you are looking for a planter at the garden stores, the tiered coconut coir planter is one of the most stylish and affordable items.
The wrought iron stand gives a sophisticated look to the porch and the tiered levels provide enough places for planting.
38. Topiary Porch Planter Ideas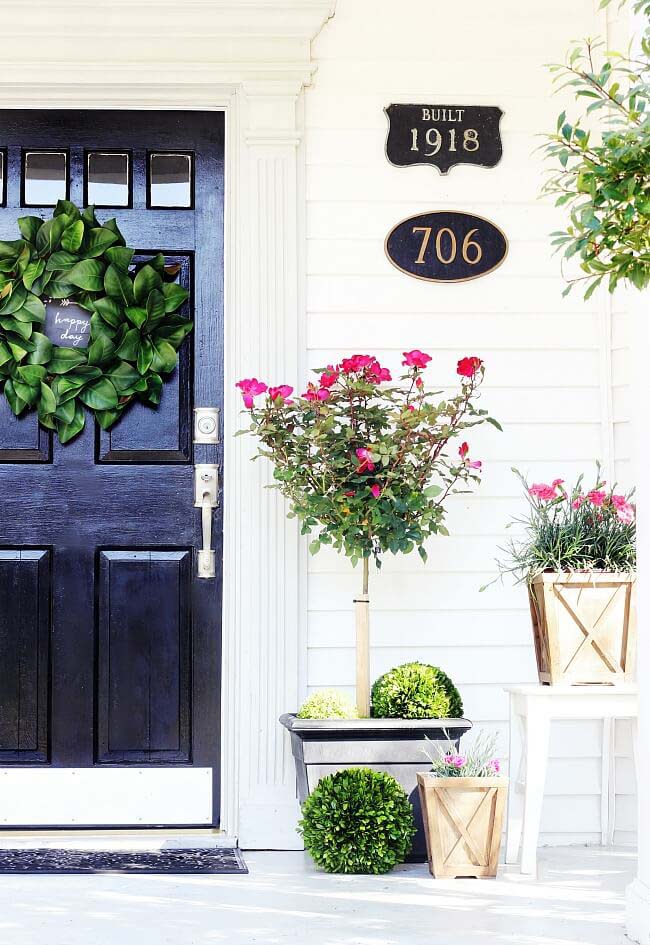 Topiary trees are very appropriate for a front porch decoration as they are of relatively small size. They look very stylish when formed into a perfect geometrical shape.
We are used to seeing green shrubs as topiaries but how about roses? There are certain species of roses that grow like a tree and can be shaped.
39. Topiary Trees in Small Footed Planters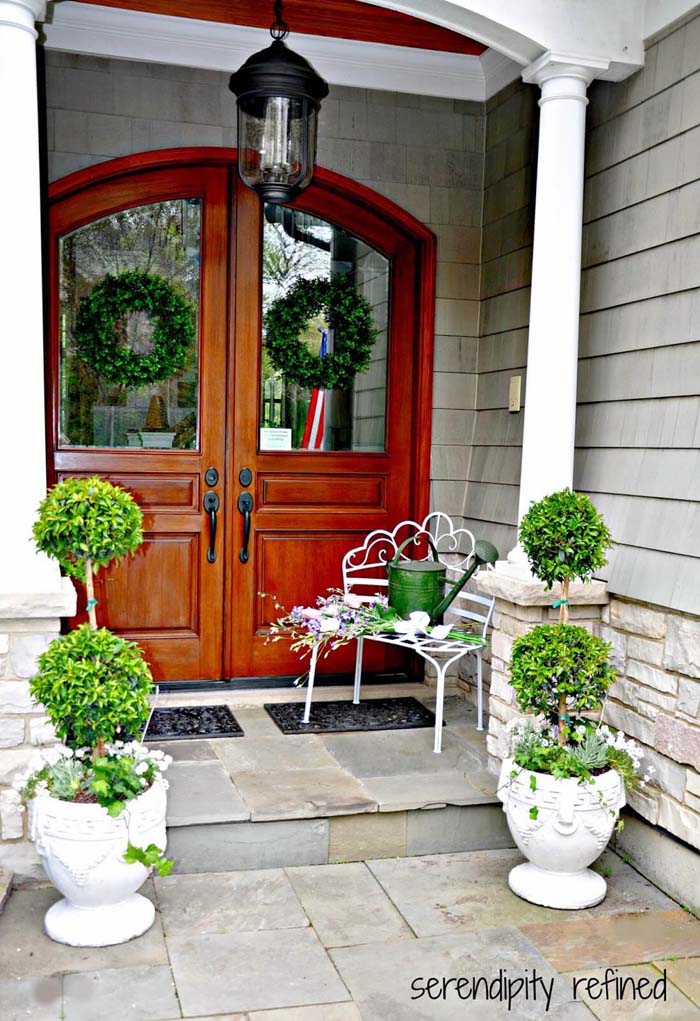 Speaking of topiary trees, these green globes are the standard choice.
They look especially well in a combination of two on both sides of the front door or along each side of the stairs.
40. Tulips in an Old Pail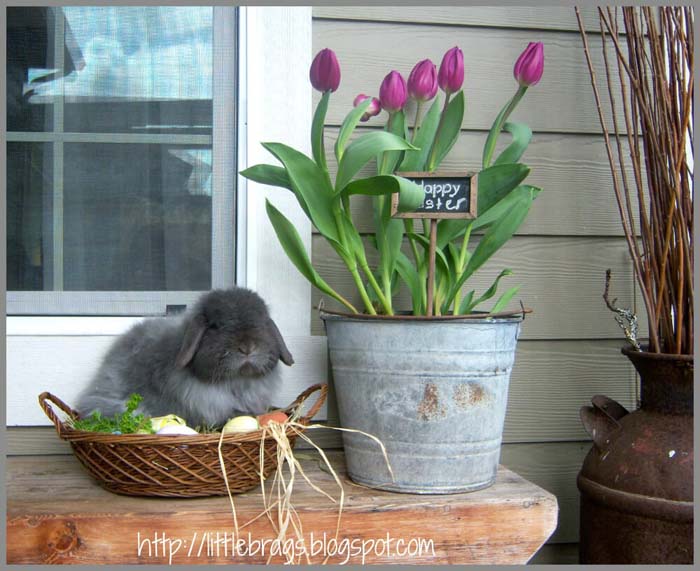 This Easter porch decor is inspired by nature and the farmhouse living.
The old pail hasn't been refurbished or repainted as that will erase its story and charm.
via Little Brags
41. Upcycled Chair Planter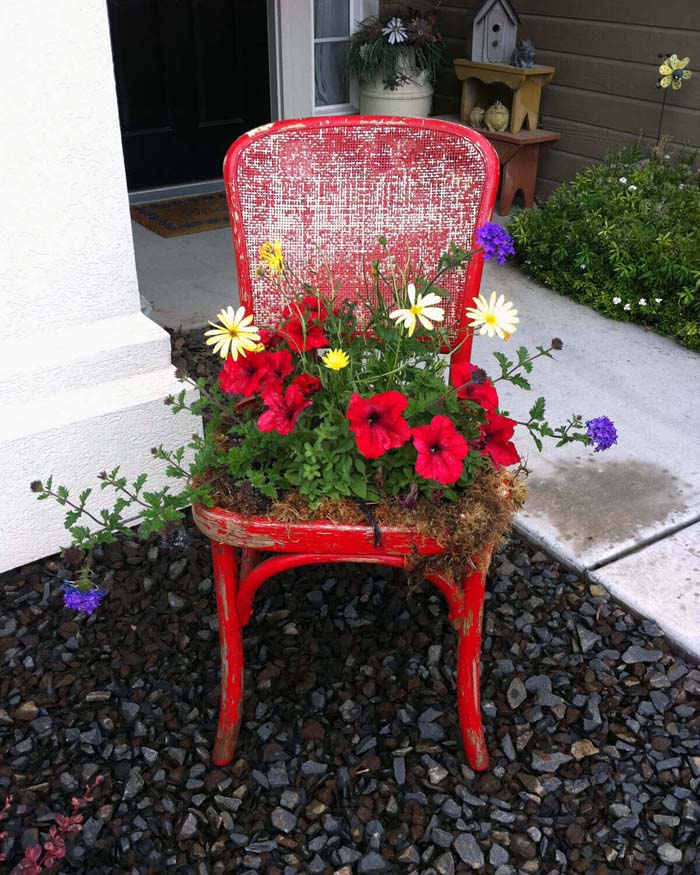 A chair planter will give the desired pop to your porch.
Such a remarkable planter will become the top of your list of landscaping achievements.
42. Using Lanterns as Planters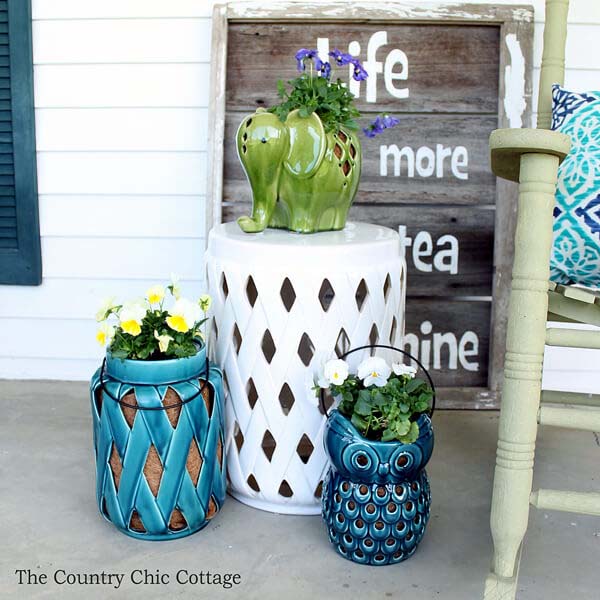 If you have a collection of garden lanterns, turn them into planters.
Cover the inside with coco liner and plant small flowers. For an increased impact and an eye-catcher effect, arrange in a group on the porch.
43. White Lantern Planter with Succulents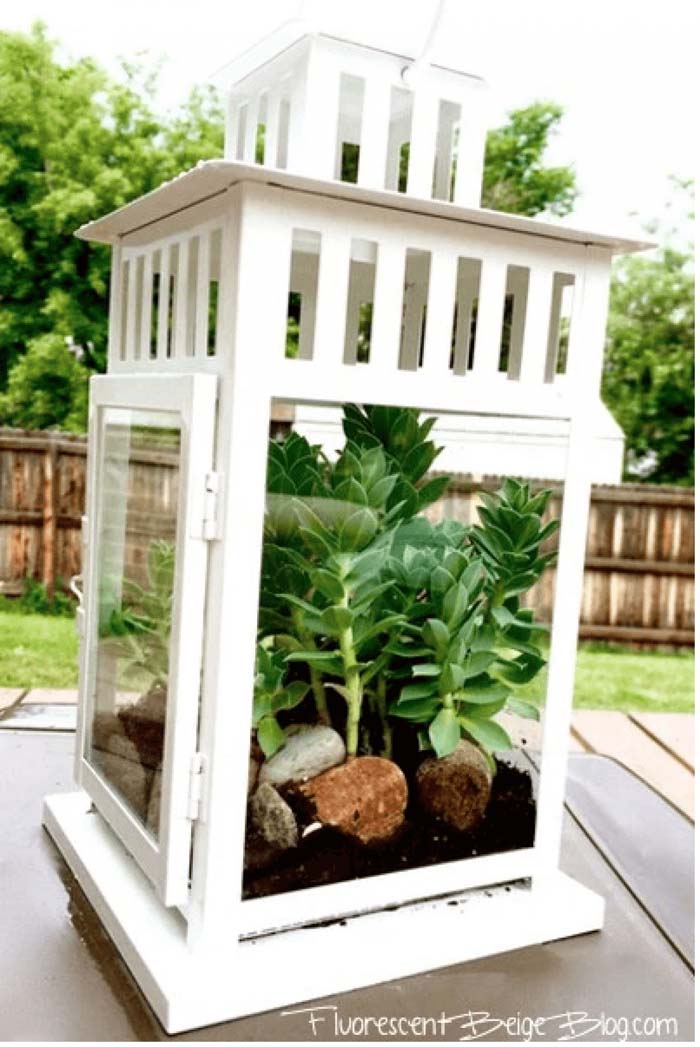 Make an impressive terrarium in a lantern. Cover the bottom with soil and plant small succulents.
Add decorative elements like pebbles, sea glass and place next to the front door or on the porch stairs.
44. Whitewashed Barrel Planter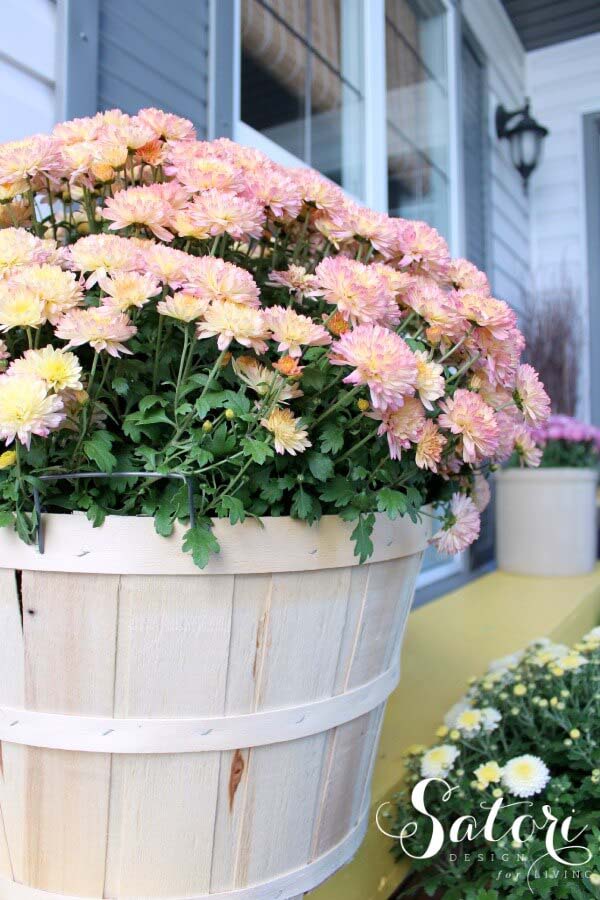 If you have decided to use barrels as flower planters, you can try the whitewash technique on them. It will make the surface shinier and cleaner but will not suppress the rustic value.
45. Wine Crate Flower Planter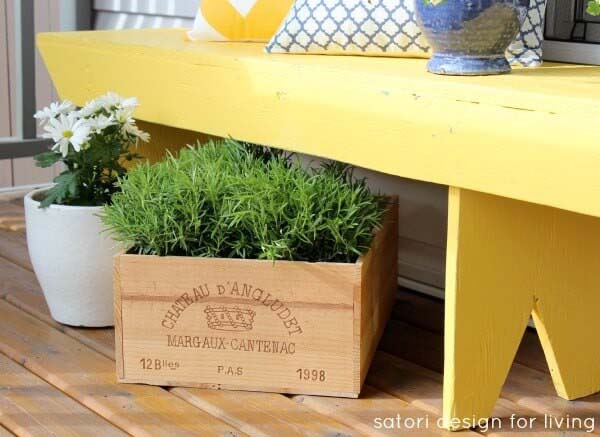 Welcome nature to your porch with a wine crate with seasonal flowers. It will add cottage charm to the space.
46. Wrought Iron Wall Planters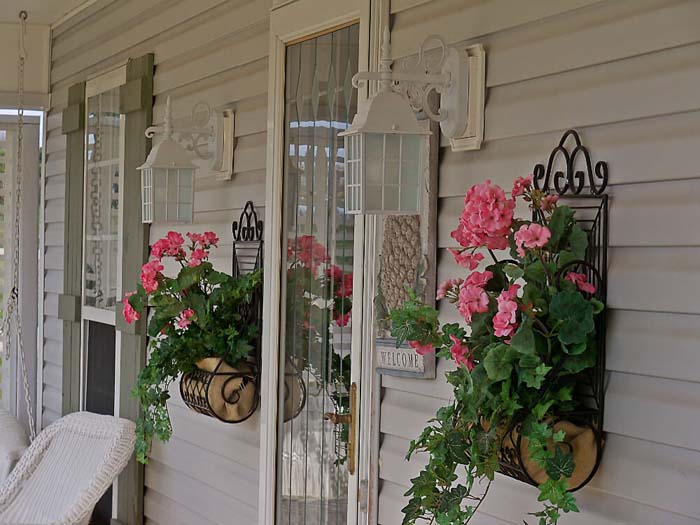 Hanging planters dramatically outline the front door being in contrast with the otherwise white decoration. At the same time, their texture complements the light fixtures above.
47. Yellow Drawer on a Chair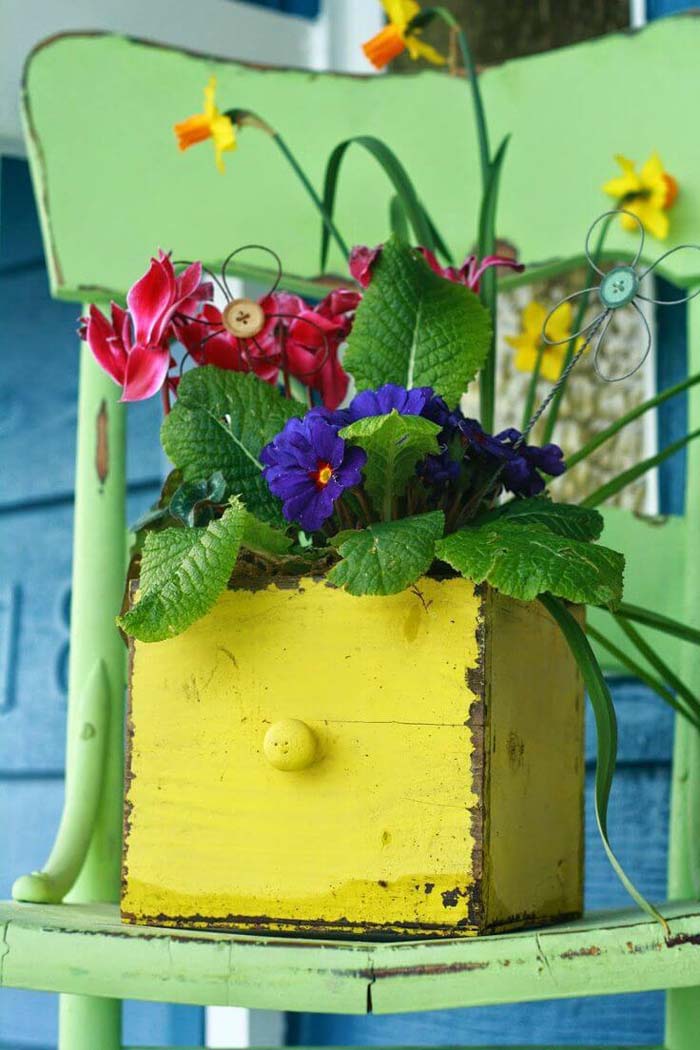 With a little work and lots of cheerful moods, make your porch a shiny welcoming entrance to your property. Simply paint a chair and a drawer in bright colors and plant blooming plants in the drawer.
Give them a little distress for a vintage charm.