We have discussed many times how important the porch is for being the first thing you see when you visit a house.
It is the perfect outdoor space, especially for summer, and it deserves the same amount of attention as any other part of the property receives.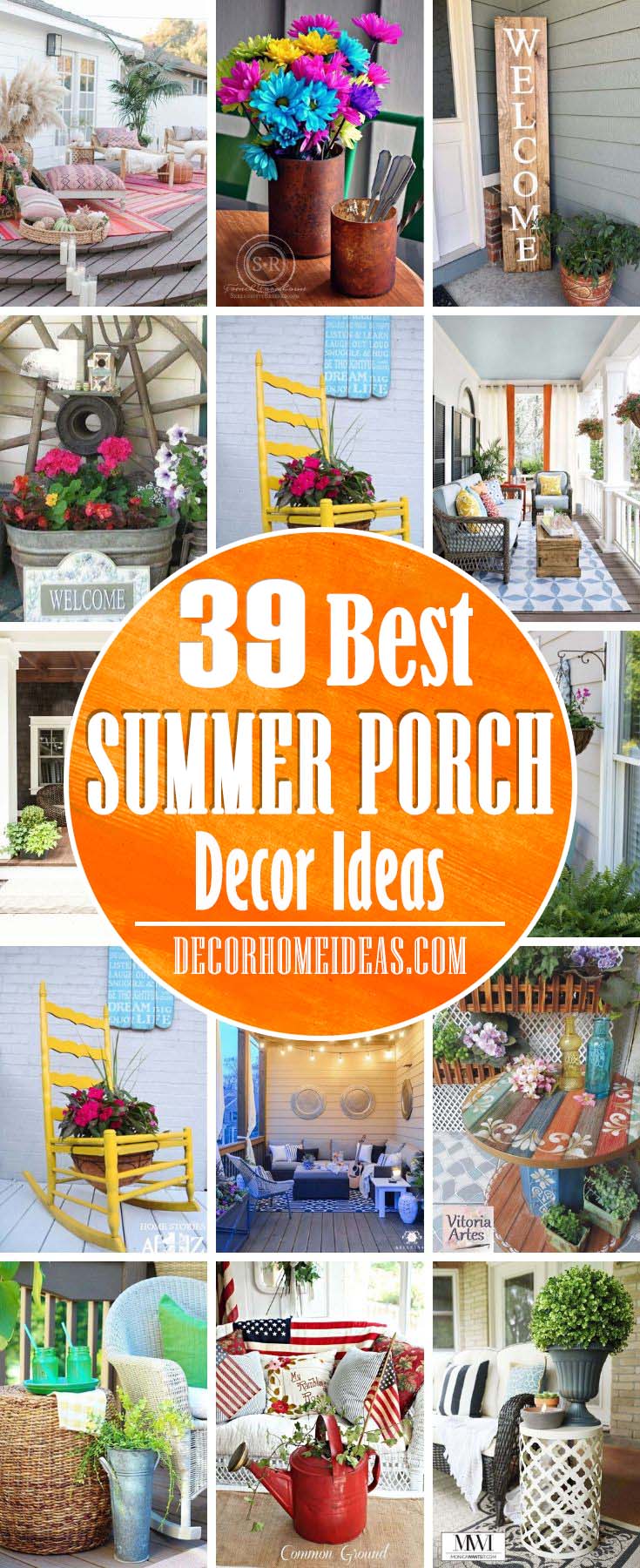 Now that we are in the summer season, the porch could become the perfect oasis to spend our spare time in. It should be comfortably furnished and aesthetically decorated.
The best approach when it comes to porch décor is blending it with the ambient environment of the hot season – fresh and vivid colors, flowers, items from natural materials.
The summer porch decor ideas are many but we have compiled the best ones in one place! We promise that each of them will contribute to making your own porch aerier, more pleasant and more comfortable for this summer.
1. Relax on a Chic Purple Porch with Floral Accents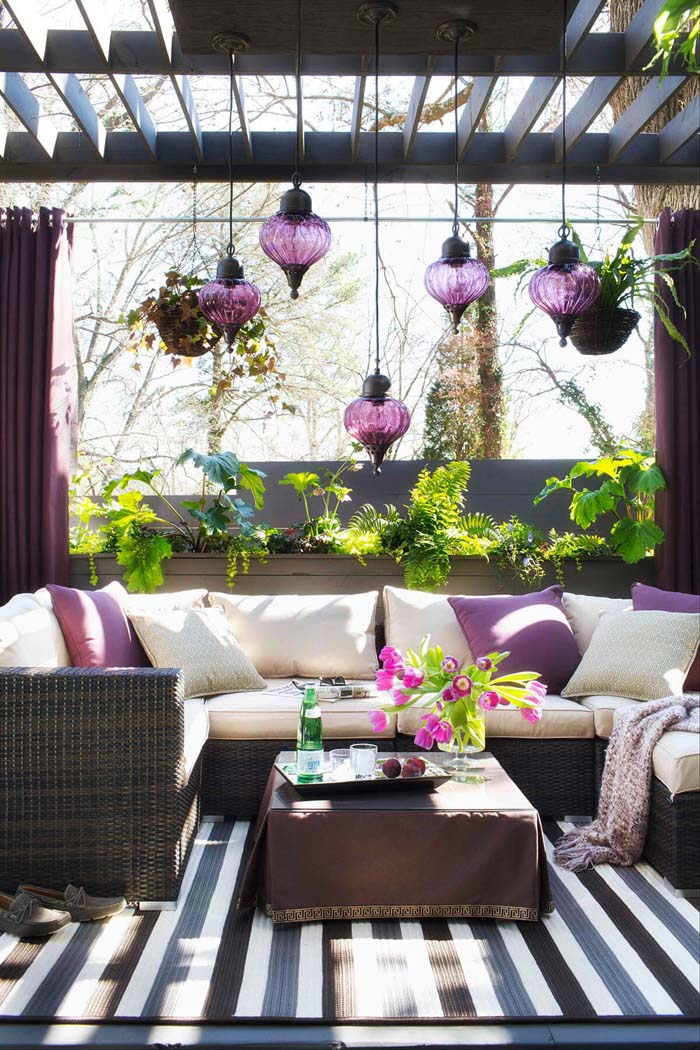 Relaxing in the open space is what this porch brings.
It is put together with a comfortable section and sleek ottoman. Tie the look together by decorating with purple and floral designs.
via Adela Parvu
2. Rustic Elegance with Whitewashed Metal Porch Planters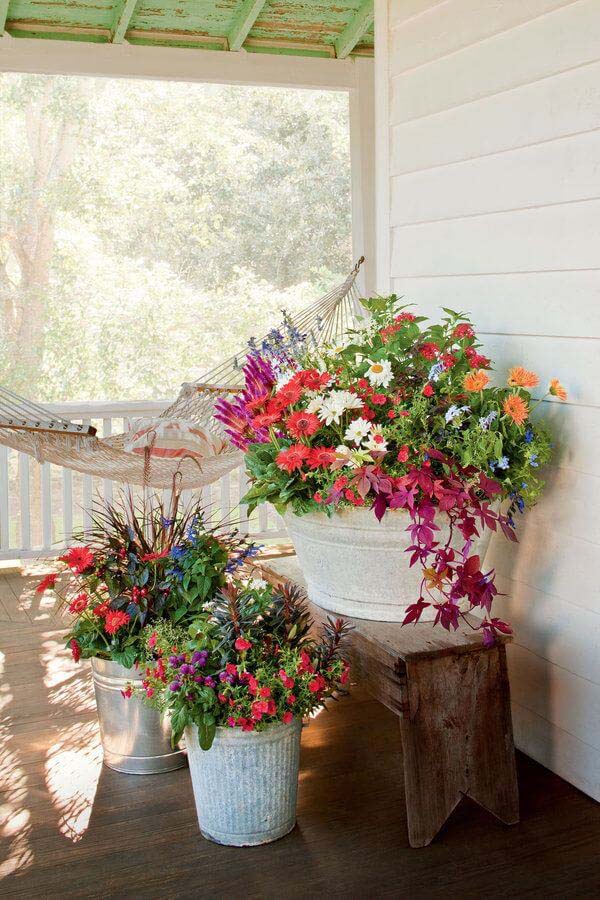 Add some rustic elegance to your porch this summer.
Using some paint and elegant floral arrangements, metal buckets become a chic outdoor look!
via Southern Living
3. Evoke Beachside Bliss with Blue and White Porch Decor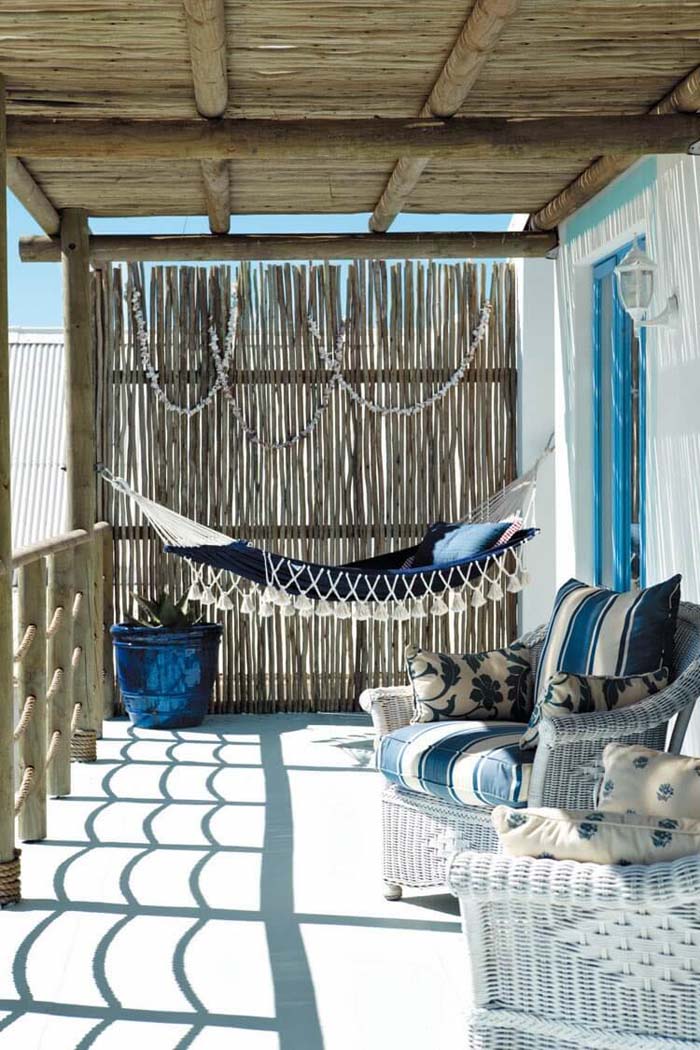 Muster a serious beach vibe with this blue, white, and taupe scheme.
Two white wicker chairs and a tasseled hammock complete this seaside porch.
4. Elevate Your Porch with Boho Chic Style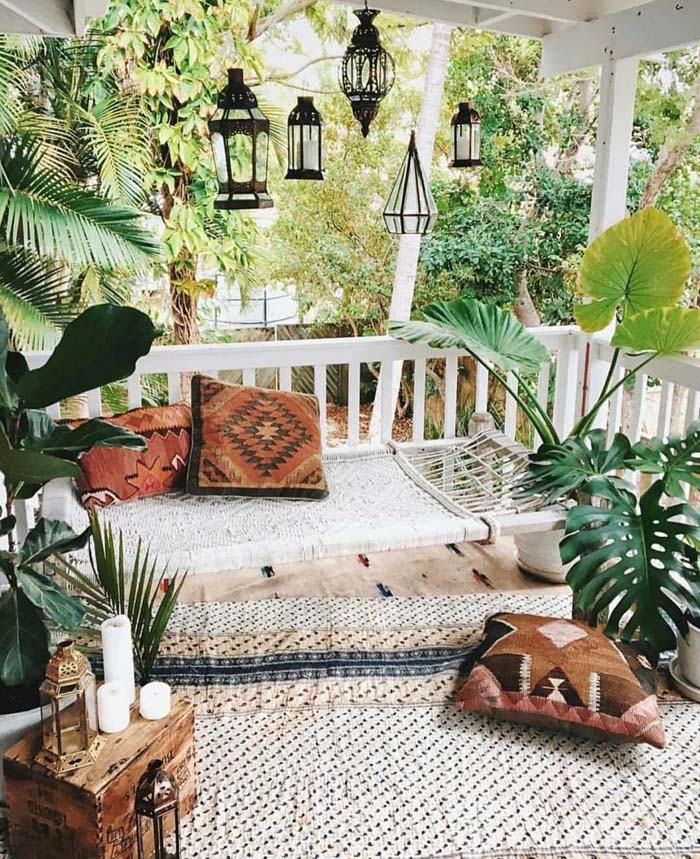 Ready your inner boho chic with this lovely design.
With textured pillows, a hammock, and a large rug, this set-up provides a cozy and lifted environment. Complete the look with hanging lanterns in brass tones.
5. Give Your Planter an Adorable Rocking Chair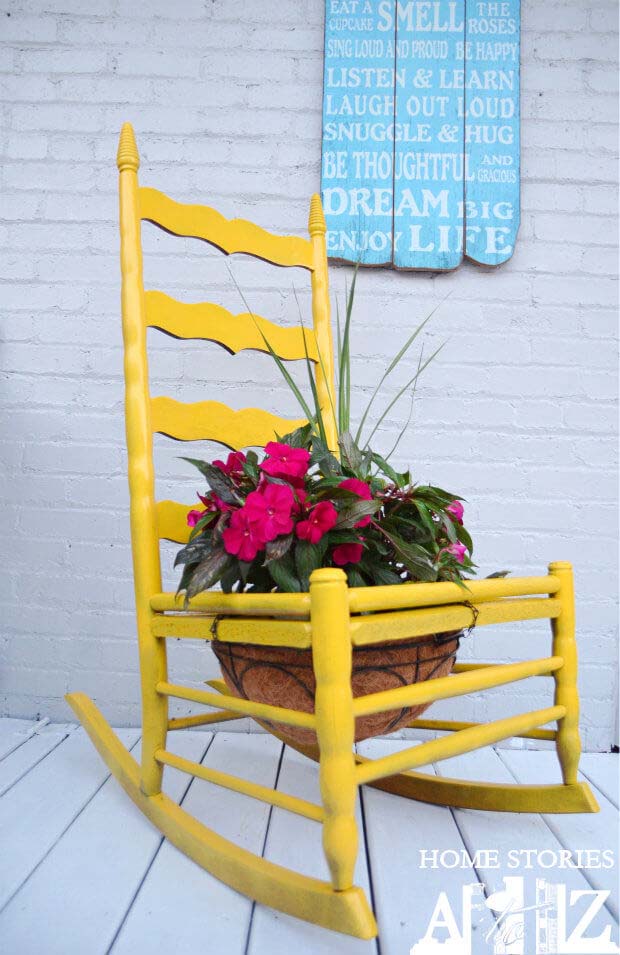 Give your favorite planter an adorable seat.
This design reconstructs a rocking chair to have a holder for a planter. Add a pop of color by painting the rocker a bold yellow.
6. Americana Porch Design with Red, White and Blue Colors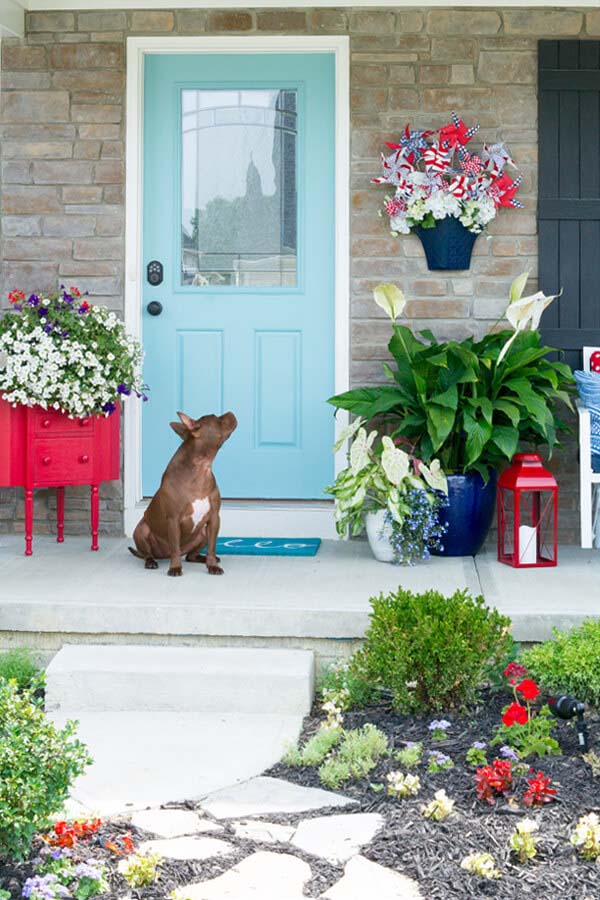 Design your porch with an Americana theme.
Planters, lanterns, and a few small furniture items are painted in red, white, and blue. Add flags and flowers of similar design to create a wholesome look.
7. Porch with Wicker Furniture, Blue, and Orange Accents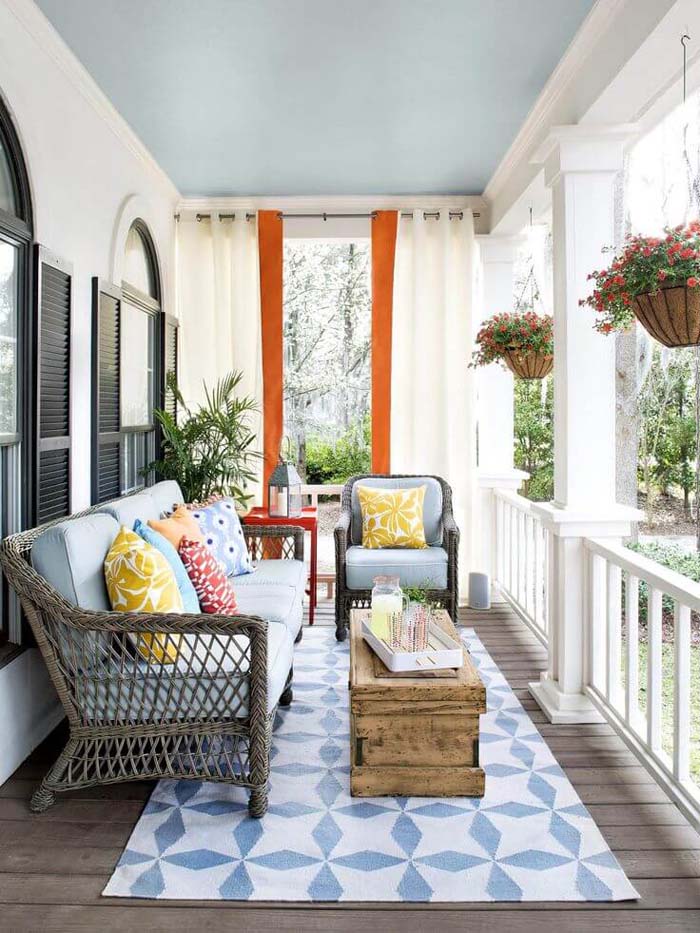 Sip some lemonade in this contemporary, relaxing porch design.
Gray wicker and soft blues are offset with focal orange pieces. The area is complete with an eye-catching area rug.
via HGTV
8. Bring Summer Porch Vibes with Mason Jars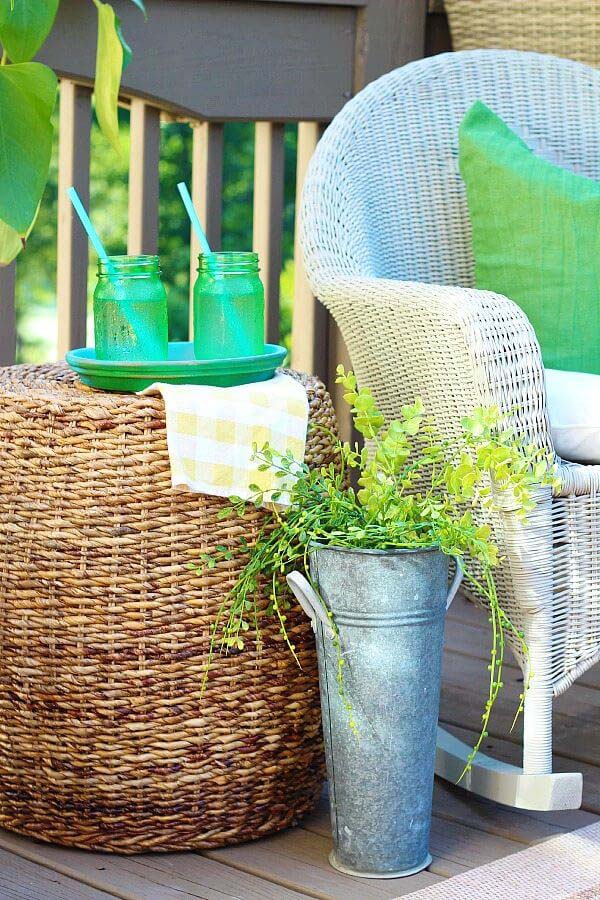 Add some instant summer ambiance to any porch with these major jars.
Just add colorful straws to two mason jars, set them on a catching charger, and the atmosphere is set.
via Refresh Restyle
9. Create a Bohemian Porch Paradise with a Hammock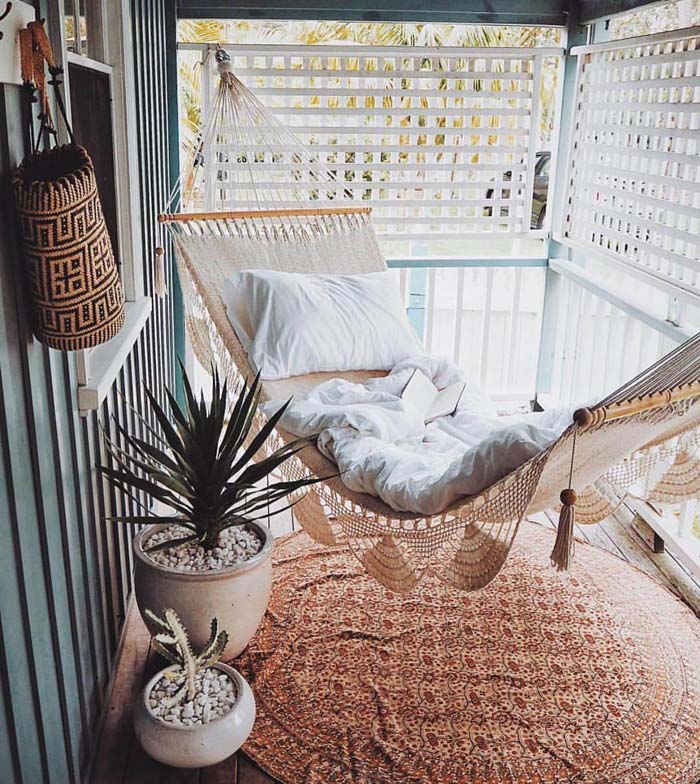 Prepare your cozy corner in this ideal bohemian porch.
A simple canvas hammock swings above a beautifully designed round rug to further specify your space.
To top off the look add cacti in neutral tone vases.
10. Place Polka Dot Planters for Your House Number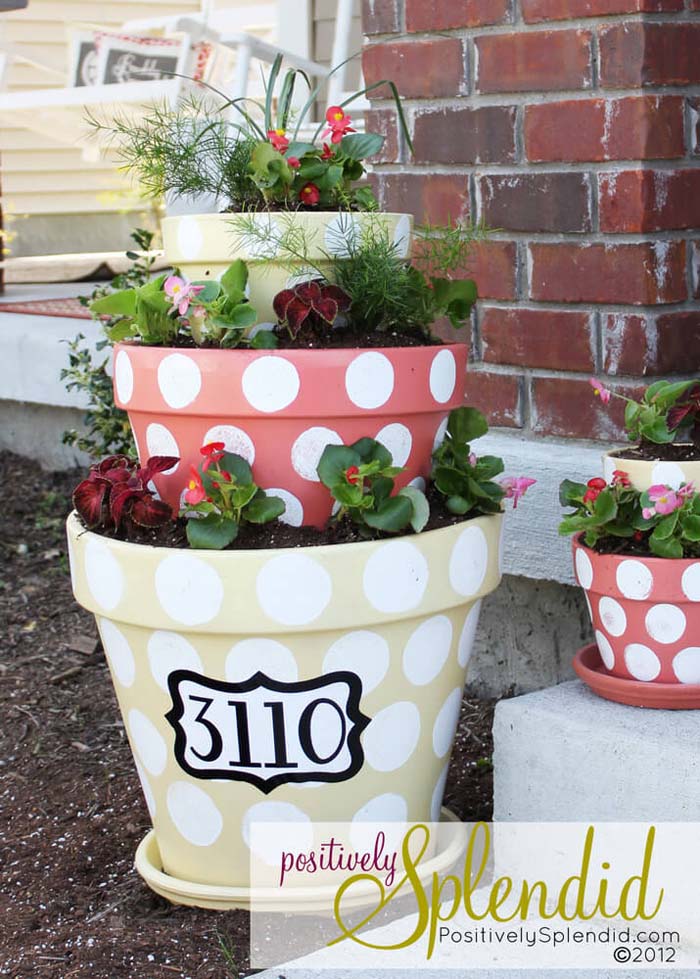 Craft a cute and unique place to display your house numbers.
This idea is made from three differently sized terra cotta planters stacked with one another.
Each planter is painted and covered in a polka dot pattern.
11. Illuminate Your Porch with String Lights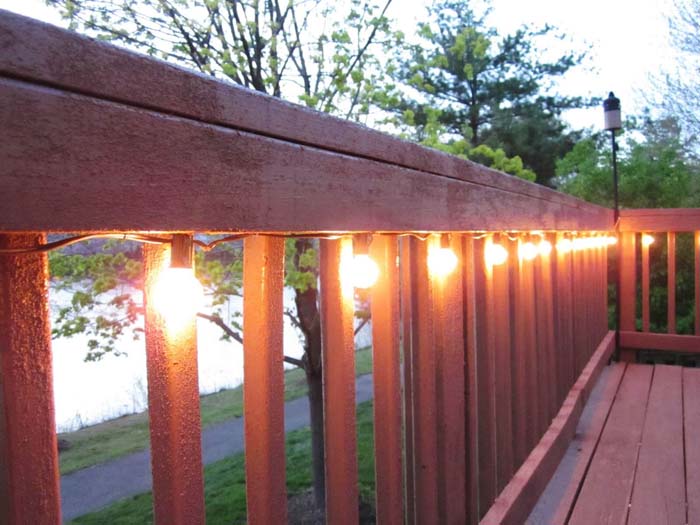 This design has an instant magic boost for any summer porch or deck.
String lights are attached to the bottom of a porch railing to provide beautiful lighting on cloudy days and starless nights.
via Bonnie Projects
12. Use a Classic Porch Plant Pairing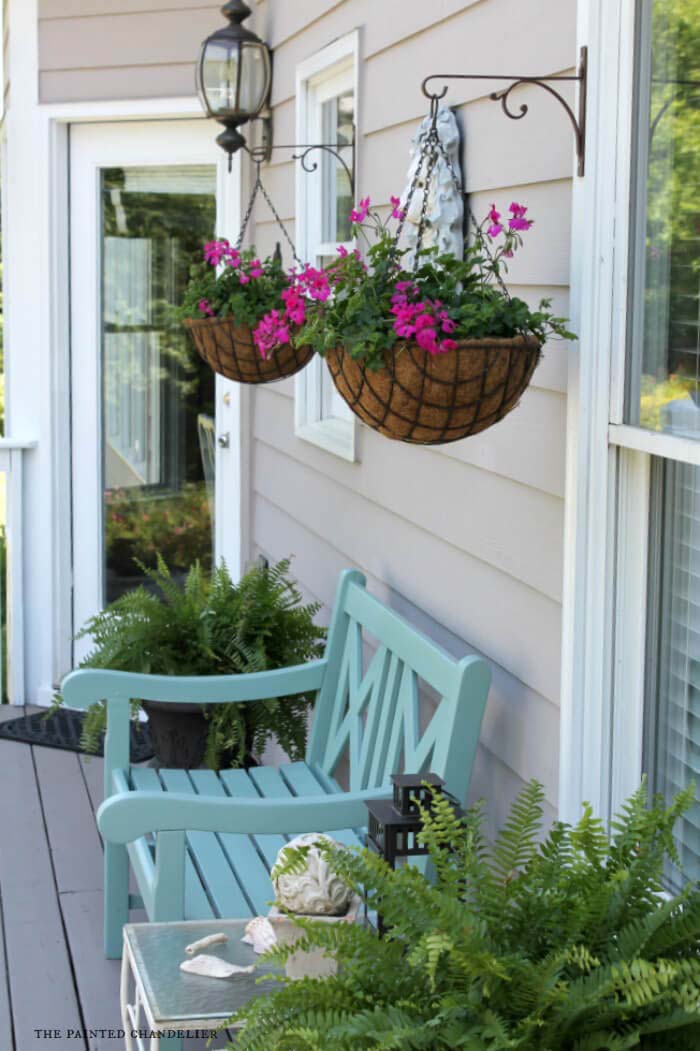 Pair up two classic porch plants with this design.
A pair of overgrowing ferns sit on either side of the doorway or furniture feature of the porch.
To add height, two hanging planters are added just over the ferns.
13. Build a Modern Chic Porch Side Table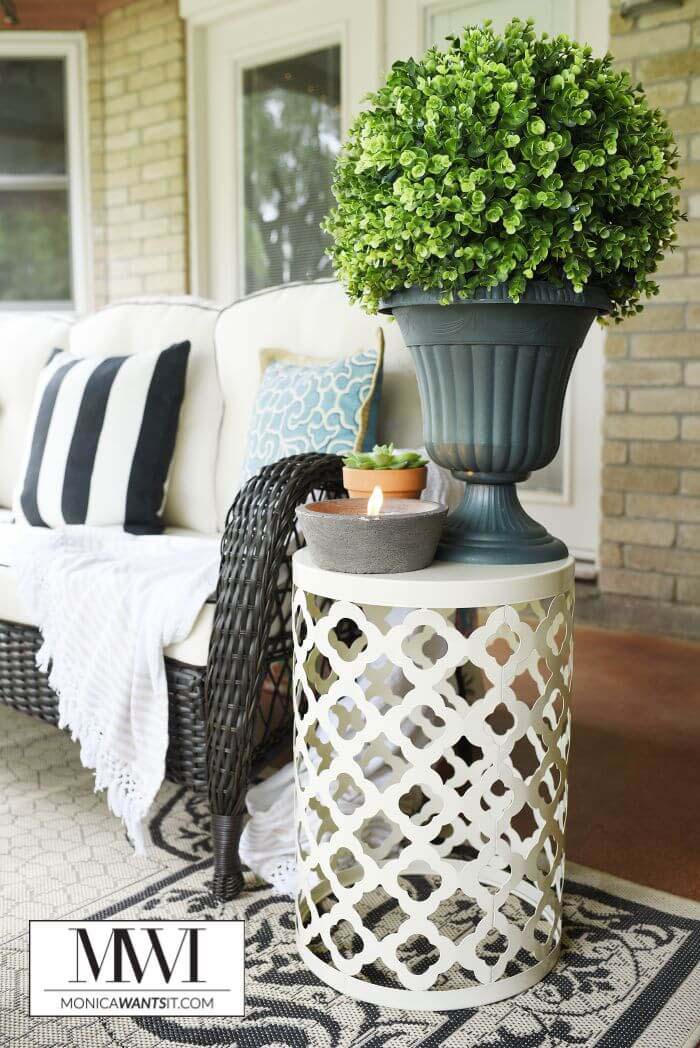 Give your porch a pop of modern chic with this convenient idea.
A hollow metal canister is painted white and used as a side table for the porch seating area.
via Monica Wants It
14. Celebrate 4th of July with Patriotic Porch Decor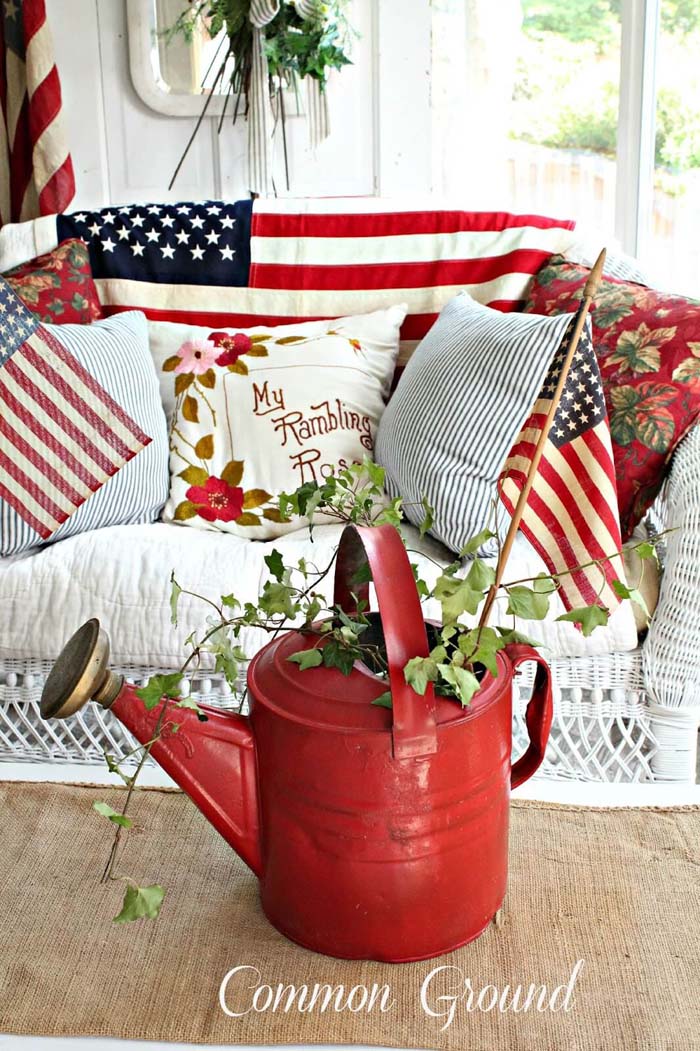 Get ready for the 4th of July celebrations with this scheme.
Set on a white wicker bench are five mismatched pillows in the colors of the flag.
Top the look off with a red painted watering-can-turned-planter filled with a few vines and an American flag.
15. Elevate Your Porch Steps with Metal Bucket Planters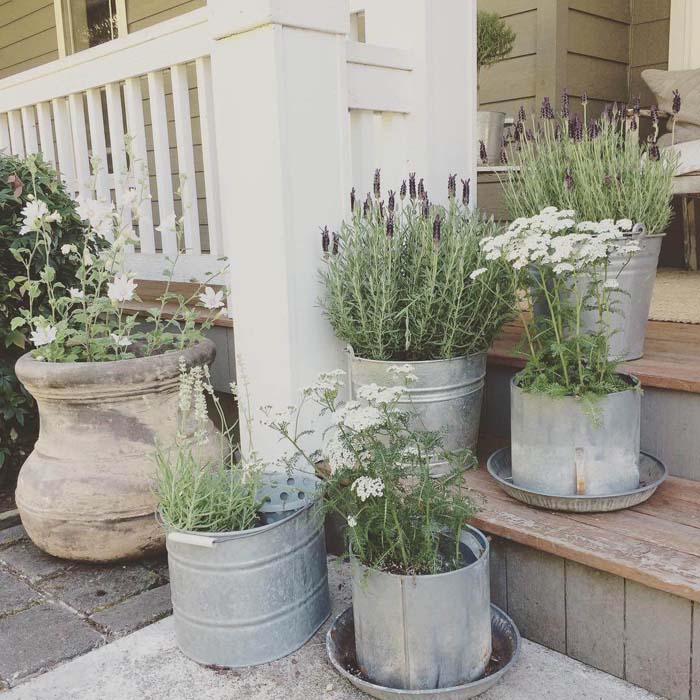 Give your porch steps a sleek, but simple look with this design.
Five variously sized and shaped metal buckets are converted into planters and placed along with the steps.
It adds height and a neutral backdrop for the flowers in the containers.
16. Embellish Your Porch with a Hanging Welcome Sign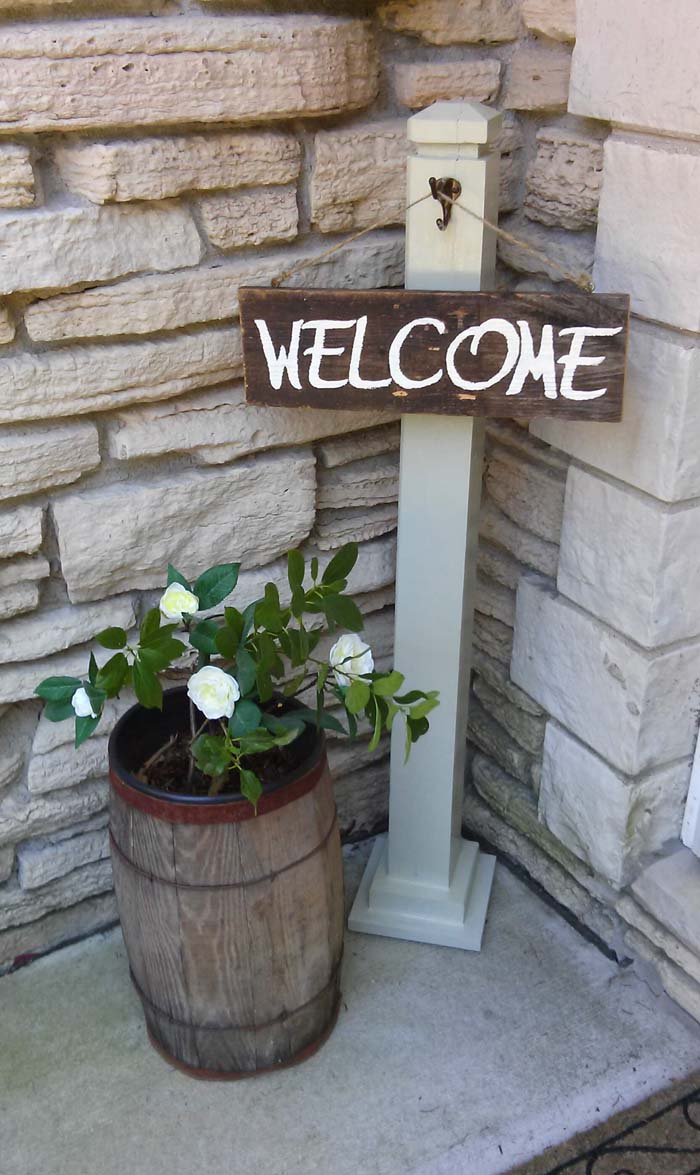 Use this design to give your front door a welcoming look.
A hand-painted wooden welcome sign hangs from a post just at the entranceway of the home.
The look is clean with smooth paint and a glossy finish.
17. Create Magical Lighting with Mason Jar Lanterns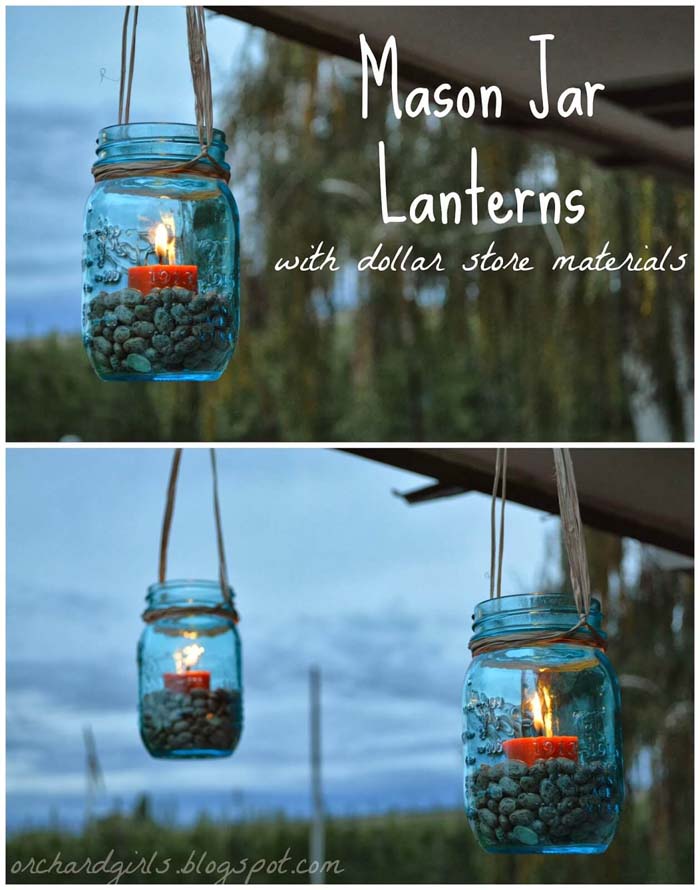 Create your magical lighting with these cute mason jars lanterns.
These are created by adding a colored candle into a mason jar filled to a third-full with tiny pebbles. To make them look more special, they are hung with twine.
via Orchard Girls
18. Add Summer Vibe to Your Porch with Geometric Planters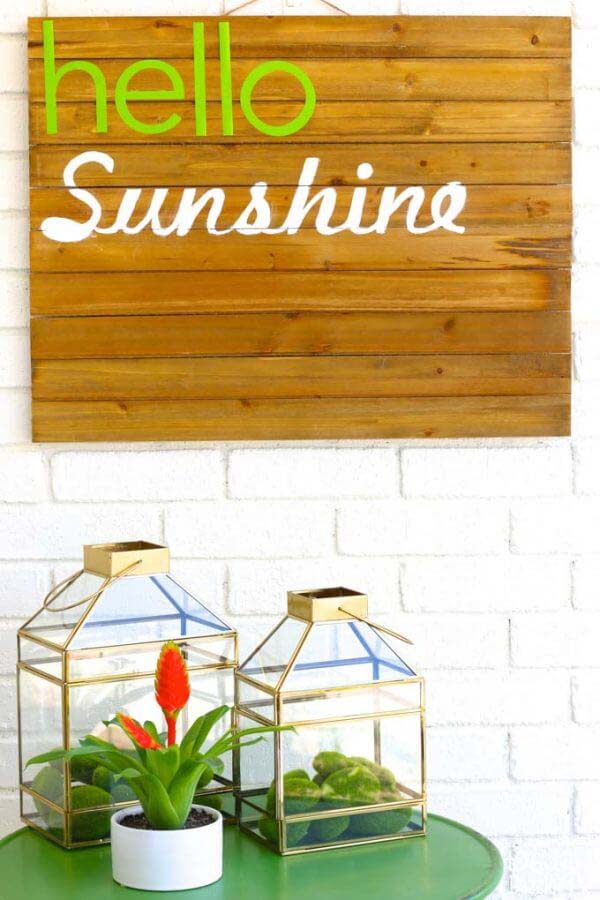 Give your porch an abundant and open vibe this summer by trying out this design scheme.
Two gold-rimmed, geometric planters are set atop a small green round table.
A minimally colored plant rests on the table to contrast the green and gold tones.
via Design Dazzle
19. Rustic-Industrial Porch Design for Backyard Gatherings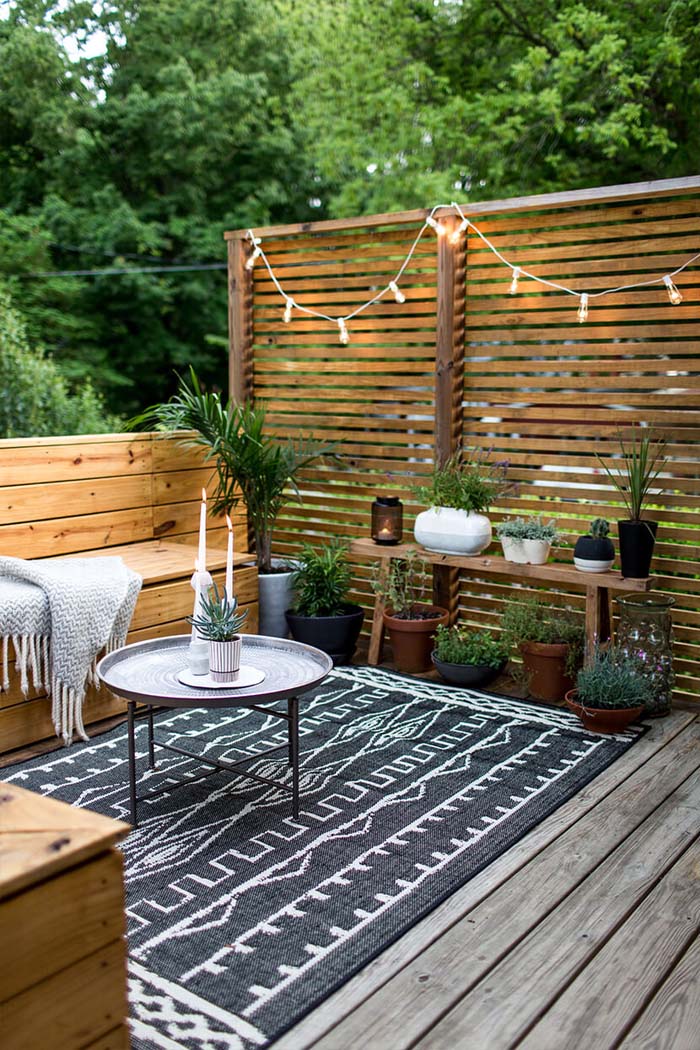 This porch design sets the standard for backyard gatherings in a rustic meets industrial look.
Contrasting metal tables with wooden benches and lush green plants, all elements create a seamless harmony. String lights are hung low across a large wooden privacy screen.
via Fresh Exchange
20. Modern Porch Design with Blue-Tone Metal Elements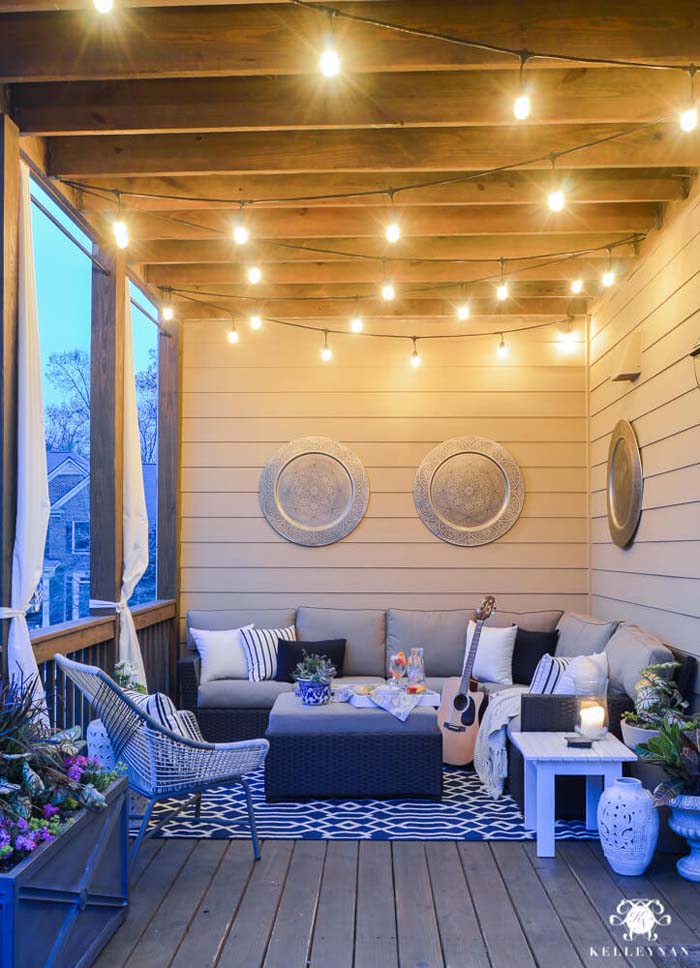 This porch design uses blue tone sand metal elements to create a modern and cozy nook.
It is made by pairing a matching sectional and ottoman with a geometric rug and various small furniture pieces.
Metal chargers are hung above the seating reflecting the string lights.
21. Create a Zen Space with Two Chairs and a Table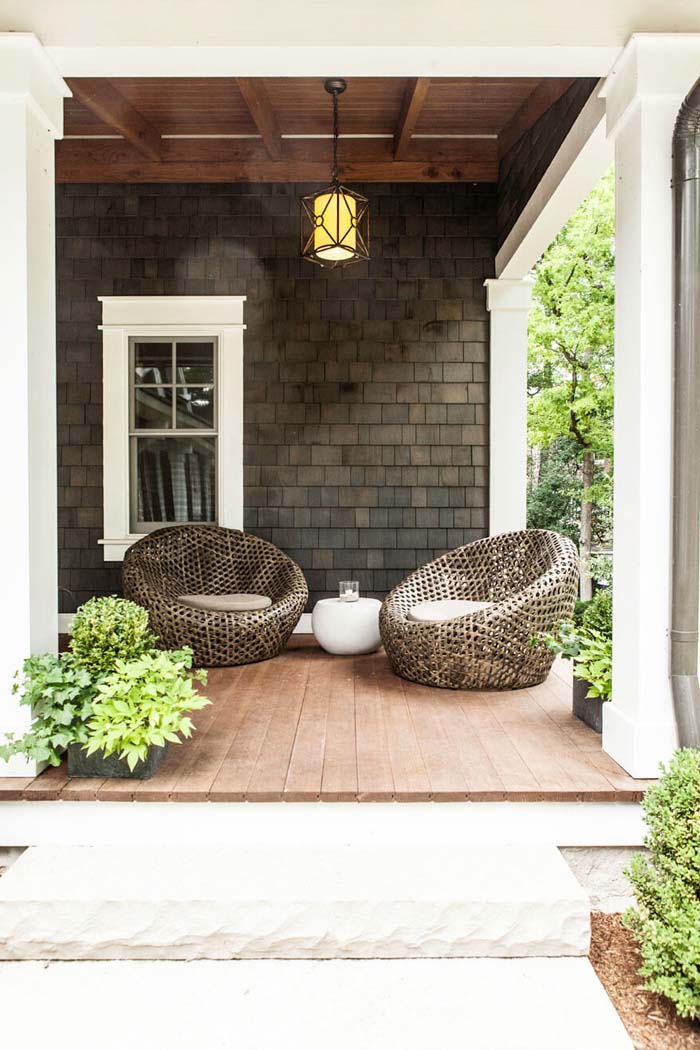 Set a minimalist zen tone with this design.
Atop a wooden area sits two rounded wicker chairs with a single white table between them.
Add a hanging lantern and green plant to complete the look.
22. Create a Moroccan Oasis on Your Porch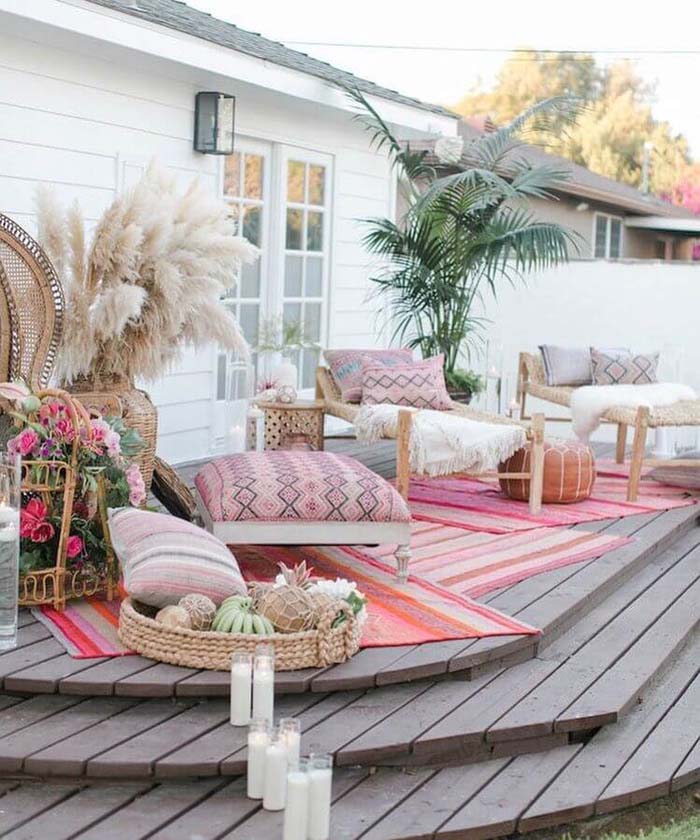 Use the pink and orange tones of this scheme to give your porch a Moroccan vibe.
It is made by combing lush white blankets, overlapping striped rugs, and geometrically designed cushions.
via Fresh Ideen
23. Industrial Porch Design with Rectangular Planters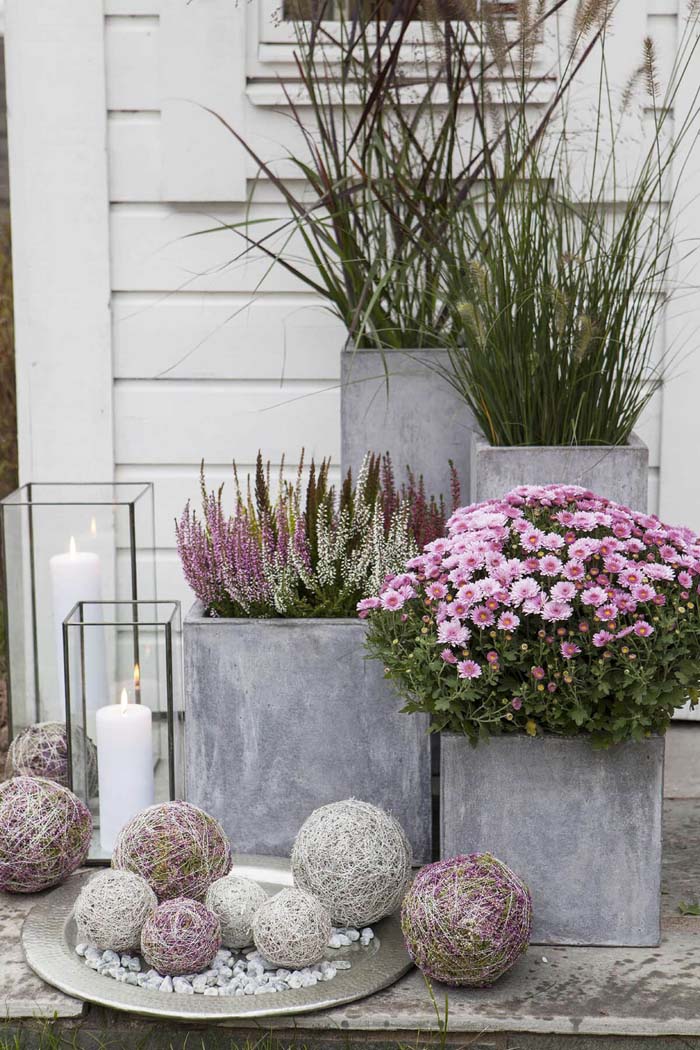 This porch design sets a modern industrial look.
It uses four differently sized, rectangular concrete planter boxes to showcase muted pink flowers.
via Today`s Gardens
24. Welcome Guests with a Flamingo Pillow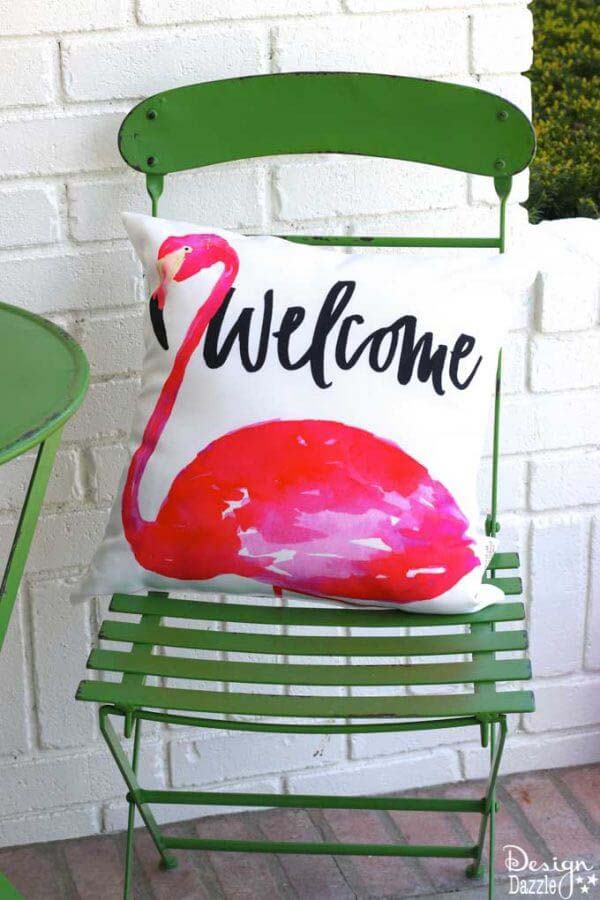 Add a touch of the tropics with this cute idea.
Simply place a fun flamingo pillow with a welcome message on your porch.
via Design Dazzle
25. Set the Mood with an Oversized Porch Candle Lantern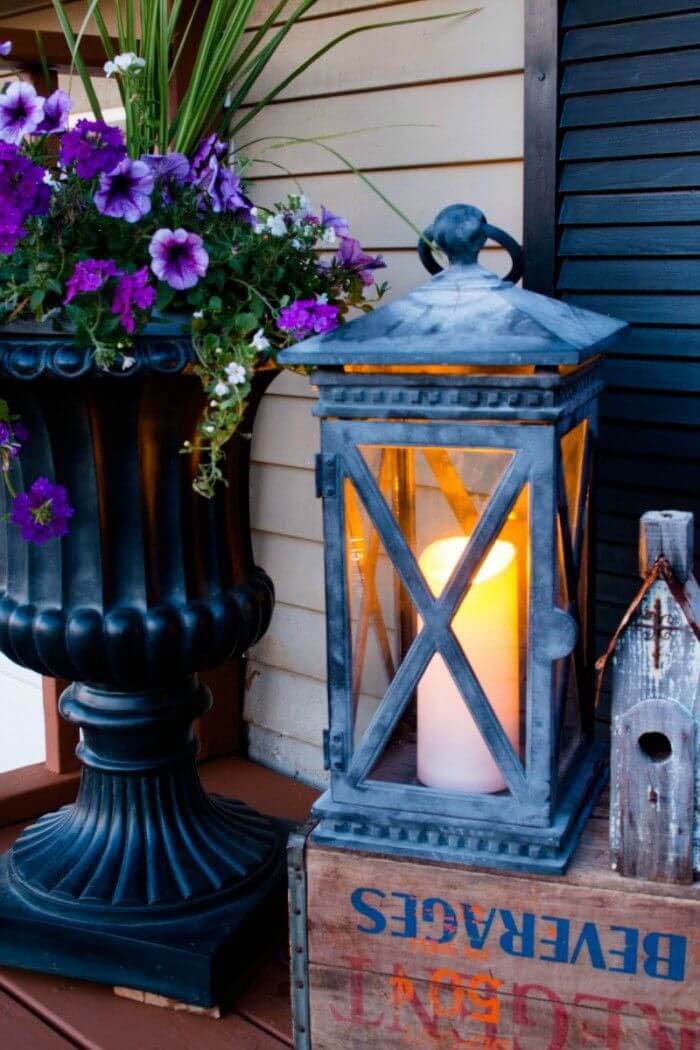 Give a mysterious and foggy vibe with this instant porch attraction.
Add a candle to a large lantern on your porch.
via The How To Home
26. Potted Hydrangea Entryway Display with Lanterns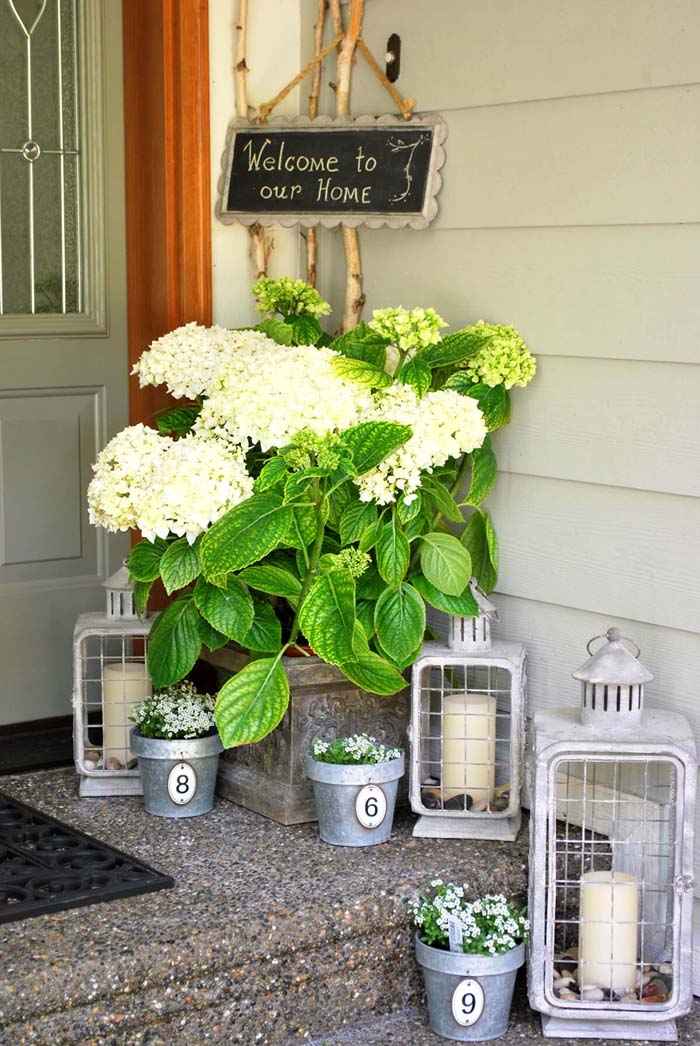 Create a multi-dimensional look with this welcoming design.
White hydrangeas are center stage to a chalkboard welcoming sign and lighthouse-style lanterns.
via Fetching Daisies
27. Add Warmth with Upscaled Copper Cylinders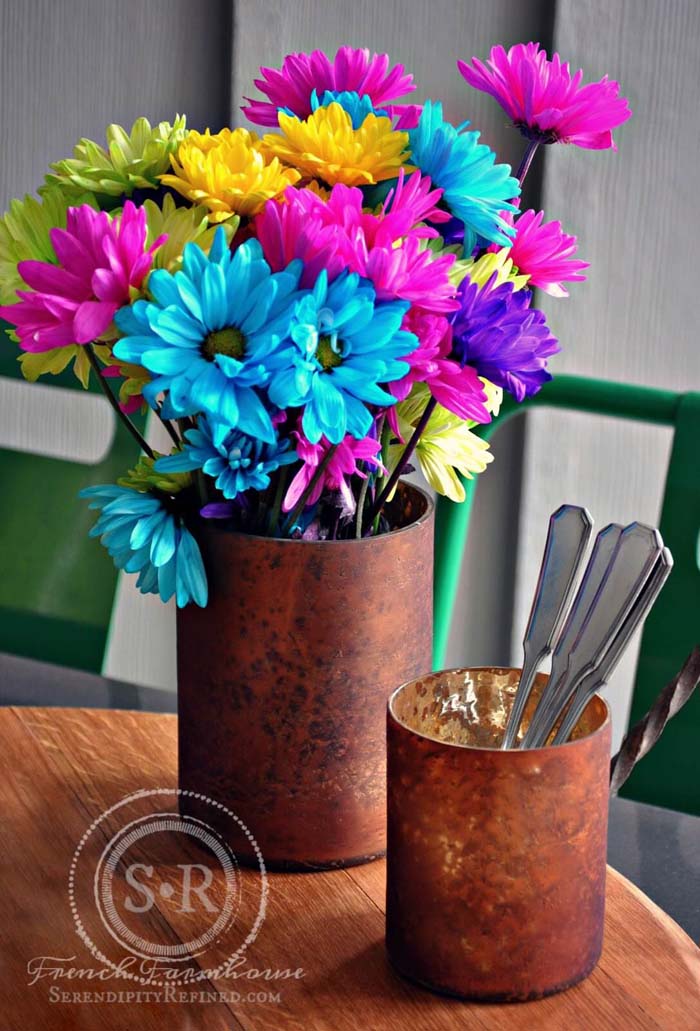 Use upscaled copper cookware to add warmth to your porch decor with this nifty idea.
Fill two differently sized copper cylinders on a table with flowers to create a welcoming presence.
28. Upcycled Spool Table with Colorful Facelift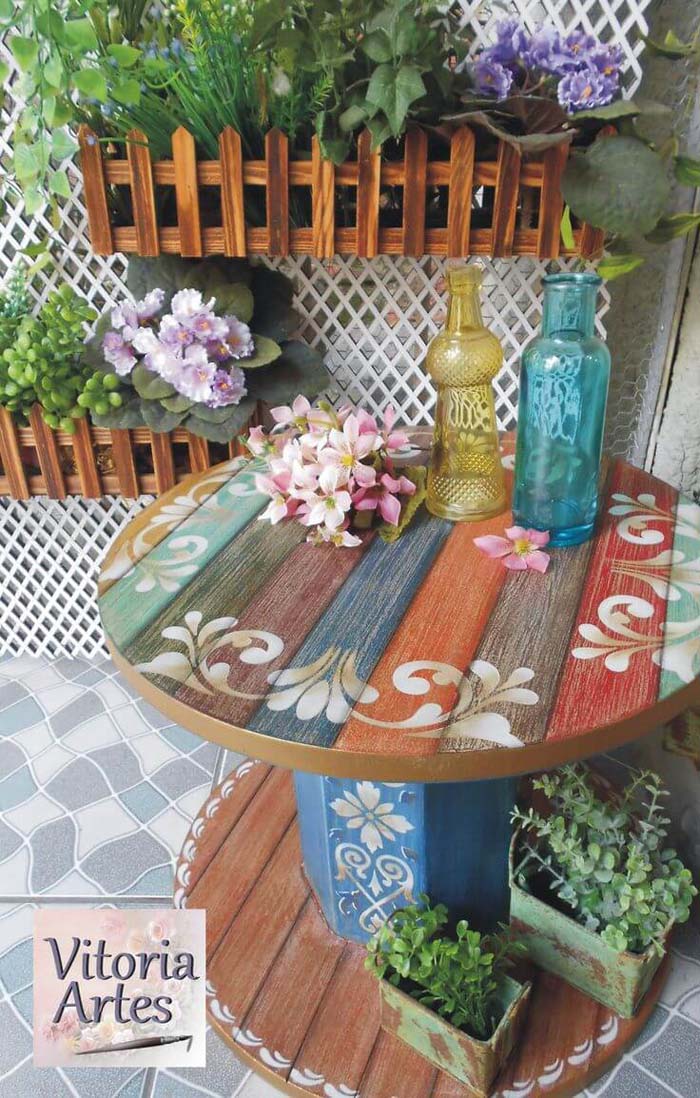 This porch project adds a fun updo to the classic spool table.
Each board is a different faded color. A stenciled overlay is done to frame the top.
via Greenmore
29. Elevate Your Porch with Rustic Staircase Planter Boxes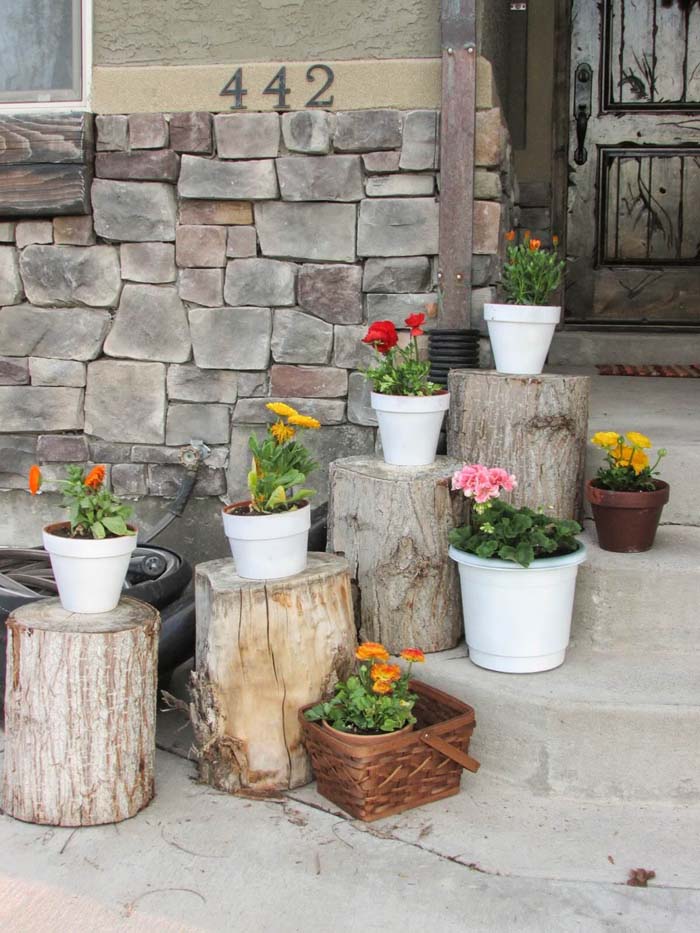 This idea gives your plants something new to rest on.
Log cut-outs are placed along a staircase to give a sense of natural movement and height, providing the perfect place setting for your flower pots.
via A Lively Hope
30. Create a Modern Farmhouse Porch with Bucket Planters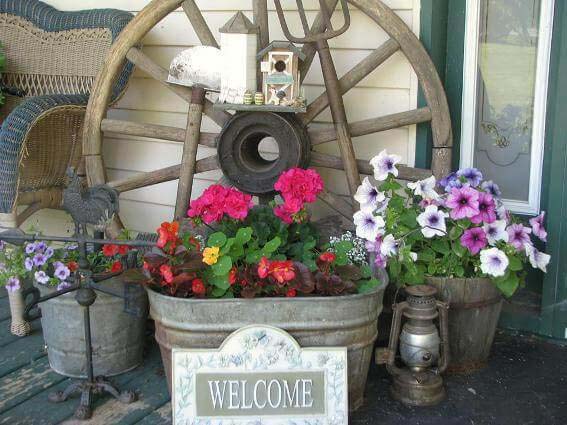 If you feel like creating a modern farmhouse scene, this porch design will work for you. It uses wooden buckets and metal tubs as planters.
The look is perfected with weather vanes and lanterns.
31. Elegant Two-Tier Wooden Crate Side Table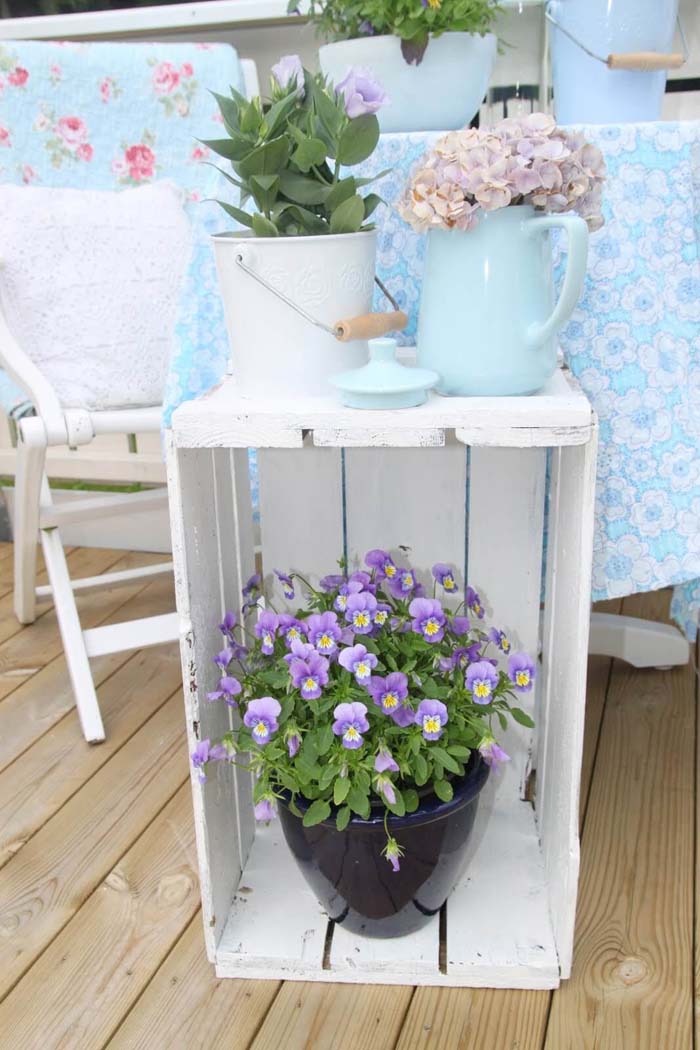 Add a boost of simple elegance with this design.
It paints white a wooden crate. Turned on its side, the crate is the perfect two-tiered side table.
via To Spiti Mas
32. Minimalistic Porch Garden Look with Succulent Lanterns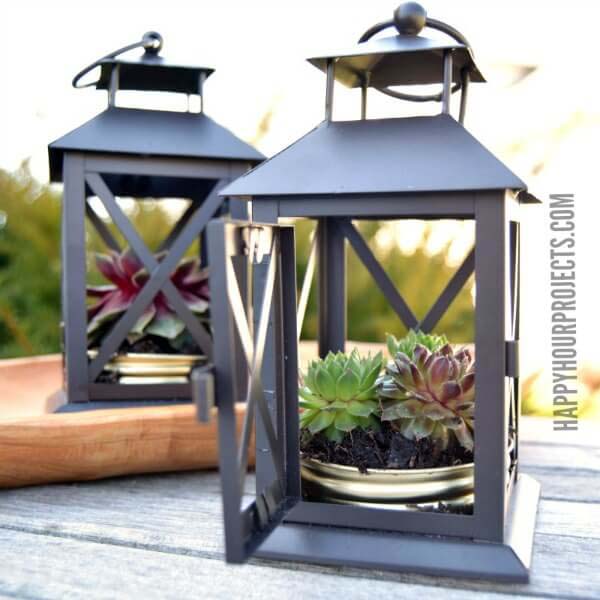 Give a minimalistic look to your porch's garden scape with this idea. Two lanterns are filled with small succulents.
33. Adorn Summer House Porch with Beach-Inspired Decor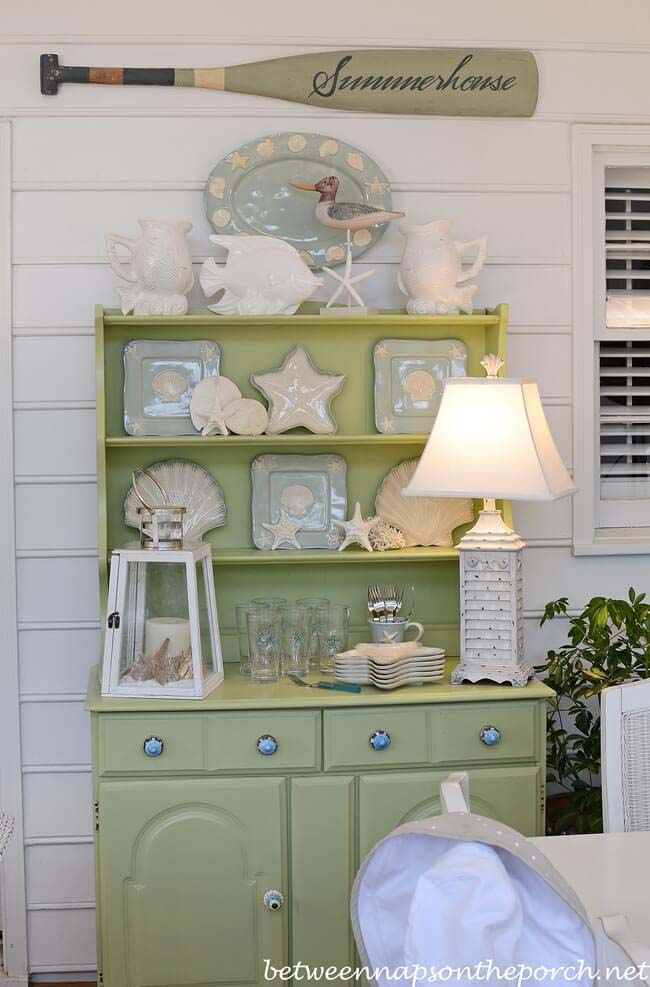 This porch design showcases your beach-inspired treasures.
A wooden hutch is painted green and holds white and taupe-colored beach-themed items. Add a lamp for ample lighting.
34. Multi-Leveled Porch Design for Plant Lover's Paradise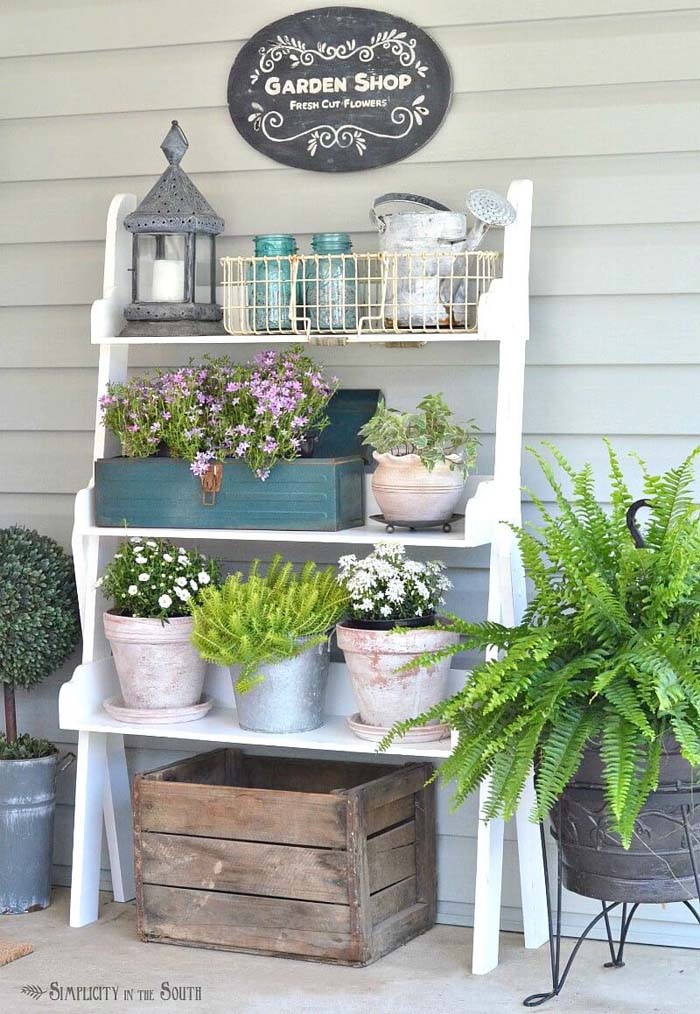 This porch design provides three tiers to let your plants flourish.
A white-painted shelving system holds planters in neutral shades. Pops of green balance the metal tone.
35. Welcome Guests with a Personalized Tulip Wreath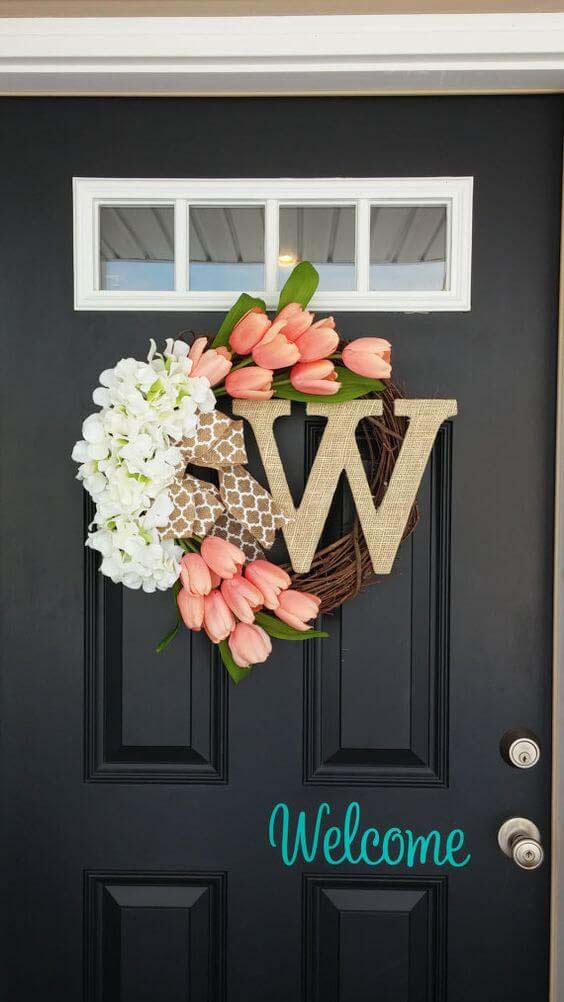 Welcome everyone to your porch with this simple but beautiful wreath.
Made from twine, this wreath features your initials, ribbon, and faux pink tulips.
via Ideal Pin
36. Invite Your Guests with an Artistic Greeting Sign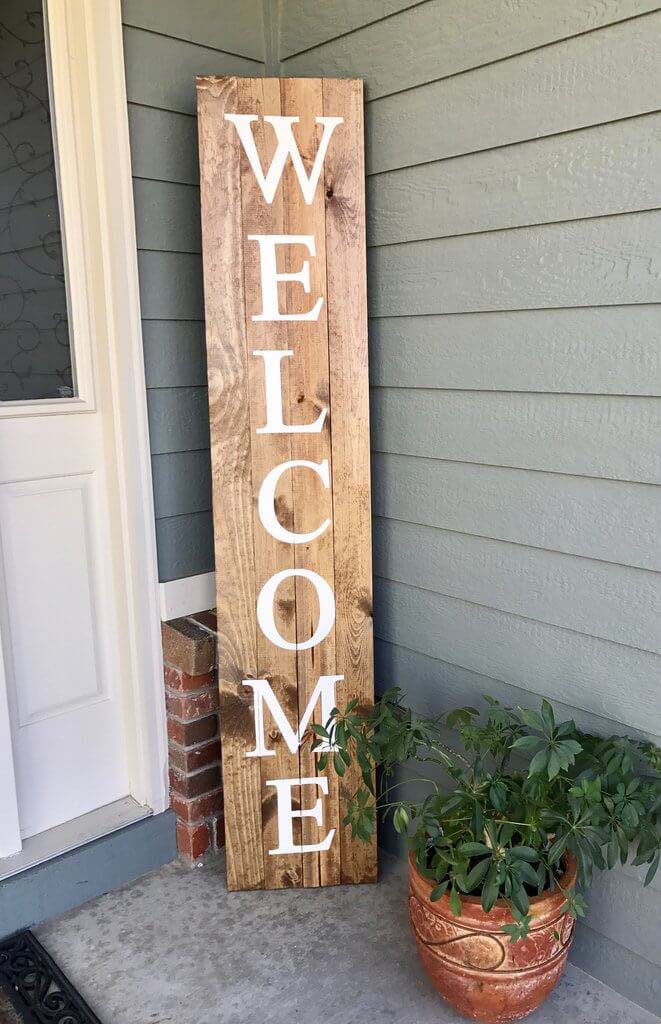 This idea offers a great way to greet your guests.
Four boards are joined together and used to hold stenciled white welcome letters.
37. Combine Green and Blue Accents for a Lakeside Porch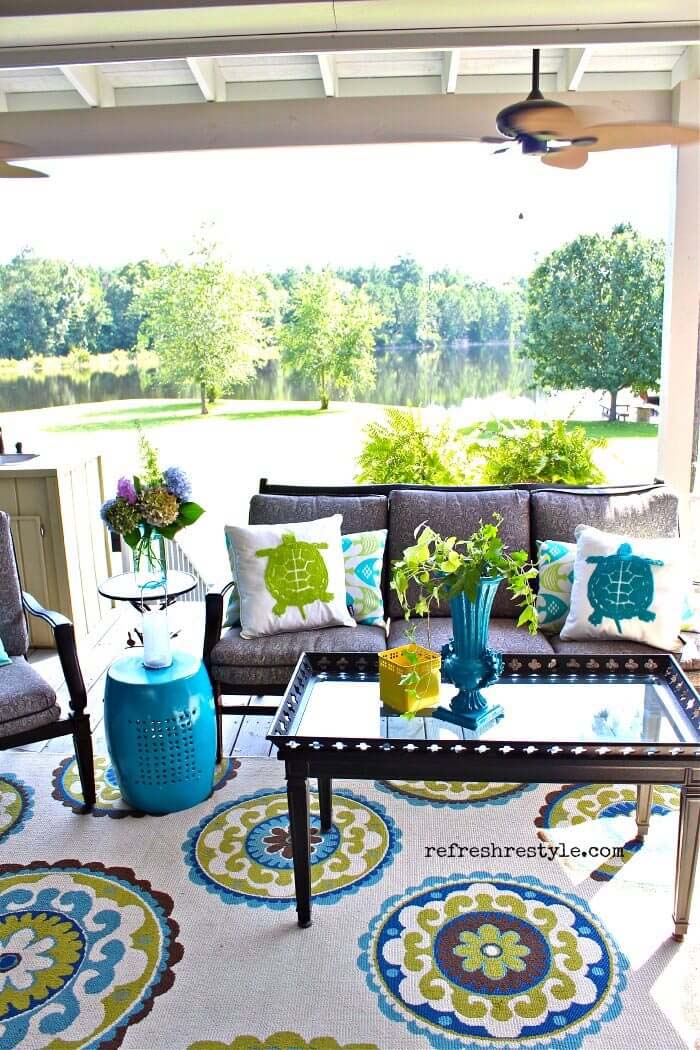 In lakeside fashion, this porch design melds metal tones with green and blue designs.
It's put together with a couch, chair, and table. The look is tied together with accent items and floral arrangements.
via Refresh Restyle
38. Elevate Your Porch with Wicker-Inspired Design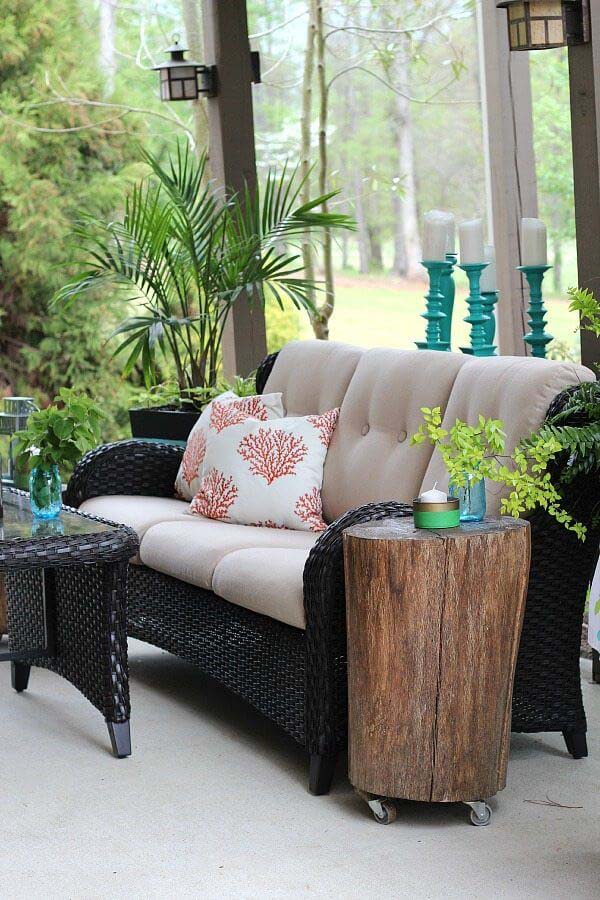 Bring back elegance to your porch with this wicker-inspired design.
A dark, neutral-toned couch and coffee table lay bare with green plants in a glass.
via Dintelo
39. Bring the Beach to Your Porch with a Decorative Shell Set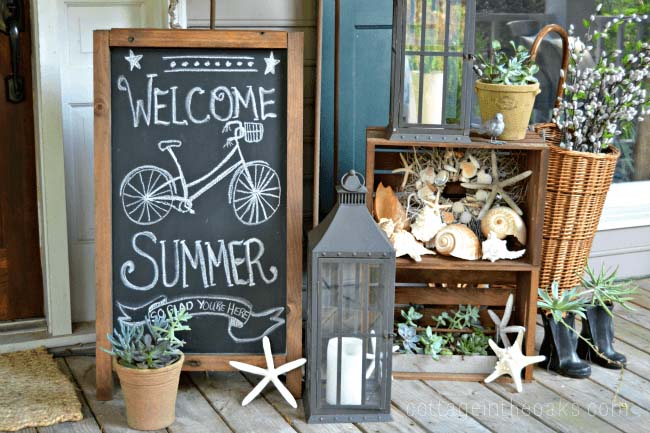 Add a touch of the shore to your porch with this decorative set.
A wooden-crate-turned-cabinet hosts a variety of seashells and is topped with a metallic lantern.
40. Brighten Up Your Door with a Floral Wicker Basket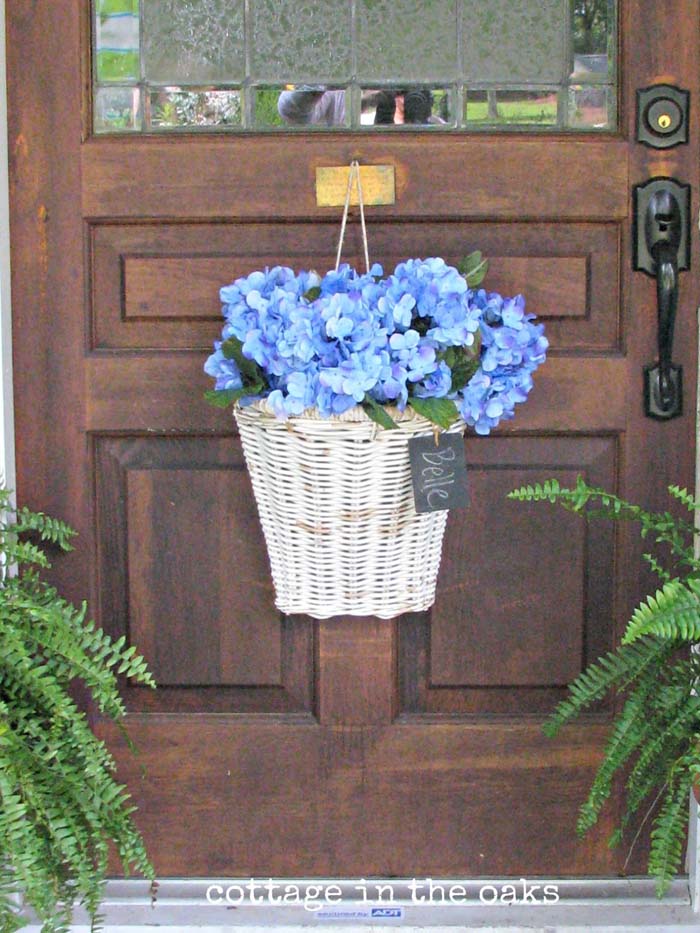 Bring the beauty of nature to your door with this idea.
A white wicker basket filled with bright blue flowers is hung in the center of the front door.