We have said many times that the porch of your home is an inseparable part of it and it should be treated with the same attention to fine elements as all internal rooms.
Being the first thing your guests see and the oasis you spen the warmer days in, it has to be welcoming, comfortable and cozy.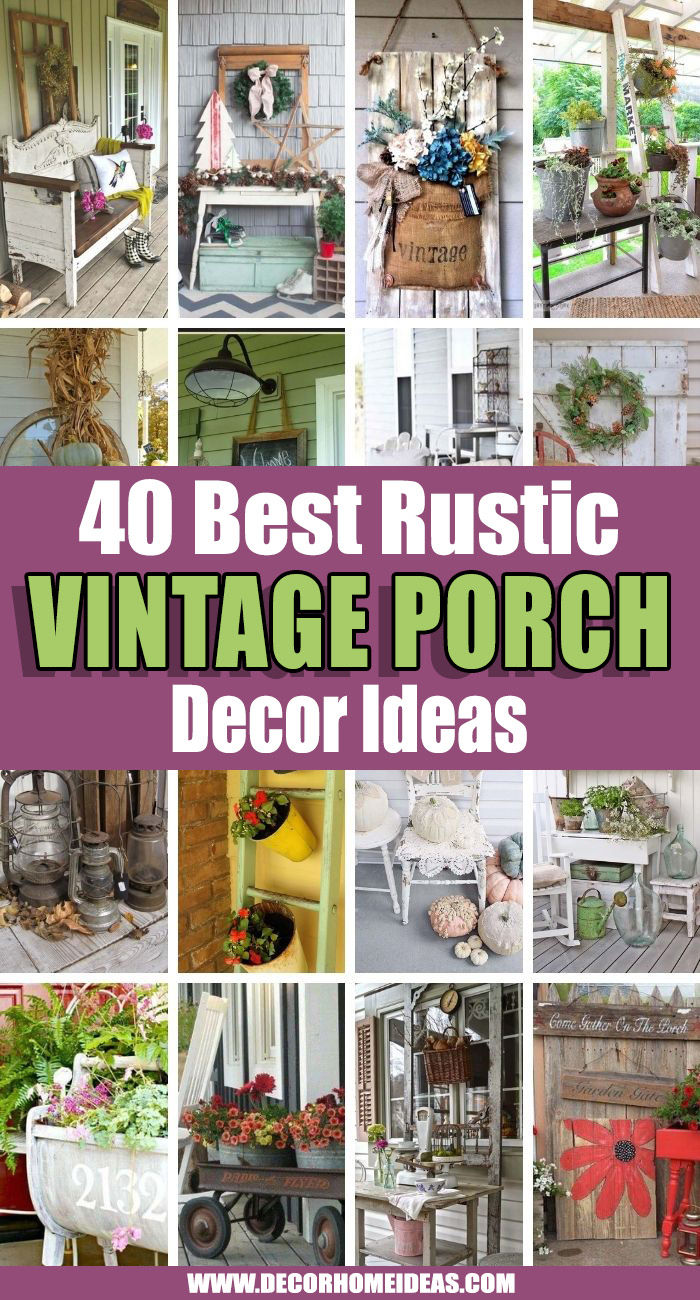 This is why we are going to dedicate special time to the decor of the porch. It will be focused on the rustic vintage style because it never goes out of style and mostly because it creates the perfect connection between outdoors and indoors as if they are one and the same thing- appealing and homely.
1. Add Vintage Flair With Lanterns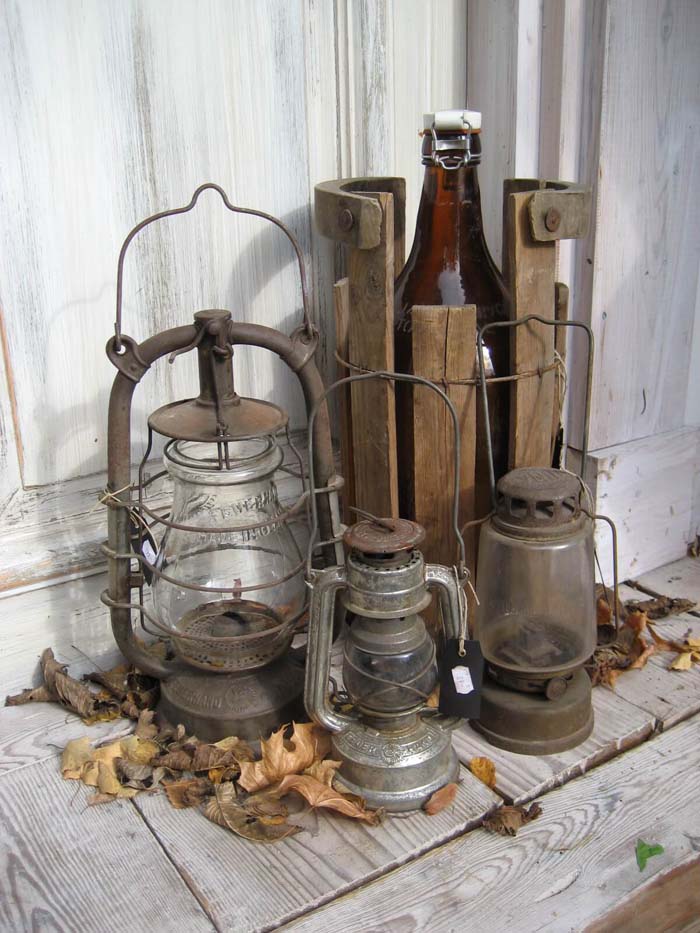 Choosing antique items is the best way to incorporate vintage rustic style. Make sure that they match the general concept of the porch.
A set of rusty gas lanterns will look adorably placed on a wood-planked or decked porch.
2. Repurpose A Distressed Dresser As A Planter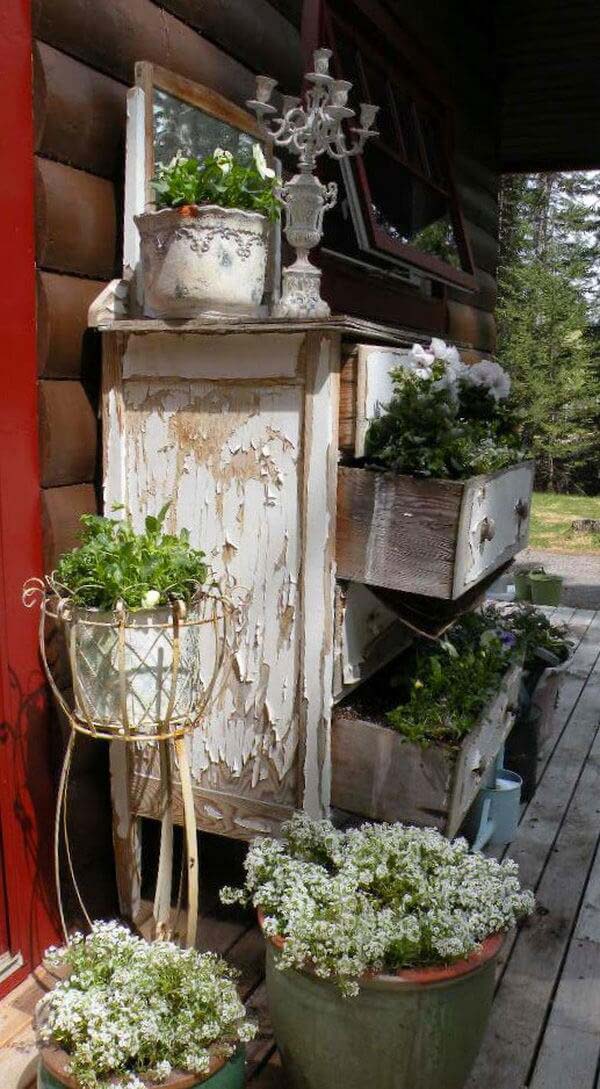 This dresser reveals the rustic charm and that makes it the perfect repurposed planter for the front porch. Pull out the drawers and fill them with soil and flowers.
Any vintage pots can become a complement to the vertical garden.
via Fussy French
3. Display Flowers In An Antique Wagon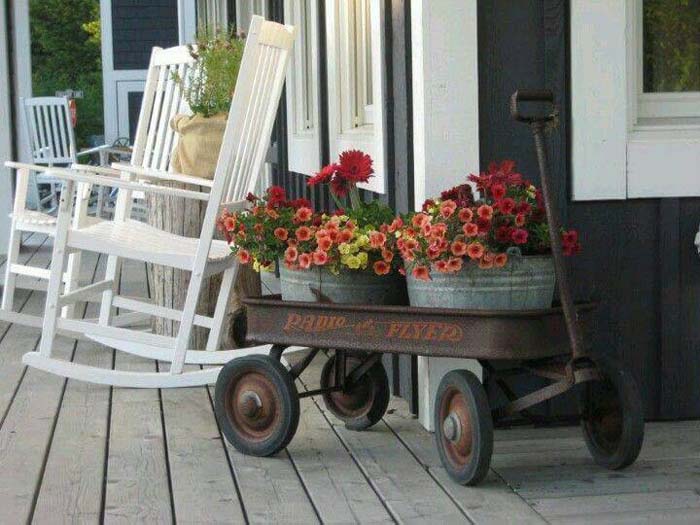 Have you been lately at a flea market? If not, it is time to visit it to prepare your porch for the warm days.
Take a look for any antique items that can be repurposed into flower stands like this wagon.
4. Welcome Display With House Number Milk Can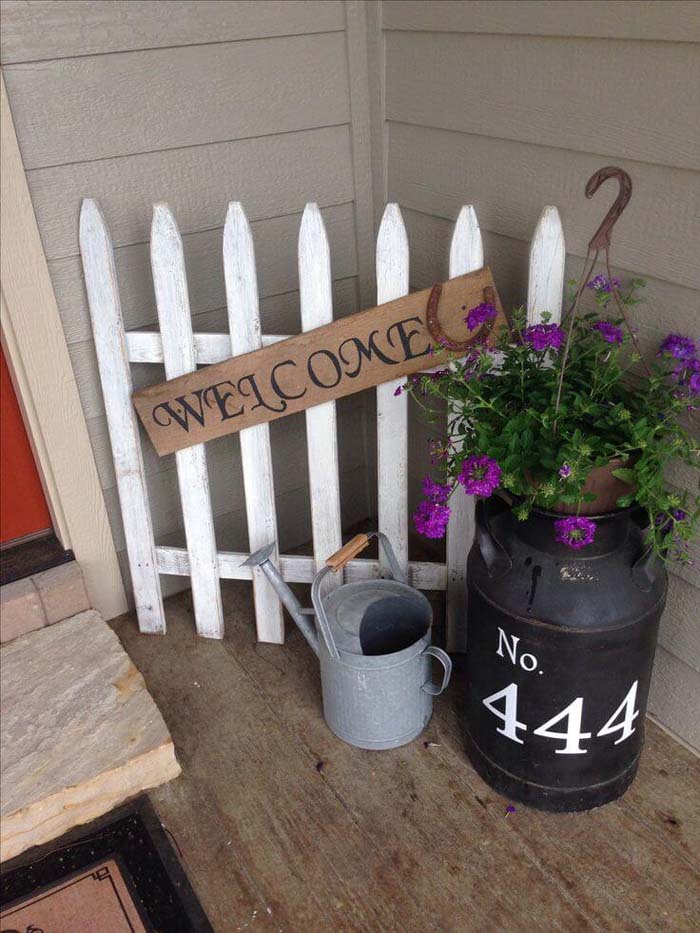 Use an old piece of the picket fence as a focal point of your welcoming porch.
Just lean it against the wall and create a background for your vintage repurposed plant stands and signs.
5. Croquet Set Corner Display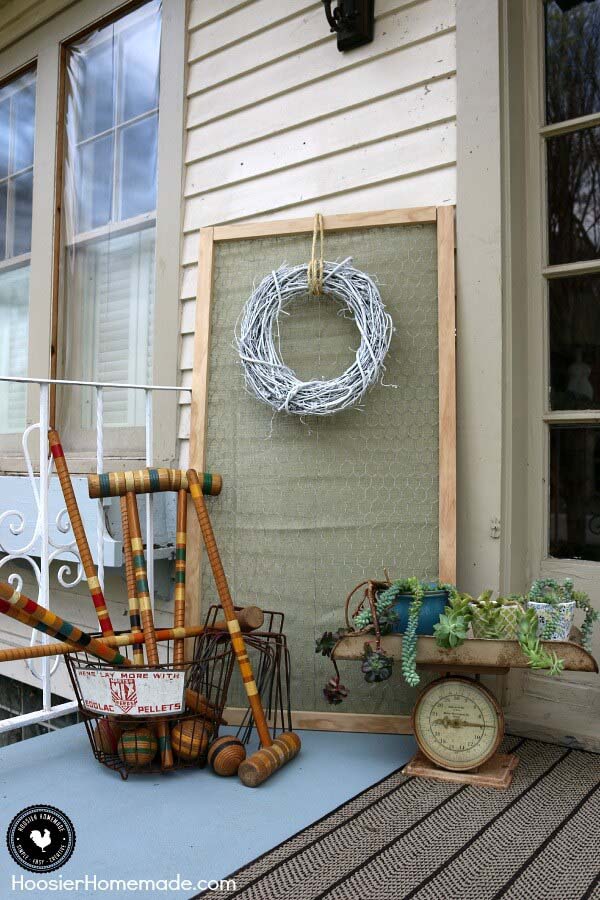 A budget-friendly front porch decor idea features a mix-match between forgotten in the garage antique playset, a scale from the thrift shop, a wreath made from grapevine and leftover shutters.
via Hoosier Homemade
6. Antique Door Flower Hanger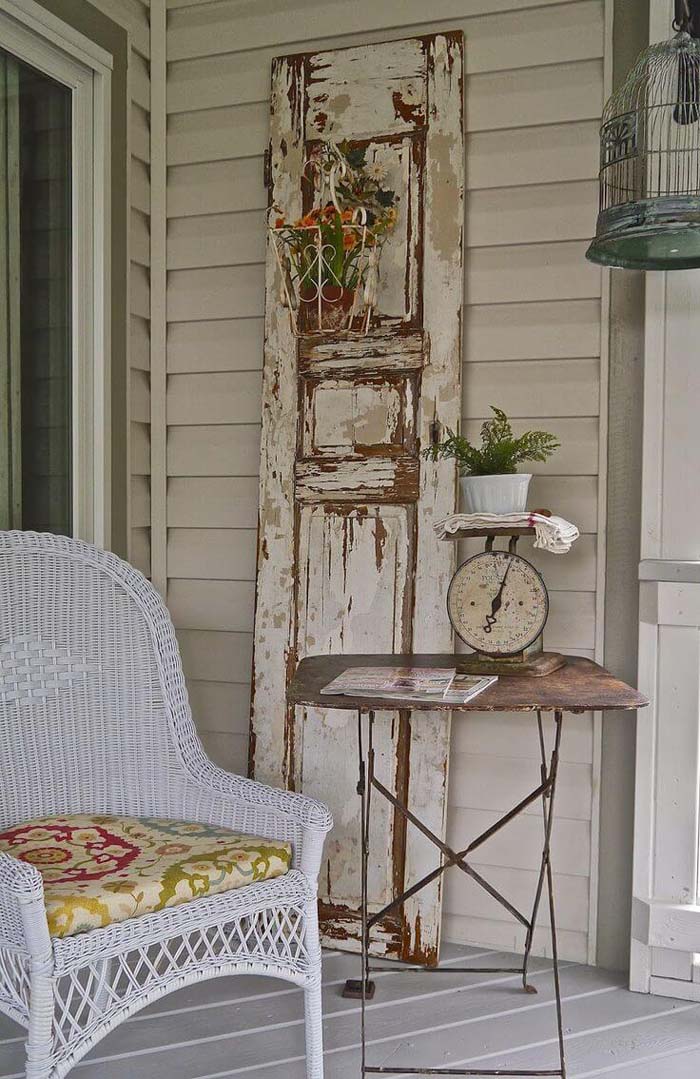 Use an old door, a shutter or a window frame to create a cozy nook at the porch. The weathered it looks, the better.
Thus it will lift the welcoming level. Leaned or nailed on the wall, it becomes a background for a vintage collection represented by a wicker armchair, rusty side table and a scale.
via Rooted In Thyme
7. Cottage Chic Hanging Tray Décor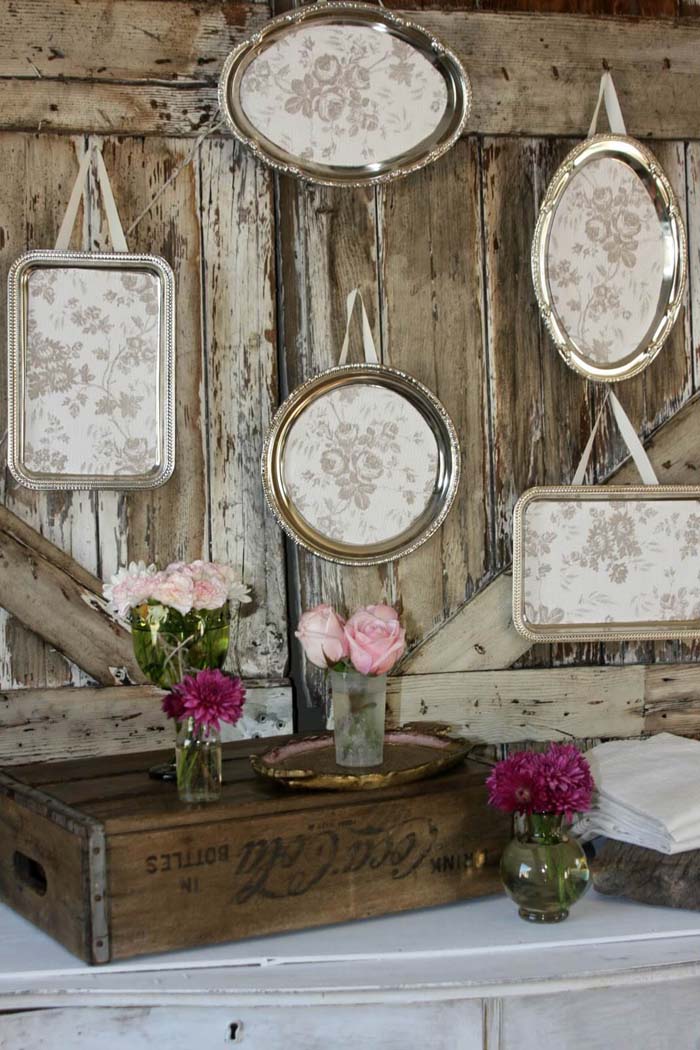 A collection of vintage items could make a great focal point on the porch. These silver plates have been turned into wall art by attaching a ribbon at their backside.
To enhance the rustic effect, old shutters are used as a background.
via Salvage Dior
8. Garden Wall Upcycled French Doors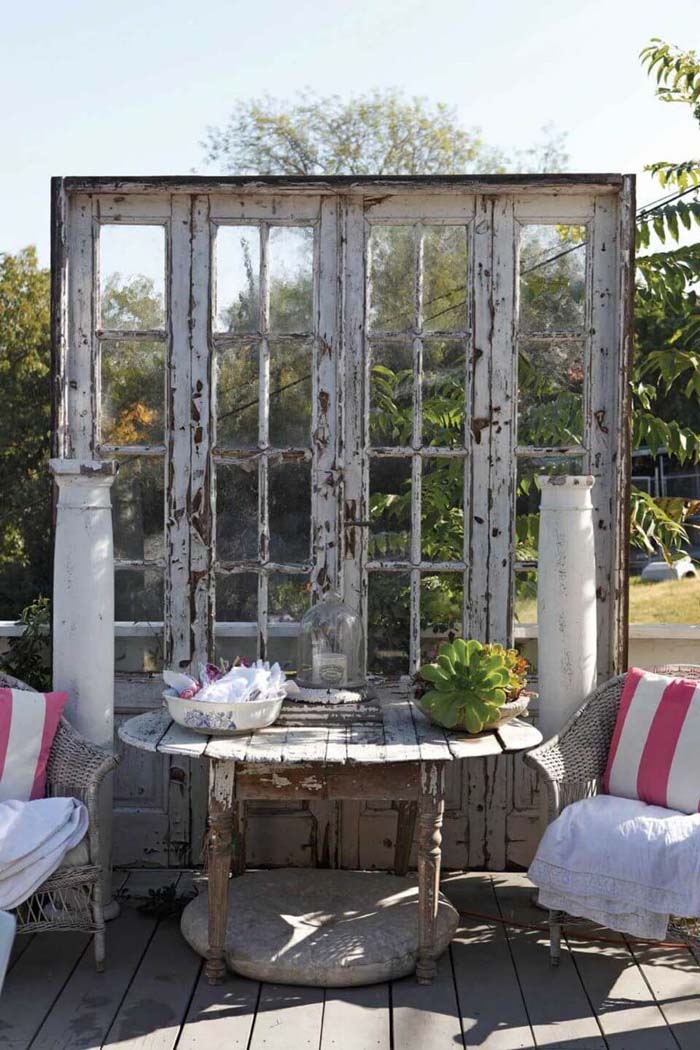 A salvaged French door zones the sitting area on the porch to make it appealing for long hours of talks and relaxation.
A rustic set of two wicker armchairs and a vintage wooden table form the comfortable porch oasis.
9. Welcoming Bright Color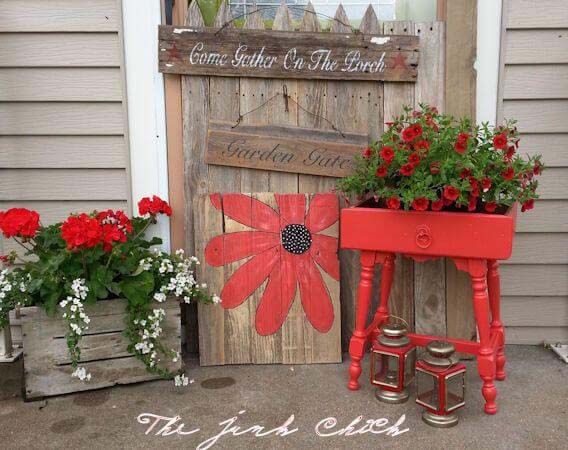 Use one vivid color like red, green or yellow to freshen the rustic items you have chosen to uplift with your porch. Such color will cheer up the ambiance and the mood.
Upcycled lumber crates, pieces of furniture, pallet boards come to help to create yourself a unique rustic vintage nook, welcoming the warm weather.
via The Junk Chick
10. Recreate A Neighborhood Grocery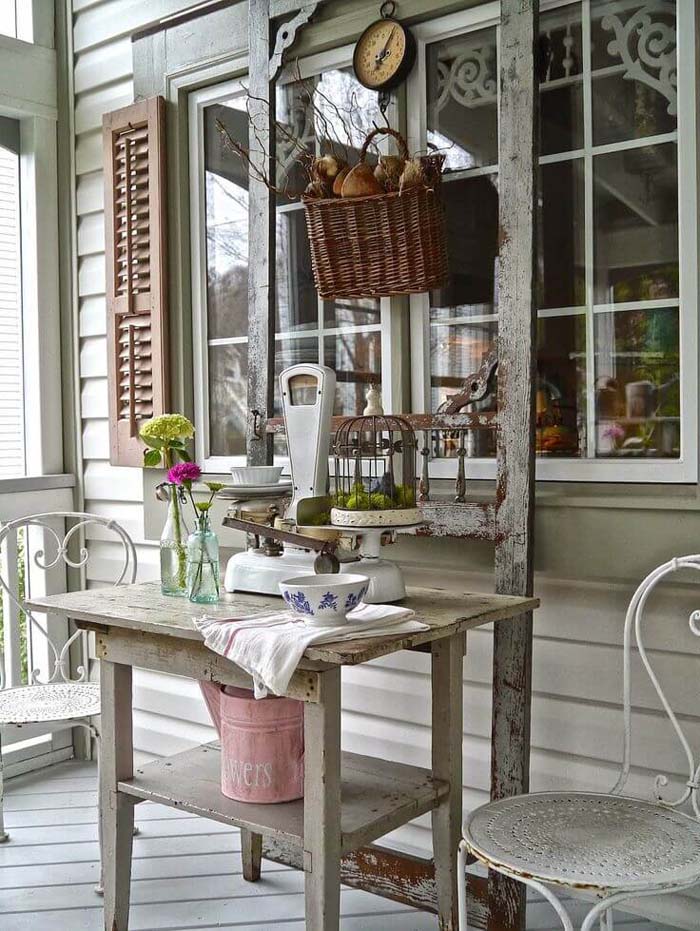 Recreate a scene from the farmhouse grocery market with antique vintage elements- a scale, a basket full of real or faux products, porcelain utensils, galvanized garden tools.
11. Flowers Give Life To Upcycled Items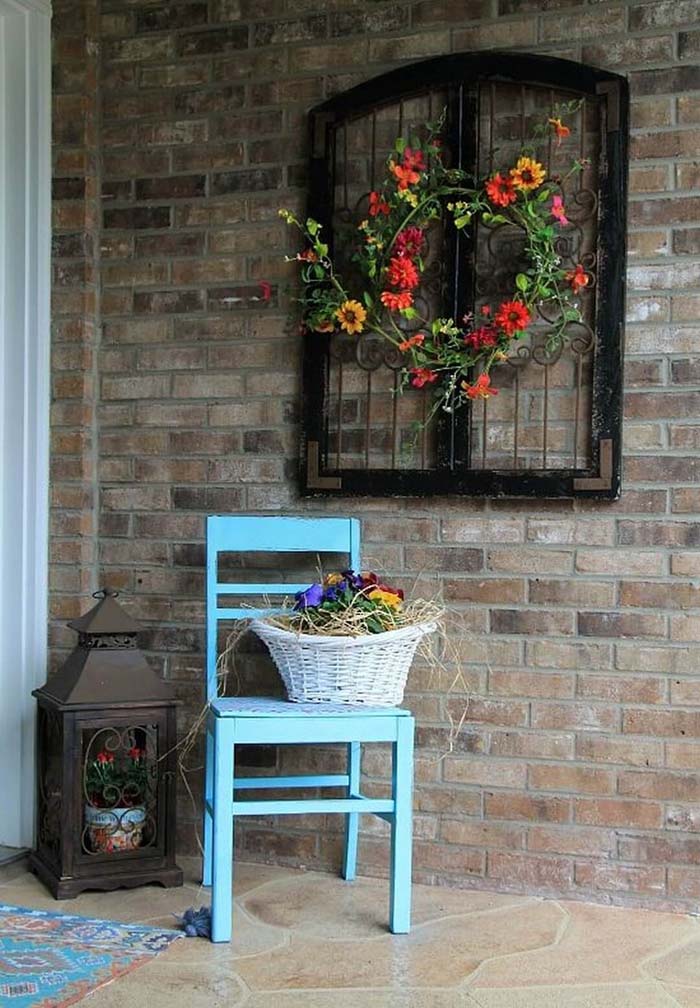 The wreath is the most universal front porch decor. If you want to give it a rustic look, attach it to an upcycled window or shutter and change its typical place to instantly attract attention.
via Homedit
12. Stylish Screen Takes Center Stage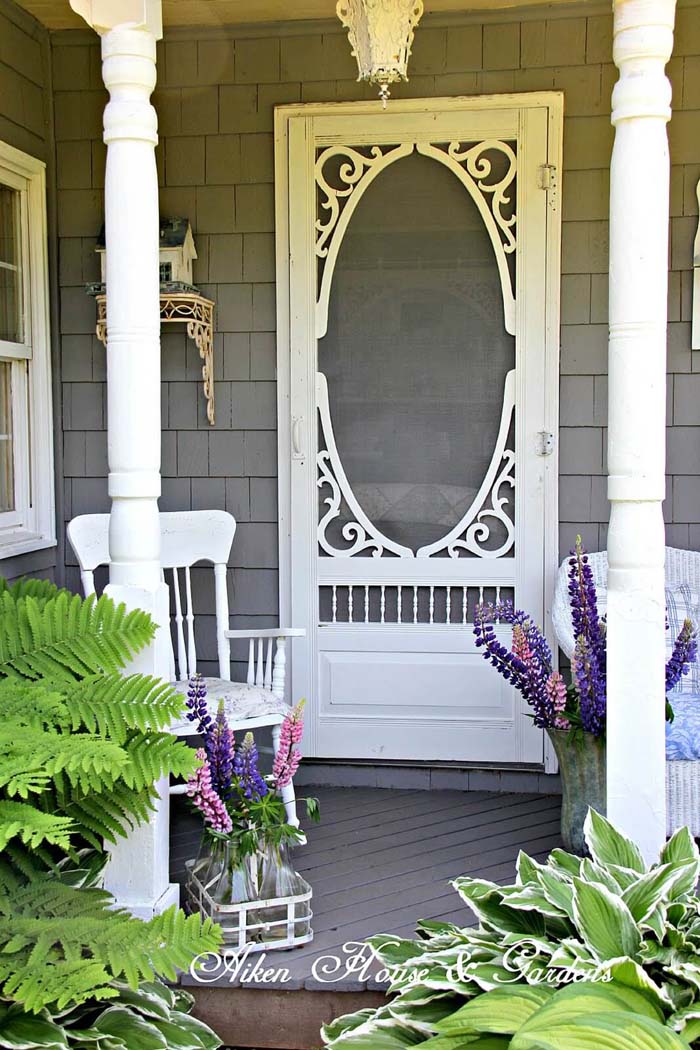 Rustic decor is also elegant. Choosing one dominating color to refresh the antique furniture and accents is the key to creating a harmonious porch ambiance.
In such cases, any smaller accents like flower vases, bouquets, wreaths, planters can be of a contrasting color to enhance the stylish choice and to pop out against it.
13. Frame Your Wreath With Chicken Wire Window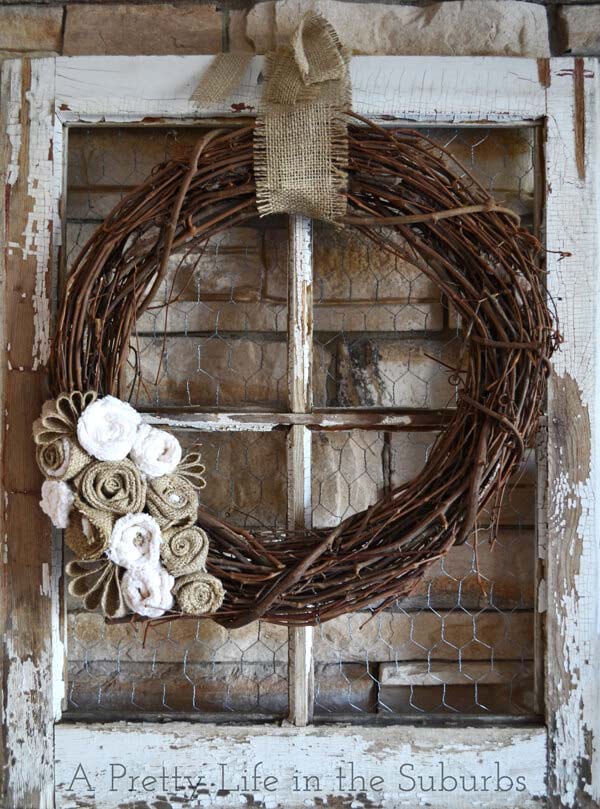 The wreath belonging to the rustic vintage style can be made of any natural supplies- grapevine for example.
Decorate it with faux flowers or burlap ones for a charming effect.
via A Pretty Life In The Suburbs
14. Fresh White And Green Garden Shelves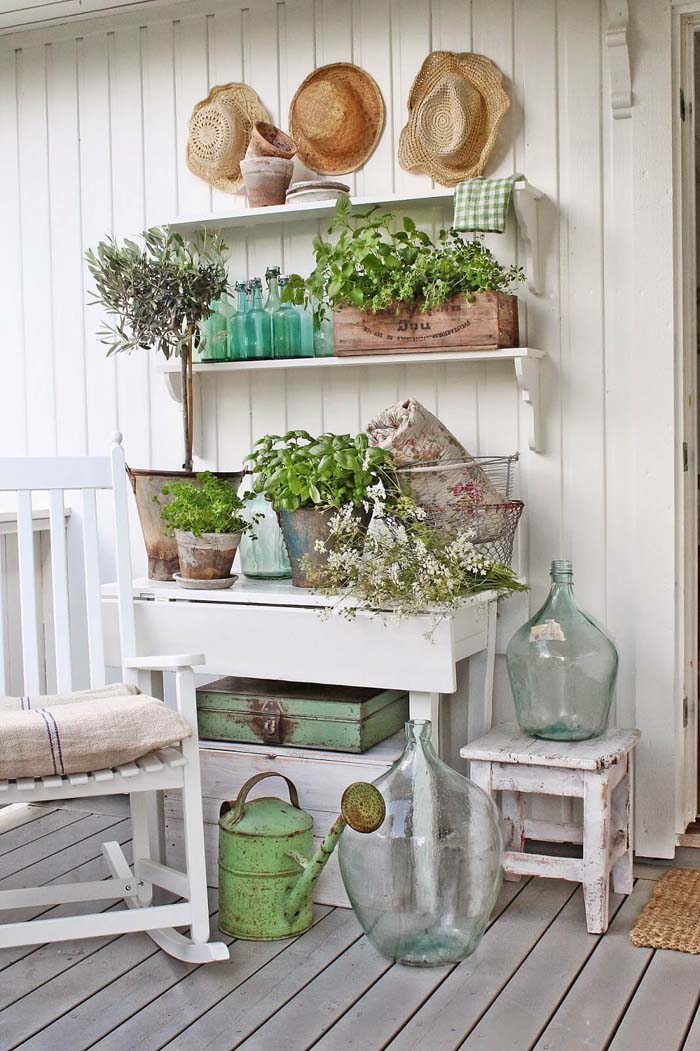 Repurpose the indoor furniture into a planter. Use terra cotta pots, glass bottles and jars to stack your flowers and plants on different levels.
Complete the rustic setting with galvanized watering can and a set of antique items like lanterns, straw hats, wicker baskets.
via Vibeke Design
15. Varying Metal Flower Containers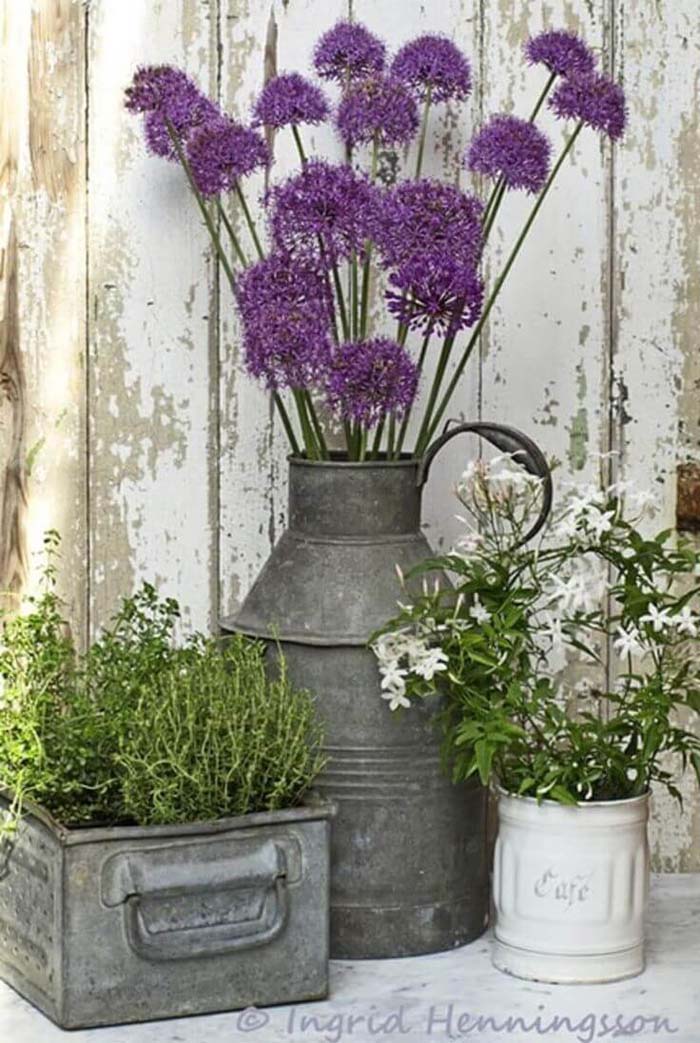 Flowers always make the ambiance more welcoming whether placed indoors or outdoors. So an easy way to make your porch welcoming and charming is to include them in the decor.
Combined with upcycled vintage galvanized containers, they add farmhouse naturalism to the living area.
16. Plank Mounted Feed Sack Floral Art
This unique porch vintage decor is a handmade production. A burlap piece of fabric is sewn in the shape of a sack.
To make it look more realistic, its bottom is filled with cotton, scrapped pieces of fabrics or wool. Add a bouquet of faux flowers and a ribbon of burlap.
To give the non-traditional wreath a suitable background, hang it onto a board made of reclaimed wood.
17. Natural Rustic Country Elements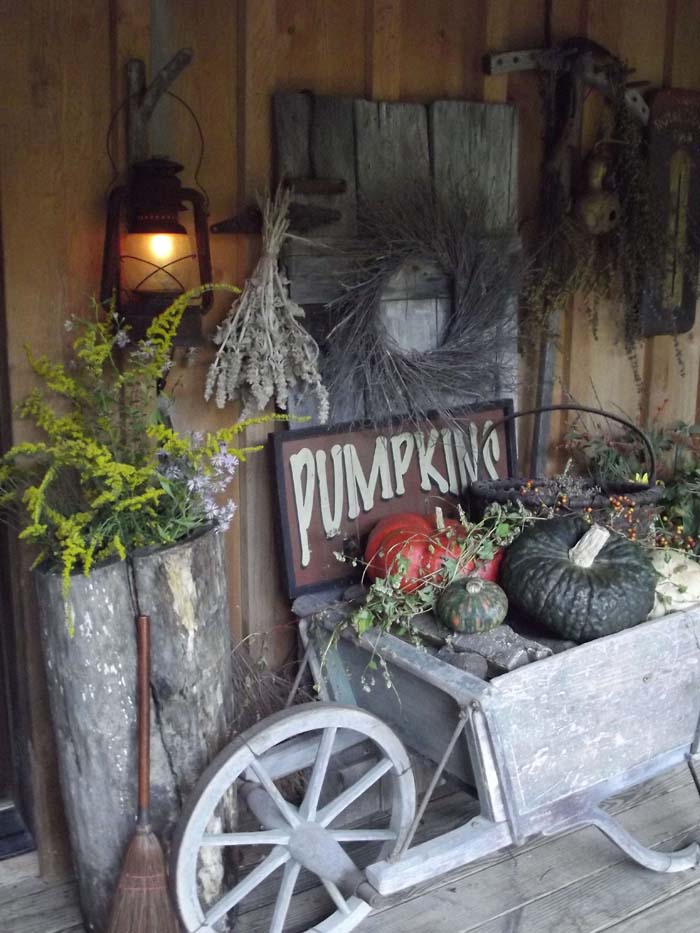 If you are having a cottage, there isn't a better style for decorating the porch than the rustic one. It enhances the influence of the surrounding nature and makes an inseparable connection between the wild and the domestic.
All elements taken from nature like a trunk, pumpkins, field flowers and grapevine could be the supplies for creating a stunning welcoming decor.
Use farmhouse utilities like a wagon, a broom, a shutter to form the nook.
via One Kindesign
18. Cottage Corner With Bicycle Focal Point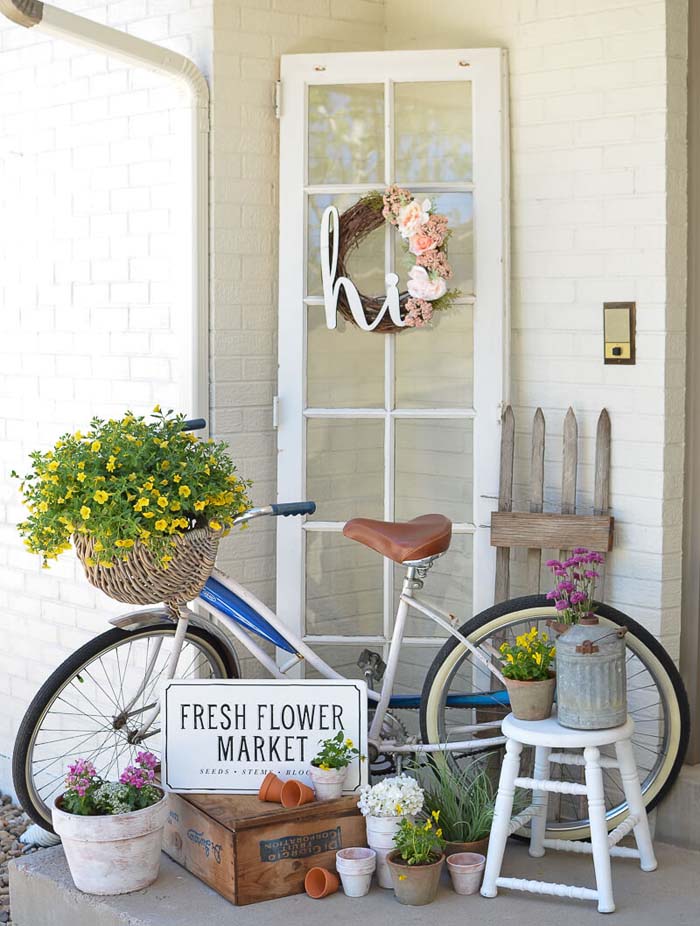 The focus of this shabby chic porch scene is given to a bicycle. It reminds of the calm times spent in the countryside enjoying the natural landscapes.
Adding flowers in terra cotta pots and a charming metal sign mark the nook as a reproduction of a flower market from the good old days.
via Sarah Joy Blog
19. Cozy Shabby Chic Outdoor Furniture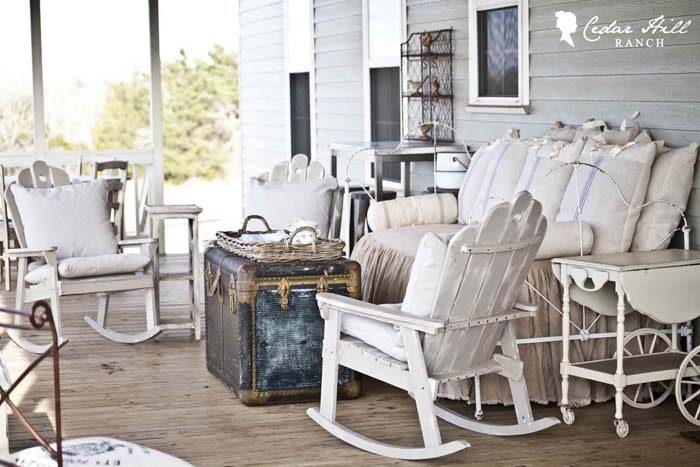 Don't throw out the wooden furniture from the living room. Although outdated, it possesses a lot of charm that can create the appealing ambiance you are looking for on the porch.
You can paint the rocking chairs and give the sofa a vintage uplift by equipping it with burlap or linen cushions.
Replace the table with a trunk with signs of its age and marks from usage.
20. Textured Doilies Add Romantic Touch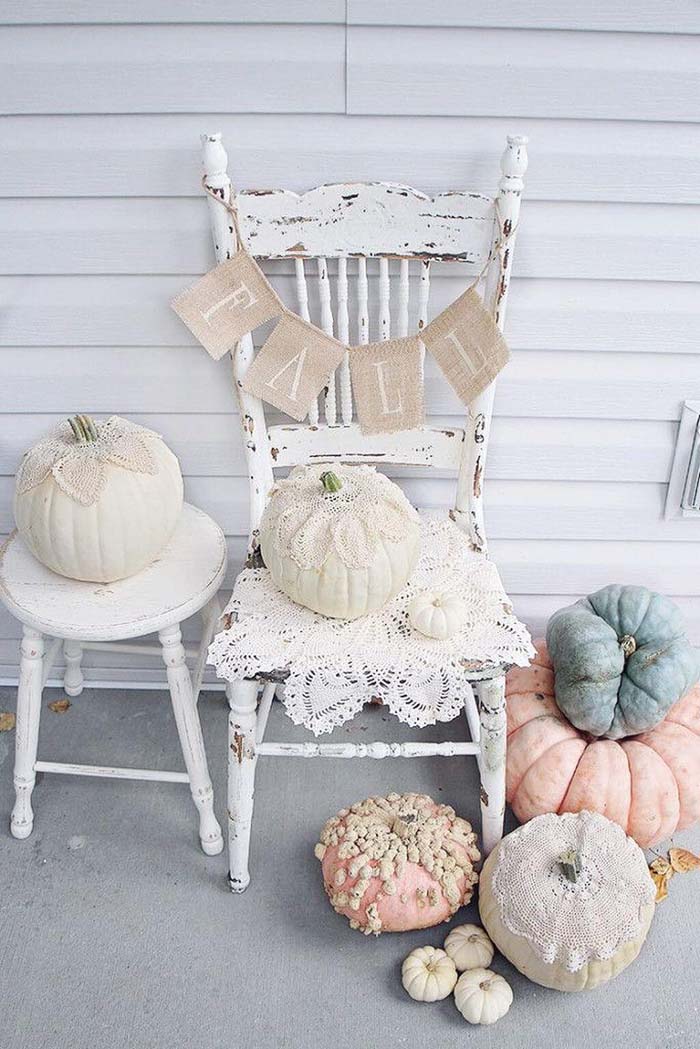 The accents of this porch decor welcome fall. The pumpkins are given crocheted dresses that turn them into the unique decor.
To let the vintage rustic setting form a zone, they are spread on different levels ensured by two antique chairs.
21. Retro Enamelware Wall Display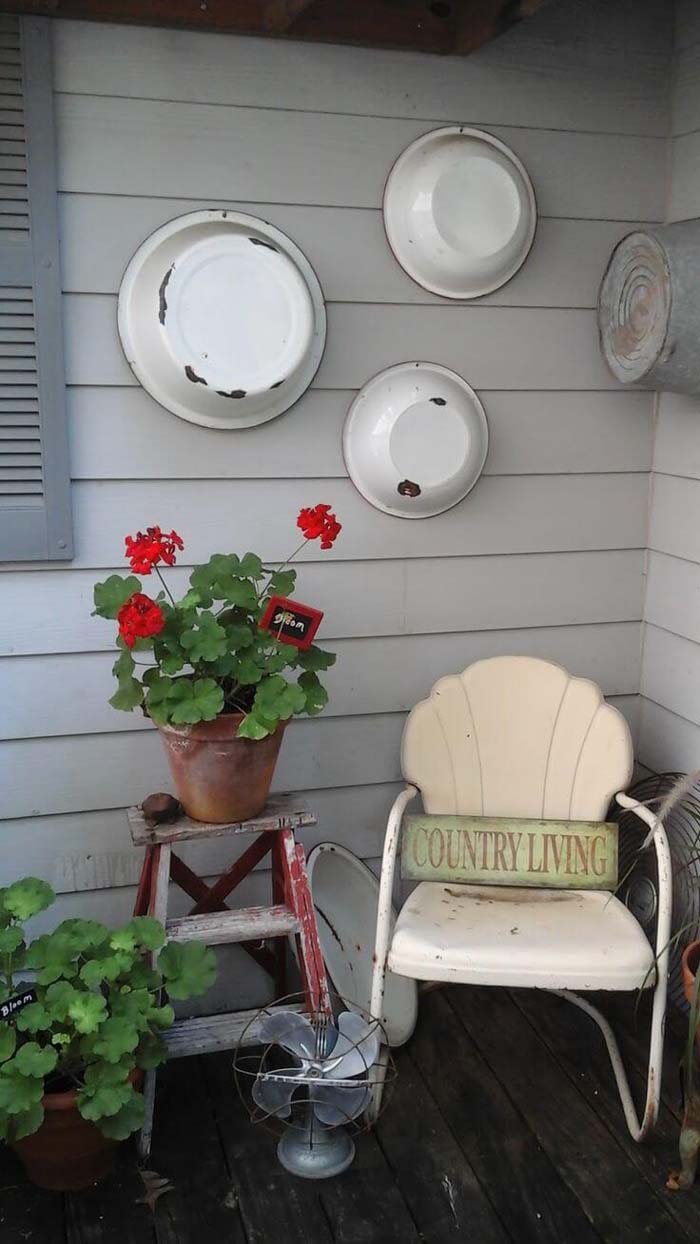 Repurposing old items always leads to unexpected effects. The set of galvanized wash tubs is hung on the wall of the porch to create the top level of the nook that makes the porch homely.
A ladder holds a flower pot and a chair next to it embraces an emblematic sign.
22. Hanging Plant Repurposed Ladder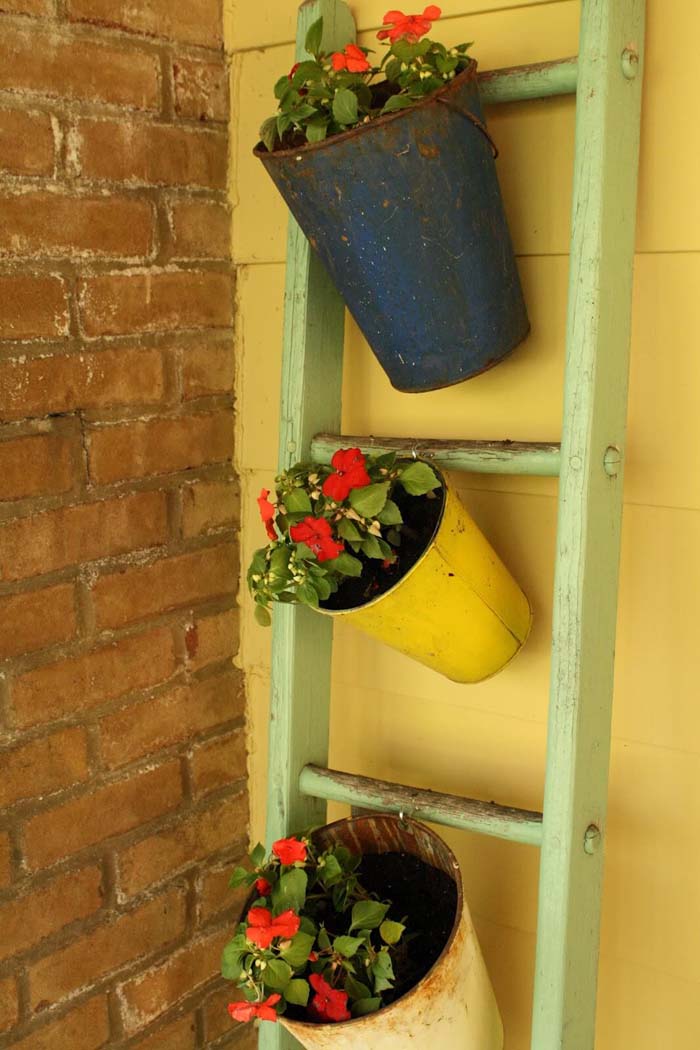 Want to welcome your guests properly? An old vertical ladder leaned against the wall next to the front door is repurposed into a vertical plant stand.
Buckets with hooks are attached to each step to spread the color and aroma of gentle impatiens blooms.
23. Distressed Chair And Shutter With Flowers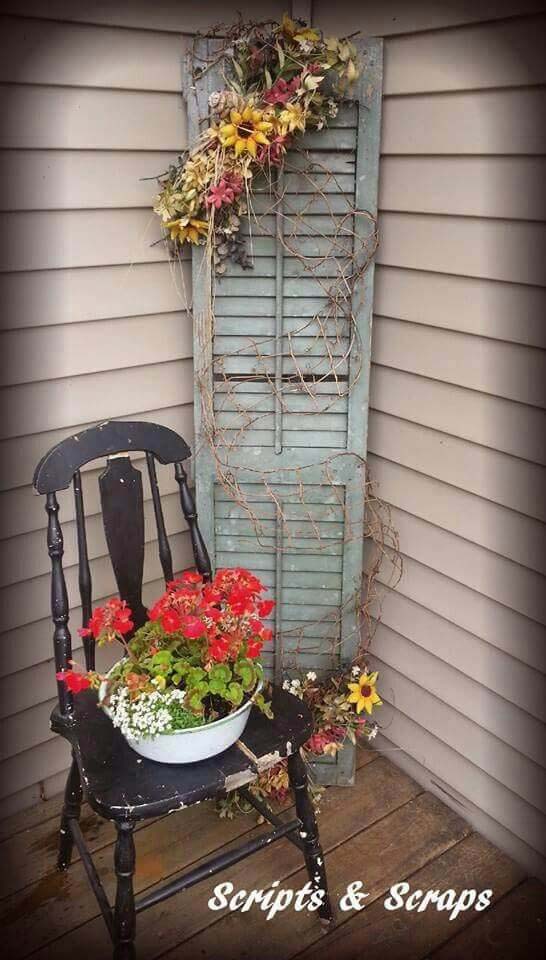 Faux and real flowers can look well together. The only way to make this mix a match is to back them up with antique items like a weathered chair and a shutter.
24. Cottage Wicker Seating With Vintage Door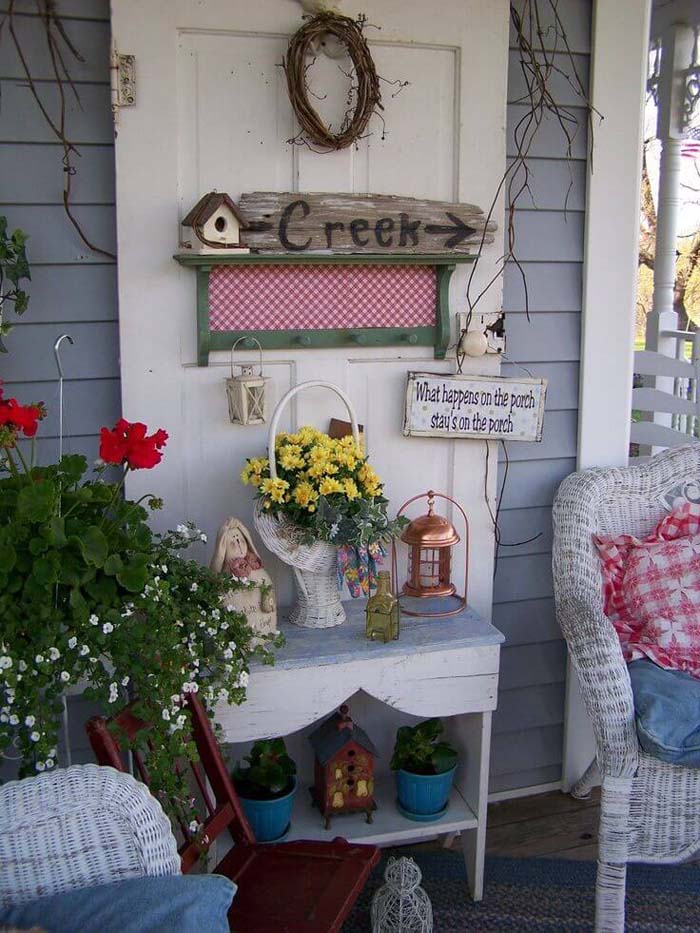 It feels nice to sit in a comfortable wicker chair. It will feel even better if it is placed in a zone that recreates the cozy spirit of the countryside atmosphere.
It is represented by a wooden door and a vintage vanity attached to it. Various accents marked by the fashion of the old times are displayed on it.
25. Antique Sewing Cabinet Flowerpot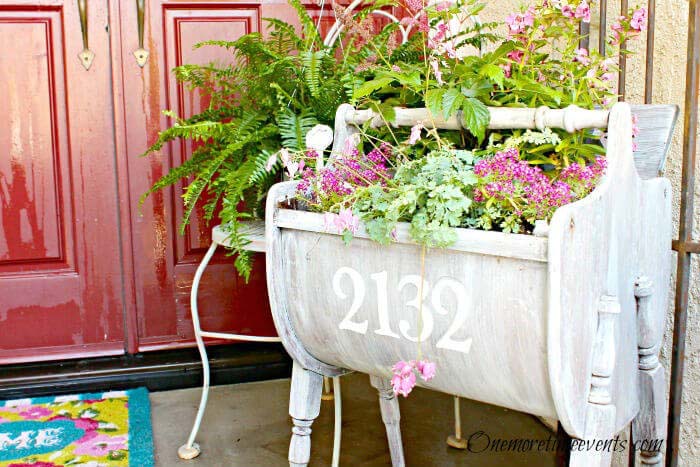 Don't pass the sewing cabinet next time you visit the thrift store. You would be amazed at what an impact it will give the porch when repurposed into a planter.
Use its wide enough surface to write the number of your house.
26. Repurposed Bed Frame Cozy Seating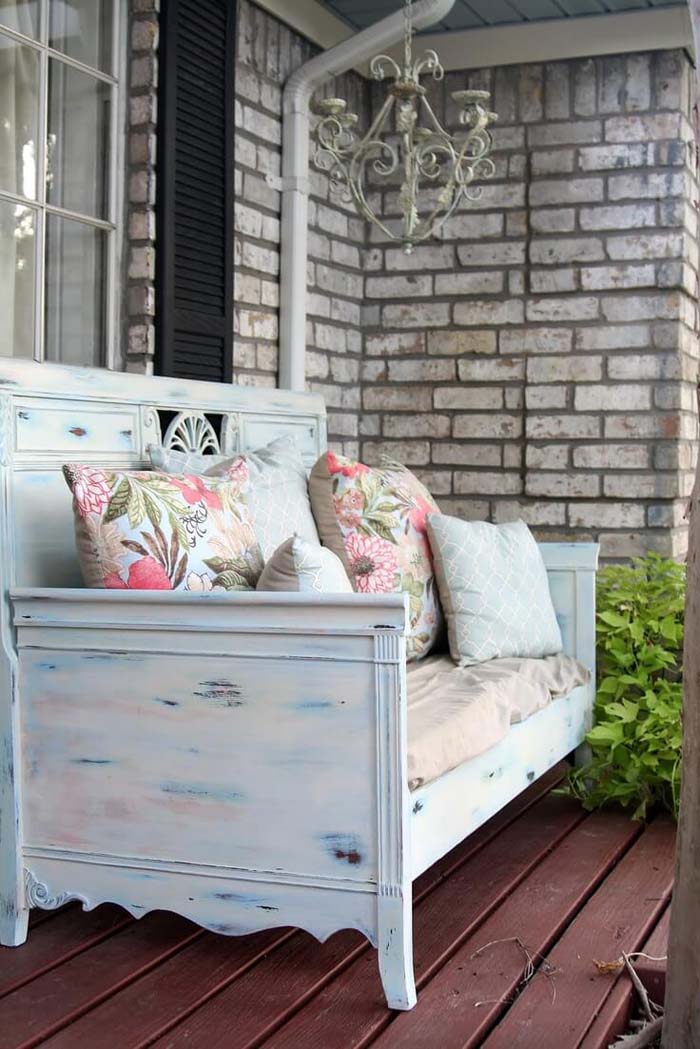 A great DIY project upcycles a useless solid wood bed. Its handmade ornaments are so beautiful that it deserves a new life as a comfortable bench for the porch.
Comfort is ensured by a thick soft cushion and small pillows with flower fabric that make the porch more cheerful.
via Another Stay Home Mommy Blog
27. Variation On A Spring Wreath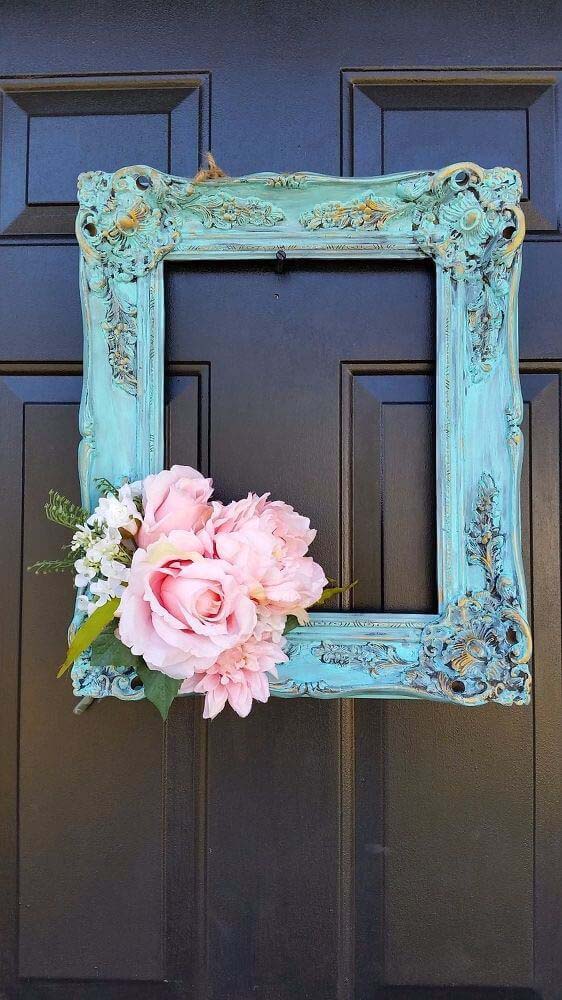 A vintage frame with outstanding graving in the shape of flowers is painted in turquoise. Small areas are stained with gold paint to keep the aged value of the item.
A small bouquet of faux peonies is attached to one of the corners like a brooch.
28. Add Varying Heights Of Potted Plants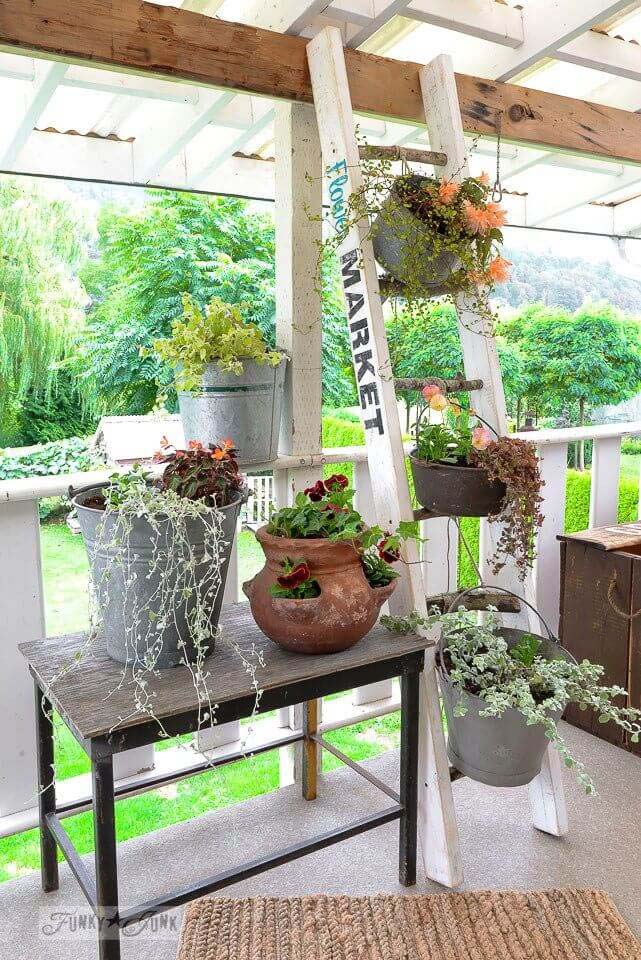 Another idea for a recreation of a flower market on the porch features large vintage containers repurposed into flower pots. Instead of placing them on the floor, they are put onto a vintage table and a ladder.
Because of the vertical situating of the garden, you can experiment with the type of plants.
29. Galvanized Steel Holds Bold Flower Bursts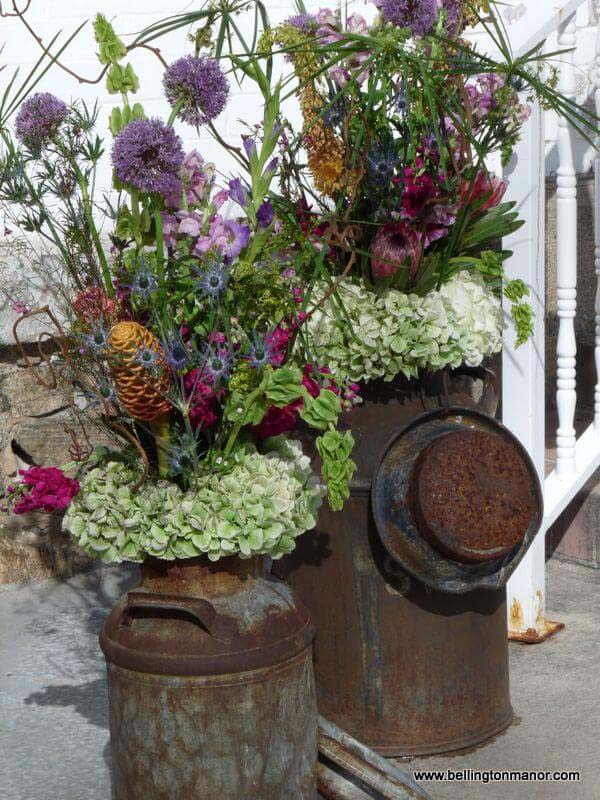 If you like the authentic effect of the vintage style, don't hide it. Instead, use the antique items in their current state- rusty, weathered, damaged.
These milk cans hold a lot of history in them that is revealed by their outer appearance.
via Bellington Manor
30. Harvest Display In Antique Urn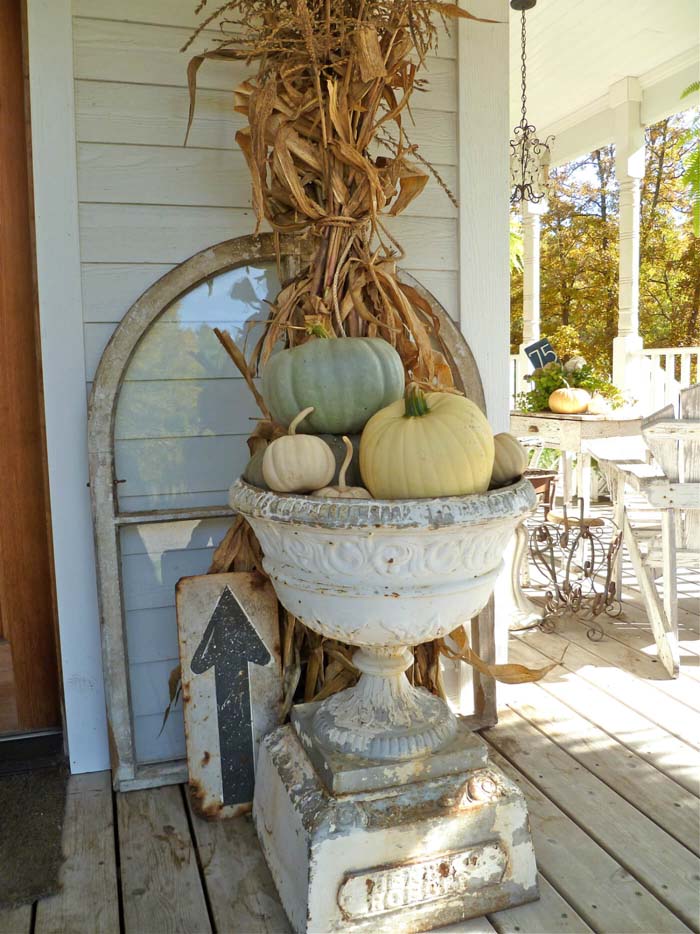 This urn is another example of how great a weather item can look only by being repurposed and placed in a suitable setting.
It is used as the focal point of fall porch decor. It is not holding plants but a collection of various sizes of pumpkins.
via Patina White
31. Vibrant Sunflowers Accent Vintage Milk Can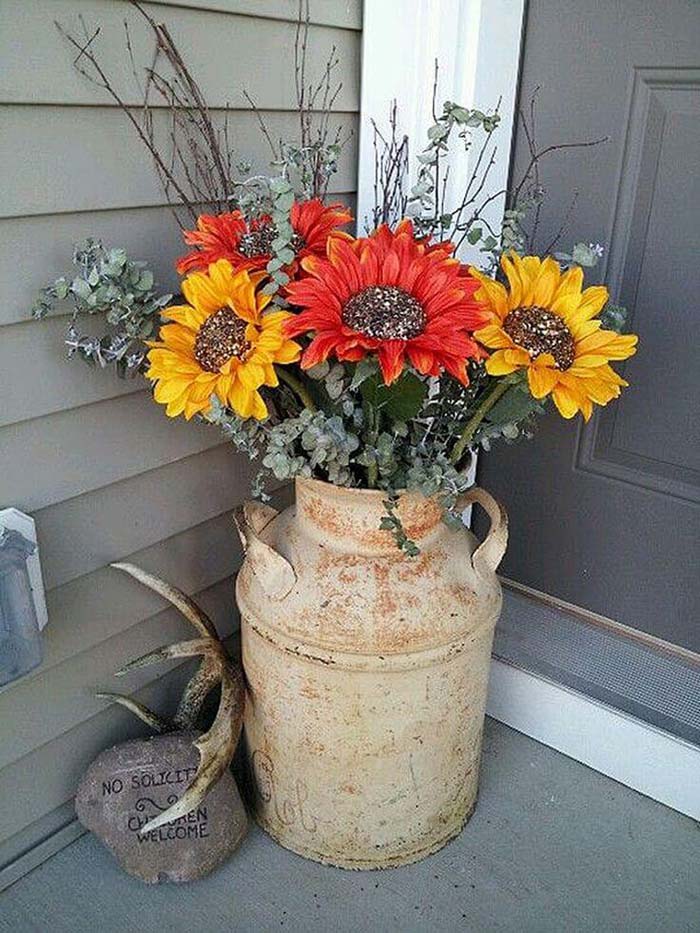 This is a great idea of porch decor for spring or summer. The condition of the milk can hasn't been changed. Instead, the signs of rust are left to enhance its aged value.
A bouquet of faux sunflowers adds a calming combination of shining colors.
32. Whimsical Tea Stand With Musical Banner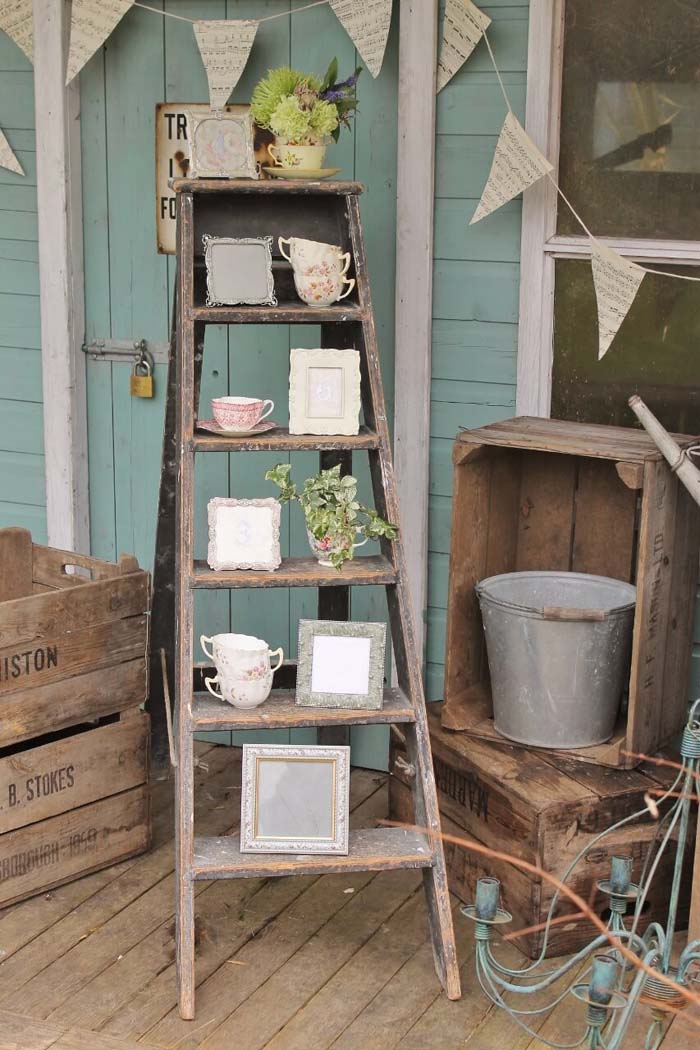 Don't have enough space on the porch? That's not a problem if you think vertically.
The old ladder comes to help you to create a stand for your vintage decor. Place terra cotta pots to create a porch garden or a set of vintage utensils.

33. Vintage Winter Display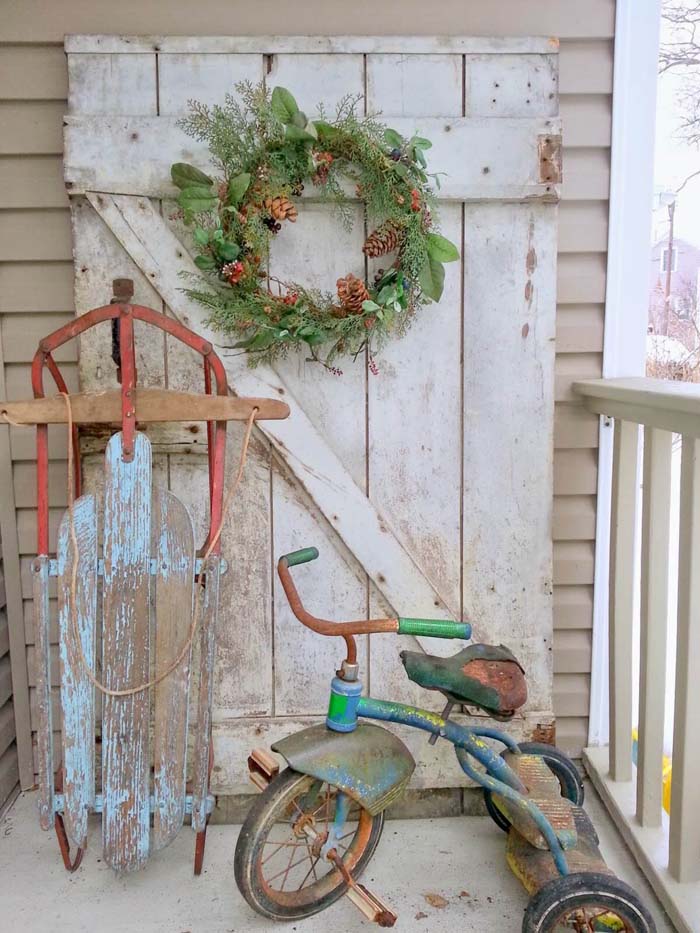 The theme of this rustic porch decor belongs to the colder months of the year. A weathered door creates the background for a memory display for belongings to the childhood.
34. Romantic Bench Seating Area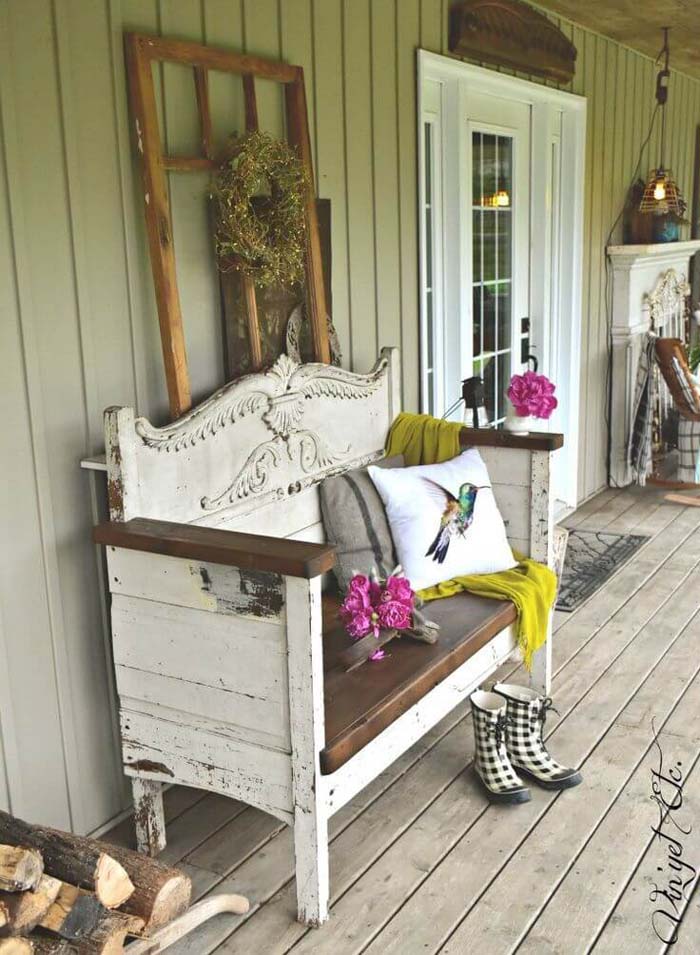 A headboard and some reclaimed lumber are assembled together to create a unique bench. It welcomes romantic nights, quiet times to relax or to enjoy a quick morning coffee.
via Vin Yet Etc.
35. Upcycled Rake Head Lantern Hanger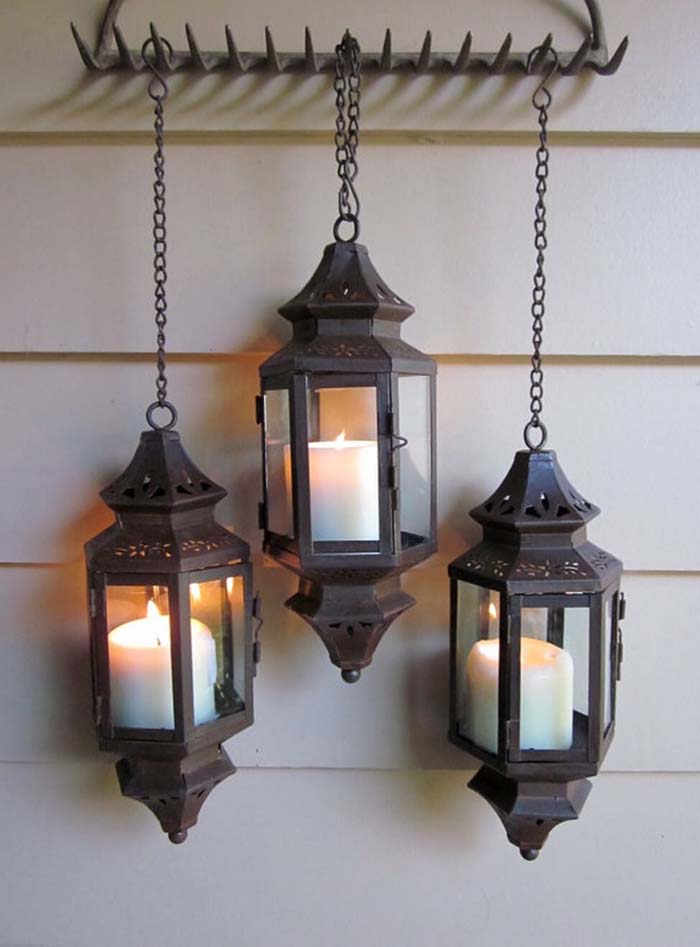 You don't have to repurpose the vintage antiques you have got. You can use them in their usual application if they are in good condition.
These metal lanterns are attached to a rake on the porch wall. Replace the plain candles with LED ones to make sure that they are easy to be maintained.
36. Welcoming Winter Porch Display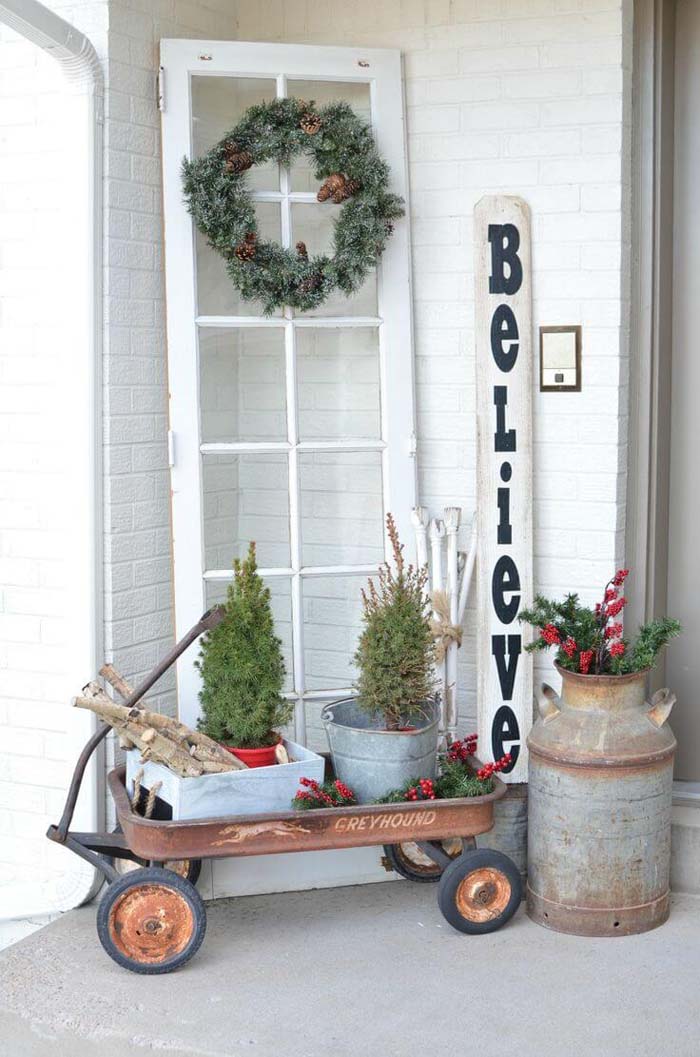 This is a great idea how to decorate the porch for the Christmas holidays.
An old wagon carries two trees and a bundle. Next to it, the fresh bouquet of flowers in the milk can is replaced by twigs.
These planters sit in front of a white door with glass panels and an inspiring farmhouse sign.
via Sarah Joy Blog
37. The Most Wonderful Time Of The Year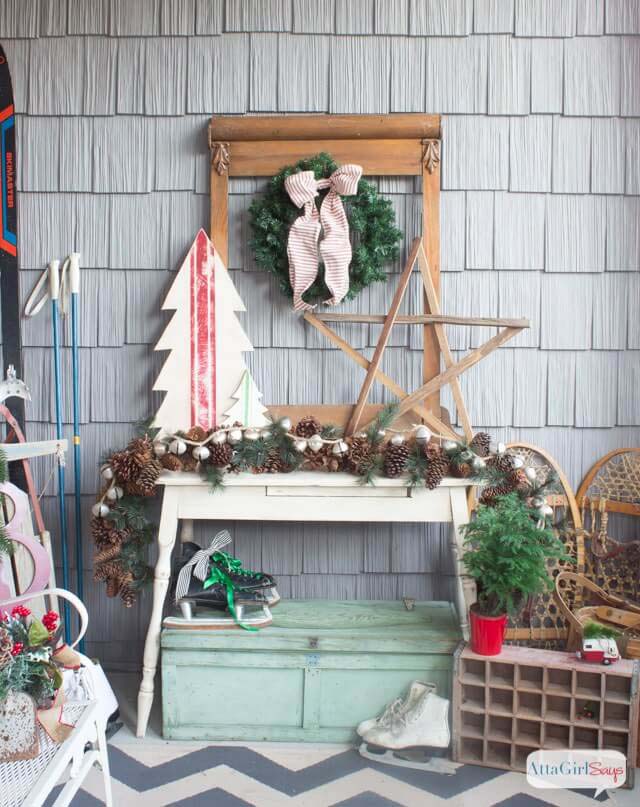 Bring the cheerful mood that Christmas creates to the porch. Use any items from the garage that are not needed for stands and background for winter and holiday-themed accents.
A mirror frame holds a twig wreath with a ribbon, wooden figures of a star and Christmas trees are placed in front of it. A garland made of cones and jingle bells welcomes nature closer to us.
via Atta Girl Says
38. Farmhouse Fixture And Customizable Welcome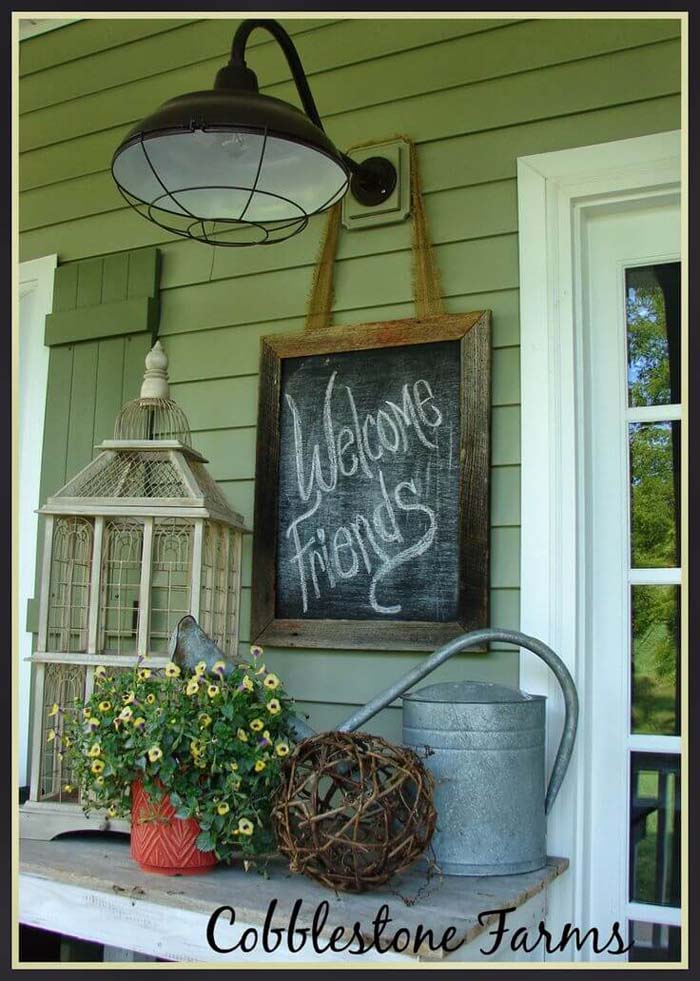 The chalkboard signs are an easy way to bring the rustic charm to the porch.
Use them to write inspirational thoughts or simply to explicitly welcome your friends.
39. Gardener's Porch Repurposed Dresser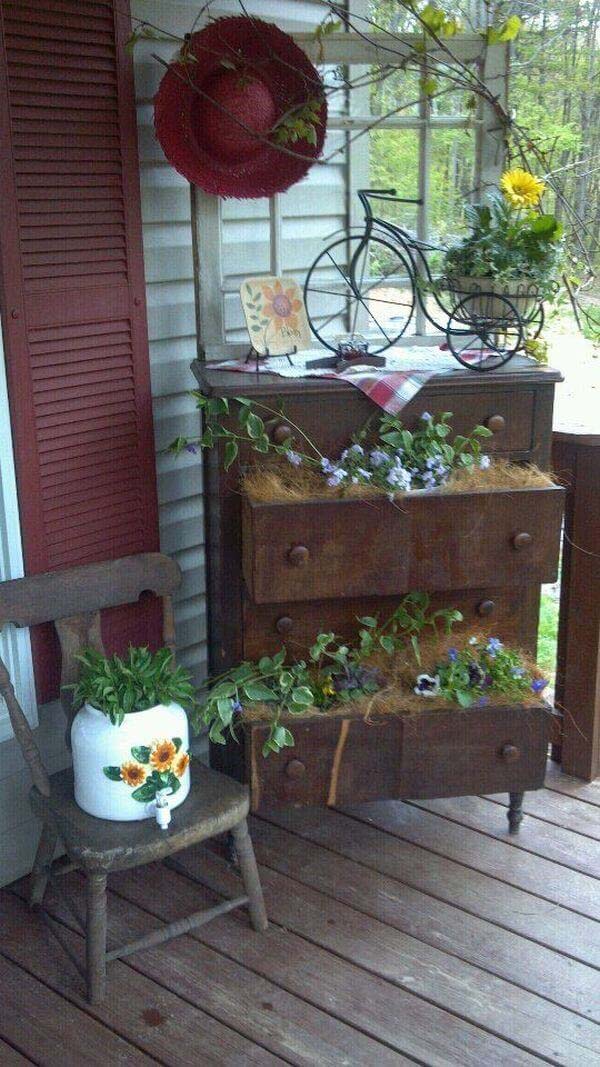 This old chest of drawers is turned into a porch planter. The bottom of the drawers is filled with coconut coir that accommodates flowers. Its texture and color remind of nests, a symbol of spring.
The top of the chest displays a vintage bicycle iron planter and a flower image.
To let the chest feel like belonging to the outdoors, a window backs it up. The straw hat hanging on its corner creates a cute point of interest.