Can I DIY plant stand on my own? Why would I want one? If these questions bother you, let's help you out!
What makes a home full of life apart from family? Plants, of course!
So adding plants indoors and outdoors could turn your house into a calming and relaxing oasis!
…but, wait a minute! I can't just lay around plants, right?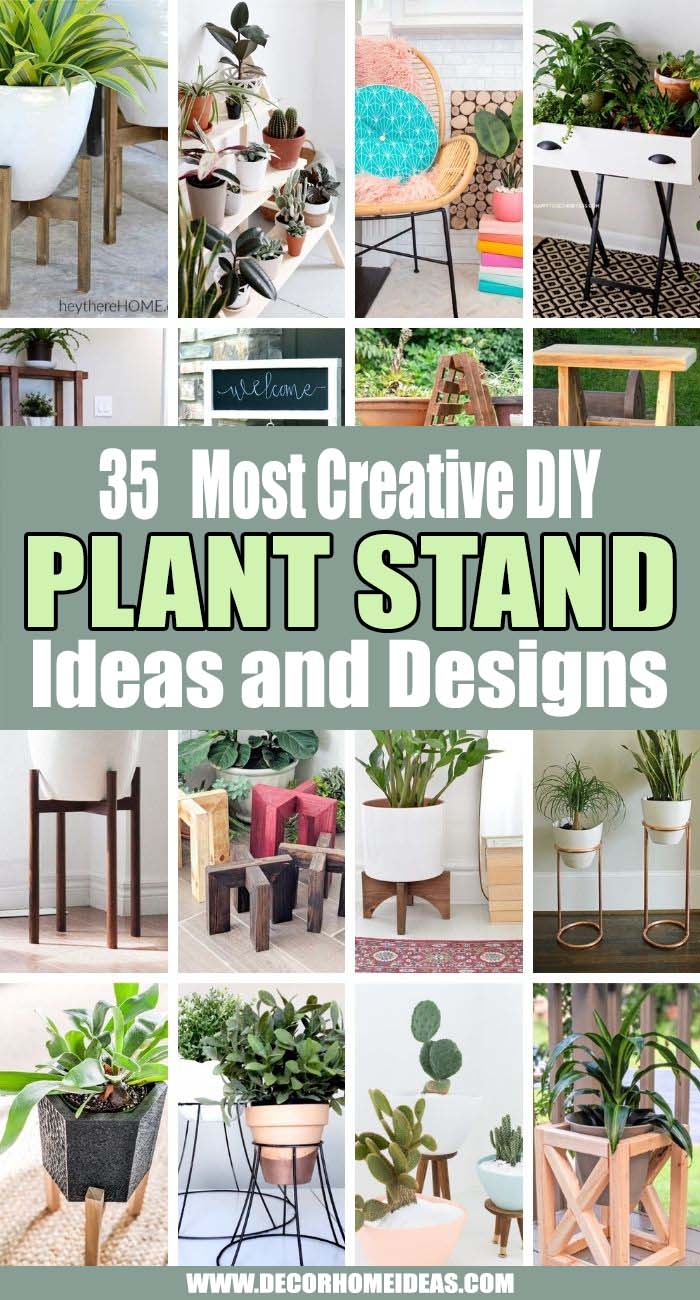 That's how these cute DIY plant stand ideas will help you.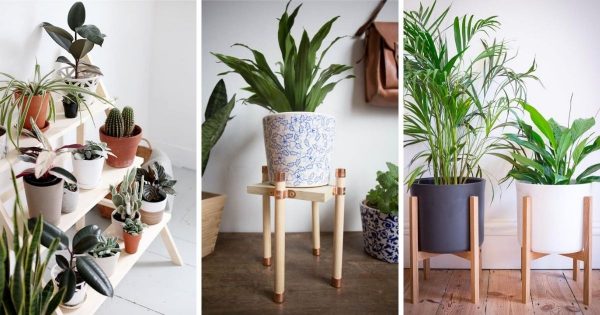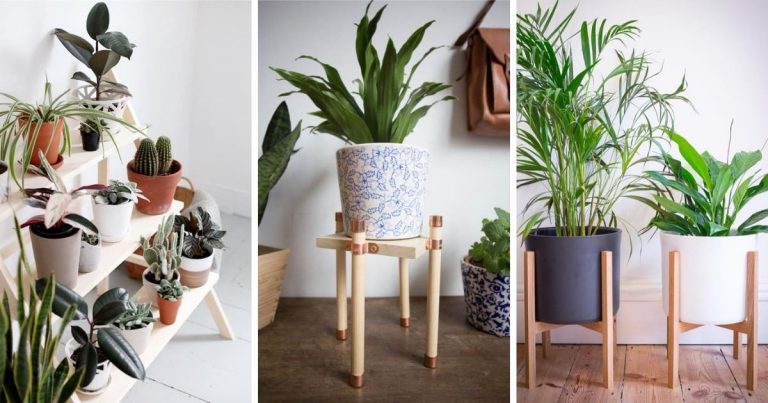 Whether you're looking for a cute way to display your favorite houseplants inside or you need something to get an instant curb appeal, we got you covered with all these plant stand tutorials and projects.
What can I use for a plant stand?
The most popular material for a plant stand is wood, but iron and copper are also an option. You can use stools, ladders, shelves or if you are a bit more creative – books and caddy.
How do I make a homemade plant stand?
Check out the photos and ideas below to see different options on how to make your own plant stand.
Where do you put a plant stand?
Use a plant stand to elevate plants behind sofas or in the corner of the room. This is especially effective if you don't have a huge houseplant.
How do you make a 3 tier plant stand?
The easiest way to do it is by using a ladder with 3 steps.
How tall should a plant stand be?
A general rule to follow is the taller the plant the lower the plant stand should be.
1. Modern Indoor Cactus Garden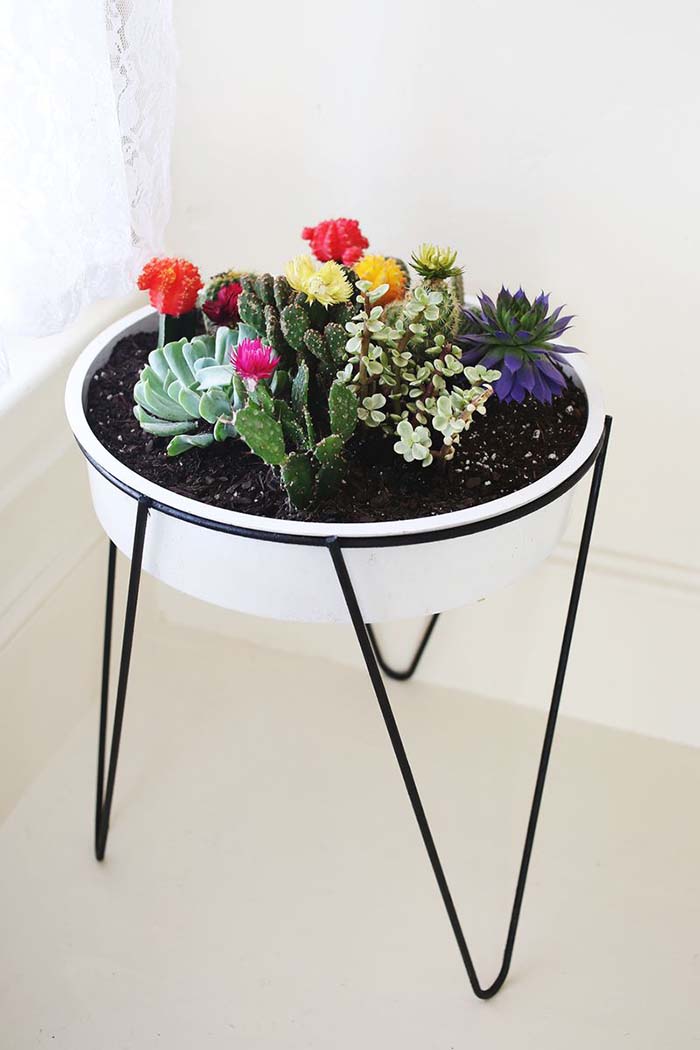 Be trendy even when it comes to the plant stands you have and the variety of plants you grow. This plant stand combines a vintage shallow pot raised onto industrial metal legs- so cool and contemporary execution!
Would you believe that it has been taken from the flea market? It is a real treasure where a selection of cacti and succulents can grow.
via A Beautiful Mess
2. Contemporary Concrete Plant Stand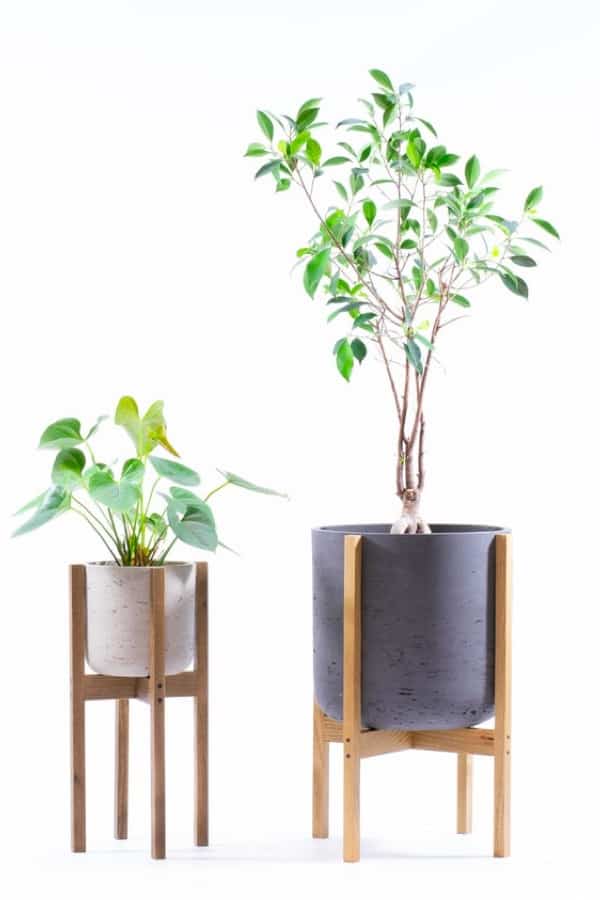 We have shown you how to make planters out of concrete. In this case, the pots are placed onto wooden legged stands that are also an easy DIY project.
The advantage of such a stand is the stylish modern look, durability and applicability for both indoor and outdoor exposure.
via Etsy
3. Copper Accents Highlight A Wood Stand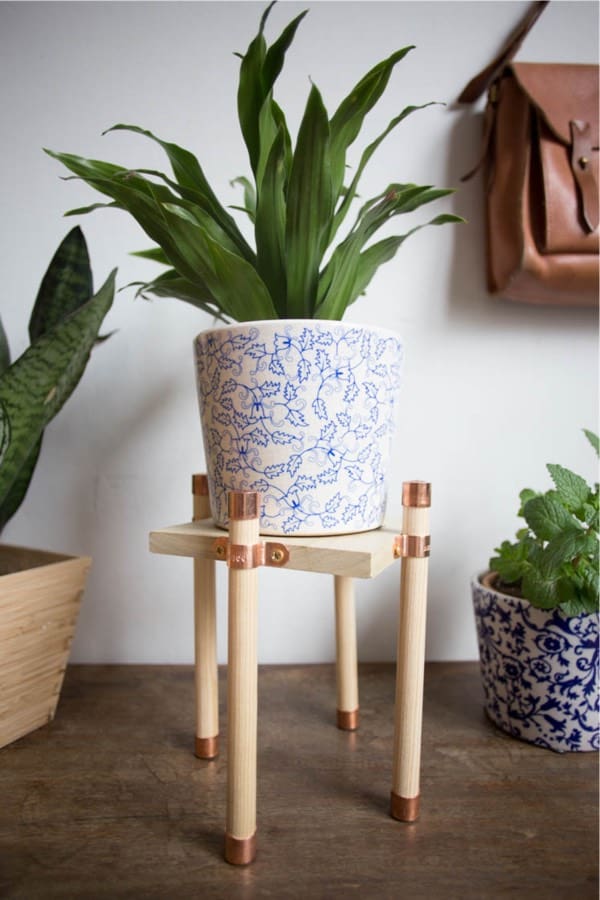 Not only pots let your plants pop out against the surrounding. Plant stands do a great job when they are given accents and height.
This one is very attractive, combining wood and copper in a charming modern way affected by the Scandinavian typical motifs. The size can be customized according to the pot you are going to place on.
4. Build Your Own Tiered Plant Shelf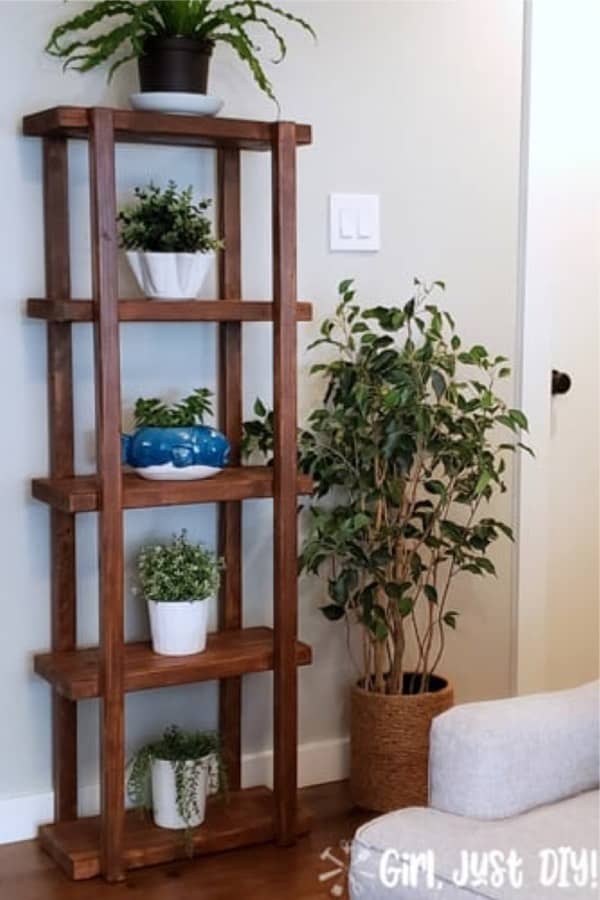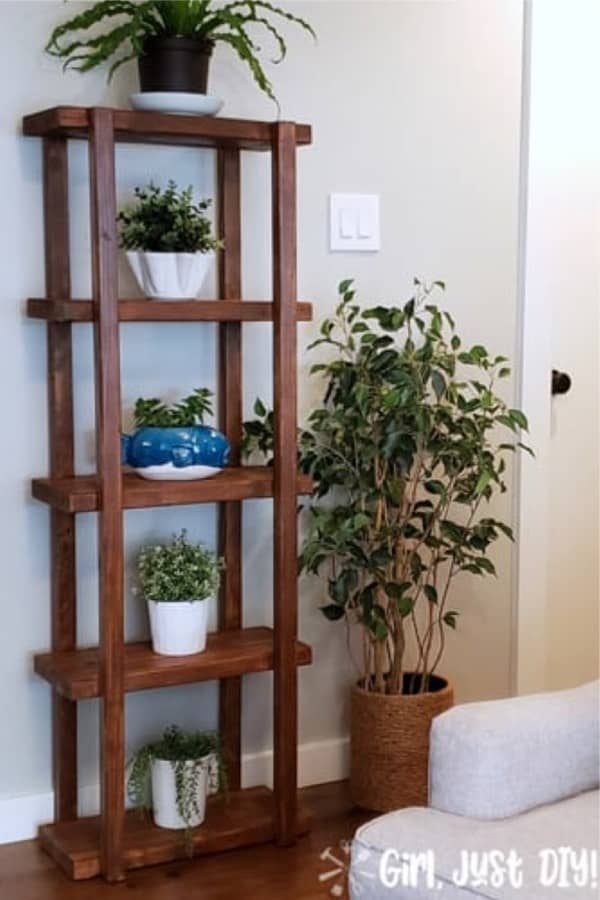 This tiered elegant stand is the perfect solution when you are looking for a way to display many of your plants without taking too much from the space.
Being built with standard wood materials and hardware for assembling, the plant stand provides 5 levels for plants.
Paint with dark stain to give the stand rustic touch, white-wash it if you are looking for a farmhouse effect or paint in a bright color if you need to add a modern point of interest to the room.
via Girl, Just DIY
5. Stylish Geometric Stand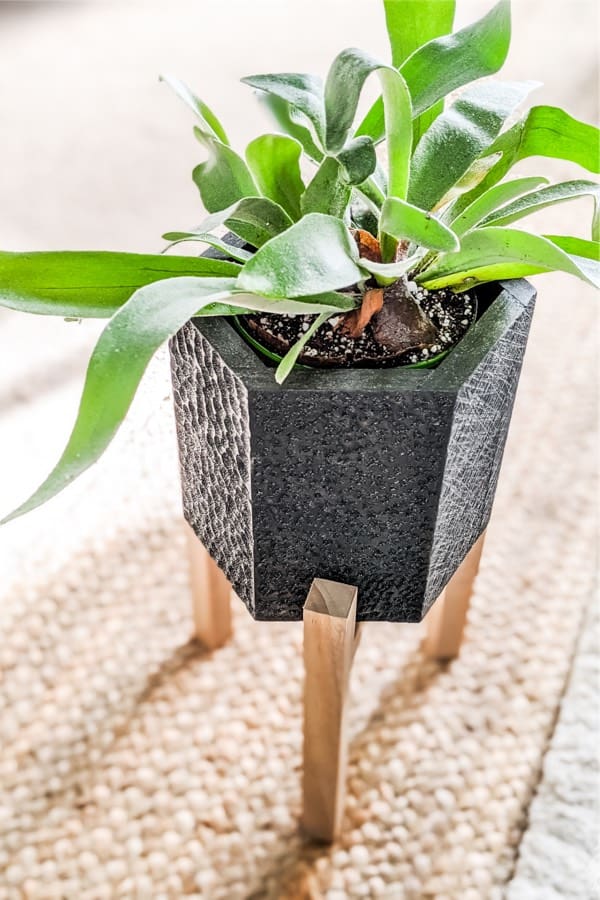 The tutorial below helps you build both a planter and a stand for it. Following one concept, geometrical shapes, they look great together and add a lot of style and texture to the place.
The stands themselves are built in a simple design and from wood aiming not to distract the attention from the textured hexagon planters but to highlight their uniqueness.
6. Utilize Vibrant Book Covers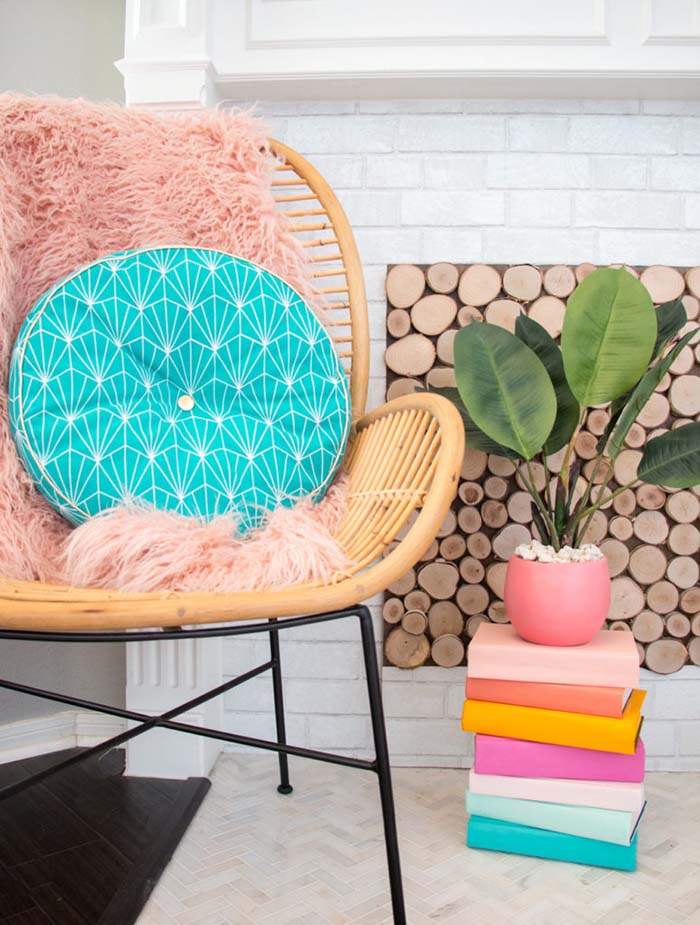 Give your space a point of interest and a source of joy with a simple colorful plant stand.
All you need to do is to paint the covers of a few books. Mind that they must be with hard cover linen that will soak up the acrylic paint without being damaged.
This craft is not only easy but also a very ingenious idea for a temporary, movable and adjustable stand.
7. Simple Copper Pipe Plant Stands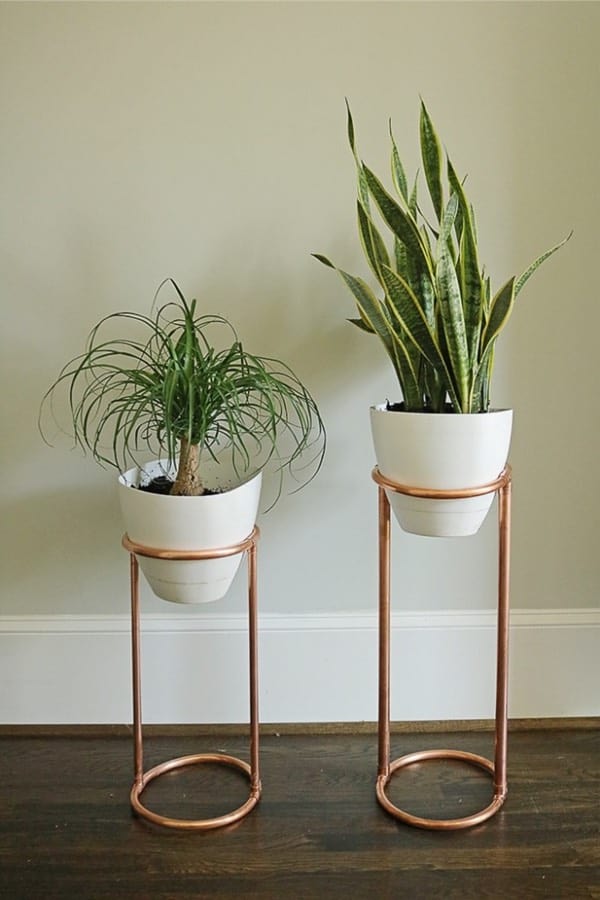 Making yourself a modern plant stand isn't a mission impossible! This one looks complex but is actually one of the easiest crafts as you only need to connect pieces of copper pipe and coil using copper tees.
You can go for another size of copper materials and another size of the round stand itself. The basic steps are all the same. As a result, you will have a unique planter that looks outstandingly modern but yet adds a lot of warmth to the interior.
via Darling Darleen
8. Easy Budget Friendly Mini Stands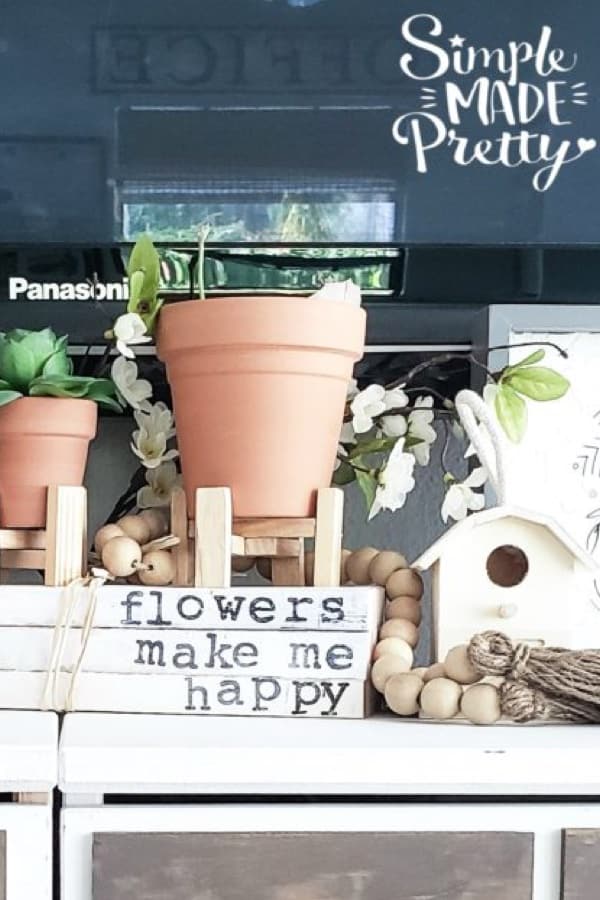 Have you ever seen a stand for small pots? Usually, what we can find at the stores is suitable for medium-sized or large pots.
These cute stands will lift the smallest pots of your farmhouse nook on a pedestal and will cost you not more than $1.
Of course, the most budget-friendly DIY projects source their materials from the Dollar Store, so is this one. Get a package of mini jenga blocks and start gluing them forming several sections in the shape of "H". Easy, isn't it?
9. Make Your Own Concrete Stands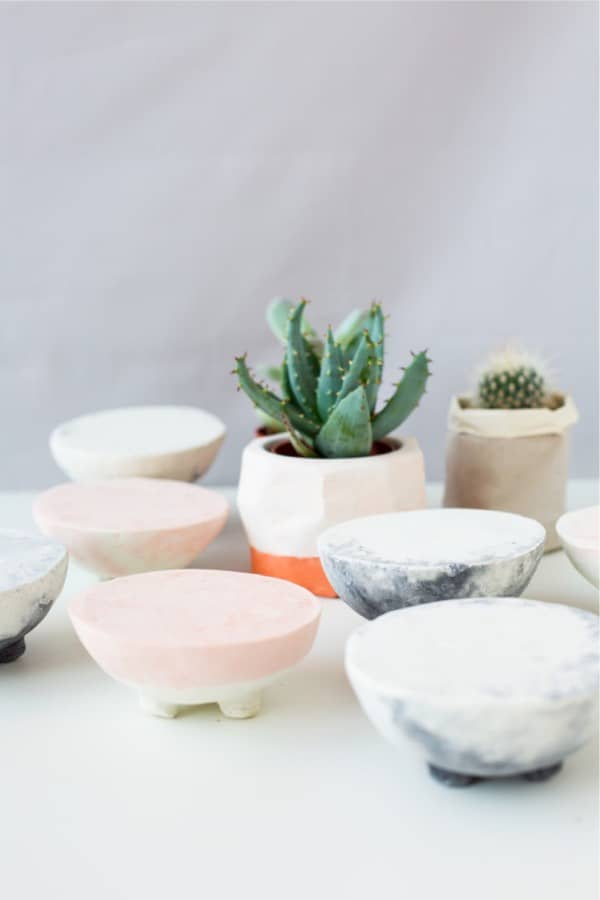 Give your tiny succulents a sophisticated look by accentuating them onto marble stands. They are entirely handmade thanks to a vacuum mould filled with concrete.
The colorful marble effect has been achieved by adding powder pigment dye in a separated part from the stirred concrete.
Then you only have to wait for the mould to dry to get your stand out of it and create a dedicated place for these charming plants.
via Fall For DIY
10. Tiered Ladder Indoor Plant Stand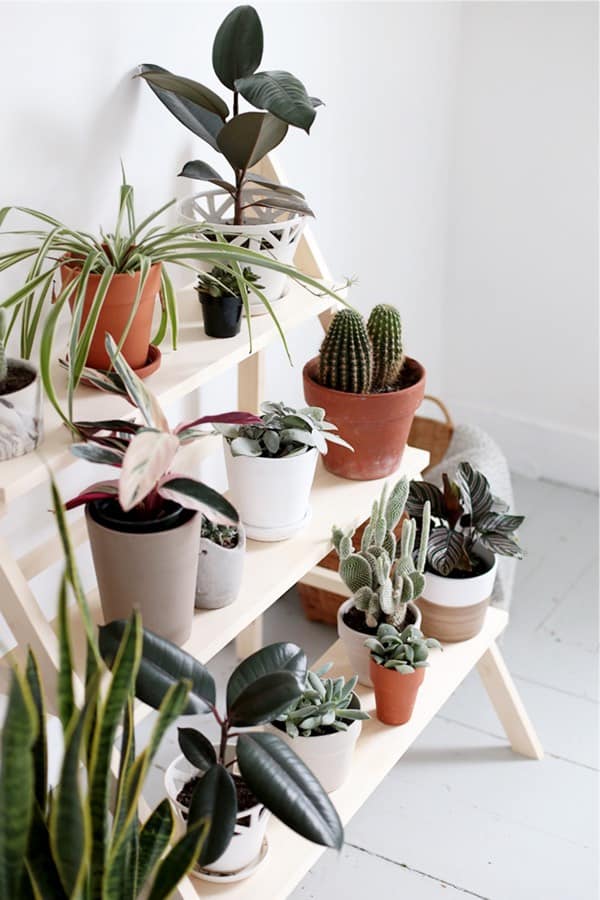 Do you miss summer and the beautiful blooming outdoor garden? Creating a smaller version of it indoors will surely make every cold day warmer.
A tiered stand providing three wide levels for the storage of pots will surely make your home more cheerful and homely.
11. Repurposed Lamp Shade Frame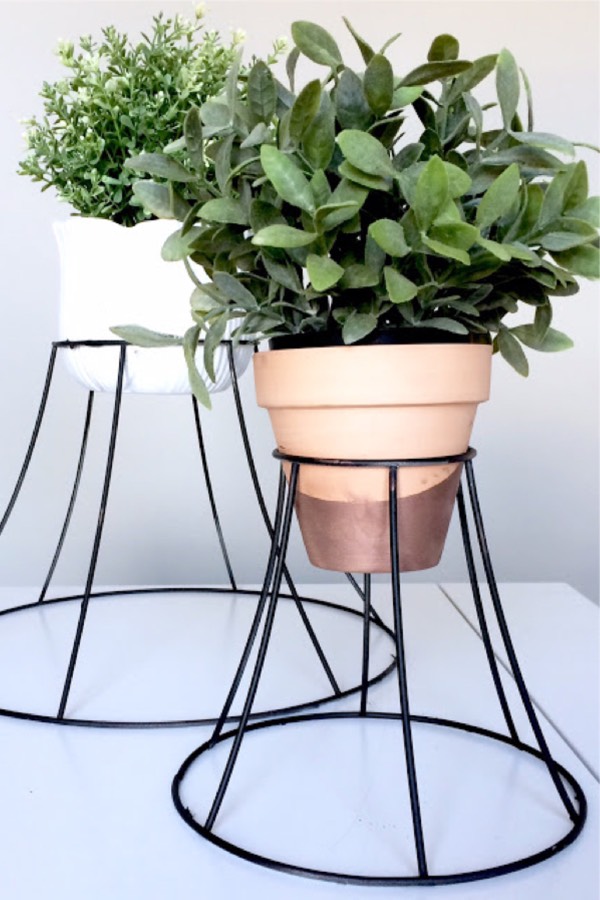 This is one of the easiest and most budget-friendly DIY plant stand ideas! It involves only upcycling of an old lampshade and stripping down its fabric cover.
If you are not happy with the color of the metal structure, you can always quickly spray paint it to give it a refreshed and matching with the interior look.
12. Sleek DIY Wood Base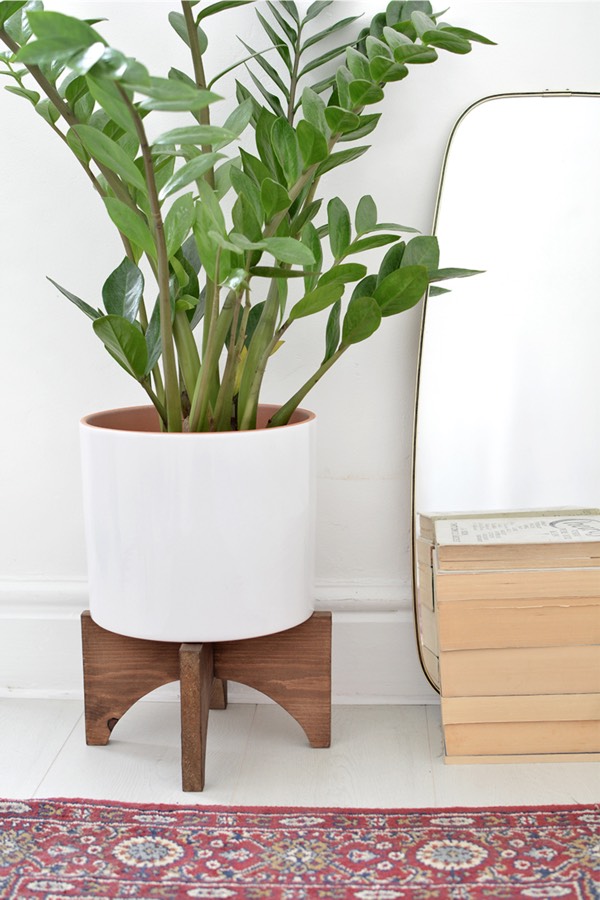 Being made of two identical curved line pieces assembled crosswise thanks to preliminary cut slots, this wooden stand distinguishes from all alike with its mid-century charm.
This unique effect is gained by the curved design of the legs and the dark stain.
via Burkatron
13. Elevate Your Plants With Stylish Stools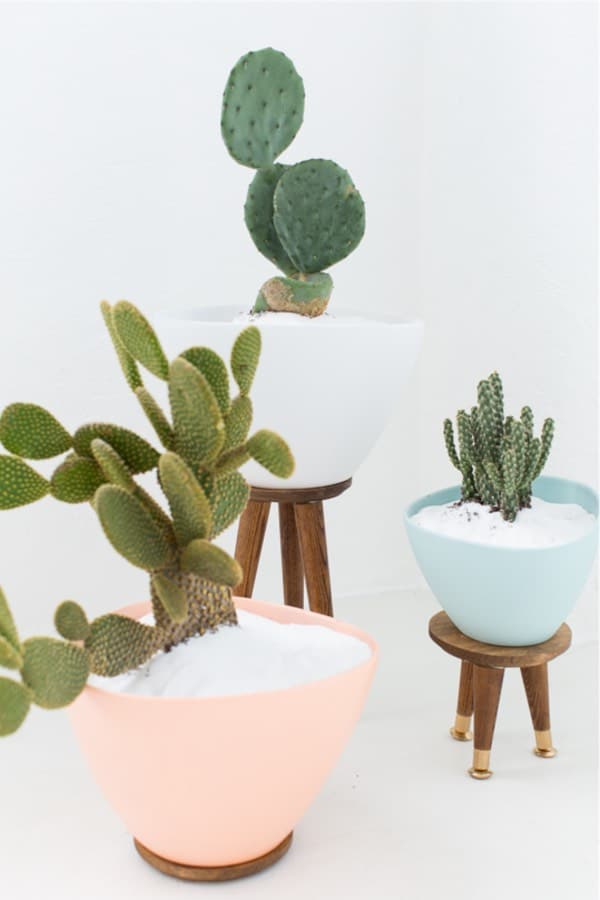 If you are looking for a plant stand that will add a unique and antique vibe to your space, read how easy you can make these stool stands.
Making one of these doesn't take much time as long as the parts are preliminarily prepared.
via Sugar and Cloth
14. Repurposed Vintage Basket Planter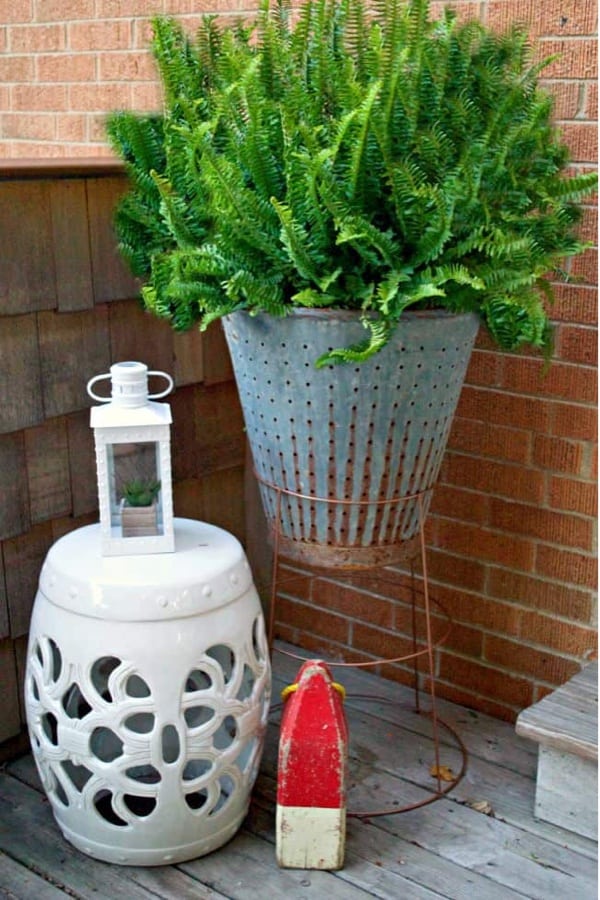 A treasure like this old vintage basket deserves a stand that will let it pop out and enhance its aged farmhouse look.
Believe it or not, a stand made of a tomato cage seems to be the perfect match. Just cut a section of the cage that will suit the diameter of the plant container.
via Chatfield Court
15. Eclectic Plant Stand Display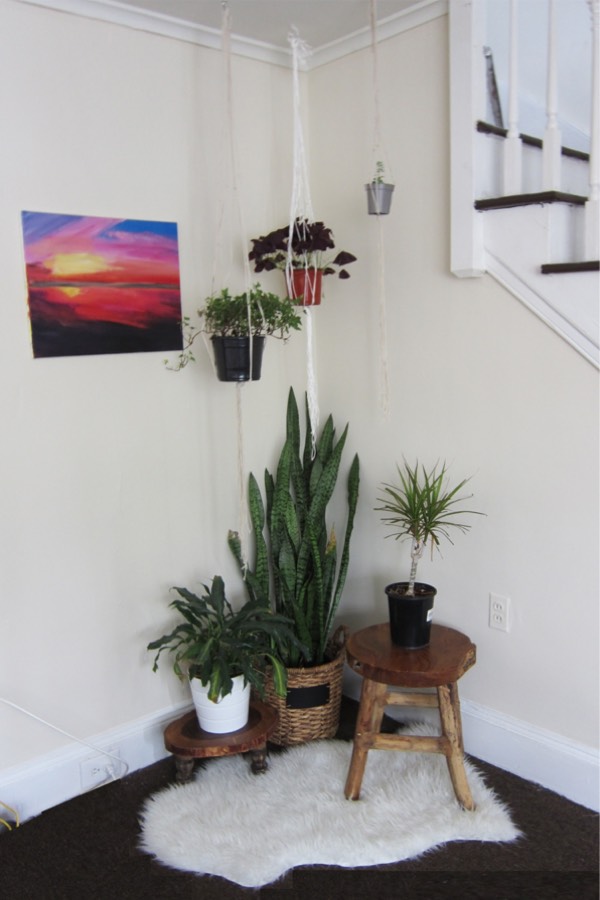 Bring nature indoors by using a forest motif for your indoor handmade stand.
The base of it is made of a trunk slice that has been well sanded and varnished. Next is to lift it on legs. Here you have two options, to get ready legs in the design, texture and color you like or craft your own.
16. DIY Natural Wood Slice Stools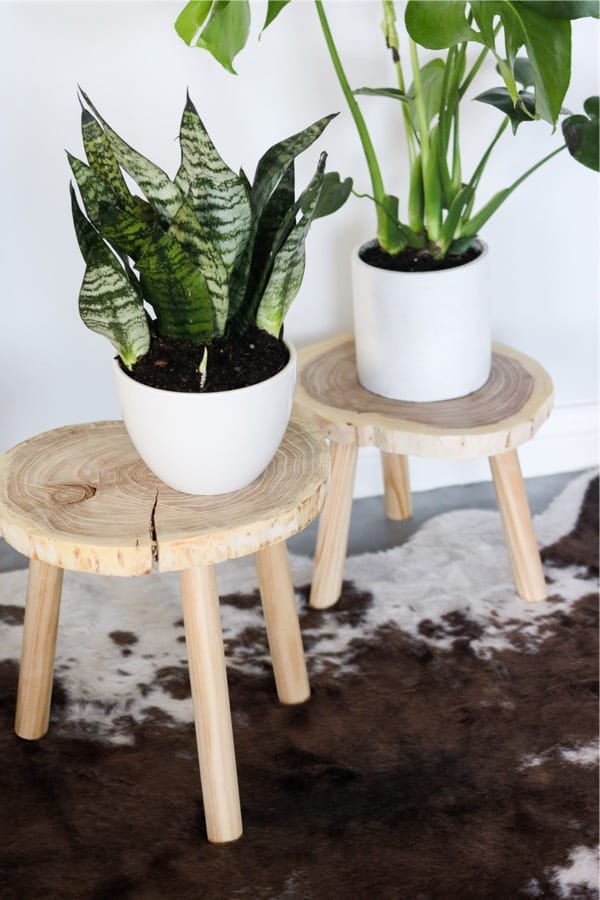 Another alternative to the DIY wood slice planter stand focuses on leaving it as more natural as possible.
Instead of staining the base and legs, they are left in their original light color that reveals a beautiful texture.
The legs have been made from wood dowel cut in three.
via Lily Ardor
17. Mini Wheeled Plant Pallet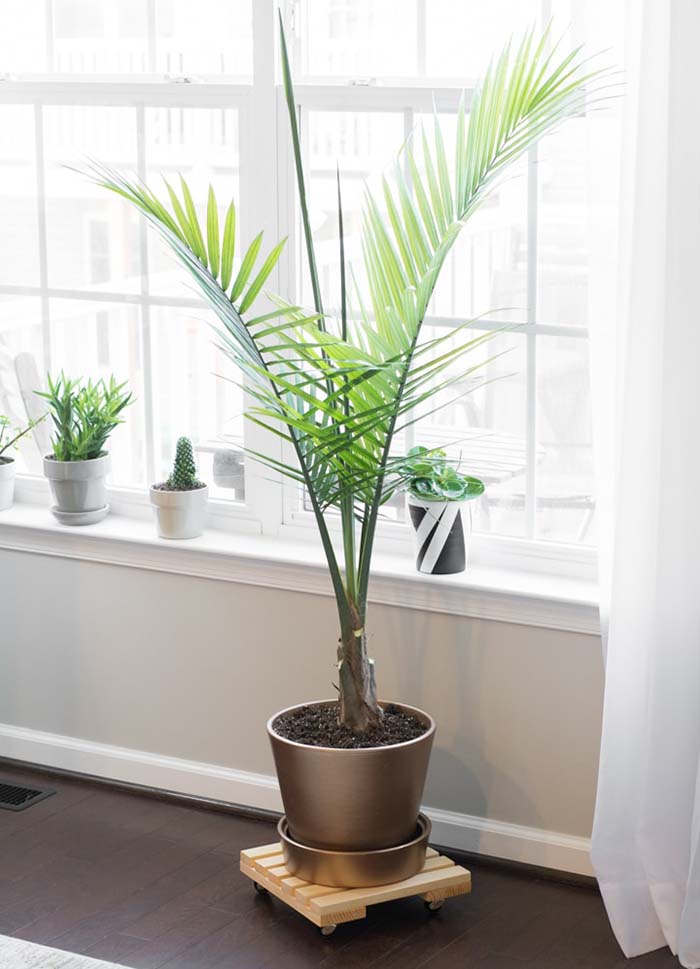 This is surely one of the most practical stands ever as it lets you move the heavies pots easily and clean the floor properly.
Plus it is very attractive, giving the space a pinch of industrial farmhouse charm.
The small pallet is made out of lumber to which casters are screwed to ensure the mobility of the handmade stand.
18. Easy Build Your Own Tiered Stand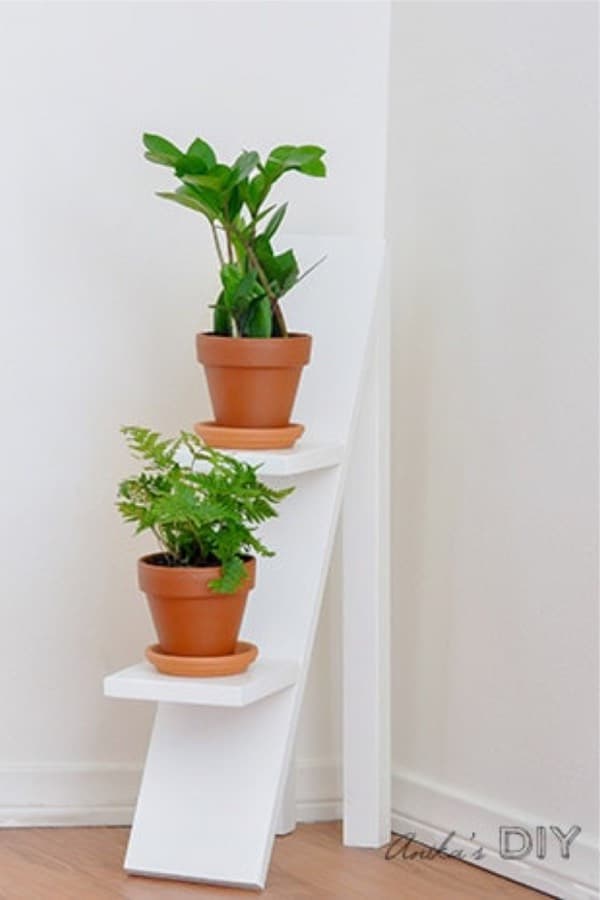 If you want to have more than just a plain plant stand and give your space some interest, go for this unique tiered stand.
Made of scrap wood, it looks like an angled sculpture that differentiates an otherwise empty corner of the room making it feel more special.
via Anika's DIY Life
19. Upcycled Plant Stand From A Trash Can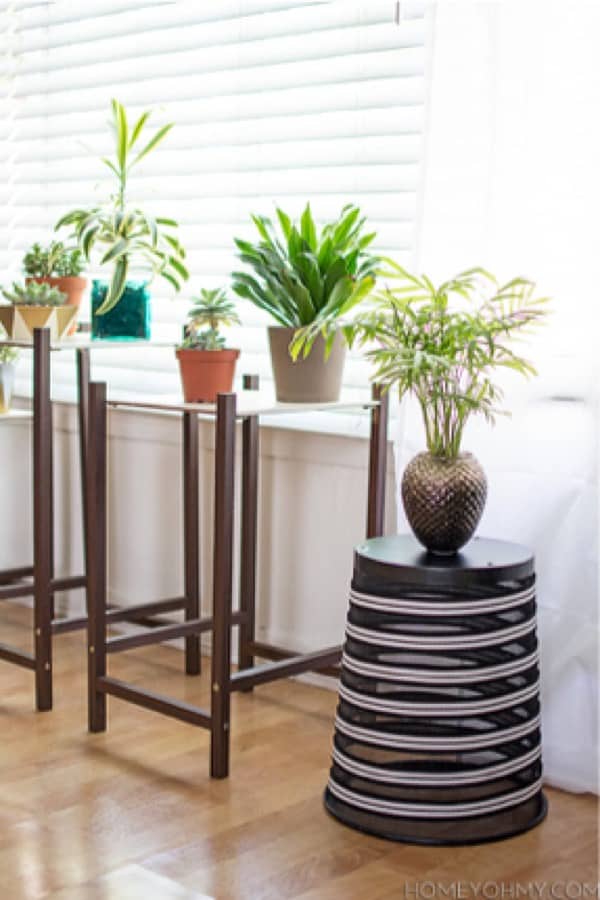 With some inspiration, creative thinking and plain items you can create a unique piece for your plants.
Repurposing a trash bin into a plant stand has never been easier. All you need to do is to decorate its surface with a black-and-white fabric ribbon. Glue it all around the external part of the bin creating a spiral.
via Homey Oh My
20. DIY Wood Plant Holder Cube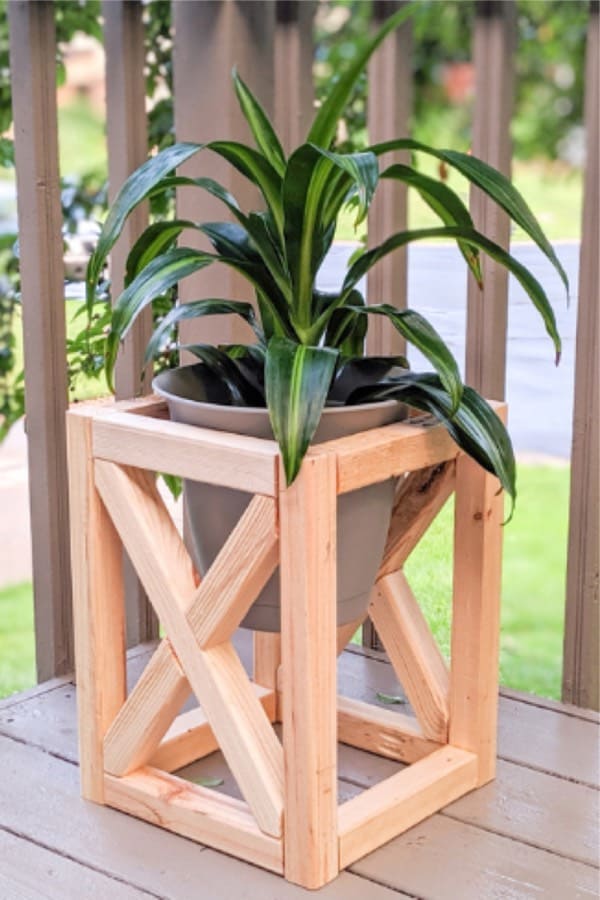 Give your patio an uplift with this handmade wooden plant stand. It combines well the warmth of the farmhouse style and the straight lines of the modern trend.
This type of stand can be placed in corners or on both sides of the front door to enhance the welcome level of the home.
via Bitterroot DIY
21. Stylish Rope And Copper Plant Stands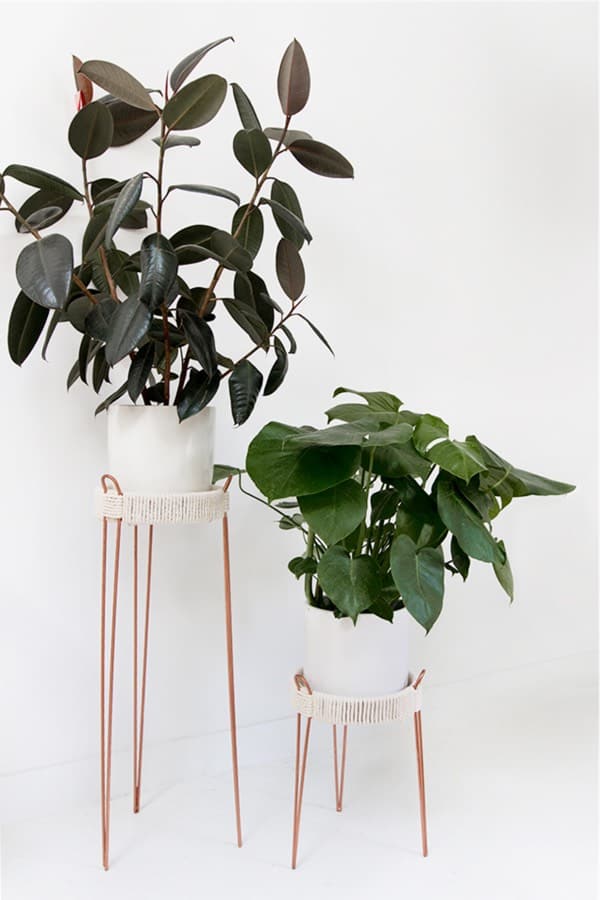 For all of you minimalists, there is a simple to make and very elegant plant stand.
To give it this shiny copper look, spray paint the hairpin legs of a ready stand with metallic paint.
Then wrap a thick white rope around the metal round base to create a macrame effect that will smoothen the extravagant metal structure.
22. Multi-Plant Pallet Ladder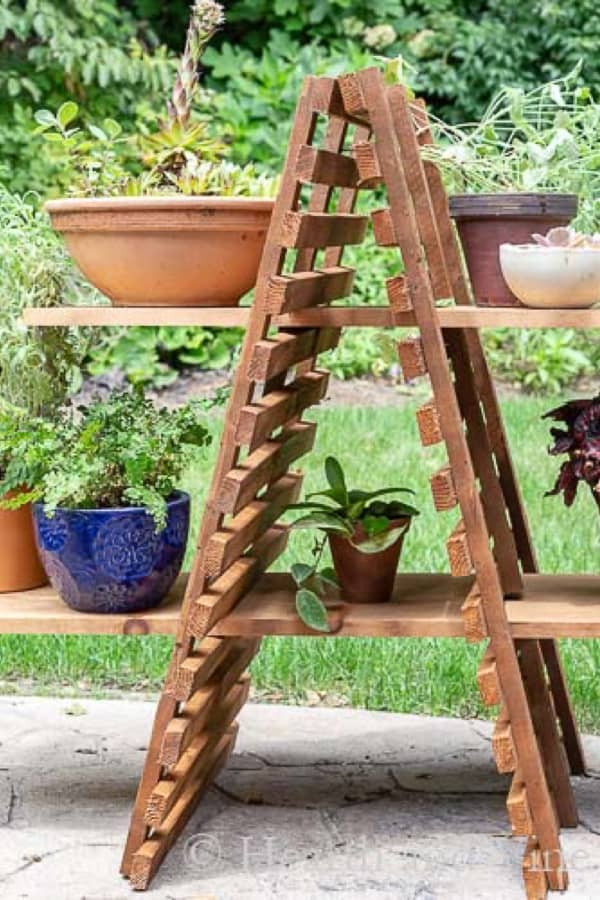 The organized and neat garden pleases the eye and makes the homeowners proud of themselves.
One of the ways to organize the pots outdoors is by placing them on a stand. This one could be all you need to gather the flower collection. Made entirely of wood it has two levels that are long and wide enough to bear many pots.
via Hearth and Vine
23. Elegant Matched Planters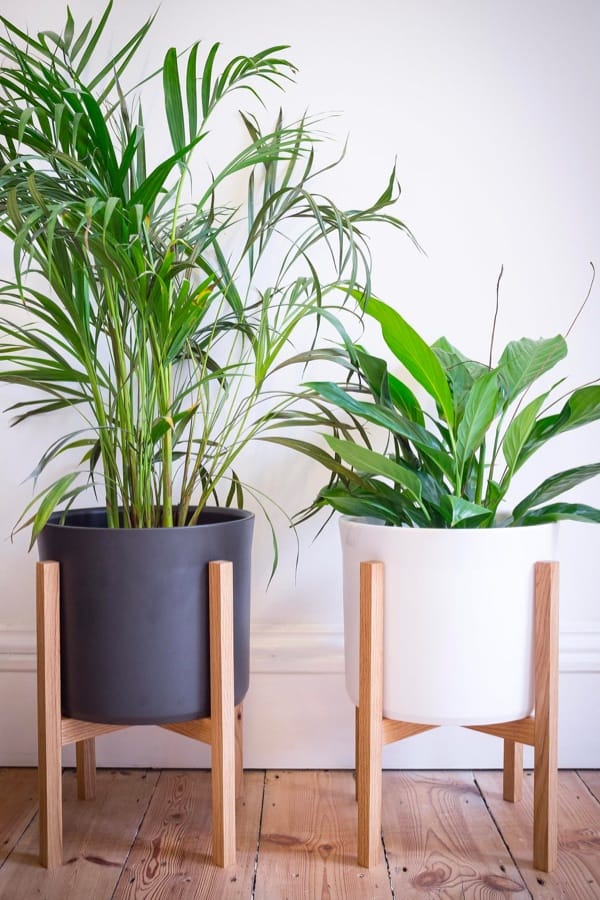 These planters are made of solid wood so this means that they can bear heavy pots.
Another advantage they offer is the charming mid-century design that easily fits in any type of interior style.
via Etsy
24. Farmhouse Style Ladder Stands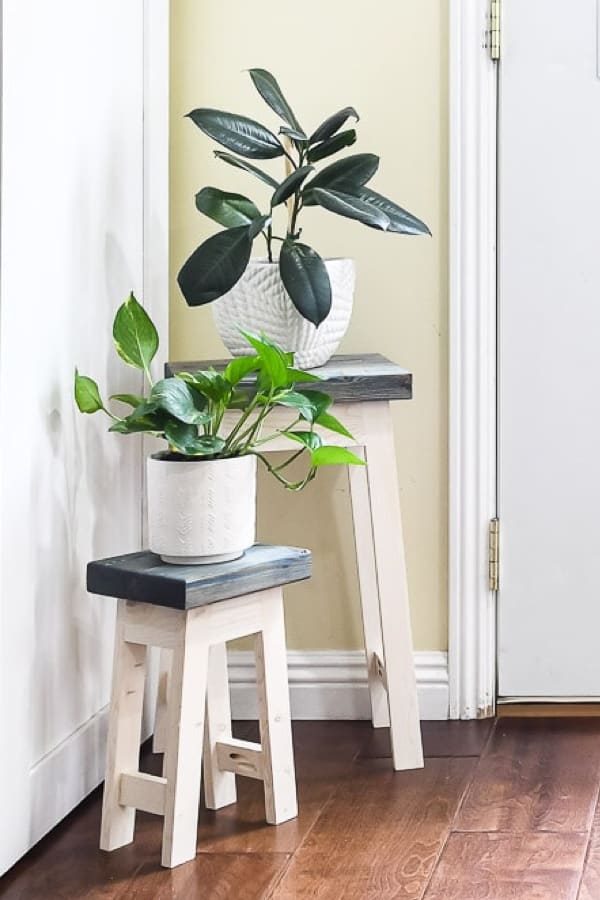 These stands look like old-fashioned stools that possess a lot of farmhouse charm.
Giving you the possibility to nest them when one of them is unused, they are one of the most practical DIY plant stand idea.
25. Hanging Flower Pot Frame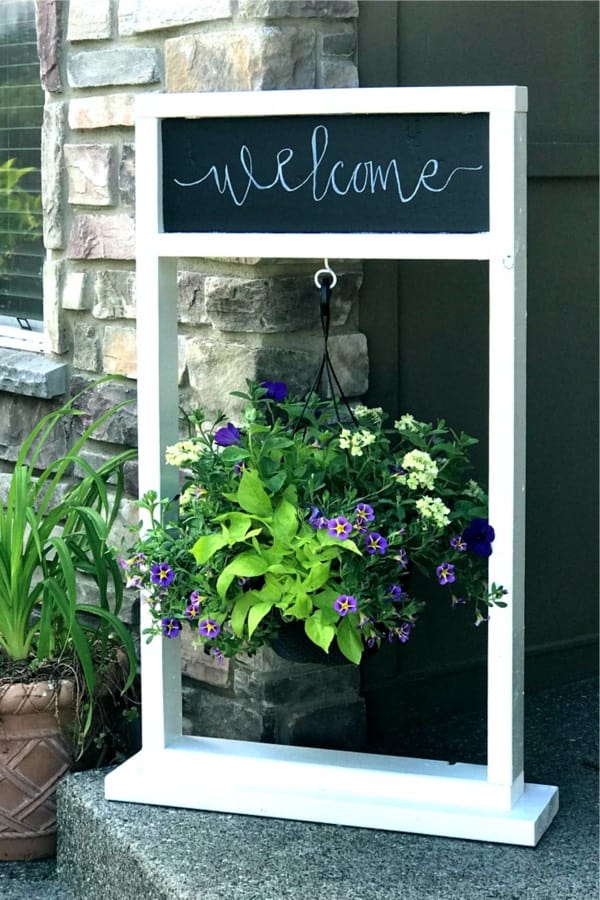 This plant stand idea makes more than just accommodate a plant. It sends a message to all of the guests making them feel welcome.
This idea is suitable for front porches or entrances being the first places a guest sees. And how better can you make them feel at home?
via Rachel Teodoro
26. Build A Custom Painted Plant Stand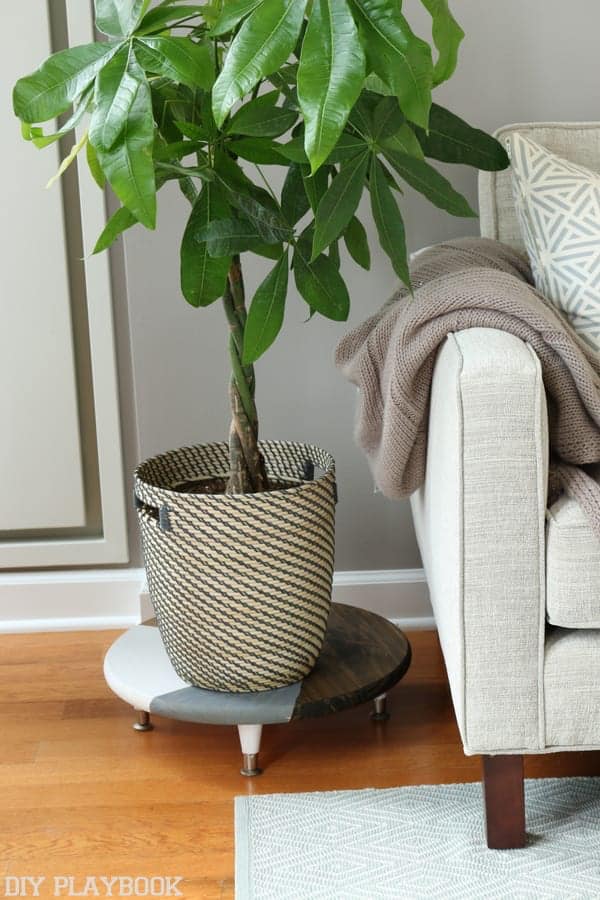 Do you want to have a more special stand for the heavier pots? This DIY stand is all you need- easy, affordable, customizable and a real masterpiece.
The interesting mosaic effect is achieved by painting divided areas of a round wooden board with different paint and stain colors.
It is suspended on short furniture legs that can be easily found at the stores.
via The DIY Playbook
27. Pottery Barn Planter DIY Replica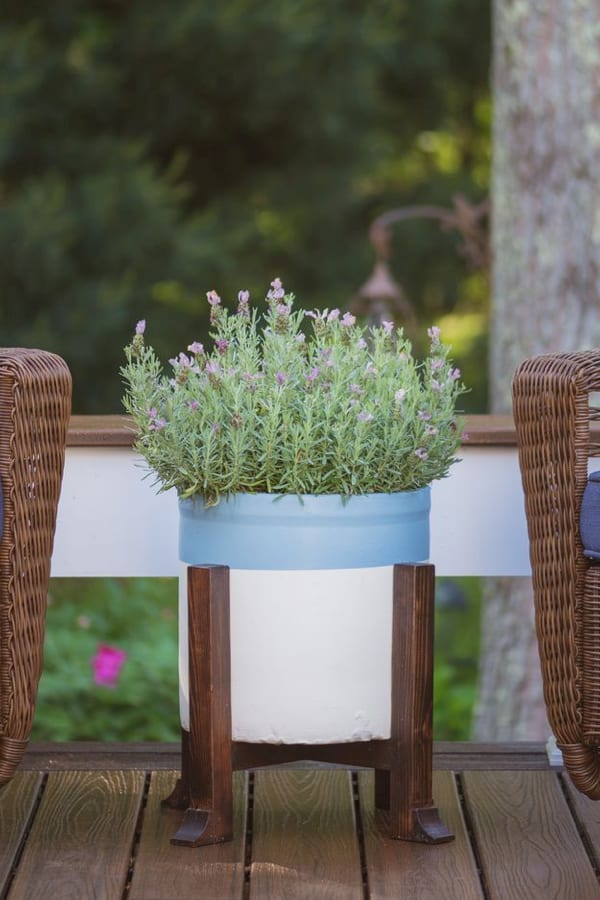 This plant stand has been made out of lumber cut in different shapes to create a legged stand.
What differentiates it from all other identical projects are the small angled accents on each leg.
via The Navage Patch
28. DIY Custom Finish Plant Stands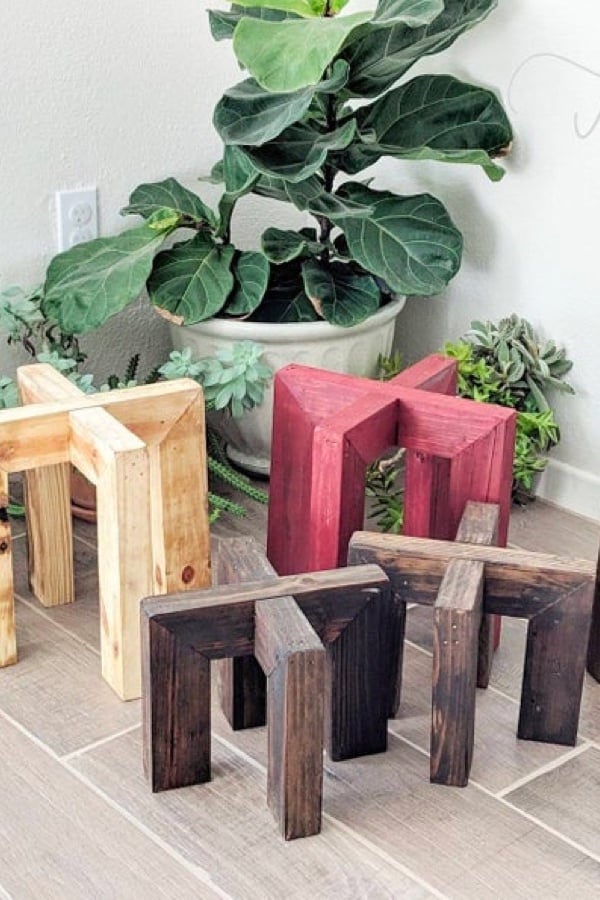 Add a farmhouse vibe to your indoor or outdoor ambiance with this set of handmade stands.
All of them follow the same assembly pattern. It is up to you whether you would like to give the wood a brighter look or a traditional rustic finish.
via Etsy
29. Easy Dowel Leg Pot Stand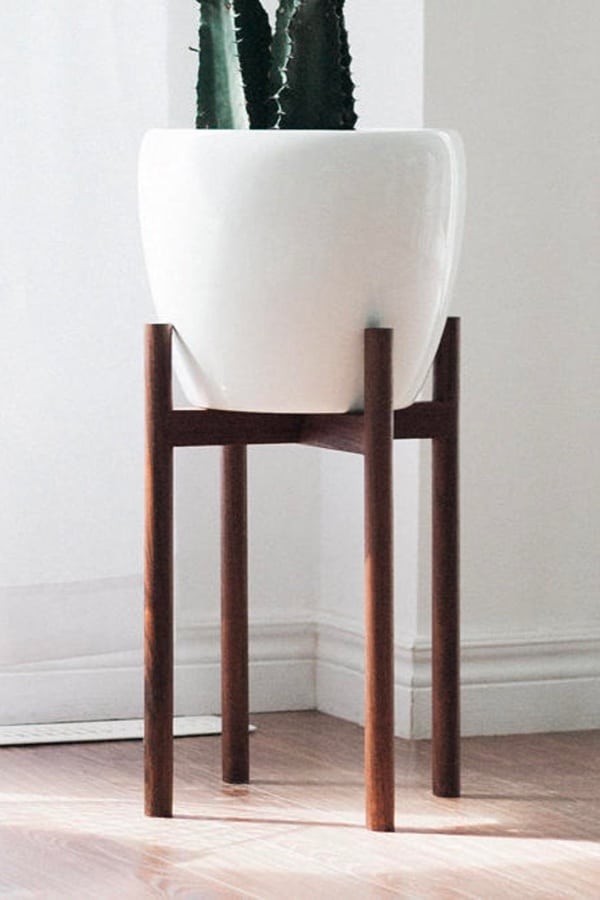 This stand is a sold item however it can be easily crafted based on the instructions of previous ideas.
Start with getting wooden dowels and laths and cutting them into the desired length. Then make the cross section for a base and fix it to the round legs.
The final result will be very attractive giving the space both uniqueness and warmth.
via Etsy
30. Add A Shelf To A Ladder Stand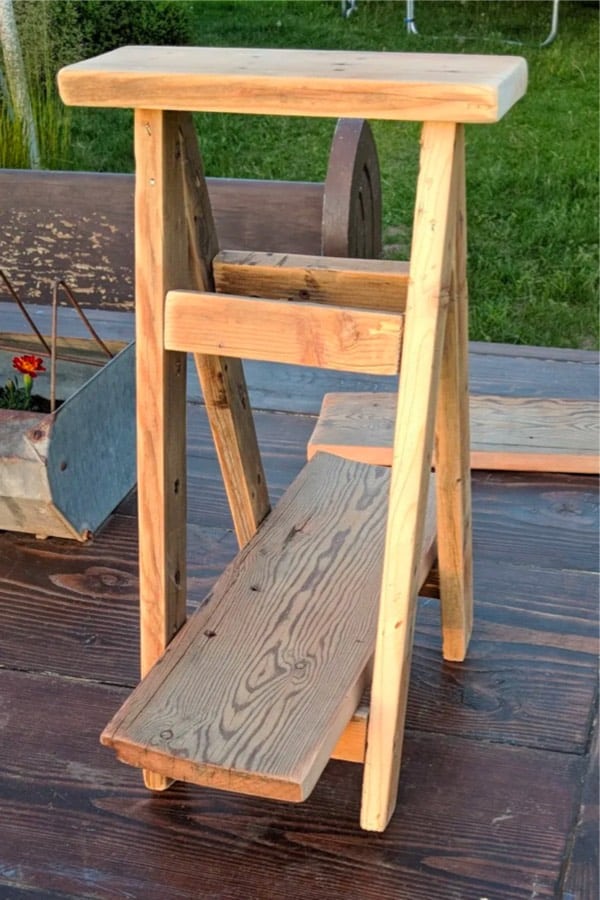 Made of reclaimed wood, this stand is the perfect way to add farmhouse warmth to your home.
It has been made in a ladder-like design to provide tiers and so more space for pots.
31. Repurposed Plant Holder Drawer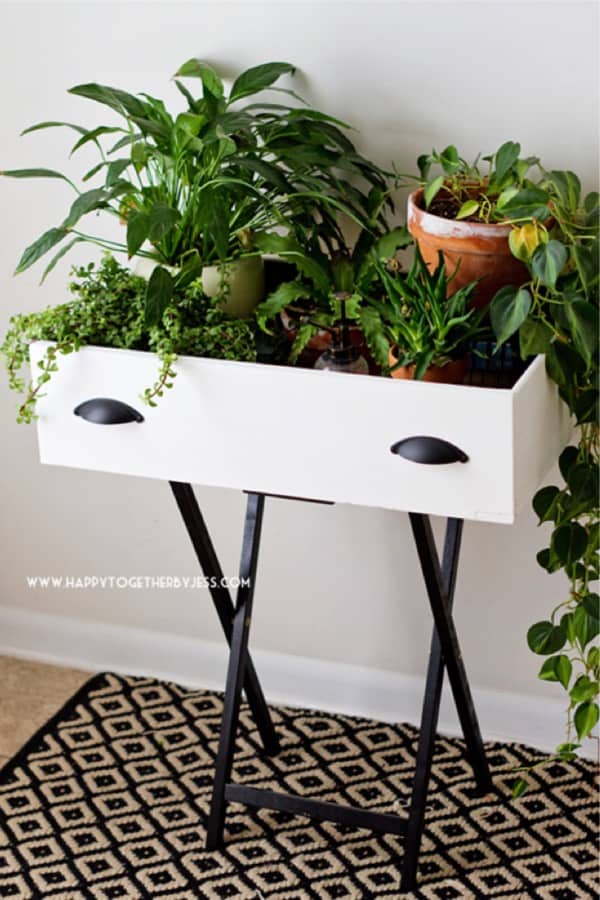 This creative stand is a combo of an upcycled drawer and a metal folding table.
Actually, this is one of the quickest projects ever because all you need to do is to paint the drawer and that's if only it needs a touch-up.
Then place it onto the table and arrange your plant collection.
32. Go Vertical With A Multi-Plant Stand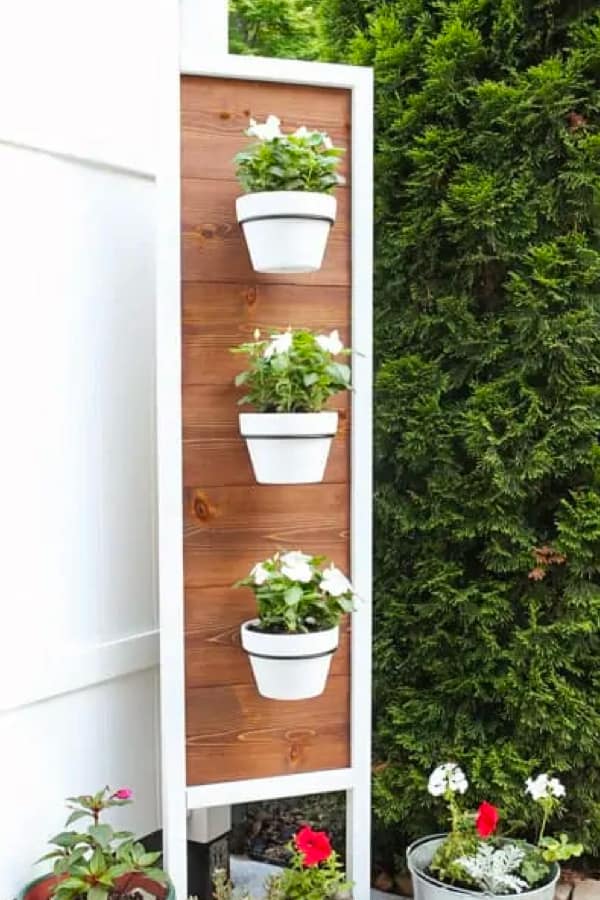 This vertical stand is a creative way to give a space some interest in height without covering much from the flor.
It can be customized to take up a bigger number of pots by increasing the length of the wood backing.
33. Slotted Midcentury Inspired Stands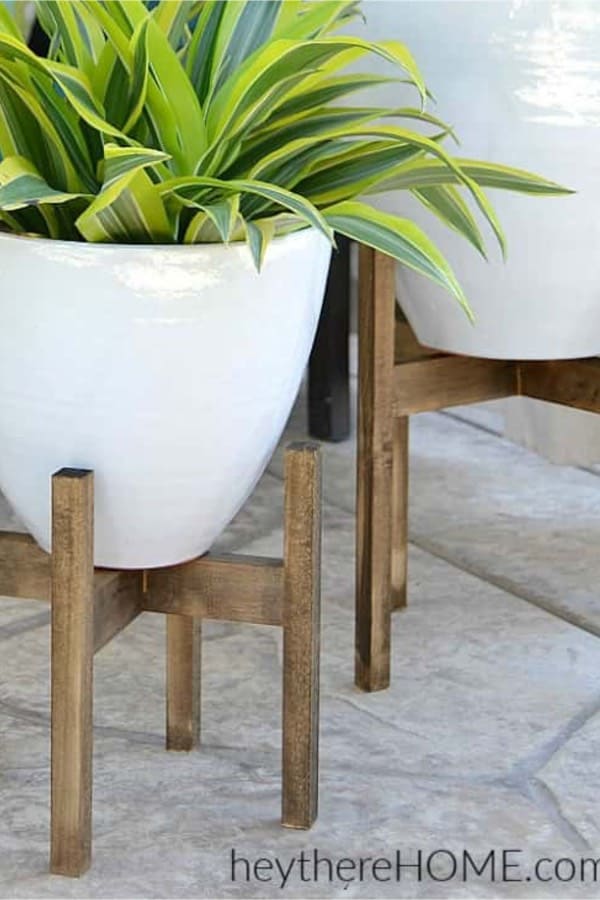 This is another representation of the DIY mid-century plant stand. The basics are the same- wood is cut in certain lengths, slots are being made to connect each section and form the stand.
Making it is easy and standard wood processing tools are needed No doubt that this design will attract attention being of an antique design and used in modern times.
via Hey There Home