With each season comes fresh and exciting ways to update your porch decor and express your personality.
From welcome signs and outdoor gatherings to floral arrangements and reading nooks, your front porch reflects the beauty of your home.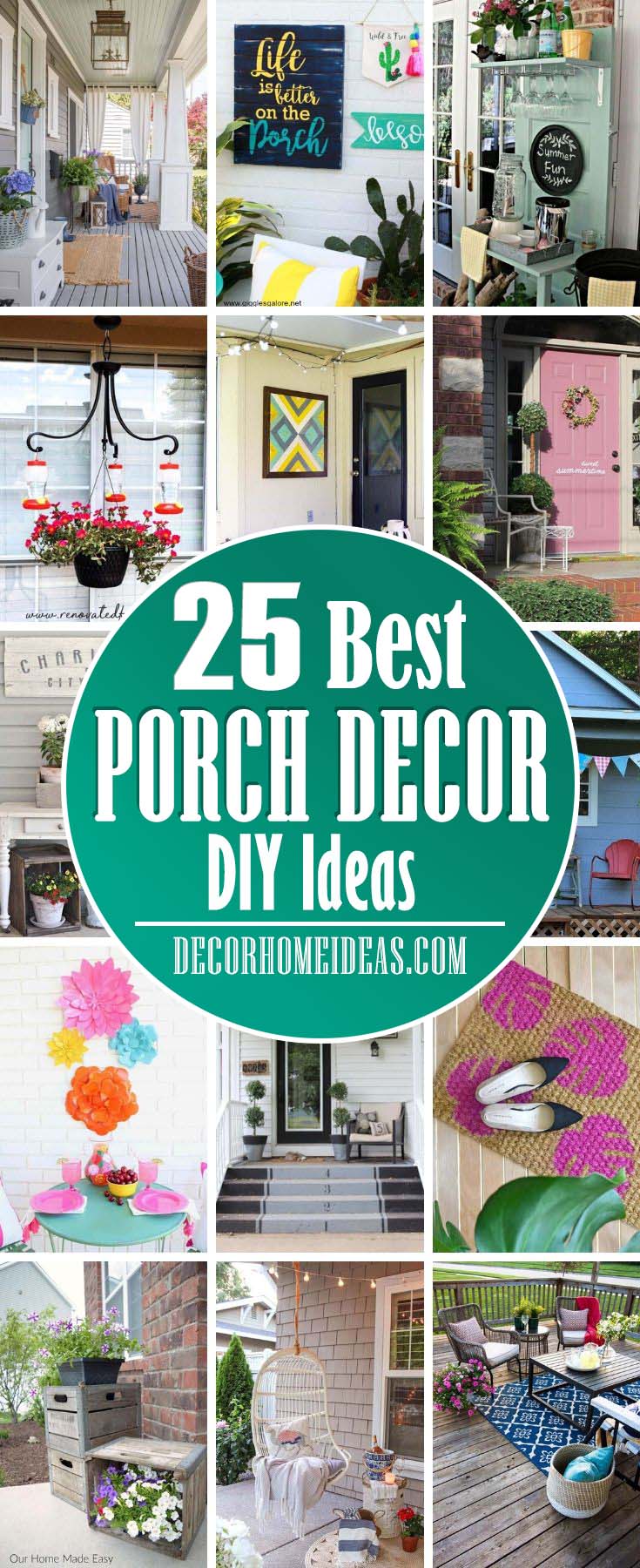 Check out these twenty-four porch decor ideas to find your next project!
1. Transform Your Porch with a DIY Victorian Garden Bench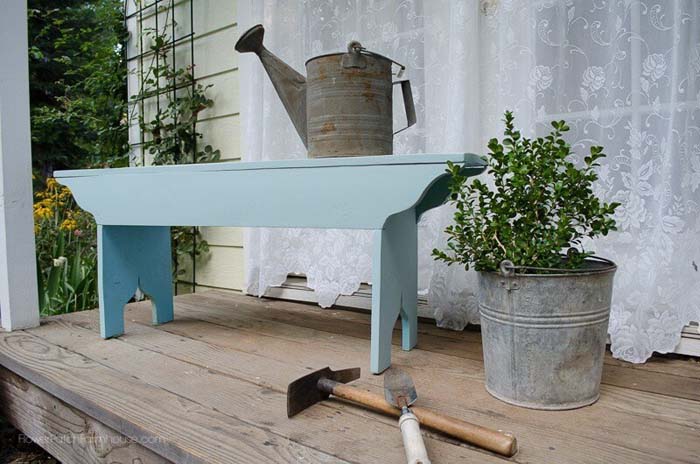 This DIY idea brings a sweet and relaxing elegance to your porch this season.
In a cooling sky blue, a narrow Victorian garden bench is made with wooden panels.
The smooth curves on the front and back panels give the bench a sense of flowing grace.
2. Attract Hummingbirds with Bird Feeders and a Floral Chandelier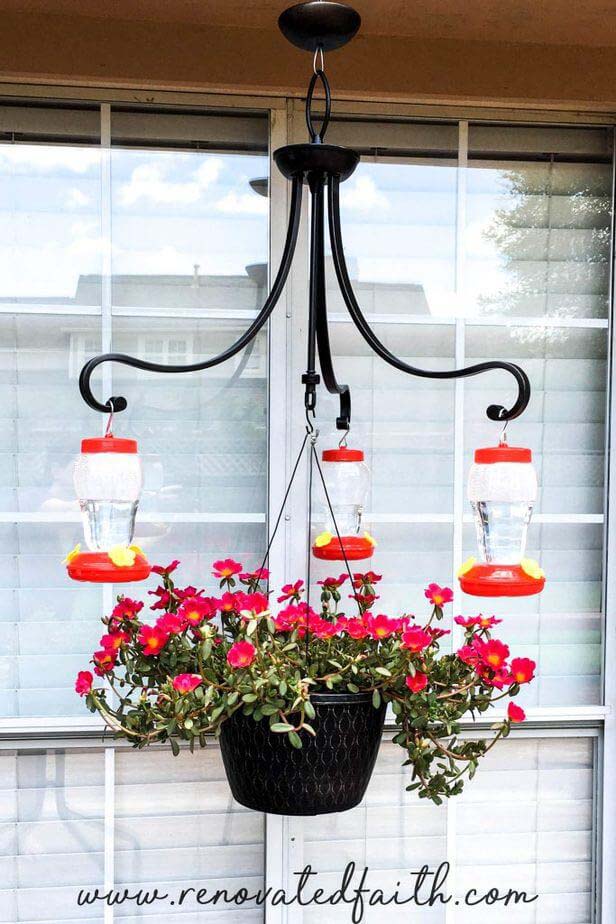 Creating both porch decor and food for your local birds, this idea adds some charm to your porch.
A black chandelier hands from the porch awning, holding three red hummingbird feeders.
From the middle, a basket of pink flowers hangs lower.
via Renovated Faith
3. Inviting Porch Decor with Wicker Chairs and a Park-Style Bench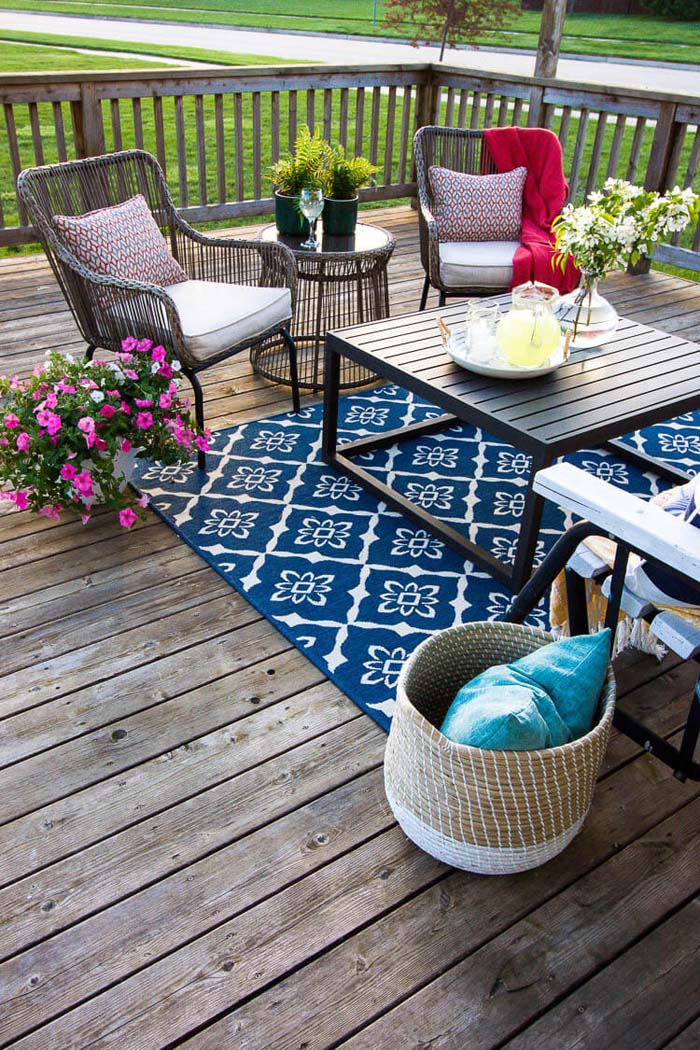 With an inviting and clean feel, this porch decor idea brings everyone to the outdoor table.
Two brown wicker chairs and a white, park-style bench sit around a square wooden table.
Using colors, like the geometric blue rug and flower baskets this look is complete.
4. Playful Porch Decor Idea with Stacked Crates and Flowers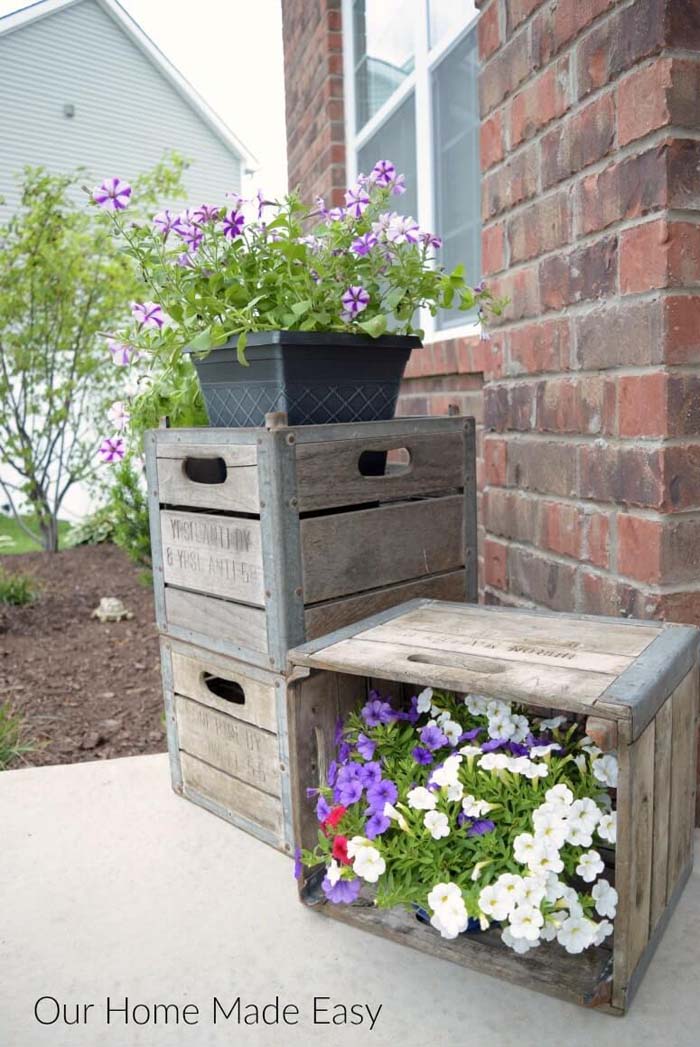 Adding a touch of kindergarten innocence to your porch decor this season, this idea turns wooden crates into cubby-like shelves.

Two wooden crates are stacked, creating a shelf that holds an overgrowing basket of purple flowers.

Nearby, a crate is purposefully turned on its side and contains bunches of purple and white flowers.
5. Relax in a Rustic Porch Swing Set-Up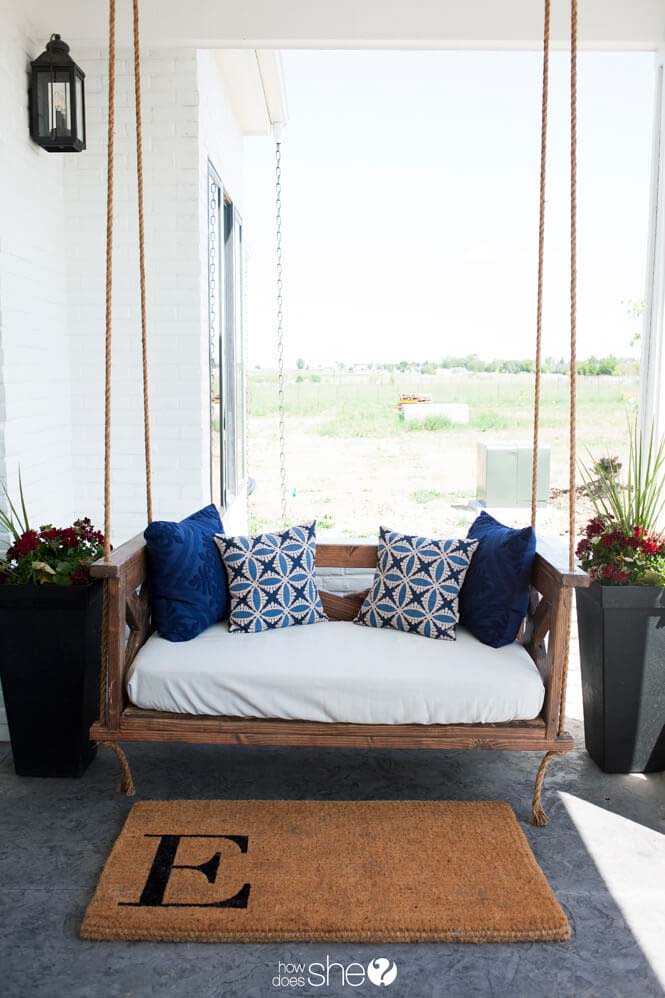 In a healthy mixture of farmhouse rustic and modern elegance, this porch decor idea makes for the perfect afternoon place to rest.
Hung from the porch awning with a long rope, a wooden bench is made into a porch swing.
It is decorated with solid and geometric blue pillows and offset by tall black pots with red flowers.
via How Does She
6. Upcycled Porch Decor with Repurposed Gutter Planters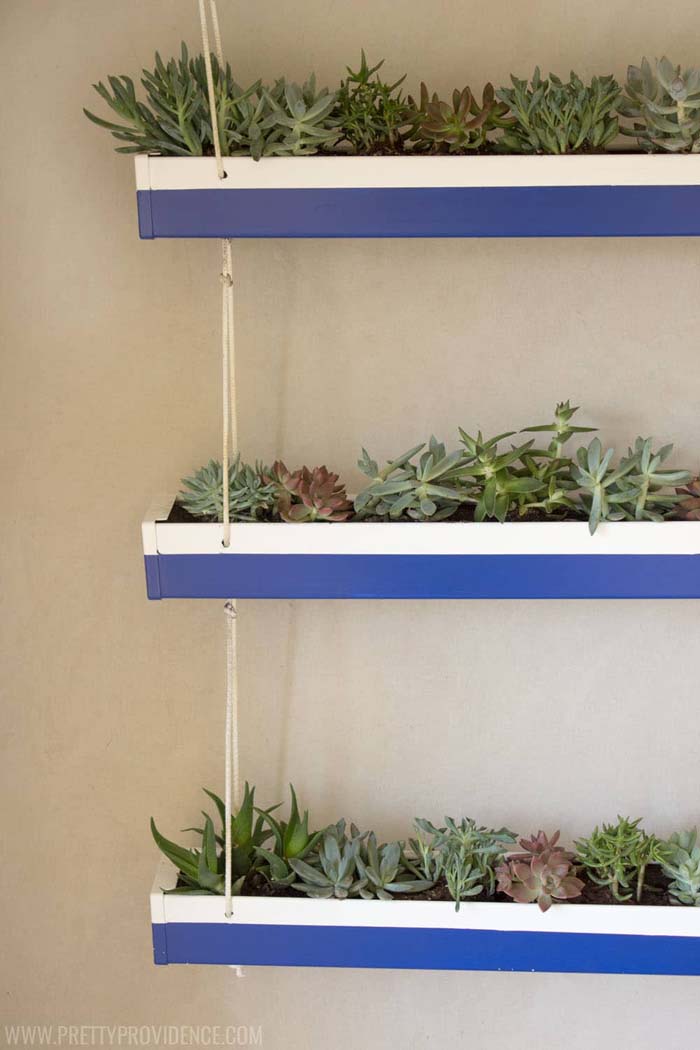 In true upcycle fashion, this DIY porch decor idea transforms your house's leftover materials.
Three pieces of gutters are hung on top of one another from the porch awning.
They have been repainted in blue and white strips and converted into succulent planters.
7. Create a Tropical Paradise with a DIY Monstera Leaf Doormat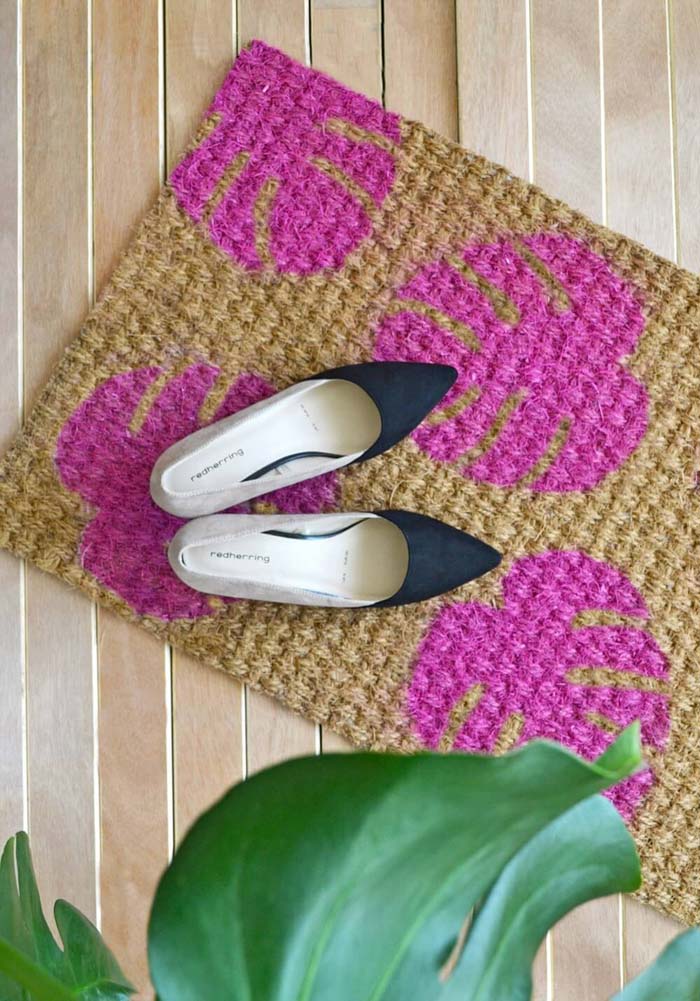 This DIY idea brings a wonderful tropic vibe to your doorstep with ease and convenience.
A sand-colored thatched doormat shows several pink monstera leaves.
This was done by using a monstera leaf cut-out and pink spray paint!
8. Geometric Wall Art for Your Porch with a Plywood Back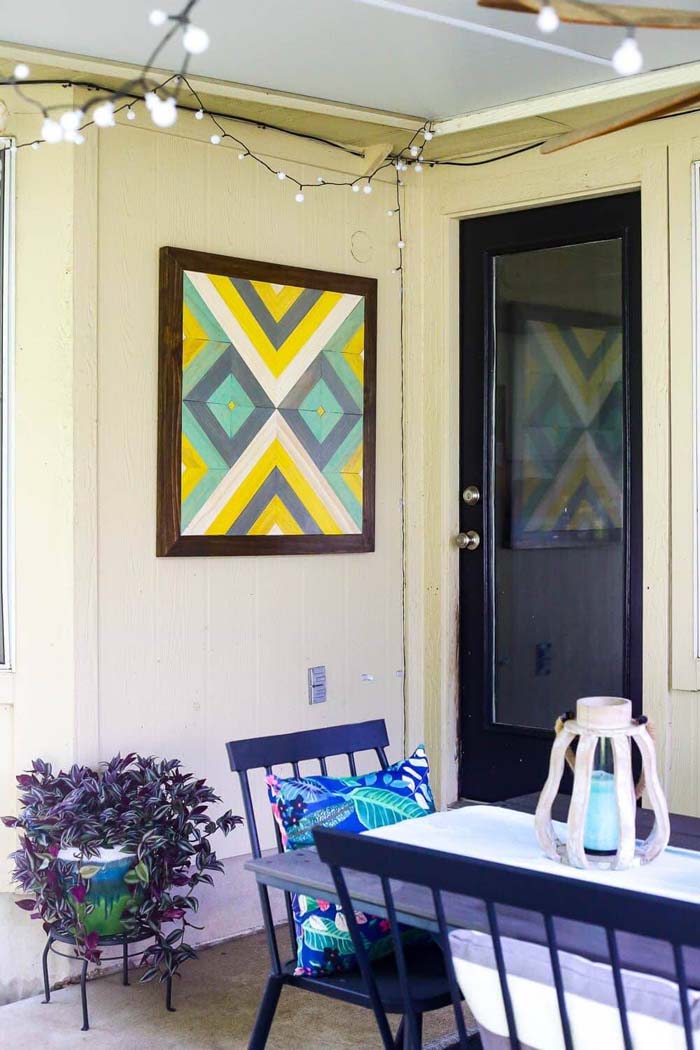 Using some craftsmanship and artistic flair, this idea brings your unique geometric wall art to the porch.
A geometric pattern is designed by cutting various wooden boards into thin parallelograms and then fitting them onto a square frame with plywood back.
These are then painted in yellow, teal, white, and grey to create a fun pattern.
9. DIY Quoted Sign for Your Porch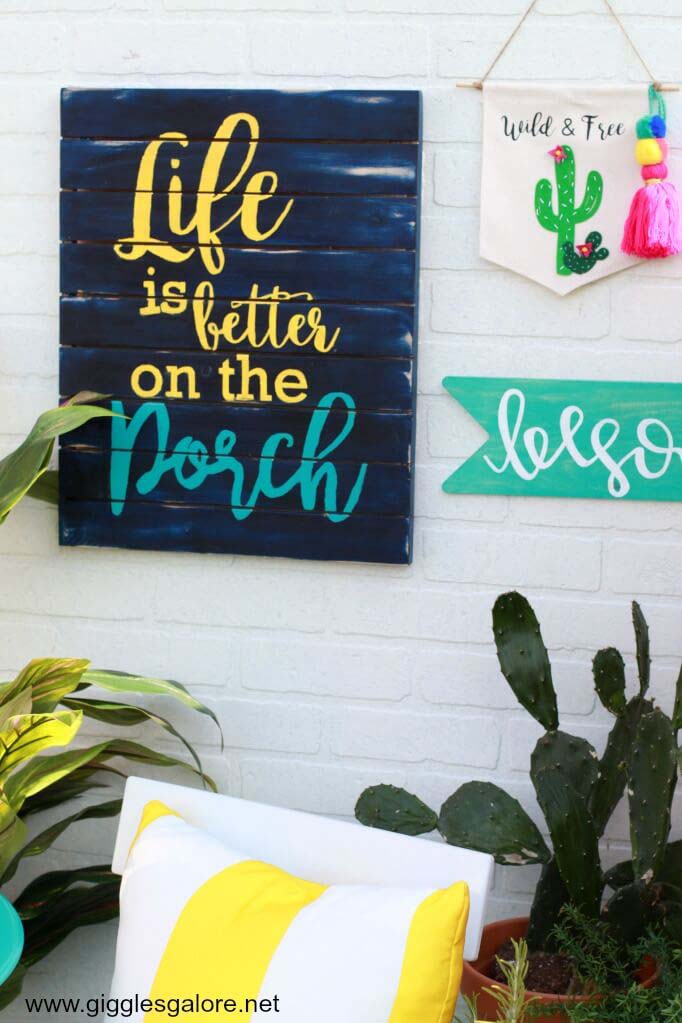 This DIY idea sets the mood for your porch.
A quoted sign is made with nine, two-inch-thick wooden boards.
Atop a dark blue and white background similar to the sea, your favorite porch quote is written in gold and teal. This is hung next to your other favorite decorated quotes to create a semi-mood board. 
via Giggles Galore
10.  Enjoy Summer with a Whimsical Tea Party Decor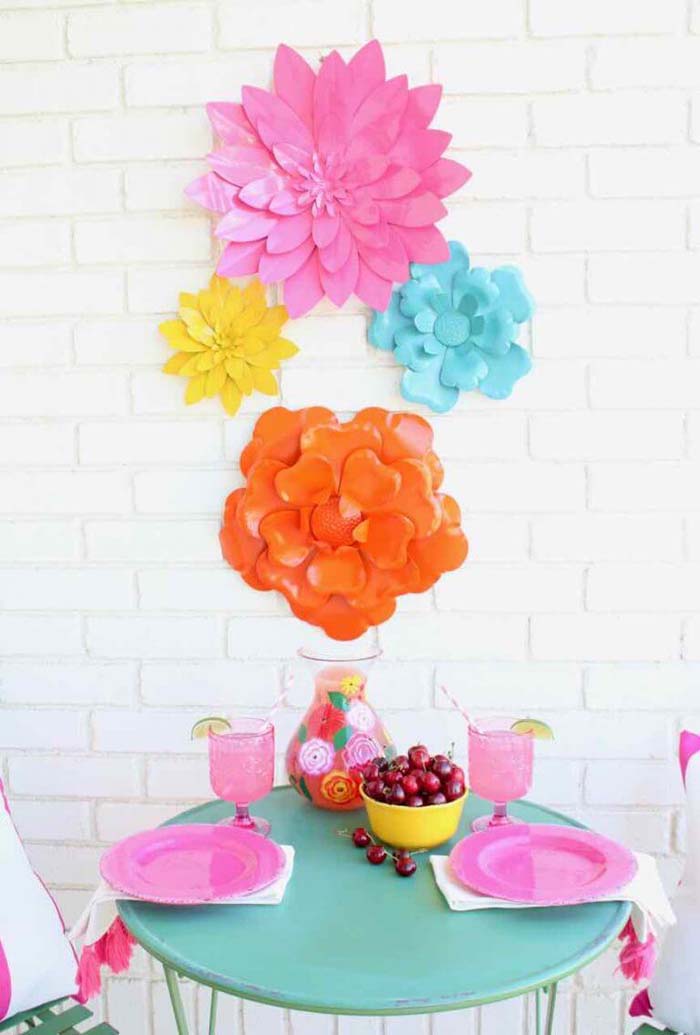 In charming whimsy, this idea brings back the tea parties of yesteryear.
On a mint green round metal table rests two pink charger plates with their pink-tasseled white napkins.
Next to them are goblets with pink lemonade, a yellow bowl of fruit, and a hand-painted floral pitcher. To complete the look four large plastic flowers have adhered to the back wall.
via Design Dazzle
11. Reading Nook for Your Porch with a Wicker Chair Hammock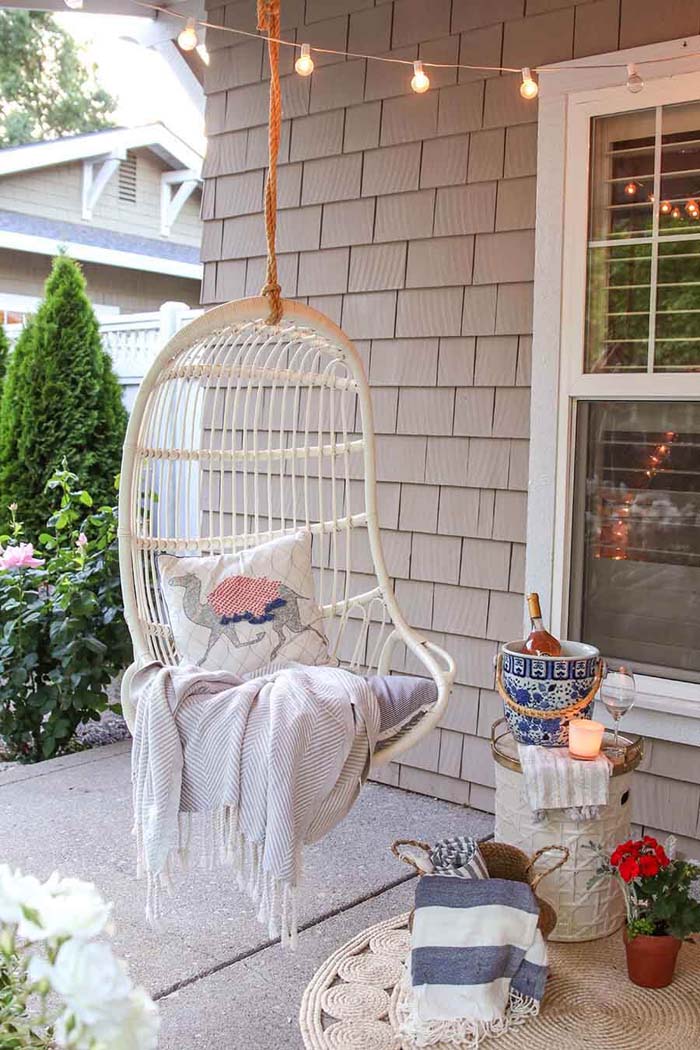 This idea crafts your not-so-little nook for relaxing and reading on the porch.
A white wicker chair hammock hangs from the porch awning with a piece of rope.
Decorated in canvas, denim, and white, the feel of this look is pure simplicity. The focus is on the details, like the blue patterned ice bucket or pot of red flowers.
via Modern Glam
12. Upcycle Your Headboard into a Charming Porch Swing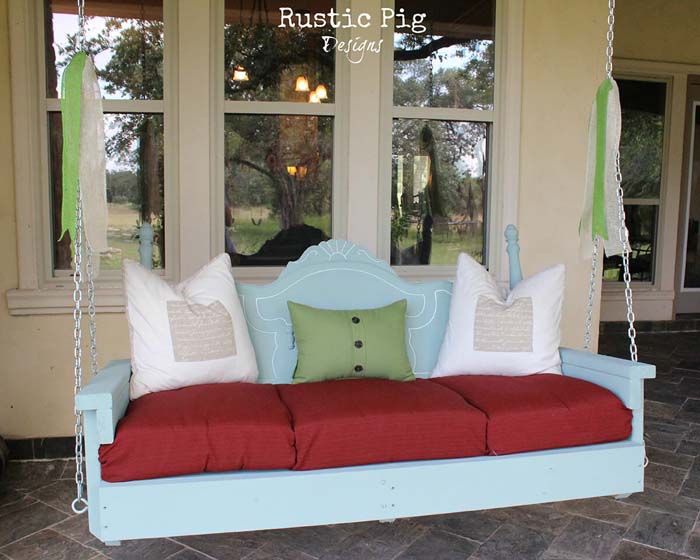 Giving new life to your headboard, this idea crafts a fun back porch swing.
Painted in iced mint blue, a headboard serves as the back of a wooden porch swing that is hung using a metal chain, decorated with green and white ribbon.
The bench features red cushions and a small, buttoned green pillow.
13. Welcome Home: Refreshing and Cozy Porch Decor Design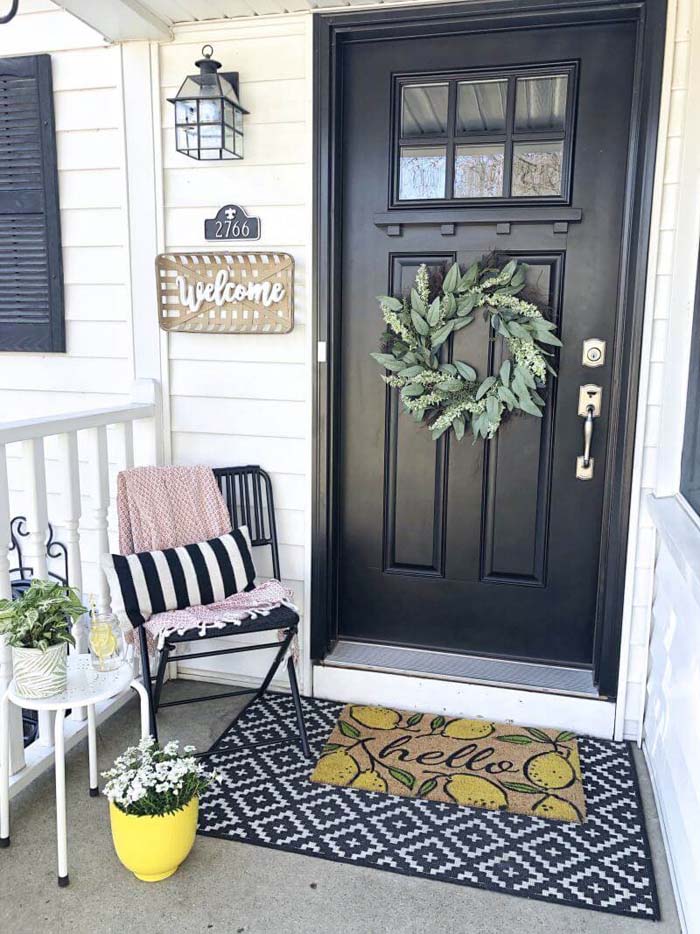 A cozy and refreshing ambiance is what this porch decor design brings.
Centered in this look, is a lemon, hello welcome mat that rests atop a blue and white geometric rug.
A yellow pot of white flowers and a textured blanket remain nearby.
via Coffee Pancakes and Dreams
14. Brighten a Porch with a Macrame Flower Mason Jar Planter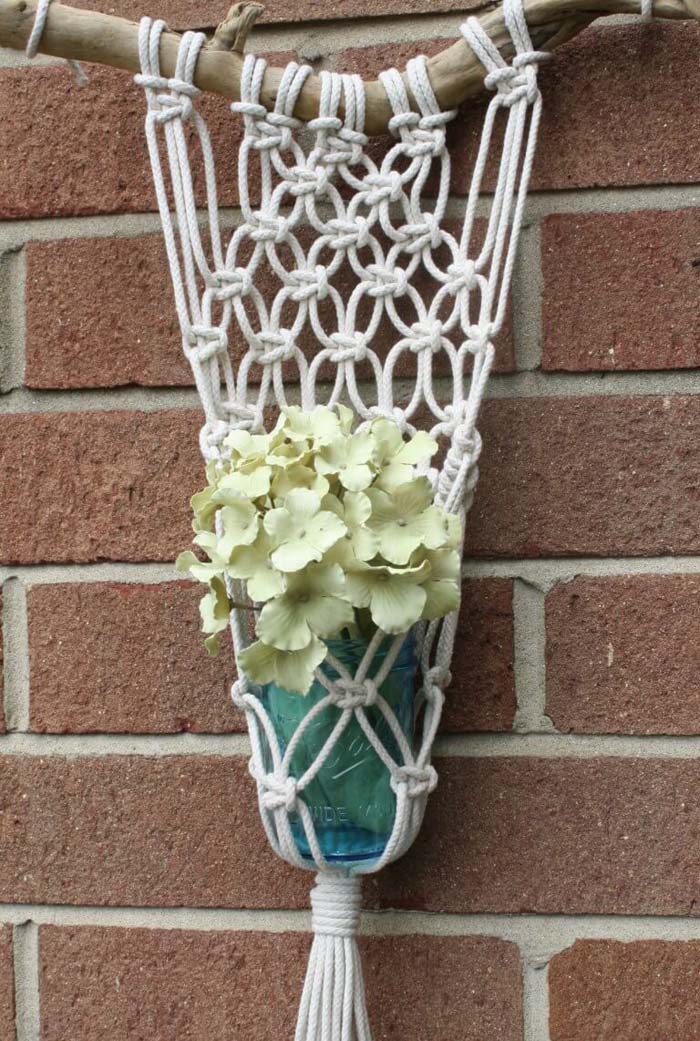 This decor idea gives your porch a simple and fun boost designed for the true crafter.
In a twine netting, a mason jar rests hung from a nearby tree branch.
Inside the mason jar and coming out of the netting are pale yellow macrame flowers. 
via My French Twist
15. Add a Festive Touch to Your Porch with a DIY Oilcloth Bunting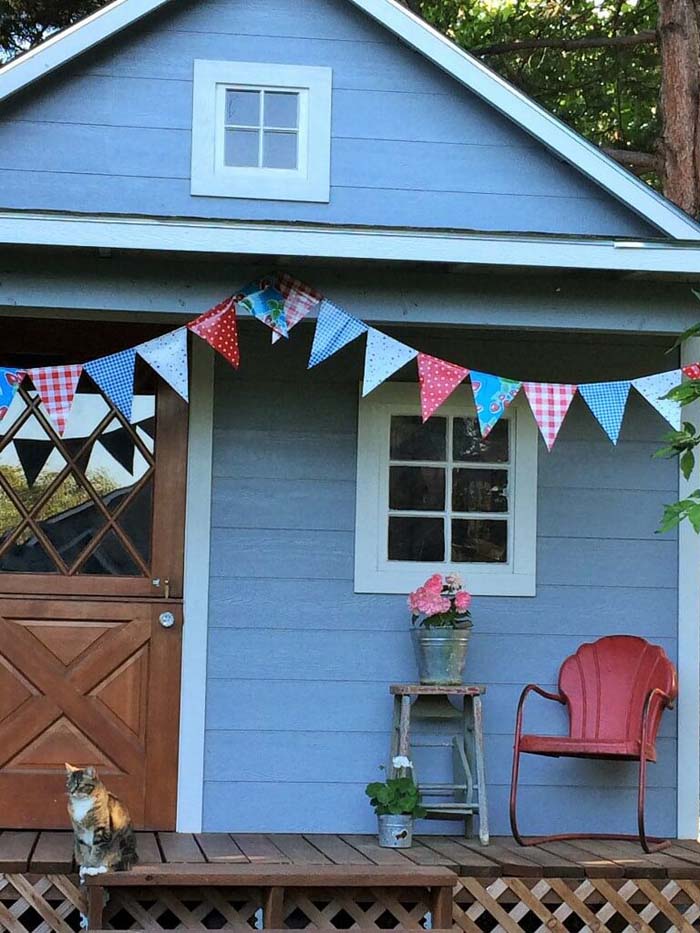 Adding a touch of celebration to your porch, this DIY idea is a no-fuss way to mark special occasions.
Oilcloths have been cut into same size triangles and hung from the porch awning to create a bunting.
Different patterns in the red and blue color scheme are used. 
16. Contemporary Porch with Numbered Stair Design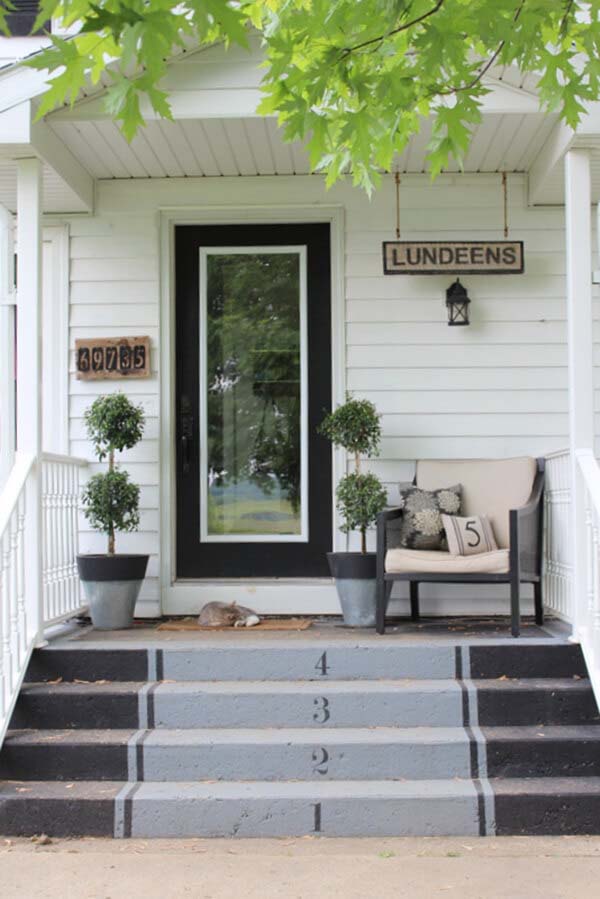 Giving your porch a subtle, but effective up-do, this decor idea adds a modern look to the front door's walkway.
The concrete stairs leading to the front door have been painted black with a thick gray stripe in the middle.
Each stair is numbered in black paint.
via Proverbs 31 Girl
17. Step into a Vintage Flower Market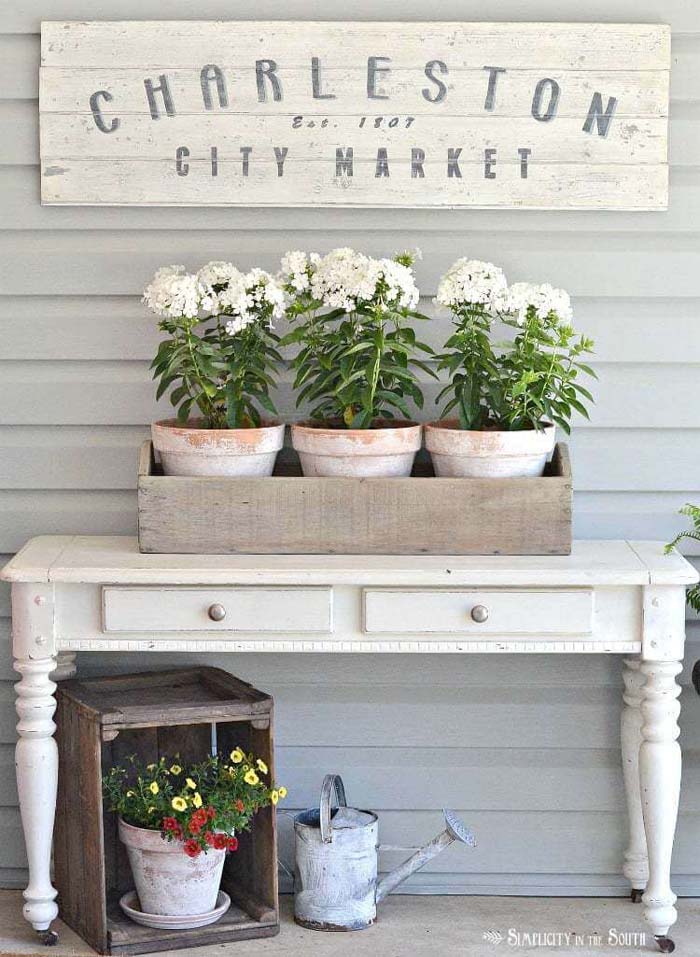 Creating a snapshot of a rustic flower market, this decor idea adds a sense of growth to your porch.
In a wooden box, atop a vintage white table rests three potted white flowers.
An antique white painted sign hangs above marking the area as a market.
18. Bold Look with a Black and White Striped Rug on Your Porch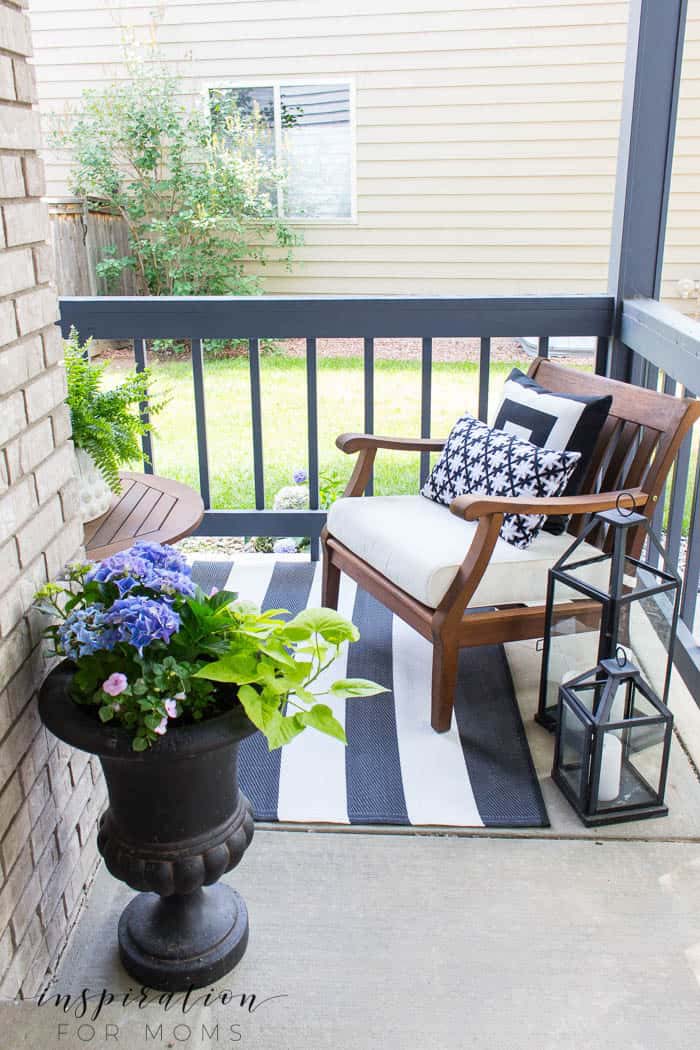 This DIY porch idea gives a sense of direction to your outdoor decor.
Underneath your porch design rests a large black and white striped rug.
The strips are in line with the wooden boards on the table and the black metal railing of the porch.
19. Bring a Rustic Look with a DIY Rope Doormat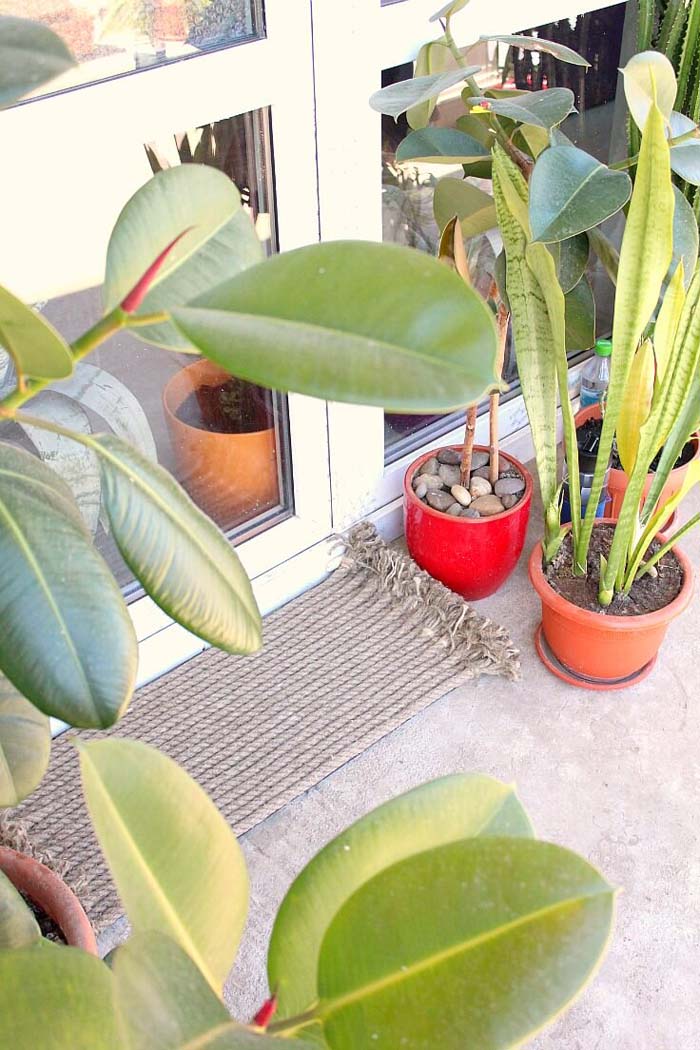 In a simplistic design, this DIY porch idea crafts a cozy doormat.
Pieces of rope have been cut and fastened together in twenty pieces to create a narrow doormat.
20. Welcome Guests with Summer Fruit Porch Decor Ideas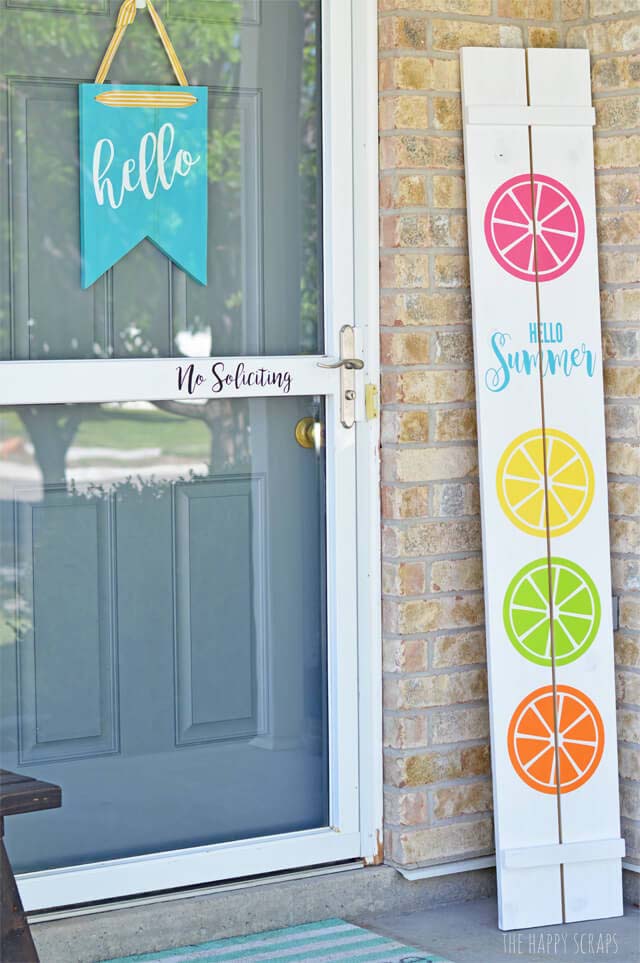 In a refreshing summer fruit theme, this decor idea welcomes your guests.
Two long wooden boards have been painted white and fastened together.
Painted on top are sections of citrus fruits and a welcome greeting.
via The Happy Scraps
21. Enjoy Summer in Style with a Sweet Summertime Door Decor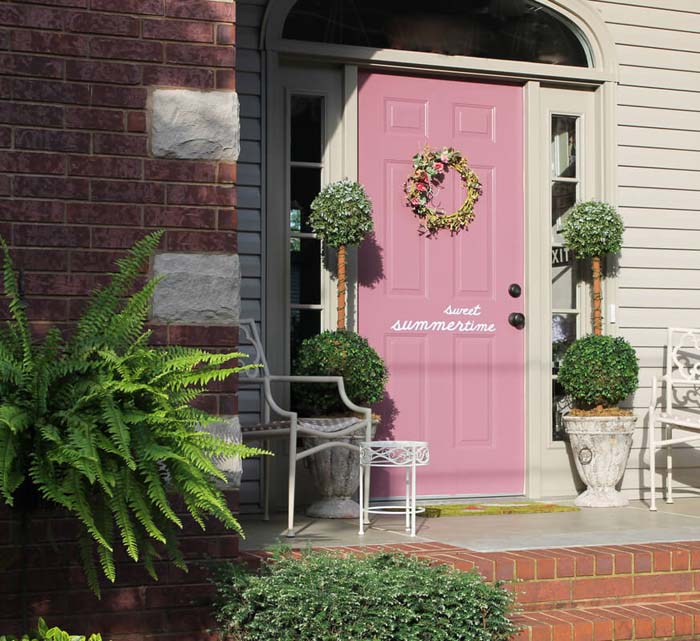 With a sense of romanticism, the decor idea focuses on the front door.
Against a rosy pink front door, the words 'sweet summertime' are painted in white cursive font.
22. Outdoor Beverage Station with Upcycled Cabinet Door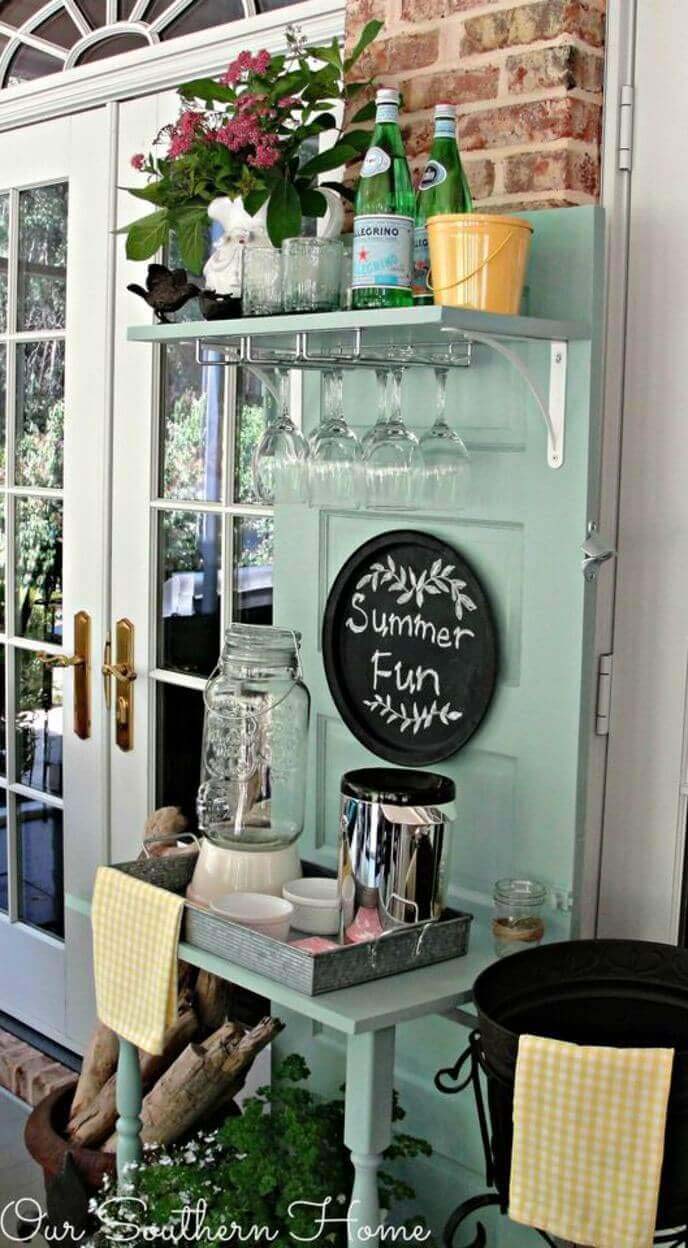 Using an upcycled cabinet door this decor idea crafts and outdoor beverage station.
Painted in mint green and given two shelves this door now supports serving trays, wine glasses, and a decorative plate. 
23. Make a Juicy Watermelon Doormat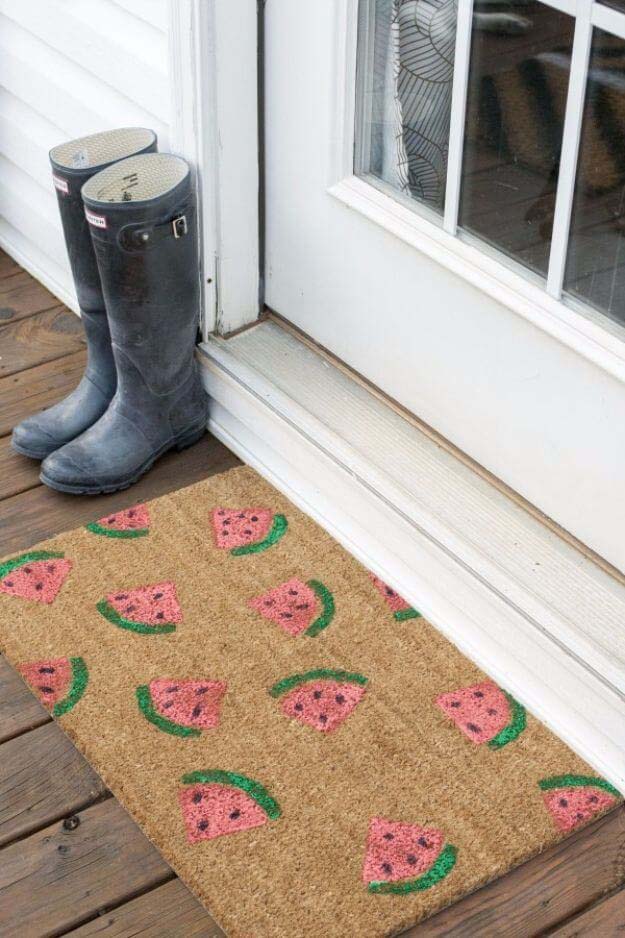 This DIY idea brings some juicy watermelon to your front doormat.

One an amber doormat easy watermelon wedges are painted in pink and green. Four black seeds are added to complete the look.
via Dream Green DIY
24. Elevate Your Porch with Wicker Chairs and Hanging Lantern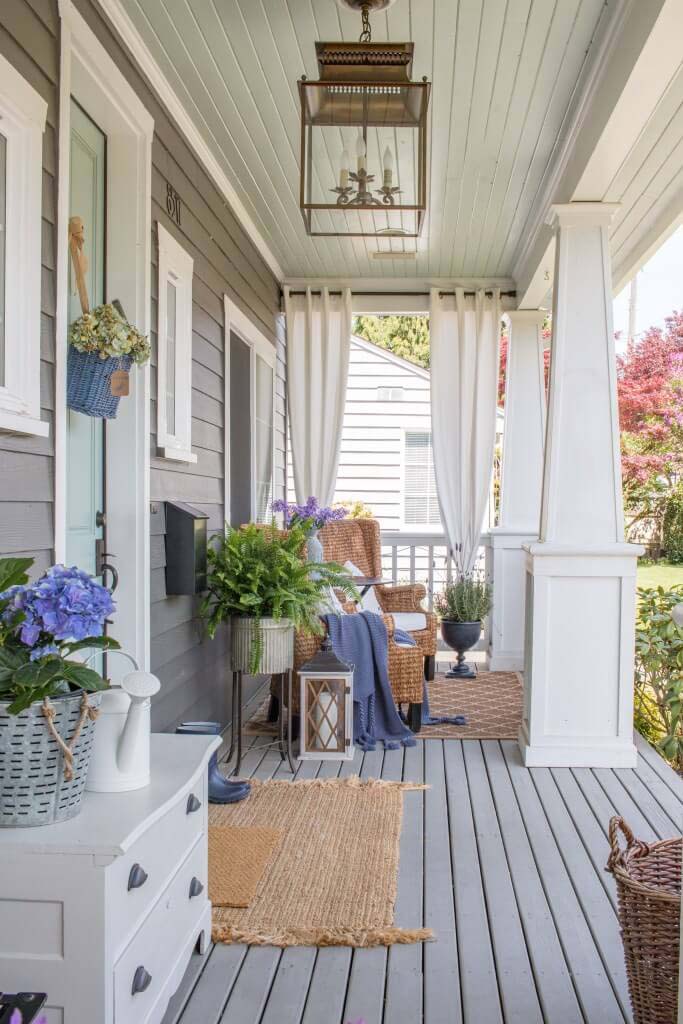 This porch design brings texture, detail, and color.
A pair of light brown wicker chairs holds light blue pillows and blankets next to potted green and blue plants.
Overhead rests a glass box-protected flameless chandelier.
via Saw Nail Paint