58 Most Beautiful Flower Arrangements Ideas For Your Home
Does your interior miss a pop of color? Or a pinch from nature? Or just an elegant vibe? All these are possible with one simple decoration- a flower arrangement.
Fresh flowers cut from the garden or blooms from the floral shop can be combined in such a way so that the final result looks like a piece made by a professional decorator.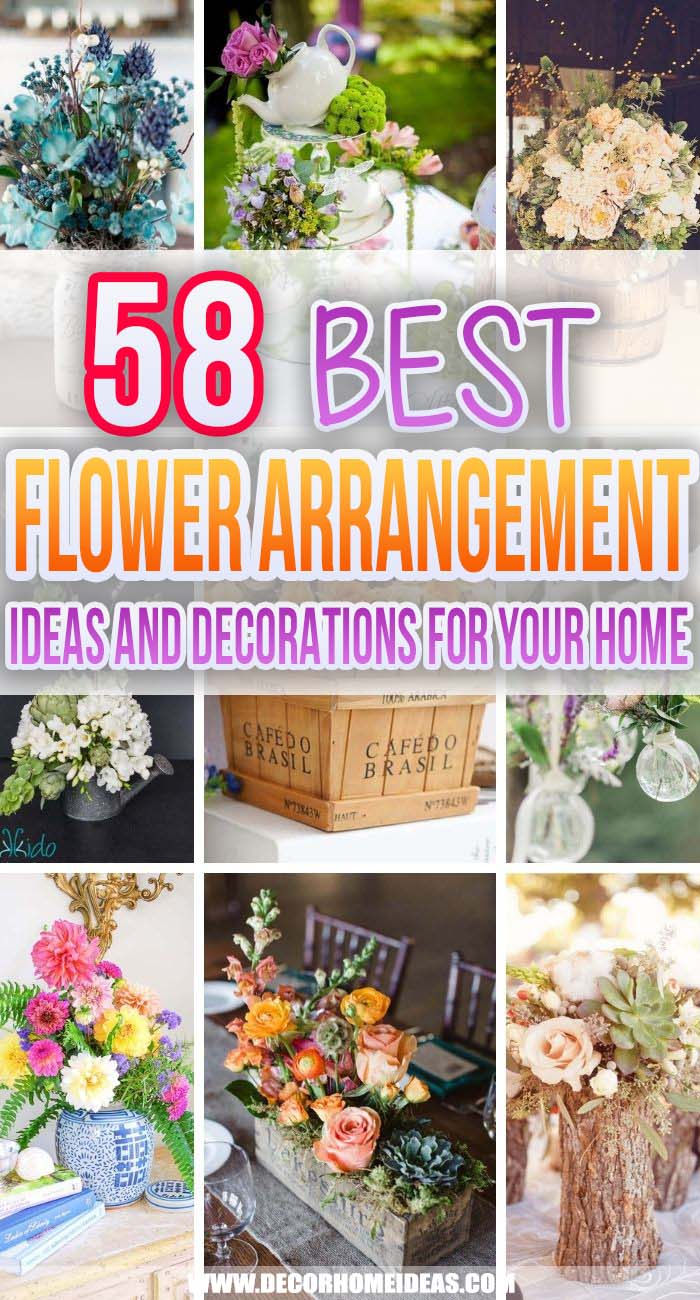 Elevate your interior with the best flower arrangements ideas that will add color, texture and scent to your home.
1. Amazing Tulip and Greenery Display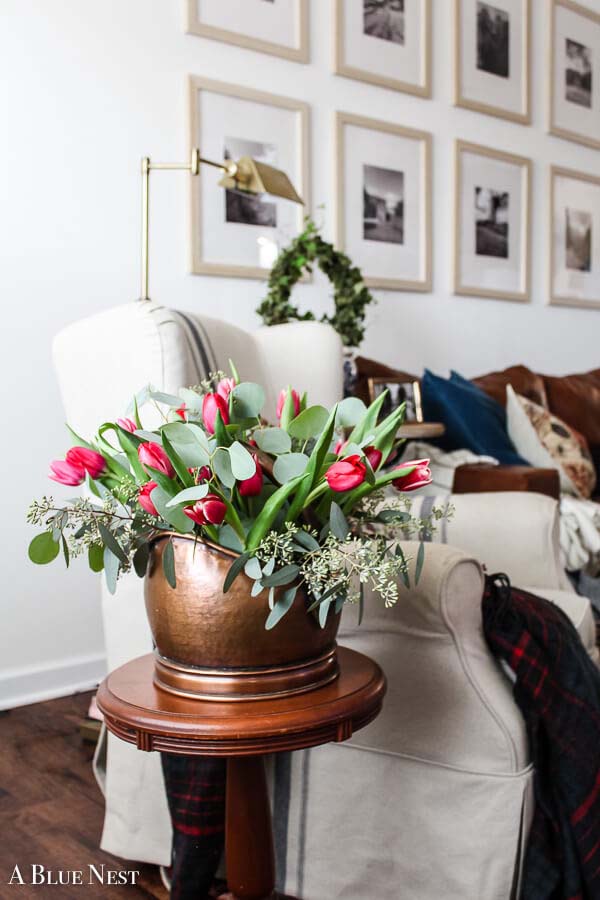 The simple beauty of the tulips makes them so adored! They are related to the first warmer days and succeed in adding the shining motif indoors when included in the interior.
Tulips bloom in a variety of colors and this gives the option to choose the colors that most suit the interior or the specific thematic decor.
A bouquet only from tulips is just enough to add natural beauty to the room but if you prefer a more interesting combination, add cuts from vines and place the bouquet in an interesting container.
via A Blue Nest
2. Artificial Silk Rose Flower Arrangements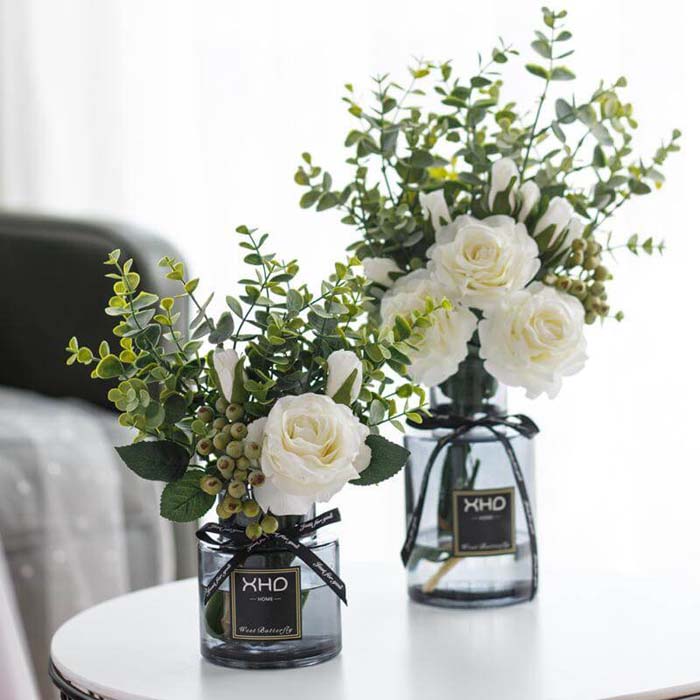 This elegant setup features boutique glass containers holding greenery and gentle white roses.
The arrangement can feature another rose color, however if you are looking for the same stylish and soft effect, go for paler colors.
via Flowerri
3. Baby's Breath Bouquet Illuminated by Candles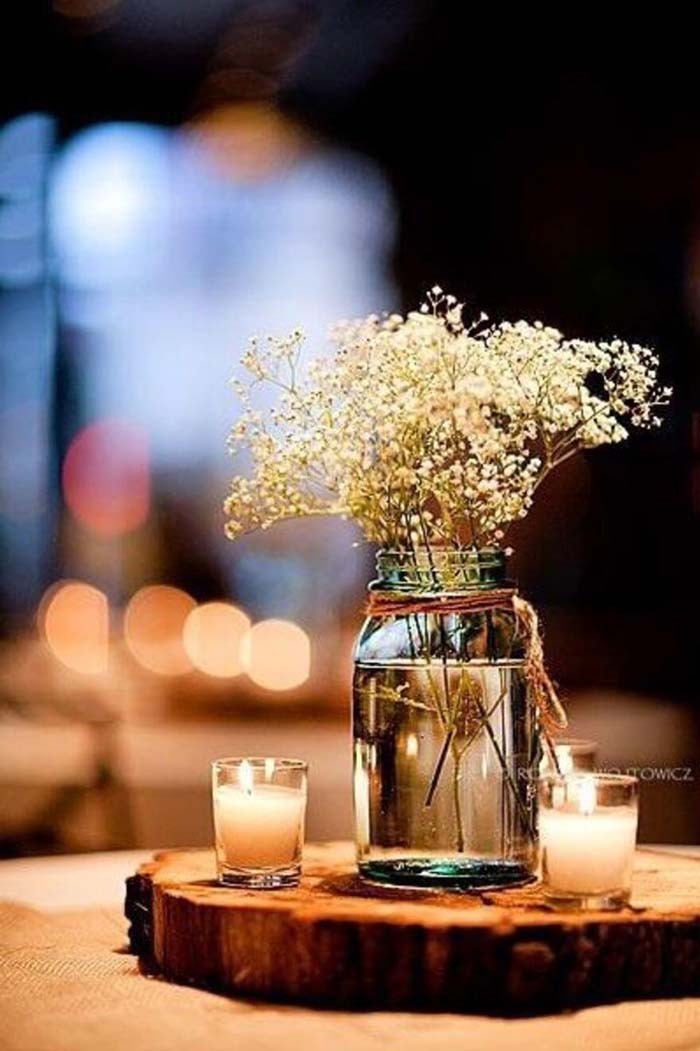 Simple and so charming! This is how this delicate flower arrangement can be described!
When you need an accent that doesn't overwhelm the space but just contributes to the relaxing atmosphere, go for such an easy but impacting arrangement.
Baby's breath in a glass jar looks so classic!
4. Be Mine Valentine's Day Flower Arrangement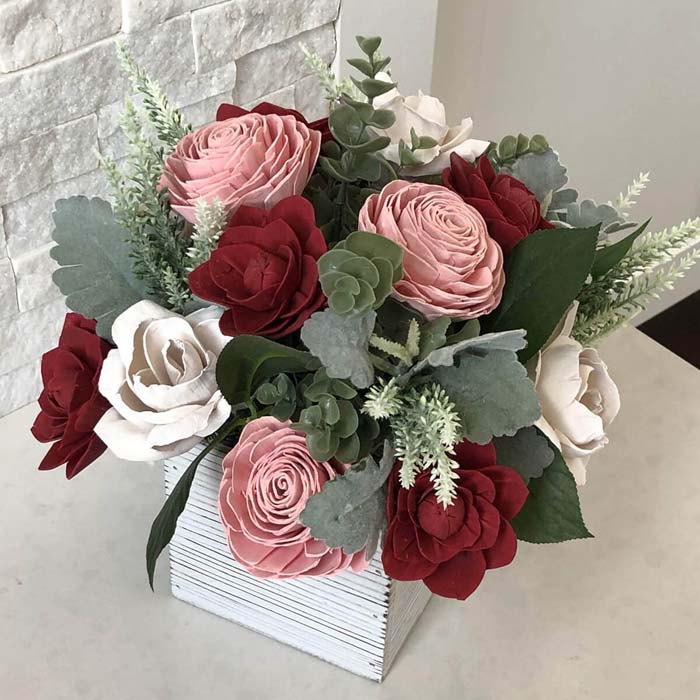 This floral arrangement has been created to make someone happy- rich and big rose blooms peek out from greenery in different shades of green.
Being handmade, this product can be created with faux flowers and with felt or paper creations as well.
via Wood Flowers
5. Beautiful and Color Blooming Winter Flowers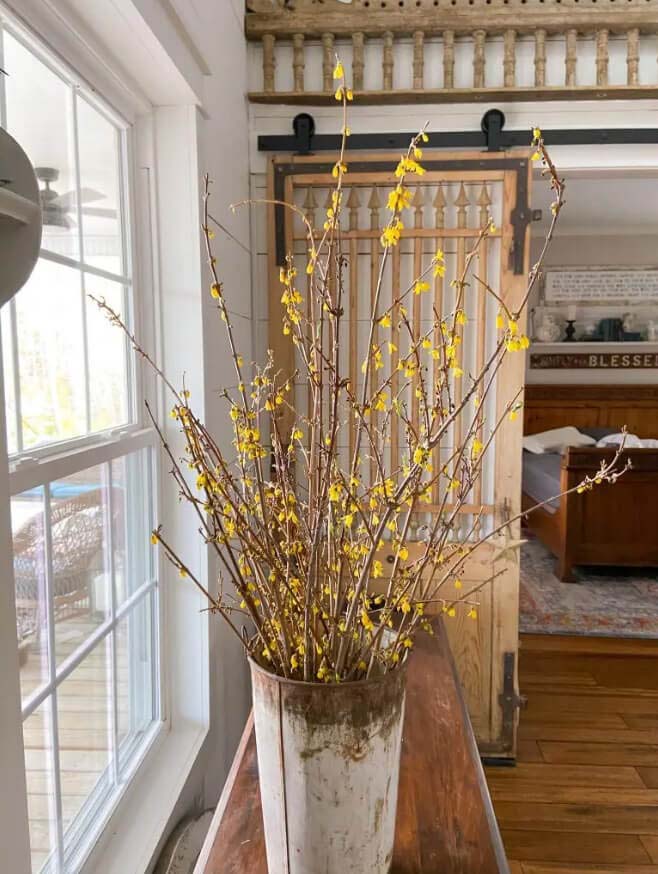 When you see this bush bloom you know that spring is coming!

Add cut twigs from it in a vintage bucket in your living room and watch how the atmosphere changes to more hopeful and cheerful!
6. Bevy of Ivory Blooms in Rustic Barrel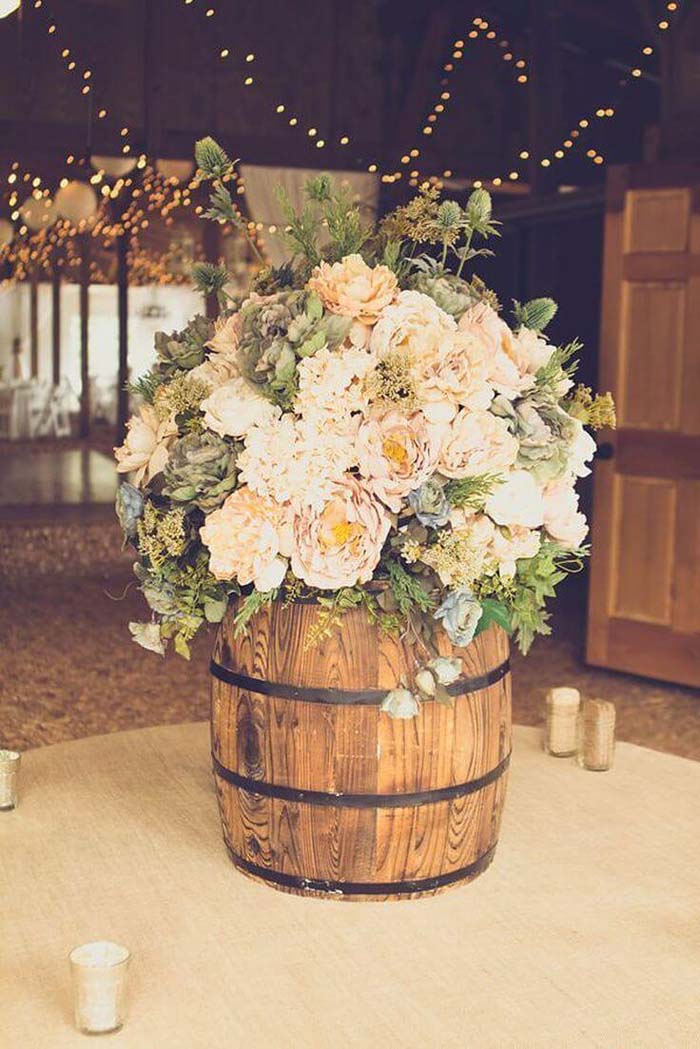 The barrel becomes the focal point of the room when filled with a large bouquet of garden flowers.

Peonies, roses, poppies and wildflowers make a unique arrangement that will enjoy all senses and will make the room very inviting.
7. Blooms Bursting Between the Covers Bookish Centerpiece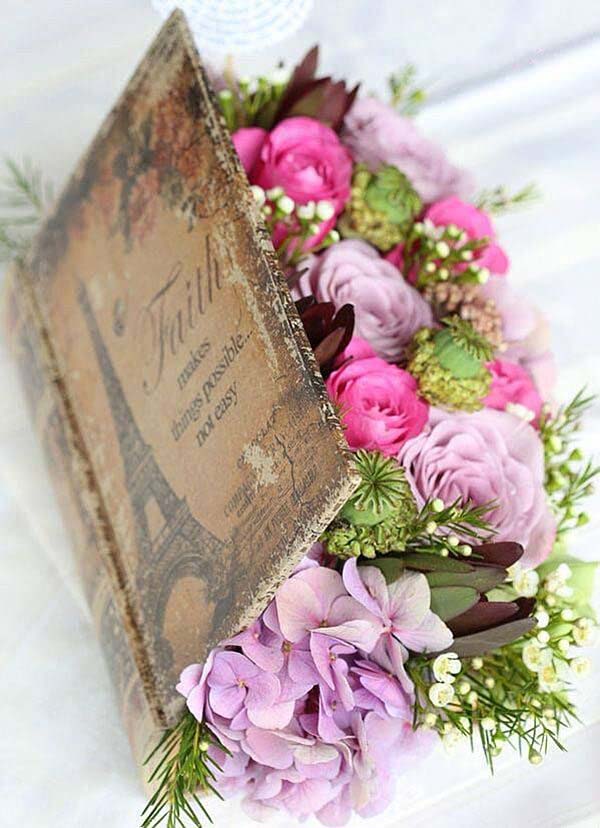 This centerpiece is inspired by romance. A book, the distressed image of the Eiffel tower and a bouquet of cut flowers create a unique arrangement.
It is perfect for parties or as a colorful decor addition.
8. Bold and Bright Yellow and Pink Arrangement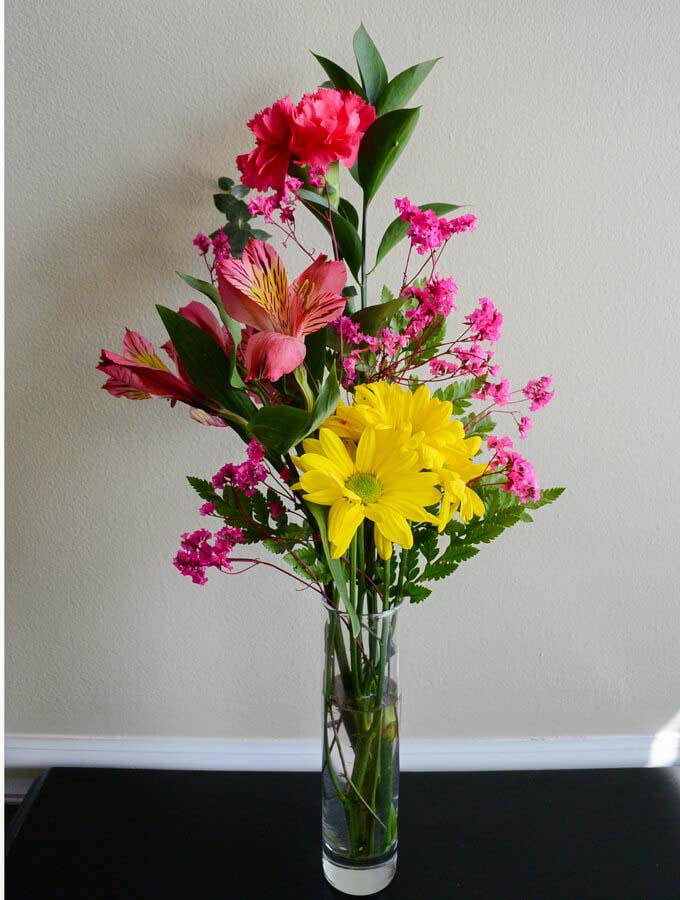 This floral arrangement is so bright and bold. Many vivid colors combine to create a spring bouquet that praises the awaking nature.
Daisies, carnations, tiger lilies can be found in almost every flower garden. If you want to enjoy their beauty all day long, create such a floral arrangement to place inside.
via Petals, Pies and Otherwise
9. Bridesmaid's Bouquet Resting in Mason Jar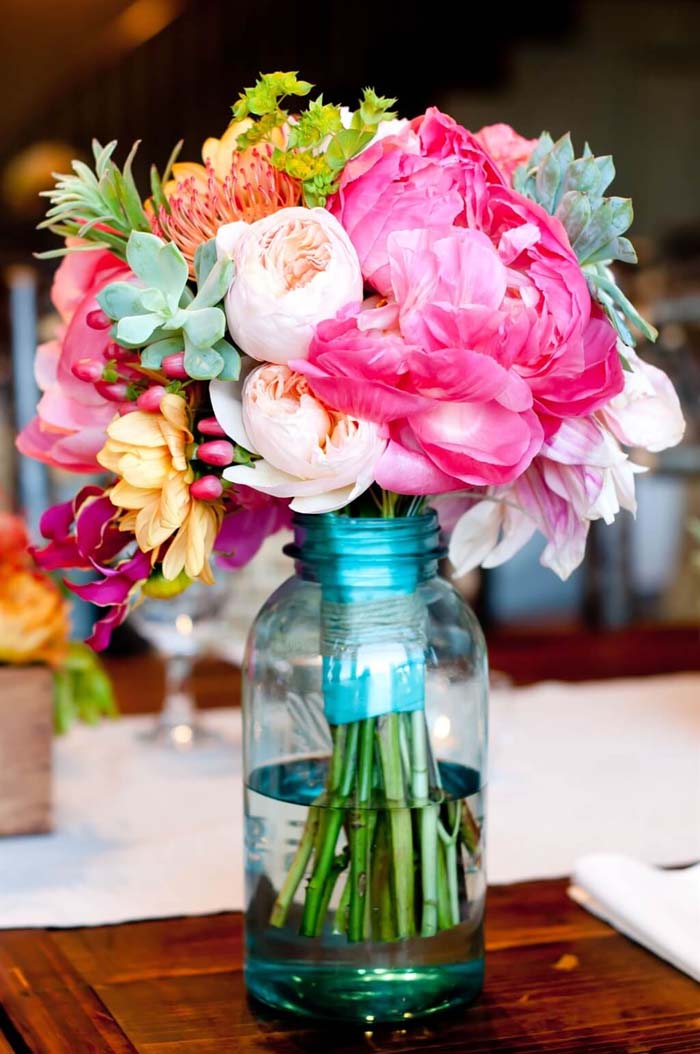 This floral arrangement is good for the interior and also for special occasions like a wedding or a bridal shower.
The combination of a variety of colors has been so well balanced to add an interesting pop of color and make the plain atmosphere enchanting.
10. Celadon, Pink and Ivory Arrangement in Wicker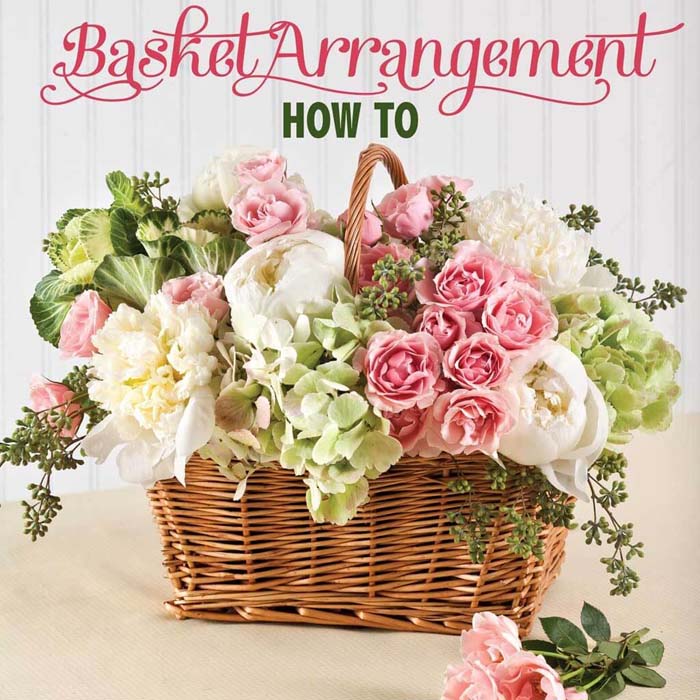 Are you ready for spring? If you are but your home not yet, try to add this cheerful mood to your home with a basket of flowers.
Hydrangea, peonies and greenery make a rich colorful bouquet that is so easy to make. Get a large wicker basket, floral foam for the base and spring flower cuts.
11. Citrus Slices Encircle Lemony Blossoms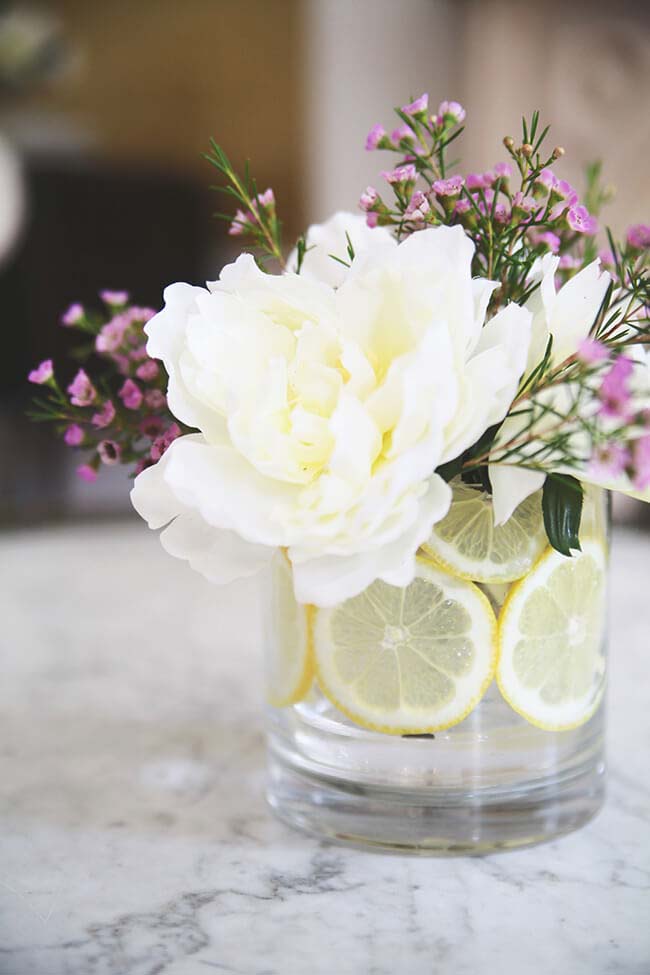 Need to add a point of interest to your flower arrangement? Do it with lemon slices! They not only add unexpected detail to the setup but also help to keep the freshness of the blooms for longer.
In addition to that the slices will help the stems stay upright when the bouquet is not that thick.
via Hello Glow
12. Classic Ginger Jar Flower Arrangement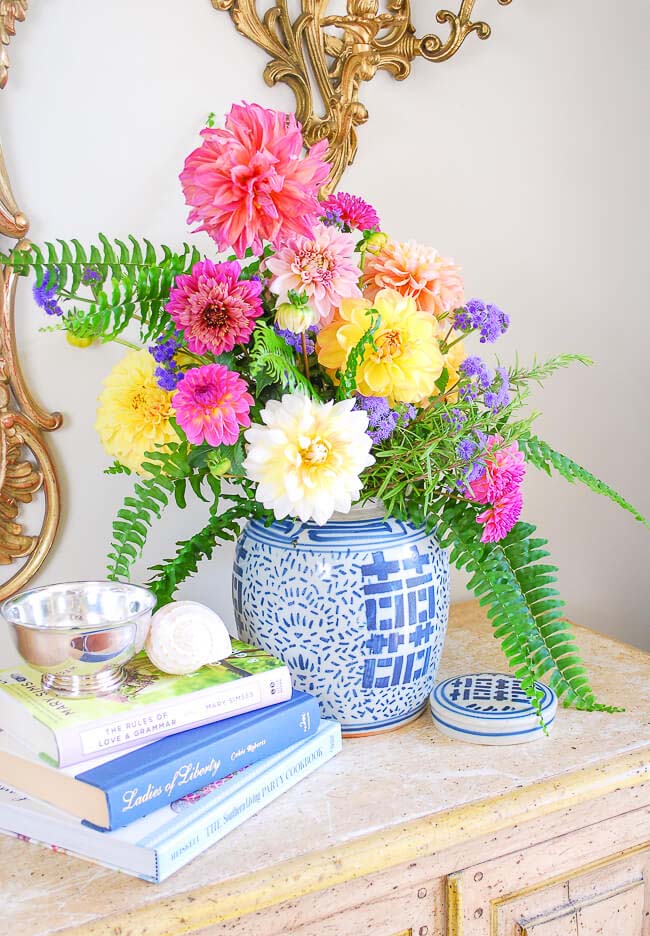 Having a classic ginger jar? Let its beauty stand out with a floral arrangement that matches its bright colors.
Summer cut flowers from your own garden like dahlias, gerberas and some green foliage from ferns create a fresh focal point showing the magical perfection of nature creations.
via Pender and Peony
13. Colorful Boxed Centerpiece Flower Arrangement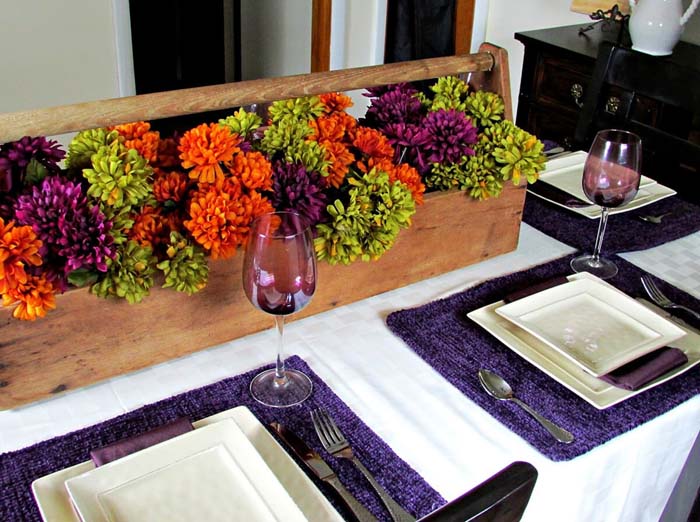 Looking for a table centerpiece for your autumn decor? If you want to go beyond the pumpkin arrangements, try this combination.
A long wooden box turns into a vase for mums in different colors. The multicolor approach is a good choice to add cheer and to brighten up the room in more gloomy weather.
via Rustic Refined
14. Colorfully Bold Spring Floral Arrangement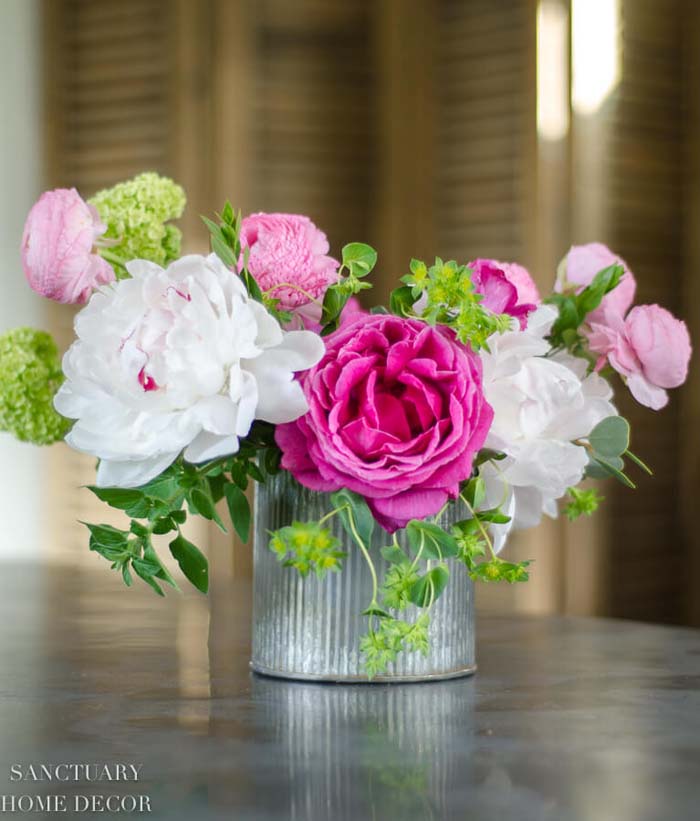 If spring has to be pictured, these will be the colors defining it. The floral arrangement combines shades of pink and pure white of the blooms and green hues as a wrapping that adds contrast.
Placed in a vintage container, the bouquet is the perfect addition to the decor of a special occasion.
15. Compact Fresh Floral Ribbon Arrangement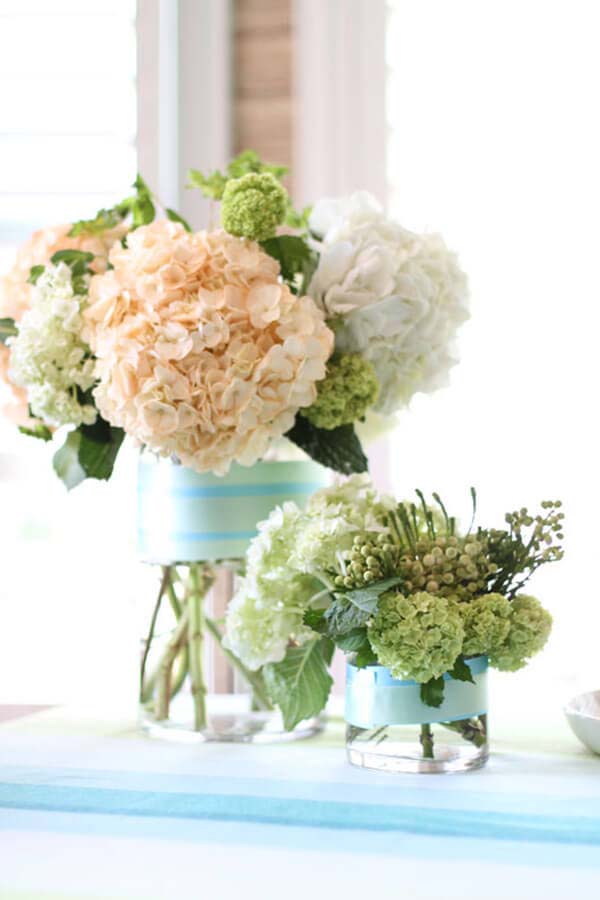 This set of floral arrangements looks so charming. A big and small hydrangea bouquets stand out against the transparent glass vases and add natural beauty to the space.
The simple setup actually has a sensible effect on the decor making it more nature-inspired and relaxed.
via Howe We Live
16. Cool Mint Teapot Bursting with Fiery Blossoms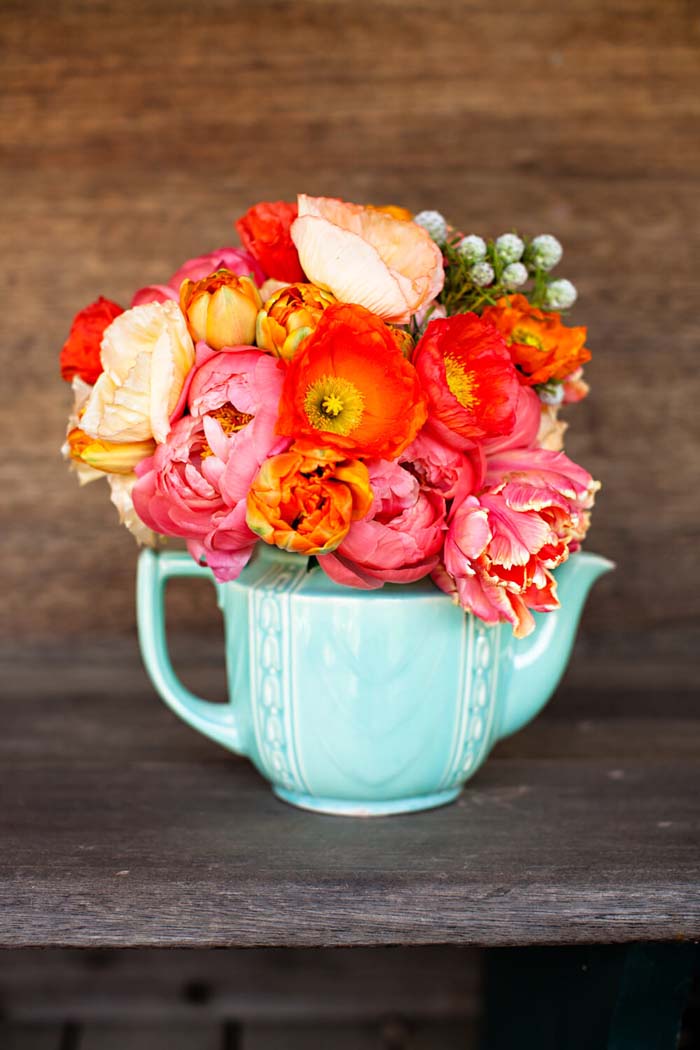 If you want to make a bouquet in the same color stand out, use a vase or container that will create contrast. The orange hues of the peonies celebrate summer.
Placed in an antique green teapot they add together a pop of color to the room.
17. Crimson Tulips and Vibrantly Painted Eggs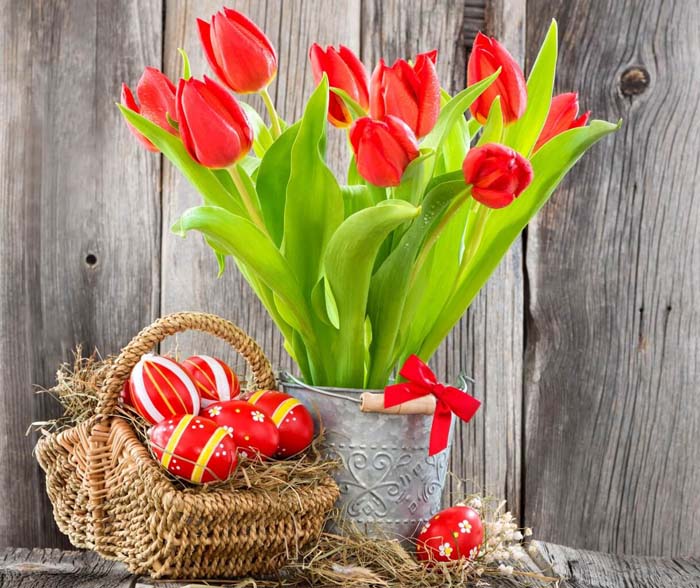 What goes best with Easter decoration? Tulips, of course! They are related to this holiday and to spring! Combined with egg decoration, they make the interior more festive and joyful.
Place the tulips in a vase or another simple container that will let them stand out.
18. Cuddly Carnation Terrier Nestled in Basket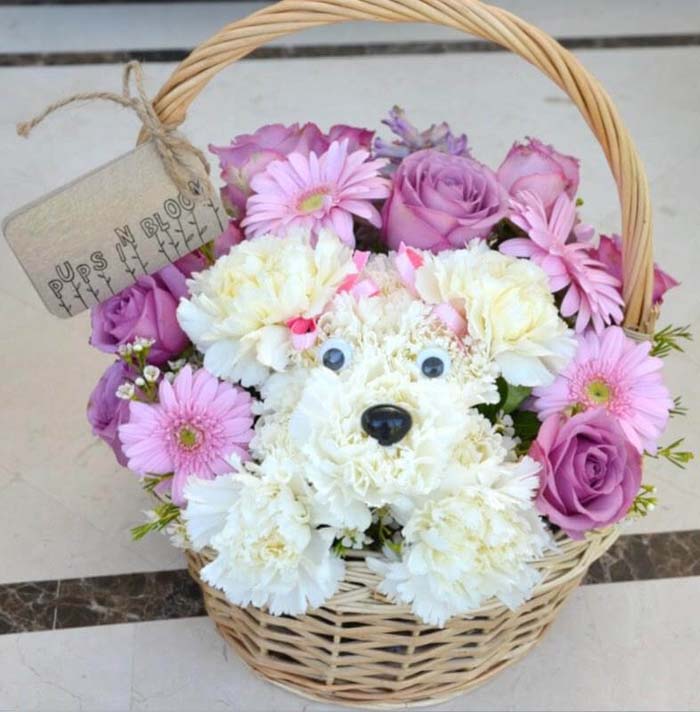 Do you like the flower baskets? They are not that difficult to make as long as you have a wicker basket and floral foam.
The arrangement can be any- different colors, different textures, seasonal or decorative blooms. The universal backdrop of the natural wood makes it possible to experiment with the arrangement and be sure that the final result will be fascinating.
via Alle Ideen
19. Cute Handmade Plaster Flower Vase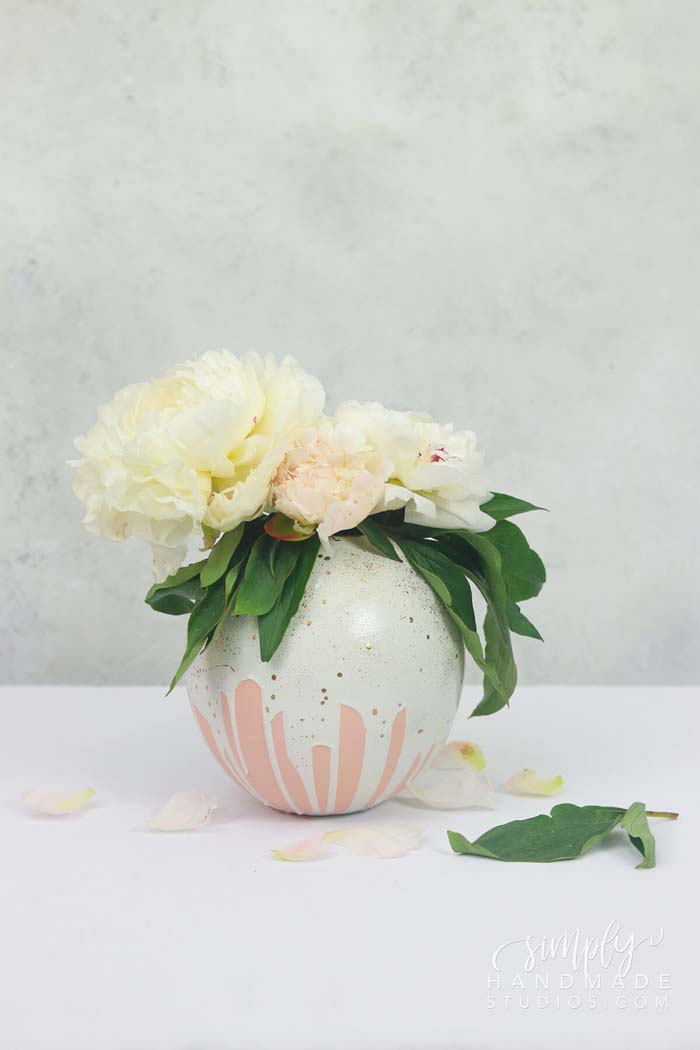 If your bouquet is simpler, you can place it in a stunning vase or container to let it stand out. In case you are a DIY person, you can try out numerous projects for handmade or modified flower containers.
The featured one has once been only a plastic vase that has been transformed into a unique customized piece with paint and randomly positioned metallic embellishments.
via Simply Handmade
20. Cute Professional Looking Floral Arrangement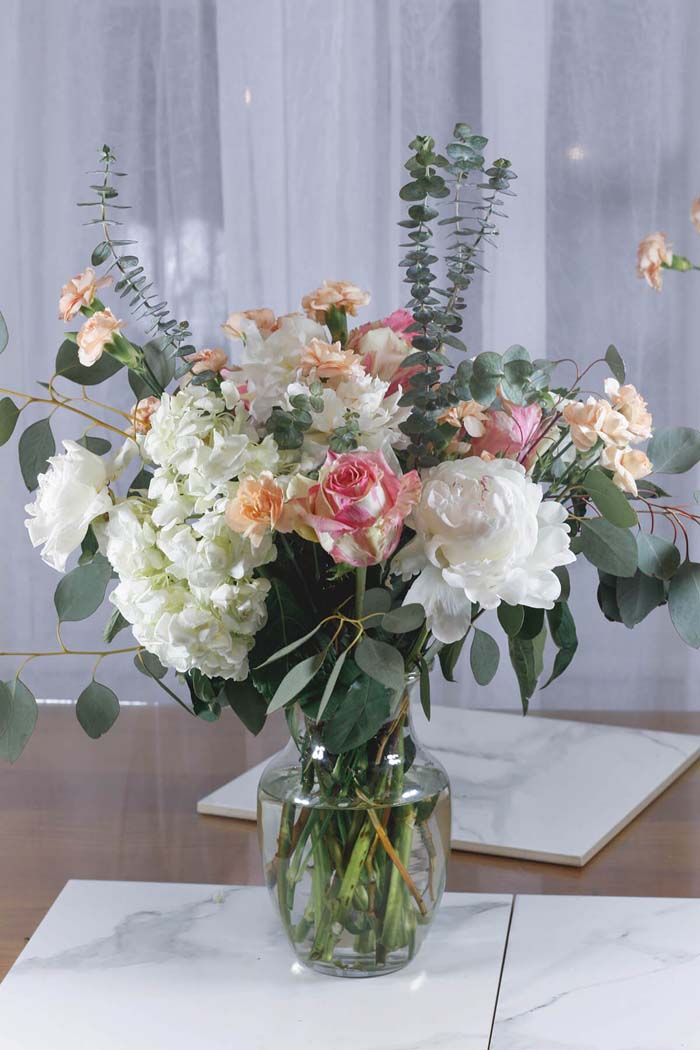 Such a breath-taking bouquet can be assembled by anybody, not only experts. Choose the right flowers in colors and sizes and some greenery that will surround them and add the contrast.
Place in a clear vase to balance the floral decoration and to make sure that it will match the interior.
21. Cute Spring Floral Branch Arrangement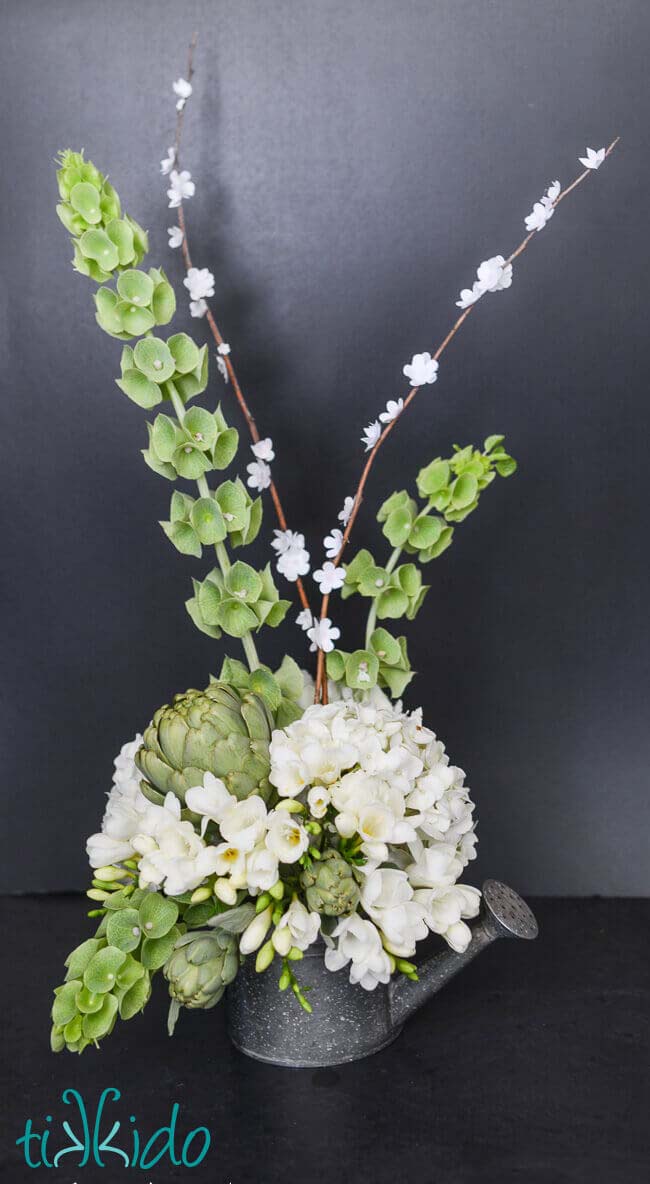 This floral arrangement features green hues and soft white colors. The simple combination gives this bouquet a bold character enhanced by the twigs inserted at the back of the arrangement.
A higher point of interest can be also achieved with faux twigs.
via Tikkido
22. Dainty Ivory Hatbox Bursting with Pink Buds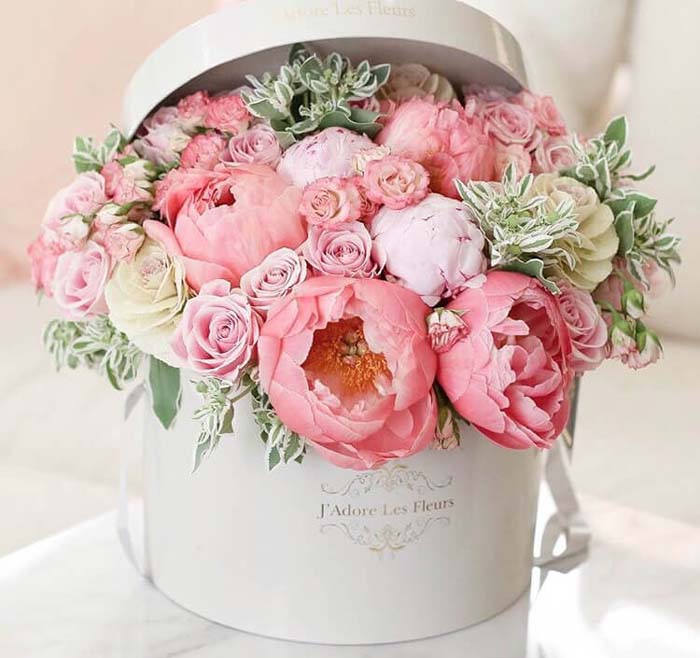 The hat boxes can turn a flower arrangement into a unique elegant piece, the perfect addition to a lux or romantic wedding.
The opening embraces a delicate bouquet of peonies and roses that fill up the hollow so thick that the setup looks like a box with bursting flowers.
23. Discount Rose and Greenery Flower Display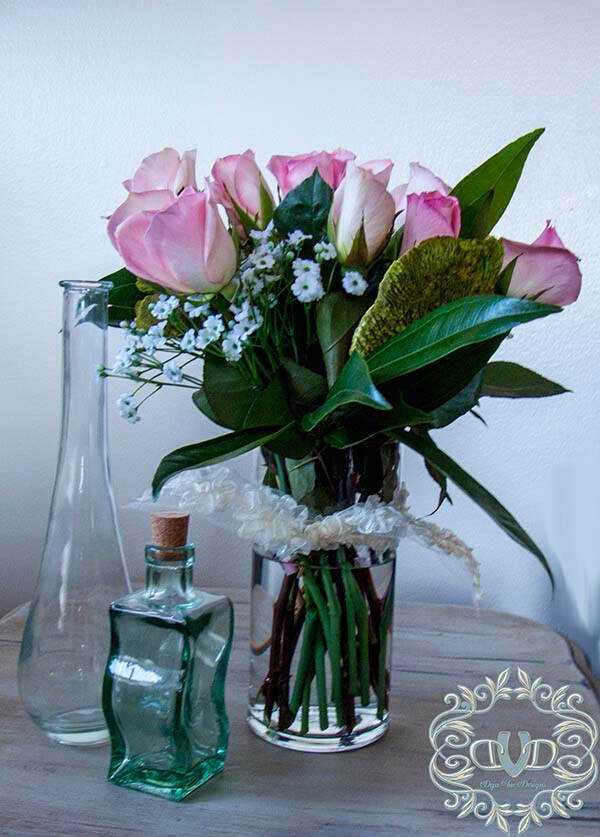 Rose cuts are quite expensive. Here is an idea of how to include the Queen of the flowers in your bouquet without spending too much. Find cuts on discount and cut the stems shorter.
Add green leaves and other blooms that will enhance the delicacy of the rosebuds and hide the flower's defects.
via Deja Vue Designs
24. Diverse Freshly Cut Bowl of Flowers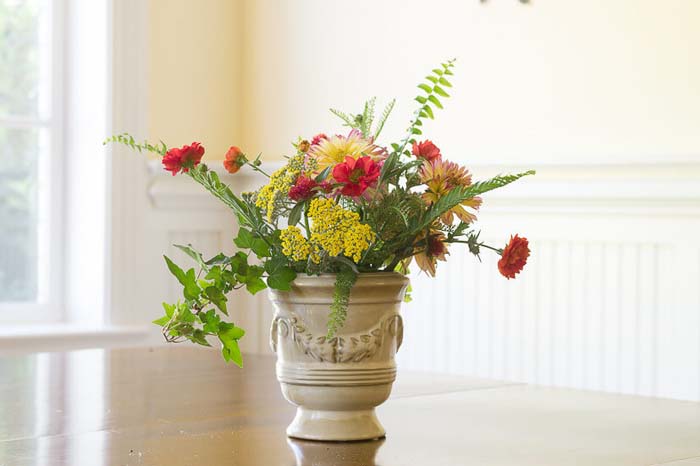 When you need some color or the interior is lacking a cheerful vibe, just add a floral arrangement. The bright variety of colors and the textures of seasonal flowers can break out the boring decor.
Don't forget to add some greenery around the flowers or in between the different types to differentiate the flower kinds or to give them the background to stand out individually.
25. Dreamy Orange and Cream Blossoms in Tidy Planter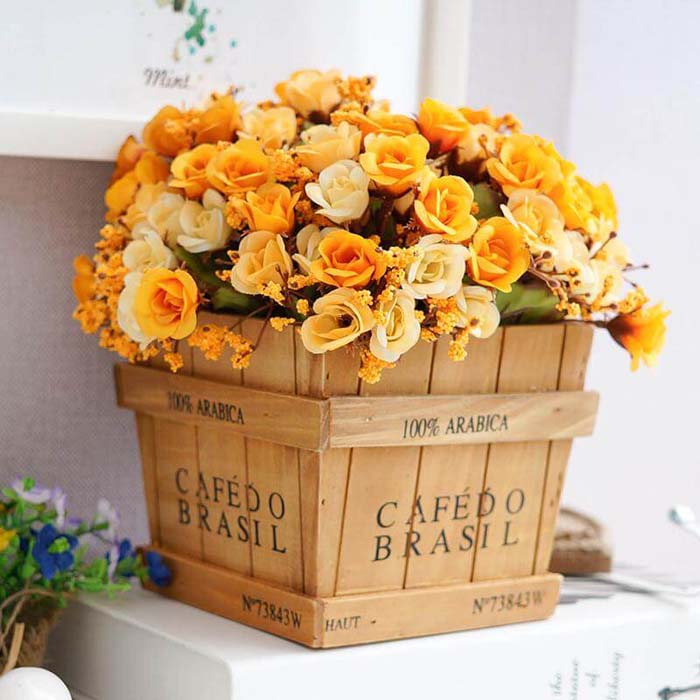 Orange and cream flowers add charm and warmth to the interior. Place them in a small wooden barrel, a wicker basket or a crate to let them stand out and be the focal point of your decor.
The orange blooms can be small or large. Add some greenery to provide contrast and give the identical flowers a way to distinguish.
26. Easter Tray of Potted Eggs and Spring Bulbs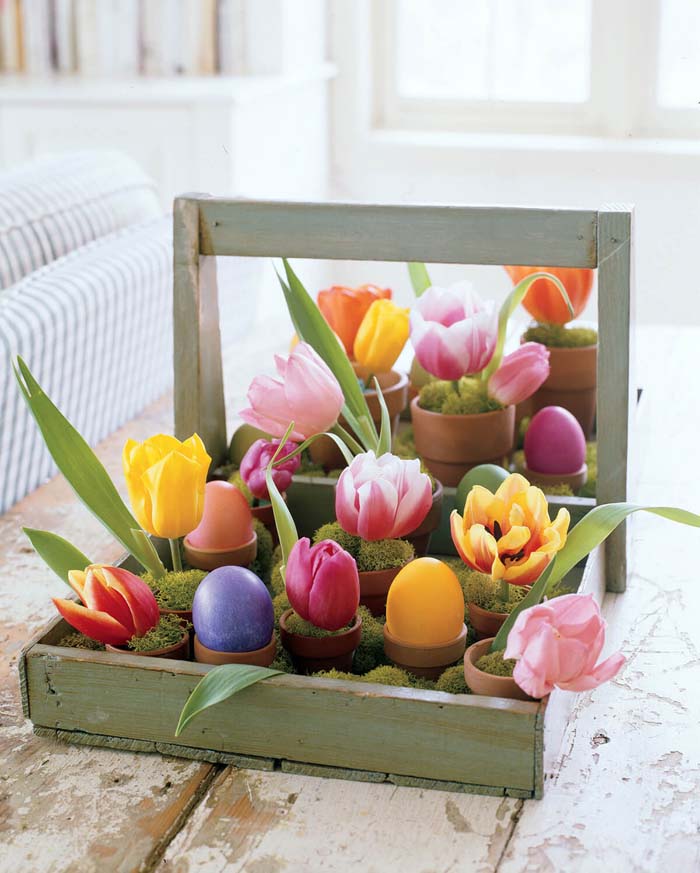 Tulips are related to spring and Easter. Add them to your Easter decor to enhance the cheerful mood inspired by the awaking nature.
Use a wooden box to group small terra cotta pots that grow not only tulips but also eggs. The setup looks so festive that it deserves a place on the holiday table.
27. Eastern European Tin Brimming with Purple Poppies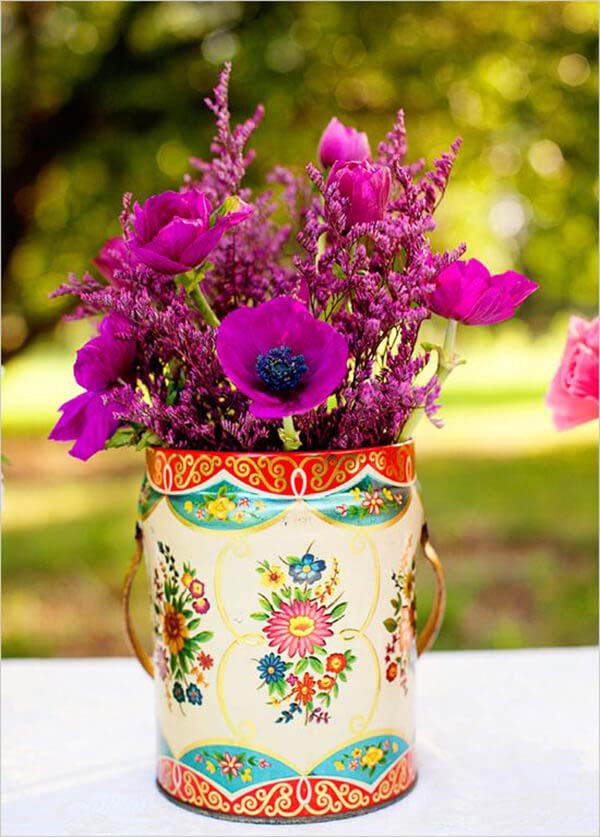 This Moroccan-inspired flower arrangement makes the mood so cheerful and happy! The colorful vintage container clearly celebrates the pop of color of flowers.
If you have such a unique container, you should definitely use it in a good way! As a holder of a one-colored bouquet.
via Wedd Book
28. Elegant Lantern with Flowerbox Border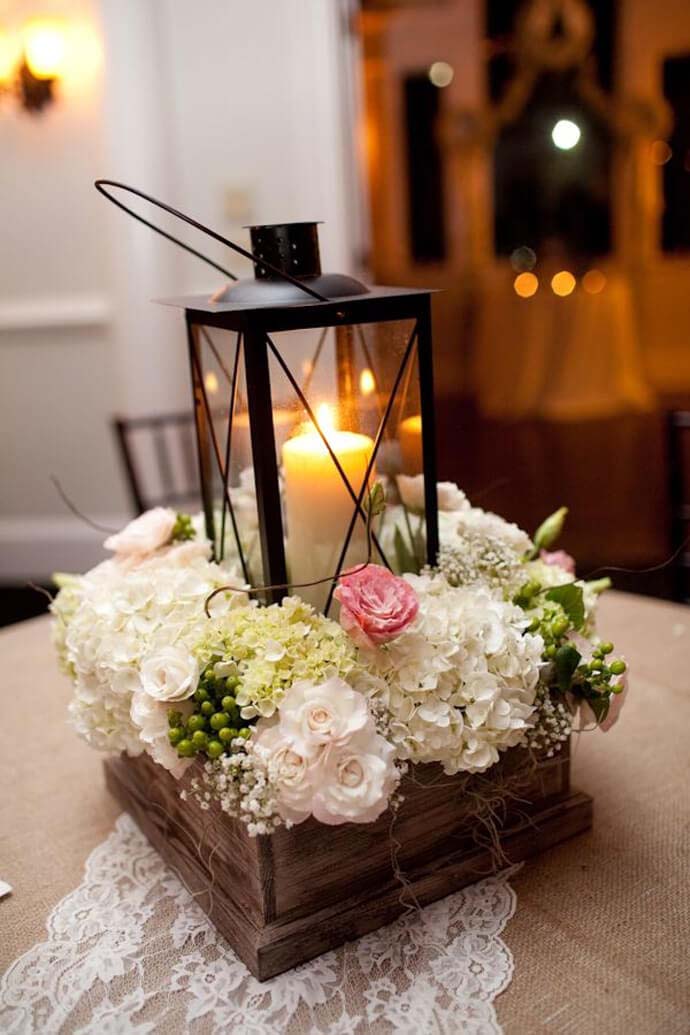 Lanterns add warmth to the space. If you like their vintage effect on the interior, you can use them as the central point for your floral arrangement. Surround it with white blooms and don't forget to include greenery as well.
The floral arrangement can be created n a wooden box, a galvanized bucket or another type of vintage container.
29. Enchanting Queen Anne's Lance and Poppy Mallow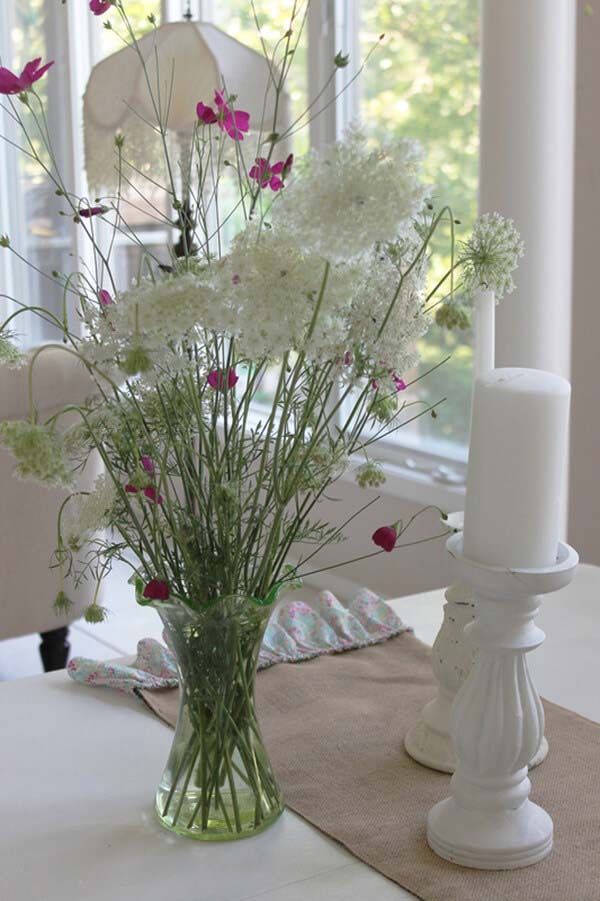 Delicate, whimsical and enchanting- this is how this bouquet can be described! Queen Anne's Lance makes the floral arrangement unique with its soft white blooms.
The arrangement features a pop of color presented by small poppy mallows that perfectly blend with the white flowers without dragging the focus away.
30. Entwined Collection of Wildflower Bud Bases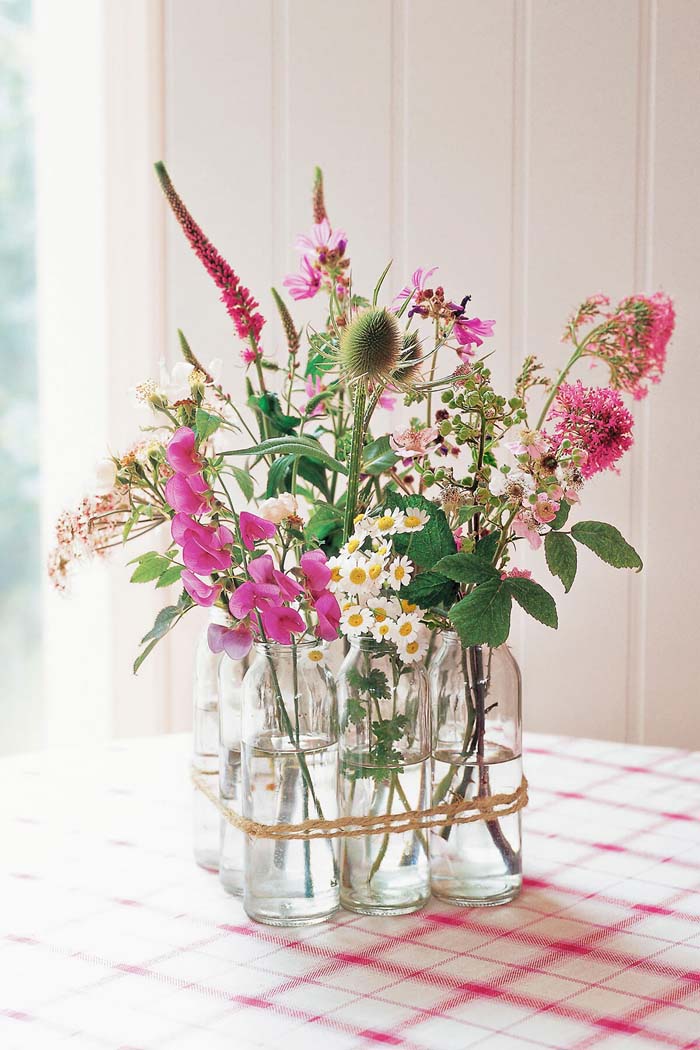 Garden flowers are beautiful but you may need inspiration from nature sooner than their bloom. In this case, you can gather field flowers and place them in simple glass bottle vases.
Gathered together in a group they will instantly act as one big centerpiece with a unique look.
via Countryliving
31. Fall Themed Warm Floral Arrangement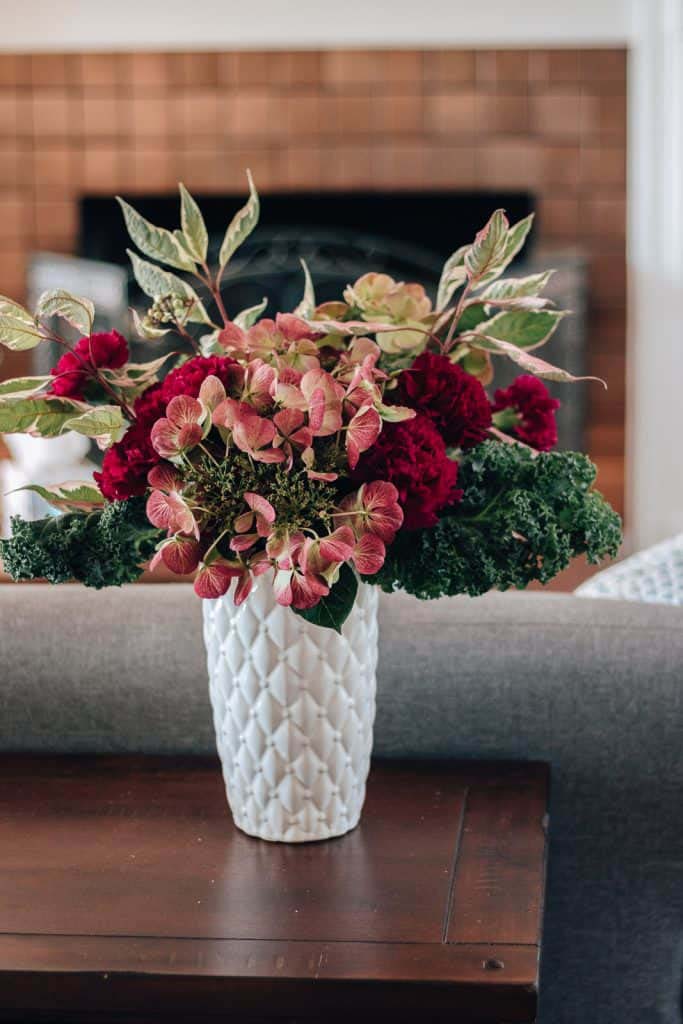 Need some basic guidance on how to make the perfect floral arrangement? Check the simple hints that will create a beautiful natural centerpiece.
Combine colors, textures, consider heights and be sure to choose the right vessel to contain it depending on the arrangement itself.
via Decor Hint
32. Fall's Finest Pumpkin Flower Arrangement

Another idea for an autumn decoration different from the typical pumpkin setup is this flower arrangement. The pumpkin is used amazingly and unexpectedly as a flower bouquet holder!
Hollow out the inside of it and then add floral foam cut to size. Insert the flower cuts you like or have and tie the arrangement up with a ribbon.
via Garden Therapy
33. Fuchsia Roses in Metal Bucket Picnic Centerpiece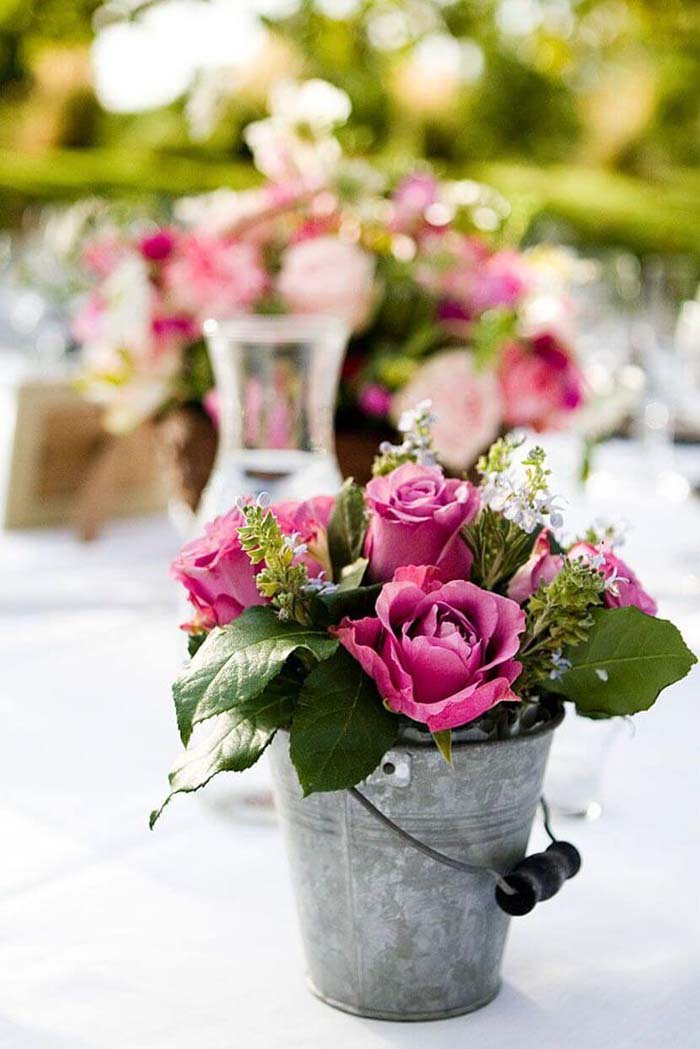 This is an arrangement that enjoys the sight with the contrast between chic and rustic. A vintage galvanized bucket embraces short stems of bright pink roses and deep green leaves.
Making this bouquet is not difficult at all and at the same time is perfect for all types of occasions!
34. Garden Buds and Spring Moss Flower Box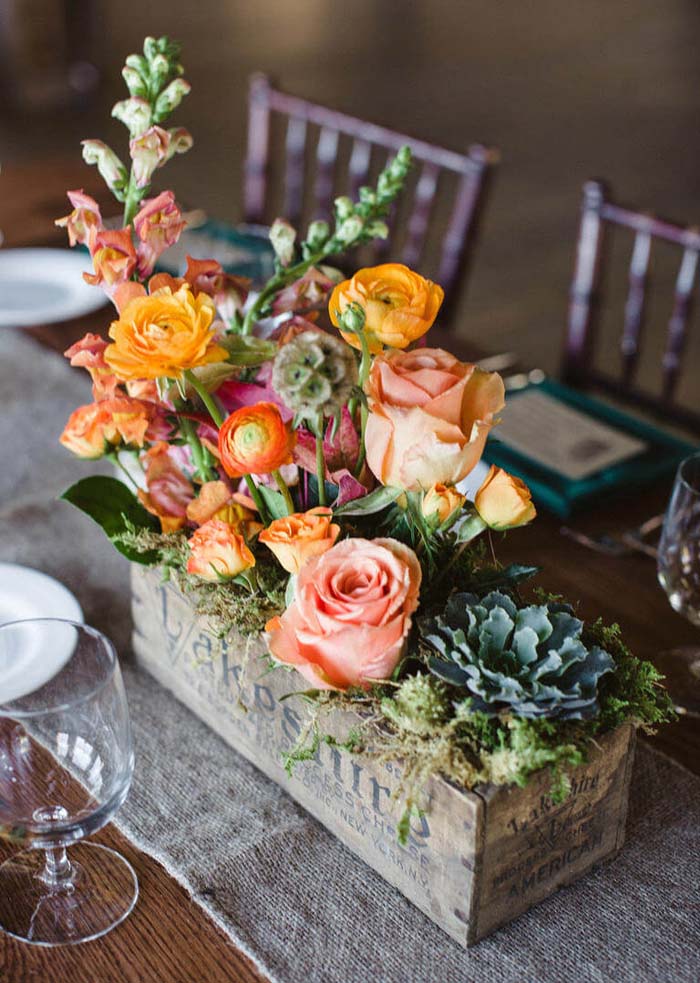 Flower boxes are good not only for window sills. They look amazing as a centerpiece on the table.
Add moss to fill the box's emptiness and ensure a good surface to insert the cut stems in. Then use your creativity and imagination to add color to the box. Rosebuds, succulents, dahlias, peonies naturally add bright colors and delicacy.
via Balunz
35. Garden Rainbow in Weathered Crate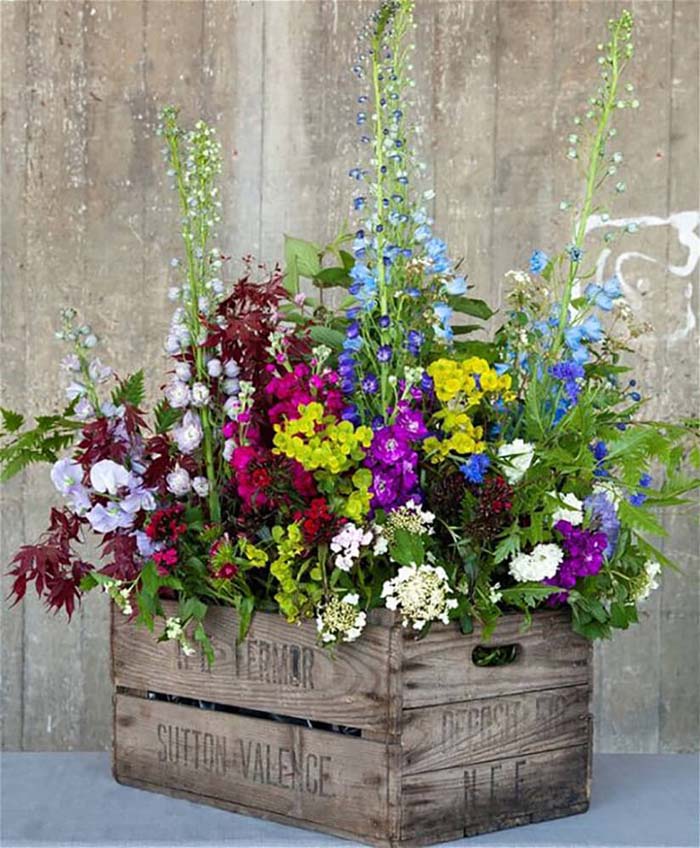 The old wooden crates can be repurposed in many ways! In addition to the useful and unique in design storage containers, they can be turned into flower containers in one easy step! Just fill the bottom with floral foam or soil and insert the chosen stems in it.
The arrangement uses a lot of greenery that helps the bright colors stand out.
36. Gorgeous Flower Arrangement with Vintage Vase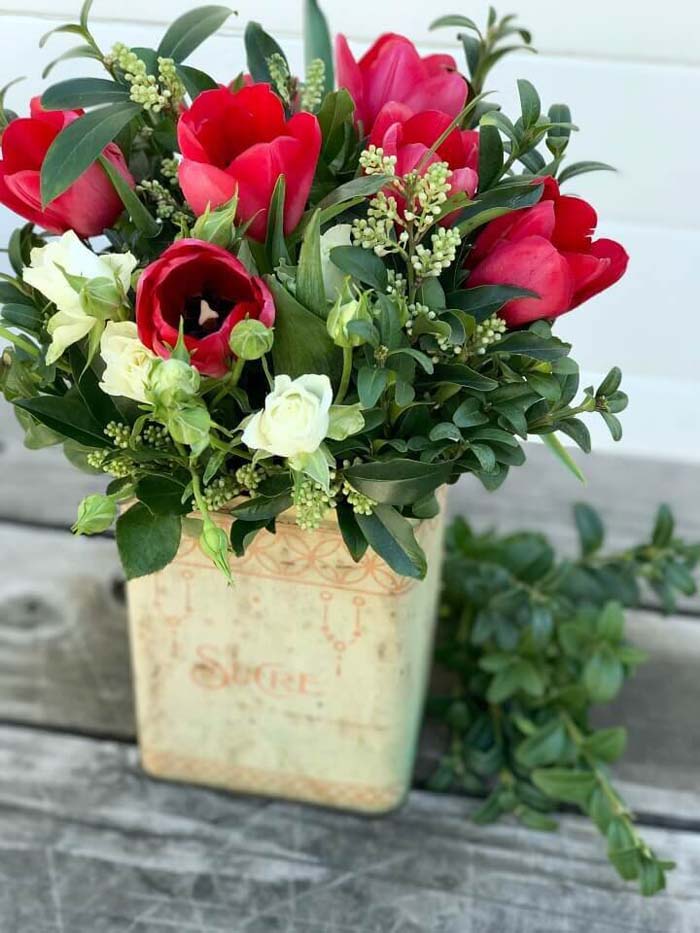 How the flowers are combined is very important but it is also as important to choose the right container. It doesn't have to be very spectacular! It has to be such that matches the arrangement and at the same time lets it stand out.
If the bouquet is rich in varieties of colors, choose a simpler classic looking vase. In case the bouquet contains one or two flower kinds, you can emphasize the pot that holds them.
via My Soulful Home
37. Herbal Baubles Dress Up Bare Branches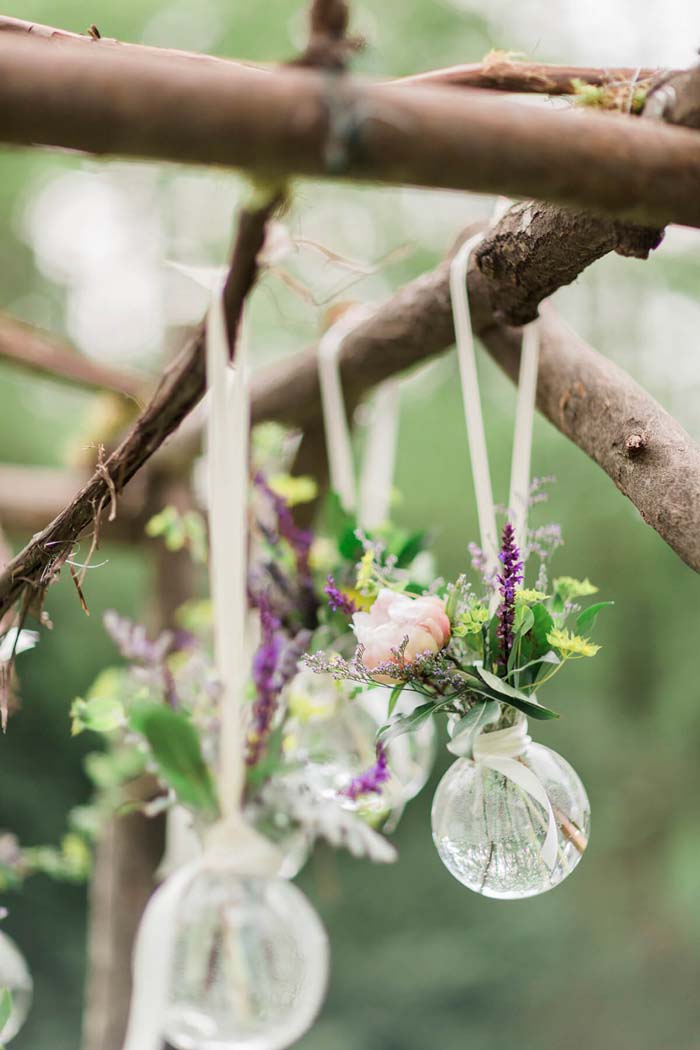 Decorating with flowers can be done everywhere on your property, not only inside! If you are having an outdoor party or a special occasion, decorating with seasonal flowers is a choice on the safe side.
Use the Christmas clear bulbs as interesting containers for simples small bouquets. Hang them on the pergola or on tree branches to outline vertically the festive decor.
via The Knot
38. Intense Jewel Tone Arrangement in Ivory Vase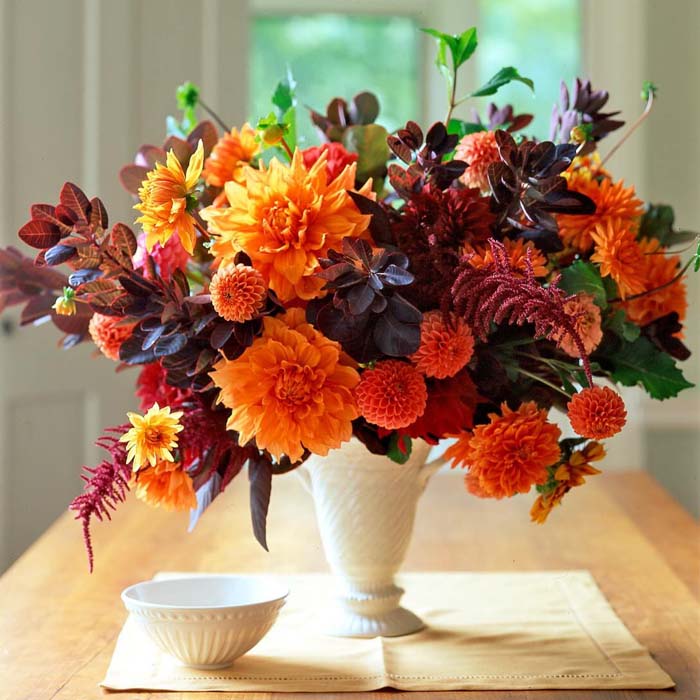 Another autumn arrangement features warm colors of mums and dahlias and a few touches of green- garden treasures that mark the season.
When the rich bouquet is placed in a white vase, the bright colors stand out and vividly celebrate the beauty of the season.
39. Large and Dry Blooming Hydrangeas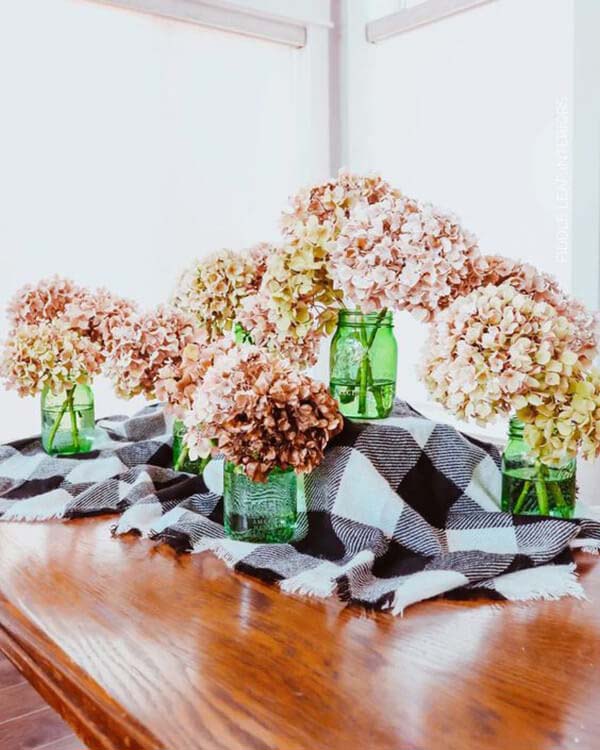 The rich blooms of hydrangea are incomparable with any other flower. Unfortunately, they fade away quickly. This flower arrangement gives a hint of how to enjoy them for a longer time by drying them out.
Put the cut blossoms in Mason jars filled with water and let them stay there until they drink the content. This way they will last dry longer and will have a more natural faded look.
40. Long Stem Roses Woven into Invisible Vase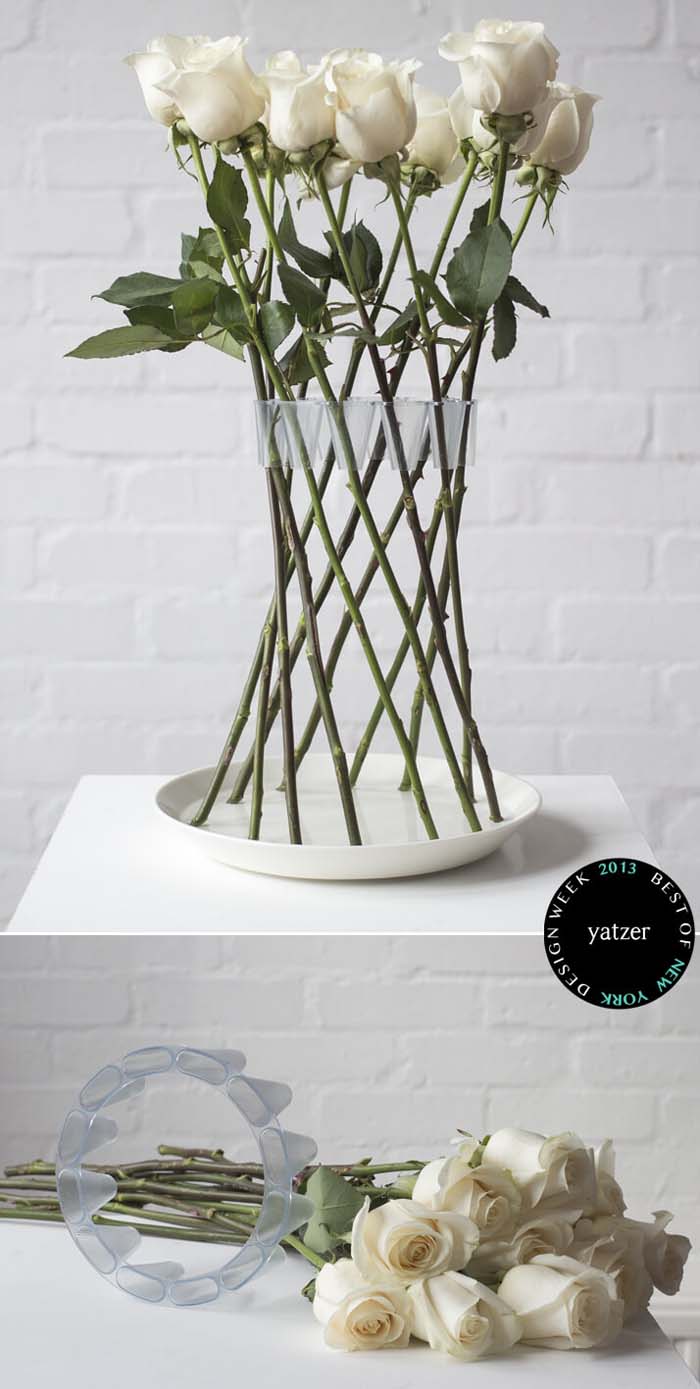 Even the floral arrangements can have a minimal look. That can be achieved with a specific container that actually just embraces them.
It is called an "invisible vase" which holds the top of the flower stems. Cut the stems flat to make sure that the bouquet stands securely still on the table.
via Yatzer
41. Metal Cups of Cabbage Rose in Wire Basket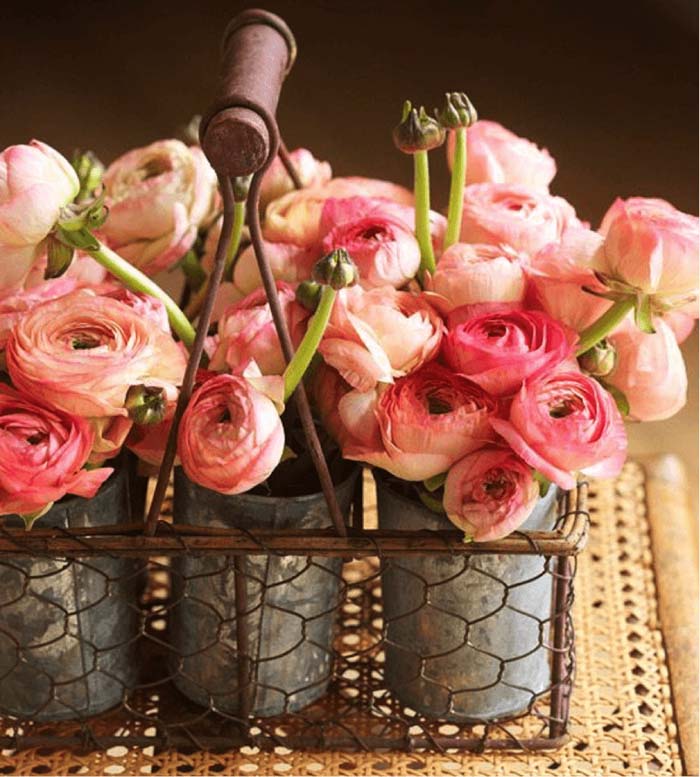 Try this floral arrangement if you like the calming and charming effect the shabby chic decor adds to the space. Only cabbage roses are needed and galvanized buckets.
Place each alone around the house or try groping them together in a wire basket for a more dramatic vintage effect.
via BHG
42. Modern Styled Tulips within a Tall Vase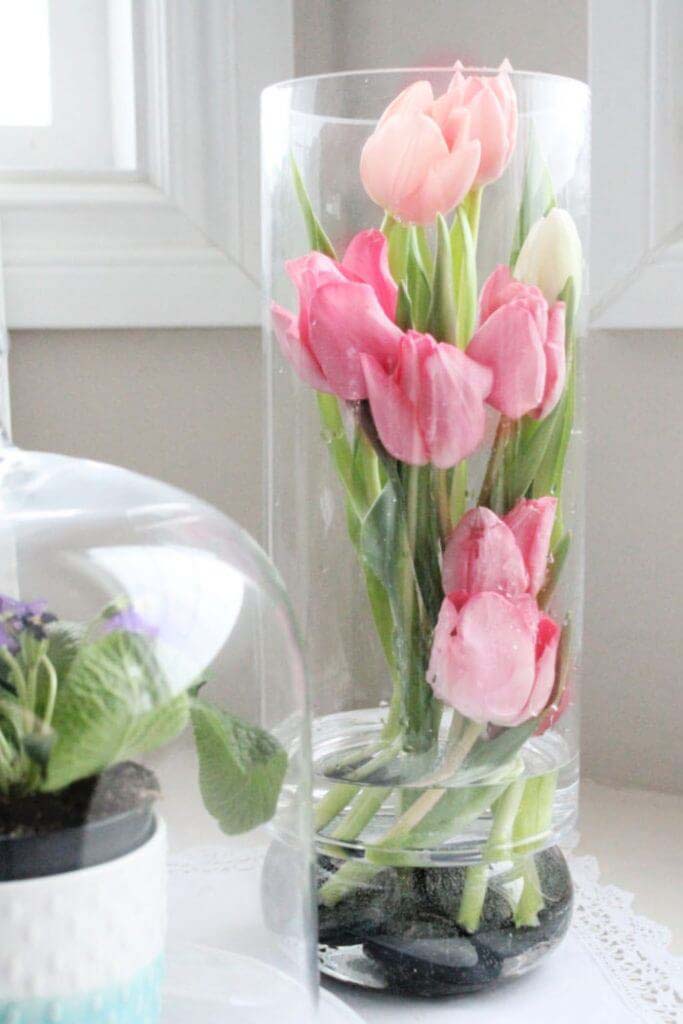 Tall transparent glasses allow displaying a bouquet differently. Tulips are very beautiful and impacting and when placed in a clear vase, their delicacy stands out.
Try this arrangement out by cutting the stems of the flowers shorter so that when inserted in the vase, the blooms remain inside. This unexpected presentation will instantly become a stunning focal point.
via Pretty DIY Home
43. Pale Pink and Orange Floral Arrangement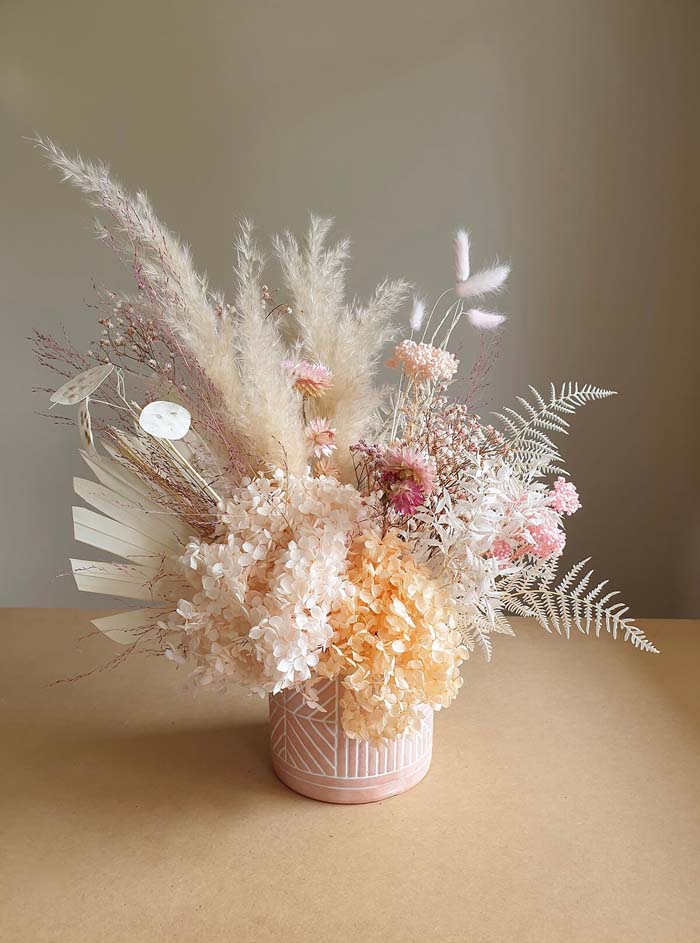 This is an elegant floral arrangement that can be used for wedding decor. The combination between hydrangeas and baby's breath cuts in pastel romantic colors create a delicate centerpiece in the room.
The terra-cotta vase has been chosen to be of a pale color as well in order not to ruin the tenderness of the arrangement.
via Mimosa Flowers
44. Pretty Asparagus Based Flower Arrangement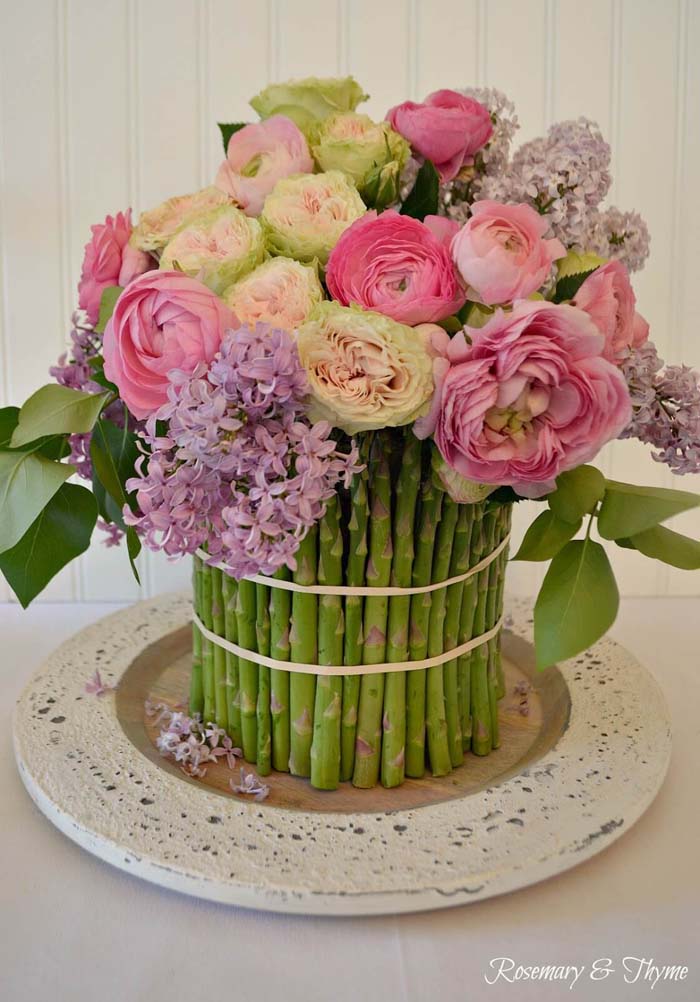 The perfect straight shape of the asparagus gives it a new function as a flower base embellishment. It elevates the floral arrangement in a unique way giving the blossoms a natural background to stand out.
If the stems of the asparagus are cut flat, you will be able to position the bouquet on a flat surface with no effort at all.
45. Rosy Ruffles in Stiletto Valentine's Vase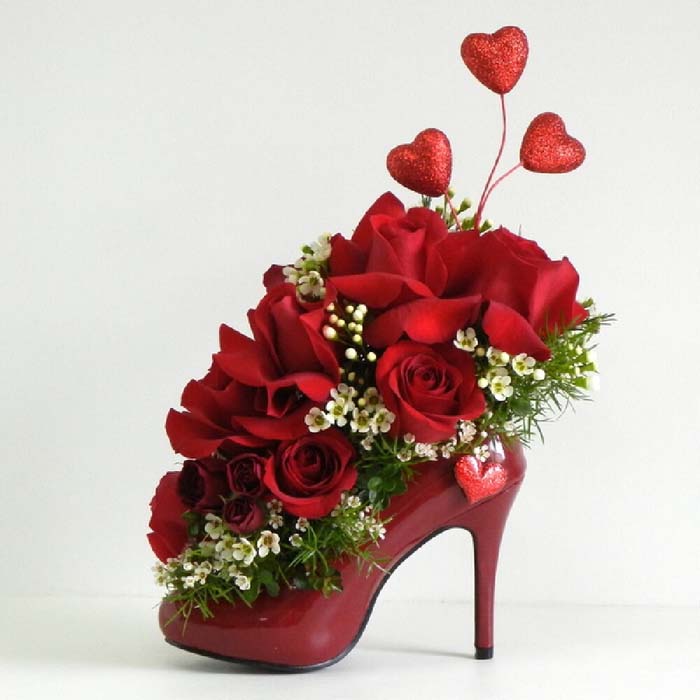 Looking for a gift for St. Valentine's Day? Your wife will be delighted to receive this burst of red colors that screams "I love you".
A red shoe becomes the stand for a red rose bouquet following the curve of the vault hollow. Add a heart statue or figure and some white small flowers to give the red roses a way to stand out.
46. Silk Fall Beautiful Flower Display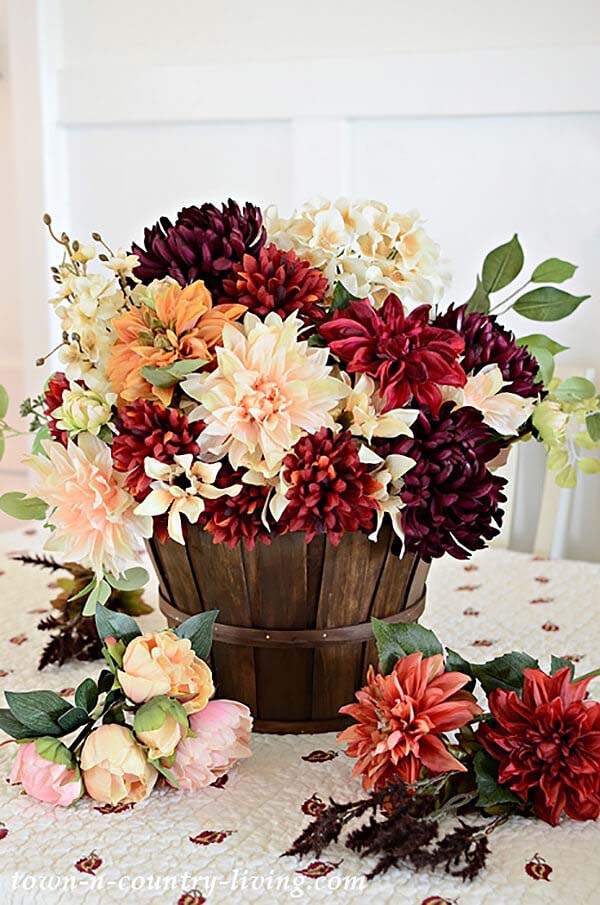 This burst of color and textures wouldn't have been that unique if it wasn't for the vase holding them. The dahlia blooms reveal deep colors combined with bright hues here and there to make an elegant bouquet.
The wooden barrel accommodating the seasonal floral arrangement adds rustic charm and creates a natural contrast.
47. Silver Teapot with Green and White Arrangement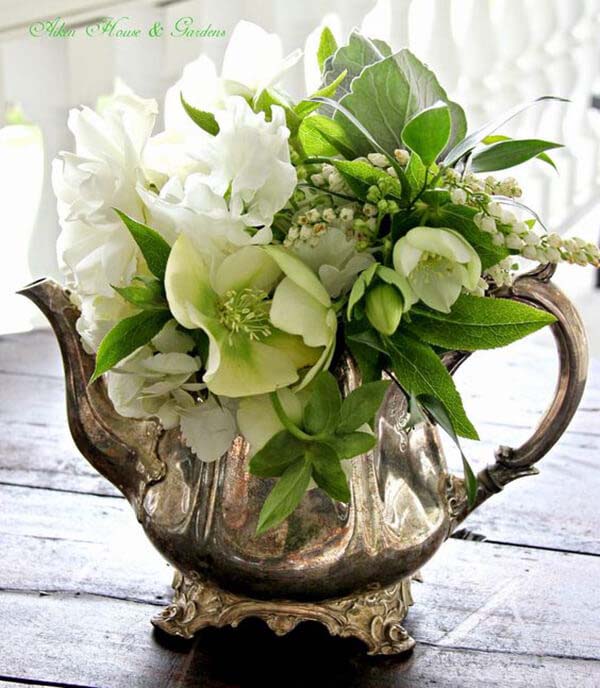 If you have an antique silver container like a teapot, for example, take it out and let it shine out like a flower holder.
The shiny flashes mixed with tuned patina will add elegance to the room. Delicate flowers like white roses and peonies will match the antique look of the container and will balance its metallic surface.
48. Southern Hospitality Pineapple Posy Vase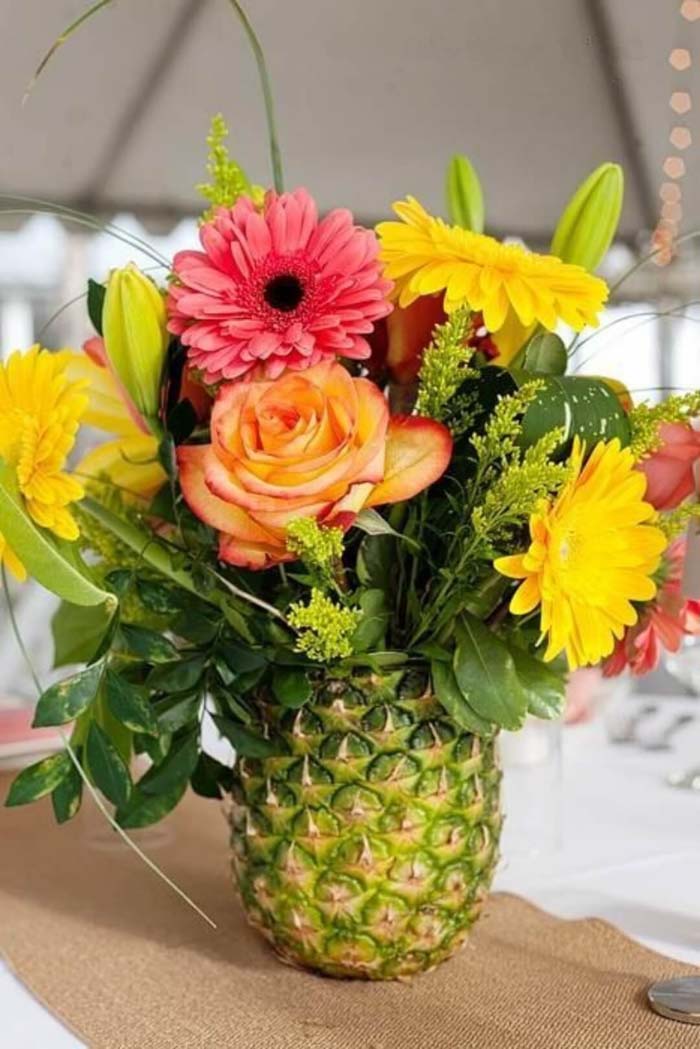 This flower arrangement is so interesting! On the one hand the pineapple creates a point of interest. On the other, it is so helpful for keeping the blooms fresh for a longer time!
To make it, just hollow the pineapple out and fill it with a little amount of water. Don't forget to add green leaves around the flower stems to give the mix between the tropical fruit and the flowers a transition.
49. Spring Bouquet in Weathered Watering Can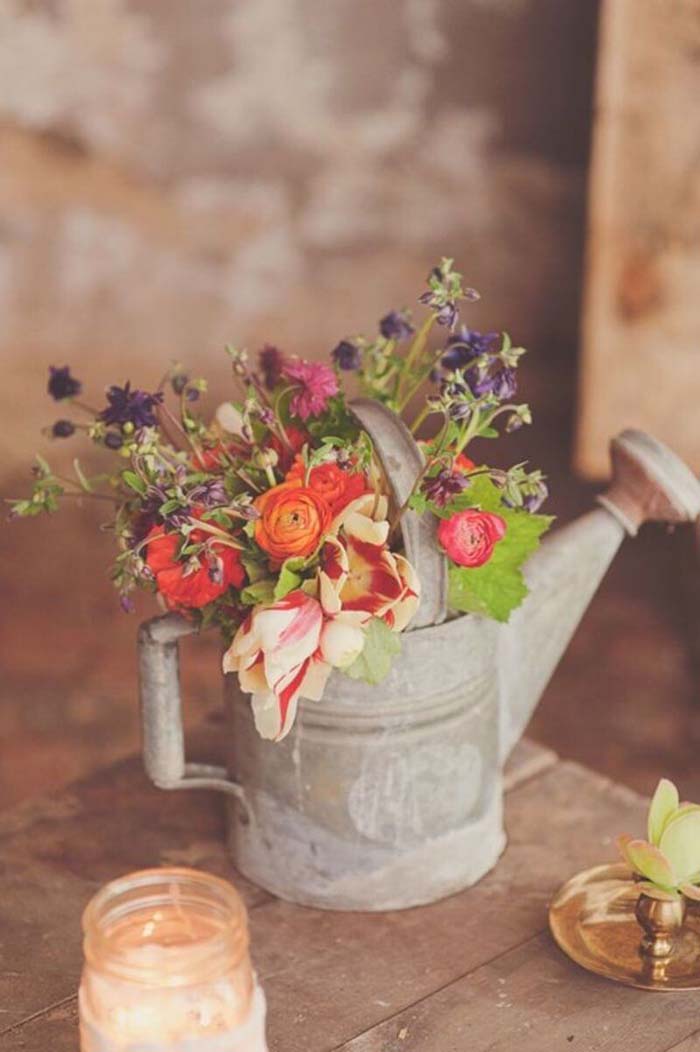 The galvanized watering can may not be useful anymore but not in this case. Used as a bouquet container, it gives the flowers a vintage charm.
The metal also creates a universal backdrop for the flowers to stand out even if they are many and the textures different. This type of flower arrangement is perfect for outdoor parties as well.
via Ruffled
50. Stunning Flower and Herb Corsage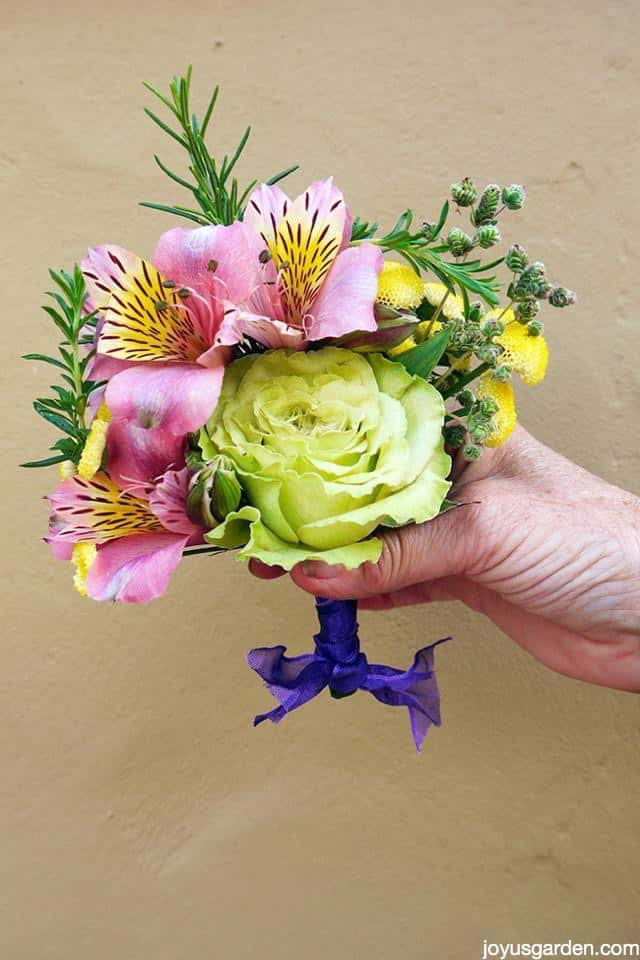 Short cuts of flowers are arranged thickly in a bouquet that reveals a variety of colors and textures. Blooms stand out against the natural green hues of herbs.
In addition to the colorful piece, the arrangement also smells good.
via Joy Us Garden
51. Succulents, Citrus and Leaves in Copper Containers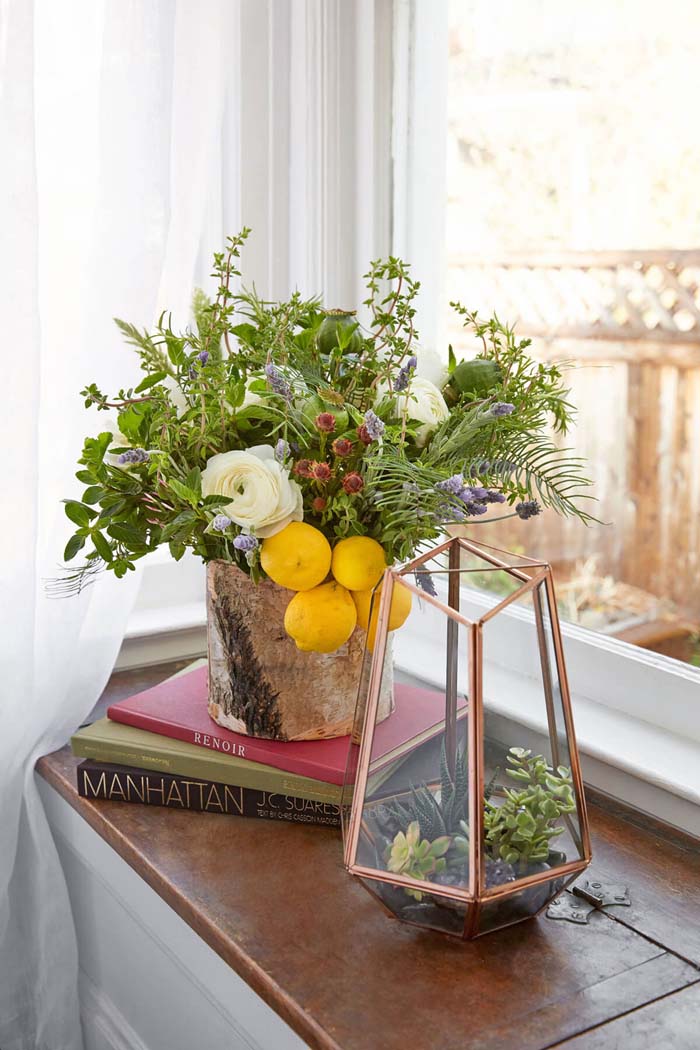 You can give a flower arrangement a color not with bloom but with a fruit! Yes, this interesting idea is sure to be the focal point of the room! Thick greenery of succulents and leaves reveals white and purple blooms here and there and a juicy cluster with lemons aside.
Placed in a vase wrapped with tree bark, the bouquet adds natural freshness and purity to the indoor atmosphere.
52. Teacup of Roses, Mums, and Austrolmaria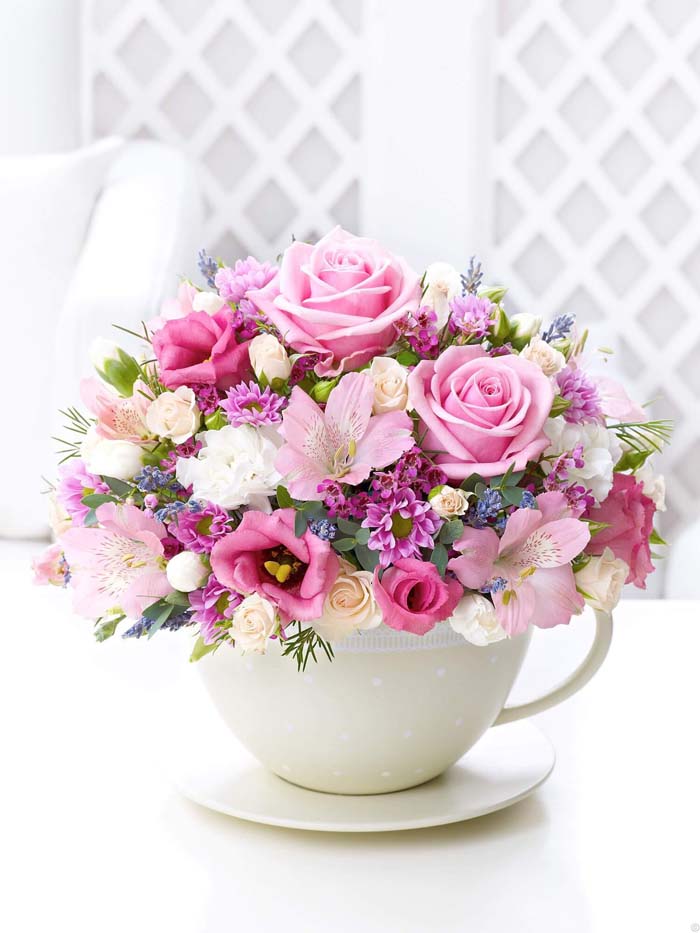 Give the flower arrangement a point of interest with an antique teacup. Replace the regular vase with the teacup and make the setup unique!
Pink, purple, white and small blue blooms make a shining festive bouquet that attracts everybody to look at it.
via Quiggs Florists
53. Three-tiered Stand for Mini Mason Jar Blooms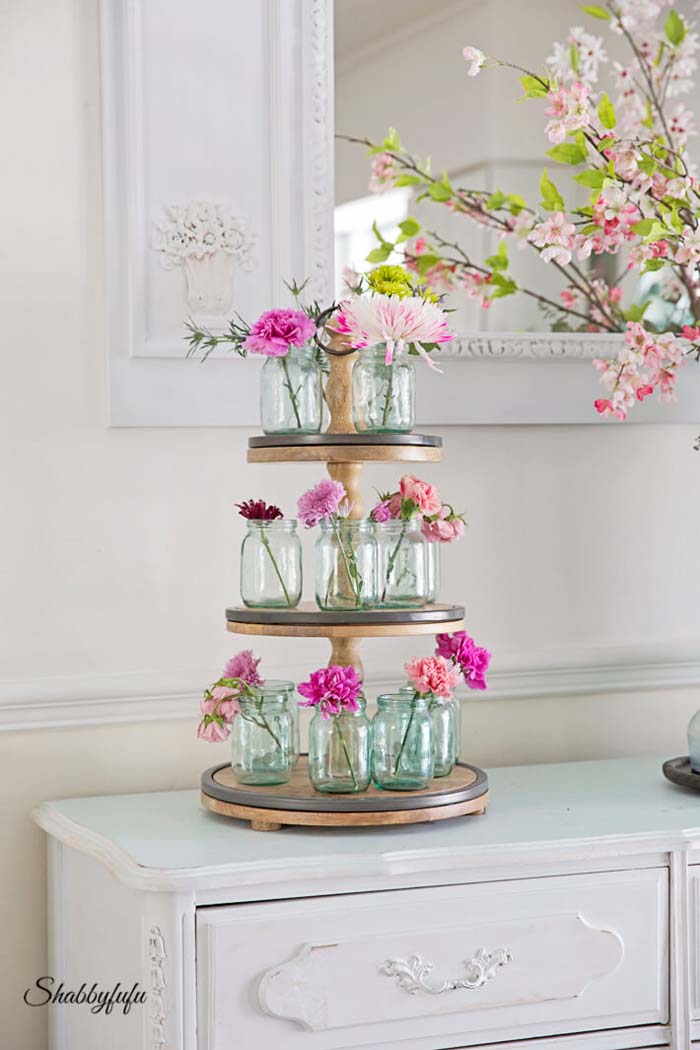 The tiered cake holders become a lovely vertical display of flowers. Arrange glass jars on the levels and fill each one with identical flowers for a stylish look.
In case you want to use different kinds of flowers, make sure that they are of the same color.
via Shabby Fufu
54. Tipsy Teapot with Cascading Catkins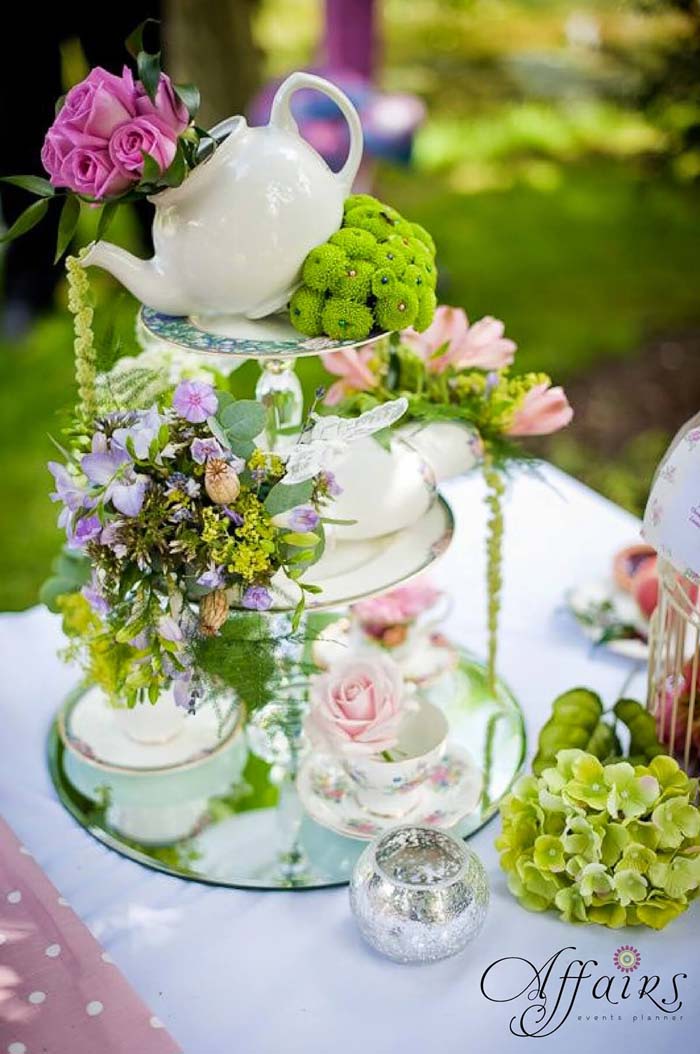 In case you are preparing a party in the spring, you can try this floral arrangement to add as a centerpiece. The tiered cake stand works perfectly as a support for the centerpiece.
This is a DIY project where antique cups, teapots and floral cuts make a unique setup that adds color and romance to the atmosphere.
55. Tropical Tree of Flowers Centerpiece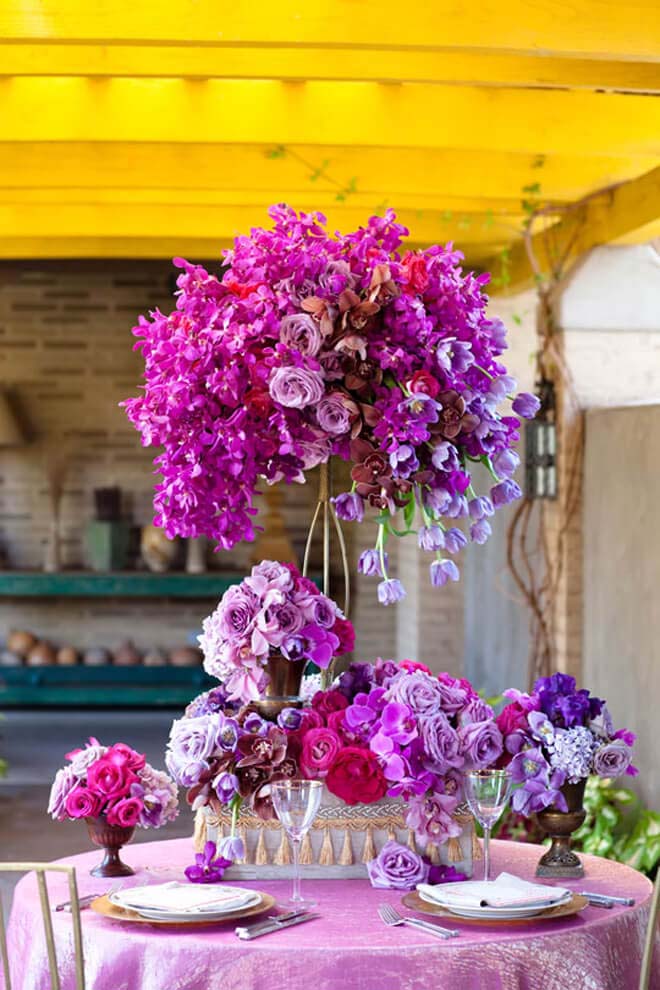 If you want to make a floral arrangement consisting of many pieces, you need to stick to one color palette. Otherwise, you risk overwhelming the air.
Vases, boxes and a tree are made from lilac hues that add elevated natural beauty. Such a creation is perfect for wedding parties where the color is the theme of the decoration.
56. Unique Decorative Flower Chandelier Display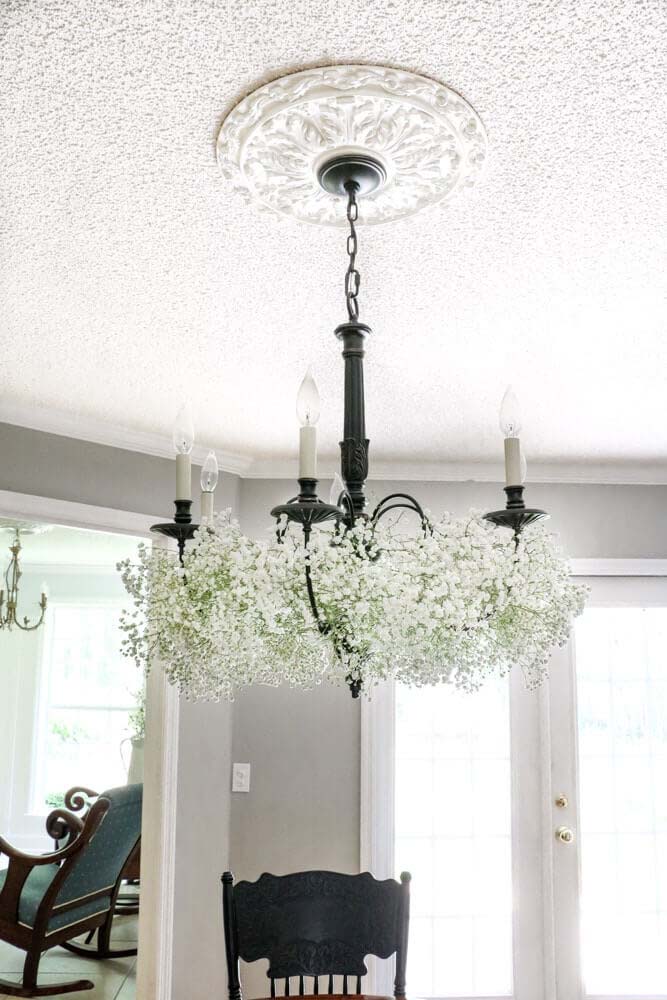 Flowers are a joy to the senses not only in a bouquet on the table. Using them as a non-traditional embellishment of an object in your interior will make a bold statement with a nature-inspired character.
For example, in case you have a chandelier, add volume to it with a simple floral arrangement like that on the image.
57. Victorian Bird Cages Flower Trellis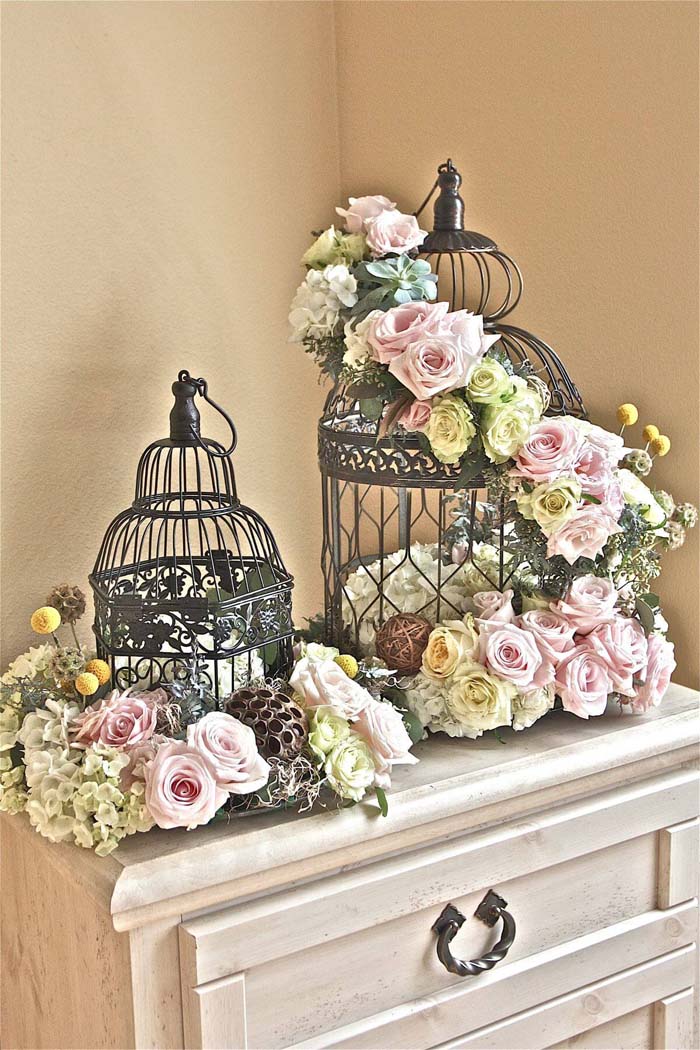 This floral arrangement is so romantic! The cage becomes the backdrop and the support for wreaths of pastel flowers.
Pink and yellow roses, white hydrangeas and succulent greenery combine to make a unique Victorian-inspired decoration. The setup is perfect for wedding decor or baby showers.
58. Whitewashed Mason Jar of Cerulean Dried Flowers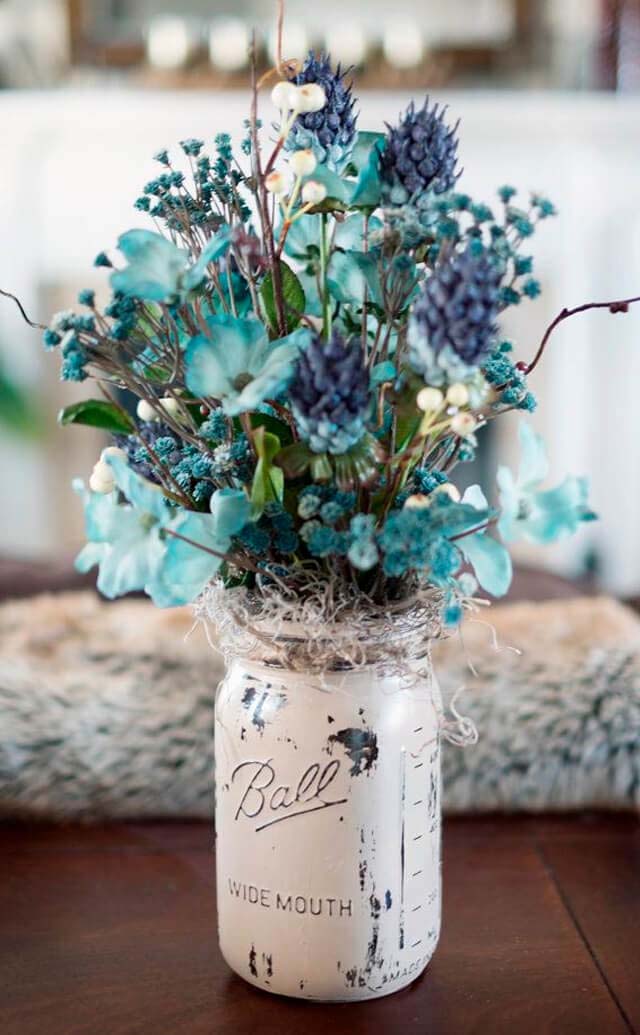 Do you like the plain but unique look of the Mason jar? Use it for your rustic flower arrangement. Instead of a store-bought vase, the Mason jar will give the creation a character.
This distressed finish is very easy to make. Some paint and then sanding off random edges. The best of it all is that any bouquet will look amazingly in this repurposed base- one-colored or multicolored!
59. Window Sill Forced Bulbs in Tall Tumblers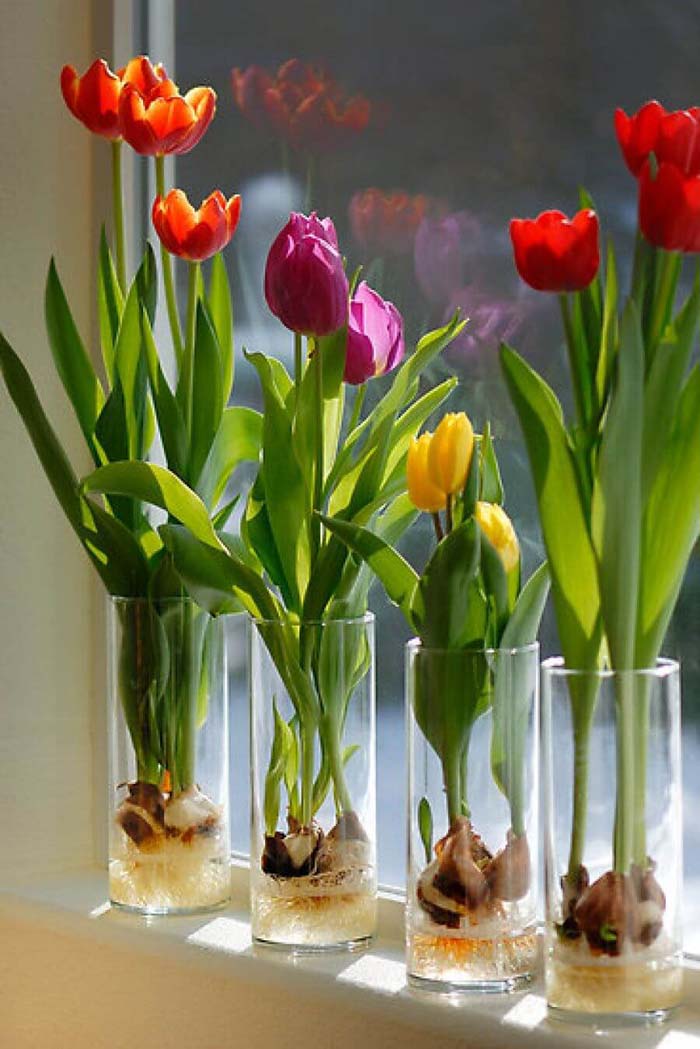 Tulips are an adored spring flower not that they are so beautiful but because they are easy to grow. Another advantage this kind of flower features is that growth can be done not only in the soil of the garden.
Placed in transparent tall vases the bulbs develop roots when dipped in some water. Put the vases on the windowsill and watch the plant grow.
60. Woodsy Fallen Log Flower Vases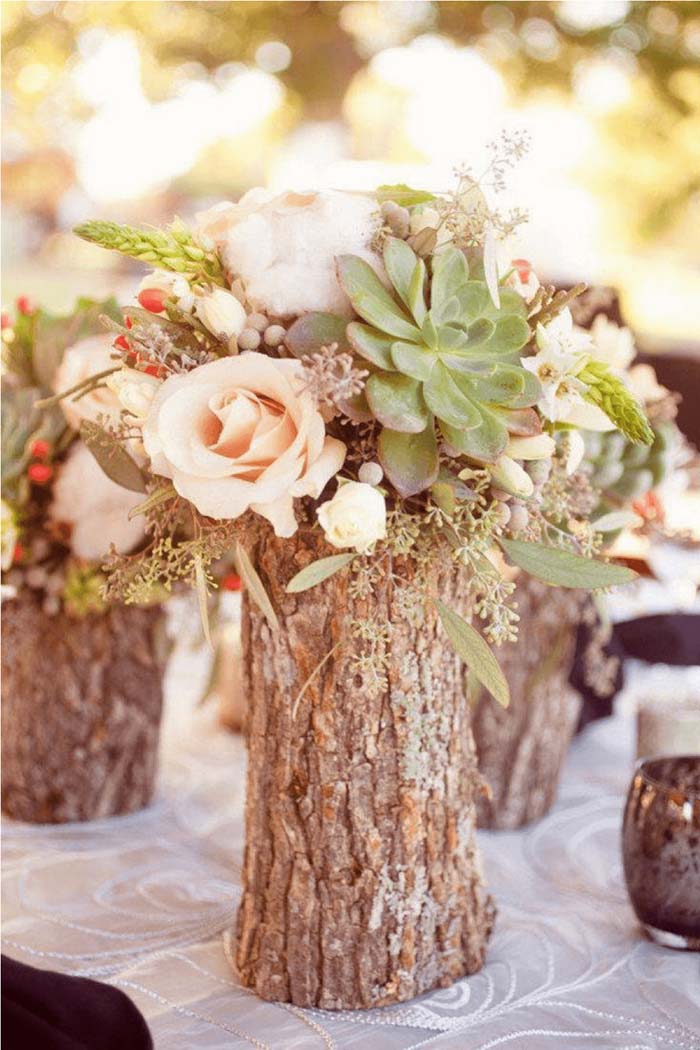 Do you want nature-inspired decor for your special occasion? Gather small logs during your next walk in the woods and then drill holes in them where the bouquet will sit.
You can arrange different flowers depending on your preference and decor. However, the best decision will be to continue the nature theme with wildflowers, greenery and garden cuts.
via Style Me Pretty
61. In Love With Teal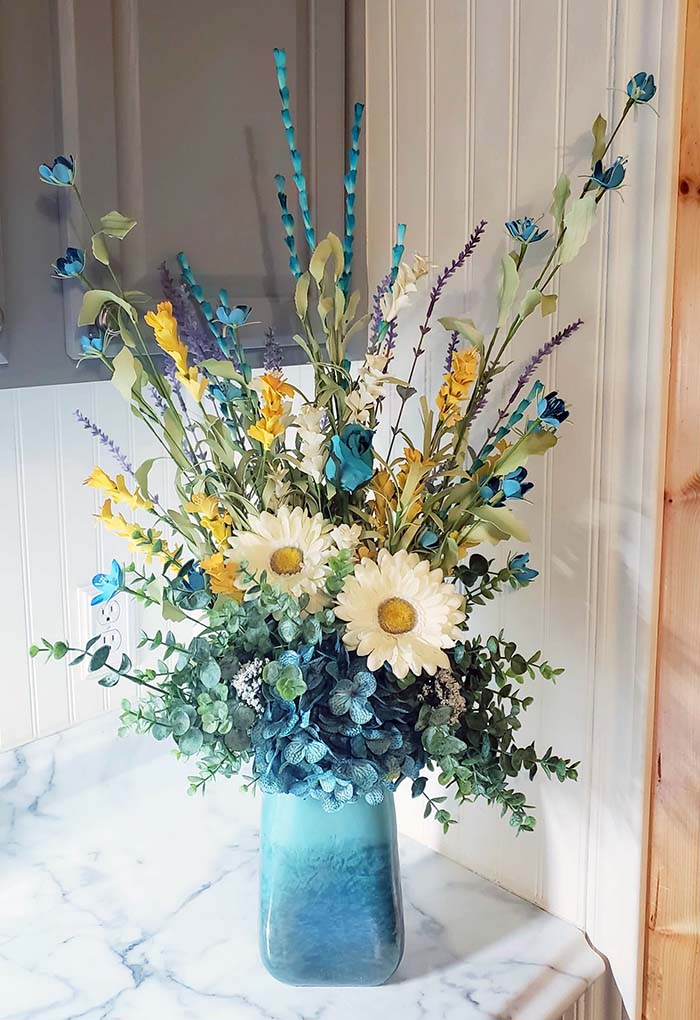 Beautiful selection of flowers in pastel teal, turquoise and yellow with some white accents.