Autumn is knocking on the door…Have you thought about giving a seasonal makeover to your dining table?
You can easily transform it into a cozy and welcoming spot with some DIY fall table centerpieces made of pumpkins, autumnal flowers, gourds, apothecary jars etc. We have also a great selection of fall craft ideas. Play with your imagination!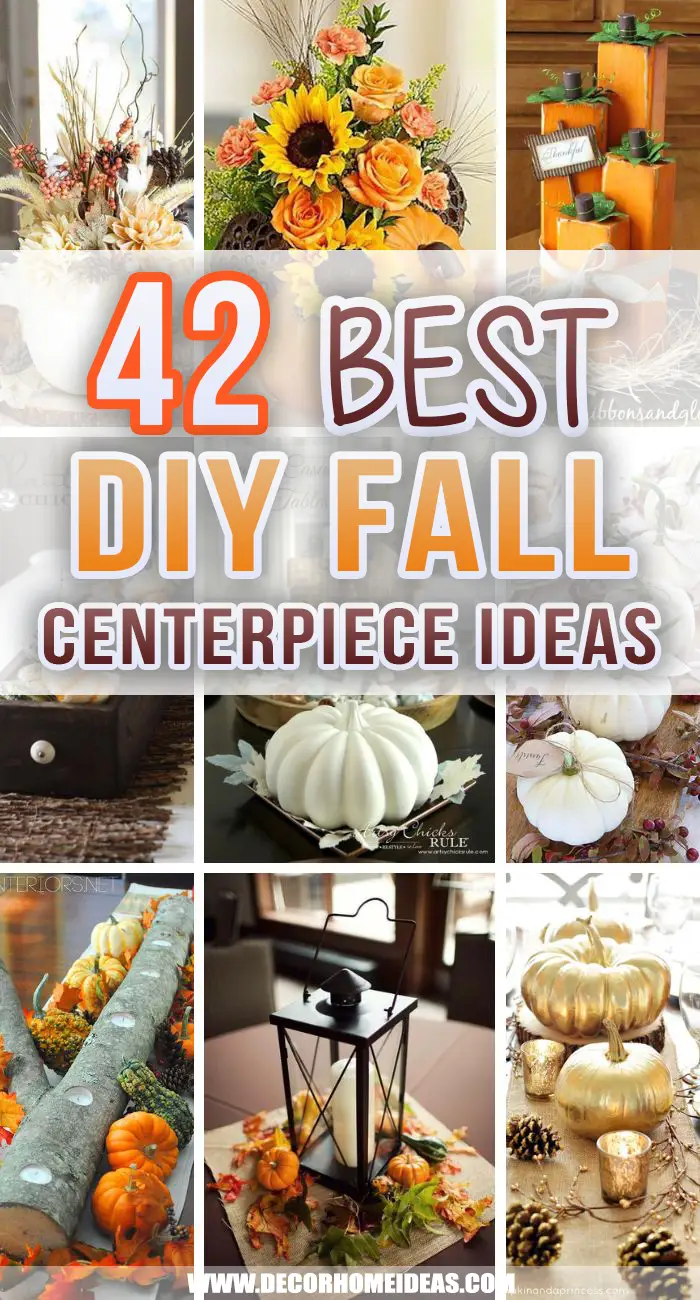 I've selected 42 of the best DIY fall centerpiece ideas for you so they can help you out to decide which one to re-create in your home. Enjoy!  🙂
1. Capture Autumn Ambience with a Colorful Dahlia Centerpiece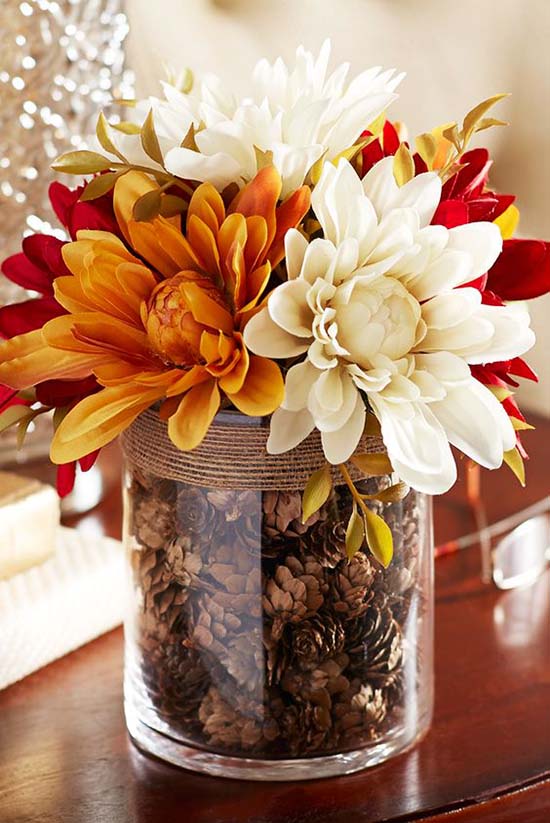 Photo:Credit
Naturalness marks this display of autumnal flowers – three colors of dahlia flowers in a large cylindrical jar full of pine cones.
Simple hemp thread encircles the collar of the vase for the final touch. You should definitely add this to your list with easy fall table centerpiece ideas.
2. Transform a Pumpkin into a Beautiful Flower Display

I would like to share one of my favorite DIY fall floral centerpieces with you. As flowers and pumpkins are matching together so elegantly, here is a full tutorial on how to create a beautiful blooming pumpkin for your dining table.
Bonus idea: Elevate your pumpkin with a tiny bit of chalk paint in soft blue, which pops perfectly when paired with colorful blooms and candles.
3. Make a Rustic Fall Centerpiece with Mason Jar Flower Vases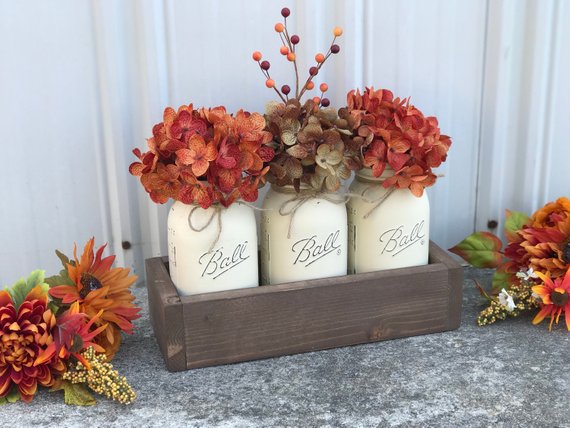 Photo:Credit
If you are looking for some fall floral centerpieces ideas, here is something that would add the perfect amount of autumn accent to your home.
It's simple, stylish, and would easily fit into various decors.
4. Adorn Your Dining Table with a Wheat Bundle Centerpiece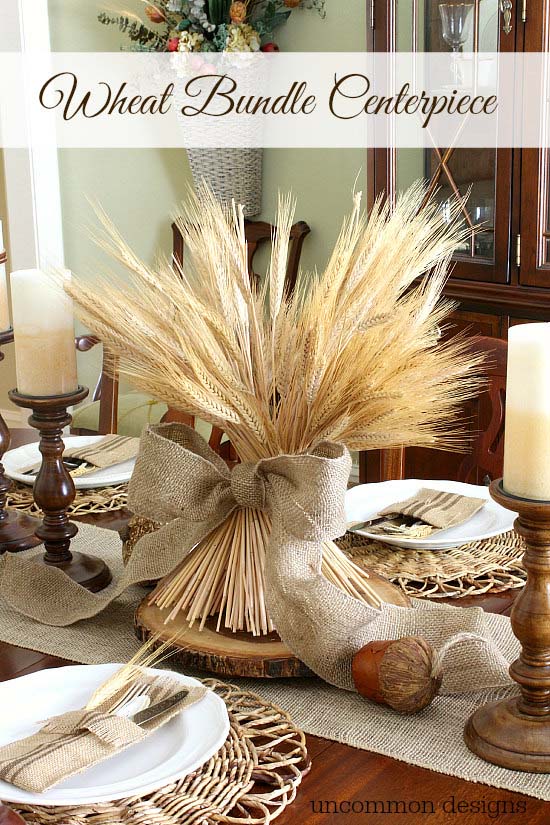 I'd describe this centerpiece with 2 words – chic and timeless. The dried wheat has always reminded me of the leaving summer…and the coming fall.
If you are a fan of this type of natural fall centerpieces, here is a full tutorial with pictures.
5. Enchant Your Home with Fall Mason Jar Luminaries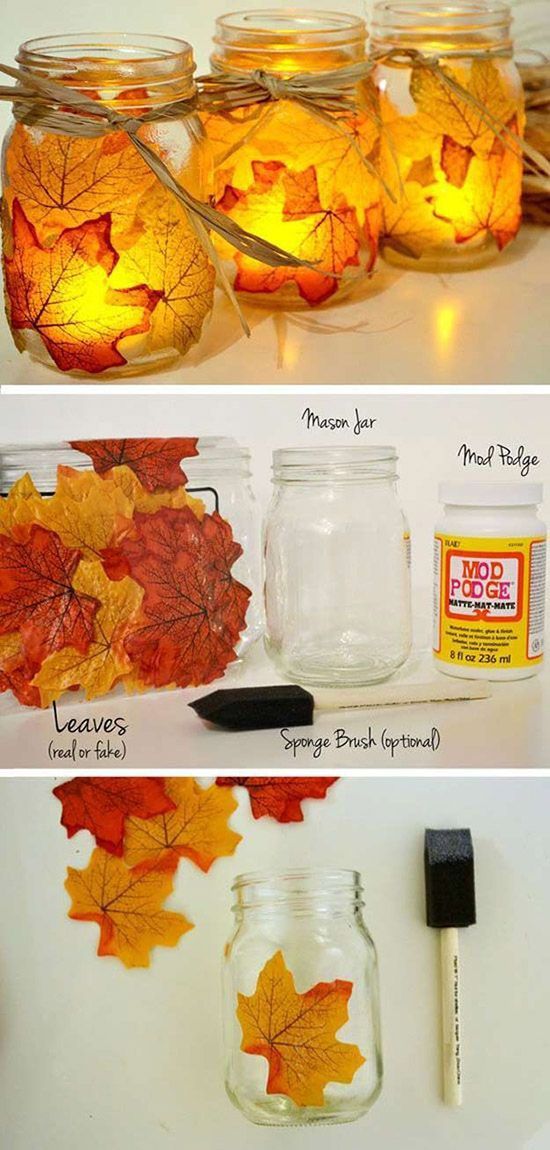 If you spend an hour searching in Google, you would notice there are tons of fall mason jar centerpieces ideas.
The Decoupage is a famous technique of decorating an object by gluing either paper, napkins, or why not autumnal leaves? The full tutorial on how to make these cute candle holders: here.
6. Add Charm with a Colorful Pumpkin Succulent Centerpiece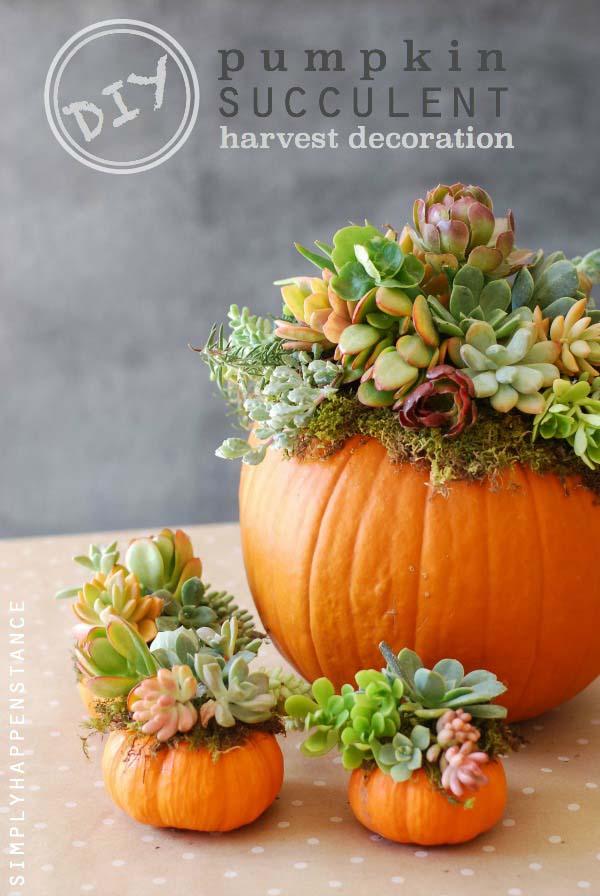 Photo:Credit
I guess most of you want to find some easy inexpensive fall centerpieces that make the dining table sparkle.
This beautiful handmade combination of succulent plants and pumpkin is very simple, completely dazzling, and it is a "green" project (not wasting or harming the plants in order to create this centerpiece).
The green totally pops against the bright orange pumpkins.
7. Elevate Your Home with a Fall Lantern Table Runner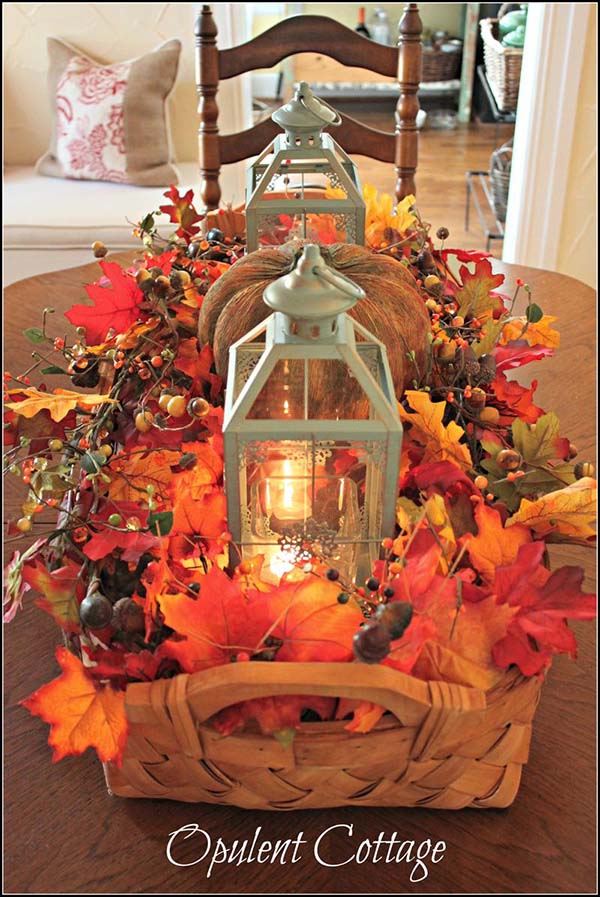 Photo:Credit
The accent of this centerpiece is the paper mache pumpkin enclosed by two lanterns.
The soft blue color of the lanterns stands out amongst the warm reddish tones of the fall leaves.
This arrangement would look good on your dining table but would work on your cupboard as well.
8. Showcase Your Home's Beauty with a Pumpkin Flower Vase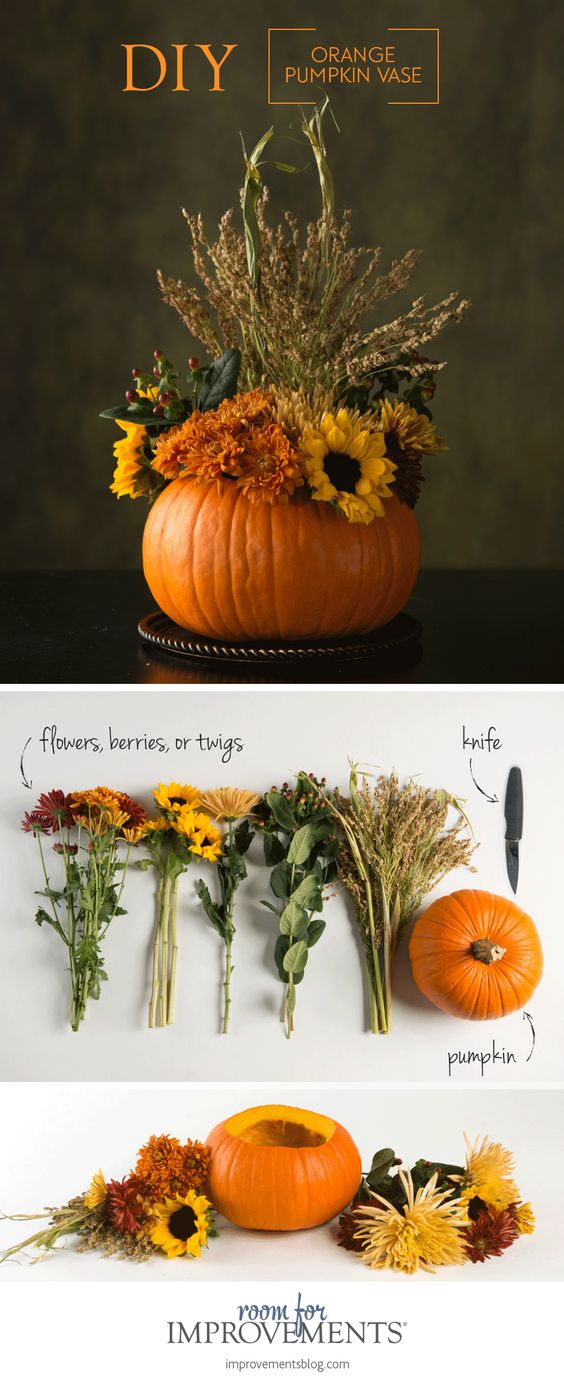 Photo:Credit
Take off the top quarter of a small pumpkin.
Remove the seeds and pulp and fill with floral foam and flowers (here, dahlias, scabiosa, strawflowers, zinnias, sunflowers).
One of the best fall table centerpieces so far. It would be great for Thanksgiving.
9. Brighten Your Decor with a Rustic White Pumpkin Flower Vase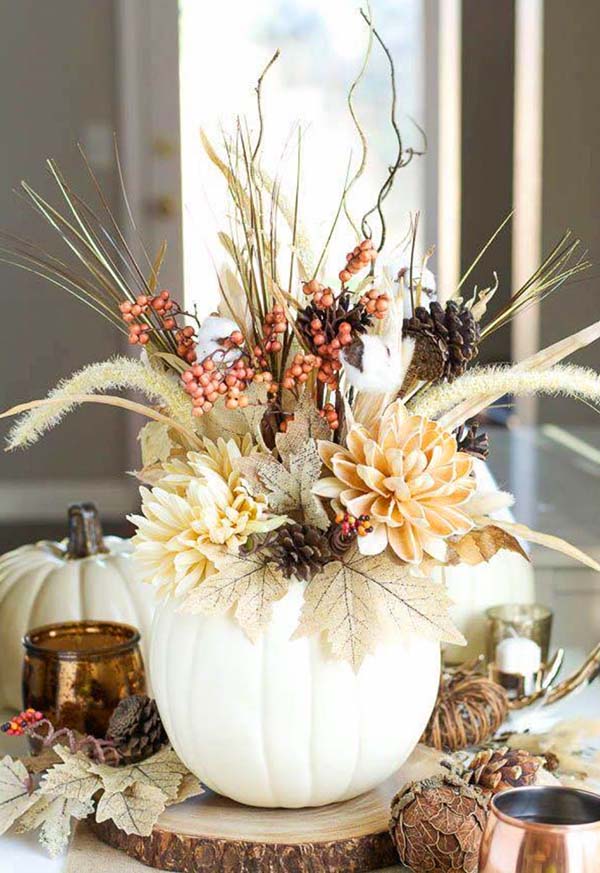 Photo:Credit
The artificial white pumpkin brings a fresh vibe to this fall centerpiece.
The tall branches of some of the dried flowers give volume to the whole arrangement. By adding silvery-white leaves, you are making it perfect for both fall and winter pleasure.
Include it into your list of fall floral arrangements centerpieces.
10. Enjoy Holiday Dinners with a Picnic Basket Fall Centerpiece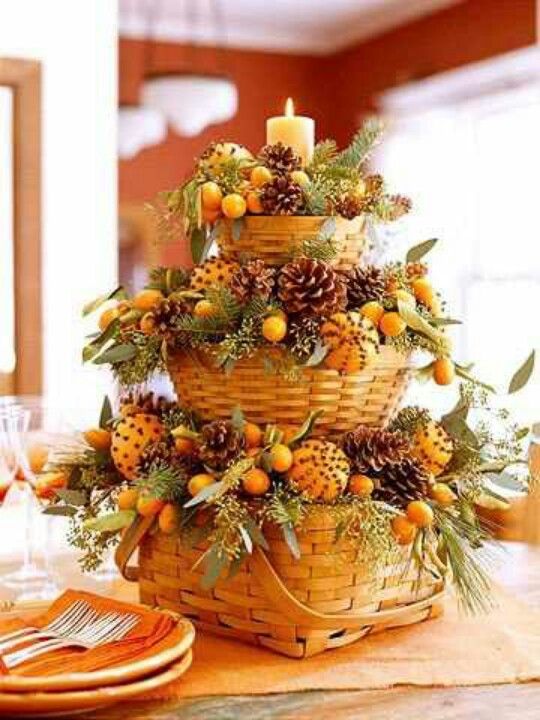 Photo:Credit
Do you have some old picnic baskets in the garage?
Why don't you turn them into a chic fall centerpiece? It would add volume to the dining table and make the space more cozy and welcoming.
11. Add Sparkle to Your Home with Pumpkin Glitz and Glitter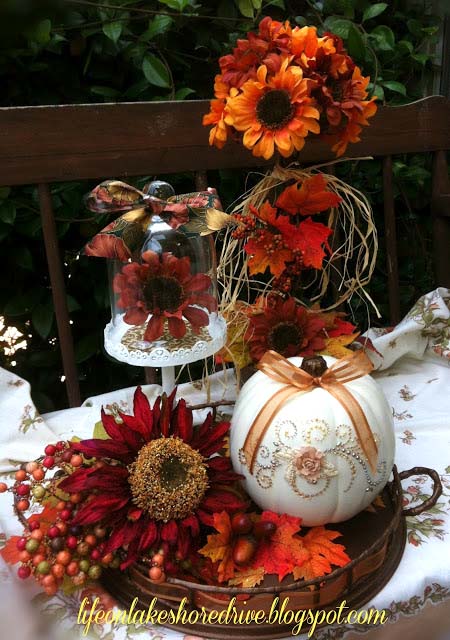 Do you want some modern fall centerpieces for your home? Why don't you give some glitz to your autumn pumpkin and escape from the strong rustic vibe the pumpkins usually bring?
Here is a detailed tutorial.
12. Add Splendour with Wood White Antlers Pumpkin Centerpiece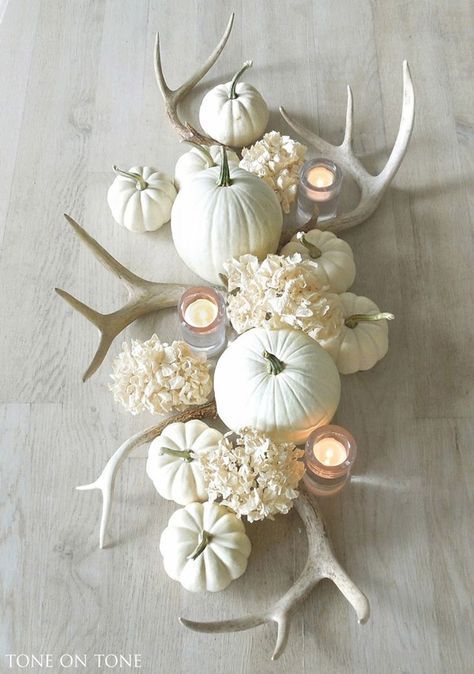 Photo:Credit
I am sure this one would become one of your favorite fall centerpieces! Driftwood white antlers set pleasantly next to white pumpkins in this long table centerpiece.
The creamy white pumpkins in different sizes sit amongst the antler curves, with devoted candles and white Hydrangeas filling in the blanks.
13. Level Up Fall Decorations with Custom Fabric Centerpieces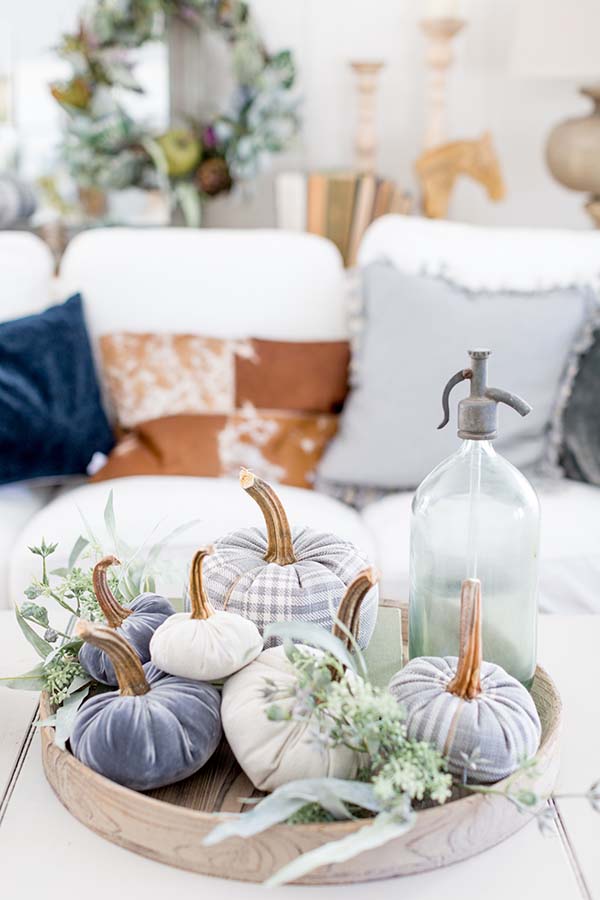 Photo:Credit
Guess that some of you would prefer some fabric made fall centerpieces to avoid the cliches.
You can put some clothes on to your regular orange pumpkin and make them unique.
14. Make a Rustic Table Runner with a Wooden Candleholder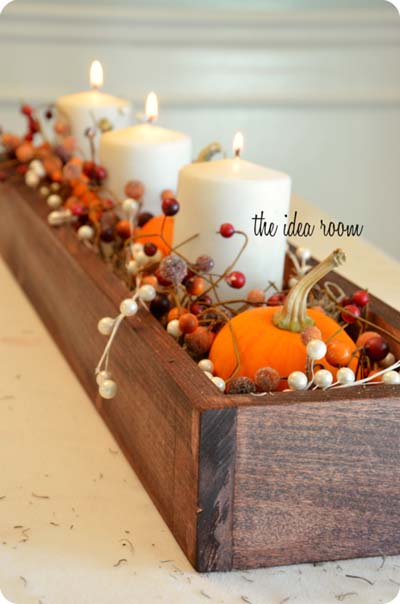 Photo:Credit
For the true fans of fall table centerpiece decorations, here is a stylish unpretentious handmade wooden candle holder filled with pillar candles and dried berries.
The box is long and narrow, making it a perfect fit for any long dining table or a fireplace mantle.
15. Light Up Home with an Elegant Glitter Pumpkin Candleholder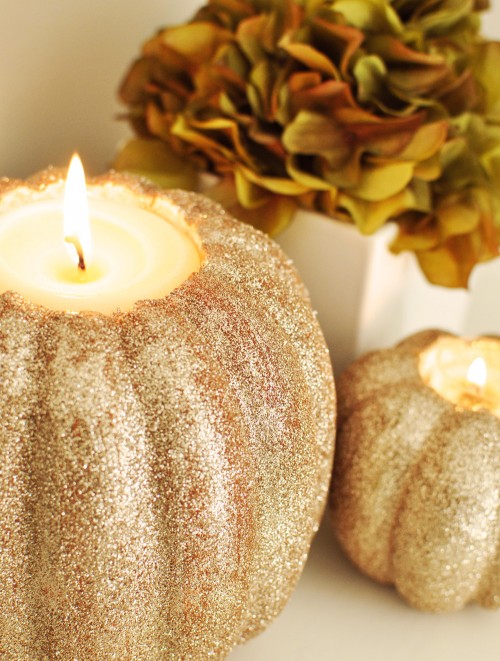 Believe it or not, but you can also have these alluring candle holders at home.
Follow the steps in the tutorial. And don't forget to add some spark of creativity from yourself so you can make your own unique fall candle centerpieces 😉
Materials needed:
Styrofoam Pumpkin
Basic Candle
Drill
Hole Saw Attachment for drill (you can find it at any hardware store)
Glitter and Craft Glue
16. Enjoy Fall with Eucalyptus and Birch Candle Table Runner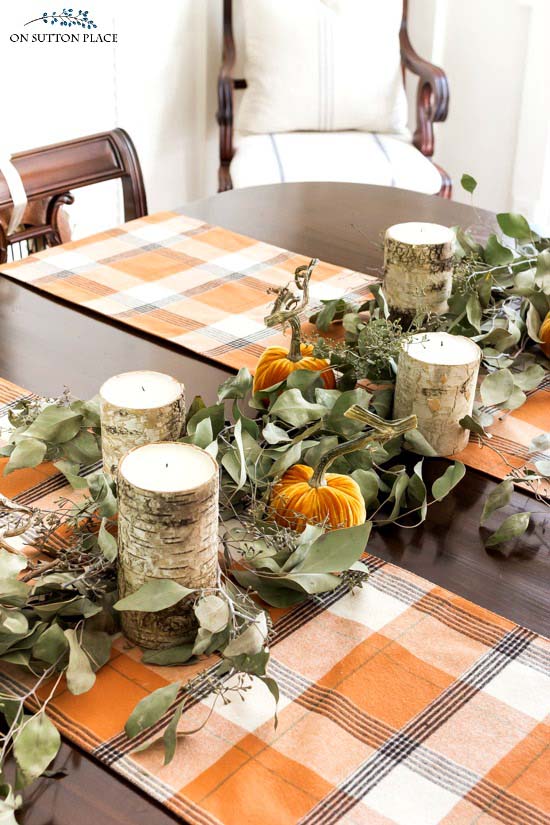 Photo:Credit
My philosophy about home decoration has always been "the simpler – the better".
The internet is full of fall centerpieces DIY projects, however, this one really did catch my eye.
It is made of dried eucalyptus branches, small orange pumpkins, and some candles for a timelessly stylish look of your dining table.
17. Bring Industrial Charm with a Metallic Corn Flower Vase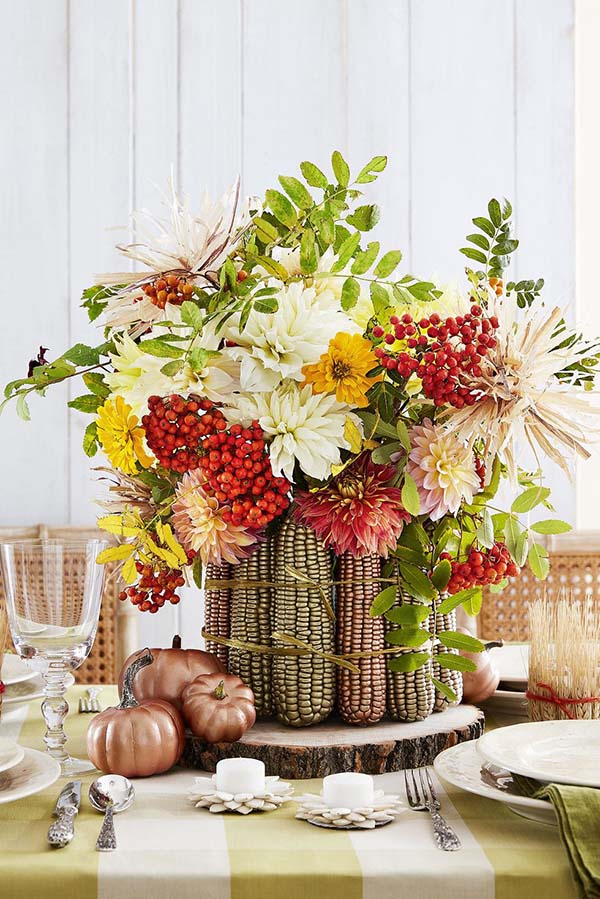 Photo:Credit
Cover about 13 corn cobs with metallic gold and copper spray paint.
Once dry, add on the cobs with hot glue to the perimeter of a 6-inch round vase.
Fill the corn vase with floral foam and add seasonal blossoms as desired. (I'd choose sunflowers, zinnias, and mountain ash berries.)
18. Turn a Coffee Can into a Fall Flower Planter with Branches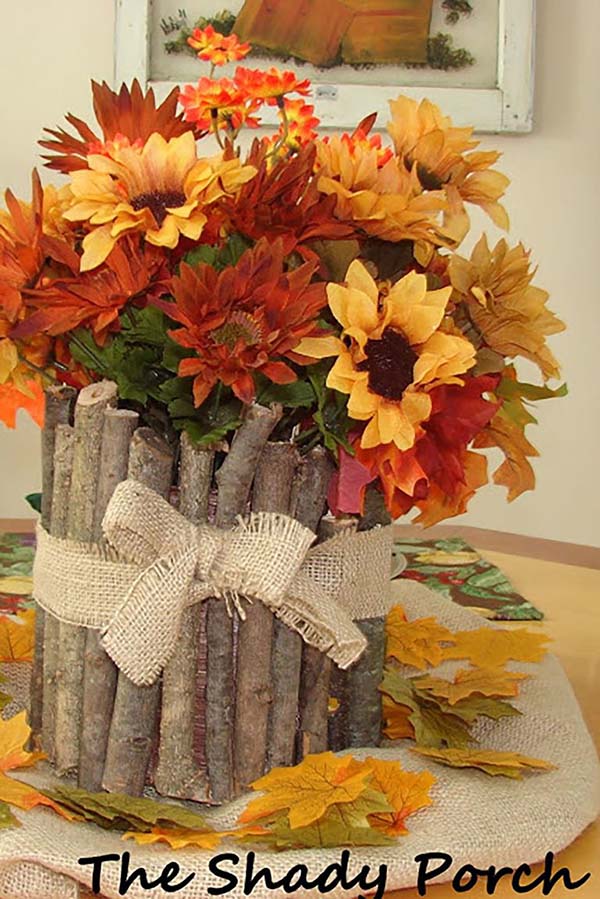 Photo:Credit
Here is another DIY project to add to your list of fall flower centerpieces.
Try to find an old useless coffee can in the garage.
Then, use some branches from your backyard and attach them to the coffee can with hot glue; in the end, filled with autumnal flowers of your choice.
19. Elevate Your Dinner Party Look with a Classic Fall Centerpiece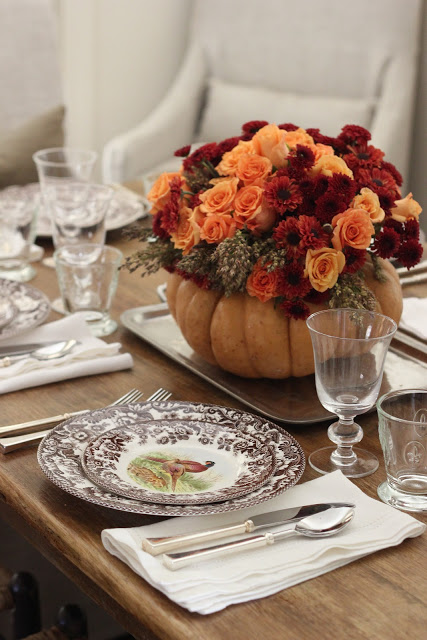 This is one of the most elegant fall floral centerpieces for Thanksgiving I could find.
As was going to host a dinner at my place the last year, I wanted to make something incredible and traditional for not too much money.
I followed this tutorial here. Hope you'll like it as well  🙂
20. Make a Stunning Candle Jar Luminary with Pinecone Accents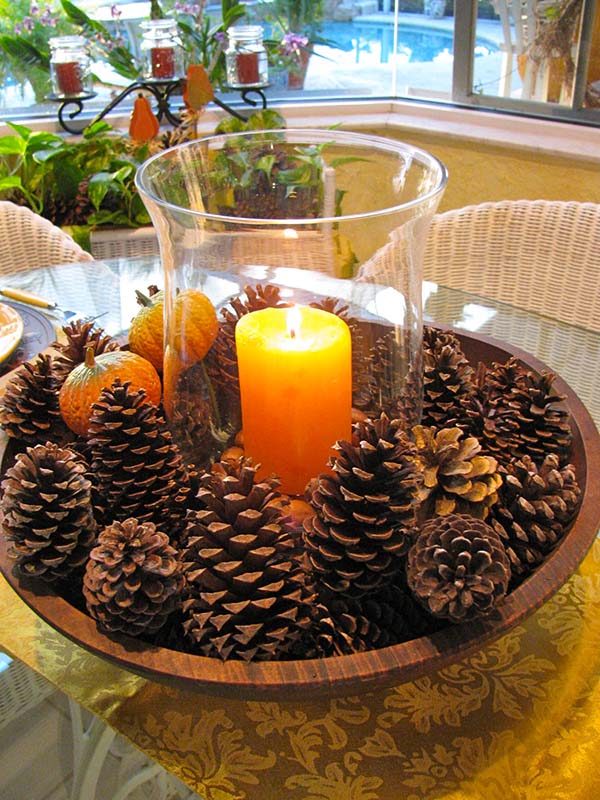 Photo:Credit
For those of you who like more the fall centerpiece ideas, I'm sharing this idea of a large ancient wooden bowl filled with pine cones.
The pillar fall candle decor is a nice finishing touch that adds warmth and coziness to the centerpiece.
21. Bring a Coastal Vibe with Blue and White Fall Decor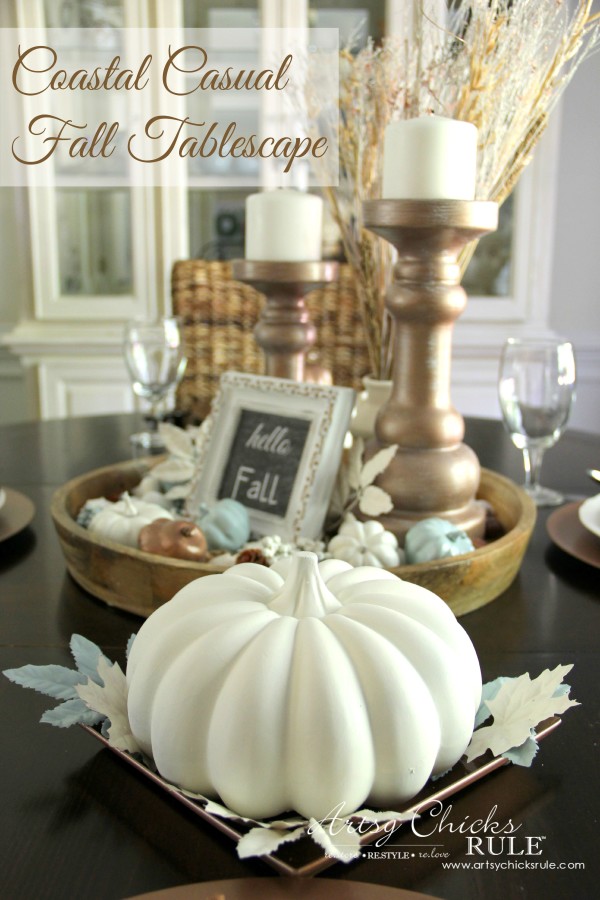 The white color is a symbol of purity, the new beginning. When creating your fall table centerpieces at home, think about the message they bring.
Check out this detailed tutorial on how to make your own coastal casual fall centerpiece here.  🙂
22. Transform Your Dining Table into a Pumpkin Fall Oasis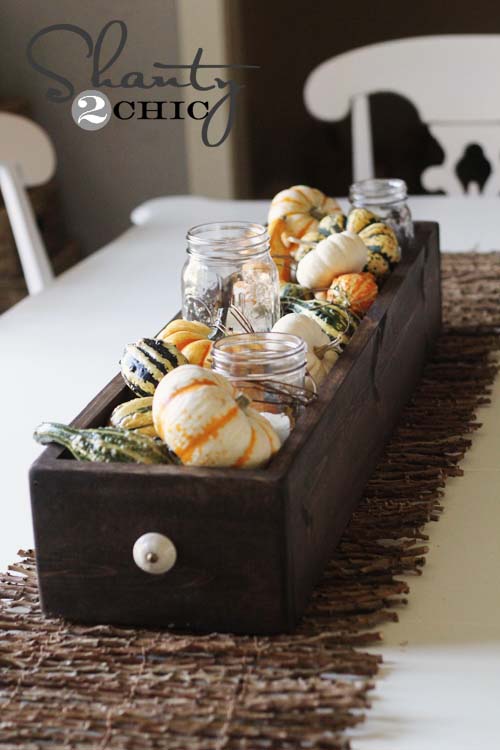 Image:Source
This autumn centerpiece brings a piece of farm life at your home.
The long and narrow shape of the wooden box would compliment the dining table and make it feel larger than it actually is.
23. Get Creative with a White Mini Pumpkin Table Runner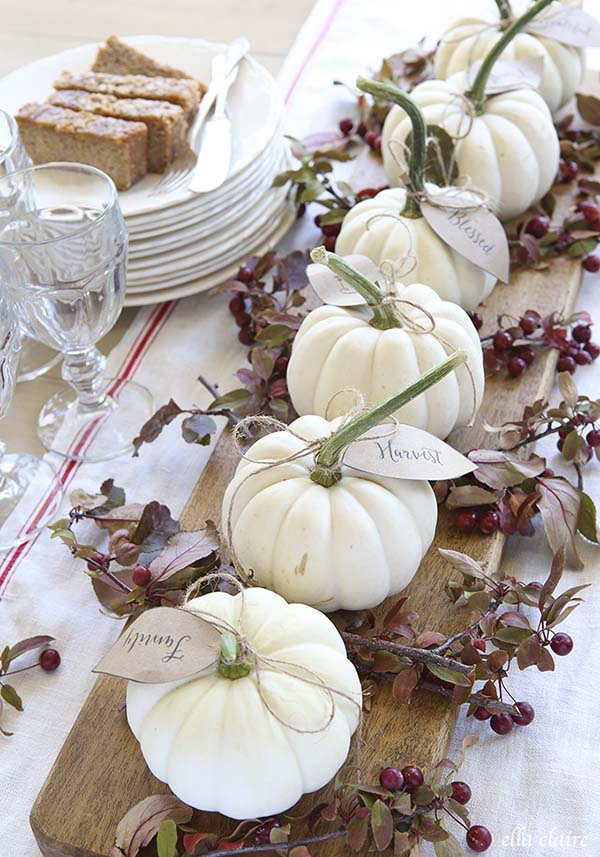 Image:Source
Another idea for some easy fall centerpieces – print a couple of positive words such as grateful, thankful, blessed, family, lucky, and harvest, and tied them on pumpkins' stems.
Then, arrange the pumpkins on the dining table and dress them up with some dried food branches. Easy!  😉
24. Create Timeless Charm with Your Fall Tablescape Decor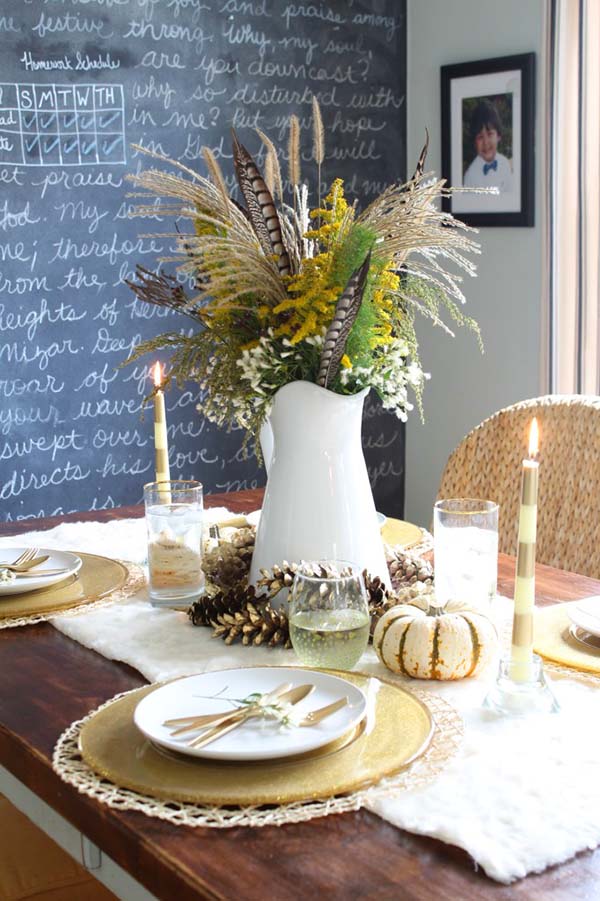 Image:Source
The truth is, there are tons of fall table centerpieces ideas in Google, but why don't you stick to the traditions and add a simple white vase with some seasonal flowers of your own choice?
If the vase chosen is taller, that would add a cool volume to the table.
25. Add a Touch of Class with Pumpkin Glass Cloches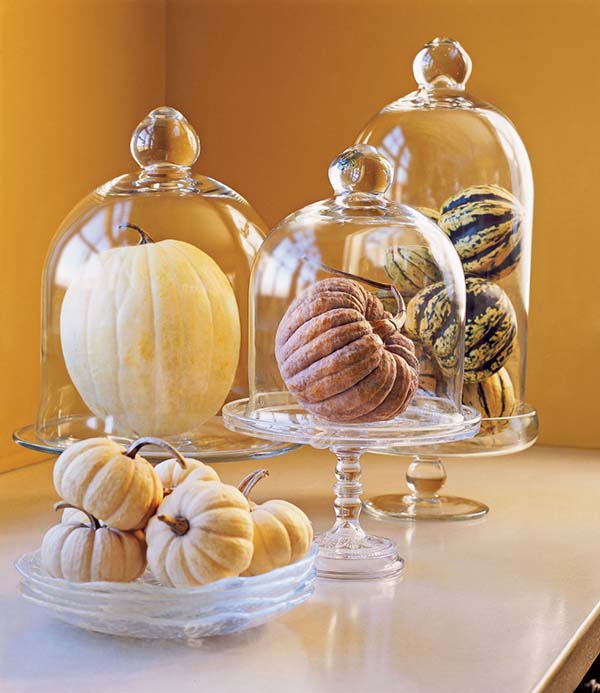 Image:Source
For a smooth and classy autumnal centerpiece try arranging smaller pumpkins and winter squash in glass cloches as pictured above. Delightful!
26. Brighten Your Home with Autumnal Flower Centerpiece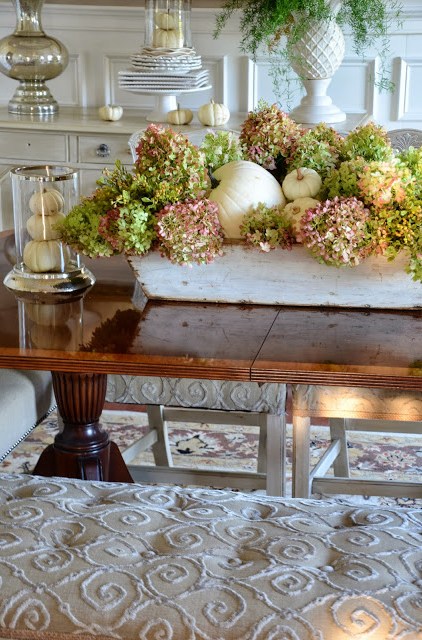 Image:Source
I've noticed that many friends are making the same mistake when trying to create some natural fall centerpieces at their homes. They put too much of everything and lose simplicity.
Why don't you just fill an old tool caddy with hydrangeas and some small white pumpkins? It's absolutely enough, I think.
27. Make a Farmhouse-Style Pumpkin Flower Vase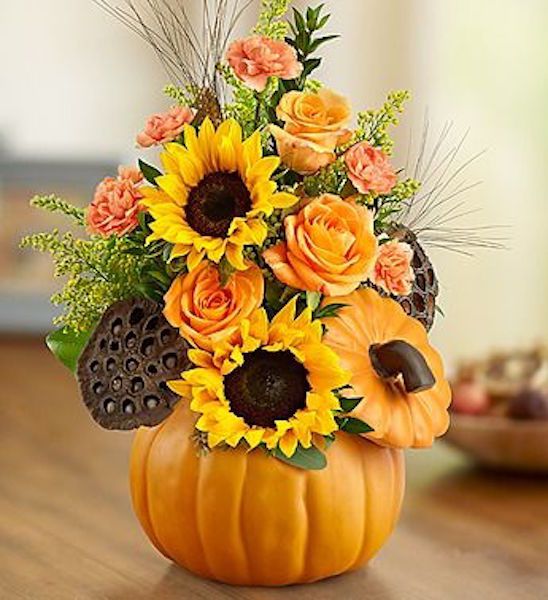 Image:Source
If this knotty centerpiece does not scream "farmhouse style" I don't know what will.
28. Unlock Contrast Magic with a Fall Pumpkin Arrangement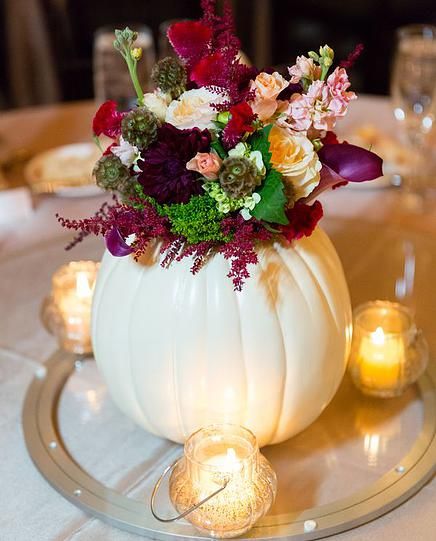 Image:Source
The first thing I'm noticing when I look at some fall flower centerpieces pictures is if there is a contrast between the elements… like in this one.
I love how the colorful blossoms complement the white pumpkin and the small simple candle holders.
29. Indulge in the Lavish Look of Gold Glitter Pumpkins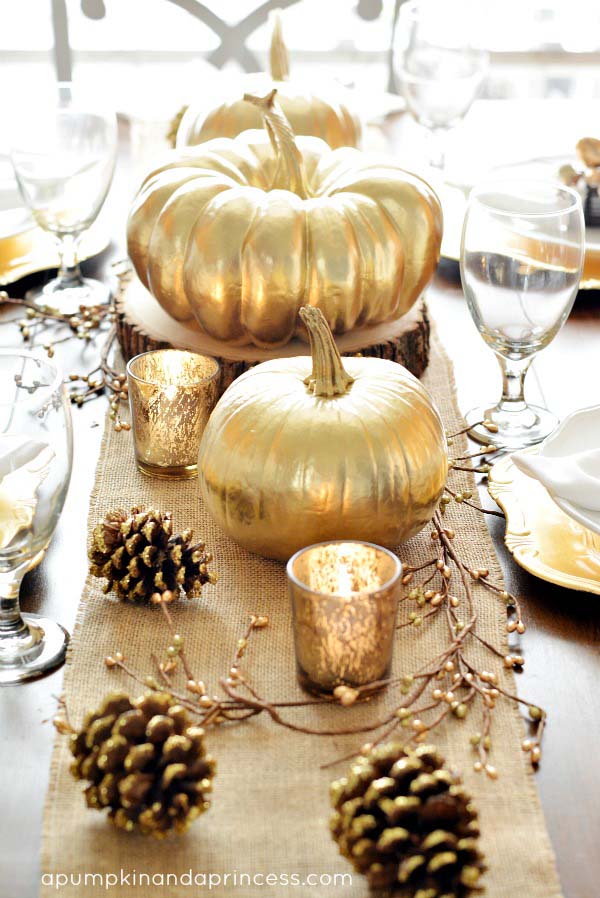 Image:Source
 Use a simple gold spray paint to re-create this centerpiece at your home.
The metallic gold pumpkins and accents give an expensive luxurious look to the Thanksgiving table. I just love it!
30. Stand Out with a Leafy Fall Lantern Centerpiece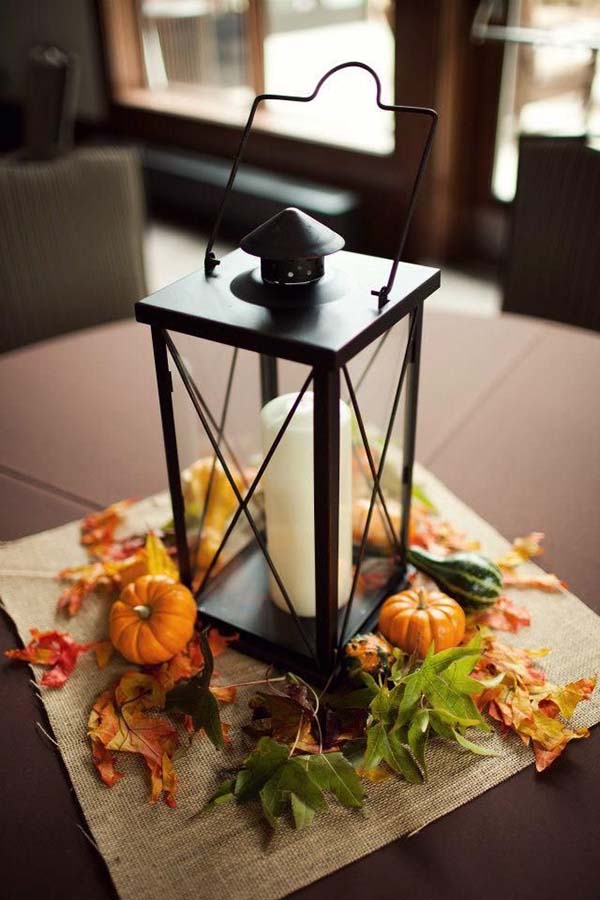 Image:Source
The affordable fall centerpieces ideas are the ones that the majority are looking for as the fall tablescape is not something you need to spend a fortune on.
Just go outside and collect some beautiful colorful fall leaves, add a simple lantern, and arrange them on top of the dining table.
31. Bring Farmhouse Elegance with a Chic Rustic Fall Display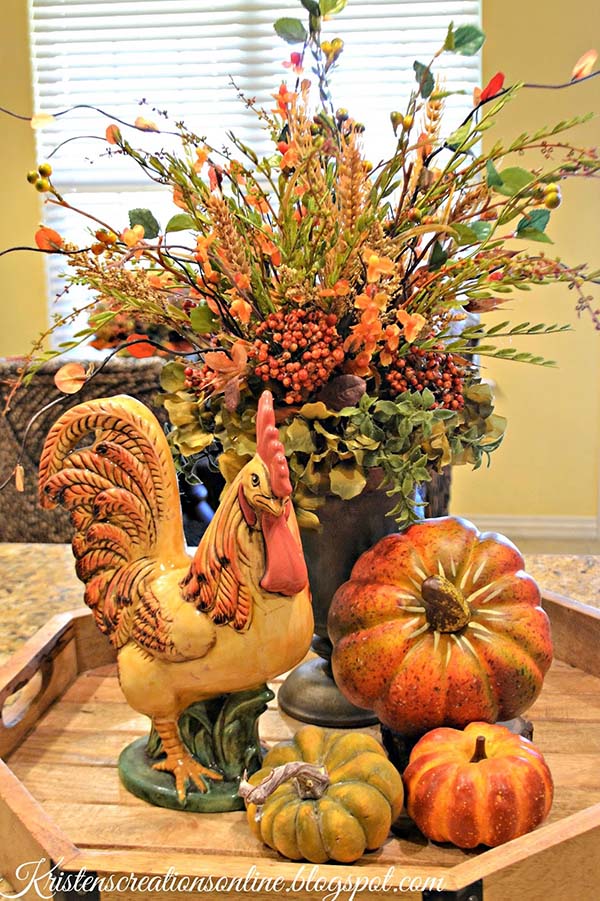 Image:Source
The longer the dining table, the more the decor. Seasonal flowers and branches of varying heights, pumpkins, and pinecones create visual interest without going overboard.
The ceramic rooster figure is a little farm life touch.
32. Embrace Nature with a DIY Autumn Acorn Basket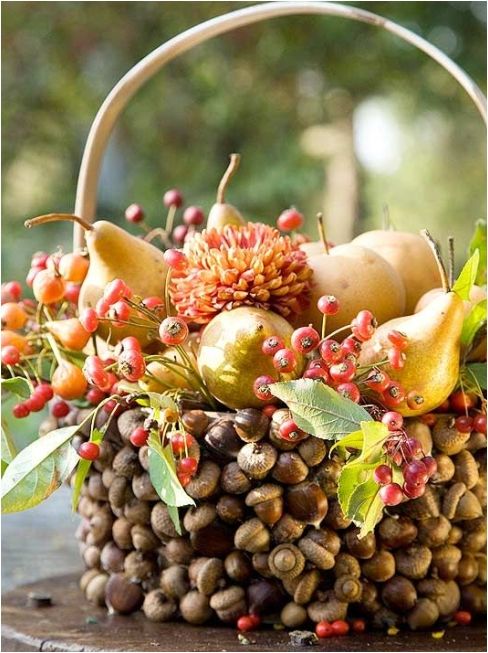 Image:Source
Another cute DIY project for those of you who love creating stuff by hands and have some spare time –  an acorn basket filled with seasonal flowers, berries, and pears.
33. Keep it Classic with a White Autumn Flower Vase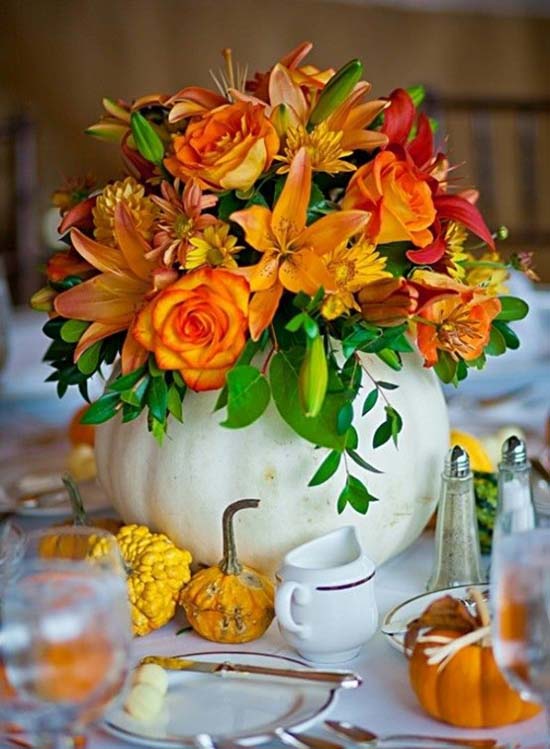 Image:Source
In case you are suffering from a lack of fresh ideas on how to make fall table centerpieces at home, stick to the traditions.
Simply add some autumn blossoms in a cute white vase.
34. Impress Guests with an Edible Fall Centerpiece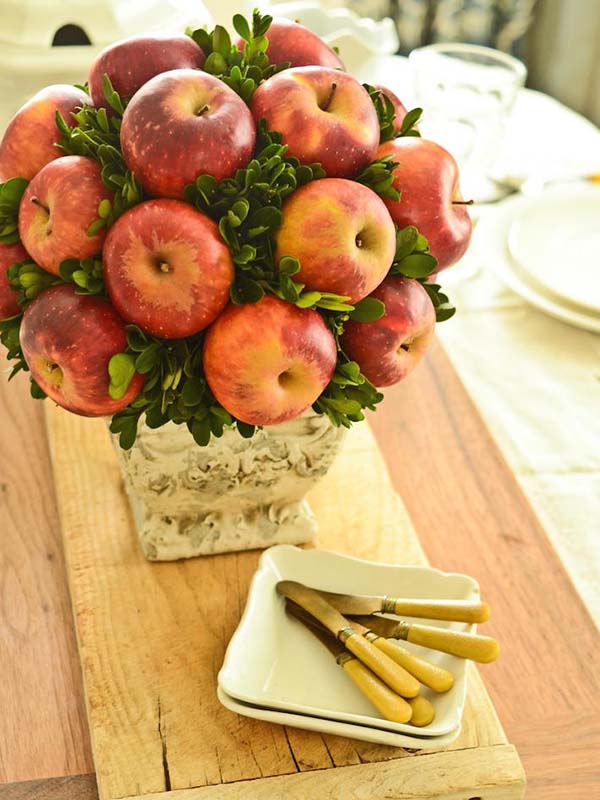 Photo:Credit
A fall centerpiece of fruits in moody hues, such a red apple,  puts an elegant spin on an entertaining staple.
35. Get Crafty with Wooden Block Pumpkins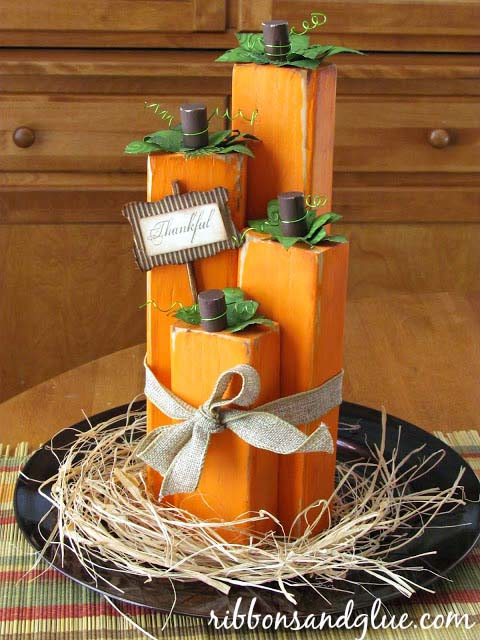 Deciding to have a fall centerpiece at home doesn't necessarily mean using some orange pumpkins.
In case you want to add some twist to your dining table, here is the full tutorial on how to make these cute wood block pumpkins.  😎
36. Accent Fall Candle Luminaries with Acorns for a Rustic Look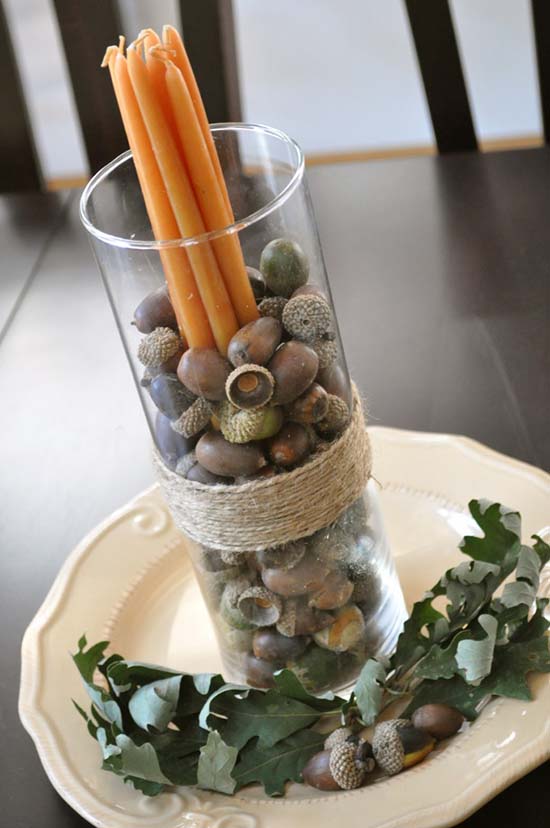 If you are looking for some DIY fall table centerpieces ideas, here is a tutorial on how to make your own acorn fall centerpiece.
37. Bring the Autumn Harvest to Your Dinner Table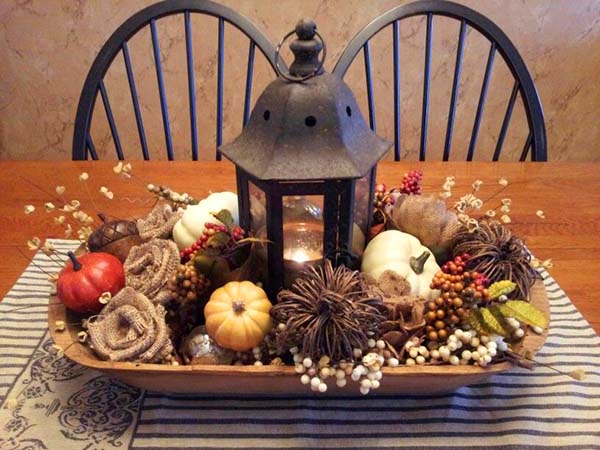 Photo:Credit
A long, narrow, and low tablescape, such as this one, looks as pleasing on an entry table or cupboard as it does on the dining table.
It's also great for dinner parties since it doesn't obscure seated guests' views or block the passing of food. Fill with some gourds, pinecones, leaves, or apples.
38. Make a Bold Statement with a Muted Autumn Tablescape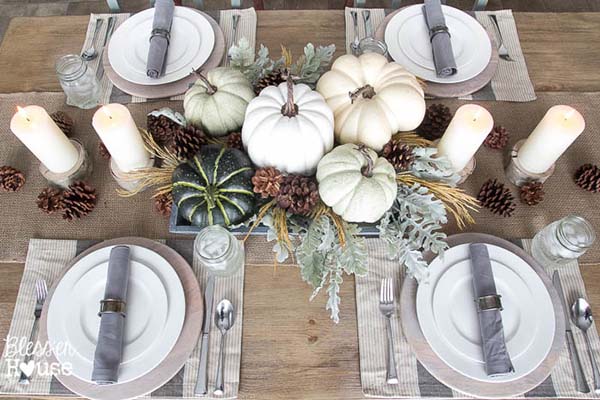 Image:Source
In case you want to avoid the typical fall centerpieces colors such as yellow, red, and brown…experiment with the white tones and make something exceptional.
39. Make an Impression with Red Apples and Candles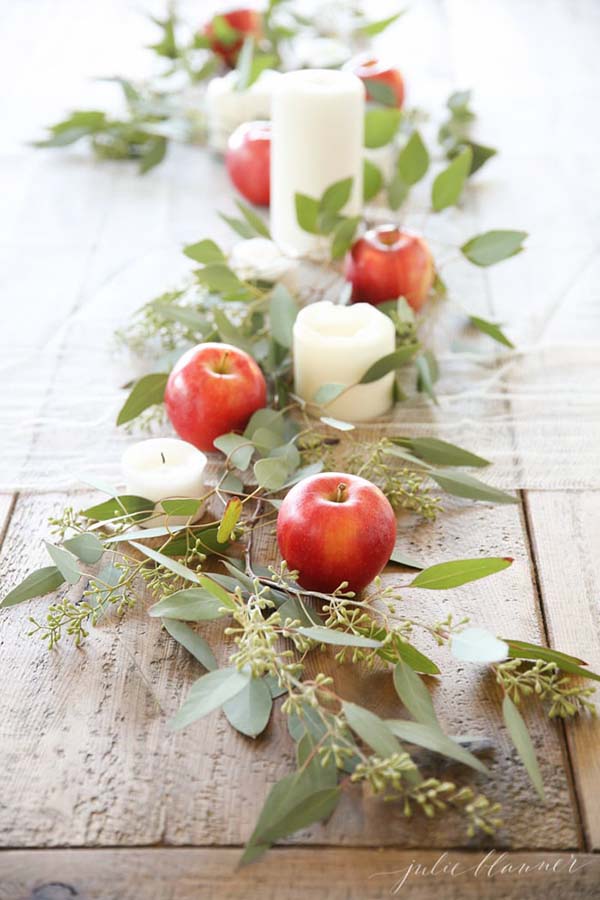 Image:Source
I am sharing one of the easy fall table centerpieces ideas of the blogger Julie Blanner with you.
She used seeded eucalyptus, simple pillar candles, and red apples to craft her autumn-themed tablescape. I think it's great!
40. Upgrade with a Long and Narrow Autumnal Arrangement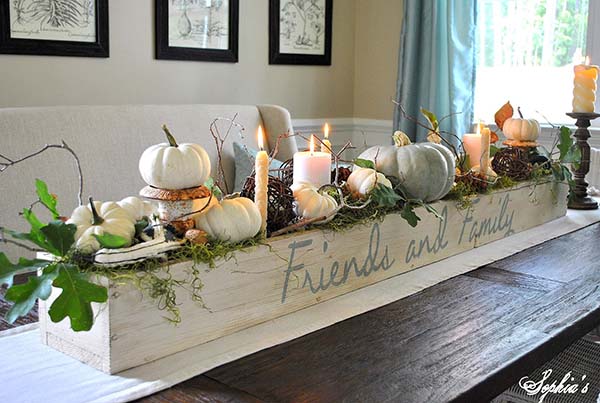 Image:Source
This long and narrow autumn centerpiece creates a nice elegant line on the table so everyone could enjoy it.
White pumpkins, cushion candles, and berry garlands with Spanish moss to fashion this simple, exquisite centerpiece.
41. Create an Idyllic Atmosphere with a Fall Table Centerpiece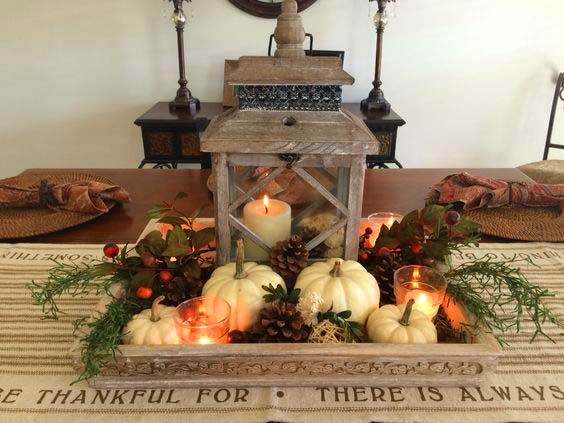 Image:Source
I know that some of you may prefer the easy fall table centerpieces rather than this type of volume fall centerpiece ideas, however,
I've decided to include it into my selection as it has all the typical fall elements such as pumpkins, pinecones, tea candles, pine branches, dried berries etc.
42. Bring Rustic Elegance with a Fall Log Table Runner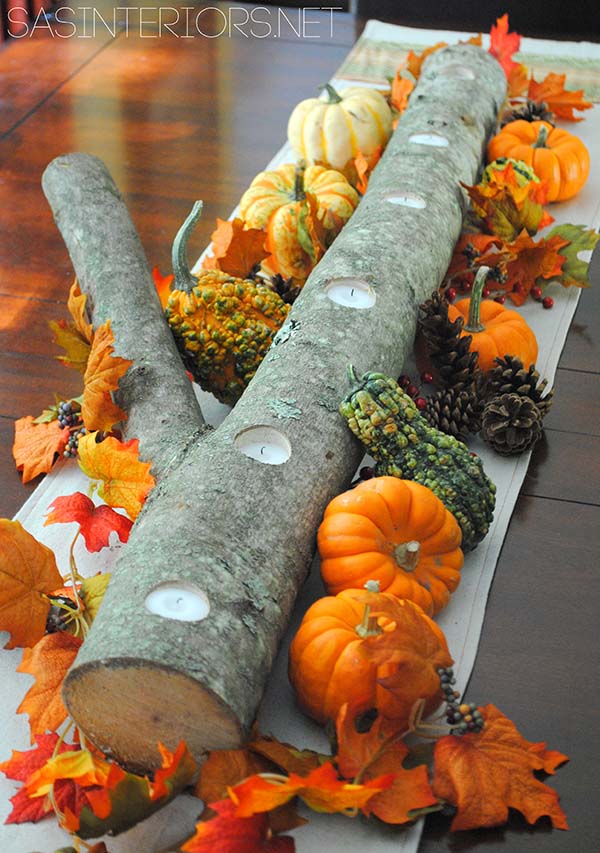 The talented interior design blogger Jenna Burger used a log from a fallen tree in the nearest park as the base of this rustic autumn centerpiece, then drilled small holes along the center for tea candle lights.
It's very simple but original at the same time.
I hope you enjoyed this fine selection of DIY fall centerpieces I've prepared for you! Don't forget to PIN IT so that you can easily revisit these gorgeous ideas.