Whether you want to find some cool ideas for DIY fall decoration or you want to spend some fun time with your family over the weekend, these 32 ideas I've collected for you would be the perfect inspiration you are looking for.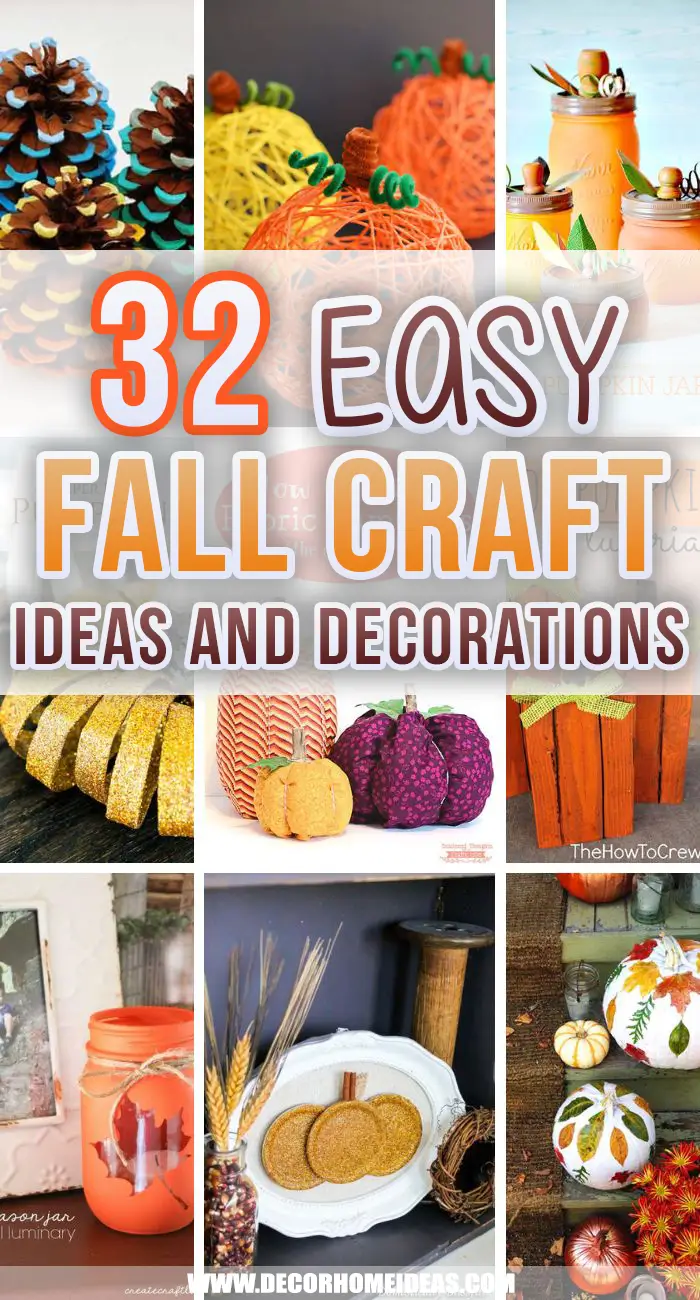 Make some hot chocolate and homemade cookies, invite some friends and family and enjoy an autumnal crafternoon.  😉
1. Create a Colorful Fall Display with Pumpkin Mason Jars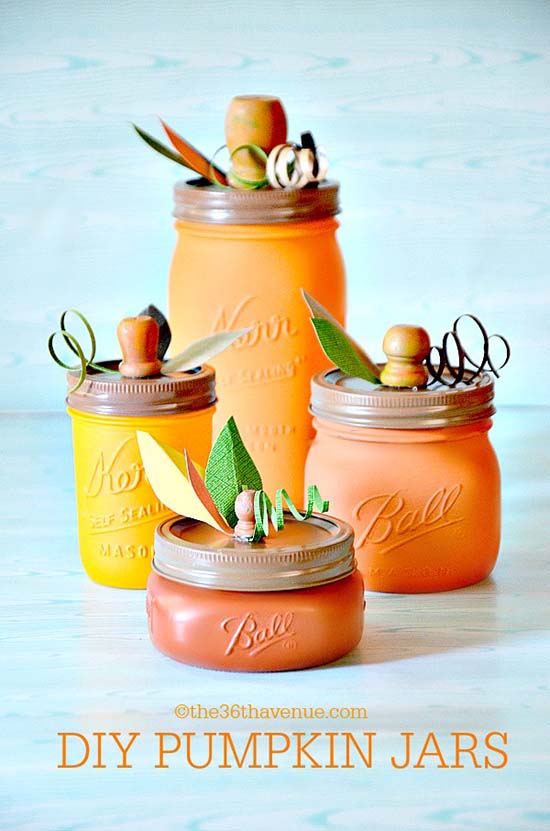 DIY Project Details: the36thavenue.com
Mason jar crafts for fall are adorable and practical at the same time. It is definitely a win-win situation.
2. Showcase Your Creativity with a Beautiful Fall Leaf Bowl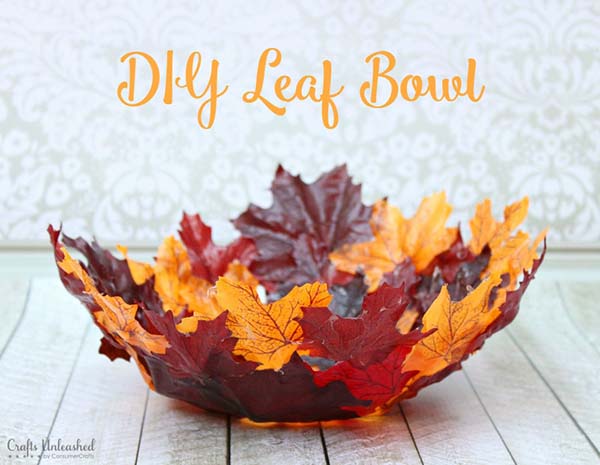 DIY Project Details: blog.consumercrafts.com
This is one of my most favorite fall craft projects!
All you need to create this beautiful leaf bowl is artificial leaves in autumnal colors and Mod Podge (it is an all-in-one glue, sealer, and finish). It could be a beautiful centerpiece for your fall dining table.
3. Add Sparkle to Your Home with a Glittered Acorn Art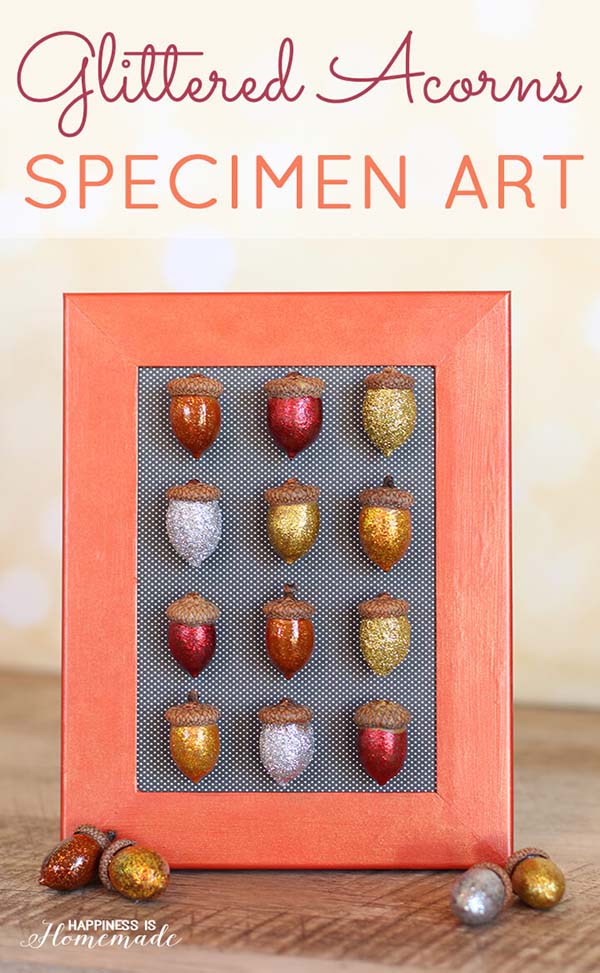 DIY Project Details: happinessishomemade.net
I know some of you prefer the easy fall crafts as you don't have much free time.
This glittered acorns idea might be just right for you. Make it even more unique by collecting acorns from the park close to your own neighborhood.
4. Embellish Your Home with a Rustic Fall Wreath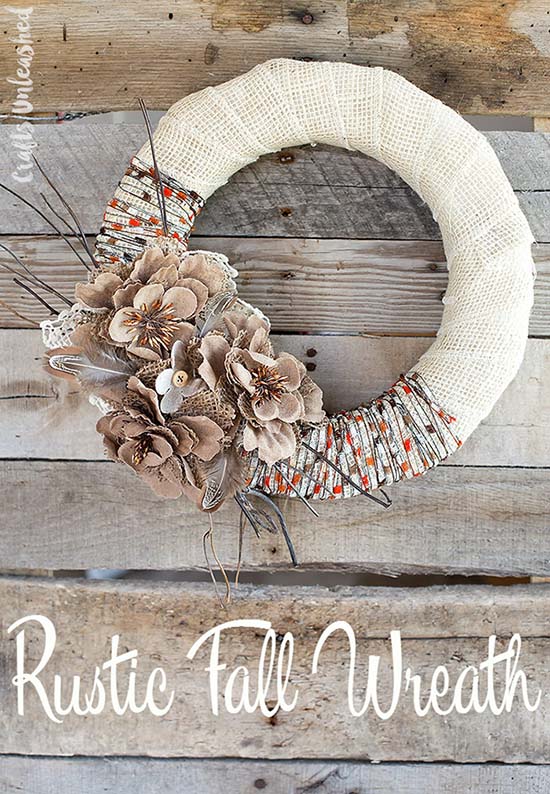 DIY Project Details: blog.consumercrafts.com
This stylish rustic fall wreath is not exactly what people add to their list with fall season crafts because it is not in the typical autumnal color.
However, it could be a nice final touch to a neutral home decor palette.
5. Add Splendour to Your Home with Ombre Pinecone Centerpiece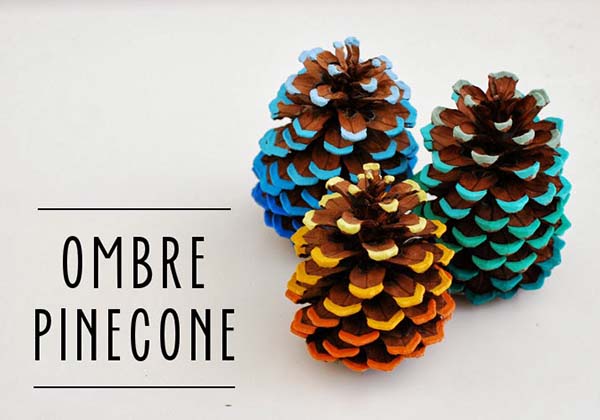 DIY Project Details: whimzeecal.com
Are you a big fan of fall arts and crafts? If so, go and collect some pinecones in different sizes from the nearest park.
Then, grab some acrylic paint in autumnal colors, and delicately paint the tips of each pinecone from light to dark.
6. Adorn Your Door with a Rustic Monogrammed Fall Wreath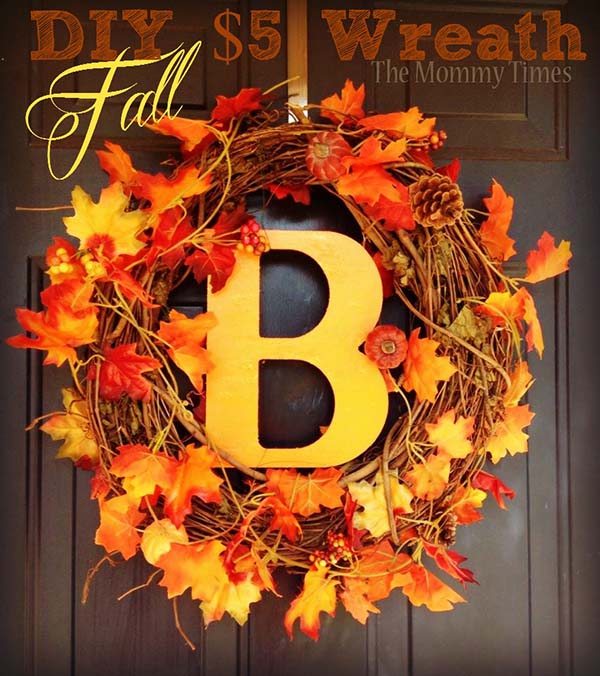 DIY Project Details: themommytimes.net
You may notice that some of the fall craft ideas cost a fortune. But not this beautiful DIY fall wreath for $5.
Plus, the faux foliage in fall colors would last forever.
7. Decorate Your Kid's Nursery with a Cute Knit Garland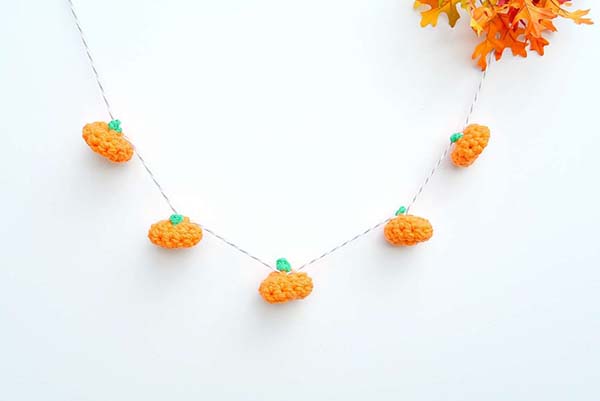 DIY Project Details: mamainastitch.com
This teeny pumpkin garland might just be the cutest knit idea yet. You can use it as a decoration for your toddler's room.
8. Welcome Guests with a Rustic Wooden Fall Sign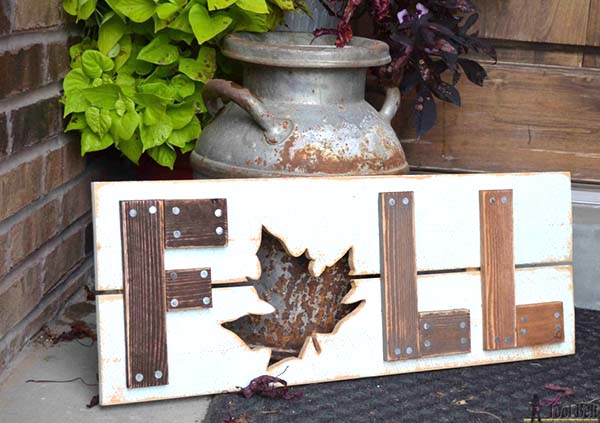 DIY Project Details: hertoolbelt.com
This rustic welcoming wooden fall sign might be one of the best fall season crafts ideas for the front door.
Trust me, your neighbors will envy you!
9. Brighten Your Home with DIY Painted Acorns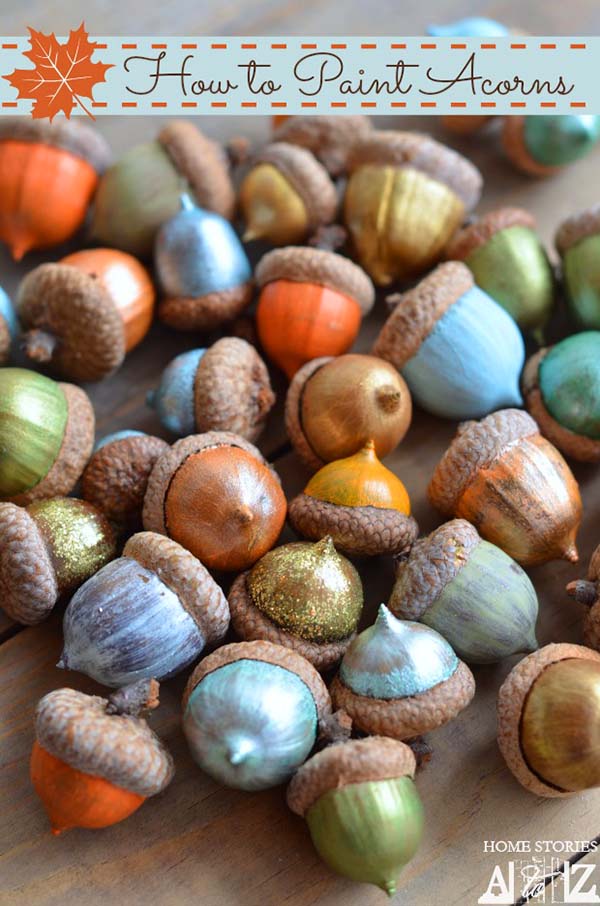 DIY Project Details: homestoriesatoz.com
If you are looking for some easy fall crafts, paint a bunch of stray acorns funny colors.
You can also add some glitter to make them sparkling. Then, display them in a clear glass bowl.
10. Upcycle Crates into Rustic Porch Pumpkin Display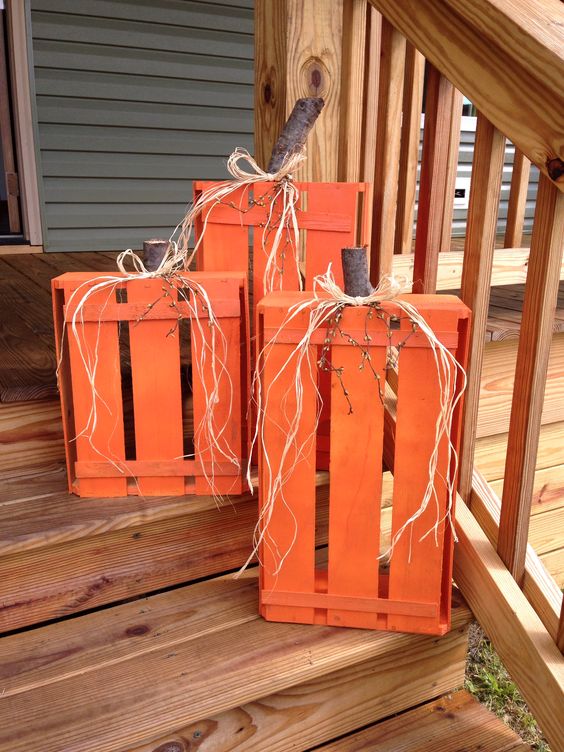 DIY Project Details: facebook.com
The orange pumpkin is the symbol of the fall season.
That's why lots of people make some fall craft projects by using them.  However, if you want to make something original, why don't you use old wood crates and paint them orange.
Then, display them near the front door to create original fall decor for your front porch.
11. Bring Farmhouse Charm with Wood Block Pumpkins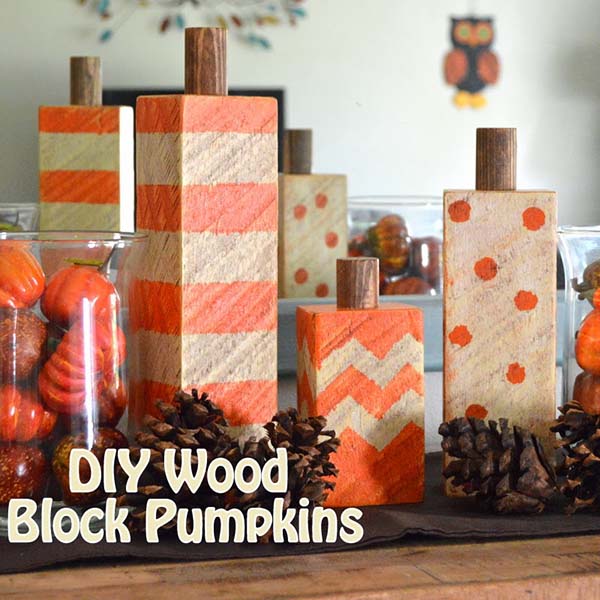 DIY Project Details: krusesworkshop.blogspot.com
Do you want to make some easy fall crafts? Simple painted (striped and spotted) patterns give these wood angular pumpkins a bit of avant-garde vibe.
12. Add Fun to Your Home with Wood Pumpkin Crafts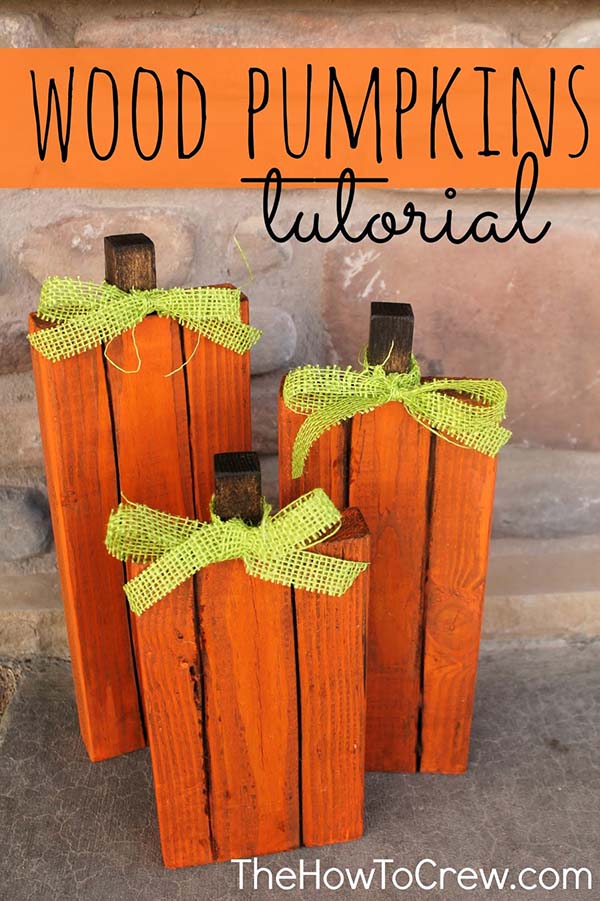 The best way to develop your kid's imagination is by involving it in some DIY craft projects.
For instance, ask him to paint some wood block in orange and leave it to create some cute fall crafts.
13. Create Enchanting Mason Jar Luminaries with Fall Leaves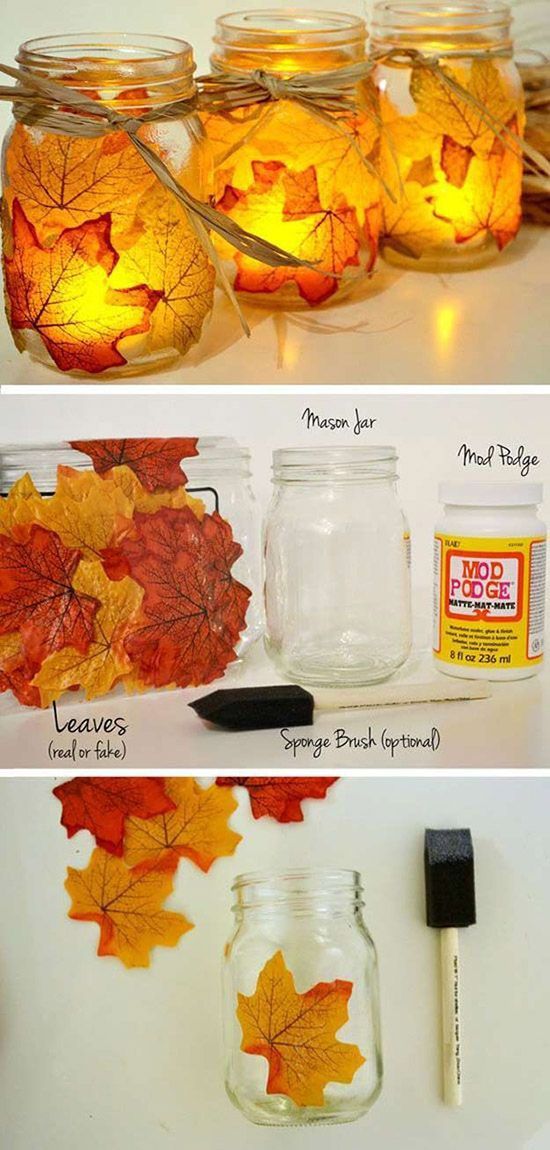 Haven't you found your dream fall crafts idea yet? Let's then continue with more ideas then.
Just add a splash of fall to simple Mason jar candle holders by decoupaging faux leaves on them.
14. Elevate Your Outdoors with a Happy Harvest Paper Banner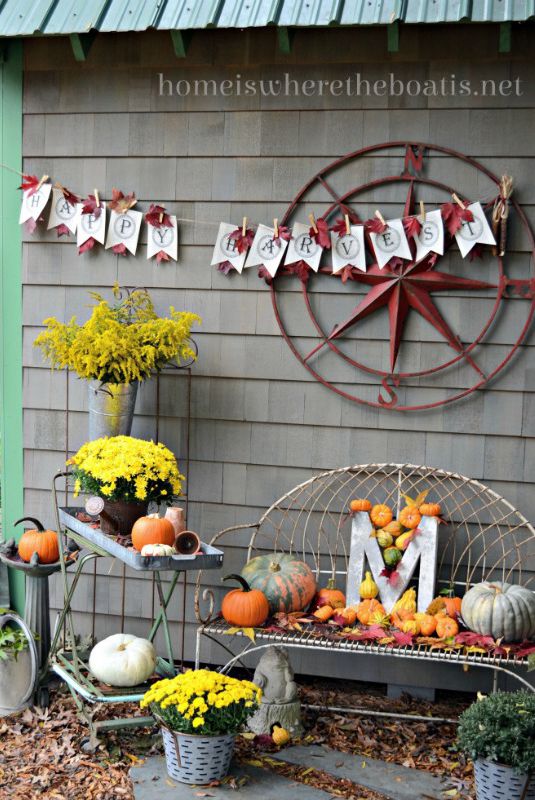 DIY Project Details: homeiswheretheboatis.net
It's nice to have some fall crafts in the yard when inviting guests to enjoy the last days of summer.
Surely, a banner made of paper will not last in the heavy autumn rain, but it's an easy way to make your outdoor space more welcoming and cozy.
The metallic monogram will infuse some family pride into your backyard.
15. Get Creative with DIY Fabric Pumpkins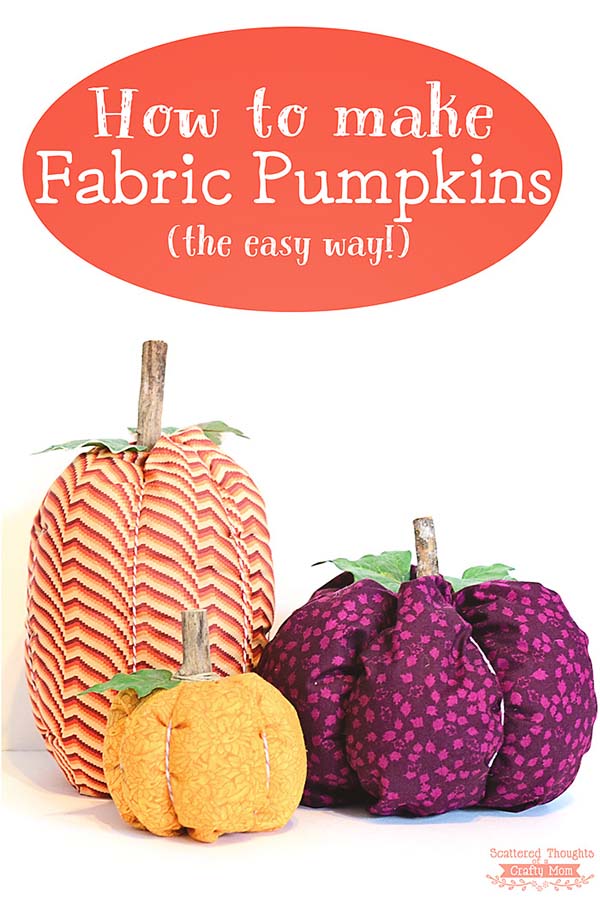 DIY Project Details: scatteredthoughtsofacraftymom.com
Are you asking yourself what is the secret ingredient to these funny, fabric patterned pumpkins? Toilet paper (yes, that's right!). 😉
16. Bring Autumnal Magic with a Custom Mason Jar Luminary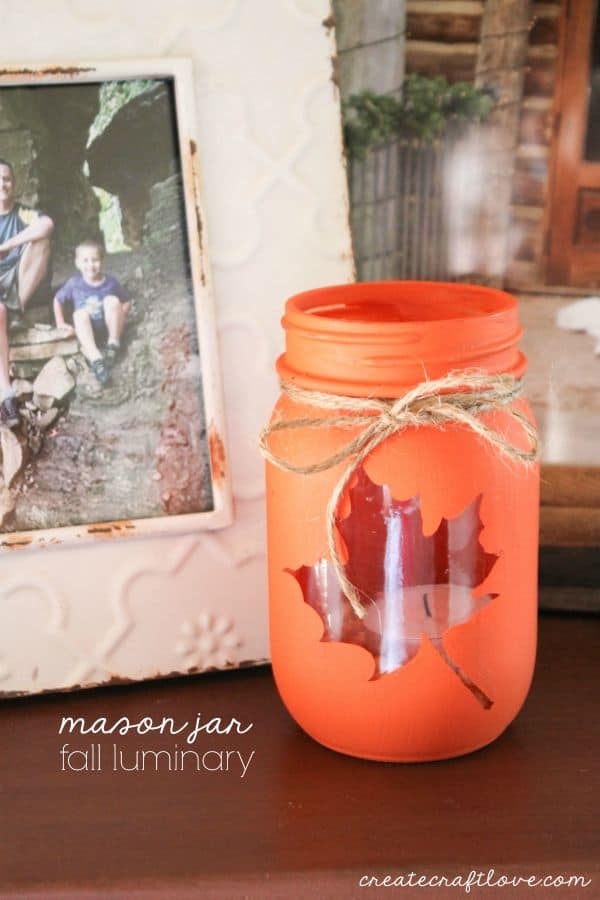 DIY Project Details: createcraftlove.com
I guess everybody likes the Mason jar crafts for fall. Re-create the season's warmth with a simple Mason jar-turned-into-luminary (starring a maple leaf cutout).
17. Impress Guests with a Rustic Wine Cork Pumpkin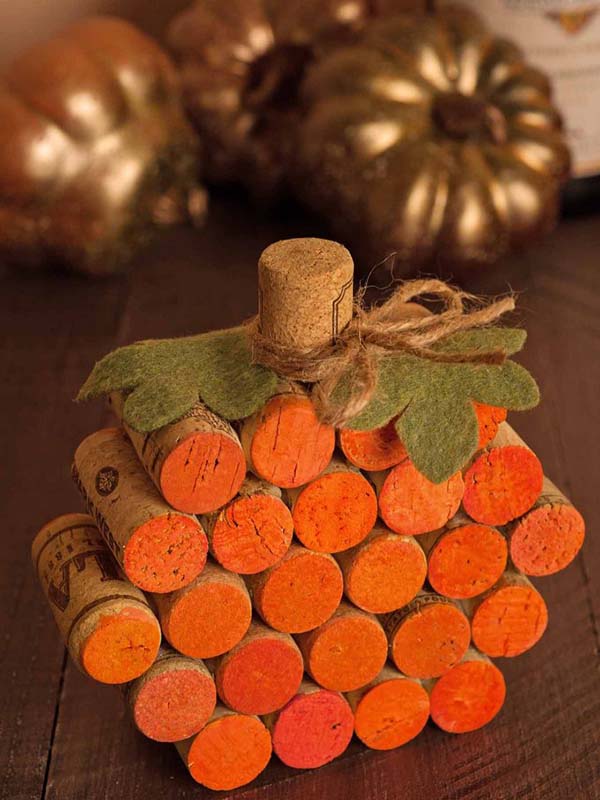 DIY Project Details: mygourmetconnection.com
Glue some used wine corks together in a pumpkin-shape and decorate their ends with orange acrylic paint.
You can definitely add this project to the list with fall craft ideas for kids.
18. Make a Statement with an Aluminum Can Leaf Wreath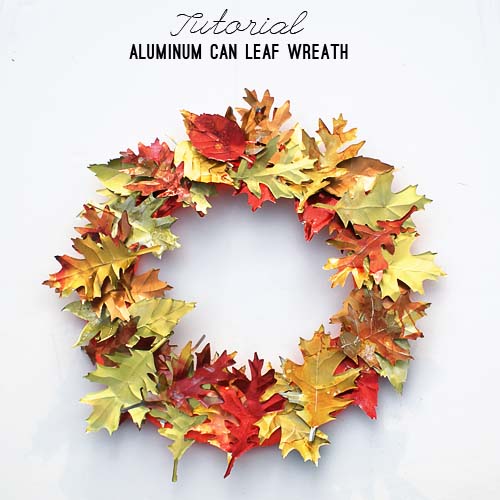 DIY Project Details: savedbylovecreations.com
The fake foliage has been always one of the evergreen fall crafts ideas.
You don't have to necessarily petrify fallen leaves to bring the autumn at your home. This wreath on the picture, for instance, is made out of bendable aluminum cans.
19. Get a Polished and Trendy Look with DIY Bandana Pumpkins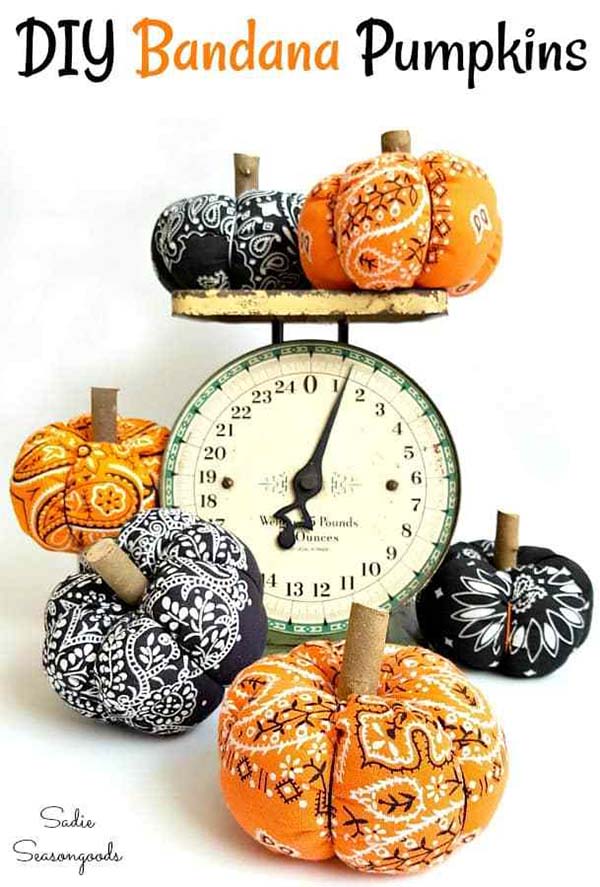 DIY Project Details: sadieseasongoods.com
If you want to bring the farmhouse vibe into your home this fall, make some bandana pumpkins using a few basic sewing skills.
20. Get a Calming Atmosphere with Cinnamon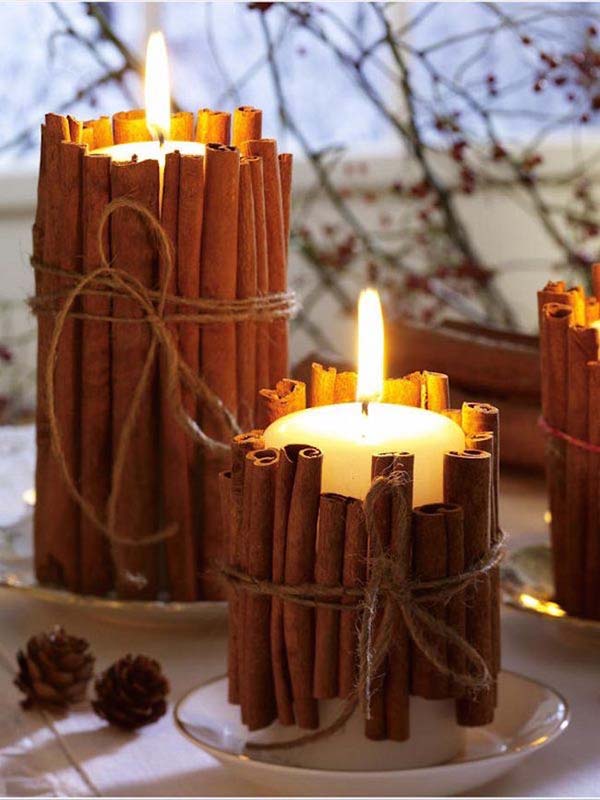 Looking for simple fall crafts? These cinnamon sticks captured for basic white candles give the space a warm cozy vibe.
21. Get Ready for Fall with Gold Glitter Pumpkin Lid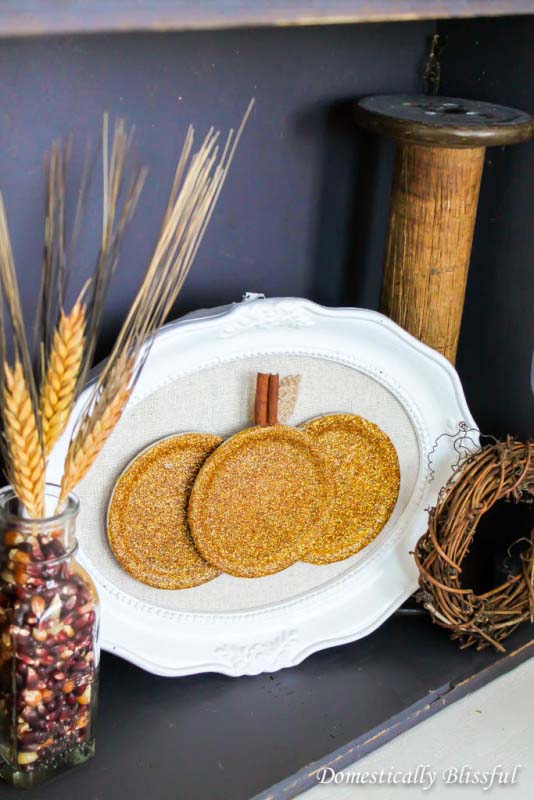 DIY Project Details: domesticallyblissful.com
Here is a proof that a Mason jar lid can be just as crafty, these flamboyant glittery pumpkins are chic when exhibited on a white plate.
22. Spruce Up Your Porch with a Turkey Tulle Wreath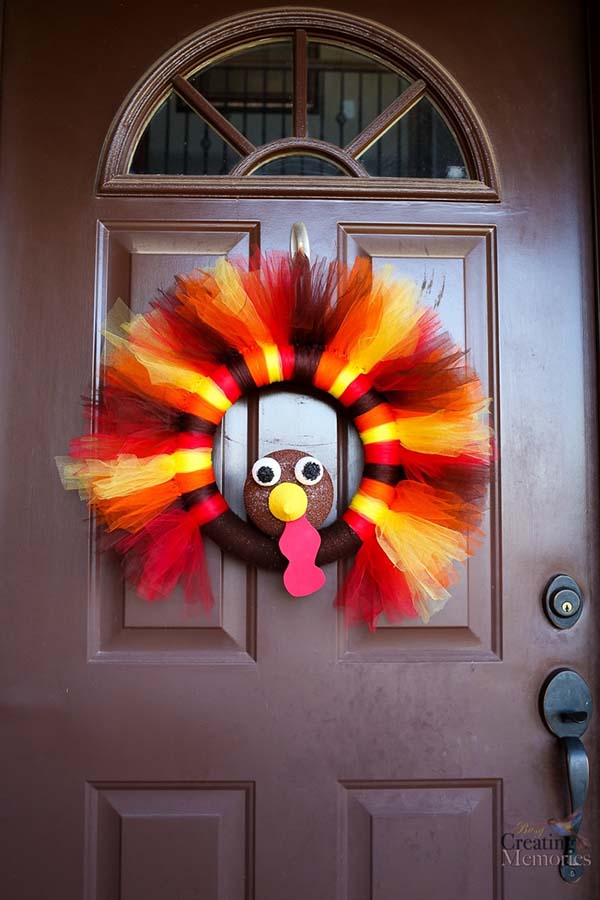 If you would like more fun, then this project might be the best for you. When you put it on your front door, everyone know there is family full of joy living inside.
DIY Project Details: busycreatingmemories.com
23. Repurpose Storage Jars into Rustic Fall Pumpkins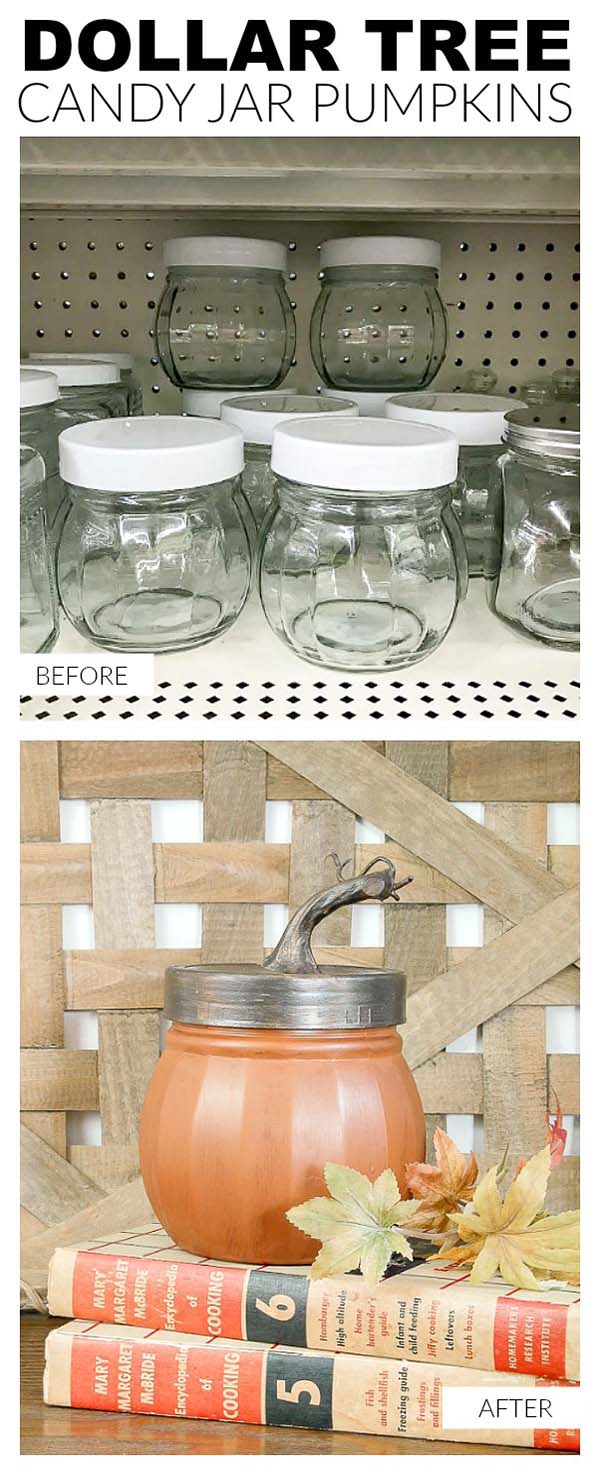 DIY Project Details: littlehouseoffour.com
The cheap candy jars could easily turn into a beautiful fall tree craft.
24. Upgrade Your Kitchen with Pumpkin-Themed Kitchenware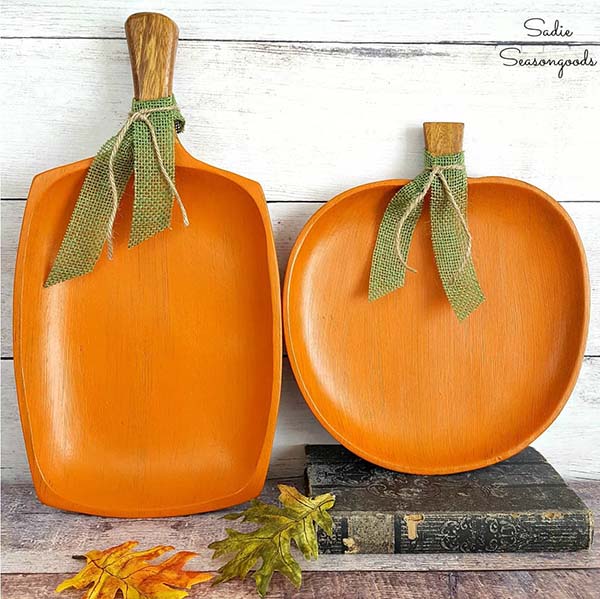 DIY Project Details: sadieseasongoods.com
We spend a lot of time cooking in the kitchen. So we need some fall crafts decoration for there as well. These cute pumpkin wood trays might be the right answer.
25. Get Ready for Fall with Colorful Porch Staircase Pumpkins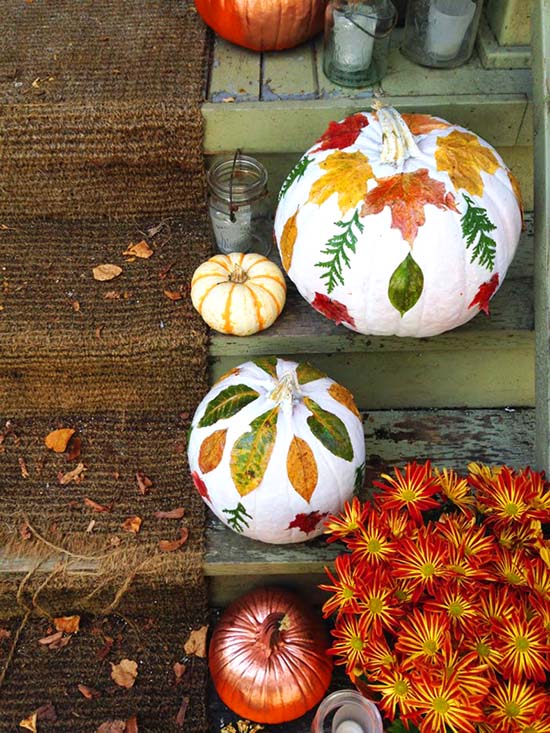 DIY Project Details: thesweetescape.ca
If you love the fall leaf crafts like me, let's turn some boring pumpkins into a canvas for autumn's warm and inviting colors. No-carve pumpkin decoration at it's best.
26. Give a Home a Cozy Fall Vibe with Easy Pumpkin Flower Vases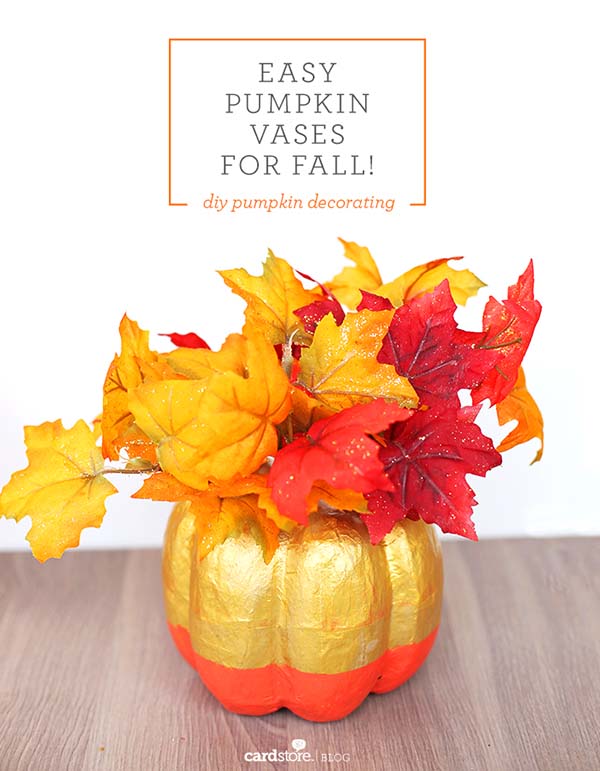 DIY Project Details: cardstore.com
If you have some spare time, try to re-create this cute pumpkin vase with artificial leaves. It could be a nice fall centerpiece for the dining table.
27. Add a Touch of Luxury with Gold Paper Roll Pumpkins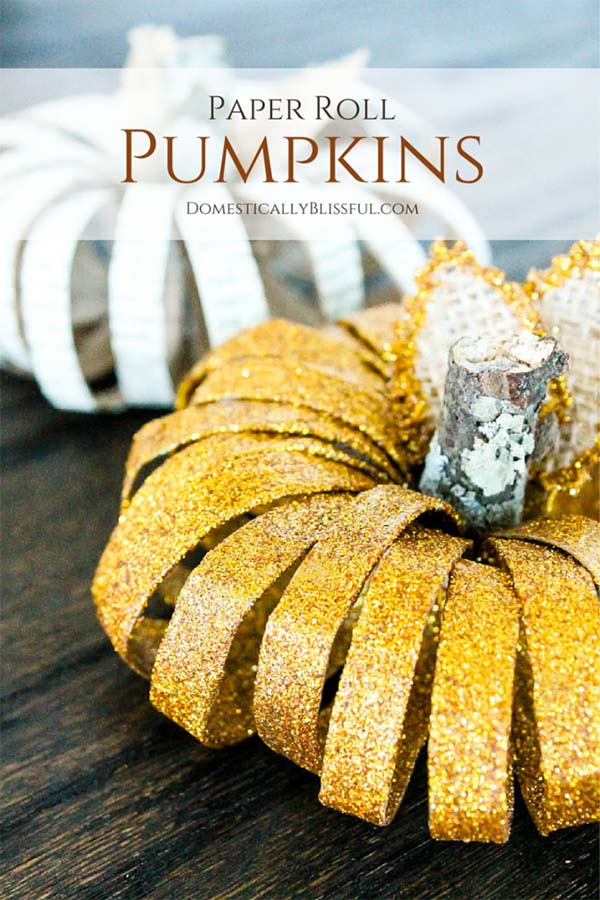 DIY Project Details: domesticallyblissful.com
Believe it or not, an empty toilet paper roll can turn into an eye-catching glittery pumpkin instead of going to the bin.
28. Show Gratitude with Elegant Tin Punched Candles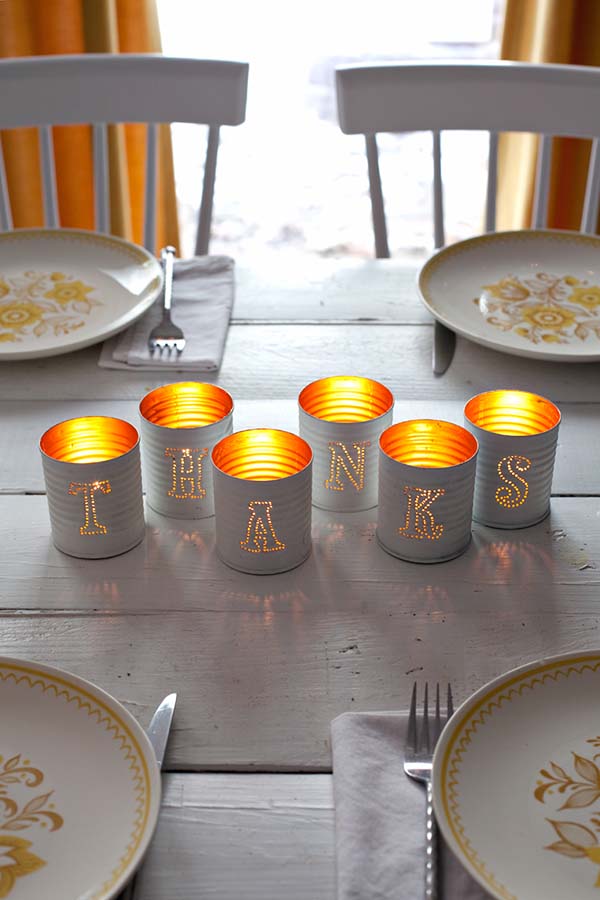 DIY Project Details: abeautifulmess.com
The simple fall crafts are usually the best ones.
Spell out "thanks" with these sweet tin can candle holders for Thanksgiving, or other fall words like "fall" or "love" depends on when you want to use them.
29. Make a Rustic Fall Display with Colorful Yarn Pumpkins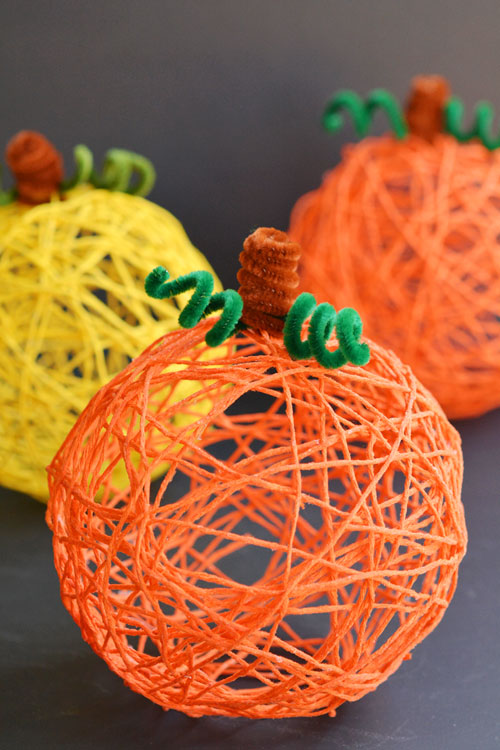 DIY Project Details: onelittleproject.com
This cute spin on regular yarn balls is an inexpensive and easy craft to bring an autumnal vibe to your living room. You can recreate it easily if you are already familiar with string art and similar crafts.
30. Enjoy Fall's Aromas with Pumpkin Spice Mason Jar Candles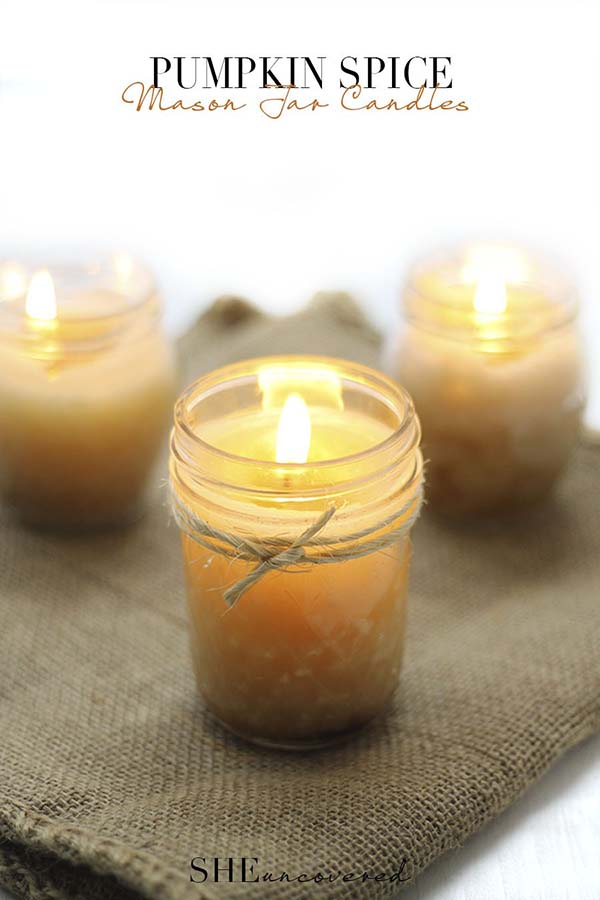 DIY Project Details: sheuncovered.com
I've found this idea for a friend who was desperately looking for some unique fall crafts for adults as she was hosting a big party at her house.
This DIY Mason jar pumpkin spice candles with spice-infused scented oil of your choice cannot be a bad idea!
31. Add Character and Texture with a Fall Leaf Book Page Banner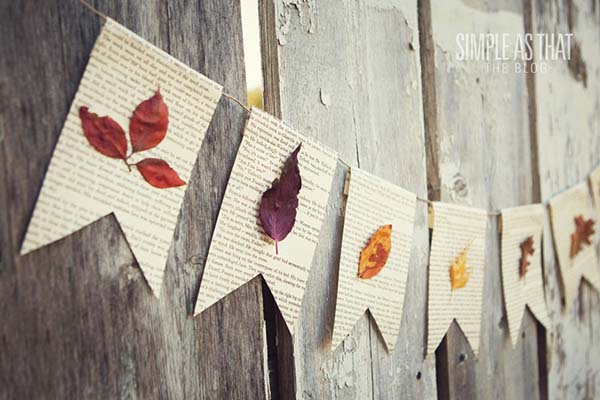 DIY Project Details: simpleasthatblog.com
I find this project one of the most romantic fall craft ideas. Make this bunting with old book pages and pressed autumnal leaves.
32. Get Fall Beauty with Embroidery Floss-Wrapped Wheat Bundle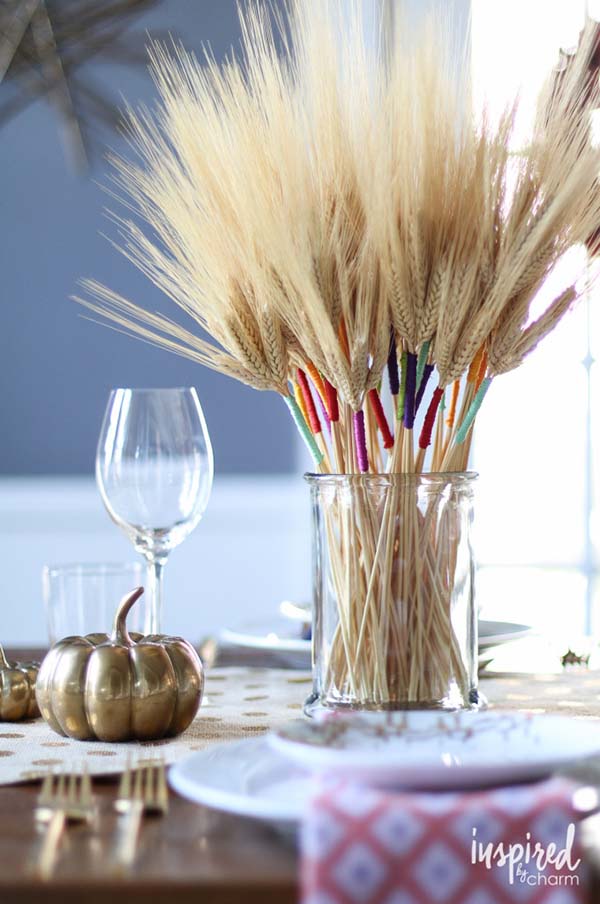 DIY Project Details: inspiredbycharm.com
The autumn is knocking on the door. Why don't you create a beautiful fall centerpiece for the dining table with these embroidery floss-wrapped stalks of wheat?
There is some magic about the colors of the fall season that make it so much fun to decorate and some interesting DIY fall craft ideas is the best option to spare some time with your family.
I hope you've managed to find the DIY fall decor idea that fits best to your personality and style.
Dress up your house for the season and host a small gathering to celebrate the new beginning! 🙂
If you are looking for more fall decorations, check this article: 27 Best Etsy Fall Decorations You Don't Want To Miss This Season