Cinder block projects are a cheap and chic way to add fun and function to your home.
Because they can be painted, cinder blocks are often used as the basis for DIY projects. We have collected some of the best painted cinder block ideas for your home.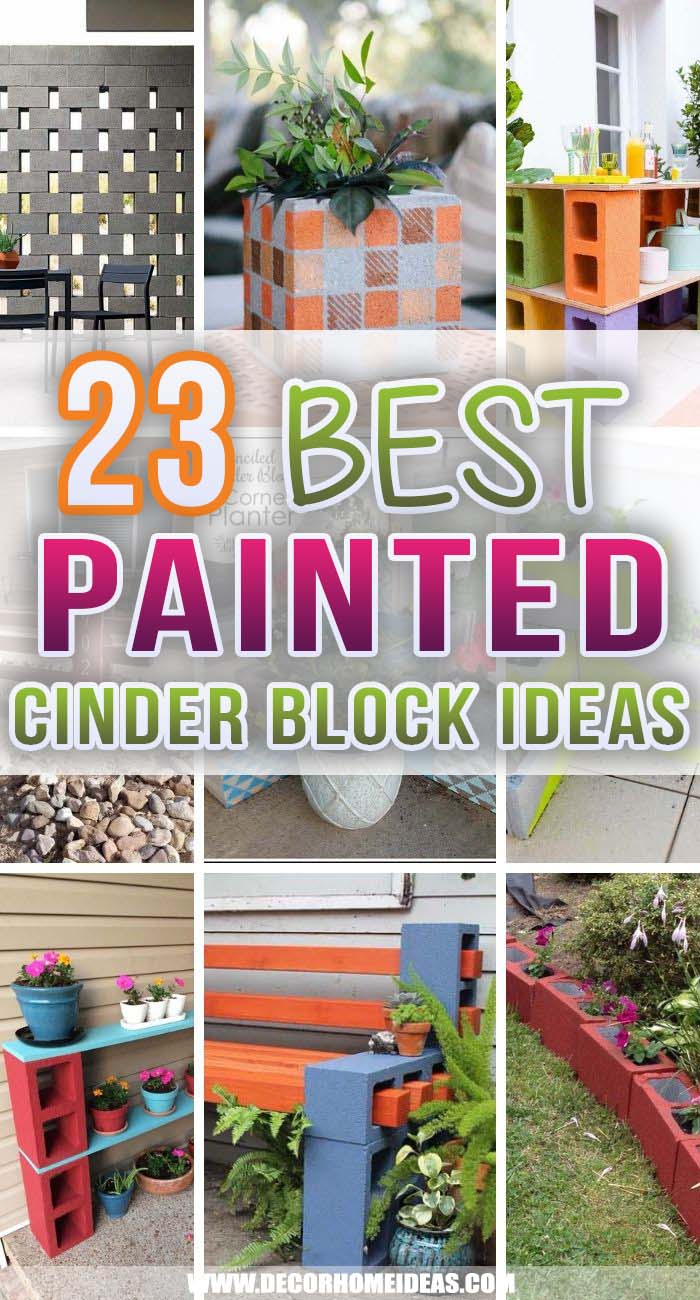 Concrete and cinder blocks are made from different materials. Cinder blocks are a blend of coal cinders and concrete. It's the addition of coal cinders that makes a cinder block lighter than a concrete block.
If you just need a few blocks for a DIY cinder block project, don't buy them at retail stores. Check classified ads and your local Habitat for Humanity store for people looking to offload blocks leftover from a construction project. If there are any cracks, you can seal them with a polyurethane caulk.
How to Prepare Cinder Blocks for Painting
Moisture will cause your blocks to release the paint quickly. A little preparation goes a long way to keeping the paint from flaking off.
Clean your blocks with a grease-cutting detergent, rinse well and allow them to dry for 48 hours.
Seal your cinder blocks with a polyurethane sealant. 
Use masonry primer as a base coat for your paint. Allow the primer to dry for 24 hours.
Paint the blocks with an outdoor acrylic latex paint that's resistant to weather and UV rays. 
Many people paint with foam brushes, but if you're working with one color, rollers will get the job done much faster.
Here are some cinder block ideas to motivate you.
1. Red Cinder Blocks Work as Fence Post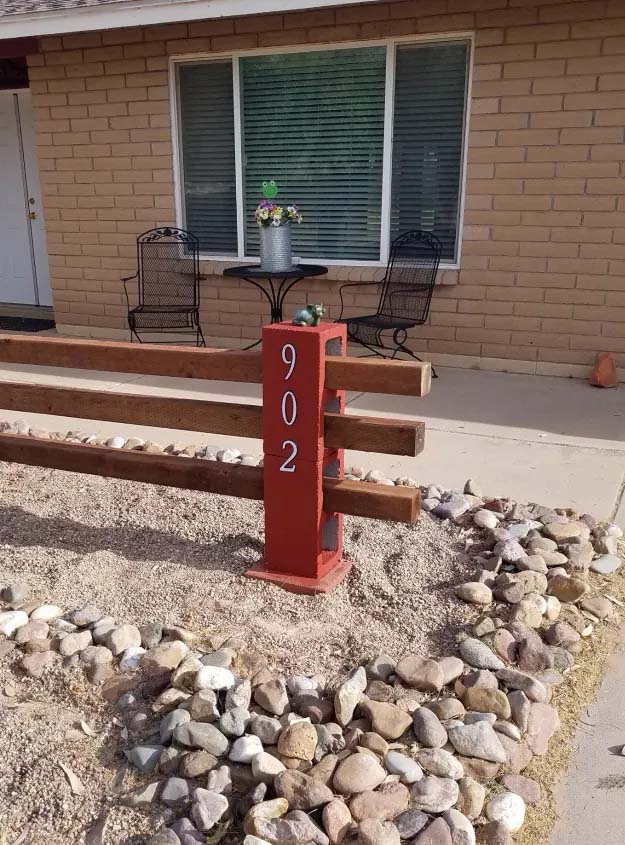 Cinder blocks painted red work as a fence post for a decorative fence idea. The house numbers are attached to the side with a strong adhesive
via Hometalk
2. Build a DIY Cinder Block Planter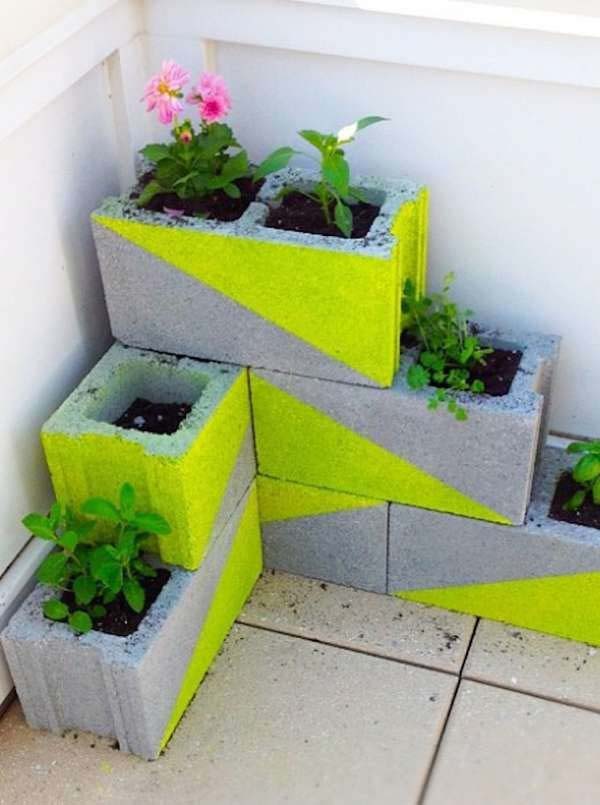 It takes some planning to make concrete block vertical planters.
If you want to build a garden bed, you'll need to add something like metal flashing from Home Depot to the bottoms to keep the dirt and water from running out. Use a good waterproof sealant to keep the flashing secure and watertight.
3. Table Built With Colorful Cinder Blocks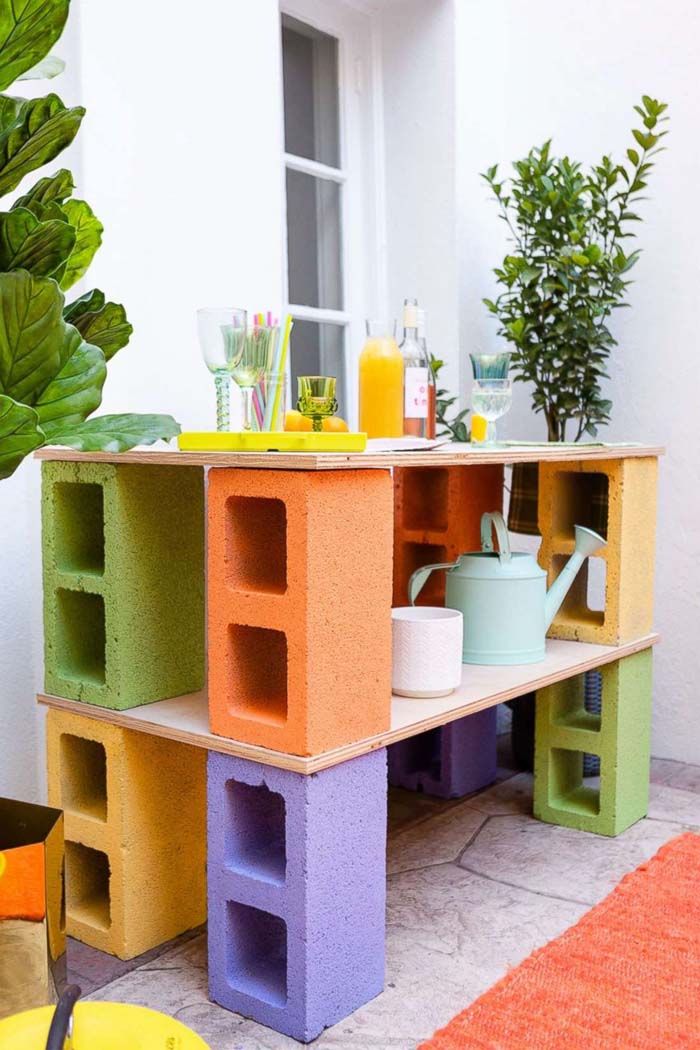 Clear your patio of clutter with a shelf that's wide enough to be a prep table. Laminated wood is used for the shelving.
The top is wide enough to function as a prep area for beverages.
via Brit+Co
4. Paint Cinder Blocks to Match Containers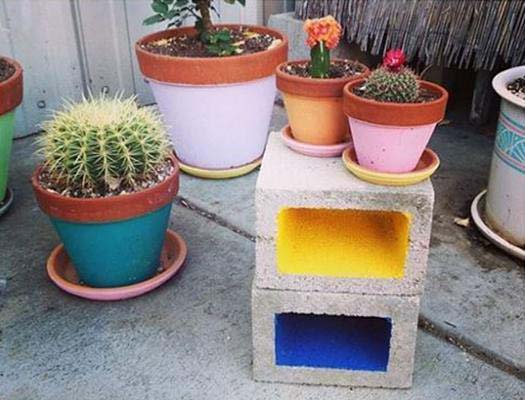 Here's a unique twist on how to paint a cinder block.
They painted the interiors of the blocks and left the outside natural. It adds interest without clashing with the painted terracotta pots.
5. Stenciled Cinder Block Totem Tower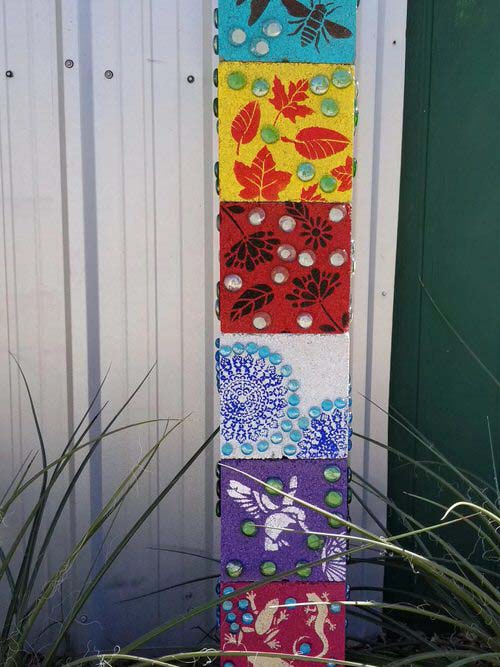 Create a decorative totem tower with paint and stencils.
Give it a three dimensional look by gluing flattened glass beads with a polyurethane adhesive.
6. How to Build a DIY Cinder Block Bar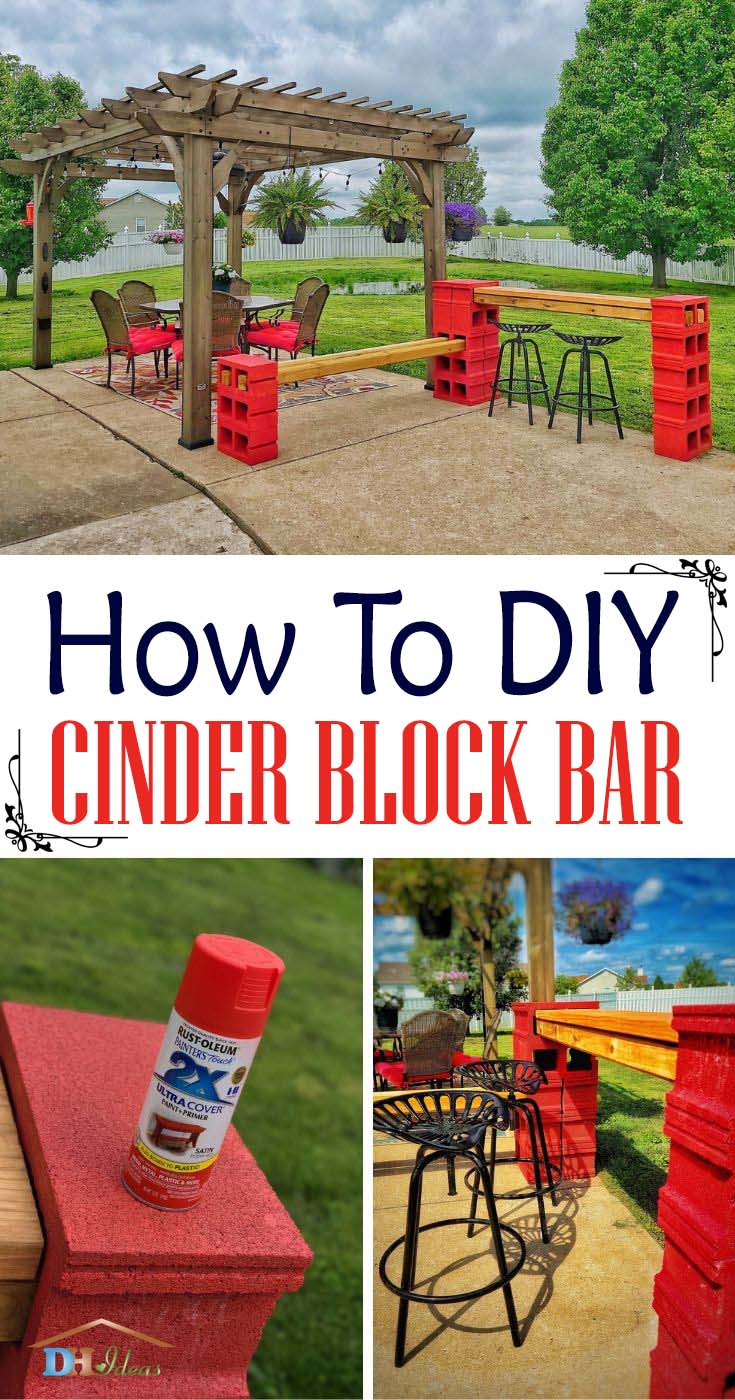 Cinder block is easy to work with. We've put together a great tutorial on how to build your own DIY cinder block bar.
The design is fast, easy, and versatile, so you can modify it to suit your needs.
via Decor Home Ideas
7. Modern Look With Black and Gray Cinder Block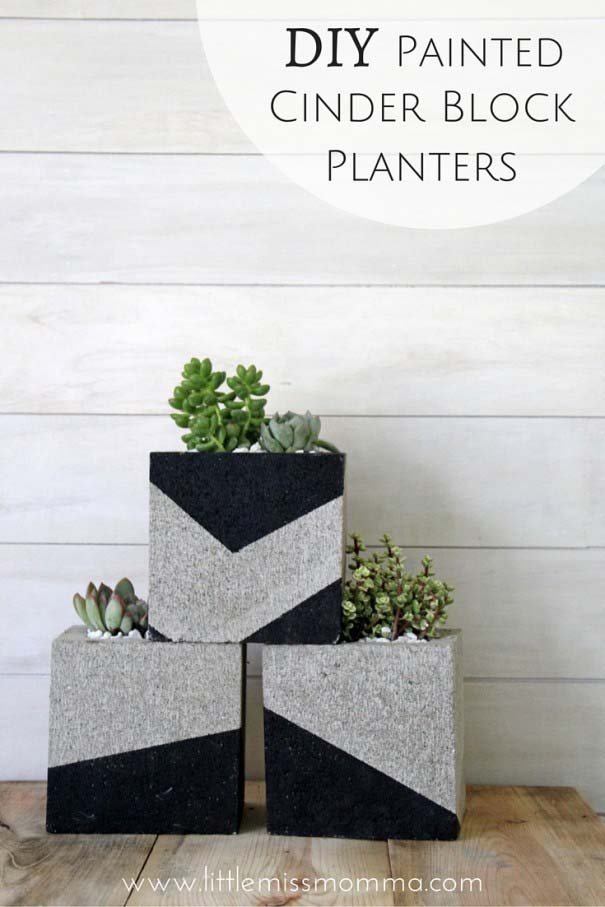 Give a geometric pattern modern styling by painting cinder blocks black in asymmetrical sections.
Add flecked spray paint in gray to get that modern look.
8. A Pyramid Garden With Blue Cinder Blocks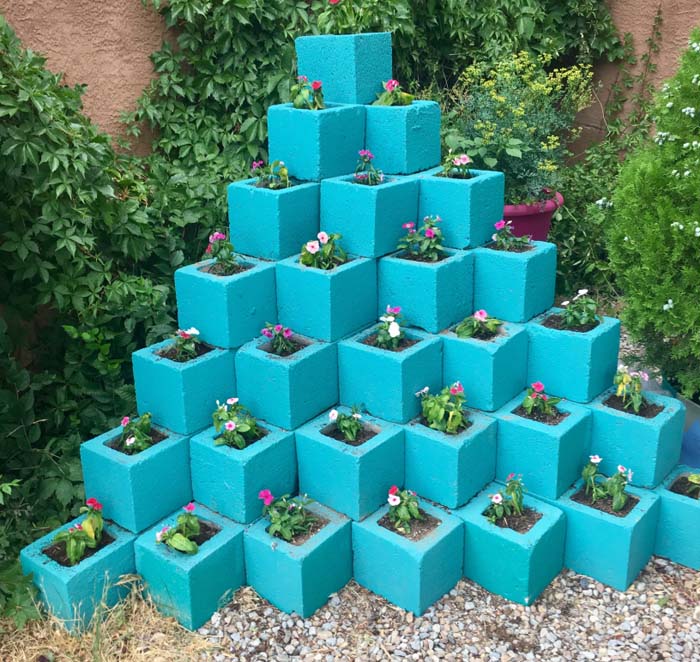 This bright blue cinder block garden stands out with its monochromatic scheme and stacked cinder blocks.
Some blocks are cut in half to get them to fit across each row.
via Fabiola Rivera
9. Build a Raised Garden Bed with Cinder Block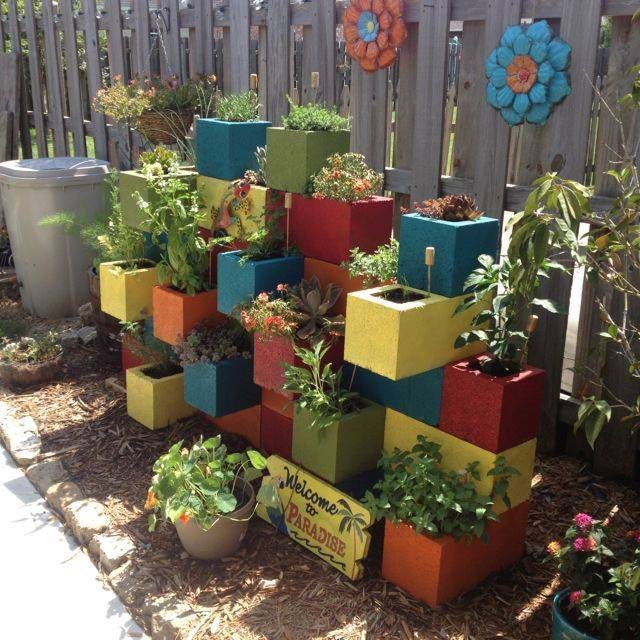 A colorful collection of cinder blocks is built up to create a raised garden bed. You can add plants in the middle of the wall by rotating blocks 45 degrees.
You use any potting soil blend in the different sections.
10. Make Garden Edging With Cinder Blocks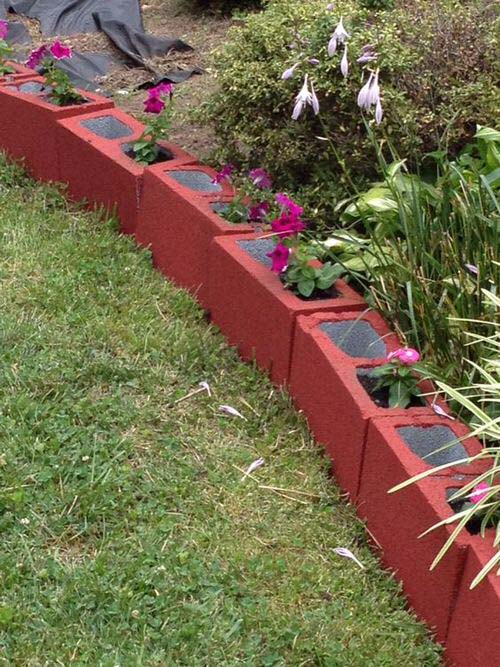 Red bricks are commonly used as garden edging.
Painting these cinder blocks red adds that feel and provides a surprise spot to add soil for flowers.
11. Single Cinder Block Succulent Garden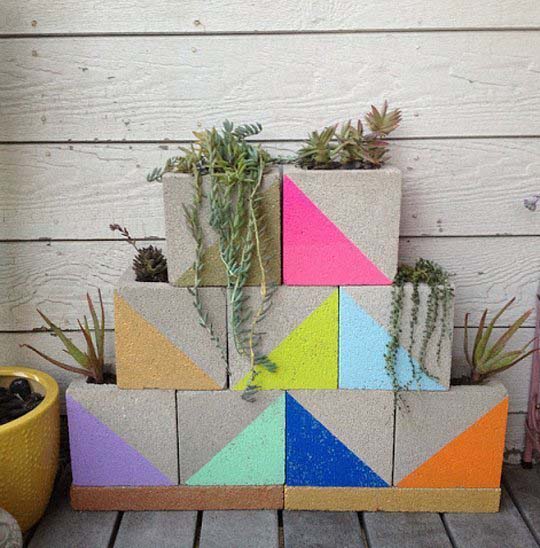 Geometric patterns are a popular painting technique for cinder blocks because it's easy to add personality with color.
Each cinder block has a unique color, yet they are connected by their simple triangular shape. Stacked like bricks, they work as a vertical garden for succulents.
12. Build Narrow Cinder Block Shelves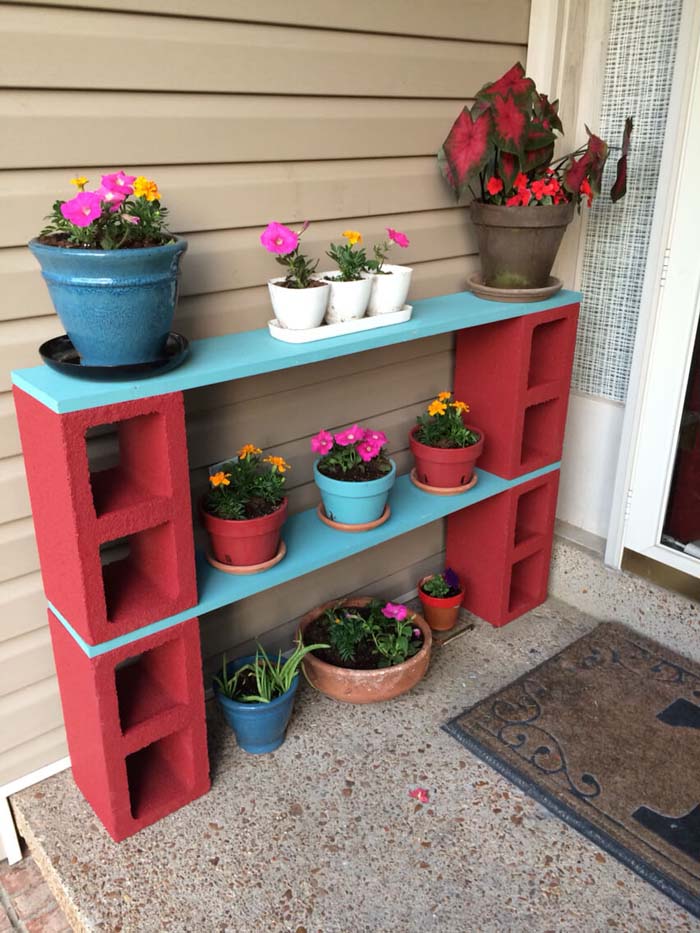 Create a simple display for your container plants with two shelves. These are painted bright red.
The sky blue shelves are the perfect contrast to the painted cinder blocks.
13. Golden Cinder Blocks Support Flower Box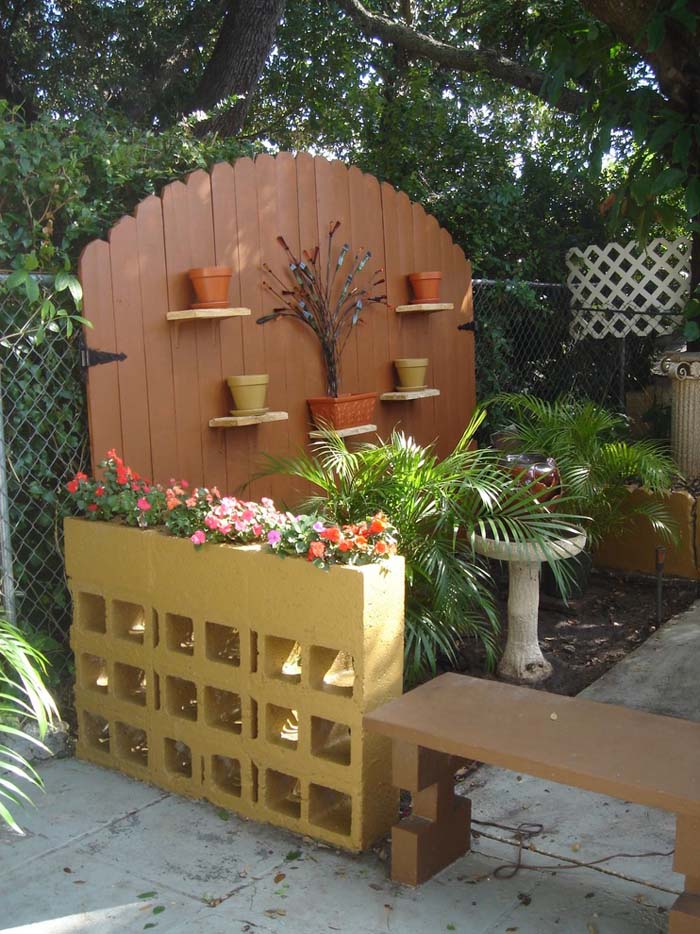 The cinder blocks support a flower box.
They're all painted a golden color, creating an intimate little garden seating area.
14. Cinder Block Patio Furniture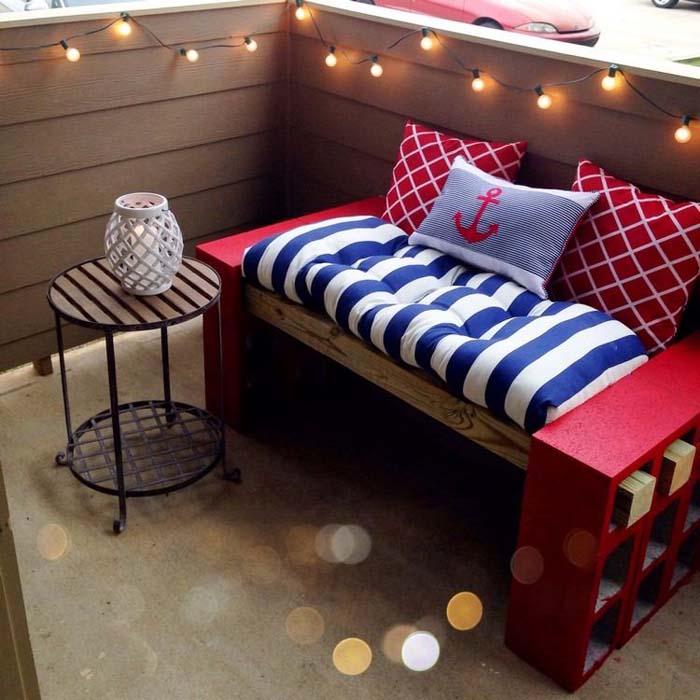 Here's an easy cinder block idea. The cushion is set up to fit in between the ends, leaving the blocks to become built-in side tables.
The solid balcony fence works as a backrest.
15. Add Storage Space With Cinder Blocks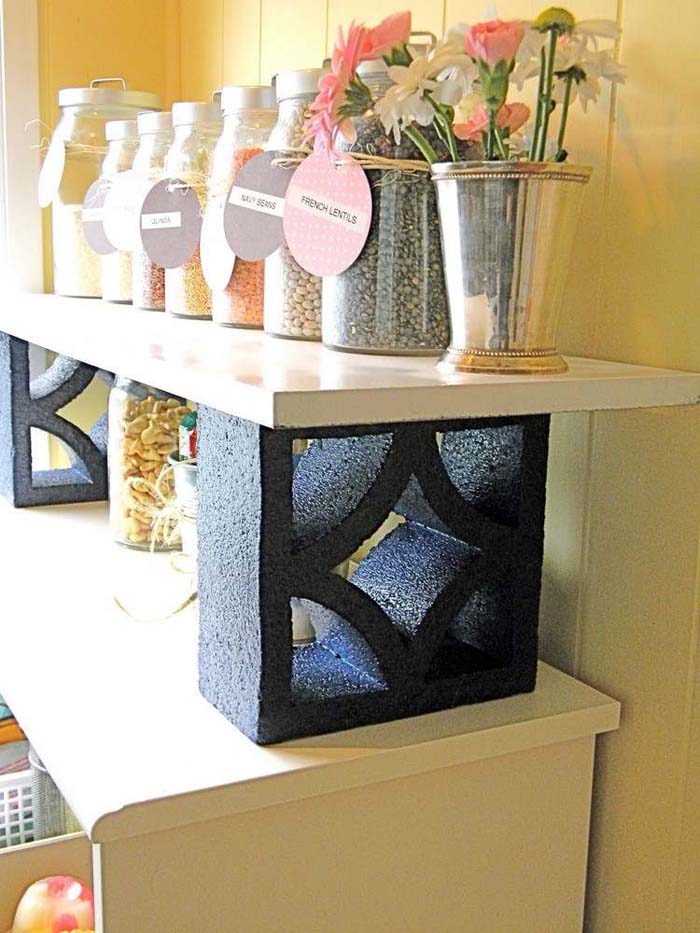 Add quick storage space by adding a shelf with half cinder blocks. Paint them inside and out to suit your decor. Molds are available for making these with concrete or Portland cement.
16. Stenciled DIY Cinder Block Planter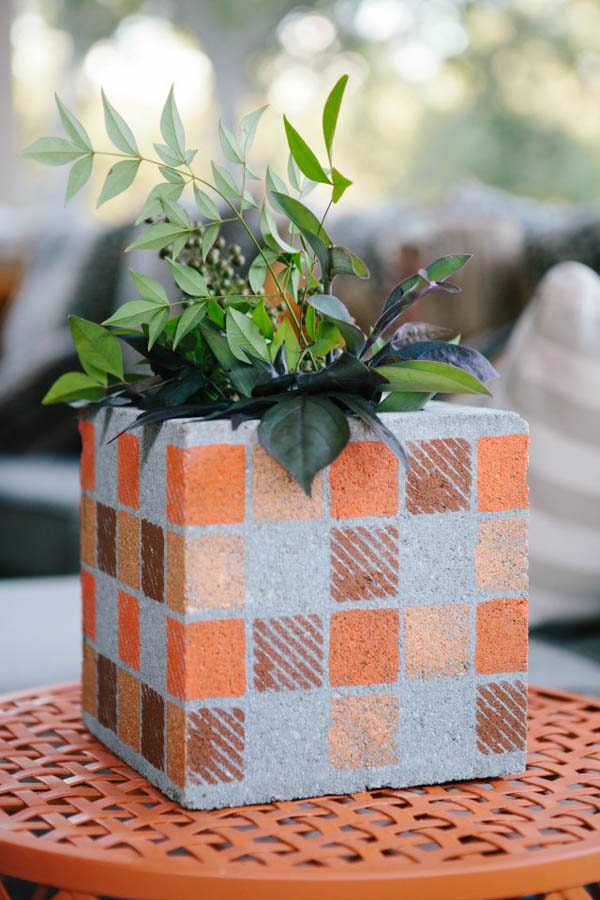 A square or half cinder block is perfect for creating a DIY cinder block planter or two.
This is a great stencil pattern to try for your first project.
17. Paint a Wood Look on Cinder Blocks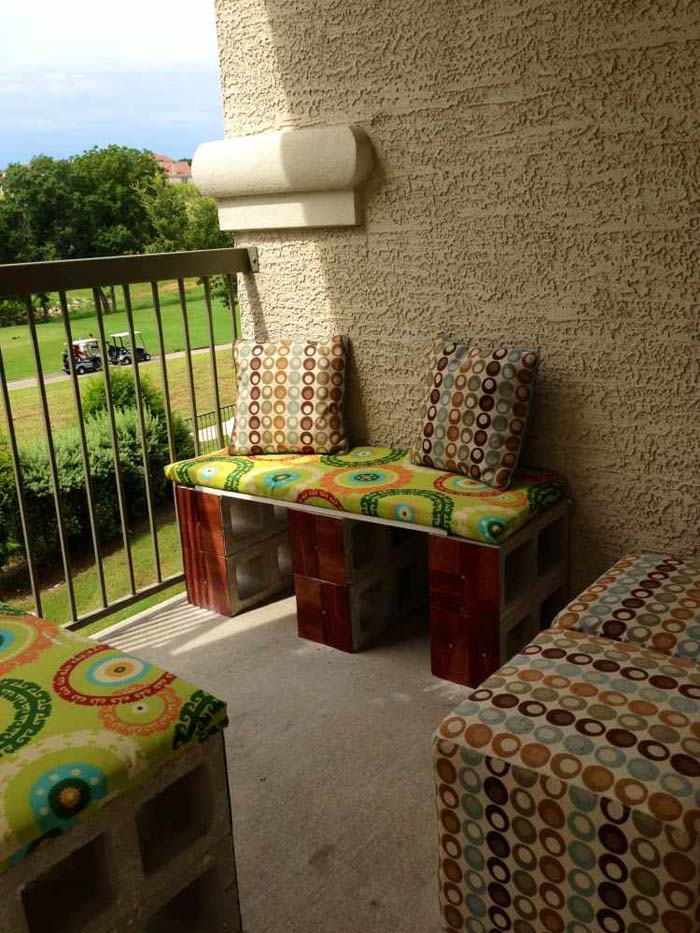 A simple and comfortable cinder block bench gets an upgrade with the ends painted to look like wood. The finish brings a warm look to this outdoor space.
18. Build an Outdoor Bench With Cinder Blocks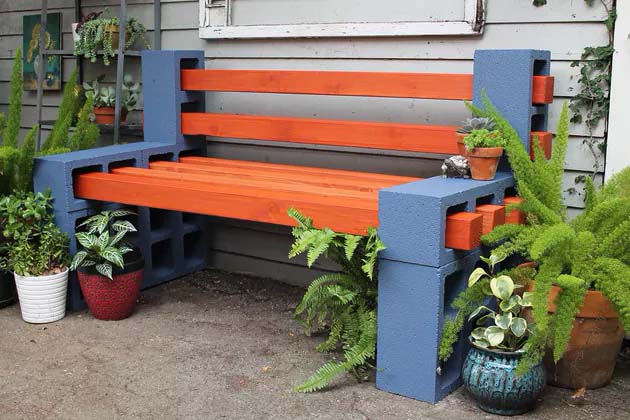 The cinder block outdoor bench is a popular DIY cinder block project. Cinder blocks are secured with a strong mastic.
via Hunker
19. Cinder Block Wall Adds Privacy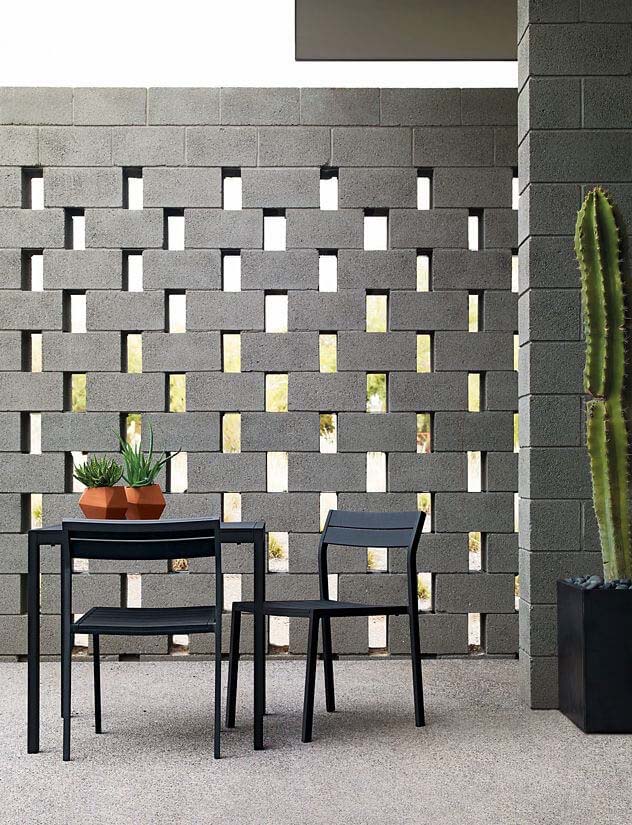 A cinder block wall creates a striking modern look to an outdoor living space.
Building a high block wall isn't really a DIY project. You'll want an experienced, licensed mason to ensure it doesn't topple over. They'll know how to add mastic and how to add rebar for stability.
via DWR
20. Cinder Block Fire Pit Seating Area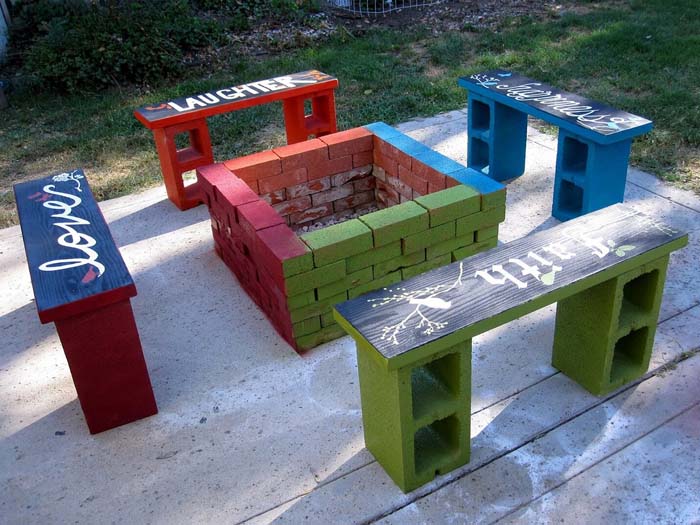 Here's a simple cinder block fire pit seating area. The top wood slabs should be at least two inches thick. Paint your cinder blocks to match the fire pit. It's an affordable cinder block idea.
21. Paint Cinder Blocks in Flag Colors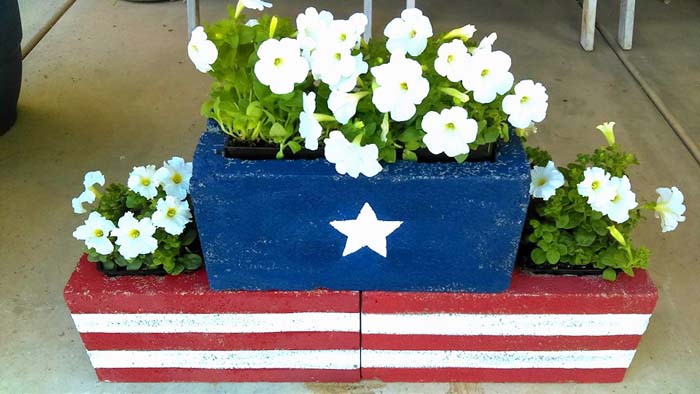 Paint cinder blocks to match the colors of your favorite flag. This one can be for the United States or it could be for the flag of the state of Texas.
You can paint them to match the colors of your favorite sports team.
via Grillo Designs
22. Industrial Look With Black Cinder Blocks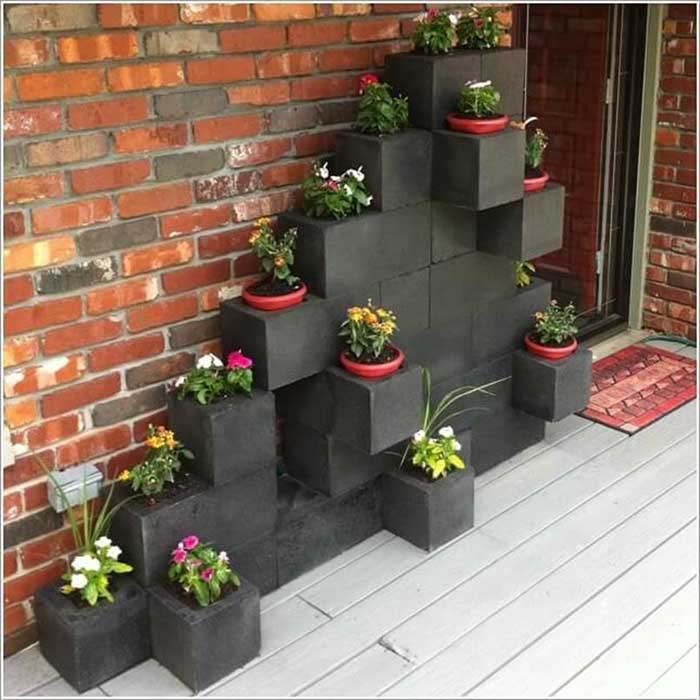 Paint your cinder blocks black for a dramatic look.
This display has an extra pop of color with the addition of red containers.
23. Corner Planter With Stenciled Cinder Blocks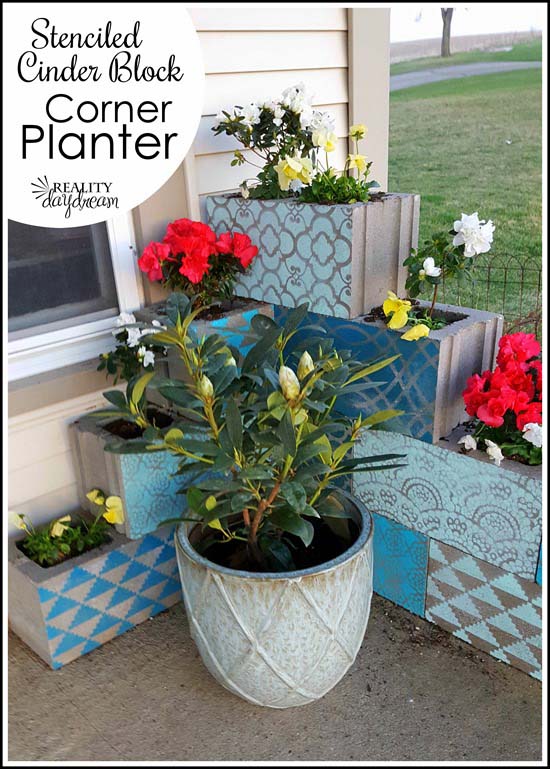 Multiple shades of blue create a unique look to this corner cinder block planter.
These intricate stencils show how much detail you can include in your painted cinder block ideas.
via Reality Daydream
24. DIY Cinder Block Project for Kids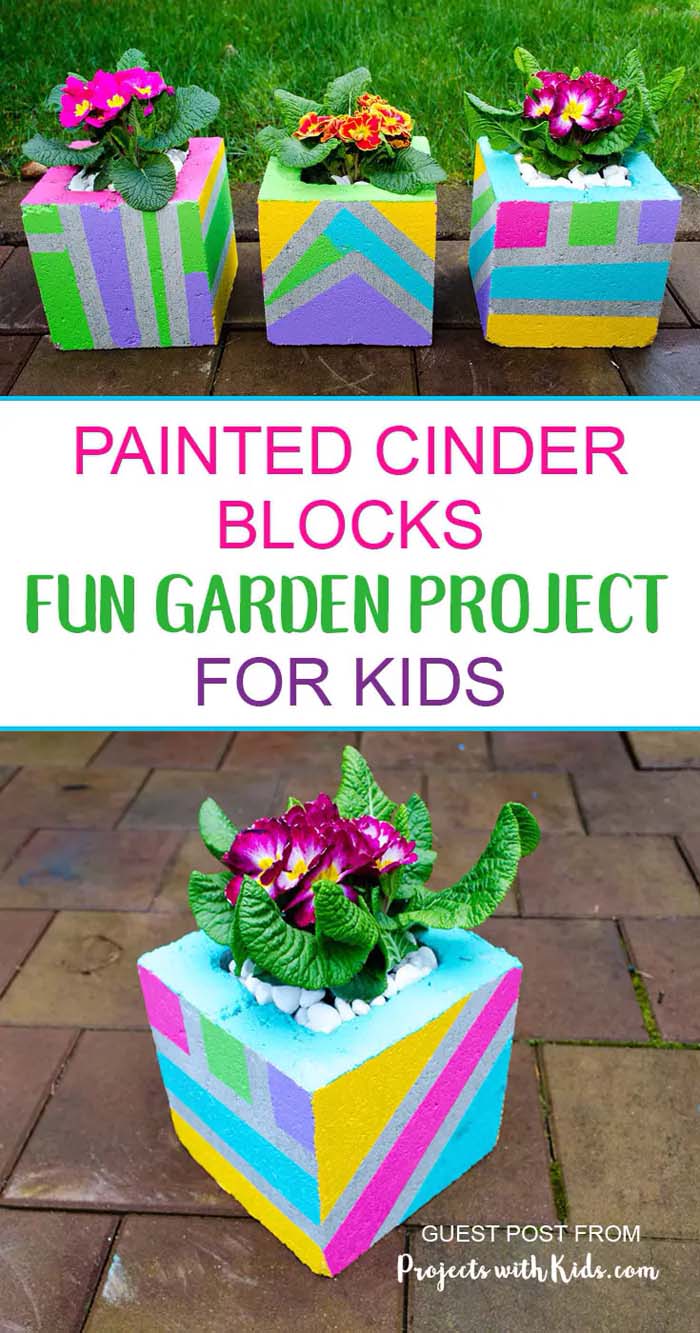 A cinder block project is a perfect way for kids to practice their DIY skills. Choose paints that match your patio decor and let them give it a try.