Planters are some of the most utilitarian pieces in your garden shed — they make it easy to control soil conditions and promote growth.
When you're looking for ways to make your outdoor space even more beautiful and charming, the lowly planter is the perfect place to start.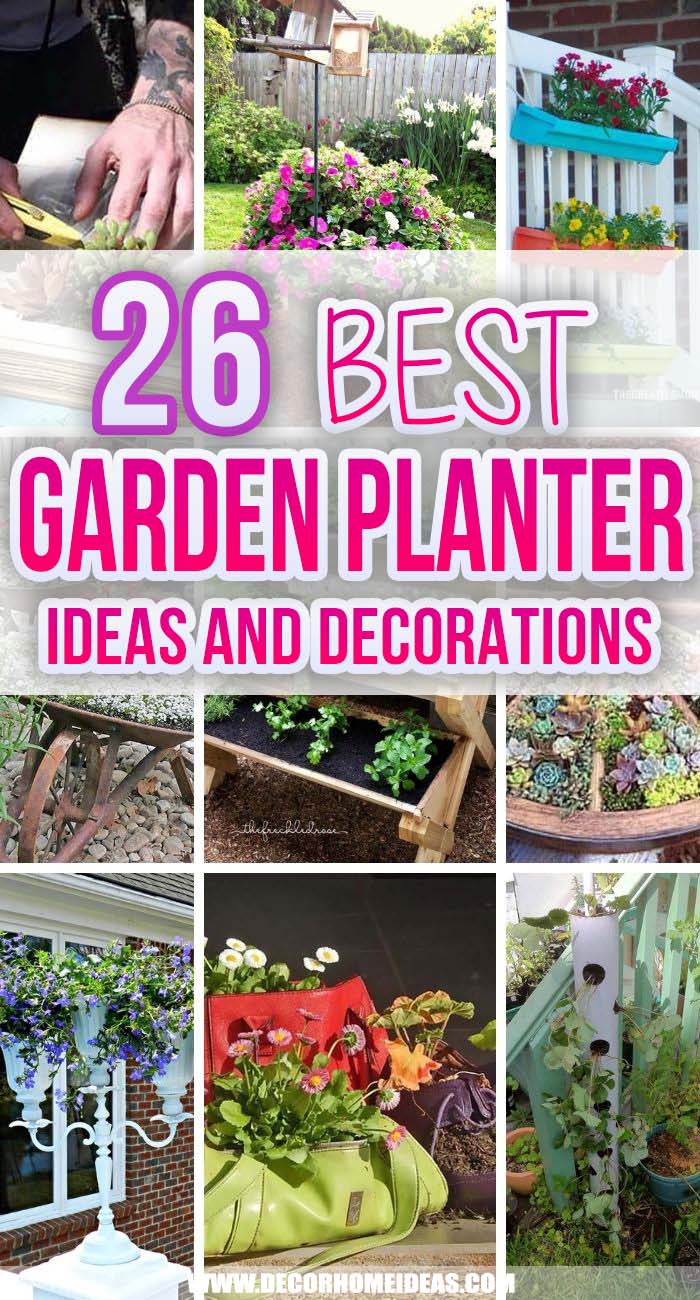 With a little bit of paint and elbow grease, you can transform your containers from practical to pretty using these garden planter ideas.
1. Convert a Shower Hanging Rack for Pots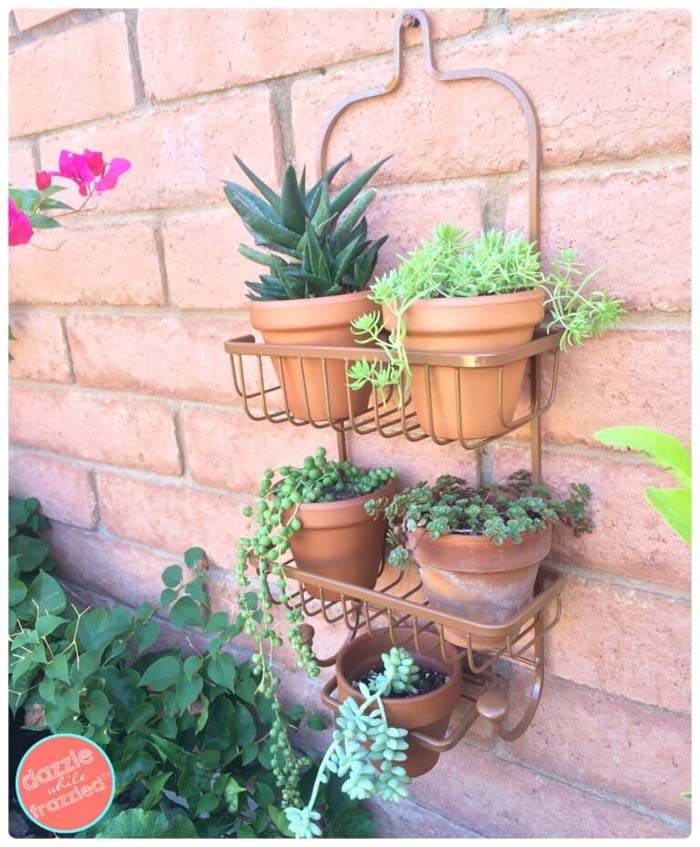 Is your deck or porch railing cluttered with small pots?
Display them in a more appealing way with a convenient hanging wall rack.
Choose a rack with open-frame metal shelves for great drainage, and mount it with a heavy-duty anchor to support the soil, plants, and pots.
2. Upcycle a Birdcage Into a Container Garden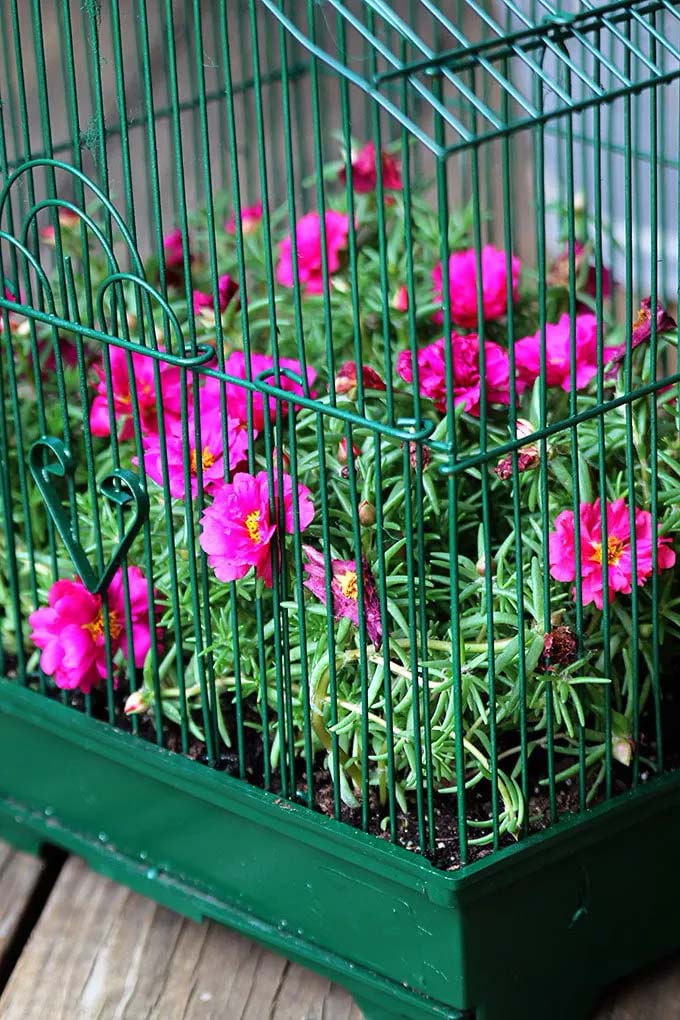 Don't bring an old bird cage to the thrift store — turn it into an adorable container garden.
The base of the cage makes the perfect planter for flowers or greens with shallow root systems.
You can even hang your cage from a hook for a unique outdoor decoration.
3. Damaged Book Becomes a Planter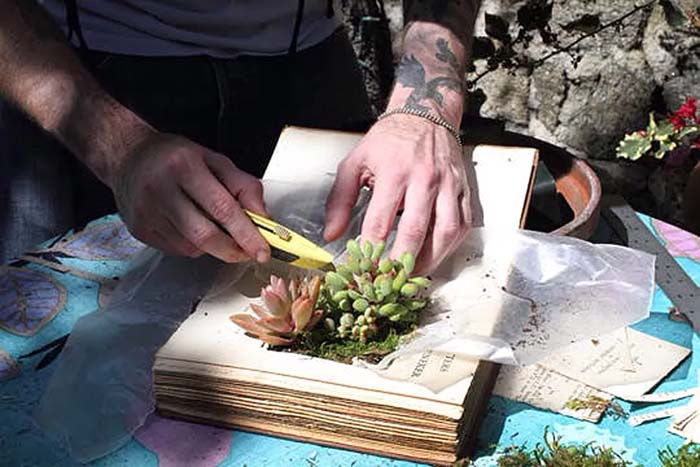 Showcase your love of books by turning one into a planter. Hard-cover books work best for this project; all you need to complete it is a few simple tools.
Succulents and other low-water plants look great and require minimal care.
4. Vertical Garden From Vintage Cabinet Shelves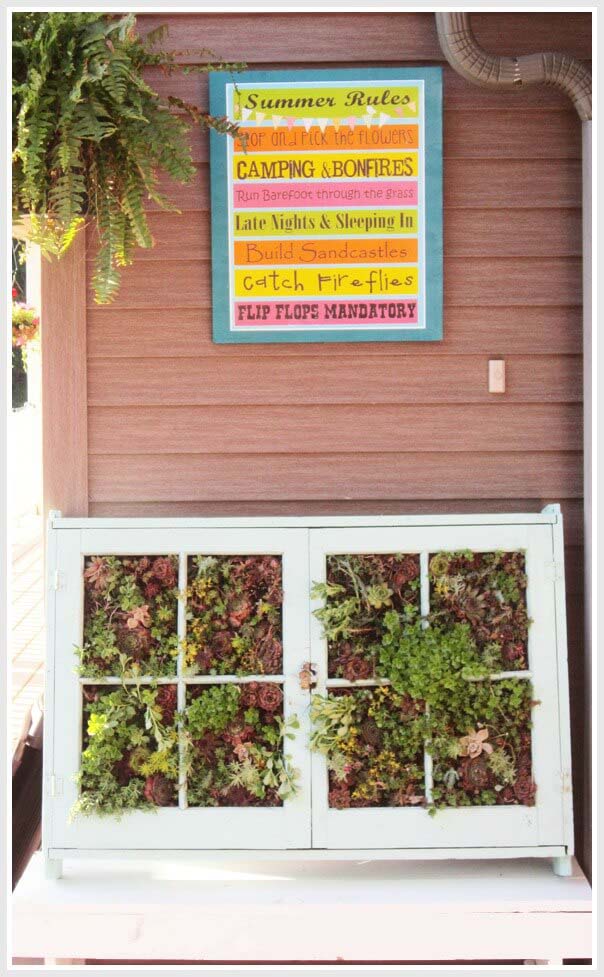 Turn an old cabinet into a wall of living greenery by filling it with plants. The secret?
Pop out the glass panels so the leaves can grow out from the individual panes.
Rest your new planter cabinet on a porch or a side table for instant charm.
5. Hanging Basket From Vintage Candlelight Chandelier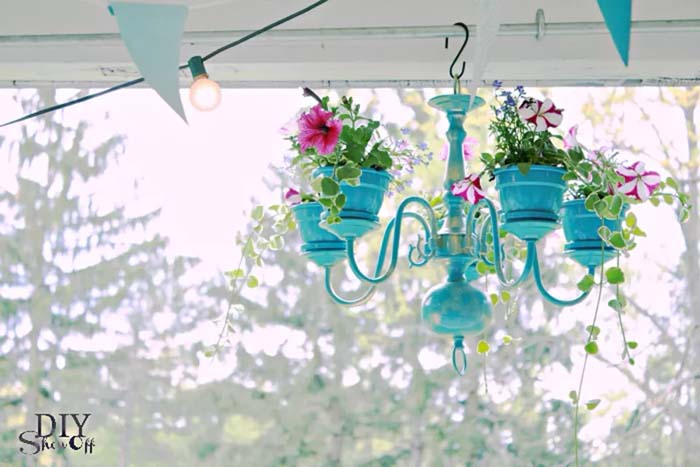 If you have a shabby chic style, this gorgeous chandelier planter is the perfect DIY project.
27 Best Garden Planter Ideas video:
It looks complex, but it's a breeze to make — just glue small pots onto a vintage chandelier and add a coat of spray paint. Hang your fixture on the front porch for instant curb appeal.
via DIY Showoff
6. Create Garden Planters From Old Gutters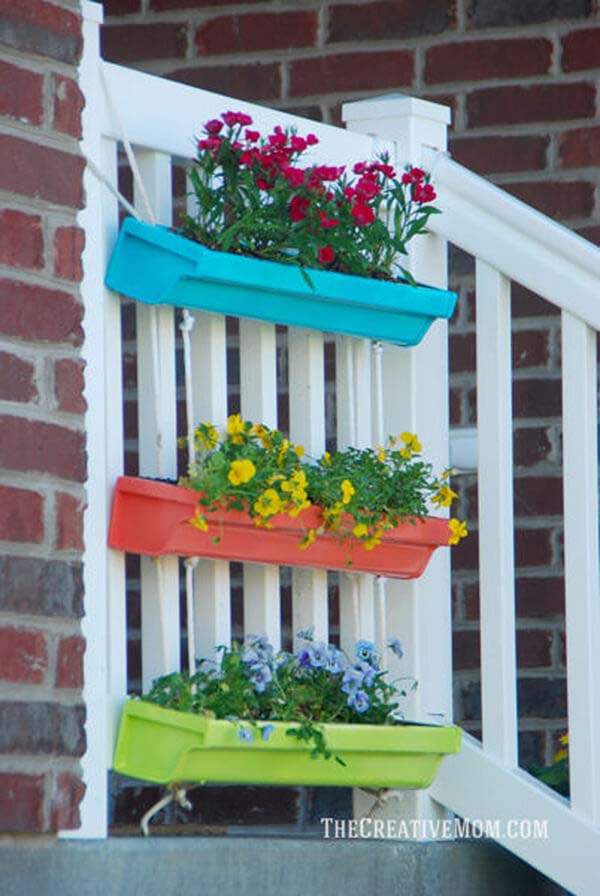 When it's time to replace your gutters, upcycle the old ones into adorable planters.
Simply cut them into sections and coat them with vibrant paint colors. The long, low containers work just like planter boxes at a fraction of the cost.
via The Creative Mom
7. Discarded Dresser Drawer Becomes Planter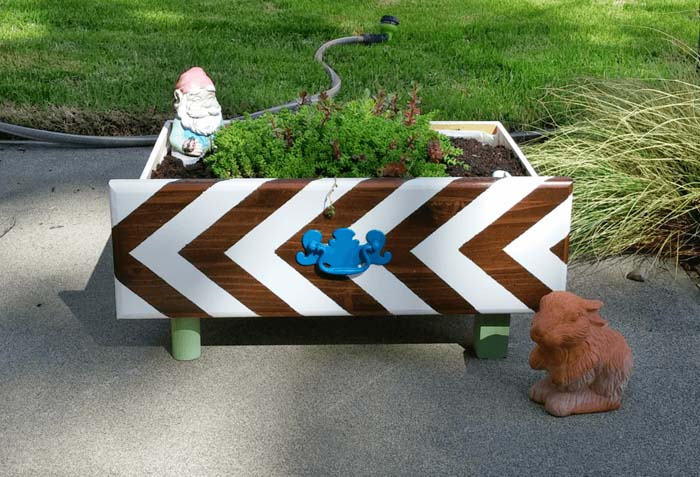 An old drawer becomes a charming planter in this project, which is easy to complete in a few hours.
The legs are the key feature; they allow water to drain efficiently. Before you start planting, paint your drawer in colors that complement your outdoor space.
8. Create Renter Friendly Hanging Baskets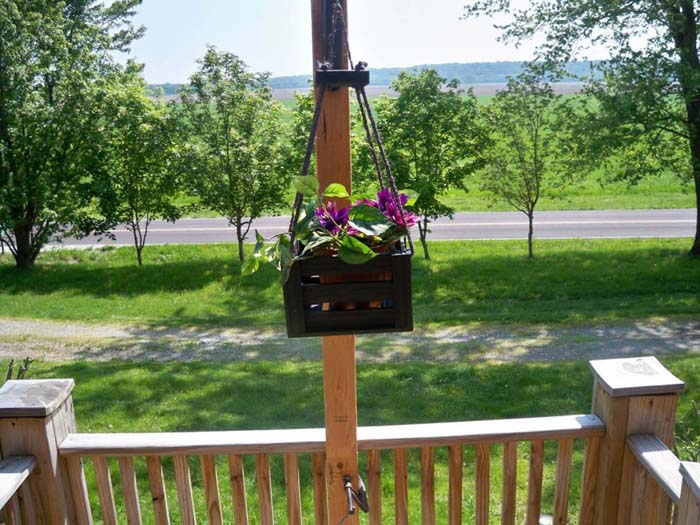 Simple and rustic, this lovely wooden crate planter is incredibly easy to make. Just add rope handles, drop in a potted plant, and suspend the box from a hook.
The sides of the crate obscure the pot, giving the plant an instant upgrade.

9. Garden Planter From Upcycled Candelabra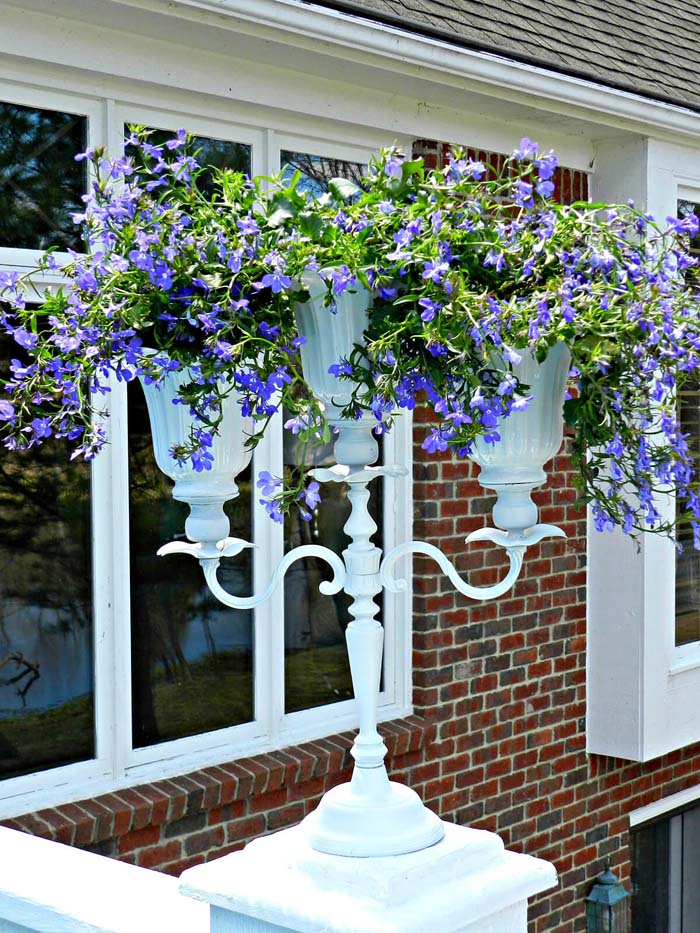 Do you have an old candelabra in the back of a closet? Show it off by adding elegant pots to each candle holder.
Add a few coats of spray paint, and you have a stunning planter that makes your porch feel grand and elegant.
10. Hanging Planter From Well Used Basketball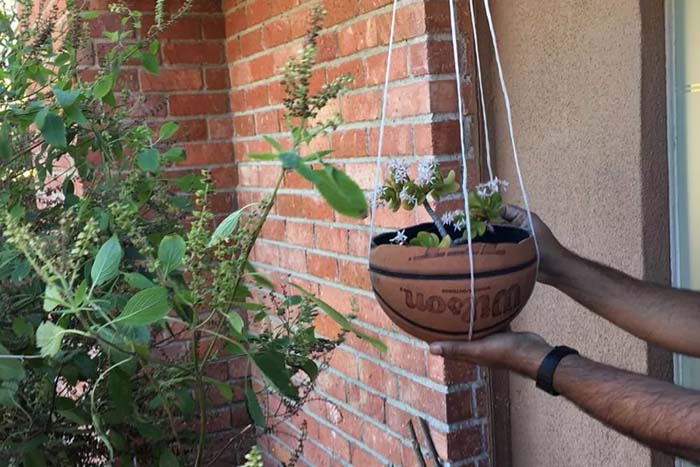 This sweet and sporty planter is a wonderful way to upcycle an old basketball.
Don't worry if it has a tear or a hole; simply cut away that section and use the remaining portion to hold potting soil. A simple rope sling holds the ball securely.
via Instructables
11. Hanging Garden Planter From Gutter Sections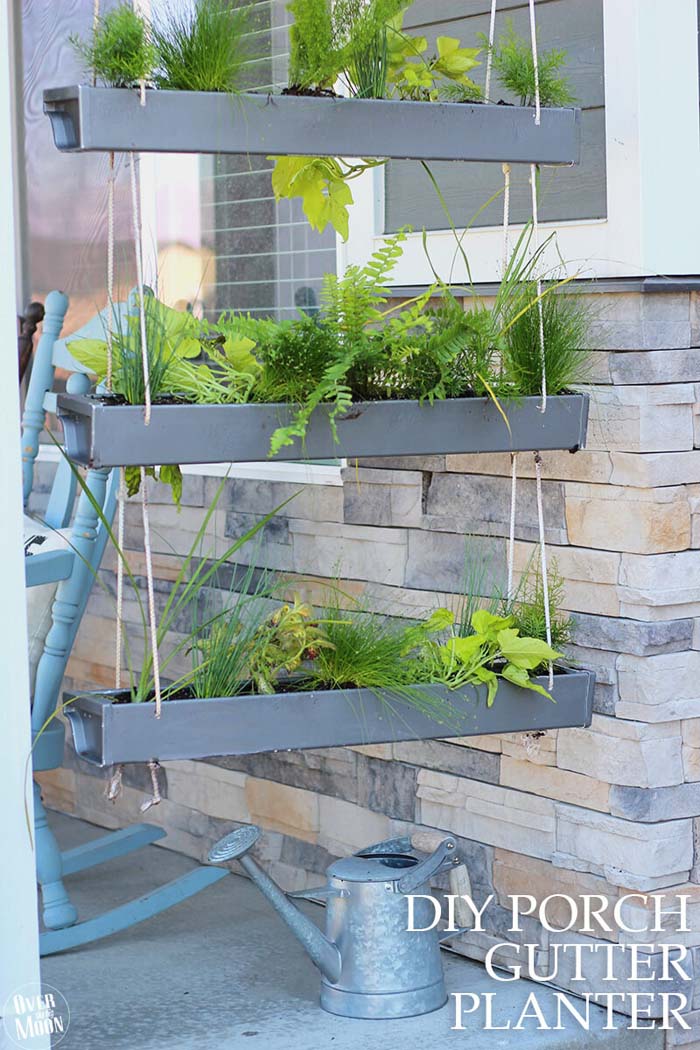 Put old gutters to good use with this DIY hanging planter. It looks like a piece from an expensive garden boutique, but you can pick up the rope and paint for less than $10.
Fill each tier with tall greenery, and this planter can double as a privacy screen on your porch or patio.
12. Patio Umbrella Bundt Cake Pan Garden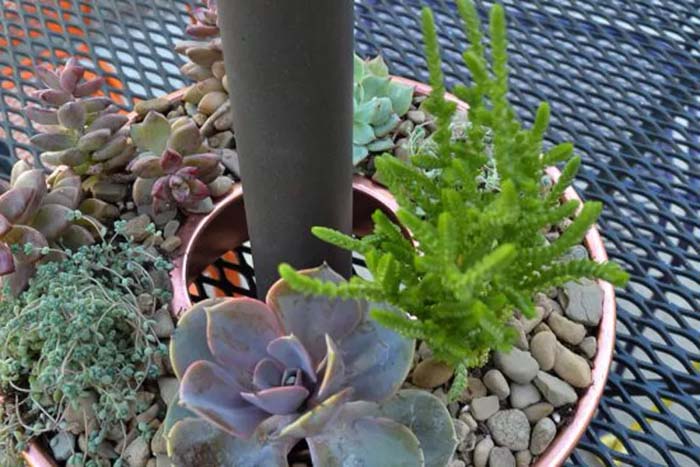 If you have a Jell-O mold or a Bundt cake pan sitting unused in your kitchen cupboards, give it new life by turning it into a cute planter. We love the pebble hardscaping; it sets off the sweet green plants beautifully. The best part?
The hole in the center fits perfectly around a patio-table umbrella, creating an adorable centerpiece.
via Refresh Living
13. Container Gardens From Vintage Wheelbarrows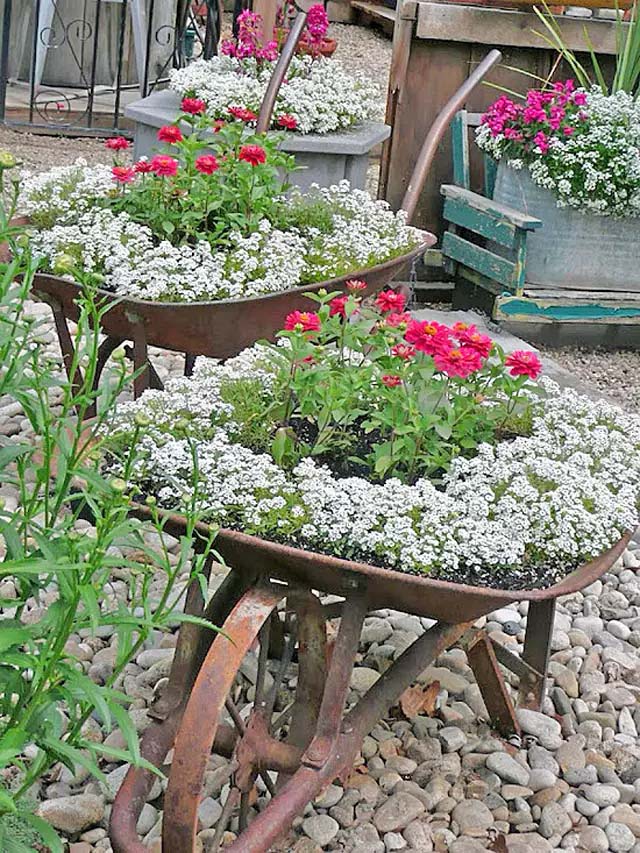 Give your home a farmhouse vibe with a wheelbarrow container garden. It's no problem if the metal is old and rusted — it simply adds to the charm.
Since wheelbarrows are so large, you have lots of space for a variety of flowers.
14. Succulent Wreath From Terracotta Pots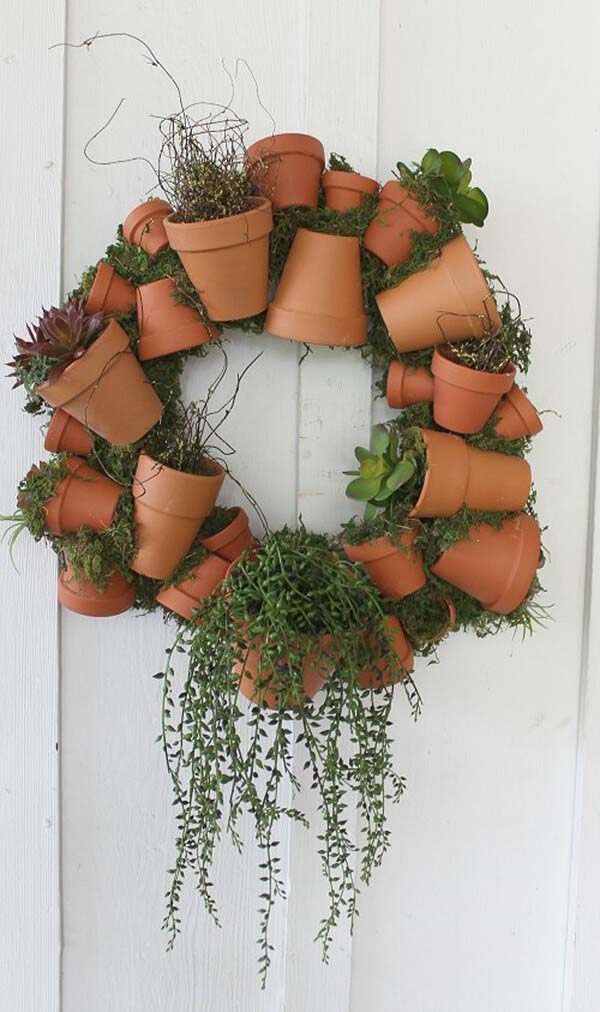 This spring, replace your usual wreath with this adorable garden-themed version.
Made with tiny terracotta pots and a riot of greenery, it's sure to bring a smile to your face every time you return home.
via 20 North Ora
15. Pocket Pouch as Vertical Garden Planters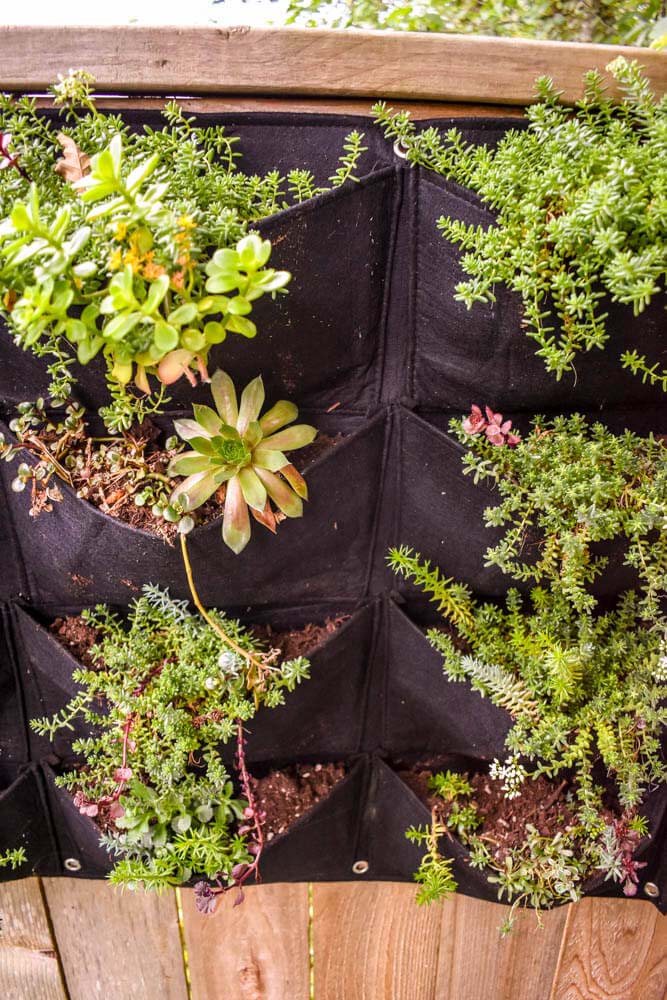 Repurpose an old pocket-pouch organizer by creating a clever planter.
Simply fill each pouch with potting soil and a small seedling, and watch it grow into a living wall. You can hang the planter on a fence or the exterior of your home for an instant burst of color.
16. Create Cute Planters From Old Purses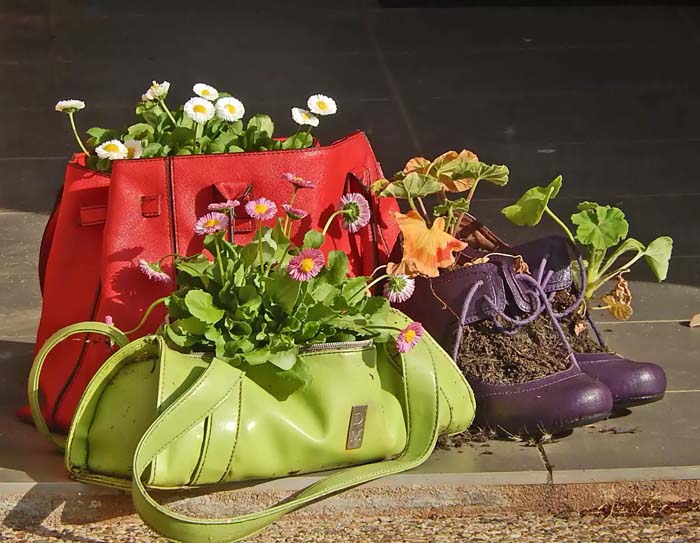 How adorable are these little purse planters? They're the perfect addition to your front entry or porch steps.
For maximum impact, choose purses in bright, cheerful colors that pop next to the green plants.
via Michael Coghlan
17. Old Bird Feeder Becomes New Garden Planter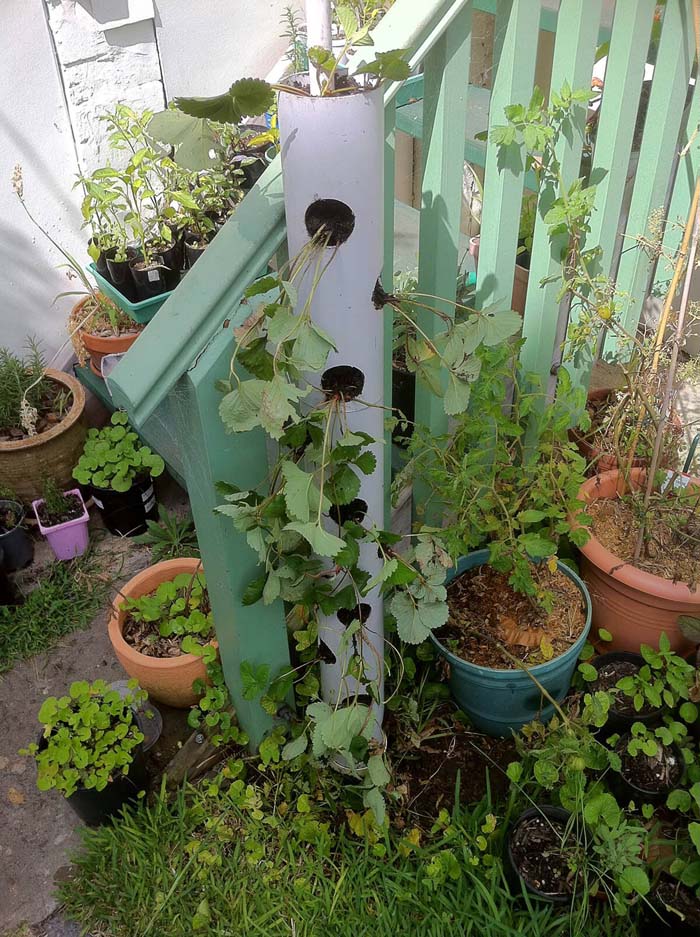 Vertical, tube-style bird feeders can be unsightly — that is, until you turn them into creative planters.
The different bird holes give plants room to grow, creating a column of lush, green leaves. This is a great way to grow strawberries in a small space.
18. Garden Planter From Damaged Acoustic Guitar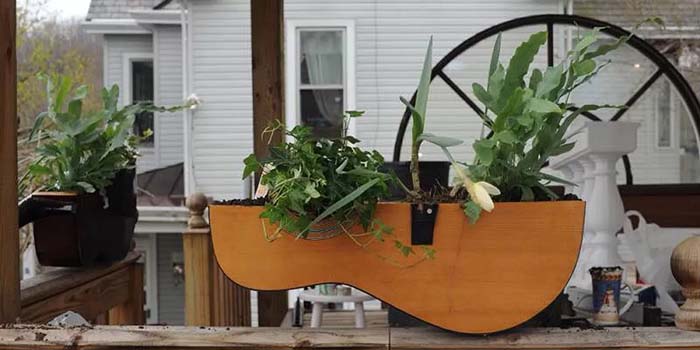 Express your love of music in a new way by upcycling an old or broken guitar into a spectacular planter.
Choose an acoustic guitar; it's deep enough to accommodate soil and root systems.
By cutting the guitar in half vertically, you'll retain the beauty of the shape without taking up much space.
via Kitchen Guitars
19. Repurpose Roof Vent as Vertical Planter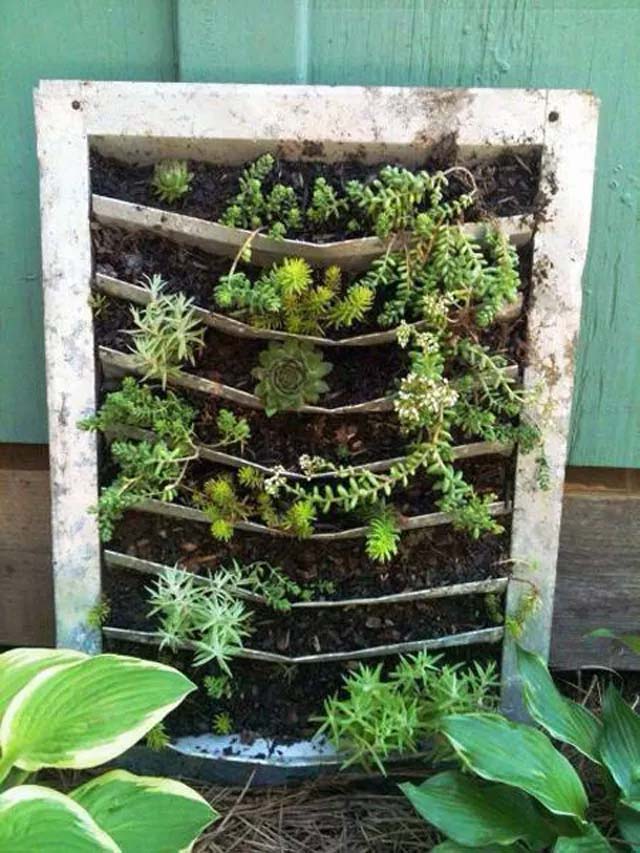 To look at this stunning vertical garden, you'd never guess it's made from an old roof vent!
The secret is to bend each vent blade into a V-shape in the center; it adds a geometric twist and creates lots of space for your plants to cascade down the planter.
20. Easy Planter Idea From Galvanized Metal Bucket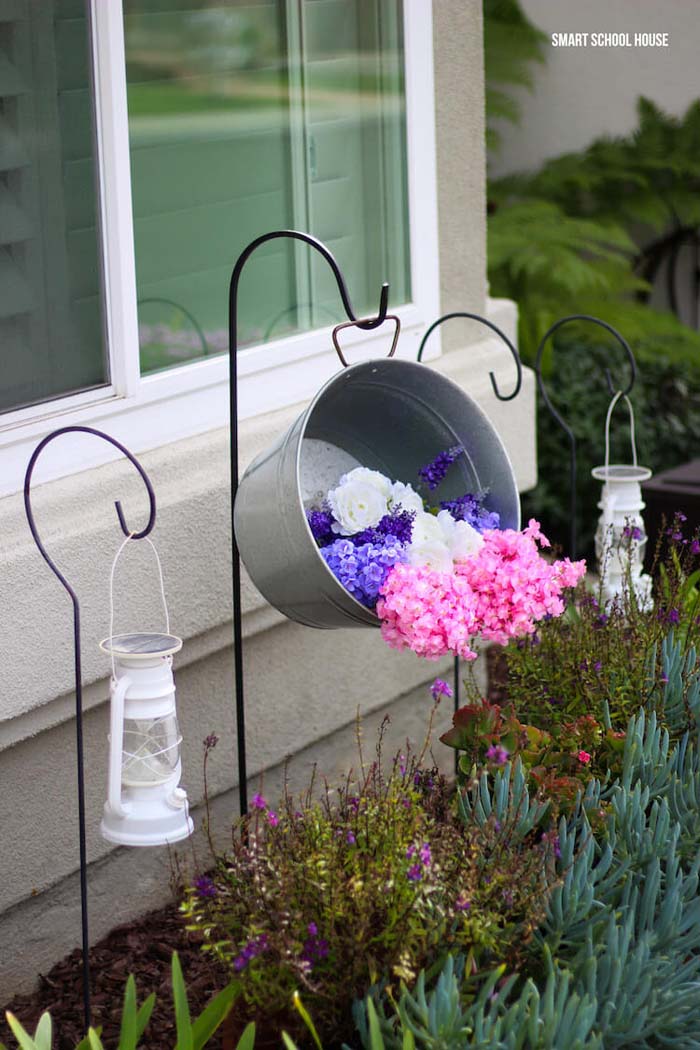 If you love cottage, rustic, or farmhouse style, you can't go wrong planting in a simple galvanized metal bucket.
Rest the bucket on its bottom, or suspend it from a garden hook to create a clever angled planter.
21. Save Space With Stepped Wooden Planters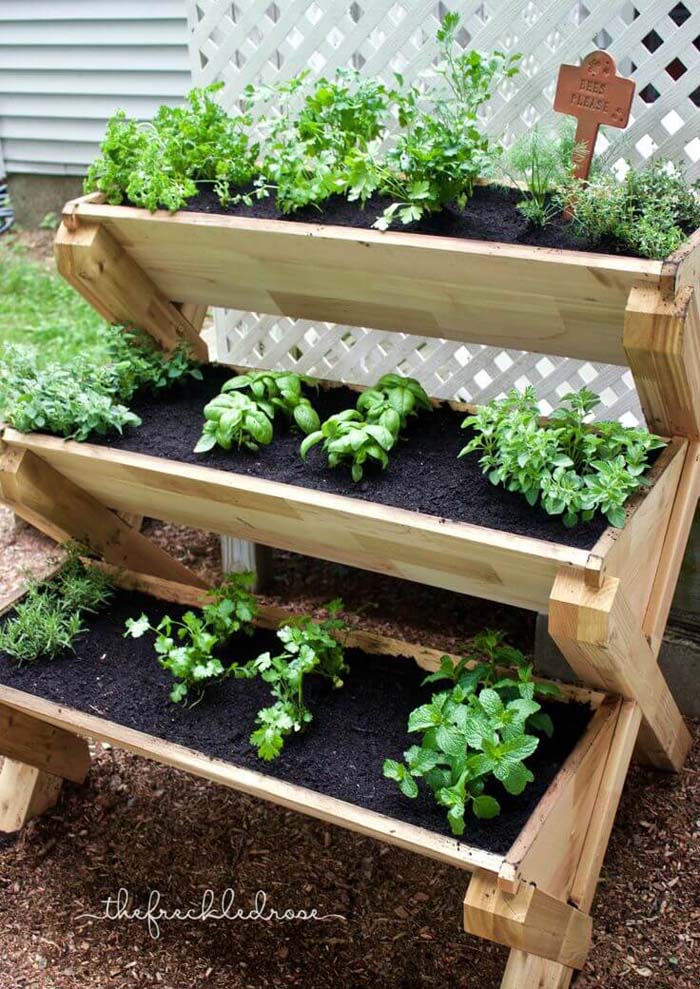 Are you working with a small backyard? Make the most of vertical space with this stacked wooden planter.
Each tier is slightly offset, so your plants get plenty of sunlight and precipitation. Leave the wood unfinished for a fresh, Scandi-inspired vibe.
22. Mismatched Tea Set Holds Delicate Blooms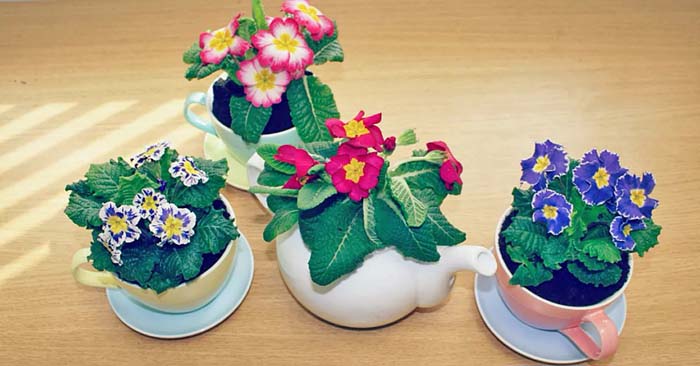 Complement your English garden by turning a vintage tea set into a collection of tiny planters. For stability, glue the teacups to the saucers before you start to plant.
These cute little pieces are perfect for small flowers or succulents.
23. Half-Cut Barrel Garden Planter Covers Flaws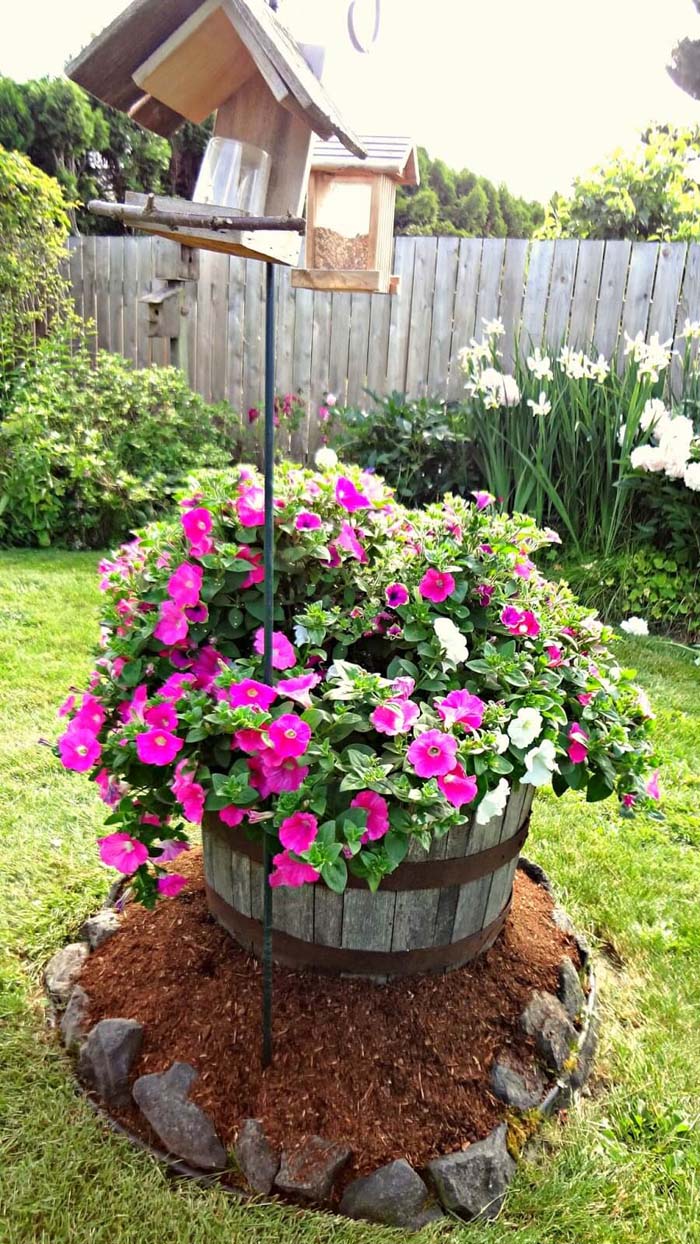 The next time you spot a wood barrel with metal strapping, snap it up — it makes a gorgeous planter.
Choose plants with lush, cascading flowers; they'll contrast beautifully with utilitarian materials.
24. Succulent Garden in a Wagon Wheel Container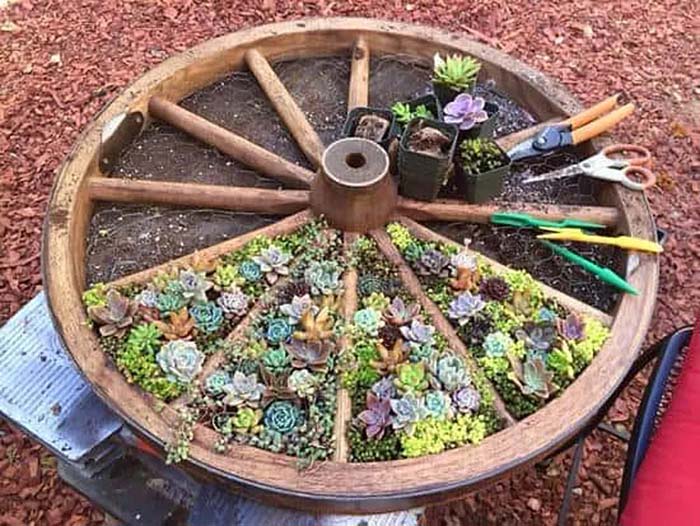 Make your neighbors stop in their tracks with this remarkable wagon-wheel container garden.
The spaces between the spokes become wedge-shaped gardens; add a different plant to each one to create a color wheel, or fill them with succulents for a one-of-a-kind piece.
via The Whoot
25. Wine Cork Collection Holds Tiny Succulents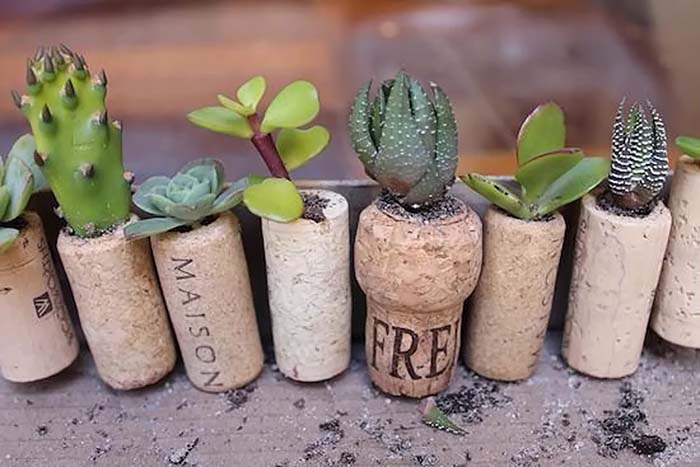 It doesn't get much more adorable than these miniature DIY planters.
Each one is made from a hollowed-out wine cork. Use them to line a windowsill, decorate your patio table, or enhance a larger planter box.
via Upcycle That
26. Ornamental Wheelbarrow Garden Planter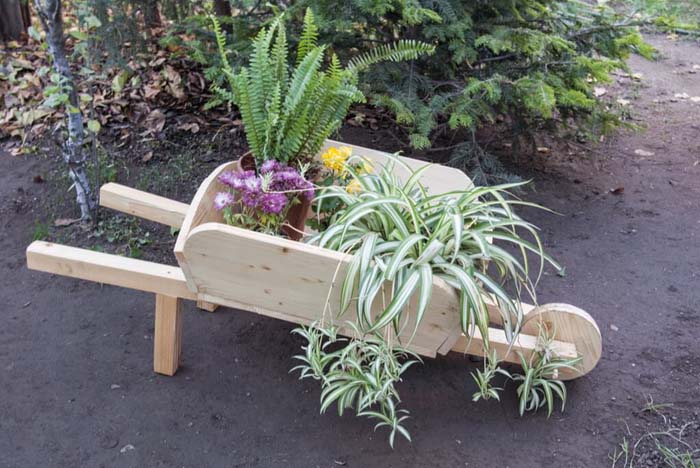 With its unfinished wood and distinct hand-crafted vibe, this adorable wooden wheelbarrow planter brings a sweet, retro touch to your home.
You can add soil directly — or, for a faster solution, fill the wheelbarrow with potted plants.
27. Genius Space Saving Pallet Garden Planter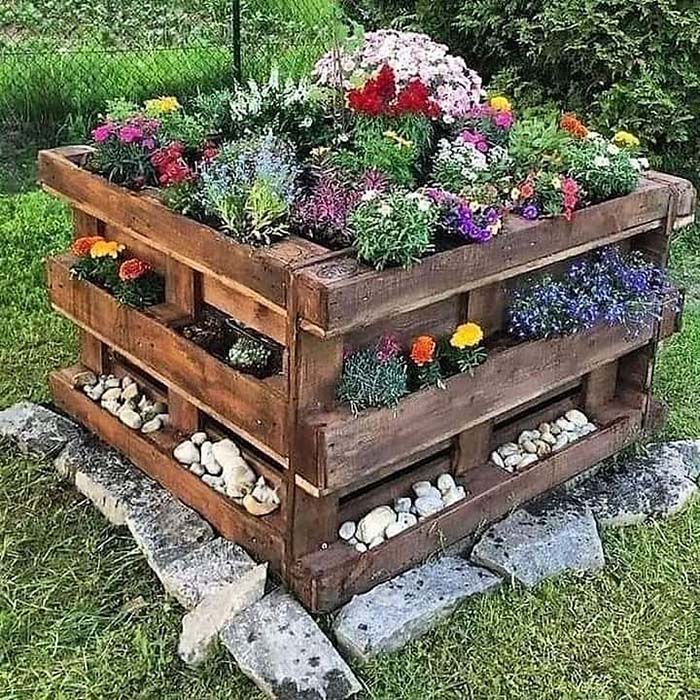 Make a beautiful raised garden planter from old pallets.
28. Old Buckets Planter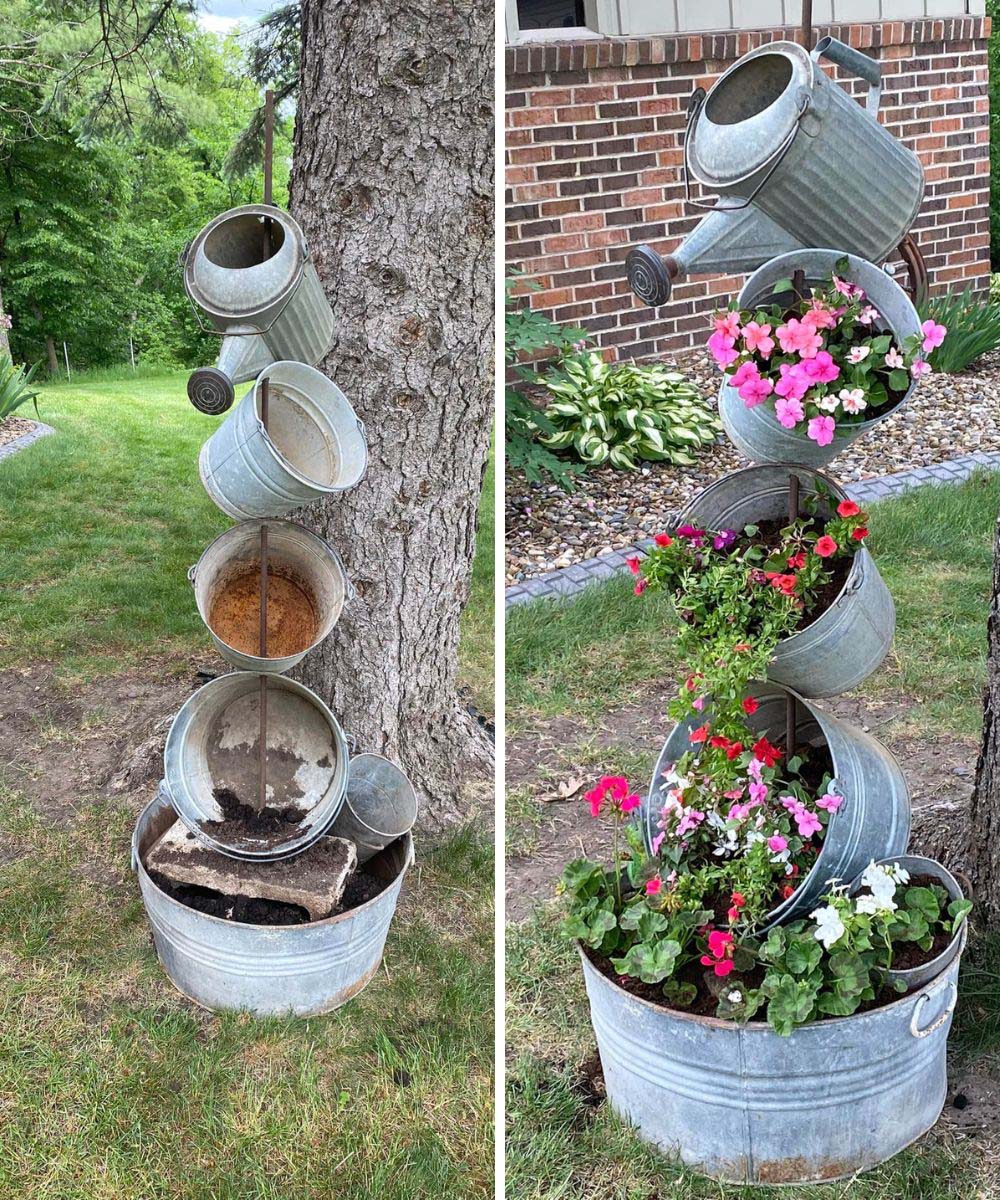 via Becky Hillmann
If you have old buckets/pails this is an easy project for the weekend.