The latest garden Landschaft designs prove that vertical planting is widely used. The Landschaft architects and designers have widened the limits outside the garden soil, turning unused spaces into charming vertical gardens and green walls.
The vertical gardens are simple and ergonomic and surely not a thing only landscape designers can do.
They can be affordable and doable by ordinary people as long as there is a wish. And when there is a wish, there is a way. And instead of spending hours looking for ideas and inspirations for vertical gardens, check our great collection.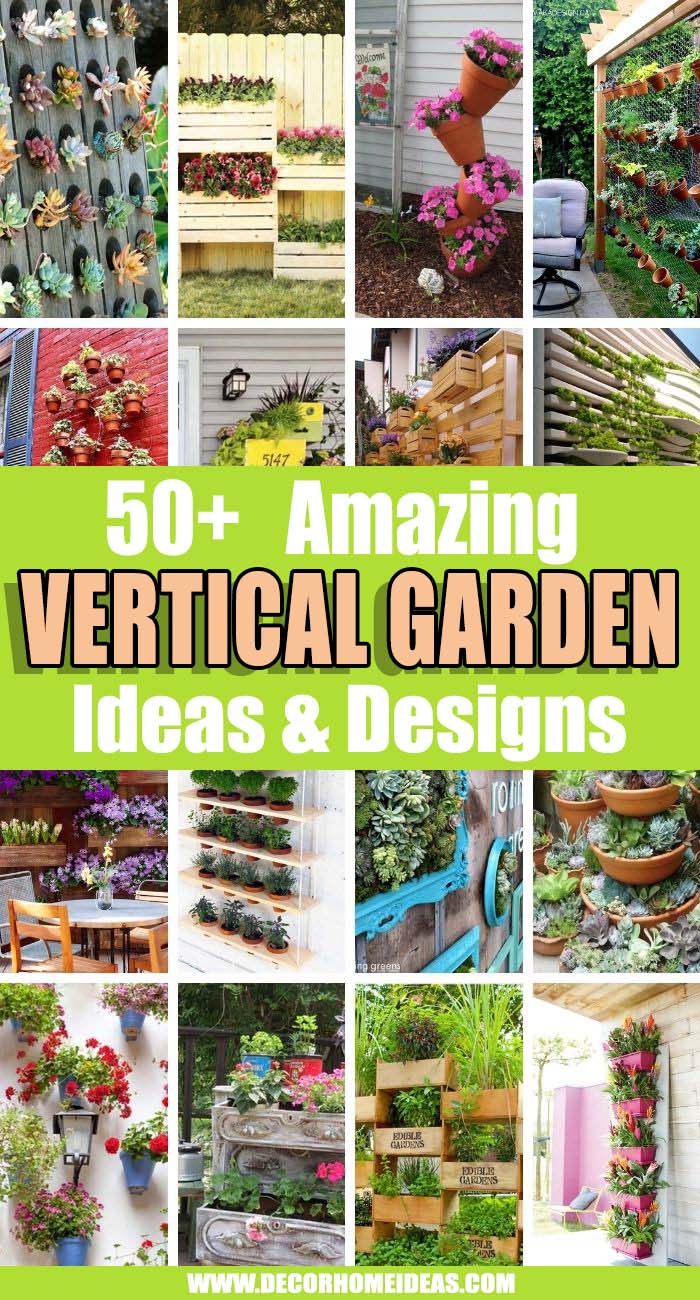 It gathers the best projects that are completed with supplies on hand or easy to be found. All ideas are on a budget so unconventional vertical planting becomes a dream come true for everyone that enjoys practicing their green thumb or looking for a way to spruce up their home.
1. Stack Basic Wooden Crates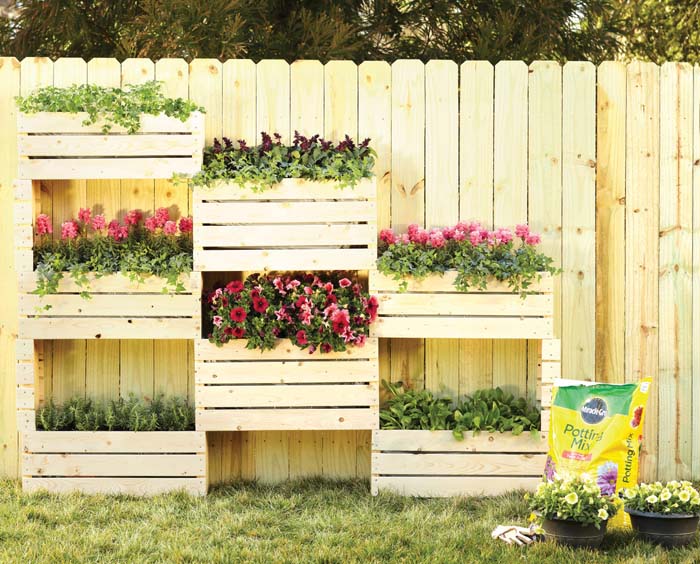 This vertical garden has been made out of plain wooden crates. Instead of painting them in another color, they are left to match the existing fence.
This continuous background makes the colorful blooms stand out. Some of the crates are dedicated to fresh herbs which look very attractive in combination with the blooming flowers.
2. Hanging Birdhouse Succulent Garden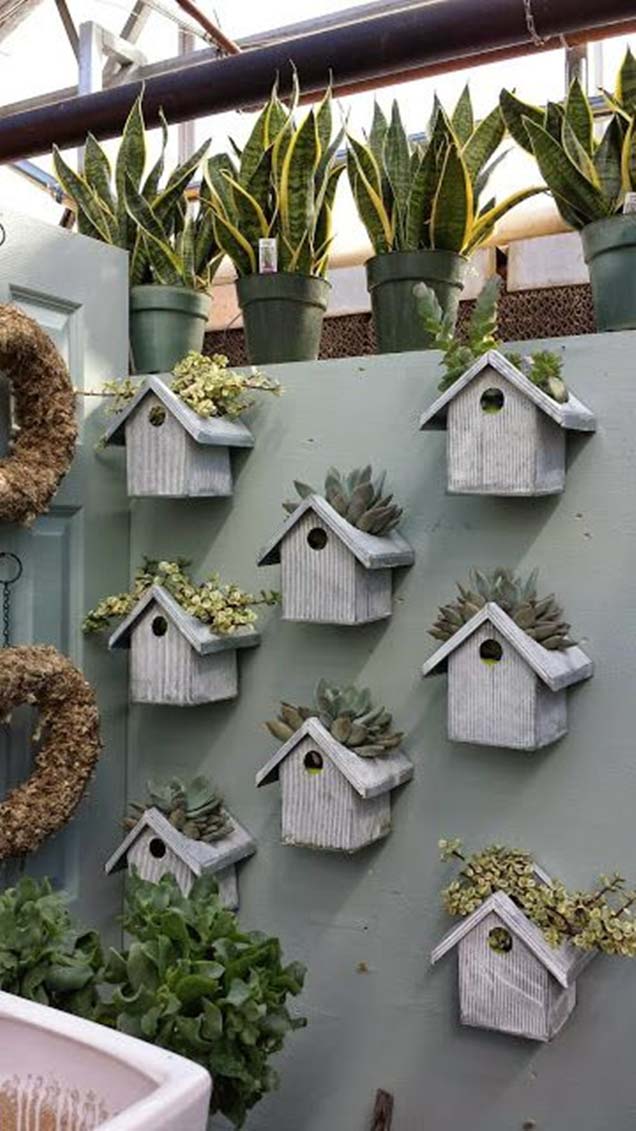 Birdhouses are a typical accent in the farmhouse decor indoors and outdoors. And while we are used to seeing them as part of a wreath, this time they are turned into planters.
This inspiring and very cute idea shows us how to create a vertical garden of identical birdhouses. Each one is painted in white color to ensure a neutral background for the plants that grow in it.
To plant the flowers, you need to cut holes on their roofs and fill the bottoms with soil.
3. Adding Beauty To An Old Tree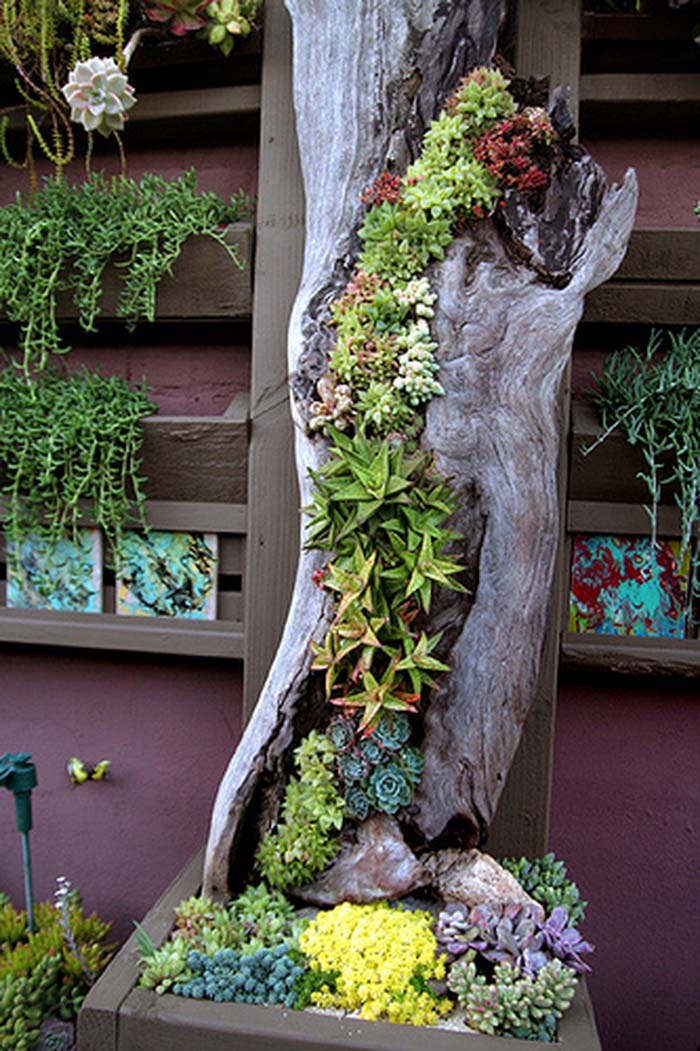 A defect in the garden has been turned into an outstanding effect. That has been a tree that has no life in it. The big hollow in its trunk is no longer a sad sign.
Different types of plants are put in it to give it a new life and new landscape look.
This vertical garden is supported on a box made of wood which is made to look like a continuance of the stacked vertical planters.
4. Upgraded Pallet Flower Box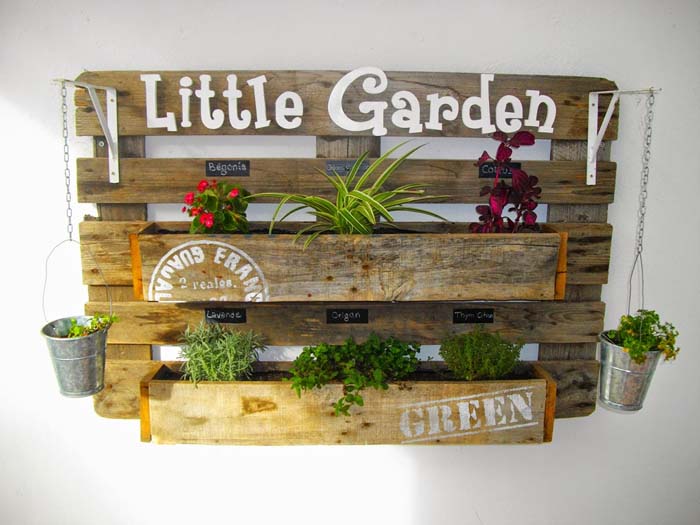 A small pallet has been repurposed into a vertical garden by attaching boxed planter made of crates. The space allows building three levels for the growth of plants but the top one has been left empty for a fun farmhouse statement.
Two cheap L-brackets frame the pallet on the top to hold two additional planters in a vintage style.
While this vertical garden holds herbs, you can use the idea for growing blooming plants from seeds and attach it to the fence or to an empty wall on the patio.
via 1001 Pallets
5. Waterfall Terracotta Planters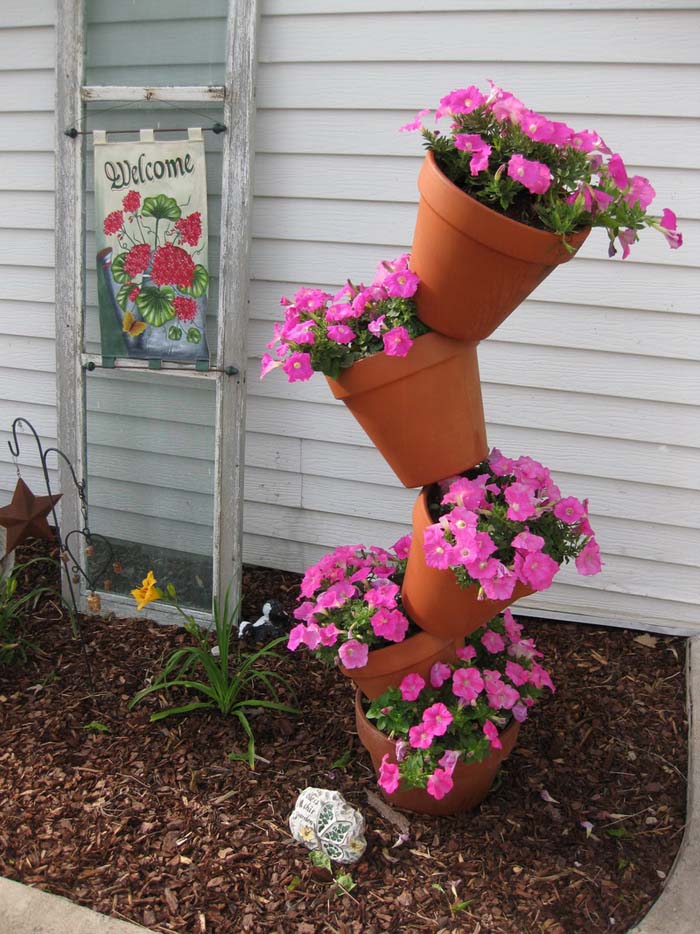 Whether to welcome your guests appropriately or to frame the limits of your flower bed, this vertical garden idea is sure to be noticed. The staggered design is achieved by inserting plastic flower pots at an inclined position on a metal rod.
The rod is stuck deep down in the soil to make sure that it can bear the load of the flower pots. You can experiment with the final look of this garden. Use different pot colors.
Plant cascading blooming flowers to let them fall down beautifully and create the effect of a waterfall.
6. Hanging Fern Living Wall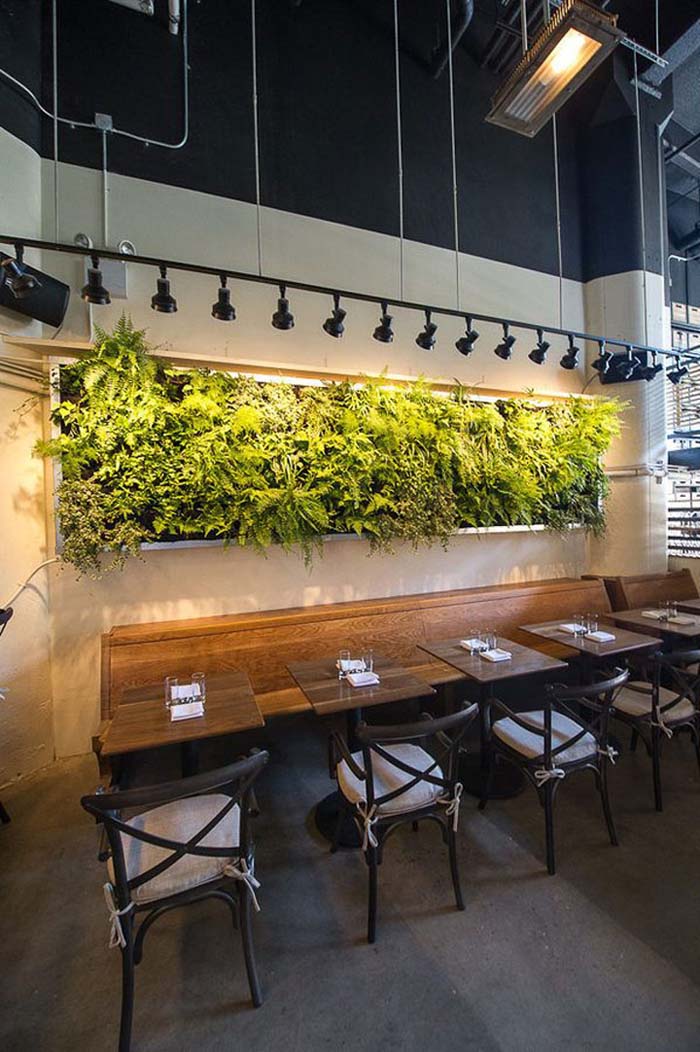 Ferns are usually grown in spaces where light is lacking. Their application is taken to another level by turning them into a designer's piece of art.
A large metal frame outlines the garden ends. It gives the garden a sensible modern look with its sleek design that contrasts with the planted ferns. Fern leaves strike out of it, giving the garden dimension and texture.
via Woonmooi
7. Exposed Root Ball Garden Installation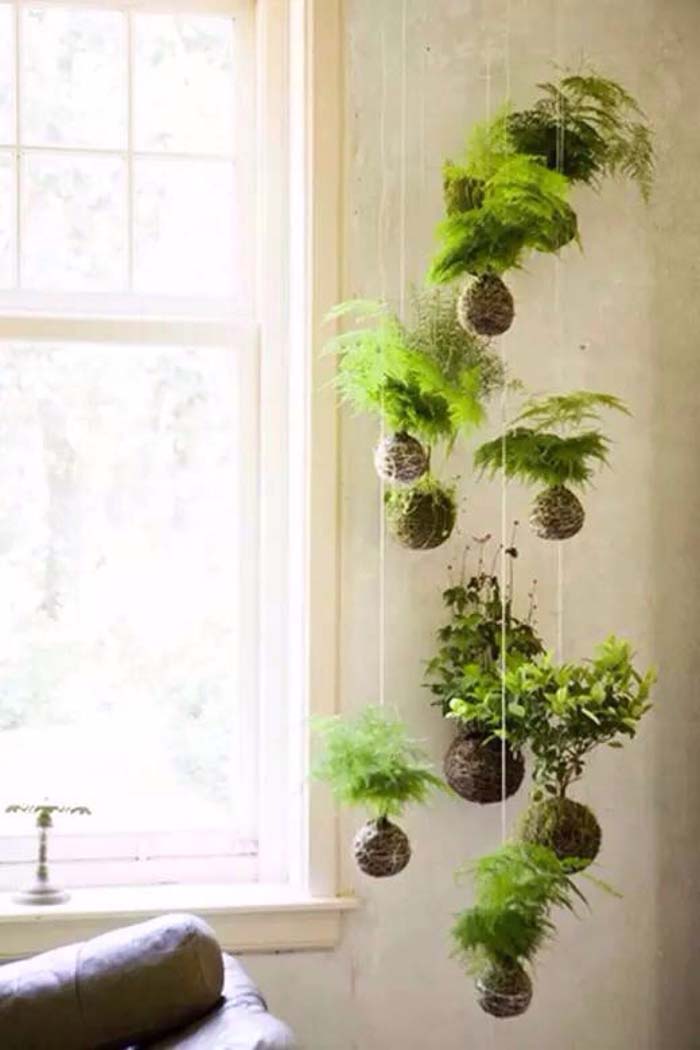 These plants are suspended from the ceiling with thread. This is a unique way to create a point of interest in small spaces.
The soil balls are light showing the roots of the plant. The leaves on top of them strike out at different heights making this vertical garden so appealing.
8. Contemporary Pail Flower Buckets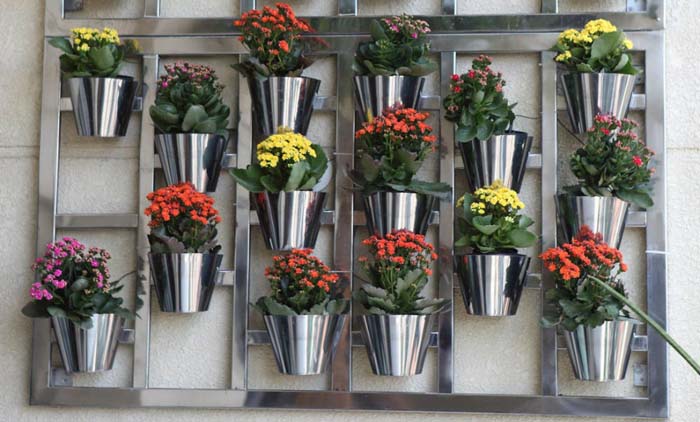 This framework supports a vertical garden with an industrial look. The shining steel contrasts with the bright colors of the blooms.
The ladder-like pattern of every section of this framework ensures three levels to which a flower pot can be attached.
The finish of the pots coordinates with the metallic surface of the frame, turning this vertical garden idea into an industrial accent for a contemporary furnished home or office.
9. Colorful Painted Pipe Succulent Garden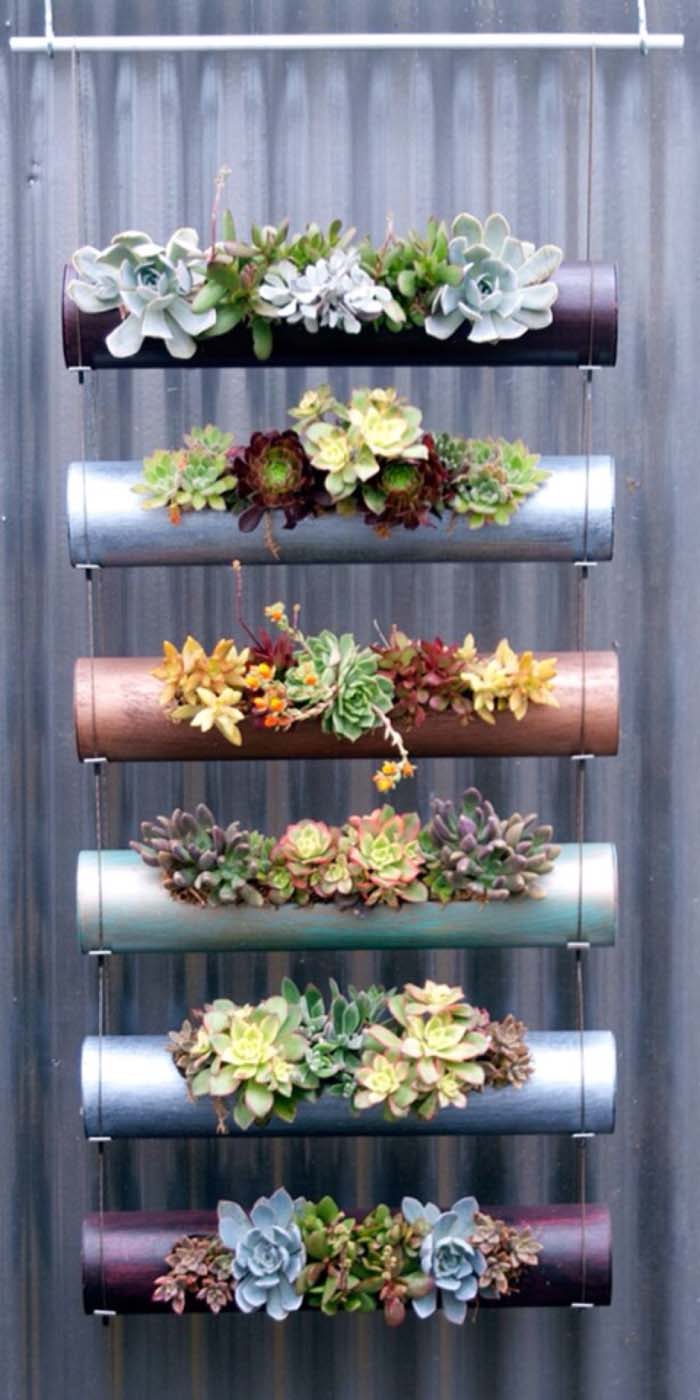 This creative idea shows us how to repurpose lengths of plumbing pipes and turn them into an artistic vertical garden.
Each piece is preliminary cut on the top to ensure space for planting the chosen plants. To connect the pieces together in this elevated design, a thin metal wire connects the ends vertically.
10. Gorgeous Lush Hanging Flower Garden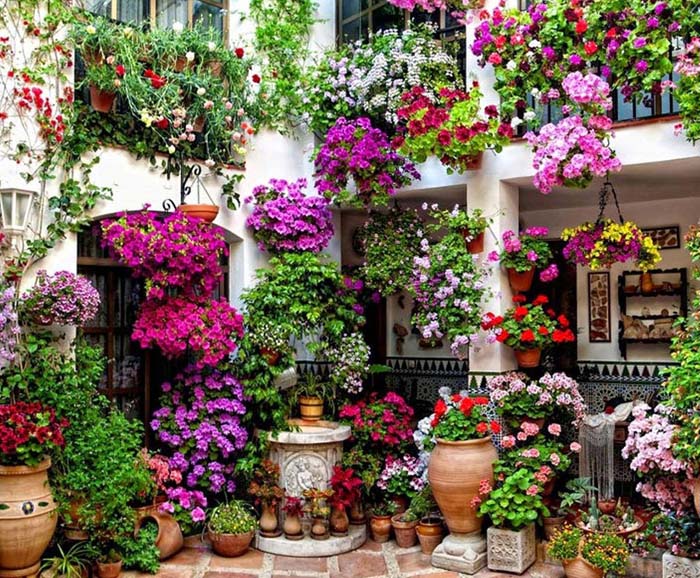 Adding a lot of planters vertically creates an elegant outdoor setting reminding the landscape of a domain. Blossoms in red, pink, white and purple embellish the balcony, the columns and the floor.
Different in size and design terra cotta pots hold them to create a stunning effect. Smaller ones are grouped together, larger ones are stacked, others are hanging from the balcony or attached to the columns.
The larger ones impress with their antique texture and fill the space with mystique vibes.
11. Frame A Succulent Garden In Driftwood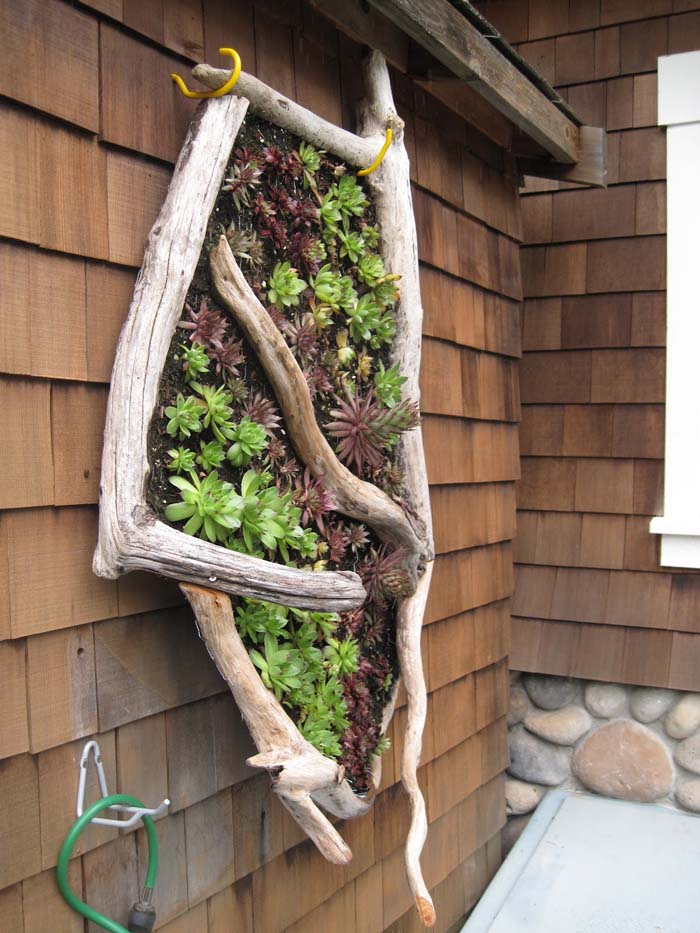 Looking for an interesting design for your vertical garden? Just choose a unique basis for it.
This piece of driftwood is shaped by the water in a whimsical shape and beautify the plain wall with its artwork value created by nature.
Because of the curved shapes of the wood, it holds succulents which will enhance them by the contrasting colors they have.
via Bonney Lassie
12. Terracotta Planter Grid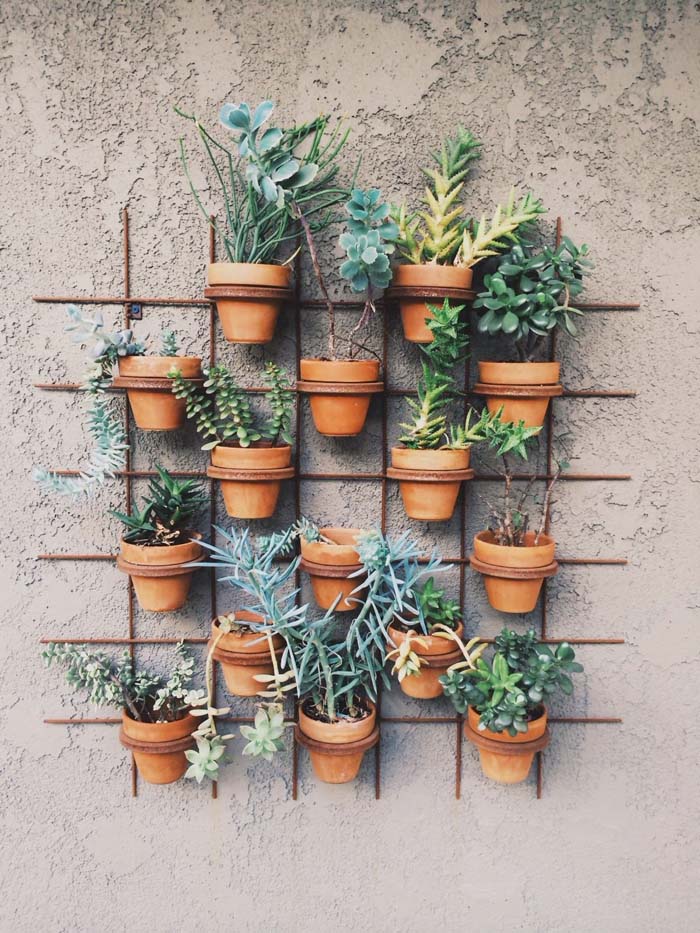 A rusty metal grid has been turned into support that holds small terra cotta pots. Round metal holders are welded to the lines in a staggered pattern to create places to nest the pots.
The pots are left in their original color to complement the vintage finish of the support. This small vertical garden idea is so compact that you can easily found a place for it on the small balcony.
via Dekoloji
13. Utilize A Small Wall With Box Planters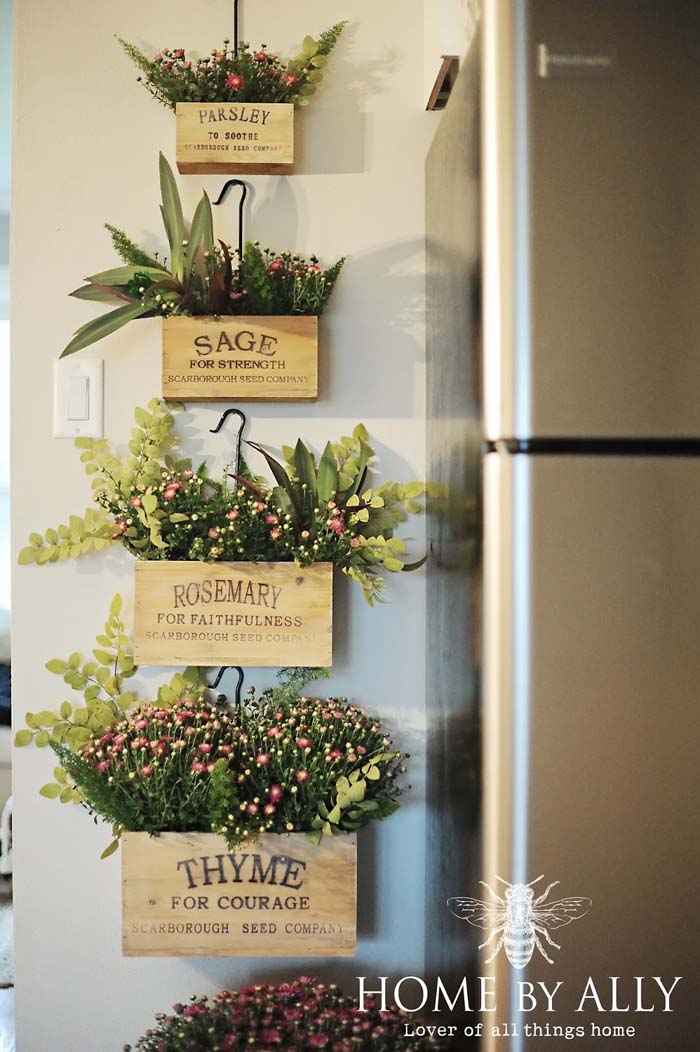 Even the narrowest wall can be turned into a vertical garden with the appropriate size of containers. This herb garden has been planted in descending in size seed containers.
The content of each is inscribed on the front wall to make the planter more special and to create a visual appeal. The combination of wood and distressed signs makes the vertical garden a cooking treasure with a farmhouse effect.
via Home by Ally
14. Modern Look Moss Panels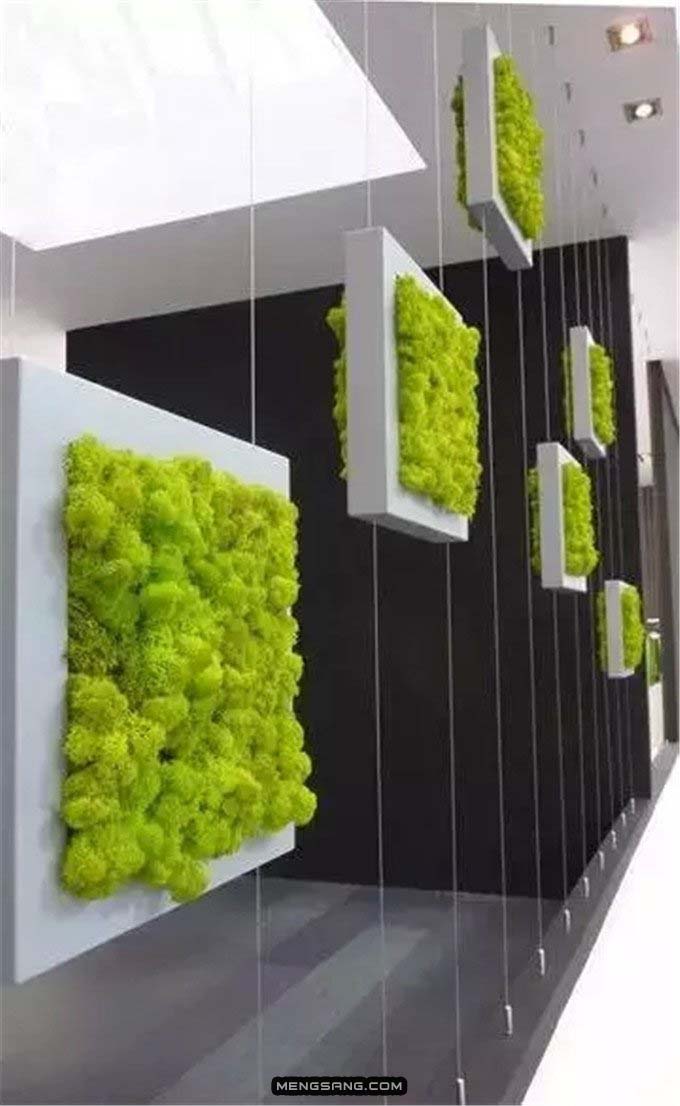 The moss plaques are a universal vertical garden. They can be installed in all rooms, even the bathroom because moss doesn't require much light. And while you can find them sold on the Internet, there are already a lot of tutorials on how to make them yourself.
These ones hang from the ceiling to create a living partition that zones an area. Each frame is placed at a different height to enhance the interest.
The green and white combination additionally enhances the minimalist look of this garden turning it into the desired decor piece for contemporary furnished homes.
15. Boho Hanging Plant Seating Area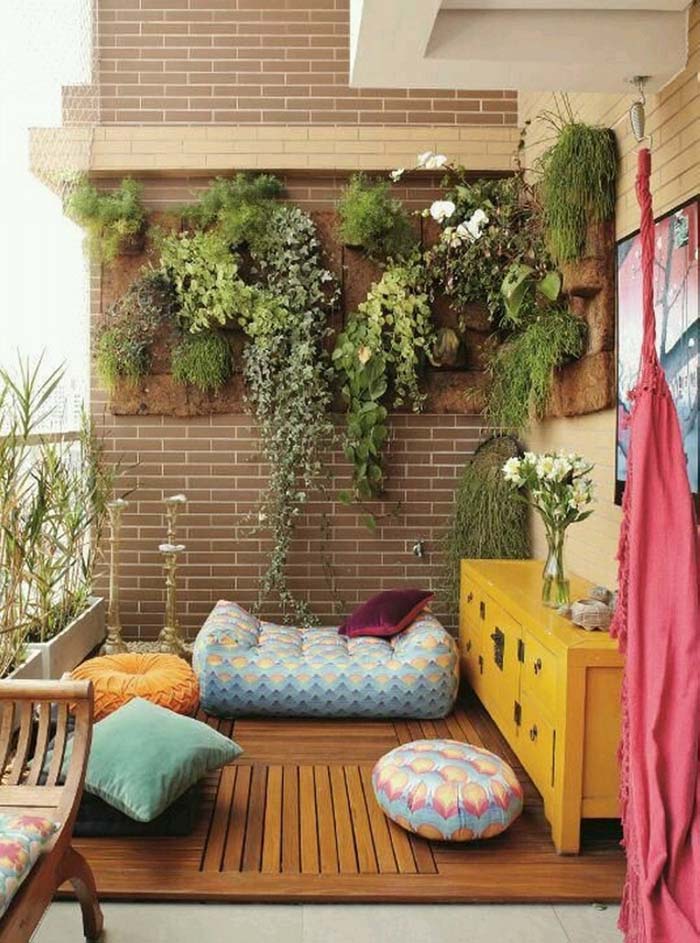 The canvas of this vertical garden is coconut coir liner. It is the most suitable environment for non-standard planters.
It accommodates an exotic combination of ferns and trailing plants which fall down to eventually cover the entire wall and give it a living green wall effect.
The pattern is broken at one spot to make the arrangement more interesting by including gentle white orchids in the vertical garden.
via Cote Maison
16. Floating White Planters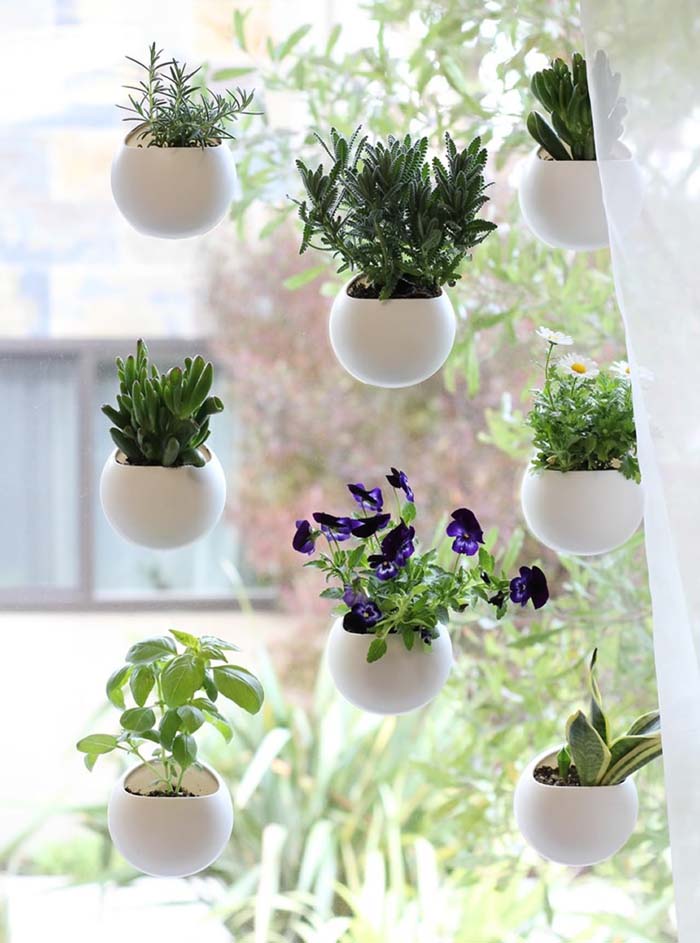 The design of these planters and the way they are attached to the window creates a floating effect. Each one looks like a stone that reminds me of the zen decor methods.
Because of their size, they can hold up small plants or herbs like petunias, mint, daisies.
17. Repurposed Wood Fencing Herb Garden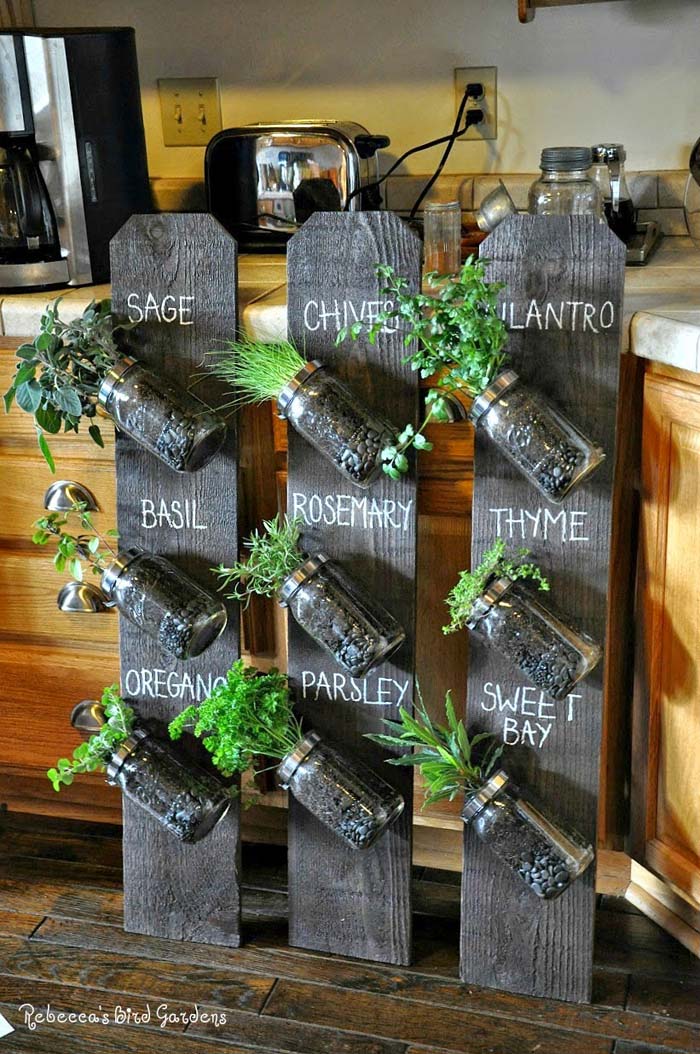 Vertical gardens can be an affordable way to grow not only blooming flowers but fresh herbs. The culinary lovers will admire this idea because they appreciate how the meals' taste change if fresh spices are used.
This spice rack is built with materials you may already have on hand. A few Mason jars repurposed into planters hold every type of herb. Each jar is securely attached to wooden beams with a pipe bracket.
To give the garden an appealing and finished look, write the name of each herb with a chalkboard pen.
18. Vibrant Planters Accentuate Florals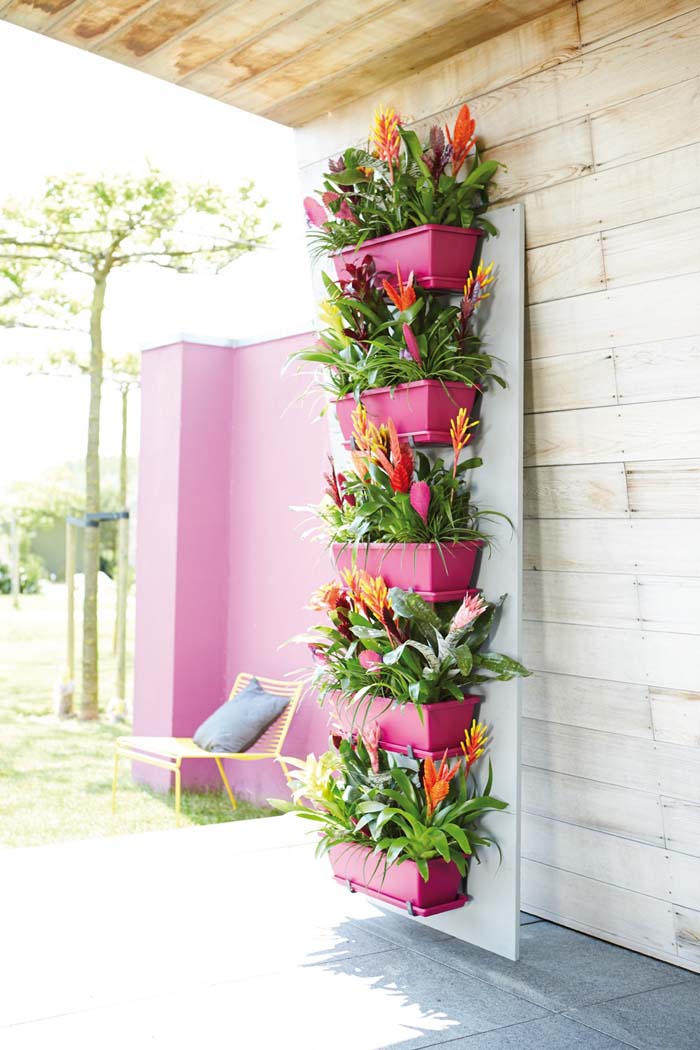 Make your porch more welcoming by covering a part of the wall with a vertical garden. This design can be incorporated even on the smallest porch.
The planters are attached to a wide and strong wooden board. Because of the bold color of the pots, the background is left neutral.
via Ranzijn
19. Use Vintage Frames For Living Art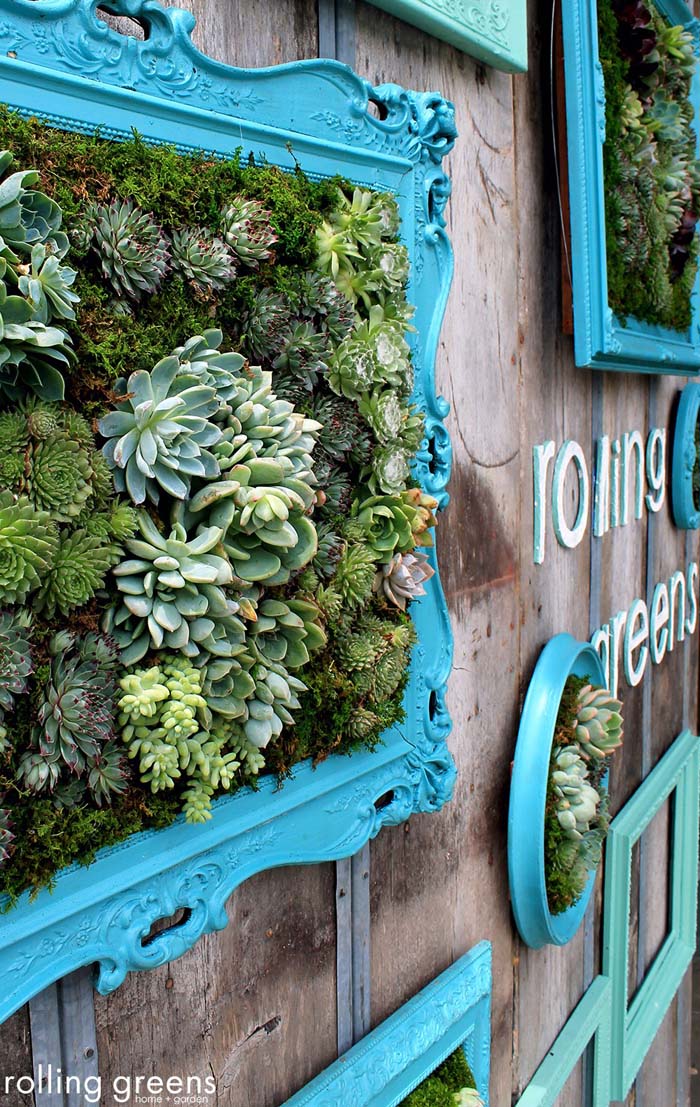 If you already have a collection of antique frames turned into a focal point, you can uplift it by framing a succulent and moss art in it.
Such frame collages can be used indoors and outdoors, especially if succulents are planted because of their unpretentious nature.
20. Living Wall Brings The Garden To Small Spaces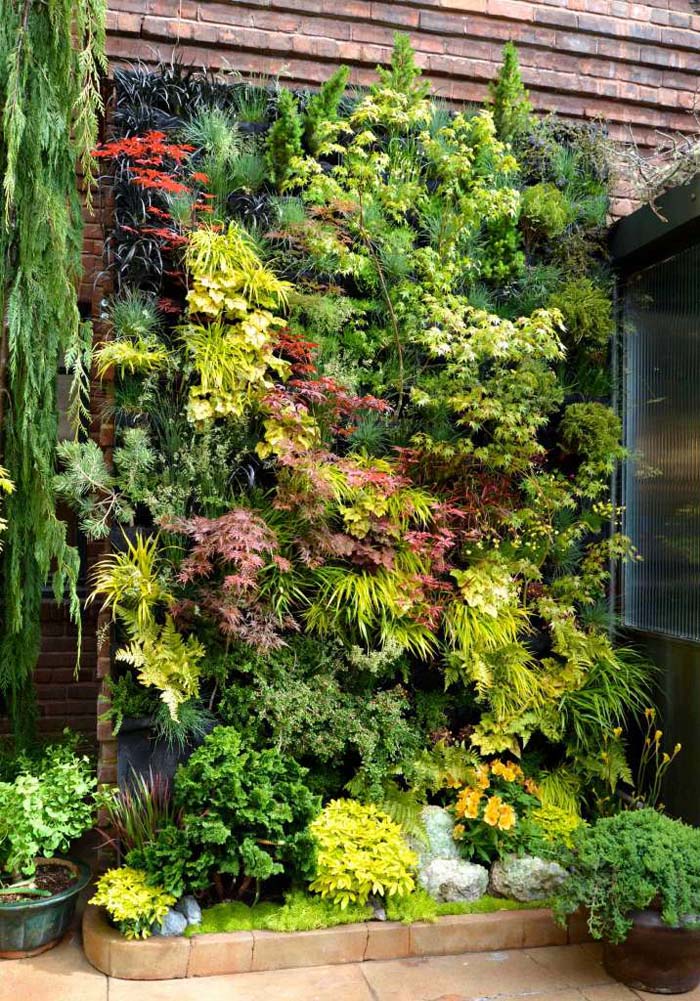 Creating a living wall will surely make your home unique and appealing. Although it seems a difficult task, don't give up.
The undeniable effect of this leafy green wall comes from the subtle shades of colors and textures.
21. Cracked Terracotta Fairy Village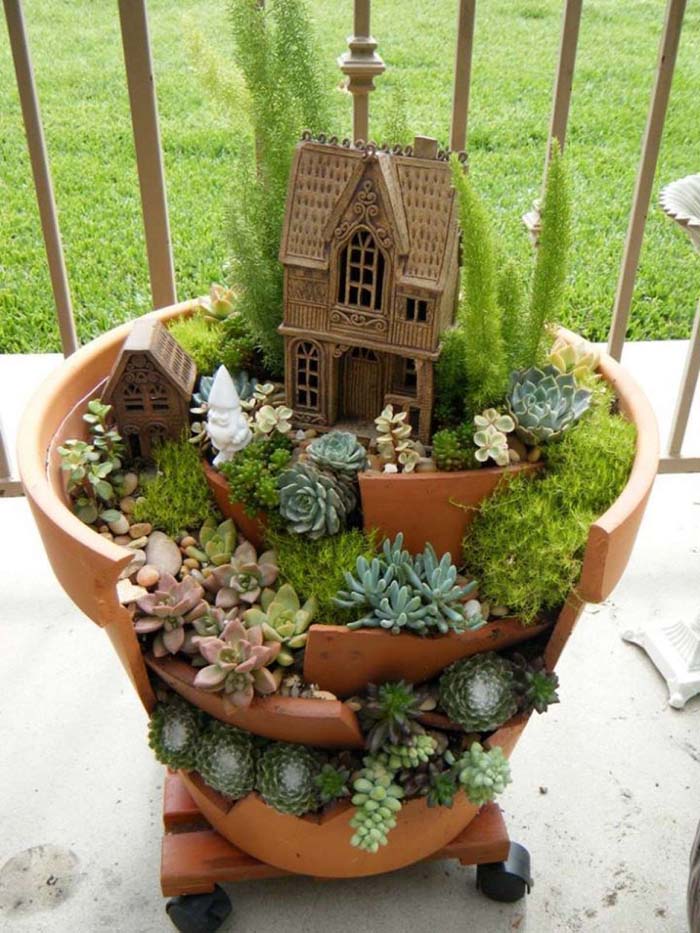 Fairy gardens have been popular in the last few years. So having one on your porch is a way to instantly turn your home into a trendy and inspiring place.
This idea features a staggered design where on each level flowers peek out. The elevated design gives the garden a point of interest which is achieved by recycling broken pots. They are nested over a film of soil leaving a belt empty for the succulents on each level.
The top of this vertical garden is what creates the whimsical fairy garden- tiny houses with a cottage look are surrounded by miniature pine trees. There is a gnome in front of the bigger house, recreating a motif from the real normal-sized houses.
22. Coastal Driftwood Wall Garden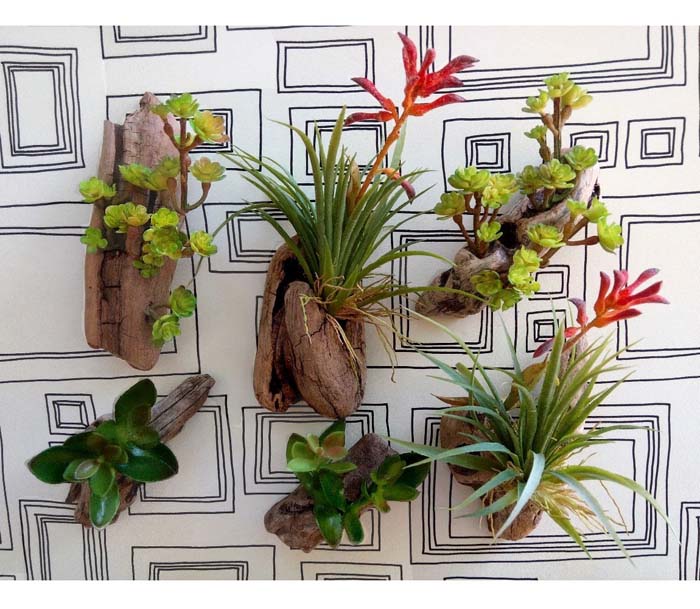 Repurposing of a large piece of driftwood into a vertical garden gives the space a whimsical coatal effect. The same can be achieved with smaller pieces when grouped together.
The unique shape of every piece gives the planter a point of interest. Attaching it to a wall or a fence enhances this effect. Use the hollows created by nature to fit plants that suit the space. Succulents seem the be the perfect choice because of their small size and easy-to-maintain nature.
23. Chicken Wire Potted Arbor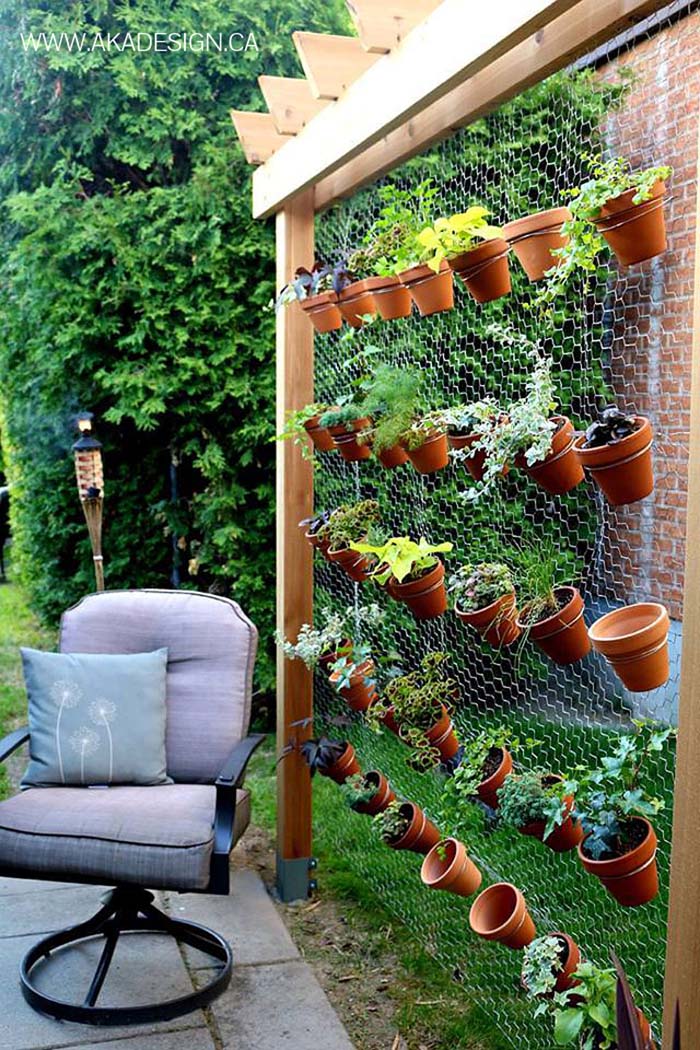 This vertical garden serves as a screen. Instead of building it entirely from solid materials, the space between the posts is covered by chicken wire.
This interesting decision has its advantages. First, you can easily attach as many flower pots to it as you wish. Secondly, it lets air go through. Last but not least, the inexpensive materials used to create a farmhouse accent which will turn this part of the garden into a welcoming place.
via Homemade Lovely
24. Upcycled Colorful Can Wall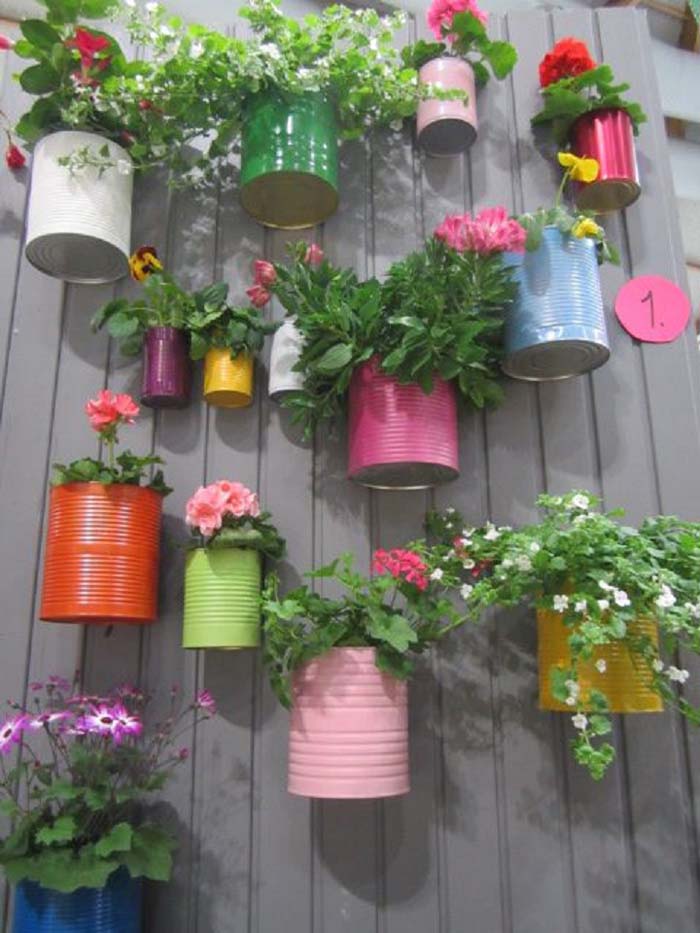 Do you keep the baby food tins? Or your dog's food cans? Transform them into bright plant holders by painting them with vivid colors and grouping them together on the fence.
This upcycling project is one of the easiest and most affordable ones, especially if you already have spray paints at home.
via We Heart It
25. Create A Consistent Palette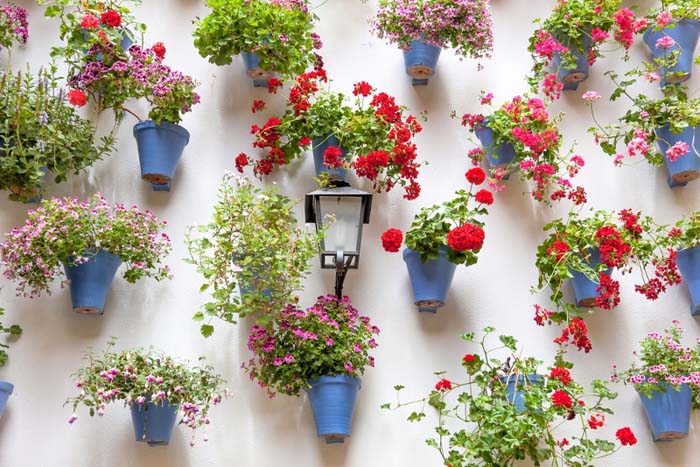 This stylish vertical garden spruces up the outdoors with an amazing combination between flower pots, arrangements and flower types.
All pots are identical in size and color to provide an interesting base for the variety of flowers accommodated in them. Some of them are cascading, others grow in tufts. Bright colors like pink, red and green add a pop of color to this blank wall to create a unique outdoor vertical garden.
26. Repurposed Antique Dresser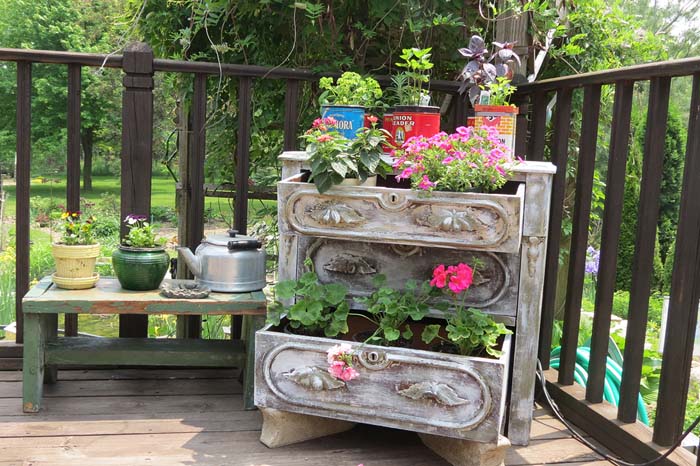 And if you are looking for an upcycling project for your old dresser, you may be interested to turn it into a porch vertical garden.
This is one of the easiest transformation ideas as you only need to pull out the drawers to plant your flowers. Leaving the surface weathered will give the porch a unique vintage vibe. If you want to give it a fresh look, coat it with paint and do some distressing on the edges to emphasize its age and repurposed application.
27. Succulent Wall Art Piece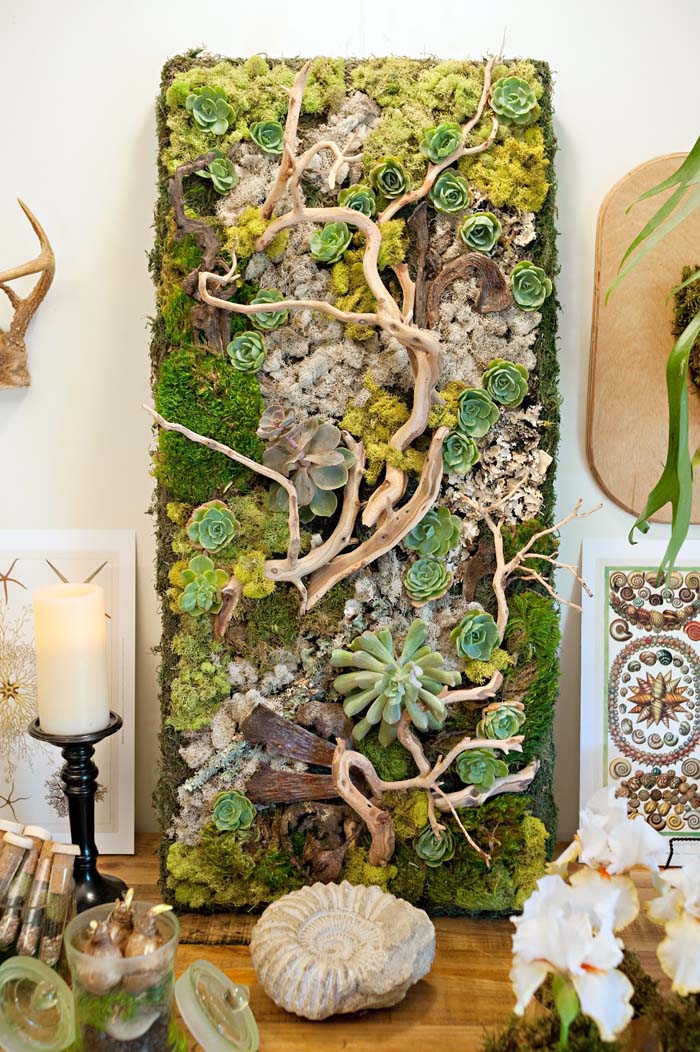 This living plaque spreads uniqueness and modern vibes. The picture created with alive plants and wooden pieces from nature creates a scenery that strikes.
Such a piece of art will look amazingly in the living room but using it outside on the porch could be the only decoration you need to spruce up your home.
28. Tell Your Color Story In Flower Boxes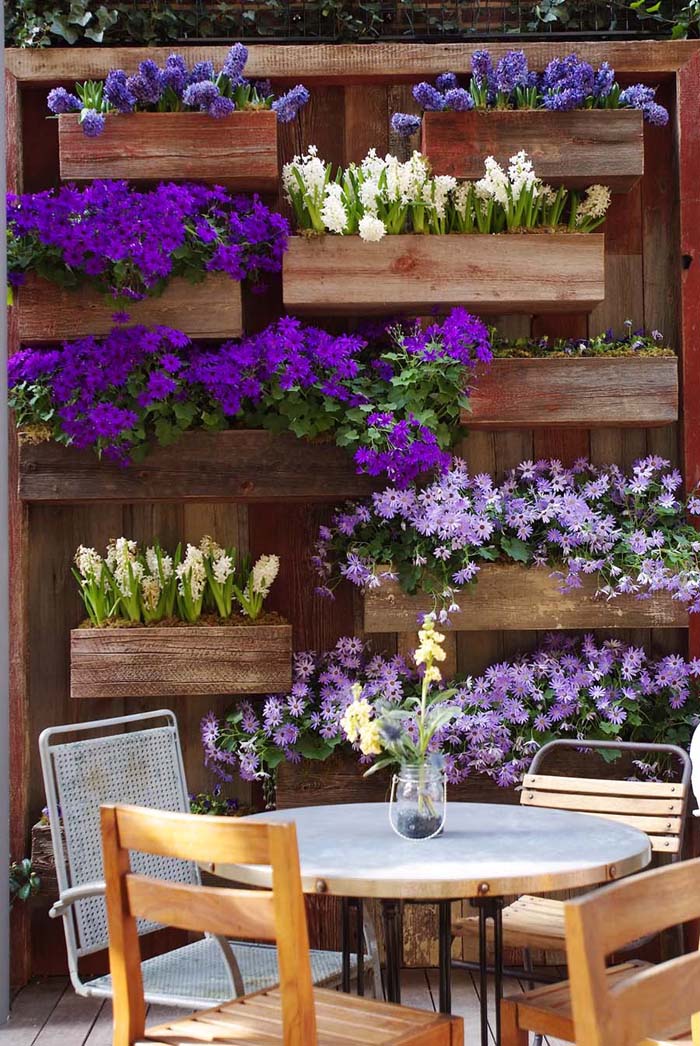 Redwood boxes are attached to a wooden partition. Its application is to zone the sitting area outside and provide privacy. To make the zone more welcoming, these boxes are nailed to it and filled with soil to grow beautiful spring and summer garden flowers.
The stacked pattern of the boxes adds interest, especially in the blooming phase of the plants when colors and tufts intertwine.
29. Use Eclectic Vintage Items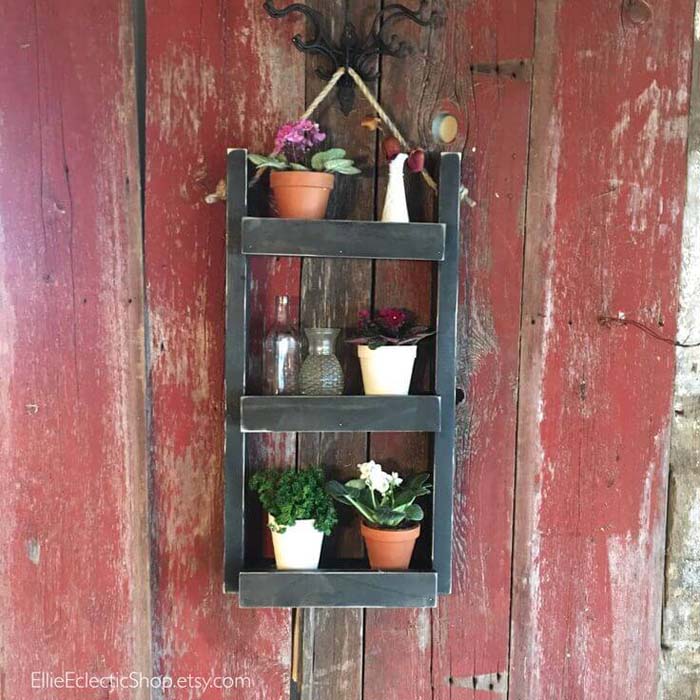 Take a look in your garage and see if there is a piece of a shelf unit that you can repurpose into a vertical planter. That can even be a weathered section of a storage unit.
Depending on the effect you want to add to the existing interior, you can freshen its surface with a coat of paint or leave it to show the marks of age.

30. Create An Architectural Wall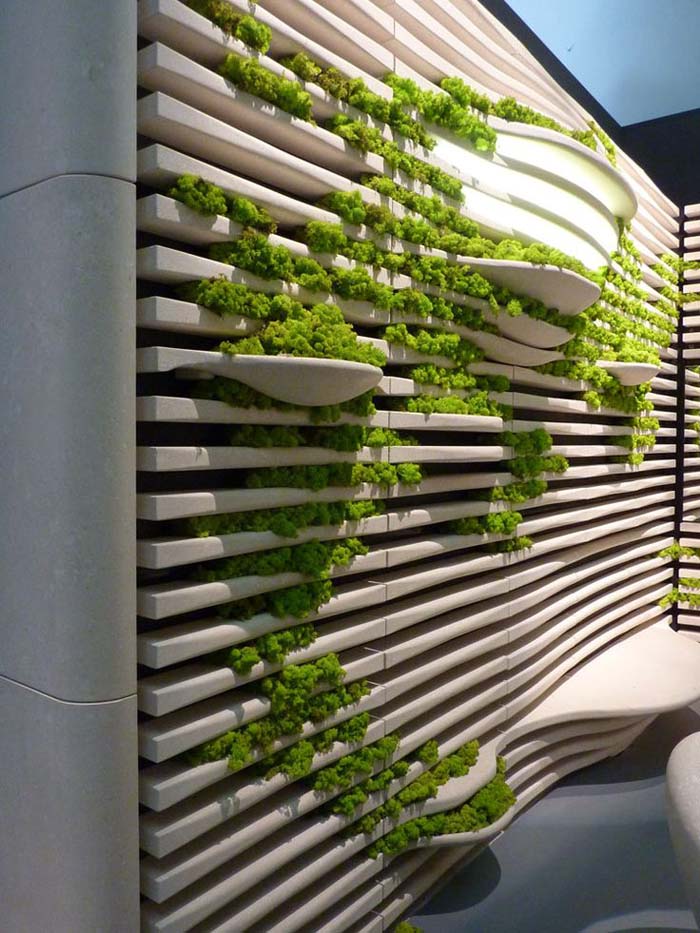 This green wall looks like an innovative architectural piece. Its futuristic effect is achieved by the installation of vertical beams installed at equal distances.
The clean white lines are the perfect backdrop for the green moss to "leak out". The point of interest of this amazing wall is created by installing protruding sections of the same material creating three-dimensional islands for the moss to spread on.
via Podio MX
31. Vintage Card Cabinet Planter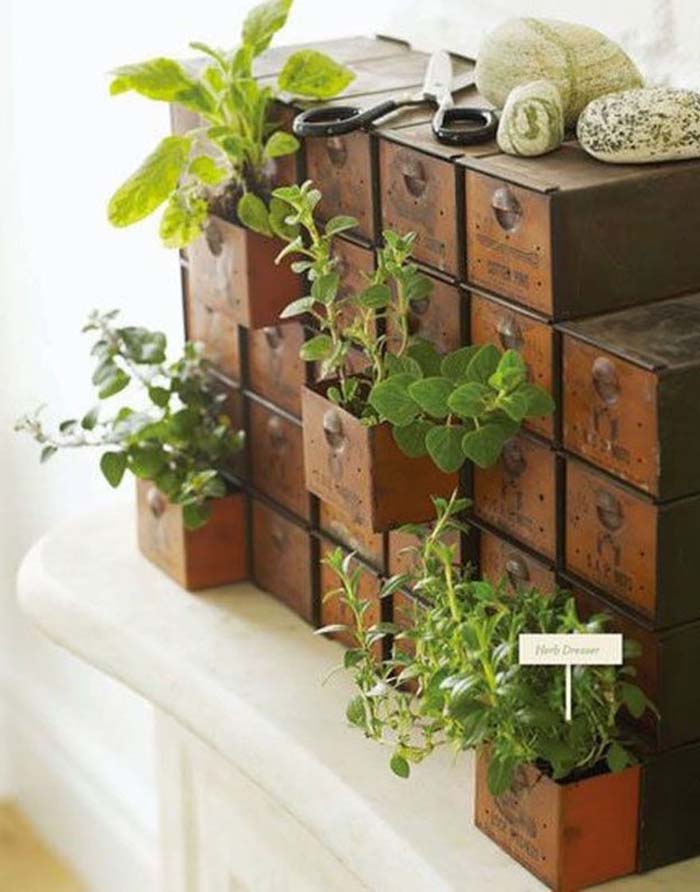 Looking for unique decor? Do it with a vertical garden which will purify the air in your home and will add loads of farmhouse charm to it.
Its basis is made of an old apothecary cabinet. Some of its drawers are pulled out to hold planted herbs. Others are left closed to remind the initial application of the antique.
32. Hanging Ammo Box Garden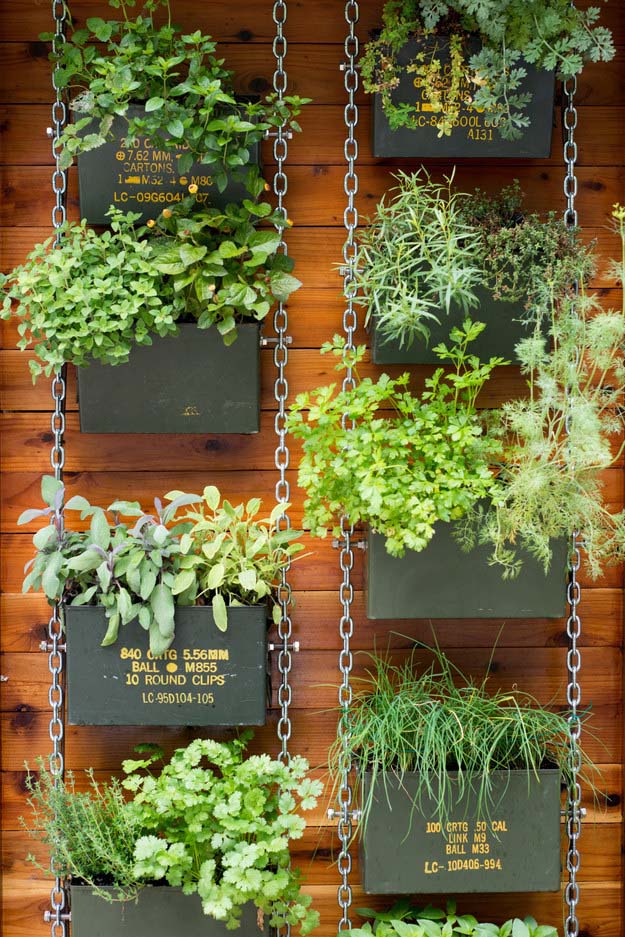 Taking a closer look at this idea, you will be surprised to find out that this vertical garden is made out of chain and old ammunition boxes.
Their repurposed application gives them a positive application which gives the space a sensible visual statement. Being green, they work very well with the metal chains that suspend them. A variety of plants peek out the boxes to smoothen the metal straight shapes.
33. Wall Mounted Pallet Garden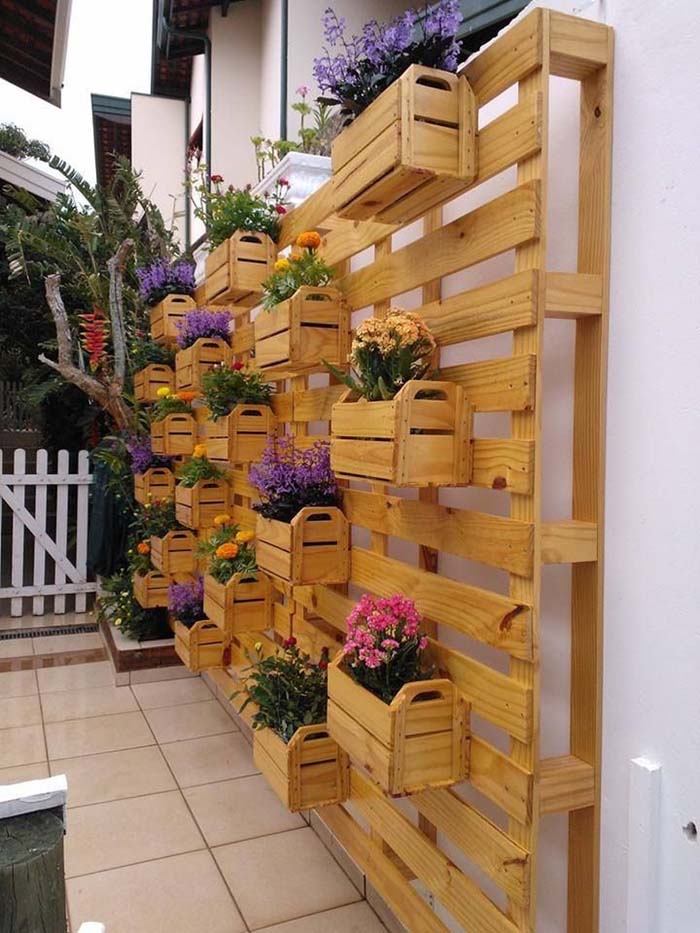 The design of this vertical garden lets you experiment with the number of planters attached to it and the alignment pattern.
It is built on a blank wall that has been lacking a point of interest. And what could be a better way to make it more appealing, especially if it is next to a sitting area? The blossom collection will spread aromatic scents and will add a pop of natural colors all summer long.
34. Galvanized Metal Wall Planters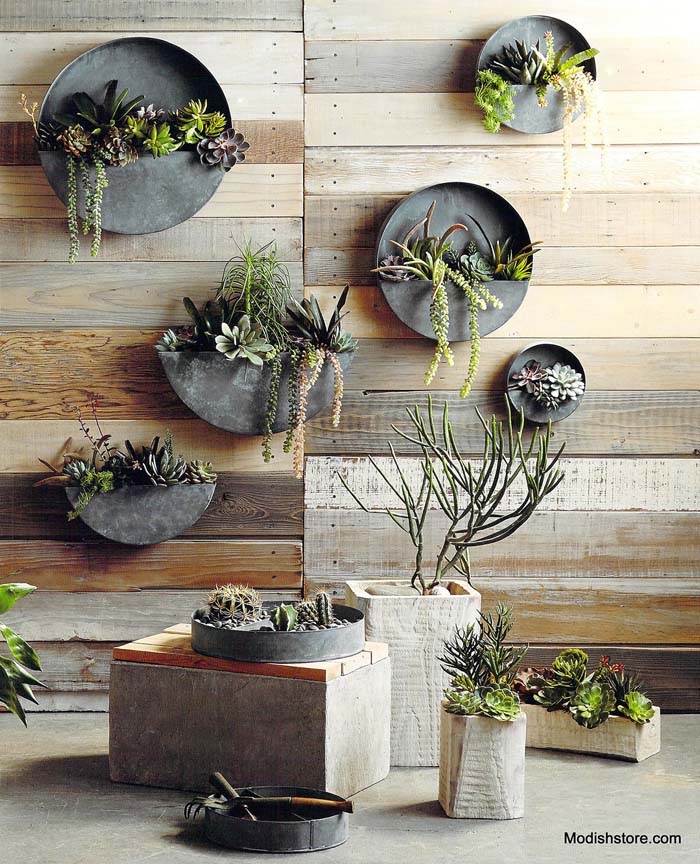 The material of these relates them to the farmhouse style, however, their shapes and the way they display the plants make them a minimalist addition to indoors and outdoors.
This effect can be additionally enhanced by inserting the same plant arrangement in each planter.
via Modish Store
35. Wood Frame Succulent Wall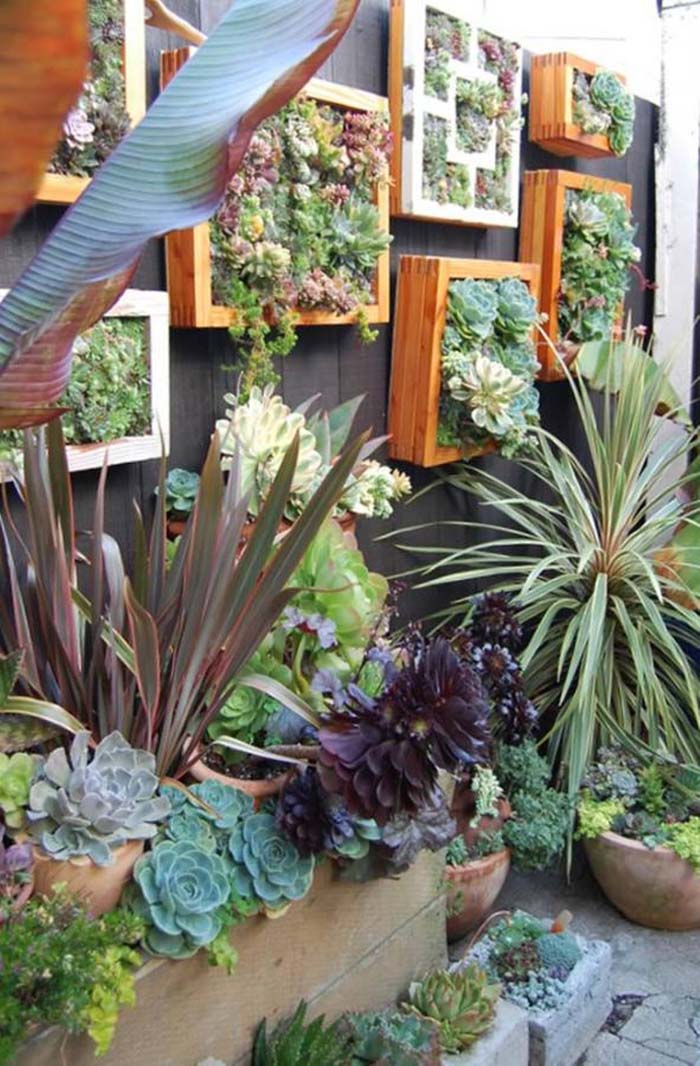 The framed type of vertical garden is a nice way to welcome nature in a contemporary home. For that you need square frames made of wood. Old crates or boxes could be a great supply in case you have a few left.
After inserting the plants into them, group them on the wall to form a continuous decor piece.
Depending on the effect you would like to achieve and the existing decor, you can use succulents to fill your frames to create a minimalist look. Using cascading blossoms will give the vertical garden a magical play of colors related to the farmhouse living. The green and leafy plants will give this collage a modern look.
36. Tabletop Succulent Frame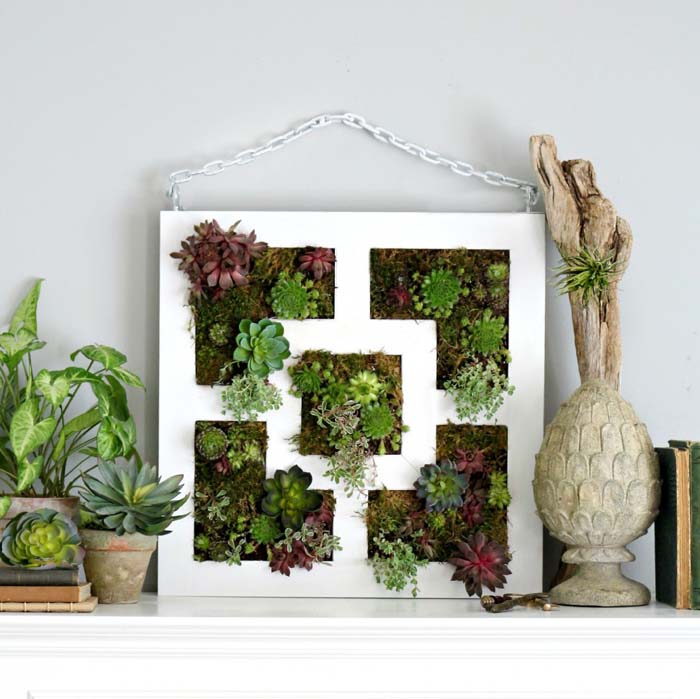 There are vertical garden ideas suitable to fit in a tiny space. They look like a frame holding living nature that can be leaned against the wall to complement a flower stand or to be attached to the wall to create a point of interest.
The design of this frame incorporates clean white lines bent into a geometrical pattern. They outline the spaces in which the succulents are planted.
via Craft Berry Bush
37. Wood Slice Natural Wall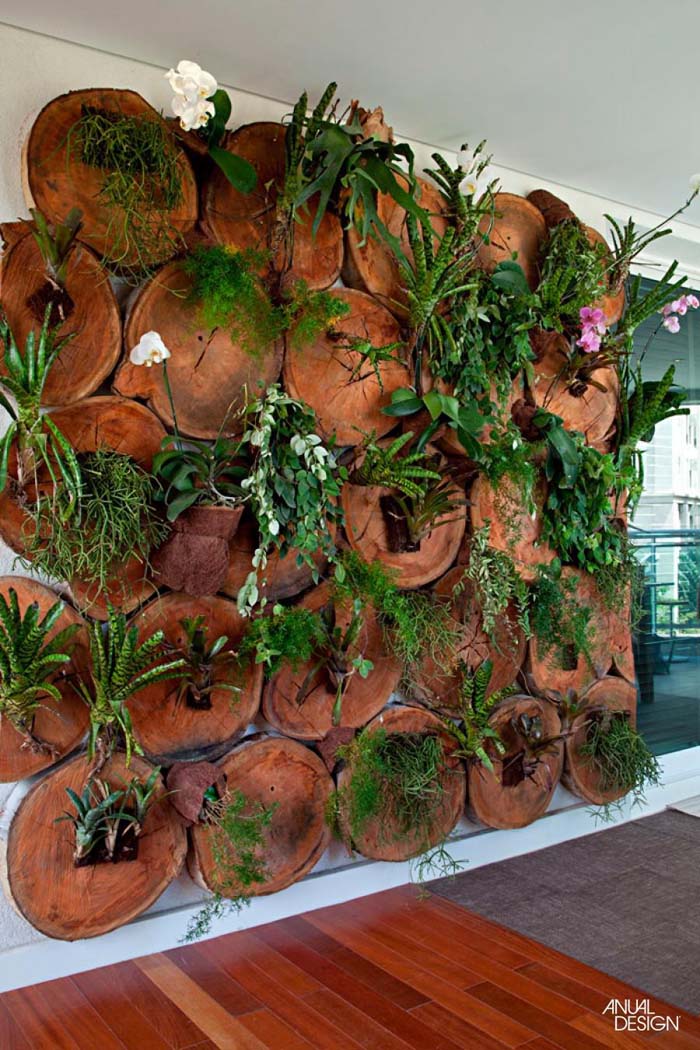 If you want to use the vertical garden to create a bold personal statement, this idea is what you need. Slices of a large tree trunk are cut and then attached to the wall to create a jungle wall.
The slices in which there are holes are turned into planters, while others are left empty to provide contrast for the dangling vines.
via Anual Design
38. Colorful Charming Painted Pots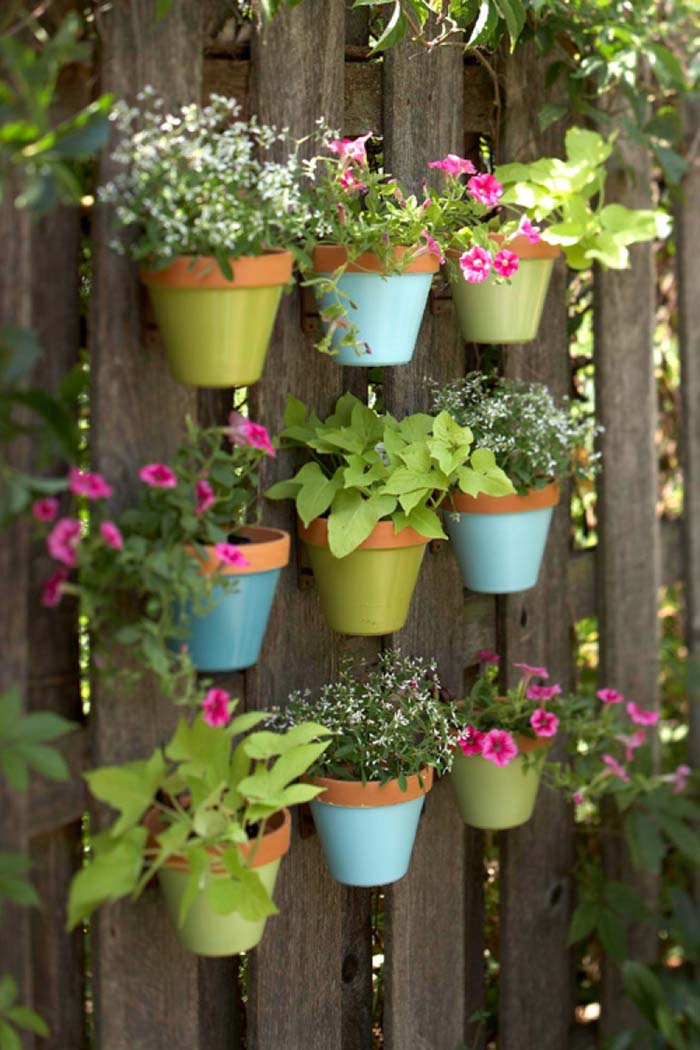 An easy idea for a vertical garden features small pots in pastel colors attached to an old piece of fence.
Thanks to the alignment of the pots and their bright summer colors, the vertical garden easily becomes a focal point. So in case you are looking for a fresh and unexpected planter, you can use this idea even for the indoor space, for example, to grow fresh herbs in a small kitchen.
via Countryliving
39. Found Object Standing Planter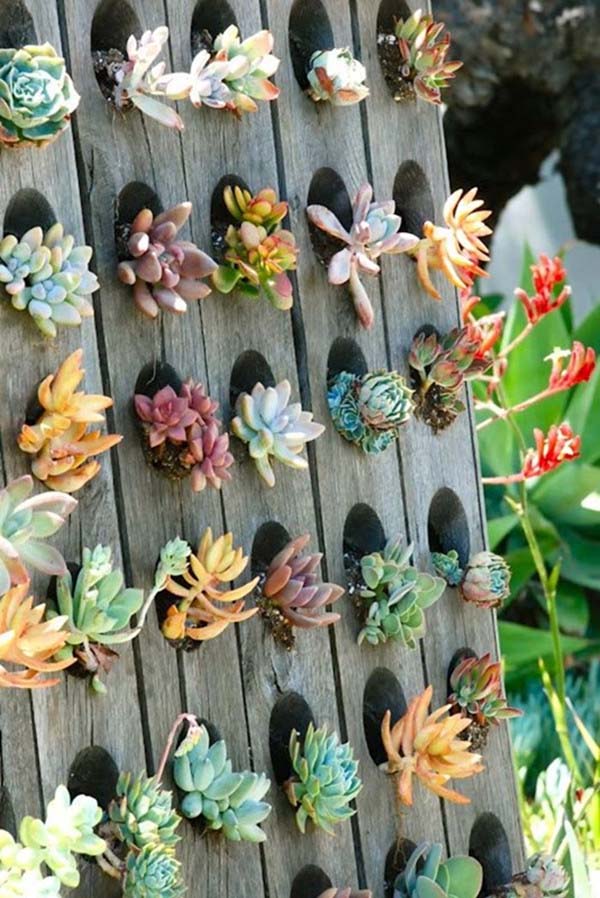 This vertical garden gives a precious antique piece a new life. The holes of sugar molds provide space enough for succulents to grow.
Each one peeks out of the identical hollows to give the weathered wood a fresh look.
40. Repurposed Nesting Flower Box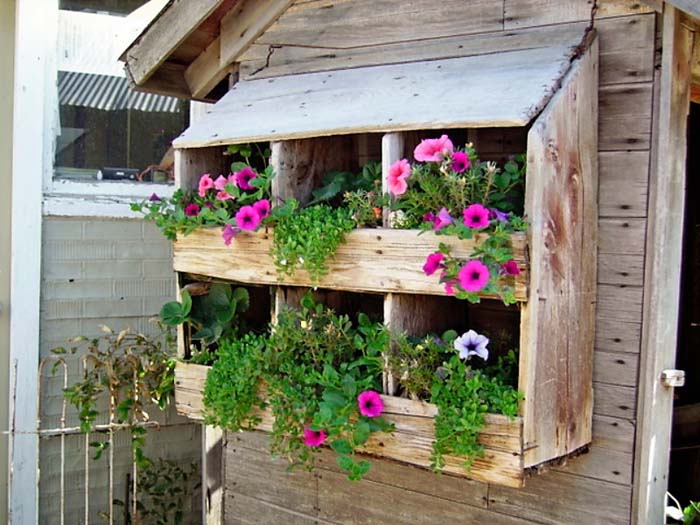 Old nesting boxes for chickens have been turned into a vertical garden inspiring with its authentic design. So instead of throwing away this old farm installation, give it new life in two easy and quick steps.
Find a wall to attach it to and then fill it with the chosen flowers. Cascade petunia or pelargonium are gorgeous flowers that can live in any type of planter.
Vines, interesting types of grass and other green plants will also create the desired effect for an interesting and welcoming home.
41. Contemporary Wood Box Planter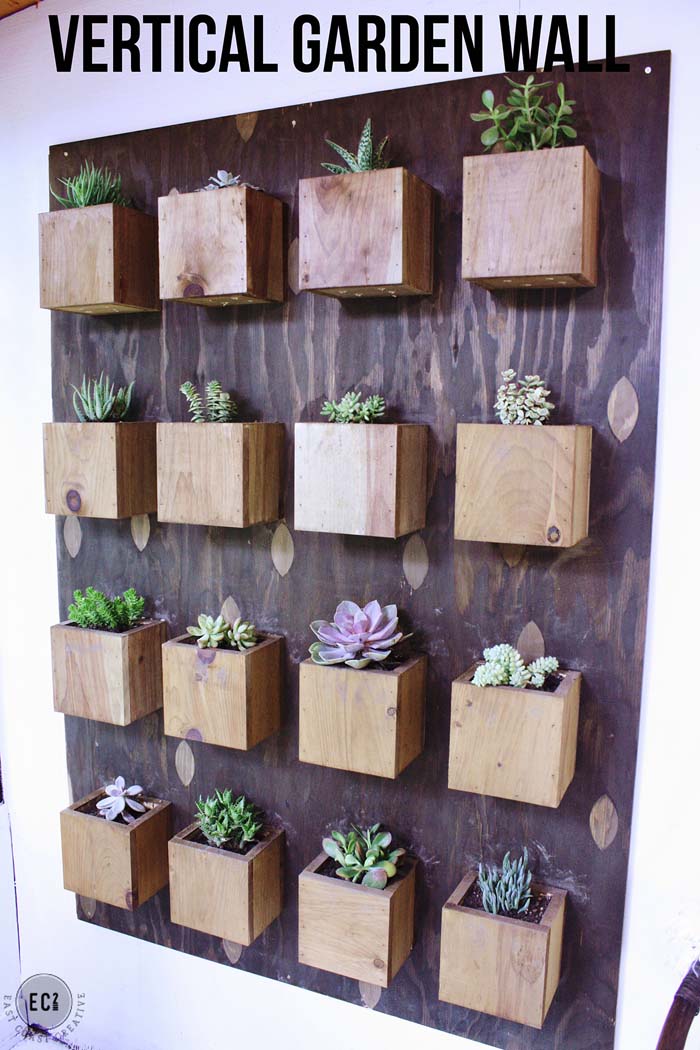 If you want to add a piece of nature inside your home but you don't want it to ruin the minimalist interior, use this idea for a vertical garden.
The sophisticated effect is achieved by arranging identical box planters in rows at equal distances. The boxes are filled with succulents which are very trendy and coherent to modern interiors.
42. Stack Edible Plants In Simple Crates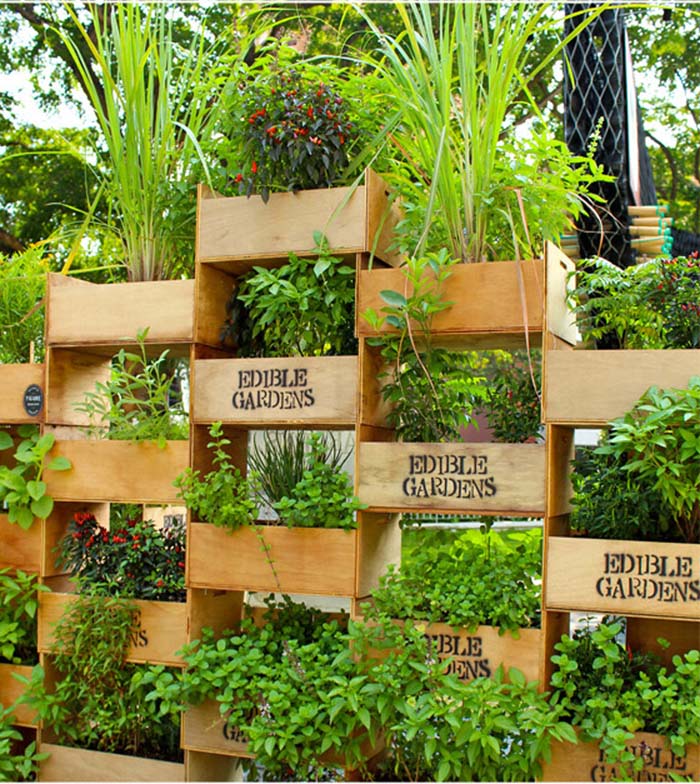 An easy and affordable project for a vertical garden that can be extended as much as you want is the garden made of crates.
They are staggered on multiple levels to create a screen with greenery. The wooden repurposed surfaces make a gorgeous contrast with the planted herbs. The purpose of the plants is marked in a cute way with spray-painted signs.
via Little Green Dot
43. Accent Your Door With Repurposed Drawers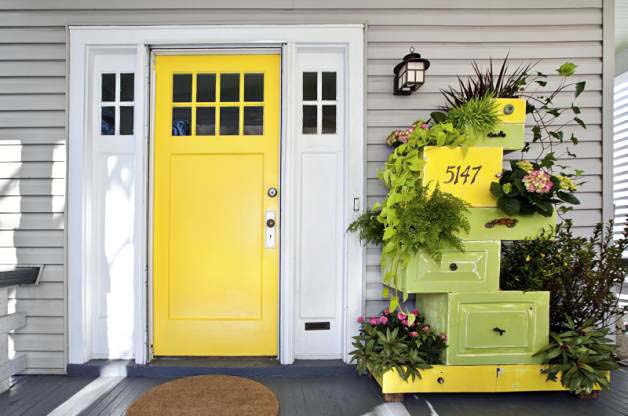 Create an eye-catching vertical garden by repurposing of old pieces of furniture. This one has been created by stacking different in size and depth drawers.
What binds them together is the color combination which coordinates with the bold color of the front door. Use the gaps of the drawers left after the vertical alignment to plant flowers that will grow easily and will utilize the space in an effective and impressive way.
44. Stand A Simple Pallet For A Vertical Display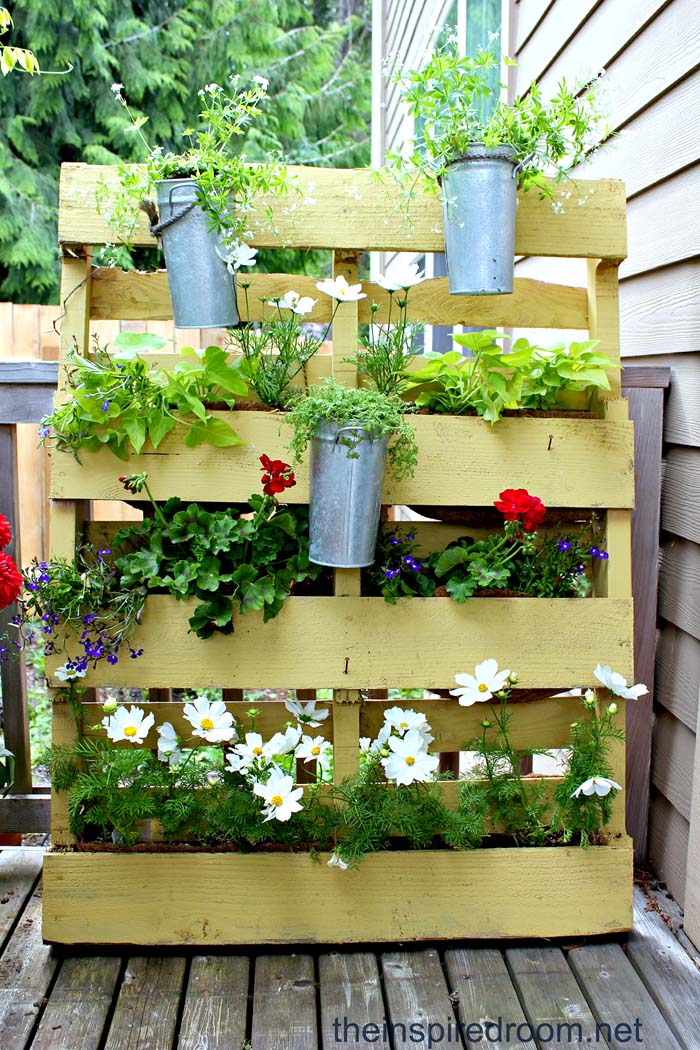 A unique vertical garden can be made of a plain pallet. Plant your favorite flowers in it and let them grow for a while in their natural horizontal position. Then, just put the pallet vertically.
To give the pallet garden a point of interest and a personal touch, add galvanized vintage containers to the slats using twine to secure them to the wood.
45. Add Quirky Elements For Planter Art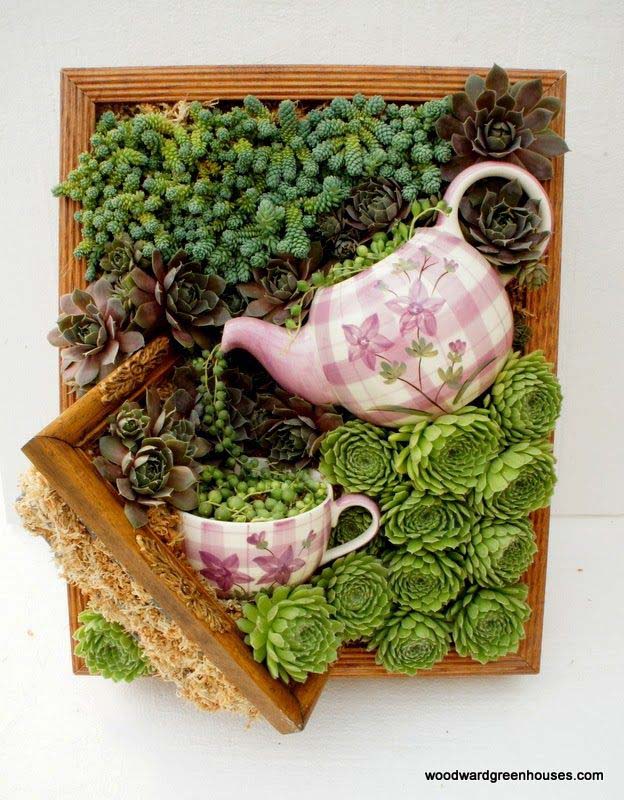 This unique wall art adds a whimsical vibe to the space by using the shapes of the succulent plants in a clever and symbolizing way.
The most common hens and chicks succulents are used to create the background for the living painting. The pearl plant imitates tea with its small green bobbles.
Another feature of this vertical design that brings it in the list of most unique ones is its three-dimensional look created by inserting a small wooden frame across the bigger one. The matching wood of the frames makes sure that the arrangement is appreciated as art without displacing attention from what they hold.
46. Wall Mounted Planter Tree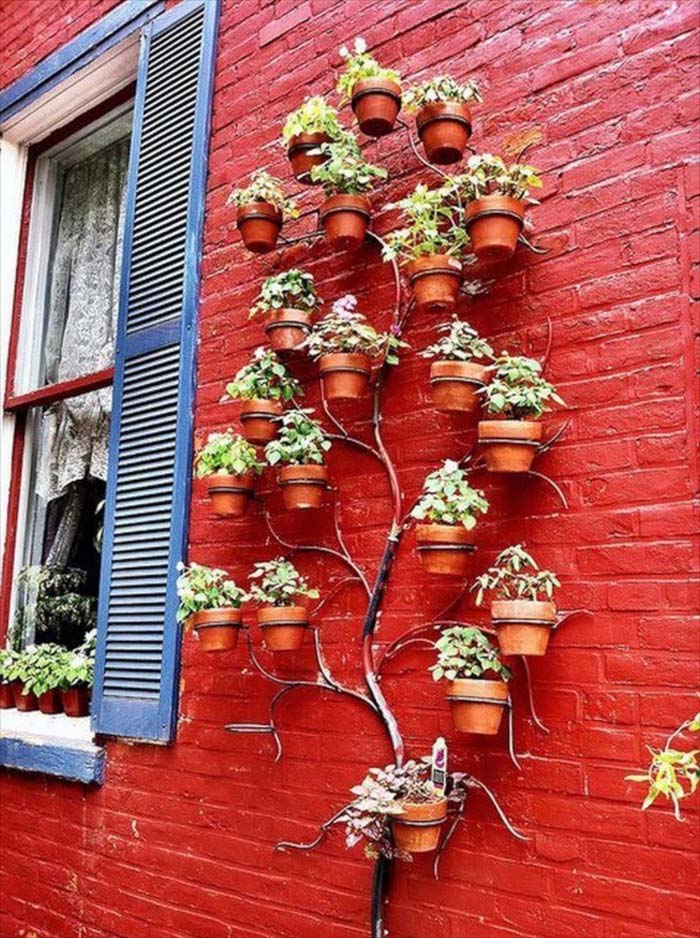 This wall garden idea adds natural beauty to the structural wall with the planted flowers and its design inspired by nature.
Being in the shape of a tree, there are multiple levels for the storage of flower pots. As the tree goes up, the branches become longer and the places for pots- more. The sculpture is made of metal which ensures replicating the curves of the branches in an artistic way. The places for pots are of identical size and in the shape of a circle in order to ensure an elegant final result. All pots are in the same design and color in order not to ruin the artistic effect.
47. Stacked Terracotta Succulent Garden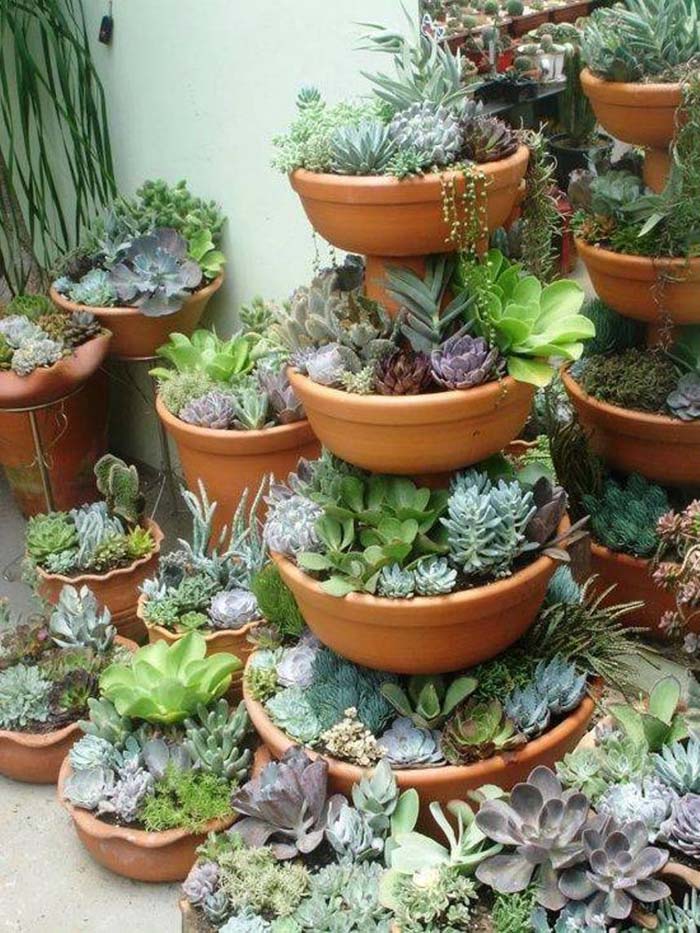 You can make your vertical garden by simply stacking descending in size pots. These terra cotta planters accommodate succulents which fill out the soil with their appealing shapes and shades of green and purple.
If you are looking for a further point of interest, paint the pots in a bright color or experiment with the type of planted flowers.
48. Hanging Shelf Herb Garden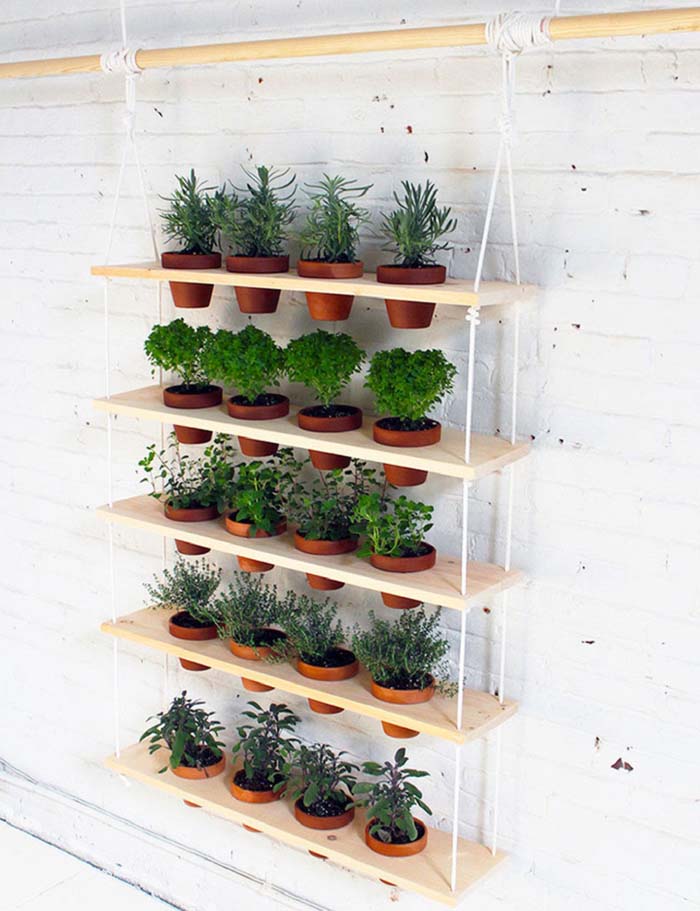 This hanging vertical garden is a DIY project that can spruce up both the inside and outside space of your home. To make it, get five wooden boards and drill holes in them at equal distance. Each hole holds a flower pot up to the bottom of its ledge.
The tiered design is achieved by attaching every board to a white rope. Making knots at the bottom of every board will protect them from moving.
All of the ropes are tied around a solid wooden dowel attached securely to the ceiling. This garden can be used to grow fresh herbs inside or to give a pop of color to your patio with bright blooming flowers.
49. Tropical Plants Create a Wall of Color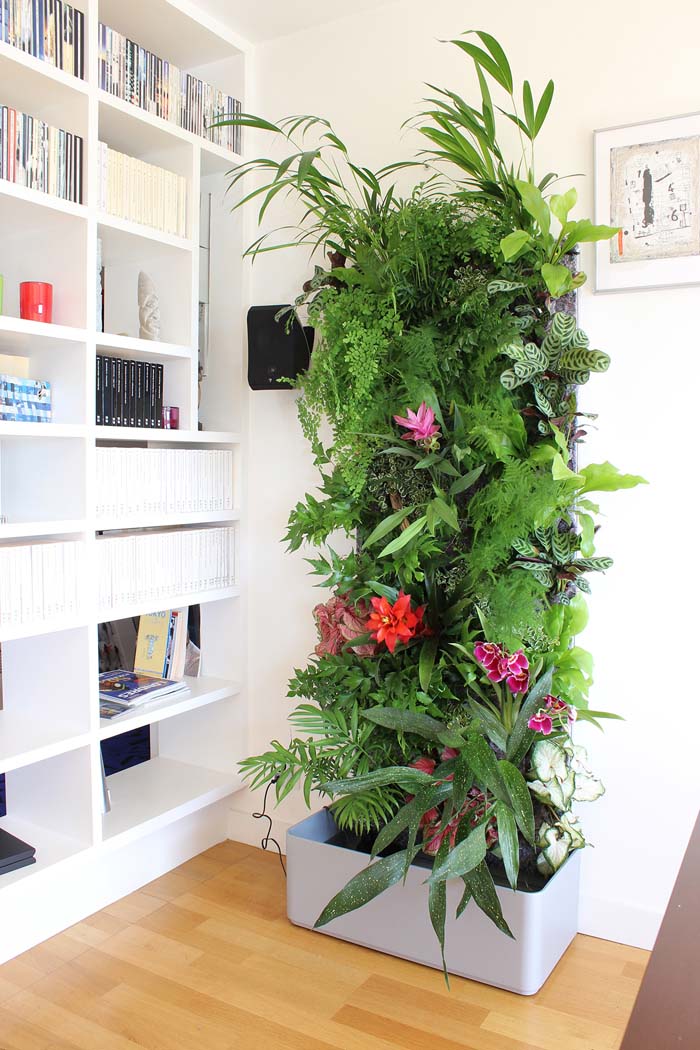 This outstanding vertical garden adds a pop of color to the decor with its variety of plants and bright blossoms. The design reminds of a waterfall but instead of water, various plants peek out or fall beautifully down.
If you like this idea and want to turn it into a constant part of your decor, you can create it with faux flowers and leaves.