Garden containers are the perfect solution for having a flower garden even in the smallest yard. They are also a preferred way for the growth of plants in homes where there are small kids and pets.
Nowadays we also aim to take care of the environment, so combining all of these we have decided to show you what items from our daily routine can be repurposed into plant holders.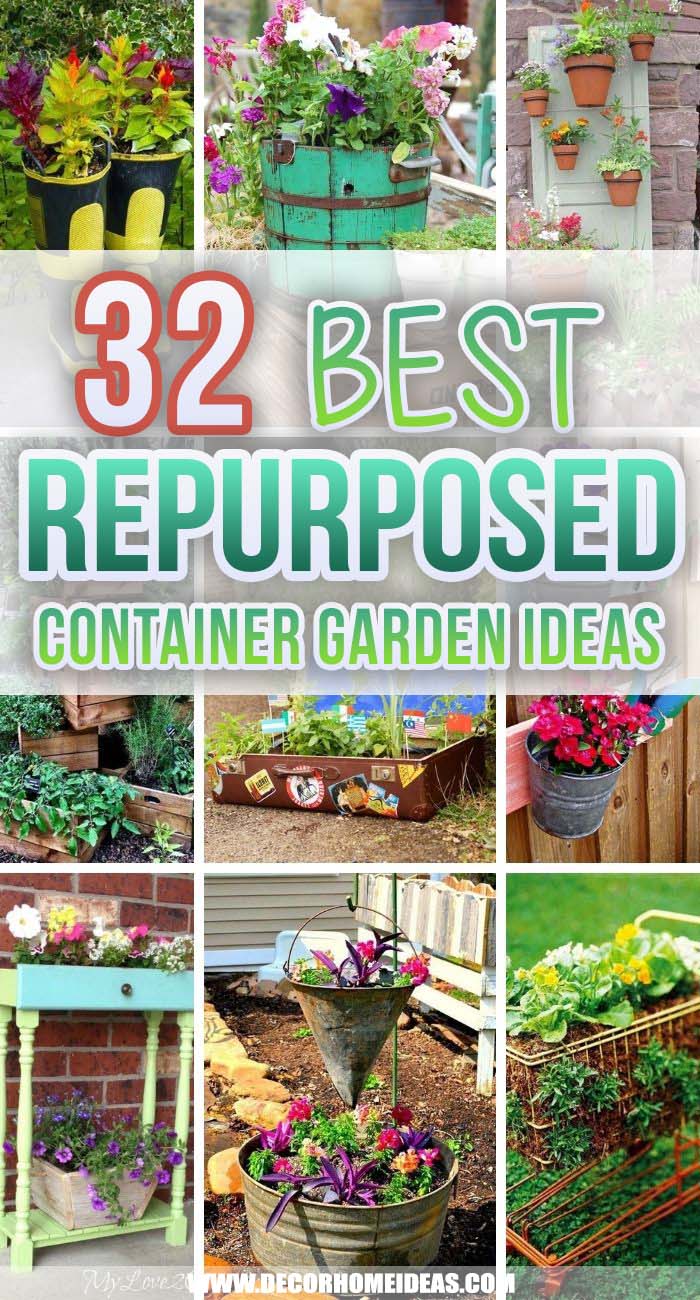 You will save money, you will surely create an unexpected focal point and most of it all you will be enjoying making a unique garden container yourself.
1. Decorate Wooden Boards With Paint And Flowers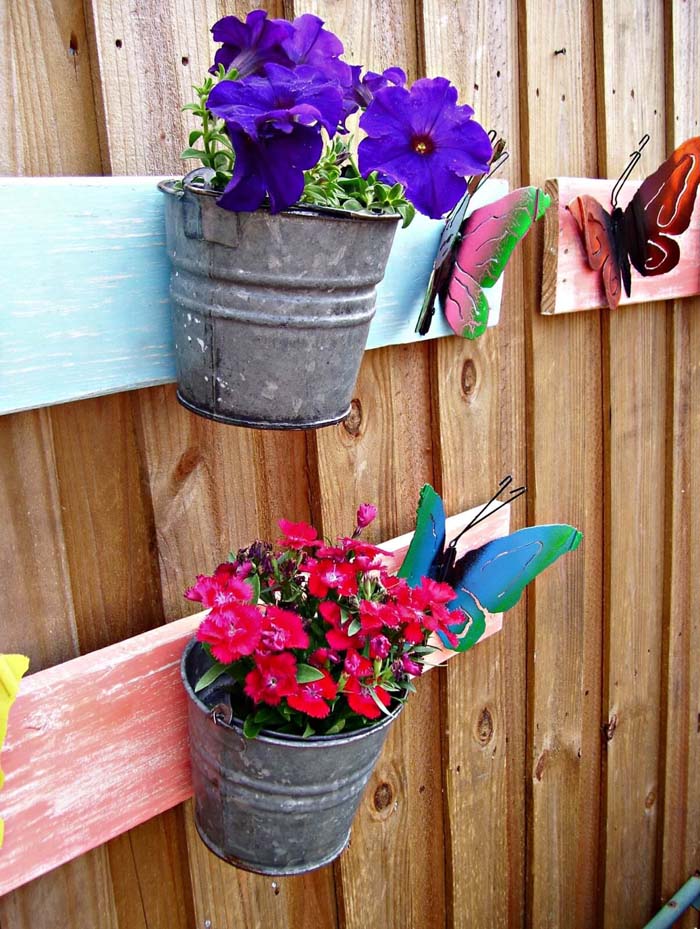 Any galvanized bucket can be repurposed into a planter. The biggest ones are quite heavy, so their place should be on the ground.
The smaller ones, however, can easily be attached to vertical surfaces with nails. If you don't want to damage a wall or the fence, hang the buckets to pallet slats first.
2. Upcycled Vintage Desk Planter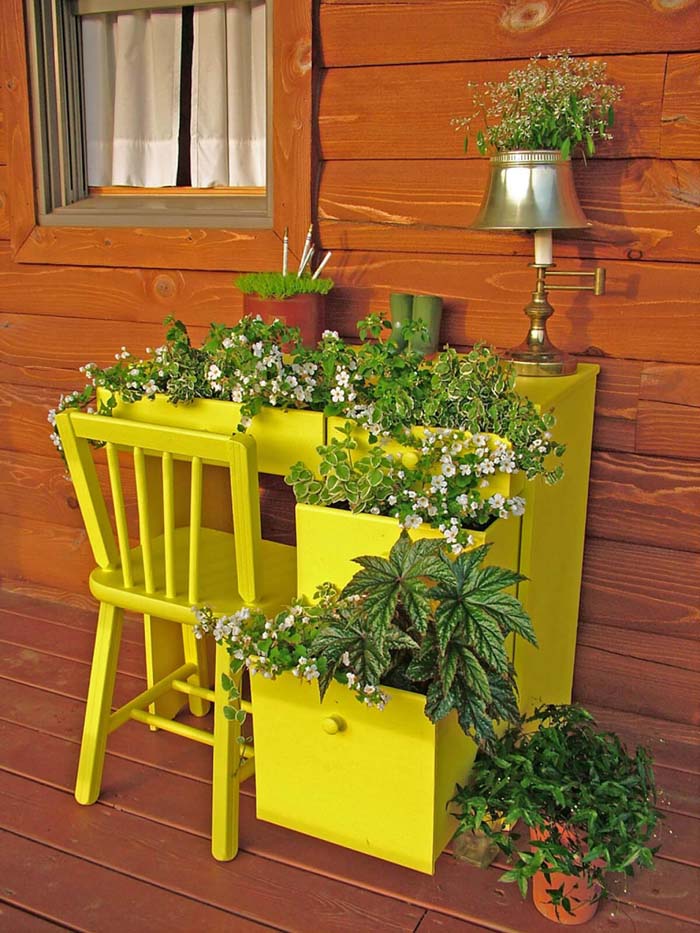 Use that old desk for vintage porch decor. Paint it in bright cheerful color and pull out the drawers to hold seasonal flowers.
Any flat surface can become a flower display so the desk is surely a great alternative to the expensive leveled flower stand.
3. Vintage Dog Food Tin Cactus Garden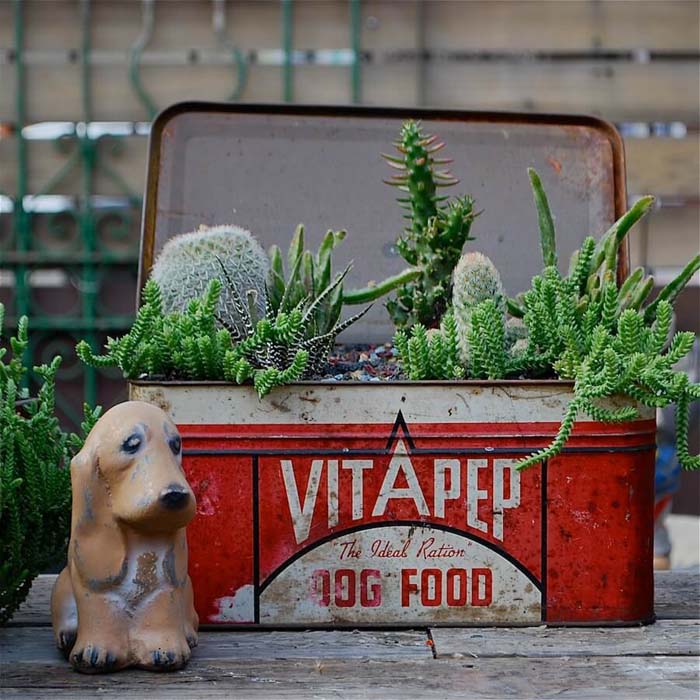 For an ultimate vintage and farmhouse visual effect, repurpose an old metal box into a garden container.
Depending on its size, you can create an arrangement of different kinds of plants, succulents.
4. Multiuse Repurposed Iron Tub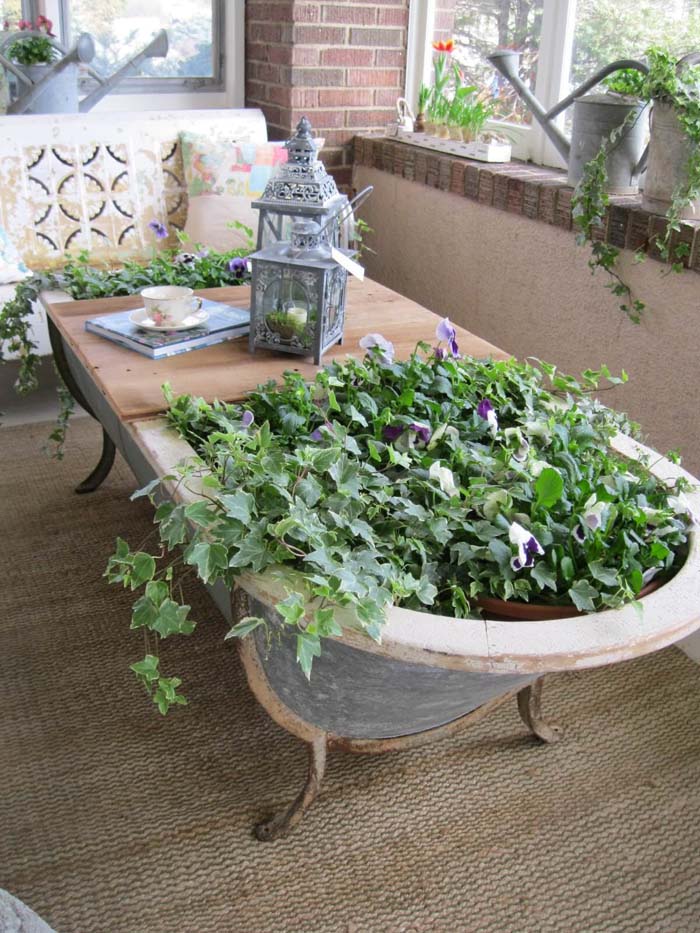 The vintage iron tubs are very durable and also a great source of DIY repurposed ideas. This idea shows how to turn it into a combined table with a flower planter.
Attach a wooden board to the top, leaving half of the tub uncovered. This section can be filled with soil or pots can be placed in.
5. Birdbath Planter For Succulent Garden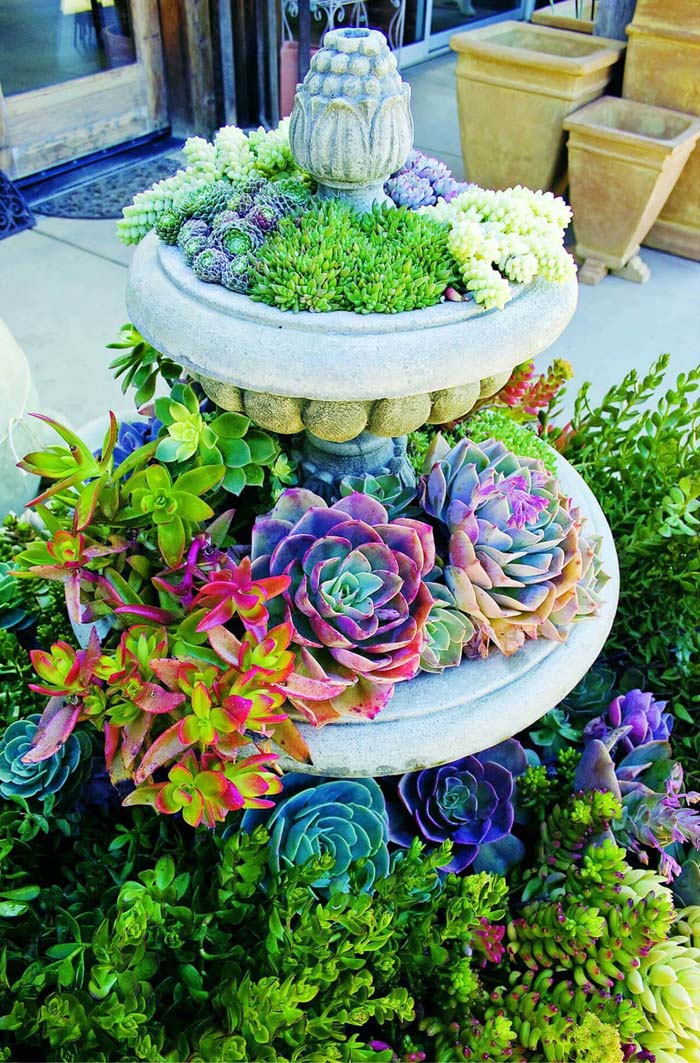 Use a ceramic fountain as a flower stand. Instead of seeing water flowing, plant various kinds of flowers to imitate the fall.
You will be enjoying a colorful and textured living waterfall in your own backyard.
6. DIY Vintage Chair Planter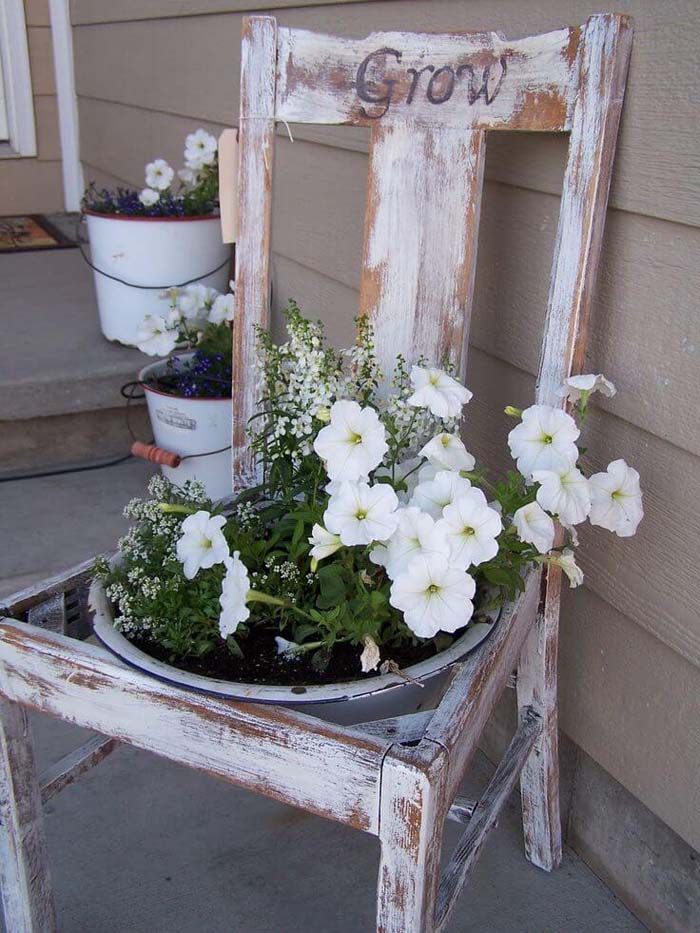 Have an old wooden chair that is no longer in use or is damaged? Use it as a garden container by taking the seat off. The wood will take a unique rustic look if it is whitewashed and then distressed in some areas.
Use a galvanized basin as a flower pot to install in the place of the seat.
7. Stacked Desk Drawer Flower Planter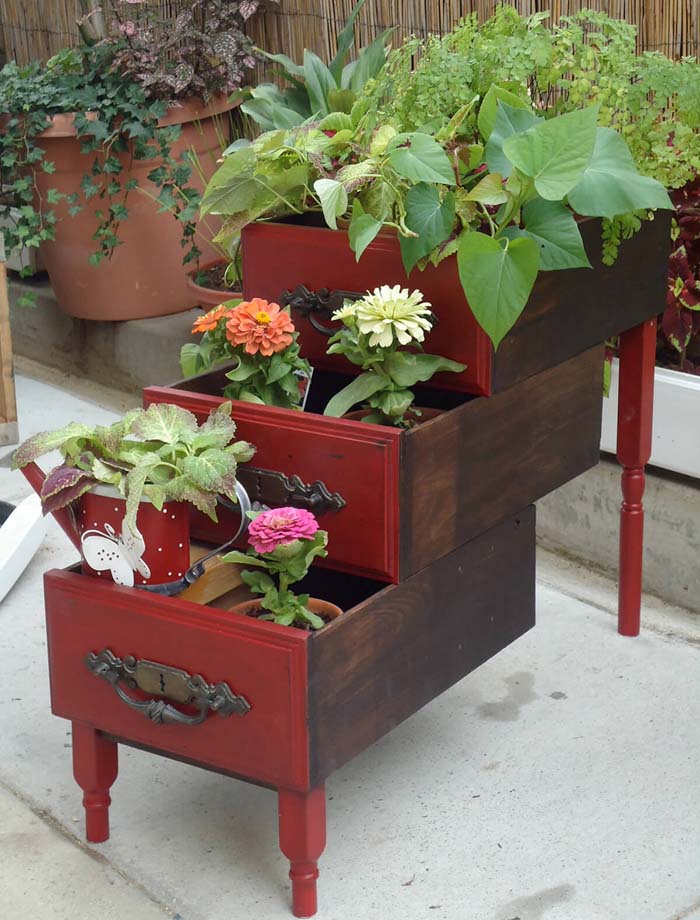 Imitate a tiered flower stand with drawers. Stack them on top of the other leaving openings for direct planting of flower kinds or to place pots in.
The wooden stand can be supported with reclaimed posts, old chair legs or bed legs.
via Sweet Pea Garden Collection
8. Tiered Vegetable Garden Planter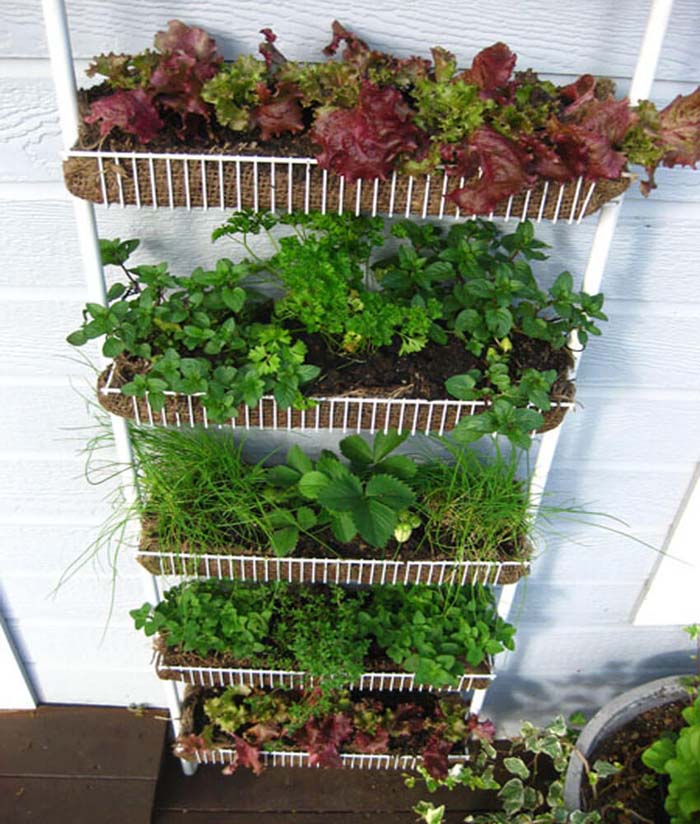 Use the metal fruit and vegetable organizers as garden containers. To keep the plants in the wire sections, you need to think of coverage that will keep the soil in place.
Coconut lining is good for that purpose as well as the plain plastic pots.
9. Repurpose A Hat Stand With Colorful Cookware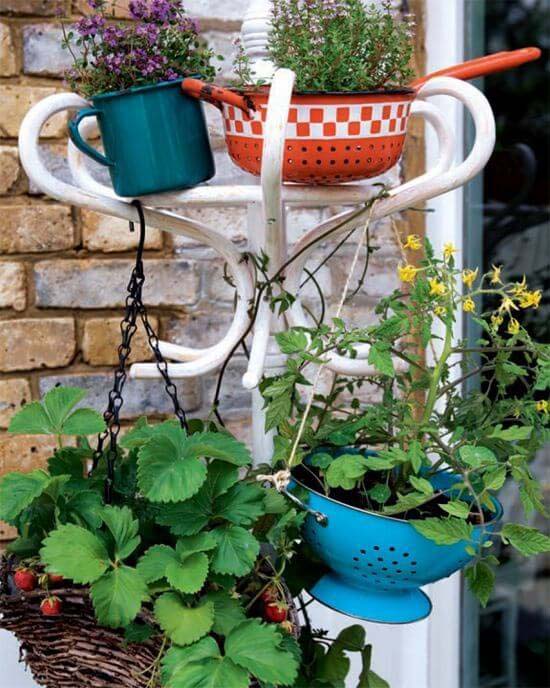 Any kitchenware that has once served as a container can be repurposed into a flower container. The strainers and the wicker baskets are perfect for that new application because they allow drainage and suspending.
Use ropes and chains to hang them to your porch for a bolder farmhouse effect.
via Pebble Soup
10. Plant Greens In Colorful Wagons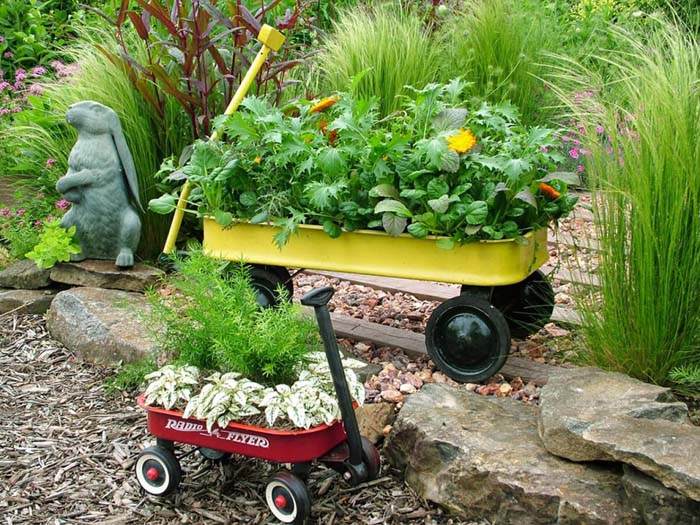 The toys remain unused and forgotten as years pass by.
This is an idea of how to give them a new life, turning them into a sentimental garden focal point.
11. Vertical Succulent Garden In Distressed Frame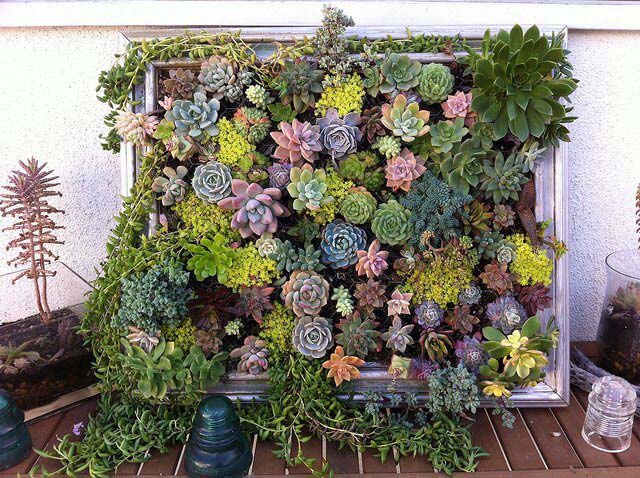 Succulents and moss are the best kinds for flat vertical gardening. Creating a living picture requires a large frame that is deeper than the standard ones. Cover the backside with a plywood sheet and then fill the formed box with soil.
On the top of the frame, place a wire mesh that will let every plant has its own cell to grow. Now it's time to plant the succulents. When the arrangement is finished, let the frame stay in a horizontal position for two weeks.
After that, your new outdoor wall art is ready to be exposed.
12. Paint A Vintage Bucket For A Colorful Planter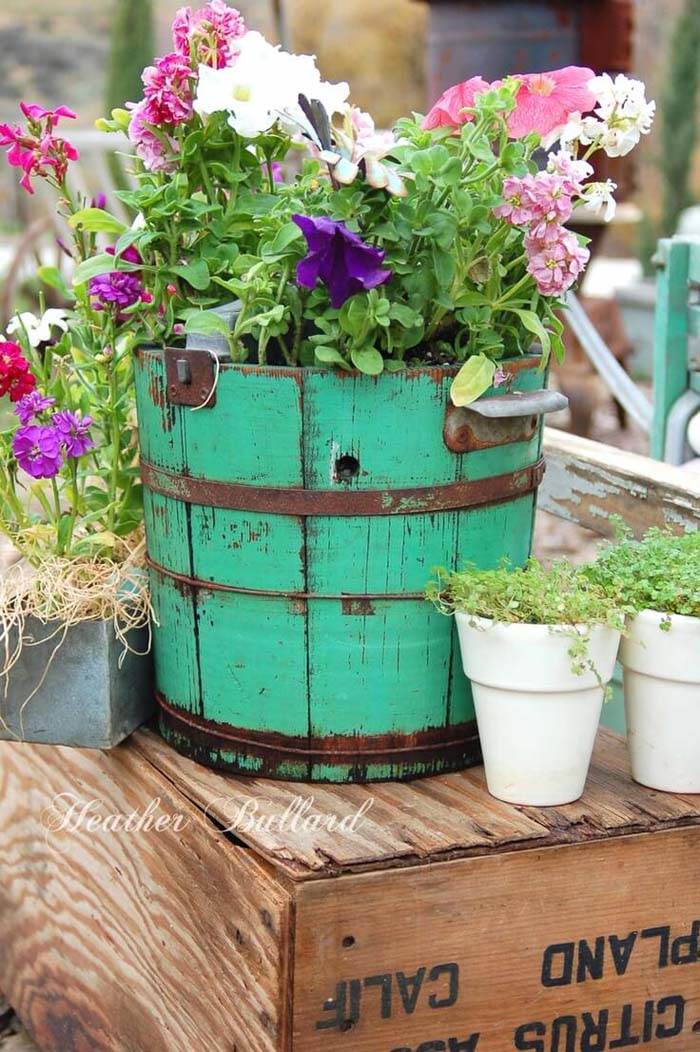 The barrels look amazing when repurposed into garden containers.
Their texture and antique look instantly attract attention when combined with the delicacy of the planted flowers.
via Heather Bullard
13. Old Wheelbarrows Get A New Life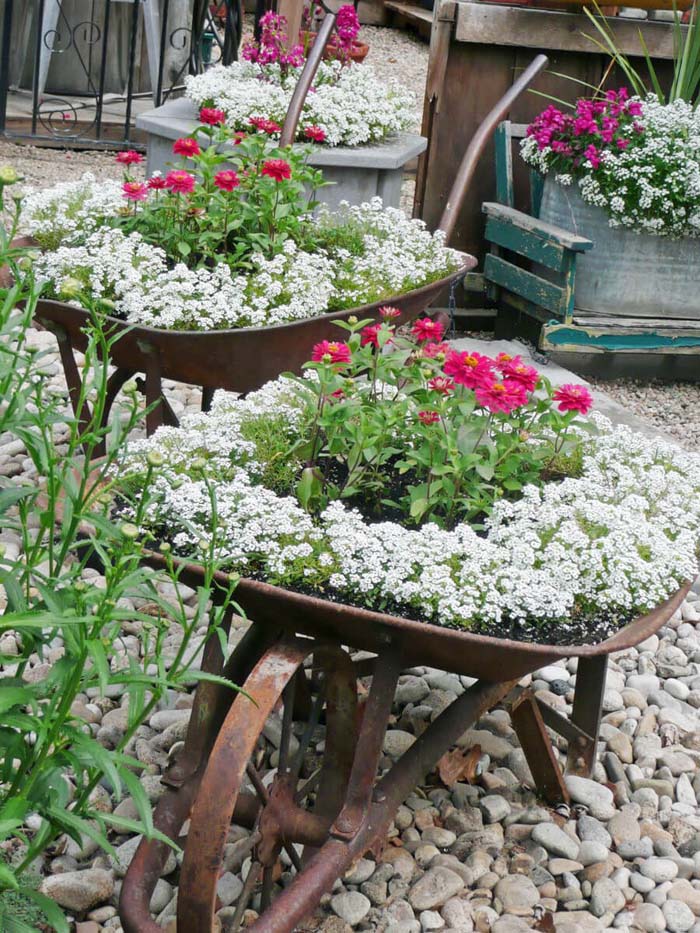 The wheelbarrows get rust in time and that limits their usage. Instead of throwing them away, find an empty spot in your backyard that needs a visual interest.
The basin of the wheelbarrow is very large so your options for flower kinds and arrangements are literally endless.
14. Elevate Plant Hangers With Vintage Wheels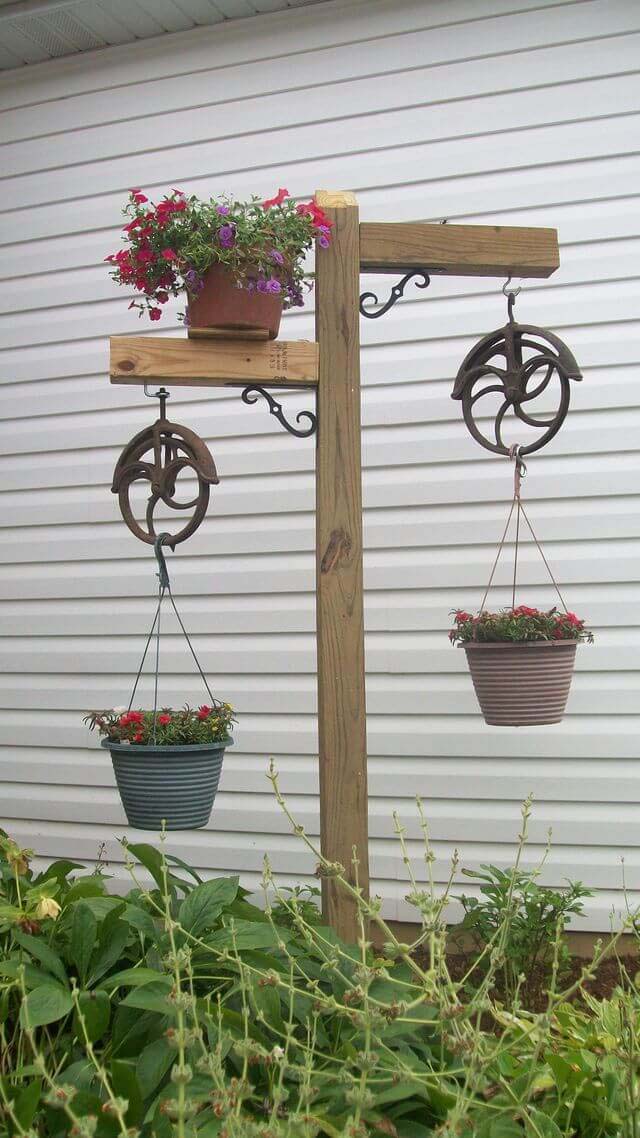 Use the old rusty wheels as a charming flower pot hanger.
To let them stand out, make sure that they are suspended in height and visible. You can screw them to a pergola or create a wooden structure like the one shown.
15. Hanging Flowers Enhance Rustic Bucket's Charm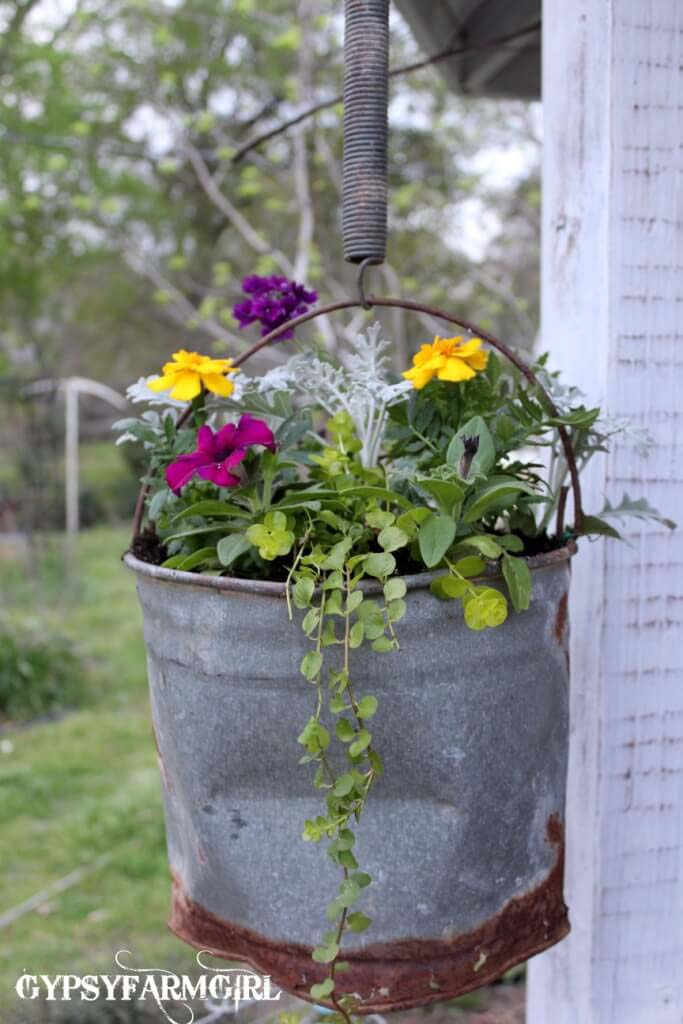 The defect of this rusty damaged bucket has become a charming effect when it has been complemented by an old rusty spring.
Since the repurposed garden container is suspended in height, make sure that you add cascading flowers or vines.
via Gypsy Farmgirl
16. Add A Flower Box To A Bright Bicycle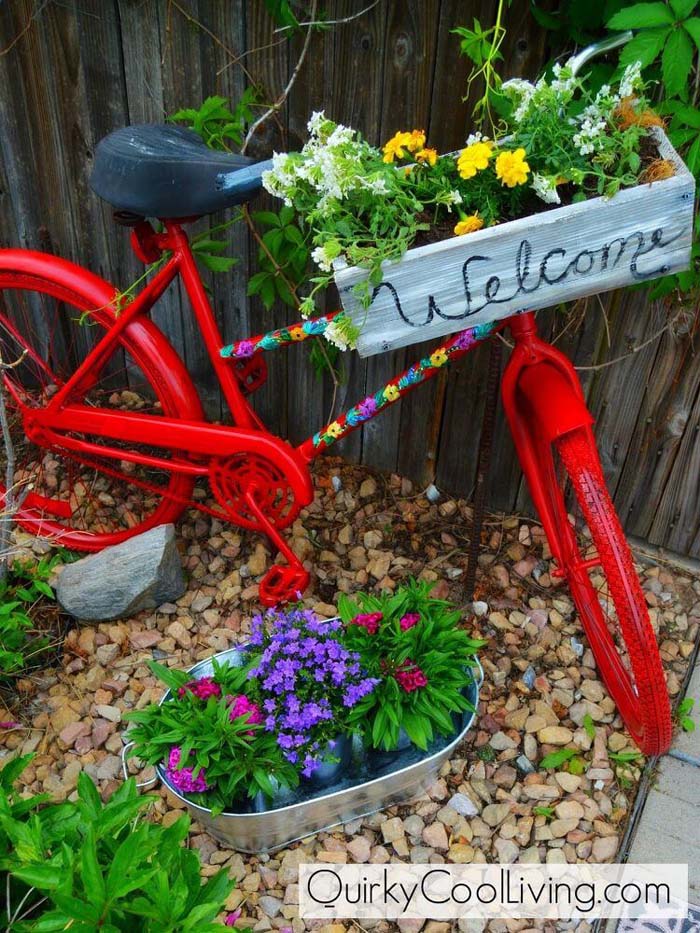 The old bicycle becomes a bold planter only by changing its color. Its condition doesn't matter.
Once you lean it against the fence, you will never want to get rid of its vintage charm as a repurposed garden planter.
17. Colorful Upcycled Flowerpot Chandelier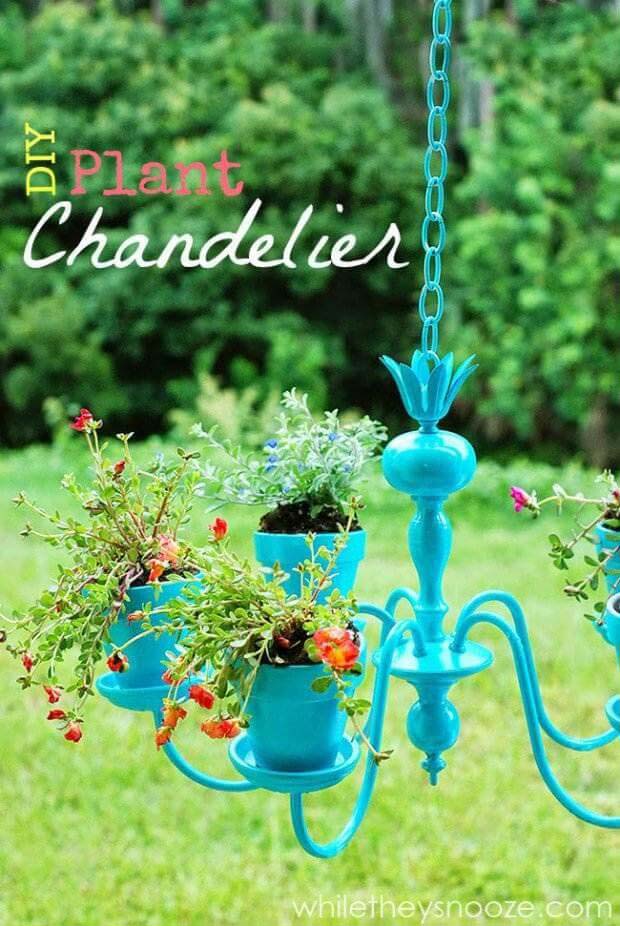 Creating a floral point of interest on the ceiling will enhance the curb appeal of your home.
An easy DIY container garden idea features a tutorial on how to turn a store-bought chandelier into a ceiling flower stand.
18. Repurposed Tire Makes A Colorful Planter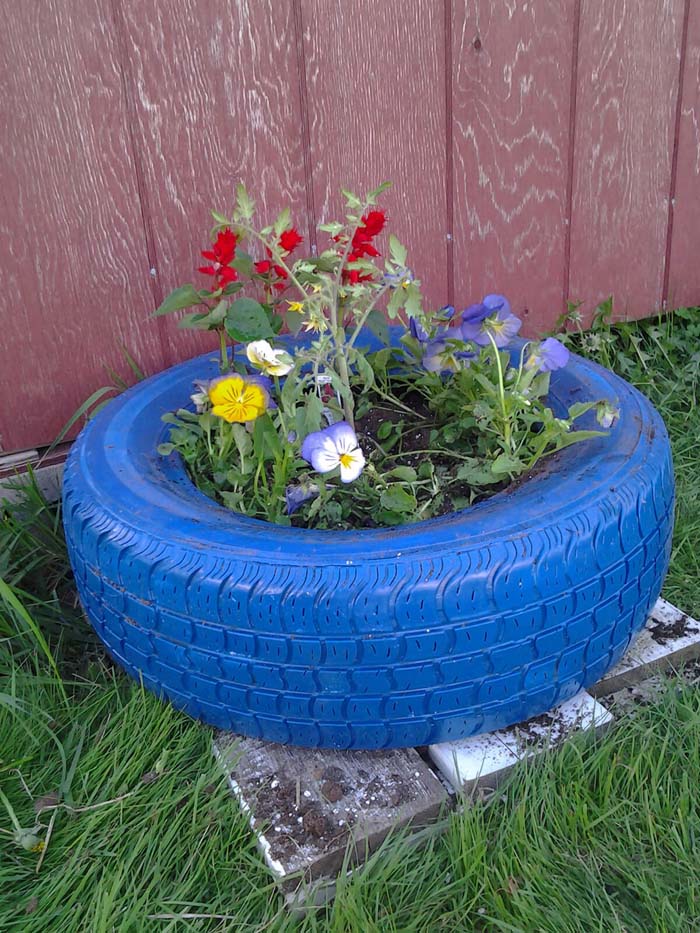 Turning tires into garden containers is probably the most common and practical repurposed garden container.
The reasons for giving them this new application are many- they are durable, changing their color is easy, the hollow section is wide enough to create a mini garden.
19. Drawer Top Plant Stand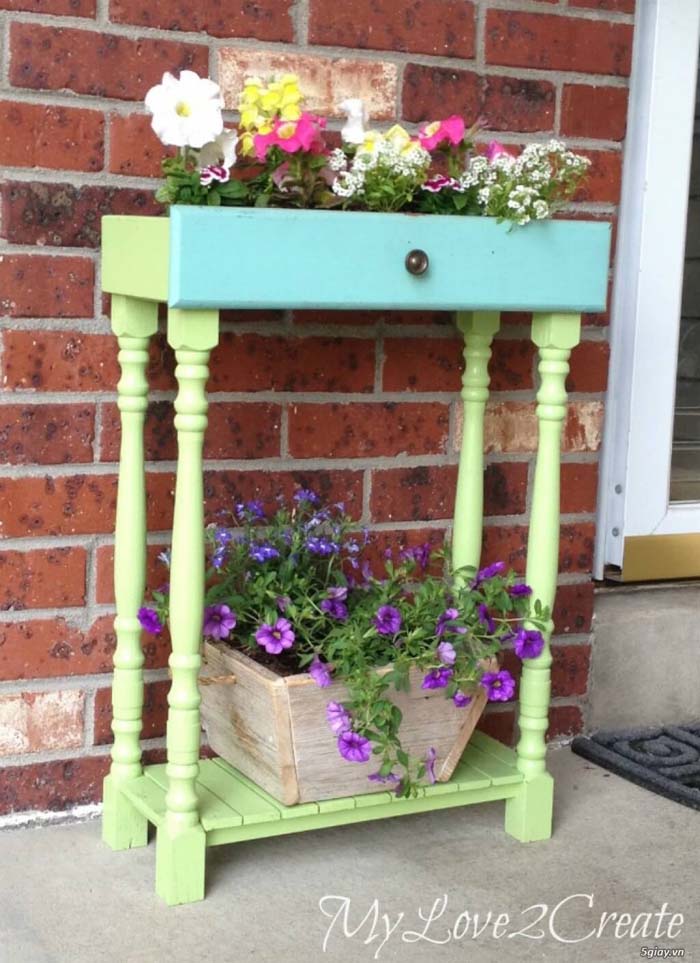 Any furniture leftovers could come in hand in your DIY repurposed container garden project. A drawer can be used on its own as a flower planter or be given a visual interest by lifting it on legs.
Use the height to add another level where a flower pot can be placed.
via My Love 2 Create
20. Vintage Teapot Planter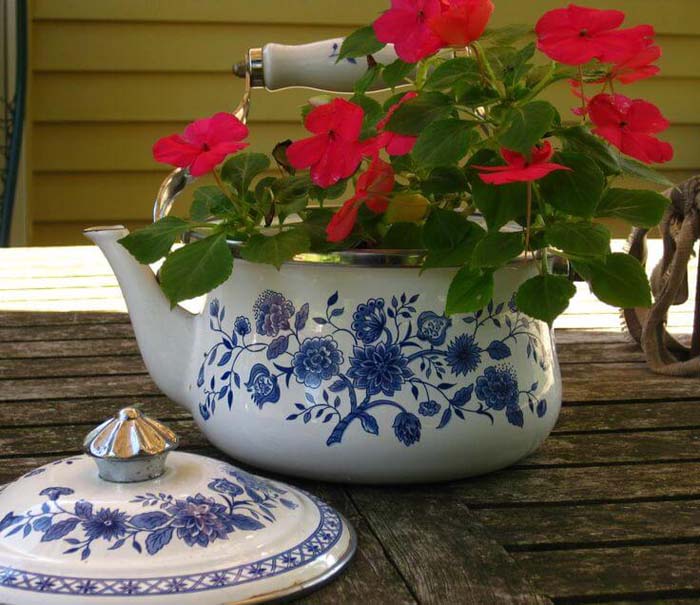 This idea is very easy but also inspiring. The vintage teapot quickly becomes a flower container simply by placing a pot in it.
You can also try planting the flower directly into the pot once it has been filled with suitable soil.
21. Toy Planters Add Playful Color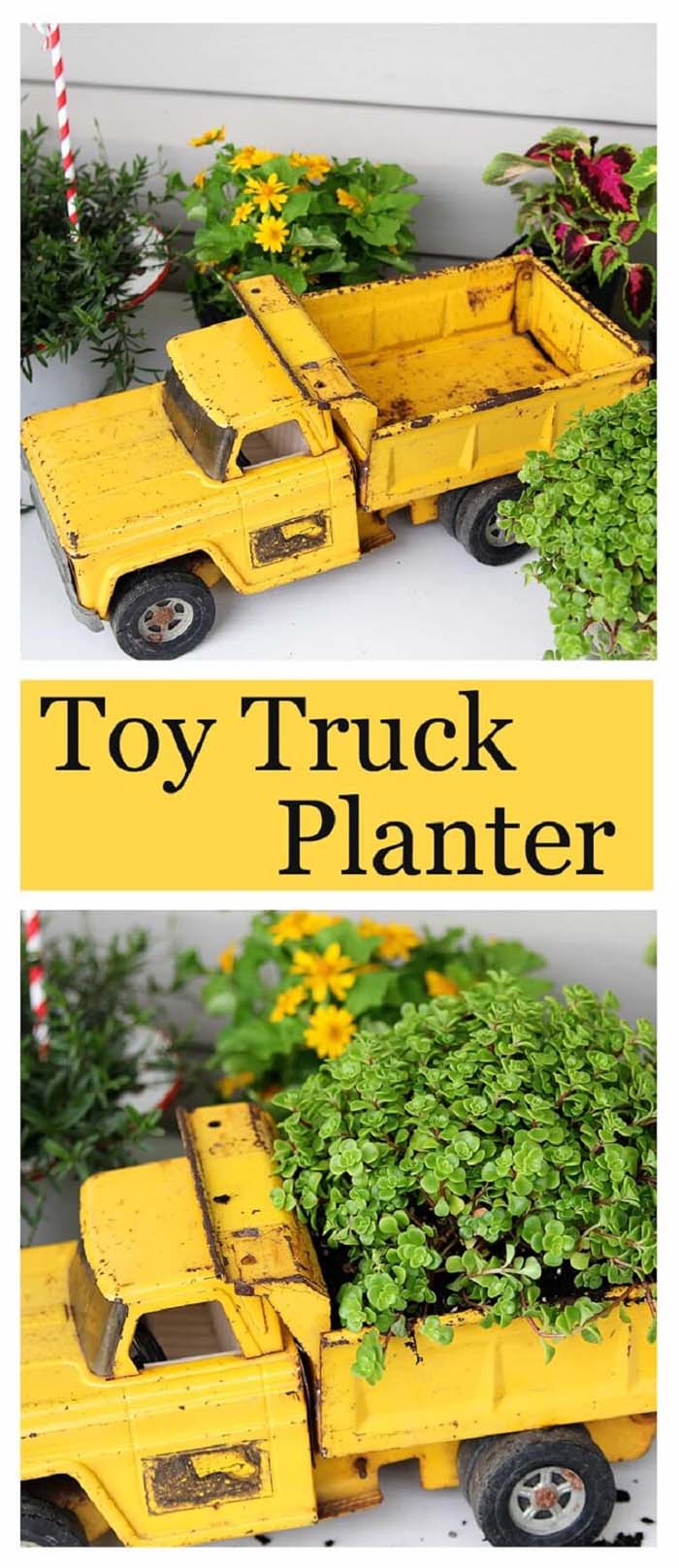 Looking for a tiny flower pot? Use the old toys of your boys to create a set of unique small planters.
22. Creative Use For A Metal Gutter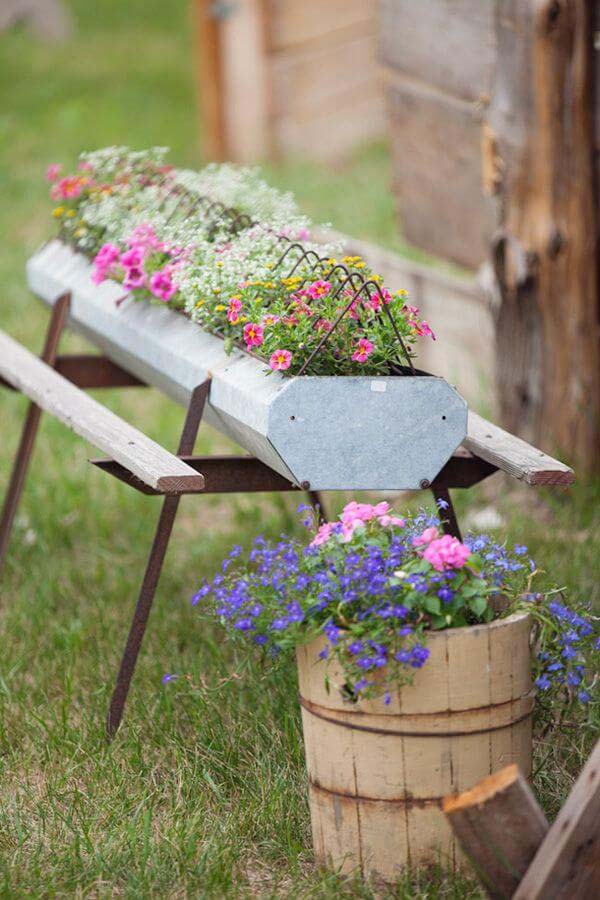 Bench-like support holds a metal gutter. No, this is not a water container, this is an interesting garden container that holds a garden of blooming flowers.
via 100 Layer Cake
23. Rainboot Garden Décor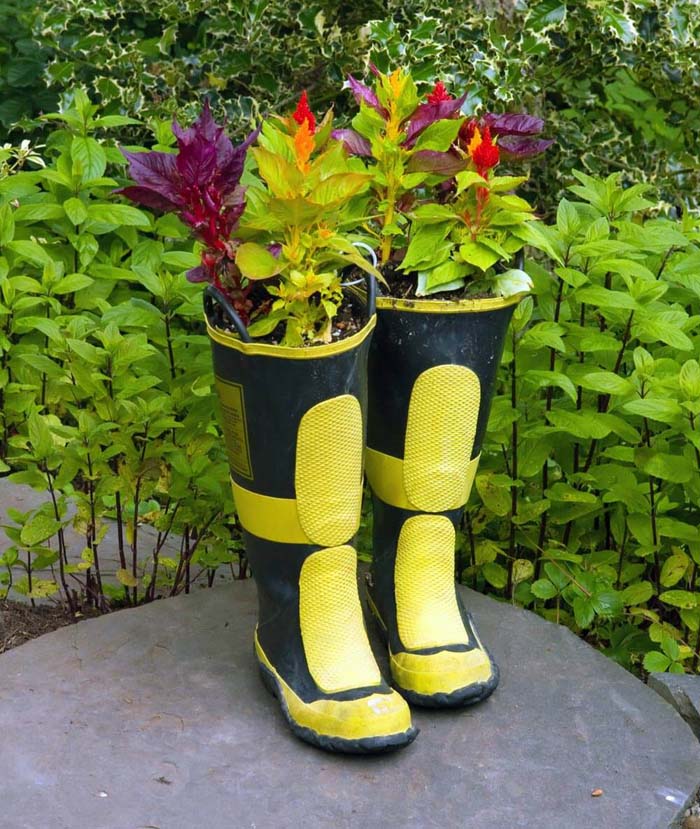 Give your backyard a fun focal point by turning the old pair of rain boots into flower pots.
Place them on the steps where this type of shoes would actually sit if they were used to increase the point of interest.
24. Shoe Holder Adds Vertical Garden Space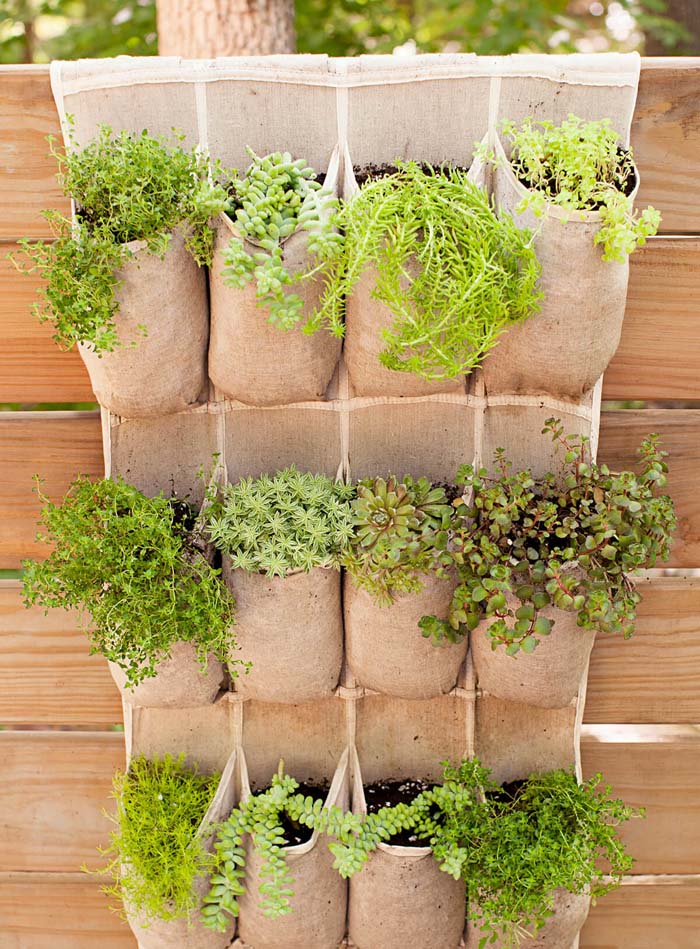 This type of garden container is perfect for people that love green thumb practicing but don't have the actual space to reveal it entirely.
Attached to a fence or to the outside wall, the shoe organizer provides at least 12 sections to grow fresh herbs or flowers.
25. Waterfall of Greenery In Wooden Crates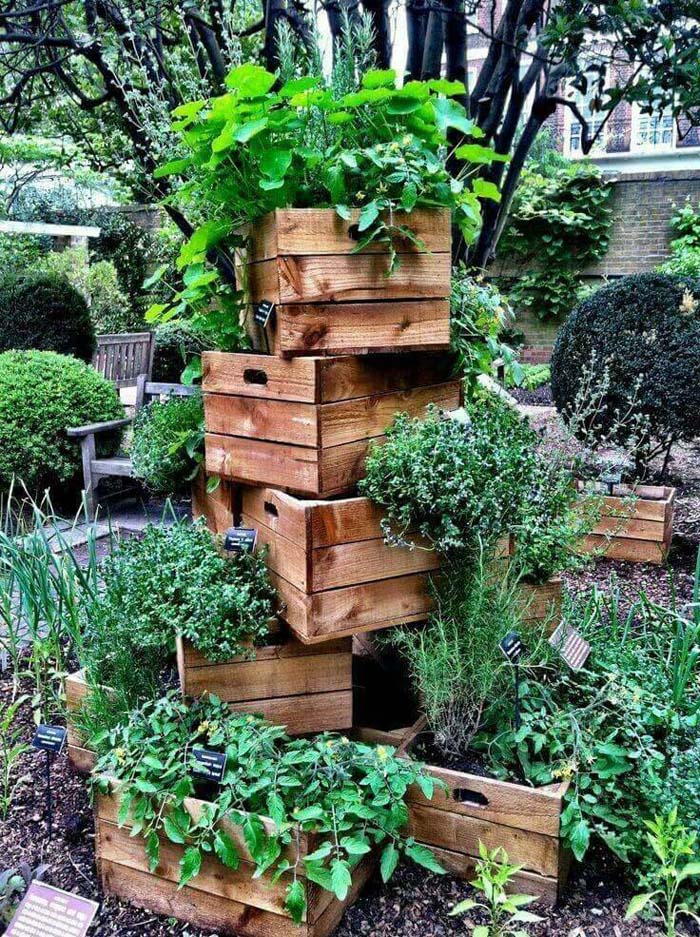 Stack wooden crates on top of the other leaving openings for plants to grow. The tiered pattern shown helps the forming of a green waterfall once the greenery has developed.
Such an idea can be an inspiration for mixing blooming cascading flowers with vines.
26. Broken Window Succulent Garden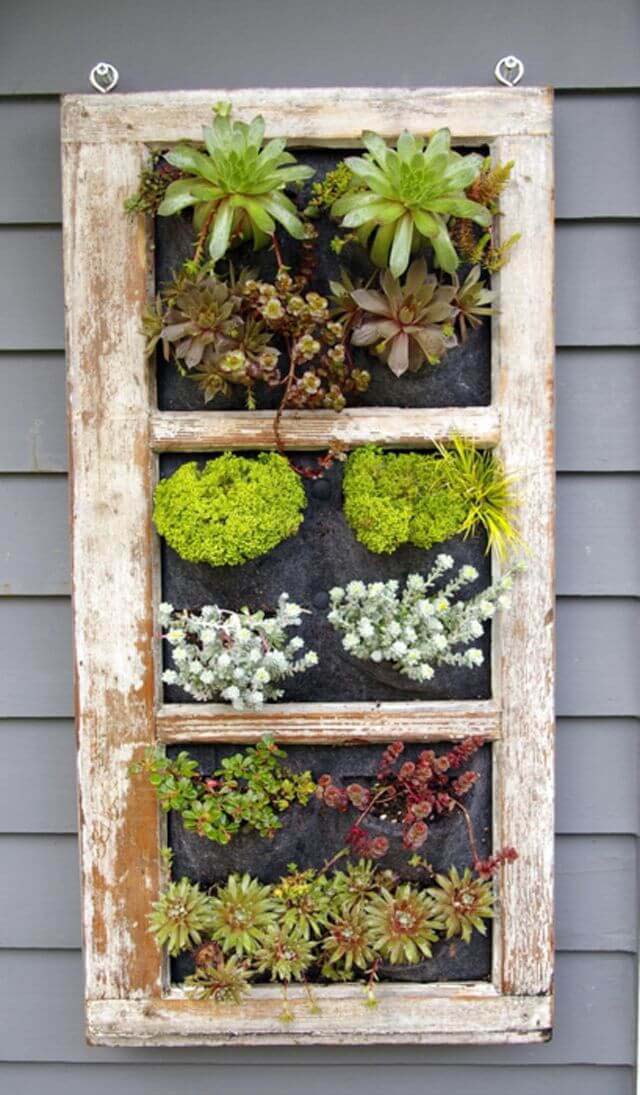 If you think that making a living wall art is difficult, you can try the simpler way to create the same effect. The window frame is thick enough to let creating of a box section after nailing a plywood board at the backside of it.
Instead of fixing a wire mesh, add another polyethylene layer over the plywood and cut notches from where the plants will grow.
27. Vertical Flowerpots On An Old Door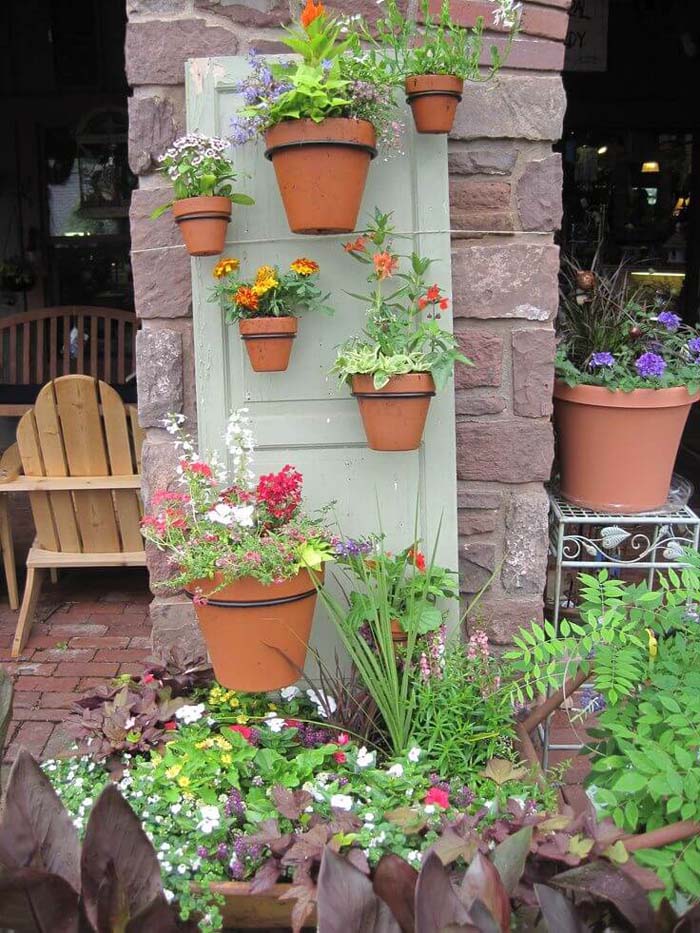 Use an old door as a support for a compact vertical planter. It can be leaned against the fence or a column in the backyard to make the ordinary structure beautiful.
To hold the pots in position, use brackets or other metal fixtures from the hardware store.
28. Vintage Toy Cart Makes A Creative Planter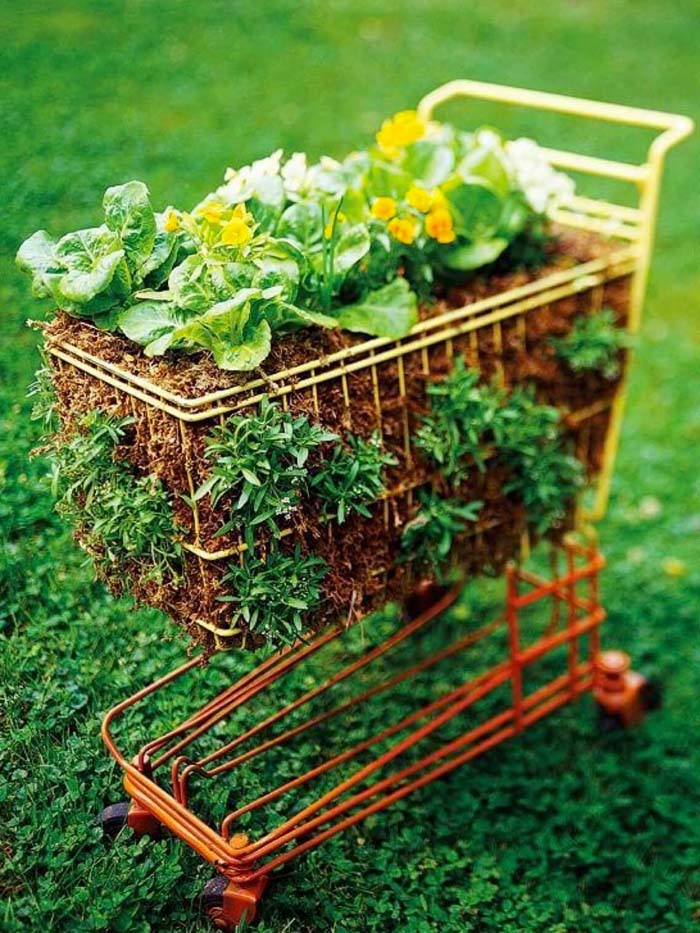 This is an amazing repurposing container garden idea we all admire! The toy shopping cart that is not interesting anymore has become a unique 3-dimensional vegetable planter.
Seeds are inserted into the accumulated soil to start protruding from each wire section in some days.
via 1001 Gardens
29. Old Luggage Planter World Tour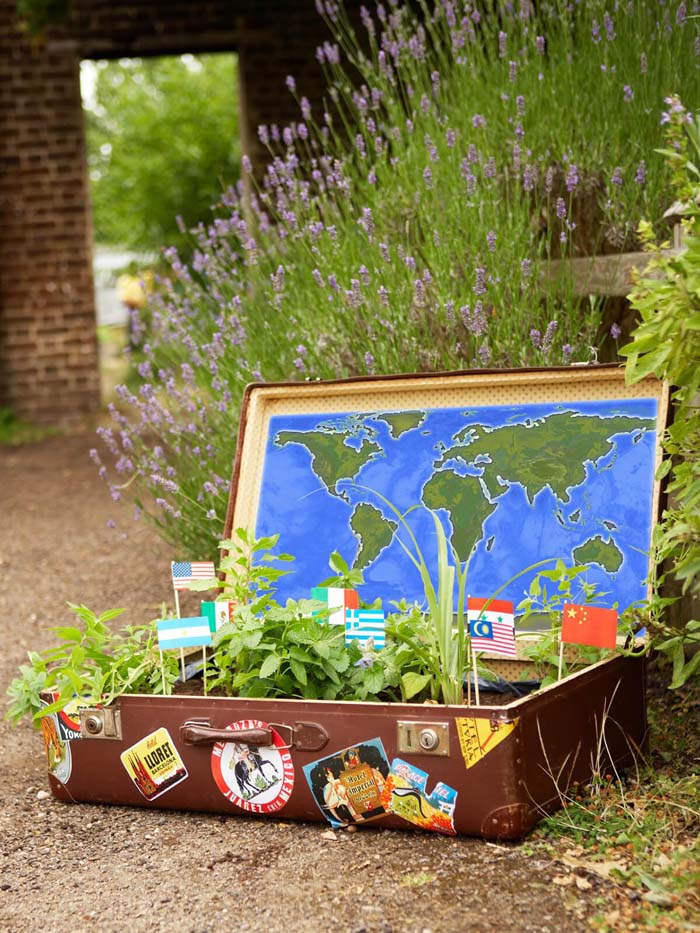 This is an idea of how to keep the seedlings in one place until they grow enough to be transplanted in the garden.
This old suitcase is too heavy for its original application but perfect to securely embrace the pots with vegetables and herbs.
via HGTV
30. Galvanized Metal Tiered Flowers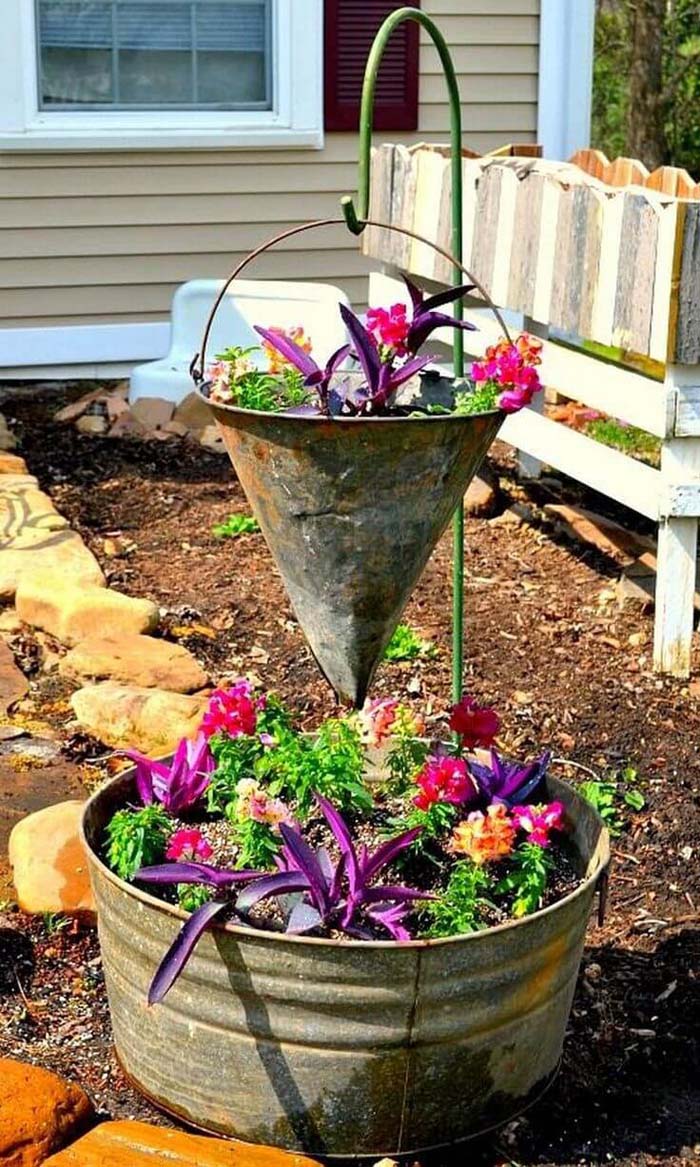 If you don't want to invest in interesting garden accessories, you can create your own from reclaimed vintage tools. A bucket placed on the ground becomes a planter for seasonal flowers simply by filling it with soil.
A metal fixture has been curved to end in a hook where a funnel is attached. But instead of water, flowers are flowing through, so appealing!
31. Upcycled Broiler Makes A Rustic Planter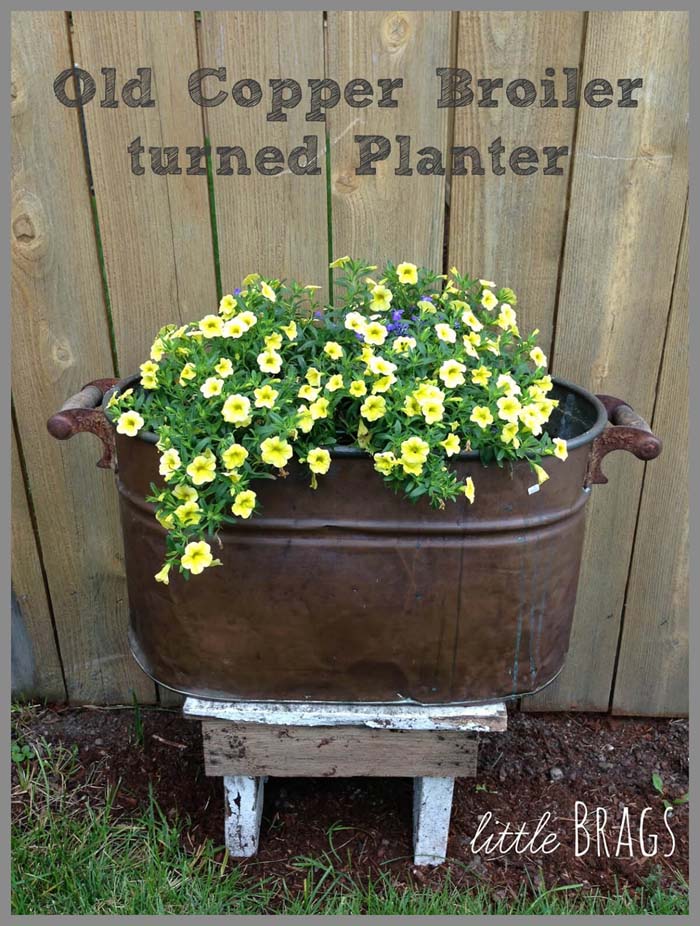 IF you like the authentic vintage design of this container, you may find it at the flea market. This is a broiler once used for cooking. Nowadays, there are modern cooking utensils that have displaced it.
However, they cannot displace its repurposed application as a flower pot.
via Little Brags
32. Frame Colorful Watering Cans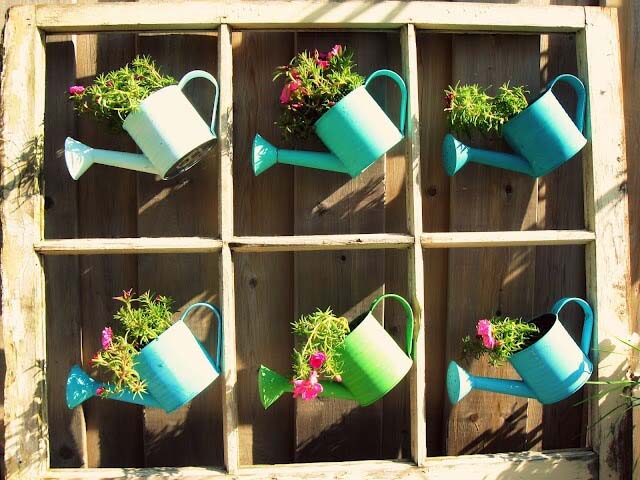 Use an old window frame as a defining vertical plant holder. This repurposed container garden idea is very easy as you don't have to modify anything. Add screw hooks to the middle sections to hang identical size watering cans.
If you want to achieve the same effect like the one shown, insert nails in the fence to let the watering cans look like hanging in the air. Then attach the window frame over to divide them from the ambiance and let them clearly stand out.