28 Best DIY Backyard Fence Ideas To Create The Perfect Retreat
A well-made fence provides many benefits, most of which come down to privacy and security. Of course, there are also aesthetic considerations, as well.
The only problem is that fencing can be very expensive!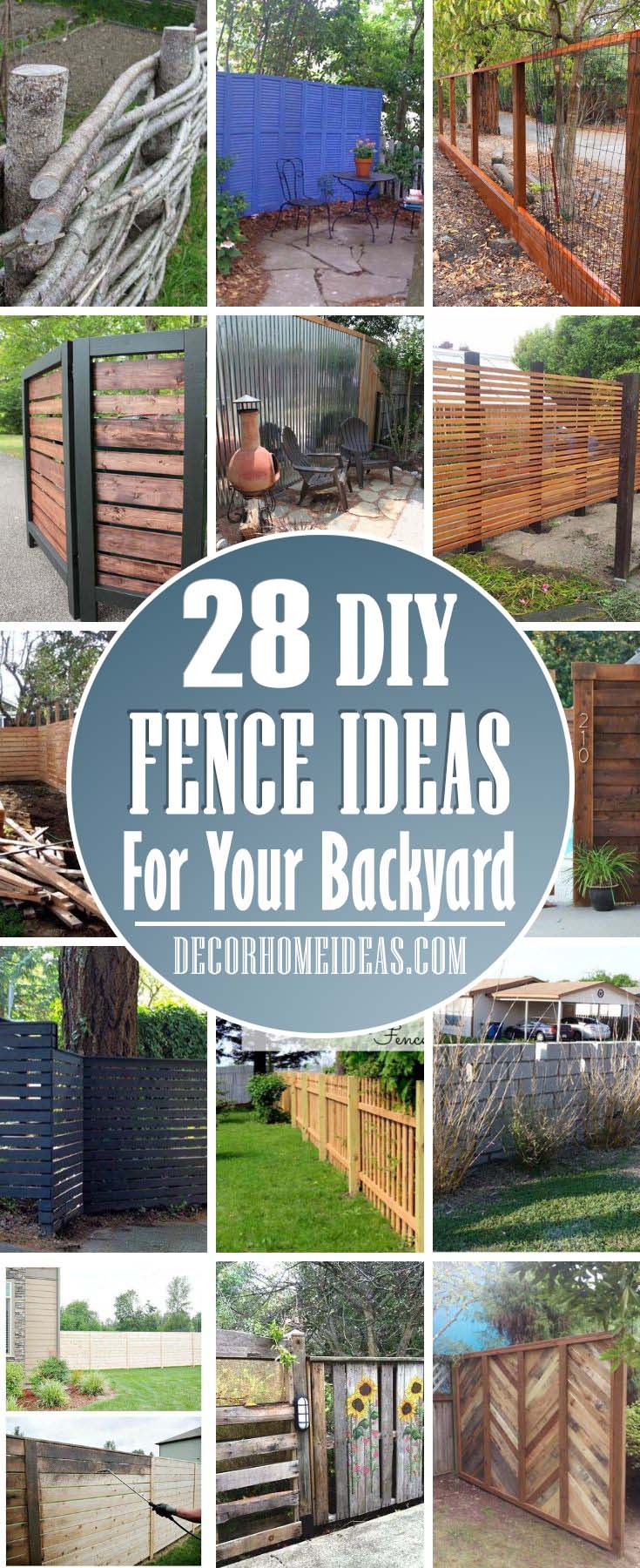 For those who cannot afford to do things in the standard fashion, we offer our 24 best DIY backyard fence ideas.
Don't forget to PIN this image for quick access to all these ideas!
Bamboo Camouflage Cover for Chainlink Fence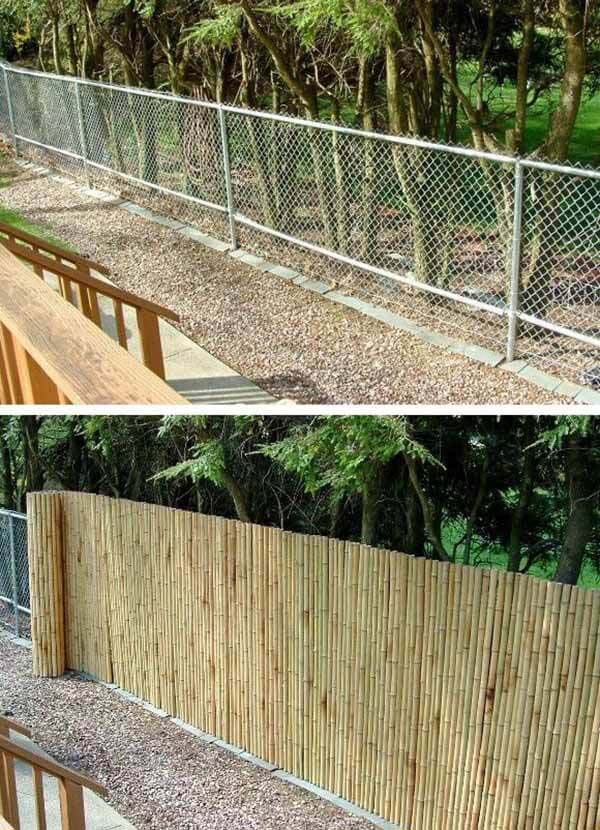 Chainlink fences are probably the cheapest way to have a secure fence, but everyone knows that it's ugly.
Bamboo, on the other hand, is very beautiful but doesn't make a very strong fence. Thus, we suggest that you try combining the two.
You do this by taking many pieces of split bamboo and placing them over the chainlink. You can attach the bamboo and chainlink to the same support poles, and you can even cover both sides for maximum visual appeal.
Darkly Painted Wooden Garden Fence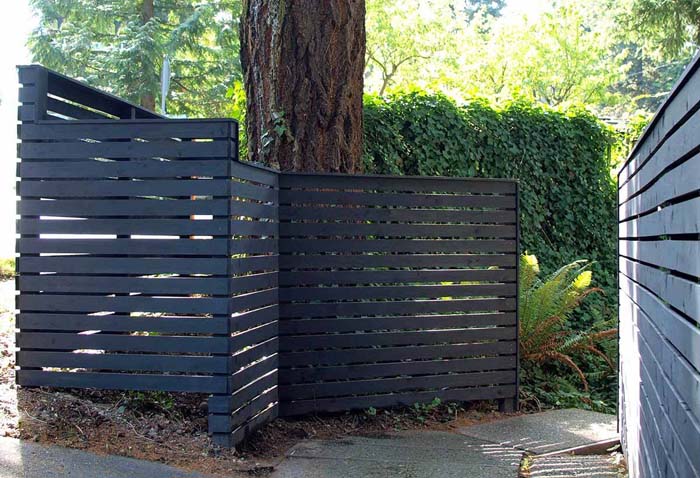 This is a simple but elegant design that provides a lot of privacy.
The dark paint job blends well with everything, and it doesn't require a whole lot of wood. As you can see, each section is built much like a wooden pallet.
via Dunn Lumber
DIY Classic White Picket Fence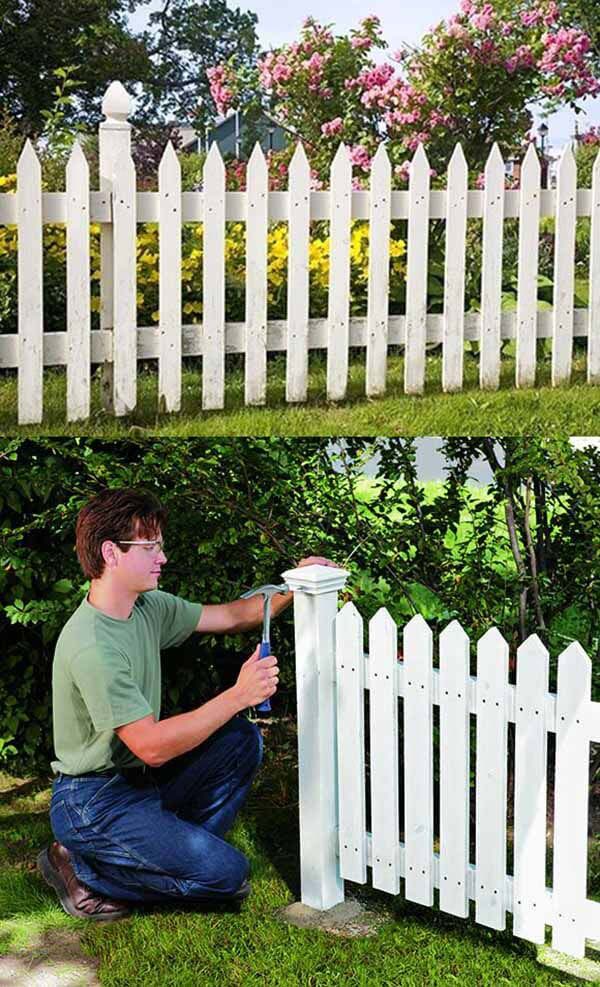 We are sure that you know the look of a traditional picket fence, so there is no need for description here.
You can buy cheap bundles of long wood stakes, and these can be ideal for the vertical sections of the fence. This one may not be the most secure in the world, but it offers a lot of classic beauty.
via Blackanddecker
DIY Painted Cinderblock Wall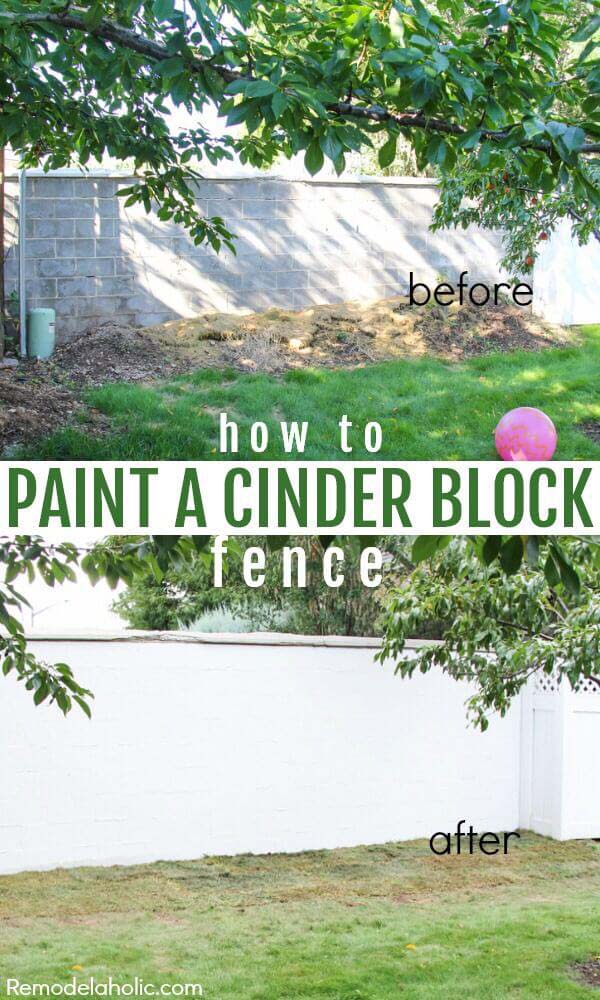 If you want something that will last many years, concrete blocks are a great way to go.
In most places, you can get these things for about $1 each, making them a relatively inexpensive option.
With a little mortar, you will have a fence that is just as strong as the walls of your house (and maybe more so!). To do this, you just stack the blocks in a staggered formation with some mortar between them. Add a little paint, and the job is done in no time.
via Remodelaholic
DIY Reinforced Concrete Block Wall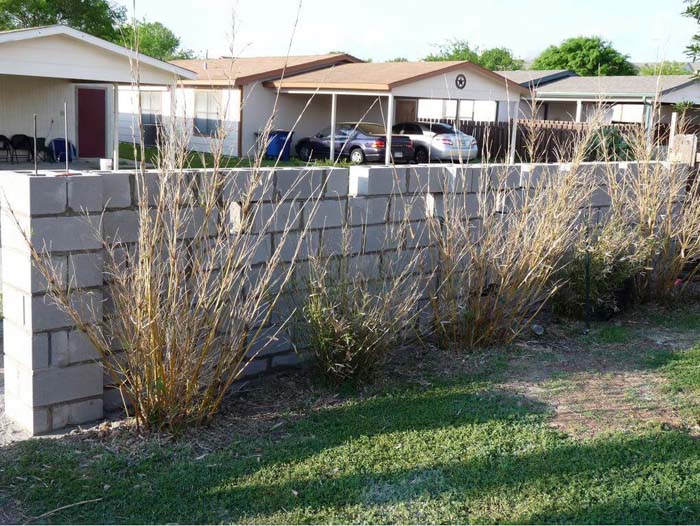 This is just like the standard cinder block wall, except that it's two layers thick.
As such, this kind of wall is incredibly strong. Even a car crash is not likely to bring it down, and cinder blocks are very cheap.
via Homebuilding/Remodeling Guide
DIY Stained Horizontal Plank Fence

You couldn't ask for a simpler design than this.
Vertical poles are placed in the ground with horizontal poles stretched between them. Instead of painting, you can opt for a nice stain of whatever color you wish.
DIY Wooden Chevron Panel Fence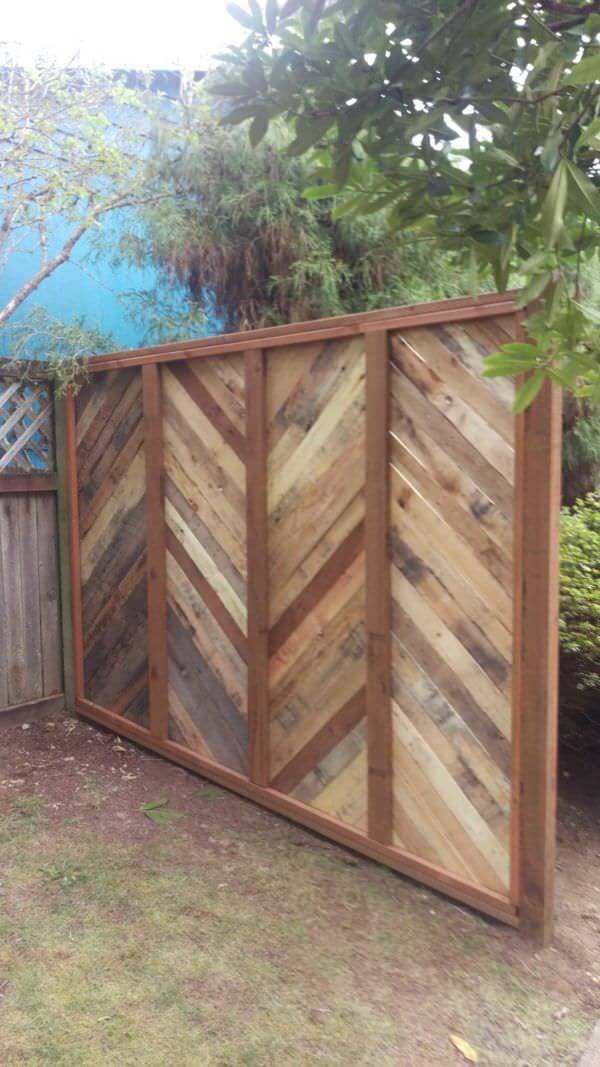 This one might be a little bit harder to do, but it will provide a beautiful and functional fence.
The diagonally-oriented planks fit together perfectly, providing plenty of privacy.
via 1001 Pallets
Easy Bamboo Do it Yourself Fences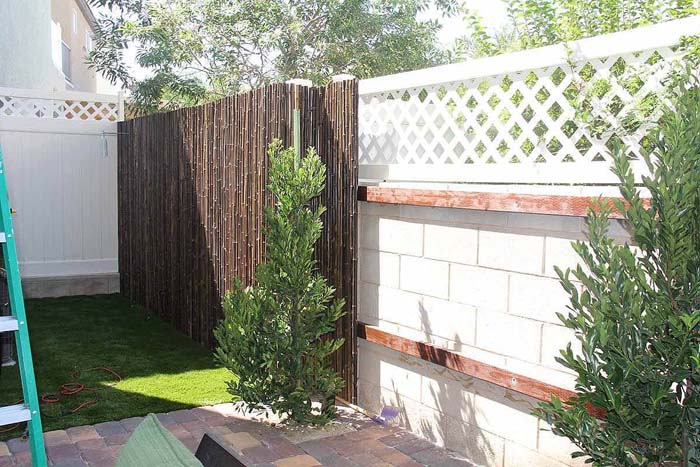 If you want the look of bamboo without a lot of work, you can simply put bamboo over any other sort of fence.
Sometimes, you can buy a roll of bamboo reeds that can be placed with little effort.
via Cody Cakes
Fanciful Glass Marble Embellished Fence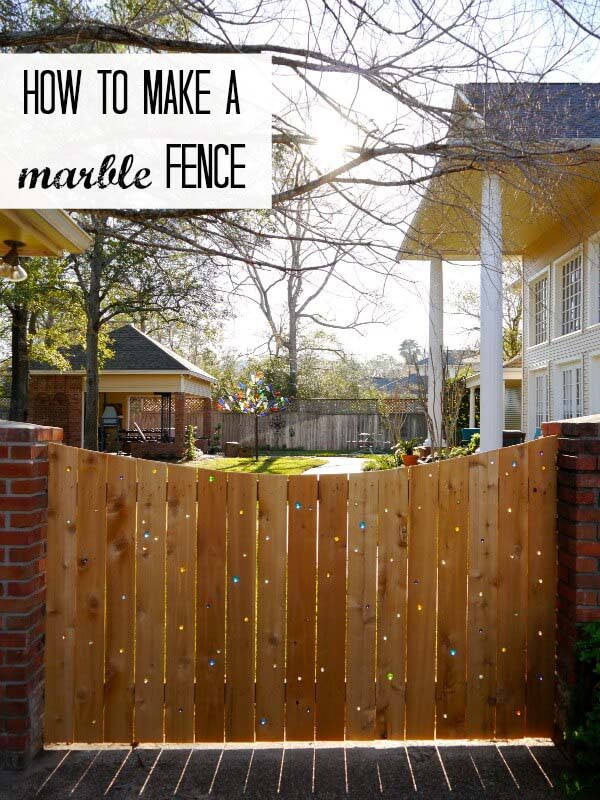 If your fence planks have small holes in them, don't reach for the wood putty. Instead, you can embed small colored marbles in these holes.
When the light shines through them, it creates a stunning and colorful effect.
via C.R.A.F.T.
Hand Painted Recycled Wooden Pallet Fence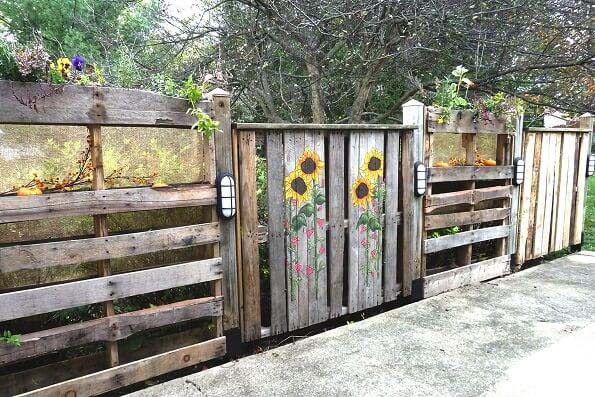 If you are really on a tight budget, you can probably get a lot of used pallets from stores and factories in your area.
Look for those that have been slightly damaged, as these will be the cheapest. Each pallet can be used as a pre-made section.
via Recyclart
Horizontal Plank Fence with Metal Posts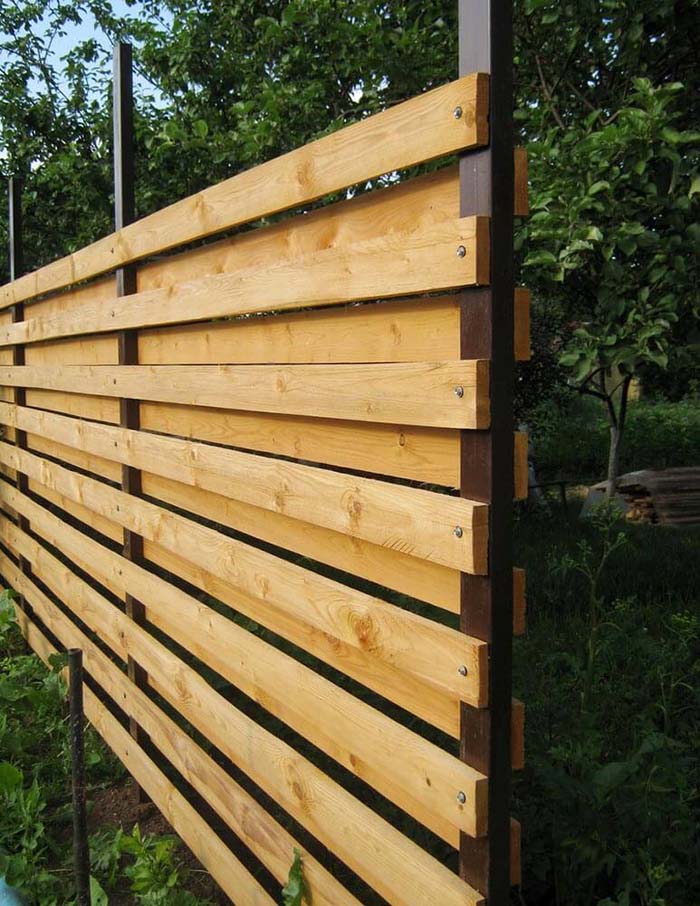 This one is likely to last a very long time, as its supports are made of well-coated steel.
The boards are staggered on each side to provide complete coverage with minimal use of wood. Unfortunately, the privacy factor is reduced somewhat.
Massive DIY Cedar Plank Fence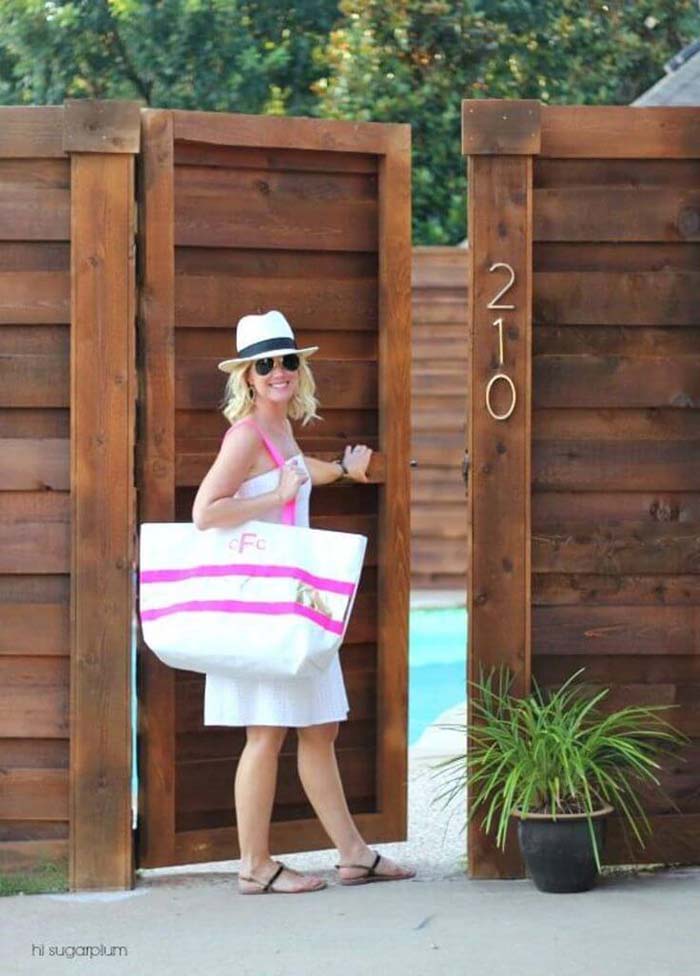 This one is nearly identical to design number 11, but with two key differences.
First, the main posts are made of thick wood instead of metal. Secondly, the staggered boards are overlapped slightly.
These fences are secure, strong, and very hard to climb.
via Bloglovin`
Modernistic Wooden Garden Fence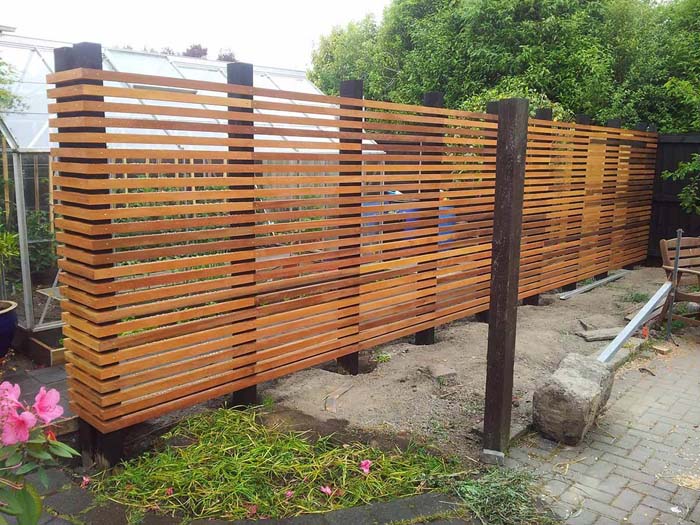 This fence is less functional and more decorative, but it is a great choice for purely cosmetic uses.
It provides great visibility, but no real privacy. It has a futuristic feel that can add a lot to your yard.
via Imgur
Perfectly Straight Natural Wood Picket Fence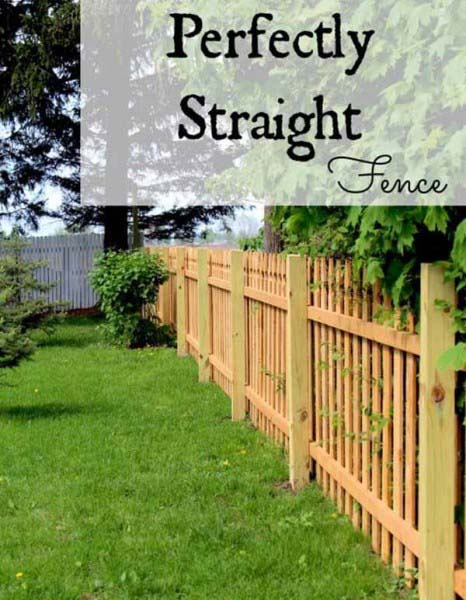 This is just another variation on the classic picket fence design.
By eliminating most of the curves, the construction becomes both simpler and cheaper. As you can see, this one is also a little taller than the traditional picket fence.
Recycled House Shutter Screening Fence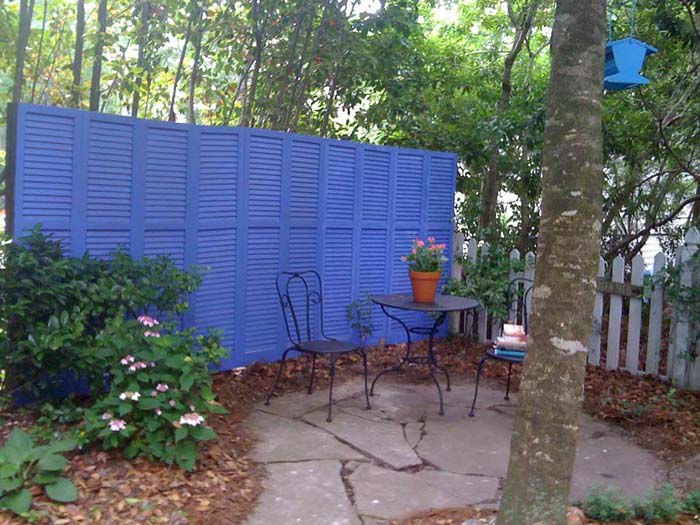 For a long time, most window shutters have been nothing but useless decoration.
However, you can change all that by re-using them in your fence. You will need a few more vertical support poles for this design, but old shutters can be acquired cheaply or maybe even for free.
Repurposed Bi-Fold Door and Plank Fence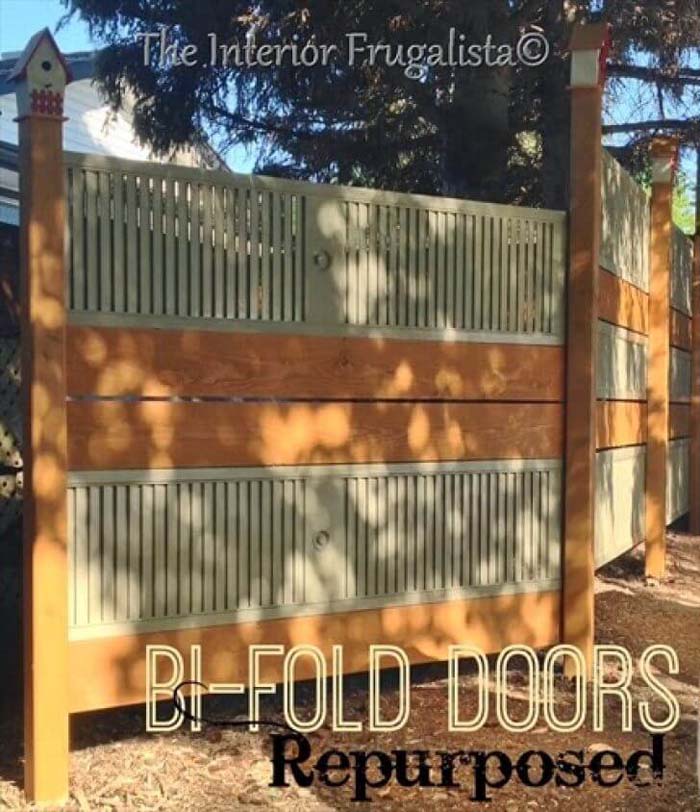 If you have one or more Bi-fold doors on hand, you can easily adapt them to your fencing project.
You could use them to create a beautiful and stylish gate, or just use them as coverage between the poles.
Rustic Raw Wood Woven Wattle Fence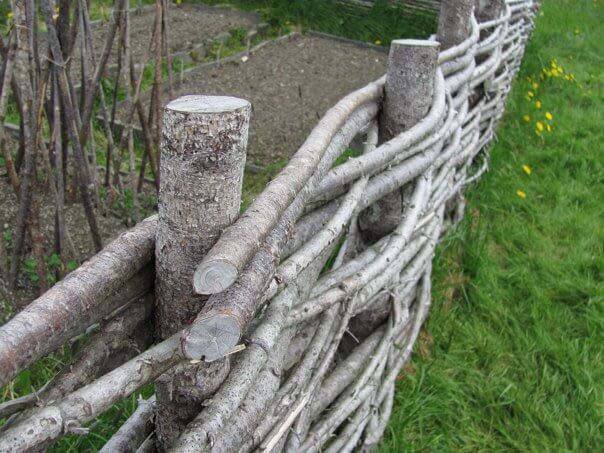 This is one of the oldest methods of fence-building known to mankind, and it is still one of the most effective.
Basically, you use long, flexible sticks to create a wicker fence. Start by placing the main vertical poles in the ground, and you can then "weave" the long sticks around them as if you were making a basket.
Willow and hazel have traditionally been the preferred woods for this purpose.
Simple Wooden Latticework Panel Fence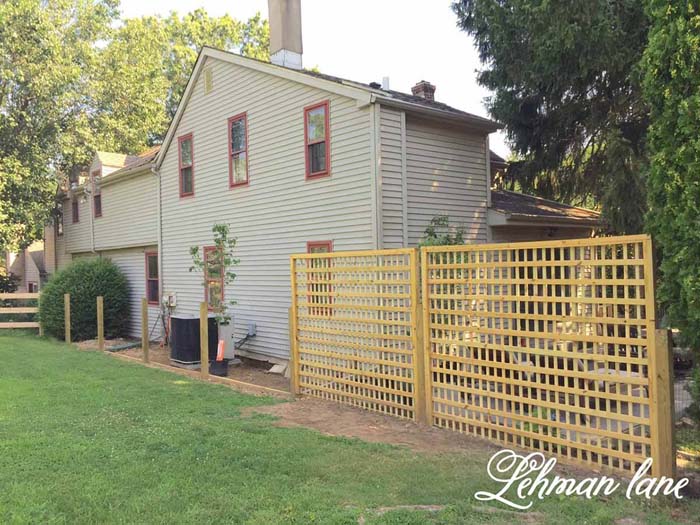 It might sound strange, but you can literally grow your fence. You will have to erect a trellis for the plants to climb, but that's all.
By choosing viny climbing plants like ivy, you can create a wall of green that is both hard to penetrate and very pleasing to the eye.
via Lehman Lane
Solid Vertical Wooden Plank Fence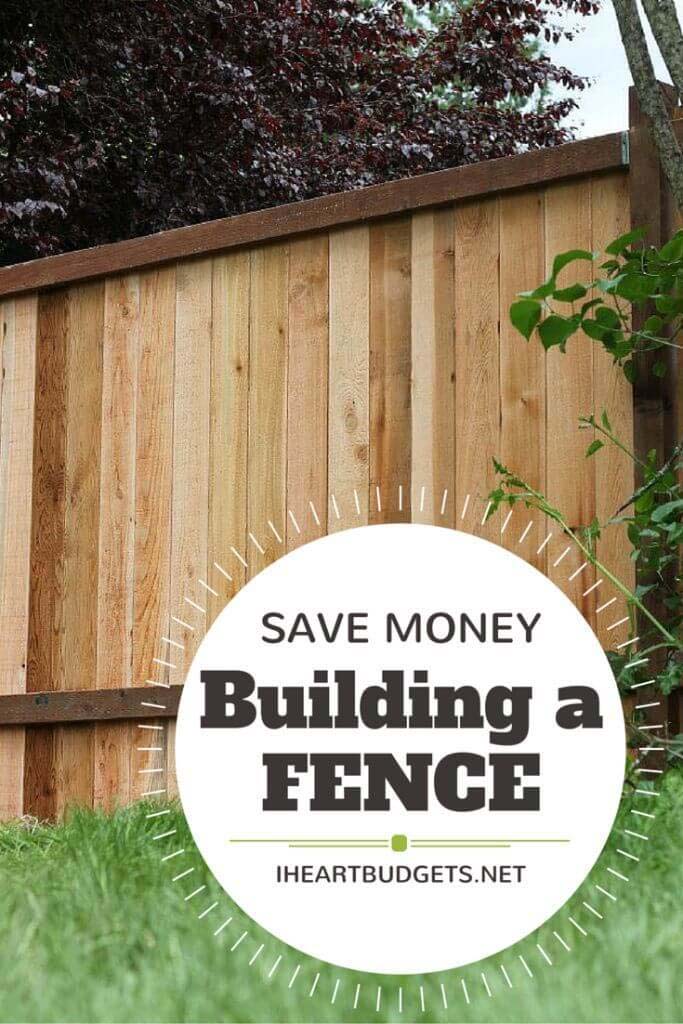 If you have a lot of long, thin boards (like 1x4s), this is an ideal design.
It usually isn't painted, but we would recommend the use of a sealer, a stain, or something similar.
via Iheartbudgets
Southwestern Industrial Corrugated Metal Fence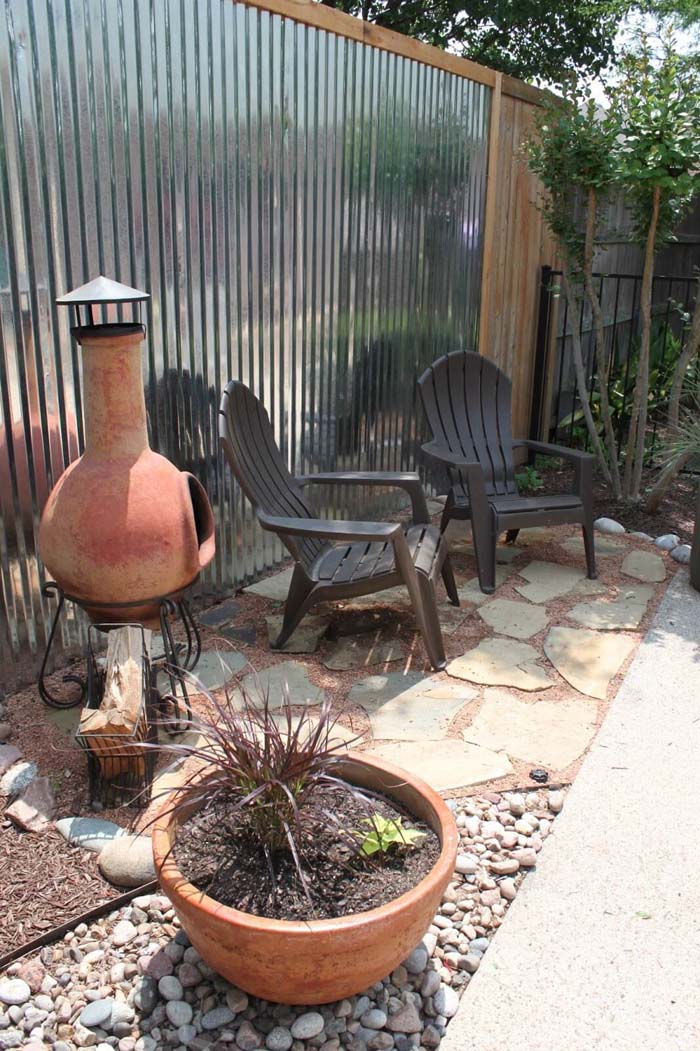 Corrugated metal is a very common roofing material, but it's also not bad for fences.
Because it has sharp edges, you will want to frame each piece with lumber. When it's done, you will have a strong and long-lasting hybrid fence.
Tall Cedar Wood Plank Fence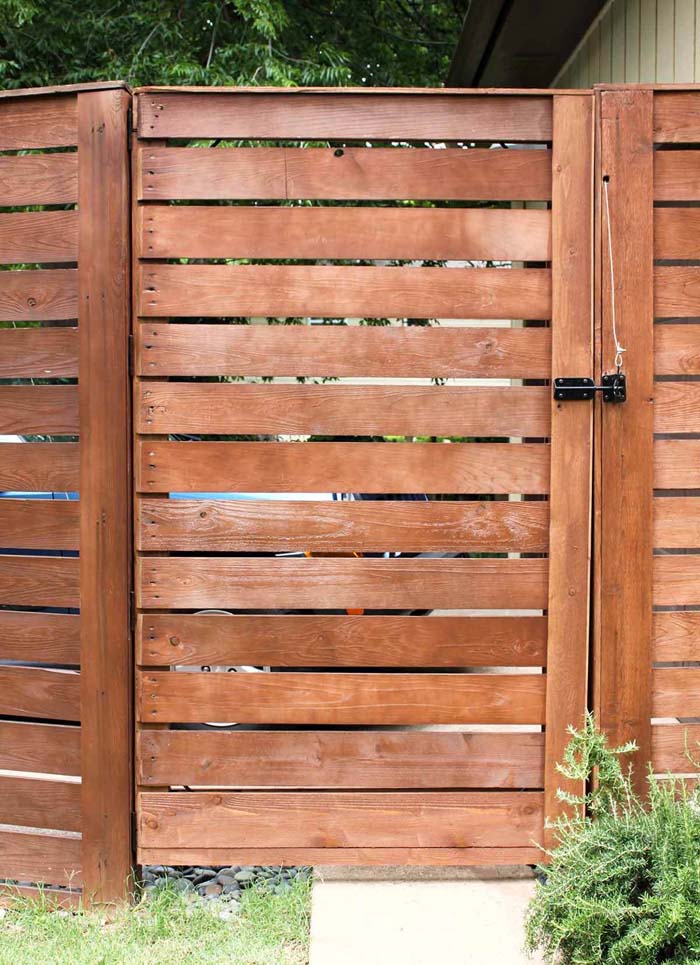 Cedar is one of the most beautiful types of wood on earth, and it can be made even more beautiful with oiling and staining.
This might be described as a luxury fence, but it is also very durable and likely to last for decades.
Wide Wooden Plank DIY Fence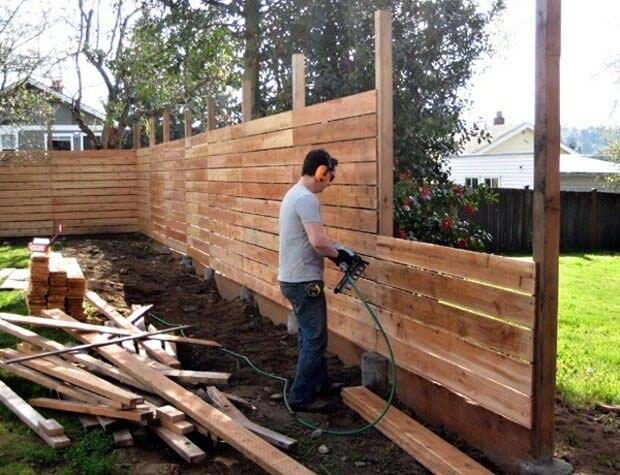 The only distinctive thing about this design is the wide, thin, horizontal boards that make up most of its surface.
Just make sure that your footer boards are extra thick and partially buried.
via Food Network
Wood and Welded Wire Panel Fence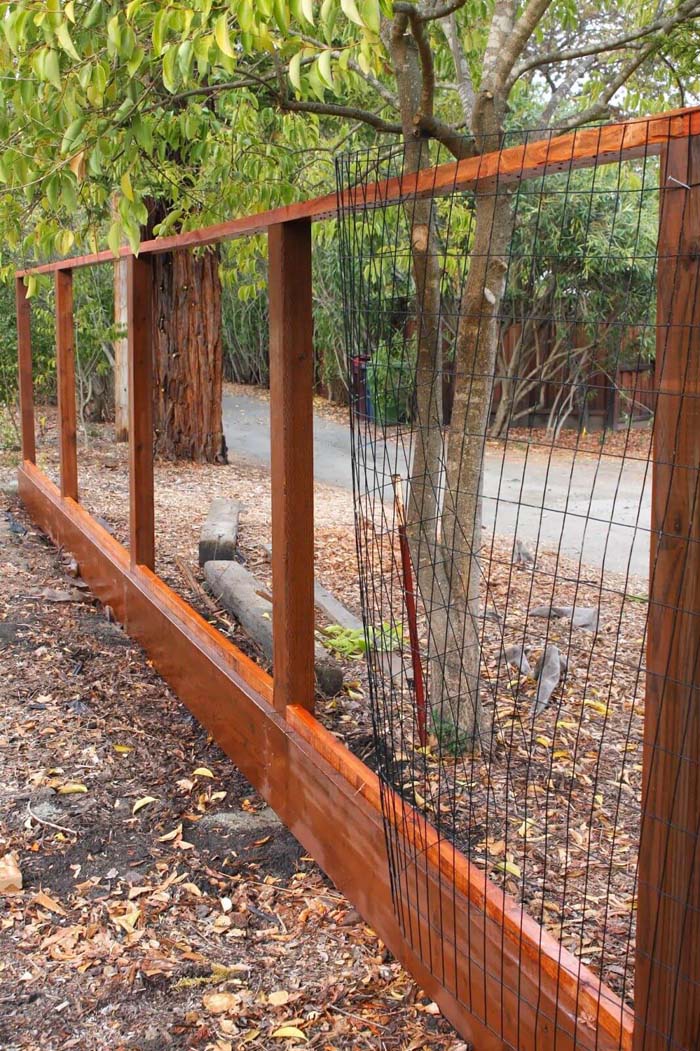 If you don't have access to a lot of wood, you can use some coated steel wire to fill most of the space.
You will need support poles, both horizontal and vertical, but that's about all. Make sure to use vinyl-coated wire so that it won't rust.
via SO Home
Wooden Do it Yourself Fences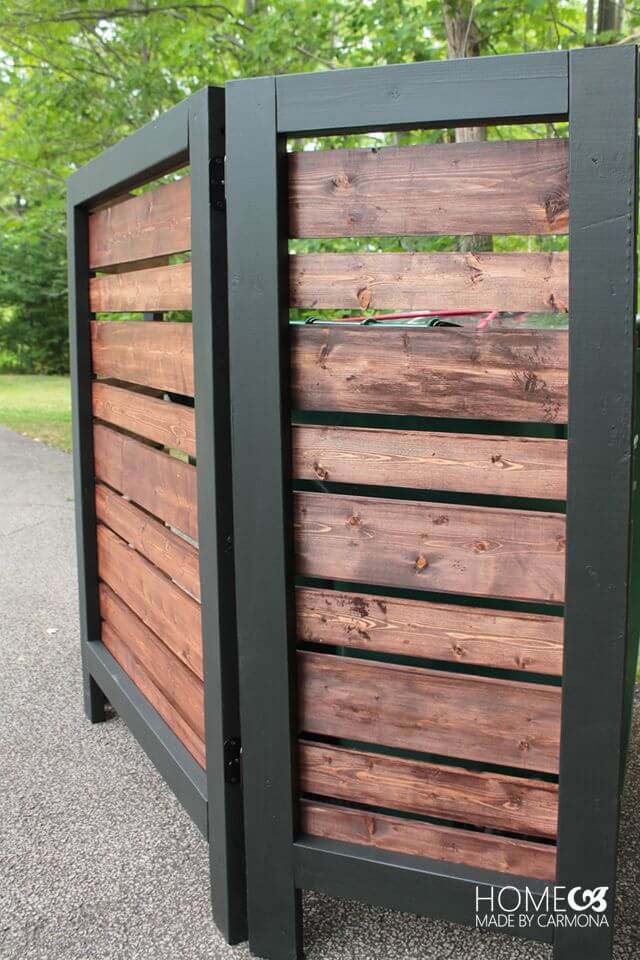 If you have a bunch of irregular scrap wood laying around, or if you have access to such, you can make panels of varying sizes.
Like the example shown above, you should make each panel identical except for their width.
In this example, the framework has been painted while the rest has been stained, and that's not a bad way to go.
via Build Something
As you can see, there are many options for those who want a new fence but cannot afford to buy pre-built sections.
Any of these should be adequate, but we urge you to think carefully and choose the one which will suit your space and create just the kind of atmosphere you want.
In the end, it's all about creating that perfect retreat where you can relax and enjoy a little slice of nature.