When you live near a road or in close proximity to other houses, privacy is hard to come by.
Plants are a wonderful solution — they block the view into the yard and add natural curb appeal to your home.
The best plants to grow as a privacy fence are tall and thick enough to create a solid wall of greenery.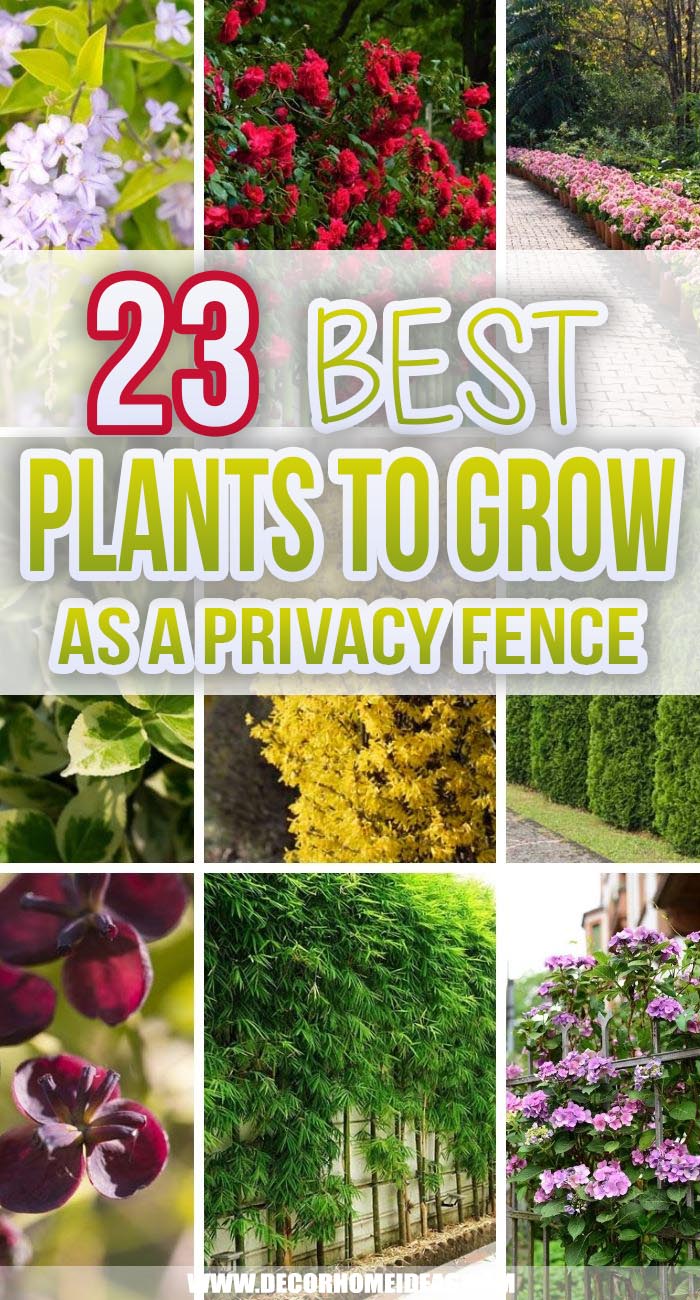 Whether you're searching for standalone trees and hedges or vines that can cover an existing fence, start with these beautiful plant varieties.
1. Plant A Stand of Arborvitae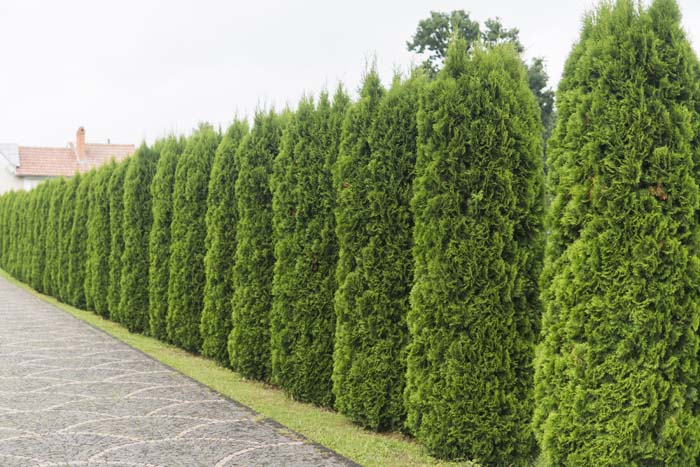 Are you looking for a tall, solid natural privacy fence?
Arborvitae is a natural, aromatic choice.
These tall, narrow evergreen trees take about a year to create a stunning wall of greenery that looks beautiful year-round. Some varieties can grow up to 4 feet per year.
2. Fill In An Iron Fence With Azalea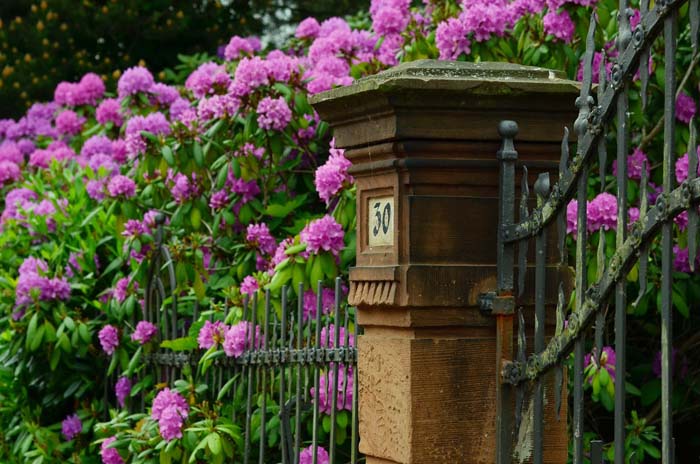 Create privacy and bring stunning color to your yard with azalea plants.
These gorgeous, flowering shrubs produce enormous flowers in bright shades of pink; when the leaves change in the fall, you'll see another thrilling burst of color.
The trick is to choose a variety with dense branches — they offer maximum privacy for your yard.
3. Leafy Bamboo Adds Height And Privacy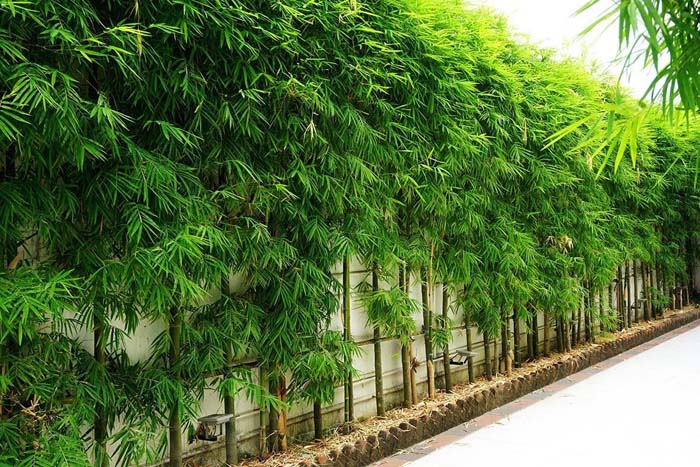 Grow a natural privacy fence in no time with bamboo.
This quick-growing plant features distinctive green stalks; plant them close together to create a spectacular wall that's unlike anything else in your neighborhood.
Bamboo thrives in warm, humid climates — with enough water, it can grow up to 3 inches every day.
4. Fill In With Lush Bougainvillea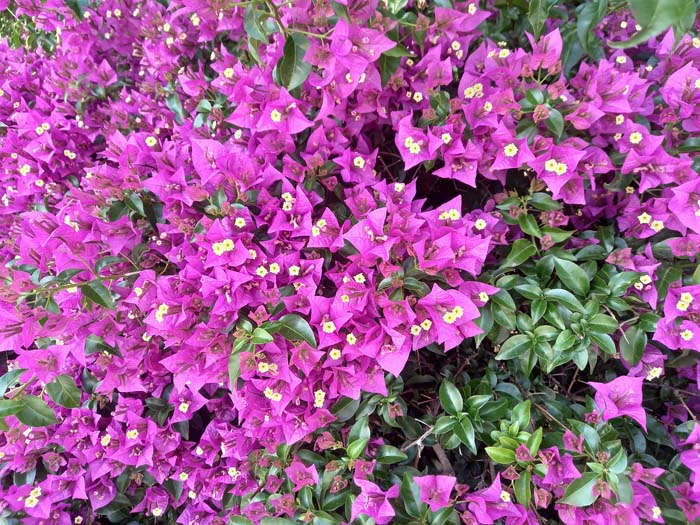 If you have an unsightly chain-link fence in your yard, upgrade it with beautiful bougainvillea.
When properly supported, this plant can easily reach 20 feet tall.
The vines climb quickly and produce bright pink flowers that enliven your outdoor space every spring and summer.
Bougainvillea plants love warm weather, so they do best in climates with mild winters.
5. Low Maintenance Boxwood Hedge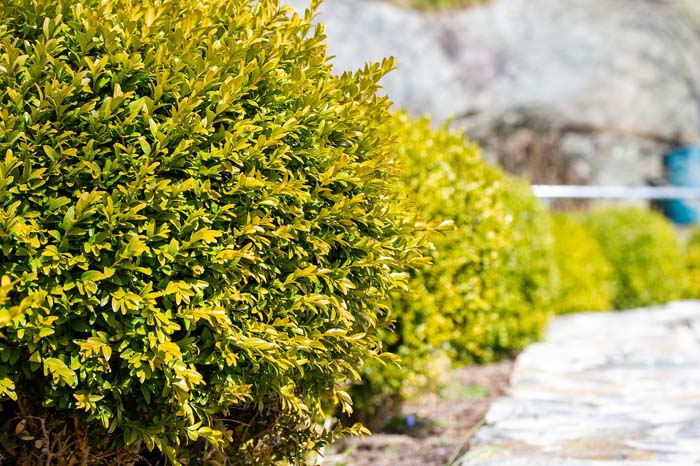 Give your home a formal, traditional feeling with boxwood hedges.
With their small leaves and dense branches, these plants provide a high level of privacy.
You can prune them to create a sharp shape or leave them to grow for a more organic, natural look.
6. Hardy Fast Growing Chocolate Vine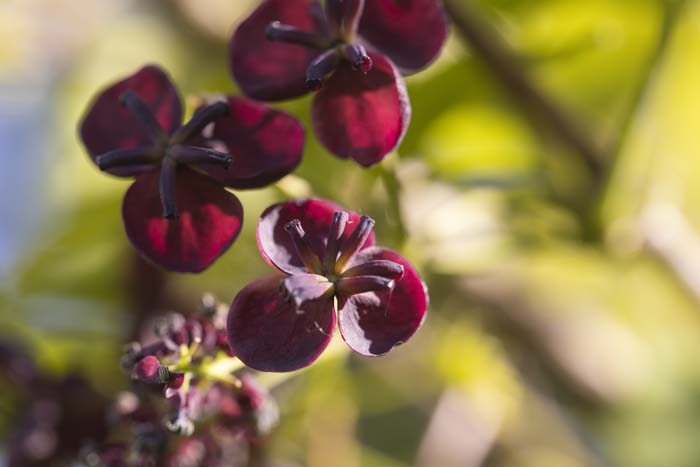 The chocolate vine is another wonderful way to cover an existing fence.
Also called the five-leaf akebia, this vine features thick, densely packed leaves that grow quickly. Every spring, your fence will come to life with stunning purple flowers.
Since this plant tends to take over any nearby structure, plan to spend some time pruning it each year.
7. Rows Of Evergreen Cypress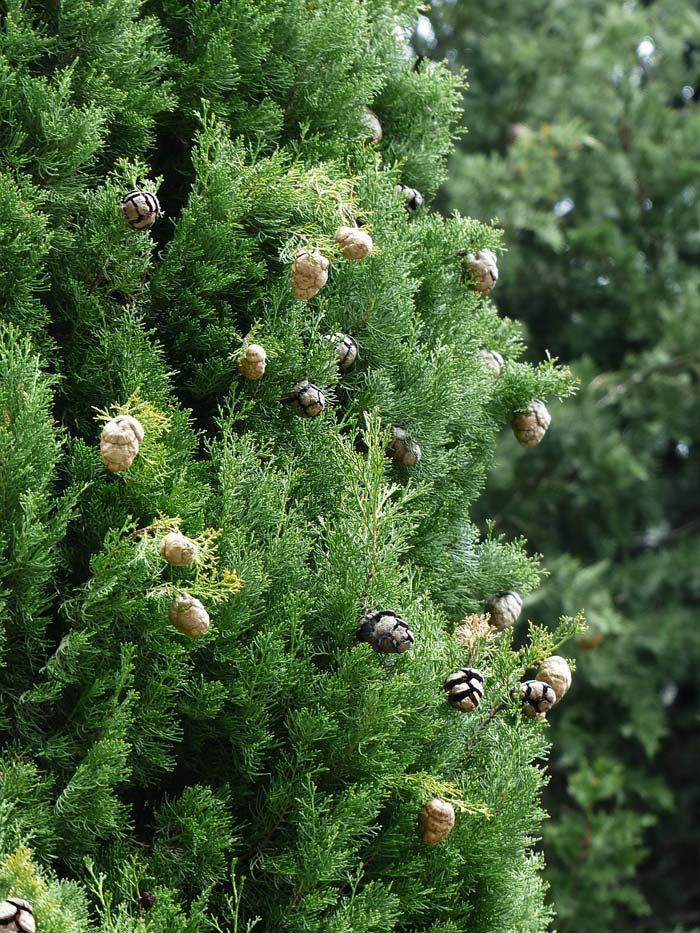 If you've ever been to Tuscany, you've probably seen tall, narrow cypress trees lining driveways and bordering yards of country villas.
These spectacular trees thrive when planted in rows, making them the perfect plant to create a grand privacy fence.
Some varieties can grow up to 60 feet tall.
8. Flowering Duranta Fence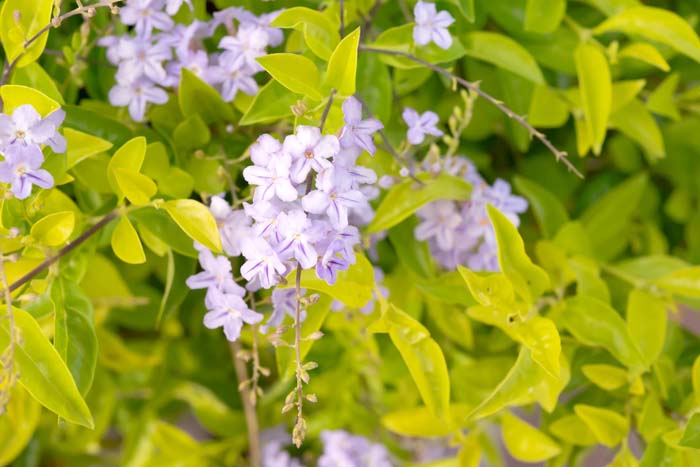 Create a mid-height privacy fence around a pool or yard with the beautiful duranta hedge.
Some types grow up to 7 feet tall, so they offer both privacy and easy maintenance.
Choose from flowering and evergreen varieties to suit your climate and your gardening style. If you have time for pruning, the duranta erecta can reach heights of up to 10 feet.
9. Classic Climbing English Ivy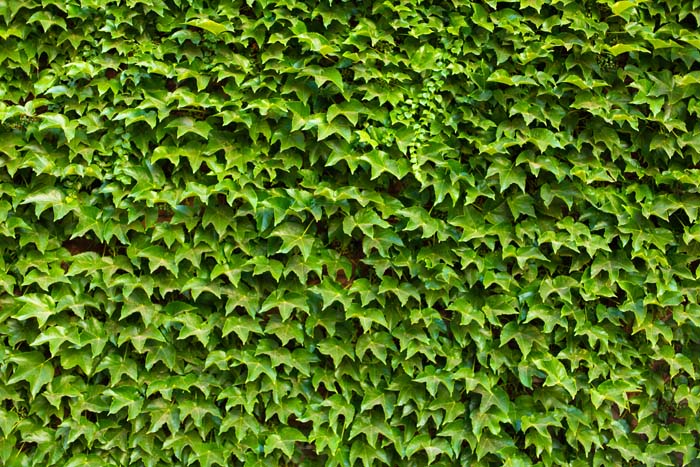 English ivy is a classic choice for a privacy fence — the small vines climb effortlessly, covering an existing fence structure with a spectacular wall of bright green leaves.
This is a great choice for hands-off care; just plant it and water on a regular basis. Keep in mind that ivy can take up to three years to reach full coverage.
10. Go For Height With English Laurel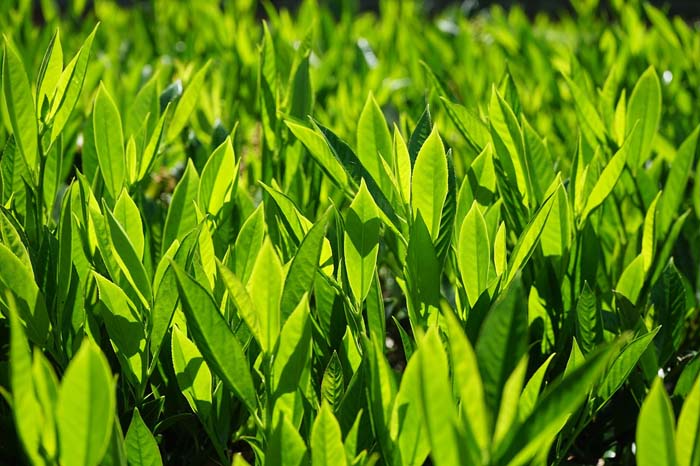 English laurel is an evergreen hedge that offers year-round color and lush, attractive foliage.
The upright branches are dense, ensuring complete privacy. In zones 6-9, many varieties can grow to 12 feet tall and 8 feet wide.
11. Japonicus Hedges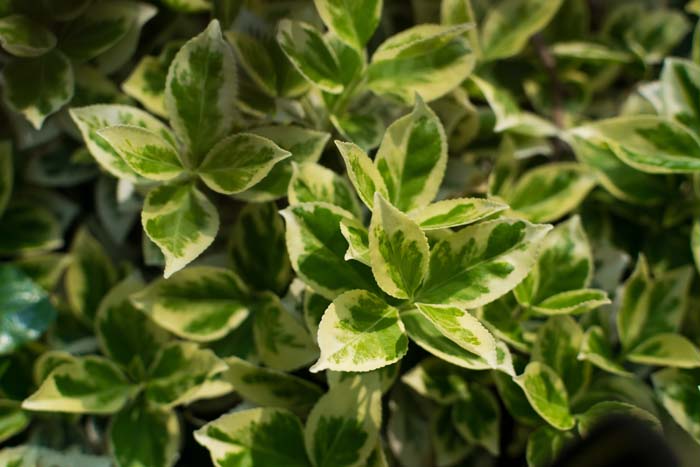 The evergreen spindle, which is also called the euonymus japonicus and the Japanese spindle, features lush, brilliant-green foliage that instantly brightens your yard.
This plant is ideal for a lower privacy fence; it usually tops out at just over 3 feet tall, but you can find taller varieties if needed. In the spring, expect a lovely crop of flowers.
12. Column Or Hedge Of Hicks Yew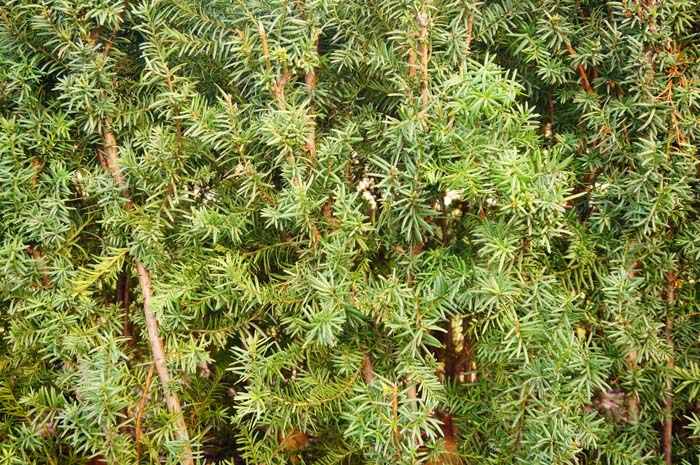 With its long, elegant leaves and thick branches, the Hicks yew plant makes a versatile, low-key privacy fence.
If you have limited time or patience for gardening and pruning, this is the perfect choice — it requires minimal maintenance.
We love this option for its bright red berries, which grow throughout the winter.
13. Add Vibrant Color With Holly Shrubs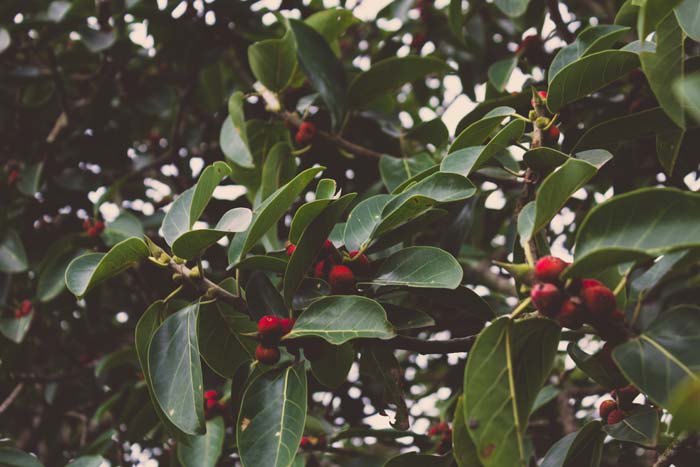 You might think of holly as a Christmas decoration, but it's also a stunning way to block the view into your outdoor space.
Holly is particularly stunning as a shrub; the spiky, deep-green leaves look gorgeous when pruned. Brilliant red berries show up in the middle of autumn, bringing a cheerful pop of color to your yard.
14. Hydrangeas Add Height And Dramatic Blooms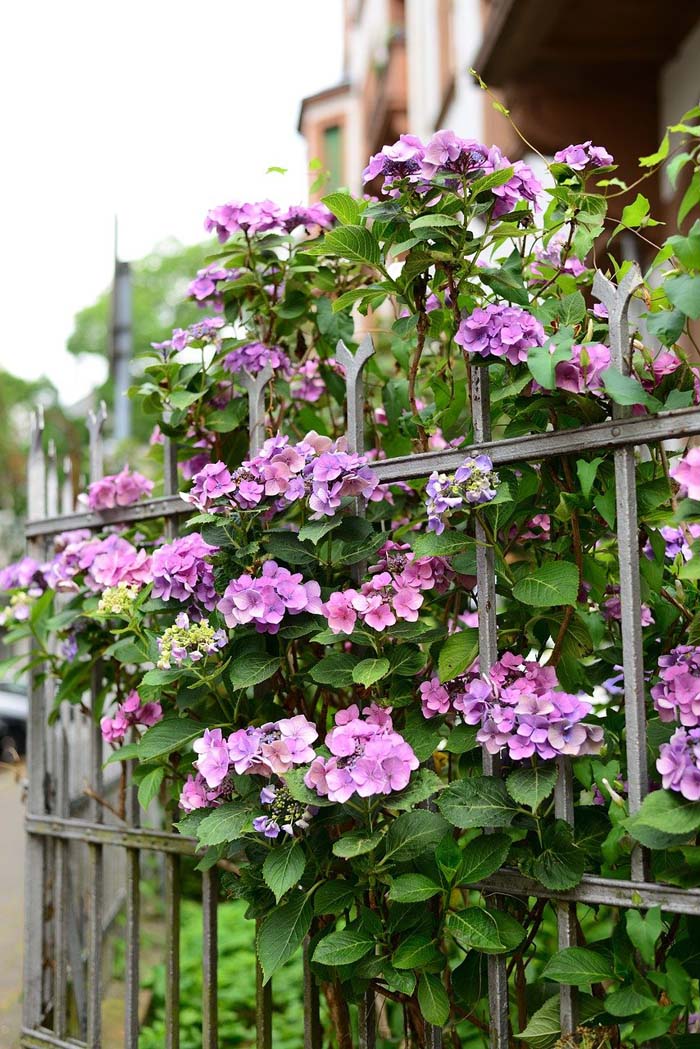 If you're looking for a large, showy privacy fence, the hydrangea plant fits the bill. Each spring and summer, this plant produces enormous spheres of flowers.
The rest of the year, the cheerful green leaves create a natural wall. The best part?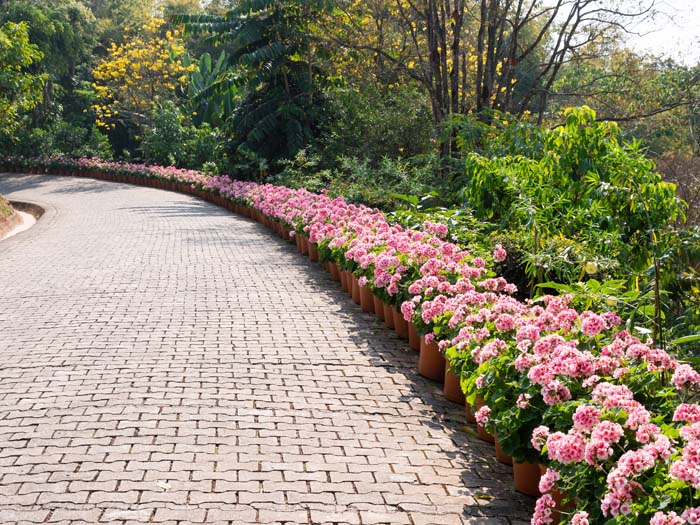 This shrub grows quickly, so you can create a fence in just one season.
15. Drought Tolerant Italian Buckthorn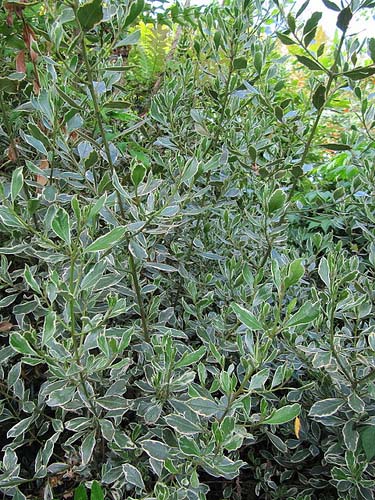 The evergreen Italian buckthorn is a fast-growing, low-maintenance plant.
Although the foliage is relatively thick, it doesn't always block the view completely; you'll get the best results when you plant it in front of an existing fence.
With its variegated leaves, the Italian buckthorn adds plenty of dynamic colors.
16. Fill In Open Fencing With Colorful Jacob's Coat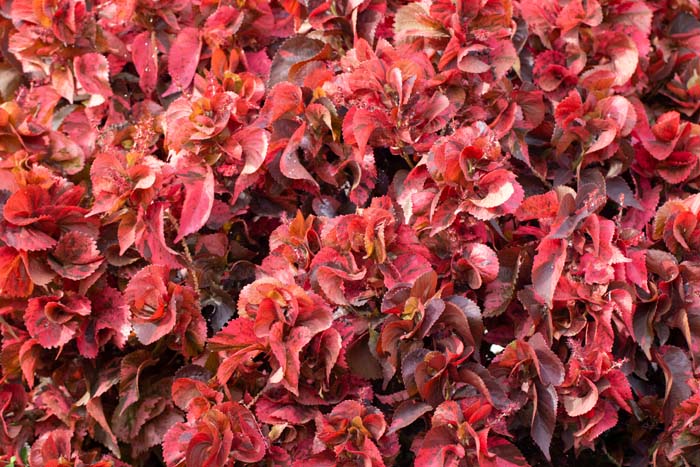 Do you need to fill in the gaps in an existing fence? The Jacob's Coat rose is a spectacular choice.
When you plant it next to a chain-link or picket fence, it will use the structure for support. The lush leaves add privacy, and the elegant, romantic blossoms add color and fragrance.
17. Aromatic Juniper Trees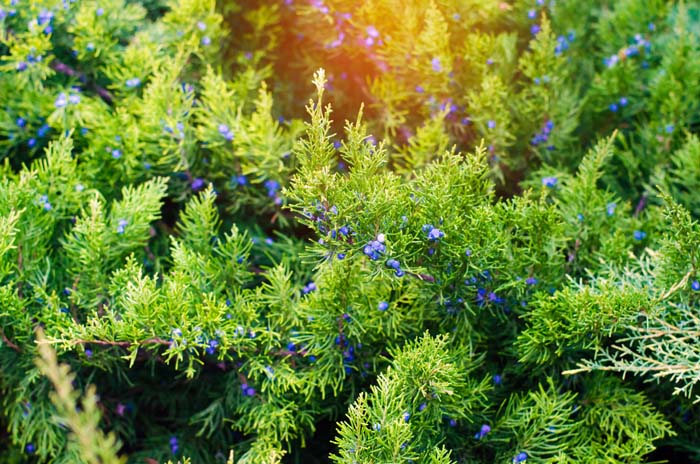 Create a privacy fence that smells as good as it looks with juniper trees.
Choose a variety with dense branches, such as the Wichita Blue plant. The trees can grow to be up to six feet wide, so make sure to allow lots of space for spreading.
18. Stunningly Brilliant Forsythia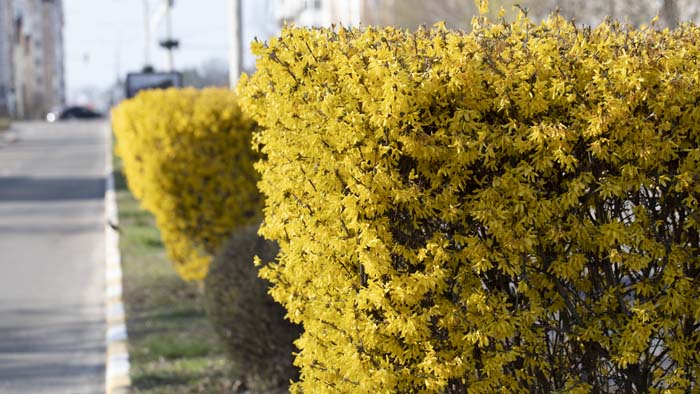 The Lynwood Gold forsythia is a show-stopping shrub that produces brilliant yellow flowers every spring.
After the flowers fall, the shrub develops a solid wall of deep green leaves.
For maximum privacy, you'll need to spend time shaping the plants.
19. Resilient Fast Growing Privet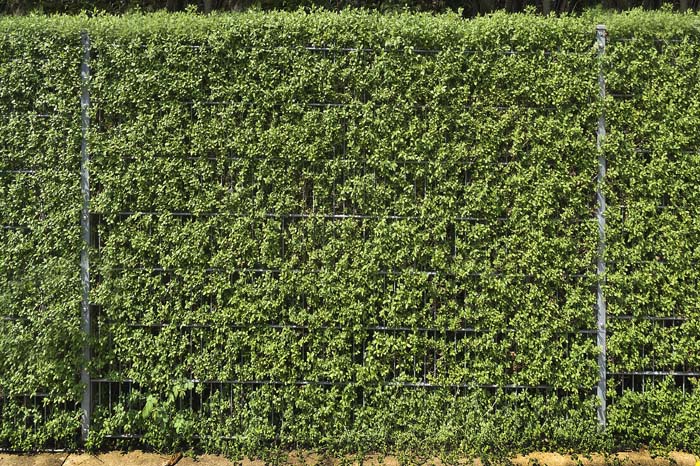 When you need a plant that can grow into a fence quickly, the privet is a convenient option.
When it's watered and pruned regularly, this flowering hedge can grow up to 3 feet every year.
The yellow-green leaves are a stunning alternative to a fence, and the frothy spring blooms are a cheerful way to bid farewell to winter.
20. Photinia Makes For A Tall Colorful Fence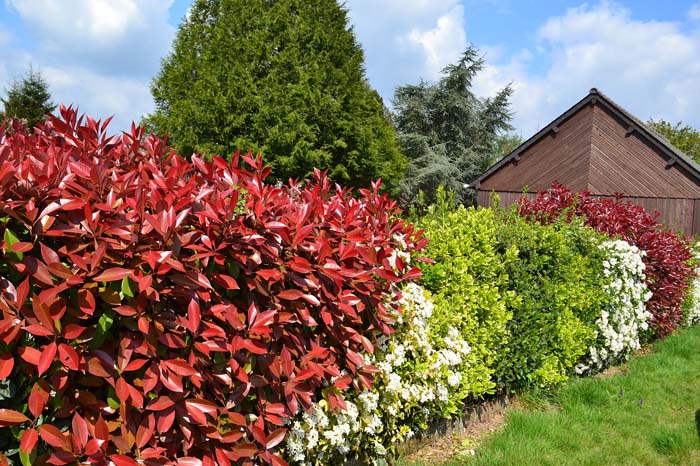 Enjoy long-lasting color with the vibrant red tip photinia.
This unusual shrub is evergreen, producing eye-catching green and red leaves. Plant it in front of a fence for a quick makeover, or prune it carefully to encourage dense growth.
21. Vibrant Red Twig Dogwood Shrubs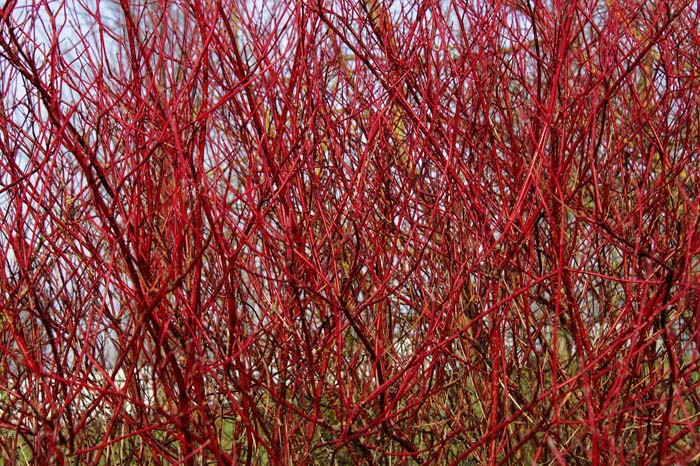 Do you live in a climate with harsh winters and hot summers?
The red twig dogwood is a hardy plant.
It loses its leaves every fall, but that doesn't mean you need to sacrifice beauty — the branches are bright red, so they look gorgeous with or without leaves.
22. Classic Rose Bushes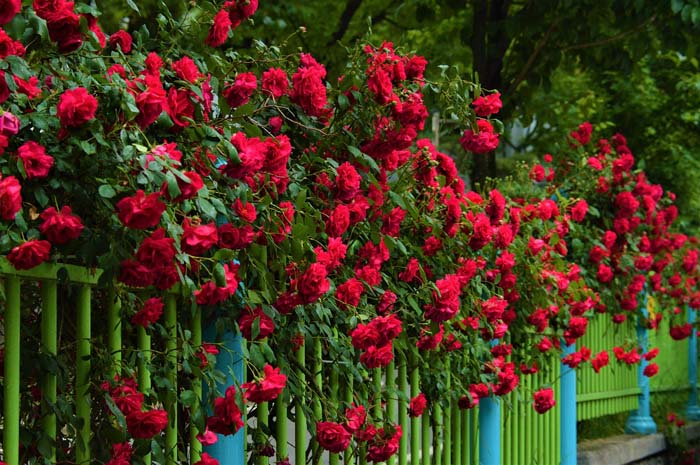 Roses are one of the most beautiful plants that you can grow as a privacy fence.
Many varieties require structure — build a trellis or a fence, and the vines will cover it completely.
Roses require pruning, but your work will play off in fragrant, colorful blooms.
23. Warm Weather Weeping Fig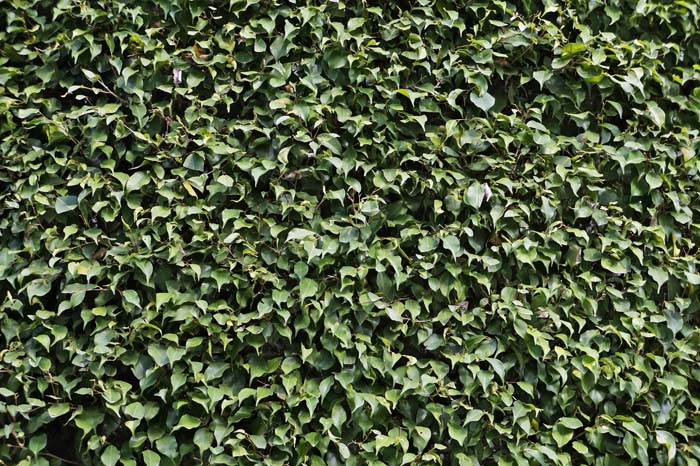 In warm climates, weeping figs are a unique way to create a privacy screen.
In most zones, these plants are grown as houseplants. In zones 10 and 11, however, they create stunning hedges with even, downward-facing leaves.
This plant takes time to cultivate, as it grows about 2 feet per year.