We all know how important the porch is and how it adds value to our property if furnished and decorated properly. Today we are going to show you a collection of wall decorations, especially for porches.
You would be able to find inspiration for your own porch no matter how it looks at the moment. Most of the items are of universal design and easily blend with any existing decor.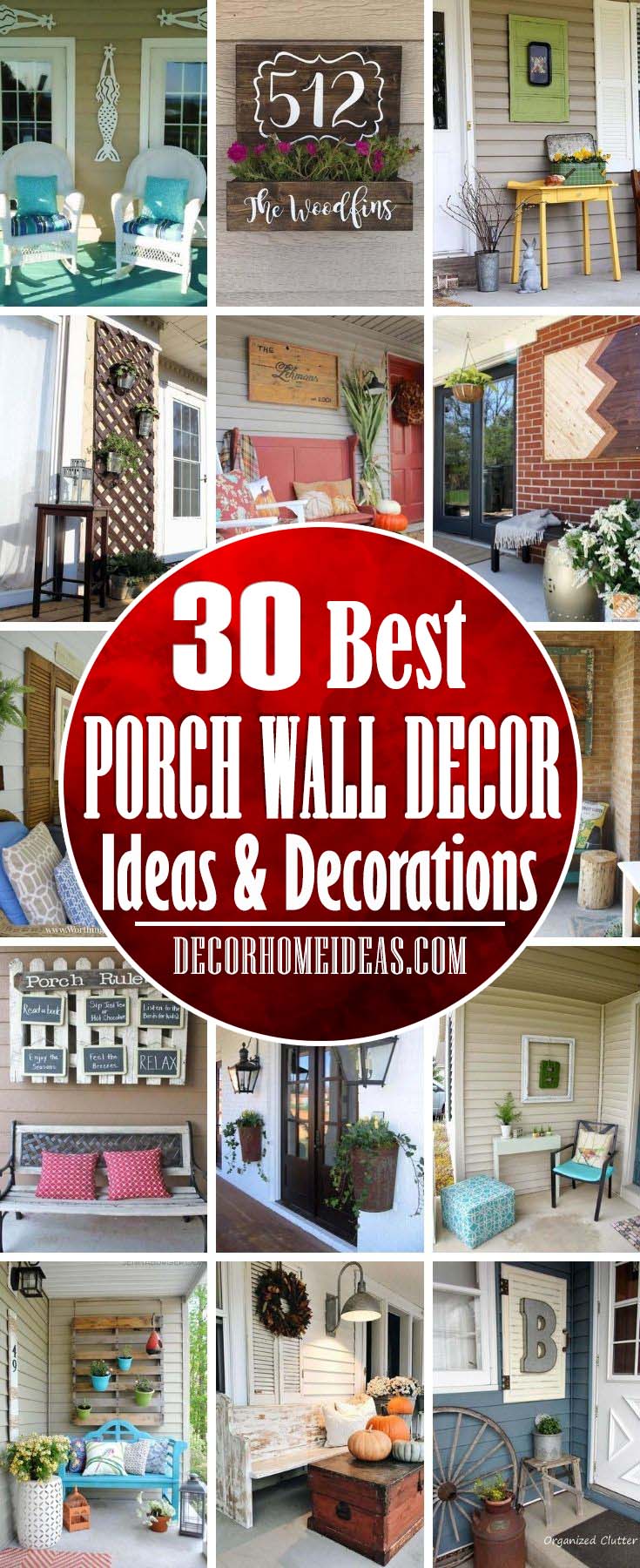 Whether you like flowers, signs, antiques or repurposing of materials, there is a wall porch decor idea for all of you.
1. Chalkboard Sign with Hanging Wreath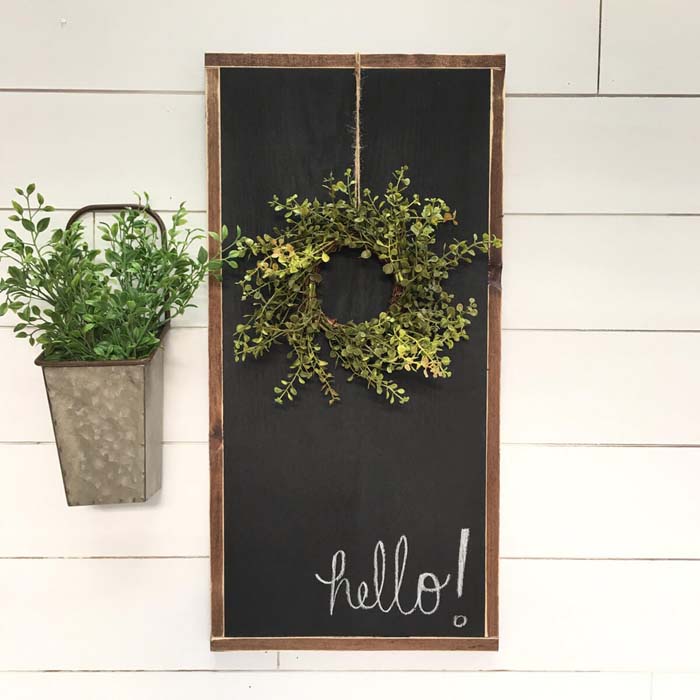 Signs are made to attract attention and to state a thought. If placed on the porch, they usually say something welcoming.
What makes the chalkboard sign better than the rest is the possibility to change or add words and thoughts.
2. Coir Planter with Orange Flowers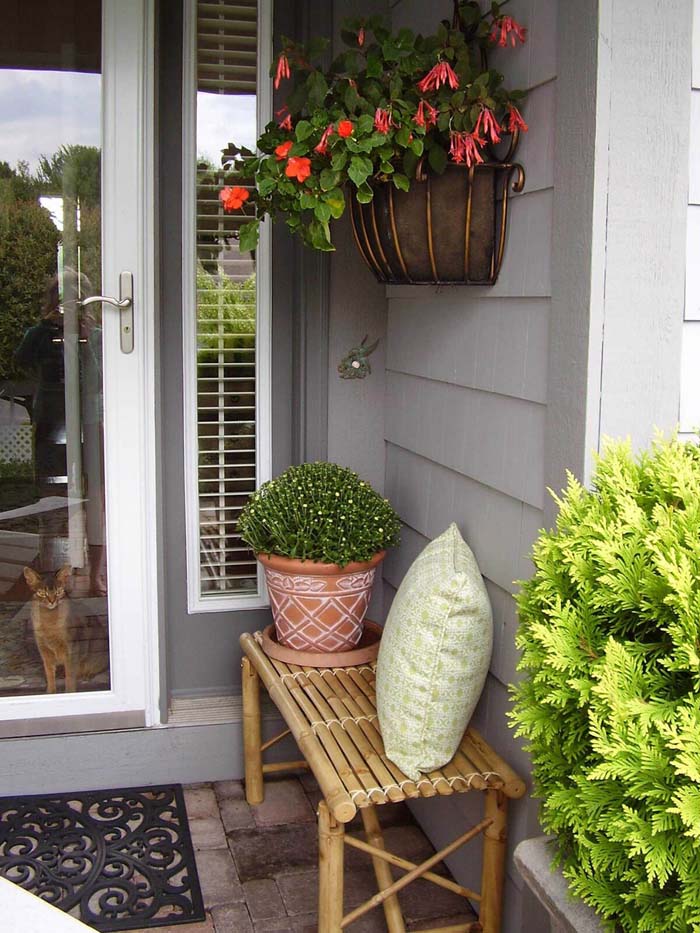 Even a small porch can be decorated in such a way that adds maximum curb appeal to the property. Coir planters are one of those decorations that match any style and fit any place.
Hung wrought iron baskets will make the front porch look more aesthetic.
3. Dark Stained Wood Wall Hanging with Lanterns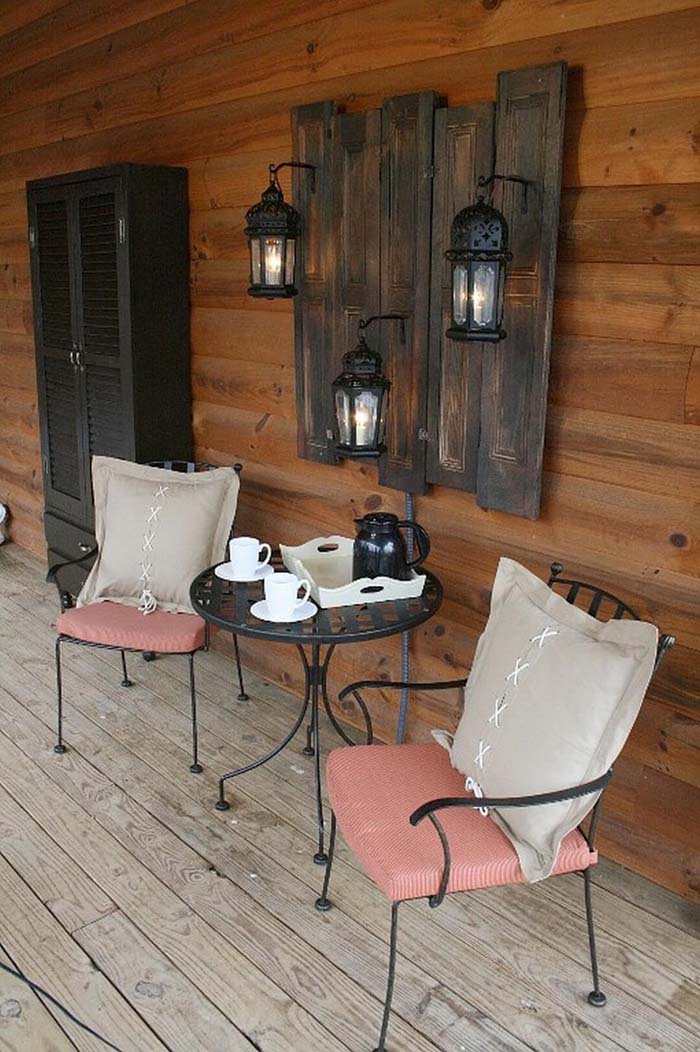 Hang wooden shutters or panels on the wall to imitate closed windows.
Adding lanterns will contribute to finishing the farmhouse-inspired look, plus they will spread gentle light at night.
4. Hanging Baskets on the Wall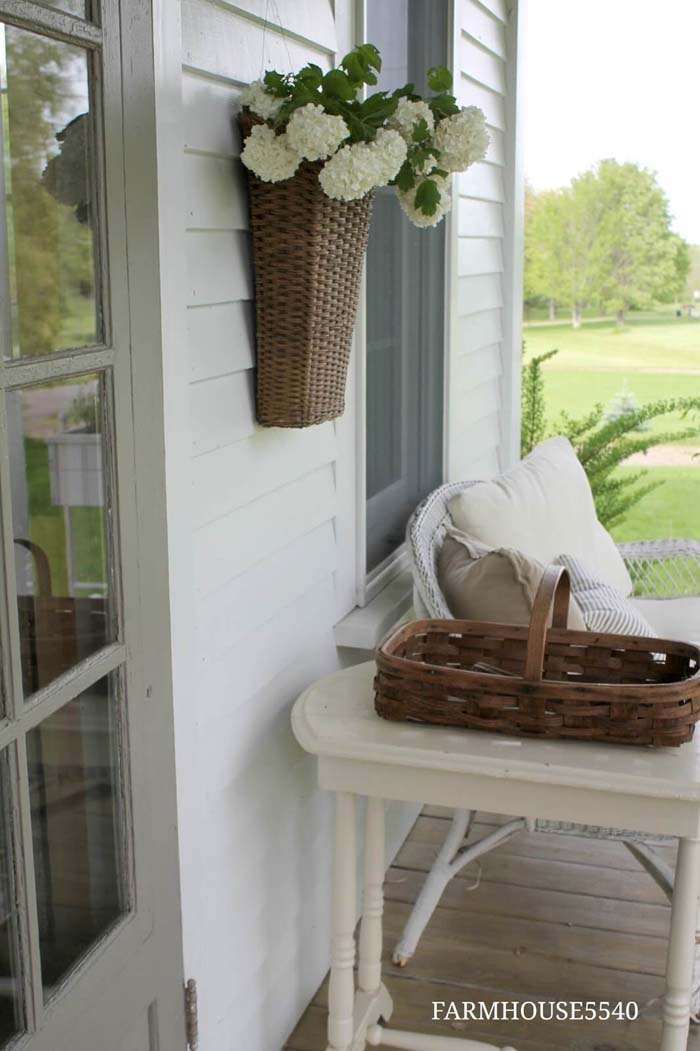 If you prefer the flower decor, there is a wide variety of hanging planters that can suit any exterior. The rattan baskets match best with rustic, vintage and countryside decor.
via Farmhouse 5540
5. Hanging Mason Jar Candle Holders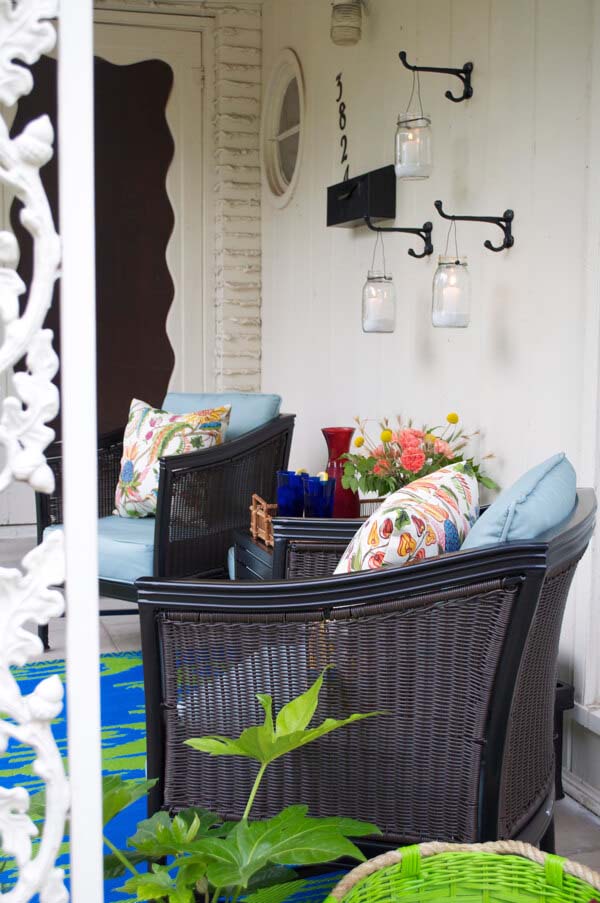 In cases where the porch interior combines many colors, you need to be careful when adding new decorations. It shouldn't be that bright and colorful as the sight will get too distracted and teased.
Mason jars with candles will add a balanced touch of simplicity and coziness and will blend easily with the vivid interior.
via Home Depot
6. Hello Sign in Pretty Script Lettering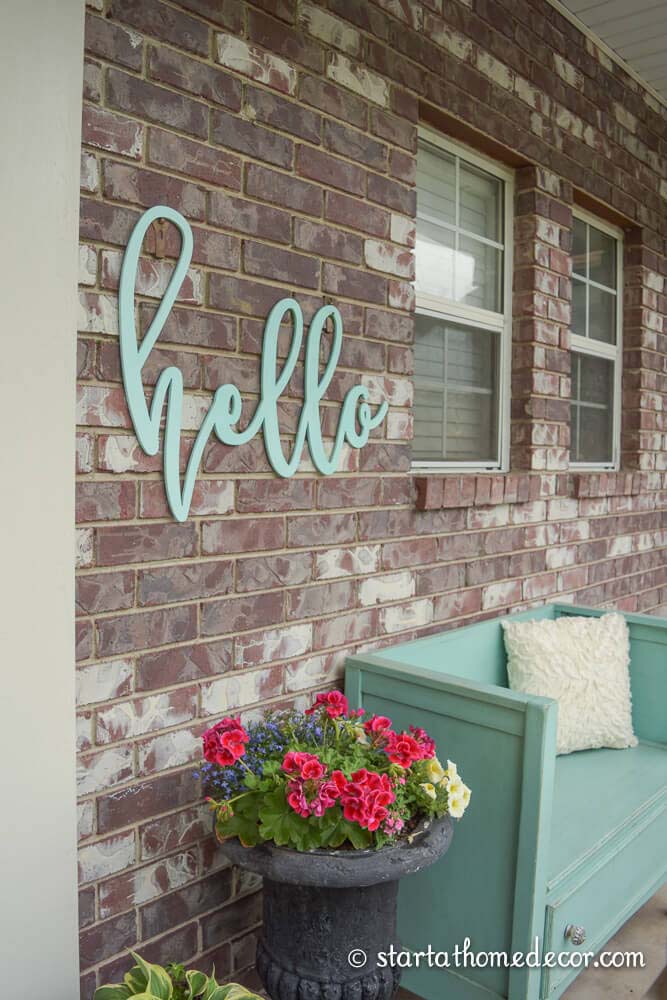 If you prefer minimalistic accessories with great impact, hang a lettered hello sign. It is painted in a color that matches the porch furniture and doesn't distract the attention from the rest of the exterior.
At the same time, it is big enough to be seen even from the road.
7. Home Sweet Home Sign with Mason Jar Vase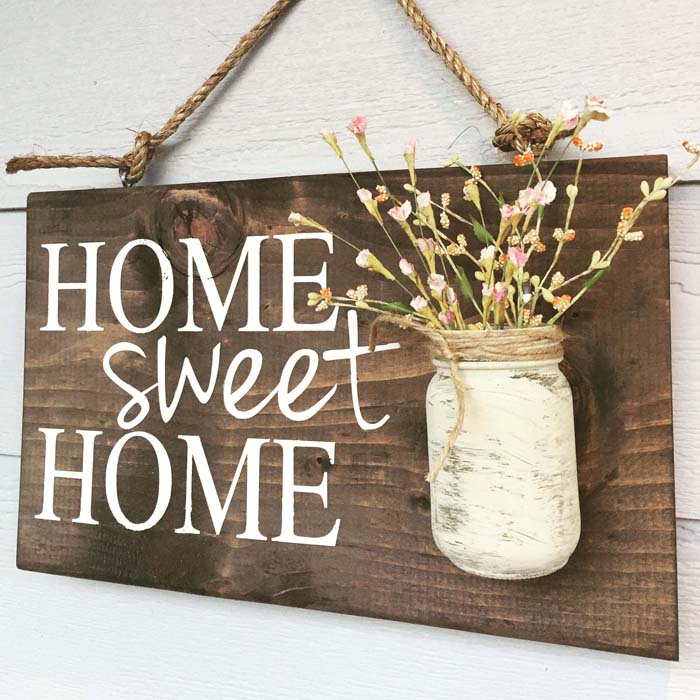 Hang a rustic sign which combines the beauty of seasonal flowers with a cute sentiment about the value of the home.
8. Lattice Wall Hanging with Galvanized Pots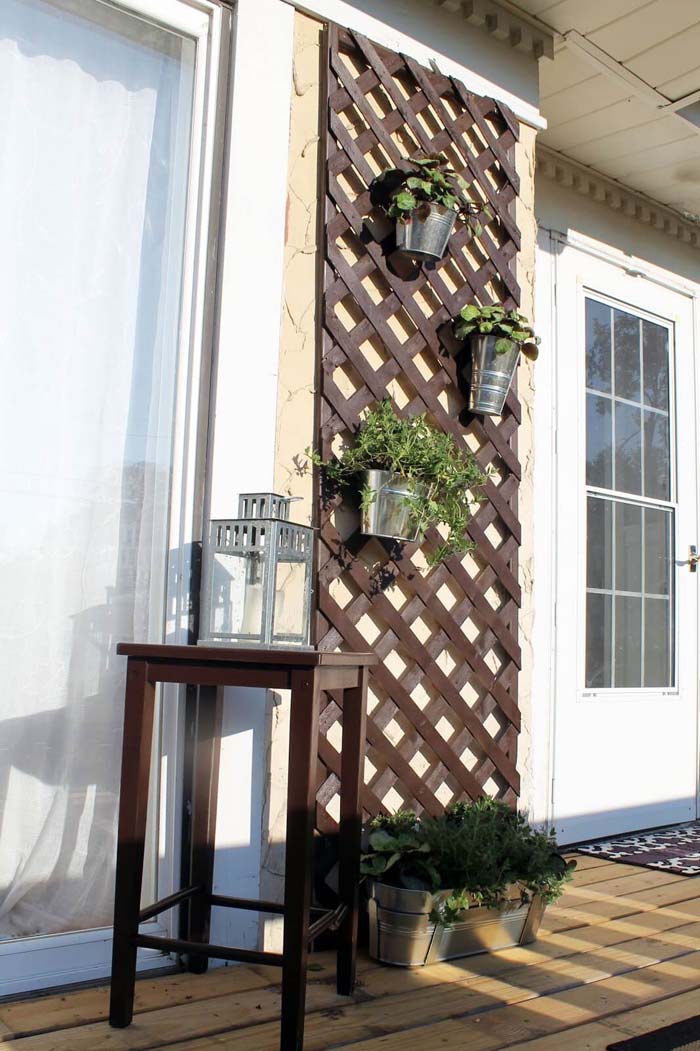 This is a tutorial on how to make yourself a wall lattice to hang beautiful flowers on.
The wood and the pattern will add a farmhouse effect to the porch.
via Quirk Madame
9. Metal Milk Pans Hung on the Wall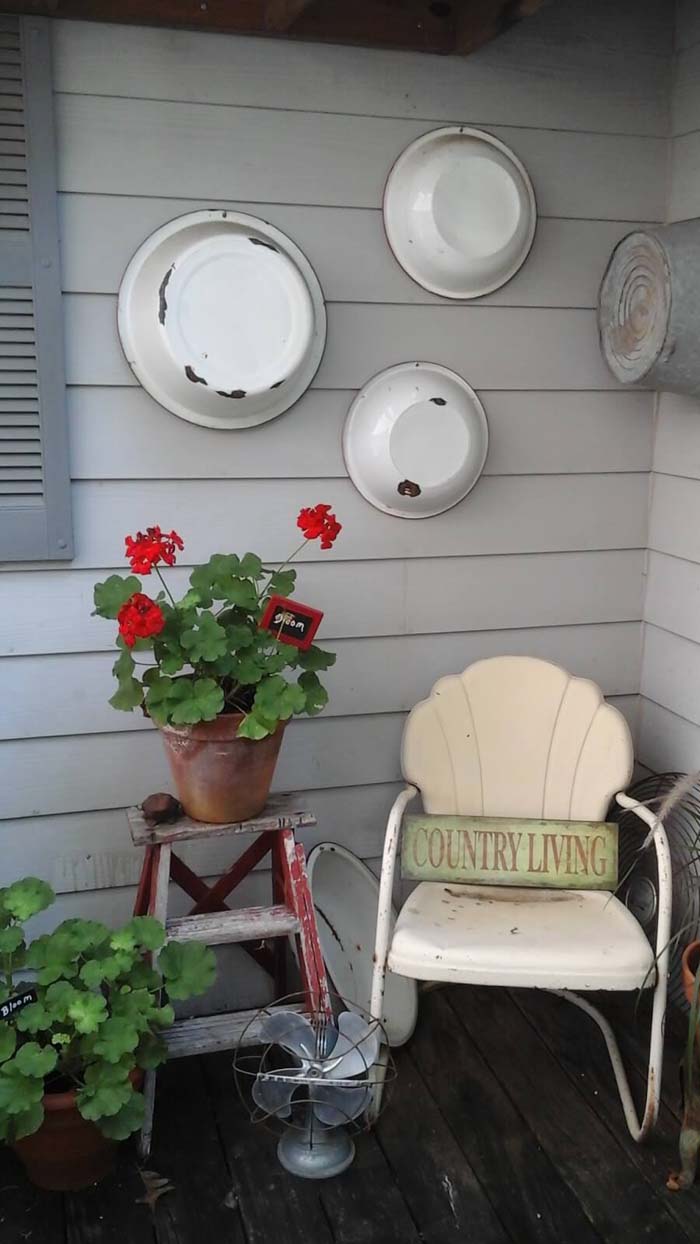 Repurpose old items like metal milk pans to turn them into wall decorations that will recall the sweetest memories from childhood.
10. Metal Scrollwork Wall Hanging Over a Bench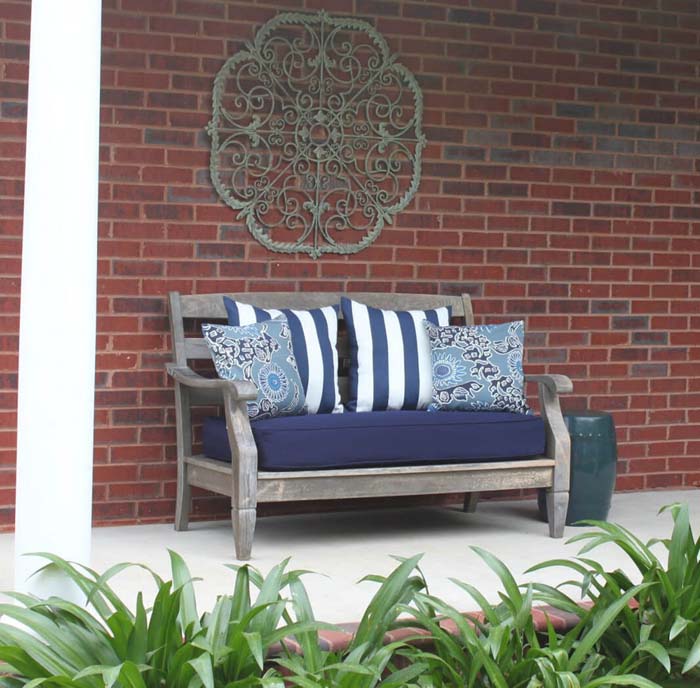 When walls have texture, they create a decorative effect. Take this into consideration that when choosing the wall decor.
Metal scrollwork is suitable for brick, stone and similar exterior wall texture as their hollow pattern shows the wall and doesn't overburden the decor.
11. Mixed Pots, Baskets, and Wreaths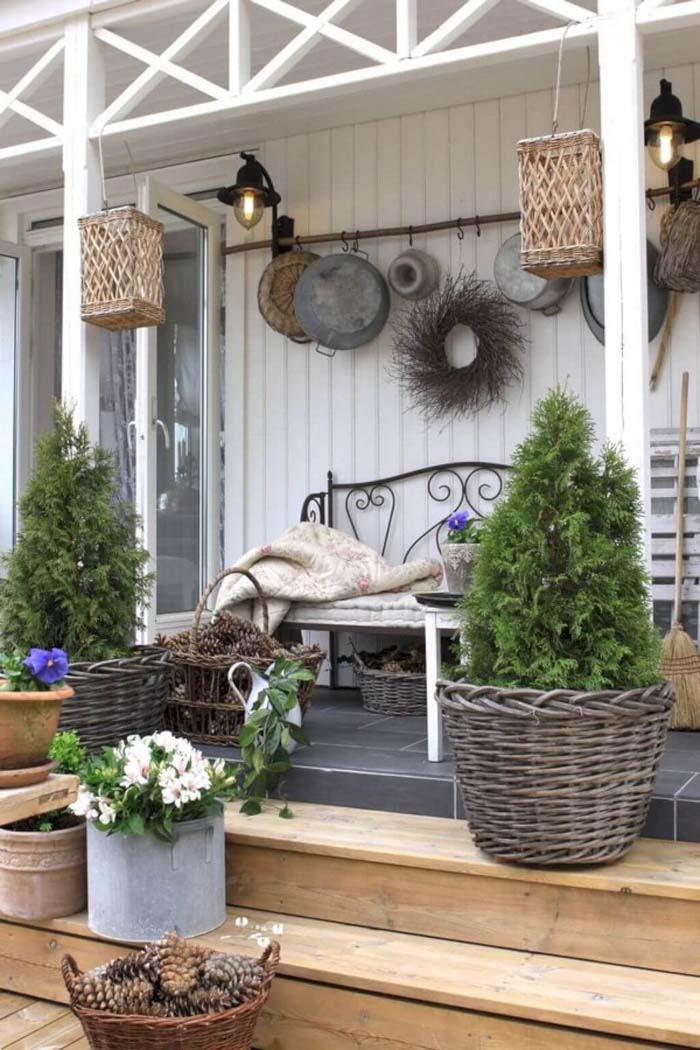 If you realize that the countryside decor naturally makes the porch more welcoming, use decorative items like baskets and pots to beautify your porch.
12. Modern Stained Wood Wall Hanging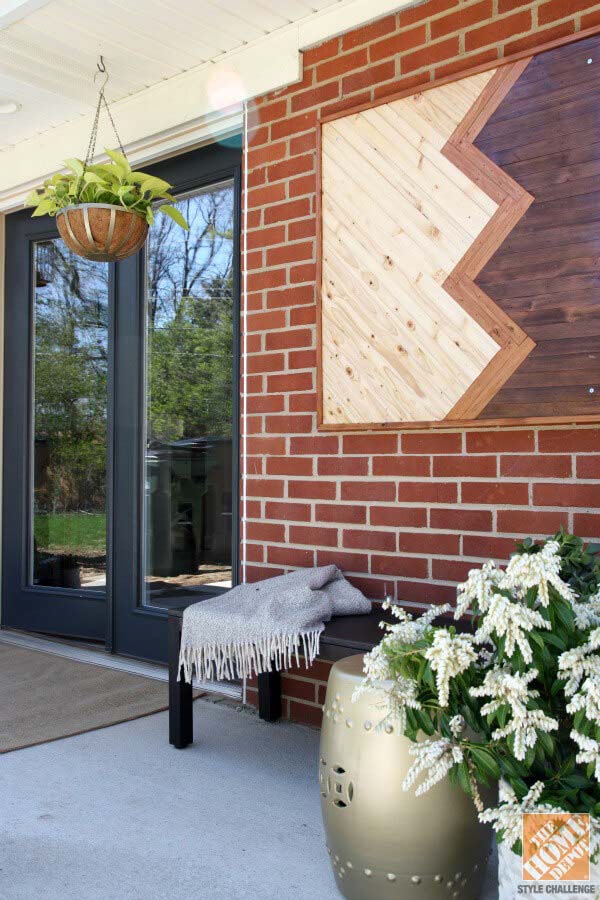 Make the brick wall modern with an art piece from salvaged wood.
The wood pieces can be any leftovers from previous interior projects. When hung over the sitting area, it gives a finishing touch to the nook from the porch.
via Home Depot
13. Old Cabinet Door with Hanging Tray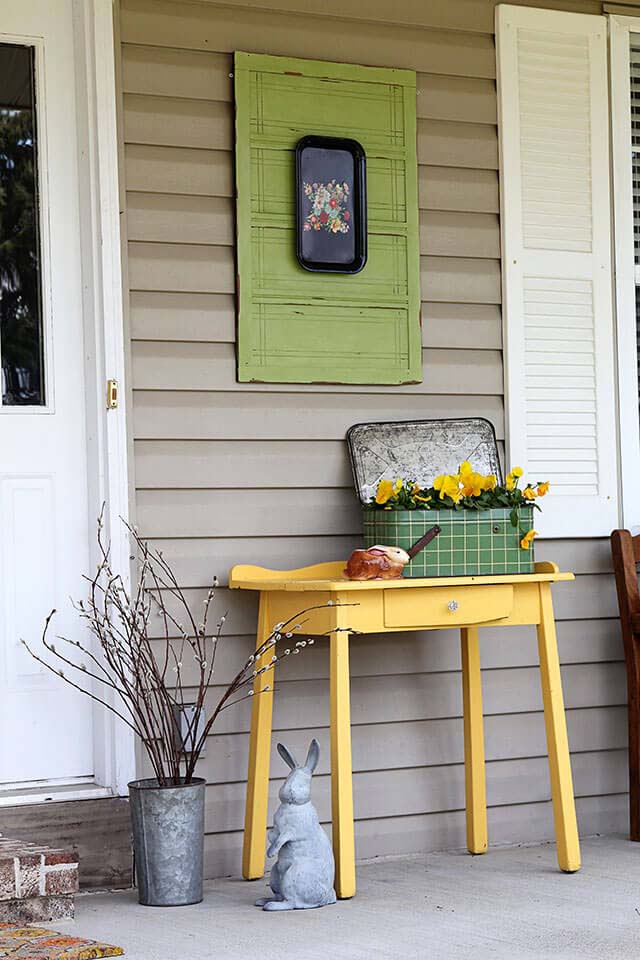 Recycling is fun and inspiring when you see the final result. Create a charming and rustic wall decor using a cabinet door as a background for a beautifully painted tray.
14. Old Closet Door with Framed Artwork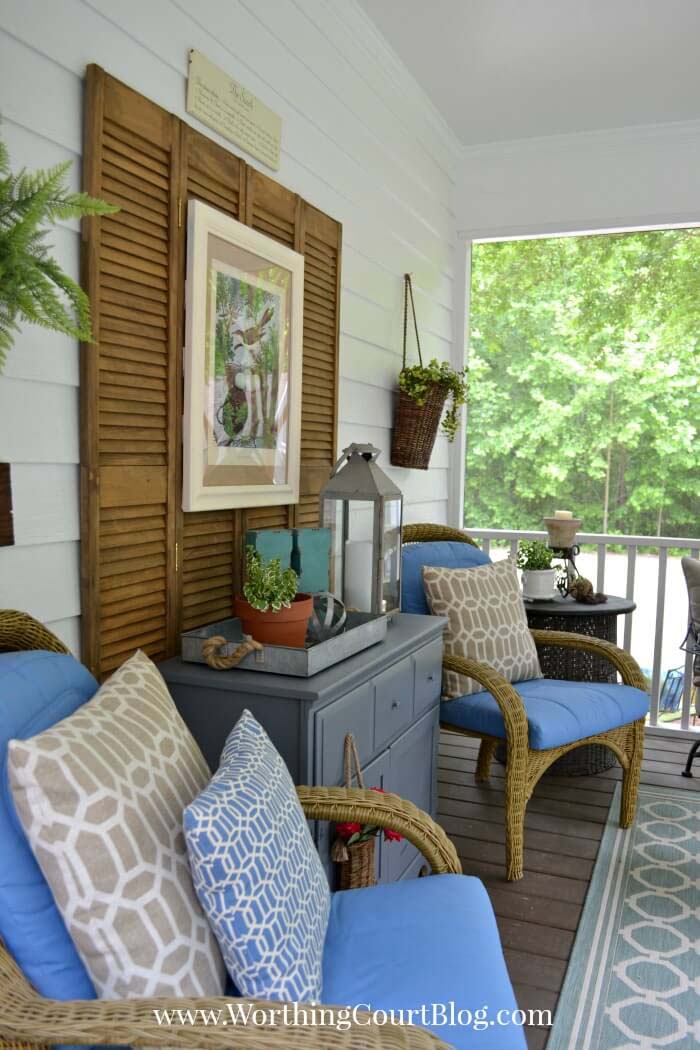 Similar to the idea above, instead of recycling cabinet doors, use closet doors. Placed on the porch wall, they create a nook as if inside the house. Hang a beautiful painting, a wreath or a tray.
15. Old Fashioned Fleur de Lis Metal Plaque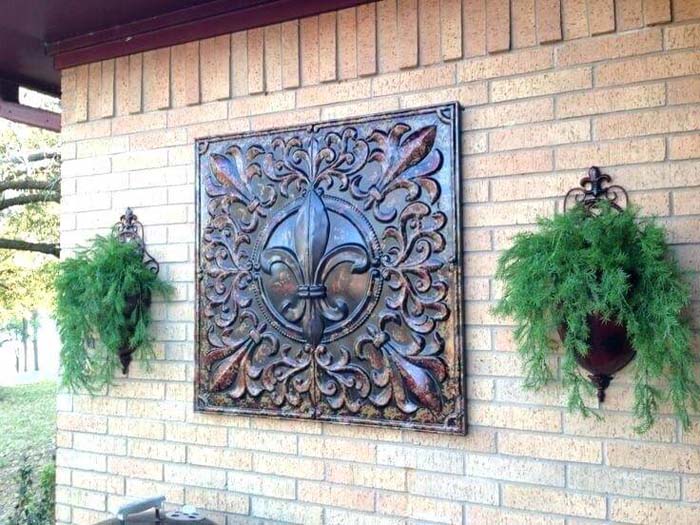 Since outdoor decoration is exposed to a harsher environment compared to the inside conditions, think of items that will resist the ambient conditions.
An antique metal plaque is an excellent choice as it is robust, resistant, beautiful and artistic.
16. Old Window Frame With Wreath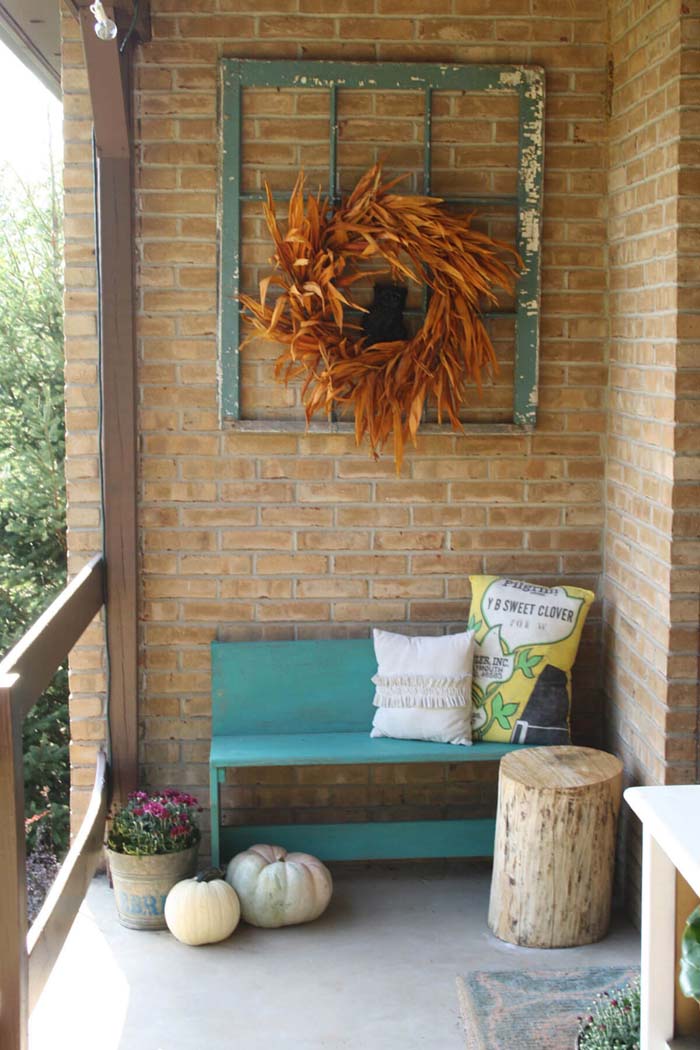 A simple window frame left with the impacts from the outer conditions can become an interesting porch wall decoration. Attach a wreath or hanging planter for greater impact.
17. Pallet Hanging from the Wall with Flowers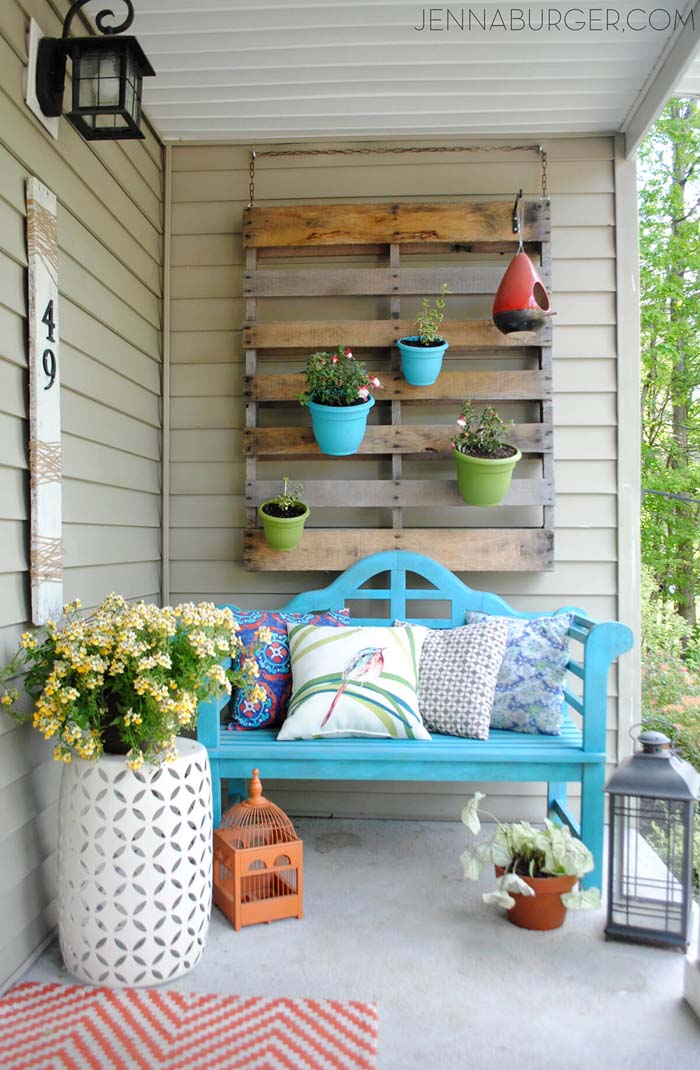 If you love flowers but your porch is too small, you need to use the vertical space for your plant collection.
A vertical pallet planter with flowers is an affordable and interesting type of garden for small areas.
via Jenna Burger
18. Picket Fence Sign with Chalkboard Accents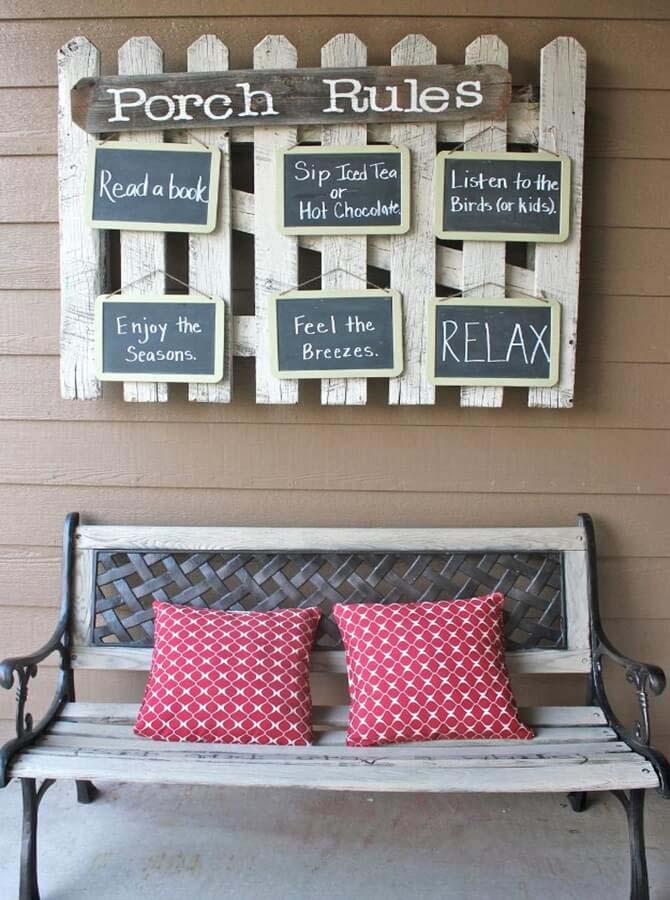 Speak out loud what is allowed to be done on the porch with a rustic sign.
Each inspiration for porch activities is written on a chalkboard piece, framed and hung to a picket fence.
19. Planter Box with House Numbers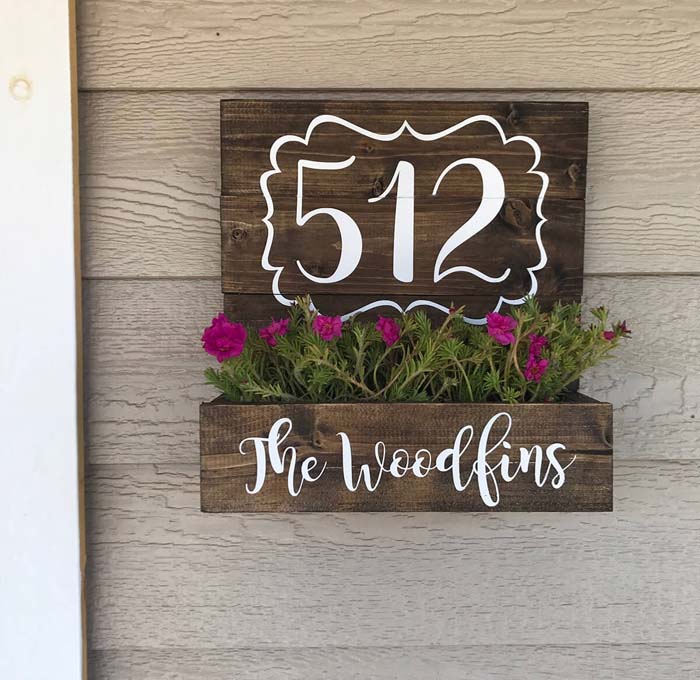 This lovely decoration is multifunctional as it states the number of the house, the family name and holds beautiful flowers.
The stained wood makes it look like a vintage piece presuming that the property has a long history.
20. Porch Wall Decor Idea with Autumn Wreath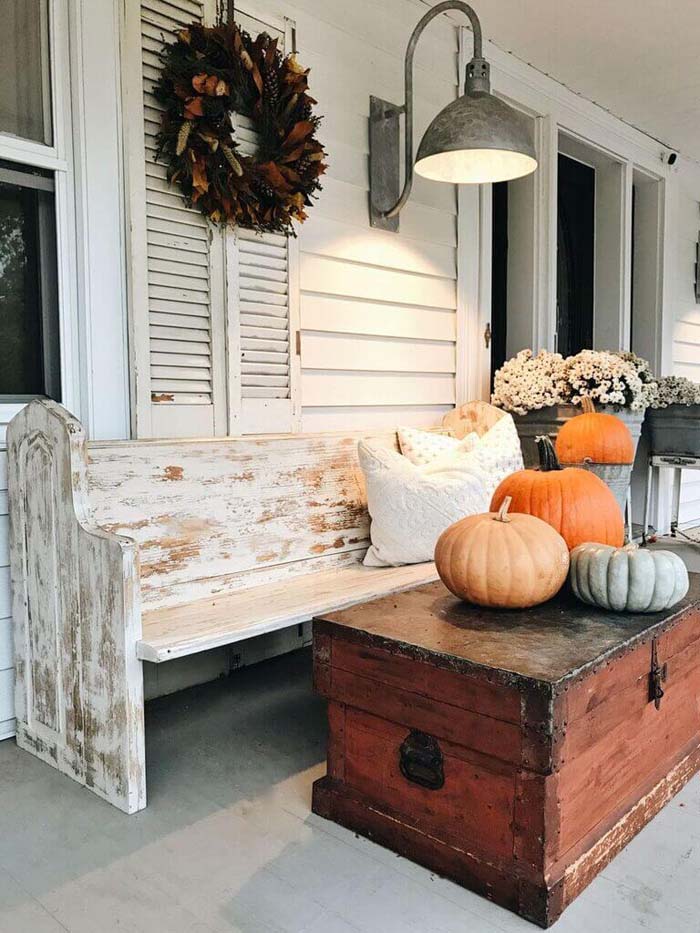 Wreaths are very charming and can easily cheer up the ambiance of the porch.
Depending on the materials involved, they can mark a holiday or a season.
via Liz Marie Blog
21. Porch Wall Decor Ideas with Coir Planter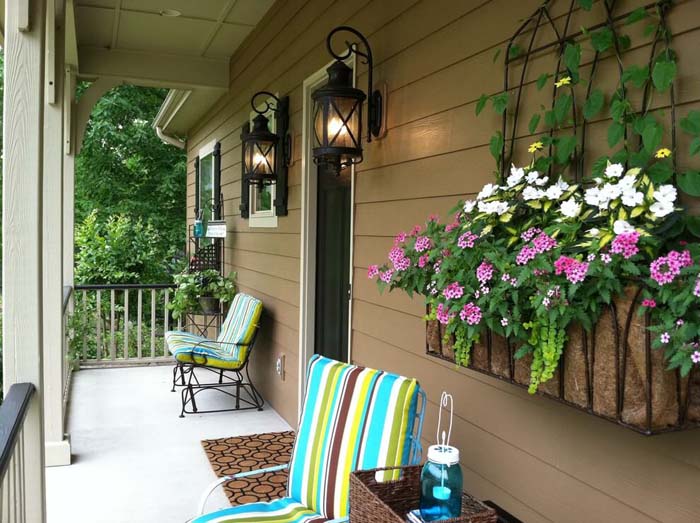 If you prefer live decorations, go for coco-lined planters.
They come in various shapes and sizes and keep an optimum environment for the flowers' growth. They can be easily attached to a wall thanks to the wire basket that keeps them.
22. Porch Wall Decor Ideas with Name Plaques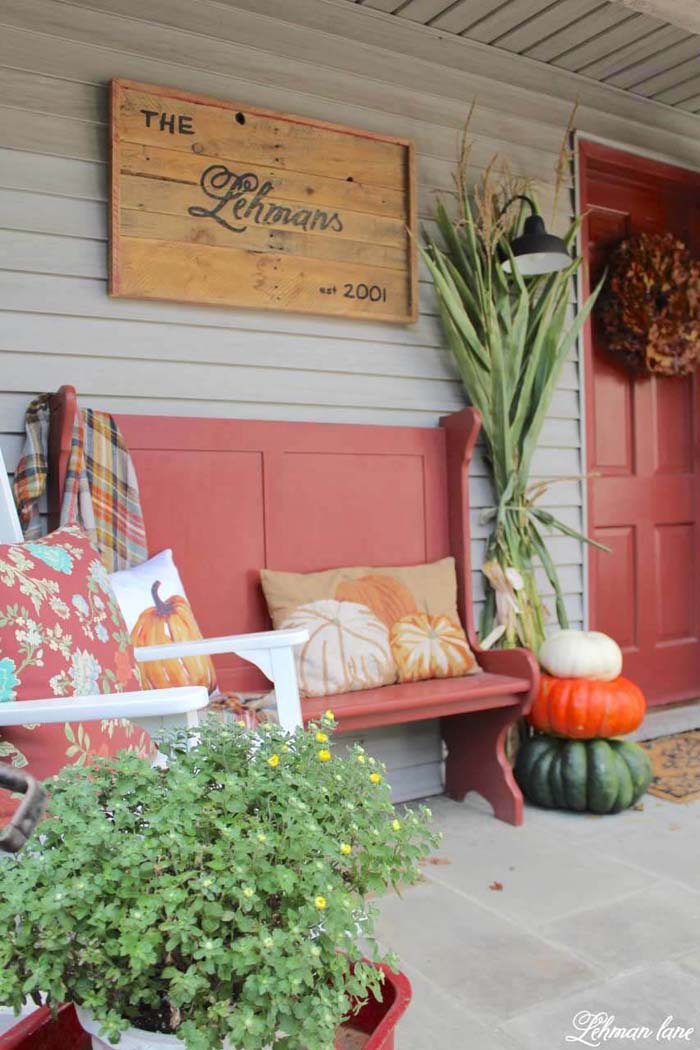 Rustic decoration always possesses charm and uniqueness.
Although it doesn't hold the fine nuances of a fabricated machinery piece, its blemishes make it more outstanding and cozy.
via Lehman Lane
23. Printed Welcome Sign with Cute Sayings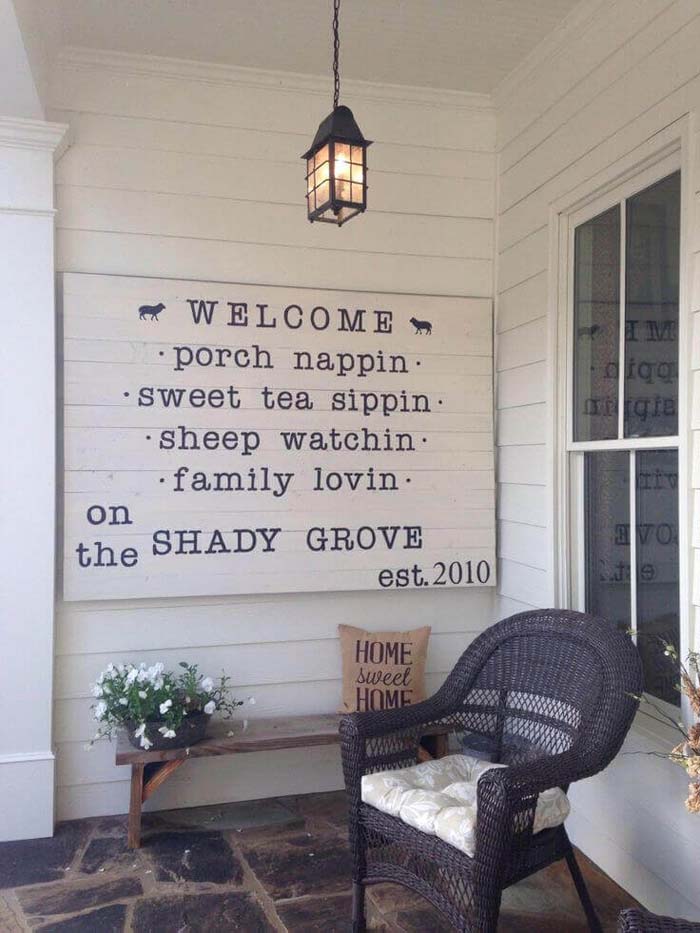 This exceptional rustic sign will add extra details to your porch.
Valued porch activities are listed in big bold letters as well as the time they have been established.
24. Repurposed Shutter with Name Initial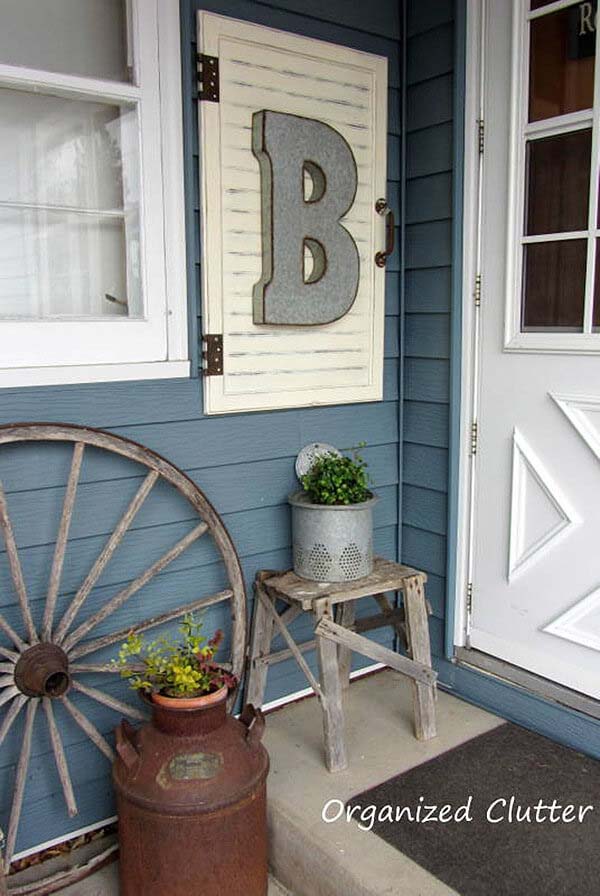 You can always be more creative than money spending and make a unique decoration that will add personality to your porch.
An old shutter or a cabinet door can become the background for a big initial with meaning.
25. Rusty Metal Planters by the Door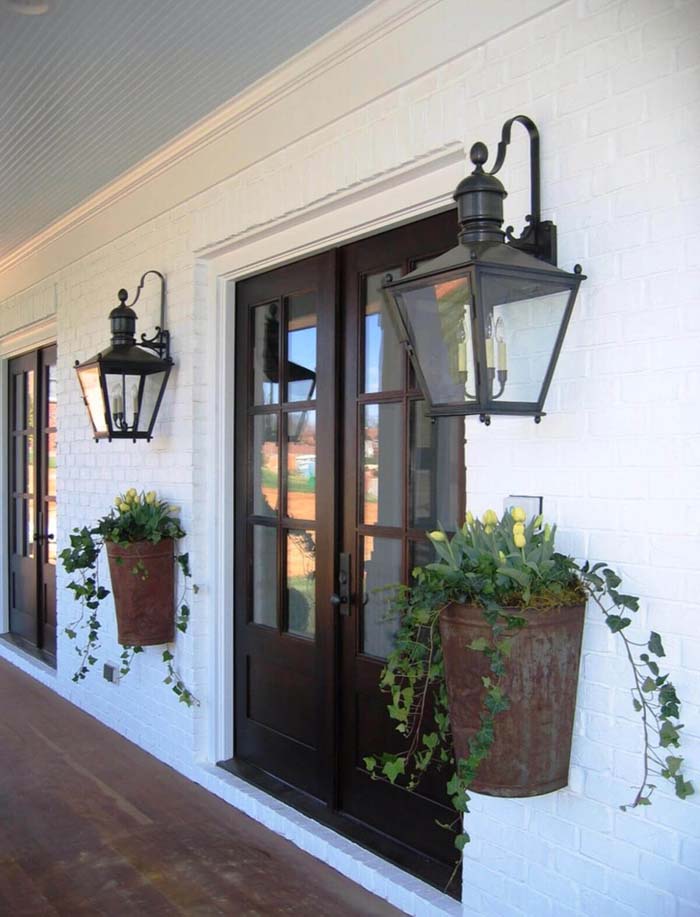 These large containers look like taken from another century and left untouched to show their aged nature.
Placed on each side of the front door, they outline the entrance with vintage beauty.
26. Succulents Tucked in the Slats of a Shutter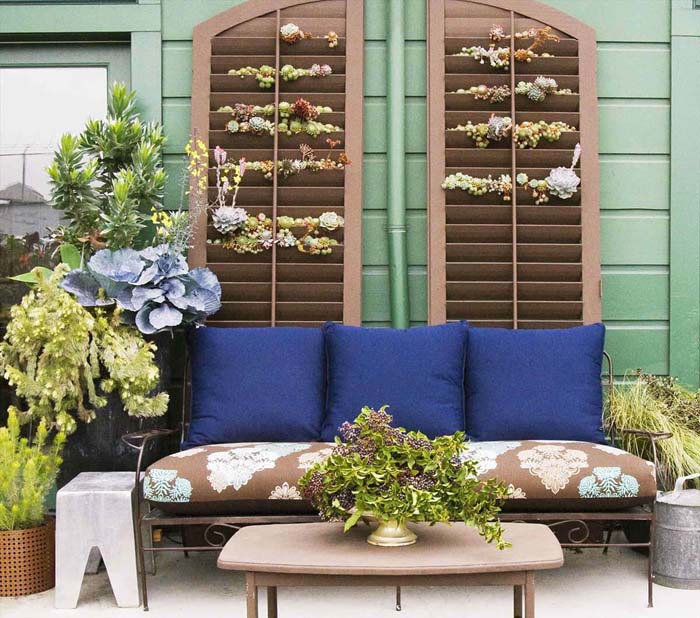 Succulents have become favorites inside and outside plants for their size and unpretentious nature.
Their roots are short and that allows planting them in very unusual places like the slats of shutters.
via Seasonal Wisdom
27. Vintage Frame with Hanging Moss Initial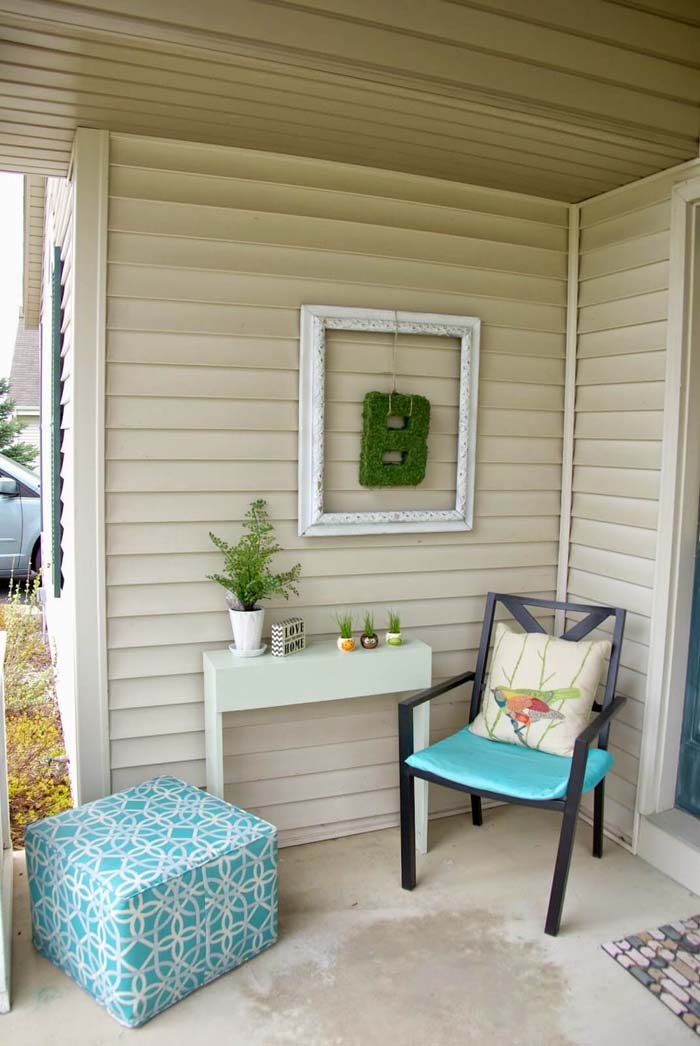 Framed works look well on any wall, including the porch walls. Since paintings won't survive outer exposure, change the canvas with something that will also have a meaningful print.
An initial from moss will fill the empty frame and will last long outside.
28. Welcome Sign with Cute Bird Accent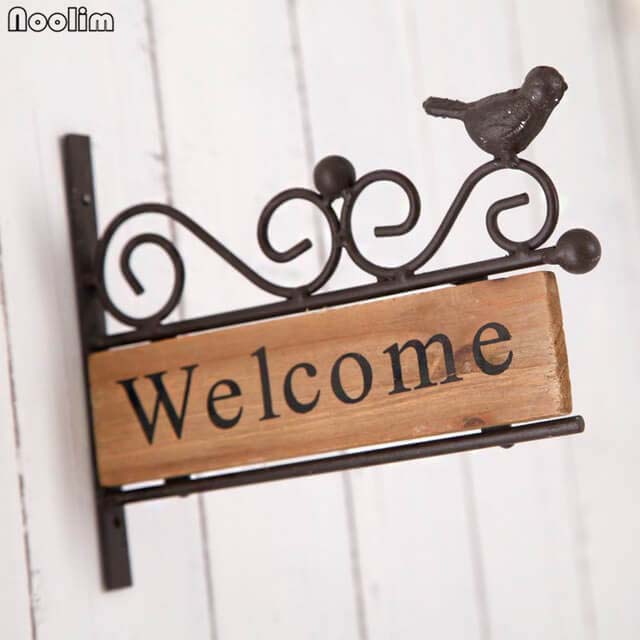 This shabby chic metal sign says welcome with refinement. The wrought iron underlines a weathered wood piece.
The small figure of a bird on the top suggests that it is welcoming the guests with a cheerful bird song.
via Ali Express
29. Whimsical Mermaid Wall Hangings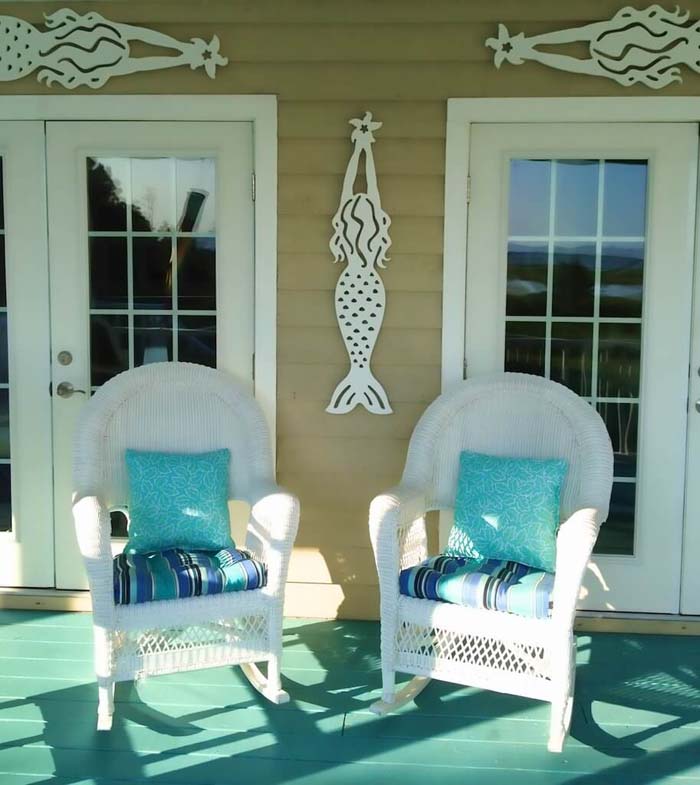 Mermaid laser cut signs will add a whimsical touch to a porch inspired by the coast.
Their size can be customized to fit the empty wall you are going to decorate.
30. White Painted Welcome Sign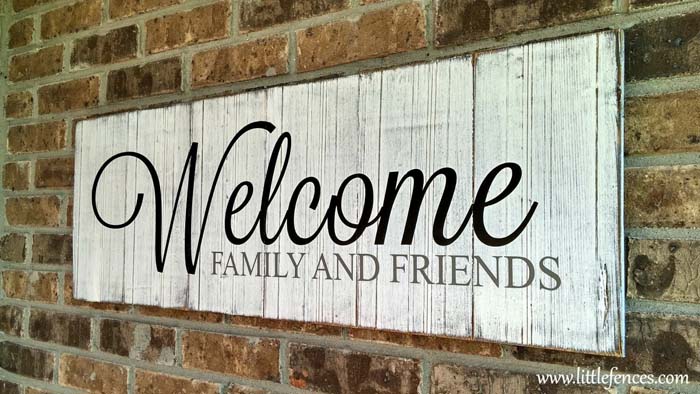 This simple rustic sign impresses with its fine print and details. Not many are the signs that clearly state who are the welcomed people in a home.