48 Cute Outdoor Hanging Planter Ideas For Your Backyard
We have decided to dedicate a special post for the hanging planters for some important reasons. Just before summer, we intend to start planning the decoration of our backyard as it is going to be the most attended place during the hot days.
One of the most preferred ways to do outdoor decoration is with beautiful flowers. You can choose among a wide variety of species with regards to blooming capabilities, size, growing requirements, life span.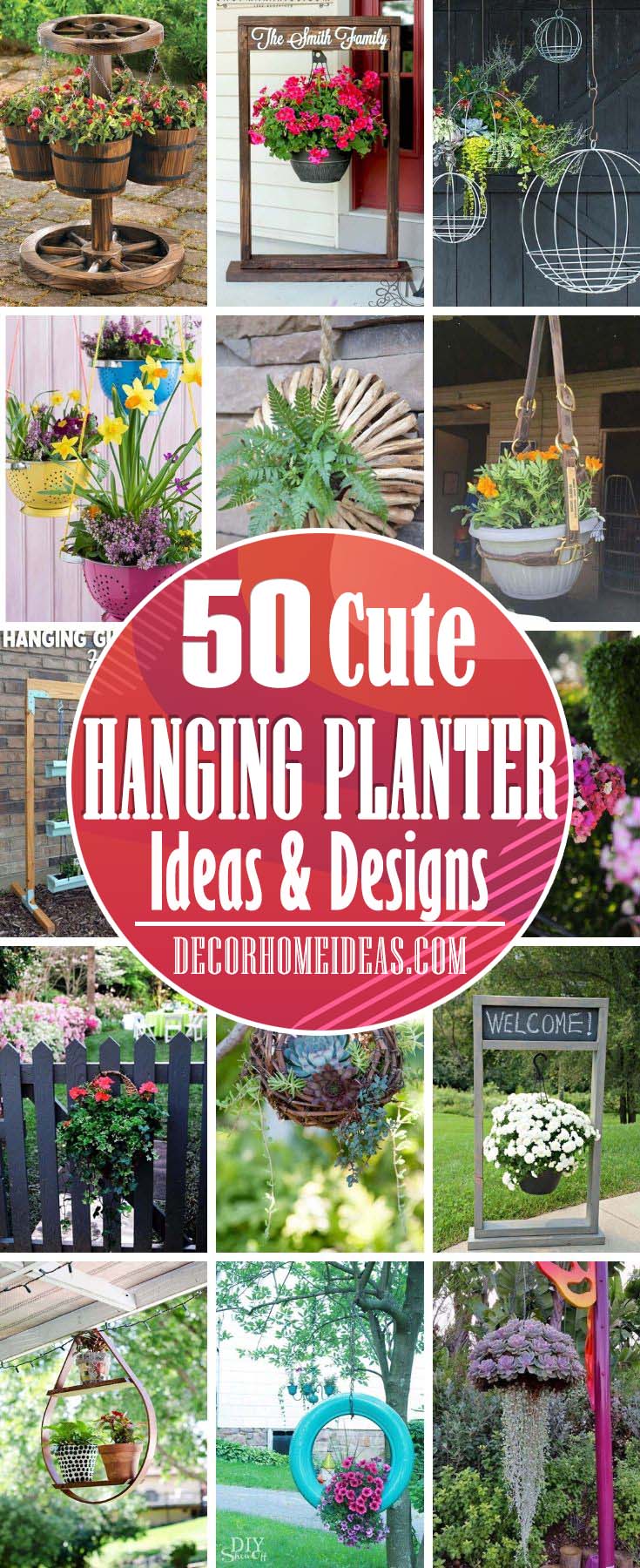 Don't forget to PIN this image for quick access to all these beautiful ideas!
The planters are not only flower containers. They are a means to organize and spruce up your interior and exterior. Depending on the space specifics, you may need to consider different types of planters – simple flower pots, floor planters, tiered planters or hanging planters.
We have gathered 50 hanging planter ideas that will help you define the vertical space of your home. We promise that each of the ideas will enhance the planted flower and will improve the visual effect of your home.
Brightly Colored Coleus and Geranium Porch Planters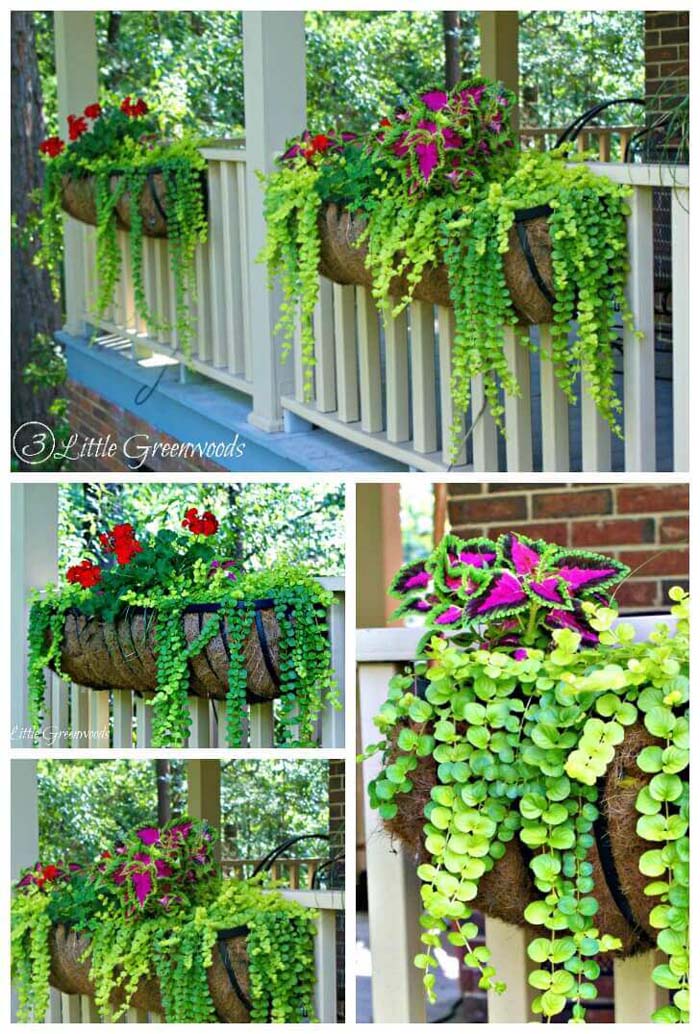 Metal through planters are perfect for porch railings and backyard fence. Make a lining for the soil with coco liners and plant greenery and blooming flowers.
Cafe-Style Planters and Window Boxes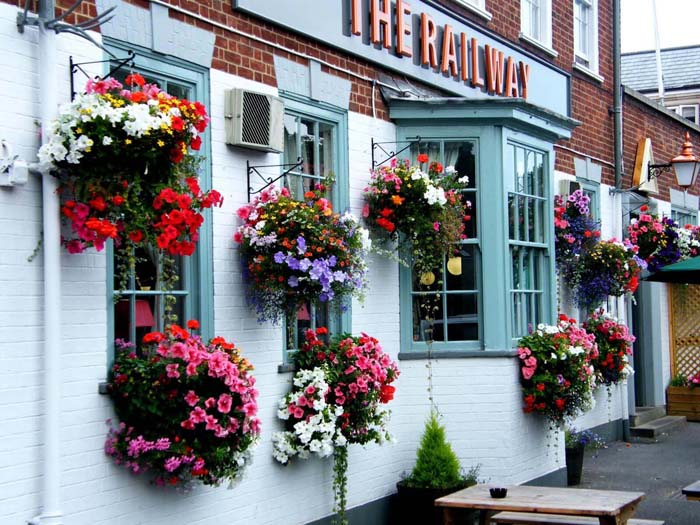 Light brackets can be a great holder of a hanging planter. If you love the ancient look of the wrought iron, you can nail brackets on the house walls or the fence – symetrically or asymetrically, both alighnments will make a great flower display.
via Tuintuin
Ceramic Diamond Shaped Hanging Planters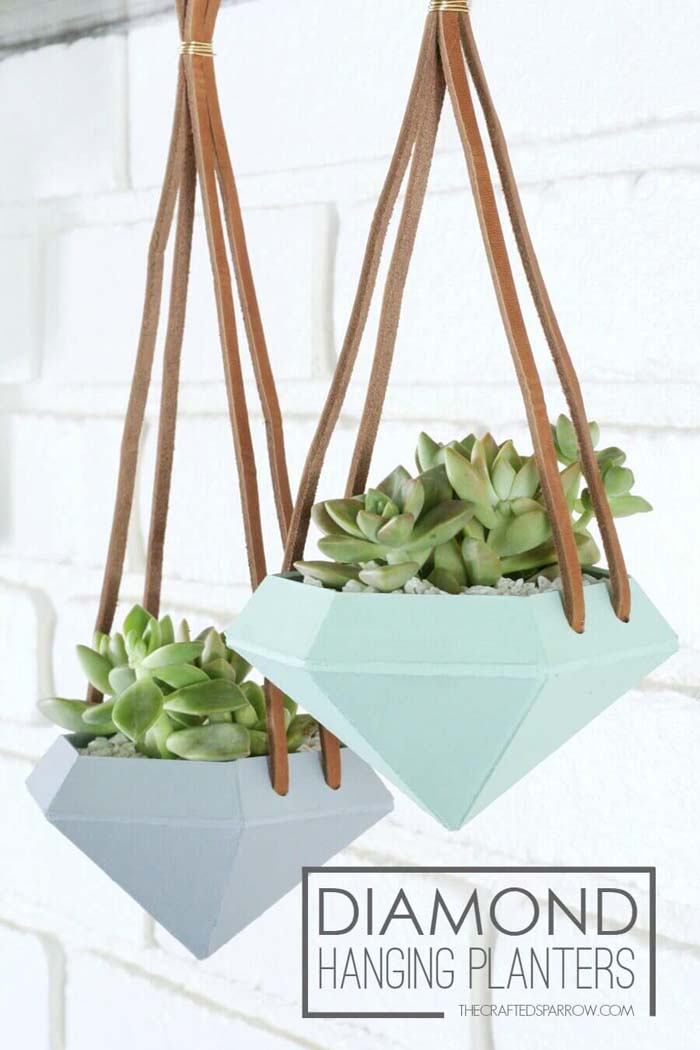 This is an idea of a DIY hanging planters that are best to be used indoors. The shape of a diamond is very sophisticated and will match almost any décor design, especially the minimalistic one. There is a tutorial how to make these yourself out of carboard on the link below.
Chic Industrial Globe-Shaped Iron Hanging Planters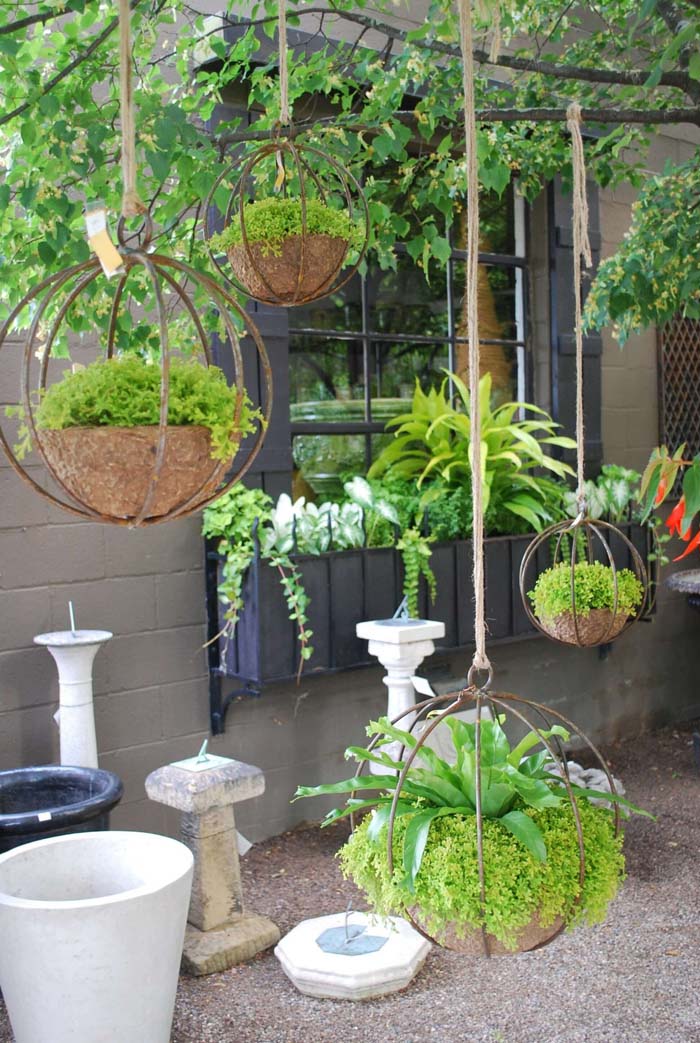 As long as there is a wish, there is a way to find and repurpose even industrial materials and turn them into interesting planters. These globes have been closed after the pots have been put in. With the help of a hook at the top they can be tied to the branches of a large tree.
via Diario De Cuyo
Classic Metal Hanging Baskets with Petunias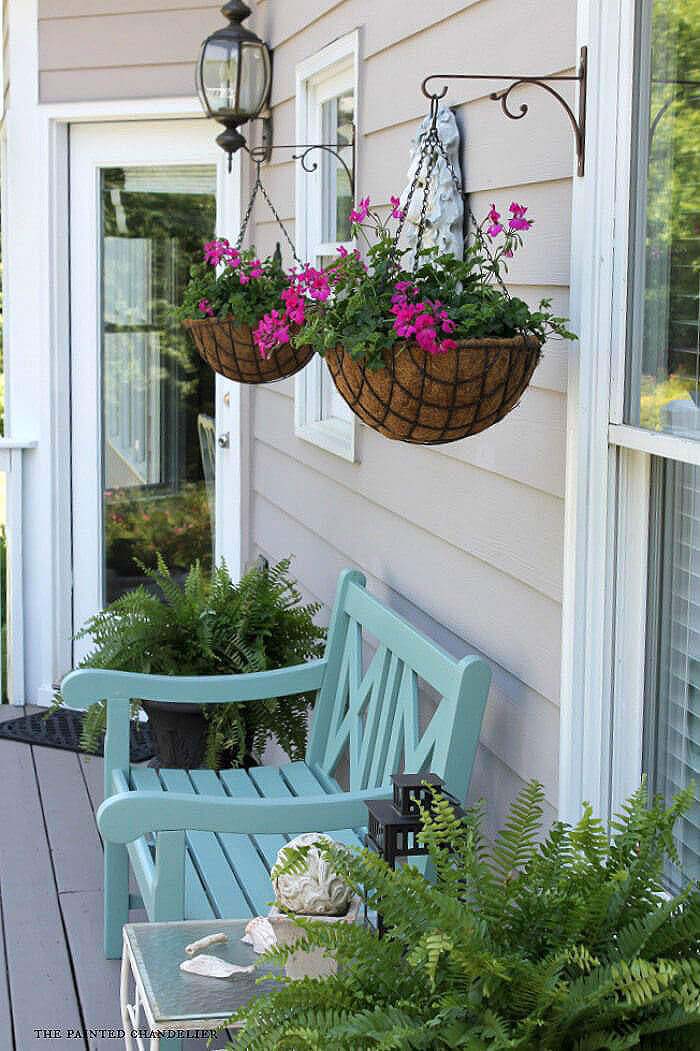 This is a classic way to hang flowers, especially blooming ones. Fix light brackets on the house wall and hang on coco lined pots with Petunias or Pelargonium.
Cleverly Repurposed Architectural Pediment Planter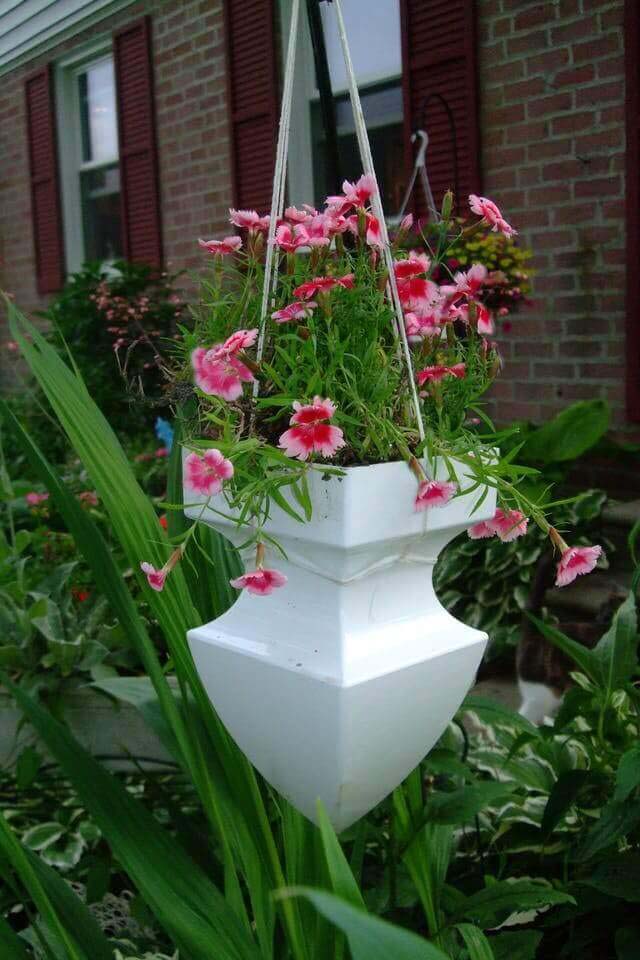 Use a large finial as a hanging planter! Turn it upside down, drill holes to thread through cord and plant the flowers. You can hang it on a light bracket or a tree branch.
Colorful Colander Springtime Hanging Planters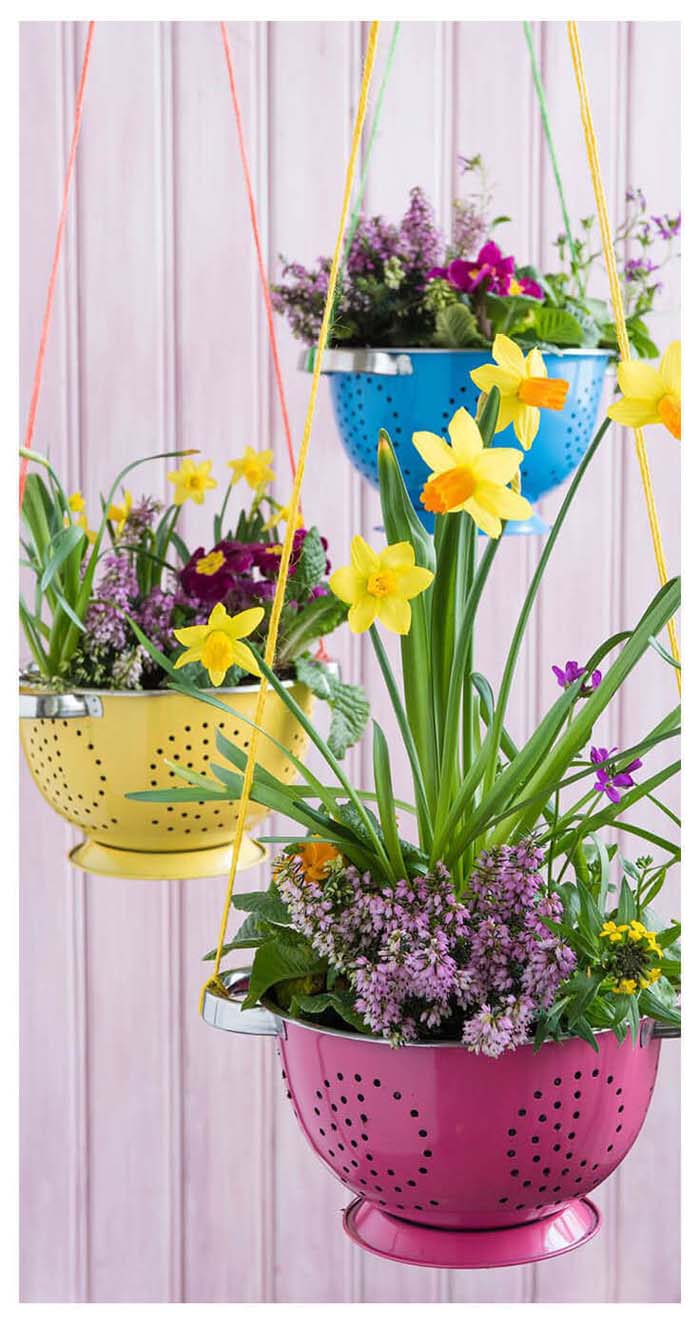 Another great idea for a recycled flower container! Colanders can turn into very functional and easy to be transformed hanging planters because of the existing holes, the dish and the two handles that will be used to tie up rope or cord.
via Mom Spark
Cottage Style Hanging Fence Planters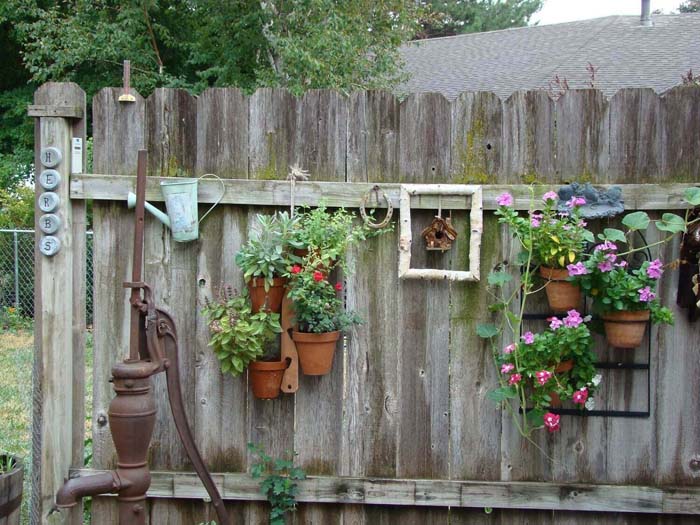 The fence of the country house can easily become a very beautidul and wide support for hanging planters. Use the cross beams to hang old pottery, pipes, frameworks etc. that will support your flower pots.
Creative "Jellyfish" Succulent Hanging Basket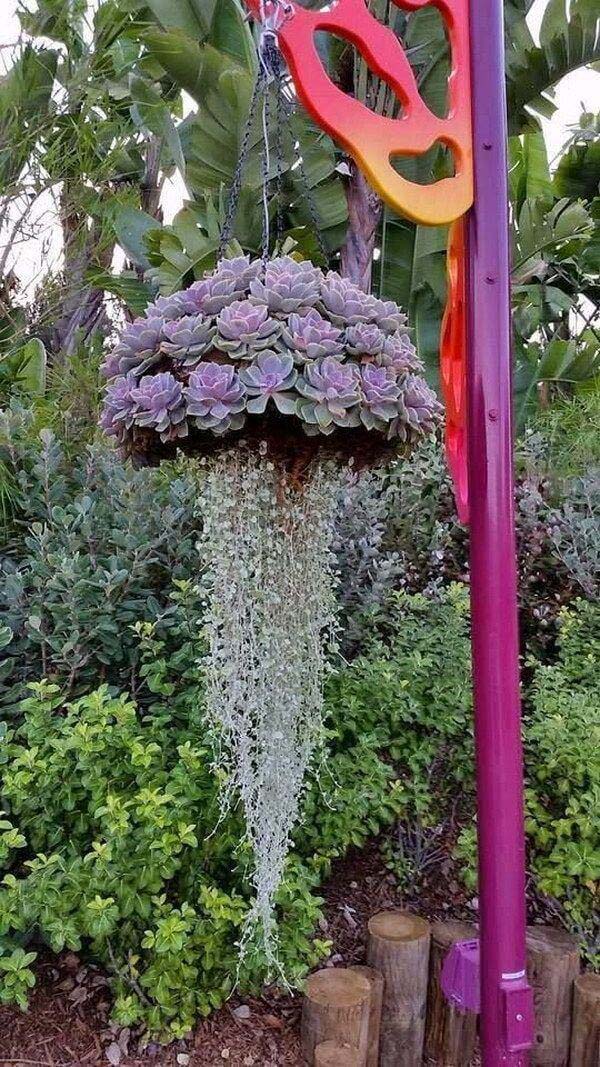 The jellyfish effect is actually achieved with a special blend of plants. The holder itself is a wire basket with coconut fiber lining, hung to a post. The thing that is treiling down is called Dichondra. You can combine with succulents or blooming flowers.
Creative Tire Swing Hanging Planter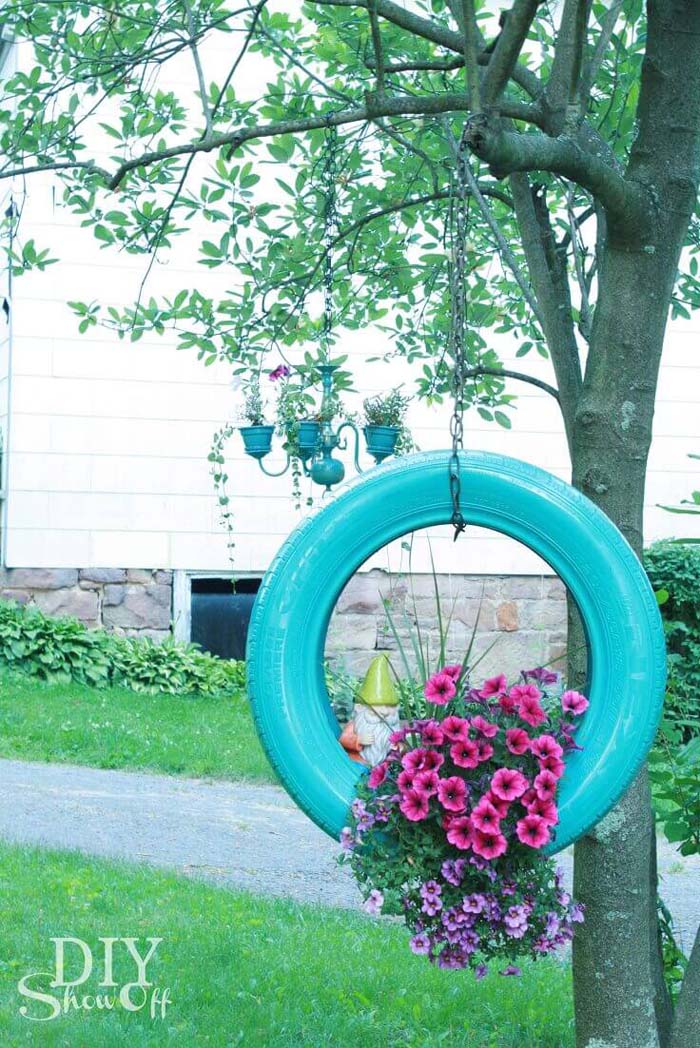 Old car tires can be an excellent hanging plant holder since the internal rubber part is open to hold soil and flowers. Paint in color you like, drill holes for drainage and hung on a tree with chain or thick rope.
DIY Kitchen Utensil Wall Planter for Succulents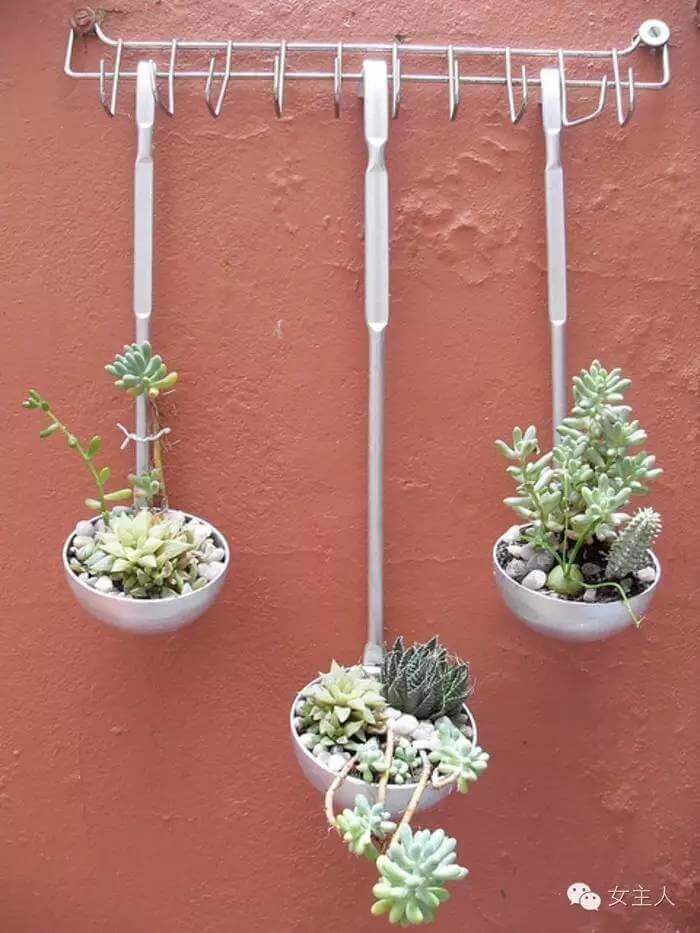 Succulents are very favorable plants as they do not require much care and provide the opportunity for various arrangements – from fairy pot gardens to large garden sections. Ladles can successfully turn into a small succulent holder.
DIY Succulent Orb Hanging Planter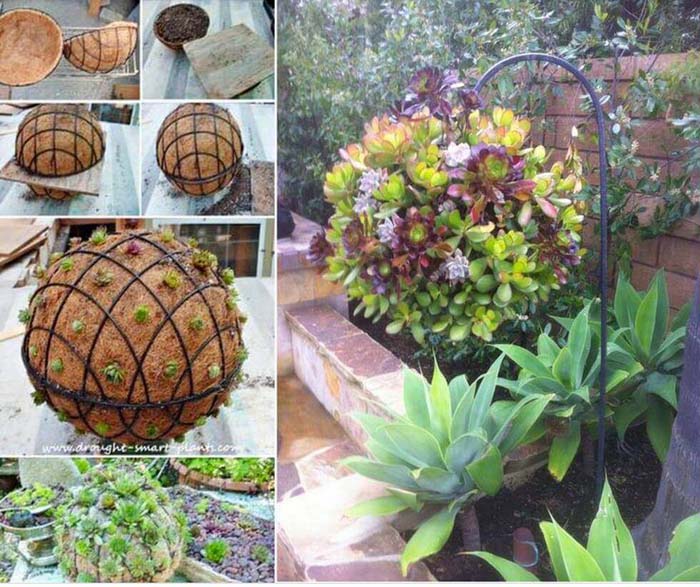 Make your own succulent hanging ball! This impressive alive globe will become the focal point of your backyard. Follow the picture tutorial and enjoy for many years forward.
via DIY & Crafts
DIY Wood and Twine Hanging Succulent Tower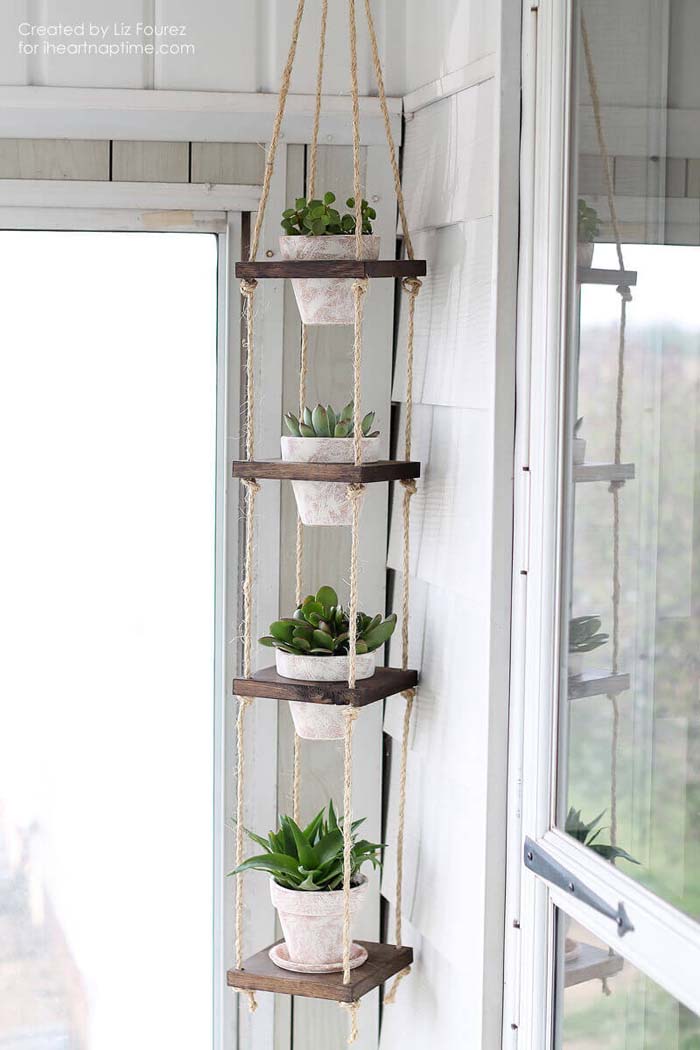 The tiered vertical hangers are very stylish especially when they are made of wood. That also makes them suitable for indoor and outdoor exposure. The planter can be hung to the ceiling via a hardware hook.
Dramatic Urban Outdoor Hanging Garden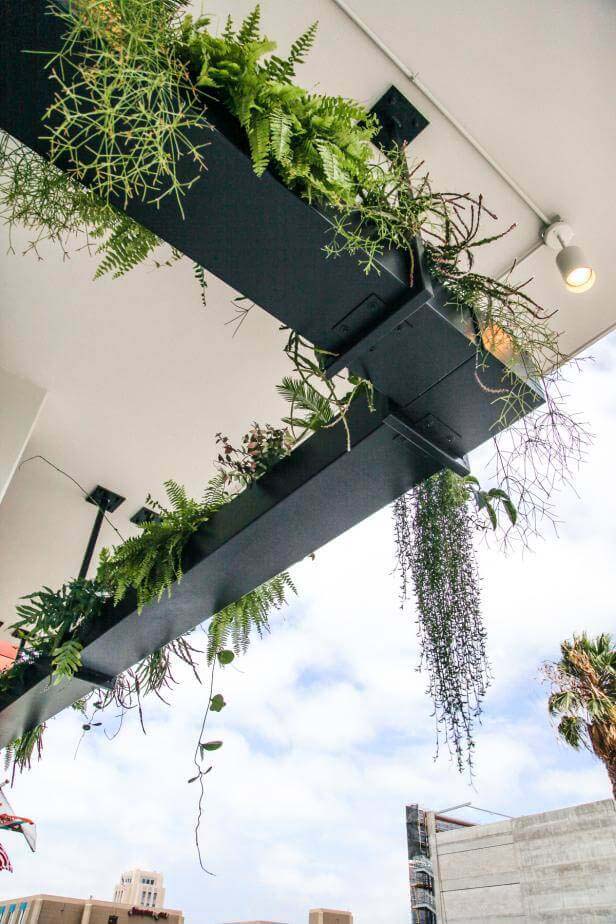 The ceiling is one of the underestimated parts from the homes, regardless if we speak for house or appartment, interior or exterior. Take advantage of the wide and free space provided and trace its outline with hanging planters. The more tiering greenery you plant in, the greater the effect will be.
via Food Network
Easy DIY Rain Gutter Herb Garden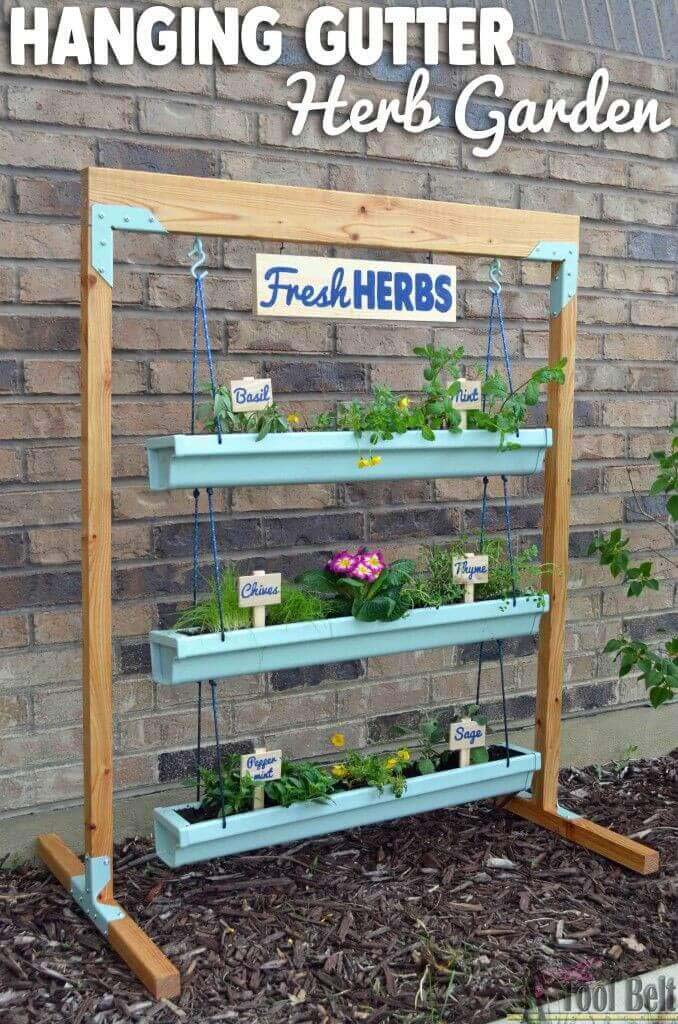 Gutters can easily be used as plant holders. It is even easier to hang them, either separately or in a tiered arrangement. Fill the gutter pieces with soil, plant your fav flowers or herbs. Use rope or cord to stack each section. You can hang the planter directly to a hook in the ceiling or to a wooden stand.
via 1001 Gardens
Easy to Make Hanging Herb Garden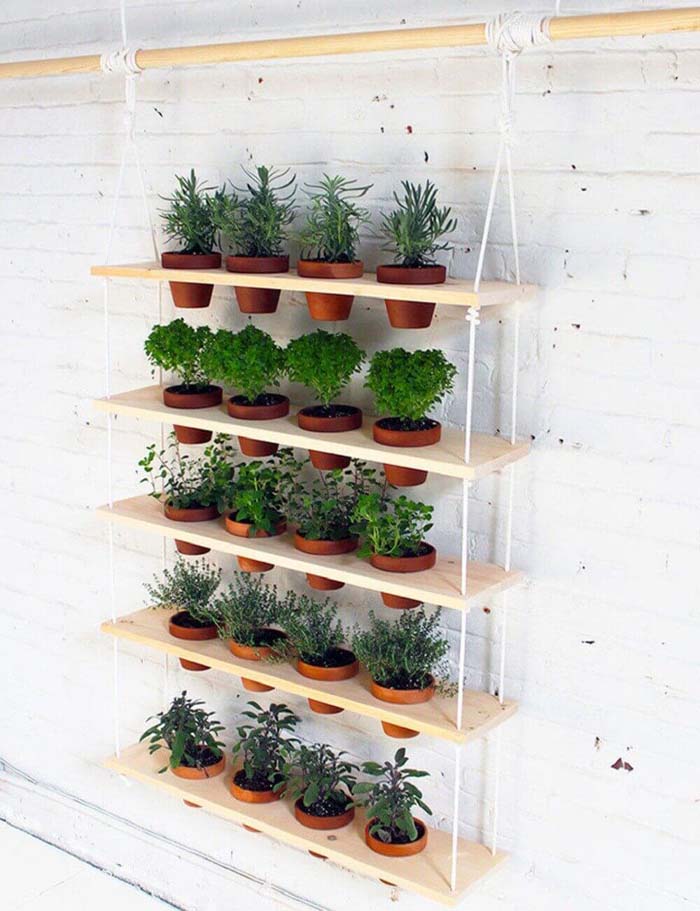 The culinary lovers prefer using fresh herbs than dried. This hanging planter is a practical way to grow your own herbs. It allows accommodating of 12 different herb species. Wooden boards with preliminary cut circles of the size of the pots,some rope to keep the boards tight and tiered position – that's all you need to make it yourself.
via Homesteading
Elegant Seasonal Outdoor Hanging Basket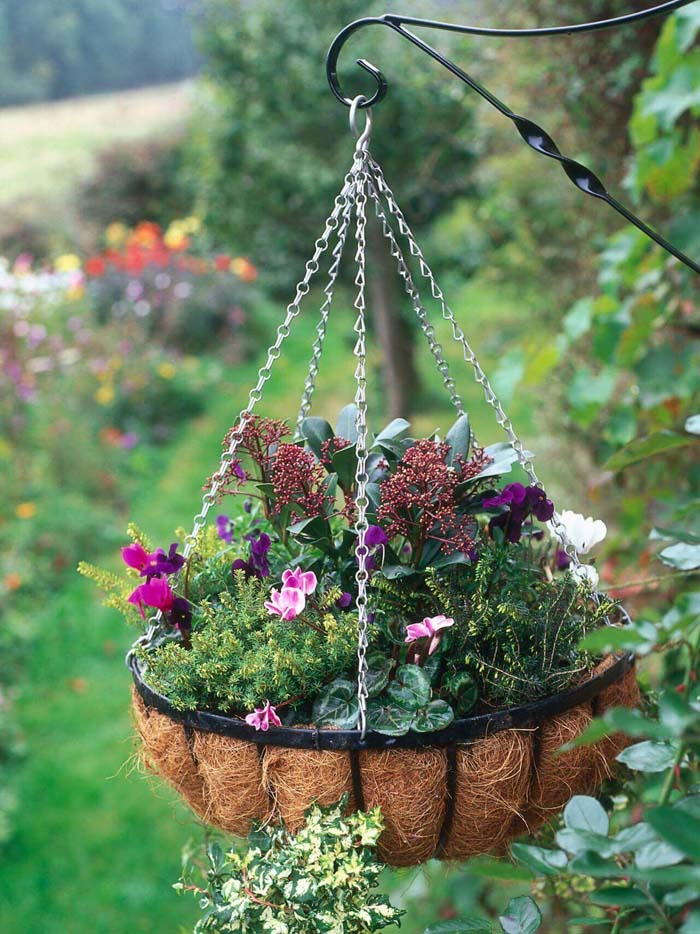 This is another plant mix which is suitable for exposing in a hanging planter. Combine blooming flowers with evergreen tiny shrubs. Once the season for the flowers ends, leave the rest of the plants grow in.
via Food Network
Entryway Chalkboard Sign and Hanging Planter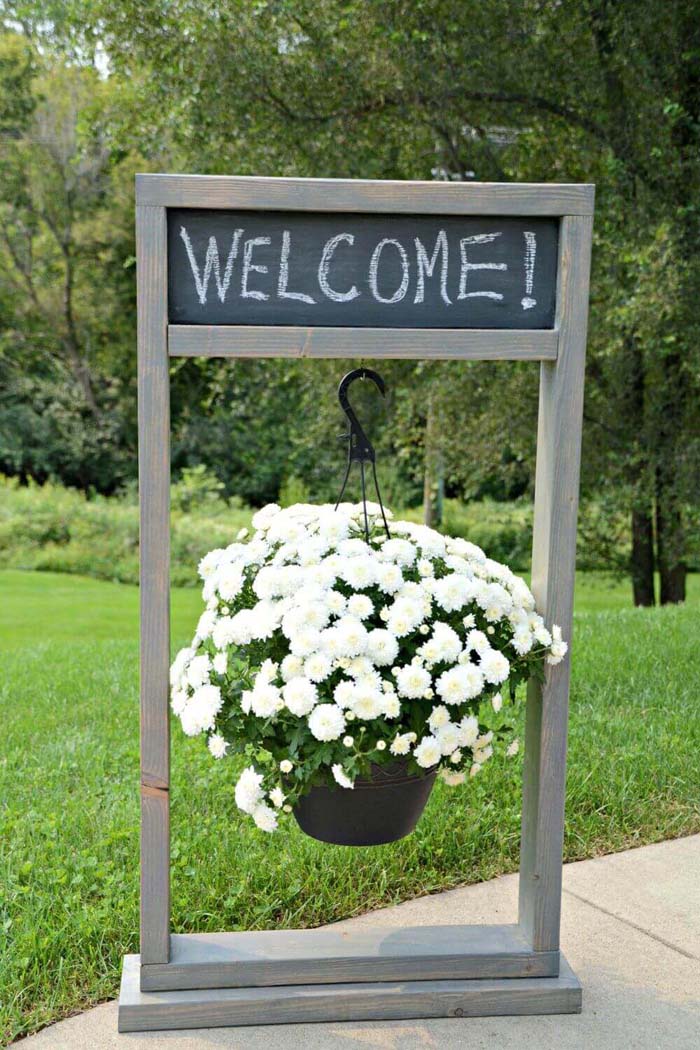 This DIY project is perfect for all seasons. You can use the hanging part for seasonal flowers and even holday decorations.
Fourth of July Themed Hanging Basket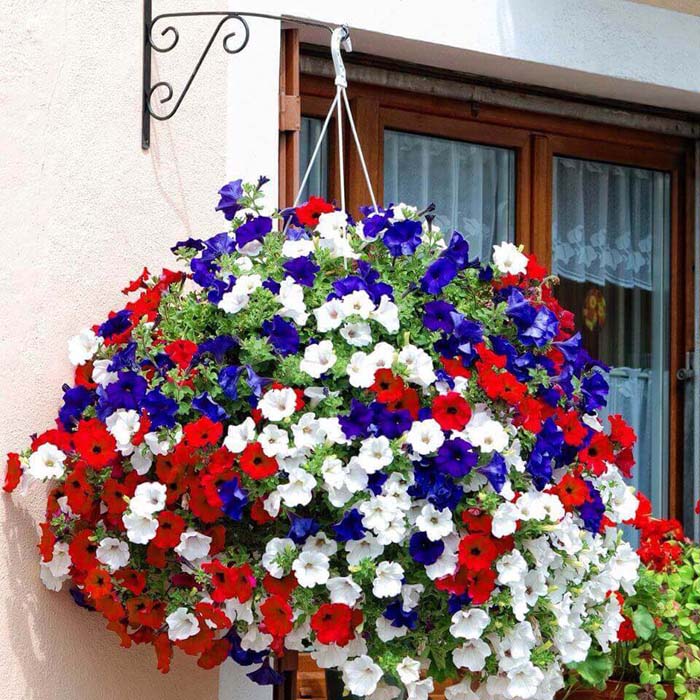 Hanging planters can be patriotic. With the help of a light bracket nailed to the porch post or to your wall, you can arrange Petunias in blue, white and red and honor 4th July in a more aromatic way.
via Amazon
Hanging Basket Hooks Made From Spoons

If you are wondering about what hardware to use to hang your flower baskets, we have a great idea for you. Old spoons can easily be turned into hooks.
via Decorextra
Hanging Grapevine Bird's Nest Succulent Planter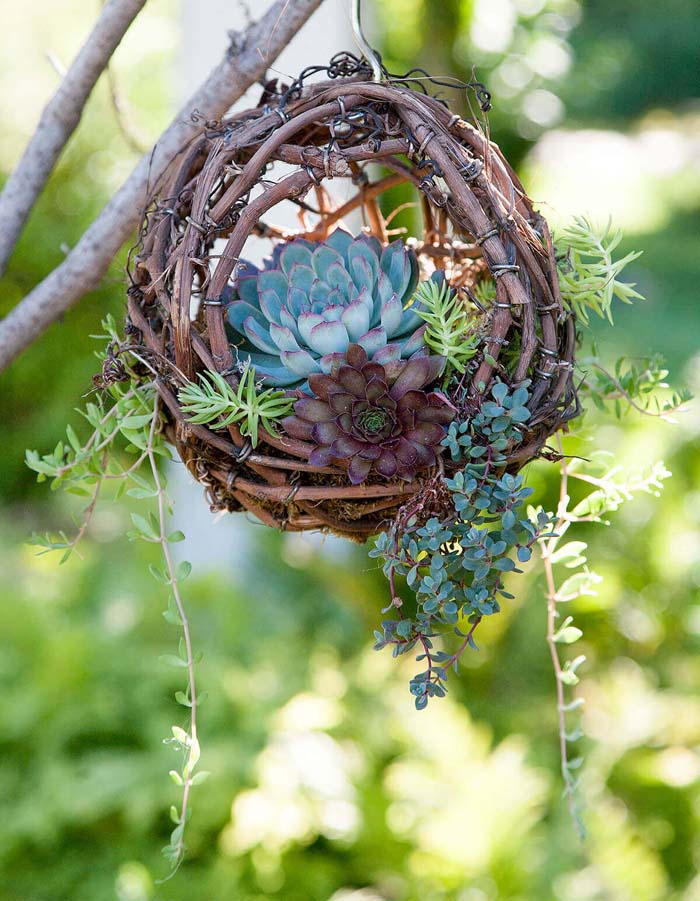 Grapevines are great material for twisted outdoor decorations like solar powered light balls. Here is another idea of how to use their flexability and durability – make a hanging planter in the shape of a bird's nest and put your favorite plants in there. Hang on a tree, to your porch railing or to the wall with the help of an S-hook.
Hanging Wire Flower Pot Cage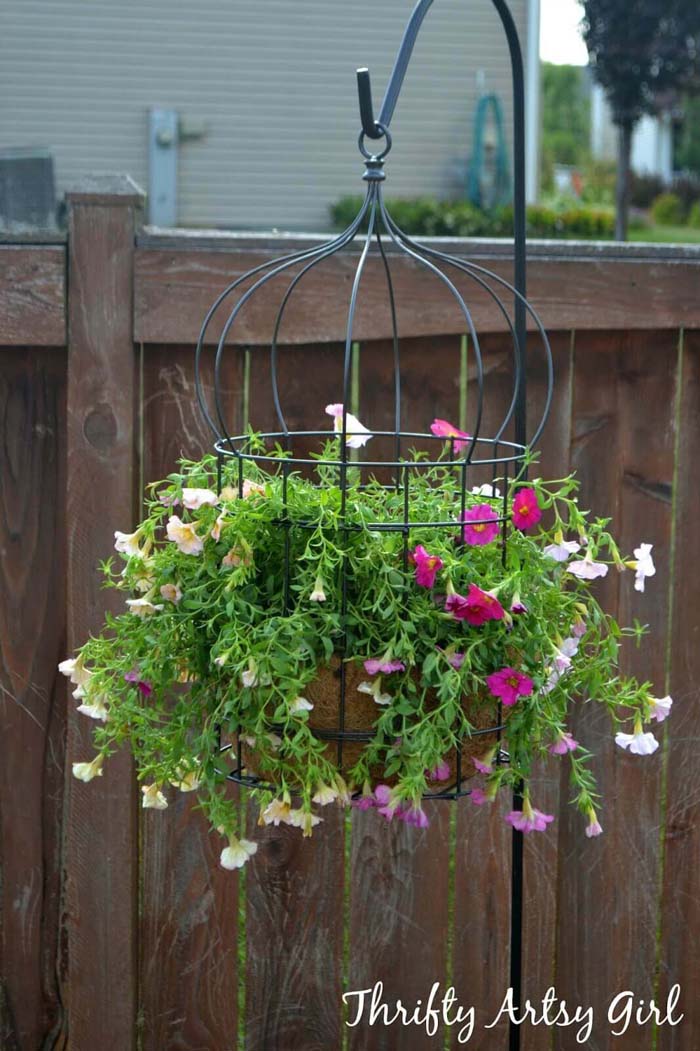 Birdcages used as decoration instead of their intended application look like a gorgeous romantic decoration. They can easily be used as hanging planter if you choose a suitable pot. The pot that will easily go in the cage without having to cut any of the wires is the coco fiber lining as it is soft and flexible.
Inexpensive PVC Pipe Hanging Vegetable Garden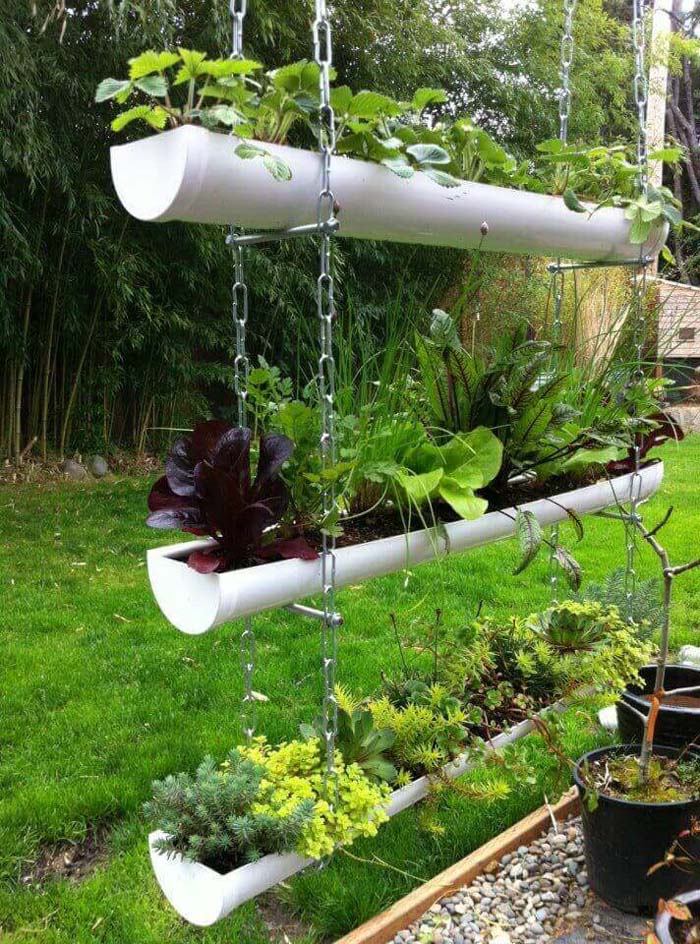 Similar to the rain gutters, PVC pipes can also be used as plant holders. If cut into halves, they can open up space to put the soil and the chosen plants. For a tiered arrangement, use tie rods beneath both sides of each pipe. They will not only hold the pipes levelled, they will also alow fixing to the chain.
via 1001 Gardens
Metal Bird Cage Succulent Planter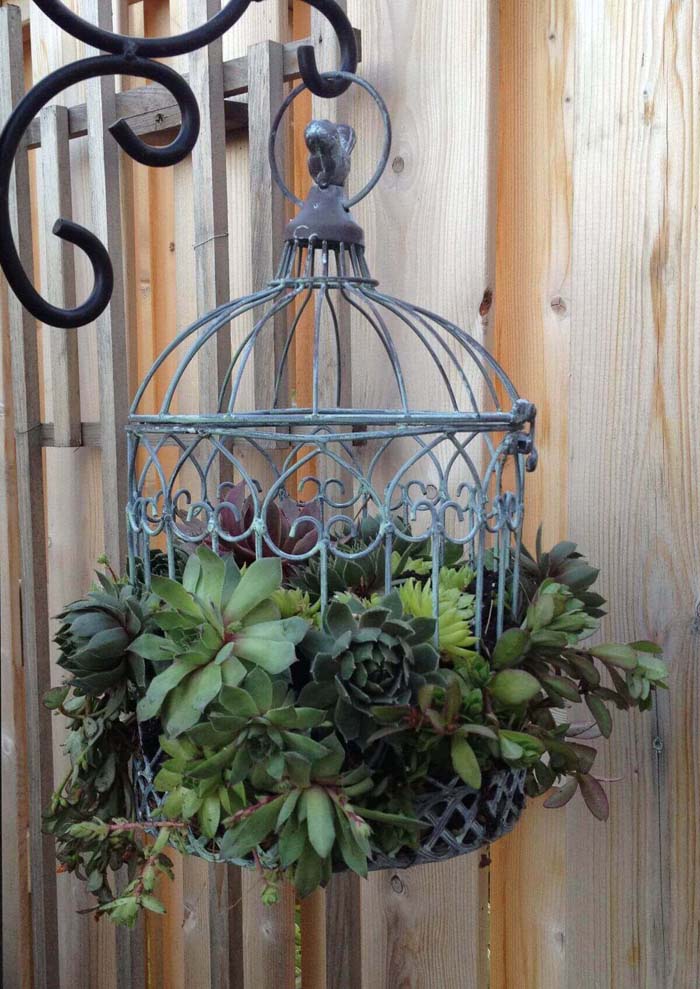 If you come acrooss a birdcage in a thrift shop, grab it! See how beautiful it looks as a hanging planter! Do some renovation by sanding off any rust or dirt, paint in color you like and plant your favorite flowers.
Modern Chevron Patterned Metal Planter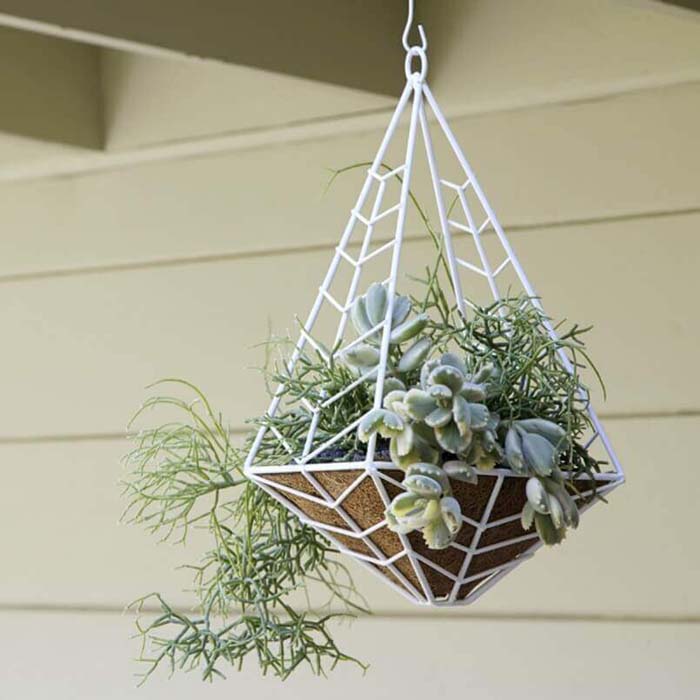 This hanging planter is a shop-made item and is perfect to hold succulents. Its shape reminds of a chevron and is perfect for areas designed according to the minimalistic trend.
Modern Wooden Planting Wall with Metal Pots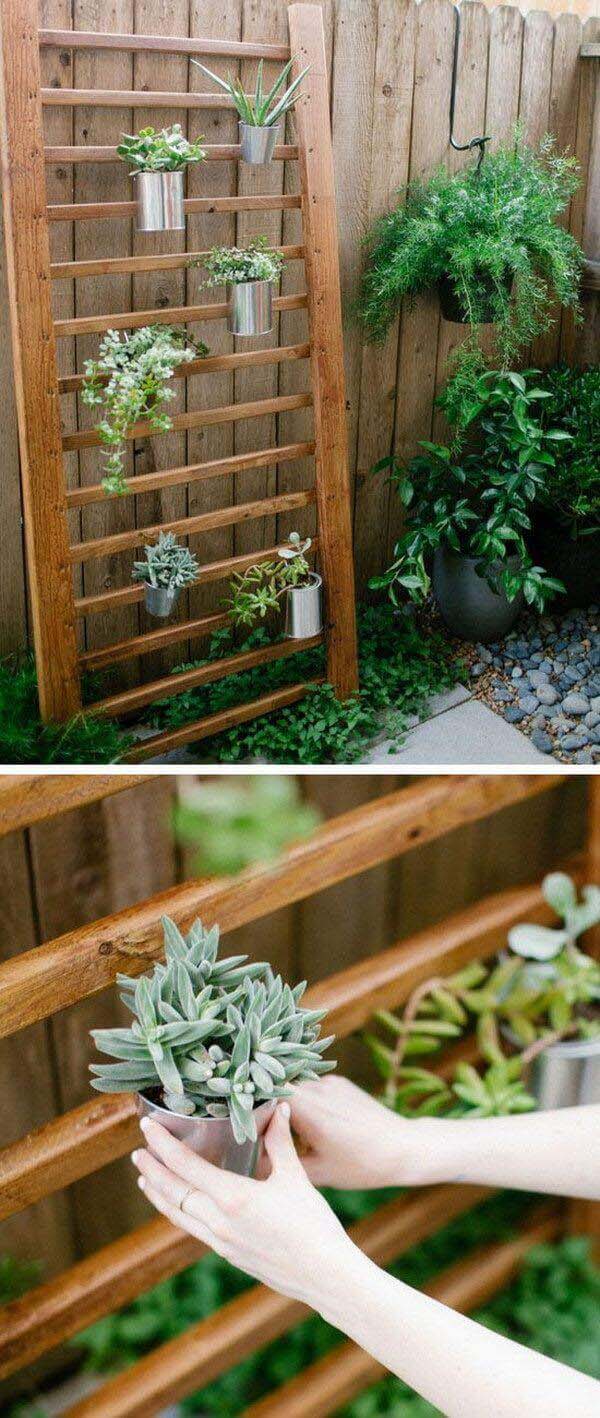 This is a DIY project for a ladder-like wooden plant holder. Using the vertical space, you can hang as many pots as you like with the help of hooks inserted in the wood railing.
via Sugar & Cloth
Outdoor Hanging Planter Ideas for Small Spaces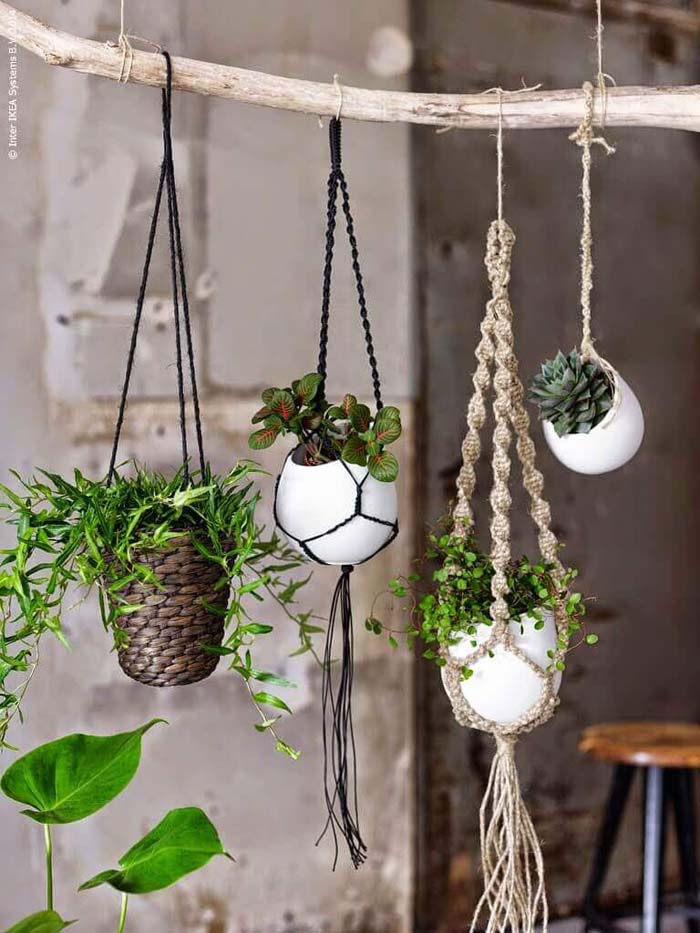 Turn an old pot into a hanging beauty with the help of macrame technique. Use rope, cord or yarn to twist into beautiful baskets that can be hung to a tree outside or to hooks inside your home.
via Brit + Co
Perfectly Framed DIY Lobelia Planter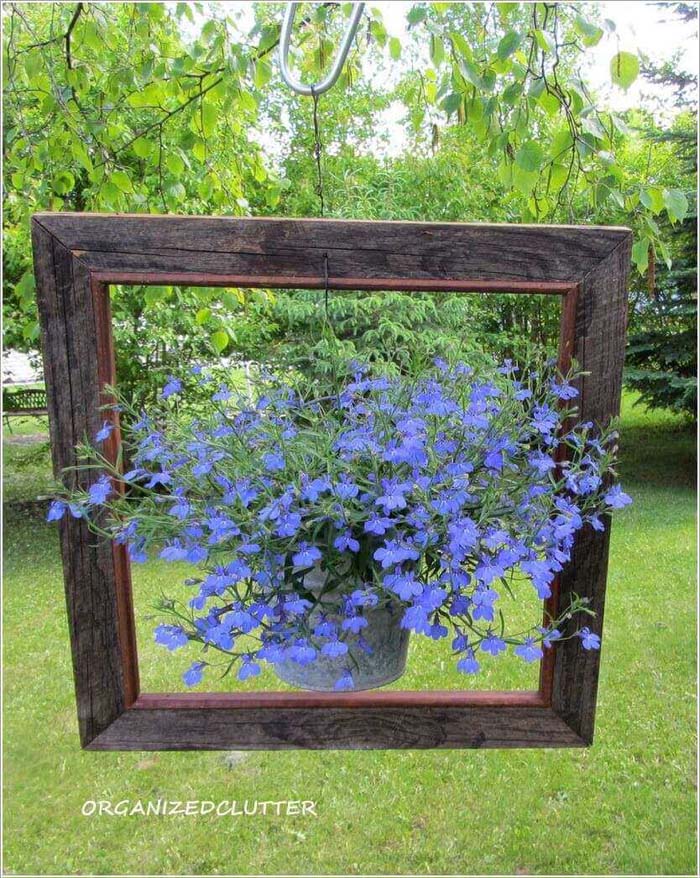 Give another look to your flower pots with a framed hanging planter. Use old painting frames or make yourself one, stain in dark color or paint in bright shade. You can use hooks to hang the flower pot or insert a wire through the top frame to tie the pot at one end and tie to an S-hook – at the other.
Playful DIY Outdoor Hanging Planter Ideas

An old chandelier can easily become an impressive hanging planter! Change the light bulbs with small terra cotta pots. If you are not happy with the color, you can paint both the chandelier and the pots. Plant succulents or small blooming flowers.
via Gardening Dreams
Pretty Cone Shaped Petunia Planter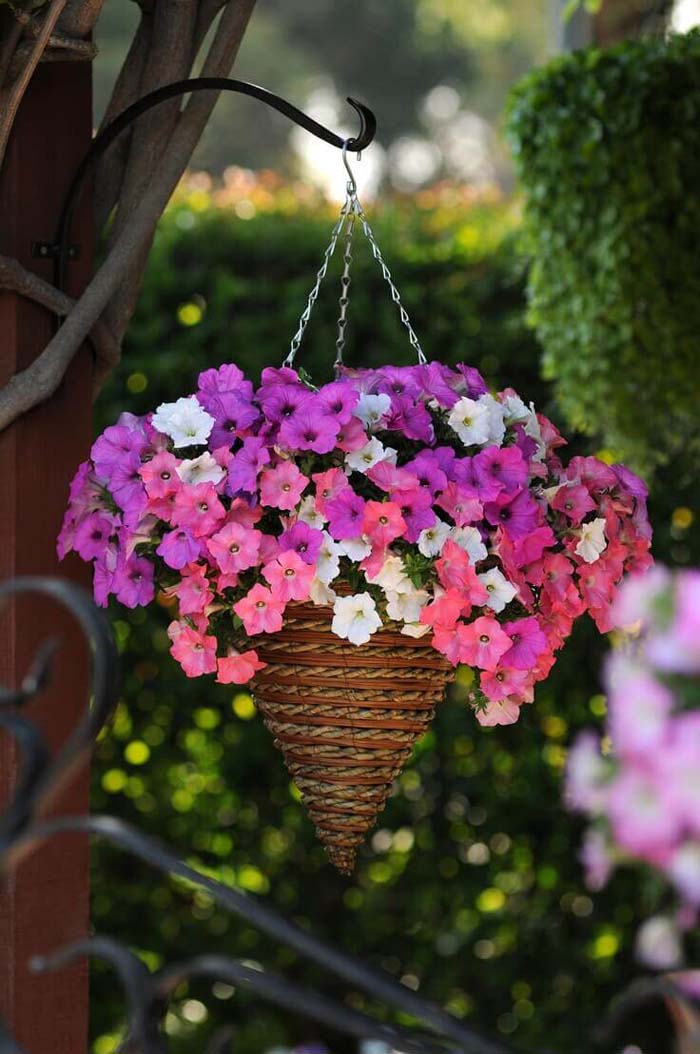 This cone-shaped planter is only suitable for hanging of plants. It looks especially beautiful with blooming flowers. The woven rattan basket goes with chains for hanging to a bracket or a hook.
via Wave
Recycled Horse Bridle Hanging Pot Holder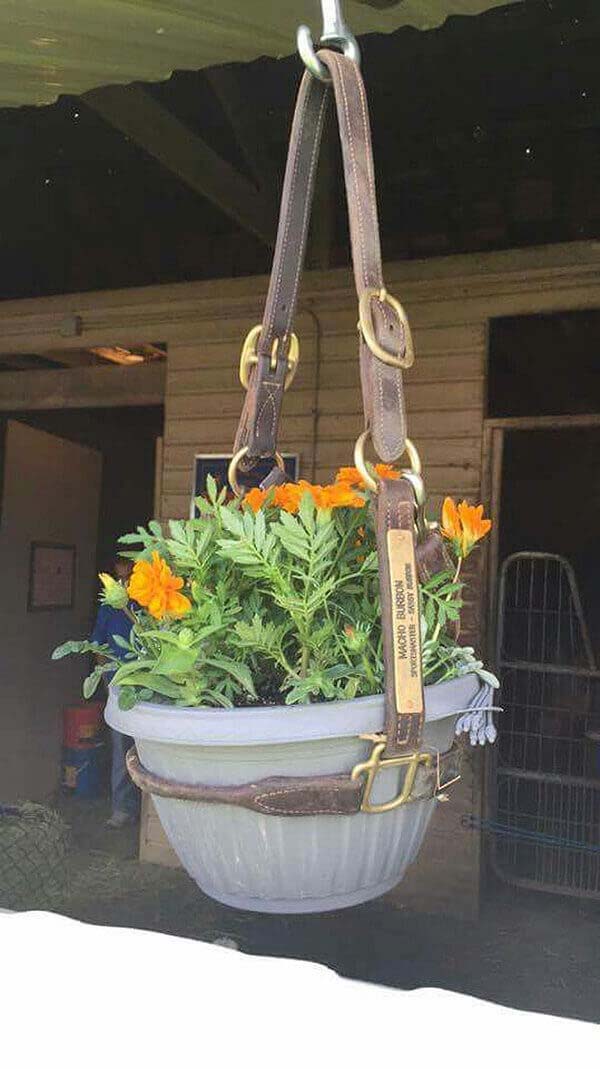 Crafty people can be easily spotted when it comes to repurposing of materials. Use old horse bridles to hang an existing flower pot. Tie tightly around the pot, just below its rim. Use the buckles to connect the other bridle which will "carry" the pot.
via Hipismo & Co.
Retro Macrame Hanging Flower Pot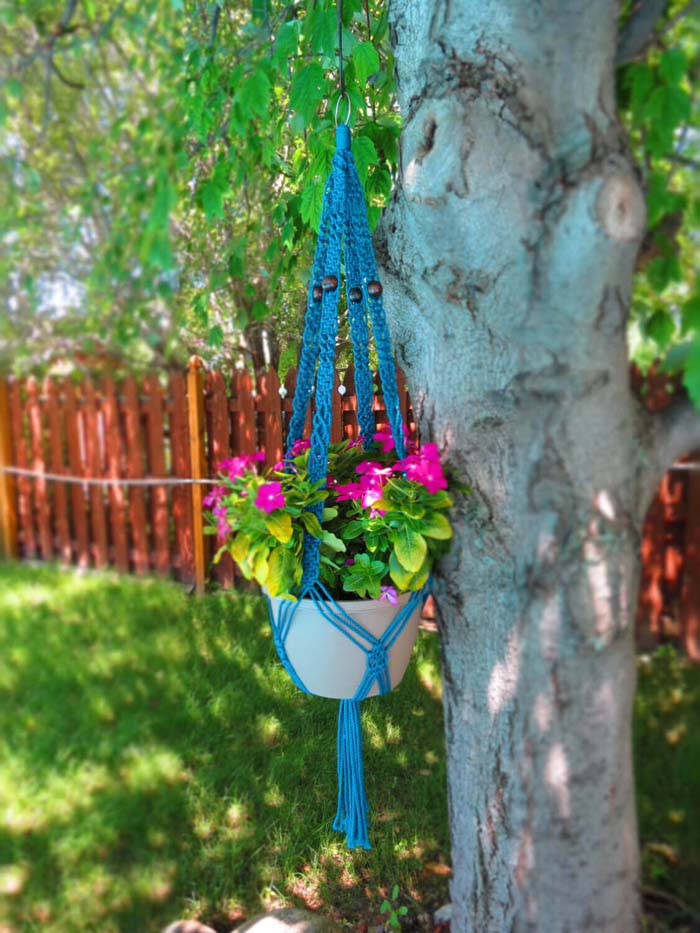 This is another idea for a macrame hanging planter. Use cord in a bright color and twist it following a basic macrame pattern.
via Etsy
Rustic Carved Wooden Hanging Planters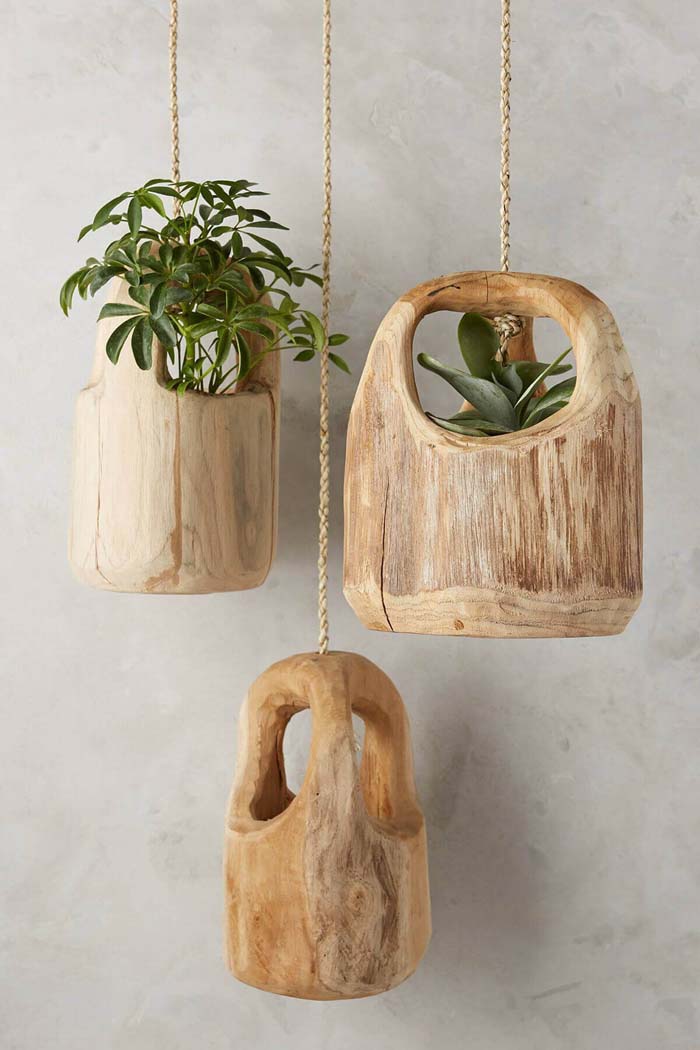 This is a handmade planter which will make a great artistic and rustic effect in your home. The planters are made from solid wood piece and shaped into individual baskets for succulents.
via Anthropologie
Saucer Style Succulent Hanging Planter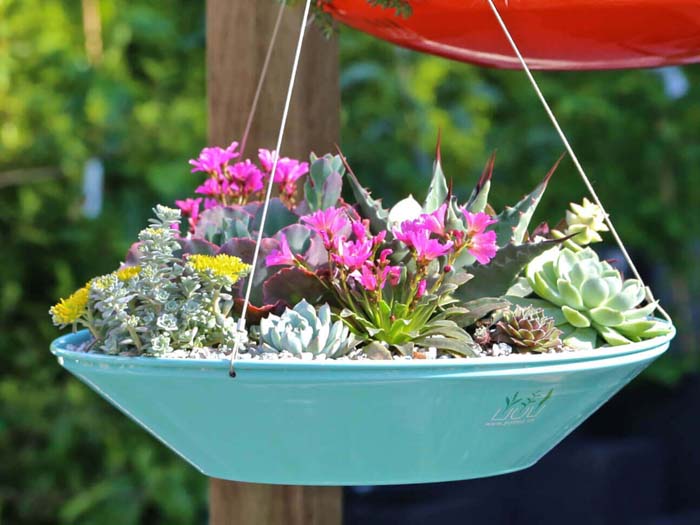 This is a shallow dish planter which is prepared for hanging. If you like its look and the shape as it provides relatively wide space to make a flower arrangement, you can look for similar metal dishes to paint and prepare them to hang your flowers.
via Pot Incorporated
Simple Fence Post Planters for Petunias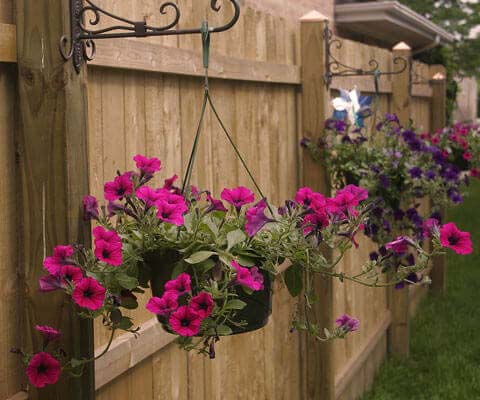 These brackets are perfect for fence suspension of flower pots. As long as you have a basket, you can hang it on the nailed bracket. Plant blooming flowers like cascading petunias as they make large blooming tufts.
Simple Summertime Vertical Trellis Garden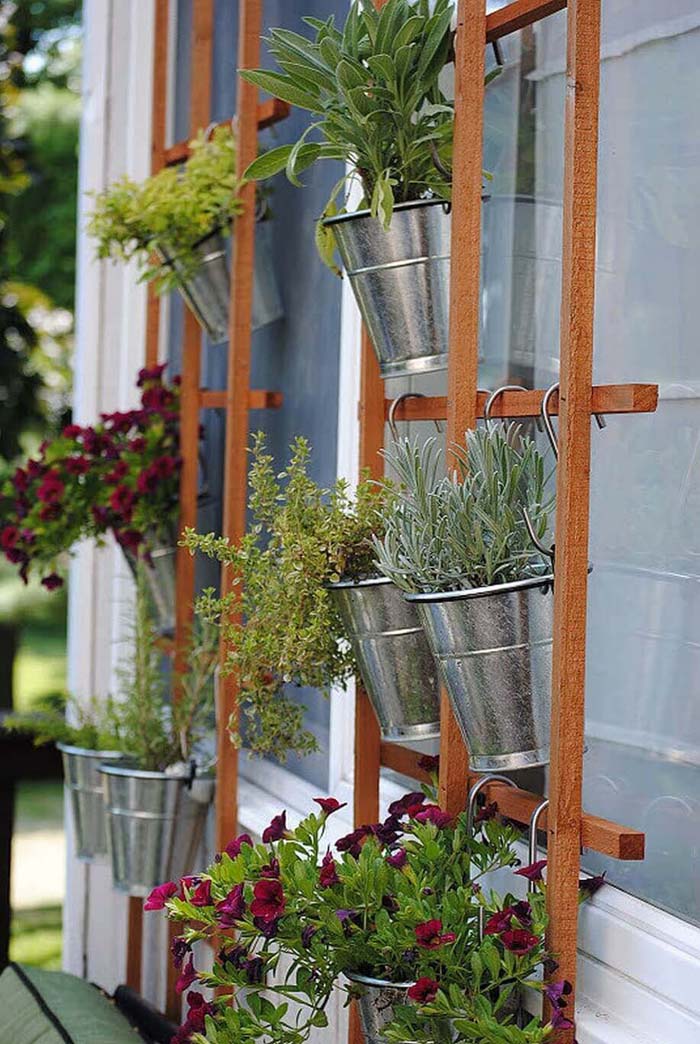 A simple treilis can be used as a vertical planter to hang your plants. Use S-hooks to attach to the rails.
Striking Circular Wooden Fern Planter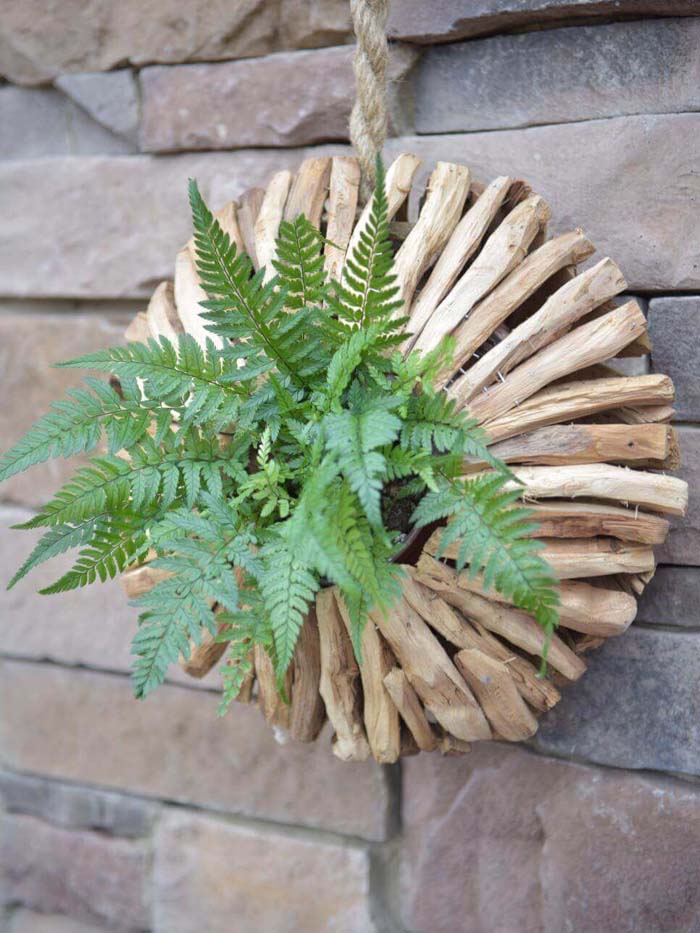 This circular plant holder looks more like a curved wood wall decoration. Anyway, there is a hole in the middle where you can fit a small flower pot. The flowers that are suitable to be grown in this planter are succulents, fern and similar green leaf plants.
via Food Network
Super Simple Hanging Planter Project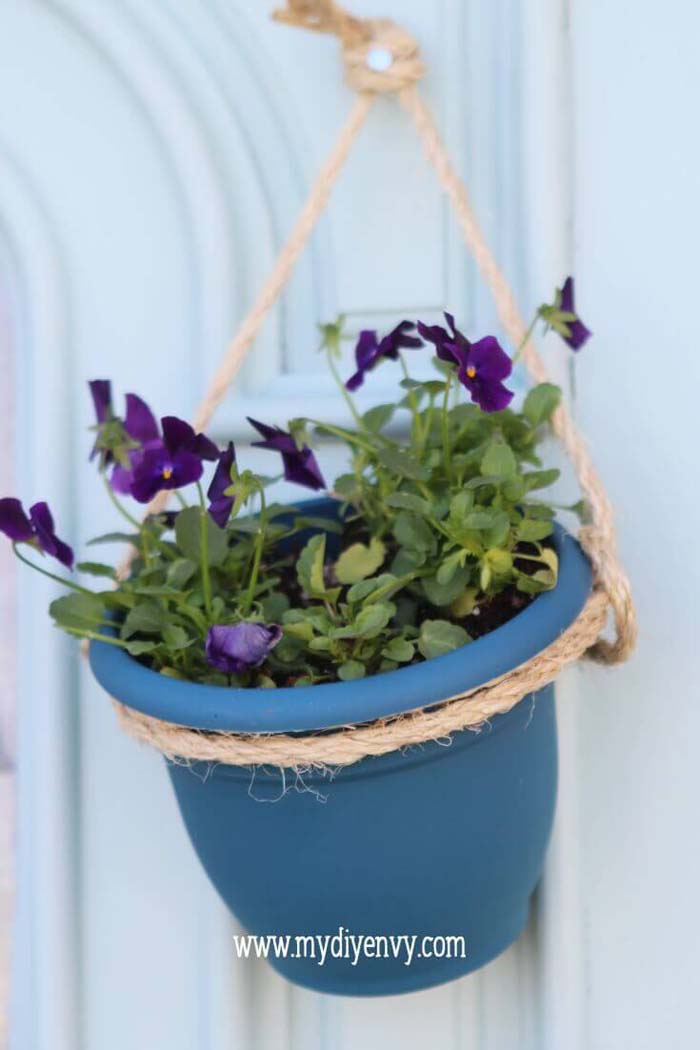 If you like the hanging pots, then you can easily make one yourself in only one step. With the help of rope, you can tie an existing pot steadily and hang it to a hook or nail in the wall.
Sweetly Simple Woven Flower Basket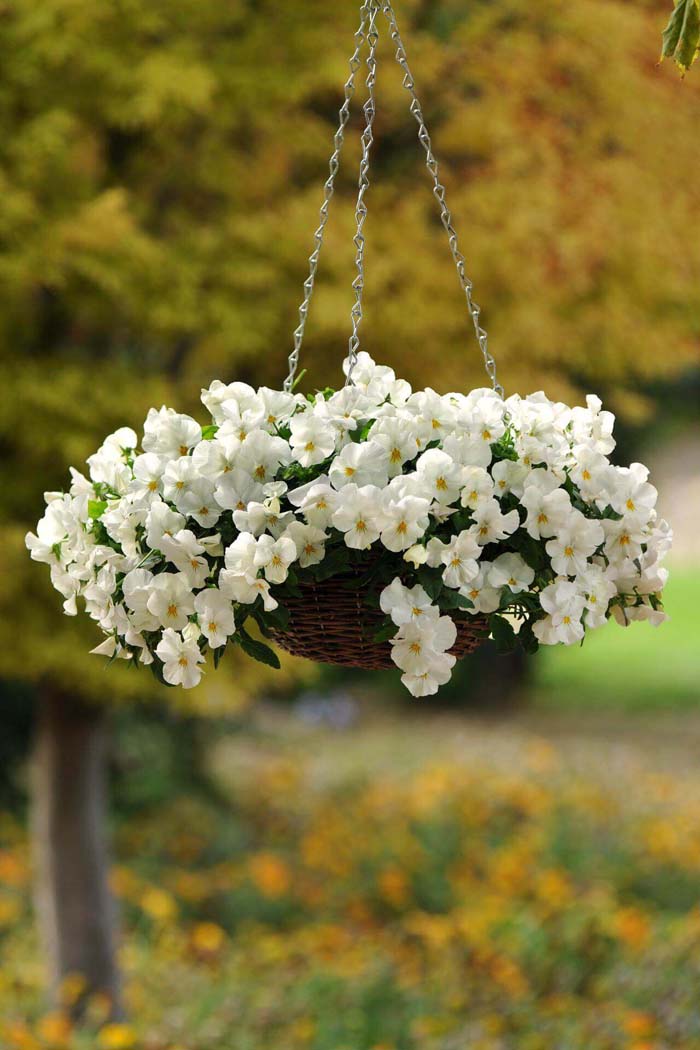 This basket is made of rattan and is perfect for outdoor use. It comes with chains for hanging so all you need to do is to insert in a pot with cascading blooming flowers.
via Food Network
Teardrop Shaped Potted Plant Display Shelf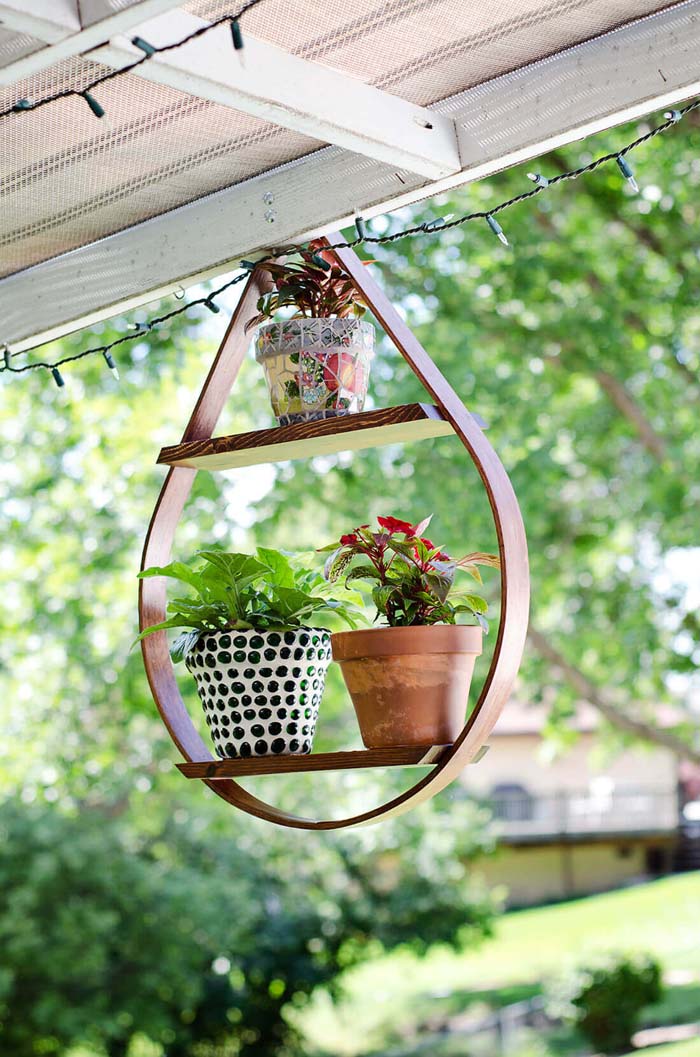 This curved hanging planter is made of three pieces of wood glued together and a bandsaw that has cut a thinner wooden strip from them. If you like the artistic look of this planter, check the tutorial below.
via Three 16ths
Three Tiered Hanging Ivy Baskets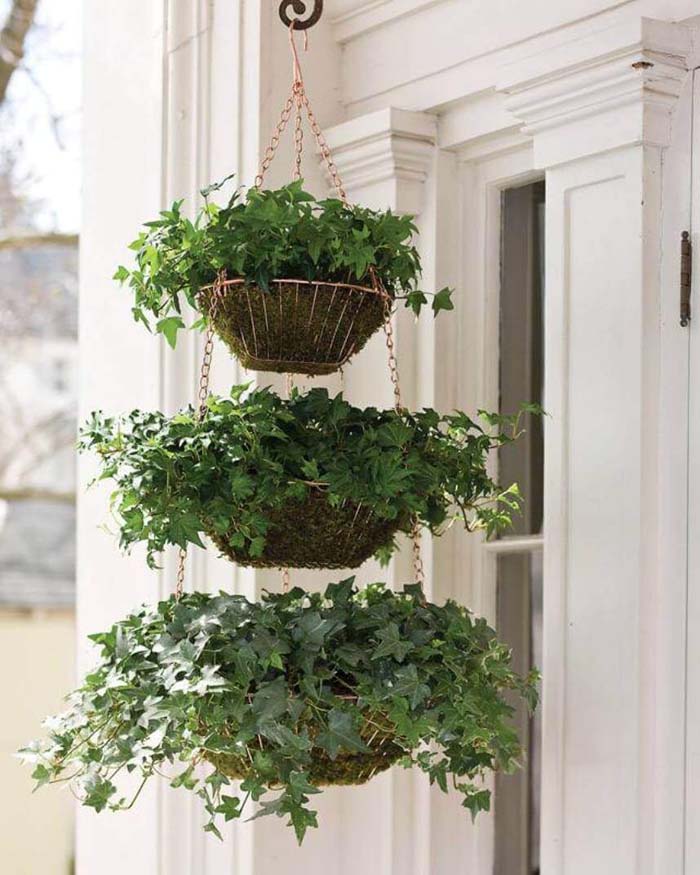 These wire baskets can be found in different stores as their application varies. Used as hanging planters you only need to line the internal part of the basket with coco lining for example. Plant tiering plants to achieve the effect of a fountain.
Vintage Hanging Orb Flower Planters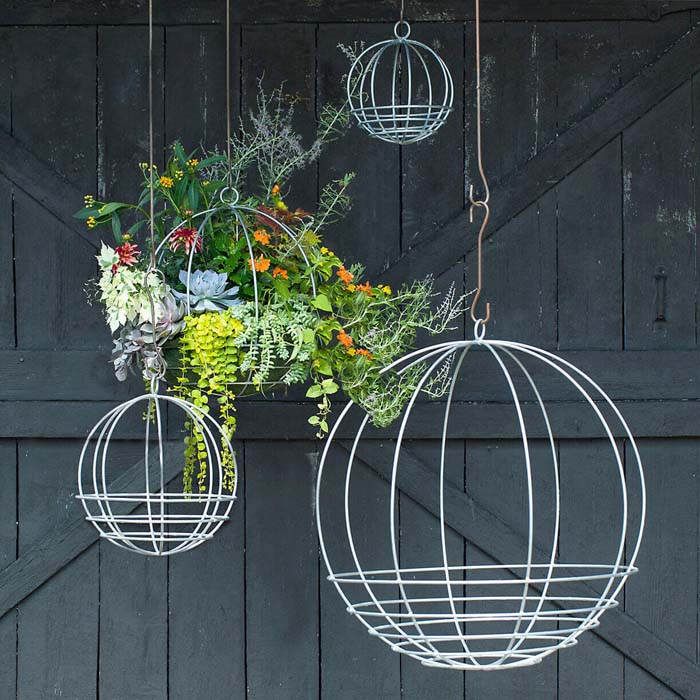 These hand-forged orbs are perfect for lining with moss and for a descending display of flowers. Their surface is zinc coated which makes them resistant to the outer ambient conditions for many years.
via Terrain
Western Wagon Wheel Hanging Planter Stand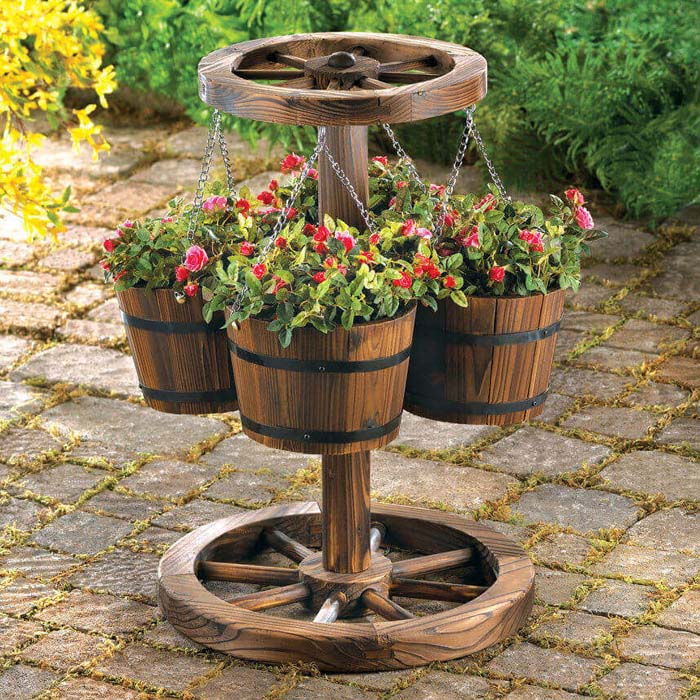 This rustic planter will become the focal point of the backyard. It is handmade, it can take up to 4 large flower pots and it is movable.
via Zulily
Wooden Entryway Sign and Hanging Flower Pot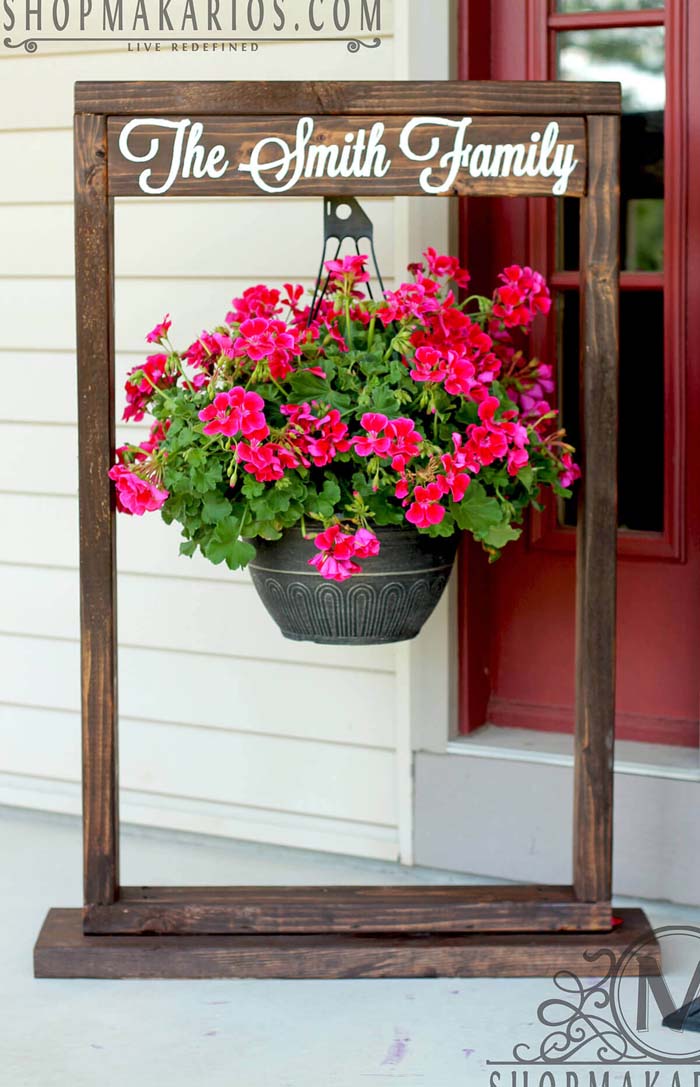 This custom made plant stand will make the porch even more welcoming as it contains a personal statement with the family name and gives space to hang a flower pot.
via Makarios Decor
Woven Planter Basket with Geraniums and Ivy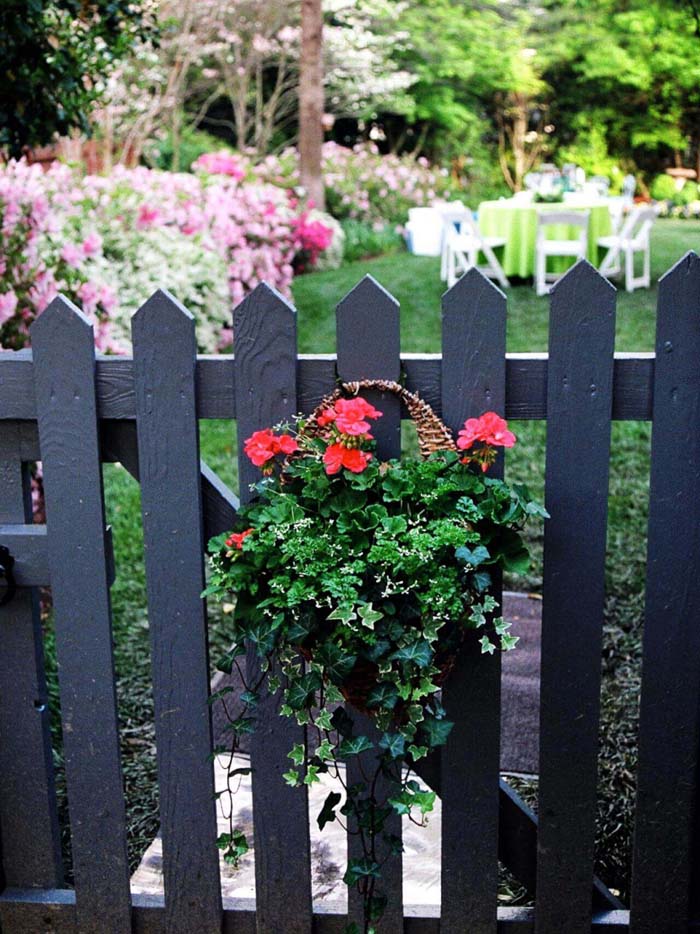 Standard woven baskets are great to decorate your fence with flower pots. Tie the handle with wire to the slat top and hang the basket. You are free to plant any flowers you like or change the arrangement with seasonal plants.
via Homesthetics