Are you fed up with your old flower pots? Don't hurry up to throw them away! You can make yourself a lovely decoration on them- easily, quickly and most of the time without any investment!
You will be surprised to discover how many ways there are to totally change the flower pot look with the help of supplies already on hand.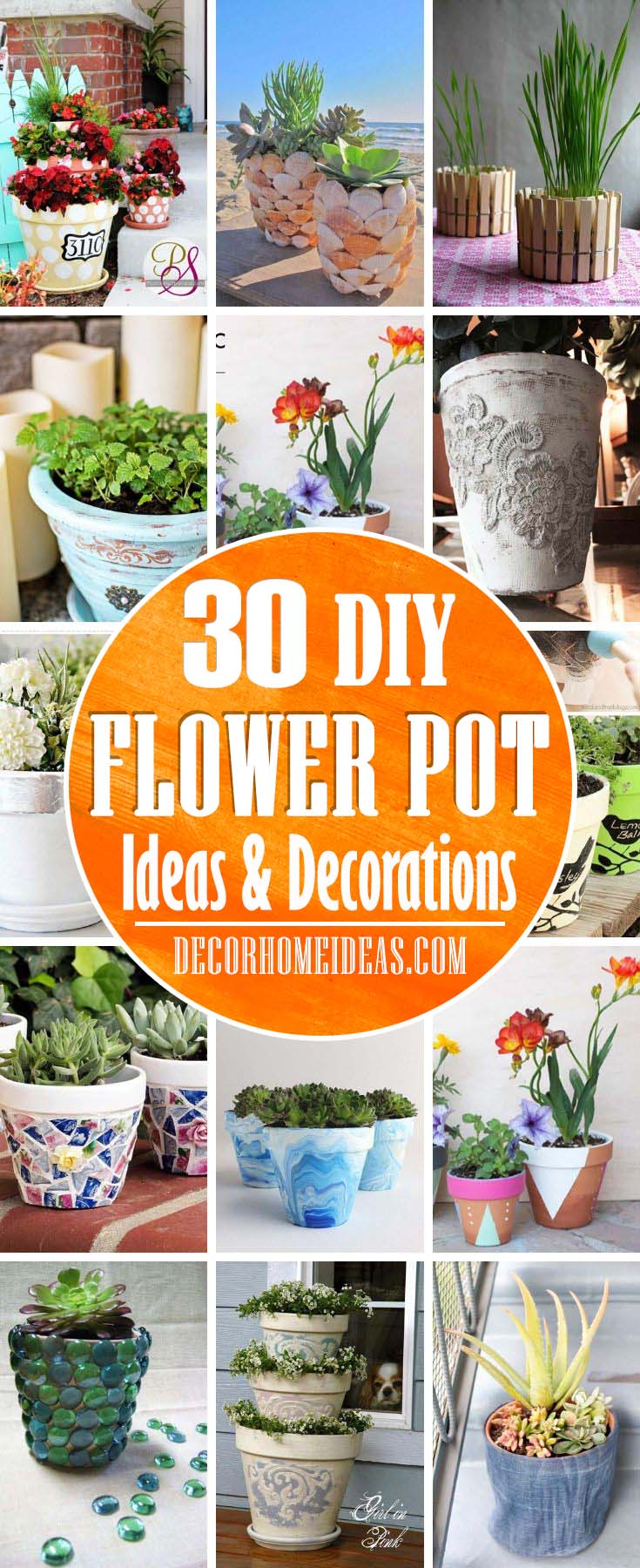 Make sure to read all of the 30 DIY projects for flower pot ideas and decorations put in one place for you as each of them is capable of sprucing your summer decoration up.
Whether through a non-standard arrangement, painting or gluing of decorative elements, your pots can be transformed into attractive decorative features.
1. 3-Tiered Tower of Flowers Decoration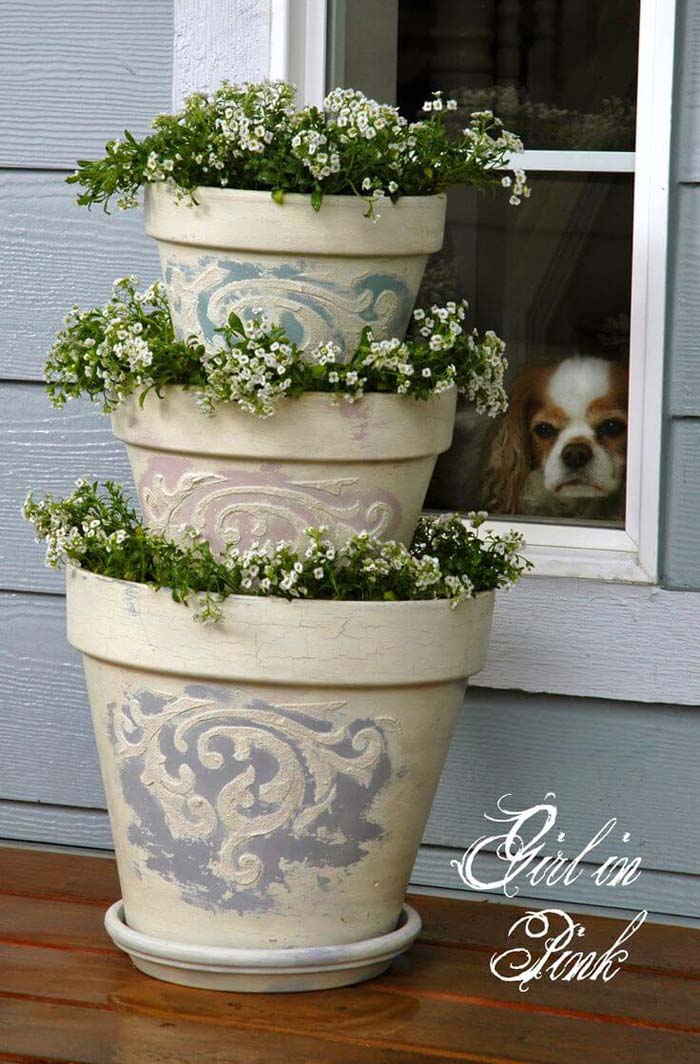 Flower pots are more than plant holders! Stacking varying-sized pots make a wonderful tiered statue that reminds of a greenery fountain.
Plain terra cotta pots have been painted, stenciled, crackled and sealed.
via One Girl In Pink
2. A Modern Impressionist Masterpiece with Decoupage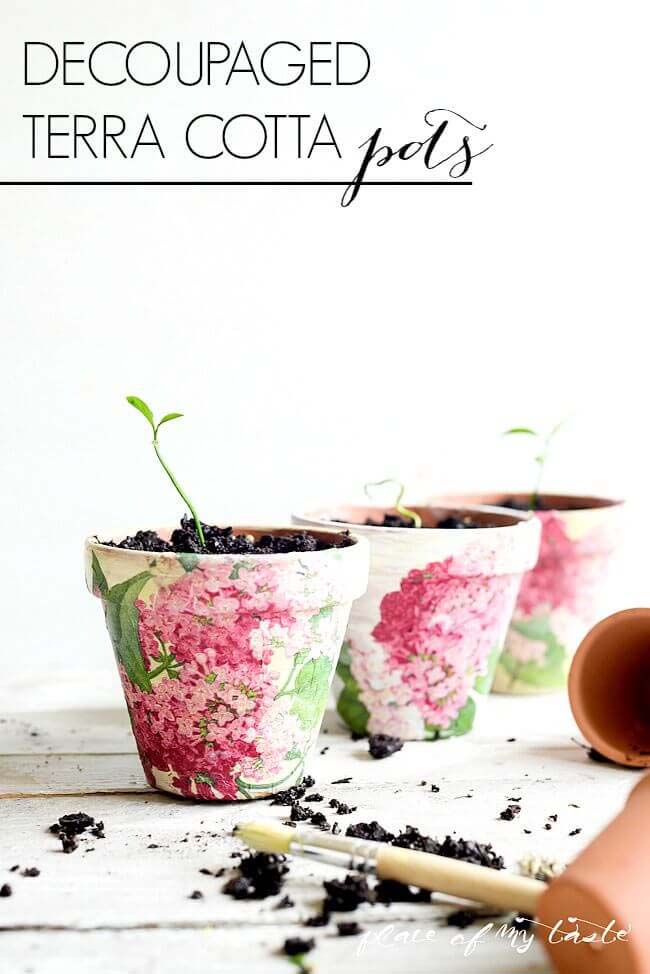 One of the easiest and effective ways to transform terra cotta pots is to use the decoupage technique.
Once you have chosen suitable napkin patterns, paint the terra-cotta pots in a white or light color and apply the napkins using mod podge.
3. Awesome Marbled Look Terra Cotta Makeover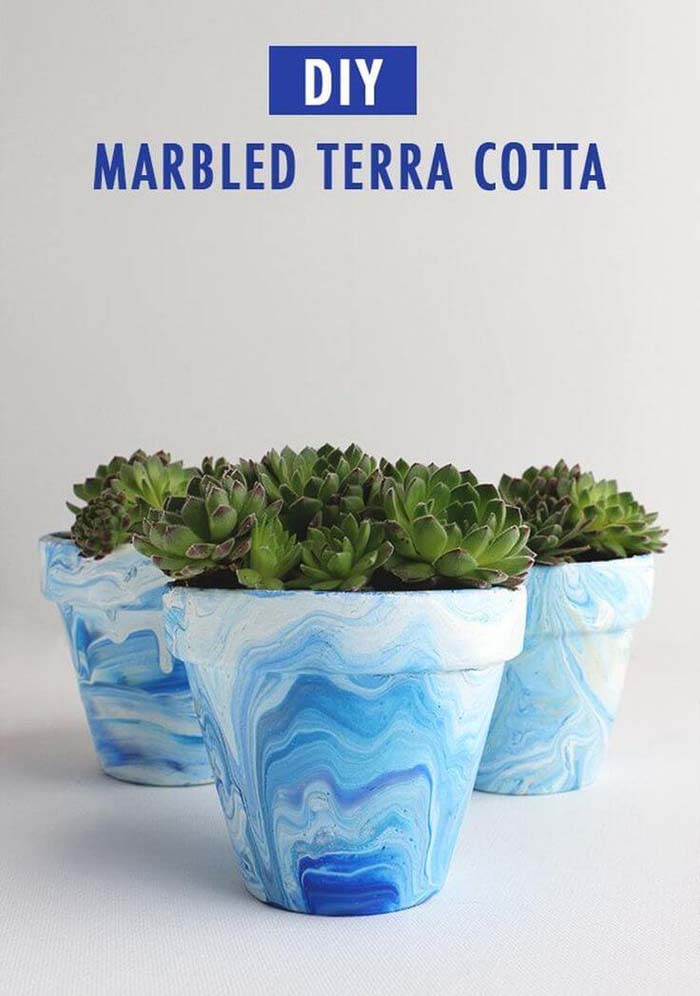 If you are looking for a more exquisite effect on your flower pots, you must try this easy technique for a marble look.
The impact will be even bigger if you make more terra cotta pots with this finish and plant flowers of the same species.
via Alana Jones Mann
4. Burlap Lined Natural Stick Planter

This planter is inspired by nature and will fit well in a country house or any home where the rustic style is predominant.
Making it is very easy – wrap a flower pot with a burlap piece. Make a small stick fence by weaving sticks of the same length next to each other with the help of a cord.
via Bloglovin`
5. Concrete Pots with Metallic Accents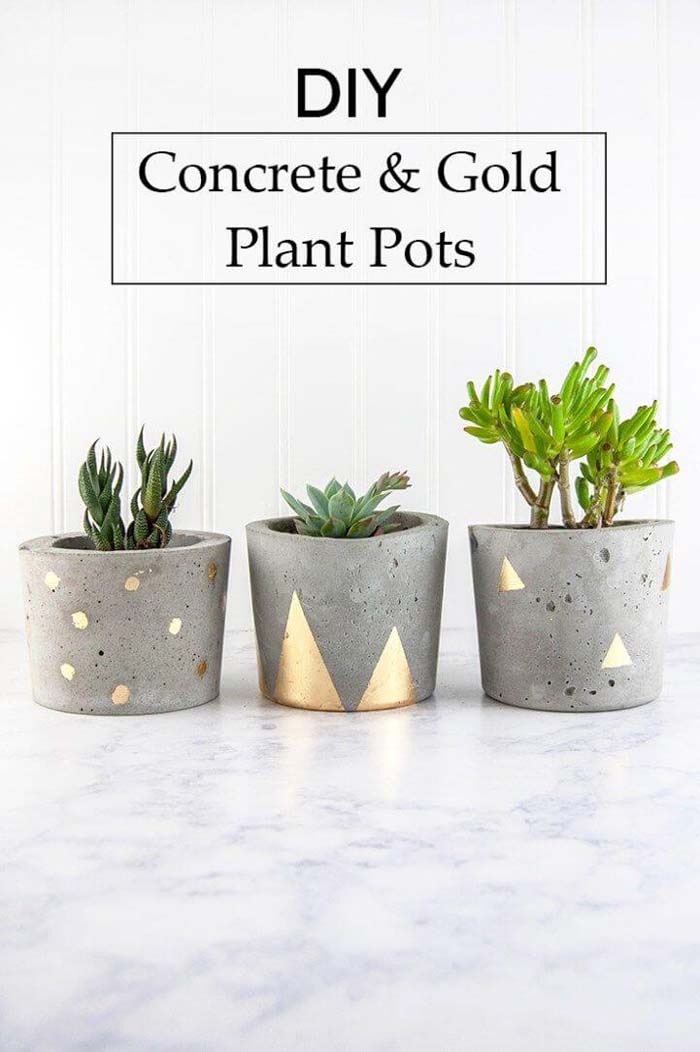 Flower pots can also suit an eclectic or industrial interior. Make them all by yourself in a few steps.
These concrete pots are perfect to hold succulents or small leaf plants.
via DIY in PDX
6. Create a Desert Oasis with Aquarium Glass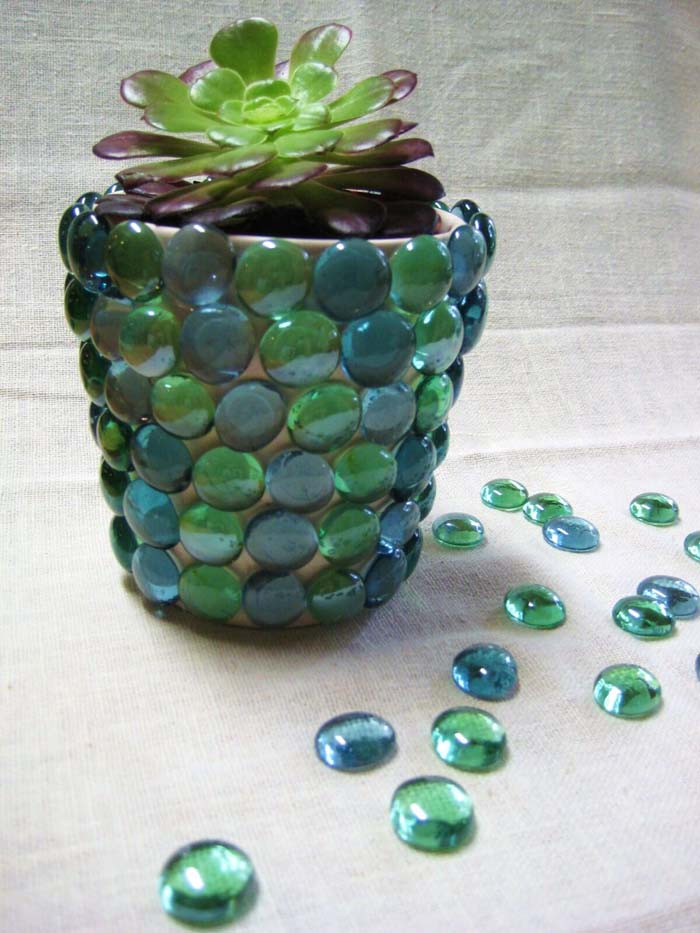 With the help of faux gems and a pot from the dollar store, you can instantly make an oceanic plant holder.
It is very easy to apply the gems onto the pot surface so there are no worries to include even your kids in this decorating process.
7. Customized DIY Flower Pots for Kids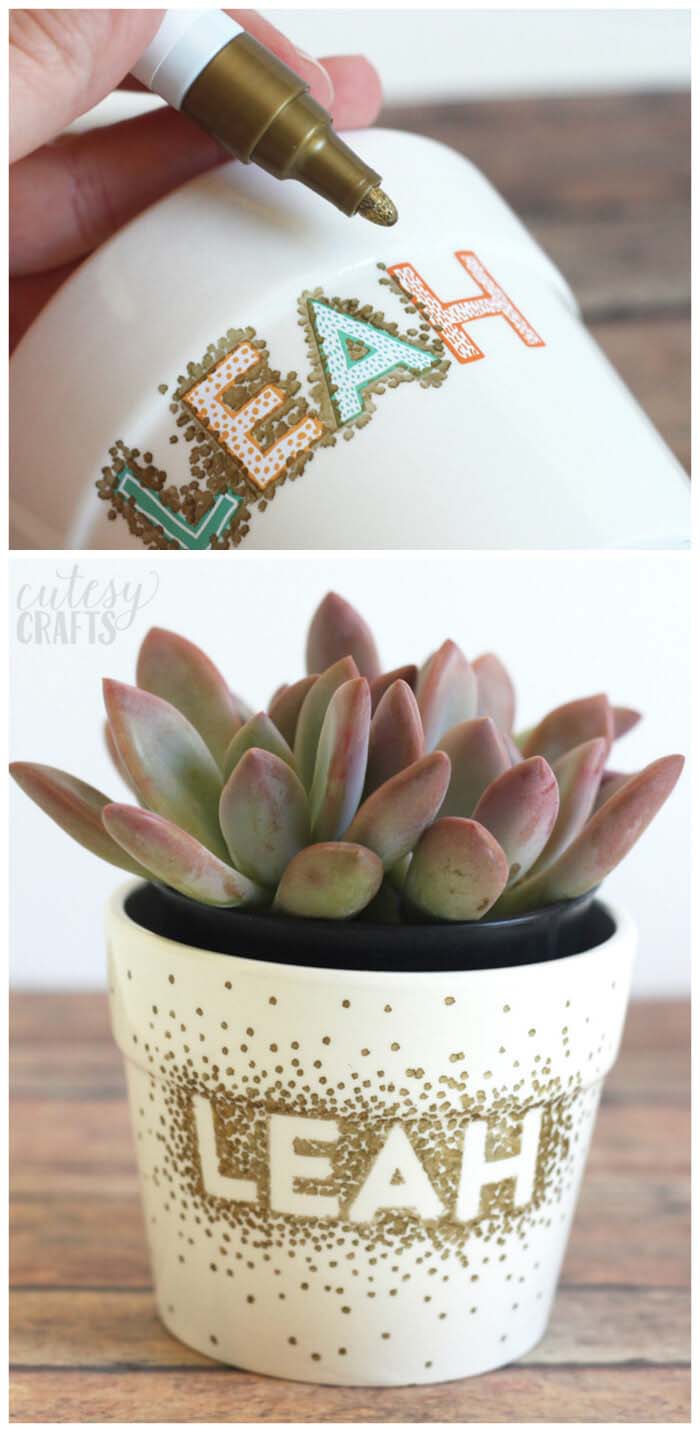 Are you looking for a way to make a pot more personal or prepare one for a gift?
This easy-to-make flower pot leaves a great individual touch by inscribing the name of its owner.
via Cutesy Crafts
8. Decorative Grass with Clothespin Fence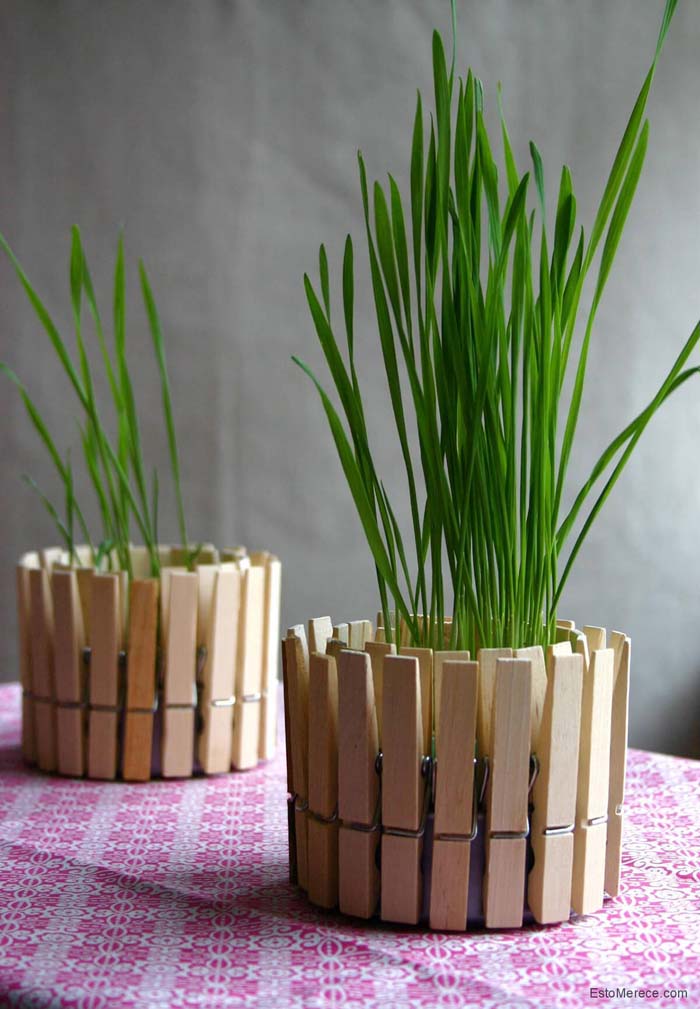 Tuna fish cans and plain wooden clothespins make this interesting pot project.
They are great for a school project, for holders of herbs or lime grass. They can even be used as candle holders.
via Family Chic
9. DIY Flower Pots with Whitewashed Finish

Changing the nuance of a terra cotta pot can make it look totally different.
Applying the white-wash technique described in the link below can turn the ordinary brownish surface into a shabby chic finish.
via Tid Bits
10. DIY Photo Flower Pot for Mother's Day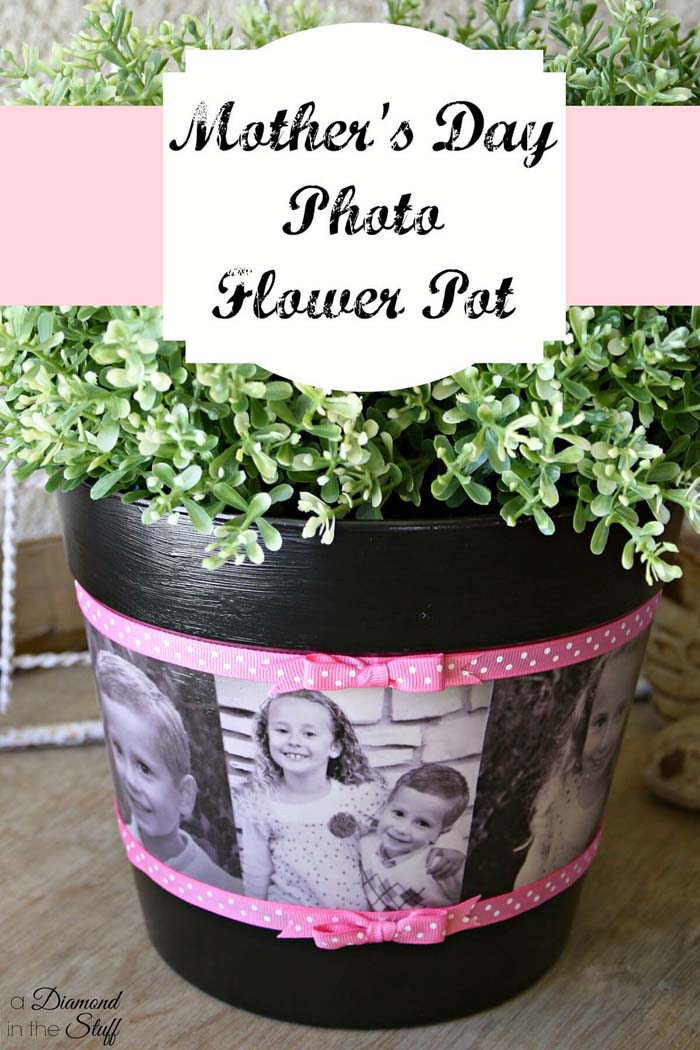 This flower pot transformation was originally intended for a more personal gift for Mother's Day.
Well, the impact it makes is so big that any mom will be delighted to have it in her home.
11. Dress Up Distressed Flowerpots with Embroidered Details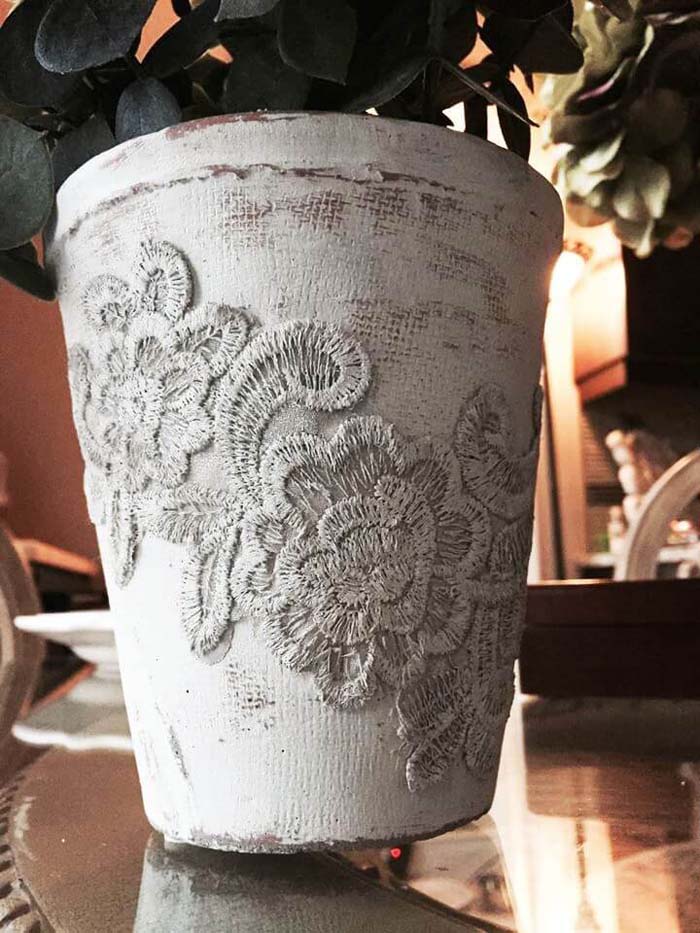 Repurposing materials always surprises with the final result as it happens with this handmade flower pot.
Pieces of lace are glued onto painted terra cotta pots and easily carry us away to a cottage in a small French village.
via Mucho Crafts
12. Festive Cinched Fabric Jardiniere Craft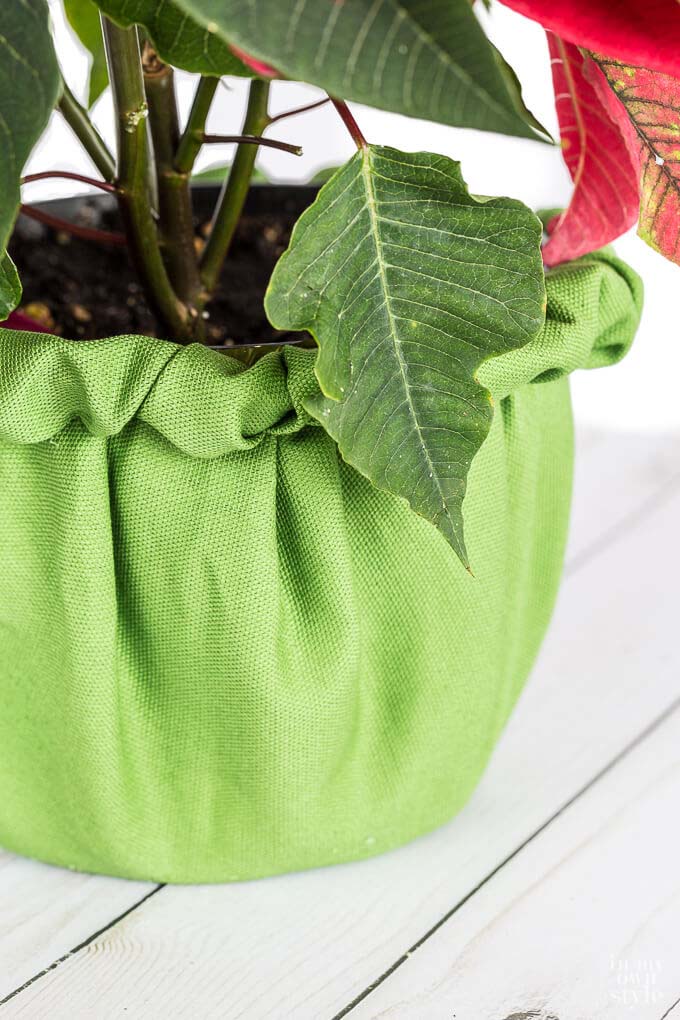 If you are looking for temporary decoration for your flower pots, you can always dress them in fabric according to the season or the holiday.
All you need is a piece of fabric and a rubber band.
via In My Own Style
13. Give a Pail the Pebbled Look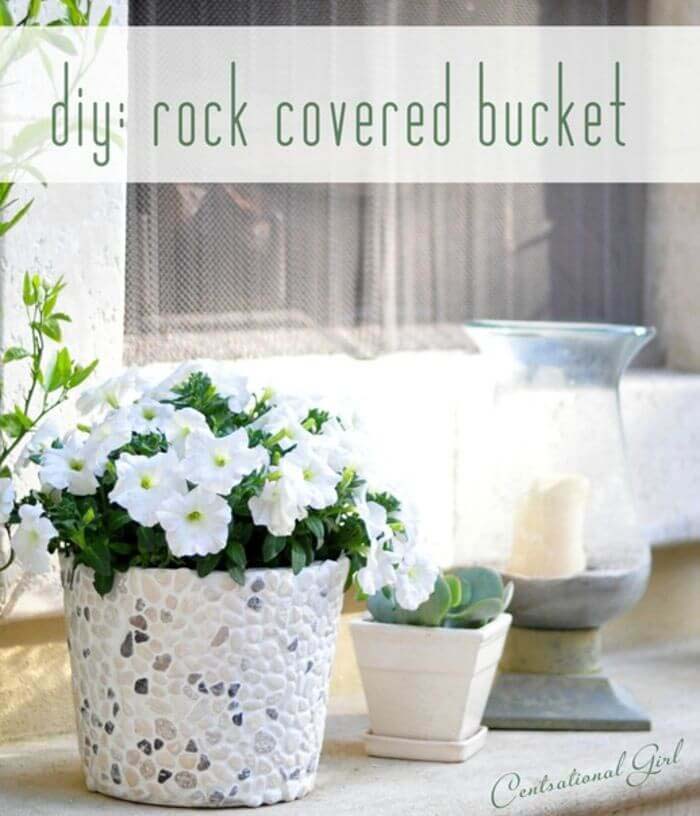 Mosaic makes a great outdoor impact, even if applied only on one flower pot.
Small pebbles or decorative stones do a great job when fixed with grout to an existing pot.
14. Gorgeous Gilded Coffee Can Upcycle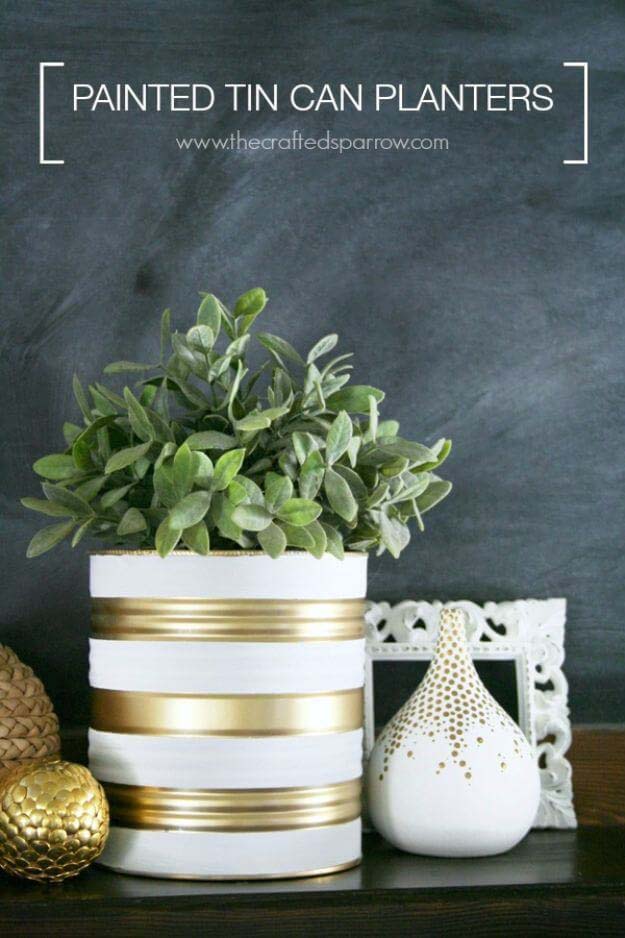 Patio paints are very good for outdoor and indoor projects because of their good coverage properties, the wide range of colors and the smooth coat they make.
Choose patterns and colors and start decorating used coffee cans. The more you make, the better the effect will be when arranged next to each other.
15. Help Your Succulents Talk with Chalkboard Paint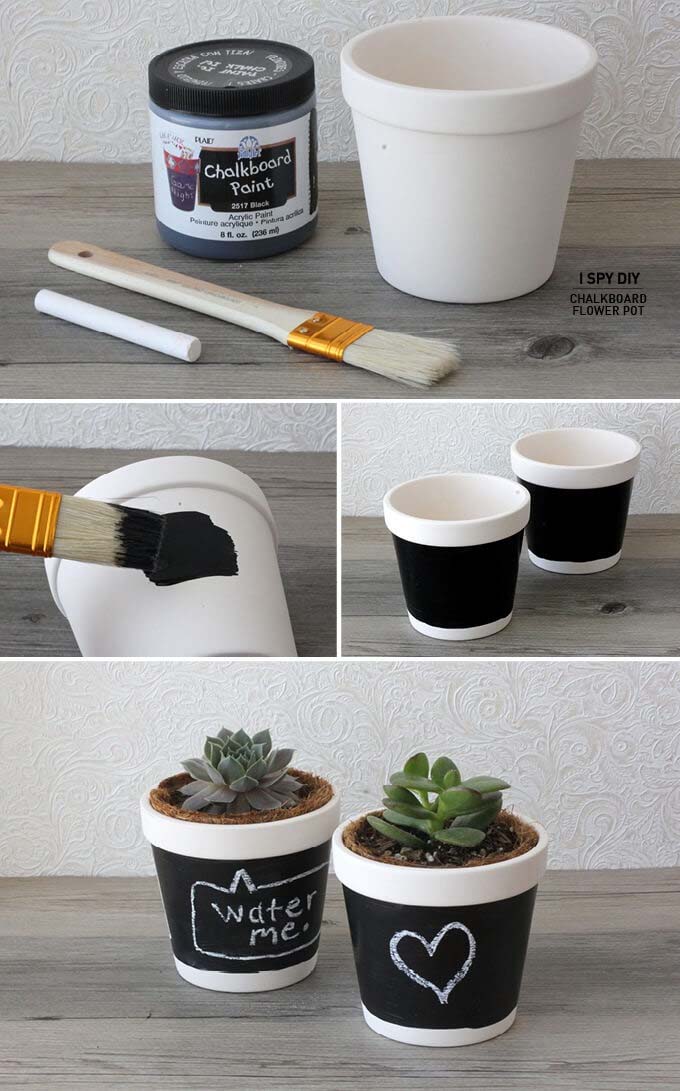 One of the funniest and easy-to-make decorations is to apply chalkboard paint onto a terra cotta pot.
Write a fun statement, a beautiful word, a symbol. You can change it every time you like.
via I Spy DIY
16. How to Put Antique Transfers on Pottery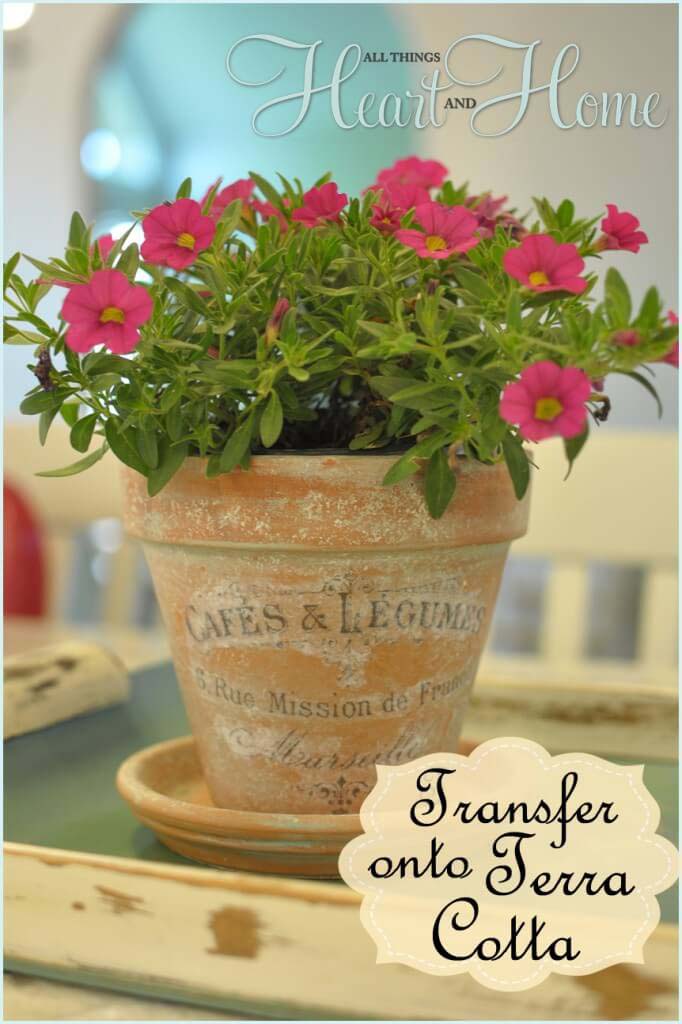 If you like the vintage effects, you must try transferring a preliminary printed image onto a terra cotta pot.
Find and print an image you like and then apply mod podge on it. Place the piece of paper onto the pot.
When the paper has dried, gently water and rub to take the empty paper layers down and leave only the layer with the image.
via Home Talk
17. Mod Triangle and Dot Pots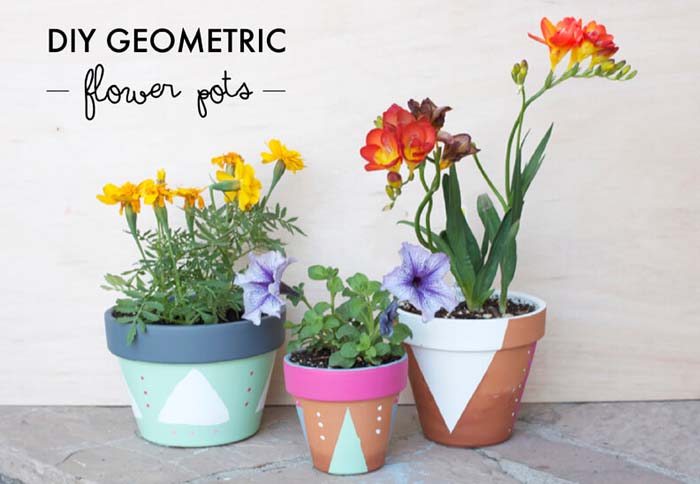 Masking tape is a very universal supply as it can be used to outline paint patterns. This is how the geometric shapes onto the terra cotta pots have been made.
Apply colors you like, a few dots and your cheerful planters are ready!
via Hello Lidy
18. Old World Makeover for Cheap New Urns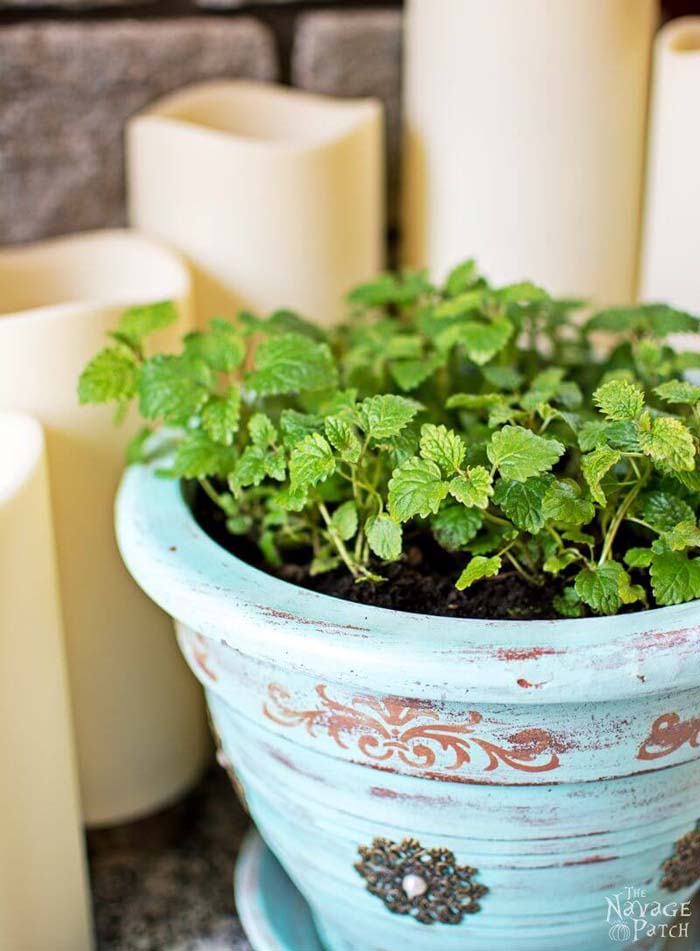 With the help of chalk paint, stencils, metal filigrees and rope any old terra cotta pot can be turned into a feminine vintage art piece which will become the best decoration from the patio.
The distressed look is achieved by rubbing the excess paint with a damp cloth.
via The Navage Patch
19. Pastel and Newsprint Succulent Pots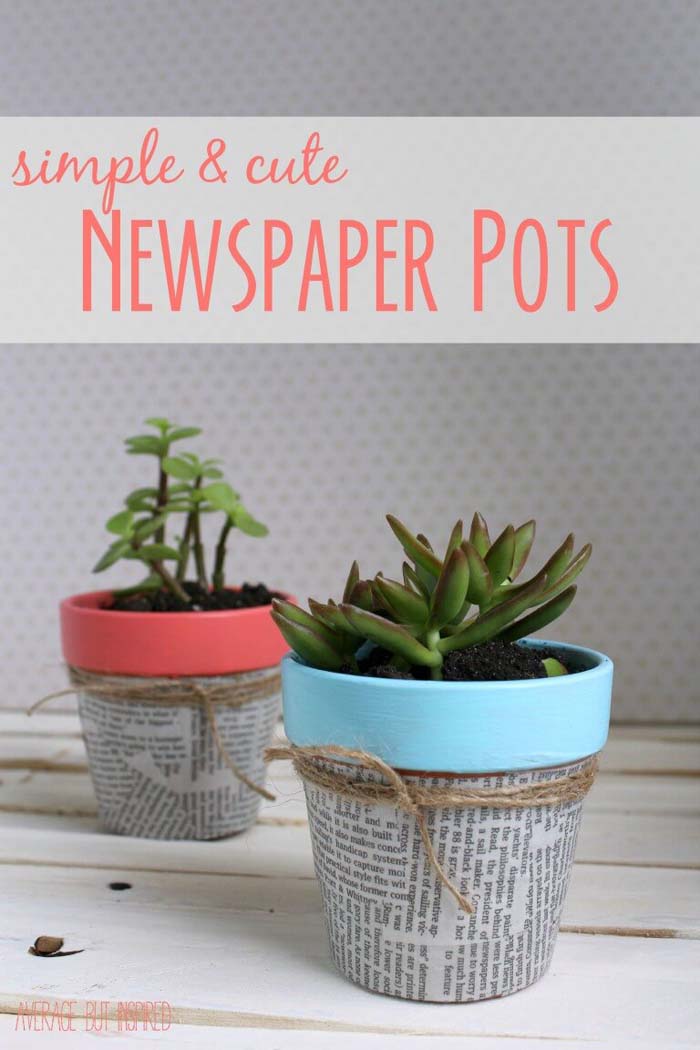 Another quick and temporary transformation for your pots – decorating with a piece of newspaper or old book page.
Glue with paper glue or mod podge and add a thin string ribbon below the pot rim.
20. Polka Dot House Number Jardiniere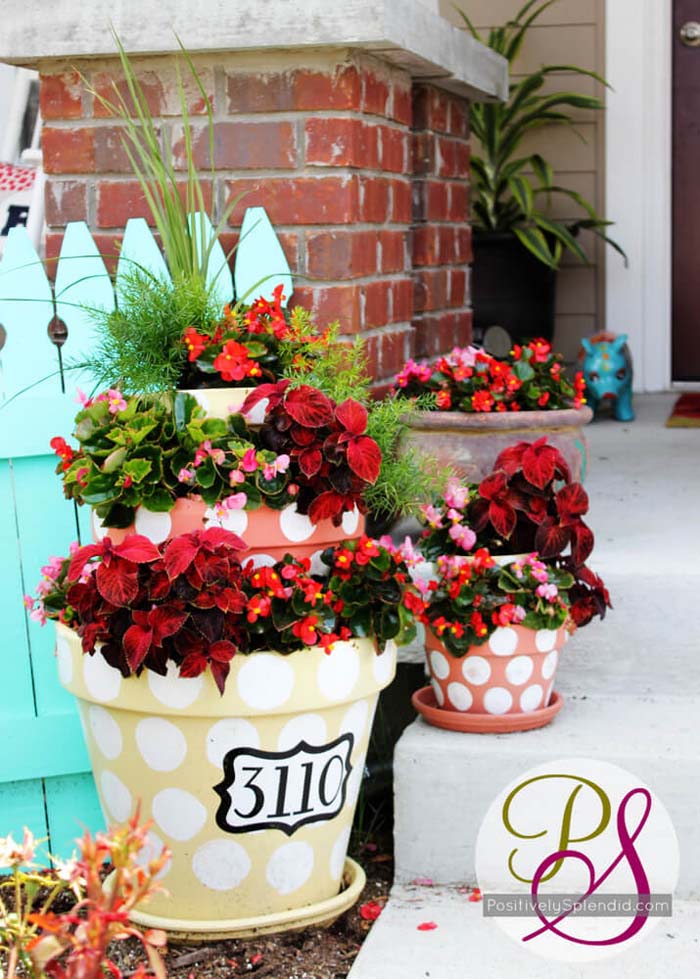 Polka dots always make the surface more playful and bright. This is the major reason they have been chosen as a pattern to transform ordinary terra cotta pots.
If you are more or less pedantic, you need to know that these perfect and identical dots have been made with a circle foam pouncer.
21. Pretty Chalkboard Stenciled Bird Planters

Birds are a symbol of spring. They are also very cute and that makes them the perfect image for a pot.
Using a stencil and chalkboard paint, you can paint yourself this large enough birds and use them to write the names of the herbs you have planted.
22. Put Your Favorite Pattern on a Pot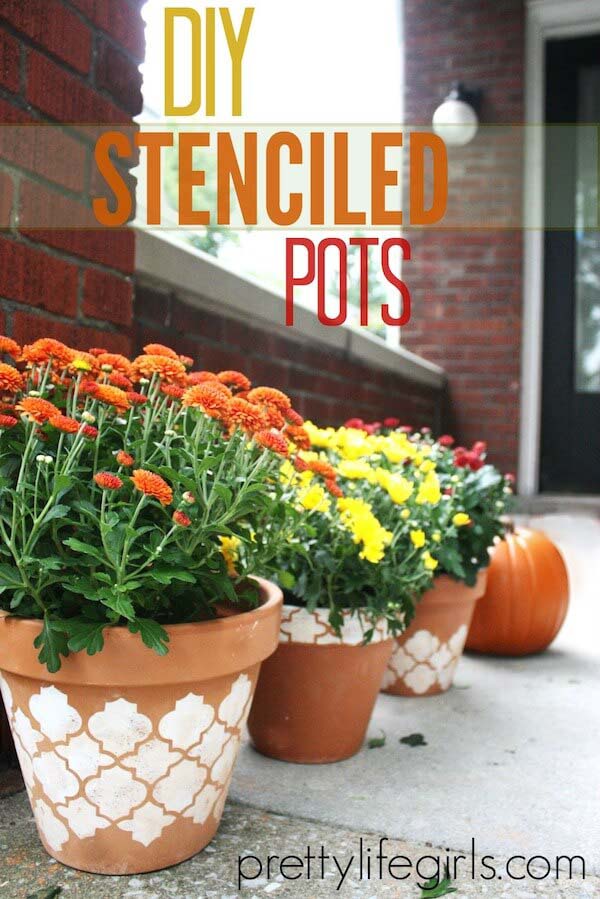 A very nice and easy idea is to use craft stencils to decorate your existing pots. Pick up a pattern, glue it on the terra cotta pot and paint.
You can use the same pattern on different areas from the pots for a serial effect.
via DIY Candy
23. Shabby Chic China Shard Mosaics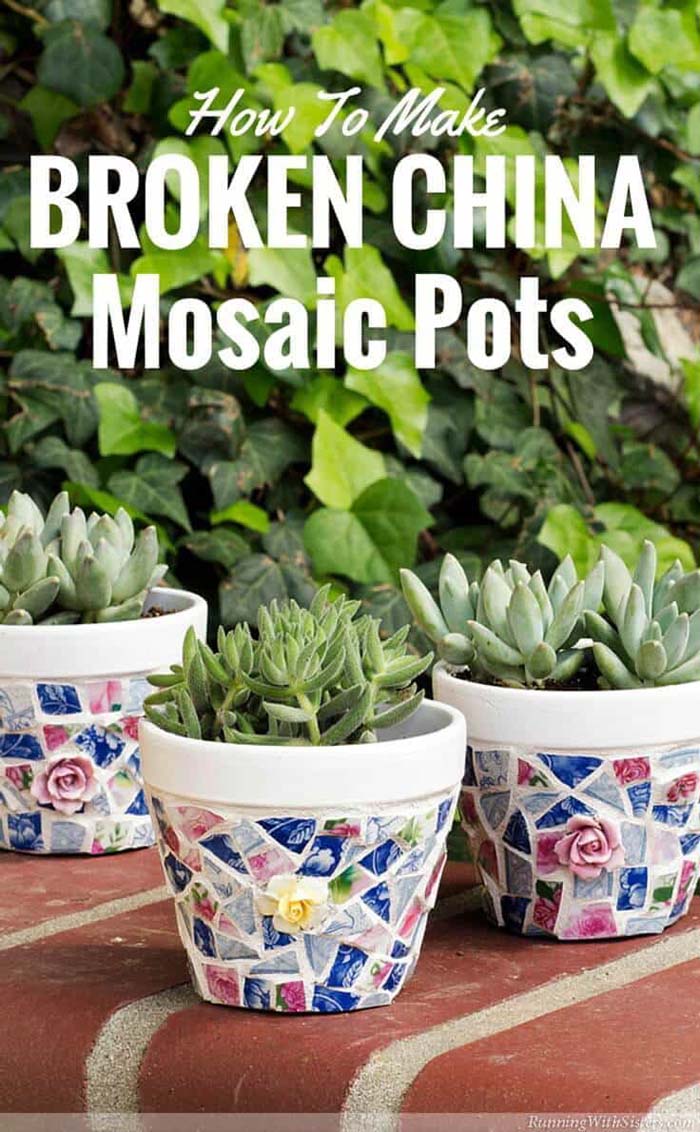 The colorful pieces of broken China pots will help you turn the terra cotta pot into a real work of art.
The rose accents in the pot center are taken from China knick-knacks.
via Ideas For The Home by Kenarry
24. Shell Covered Seaside Plant Displays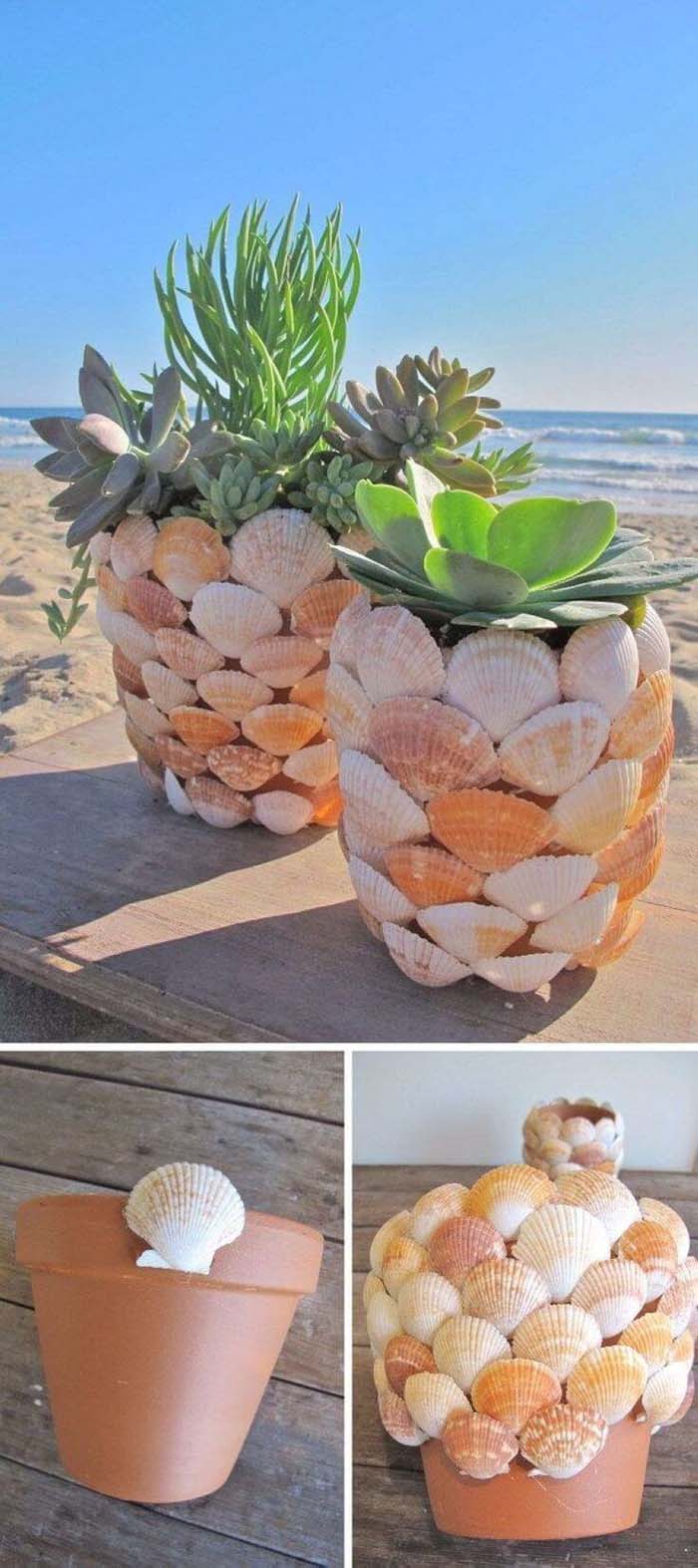 This is a summer-inspired flower pot which is the best decoration for the season.
Arrange your shell collection from smallest to largest and start gluing from the top downwards. Begin with the largest shells.
via Billabong
25. Simple Drip Paint Pottery Hack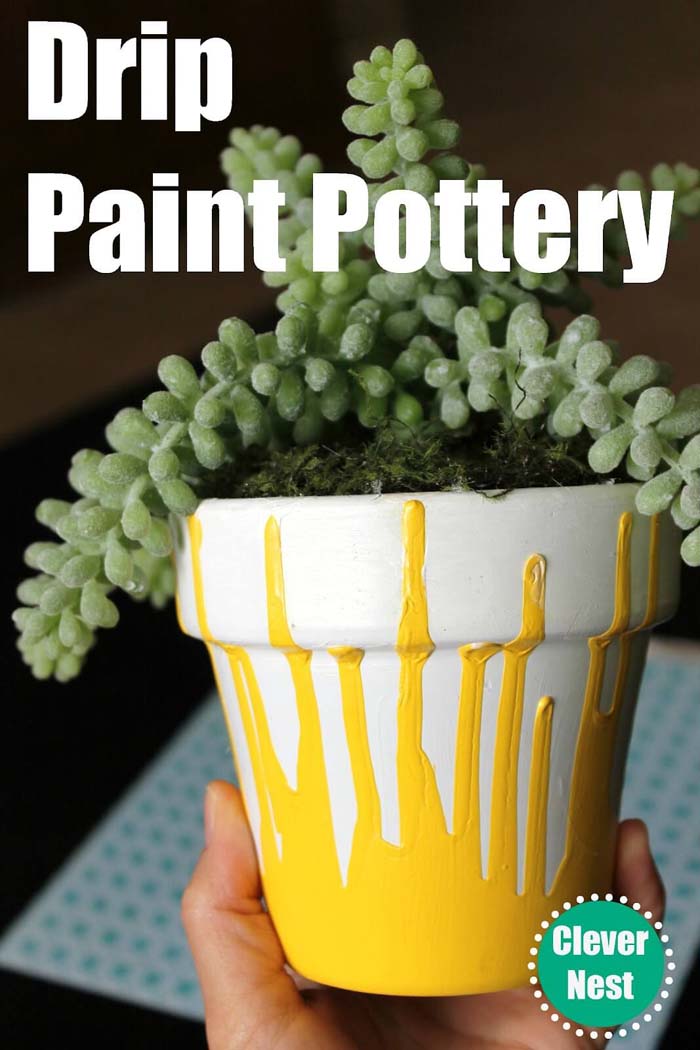 The paints for this project are standard acrylic paints. The effect is achieved by dripping the paint all over the edges. Let the paint fall freely.
You can easily drip more colors at once or let a layer from one color dry and then apply a new layer with another color.
26. Twine Wrapped Terracotta for Gifting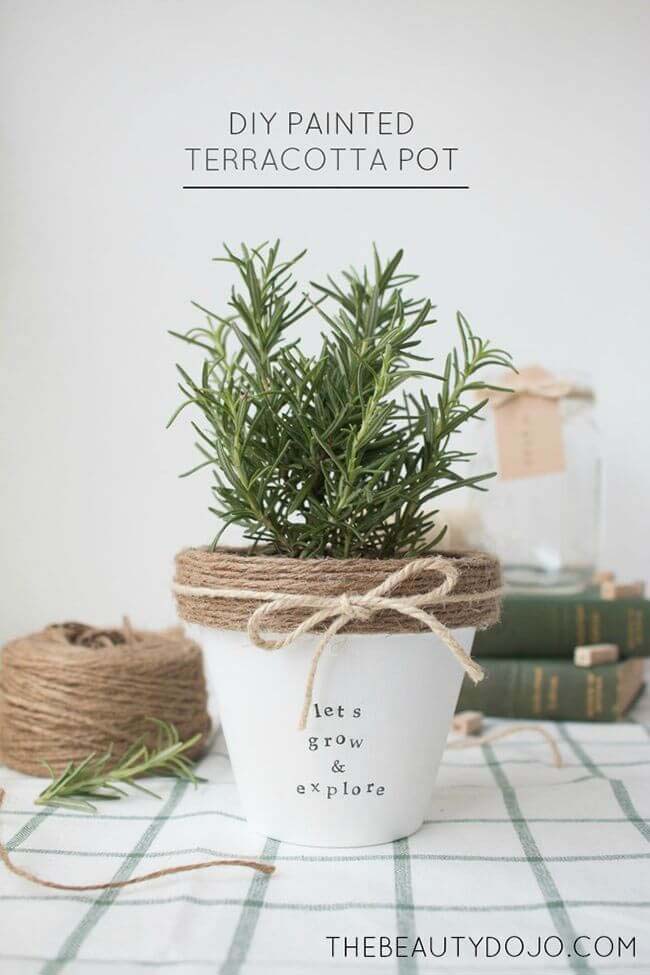 You can customize a terra cotta pot painted in white with your favorite label or quote.
Get a set of alphabet stamps, dipped into ink. For a more vintage look, glue the cord onto the rim of the pot.
via The Beauty Dojo
27. Two Ways to Dress Up Classic Clay

You can add a modern touch to the otherwise vintage look of the terra cotta pots with gilding paper.
Whether you choose the gold or the silver accent, the pots will easily become chic decorations for your home.
via The 36th Avenue
28. Victorian Inspired Paper Lace Planters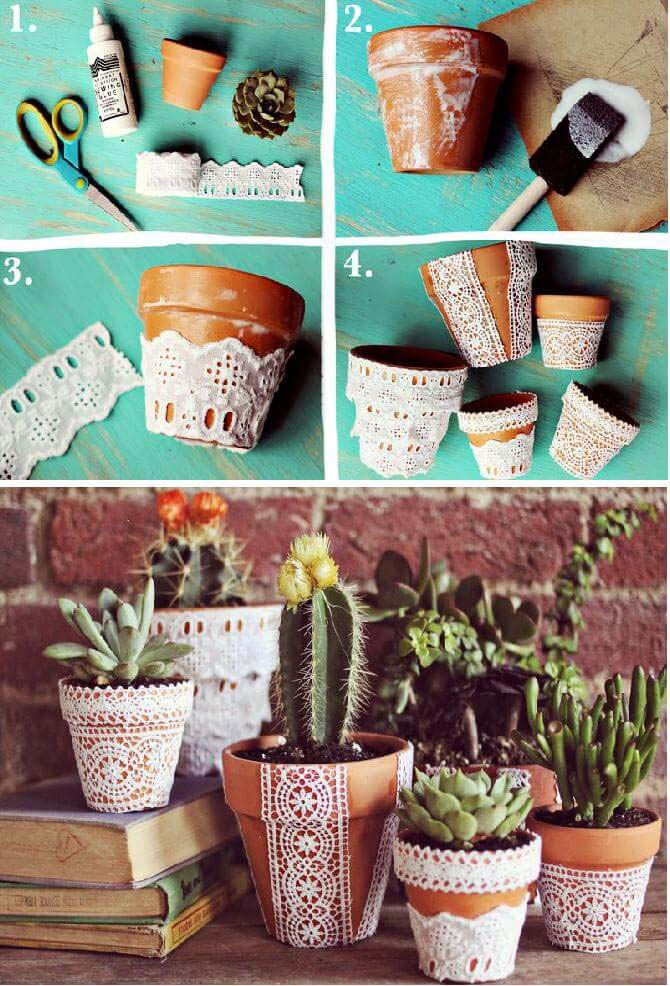 Brush glue all over your pot, place lace pieces and then apply another coat of glue. This is a very easy, affordable and great idea to decorate terra cotta pots.
29. Your Plants' Favorite Pair of Jeans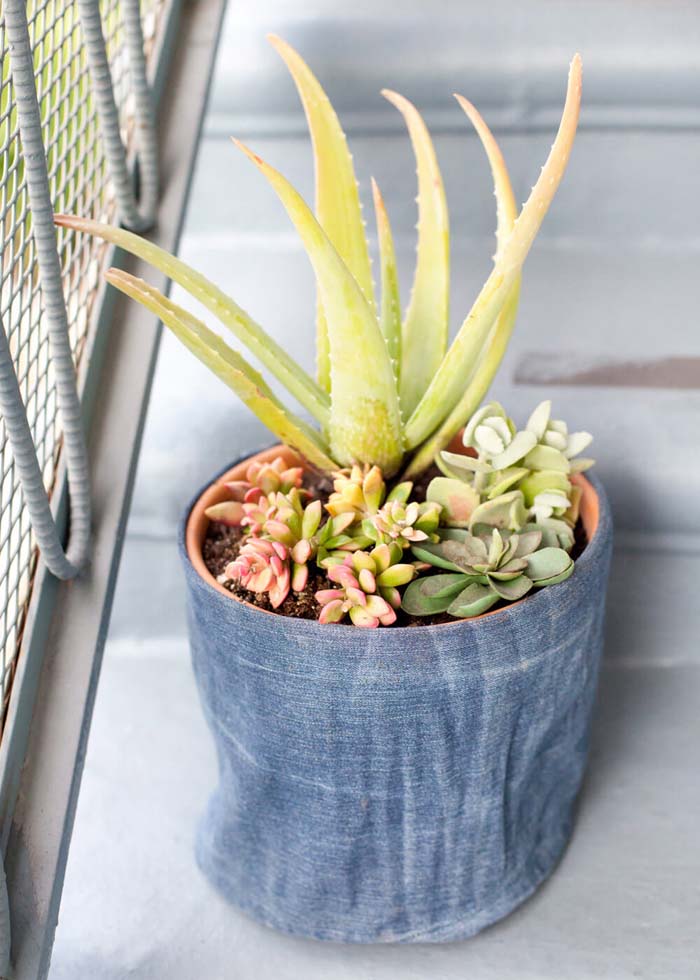 If you have a pair of old jeans, you can upcycle them with this quick DIY project.
Cut a piece from the pant and glue it onto the terra cotta pot. The new "dress" will make a good contrast with the planted flowers.