A veranda in rustic style is decorated with natural materials. Most of the time we can see rough, untreated wood, natural stones, fabrics from natural materials- wool, leather, for example.
The preferred colors for rustic decoration, in general, are pastel, neutral and earthy palettes.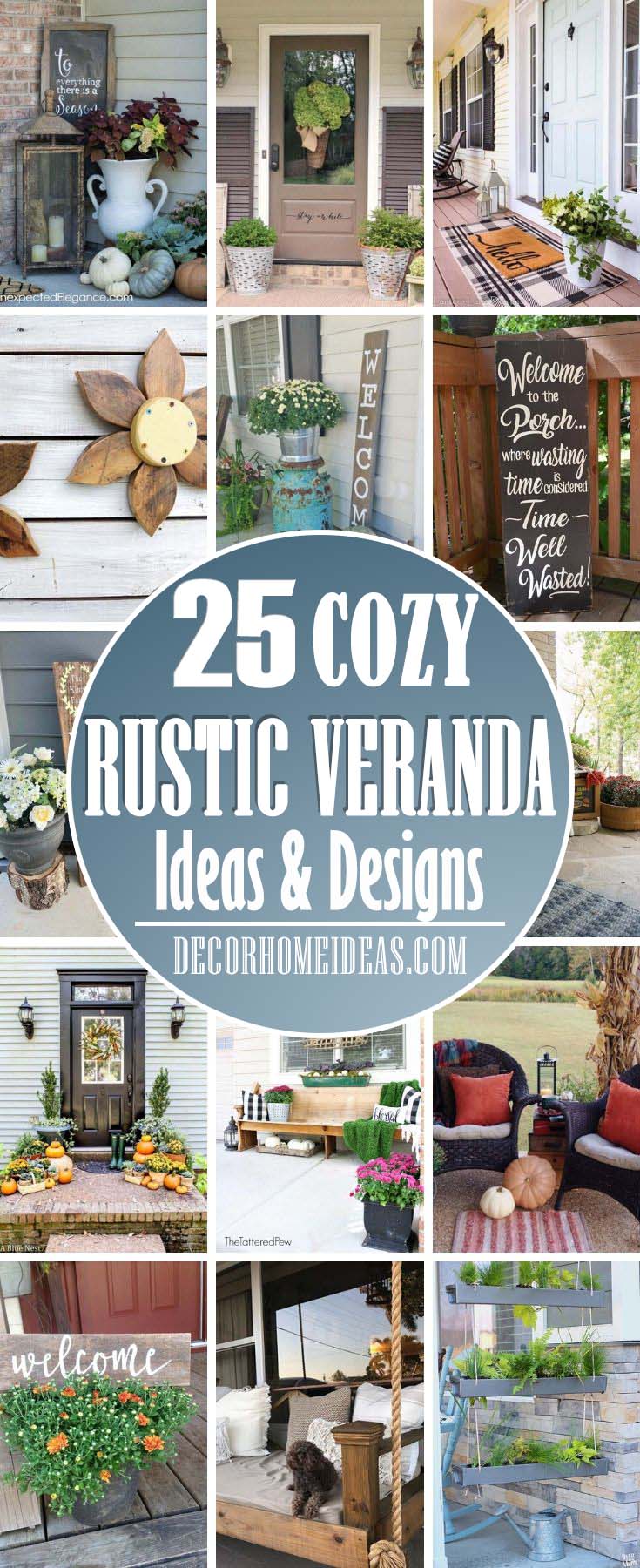 All those features brought into a design conception make the veranda more calming, welcoming and relaxing.
If you like the cozy atmosphere the rustic style flawlessly creates, make sure to check the great ideas and designs we have gathered for you.
Each of them can easily be incorporated into your veranda ambiance and contribute to forming a calming oasis right in your home.
1. Autumn Decor with an Inspirational Chalkboard Addition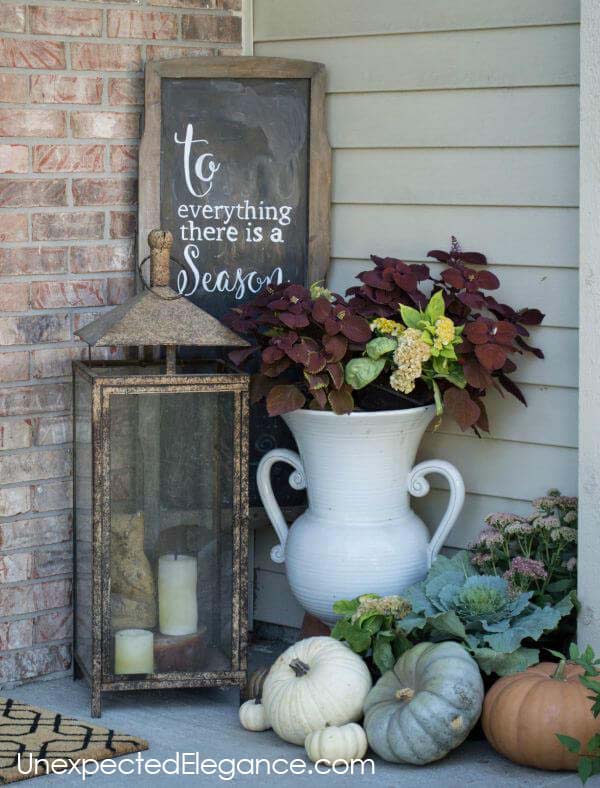 An entryway corner has been decorated with autumn symbols. To give it a little extra chic, you can add a framed chalkboard and write an inspirational statement on it.
2. Bring Rustic Charm to your Veranda with Wooden Signs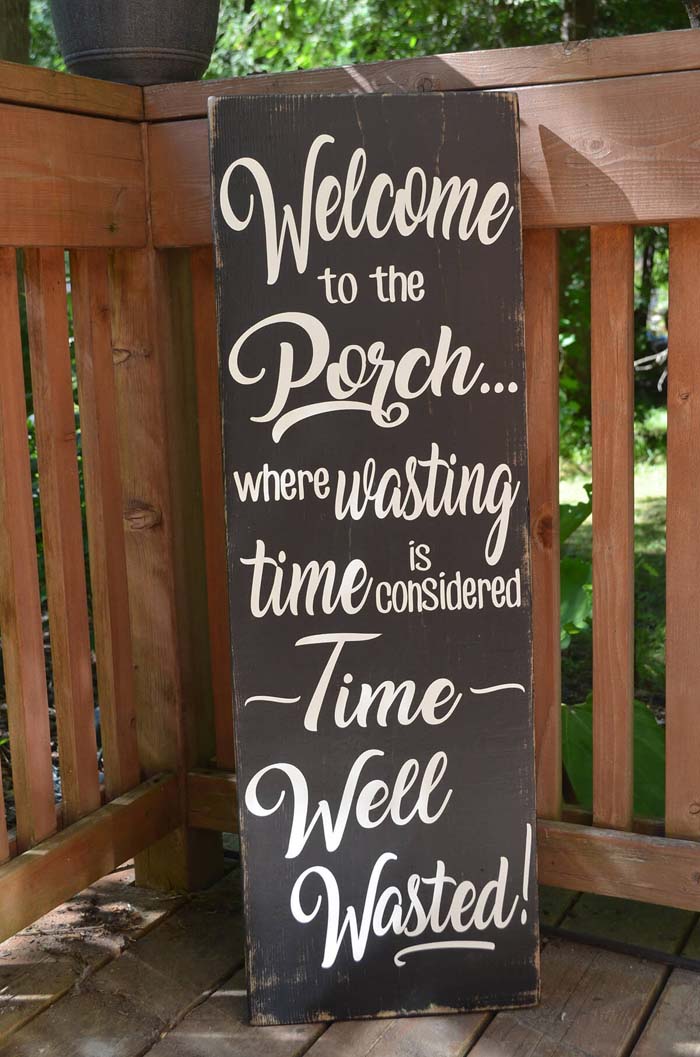 An inexpensive way to bring the rustic atmosphere to your veranda is to hang on or lean against the railings signs.
As long as they are made of wood, they are of distressed or untreated finish and the statement print is old, they would look like an antique object.

3. Enhance Your Veranda with a Swing Bed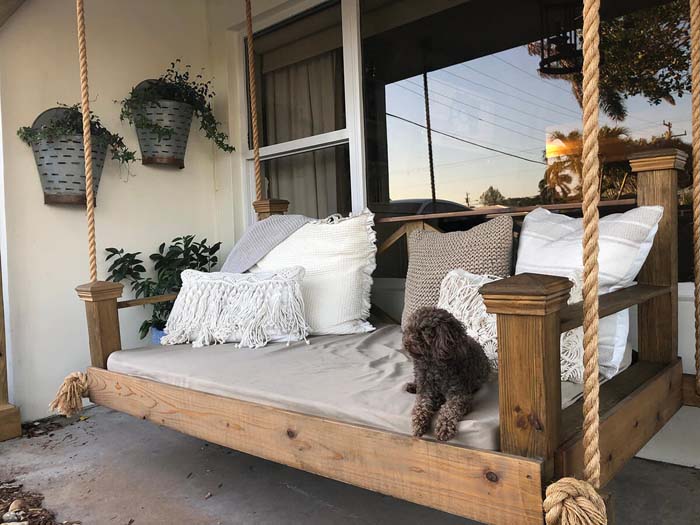 If you love the swing movements, you can add a swing bed to your veranda.
Made mostly of natural materials, this wood and rope swing will become the most relaxing area from the veranda.

4. Rustic Decor on a Veranda with Plant Accents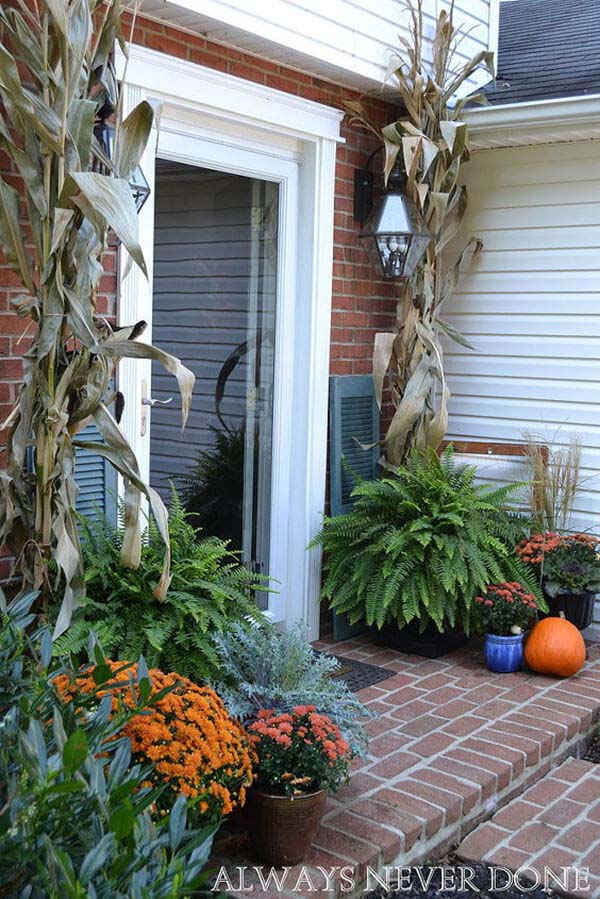 Old window shutters can be used as very interesting rustic decoration if only leaned against the entry wall.
The identical plants on both sides of the door combined with the shutters create the focal point of the veranda.
via A/N/D
5. Make Your Veranda More Rustic with Customized Items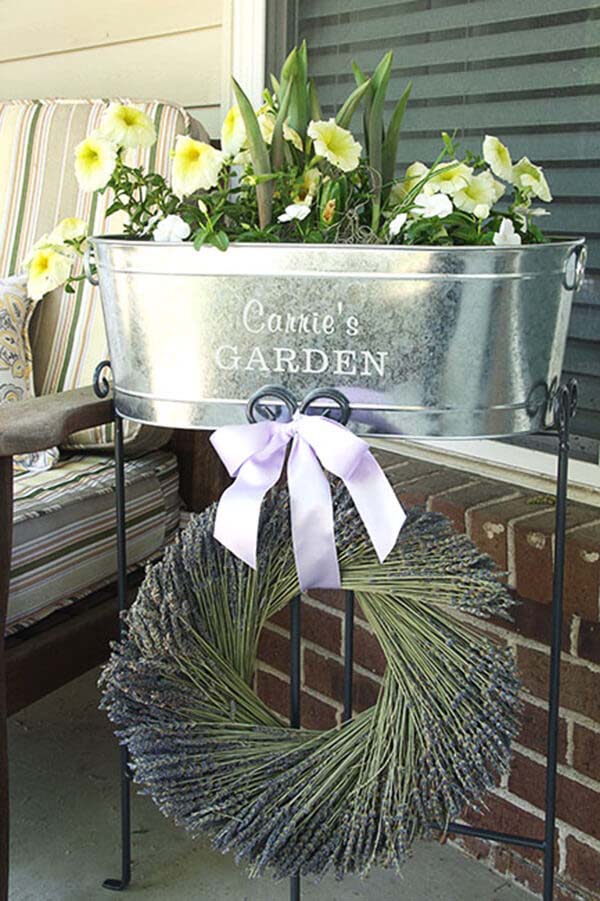 You don't need big items to make your veranda more rustic-like.
With the help of customized items, like the flower pot above, you can easily get closer to nature.
via Curly Crafty Mom
6. Decorate with a Customized Family Name Veranda Sign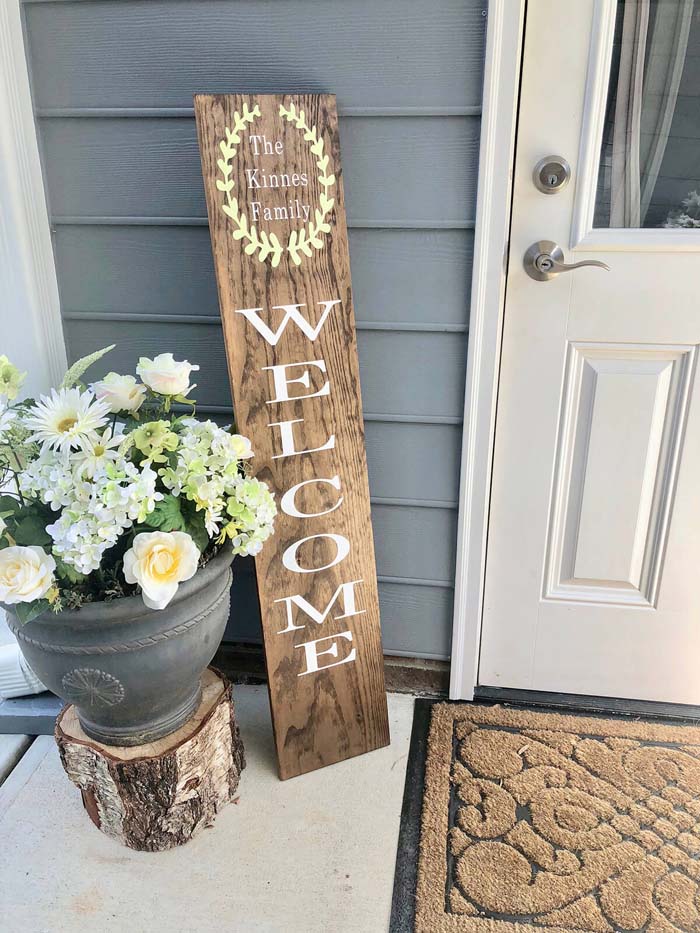 One of the many options for wood signs for the veranda are the welcome signs.
If inscribed on an untreated wood board, it will look simpler and absolutely match the rustic conception.

7. Create Rustic Outdoor Look with Nature Gifts and Ikebana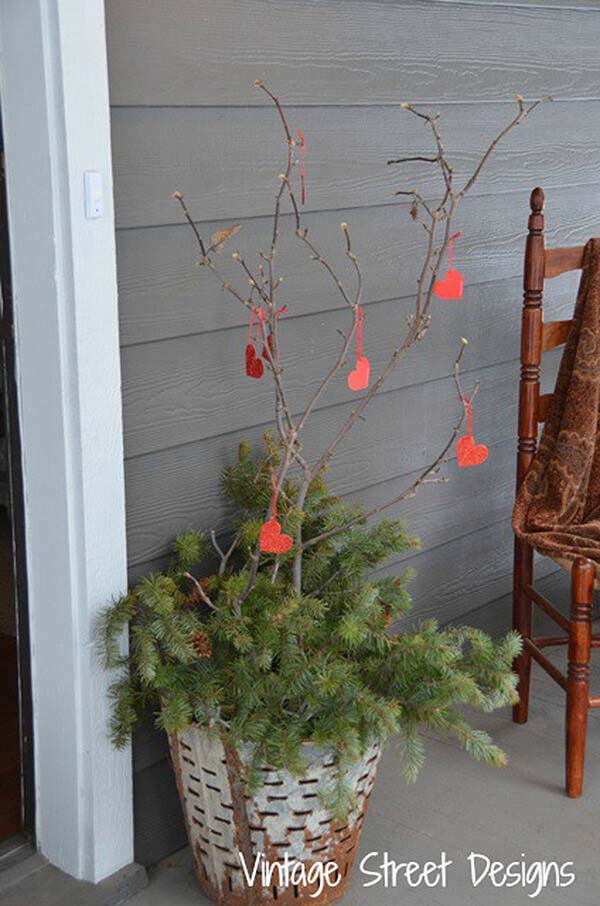 You can easily use nature gifts to put together rustic ikebana.
Some twigs, branches in an old metal bucket and a few beautiful paper hearts hanging from the branches are just enough to naturally include rustic style into the design of the veranda.
8. Make a Rustic Seating Area on Your Veranda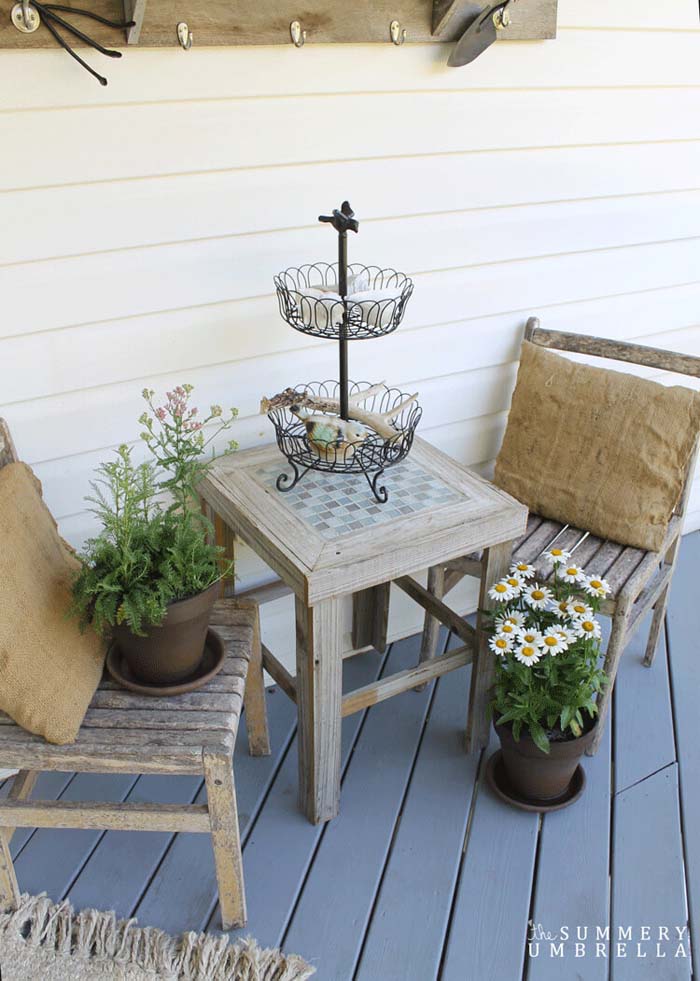 You don't need much space on the veranda to make a welcoming rusting seating area.
Use farmhouse style or upcycled old furniture and easily transform the veranda into a rustic oasis. Add burlap cushions for simple comfort.
9. Elevate Your Veranda with Dual-Patterned Rugs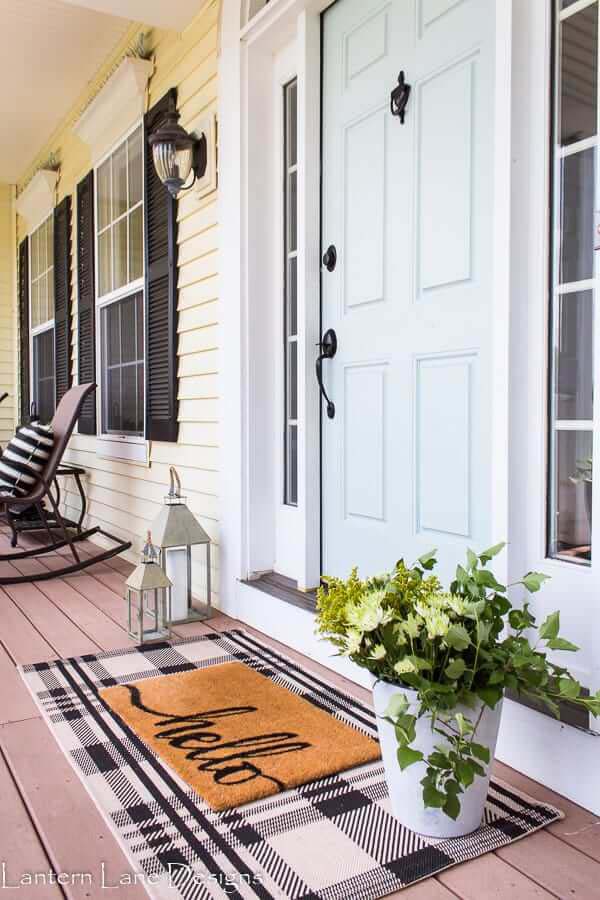 You can focus on a small area from the veranda instead of changing it entirely.
Layer two rugs of different patterns, making sure that at least one of them is of earthy colors.
10. Upgrade Outdoor Space with Fall Veranda Makeover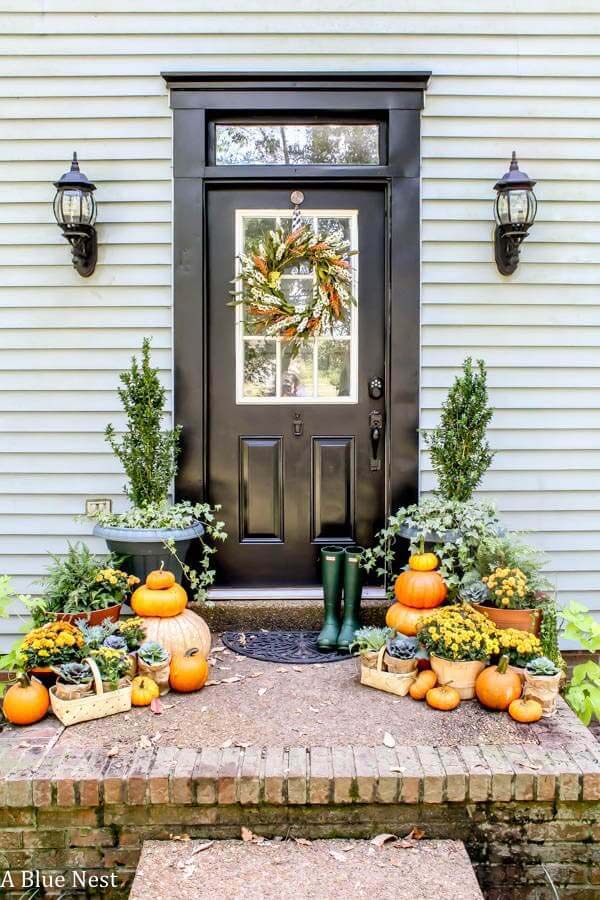 An easy and accessible makeover of the veranda is to make a flower and fruit arrangement at the entry.
Include burlap wraps, some handbaskets, pumpkins of different sizes.
via A Blue Nest
11. Wrap Pots in Earthy Colors on the Veranda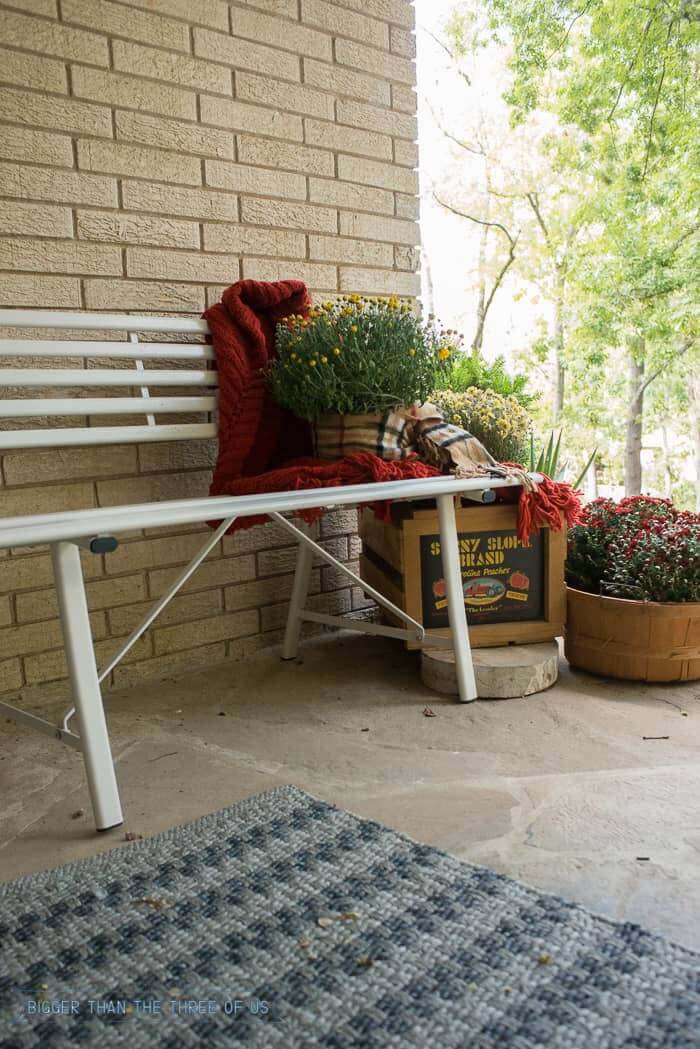 Wrap the pots on the veranda with old scarfs in colors from the earthy palette.
via Bigger Than The Three of Us
12. Rustic "Welcome" Sign and Planter for Veranda Decor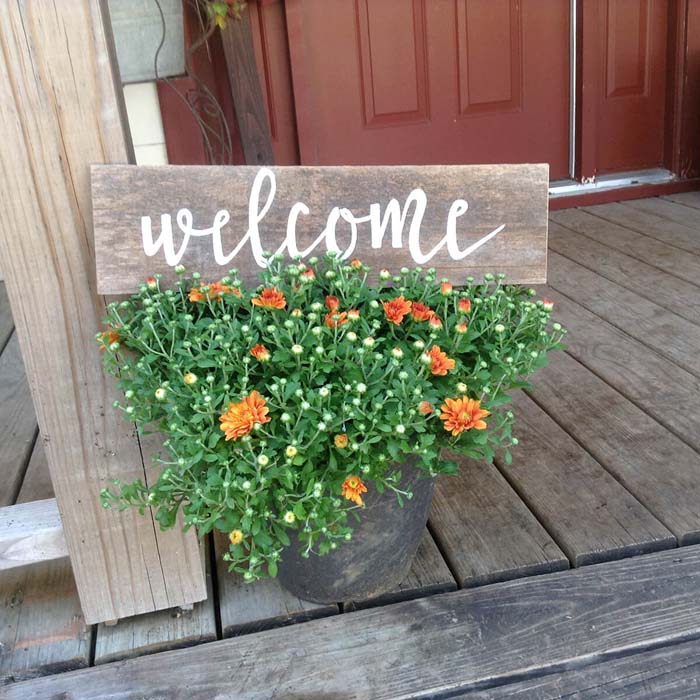 A "welcome" sign on a weathered wooden board can quickly fit into the rustic veranda.
Hang it on the door or insert it in a beautiful flower tuft.

13. Repurpose Old Window Frames for Chalkboard Decor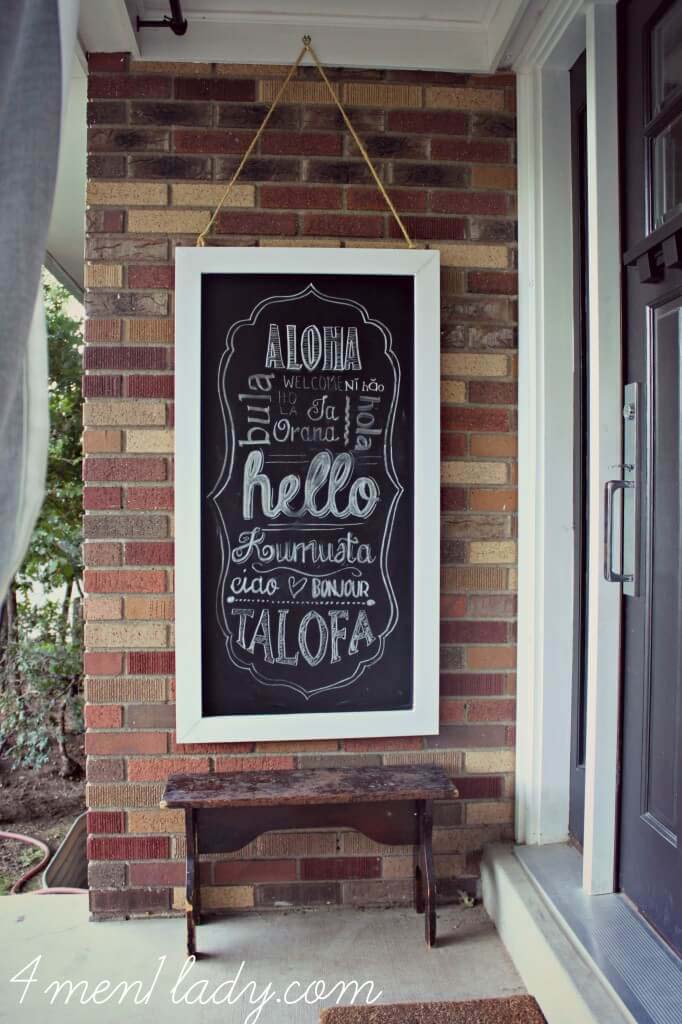 Old window frames are one of the most used repurposed materials for rustic decorations.
Be creative and use one as a frame for a chalkboard piece.
via 4 Men 1 Lady
14. Upcycle Metal Gutters to Enhance Veranda Design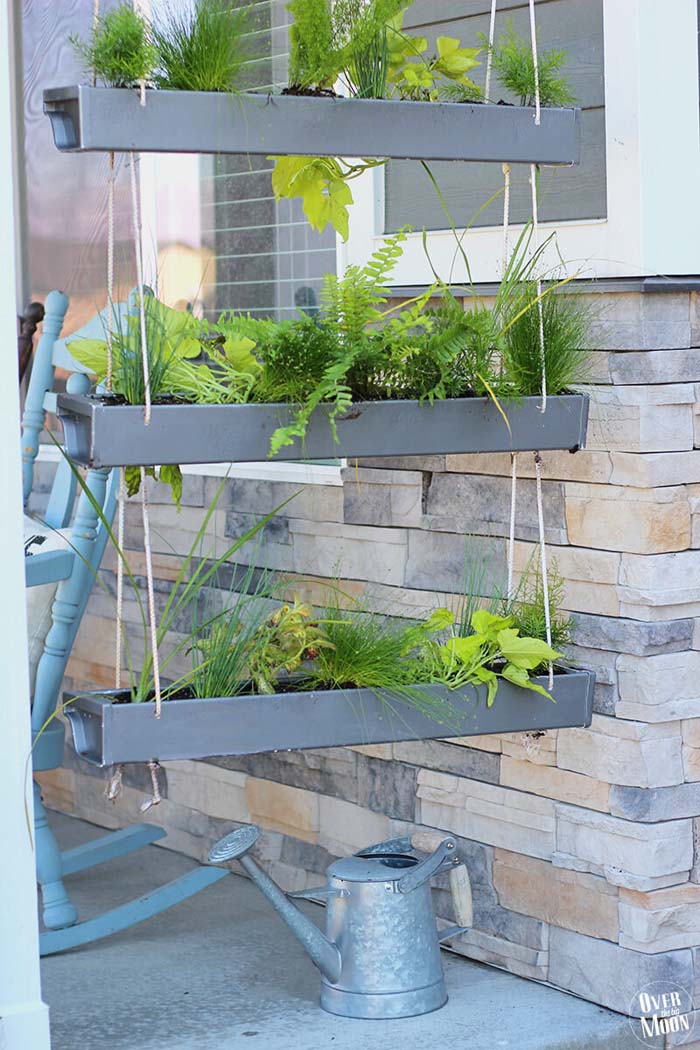 Small changes and additions can also contribute to the rustic design of the veranda – grow greenery into upcycled metal gutters.
Give them a unique design by tiering three of them with the help of rope.
15. Rustic Fall Veranda Decor with Vintage Milk Can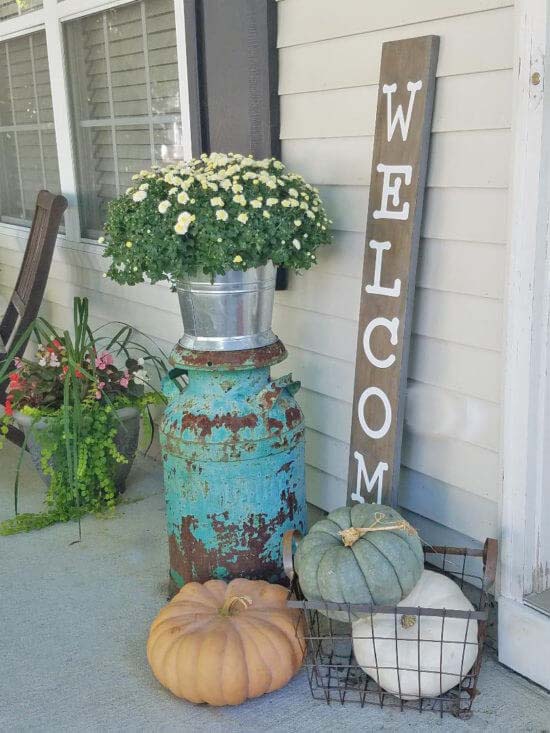 This vintage milk can serves as a great centerpiece of the veranda.
Combine it with pumpkins, some flowers and a worn wire basket.
16. Utilize Wrought Iron Crafts for Your Veranda Decor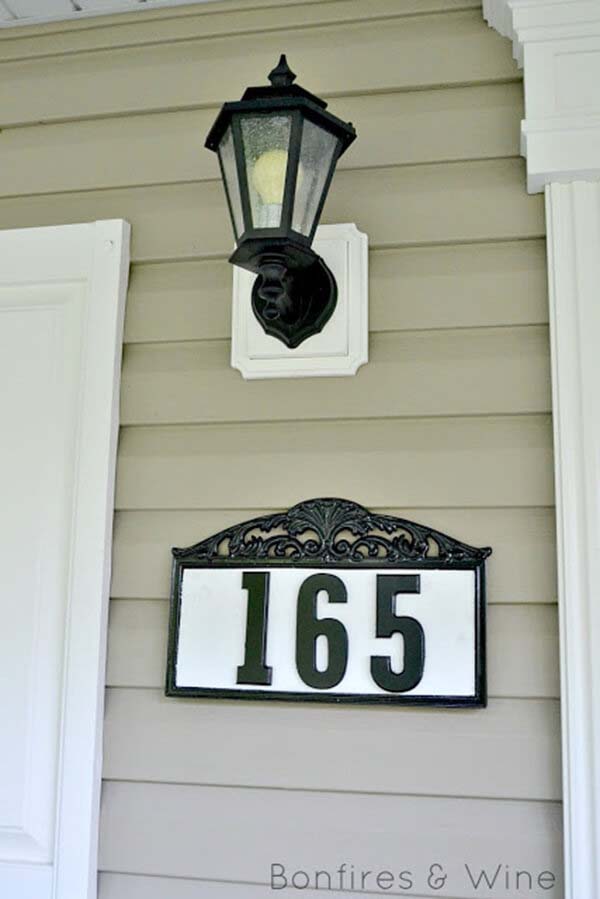 Wrought iron is one of the oldest crafts and it always fascinates with its fineness.
Choosing house hardware in wrought iron will foster the overall appearance of the house and the veranda in particular by adding a rustic touch.
via Bonfires & Wine
17. Decorate Your Veranda with Wooden Accents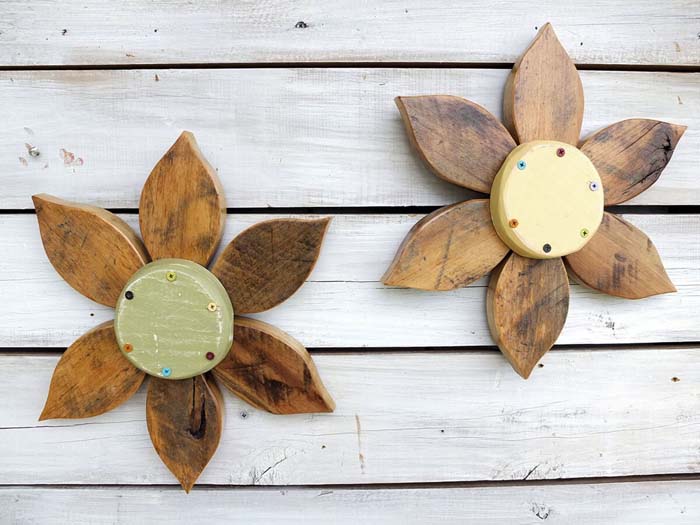 Small wood accents hung or nailed on the wall will make a great rustic accent to the veranda.
Whether in the shape of flowers, pumpkins, signs, old hangers etc., wood is among the best materials when it comes to the rustic design.

18. Welcome Sign with Reclaimed Wood and Tin Letters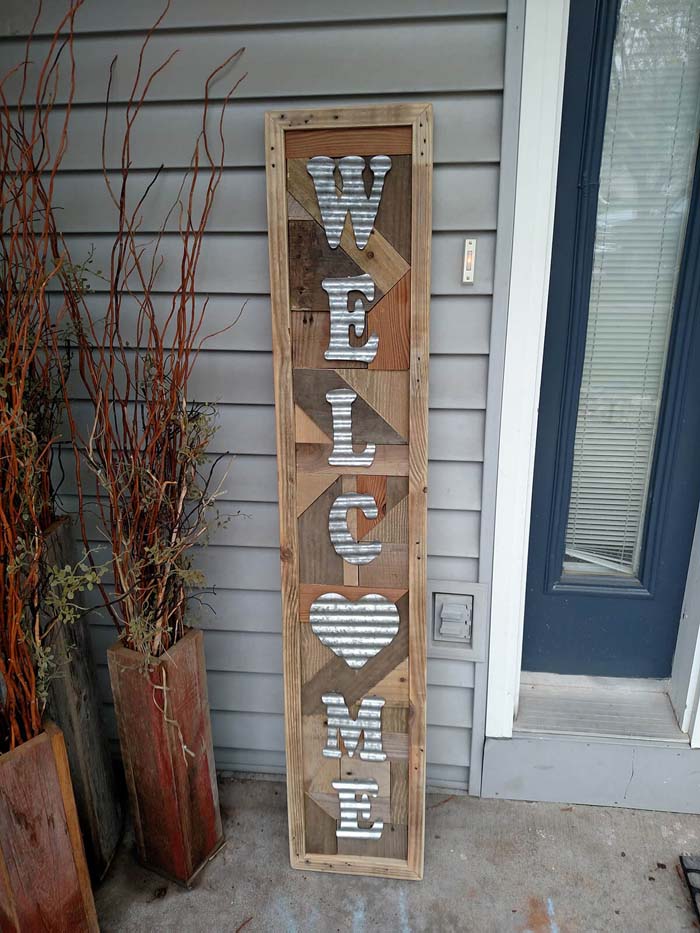 A mix between reclaimed wood and corrugated tin letters gives just the right amount of rustic look to the veranda with this artistic and one-of-a-kind welcome sign.

19. Personalize Your Front Door with Vinyl Stencils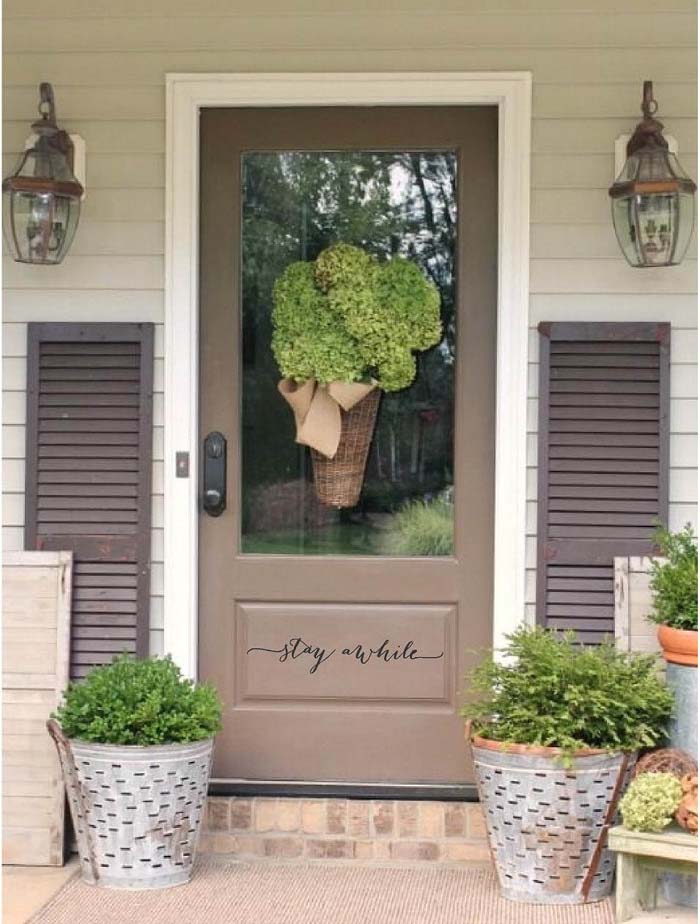 Add a rememberable sentence or a favorite thought to your front door.
The easiest way is to use vinyl stencils.

20. Decorate Your Veranda with Tall Wooden Vases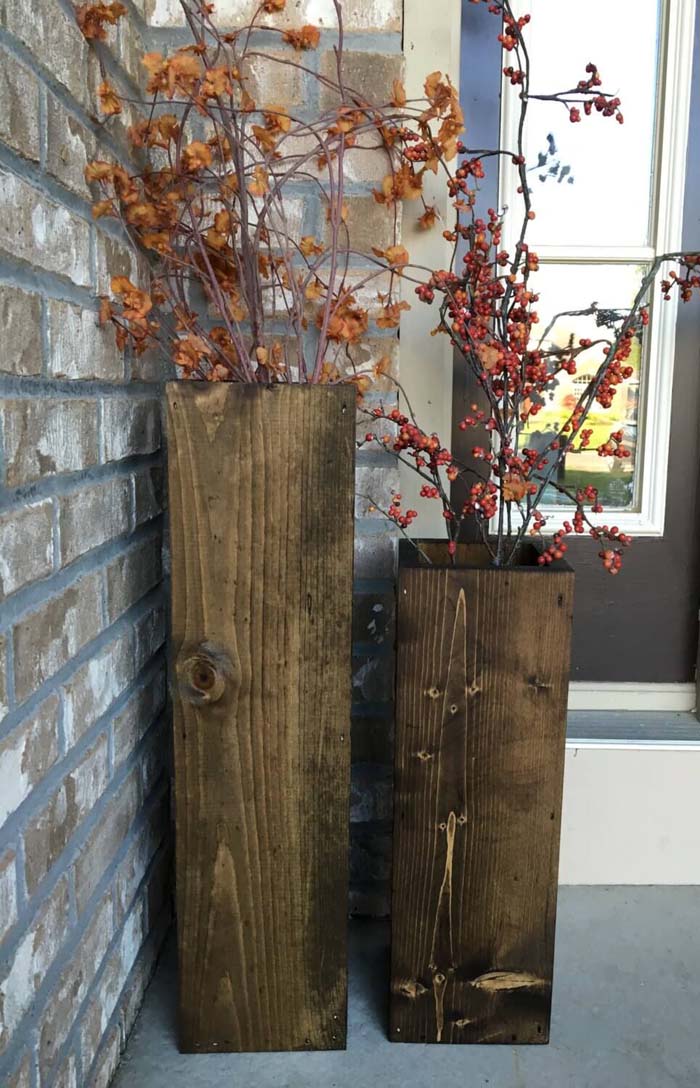 You can easily add rustic charm to your veranda with large wooden vases.
Add seasonal flowers, dry flowers, twigs or branches and give your veranda a more welcoming natural look.

21. Beautify Your Outdoor Living Space with Rattan Furniture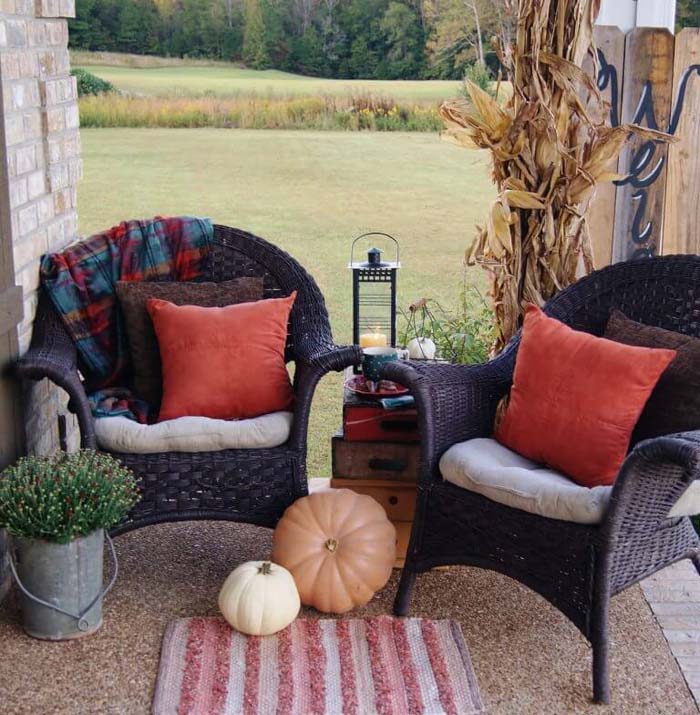 It is always right if you consider the external part of your home as an extension of the interior.
Therefore you need to take as much care of it, decorate it well and furnish it comfortably. Rattan furniture is affordable, beautiful, comfortable – one of the best rustic outdoor furniture.
22. Build a Rustic Veranda with Pumpkins and Baskets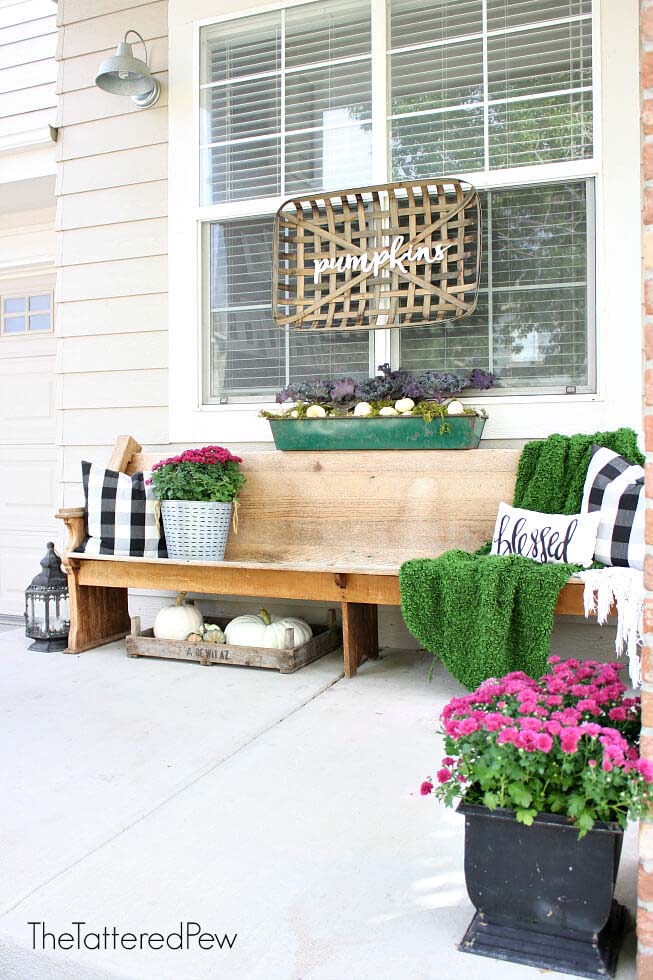 The focal point of the veranda is a must. If you love the rustic design, combine pumpkins, tobacco baskets, crates and vintage lanterns.
The more you experiment with their places, the more unique and cozy the effect will be.
via The Tattered Pew
23. Use a Rustic Wheat Wreath Decoration for Your Veranda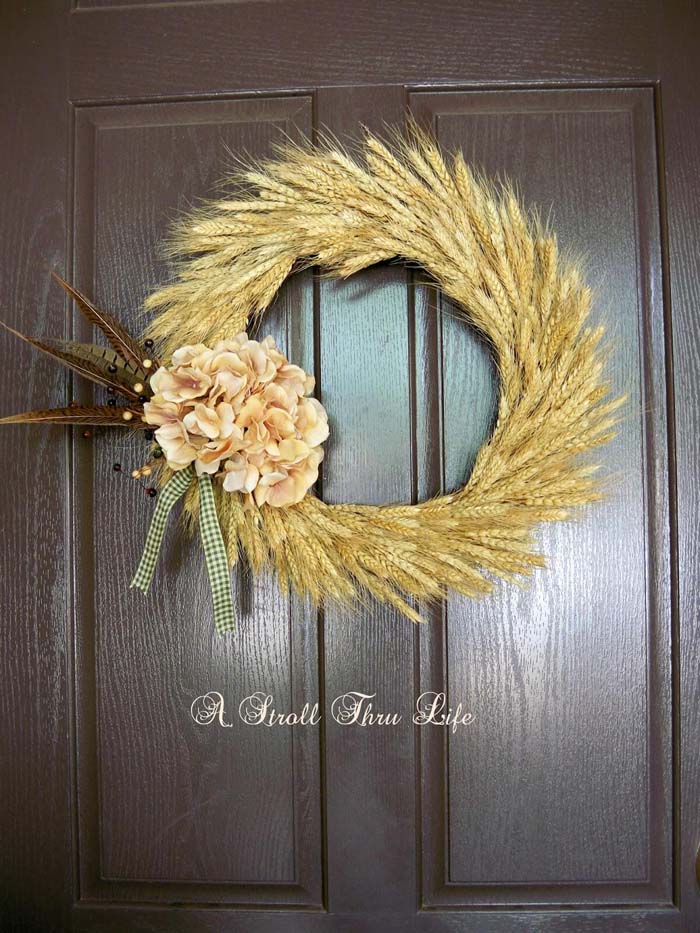 A simple decoration as the wreath may brighten the veranda space.
Making it from dry wheat instead of flowers will transform the standard into rustic.