Stepping stones may be the best decoration of the garden as they are not only beautiful but also very functional.
From modern to rustic you are given the opportunity to choose from a wide variety that will best suit your taste and garden specifics.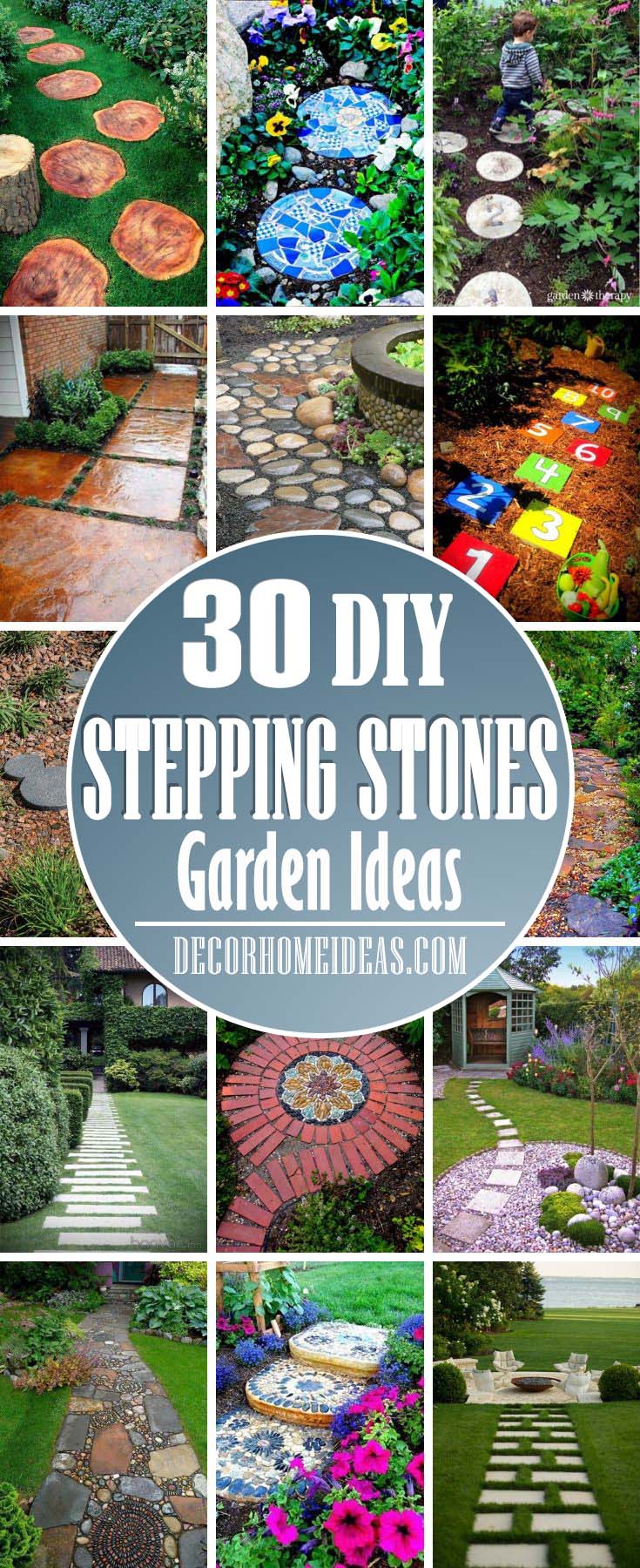 We have selected the best DIY ideas for stepping stones which include links to the tutorials and material lists. We are sure that you will find inspiration for your next garden project.
1. Arrange Tree Trunk Slices in a Zig-Zag Pattern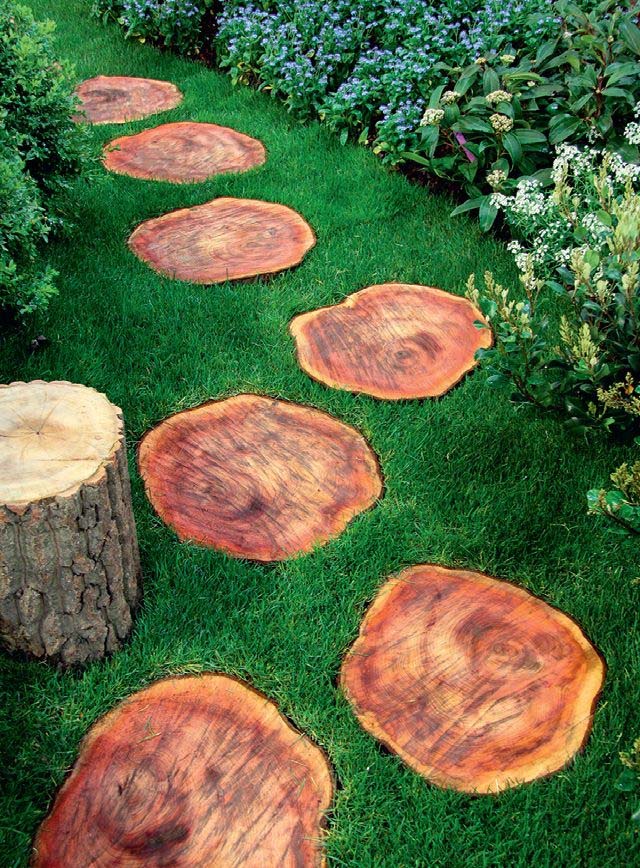 Cut a tree trunk into thick slices and beautifully arrange them in a zig-zag configuration.
Of course, you need to treat the wood in advance so that it is protected from rotting.
via Zielony Ogrodek
2. Make a Gravel Walkway with Wood Blocks in Your Garden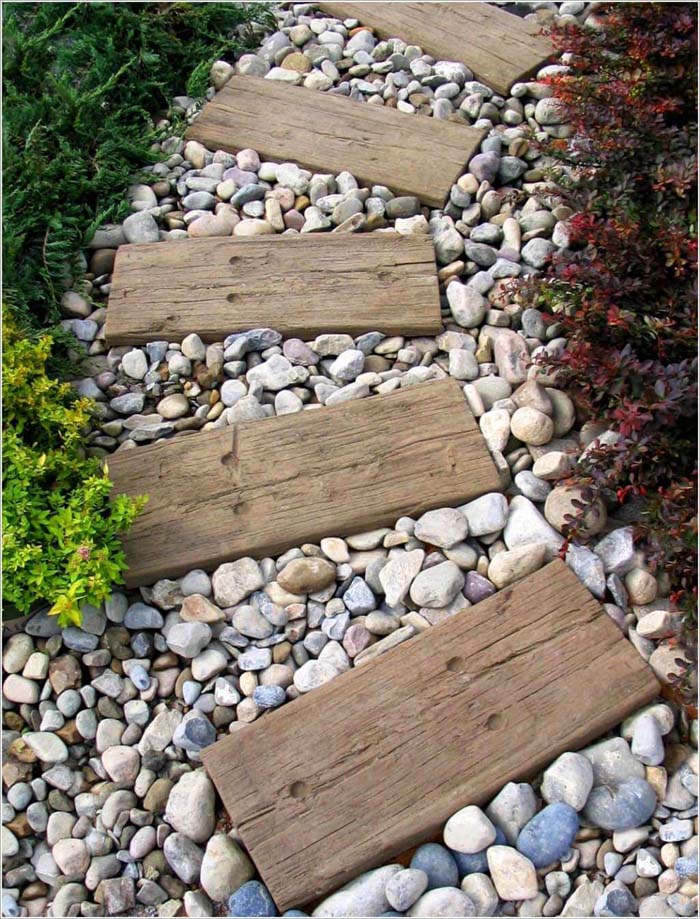 A quick way to divide a walkway in your garden is to heap a thick layer of gravel. It is advisable to first cover the soil with fabric that stops the weeds grow.
To form steps, you can use wood board cuts of the same length and align them along the gravel.
3. Create a Colorful Stepping Stone Pathway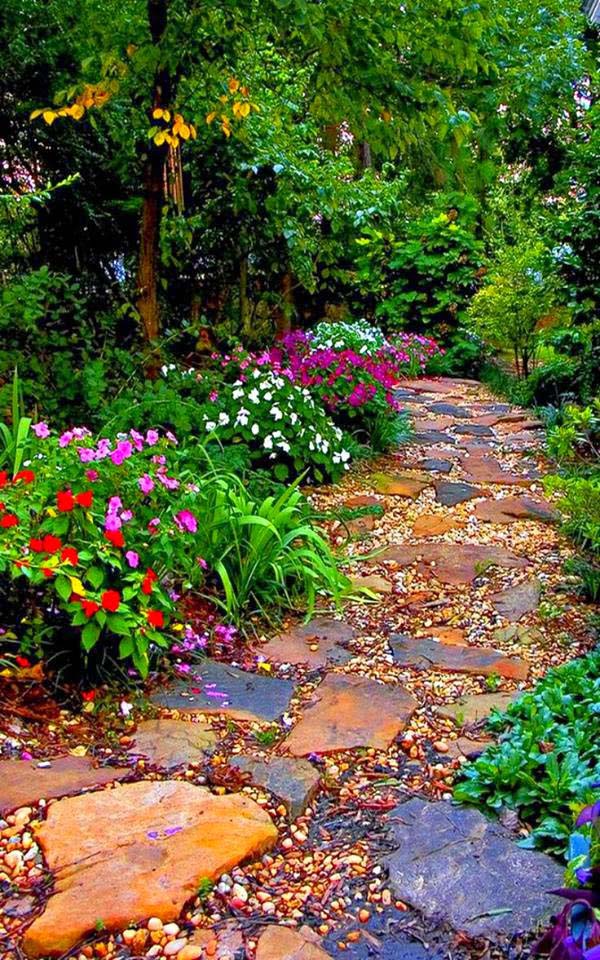 This idea is to use stones in the shape, size and colors they are and make a colorful stepping stone path.
Fill the clearance between the stones with gravel and outline the walkway with flowers.
4. Incorporate Durable Pathways with Granite Stones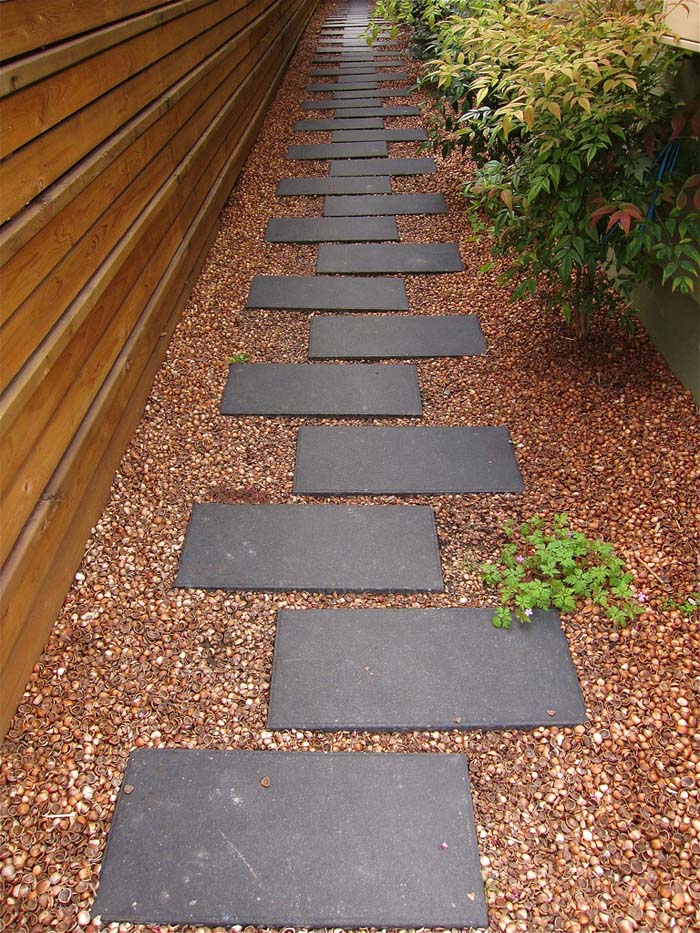 Granite stones are very durable and practical for surfaces that need to resist the weight and wear impact for a long time.
Arranged symmetrically they can make a harmonious stepping stone pathway in the garden.
via Paradise Express
5. Build Artistic Stepping Stones with Mosaic Techniques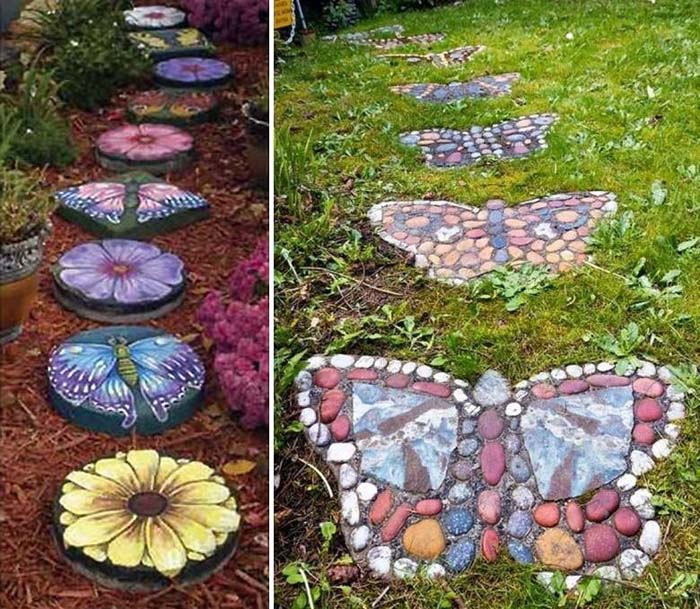 Stepping stones can be very artistic and they can be inspired by the wildlife. All stone shapes are made with concrete poured in a mold.
Once it has dried, apply mosaic techniques or suitable paints to fine the hatches of the chosen image.
via Upcycle Art
6. Create a Unique Garden Path with Mosaic Stepping Stones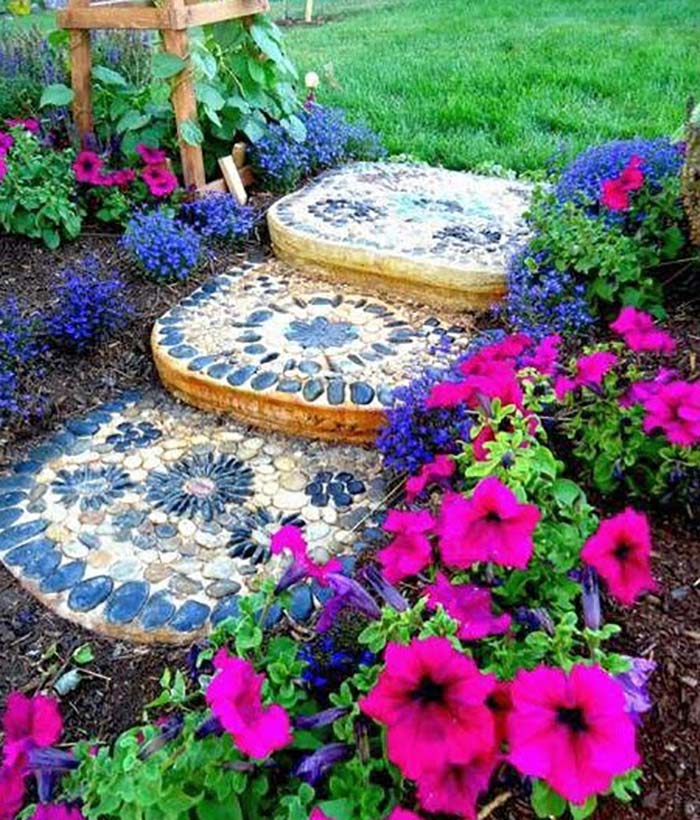 Mosaic stepping stones make a great impression in the garden. It is not difficult to make them as long as you have the right supplies on hand – gravel, river stones and grout.
Take advantage of the natural characteristics of the stones to form interesting shapes and images.
via Soulouposeto
7. Combine Different Molds for Impressive Stepping Stones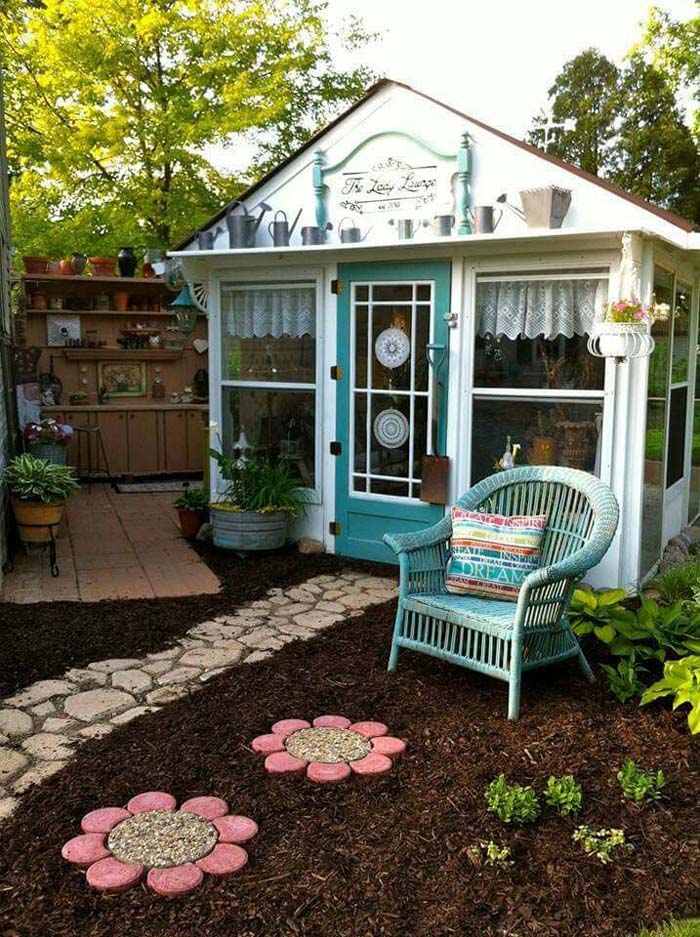 There are various stepping stone molds and they can be combined to make cheerful combinations. Use a larger round mold to make a concrete circle and seal pebbles on its top with grout.
This stone will form the stamen of a flower. The petals can be made of smaller round molds that are slightly modified to make a curve.
8. Create Custom Stepping Stones with Metal Pans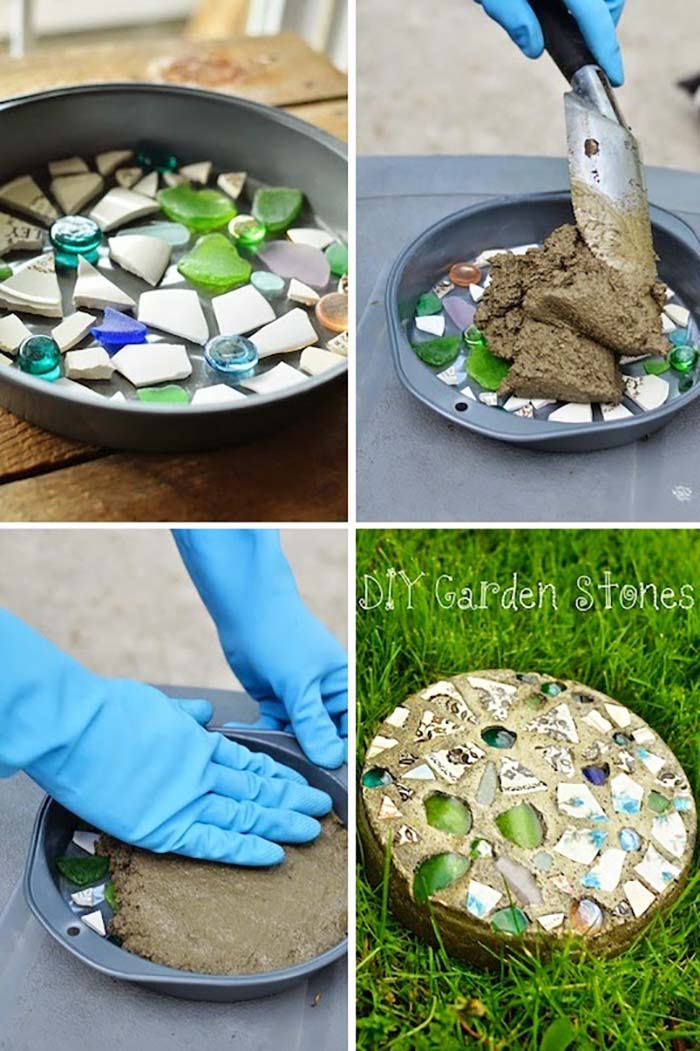 Any metal pan can be used as a mold to make as many stepping stones as you like and need.
Add more color and glitter by covering the bottom of the pan with pieces of broken China or glass.
9. Style Your Garden with Stones and Gravel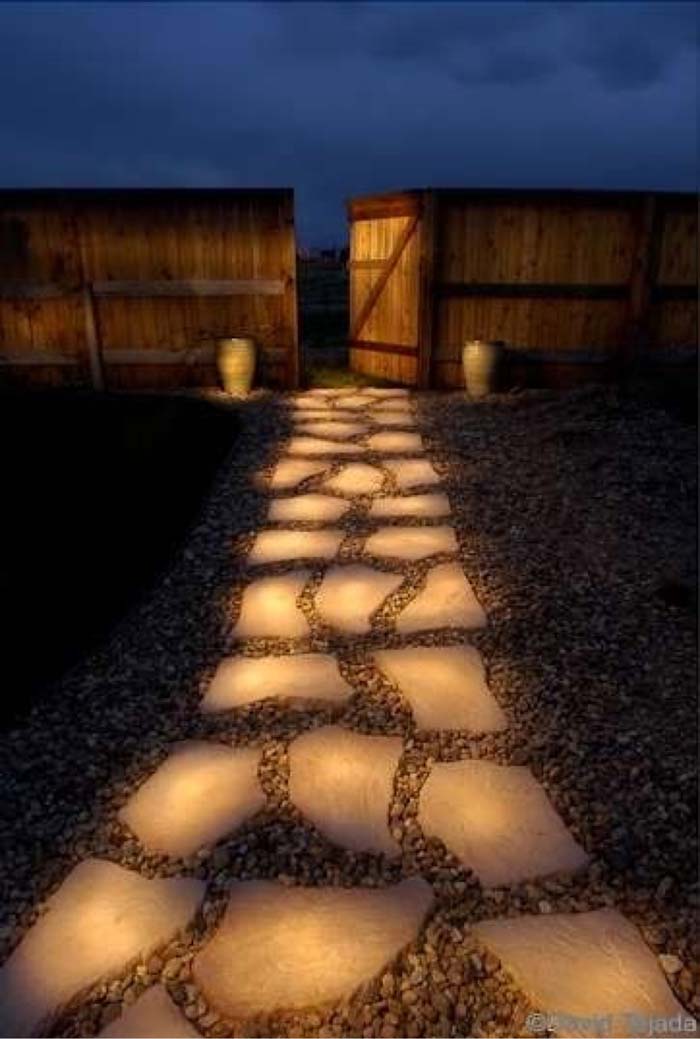 Gardens can be very stylish and that can be achieved with a balance between shapes and colors. Large flat stones can easily be turned into stepping stones.
Place along the garden leaving some space between them and fill the gaps with gravel.
via Haiku Deck
10. Create a Vintage Garden Path with Bricks and Pebbles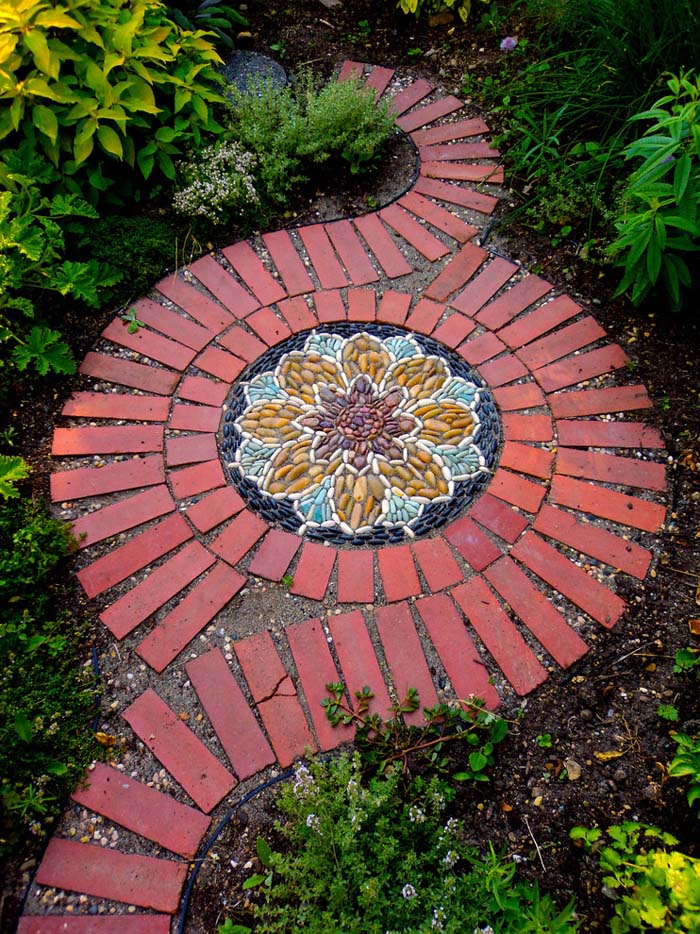 Ordinary bricks dug into the soil combined with ordinary pebbles of different colors make an extraordinary vintage garden path.
Make a dreamy ground bridge of stepping stones that surround a magical pebble flower.
11. Make Custom Stepping Stones with Sea Glass and Bricks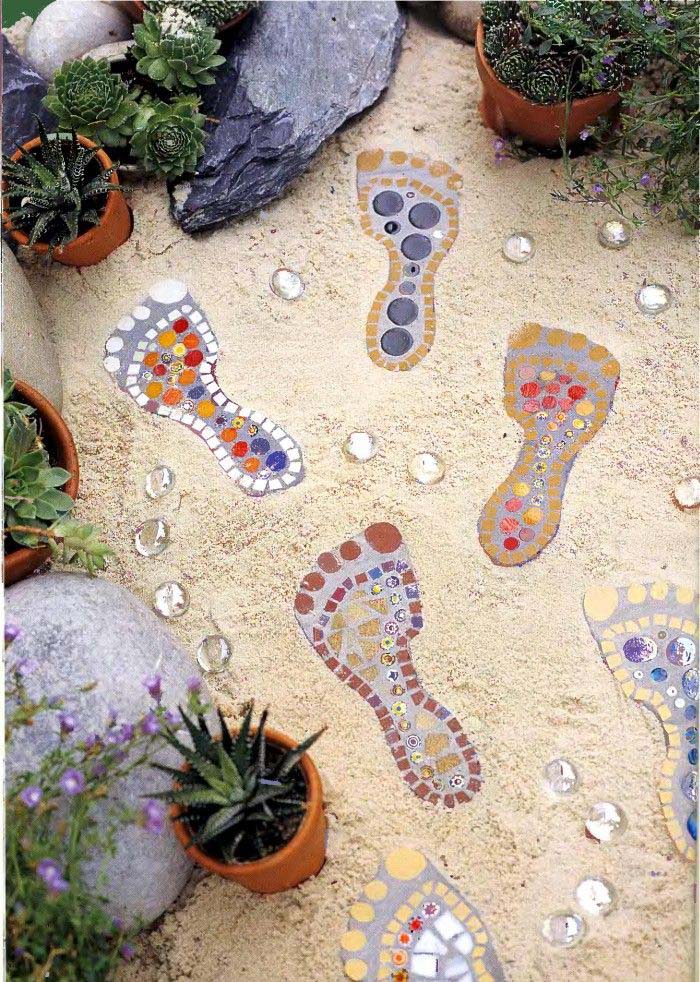 Stepping stones can be real footprints.
Make a mold in the shape of a foot, fill it with concrete and then insert sea glass, brick and other ceramic pieces to mark the places of the toes and create interesting shapes.
12. Fun Stepping Stones with Concrete and Broken Pots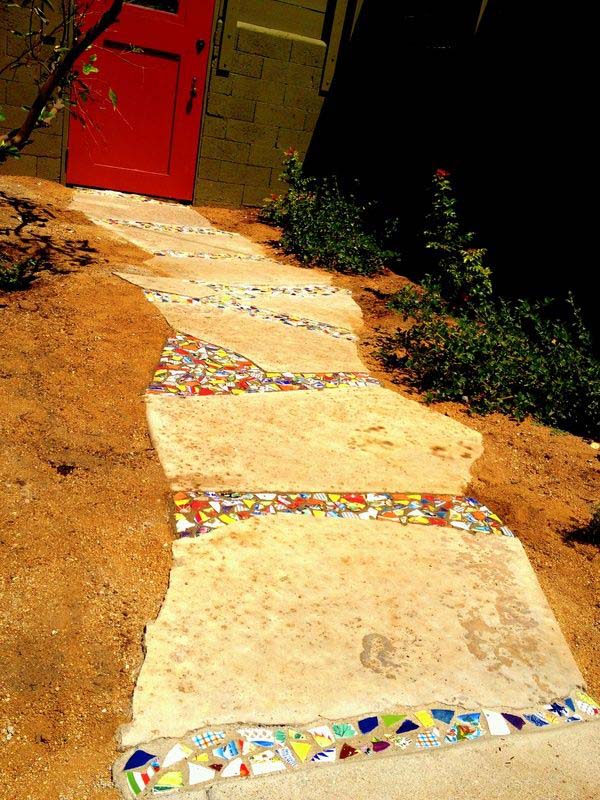 Go beyond the standards and make yourself fun stepping stones with the help of cheap materials.
Apply a layer of concrete over a flat surface and decorate one of the ends with broken pot pieces.
13. Craft a Pebble Art Frame for Your Stepping Stones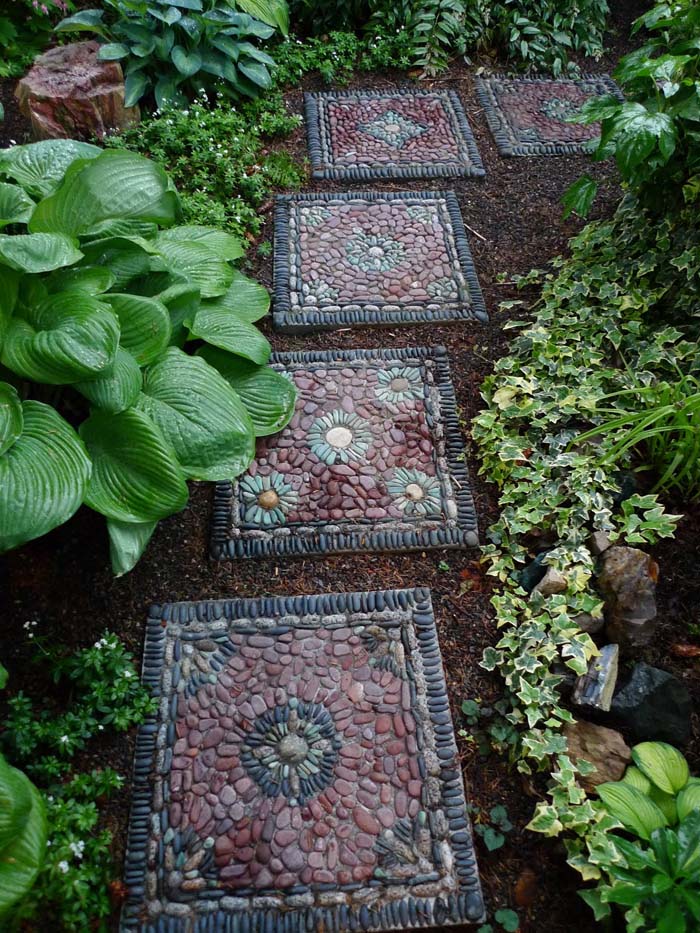 Make a wood frame in a square shape, fill it in with mortar and make an artistic pebble image.
Put a plywood sheet on top of the pebbles and step on it.
Thus the pebbles will all come to the same level and will stick rigidly into the mortar.
14. Create a Mediterranean Garden with Stepping Stones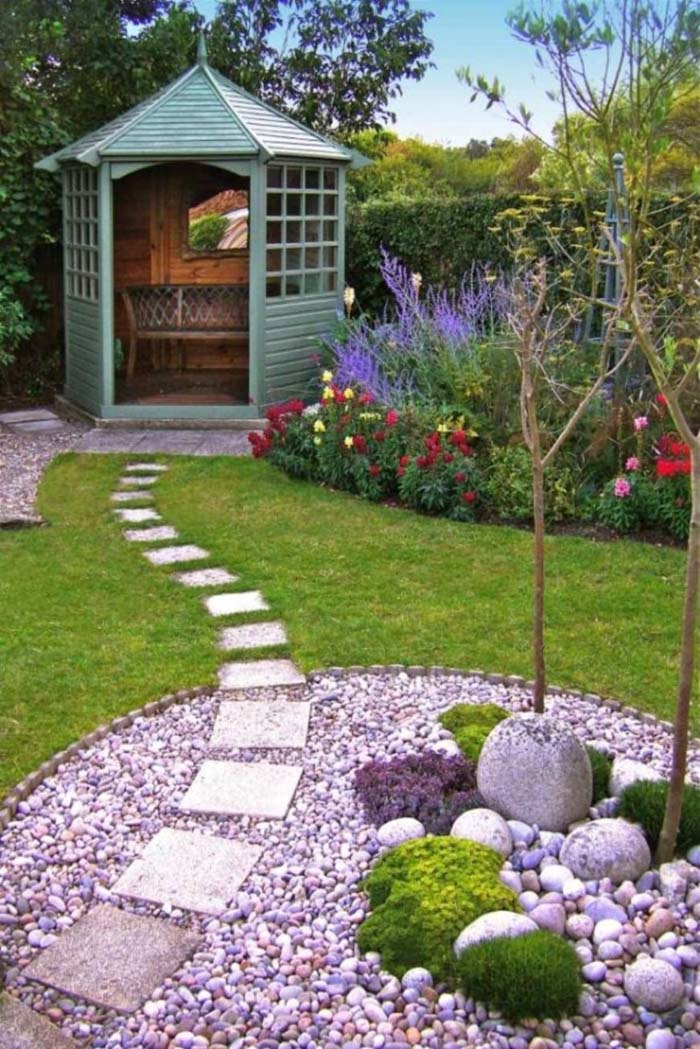 Standard paving stones can be used as garden stepping stones easily and quickly. Arrange them in a straight or curved line, leave some space between each of them and let the grass grow in between.
The garden will easily take a Mediterranean look.
via Cote Maison
15. Use Stepping Stones Path for a Garden Focal Point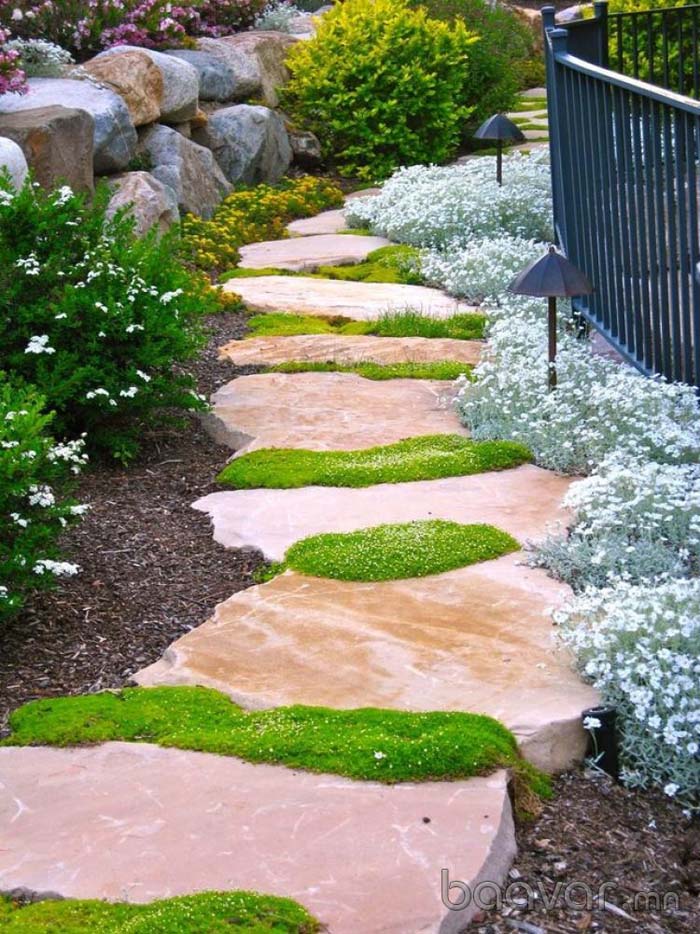 This is another idea to use thick flat stones as stepping stones.
Align them on the ground and decorate the gaps with moss or grass. The path will be a sturdy and beautiful addition to the garden.
16. Create a Floral Pathway with Concrete Leaves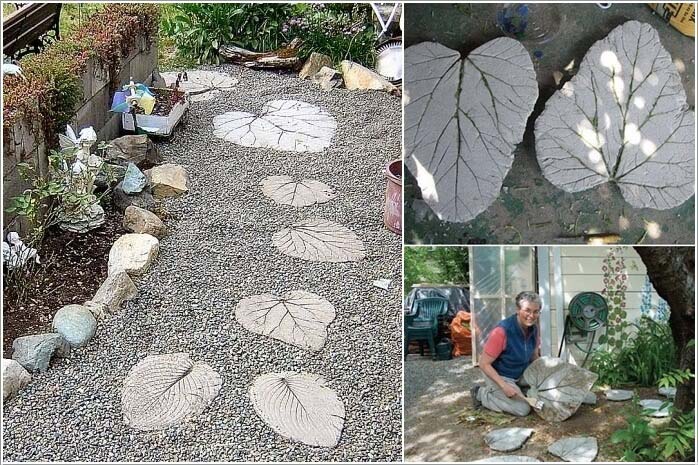 Lay concrete or mortar onto a plain burdock leaf. Let it dry and peel off the leaf.
Embed them into the soil or a gravel layer and make a beautiful inspired by the flora walkway.
17. Use Greenery to Enhance Your Stepping Stones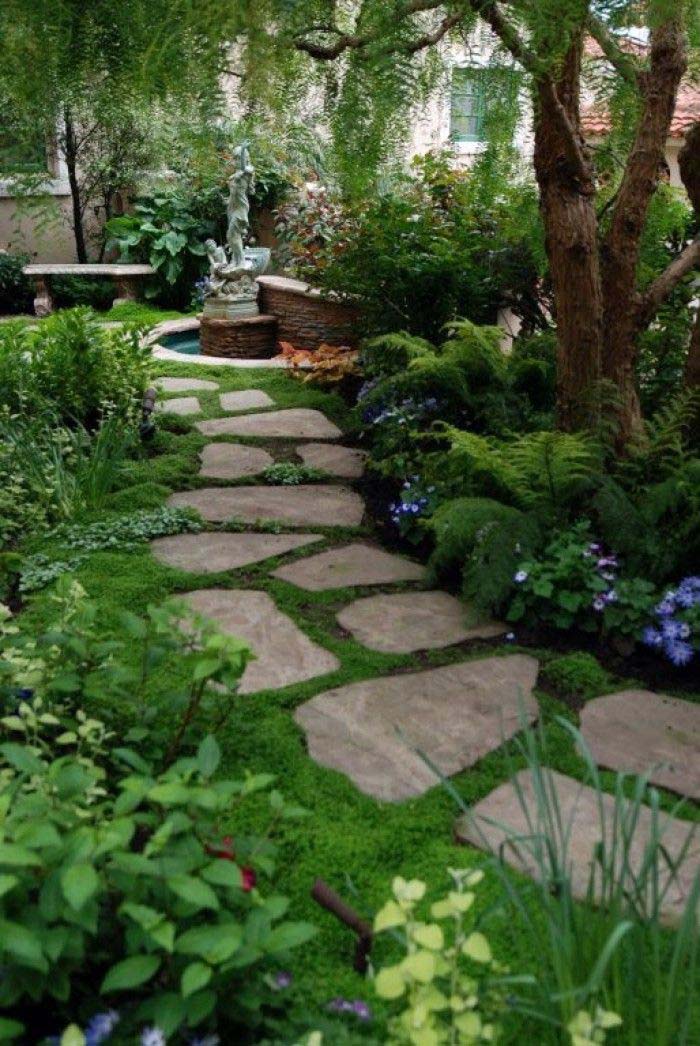 The best time to include the stepping stones into your garden landscape is at the beginning of the summer.
Put flat stones onto the ground and plant rye-grass. Soon the stepping stones will be comfortably cuddled by the grass.
via HomeEst
18. Make Cheerful Hopscotch with Colorful Stepping Stones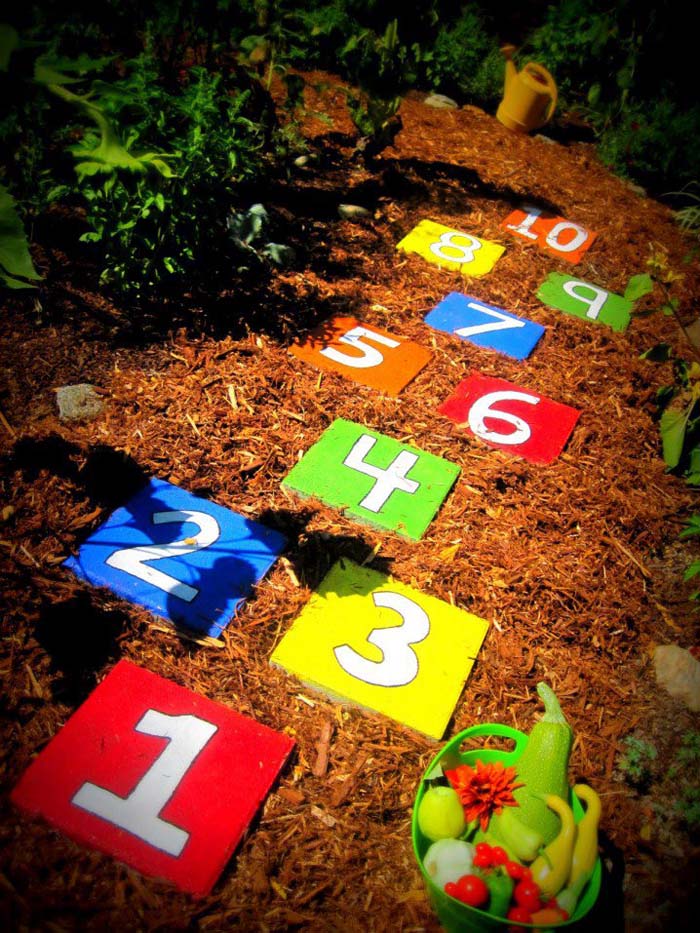 Stepping stones can be fun and will make cheerful hopscotch.
Combine functionality with fun and make yourself stepping stones in different colors. Mark the numbers from 1 to 10 and arrange them in a hopscotch pattern.
via Eirinika
19. Decorate a Garden with Mickey Mouse Stepping Stones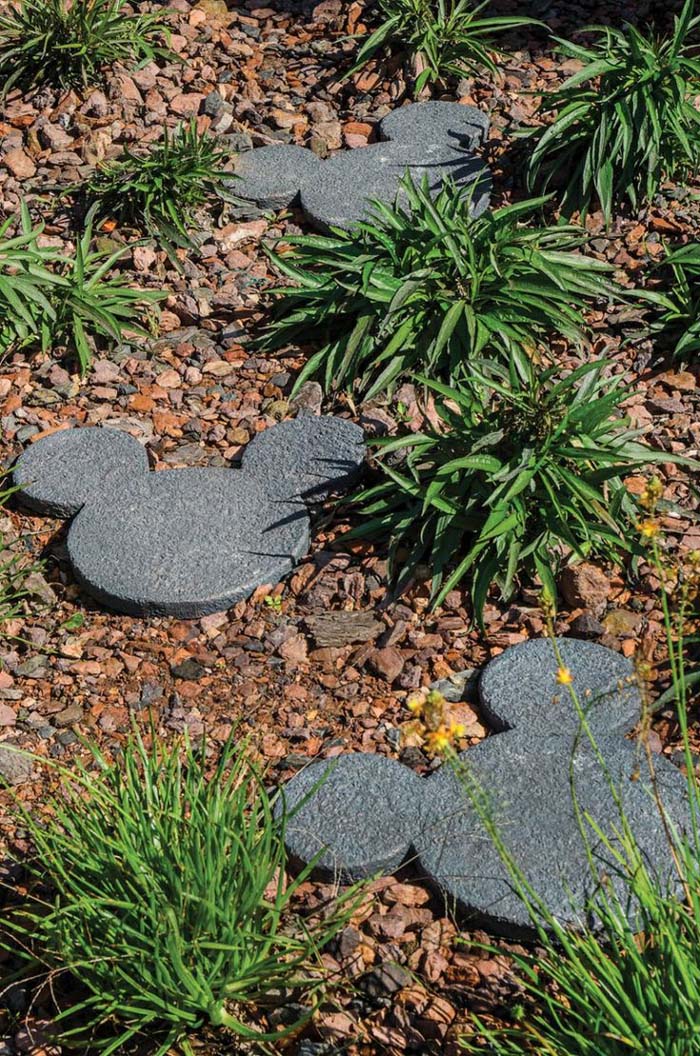 Mickey Mouse is a favorite character of all kids, even the grown-ups, so you can easily include them in your garden décor.
All you need is to get a mold in that shape and fill it in with concrete, mortar or other suitable material.
20. DIY Concrete Stepping Stones with Pebbles Numbers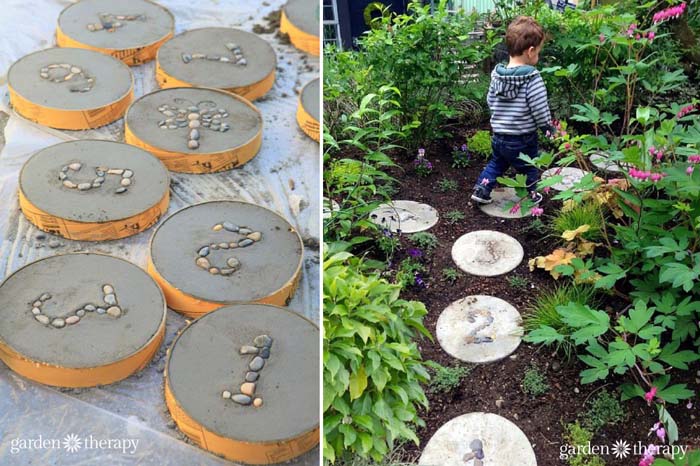 Stepping stones can be educational, fun and practical. Combine all of these in one DIY stepping stone project. These round stepping stones are made of concrete.
The numbers have been made by adding pebbles or small stones in the concrete while still wet.
via Garden Therapy
21. Utilize Natural Pebbles for Maximum Visual Impact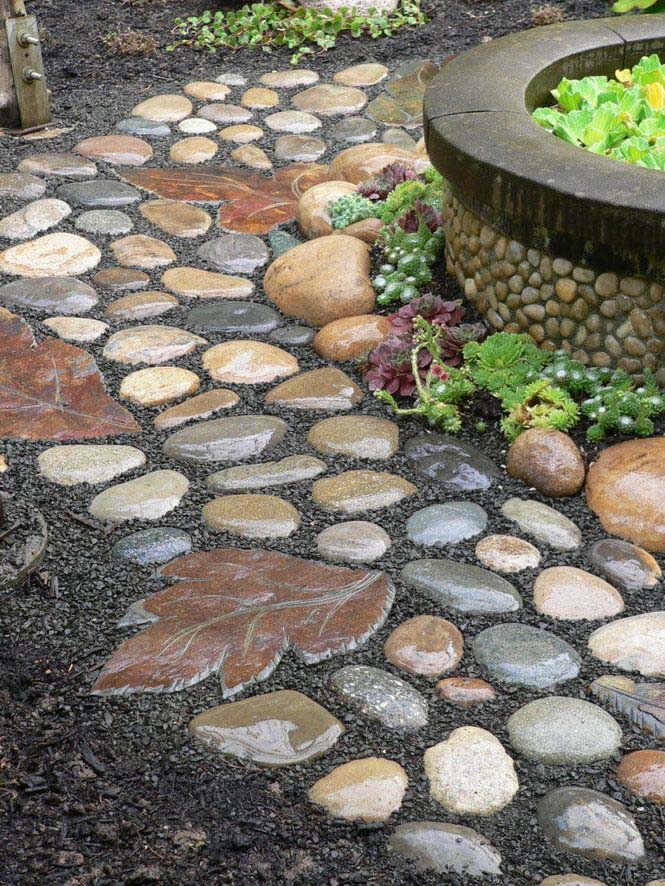 The unaffected beauty of the natural stone must be used in the correct way.
Stones have to stand out from the background so it will be best if the gaps between them are grass or small gravel surface.
22. Natural Stepping Stones for Rustic Garden Decor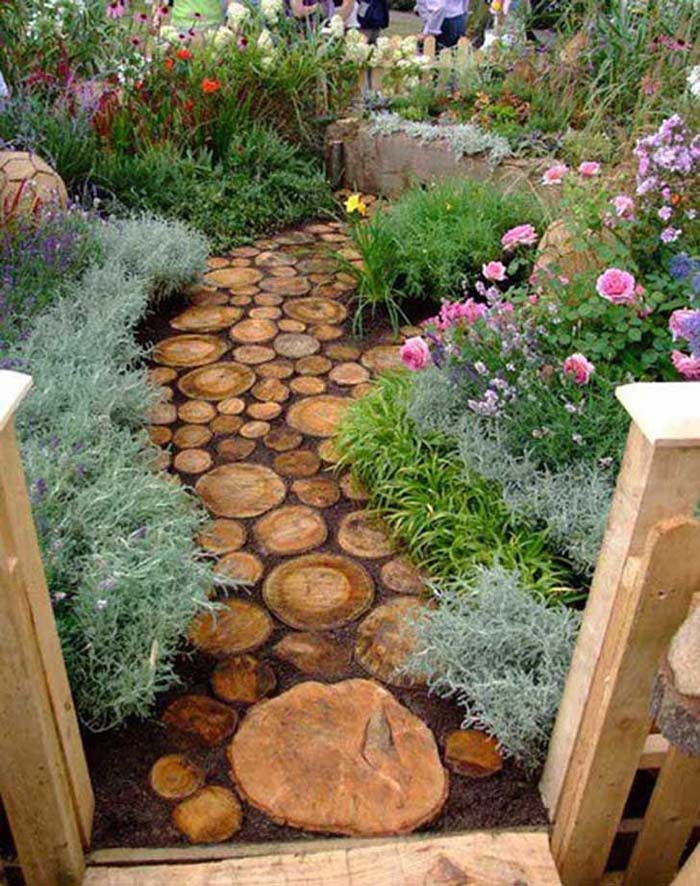 Although the basic idea is that the stepping stones should be practical, we shouldn't forget about their decorative contribution.
If your home is decorated in rustic design, you may extend the style to the stepping stones in the garden.
Treated trunk slices embedded in the soil are just the perfect natural stepping stone.
23. Showcase Your Creativity with Mosaic Stepping Stones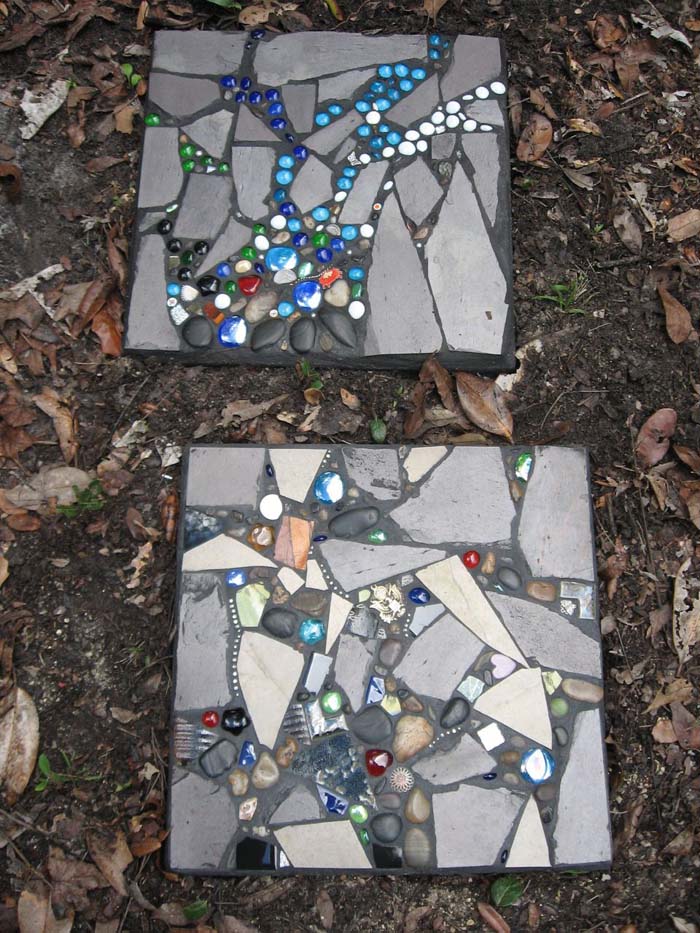 This is another idea to make stepping stones with our favorite mosaic! Use faux gems, beads, pieces of glass pottery, small pebbles and insert them in the molded mortar.
The stepping stones will shine under the sunlight.
via Live Internet
24. Organized Stepping Stones for a Zen Garden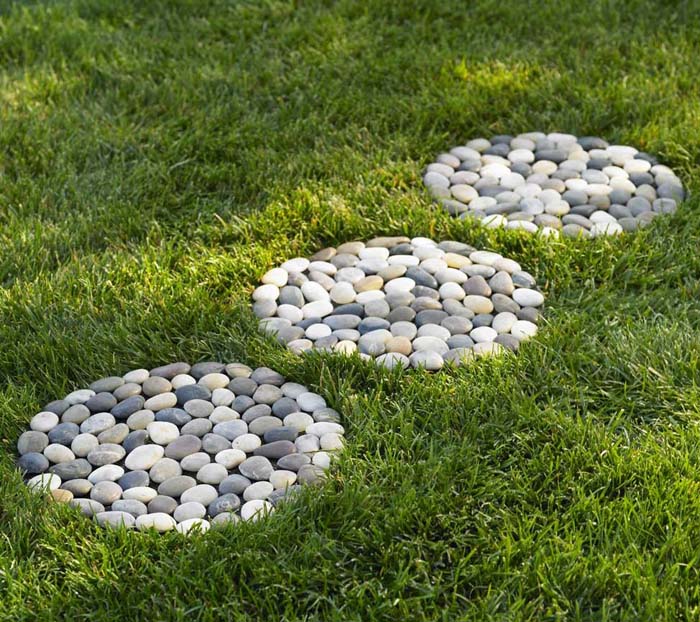 Stepping stones can contribute to a zen garden! All you need to do is to seal river rocks onto a concrete foundation with a round shape.
25. Elevate Garden Walkway with Concrete Stepping Stones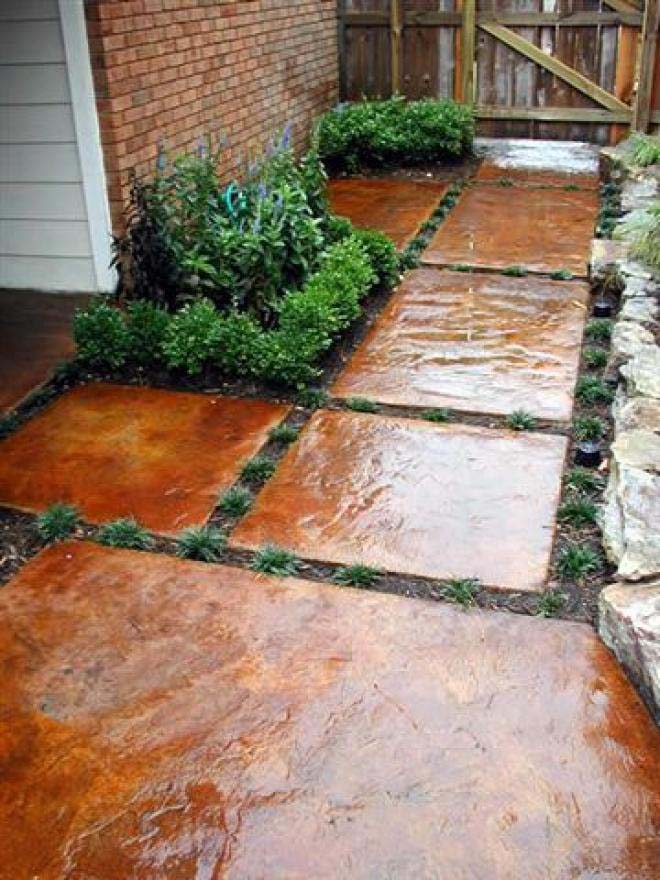 You can easily change the color of the concrete stepping stones by staining them in a color you like.
It is very easy and you can change the look of your garden walkway every summer.
via Artup!
26. Use Modern Concrete Landing Pads for Your Pathway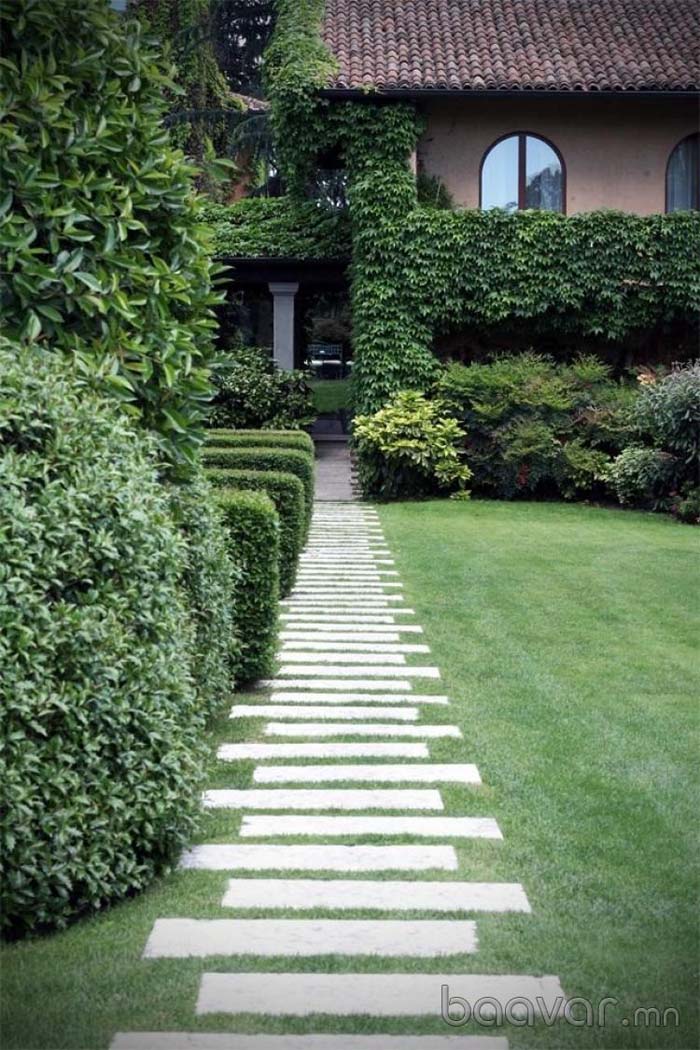 These concrete landing pads are the contemporary look of the stepping stones.
You can easily make them as long as you have a large rectangular mold.
27. Create Your Garden Oasis with Stepping Stones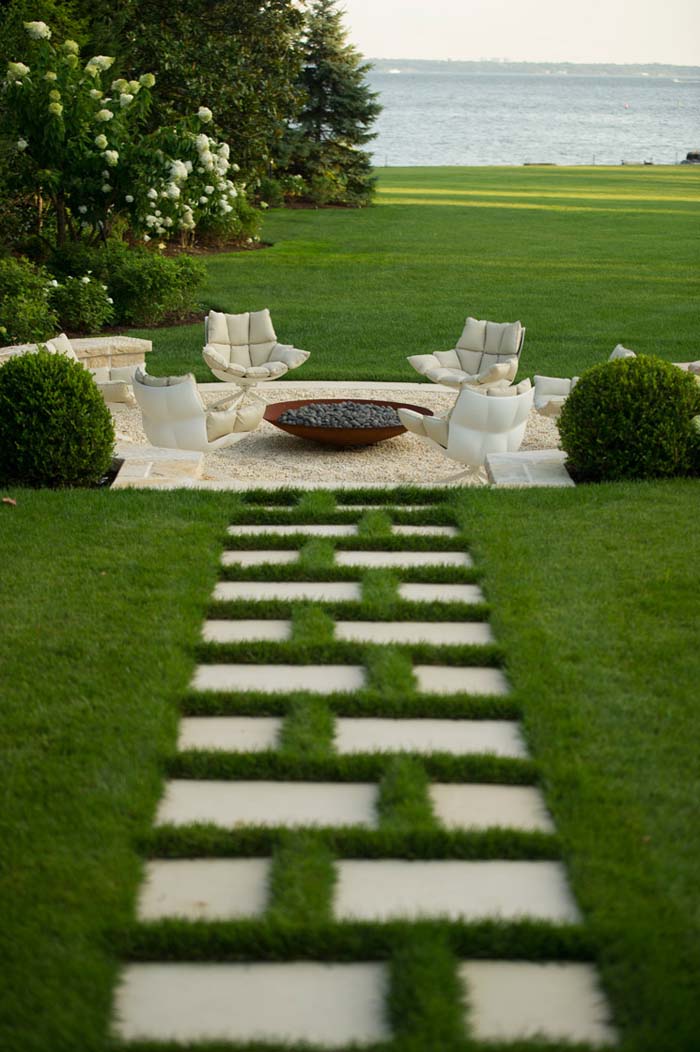 Stepping stones may be the perfect pathway to a magical nook from your garden.
You can play with shapes or use the same shape but in different lengths to lay the steps to your oasis.
28. Decorative Stepping Stones for Your Garden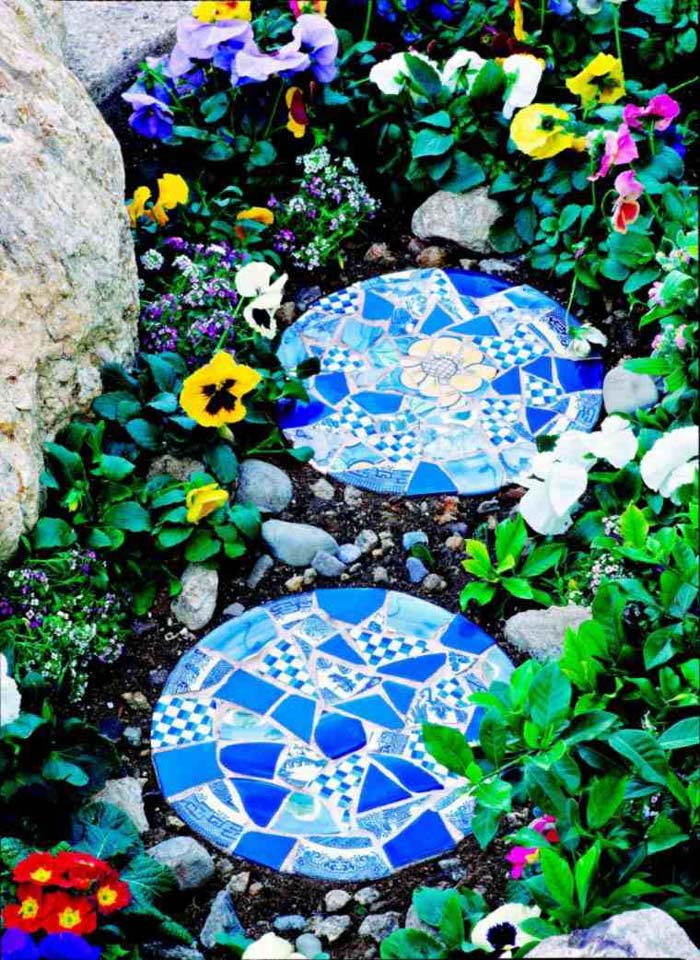 Attracting attention to your garden will be easy peasy if you have such stepping stones in it. Concrete or mortar round shapes are decorated with broken pottery pieces in the same palette.
via Design Mag
29. Construct a Long-Lasting Pathway with Mosaic Stones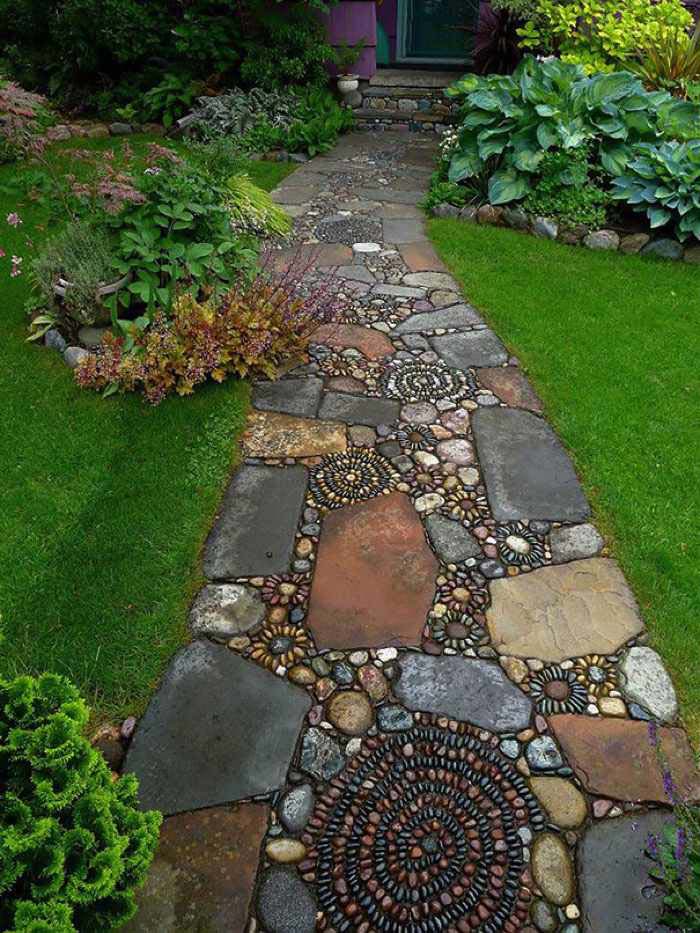 Colorful stones arranged in a pattern and surrounded by larger rocks will create a unique and picturesque mosaic path to your house.
Put the pieces as thick as possible to each other and this stepping stone walkway will last for many years.
30. Modern Walkway with Rectangular Stepping Stones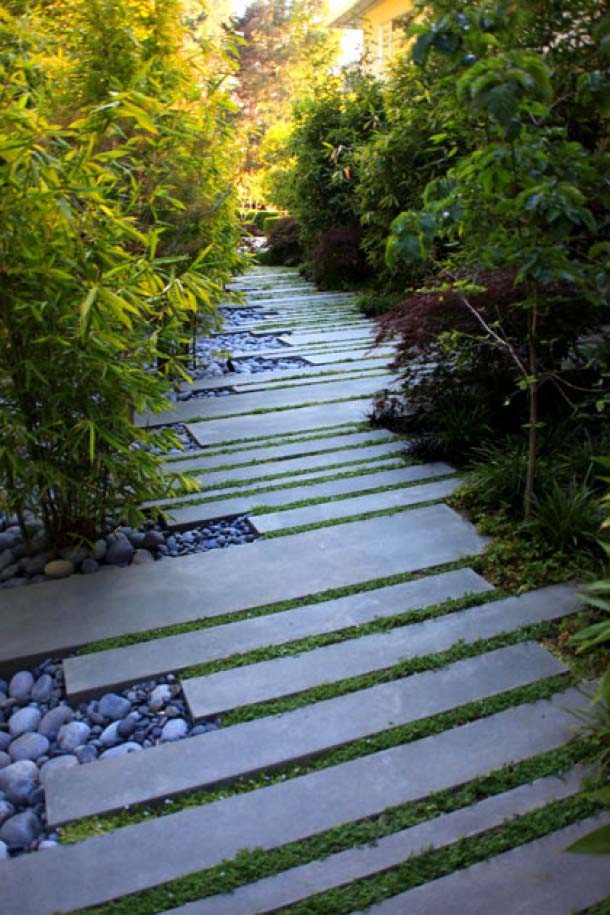 Varying the size of rectangular concrete stepping stones, you can build yourself a contemporary walkway in your garden.
Decorate with gravel, river rocks and leave the grass to grow in between the stepping stones.