Need a budget-friendly and stylish walkway idea? The concrete walkway is what you should be looking for. It features a modern look, offers stability and cooperates well with all landscape elements.
What is the cheapest way to make a walkway?
The cheapest way to make a walkway is to do it yourself. There are plenty of ideas with tutorials that will let you create a passenger's path without breaking the bank.
How do you make a concrete walkway look good?
First, you have to plan all details in advance. That are location, size, shape, and texture of the concrete.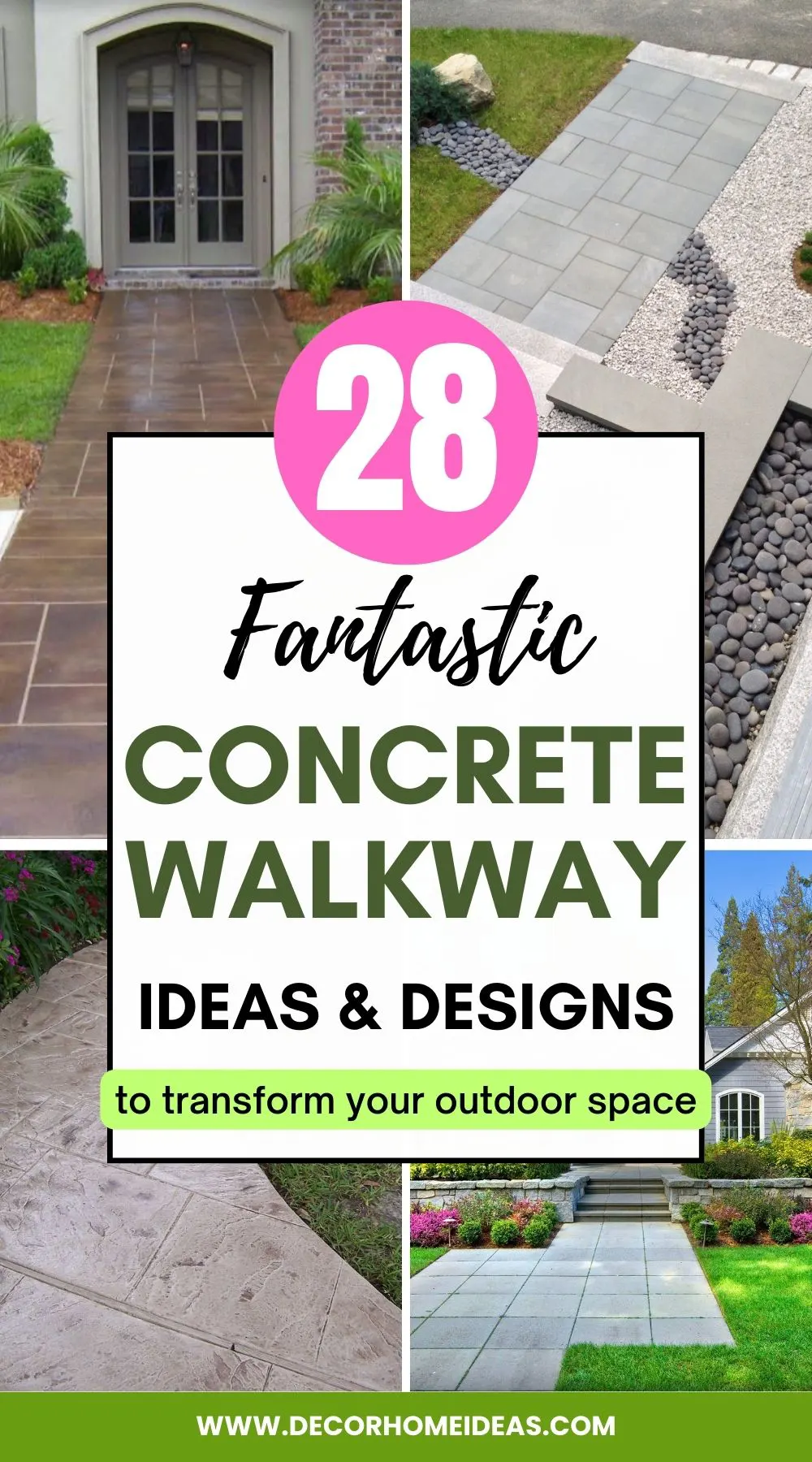 I. Introduction
Concrete walkways have become very popular recently because of their modern look which instantly improves the curb appeal and also of their sturdiness. Wood planks look good but they are prone to quick rotting when installed outdoors. Concrete, on the other hand, looks as good and can resist for many years to come.
In addition to the sturdiness of the concrete walkways, there are more benefits to take advantage of. Nowadays concrete can have an artistic look with the offered textures. There are molds to shape the concrete as bricks, tiles and stones. There are also decorative concrete mixtures that transform plain concrete into a unique outdoor material. Last but not least, concrete is easy to work with.
II. Types of Concrete Walkways
The concrete walkway types that are most commonly designed are stamped and molded concrete. For the stamped concrete, you may need a specialist to come with a machine but for the molded type, you can get one mold and make the walkway yourself. Polished concrete walkways are another good-looking option that uses special mediums and tools to get the final look.
Design Ideas for Concrete Walkways
1. Concrete Walkway Stamped As Stones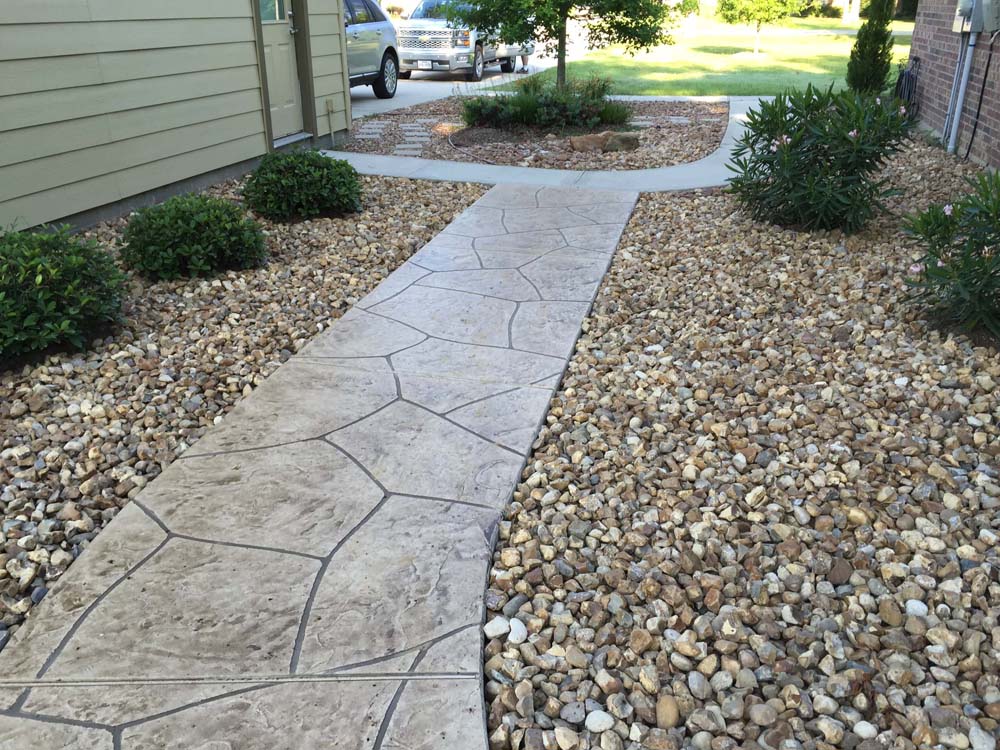 This walkway idea is an example of a modern outdoor element. The concrete is stamped in the shape of stones to cohere with the adjacent natural landscape. The multi-color gravel is the perfect choice for a filling at the sides of the walkway.
2. Concrete Walkway Stamped As Tiles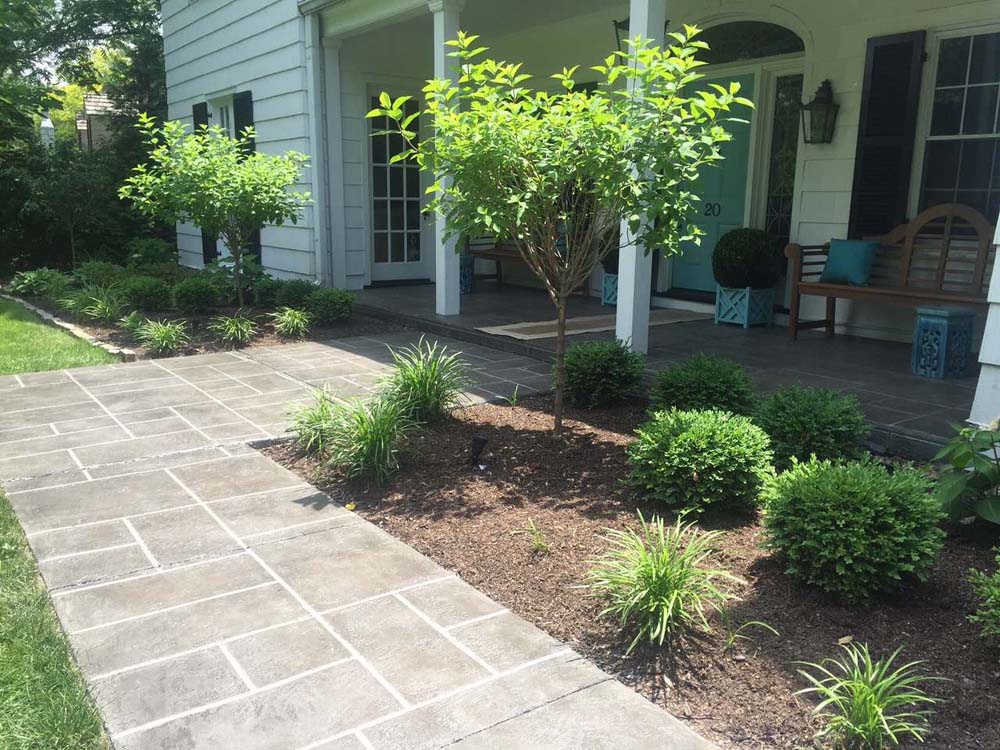 If you like the traditional designs, you can still go for a concrete walkway but with tile stamps. The sizes of the tiles vary and can be customized.
via CustomCrete
3. Polished Concrete Slabs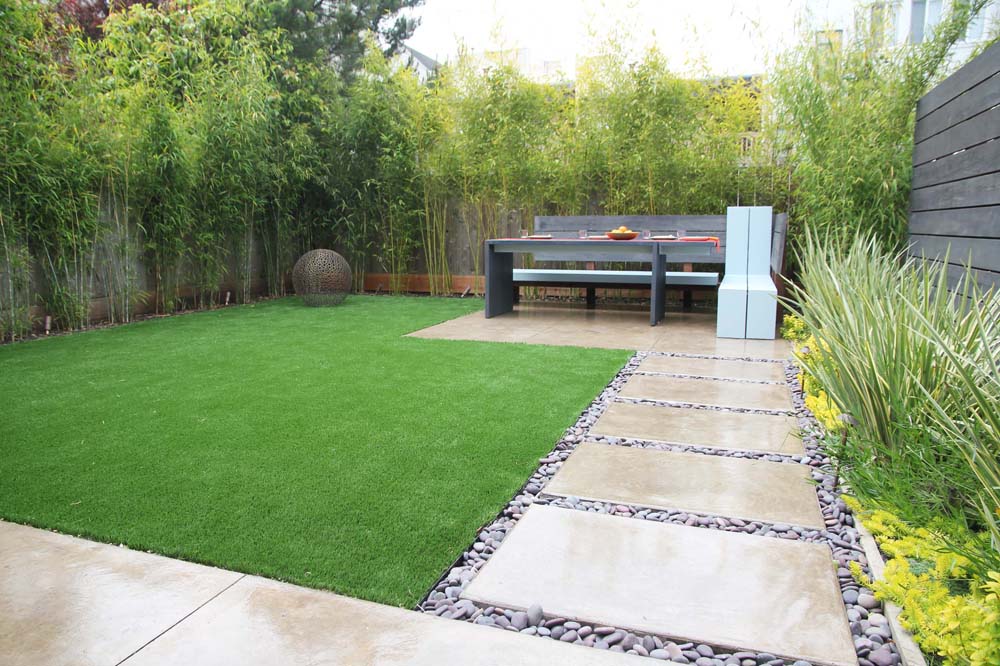 The concrete walkway can consist of slabs instead of being an integral path. The slabs you see here are polished to reflect the natural light and match the well-maintained minimalist surrounding.
via Boxleaf Design
4. Concrete Walkway From Tile Slabs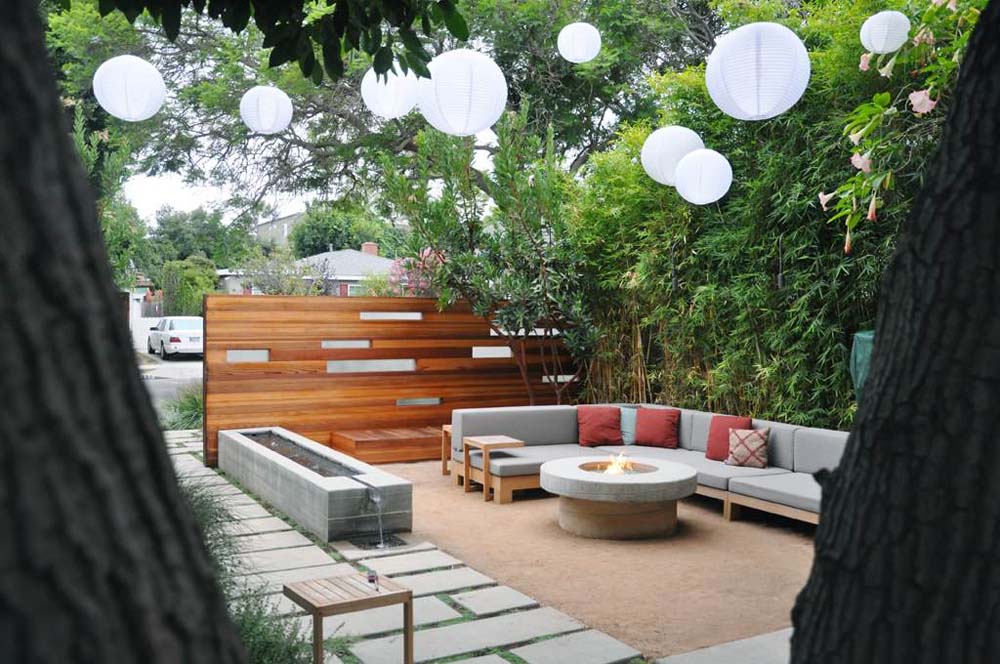 In this concrete walkway idea, the pathway is made from slabs mimicking tiles. They are positioned at equal spacing filled with green grass.
The symmetrical pattern and modern finish complement the contemporary outdoor living space.
5. Stamped Slabs Concrete Walkway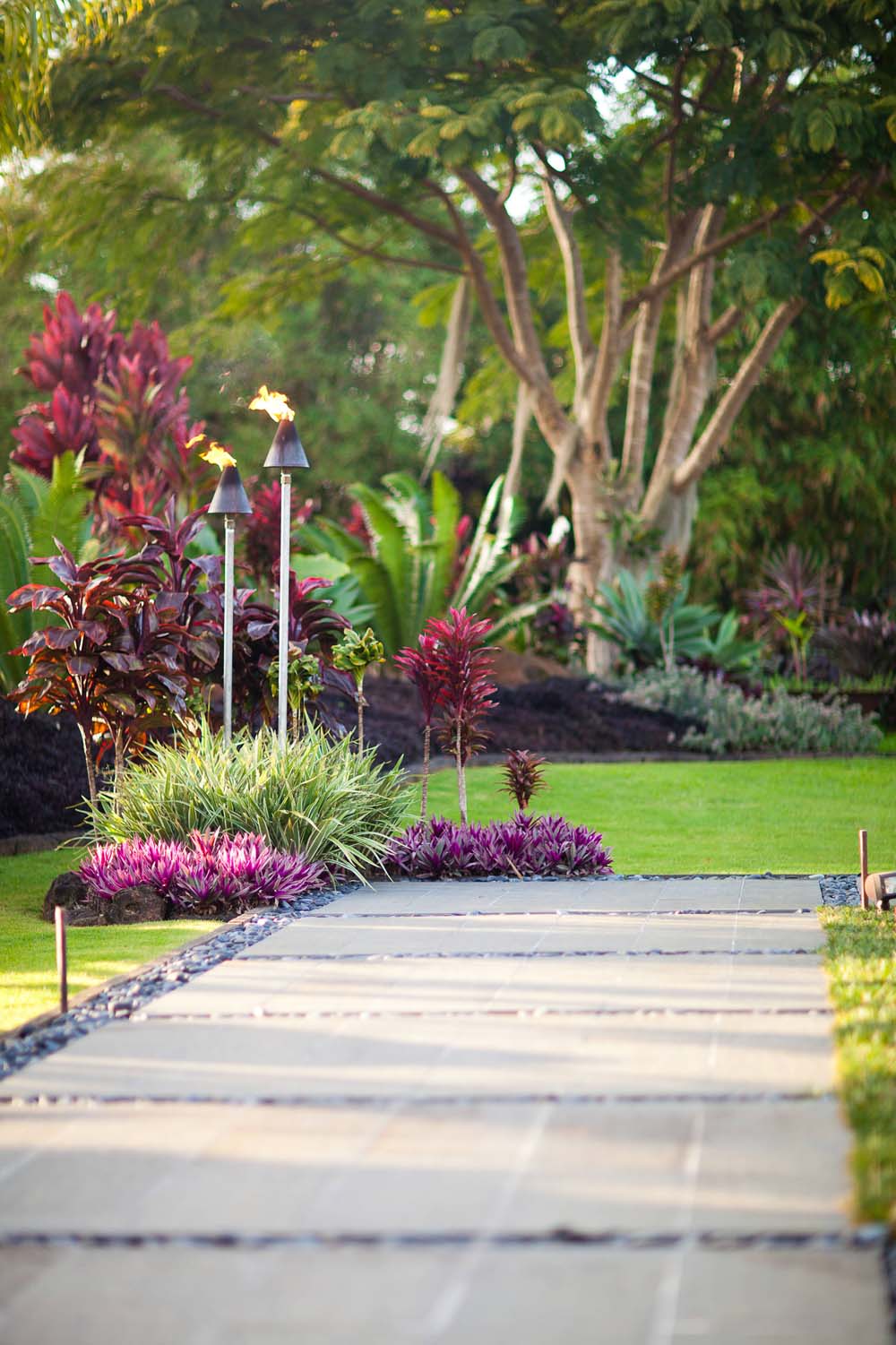 This concrete walkway design is great for Asian-inspired outdoor nooks. It features concrete slabs stamped like tiles. The pattern features a perfect symmetry of the stamped marks which lead visually to the edging garden.
via Designscape
6. Narrow Concrete Walkway With Tile Edging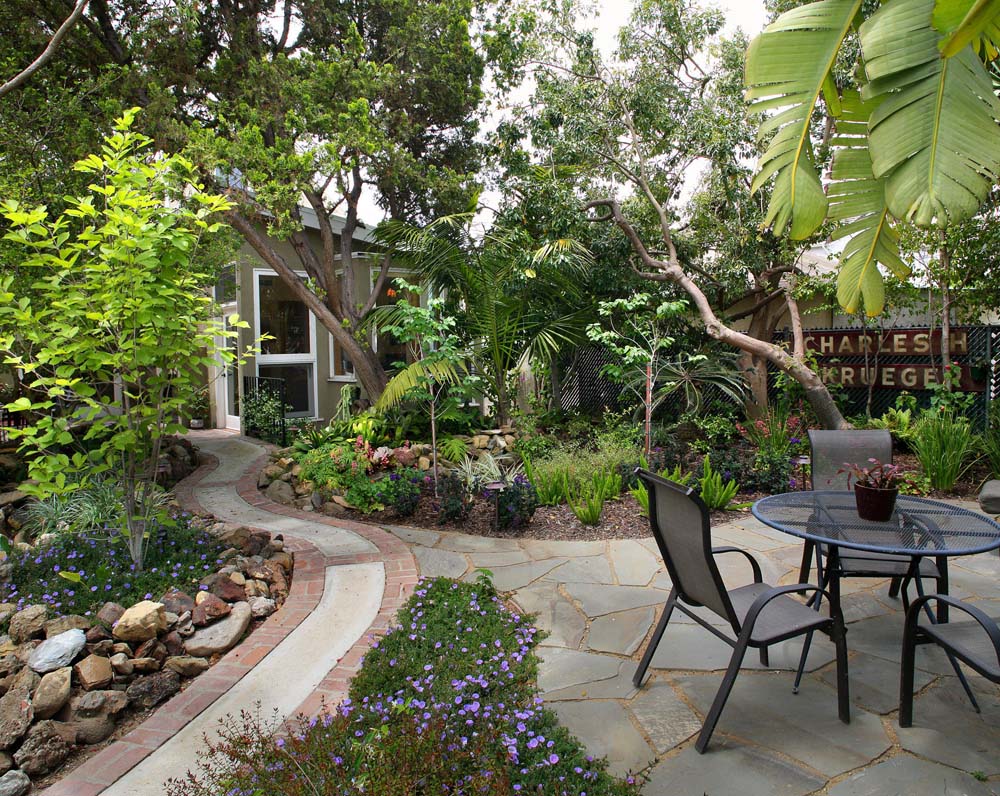 This narrow concrete walkway goes around the outdoor patio. The concrete finish matches the slab overlayer of the patio.
via Poetic Plantings
7. Curved Stamped Concrete Walkway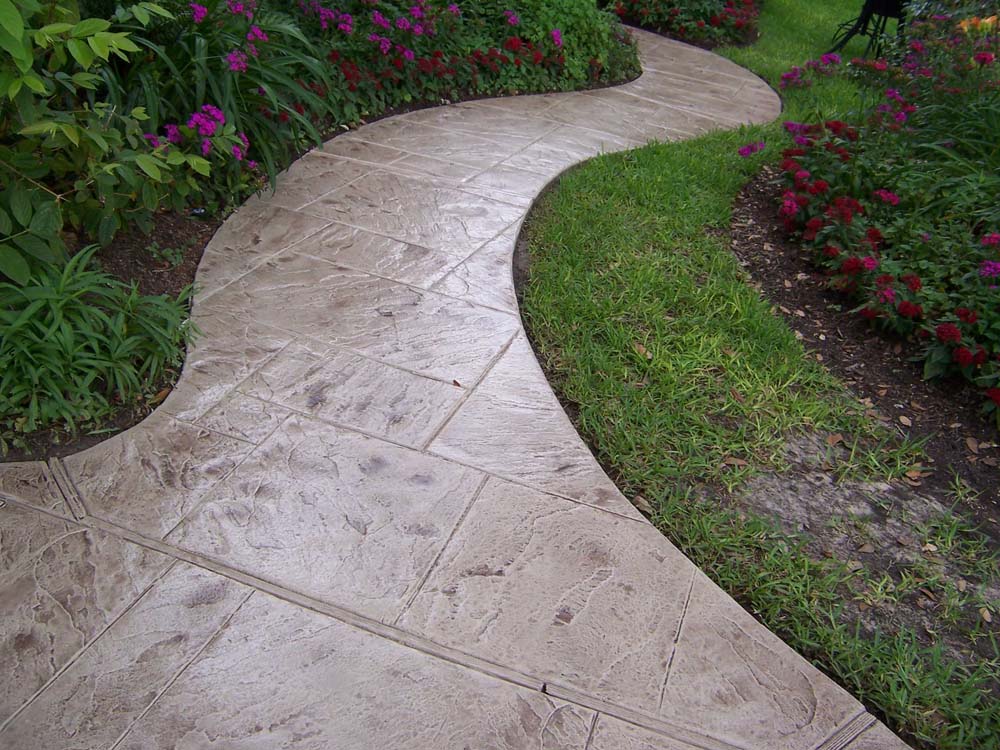 Stamped concrete walkways can follow irregular lines like the example shown here. The curved line follows the garden bed and together they create a whimsy outdoor scenery.
8. Crossing Walkway From Concrete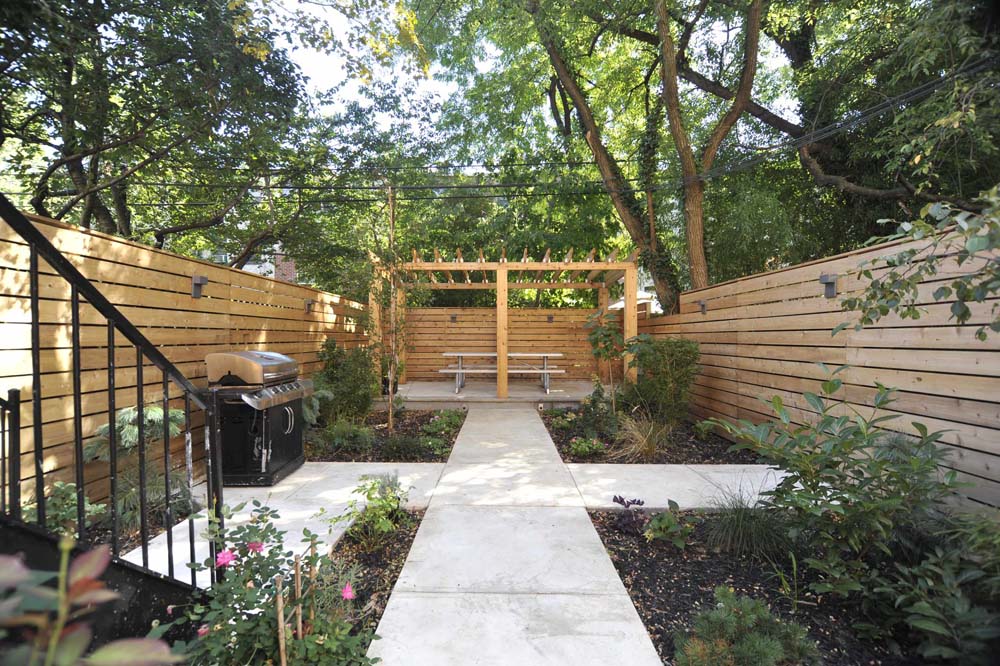 This is an interesting concrete pathway idea. Instead of one straight walkway, there are two main walkways crossing each other to form garden beds.
9. Front Yard Walkway From Concrete Slabs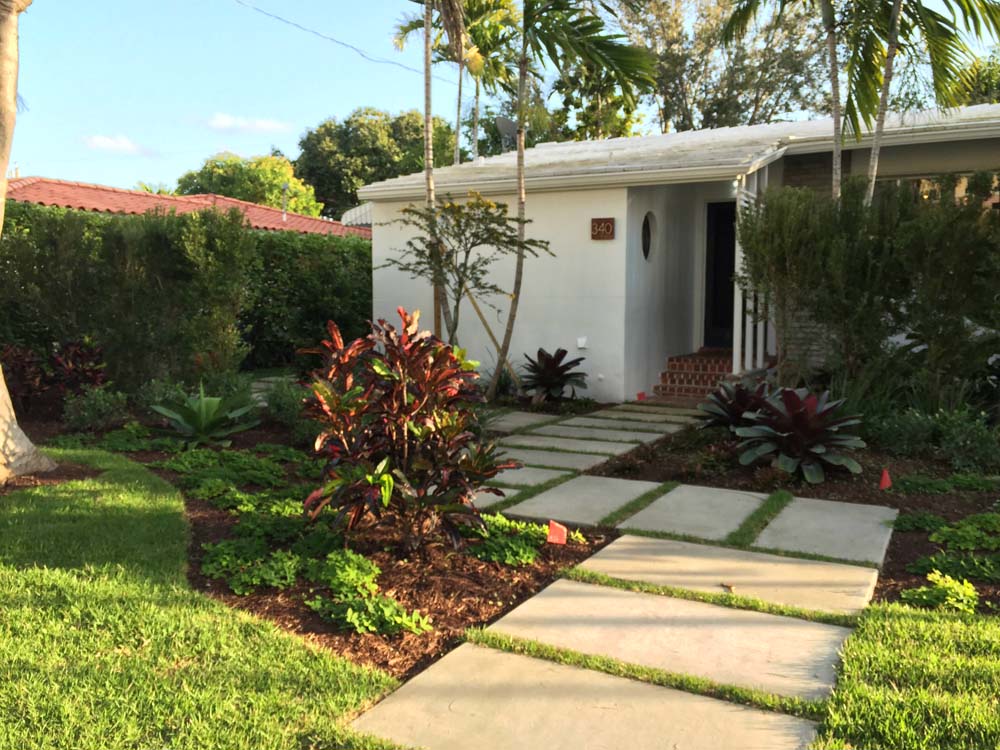 The vivid greenery in this front yard landscape is gently interrupted by a modern concrete walkway leading to the front door and a branch around the house.
10. Paver Walkway Idea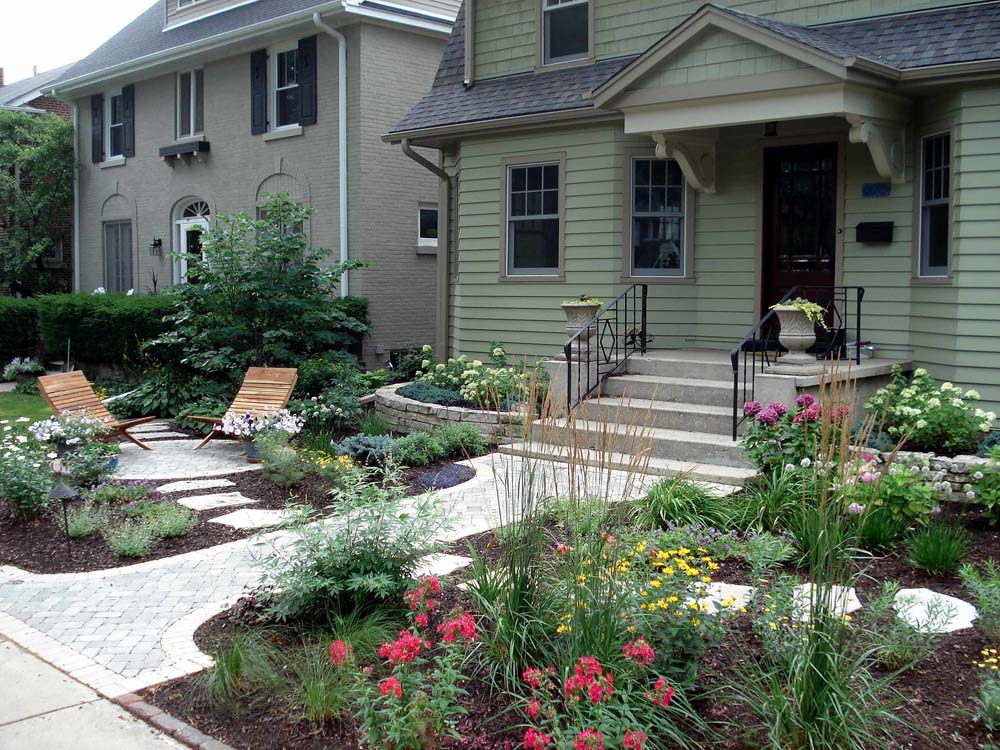 You may get misled that this walkway is made from pavers. Actually, these are concrete pavers that offer almost the same durability as stone pavers but are far more inexpensive.
via Nature's Perspective Landscaping
11. Patio And Walkway From Concrete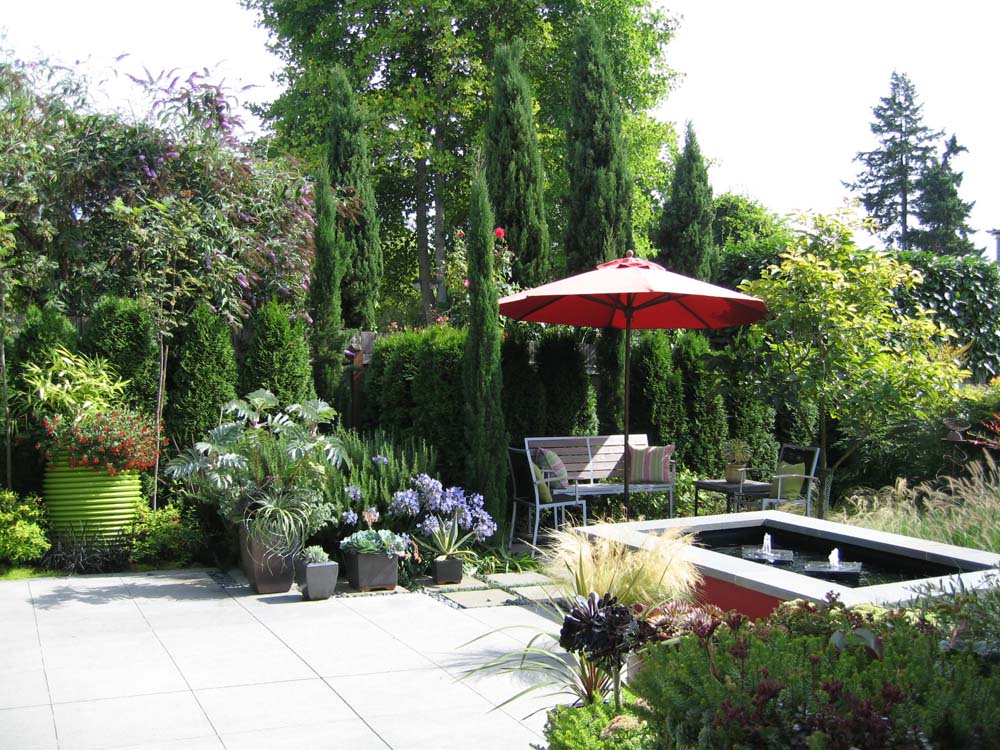 Concrete is a preferable material for patios. Plain concrete can be given interest with stamping which transforms the uniform layer into a pattern.
To create an appealing overall look, match the walkway with the patio in case they are located close to each other.
12. Textured And Colored Concrete Walkway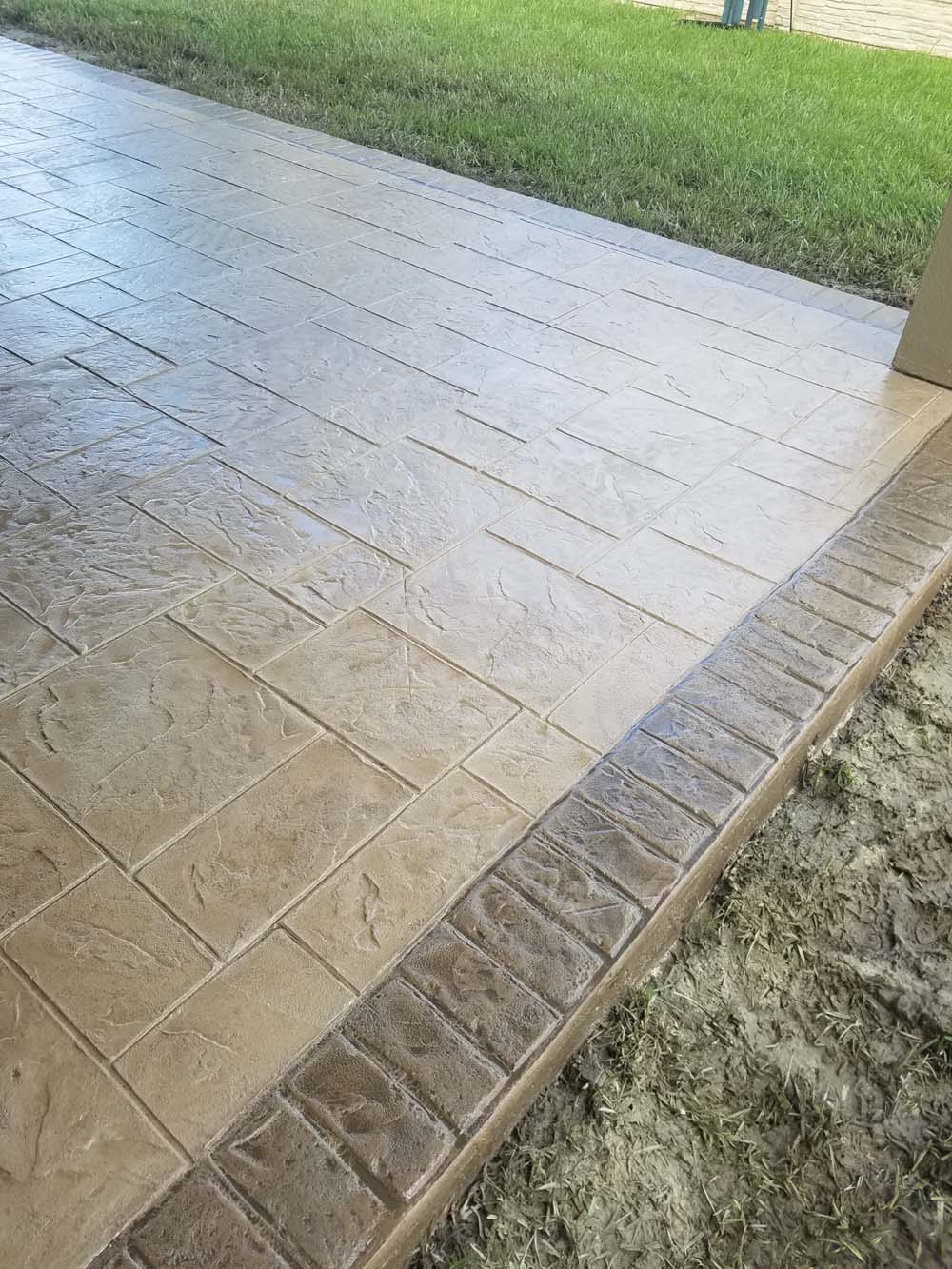 If you are ready to pay some more, the concrete can be colored in a desired hue.
For example, this will give it a more realistic look of a brick or paver.
13. Walkway With Slabs And Gravel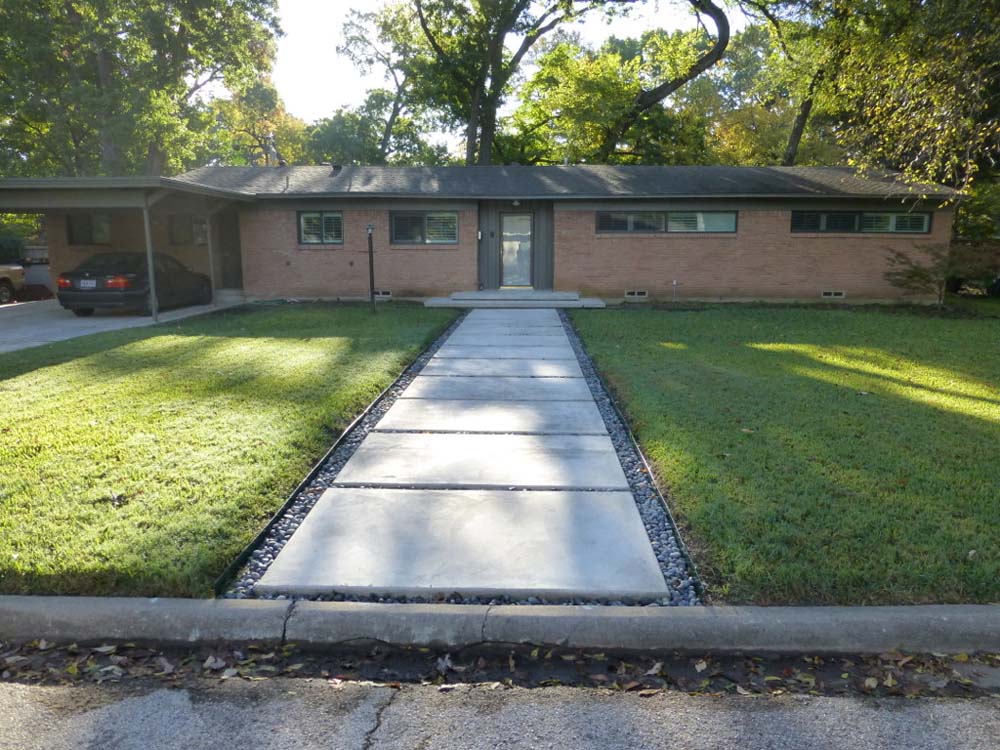 This walkway idea is an easy DIY project. Prepare the bed of the walkway to fill it with gravel.
It will act as a drainage and also as a decor element and then place the concrete slabs in the desired pattern.
14. Mix And Match Concrete Walkways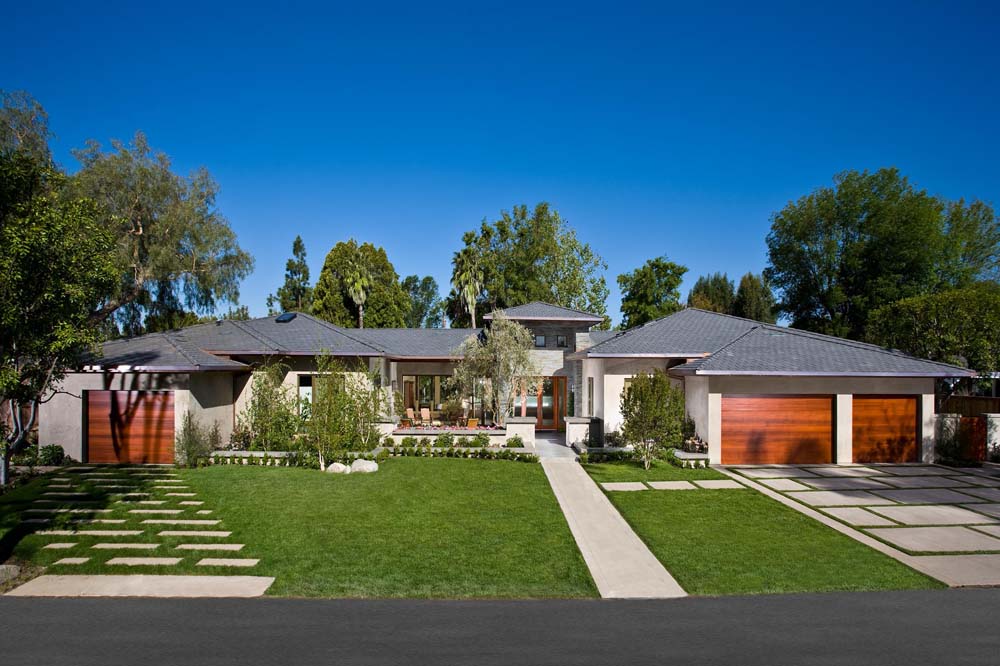 This yard showcases four walkways, each in a different alignment pattern. What unites them is the material they are made from and its texture. Concrete is a budget-friendly supply for outdoor features and also a modern-looking one.
via GRADY-O-GRADY Construction
15. Stained And Textured Concrete Slabs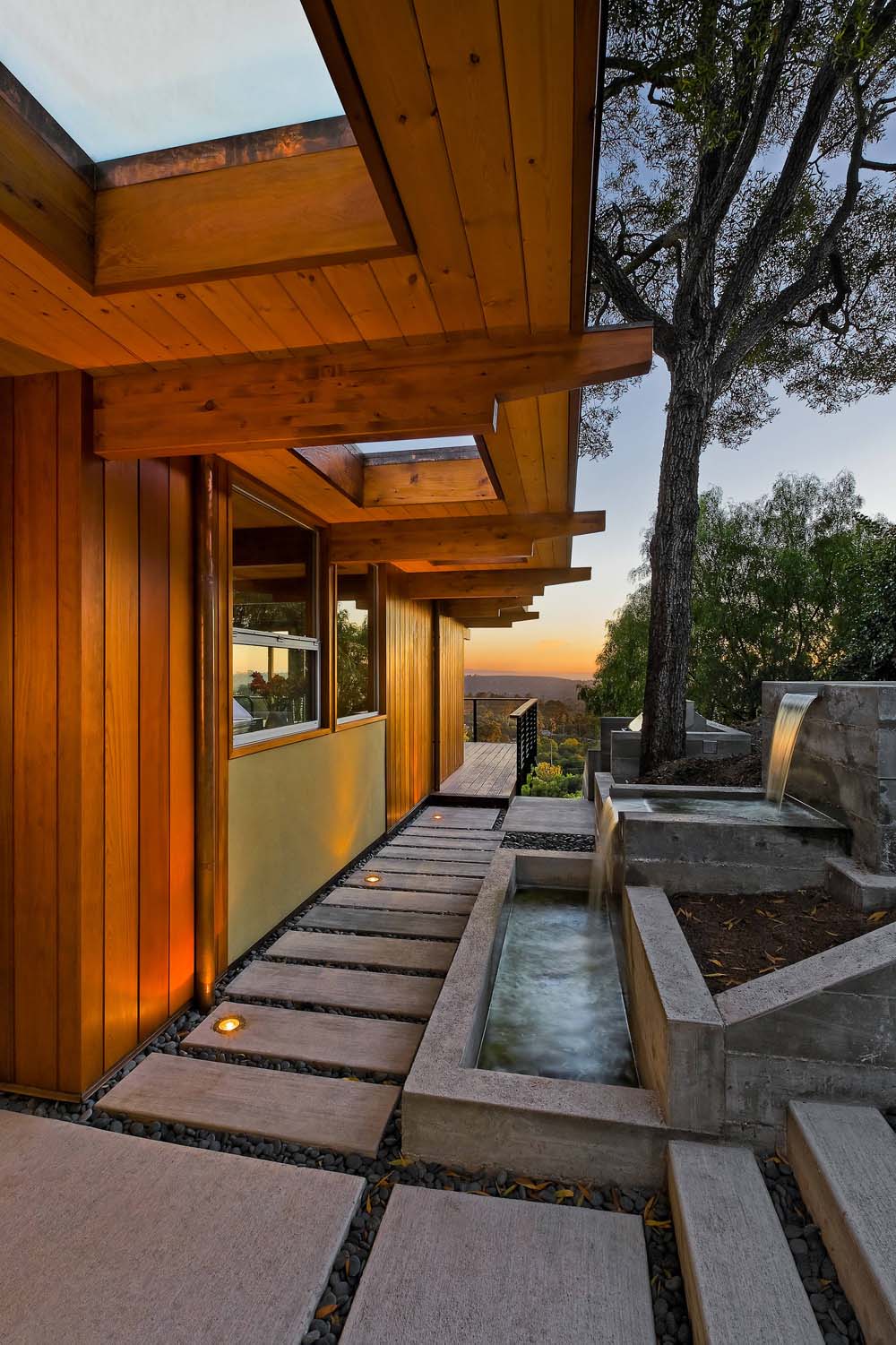 The concrete slabs in this walkway idea mimic wood texture. This visual idea is right on point having in mind the wooden siding of the exterior walls.
via Josh Blumer
16. Tiered Walkway Idea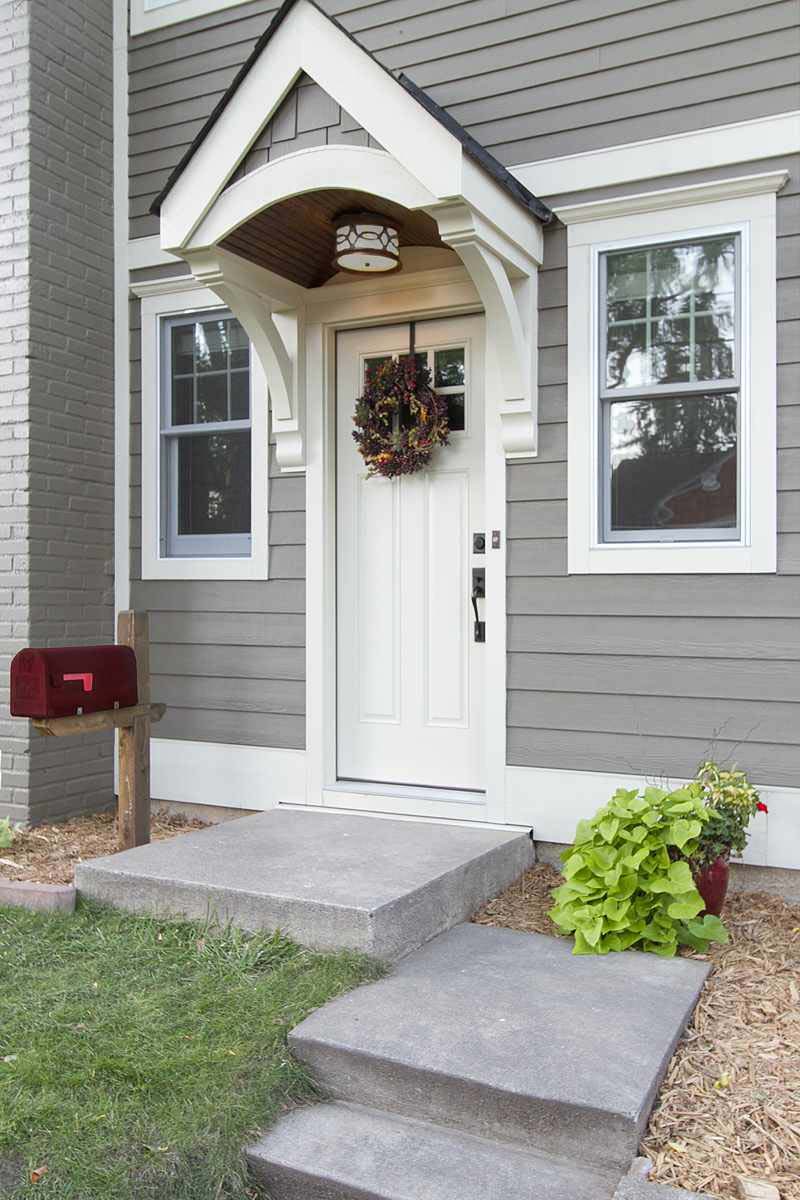 Concrete is the best material for walkways on uneven terrain because of the material's flexibility.
via Anchor Builders
17. Staircase Walkway With Stamped Concrete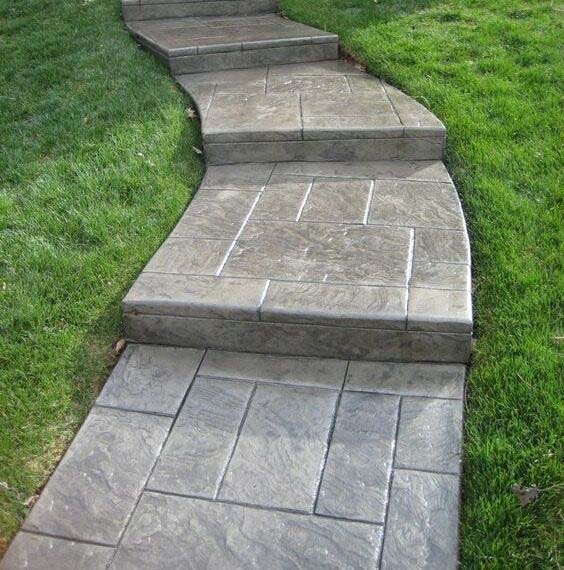 The staircase walkway can be given an interesting look with stamped concrete. To do it on the money-saving side, pour concrete to form the steps and make an extra overlayer with stamped concrete tiles.
via Foulsham Corp
18. Light Brown Colored Concrete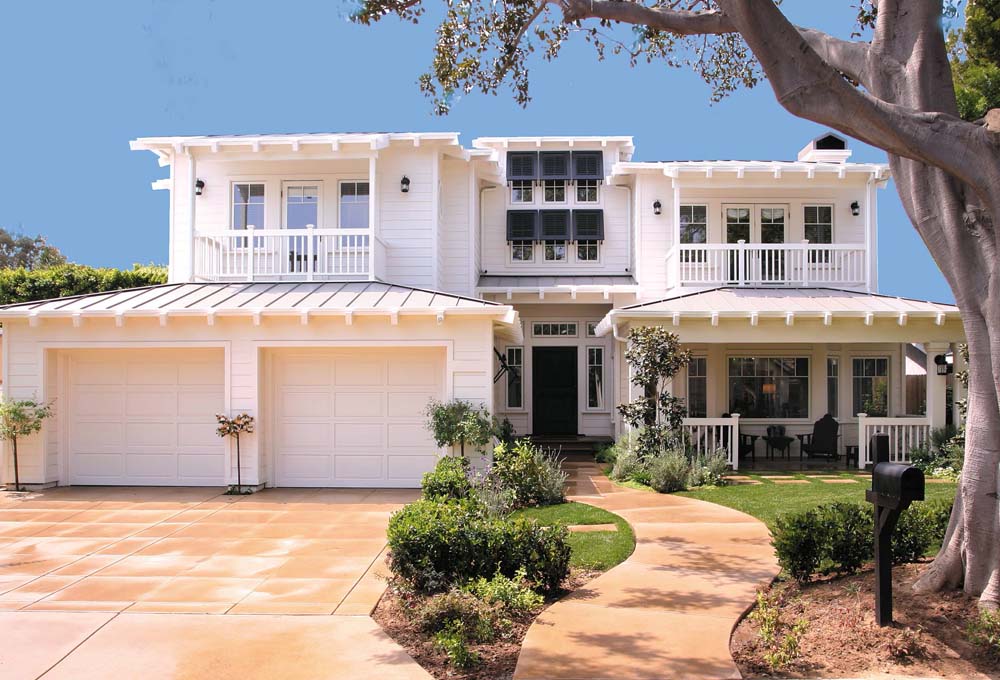 This light hue of brown gives the industrial concrete a warm look. It suits back or front yards with traditional or rustic landscape designs.
19. Concrete Tiles Mimicking Granite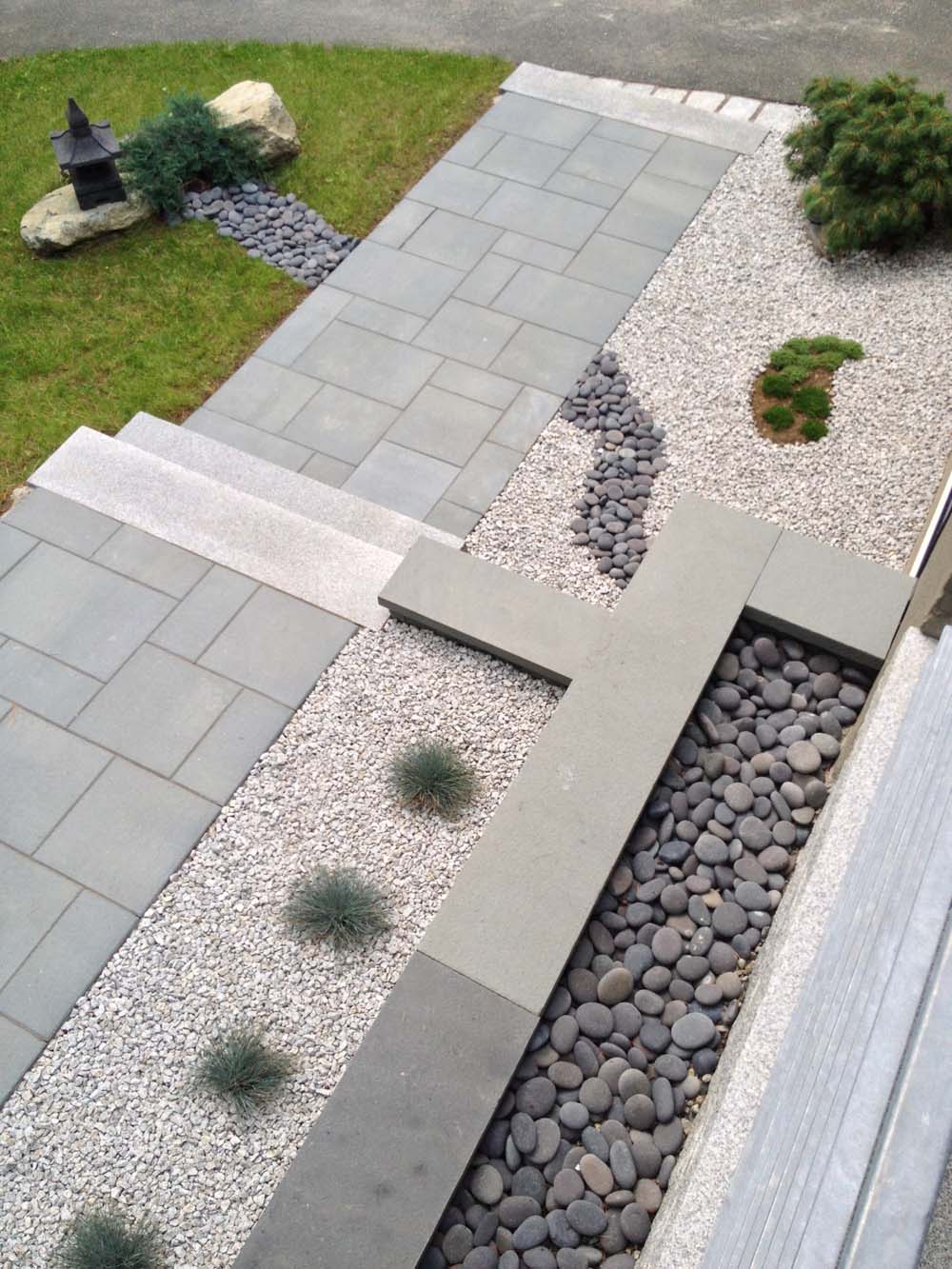 The dark grey hue of these concrete tiles reminds granite. This walkway idea may be inspiring for those of you who find granite luxurious but too expensive.
20. Grey And Green Concrete Walkway Idea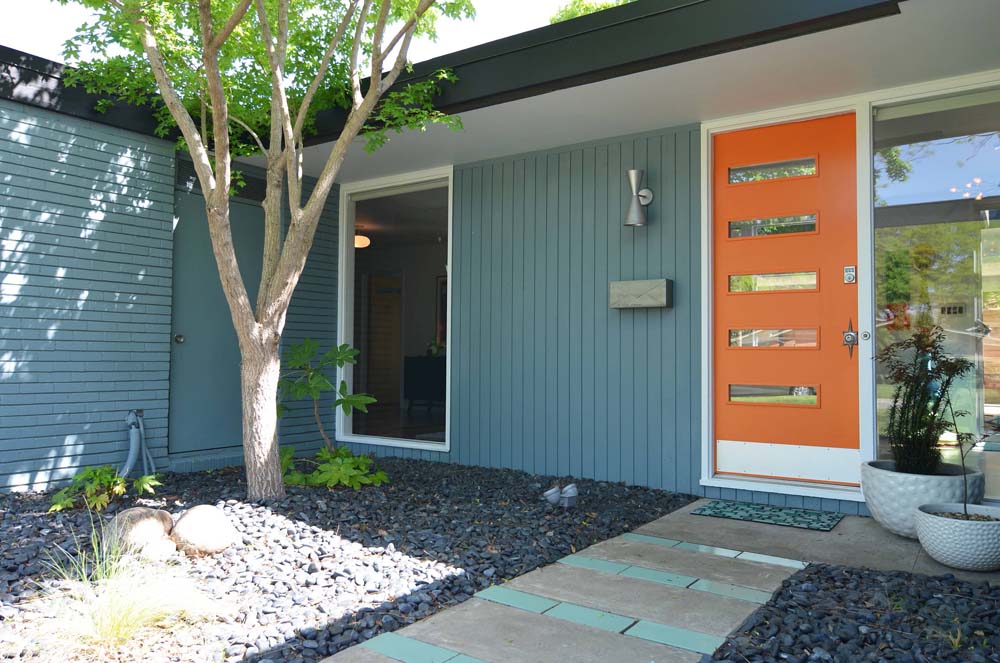 The concrete walkway can be used to add character to the outdoor space. Coloring is one way to do so or molding it in an interesting shape or why not both?
via Sarah Greenman
21. Black Concrete Walkway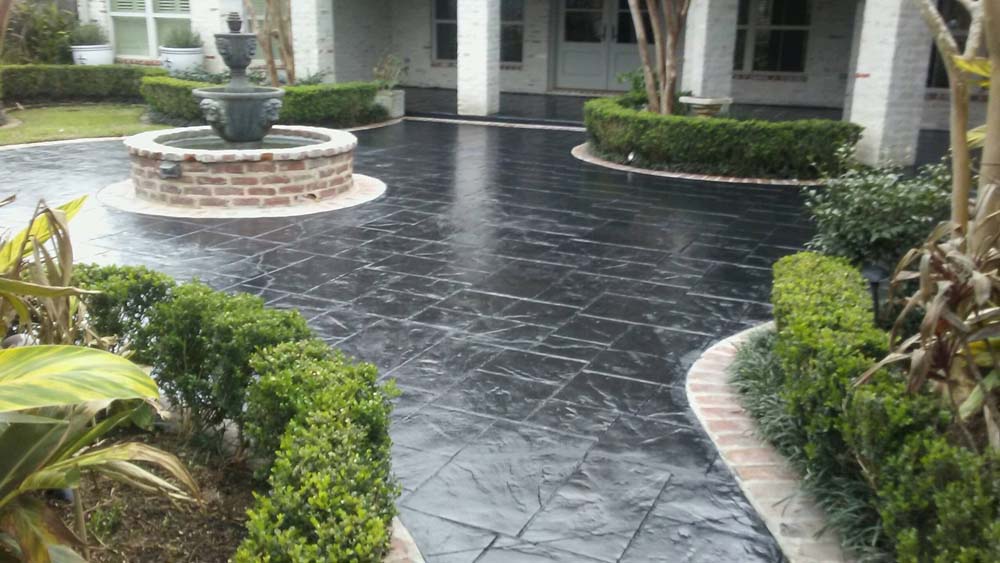 The rough texture and the black color of this patio make it sophisticated and luxurious-looking. This color can be achieved by adding iron oxide to the concrete mix.
22. Flagstone Walkway With Colored Concrete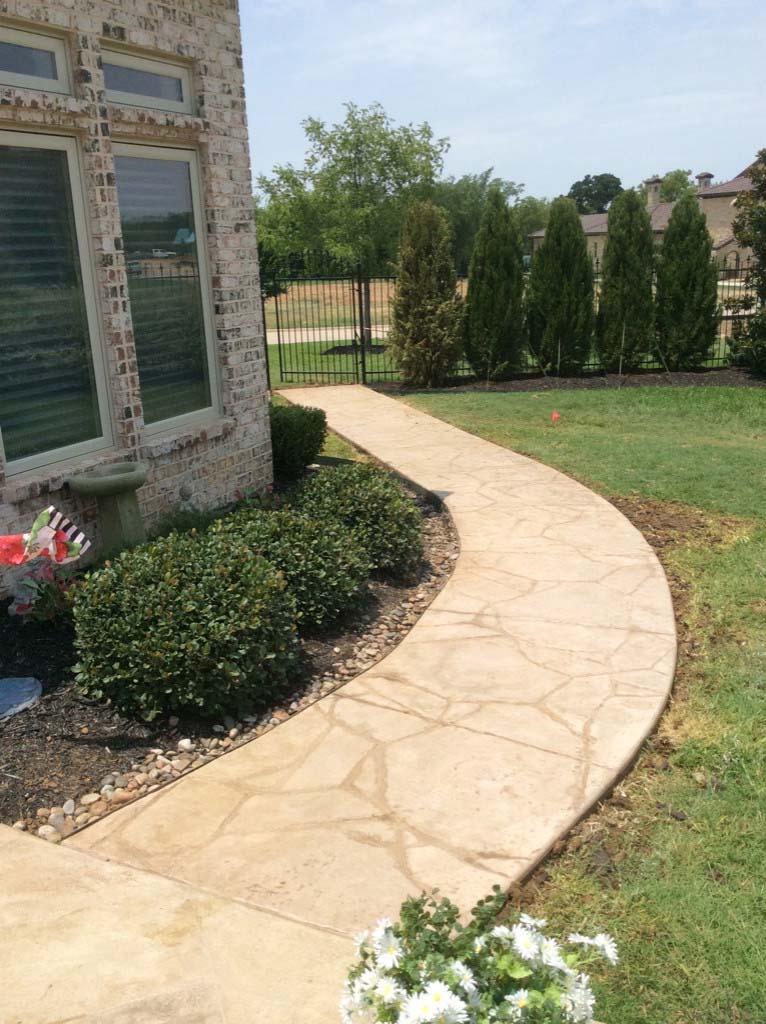 Another rough texture that can be given to the plain concrete is this one, mimicking the tight alignment of flagstones. The light brown color helps the look be more realistic and natural.
23. Easy-To-Make Concrete Walkway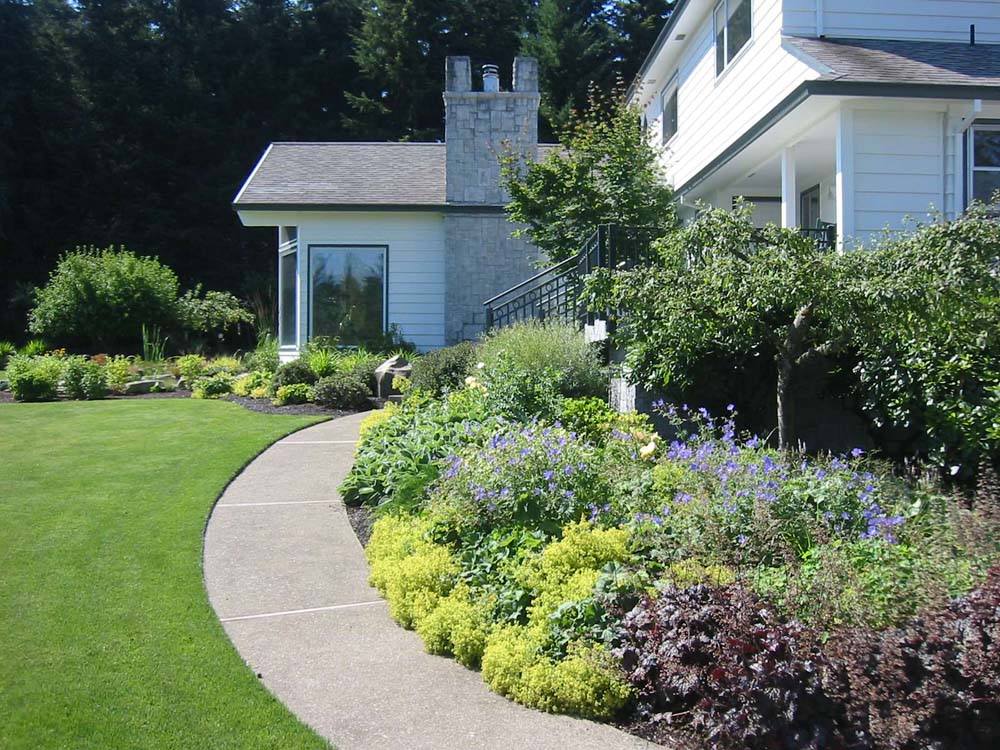 For such a walkway idea, you do not need a professional to make the stamped lines. You can make them yourself with a suitable mat that can give this interrupted look.
24. Tiled Concrete Walkway In Creamy Color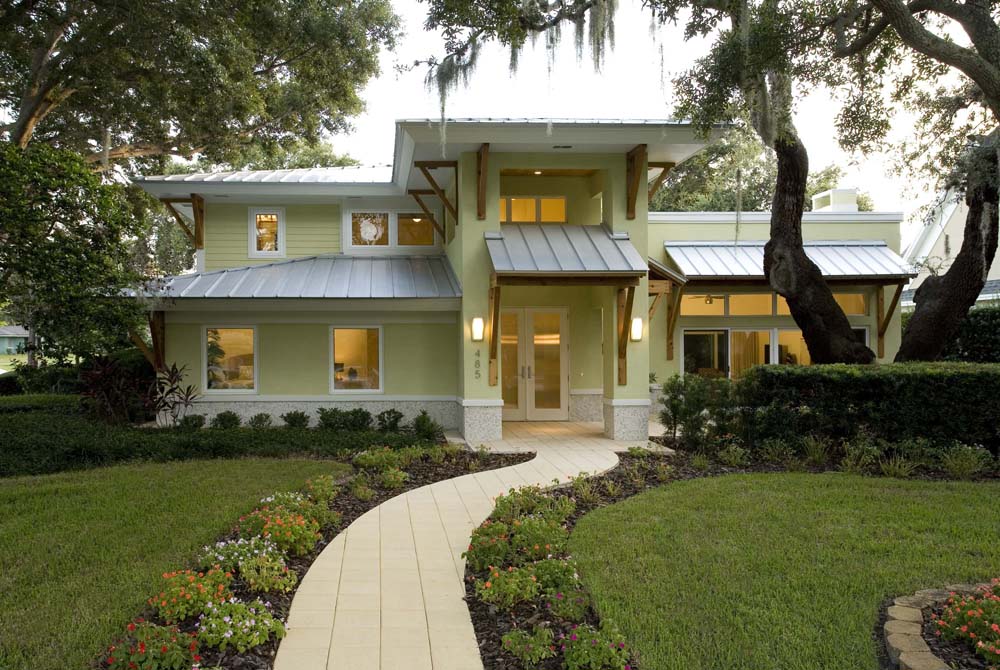 This texture can also be made entirely by yourself if you have a suitable item to divide into square sections on the top layer of the concrete.
25. Curved, Stamped And Colored Concrete Walkway Idea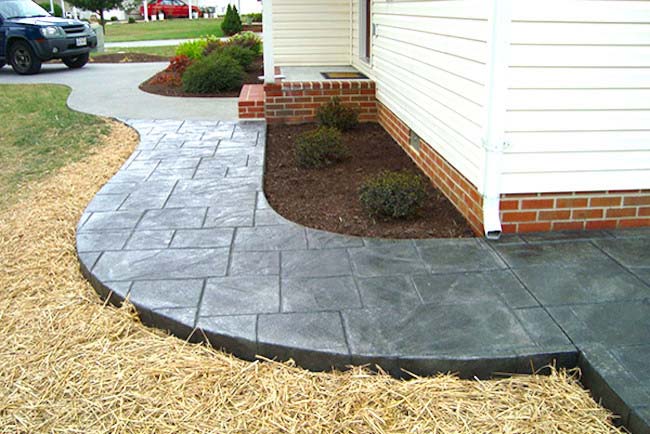 Here is how a walkway can look implying all possible concrete upgrades. It is curved, dark grey to black in color to mimic granite and stamped into tiles.
26.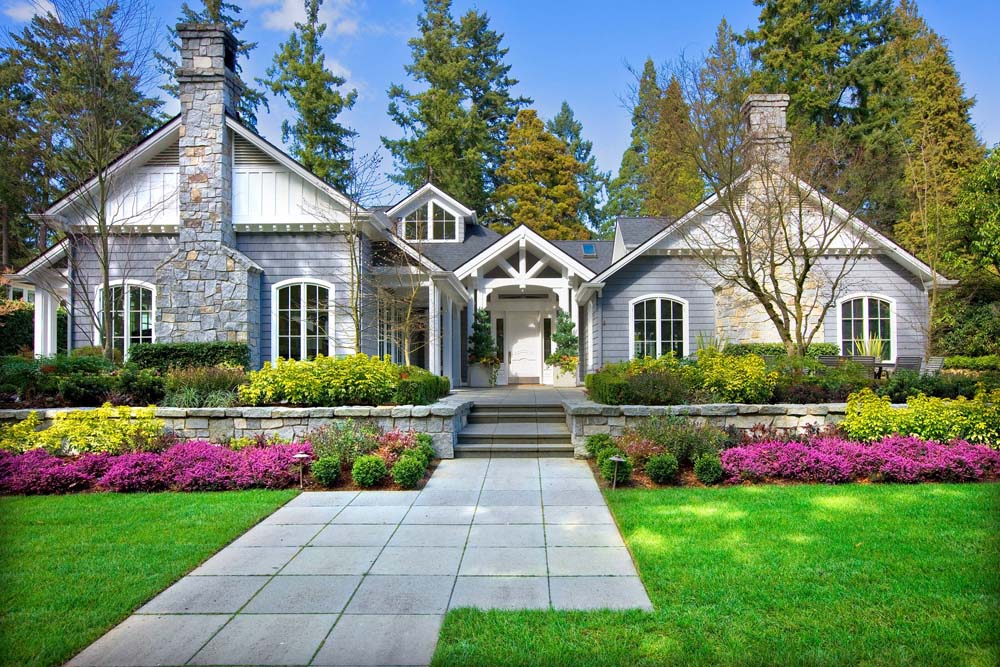 This slab walkway gives the elegant front yard a focal point. The slabs are aligned in a large-scale zig-zag pattern which makes sure that the walkway is centered according to the house.
27. A Concrete Walkway Around The House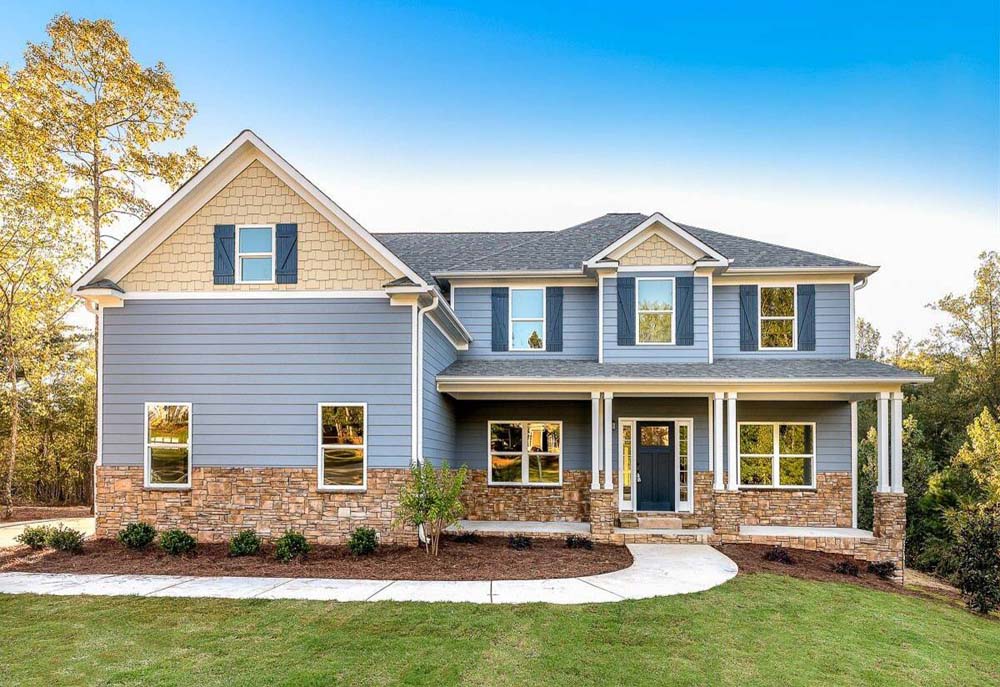 Walkways that follow the line of the exterior of the house are great. They are usually used as a passage between an edging garden and a lawn.
28. Dark Brown Colored Walkway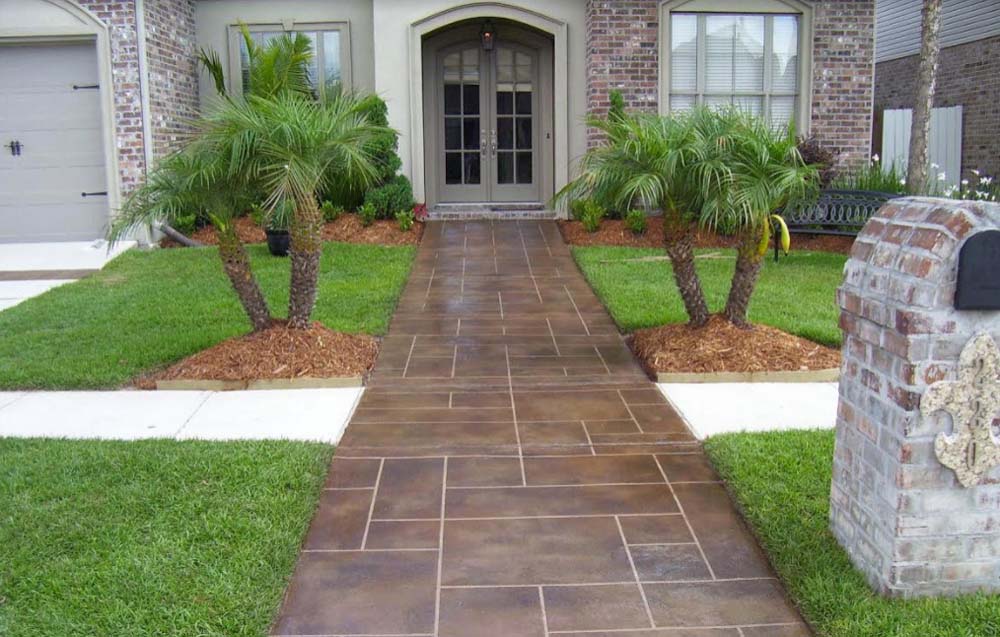 There are plenty of concrete pigments on the market. The key to getting the desired color is to add the pigment gradually and mix the material well before you add another portion. Always look at the instructions but usually, the more pigment you add, the more intense the color will be.
With a pigment, you can mimic wood, stone and brick texture, whichever will match more your landscape.