If you're longing for a custom patio design, look no further than a stamped concrete pattern.
Stamped concrete is an overlay over poured cement. It can be mixed with color or stained after the fact.
As an overlay, it can be set to look like any type of stone or tile. This means you'll find an unlimited number of stamped concrete patio ideas available to you.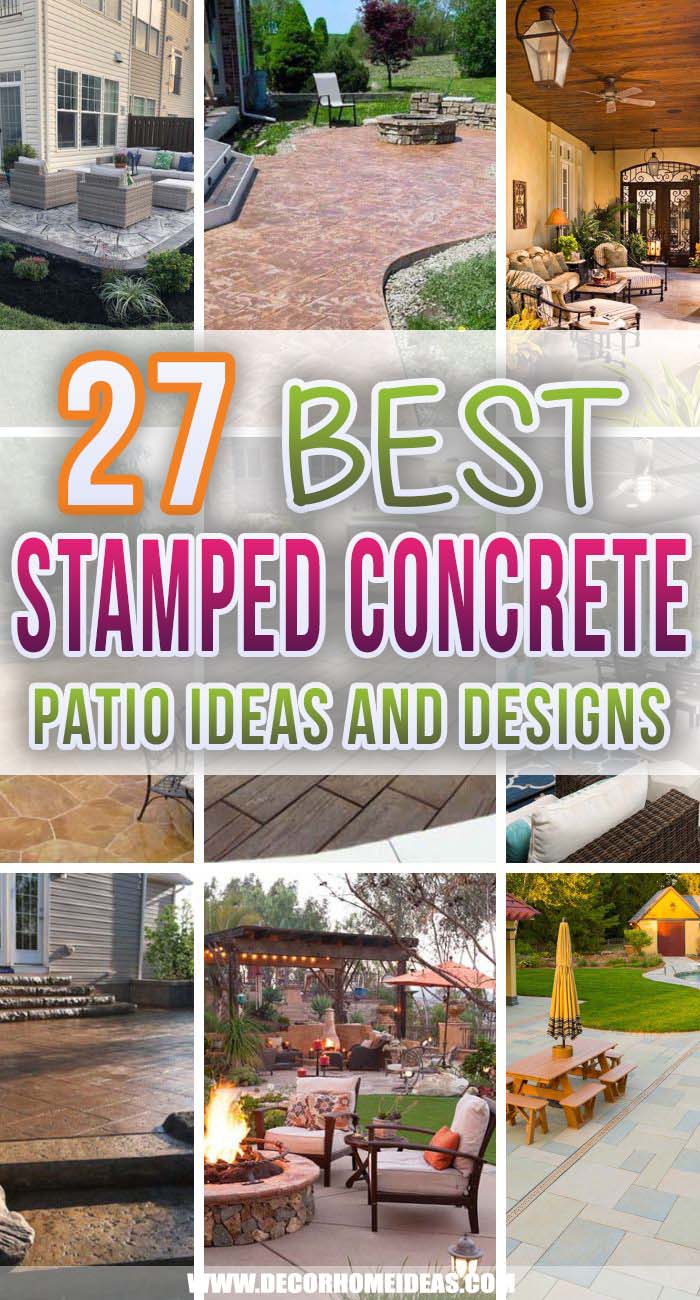 The cost per square foot is less than pavers. It's worth your time to discuss your design ideas with a contractor. You'll find twenty-seven stamped concrete patios here to inspire you.
What are the pros and cons of stamped concrete?
Pros: Affordable installation, easy to personalize your patio with stamped concrete patterns, needs less maintenance than stone.
Cons: Cracking issues and difficulty matching colors
What is the most popular stamped concrete?
The most popular types of stamped concrete are natural stone patterns such as slate, flagstone, and fieldstone. Brick, cobblestone and wood patterns follow closely behind.
How long does stamped concrete last?
It would last more than 20 years and sometimes even more than 25 years.
Is stamped concrete slippery to walk on?
Stamped concrete is just like regular concrete when it comes to slip resistance. It depends on the sealer so check its parameters before applying it.
1. Impressive Roof Covers a Concrete Stamped Patio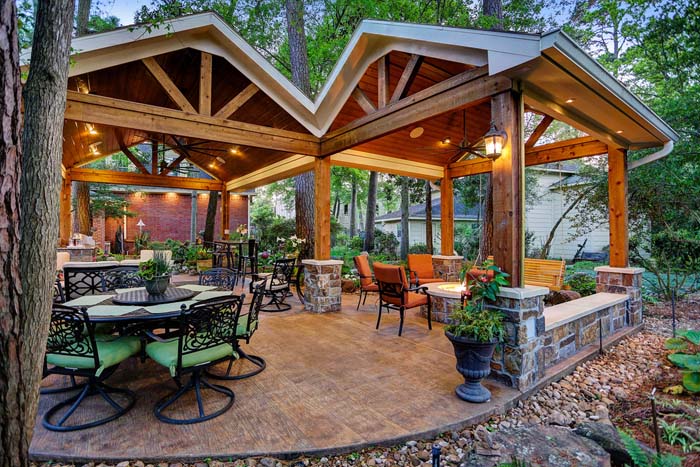 Add a roof id over a stamped concrete patio and have an enviable outdoor living space. The stamped concrete patio design captures the look of natural stone.
2. Fire Pit on a Poured Concrete Patio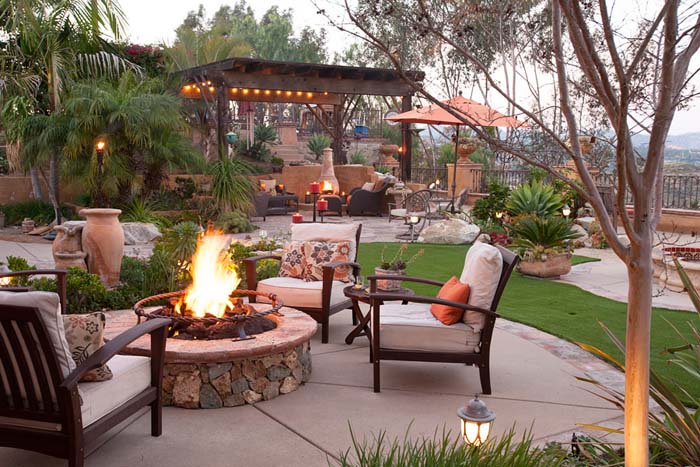 A fire pit is a special outdoor space. An intimate seating area is created using poured concrete separated into wedges. The outer rim is stamped to look like flagstone pavers.
You can also decorate the outer wall of your fire pit with stamped concrete. Note how the surrounding design is matched on top of the fire pit.
via Epic Landscape Construction
3. Stamped Concrete Looks Like Brown Travertine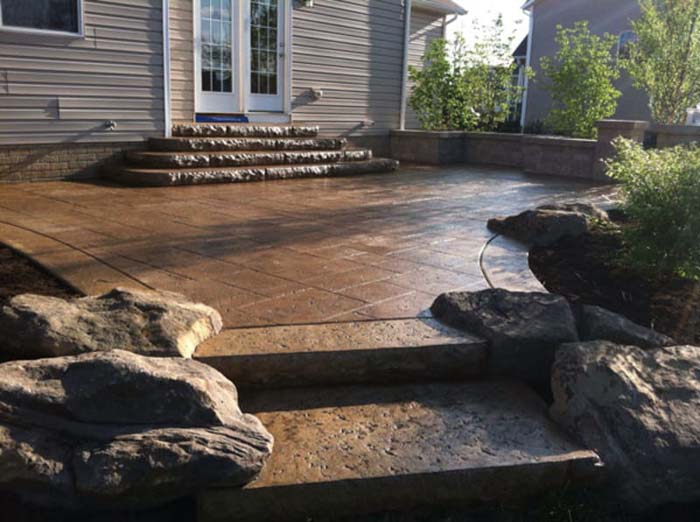 The right design can make your patio look like it was carved from natural stone.
Adding rock inlays sells the look. The lower steps were set up with a different stamp form that makes them look like stone slabs.
via G & M Concrete
4. Faux Wood Is Built to Last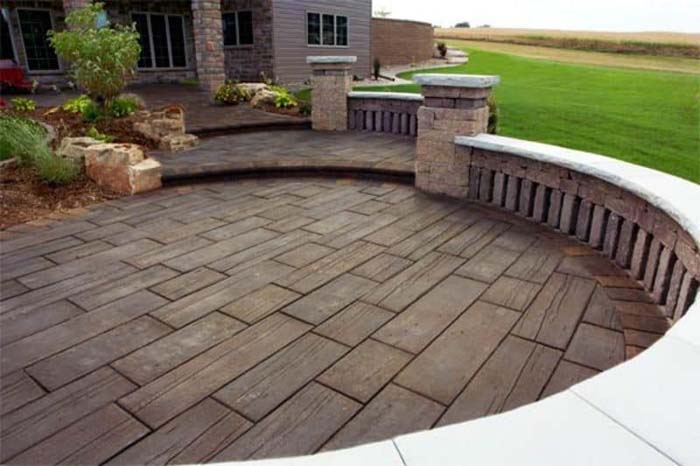 Any sailor will tell you that water takes a toll on wood. Make your deck last with a wood-stamped concrete patio. Self-leveling overlays make it easy to build up a tiered patio 
The brick edging looks like a labor-intensive budget breaker, but it's another faux treatment. brick stamped concrete keeps the project on time and under budget.
5. Vary Concrete Stain for a Natural Look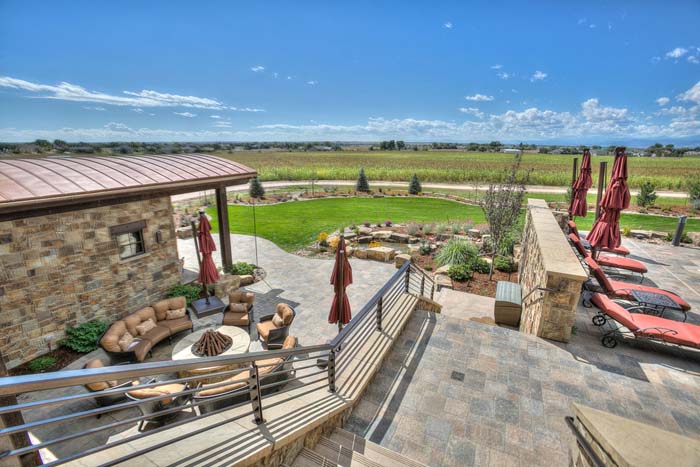 When dealing with seniors, you have to be mindful of the types of patio materials you use.
27 Best Stamped Concrete Patio Ideas and Designs video:
This patio in this retirement community looks like slate, but it's slip-resistant stamped concrete. Concrete stain adds to the illusion.
via Aneka Interiors
6. Try Wood Planks for a Rustic Look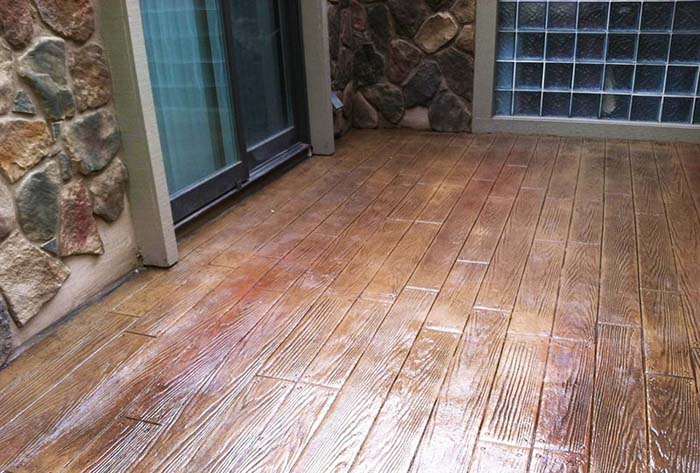 If you have a rustic home or a craftsman style home, building a deck is almost compulsory. If the elements are too harsh for wood, try wood plank stamped concrete.
You can add a sealer that will prevent cracking after it's been exposed to extreme conditions.
via Dan Guardo
7. Gray Slate Under a Pergola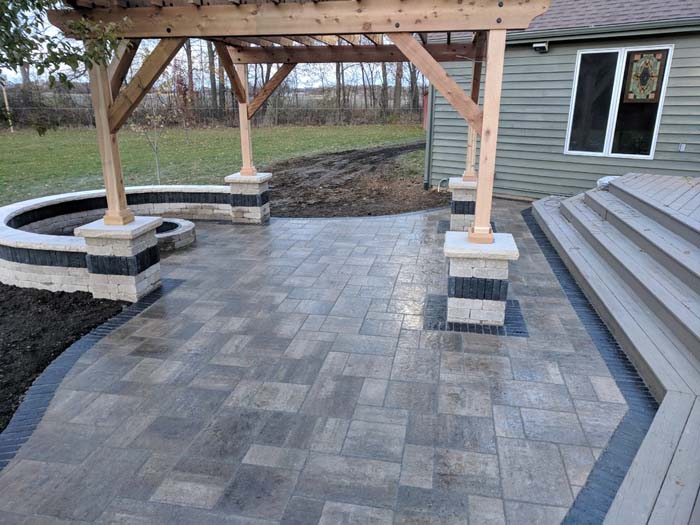 This stamped concrete patio gets a shiny coating that makes them look more like tiles.
They're lined with a stamped concrete brick pattern in bluish gray. The pergola and fire pit give the yard a refined look.
via NWI Patio Pros
8. Stamped Concrete Pool Transition Area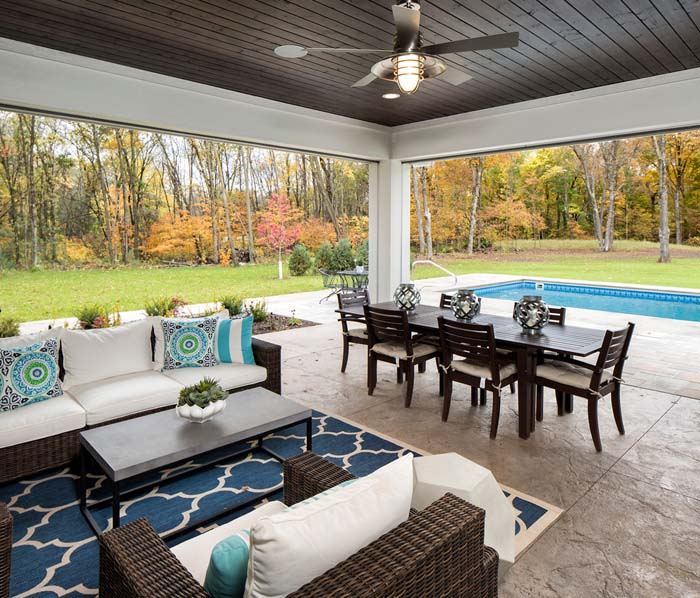 This brown rustic stamped patio works well as a transition from the pool to the line area.
The concrete coffee table is a natural fit with the country home décor.
9. Stamped Concrete Patio Has Random Pattern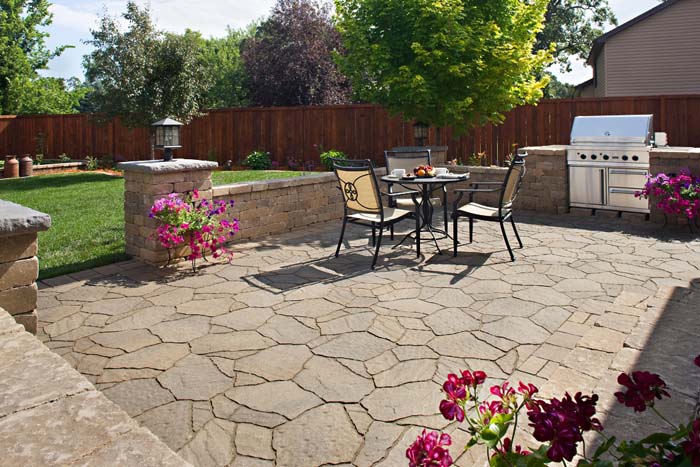 Build a Mediterranean terrace in your backyard. The random pattern in the patio has an old world feel. The owners extended the low stone wall through the grill prep area that's made with a concrete countertop.
You can use a stamp design on the sides of the walls, too. This makes it easy to match the sides of the prep area with the brick walls.
10. Three Entertainment Areas Blend Together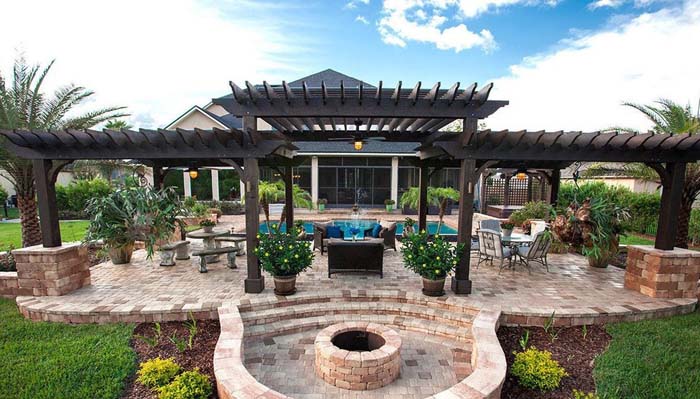 This backyard patio has three separate entertainment areas which are connected through the stamped concrete patio.
The pool deck uses the same stamped concrete mix to blend seamlessly with the pergola covered lounge and fire pit areas.
via Waller Pavers
11. Southern Veranda Gets Faux Tile Patio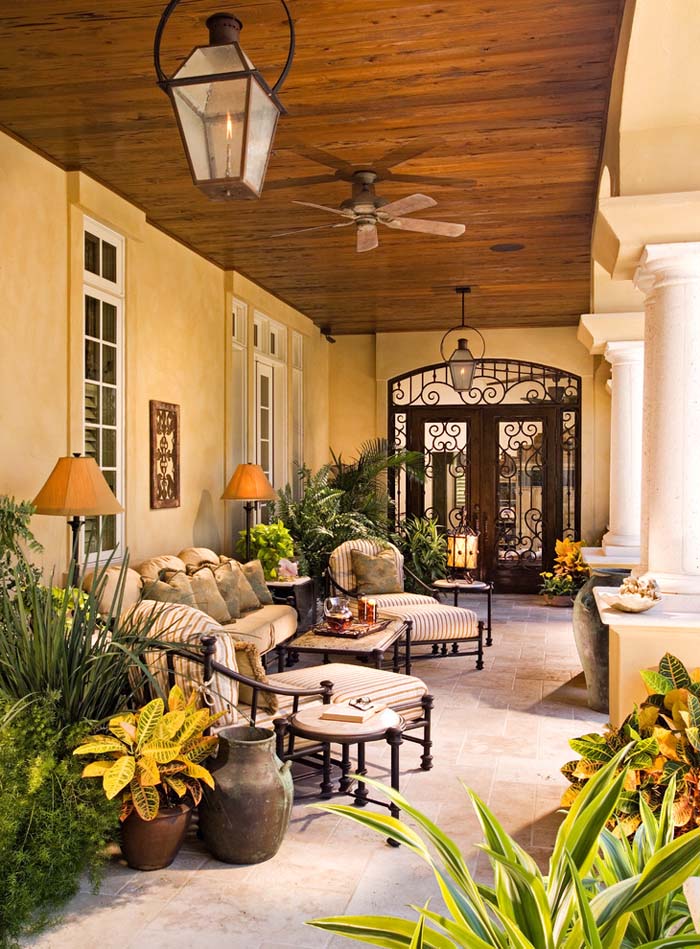 This veranda is stamped to look like marble tile. You can use this patio design on concrete driveways. It would elevate your home's curb appeal.
12. Patio Pavers With a Pattern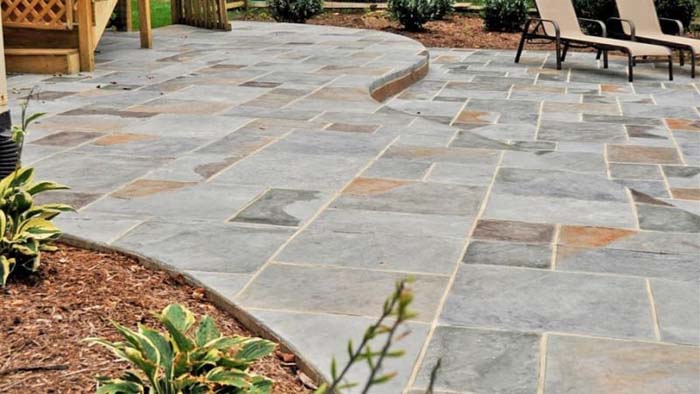 By varying the size and color in this stamped concrete patio, perceived as a more random pattern. Sticking to a single palette of color creates the impression that stone was cut from the same quarry.
Check out paver ideas that can be mimicked as stamped cement patterns. Many of these ideas can be achieved at a lower price.
13. Classic Ashlar Slate Pattern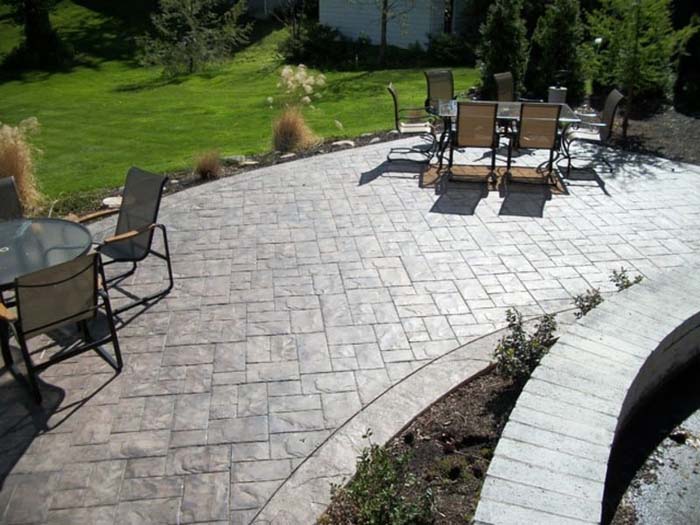 This patio uses a classic ashlar slate pattern. When using stains, you can change up the color either in the concrete itself or after pouring.
By mixing it in the concrete, you get more permanent color. Adding stain on the top is susceptible to fading and difficulty in matching colors after repairing damaged concrete.
14. Matching Grout and Stained Concrete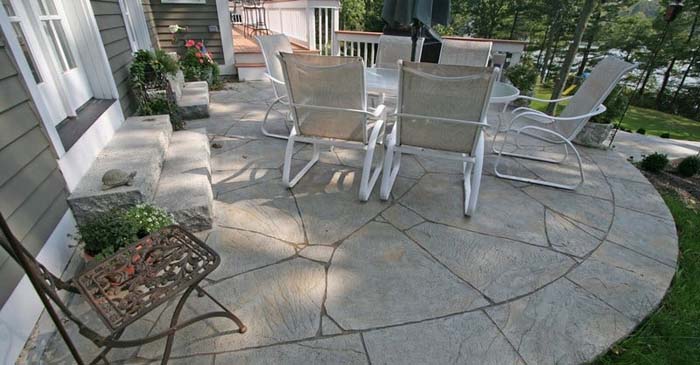 The look of random cut stone looks realistic when you match veins across grout lines. The deep gray grout here looks similar to the veins in the pattern itself.
15. Fireplace and Patio Brings the Living Room Outside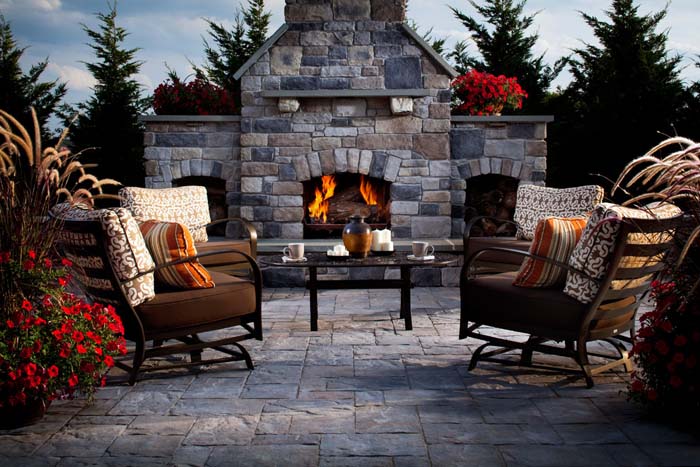 Turn your backyard end to an outdoor living space by creating a massive fireplace and concrete floor.
The concrete was stamped to look like rustic flooring. Substantial furniture pieces add to the look.
16. Driveway Showcases Stamped Concrete Pattern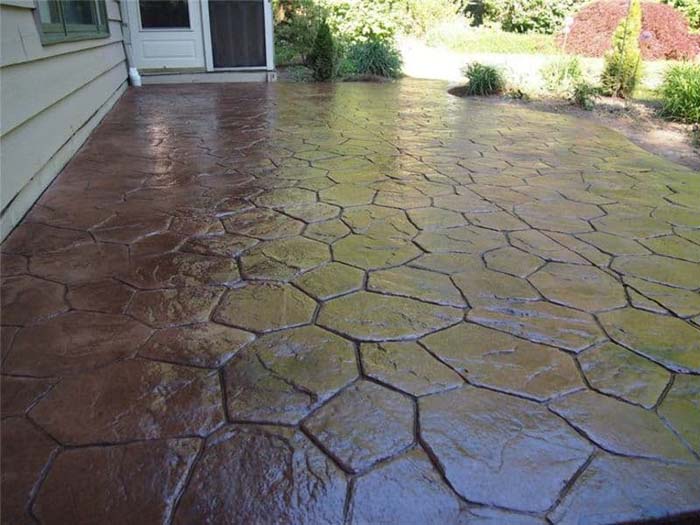 Stamped concrete driveways are becoming more popular. You can't beat the durability of concrete and it's nice to be able to give it an aesthetic appeal.
This is a nice example of stain being mixed into the cement, which is necessary when you need a very durable surface.
17. Patio With Stone Slab Steps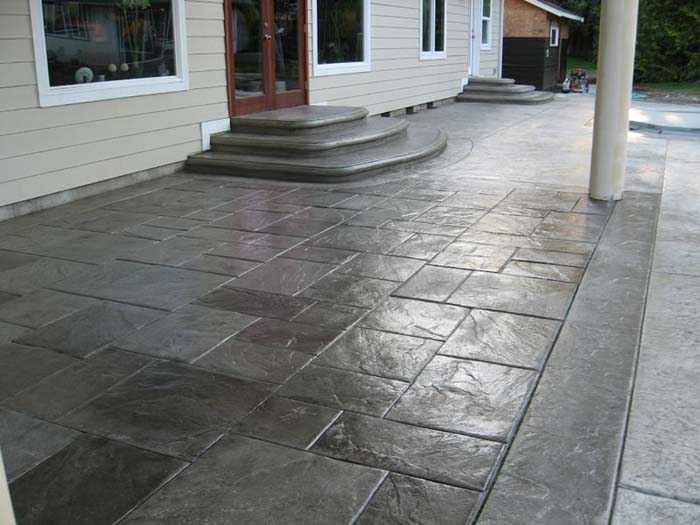 The poured concrete stamped to look like stone slab steps gives this patio a high-end look. The steps are matched at the other end of the house.
via Greystone Oly
18. Stamped Concrete Has Look of Cobble Stones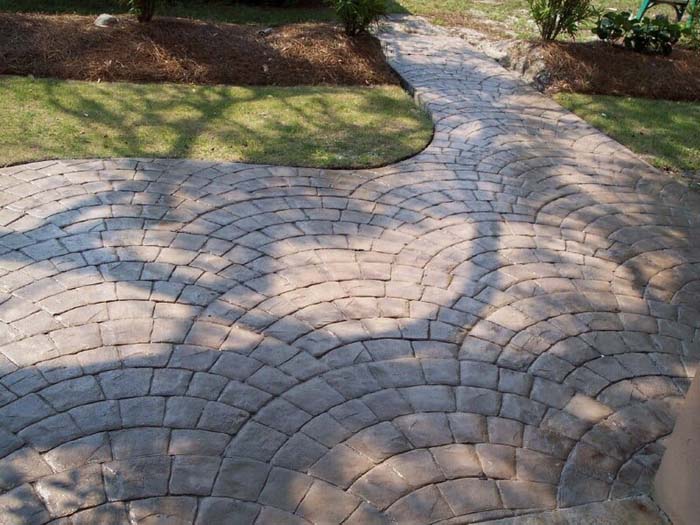 By now, you should realize that concrete can be stamped to look like any other material.
This concrete patio was given an old world look. You can find this brick pattern in older sections of many cities around the world.
19. Pool Deck With a Natural Stone Overlay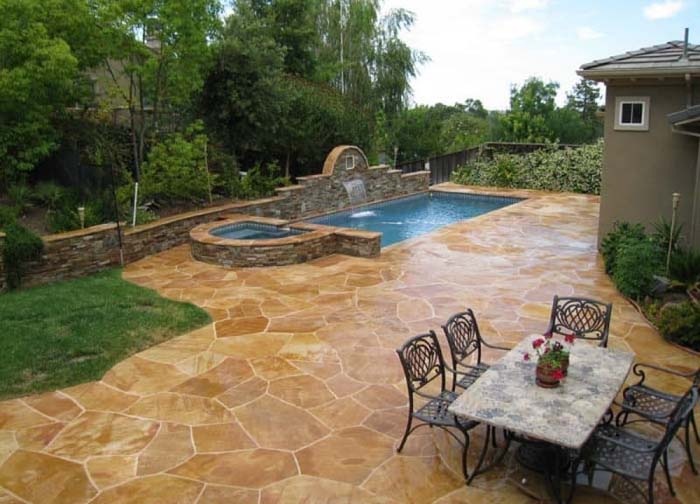 If you have decided to use a stamped concrete pool deck, be sure the concrete overlay is slip-resistant. This will minimize sliding and falling accidents around the pool deck.
20. Concrete Patio Stamped on an Angle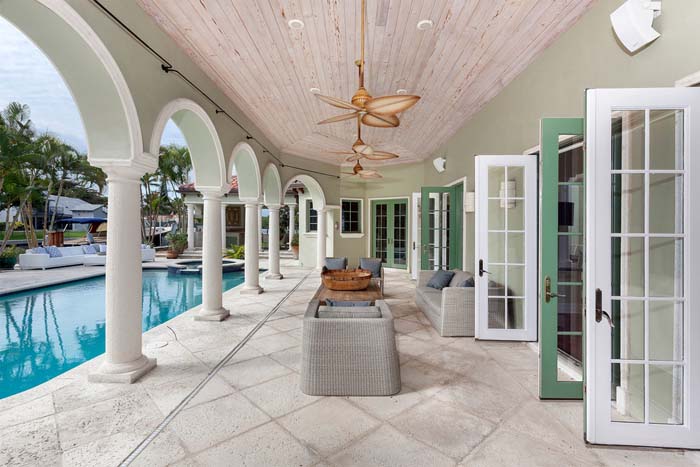 A beautiful beige stamped concrete patio sits under archways that end poolside. The concrete extends all the way to the other side of the pool.
 Setting the pattern on a diagonal visually expands the space.
via Pascal Liguori
21. Relaxing Outdoor Living Space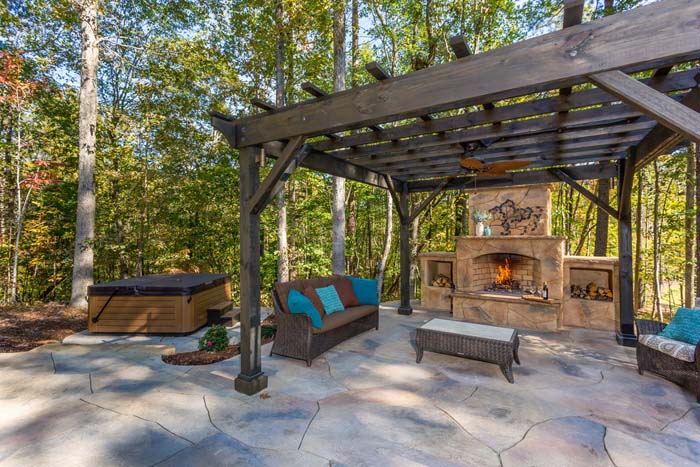 The large fireplace, pergola, and hot tub are all that's needed for a backyard retreat. The look comes together using stamped concrete that looks like flagstone.
via Bellus Terra
22. Surface Stained Concrete Patio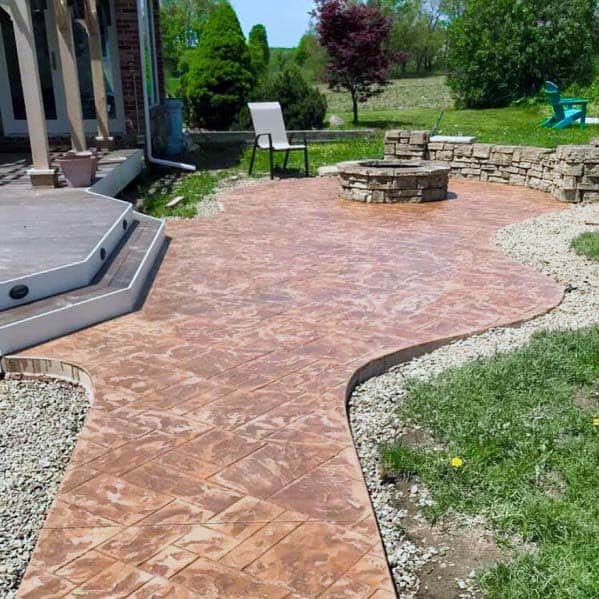 On this side of this patio you can see where the stain overlay ends at the drop-off.
It's important to add enough gravel so that it's even with the concrete.
23. Natural Stone Against Whitewashed Brick Wall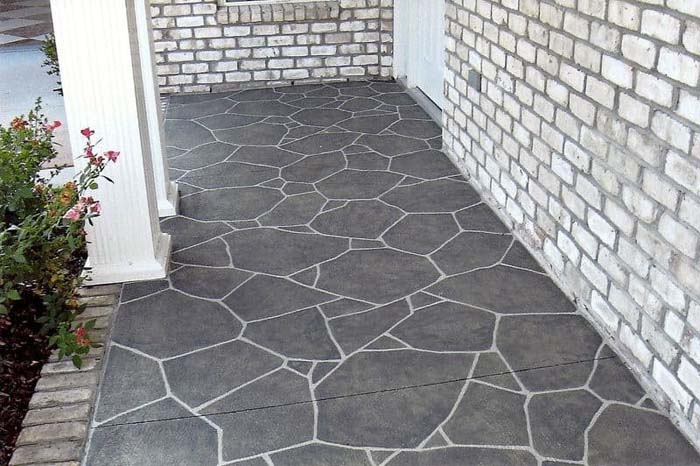 A porch stamped in a natural stone pattern with a dark gray color contrasts the whitewashed brick. Light gray grout picks up on the color of the brick, blending the two elements.
via Tommy Simpson
24. The Look of Sandstone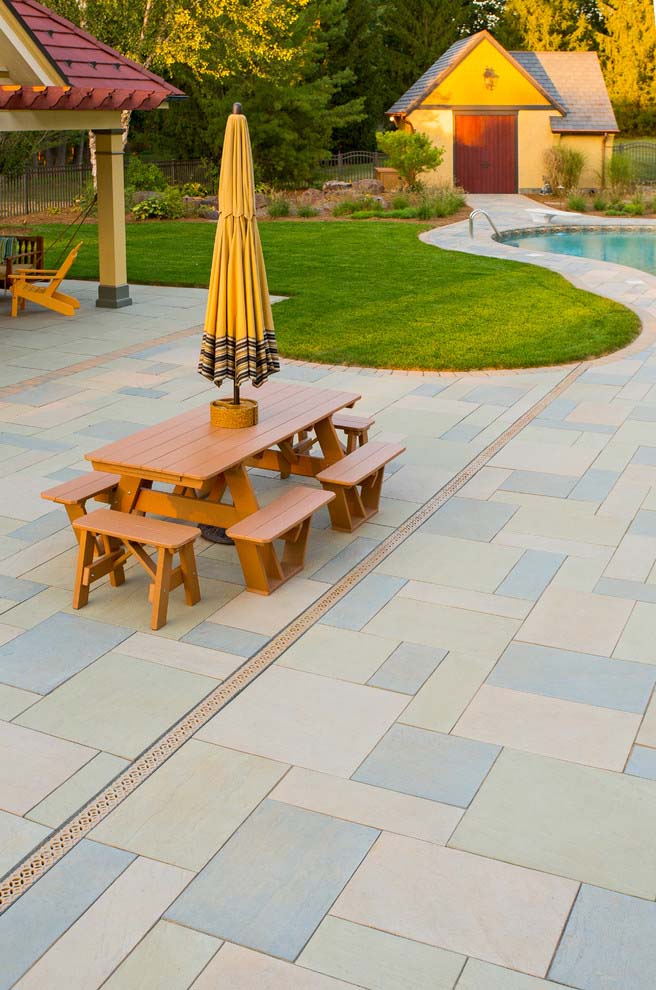 This patio and pool deck are stamped with the same colors as popular sandstone pavers.
You can have the mint, honey, ivory, and fossil colors in your own concrete patio design at a fraction of the cost.
25. Gray Concrete Patio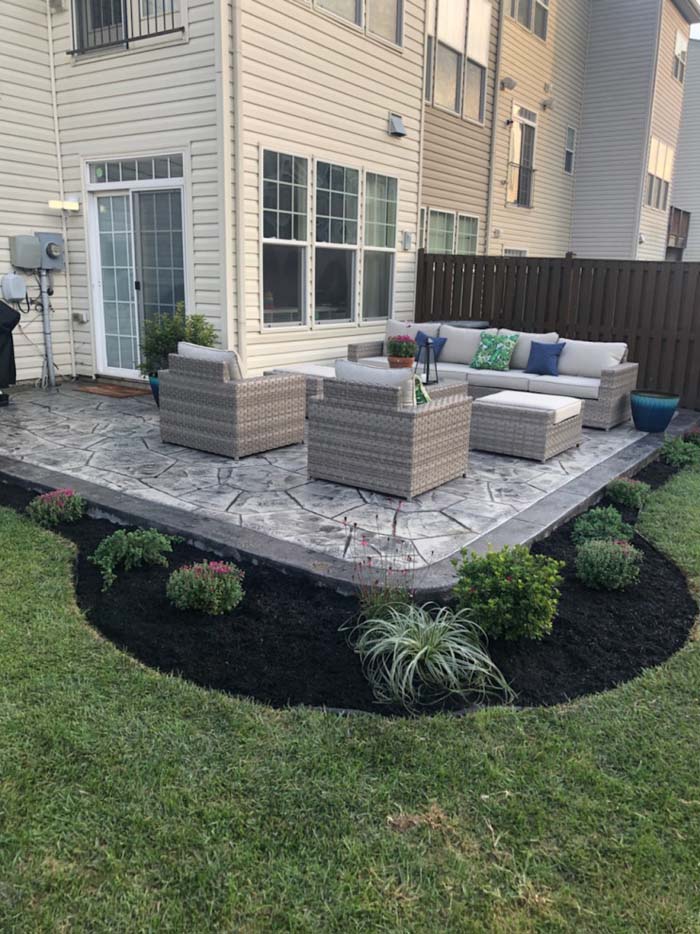 An easy way to expand on patio ideas is to think about the edges and grout color. Deep gray grout adds to the drama of this concrete patio.
The color is matched in the wide perimeter, which looks similar to brick edging.
via Haijoe
26. Unusual Stamped Concrete Pattern Using Seashells & Mortar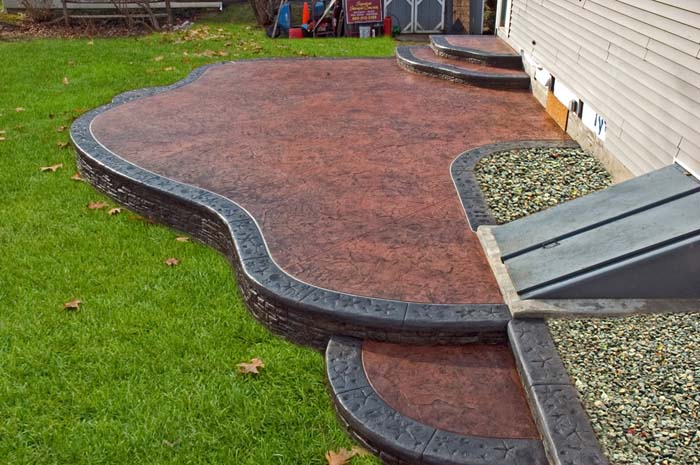 The edging of this patio was stamped with seashells. The sides are stamped to look like layers of natural stone. The slate pattern looks unusual because of its brick red color.
via Signature Stamped Concrete
27. Ashlar Slate Is a Contemporary Choice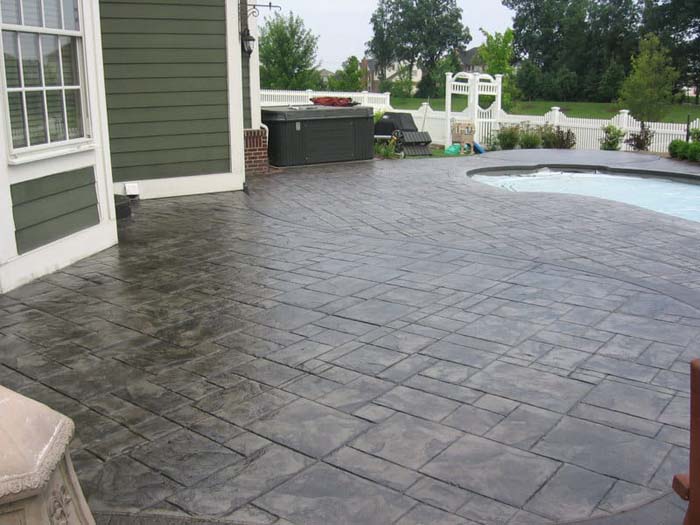 Another great example of a stamped Ashlar slate patio. Marbling the color adds to the realism. It's easy to pour these into sections with a self-leveling overlay.