When it comes to designing a new driveway for your home, you may be surprised at the number of affordable options available.
We've collected quite a few concrete driveway ideas for you here, and more are being introduced every year.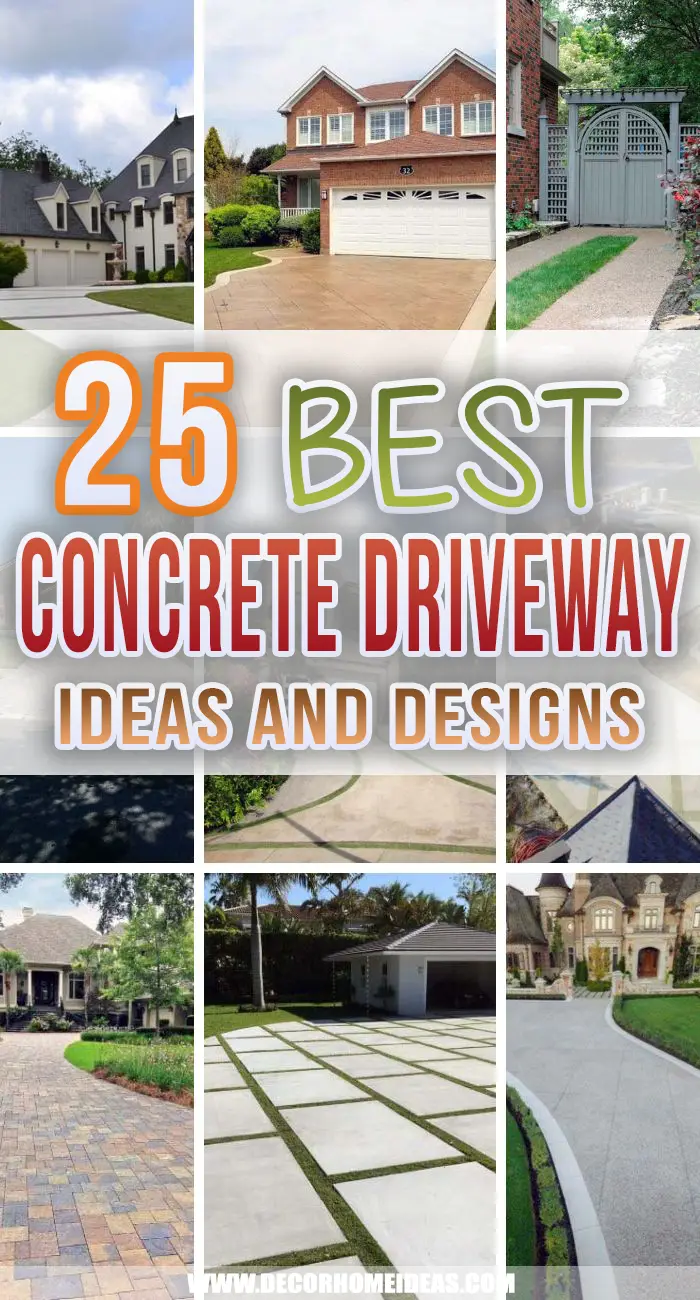 You're no longer limited to a choice between a black asphalt, gray concrete or gravel driveway.
The same techniques that are used to build a concrete pool deck can also be applied to hardscaping your driveway.
1. Gray Brick Pavers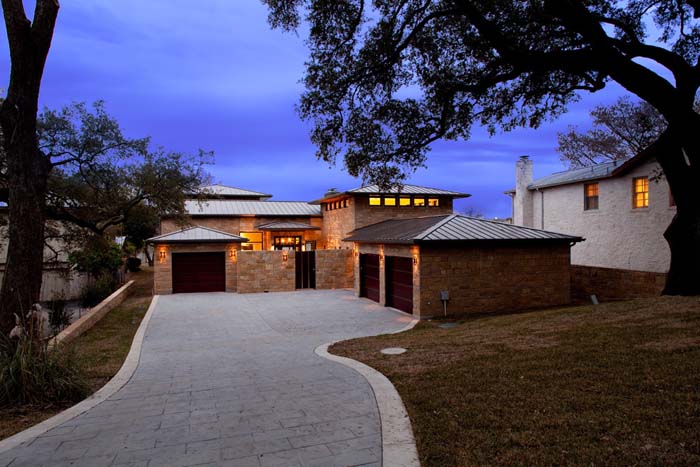 Brick pavers are a popular style for poured concrete driveways. It can accommodate any width and is easier to repair than traditional brick pavers.
It looks great here with a wide curb.
via David Manning Architecture
2. Frame Pavers with Turf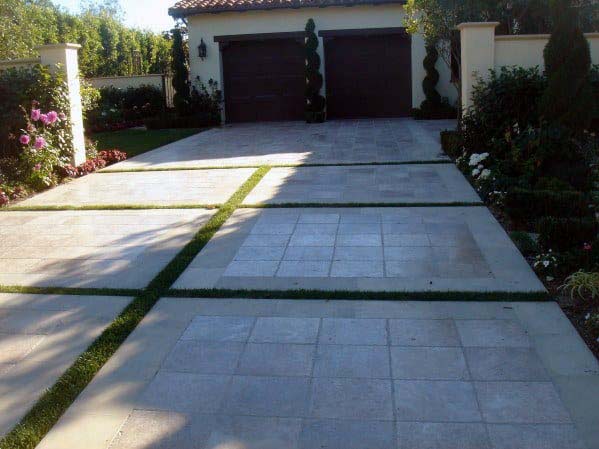 Framed squares and strips made of artificial turf are an elegant concrete idea. This particular resurfacing involved a newer technology that eliminates heavy demo work on an existing driveway.
Polishing the smaller concrete pavers and using a slightly different color adds enormous curb appeal.
3. A Driveway Full of Diamonds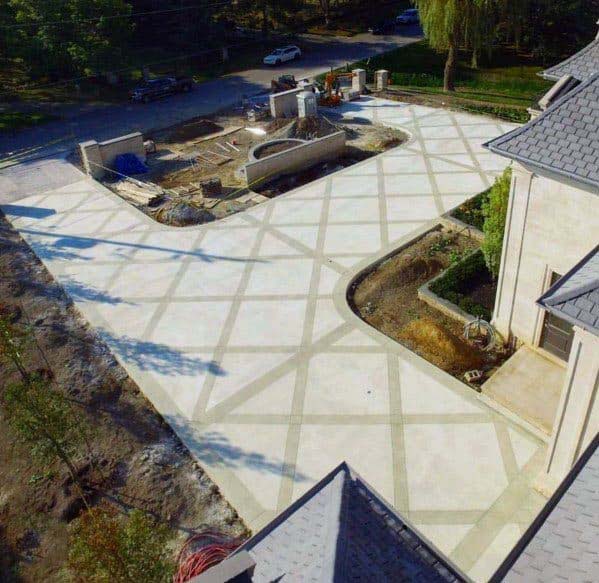 Two different colors are used to create a diamond pattern in this large circular driveway.
This can be accomplished by changing the concrete stain or the stamp mold.
4. Natural Stone Matches the House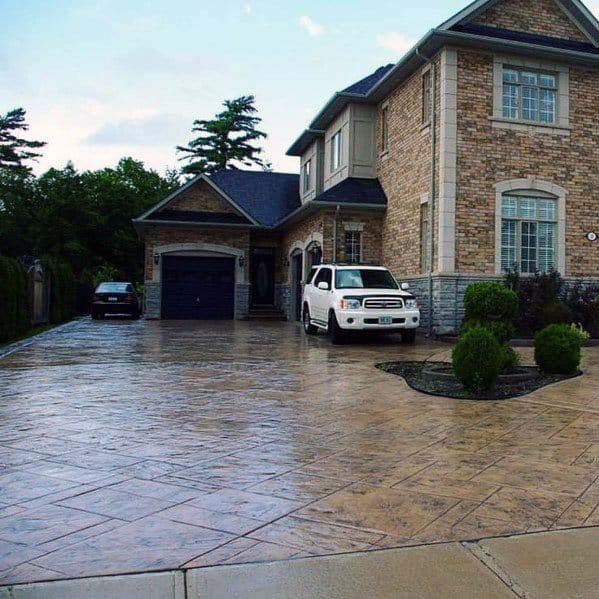 Stamped concrete comes in a variety of colors and patterns to mimic just about every natural stone imaginable.
It can be stained after the pour or during the mixing process. Staining during the mixing ensures the color won't fade over time.
This expansive driveway was stained to match the exterior brick color of the home. It was sealed with a glossy finish.
5. Vary the Colors of a Concrete Brick Pattern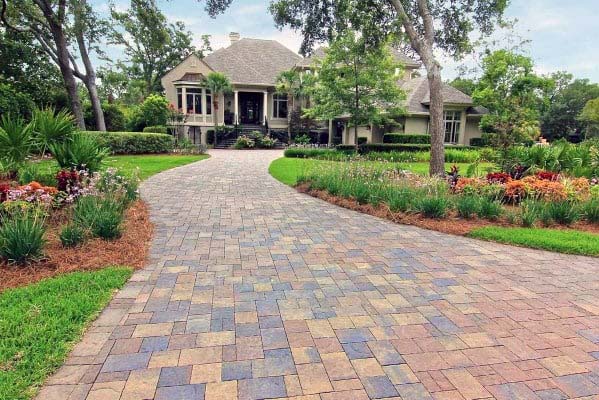 These stone driveway pavers can be recreated as a stamped concrete driveway idea. The pattern is traditional and found in many forms.
This beautiful neutral palette has an organic feel that naturally blends into the landscape.
6. Bands of Brick Pavers Add Interest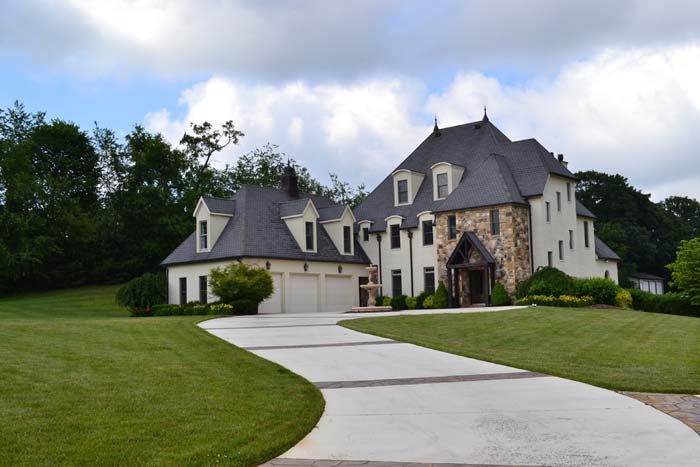 Forms of concrete quickly cover a lot of ground but can look boring. Break up the monotonous look of poured concrete by working in bands of brick pavers, a different texture and colored concrete, or an inlaid aggregate.
via Richard Bradford Construction
7. Ribbon Driveway with Real Grass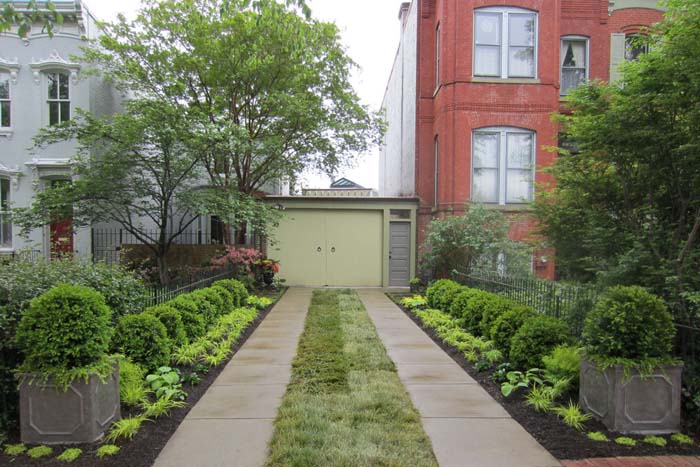 A traditional drive uses concrete pavers and grass to create a ribbon style driveway that's easy to maintain and is more eco-friendly than an asphalt driveway.
While it's mostly seen in rural areas with gravel instead of pavers, the design is functional and works on urban areas as a way to control rain runoff.
8. Concrete Driveway with Wet Look Sealer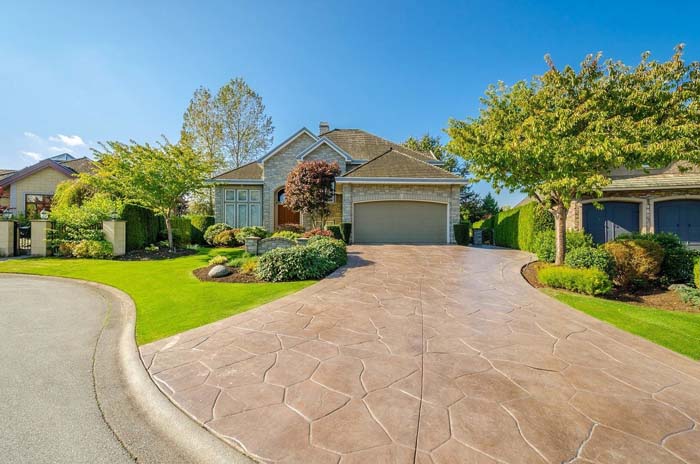 A stamped concrete driveway has a southwestern style with its terracotta color. Wet look sealer brings a shine to the driveway.
If you have an existing concrete driveway that you're pretty happy with, check with your local concrete contractor to discover if this can be applied to your existing driveway.
via NanDro Concrete & Sealants
9. Cobblestone Driveway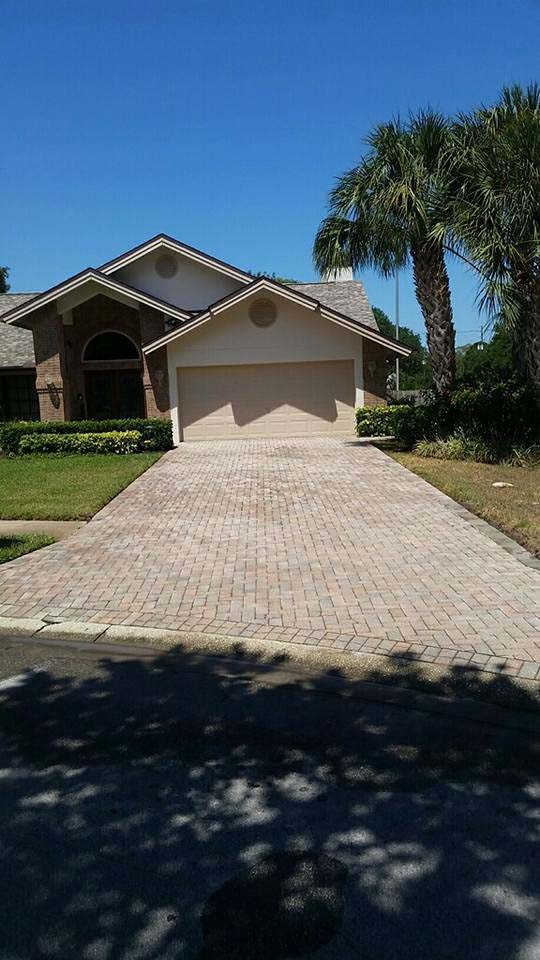 Cobblestone in residential driveways? Yes, please. You can now get the look of a cobblestone driveway no matter where you live.
A traditional double cobble block style can be built using stamped concrete or pre-built block pavers. Like other pre-made pavers, these can be found in an assortment of colors and patterns.
via NanDro Concrete & Sealants
10. Polish and Seal Your Existing Aggregate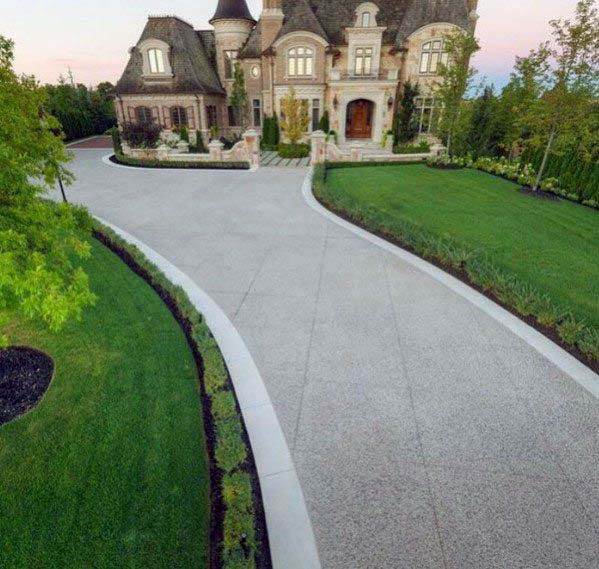 Having a driveway made from an aggregate doesn't hold the limitations it did in the past. This driveway was cleaned and sealed with a paver sealer.
The white curb has a polished granite finish.
11. Concrete Driveway Looks Like Old Granite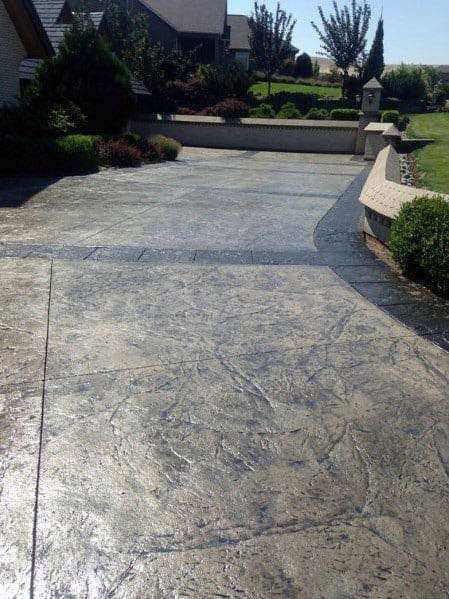 Stamped concrete has the look of old granite.
Pavers set in between the slabs are more permeable and work to control water on the driveway and act as a border for the tiers.
12. Resin Bound Driveway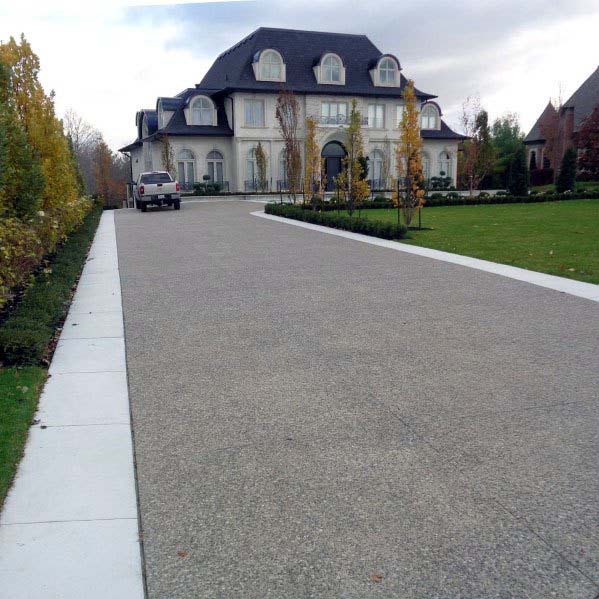 Resin bound driveways are made of small stones hardened with resin.
It's affordable, permeable and has a cleaner look than an exposed aggregate concrete driveway. Extra wide white curbs have an upscale vibe.
13. Custom Concrete Slabs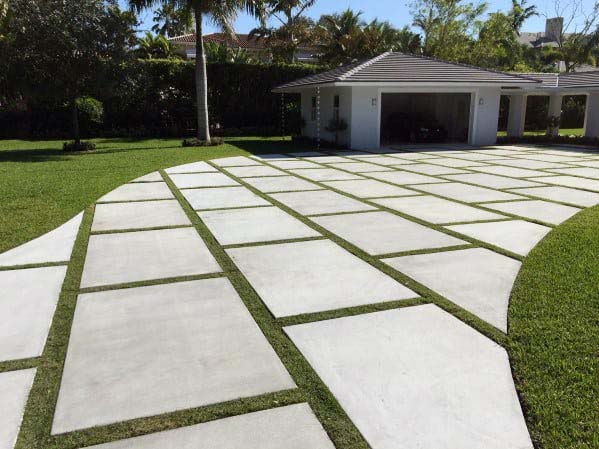 Custom concrete slabs can be measured and poured to suit any design.
These slabs follow a curved driveway. While you can have real grass growing between the slabs, artificial turf holds its look year round.
14. Add Stone Inlays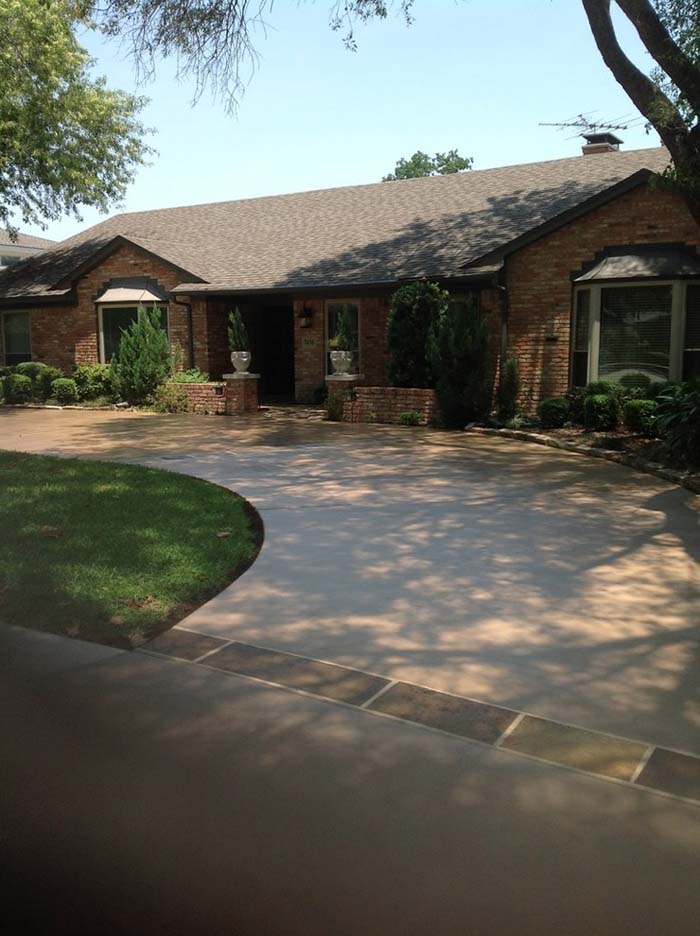 A circular driveway is stained and sealed. Stone inlays are set at the entry. The tan look matches the walkway and the lighter colored bricks of the home.
Large pavers can be used to indicate a property line.
15. Classic Concrete in Gorgeous White Color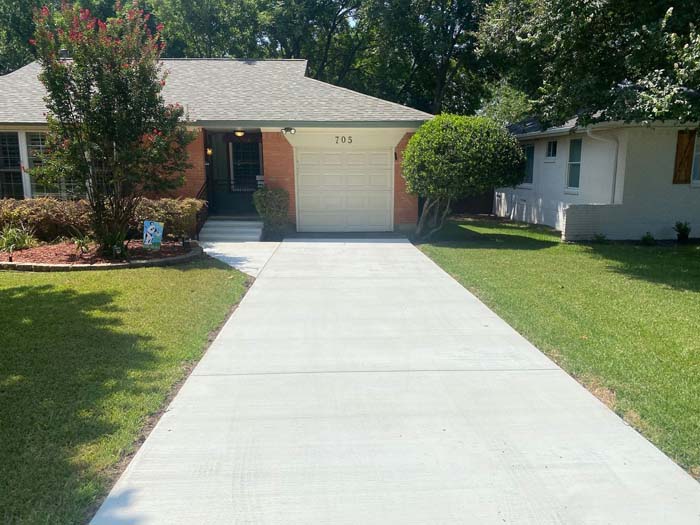 A classic concrete driveway idea gets a modern look by simply changing the color of the aggregate. The color is matched on the walkway.
Separating concrete driveway pavers into sections not only controls water runoff, it makes future repairs and replacements easier as the rebar won't be compromised through the entire driveway.
16. Change the Angle of a Concrete Block Pattern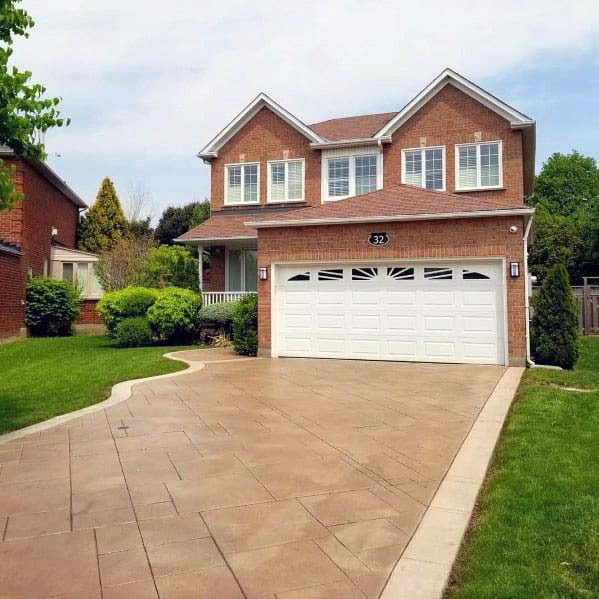 The homeowners opted for block paving with an interesting angular pattern.
They also chose sandstone color for their stained concrete with a lighter tan color used for the curb.
17. Concrete Polishing for a Smoother Surface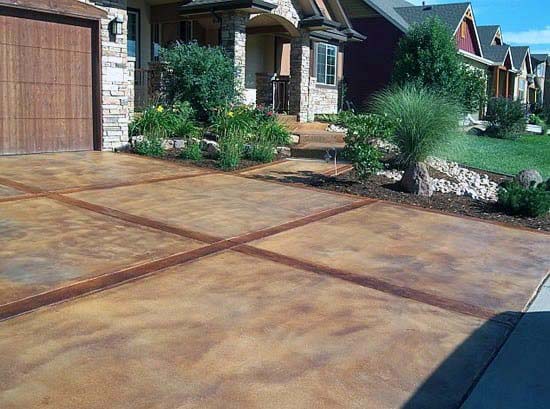 Many driveway companies will develop their own blends, driveway designs, and finishes. Concrete polishing reveals a smoother texture that has the look of quarried slabs.
The sections are framed in with a different texture to create a look of quarried stone that's more realistic.
The sandy color reflects less light than whites and grays, keeping the road glare to a minimum. It's a good color choice for those living in the southwestern United States.
18. Deep, Rich Red Brick Driveway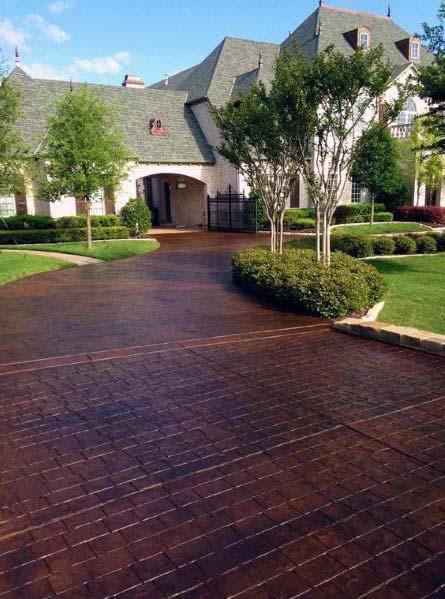 Deep red brick paver blocks are nearly impossible to find in large quantities.
Your best bet for this type of achieving the look of this type of paving stone is by using stamped and colored concrete. This driveway was stamped and stained in a rich, earthy red. It was then covered in a gloss sealant.
19. Roman Cobblestones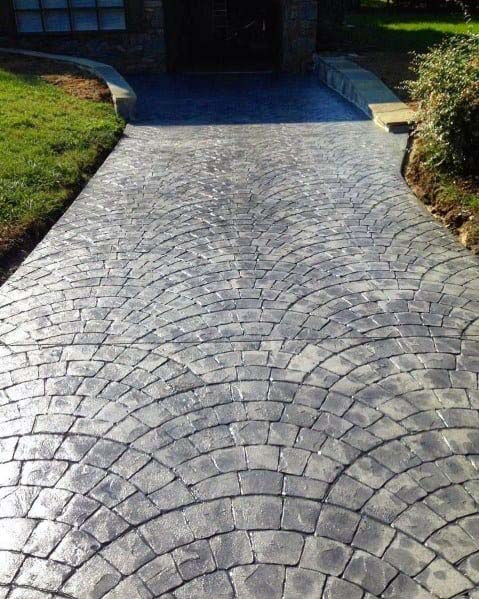 Your driveway isn't limited to traditional cobblestones from a local quarry. This concrete driveway design is made from stamped concrete in an ancient Roman fan pattern. 
It would look great outside any Mediterranean-style home, even if it isn't located in Italy.
20. Mix Style and Textures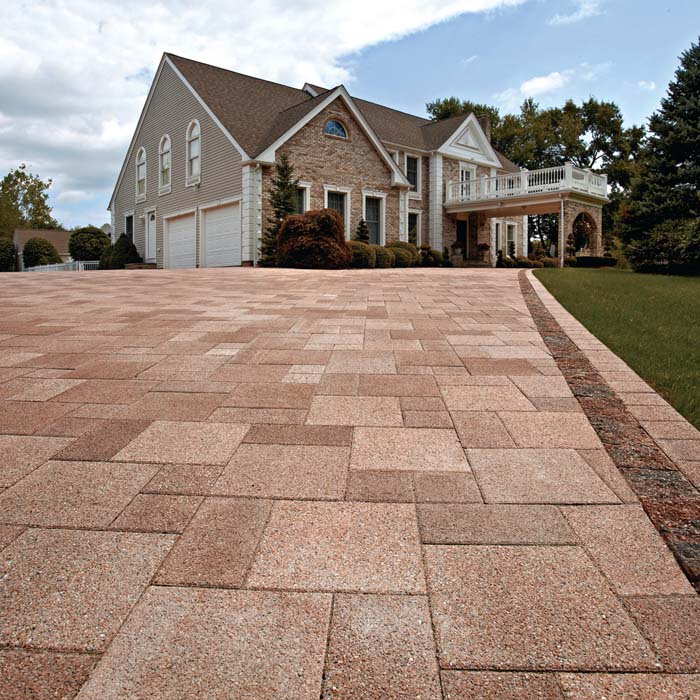 You don't have to limit your choices when it comes to decorative concrete. Concrete pavers match the color of the home's exterior design.
Rougher pavers were added along the border, adding interest and paying homage to the home's vintage style.
21. Neutral Palette Complements Home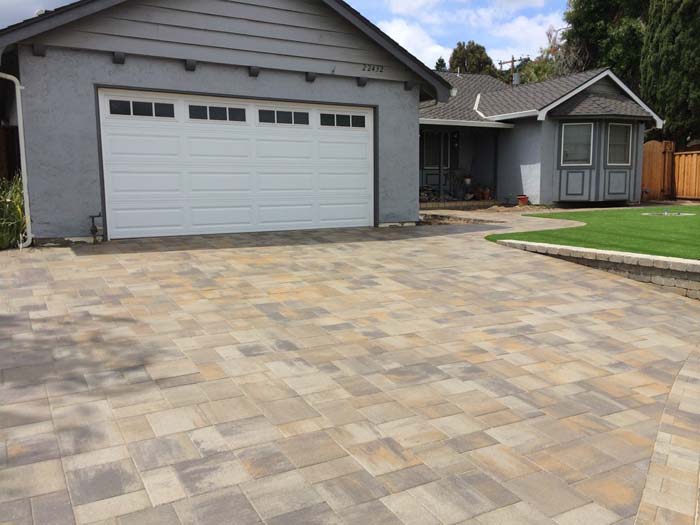 Here's another driveway that acts as a hardscape complement to the home's gray paint.
The stamped concrete overlay gets a mosaic design by using charcoal, beige, and cream colors.
22. Red Brick Edging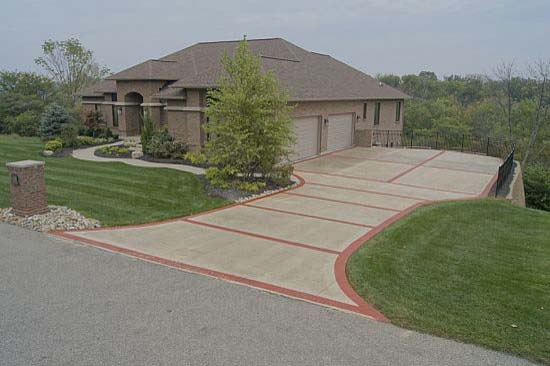 Red brick edging gives a standard concrete driveway a contemporary lift.
This can be done with traditional red brick or as another poured and stamped element.
23. Resin Bound Ribbon Driveway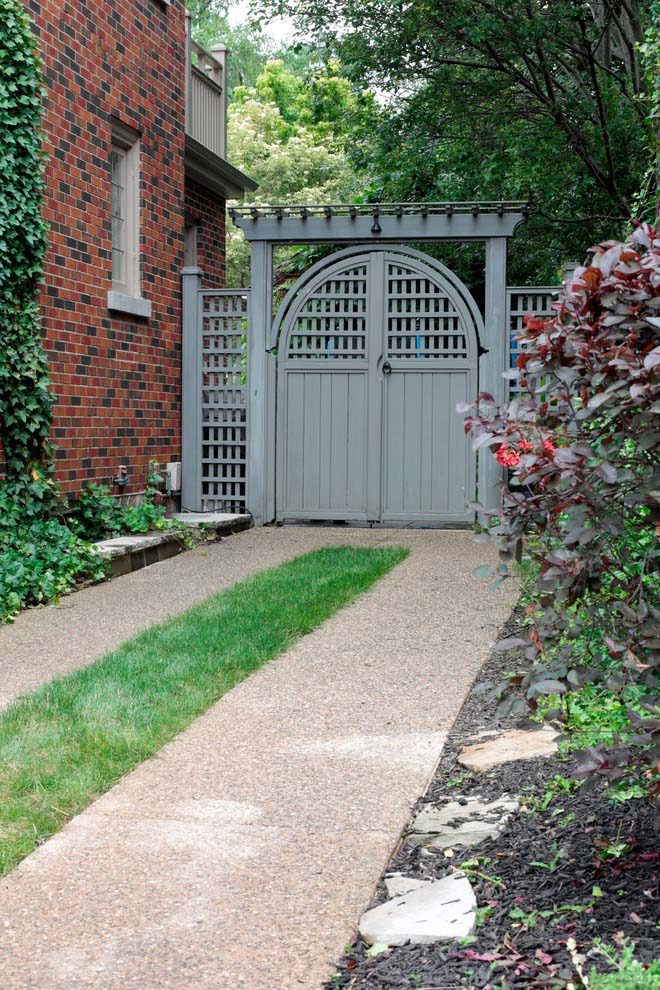 A concrete and grass ribbon driveway evokes images of the classic Craftsman style home. It's more affordable per square foot than a standard poured driveway since you're using less actual driveway material.
You can get the natural look of crushed gravel look without the mess by using resin bound paving.
24. Modern Sloped Concrete Driveway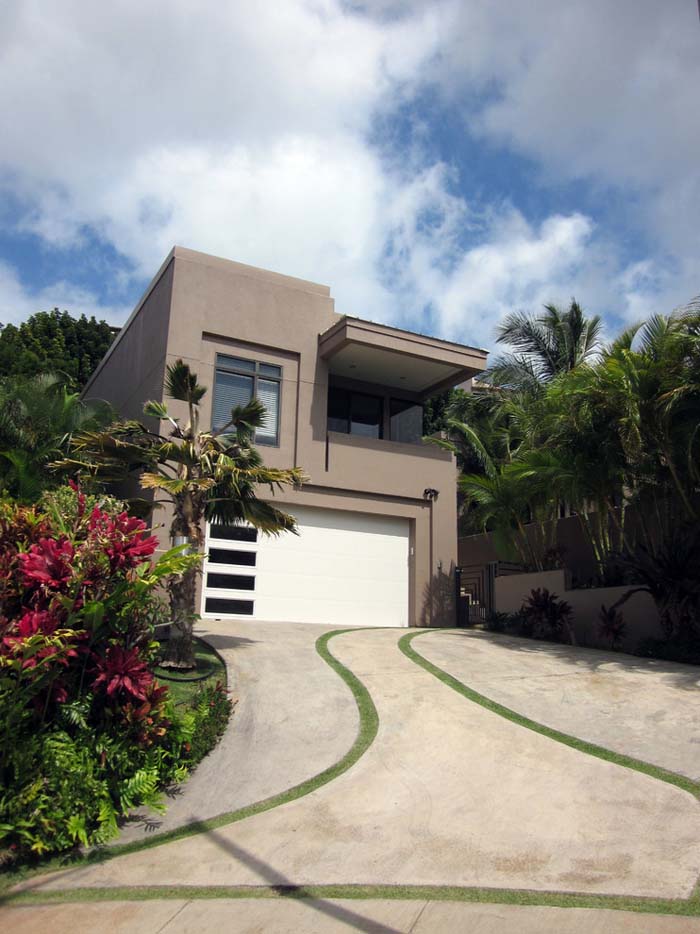 Here's an example of how materials and colors are blended to achieve a natural look without compromising structural integrity.
A slope like this called for micro fiber to be blended into the concrete and reinforced with steel rebar.
It started with a base color in the mix and then the wet concrete had several more colors dusted on the top.
25. Basket Weave Brick Pattern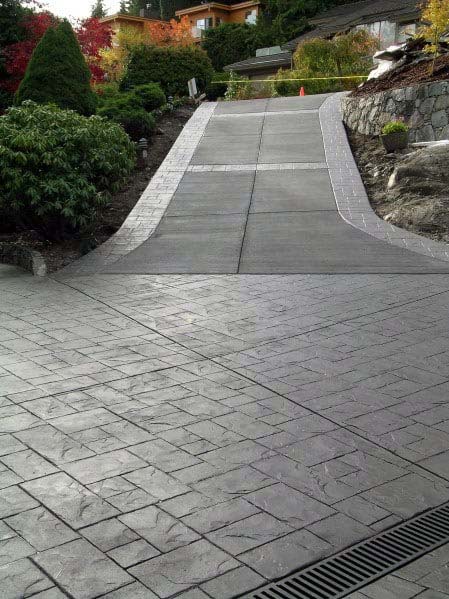 This driveway has been stamped with a variant on a basket weave pattern one would find on a brick driveway. It works well on a flatter surface.
A more traditional pour and rougher texture was used on the sloped sections for more traction.