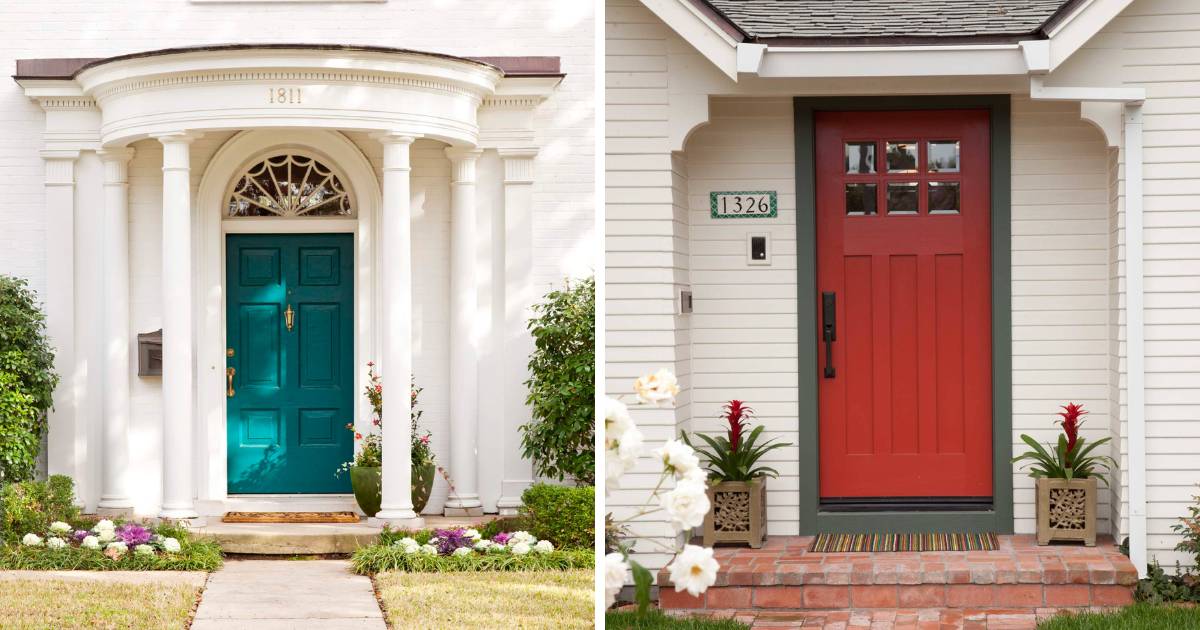 The color of your front door may seem like a small detail, but it greatly impacts how people see your home. Choosing the right color can make all the difference in the overall aesthetic of your home. 
If your house has white siding, painted brick, or stucco, it's like a blank canvas, and there are endless hues you can choose for a front door color, and choosing the right one can be daunting.
Many people consider the color of their porch, roof, walkaway, shutters, and landscaping before choosing a front door color. Here is a list of the 12 best front door colors for a white house.
1. Green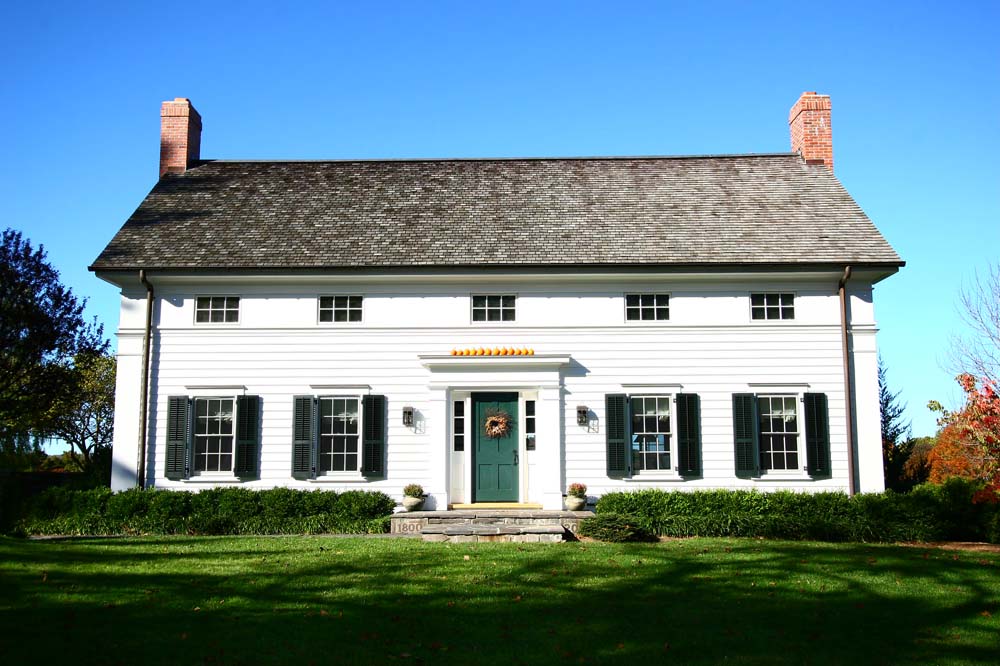 via Daniel Contelmo Architects
The color of nature, growth, and life. When it comes to doors, green is a color associated with good luck.
While others associate the color with envy and jealousy, a green door is, in fact, very welcoming; it signifies new beginnings, new life, and energy. 
It adds some interest to a white trim without being too bright, and there are several shades that you can try, such as the Benjamin Moore Tarrytown green (HC-134).
2. Gray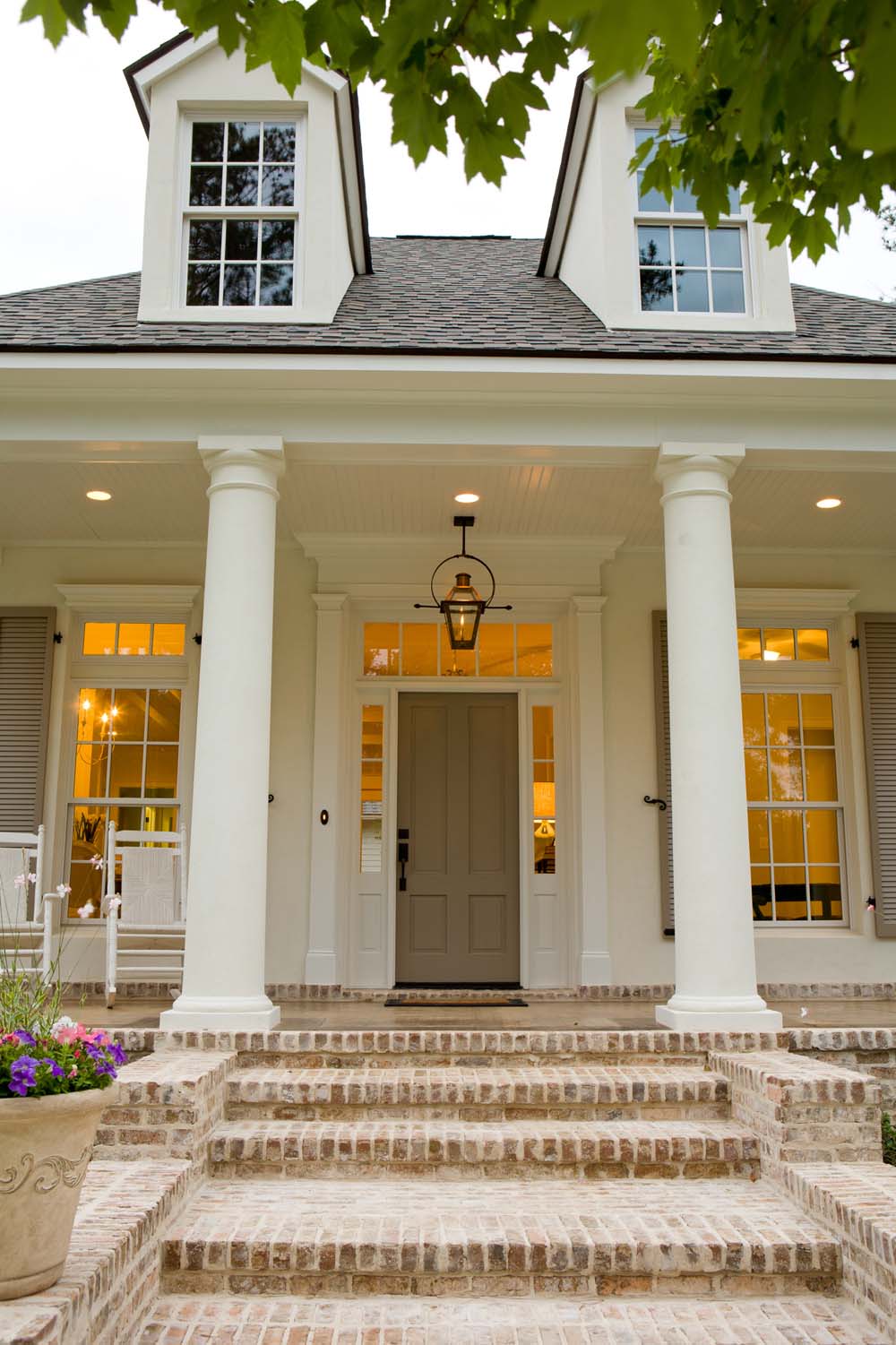 via Highland Homes
As it has often been said, gray is the new black. Whether for a modern or traditional home, a gray front door will add curb appeal to your home. 
One of the advantages of choosing gray paint is that it matches everything. This makes it perfect for adding a little personality to your home without going overboard. Since it's a deep color, gray helps soften the bright white paint of your home.
3. Red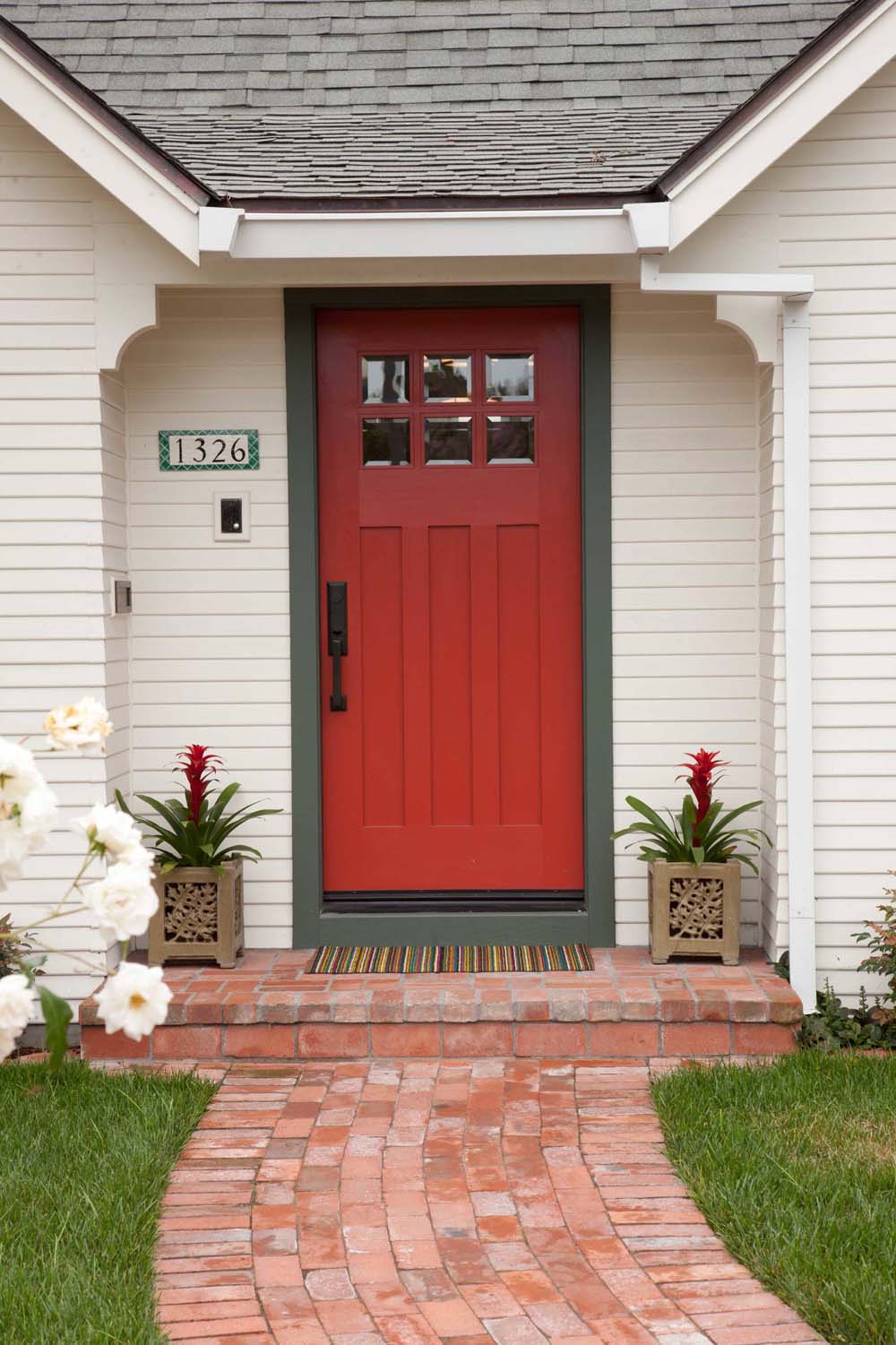 via Gatling Design
Red is the color of love, excitement, and fashion and will surely add a striking contrast to your white home in craftsman or federalist styles. In the past, a red front door symbolized hospitality. 
Several shades will match the neutral color of a white house.
Crimson red creates a classic front door look of sophistication and elegance in your home 
Burgundy red adds a touch of dramatic elegance to your house and makes a bold statement.
Poppy red is a bright color that makes a statement and adds a bit of personality to your house.
4. Black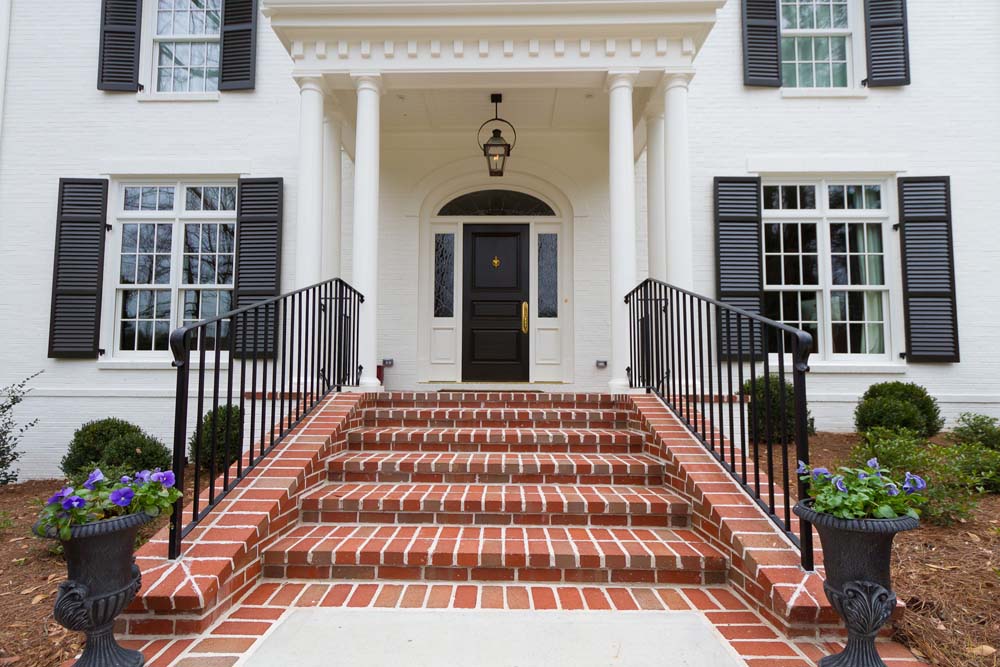 A black front door is a classic; it's timeless and sleek and makes a bold statement. Black is the perfect color for a white house to make your home stand out.
A black door creates a stunning contrast that elevates your home's curb appeal. Some shades of black that will be perfect for an entry door include glossy black, matte black, and charcoal gray.
5. Turquoise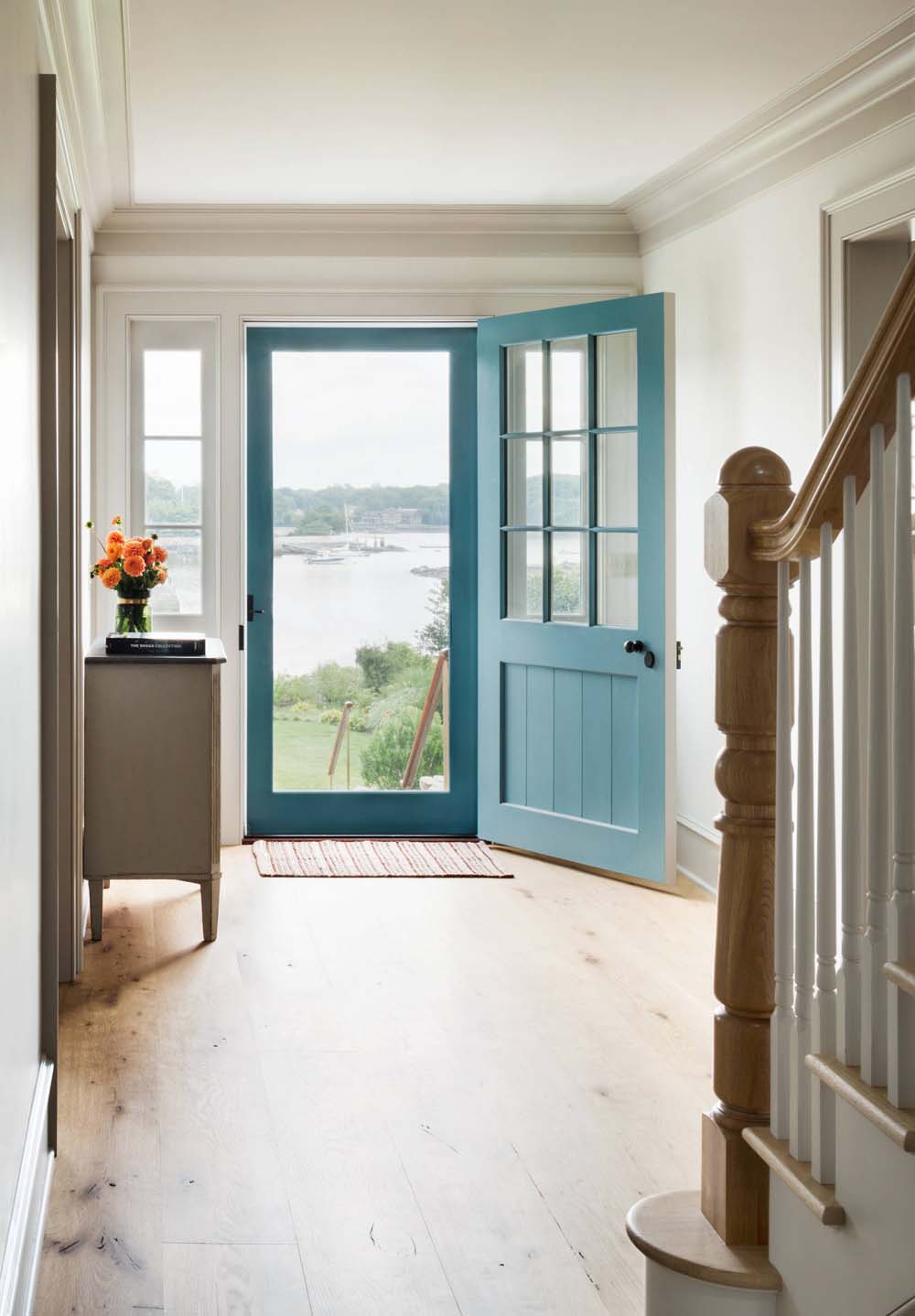 Depending on your shade, this color can be calming or invigorating. If you want a calming effect, go for a lighter shade. To get a stand-out effect go for a brighter shade.
The versatility of this color makes it easy to design and match in different ways.
No matter your chosen color, turquoise will make a statement and add some personality and pizzazz to your home.
6. Blue Peacock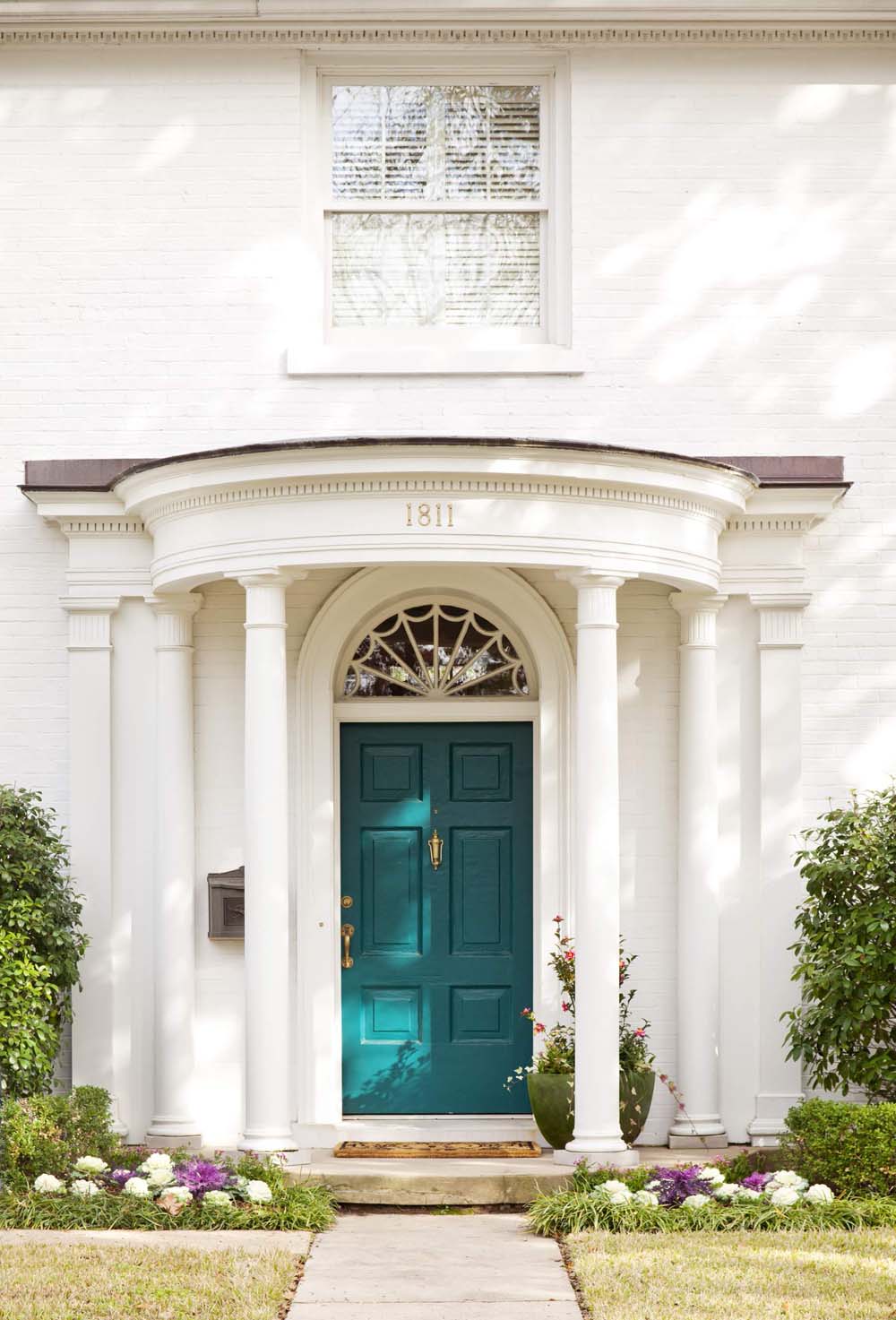 One of the most saturated teal paints and probably one of the most attractive Sherwin Williams colors.
This teal paint combines equal parts green and blue, making the perfect front door for a house with a pure white exterior.
Often the blue peacock has more blue undertones as compared to green ones. The cool tone of this color creates a rich and cozy vibe.
7. Orange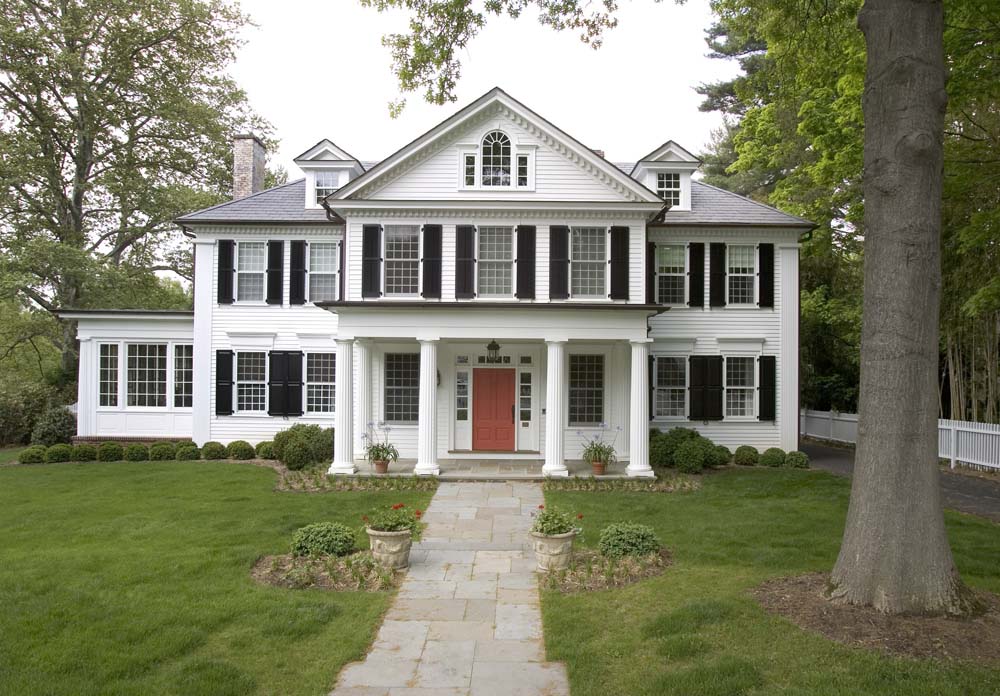 via Lasley Brahaney Architecture
If you are looking for paint to rejuvenate your home and give it a new look during the fall, orange may be the color for you. It's the primary color for fall and will set the right mood for Halloween. 
An orange front door will definitely make your white house stand out. A few hues you can work with include Sherwin-Williams Fire Island, Benjamin Moore Goldenrod, and Valspar Paint Sunrise Suede.
8. Yellow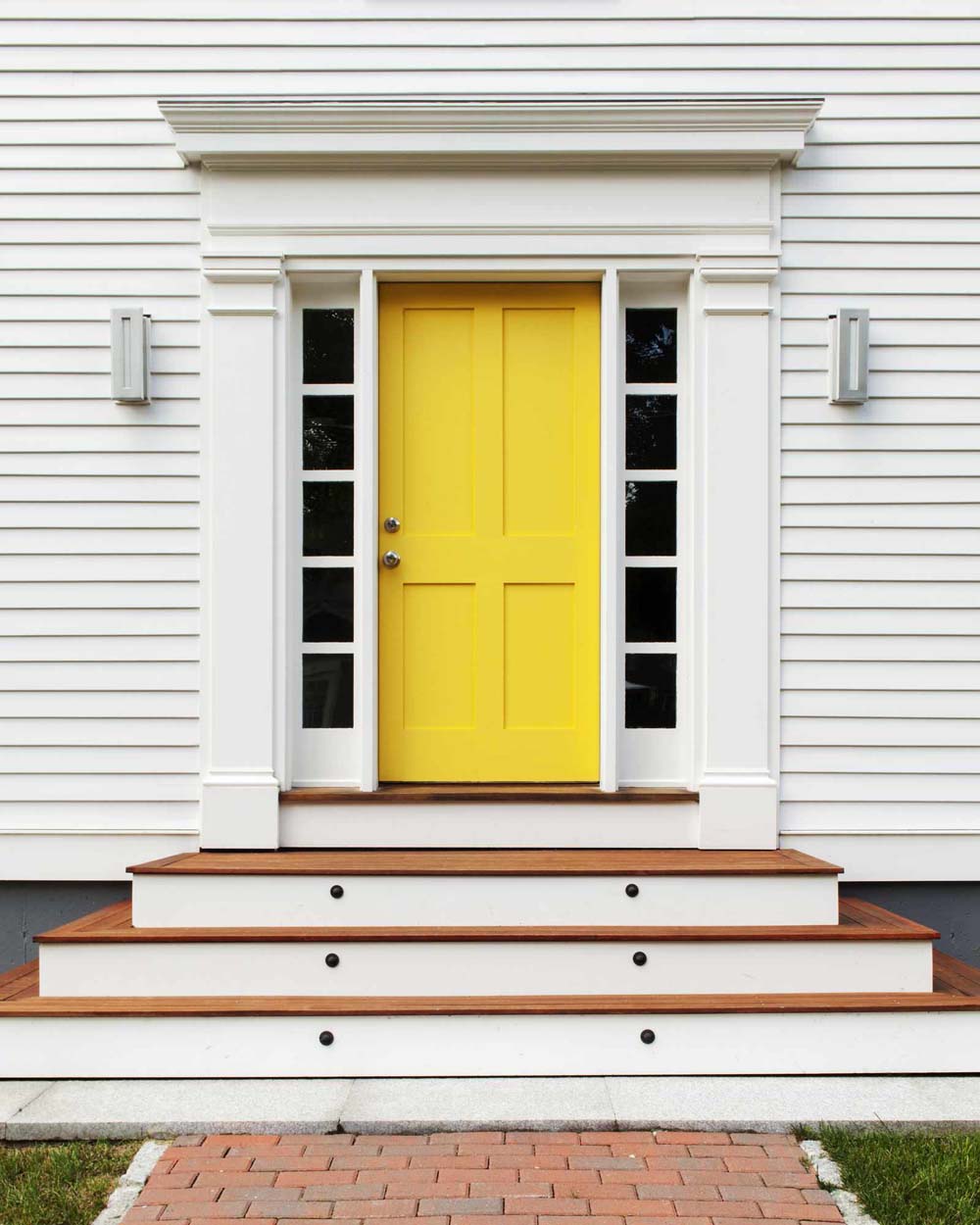 via LDa Architecture & Interiors
Yellow is another bright paint that may work well with a white house. This is the right color if you want something beckoning for the guests or add a bright touch to the neutral color. A yellow door immediately draws the attention of visitors toward the entrance.
This color has many shades, depending on the vibe you're after. You should go for primary yellow if you want a bright sunny vibe.
On the other hand, rich gold creates a deep contrast with the white color that will match well with autumn leaves.
9. Baby Blue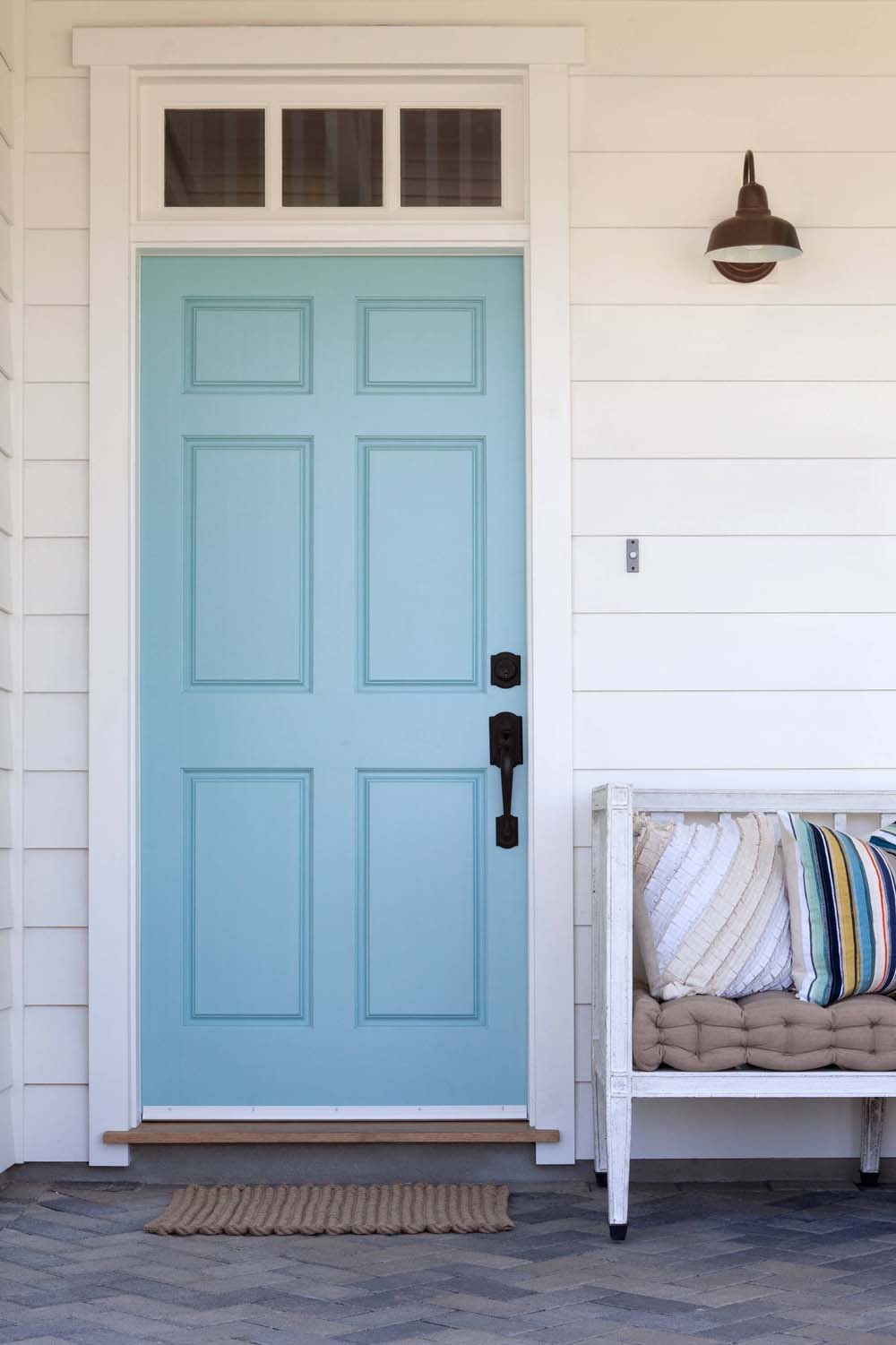 Baby Blue is another color that matches a pure white house well. Colors such as Benjamin Moore's Baby boy blue have been lauded for their ability to work well in different settings. 
This is one of the best blue front door colors to create an inviting porch that ensures the space does not feel too dark.
A reflective shade of this color will bounce even more light around to create more brightness.
10. Brown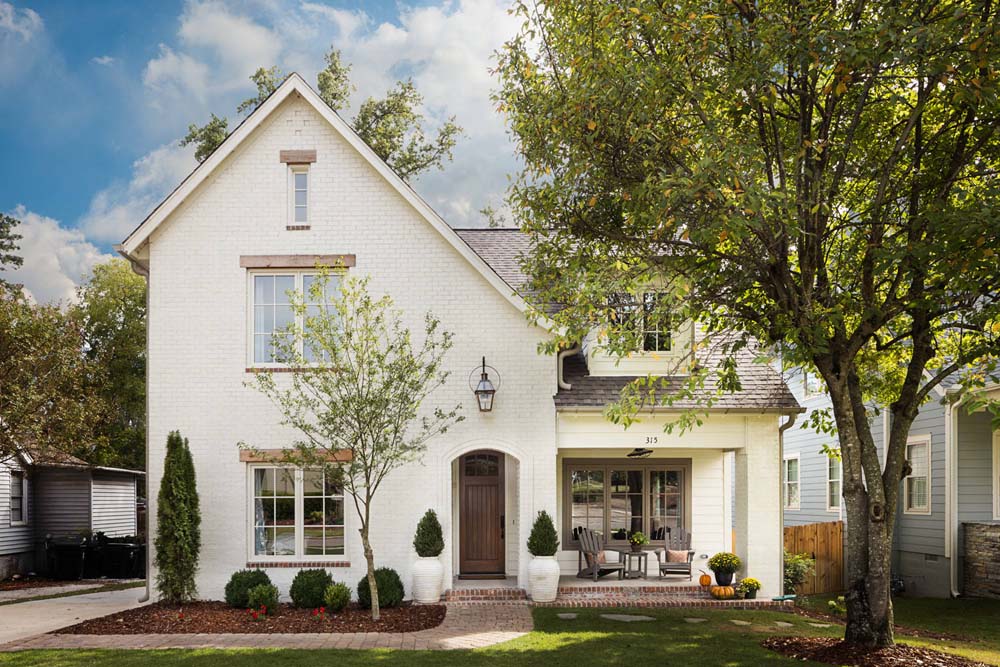 via BEVOLO GAS & ELECTRIC LIGHTS
For those looking for a simple yet elegant color to match their white color schemes, dark brown might be the color you are looking for.
Since it does not show dirt easily, the dark brown color can also double up as a garage door color. Even though it's a neutral color, the different shades of brown can bring a lot of personality to your home.
Here are some hues you can try for a white house:
Ben Moore's Gingerbread
Sherwin- Williams Toffee
11. Wood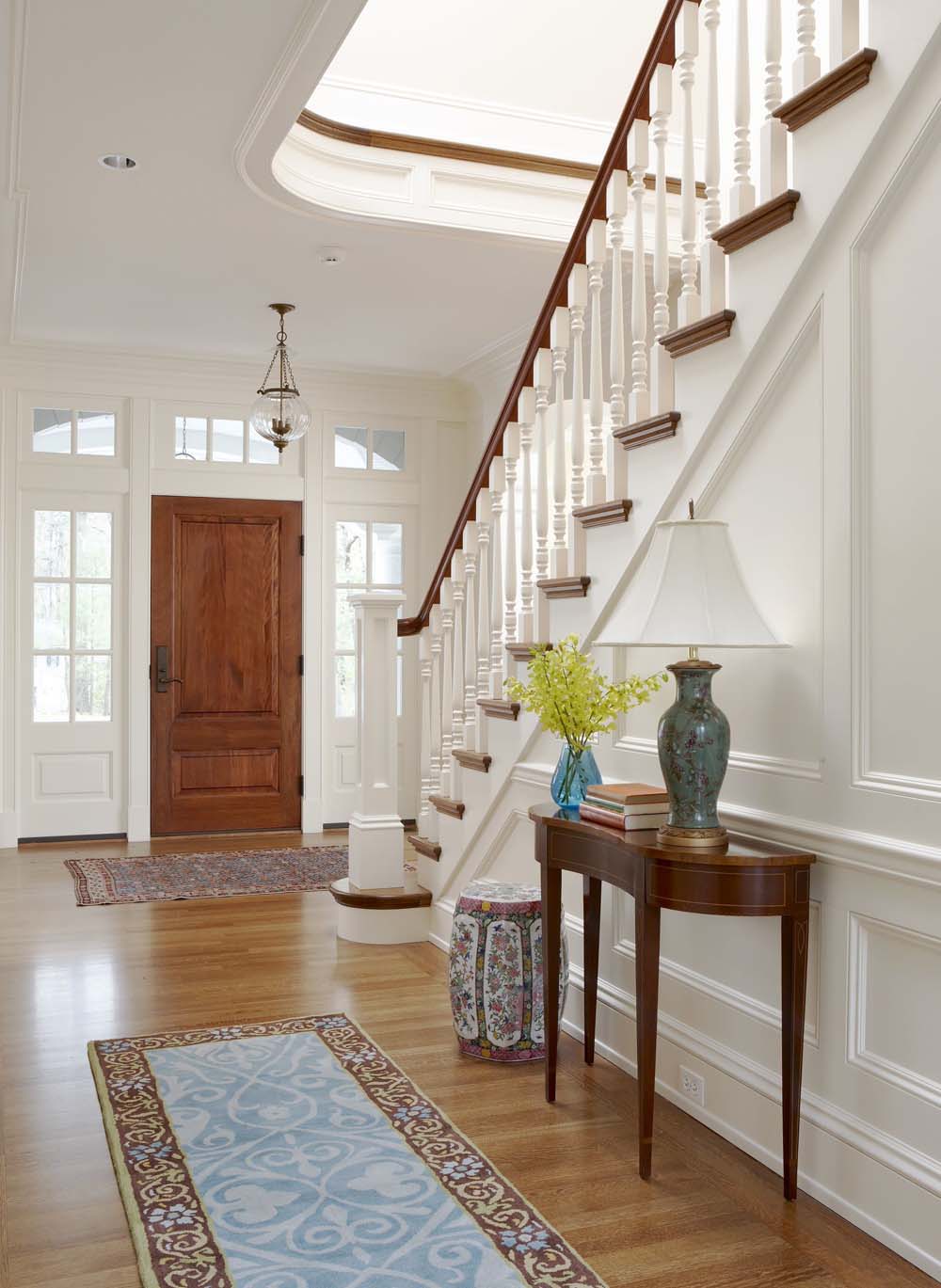 A timeless and natural door color to pair with a white house. Wood achieves a classic and elegant look. The best thing about this color is it mimics natural wood hues giving your home that sophisticated look.
There are different hues that you can use to achieve different feels. For example, you can use oak or mahogany to achieve a classic look or cherry and maple hues for a more modern look.
No matter the type of wood you use, you can be sure this color will add a lot of curb appeal to your white walls.
12. Cream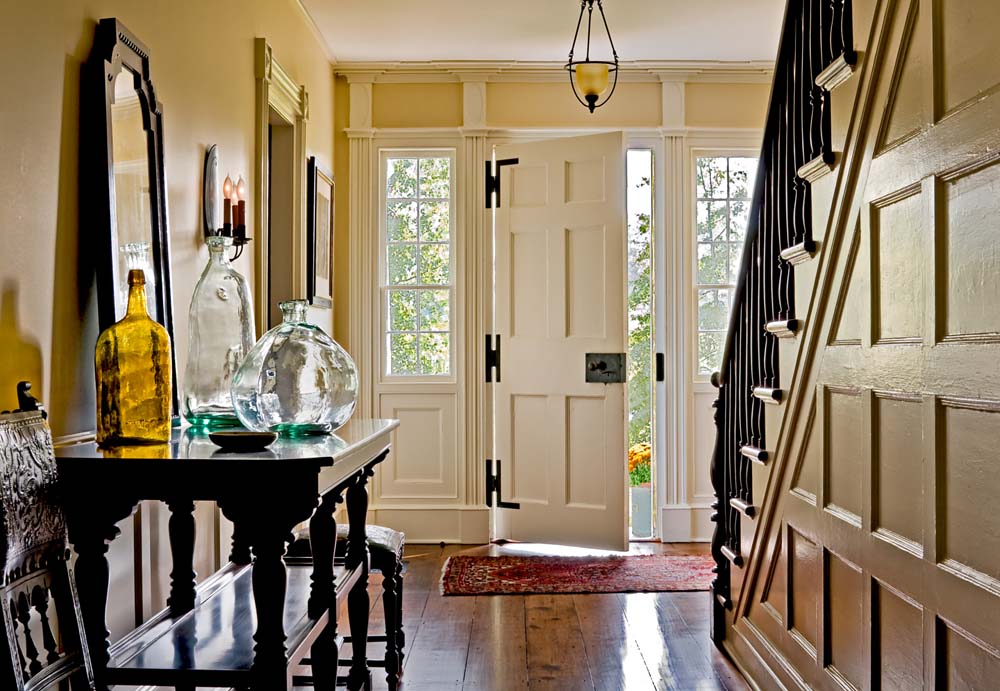 via Crisp Architects
This is one of the boldest colors on the list. Cream stands out as a popular front door color for a white house. A cream door will work well with a white trim house. Since the color is not as stark as white, it creates a warm, cozy, and welcoming feel for any visitors you may have.
Set against a brighter white exterior, the cream creates elegance and simplicity in your house. The color works well if you have warm-toned elements on your exterior, such as stone or brick.
Frequently Asked Questions
This entirely depends on your tastes and preferences. Still, when choosing a color, you want to ensure it accents well with other exterior elements such as the shutters, brick, and siding.
Ensure you find a complementary color palette for your home depending on the exterior painting and your tastes.
What color goes best with a white house?
Several colors will match with a white house. It all comes down to the feel/ vibe that you want your house to emanate. Colors like black, gray, brown, and blue can all have different feels, so you'll have to decide how you want your home to feel.
Should the front door be lighter or darker than the house?
The front doesn't necessarily need to be lighter or darker than the house, as many factors will determine this.
Consider factors like the amount of light or where the door is facing before choosing a color and other exterior accents around the house, such as trims.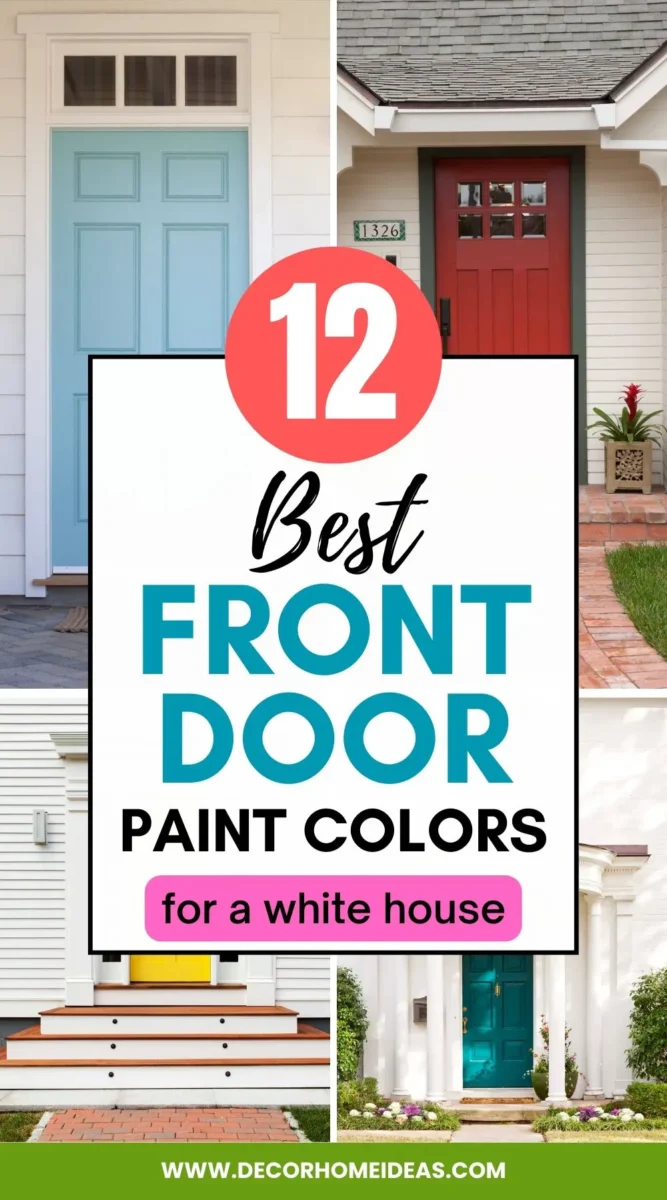 Wrapping Up 
There are different factors to consider when choosing a front door for a white house. While it boils down to personal tastes, bold color, classic, or neutral undertones will do the trick. 
Remember that dark colors will show dirt and wear and tear more than light colors, so if you don't want to repaint often, you are more suited to lighter shades.
So, get started on your search today!