So, you painted your room gray because you heard it goes with just about any other color. Now, you're looking at the room and think it needs something more.
This is where accent walls come in. Take a look at the list below to discover what color accent wall goes with grey and how to incorporate it in your interior design.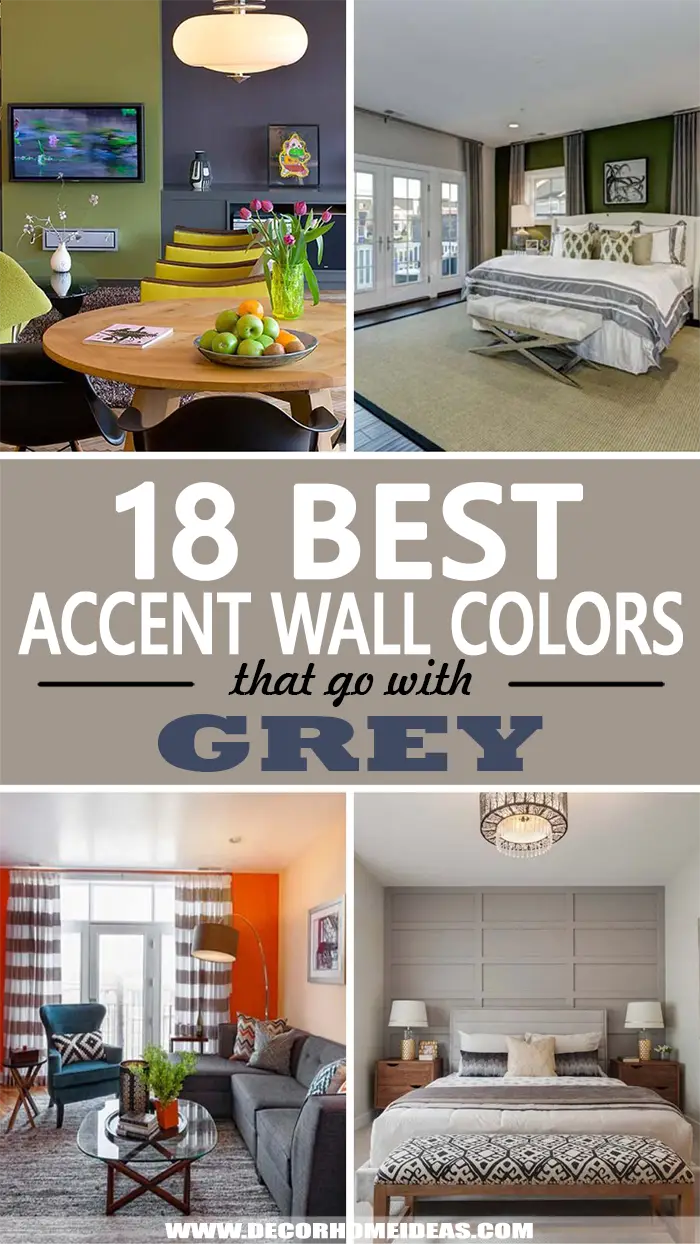 Gray paint colors have become confusing in recent years. Gray has always been considered a cool color. Is there such a thing as warm gray? Yes, if you move to the greige colors.
Many paint manufacturers have yet to embrace the name, so you'll find many gray paint colors that decorators refer to as greige.
Greige Paint colors by Sherwin-Williams: 
Worldly Gray
Repose Gray
Accessible Beige
Agreeable Gray
Greige Colors by Benjamin Moore:
Edgecomb Gray
Mindful Gray
Pale Oak
If you're looking for a medium shade of gray, Dorian Gray by Sherwin-Williams is widely available. It's a warm color, but is considered very close to a neutral. The most popular cool gray color in the Sherwin-Williams line is Gray Screen.
1. Gray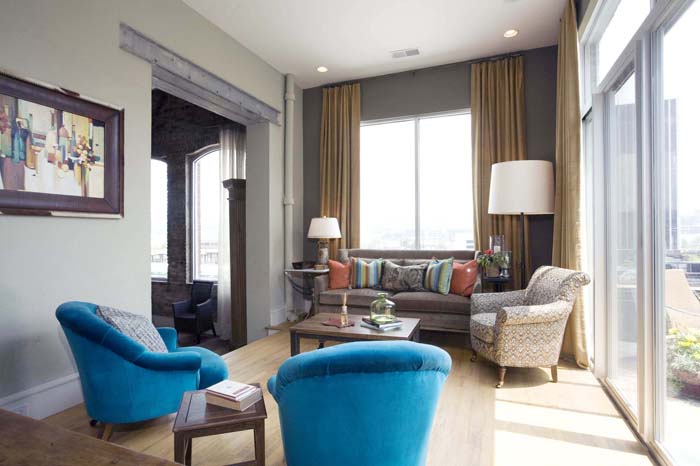 Yes, it's true. The trend of decorating a room in all gray is going out of style, but the beauty of neutrals is their versatility. They not only go with other neutrals, the same neutral can be used with other shades to create interest.
So, light gray and dark gray can work as a color combination to break up the room in a subtle way. The undertones here can be green or blue-green. Both work with the long, golden curtains and the blue upholstered accent chairs. 
If you're not all-in with gray anymore but don't want to change out all of your furnishings, consider a greige like Sherwin Williams Repose Gray is a bit of a chameleon gray as it changes with natural light. Other options include Dorian Gray, also by Sherwin-Williams, and Stonington Gray by Benjamin Moore.
via Sylvia Martin
2. Navy Blue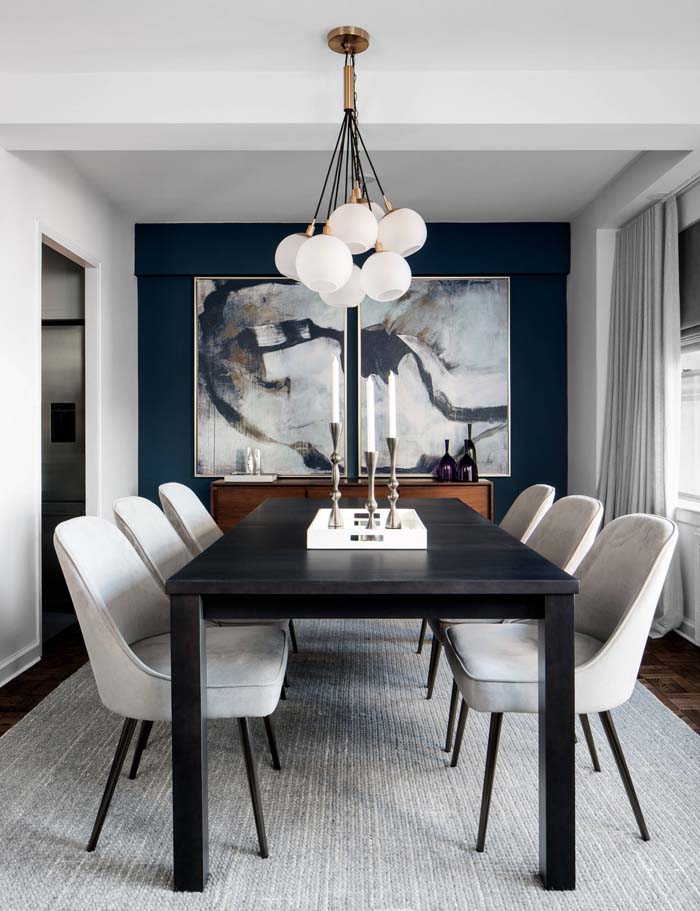 A navy blue accent wall makes a bold statement in this contemporary dining room.
The gray walls set the stage for the white accent pieces and large painting. Benjamin Moore's Gray Owl is often found in a palette that includes navy blue.
via Décor Aid
3. Wood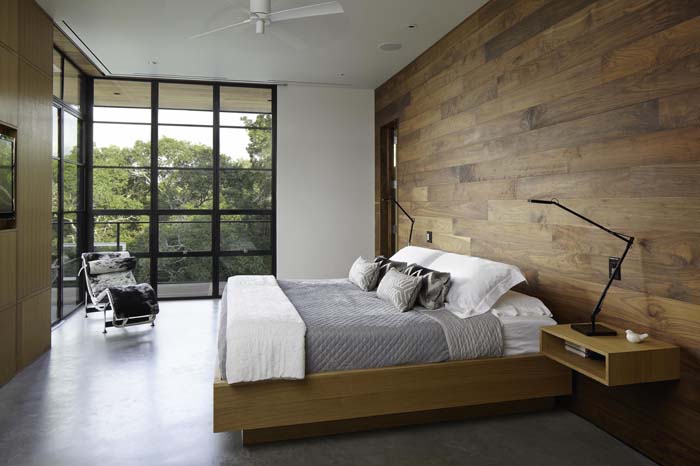 A room with minimal decor finds other ways to make a statement. The full-length windows let the room connect with nature.
A wood accent wall reaffirms the rustic vibe. The room maintains its serenity with the dark gray floor and light gray walls.
4. Orange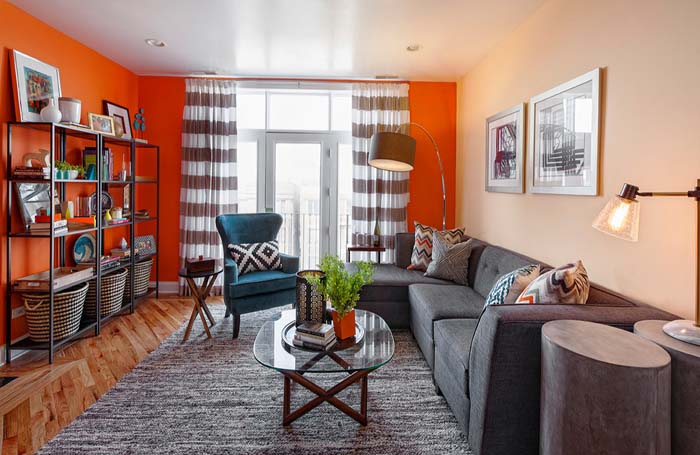 A bright color can take over a room. Make sure your accent colors are coordinating colors that work together in your home decor. 
A bright orange accent wall is the polar opposite of a gray wall with its cool undertones.
5. Sky Blue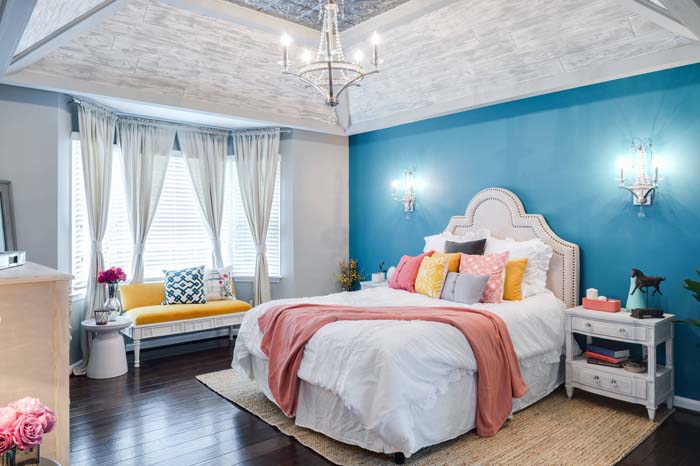 Choose a gray with or blue-green undertones to bring up the energy in a bright blue accent wall. You can see it here in the curtains and ceiling.
via Green Basements & Remodeling
6. Jade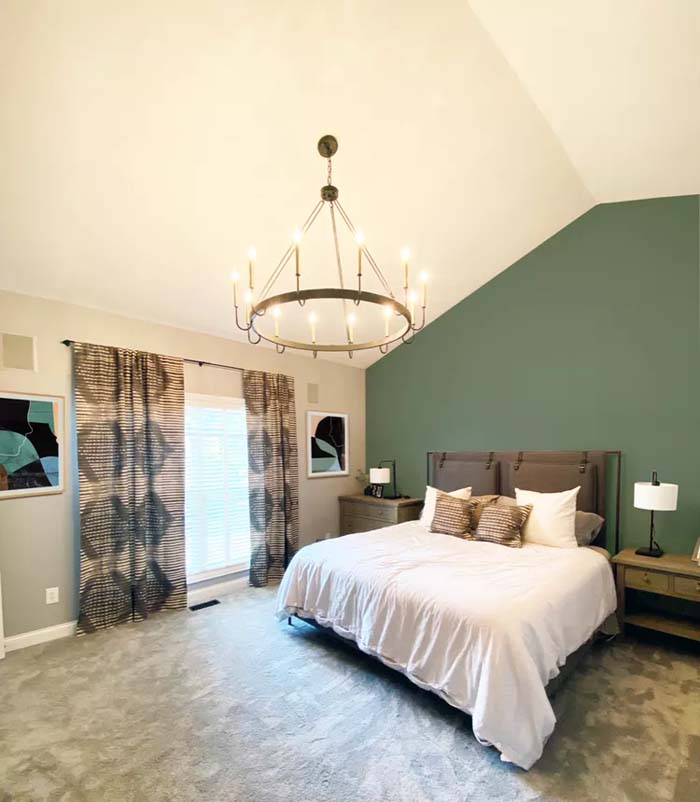 Jade has blue green undertones. The hint of yellow undertones is hinted at in the curtains and gold pillows.
The vintage chandelier adds to the rustic style and the bulbs pick up the yellow undertones in the color scheme, bringing a golden glow to the room. Sherwin Williams Agreeable Gray works well with jade and jasper.
via Unhinged Design
7. Brown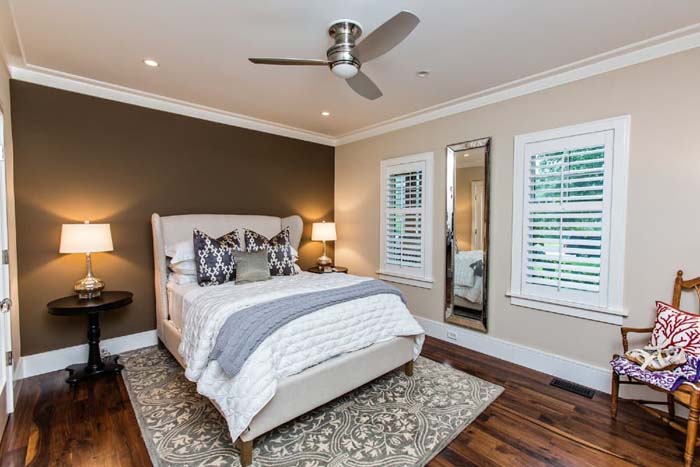 This is a marriage of neutrals. Both gray and brown can go with many other colors. Pairing them allows you a nice base for adding other colors as you wish. You see it here with touches of slate blue which pairs well with the blue undertones in the gray walls. 
If you want a warmer feel, this is a great time to experiment with shades of greige. The yellow undertones will warm up the room even more.
8. Sage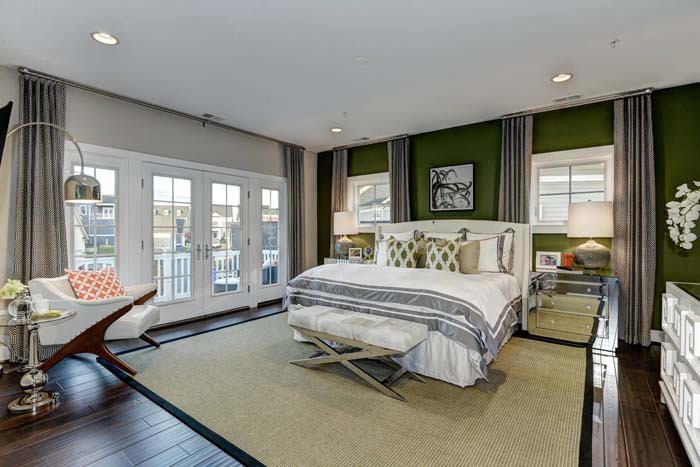 Sage has a lot of yellow undertones, making it an ideal candidate for a gray with green undertones. The green plays with the golden legs of the bench and natural fibers in the area rug.
9. Sapphire Blue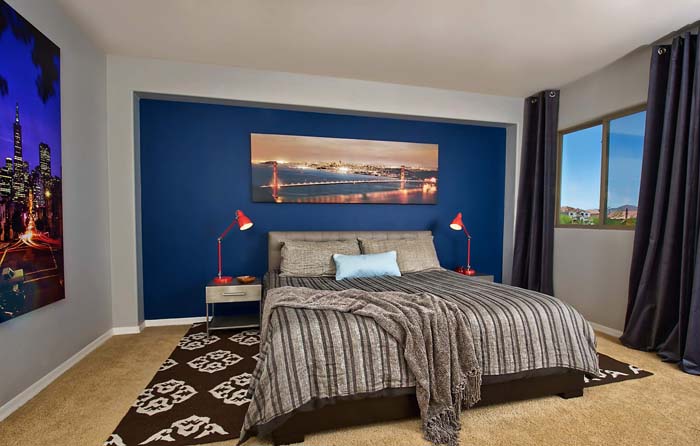 Jewel tones make bold statements but keep the room from looking flashy. Gray walls are the perfect neutral color for a masculine room when you want to add a deep color, such as sapphire blue.
It's paired here with chocolate brown and really brings out the vibrant color of the blues in the room.
via Mackenzie Collier Interiors
10. Brick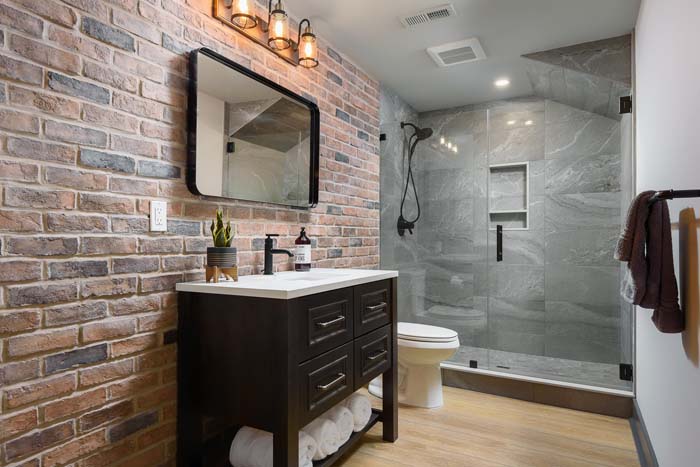 The reddish brown neutrals in brick make it the perfect accent wall opposite nearly any shade of gray. Keep the shade of gray on the light side to bring out the rich hues in the brick.
Adding a brick wall is easy to do these days as brick facades are available at just about any home improvement store, including Lowe's and Home Depot.
via La Bella Casa Interior Designs
11. Lime Green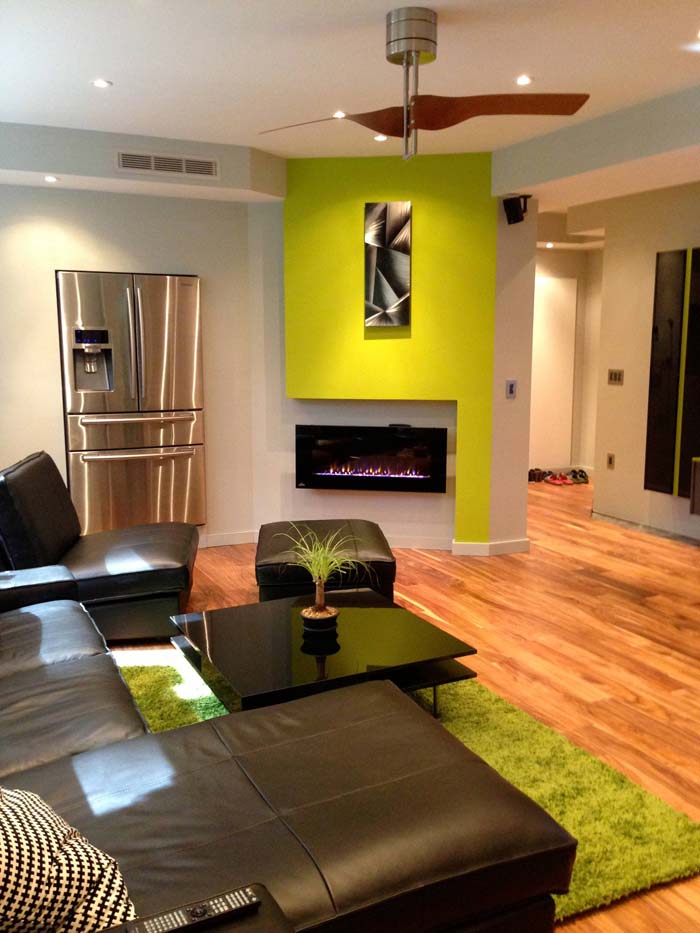 Lime green is a bright and bold choice. It's the only pop of color needed in this room of neutrals. A light shade of gray harmonizes well with the brown wood floor and leather couch.
12. Lavender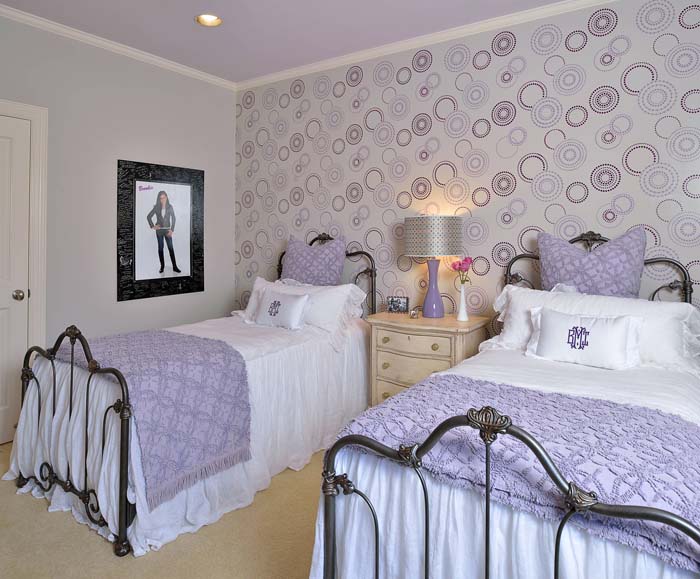 Lavender has lost its stigma as an old lady color. It's now embraced as a healing part of nature and a nice change of pace from pink in a feminine room. This would be a great time to use a gray wall paint that has purple undertones.
13. Stone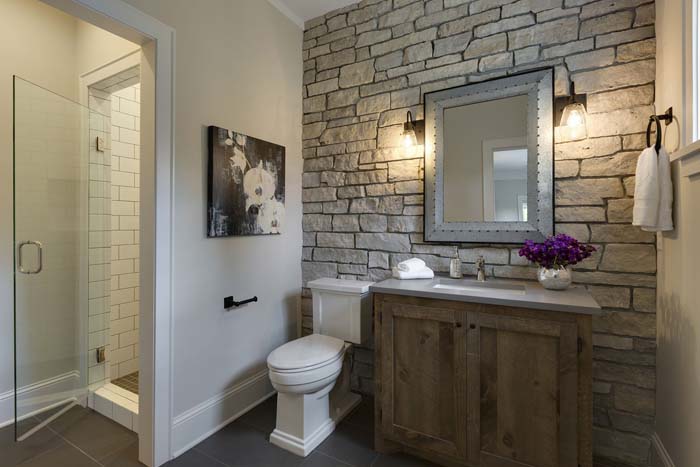 Similar to the brick accent wall we saw above, a stone wall can look just as dramatic. Keep the color palette neutral and use a gray on the lighter side to ensure the stone doesn't have to fight for attention. Also, keep the mortar color on the dark side.
Charcoal gray walls add weight to the deeper green accent wall color. It's a dramatic contrast to the light stained floors and furniture.
via Hagstrom Builder
14. Yellow-Green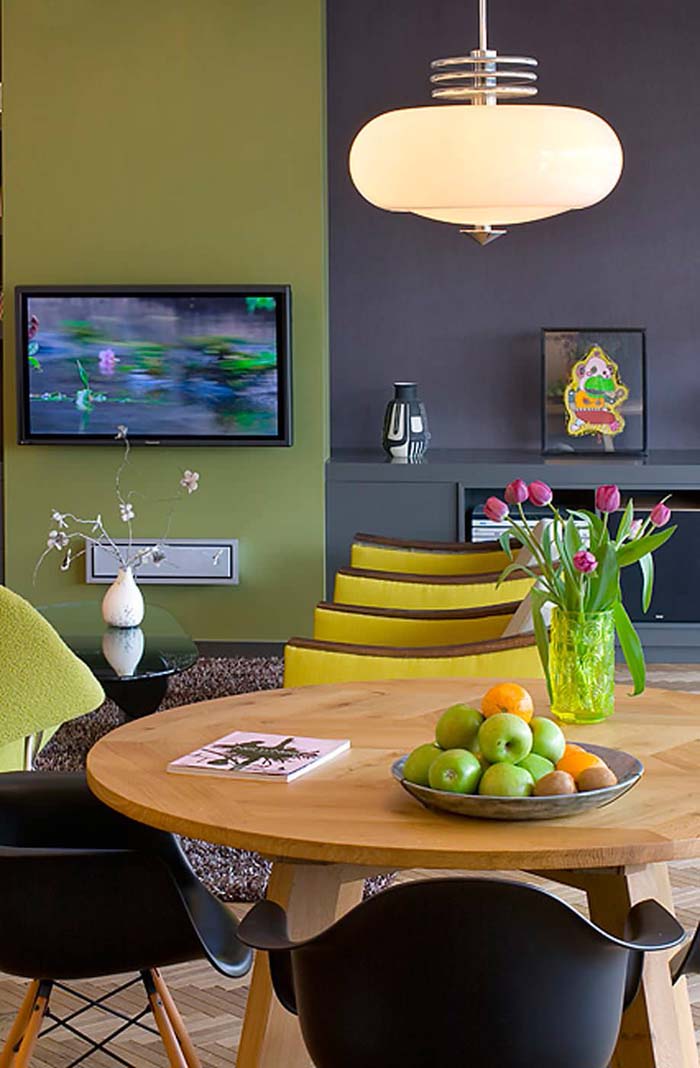 Charcoal gray walls add weight to the deeper green accent wall color. It's a dramatic contrast to the light stained floors and furniture.
via Elad Gonen
15. Yellow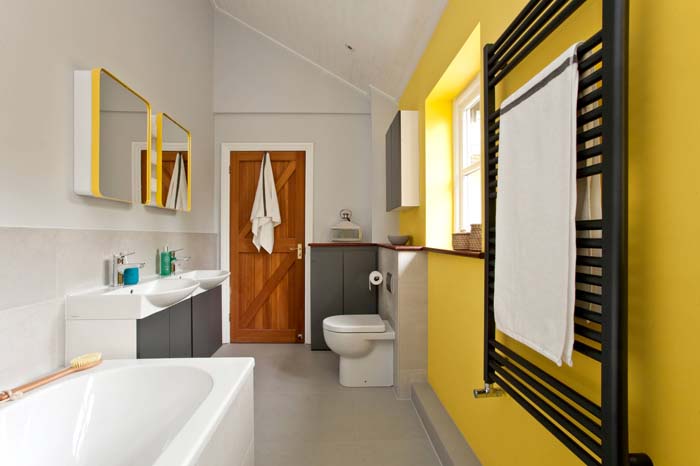 A bright, beautiful yellow accent wall will wake up anyone that walks into this bathroom in the morning. Light gray walls with green undertones keep up the energy levels high.
16. 3D White Wave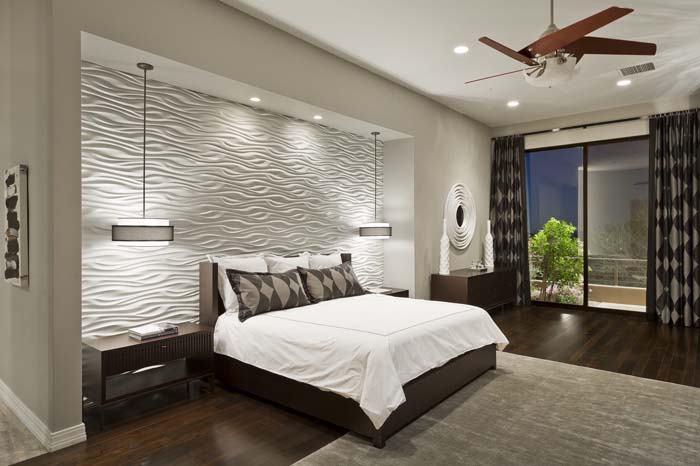 A pure white paint is usually avoided on walls because it creates shadows from different angles of light. You can use this principle by using artificial light to create a dramatic accent wall. Choose a light grey wall with green undertones. This works with the warm chocolate brown accent and wood floor.
Remember that a white wall creates shadows from the light. If you like white but hate the shadows, try Benjamin Moore's Classic Gray. It's more like an off-white color.
via Chris Jovanelly Interior Design
17. Taupe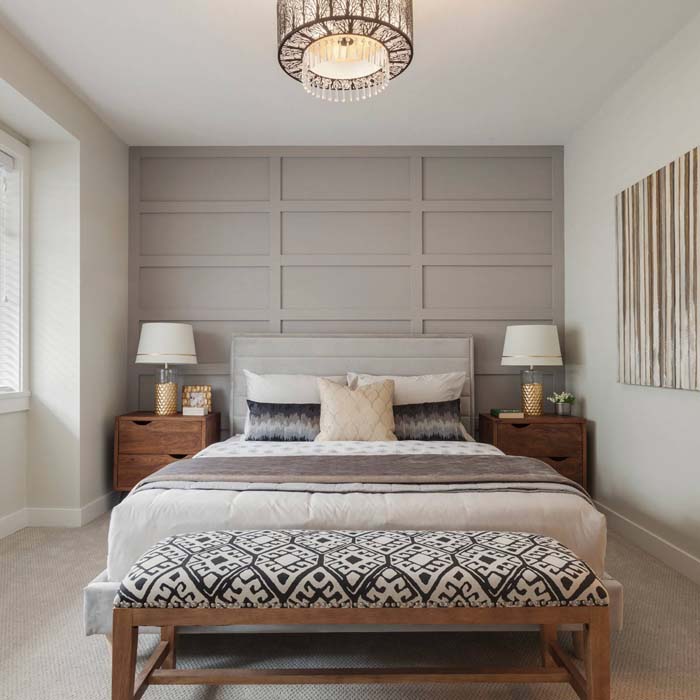 Taupe is a relaxing, warm neutral color. Shown here on a board and batten accent wall, it makes a statement without taking away from the serenity of the room. 
A light gray was chosen for the rest of the walls. It keeps the room light and is an addition to the rest of the neutral palette.
via Home Ingredients
18. Pink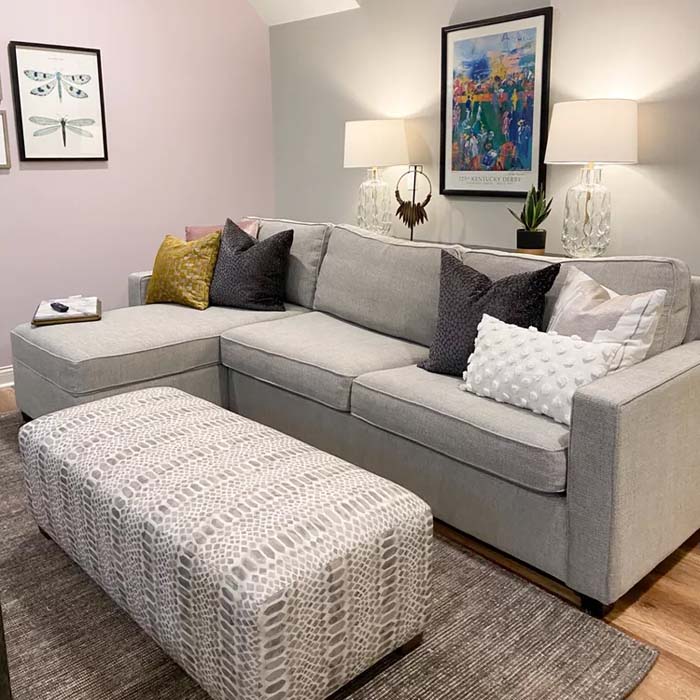 Light gray goes great with pastels such as peach, mint, baby blue, and pink. A pink accent wall is a stylish, modern choice for an accent wall.
Make a light shade stand out by pairing it with a light gray that has a green undertone. If you want a calm feel, pick a gray with a purple undertone. The choice is made easier when you have gray furniture. Just choose the undertone you see on your gray sofa.
via Unhinged Design