When you think about home decor, an accent wall adds visual interest and personalizes the space.
The easiest way to do this is by changing the paint color. Another way is by considering wood trim accent wall ideas.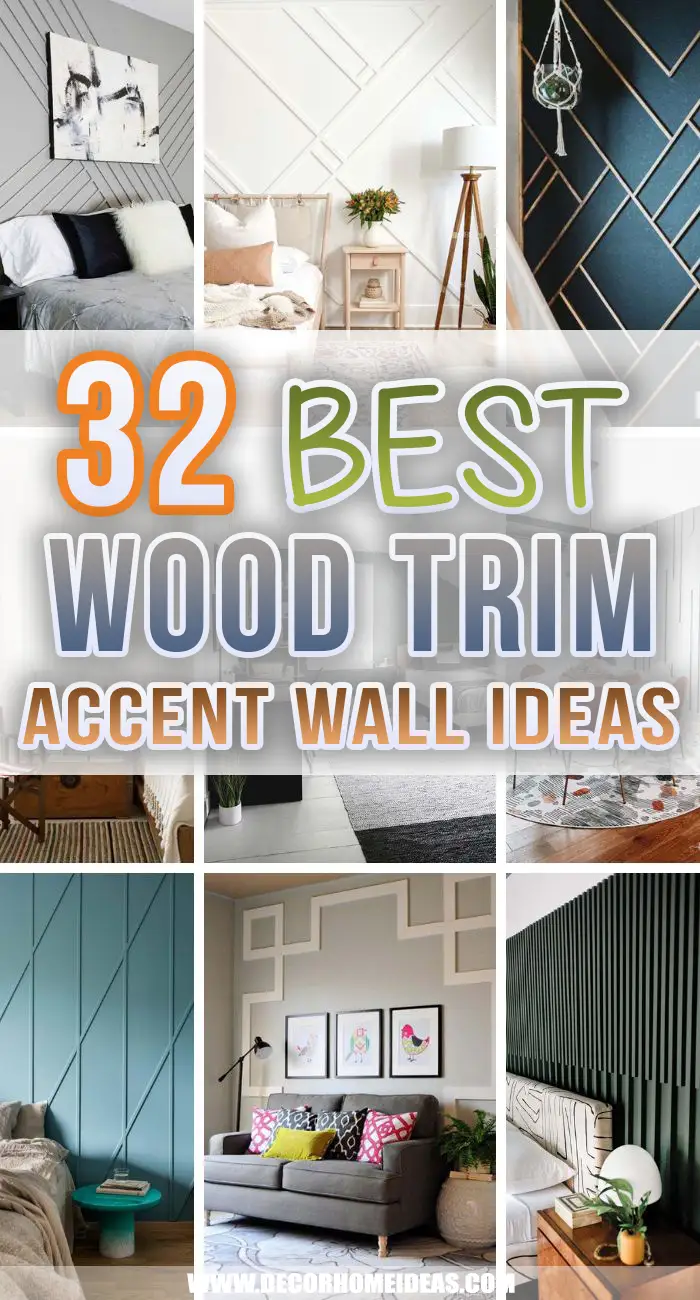 Wood trim accent walls have a 3D effect that truly creates a strong focal point. They're a great alternative when you don't have something like a brick accent wall in an old building.
If you're afraid of building over an entire wall, consider a classic picture frame wood trim. You can create this using construction adhesive and finishing nails from the Home Depot.
In the meantime, take a look at this collection of wood trim accent wall ideas. You may find yourself inspired and emboldened to try something bigger.
1. Add a Shiplap Wall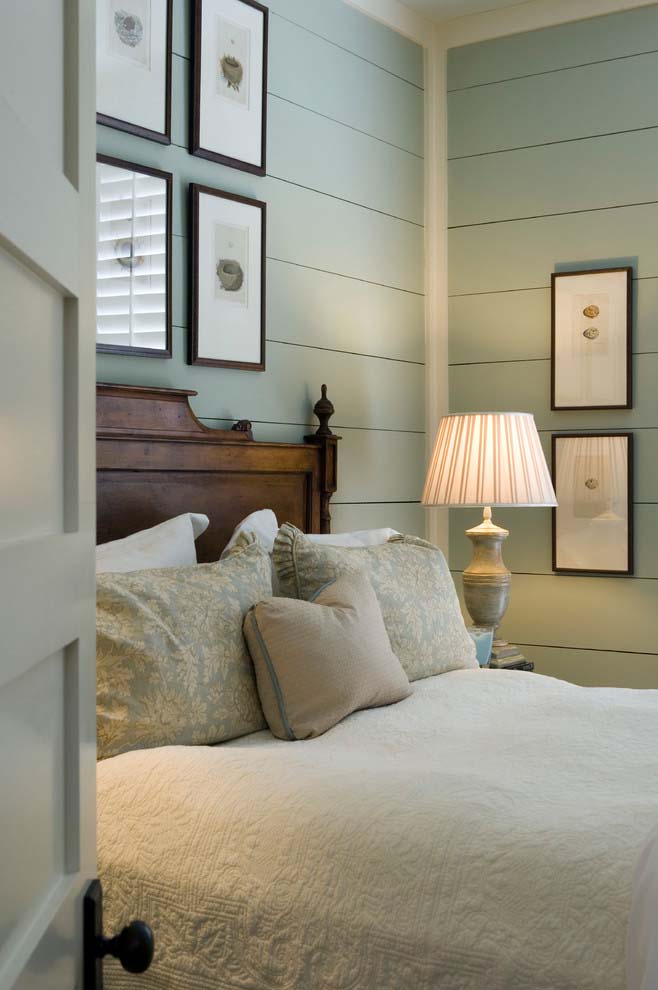 A shiplap wall is a type of wall panel similar to tongue-and-groove panels. It has a rustic look that feels comfortable in the modern farmhouse.
You can get the look by nailing lengths of plywood to the wall and just leaving narrow gaps in-between them. This method is a significant reduction in cost from using traditional boards.
via Our Town Plans
2. Built-in Wall Fireplace and Surround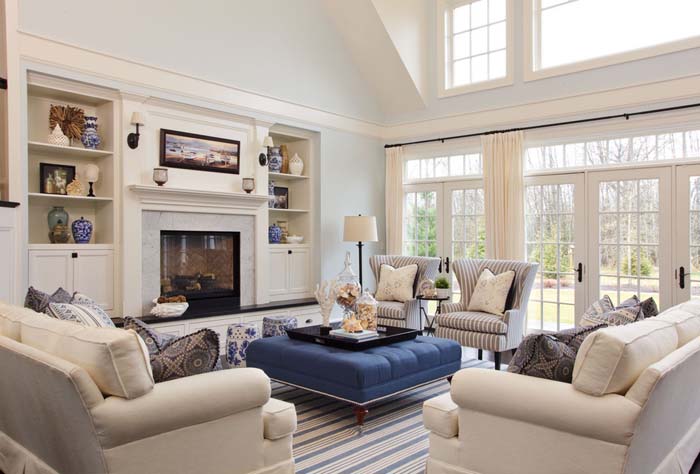 A traditional high-end look in home decor is a fireplace and cabinets in the living room. Modern versions of this style include an electric or gas fireplace that doesn't require a hearth. This allows the fireplace to be recessed into the wall, giving the space a clean, modern feel.
3. Wall Moulding Using 1×4 Stock Lumber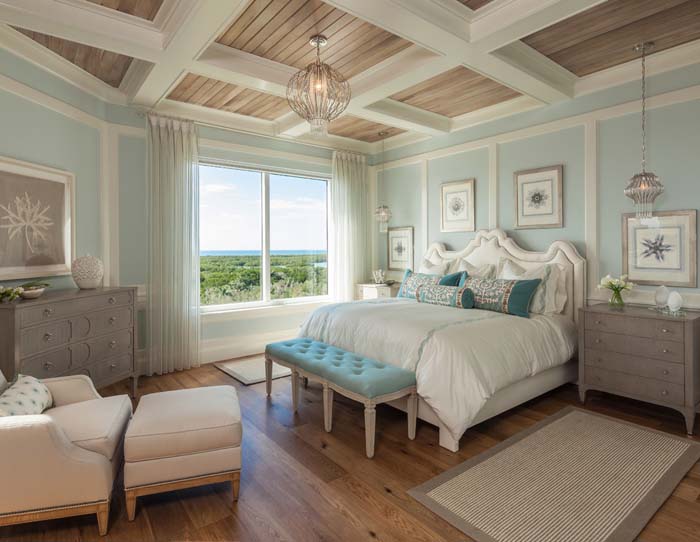 The most dominant focal point in this master bedroom is the coffered ceiling and its wood planks. The oddly shaped room needed a cohesive treatment. It achieved this by creating rectangular wall sections using 1×4 lumber as the wall molding.
Hanging similar pictures that frame around the headboard adds the visual interest the room needs.
4. Dark Board-and-Batten Accent Wall Idea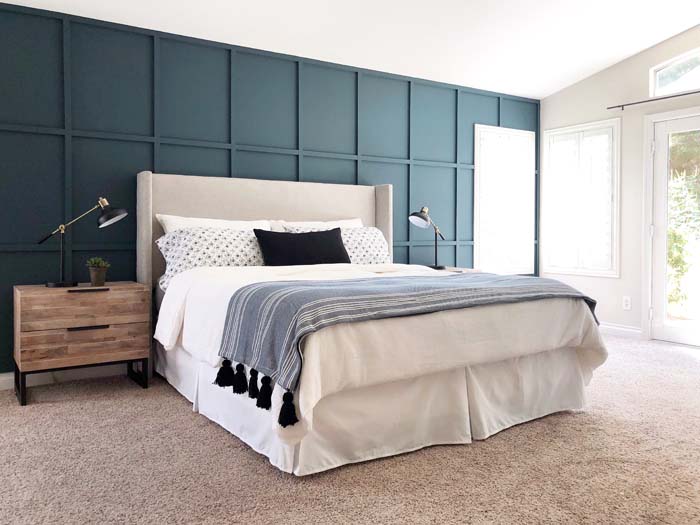 A king-size bed calls for a king-size wall treatment. This board-and-batten pattern needs to cover the entire wall to balance out the weight of the large bed. 
Although it looks like a daunting task, a wood trim accent wall like this one can be completed as a weekend project.
via Angela Rose Home
5. Floor to Ceiling Wood Trim Accent Wall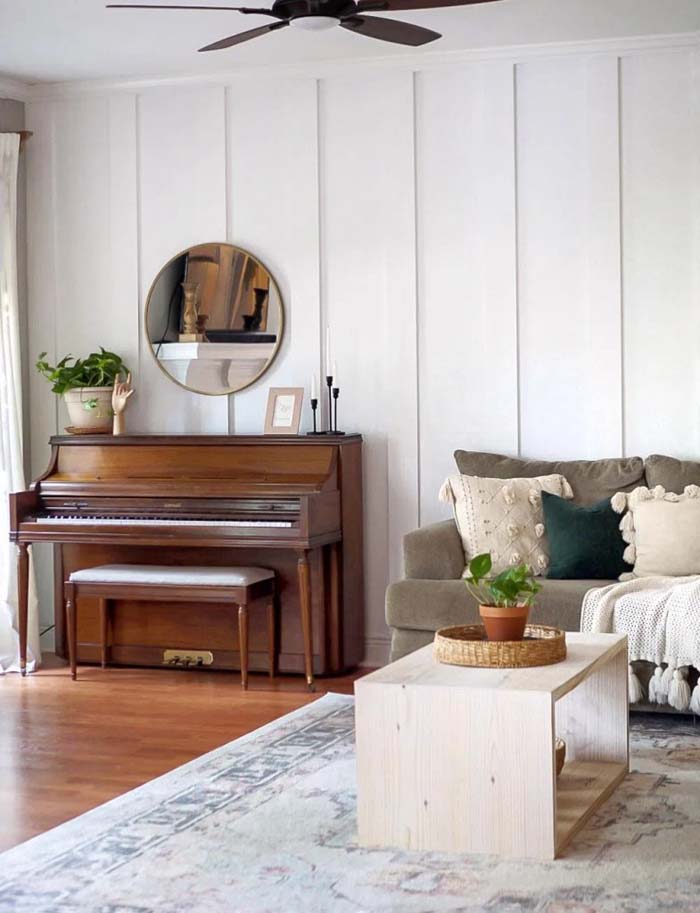 Adding a wood trim accent wall in your living room is an easy way to add style without breaking the budget.
The accent wall seen here uses simple wood molding. It creates a farmhouse character to an otherwise plain white wall.
via Ellison Made
6. Easy DIY Accent Wall Project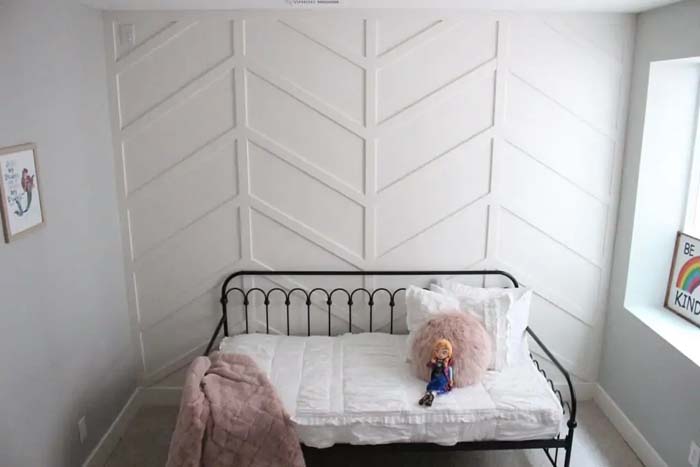 A DIY accent wall adds the right amount of visual interest to a room without the need for changing the paint color.
If you want to take on this DIY project but dread filling each and every nail hole, use a strong liquid nail adhesive.
via Scotshill House
7. Accent Wall Idea With Wood Slats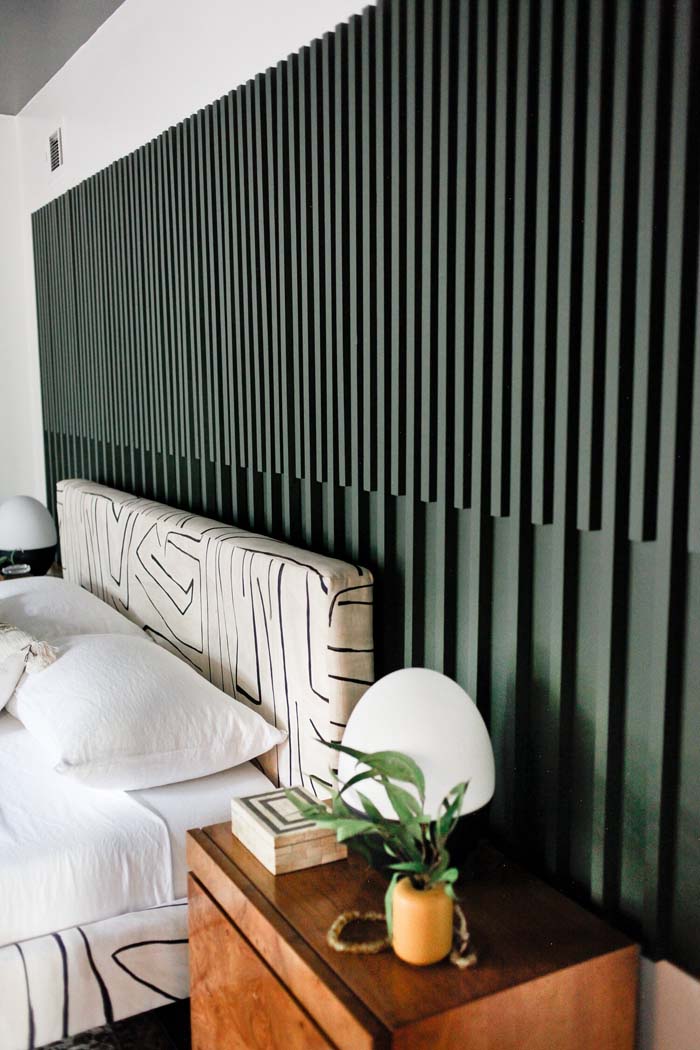 Using basic wood slats and careful planning, a simple accent wall design idea became a stunning headboard in this master bedroom.
Stopping the pattern below the air duct shows how to make a statement without filling the entire wall.
via Carmeon Hamilton
8. Accent Wall Hides Vent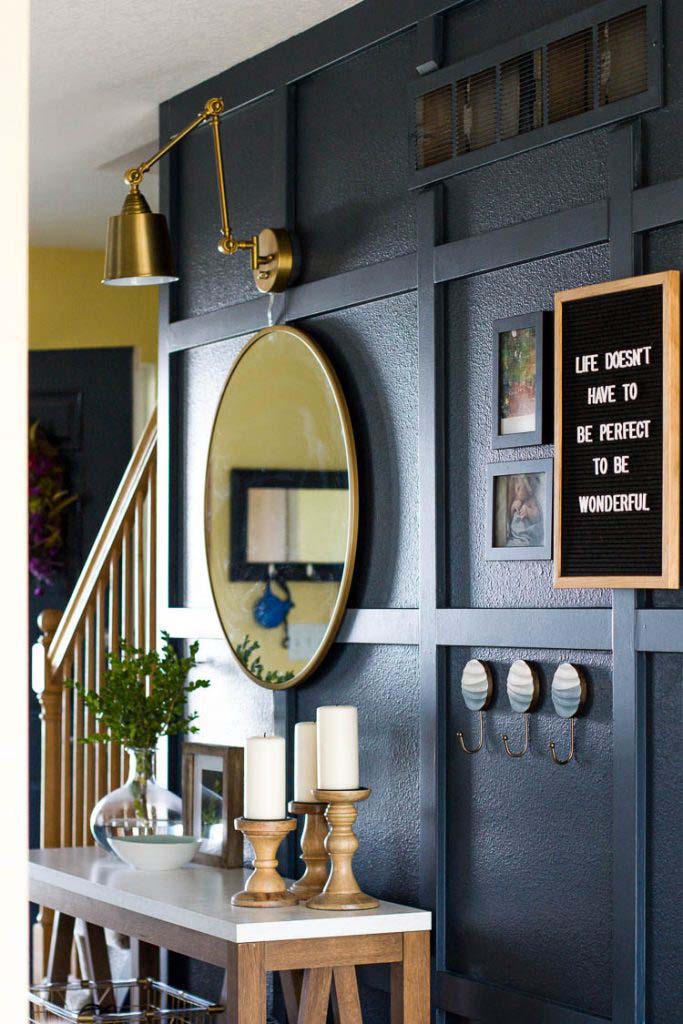 This DIY wood accent wall includes a great idea for hiding an air duct. The simple board-and-batten project gets an upgrade from the texture in the squares. You can deviate from the norm by adding peel-and-stick wallpaper in the squares.
9. Mid-Century Modern Dining Room Accent Wall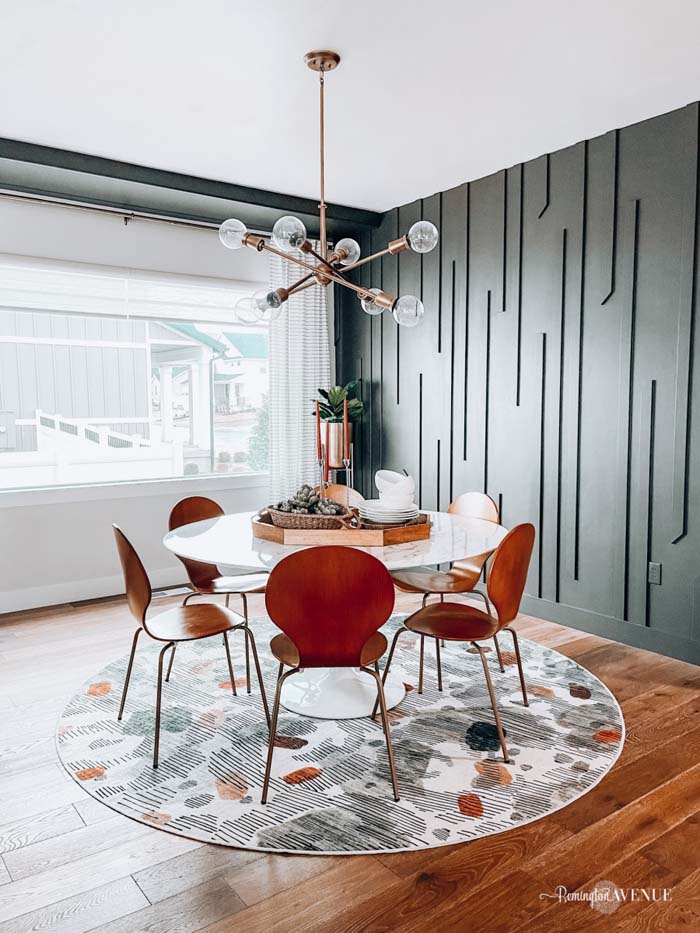 A dining room designed like this one needs a Mid-Century modern wood accent wall. 
Its abstract, modular design fits right in with the dinette set and Sputnik chandelier.
via Remington Avenue
10. DIY Accent Wall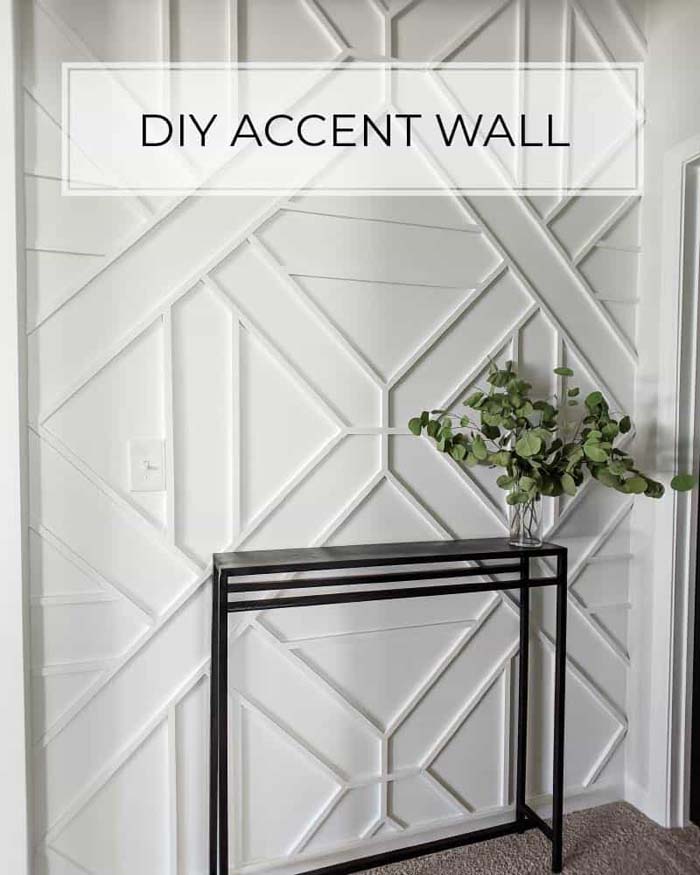 This DIY wood accent wall changes the look and feel of the entire room.
Adding wall molding in a pattern like this is certainly doable when you pay attention to details like carefully filling in and sanding each nail hole.
11. Extended Headboard Accent Wall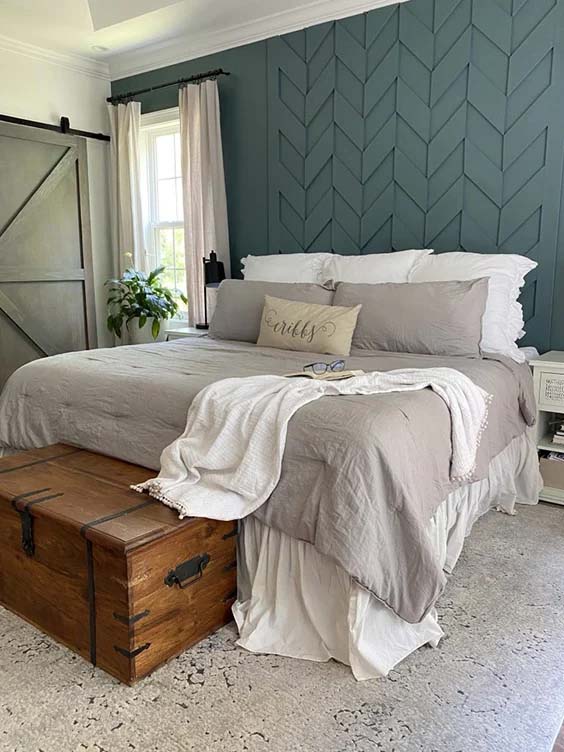 This bedroom accent wall kept in mind its role in the overall interior design. While the entire wall is painted a dark blue-green, only the section over the bed has a pattern.
They brought the pattern of the wood wall up to the crown molding. It gives the bed a built-in headboard.
via Cribbs Style
12. Vertical Faux Plank Wall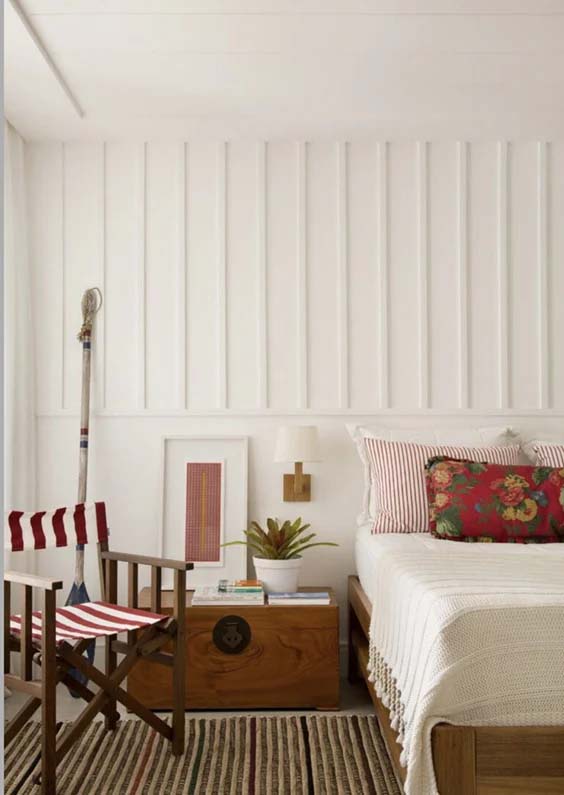 Trying to imitate trendy bedroom accent walls can get expensive. Get the look of a vertical board wall without the expense by using flat molding strips. Save even more money by only adding the strips to the top half of the wall.
via Babi Teixeira
13. Honeycomb Accent Wall Idea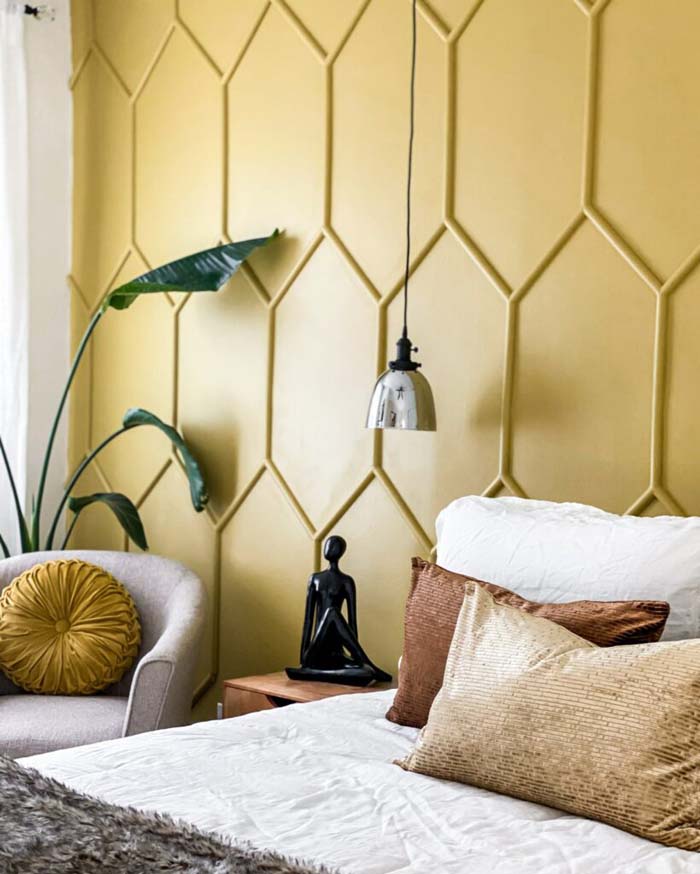 Here's a fresh wall molding idea. Each trim piece is made from half round molding. The antique golden yellow paint keeps the trendy wall from looking juvenile.
via Franc and Eli
14. Reading Nook Accent Wall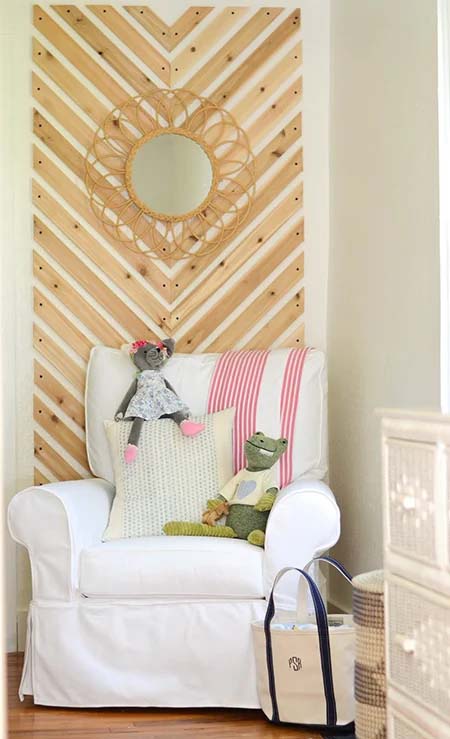 Here's a quick DIY project that can be finished in half a day. Use painters tape to lay out the measurements. Use wood planks upcycled from sanded reclaimed wood or barn wood.
via Iron and Twine
15. Bright Boho Accent Wall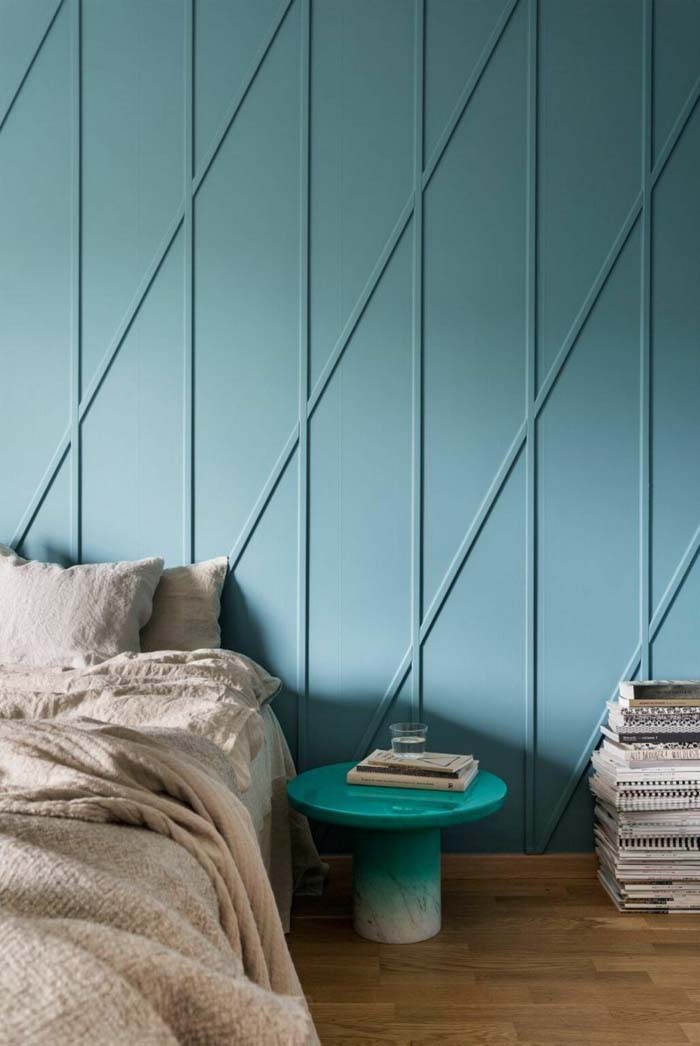 Bedroom accent walls are a great space for trying out wall molding ideas. The beautiful blue paint color would brighten the mood of any teen or young adult's bedroom.
16. Classic Board-and-Batten Wall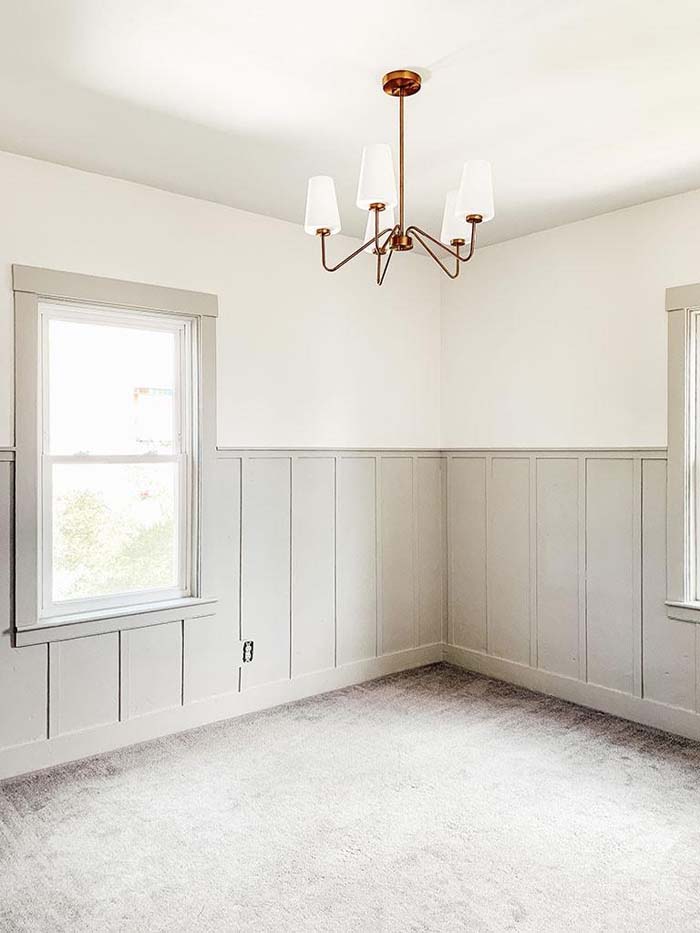 A typical board-and-batten wall can be found in a living room or as seen here in a dining area.
17. Geometric Pattern Wall Idea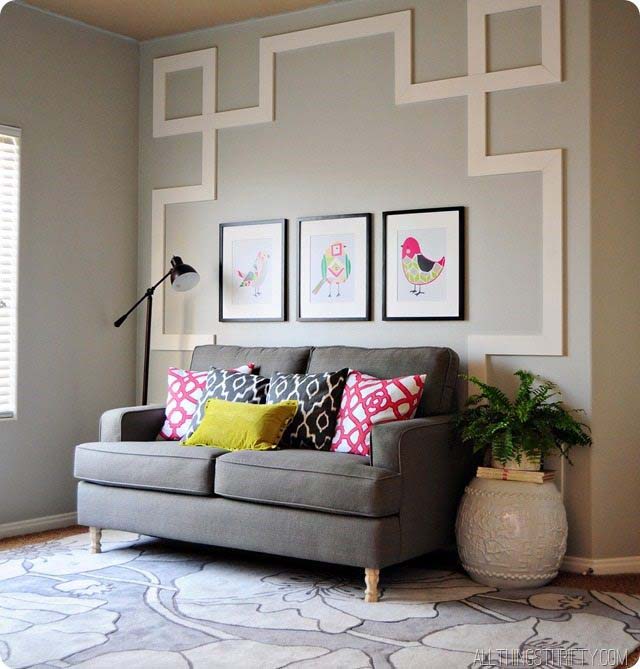 The fun pattern of the molding and cute illustrations bring a whimsical vibe to this wall. 
Using a natural color for this wood trim accent wall keeps the room feeling fresh.
18. Mid-Century Modern Accent Wall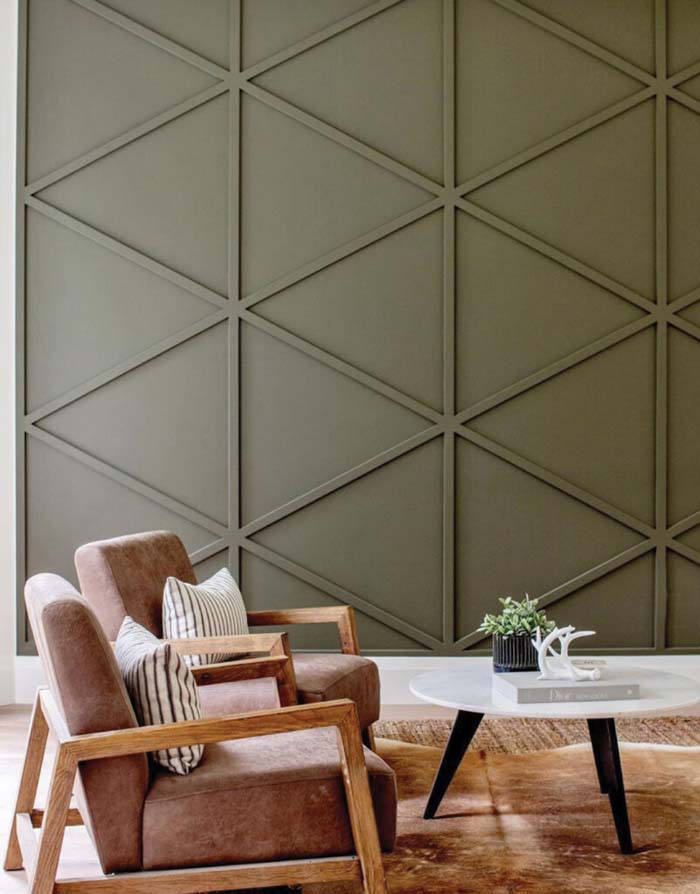 One-inch wood trim was installed following a simple geometric design.
Painted in an updated avocado green, it brings a modern touch to the retro design of this living room.
19. Accent Wall Idea For a Foyer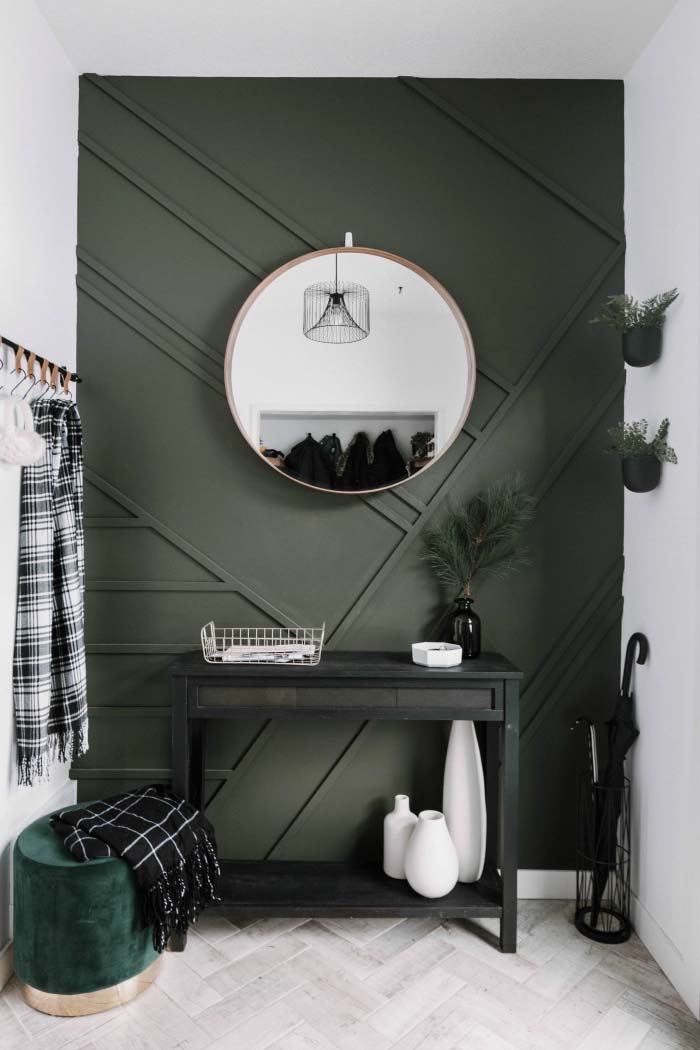 Trim pieces and dark green paint were all that was needed to transform a simple foyer into an impressive, welcoming space.
20. Crosshatch Wall Trim Idea is Budget Friendly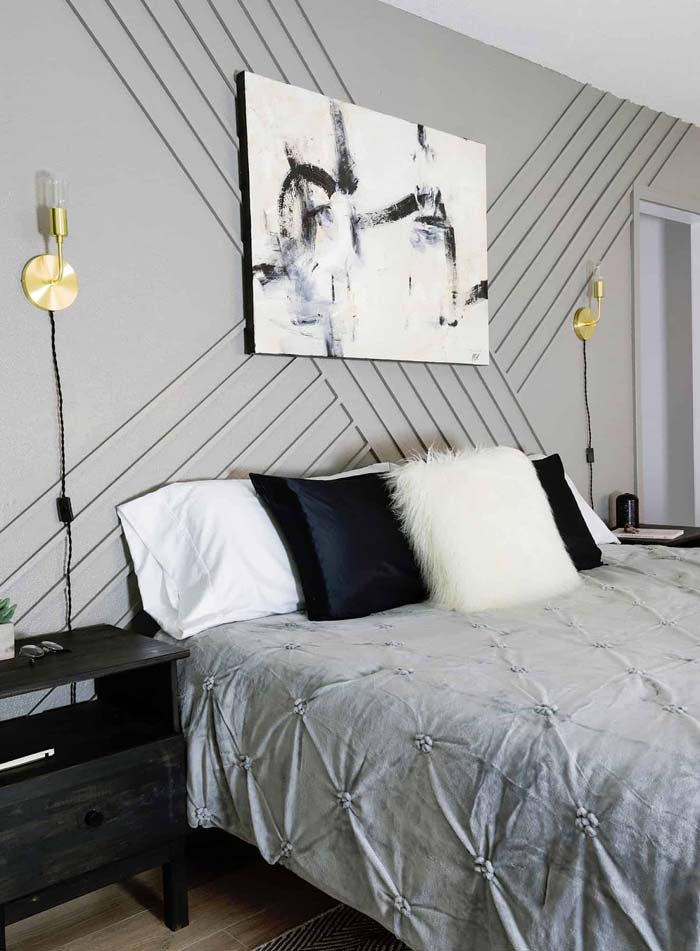 Bedroom accent walls give you the opportunity to bring your personality into the space.
The owners used wood trim to its full potential by creating a bold pattern. Each 8 foot trim piece of half-round costs about $6 dollars USD.
via A Beautiful Mess
21. Dark Herringbone Pattern Accent Wall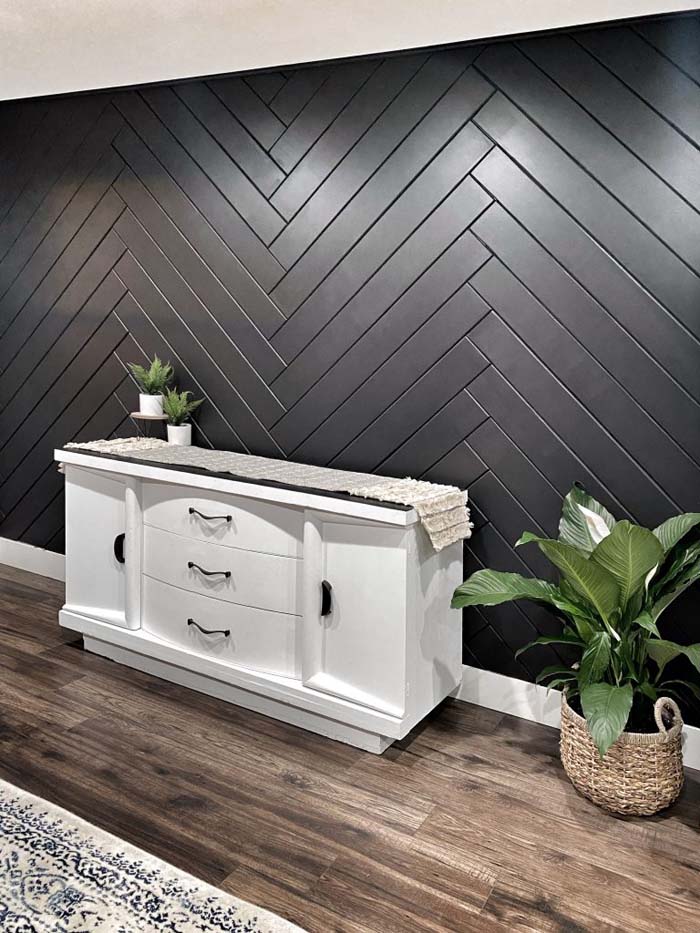 This wood wall is a compelling idea.
Taking a herringbone pattern usually found on floors and transferring it to a wall was a bold move that paid off.
via Home Wtih Krissy
22. Vertical Wood Plank Accent Wall Idea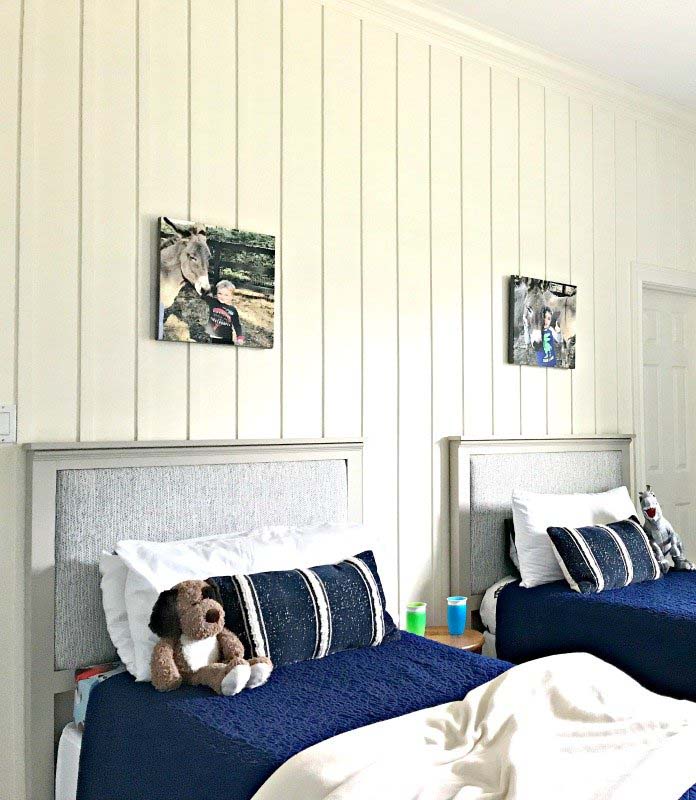 Use wood planks or wide wood molding pieces to create the look of vertical wood paneling.
Extending all the way to the ceiling, the planks add visual interest with their 3D look.
via Abbotts at Home
23. White Wood Trim Accent Wall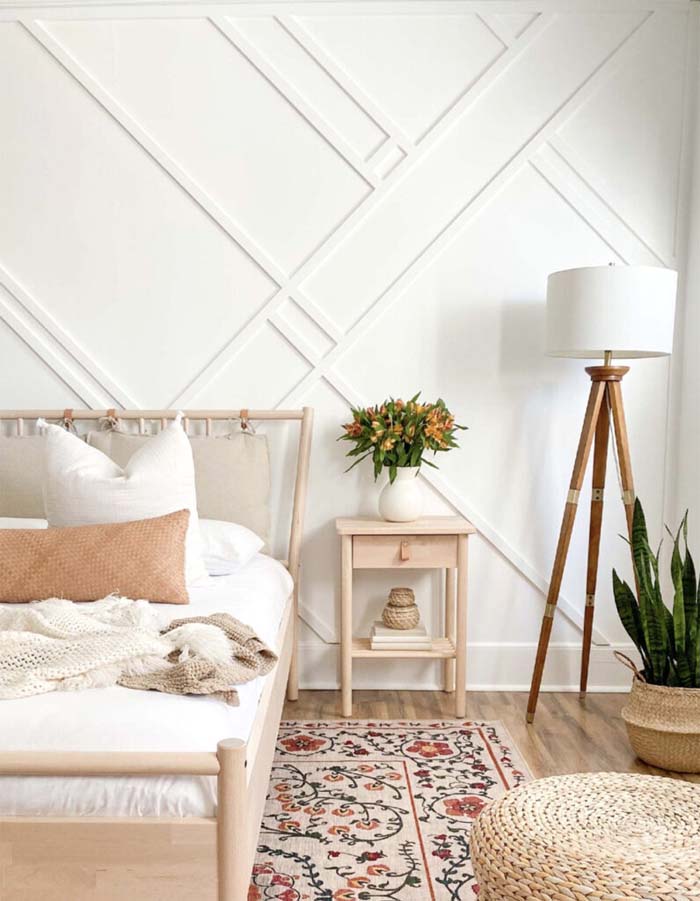 Take a tip from this accent wall idea when your walls need character but are avoiding traditional picture frames.
White-on-white or a slight variation in tone can create all the texture you need to keep the wall from looking barren.
via Ruggable
24. Green Accent Wall in a Home Gym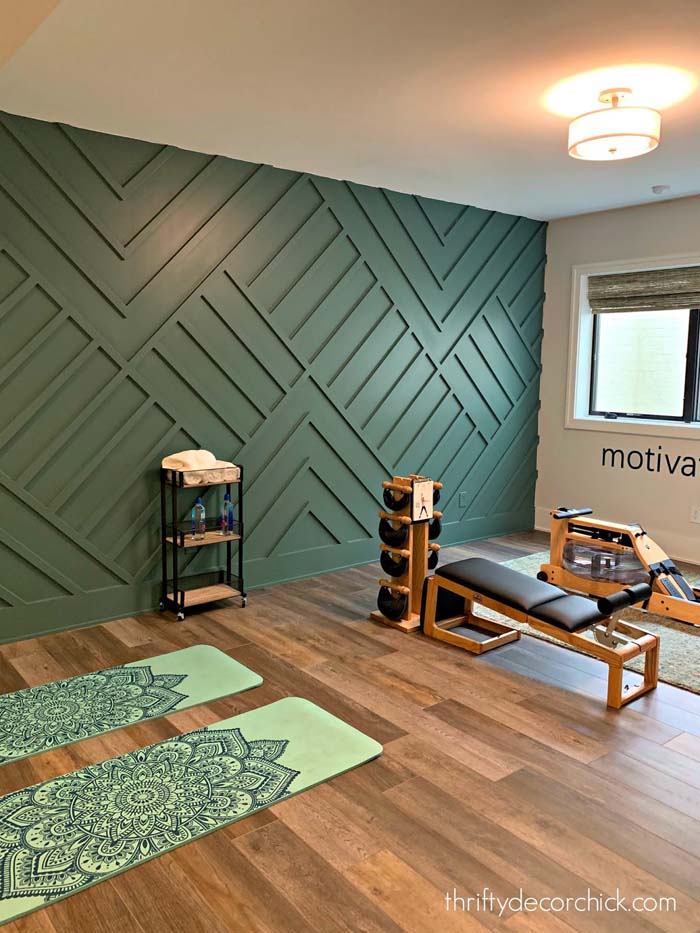 This home gym and yoga studio take advantage of the space with wood accents covering the entire wall.
The forest green paint works with the wood weight bench and rowing machine. It certainly doesn't have the cold metal vibe of a traditional gym.
25. Light Green Wood Trim Accent Wall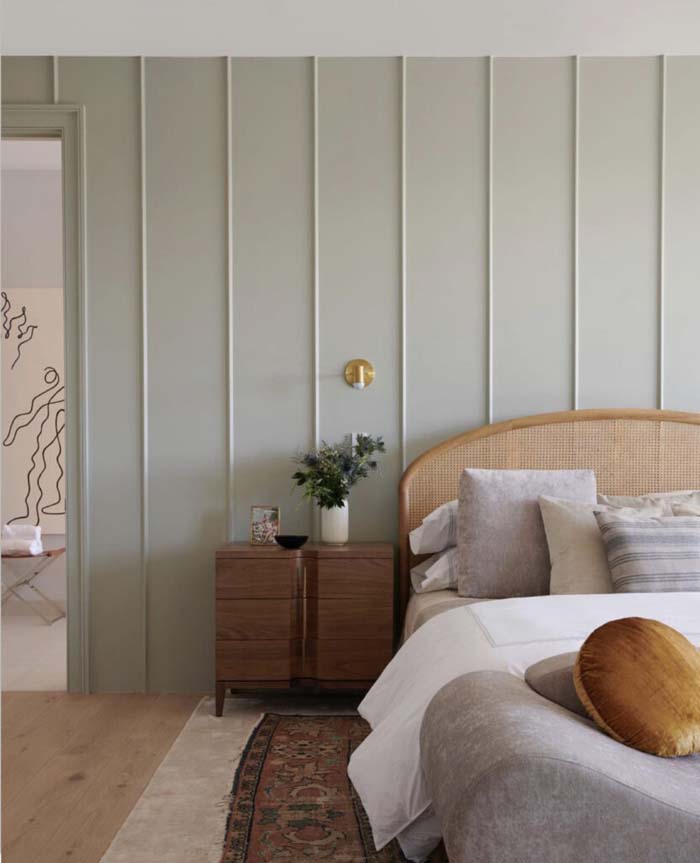 Molding can be thin or thick, depending on the mood and style you're trying to create. The thin wall molding here, painted in a pale sage, evokes a feeling of reeds.
This works well with the rattan headboard and coastal Boho vibe.
via Eliana Rokach
26. Living Room Board-and Batten Accent Wall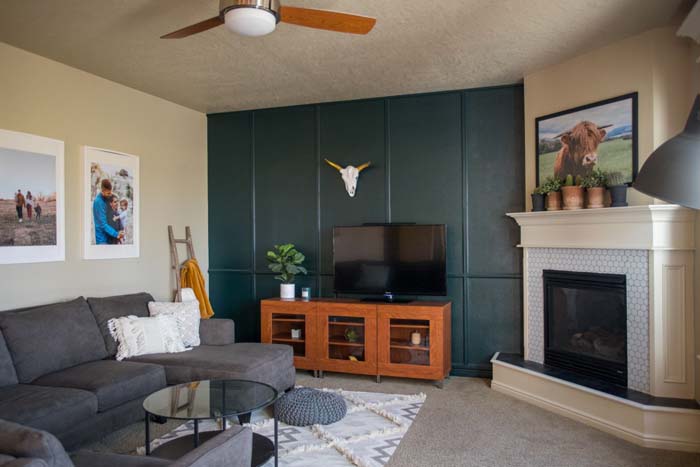 This dark board-and-batten accent wall adds depth to the room. The pattern is large enough that you don't really need any else for the wall decor to feel complete.
The steer's skull adds a personal touch to the room.
via Woodgrain
27. Green Modern Wood Trim Accent Wall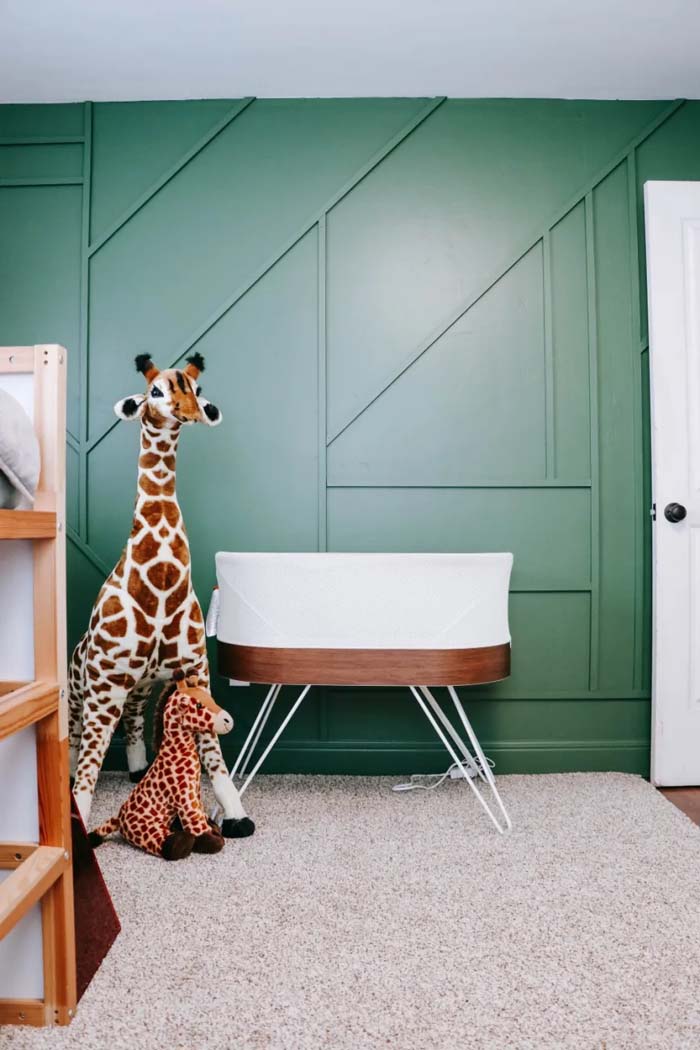 Here's a colorful feature wall that will work in any kid's room or playroom. The deep green color keeps the nature theme going.
The advantage of using abstract angles like this is that there's no waste of materials. If there are shorter pieces left over, just attach them closer to an angled corner.
via Laura Adney
28. Wood Planks on an Angle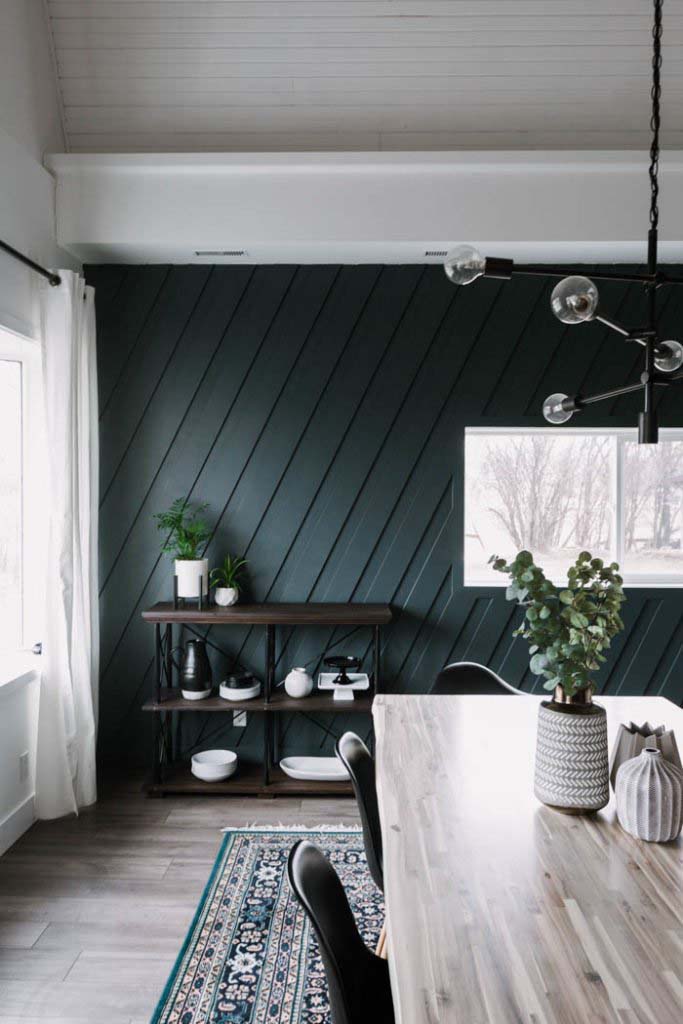 The wood wall shown here breaks from tradition. The wood planks are set at an angle and fit in underneath the bulkhead. The dark color is a very modern idea in a classic home.
29. Gray Accent Wall Created With Angled Moldings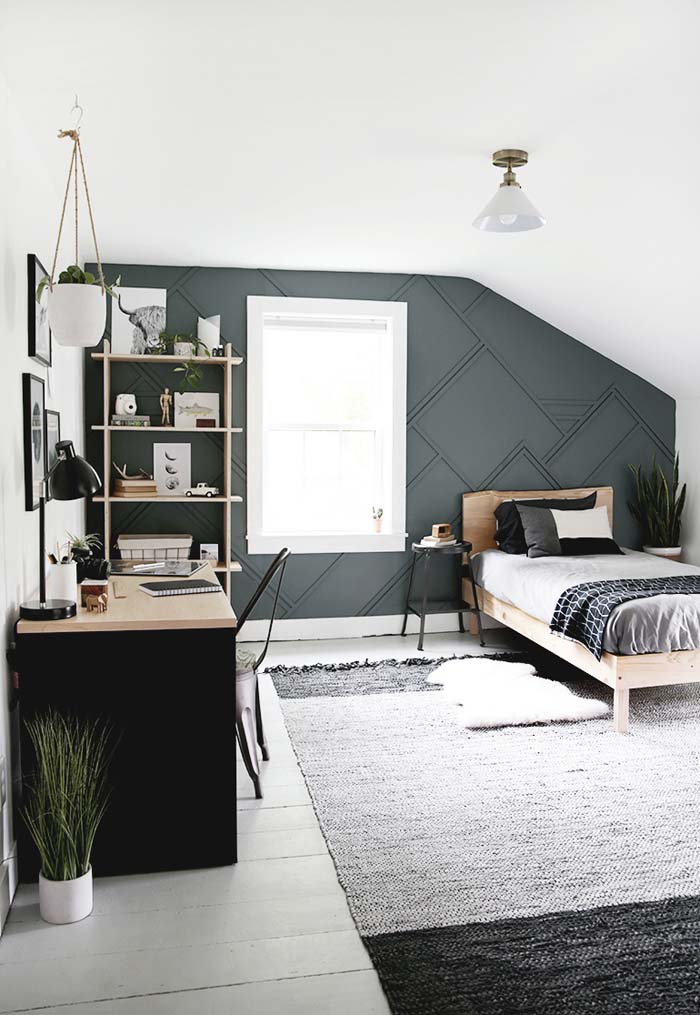 The ceiling in this bedroom follows the slanted roof line. It calls for wall decor that thinks outside the box.
Note the wall trim doesn't follow parallel to the angle of the ceiling. Your accent wall idea doesn't have to be perfect for it to work.
30. Board-and-Batten Accent Wall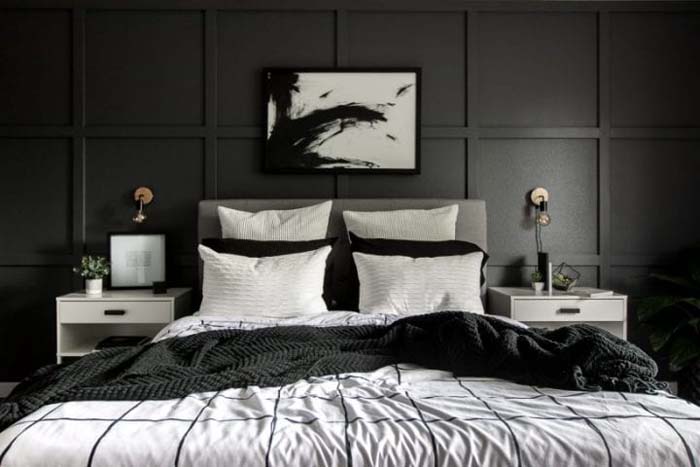 Painting the board-and–batten accent wall a deep gray or black makes a dramatic statement. Board-and-batten is a traditional pattern found in older homes.
The ebony color gives this accent wall a modern turn.
31. Deep Navy Wood Trim Wall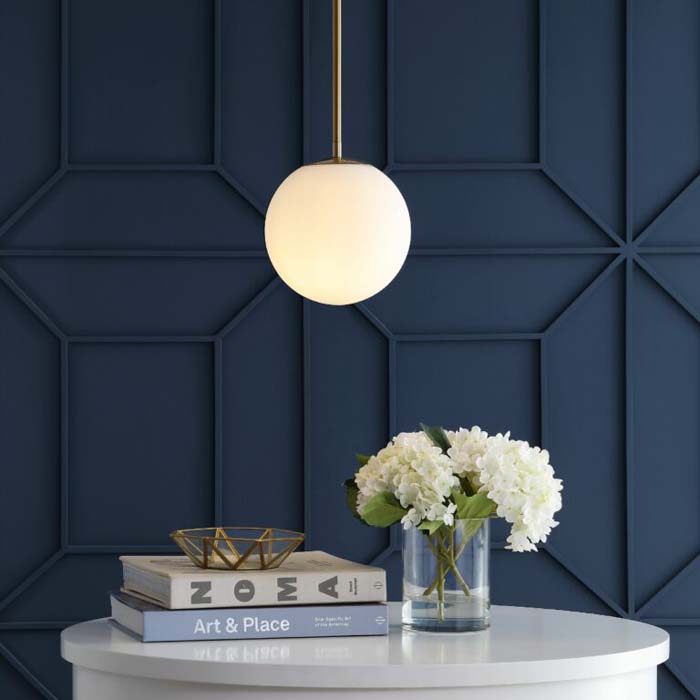 This is a dramatic pattern and color that would work well in a dining room or library. If you want to use a dark color on your accent wall, take your time when attaching the molding.
Careful use of applying and sanding the wood filler will give the joints a seamless look.
via Walmart
32. Geometric Wall Trim Pattern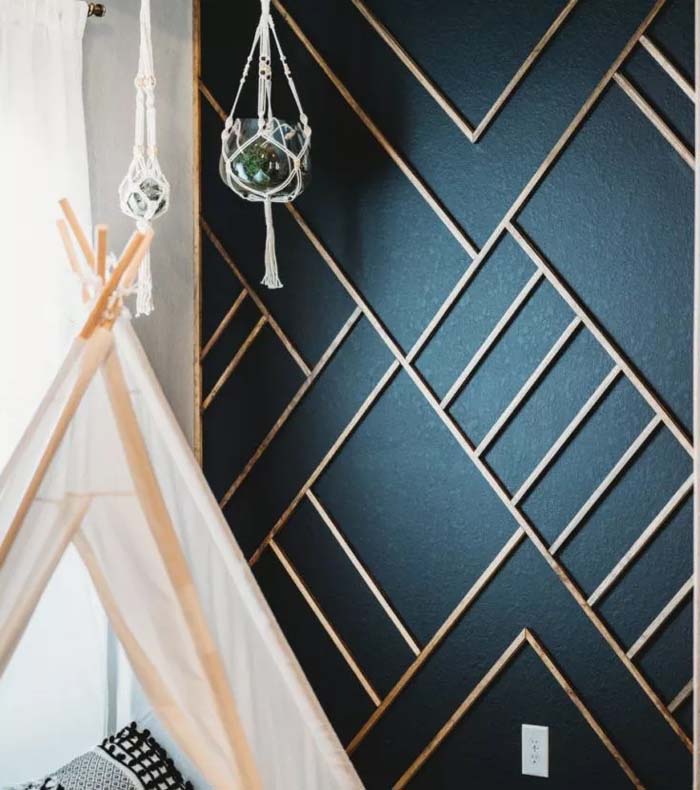 Here's a colorful pattern created from simple moulding. The gold color turns this from a subtle wall to a focal masterpiece.
If you want more texture, stick wallpaper in between some of the shapes, or wallpaper on the entire wall first.