There are some fantastic bedroom wall decor ideas you will fall in love with and we have all of them. Still not convinced?
Well, bedrooms are the area in your home where are you are the freest to express your personal creativity so give yourself an inspiration boost with these ideas!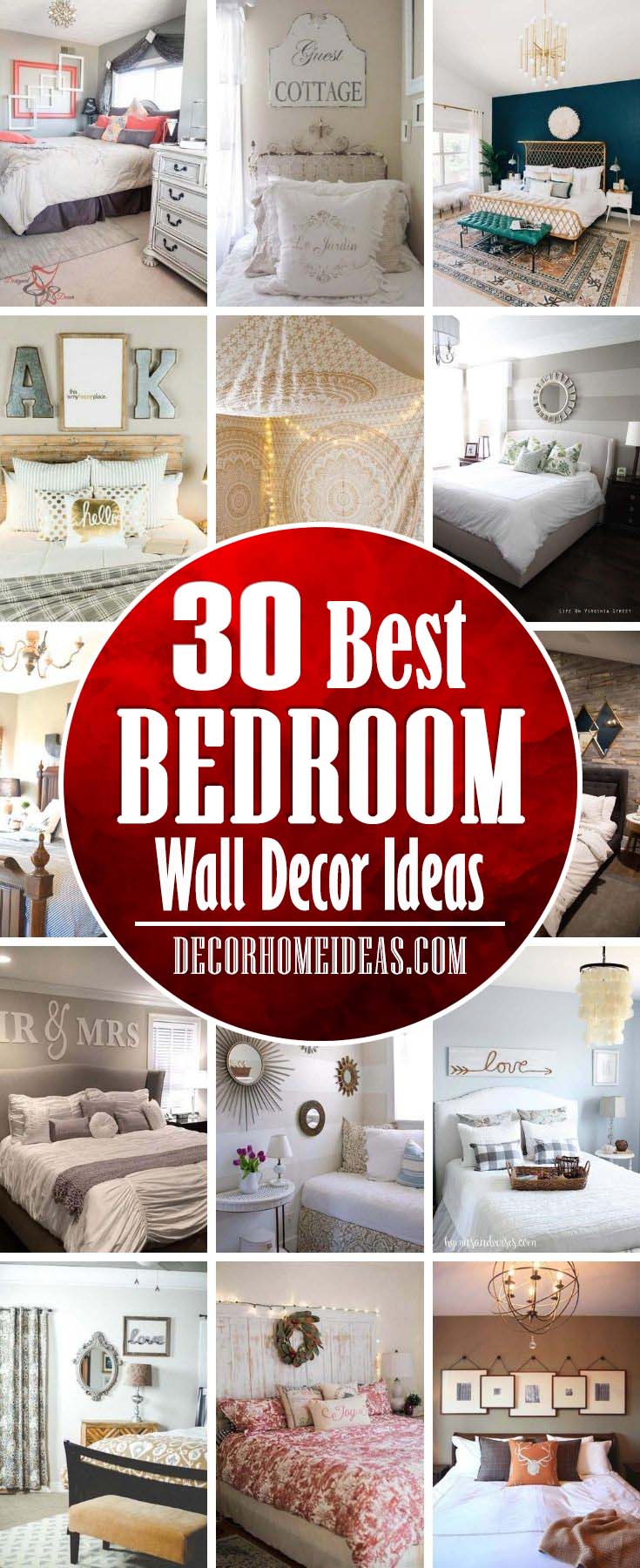 1. Above Headboard Monogram Letters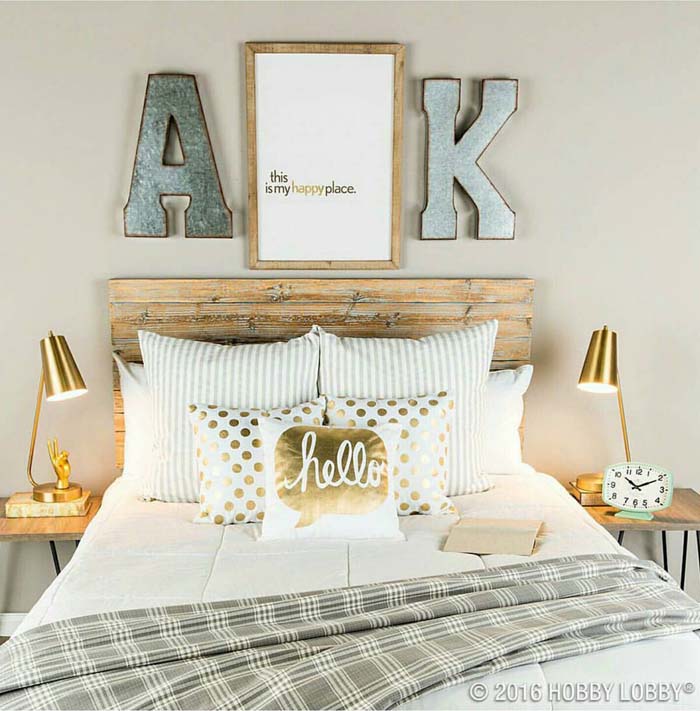 Try getting either your initials or the first initial of your and your partner's names in monogram letters.
Mount these over your bed for a stylish way to clean the space as yours.
There are a lot of different styles of letters you can experiment with as well.
2. DIY Beadboard Monogram Wall Art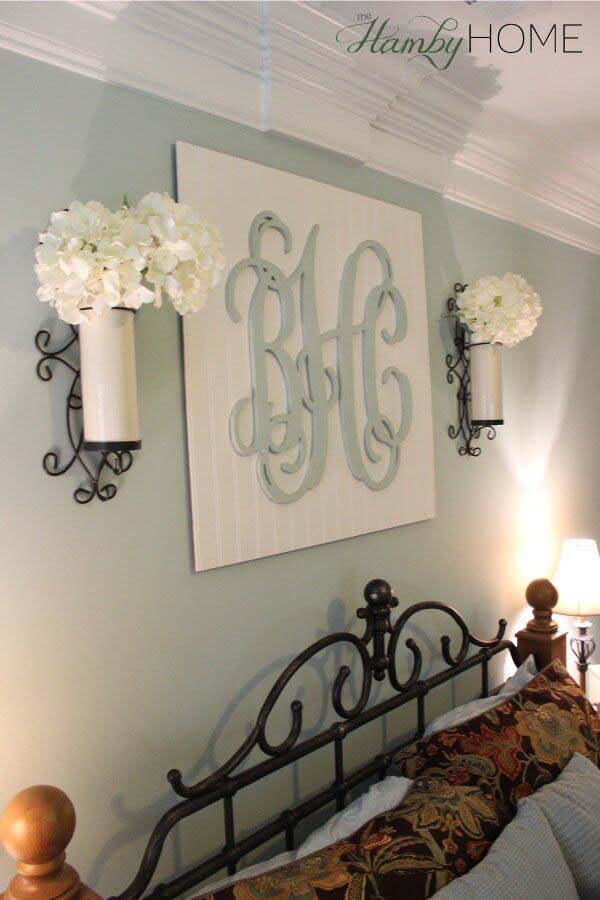 This elegant decoration was made by hand and will help to serve as a centerpiece if you place it over your bed.
It has a rather unassuming appearance that is a little understated, but once it is in your bedroom, you'll notice the difference immediately.
via The Hamby Home
3. Cotton Bouquets to Greet the Guest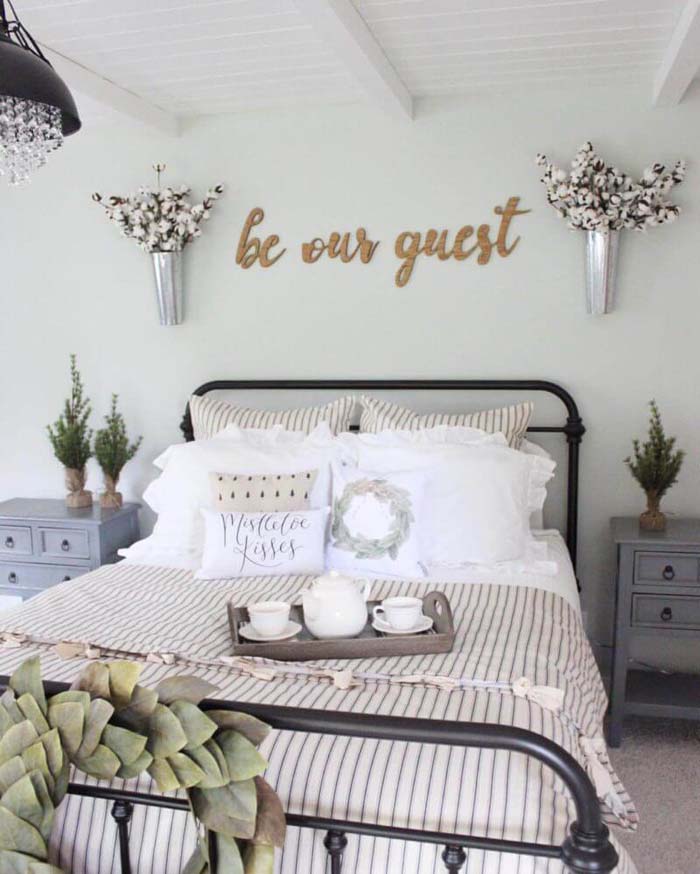 Make the guests of your home as comfortable as possible by styling your guestroom.
Imagine walking into the guestroom of your friend's home, and it is already decorated for you. That would be amazing wouldn't it?
via Farren Celeste
4. Diamond Shaped Mirrors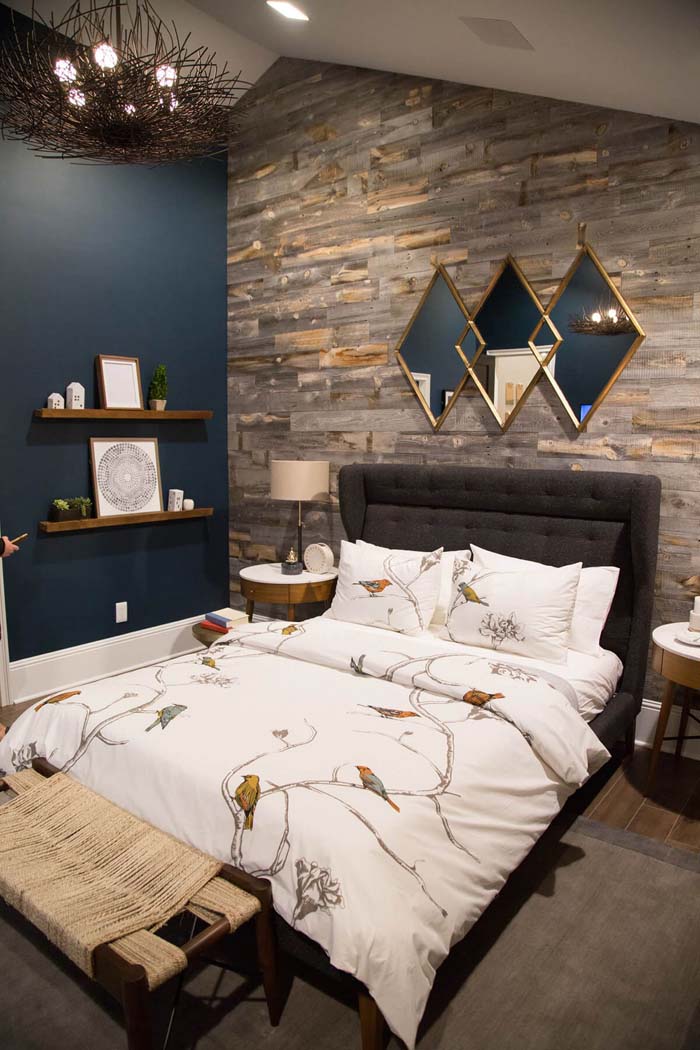 Mirrors are always a great way to increase the apparent size of a room, even if it is fairly small.
They have a great way of reflecting light in a room to make it appear more spacious.
5. Family Initial Established in Pictures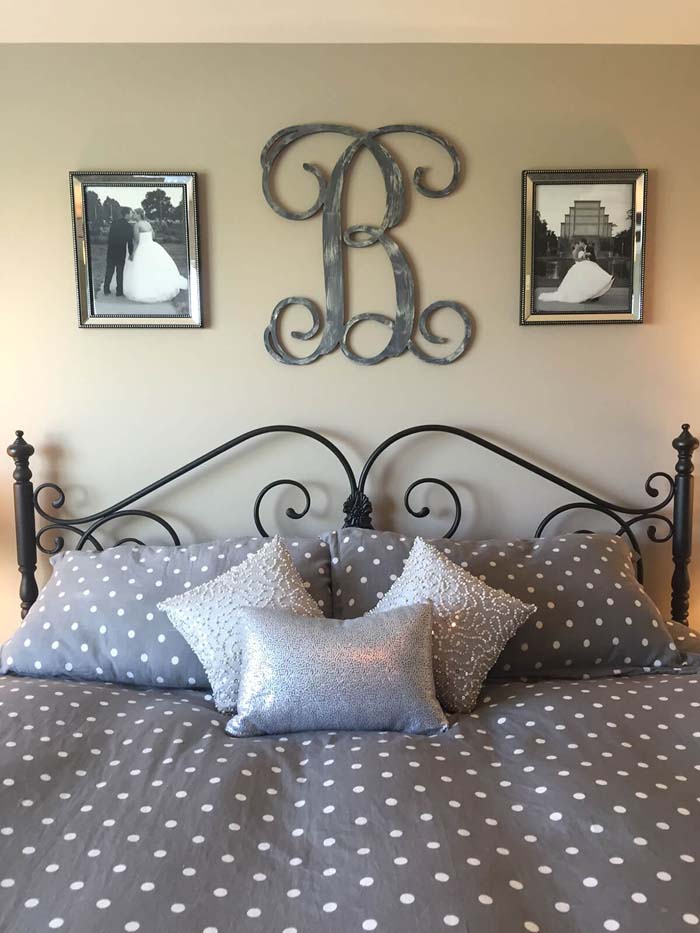 Celebrate your family by having the initials placed over your bed and framed on each side with pictures of your left ones.
This is a great way to commemorate how important your family is and make your room look a little nicer at the same time.
6. Farmhouse Headboard and Wreath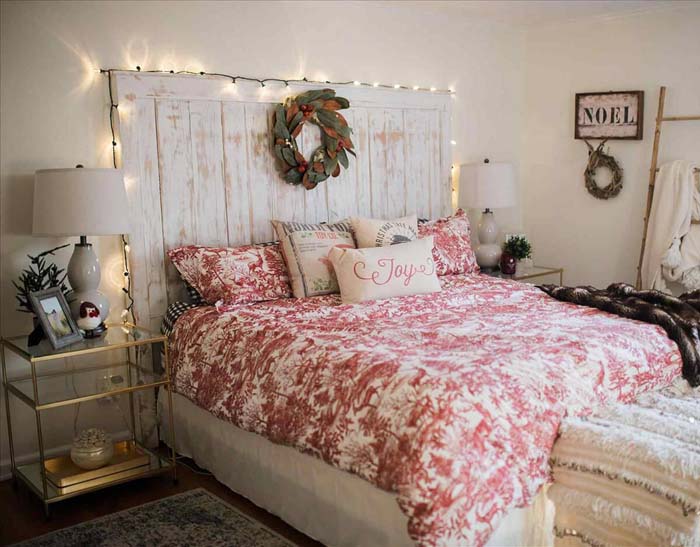 This lovely decorative headboard will make you feel like you live on the farm thanks to its weathered wooden look.
The wreath placed in the center makes it perfect for over the holidays.
via Lynzy and Co
7. Gold Glimmer Tapestry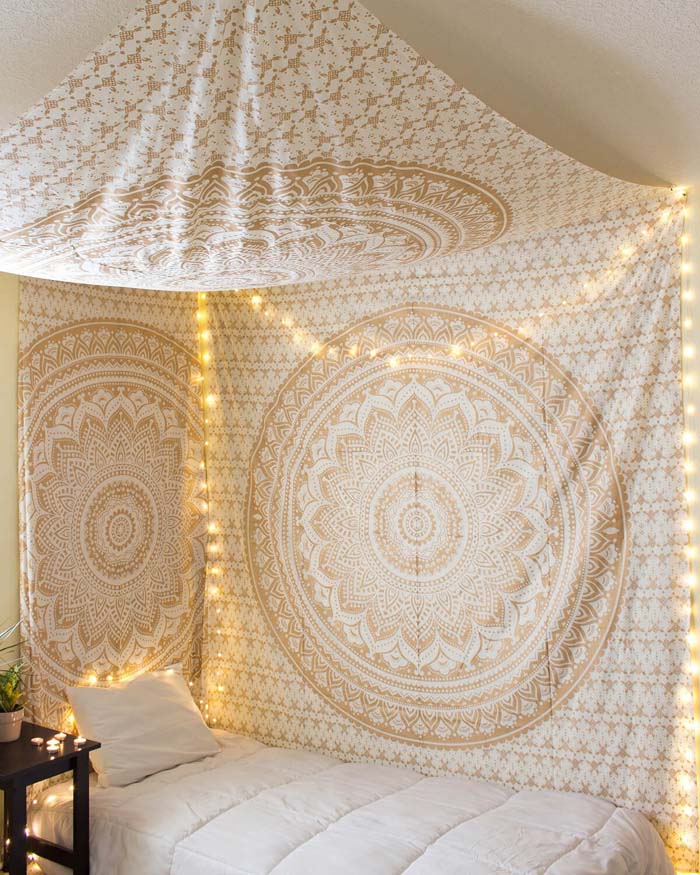 The golden colors will increase the brightness of your rim and lift its mood overall.
The Mandela Saturn is mesmerizing. The pattern is mesmerizing, especially when you run some Christmas lights behind it.
8. Grand Mandala Headboard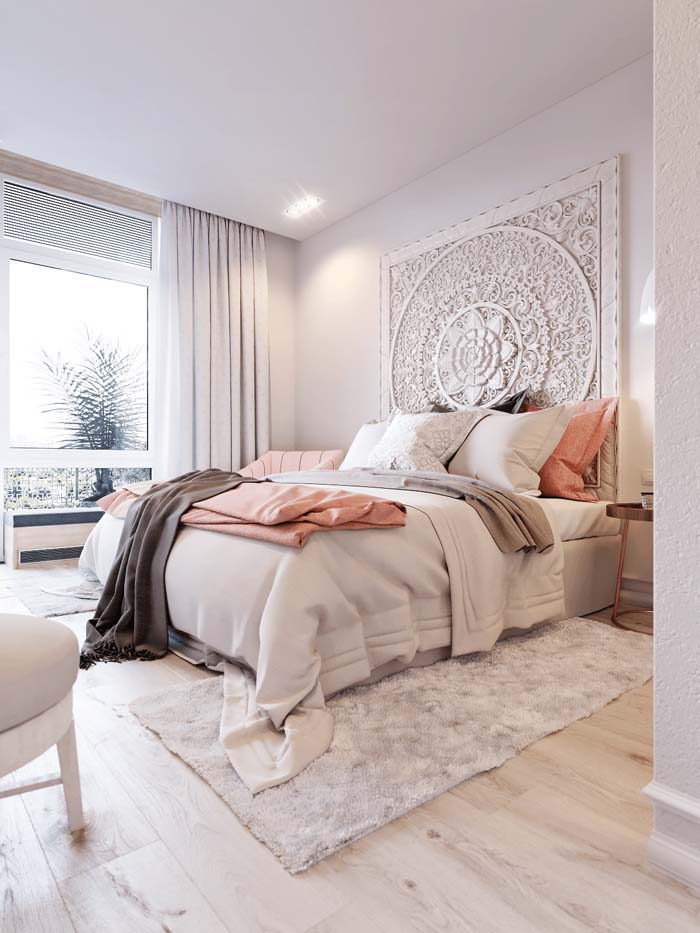 If you enjoyed the tapestry in the last one, you might love this grand mandala's headboard even more.
It is made out of wood, so it appears much more substantial and imposing in your room.
via Pink and White
9. Heart Between His Initial and Her Initial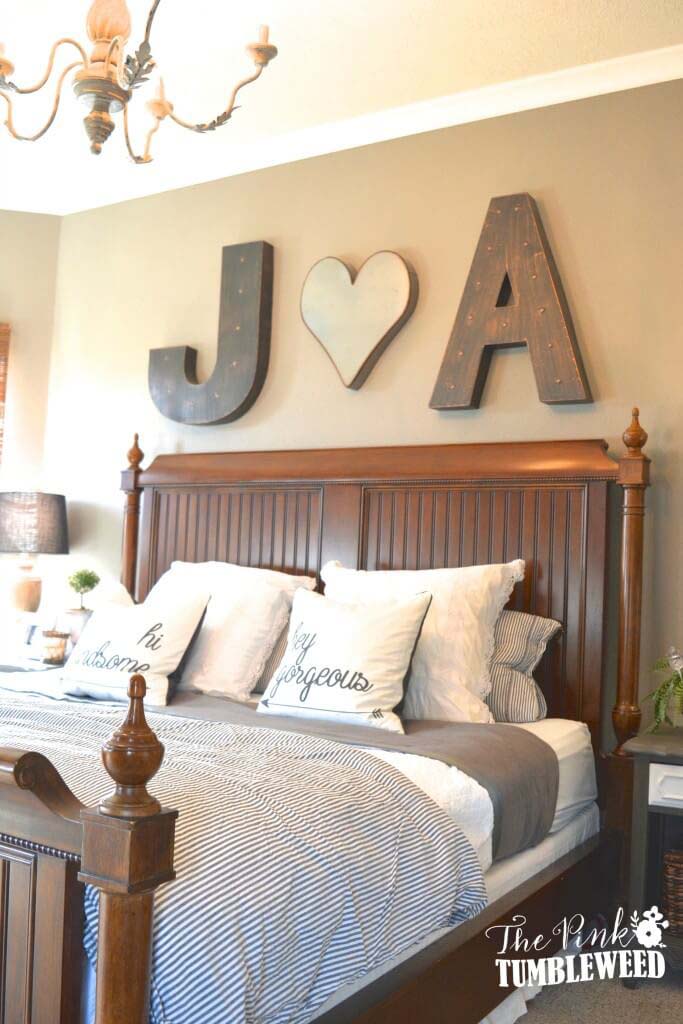 Do you have a special someone? Do you want to let them know how you feel when they stay over?
Get their initial, your initials and an excellent large heart cut out over the bed.
10. Hello Love Simple Sign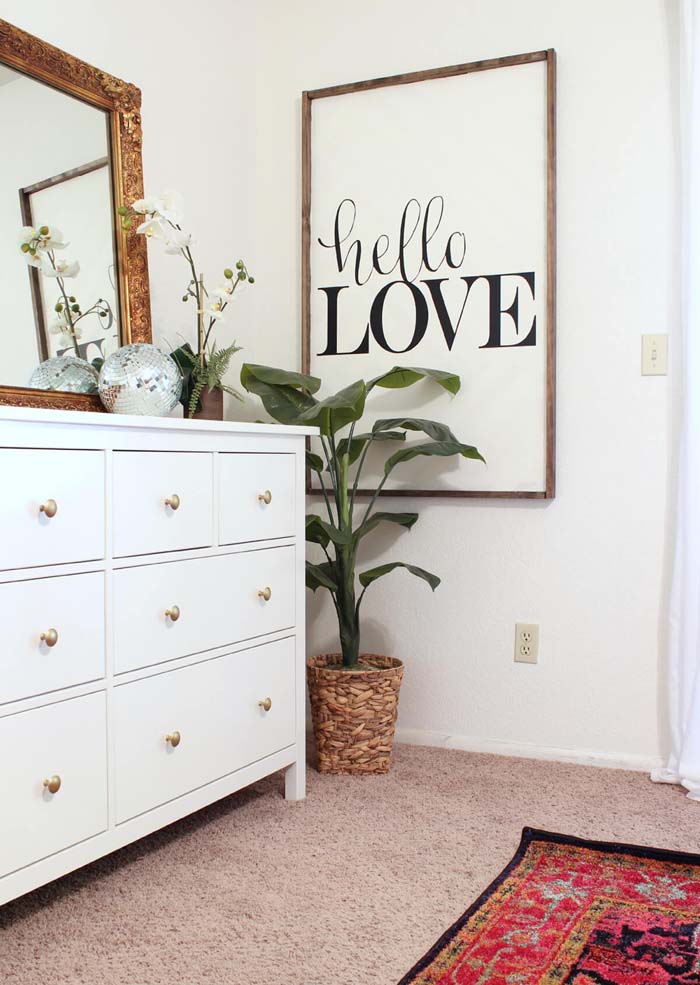 Who said that something simple could not also be elegant?
This two-word phrase placed on a white background with a fairly basic font goes to show you that you do not need much to be creative.
via Classy Clutter
11. Kaleidoscope Tiles in Floral Design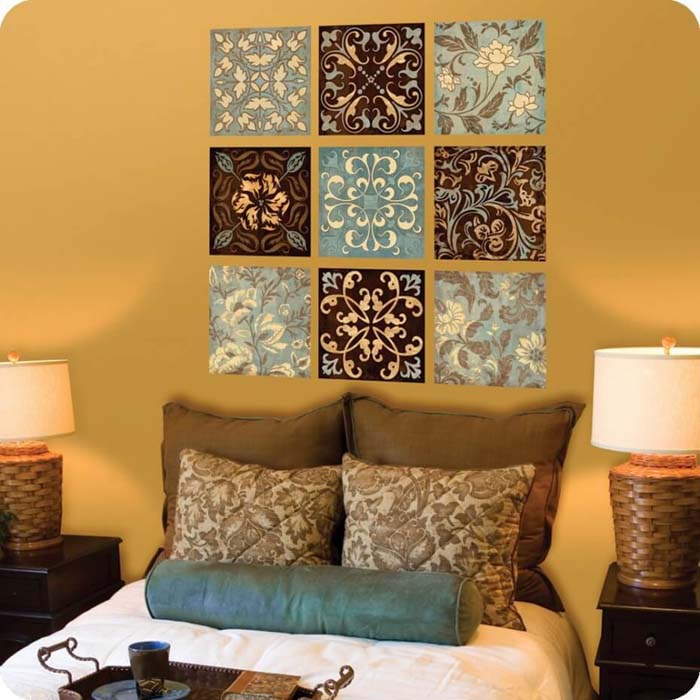 Floral designs are a popular choice for bedrooms, thanks to how comforting they can be.
Adding an arrangement of floral relief patterns in a kaleidoscope over your bed is a great way to add some variety to the walls of your room.
12. Looking Glass of Love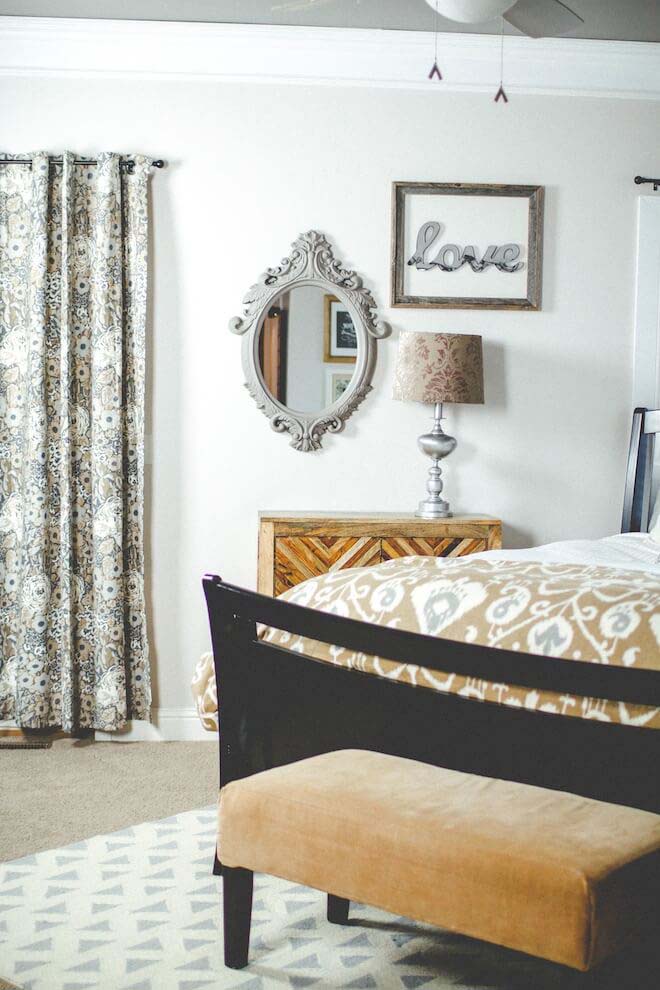 Mirror mirror on the wall who's the fairest of them all?
Add this classic style mirror to your room as a new vanity mirror. It will help to reflect everything you need to see while also making your room look great.
via Carla Aston
13. Love Each Other Sign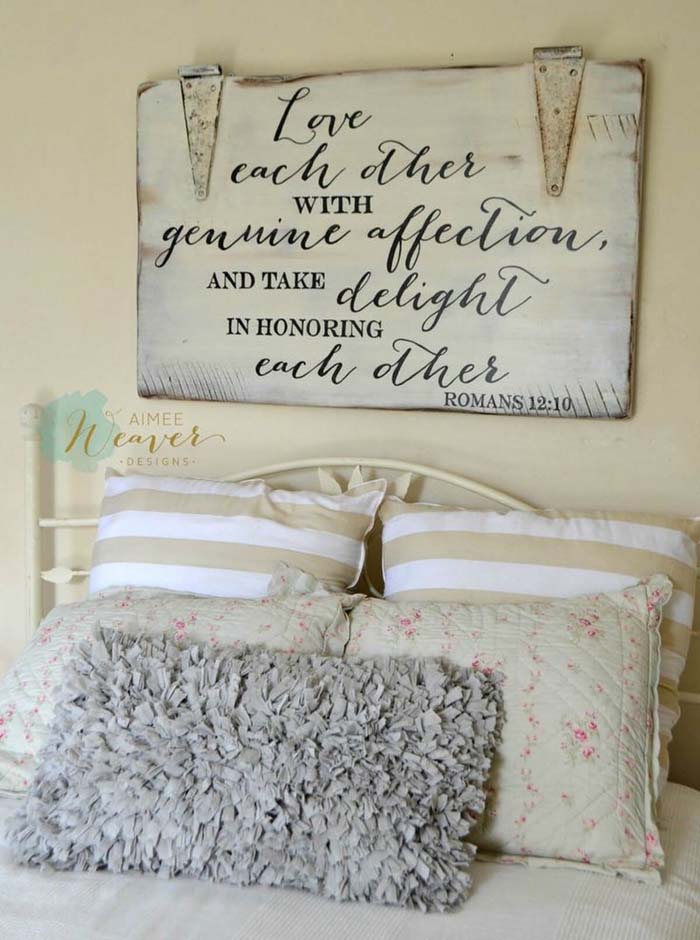 There is nothing that says love like a quote from Romans.
This commandment will make a great addition to the walls in your bedroom. It will let everyone know that this is a room of love, not war.
14. Love is the Breath of Life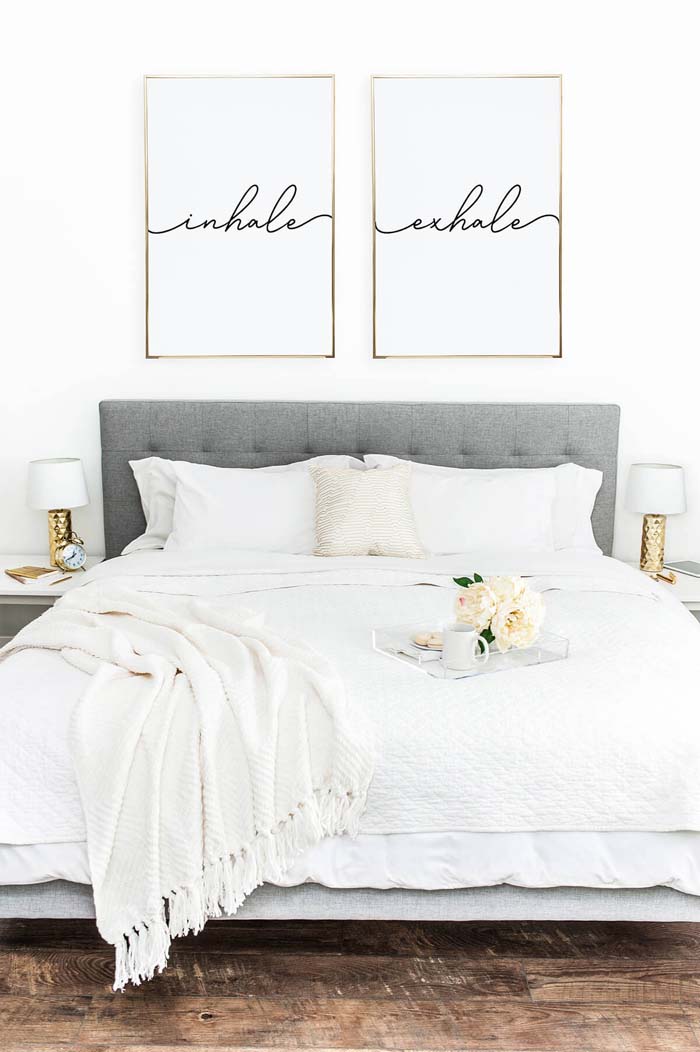 If you love minimalistic design patterns, then you are probably going crazy over these simple single word over white background images.
This style of design has become more popular in recent years as minimalism has gained popularity.
via Etsy
15. Love Lights Up This Room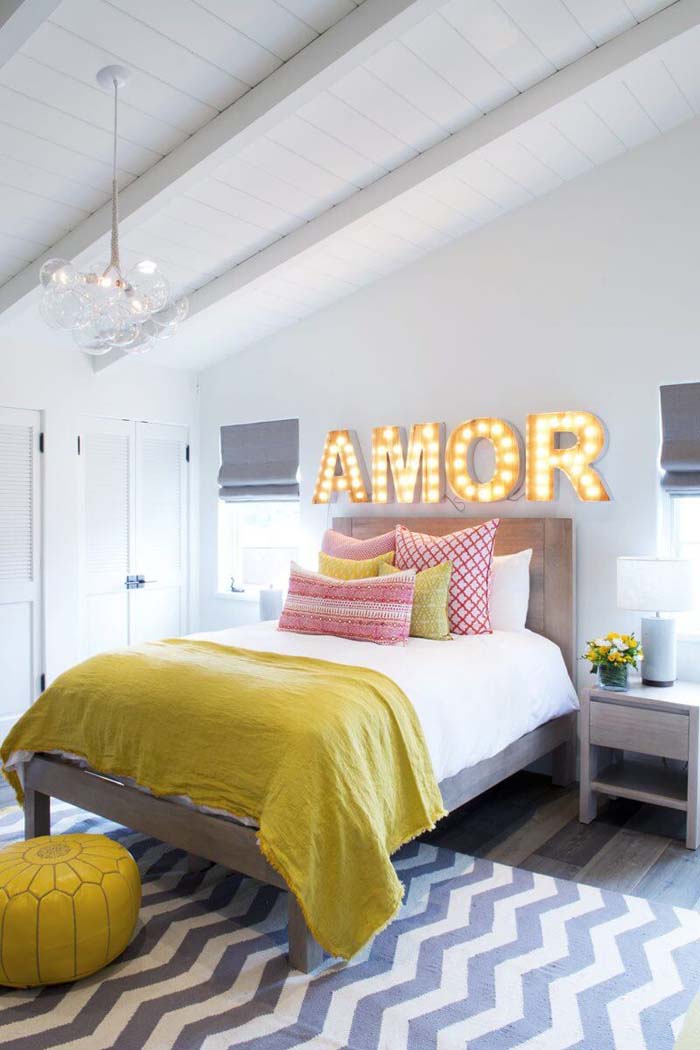 Make your bedroom a little more feisty by hanging up the sign over your bed.
It lights up so you'll have plenty of luminescence to see in the dark, but it is written in Spanish, and the word is the word of love.
16. Love Memories Through the Window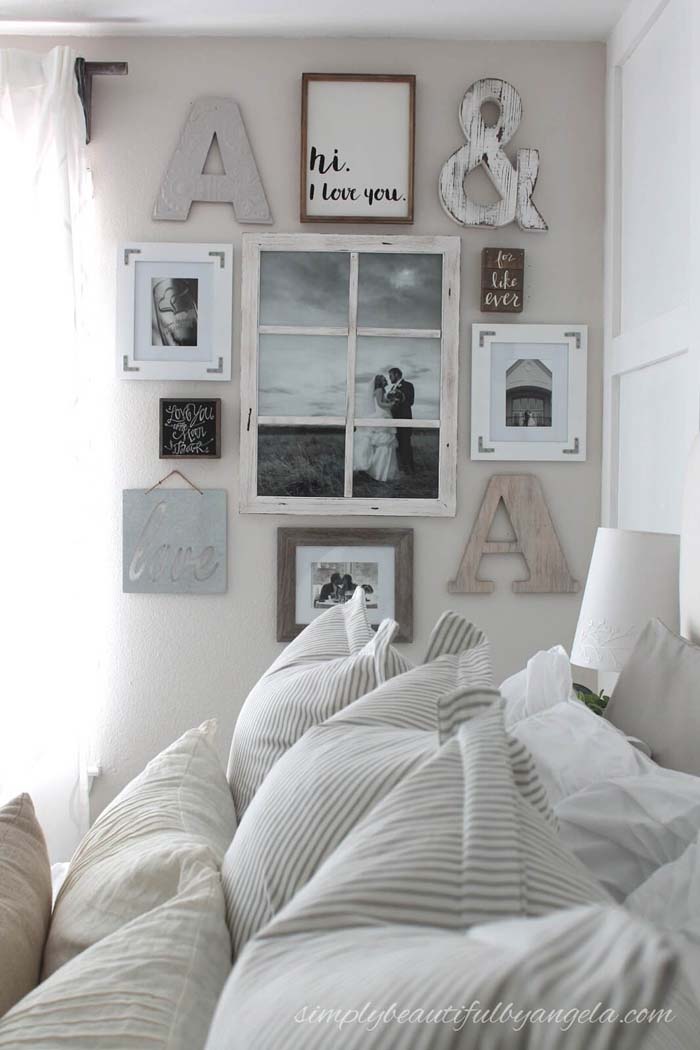 If you have something you would like to commemorate then mounting this design onto your wall is one of the most elegant ways to do it.
Looking through the window out at the happiness you see beyond the panes is quite the experience.
via Simply Beautiful By Angela
17. Message of Love on Chalkboard Center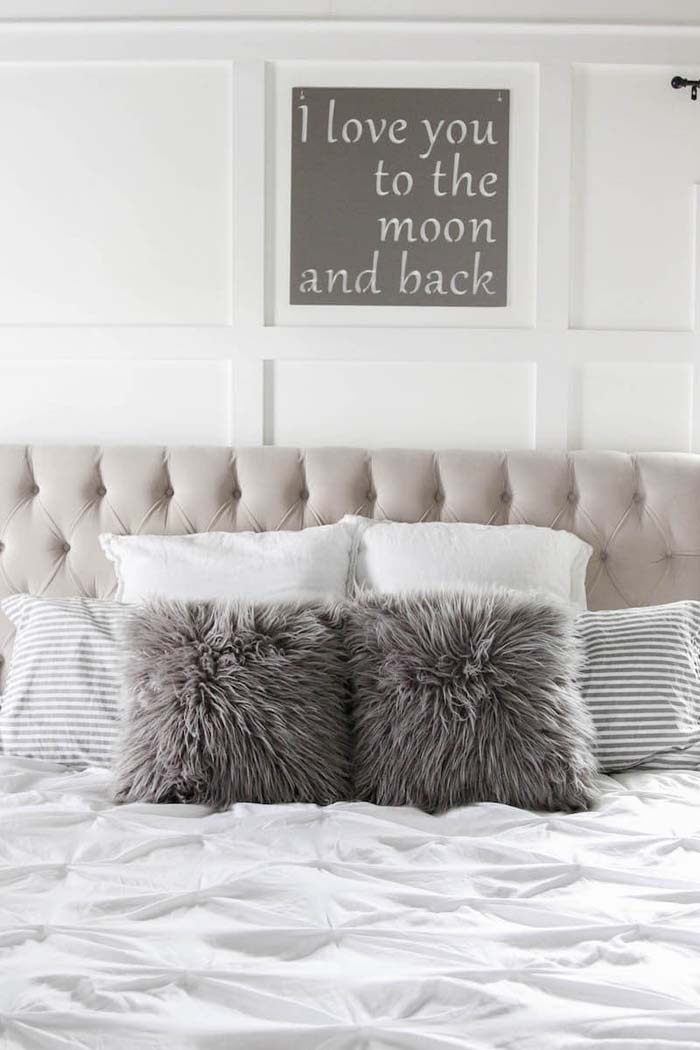 Tell someone special to you that you love them in a way they surely won't miss.
This simple statement could make someone's day and, who knows, you may end up finding the one in the process.
via House Of Rose
18. Mirrors Framed in Bas-Relief Between Mounted Keys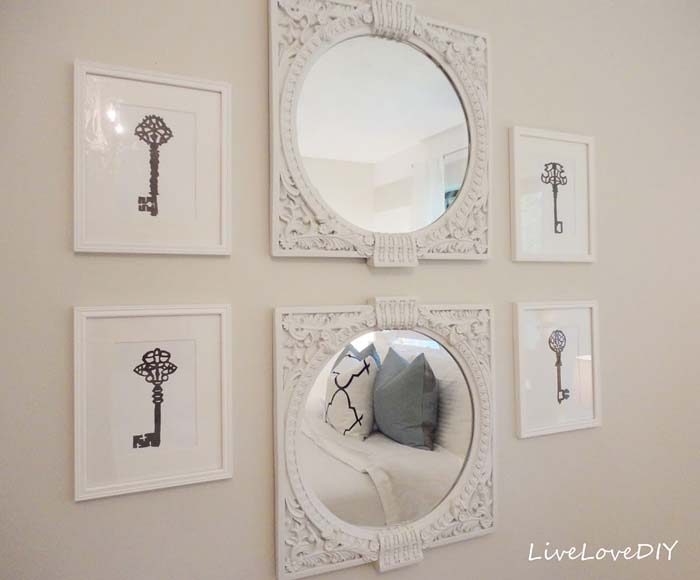 Keys have powerful symbolism in our minds.
These four keys mounted on either side of two mirrors is a powerful metaphor of the importance of looking beneath the surface at what is locked inside.
via Live Love DIY
19. Mirrors of Suns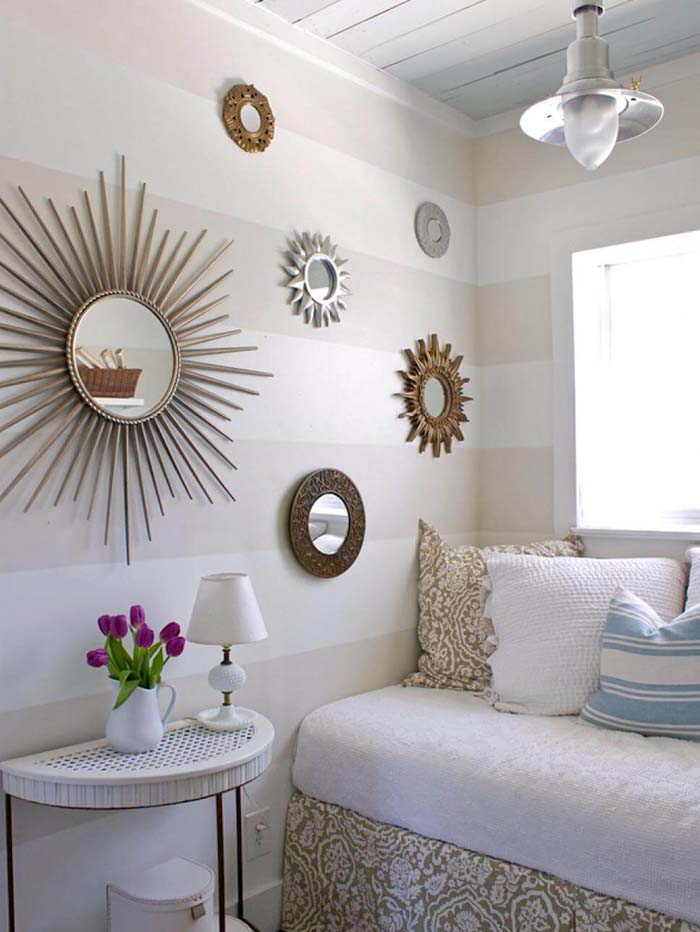 The sun and the stars are some of the most beautiful things in the universe.
Add their images to your walls to enhance the beauty of your room. It will look stellar.
via HGTV
20. Mr and Mrs Sign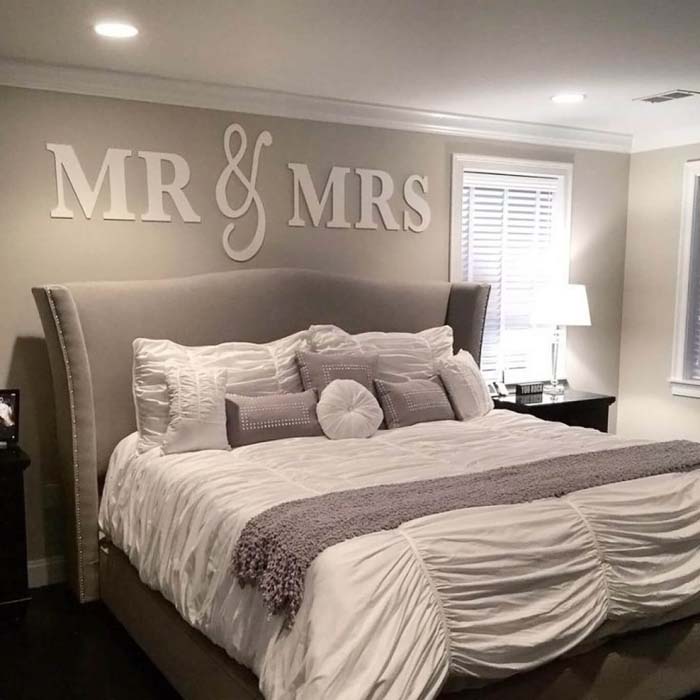 You recently tied the knot?
Then this Mr. and Mrs. sign would go perfectly in your new master bedroom.
Let everyone know that the lady in your bedroom is taken by mounting this in your room.
21. Old Door and Antique Mirror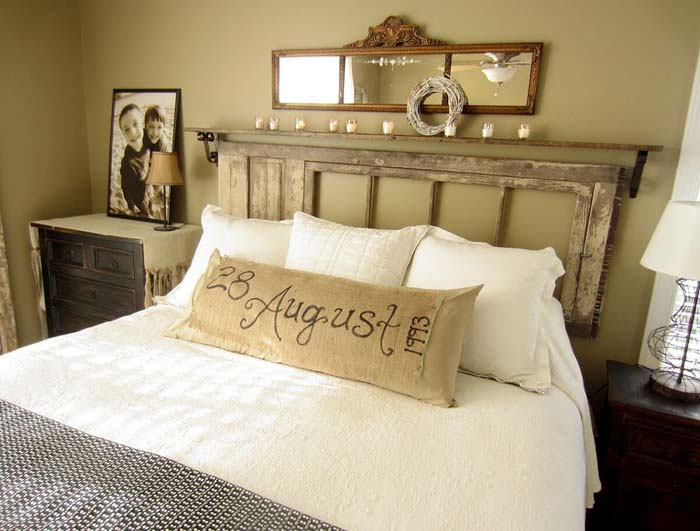 The rustic look has been taking off around the world lately.
This old door will make the perfect headboard that supports a beautiful distressed wood appearance.
22. Proverb Frame Box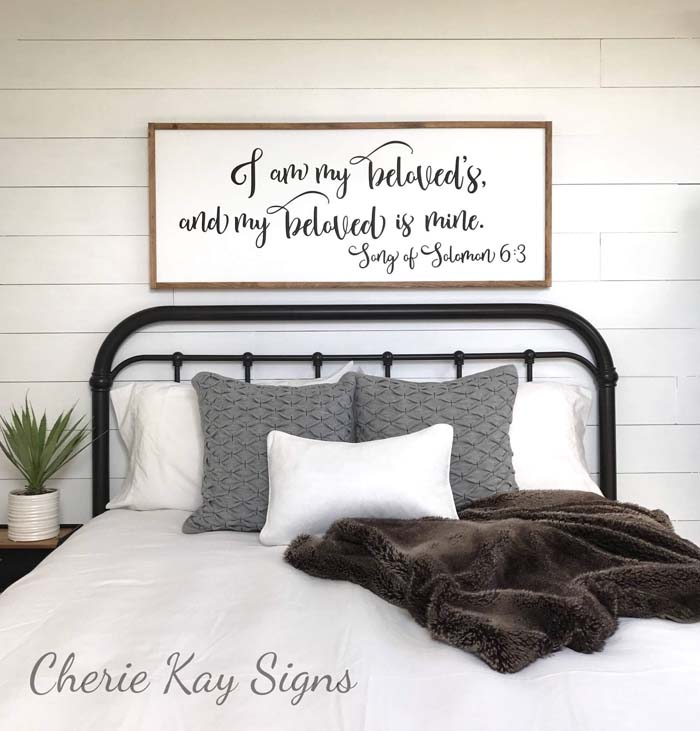 A powerful message embroidered into a white background hung up over your bed makes the perfect wall decoration.
Let you and your partner know that you are devoted to each other with this quote from Solomon's song.
via Etsy
23. Rustic Rope Sign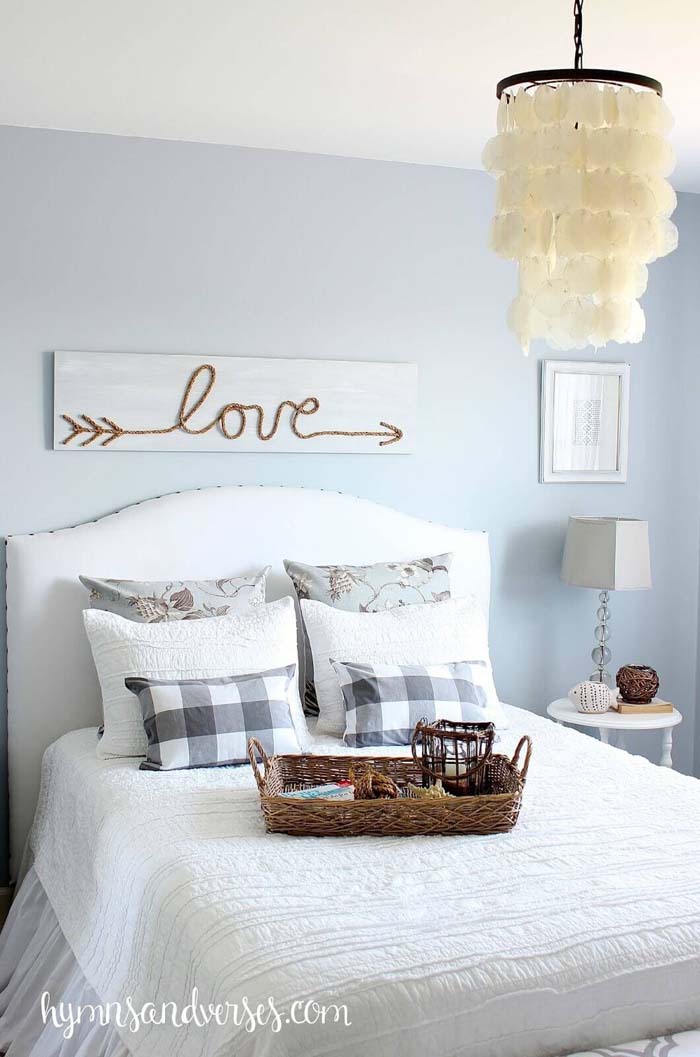 Taking a Monday in object and turning it into art is the definition of creativity.
This simple piece of rope may appear unassuming, but once it is arranged in a certain way, it becomes a powerful message.
via Artesanato
24. Small Picture Frames Within a Large Frame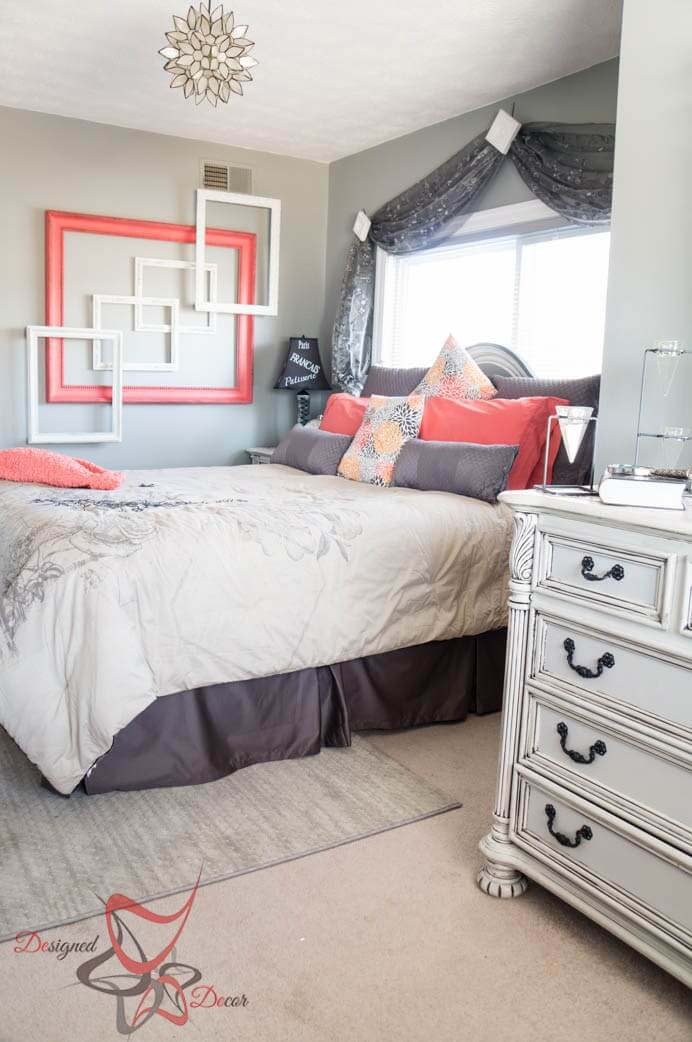 Show the world that you love thinking outside of the box.
Look at the square shape in the center and then the exploding white squares. Those white squares represent breaking out of the box.
via Designed Decor
25. Sun Mirror on Gray Two-Tone Wall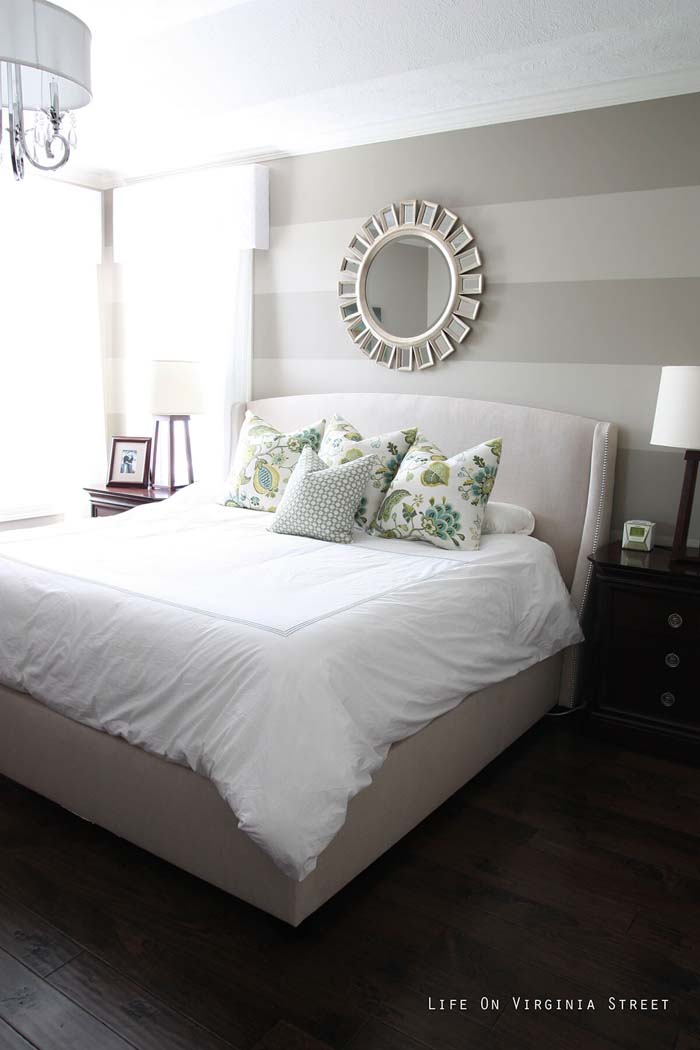 This mirror is one of the best ways to represent the sun in your room, especially if you got gray walls.
You might have had a hard time finding things that match gray walls, but now you want any more.
26. Swag of Cotton over Black and White Sign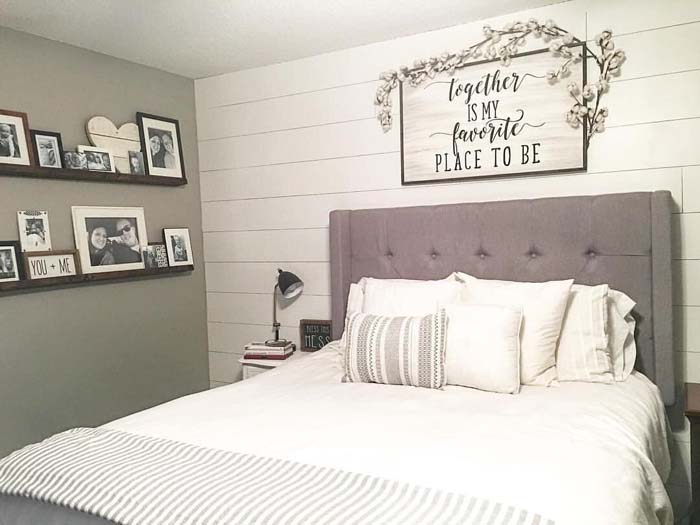 The color of this embroidered design is perfect for a nice cream-colored wall color.
If you are in a relationship and want to celebrate it on your bedroom walls, this will be perfect.
27. Wall Display with Overlapping Square Frames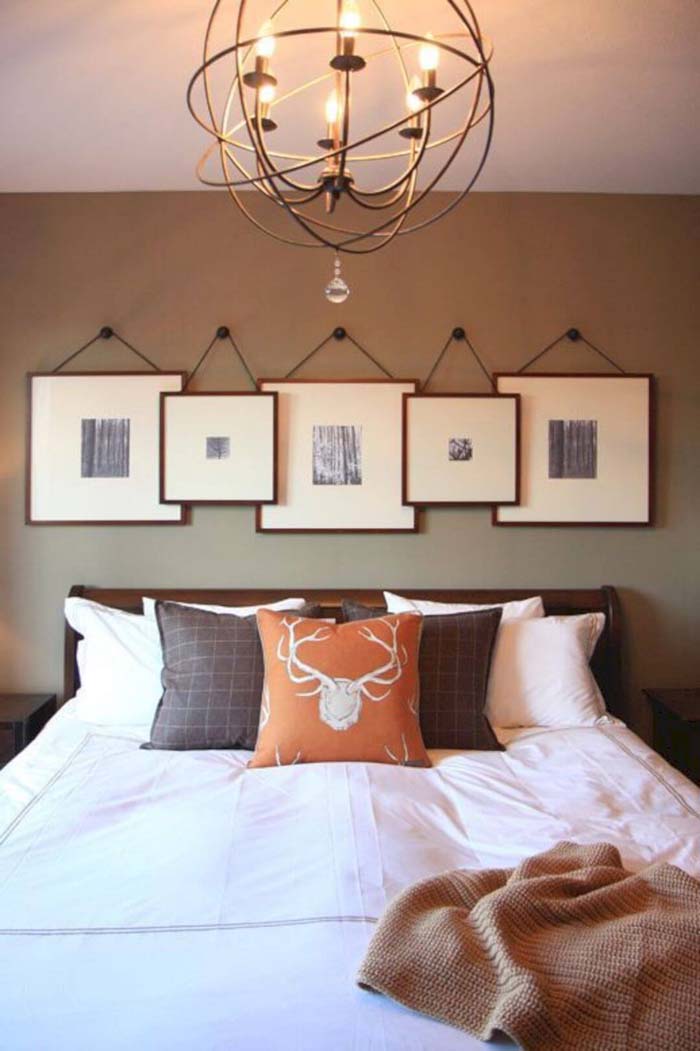 The simple shapes and the subtle designs are rather unassuming at first glance, but the overall effect is striking.
The continuity between the various frames as they overlap is slightly different from what you would expect from most wall mosaics.
via Houzz
28. Welcome to Our Humble Cottage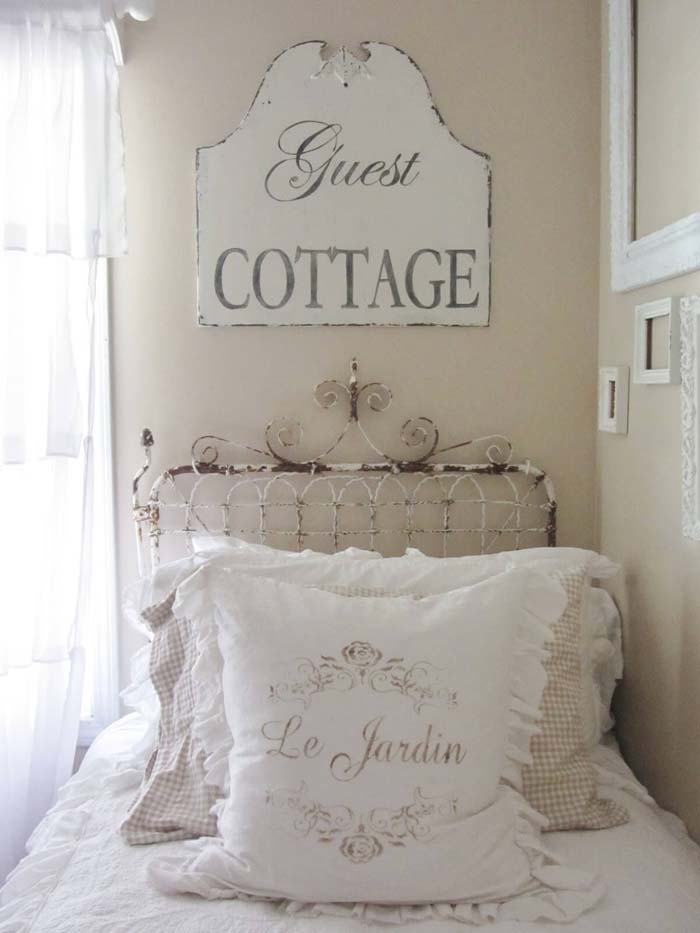 Mark, which room of the home is for the guests with this sign.
It is a straightforward piece of white wood that would look perfect in a tiny cottage.
via Live Love DIY
29. White Shag Circle on Dark Navy Wall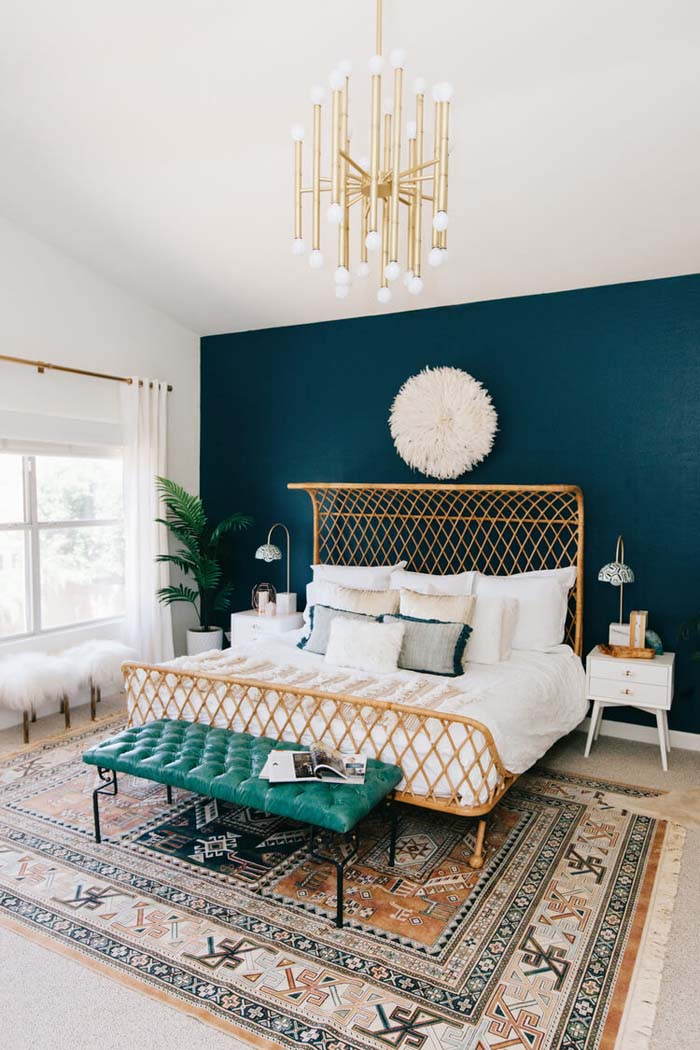 Do you wish that it was 1979 again, and shag carpets were all the rage?
If so, then you were going to love this shag carpet mounted on your wall. It's the perfect statement to make.
via Live Love DIY
30. You and Me Vintage Sign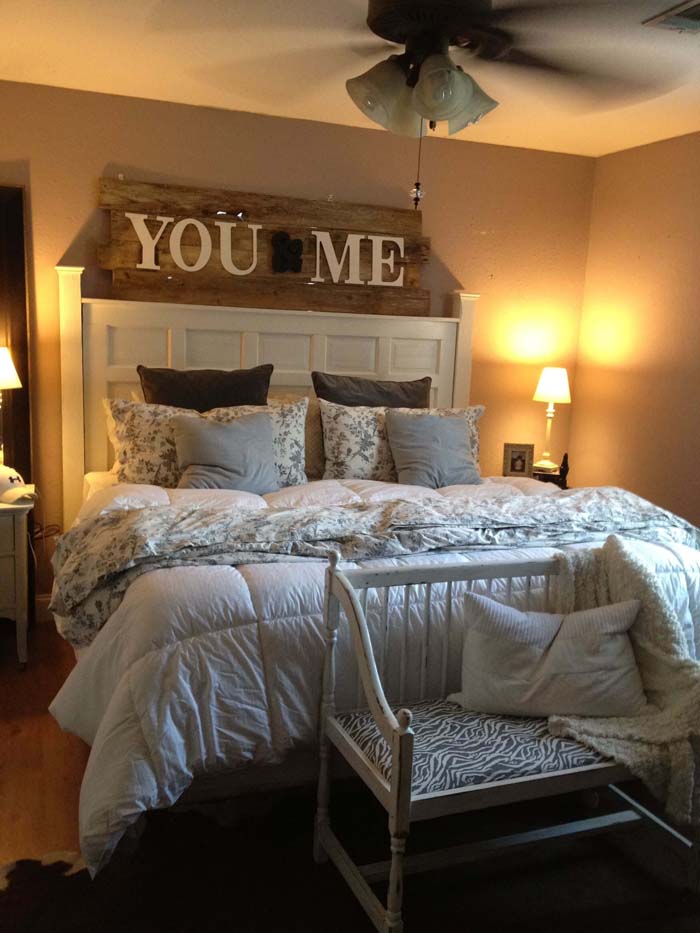 If you want to show the world that you and your partner have been together for the long haul, then this antique sign is the perfect commemoration in your room.
Showcase your love to the world by mounting a statement directly on your wall.
31. Young Love Framed Through the Window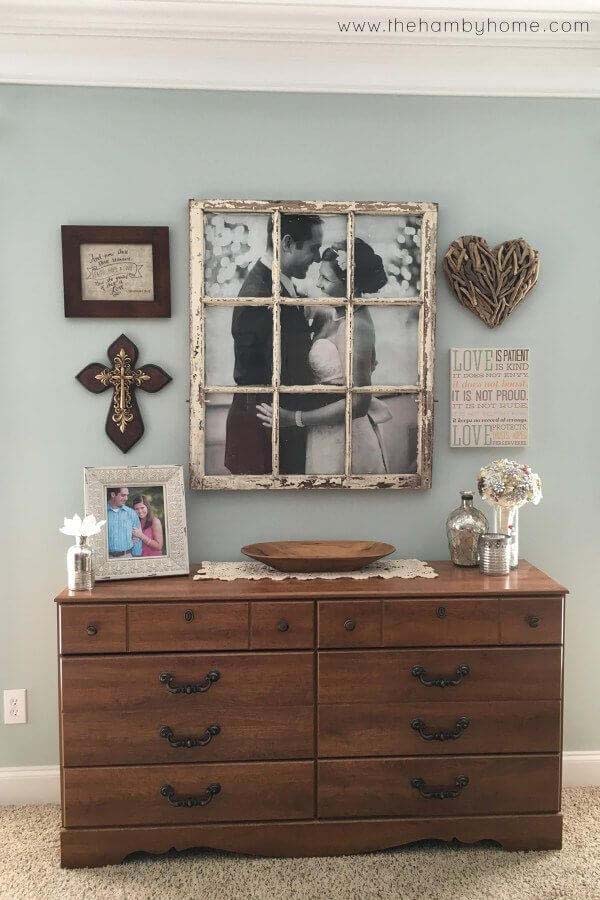 The frame of this beautiful picture makes it look like you were staring through a window at a young couple falling in love.
Reminisce over the days that you and your partner first met by mounting this beauty on the wall.
via The Hamby Home