Is it time for your home's "scrub-up"? Usually, we make a general scrubbing and cleaning twice a year, so the next round is just around the corner.
The cleaning, of course, is accompanied by organization and tidying of every inch of the property.
Usually, the first room we start with is the bedroom. Believe it or not, we tend to start with it because of its essential influence on our productivity and adjustment. The cozier, cleaner and comfortable it is, the more relaxed and rested we feel for the forthcoming daily activities.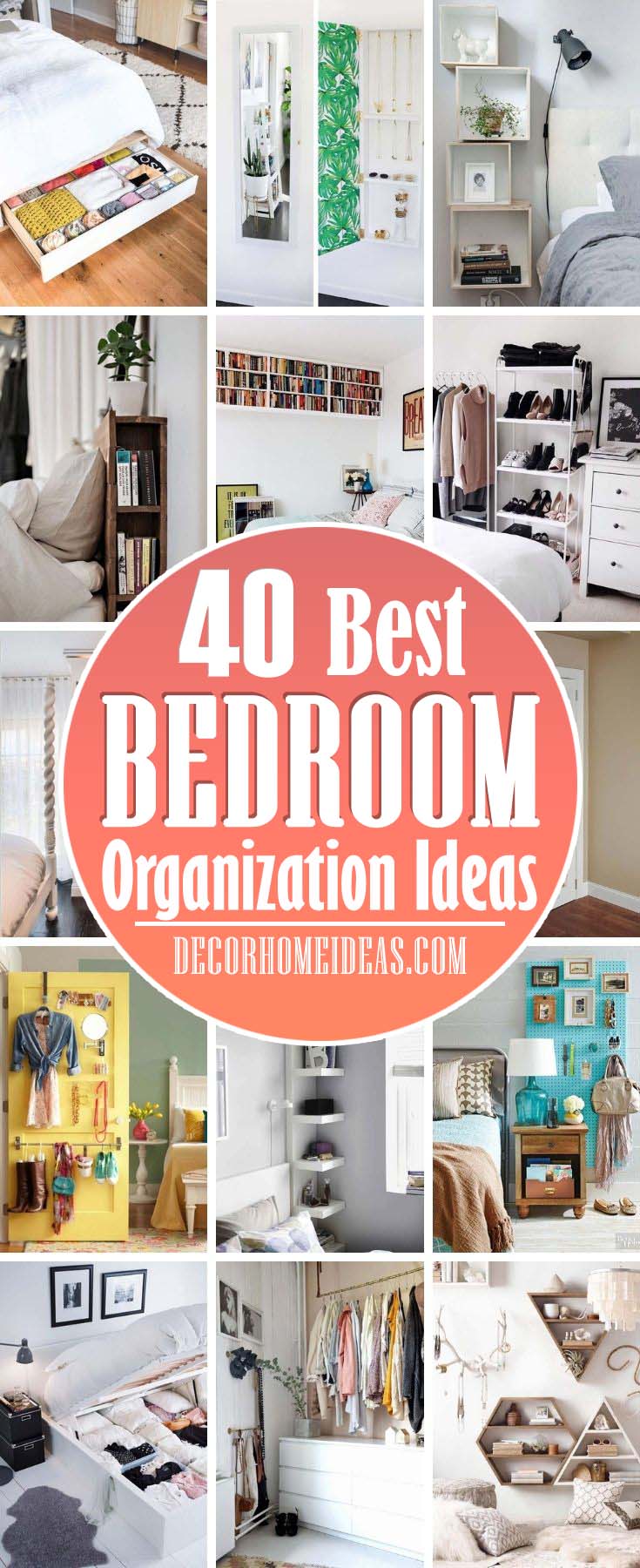 The key to putting an order in the bedroom is to take advantage of every inch and keep it airy and appealing at the same time.
We have gathered a collection of the most practical and functional ideas that will organize the heart of your home.
Each of them will contribute to making the bedroom cleaner, tidier and more organized when it comes to the arrangement of the clothes, accessories and other stuff usually stored in it.
1. Small Bedroom Storage with Open Shelving and Hanging Space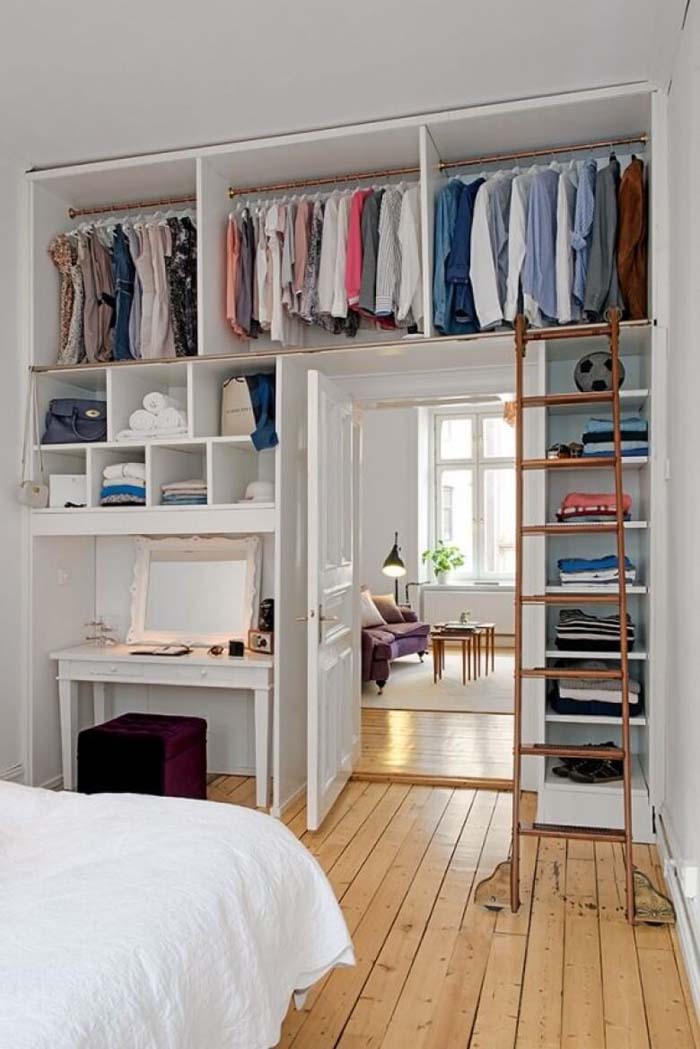 This storage idea is suitable for small bedrooms.
The vertical plane is used for an open shelving construction which accommodates hangers at the top level and folded clothes on the lower ones.
via Les Eclaireuses
2. Transform a Bed's Headboard into a Functional Storage Space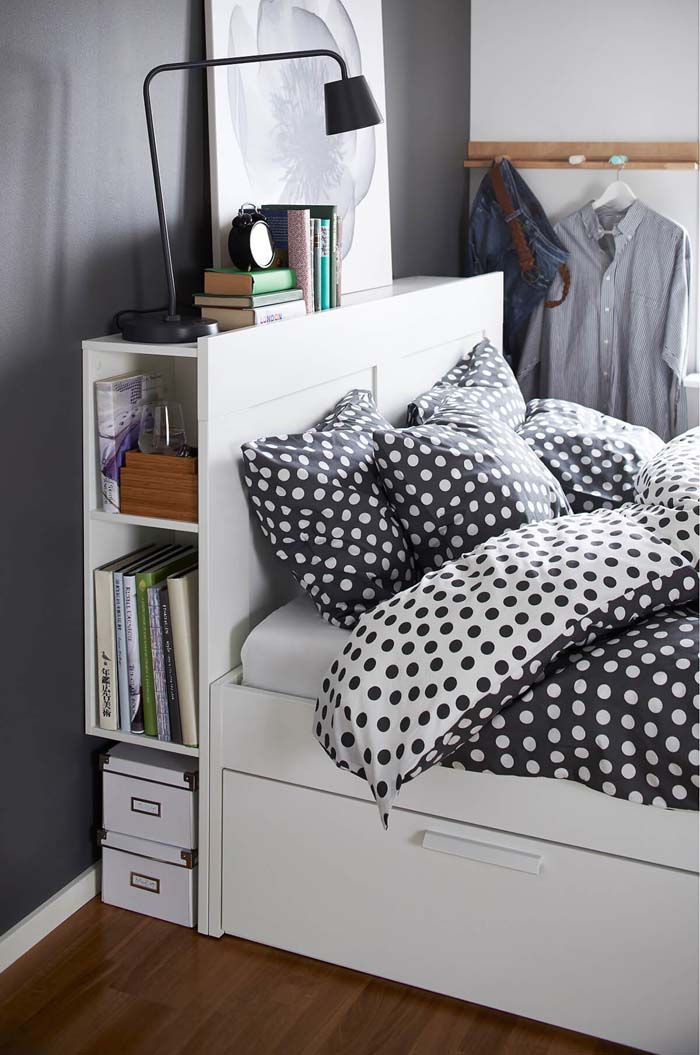 Instead of a headboard that would serve only as a decorative element of the bed, you can add functionality to that feature and use it as a storage place for books, magazines, a reading lamp and decorative accents.
3. Keep Gadgets Safe and Easily Accessible With a Bed Holder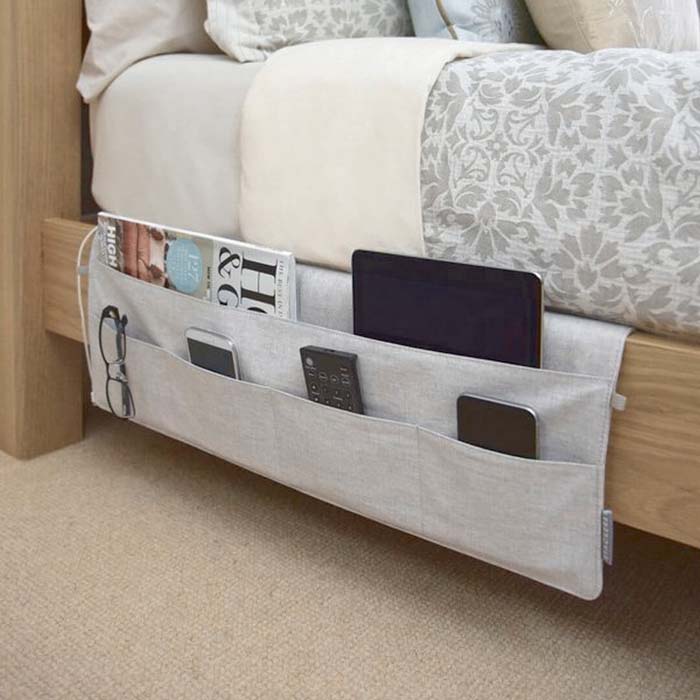 Store the remote controller, your cells and tablets in a bed holder. It will let you keep them safe and easily access them when needed.
4. Maximize Bedroom Space with Wall-Mounted Shelves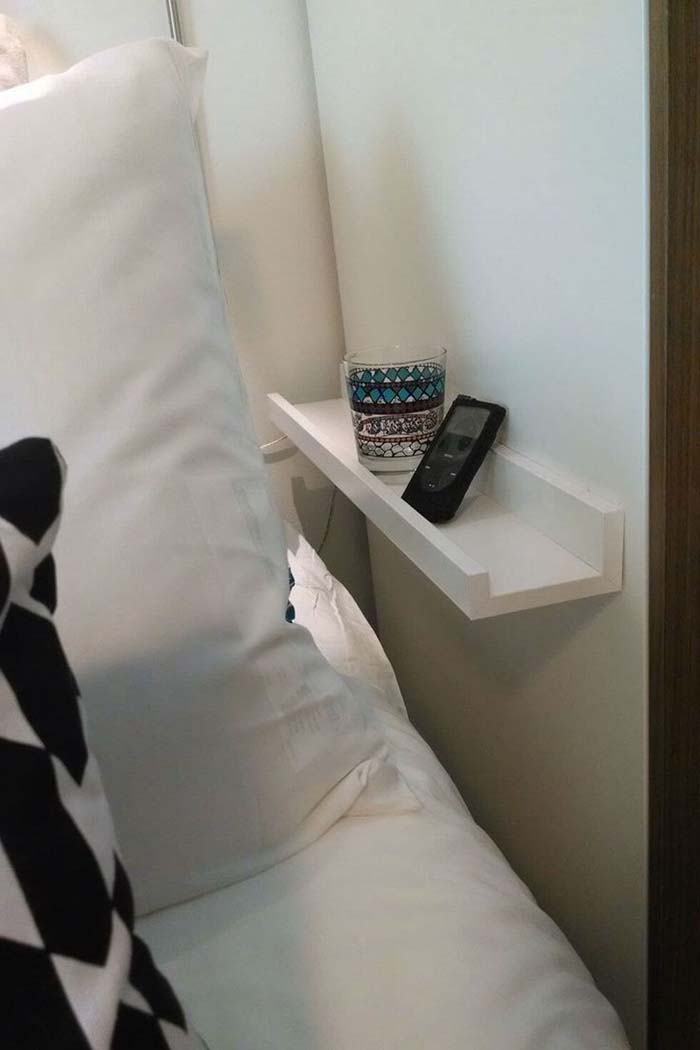 In case your bedroom is small and you can't place nightstands aside from the bed, use small shelves instead.
Since they are fixed tightly to the wall, they do not cover any of the floor space.
via IKEA
5. Colorful Open Shelving for Bedroom Storage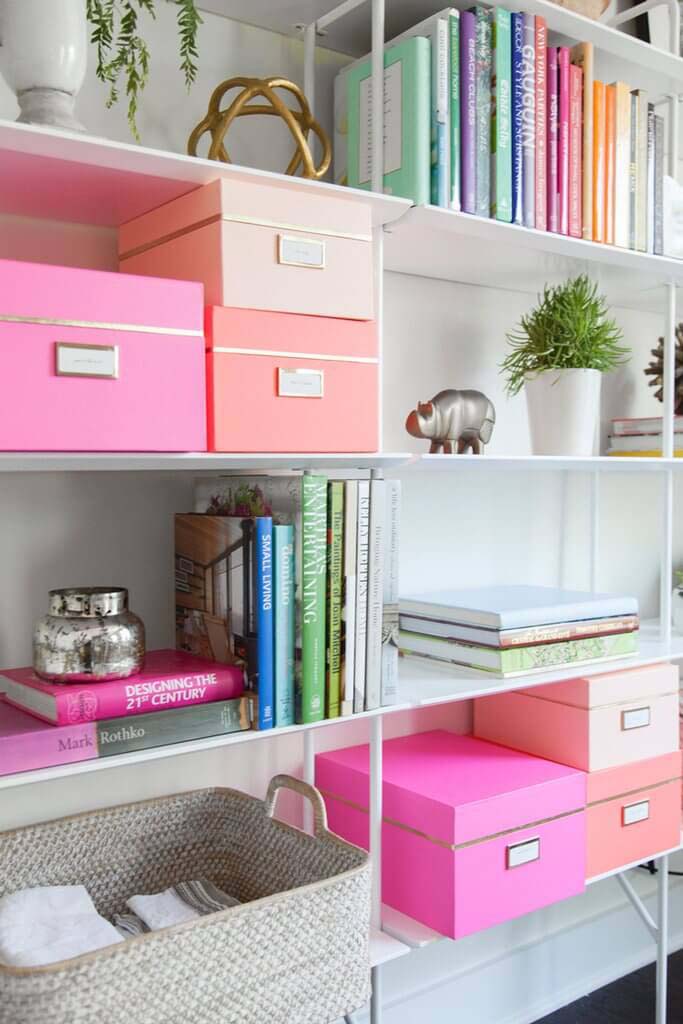 If the storage solution of your bedroom is an open shelving type, you can consider adding colorful boxes for protected storage.
In addition to the free-from-dust organization, you can use them to bring color into the interior.
6. Maximize Your Shoe Storage with a Ladder Shelf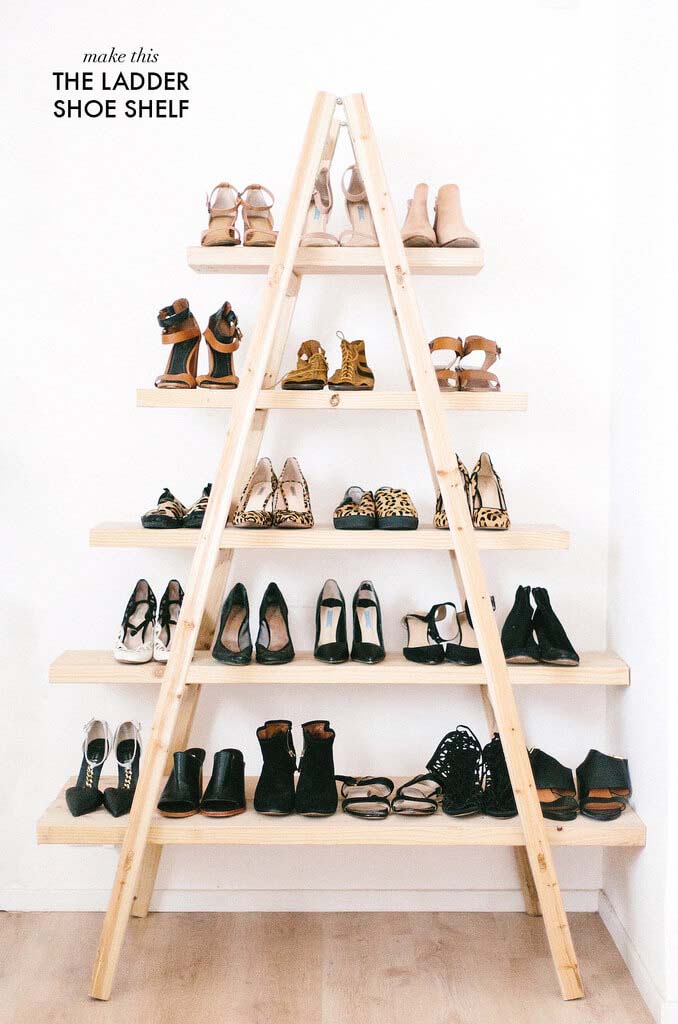 Do you need more space for your shoes? Here is an idea of how to store them properly and without taking too much from the floor space.
Such a ladder shoe shelf will let you display your seasonal or rarely used shoes on 5 levels.
via Collective Gen
7. Build a DIY Platform Bed with Storage for Extra Space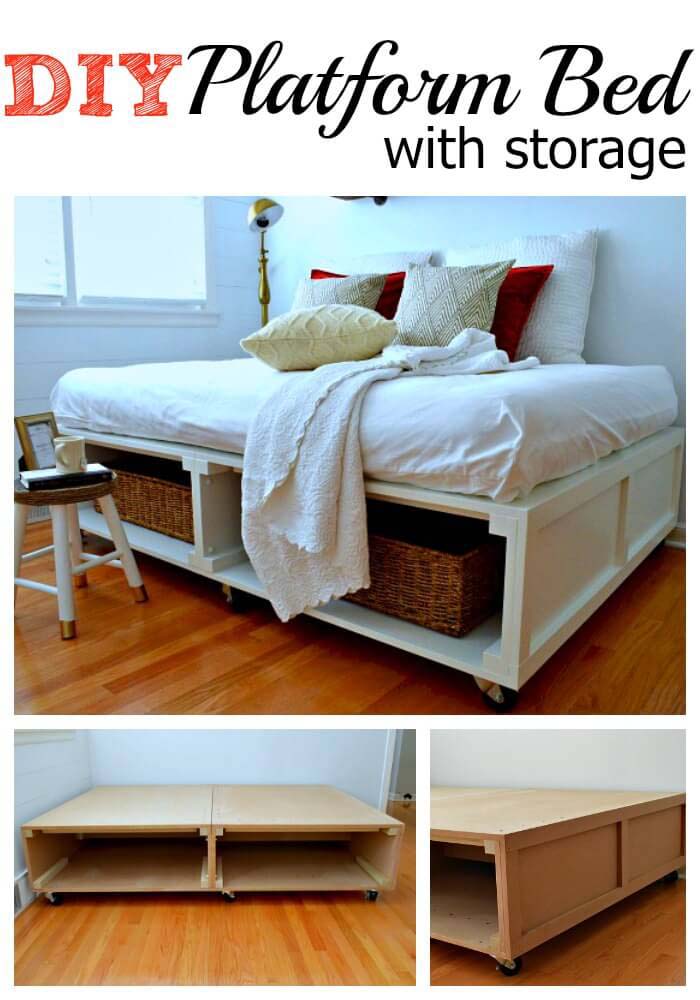 Give yourself more than sleeping space with a DIY platform bed with storage compartments.
The bottom is equipped with casters for easier cleaning beneath it. Add baskets or boxes in the opened compartments to store pillows, throws etc.
via Chatfield Court
8. Create a Stylish Reading Nook with a DIY Storage Bench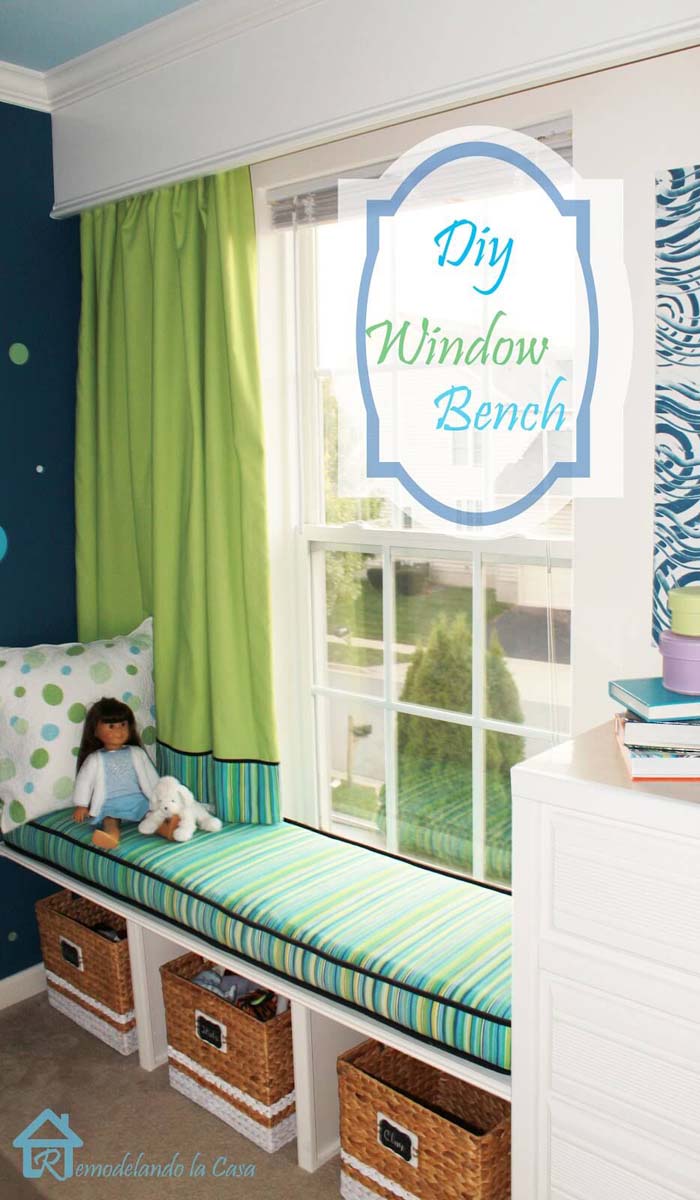 This DIY bench has been designed to fit a girl's room.
However, it can be an inspiration for a bench in any bedroom as long as you want to combine extra storage space with a functional reading nook.
via Remodela Casa
9. Maximize Storage with an Ikea Chest of Drawers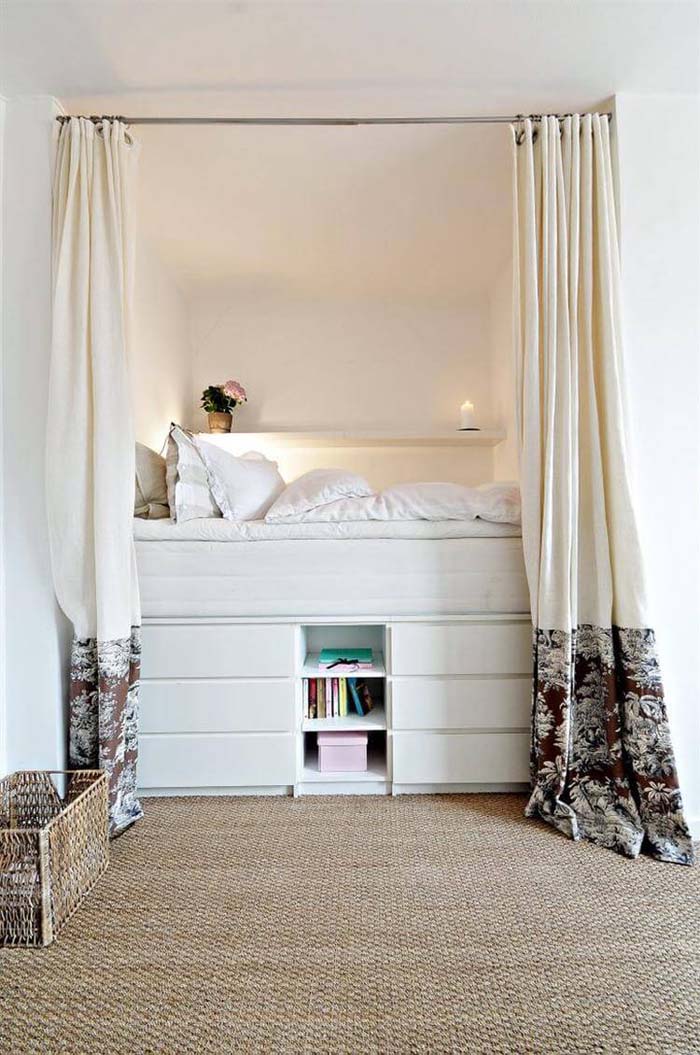 This is a tip on how the Ikea chest of drawers can be used.
Its contemporary and versatile design provides stacked alignment for increased storage spaces with a small footprint.
via Stockholm Vitt
10. Make the Most of Corners with Customized Floating Shelves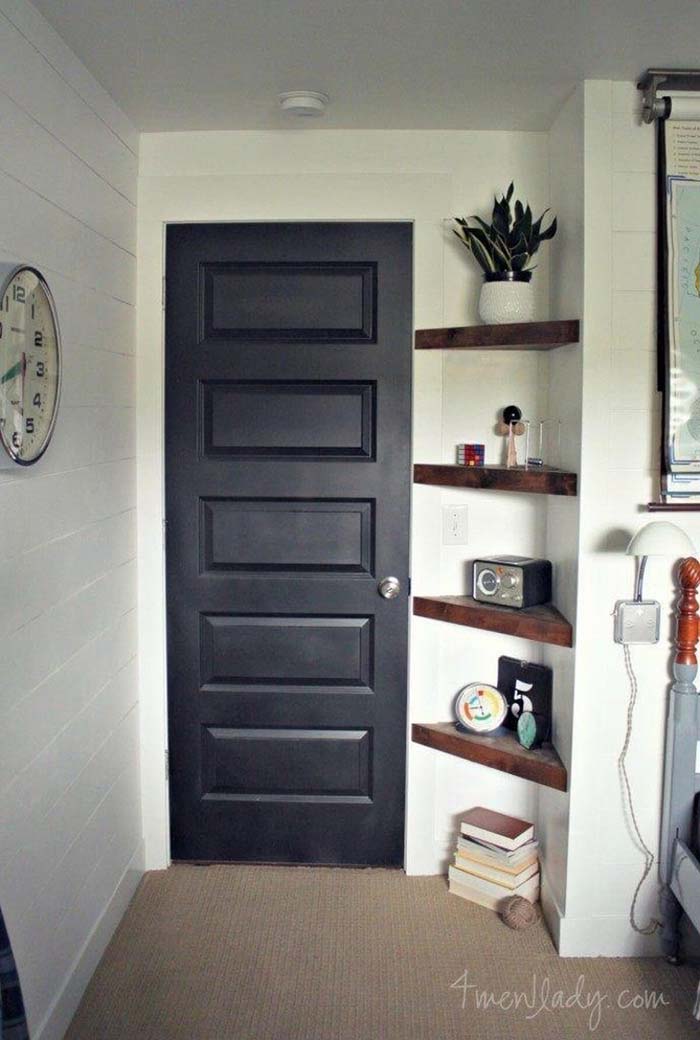 If there is an awkward corner in your bedroom, you can always utilize it with customized floating shelves.
The supports to which the shelves are nailed are hidden by a closing element. This also contributes to making the shelves look as made from solid wood.
via 4 Men 1 Lady
11. Affordable Wicker Baskets for Home Storage Solutions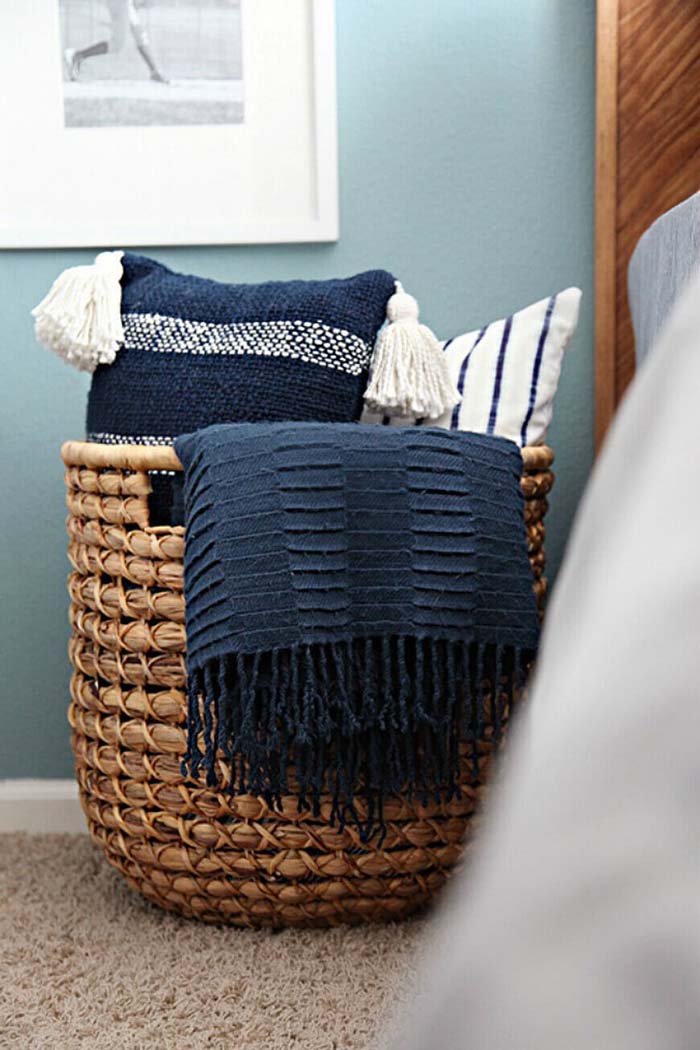 Containers like wicker baskets are an affordable and charming way to store throws and pillows in the bedroom.
Wicker is very warm and rustic so these baskets will certainly contribute to making the room more welcoming and relaxing.
12. Utilize the Back of Your Door as Extra Storage Space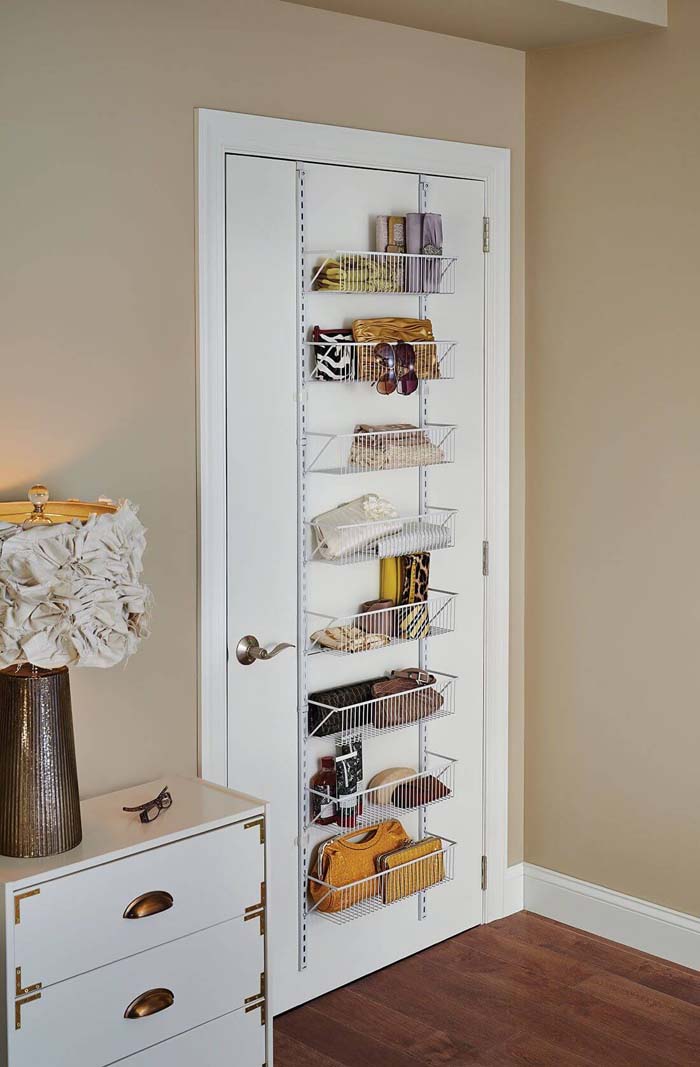 One of the places you can successfully use as extra storage is the back of the door.
Hanging organizers come in different sizes, materials and colors so you will easily find the best match for your bedroom.
via Wayfair
13. Furnish a Small Bedroom with Multifunctional Furniture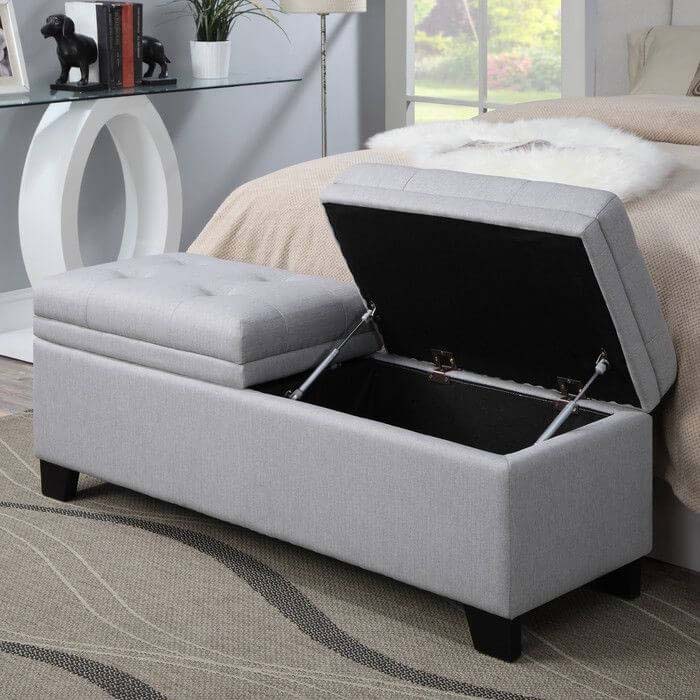 When furnishing a bedroom, especially a small one, you must consider not only comfort and design compliance but also the functionality.
A bench with hidden storage space is a perfect example of a multifunctional piece of furniture.
14. Vertical Shoe Closet Adds Stylish, Space-Saving Functionality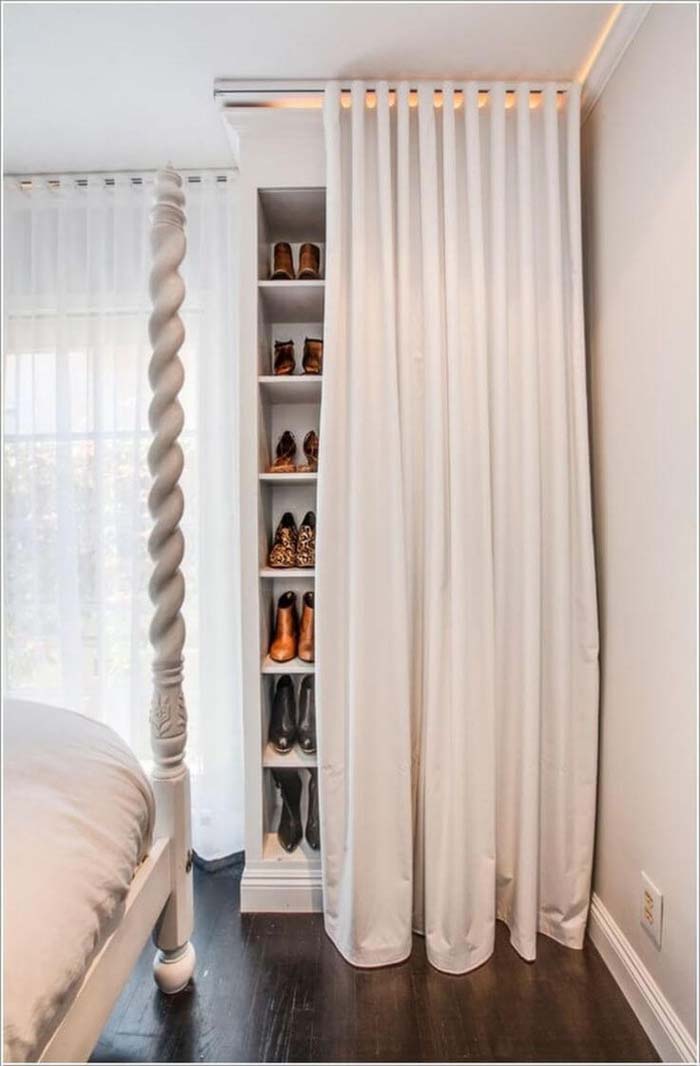 The design of this shoe closet aims to make it an integrated part of the architectural and interior concept of the house.
In the shape of a pillar, this vertical shoe closet is closed by drapes hung by a ceiling-mounted ripple fold track.
via Houzz
15. Optimize Storage in Small Bedrooms Using Vertical Lines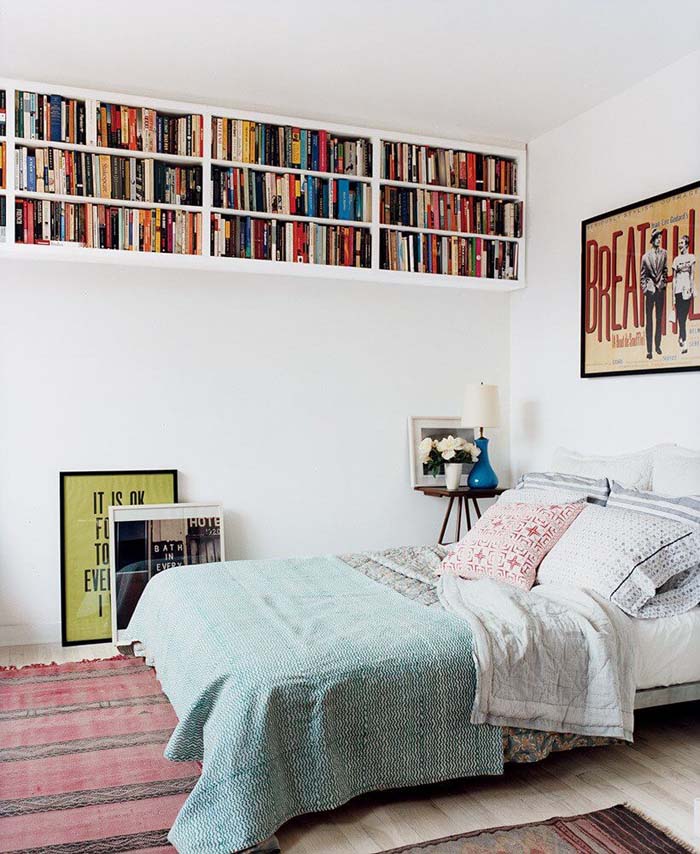 This is another example of how important the vertical line is when it comes to storage in small spaces.
The bedroom is the place where we read most so it is most expected that the collection of favorite books is at a one-hand distance.
16. Make a Unique Jewelry Organizer Out of Your Bedroom Mirror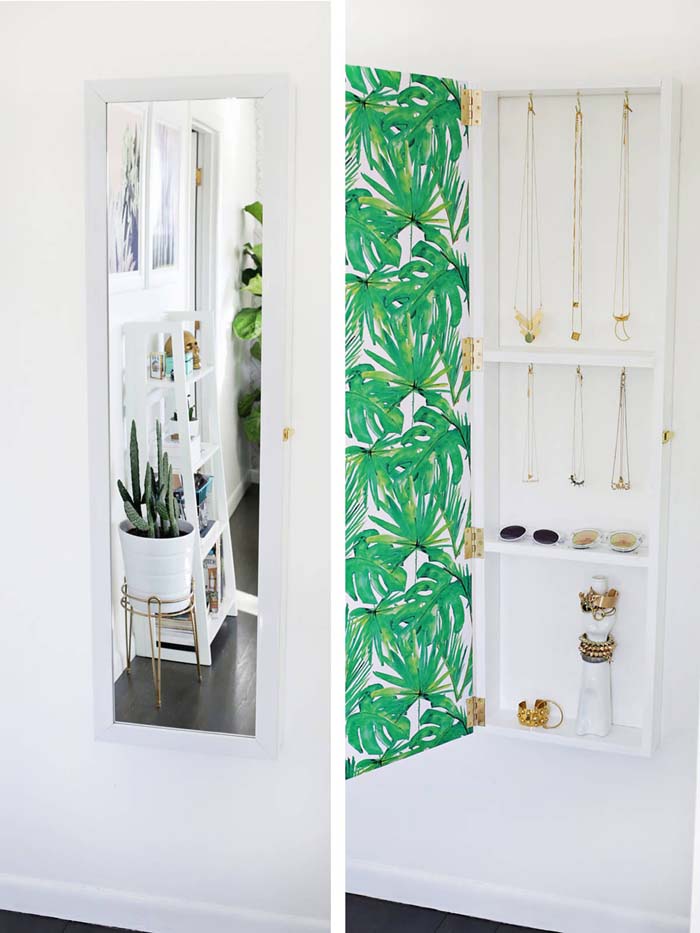 Your bedroom mirror can easily become a jewelry organizer by equipping it with an extra bottom.
The simple and well-explained instructions of how to make the frame for storage are given below.
via A Beautiful Mess
17. Make Your Bedroom More Functional with a Versatile Trolley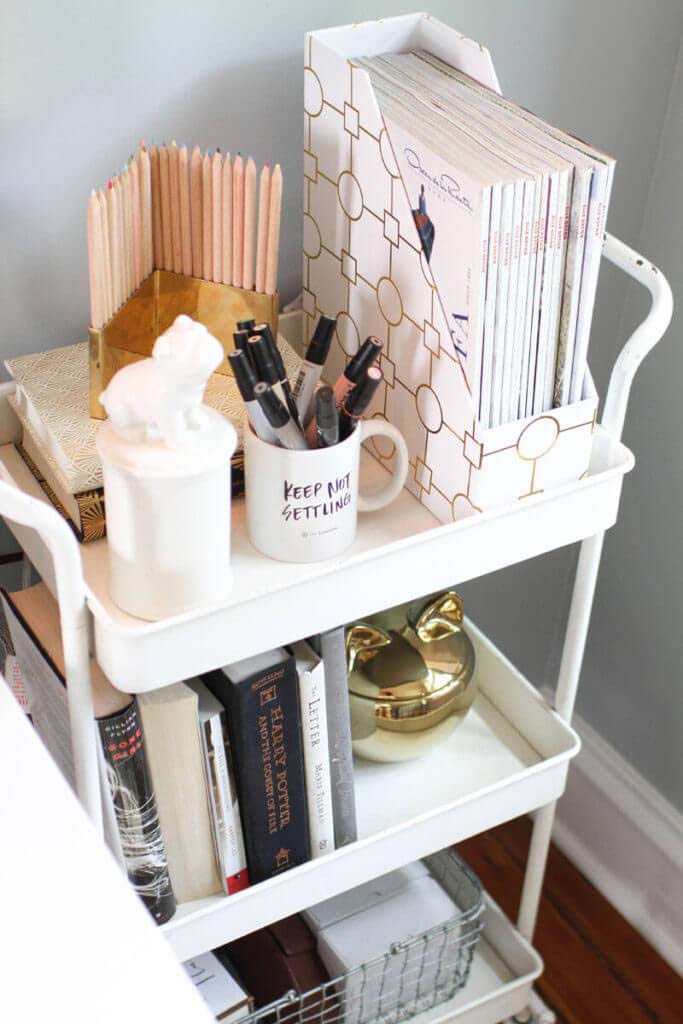 Trolleys are usually related to kitchen storage or even to serving in restaurants.
This doesn't mean that their use is limited to these two only. Their small footprint, levels for storage and mobility make them a comfortable and multifunctional piece for every room, even the bedroom.
via The Every Girl
18. Shared Nightstand and Book Organizer with Ikea Shelves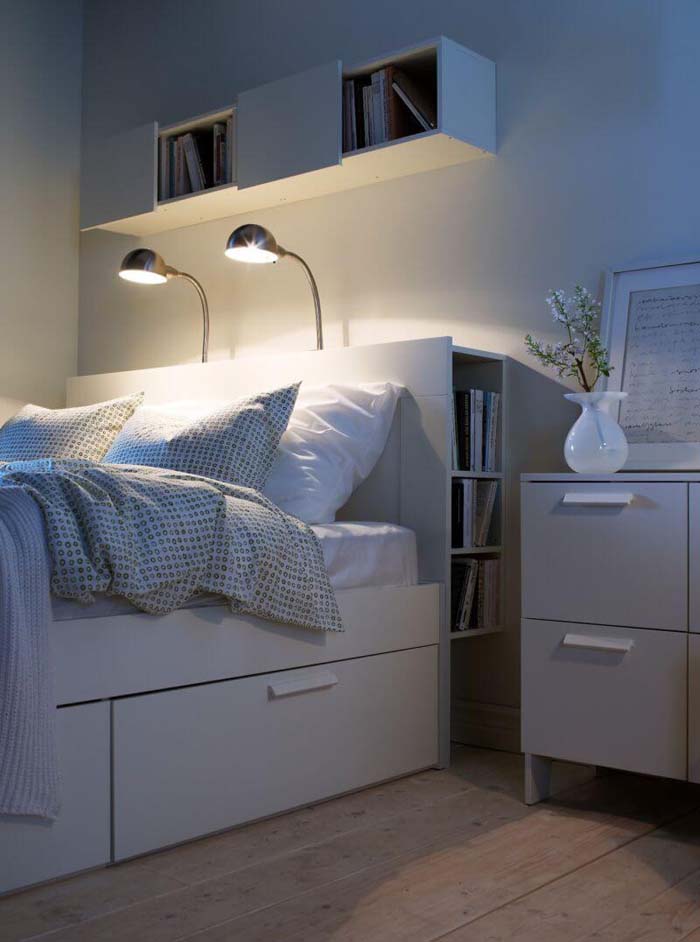 By fixing Ikea's shelves just behind the headboard of the bed, you will get a shared nightstand and a book organizer in one.
Since the nightstand is already ensured, you can use the free floor space for other storage furniture.
via IKEA
19. Create Aesthetic Vibes with Bedroom Pillars and Niches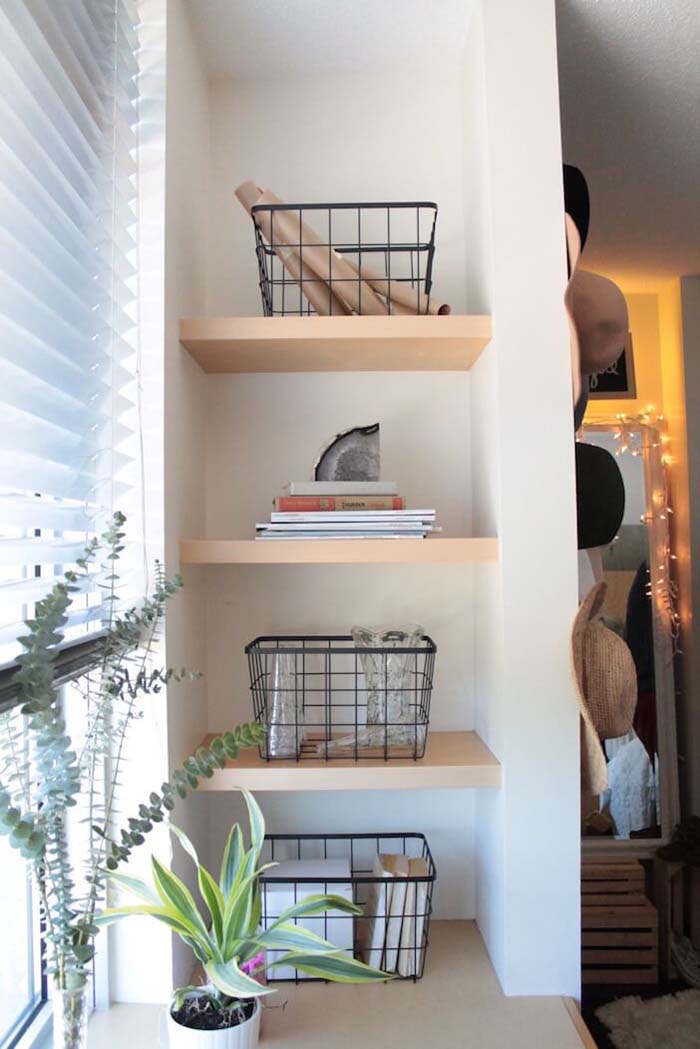 Every pillar or niche in the bedroom can be turned into a storage place. Depending on your preferences it can be of an opened or closed design.
In all cases, it will solve your dilemma with the extra storage options and will give the room an aesthetic vibe.
via Jillian Harris
20. Maximize Bedroom Door Storage with Hooks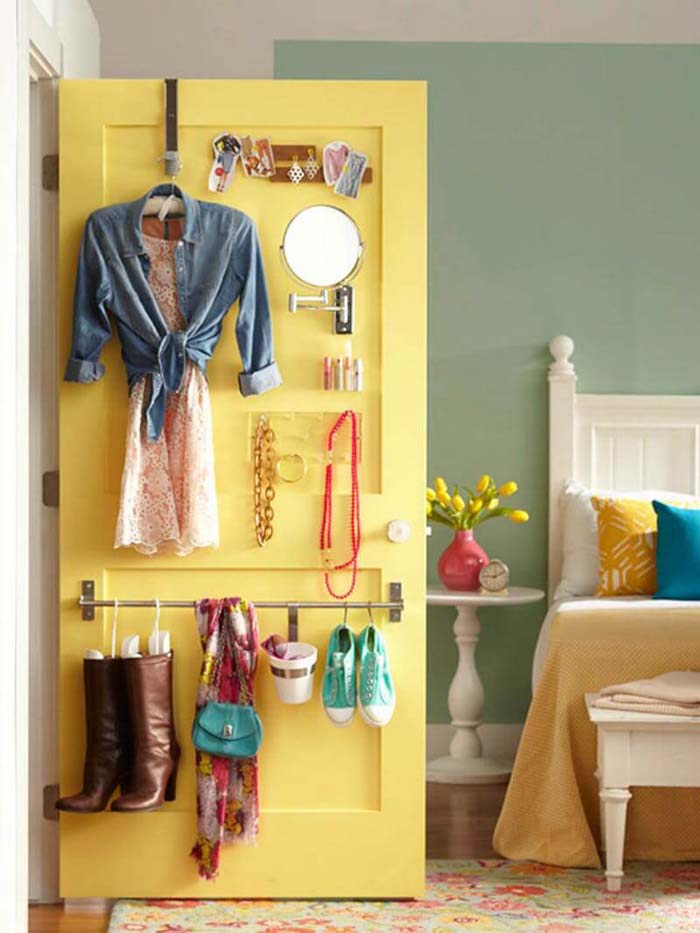 This is an example of how to use the entire surface of the bedroom door for storage. A hook at the top can take up a hanger with the set you have prepared for the next day.
One or two magnet strips can be used for jewelry organization. The bottom half of the door is equipped with a railing with hooks for other accessories like shoes, a scarf and a bag.
21. Organize Underwear and Socks Drawers with Cell Organizers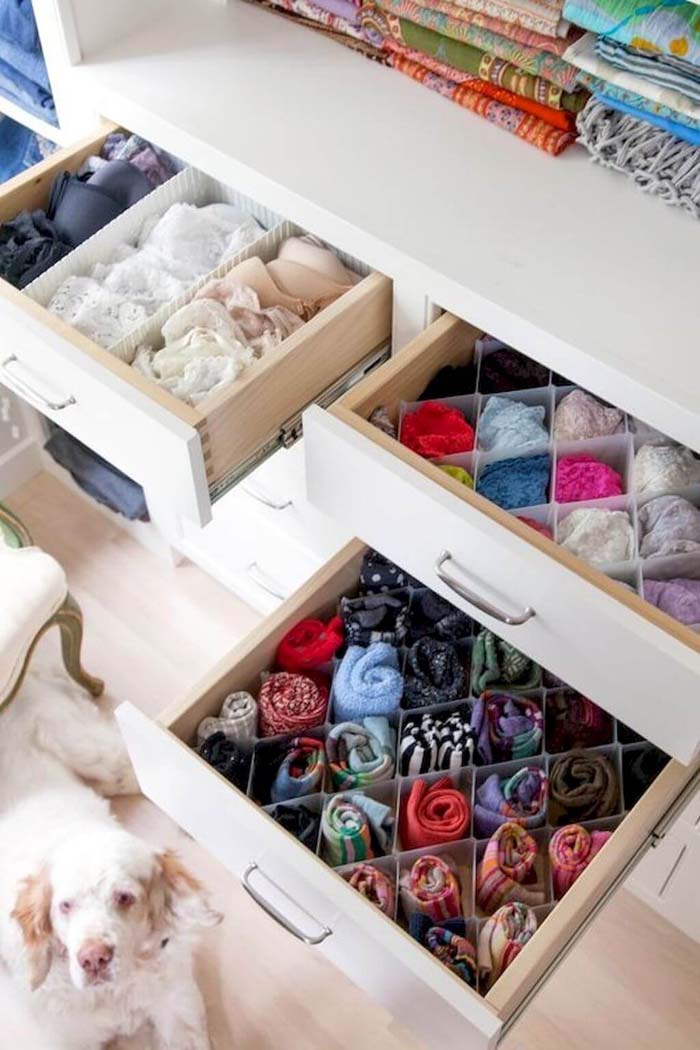 Storage of underwear and socks requires order and delicacy. Unfortunately, more often the drawers are rather chaotic than organized.
A great and affordable idea is to use cell organizers like those from the photo. If you can't find them in the stores, you can make them yourself.
via Spiros Soulis
22. Utilize Pegboards in the Bedroom for Optimal Organization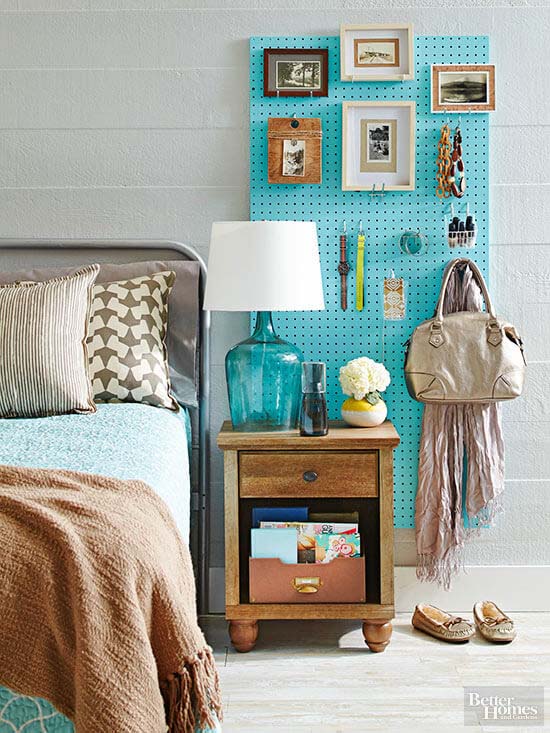 Pegboards come to help us with the organization in every room.
They will not only add interest to the bedroom but will also be able to accommodate and display things you don't find space for in the closet.
via BHG
23. Maximize Storage with an Open Concept Design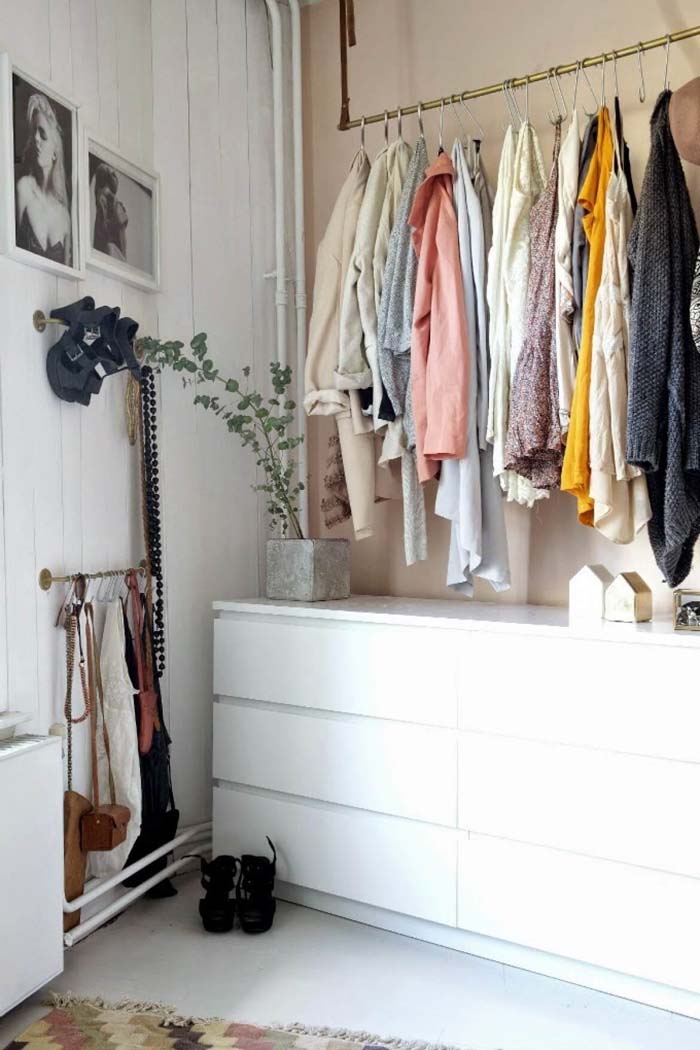 When going for an open concept for the storage of things, you must know that you make it part of your interior.
Therefore, it is very important how you present it and how it looks. A railing for hangers above the dresser is a smart way to make such a part of the space functional.
24. Creative Solution for Storing Seasonal Clothing and Linen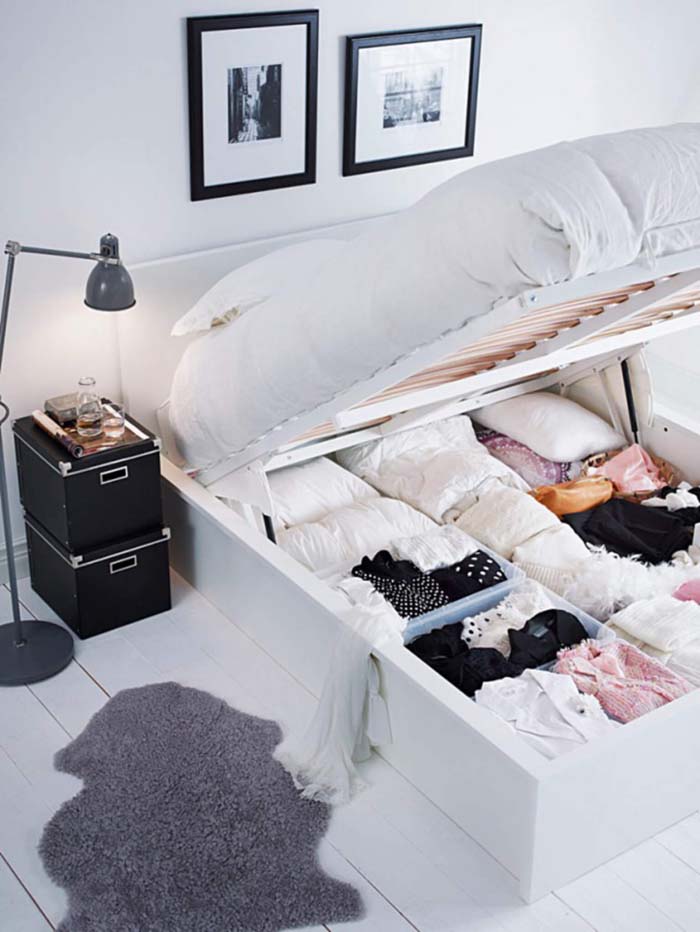 The most common place for storage of seasonal clothes or bulky linen is under the bed.
In case the frame is not designed with internal compartments, you can use boxes that will help with the organization and will keep things neater.
via Housemag
25. Craft Stylish, Bohemian Shelves From Reclaimed Wood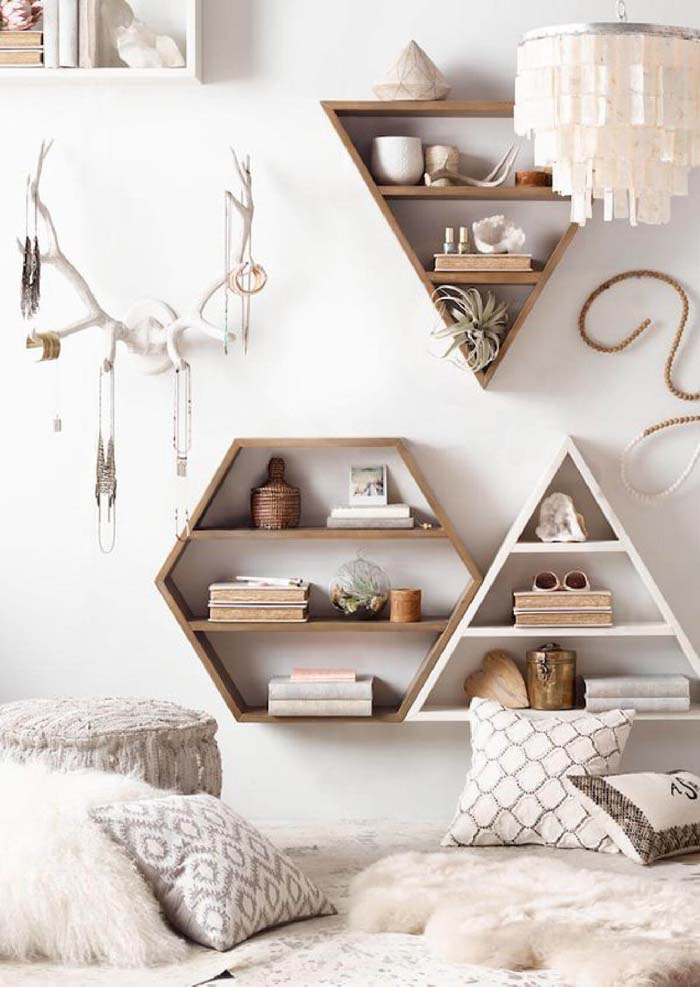 Make your shelves work both as a decoration and as a storage place. Choosing a unique shape like a hexagon or triangle will add mystique bohemian vibes to the ambiance.
Make them from reclaimed or scrapped wood and stain according to your interior.
26. Custom Reclaimed Wood Headboard with Built-In Storage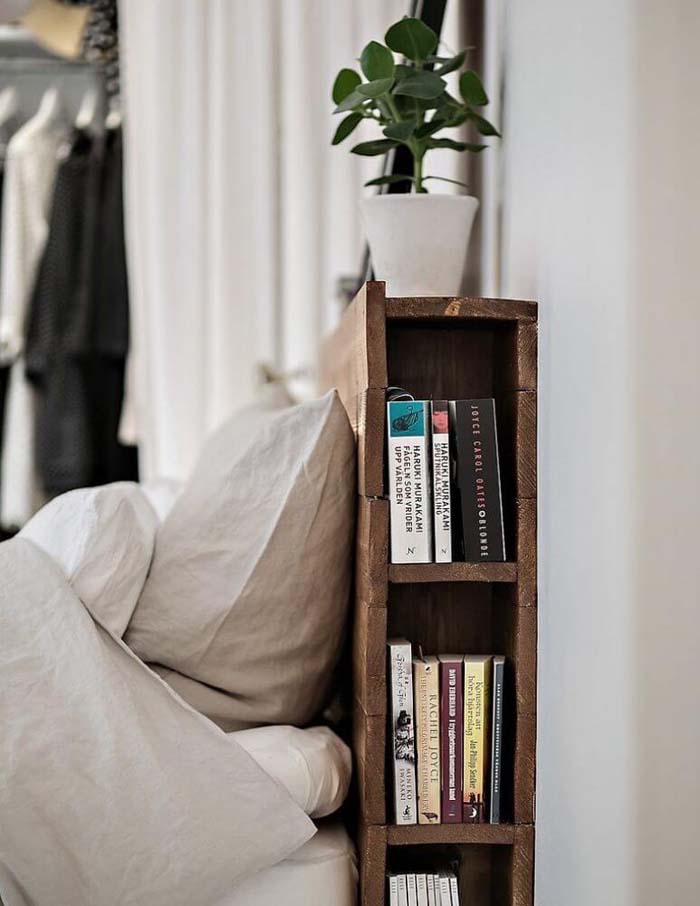 This headboard is a customized piece that can easily be made from a pallet or reclaimed wood.
The sides have slots for the storage of books and magazines. The top surface is used as a shelf for small decorations.
If you don't have a nightstand, this headboard can easily replace its function.
via Leen Loves Style
27. Spacious and Practical Storage Furniture for a Tidy Room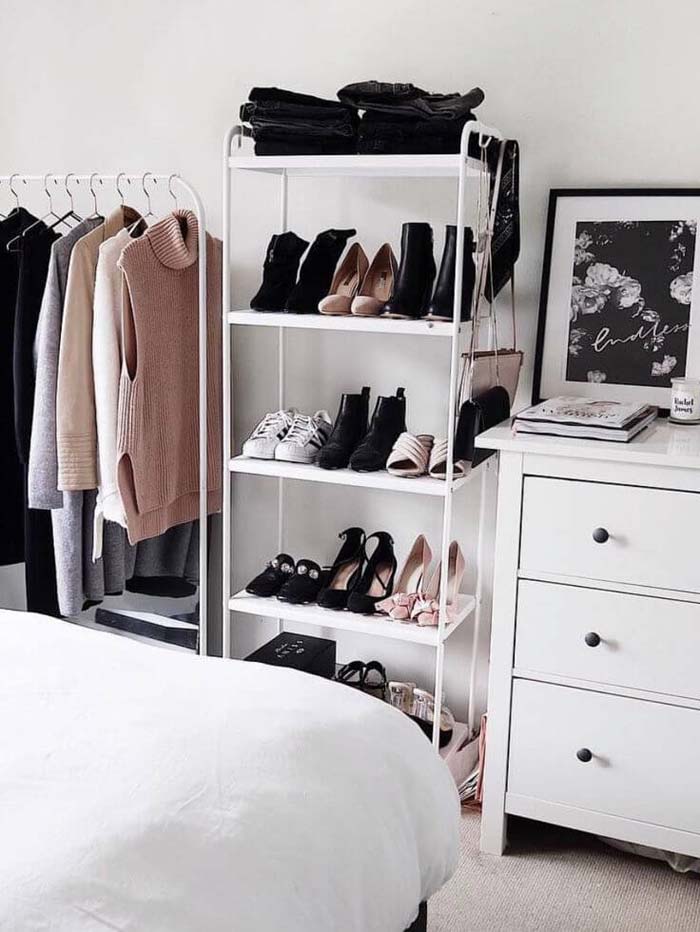 You will notice how tidy the space it and that is because of sufficient and practical storage furniture.
In order to avoid making the room too overcrowded with wooden furniture, the author has chosen features of an open design that will leave the airy feeling to an extent.
via Rachel James
28. Add Storage and Style to Your Bedroom with a Corner Etagere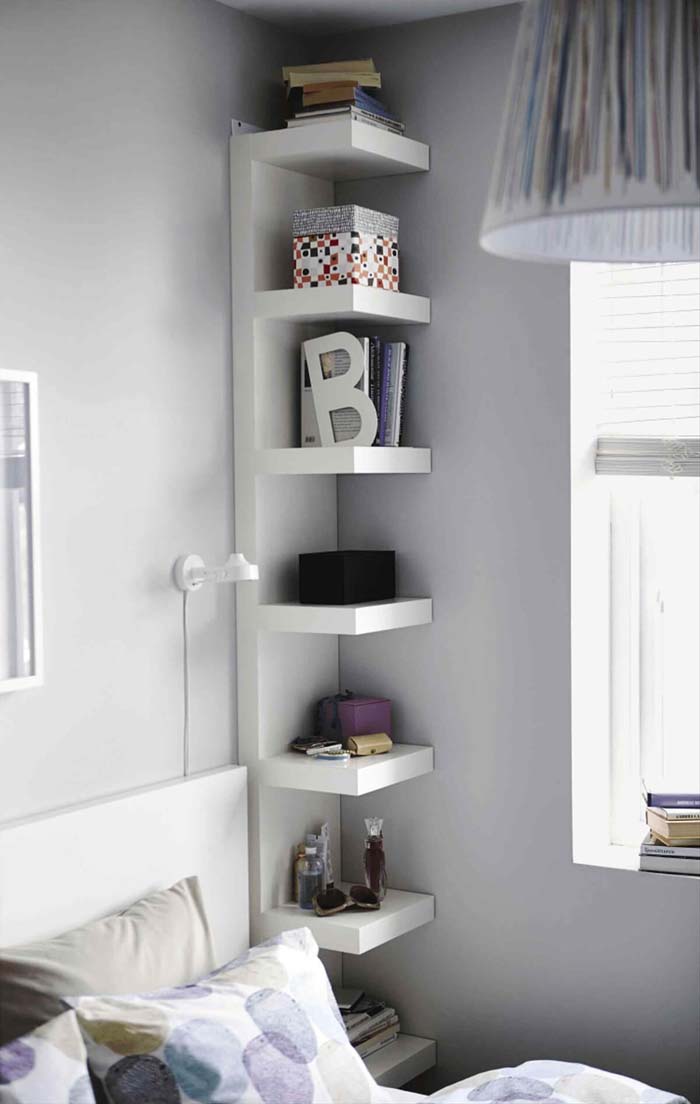 No room for a nightstand? Don't worry, all of the stuff you would put in it can be taken by this stylish wood etagere.
Fit tightly into the corner, it won't take much from the floor space. At the same time, its height is quite big allowing a few vertical shelves for storage and display.
29. Stylish and Minimalist Storage Cube with Farmhouse Flair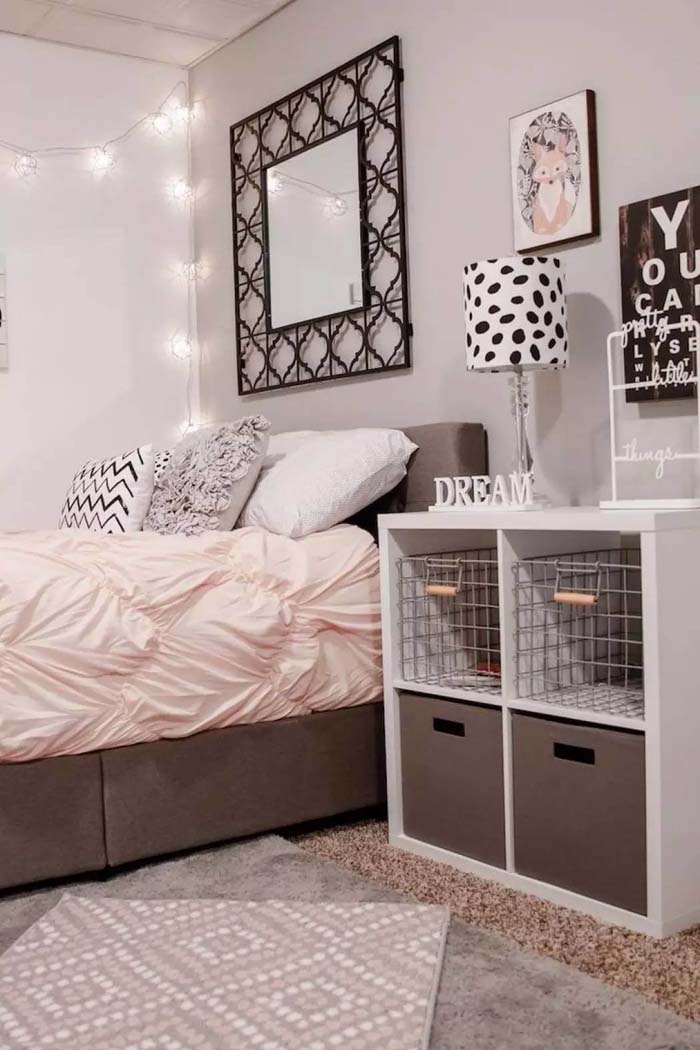 This storage cube is very stylish and minimalist because of its clean lines and identical means for storage in the compartments.
The metal baskets at the top give it an unostentatious farmhouse twist to add warmth to the room.
30. Maximize Your Bed Storage With Mobile Boxes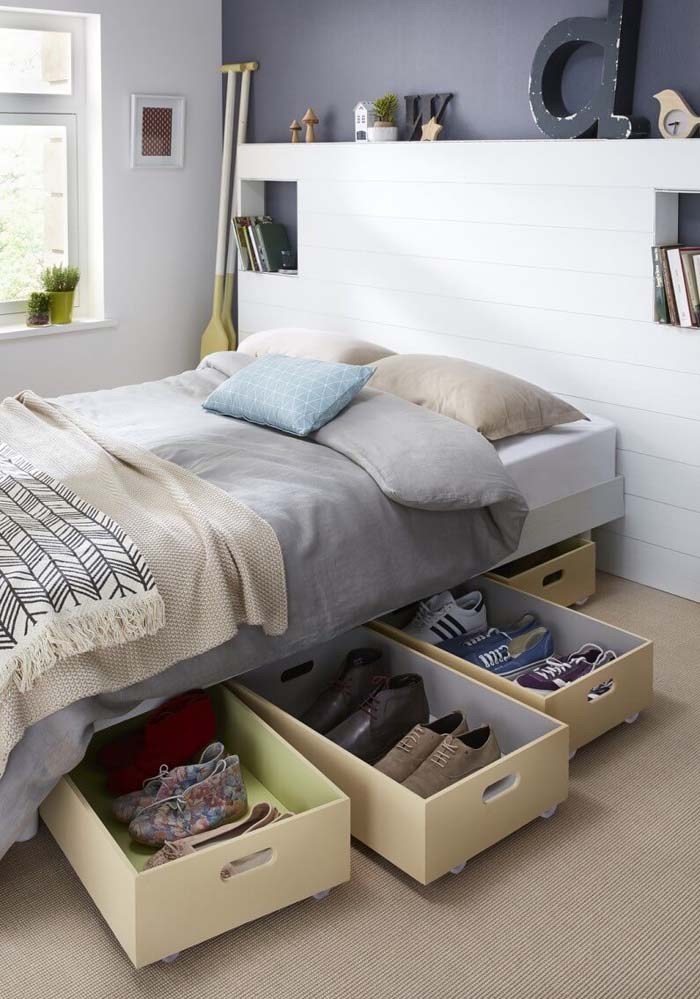 If you are happy with your bed but you need extra storage, don't change it. You can still the surface beneath the mattress for storage.
These boxes are large and rigid enough to take up a lot of seasonal clothes and shoes. The other advantage they have is that they are mobile thanks to the casters on the bottom.
via Leroy Merlin
31. Achieve a Neater Bedroom with Cardboard Box Storage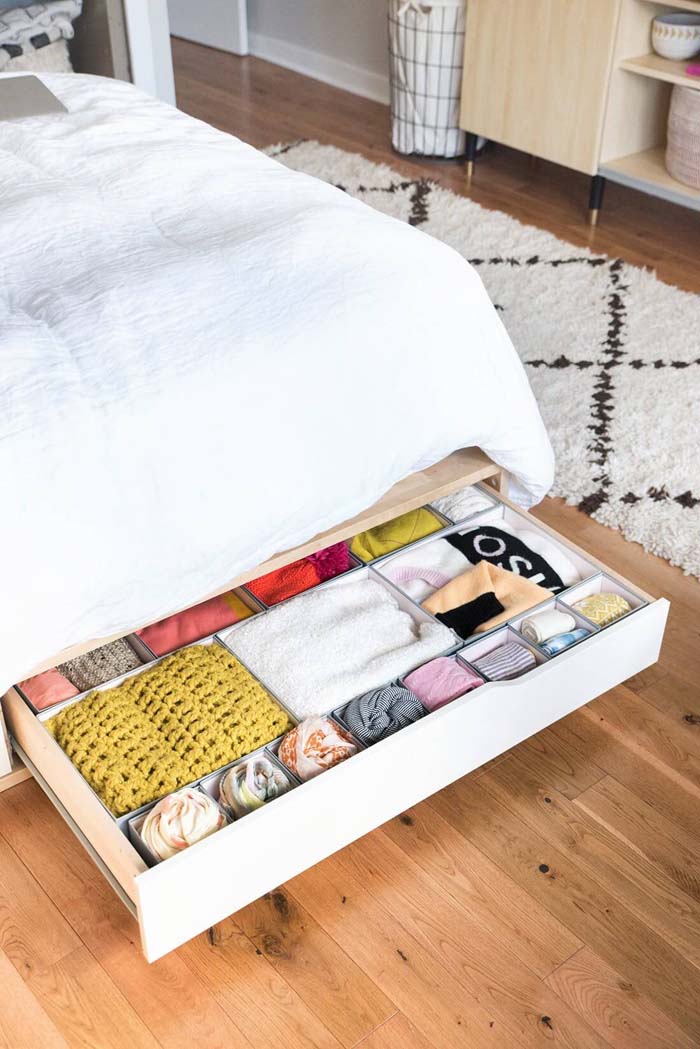 "A more organized bedroom means more time to spend on the things I love", the author says and we agree with her.
Her idea for neater storage comes with carton boxes. Instead of stuffing your favorite pieces in the drawers, place them in the boxes and you will see how quickly you will find what you have been looking for.
via Design Love Fest
32. Repurpose Wicker Baskets for Under-the-bed Storage Solution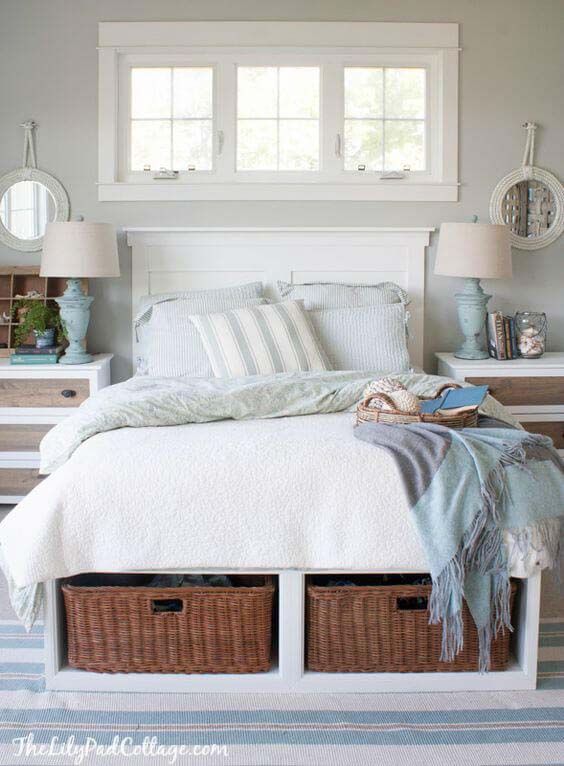 If you don't like the neutral look of the storage boxes, you can repurpose wicker baskets into containers for storage under the bed.
The rustic elements will enhance the calming and welcoming atmosphere of the bedroom.
33. Transform Your Small Space With Multifunctional Furniture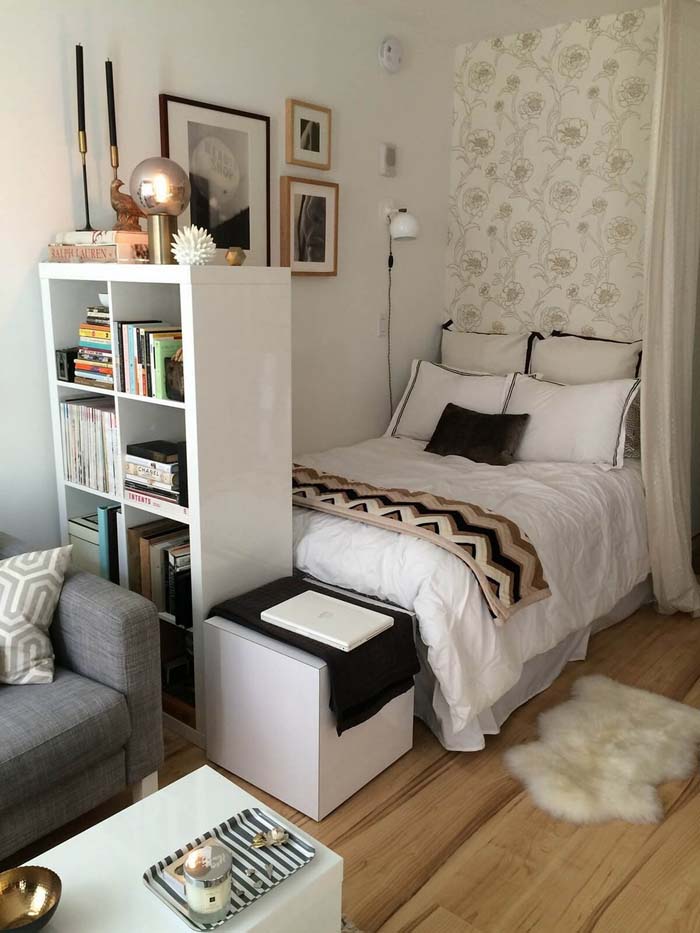 When we are limited in space, we tend to feel limited in options. Fortunately, that's totally untrue and the article below proves it.
The small space can be as comfortable and functional as a big house as long as multifunctional furniture is used, proper color combinations and areas are well differentiated.
A bookshelf in contemporary design will not only divide the bedroom from the living room but will also help with the organization of both nooks.
34. Creative Reading Nook Crafted from Reclaimed Wood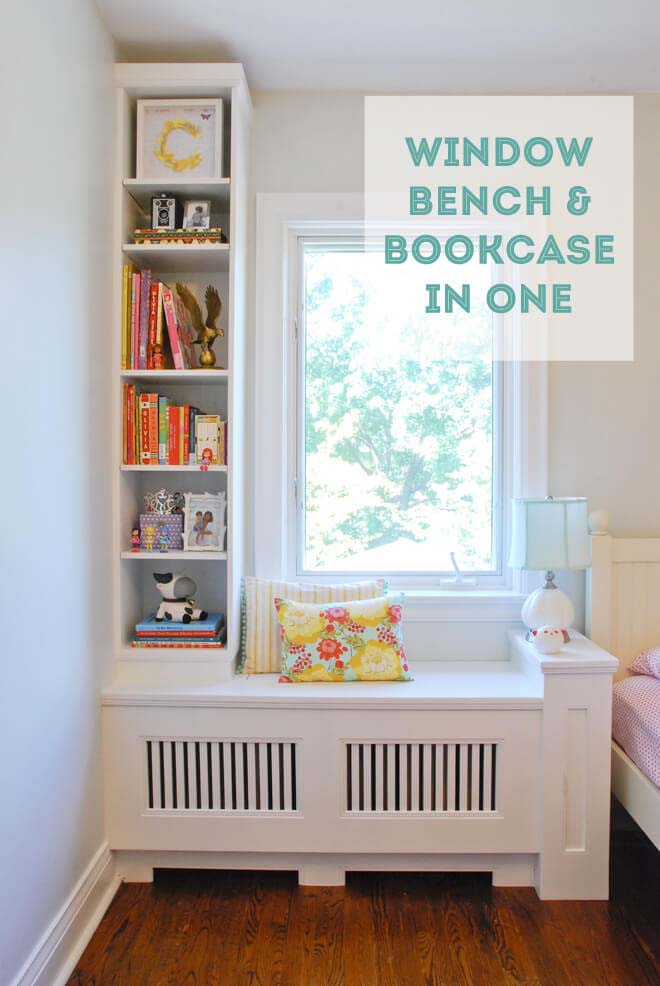 The space where the radiator stands can quickly become a calming reading nook.
The bench & bookcase structure around the radiator has been made out of scrapped wood and the beadboard details of a small girl's bed.
35. Luxurious Wooden Drawers for Bedroom Organization Ideas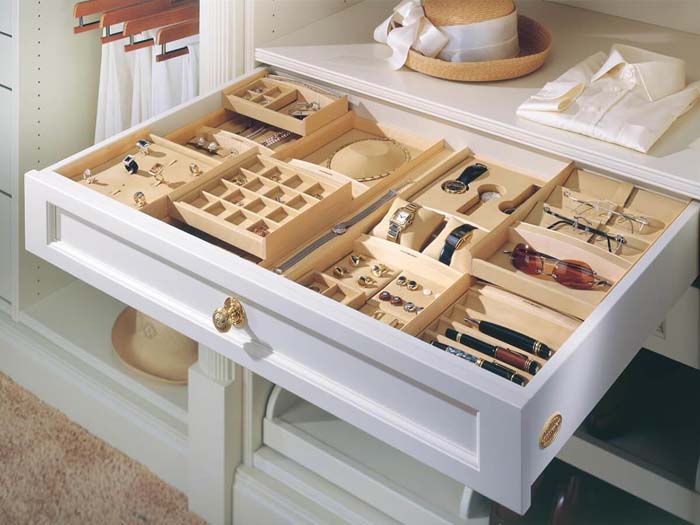 These drawer organizers are a luxurious addition to the drawers that will quickly repay the investment.
Made of wood material, they won't deform, they will last for many years and will store adequately even the smallest accessories you have got.
36. Transform a Wooden Filing Stand Into a Wall Shelf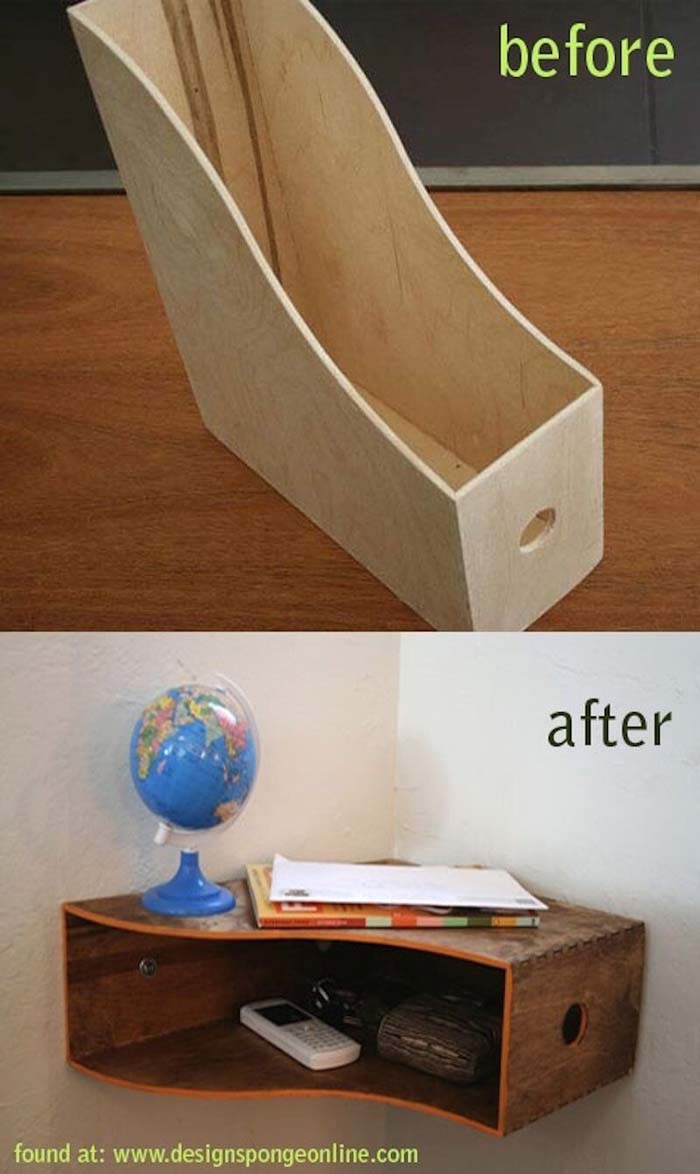 If you like upcycling, you will fall in love with this interesting idea. A wooden filing stand is turned into a wall shelf.
Looking like a floating shelf, the stand provides two surfaces for storage and looks surprisingly well on the wall, like a customized piece.
If your bedroom is small, it will easily replace the need for a nightstand.
37. Functional Scandinavian-Inspired Storage Boxes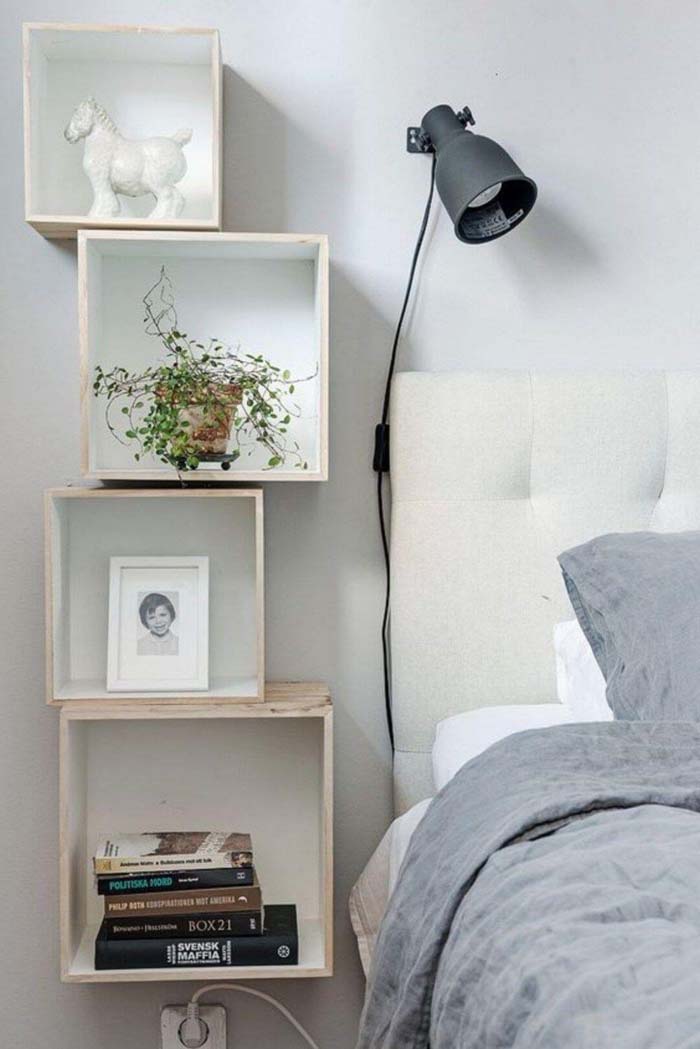 The Scandinavian impact can easily be noticed in this bedroom storage idea.
Opened, functional and white, these square boxes not only provide extra space for storage and organization, they will also add interest to the bedroom because of the irregular order.
38. Maximize Space with a Multicompartment Bookcase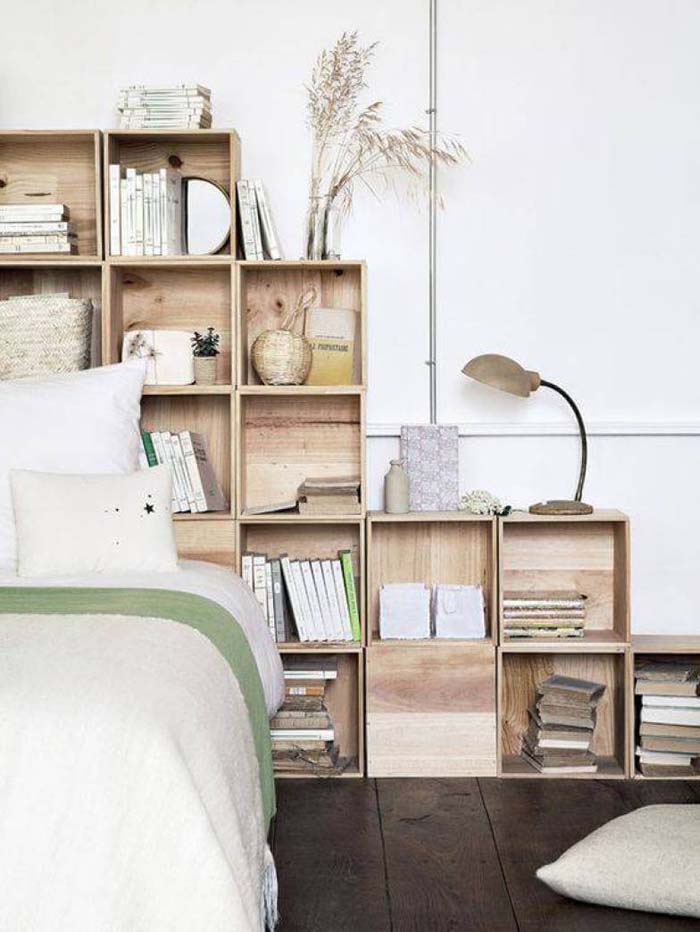 Use the space between the bed and the wall for a large and multicompartment bookcase.
It will accommodate a lot of the stuff that you would otherwise pile up somewhere and thus create the feeling for a mess.
Use the stacking possibility of the bookcase also to create a decorative accent in the bedroom.
via Inside Harmony