You have once been thrilled about the open floor plan of your property but now you are wondering how to turn the large area into a few and functional rooms?
Whether because your family has increased or you have started working from home, there is always a point in a person's life when the idea for a divider appears in their mind.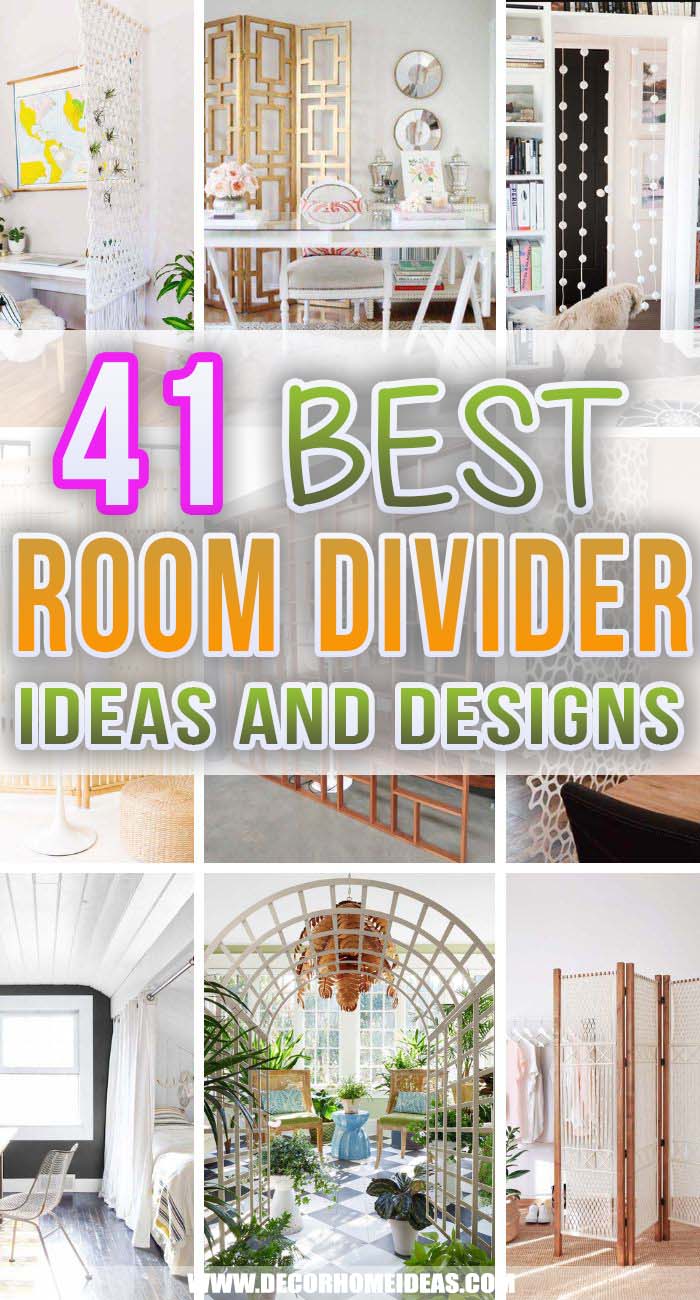 And if you have stopped here, then you urgently need inspiration and advice on what could be the best divider in your case.
Spaces vary so do the dividers. Here, you can find a long collection of room dividers that can be customized to the specifics of your open space. Each of them will improve the home decor and will help you zone the areas.
1. Mirror Partition With Vintage Effect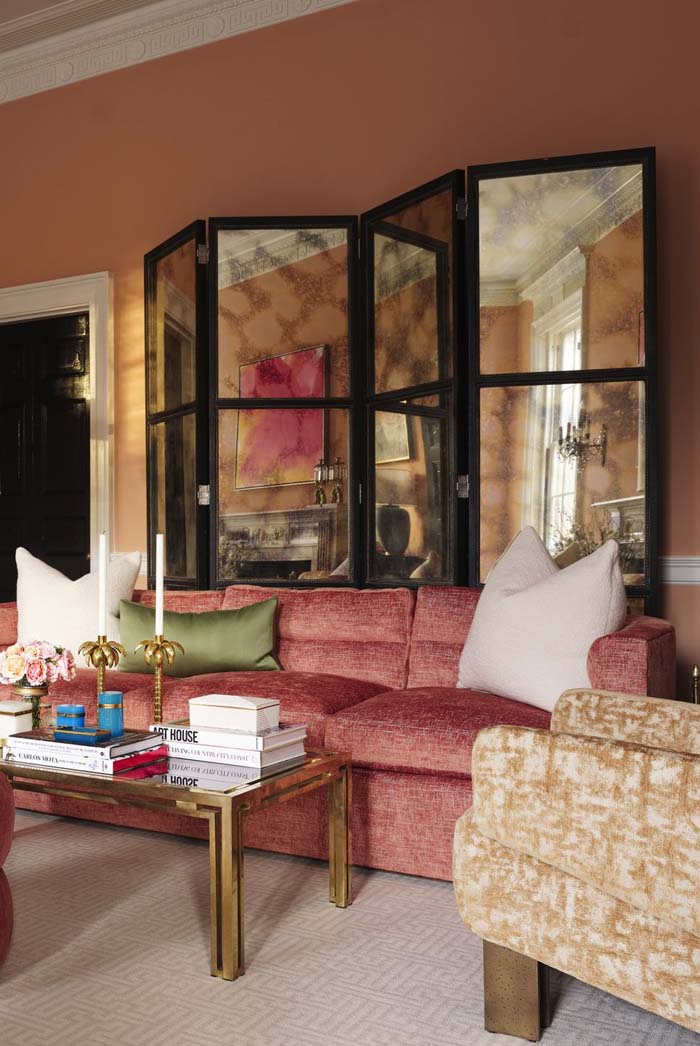 This room divider aims to create a point of interest in a living room full of antiques and vintage objects giving the interior a retro flair.
The mirror surface is given a worn effect that coheres with the existing style. The divider functions as a home decoration for the wall behind the sofa to reflect the ornamented fireplace opposite it and enhance the light provided by the window reflected in the mirror surface.
via Mali Azima
2. DIY Pallet Room Divider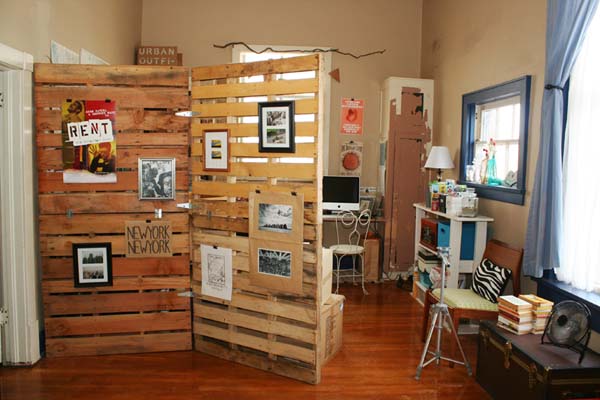 This idea fits the concept of a room divider in a casual style. It is perfect for shared workspaces, teenager rooms or artistic spaces.
The pallet slats that cover the wooden frames of the two-piece divider are not tightly aligned to let air and light go through.
via My Friend Staci
3. Coast-Inspired Room Divider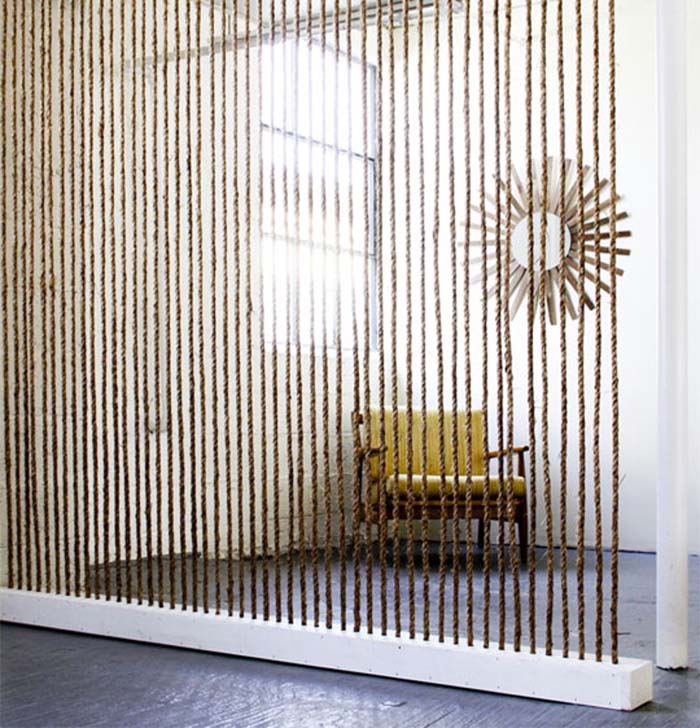 Not many materials or skills are needed to make this appealing room divider.
The combination of wood and rope adds a coastal vibe to the indoors that makes the space more calming and casual.
via Brick House
4. Half See-through Panels For A Divider
This divider aims to physically divide two zones and yet let them feel visually united. The open sections of the panels let you sneak a peek into the area behind.
Wooden slats of rectangular shape are placed in different corners of the square panels to fulfill the dividing function and create a modern appearance.
via Oh Oh Deco
5. IKEA Sliding Doors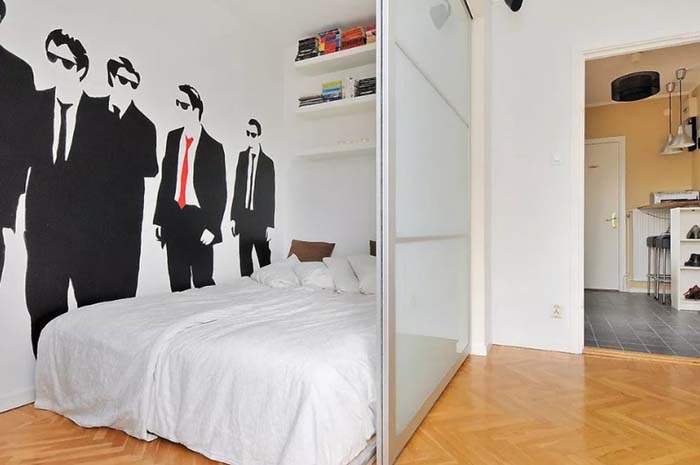 Repurpose a functional sliding door into a modern privacy screen! The design features a frosted glass door sliding on a guide mounted to the ceiling.
This idea is perfect for any kind of differentiated zone.
via IKEA Hackers
6. Simple Curtain Divider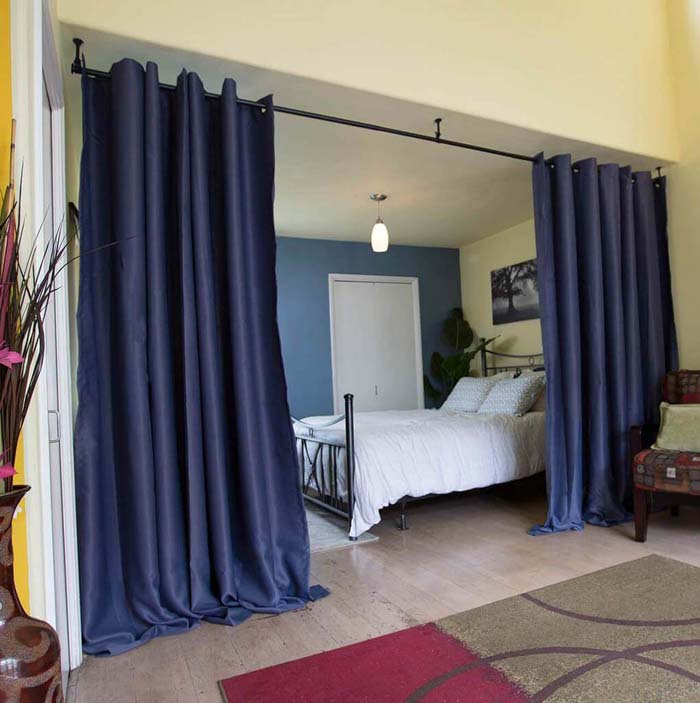 Another well-looking deco idea for a divider that lets a big room be separated into a living area and a bedroom!
Install a curtain rod to the ceiling and drape down long black-out curtains. To ensure visual separation and elegance, make sure that the curtains touch the floor and don't reveal what is behind them.
7. DIY Room Divider With Closet Doors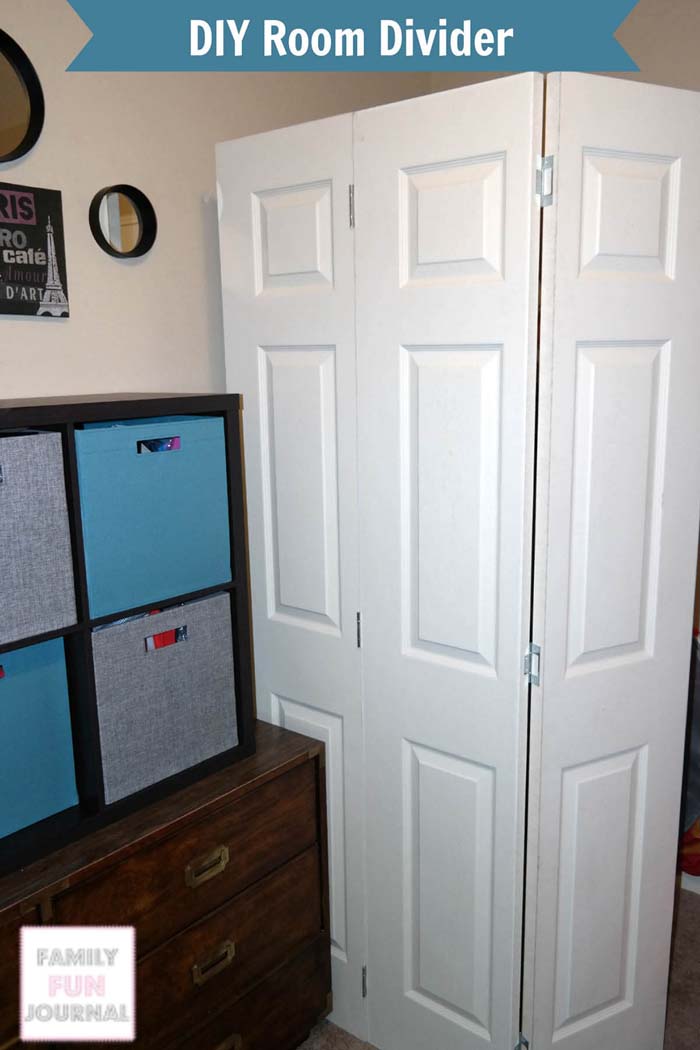 This divider idea comes in help to those of you looking for a cheap, functional and good-looking divider screen.
All you need is three closet doors and hinges to give the divider folding option. Painting the wooden surface will let you match the new screen with the existing home décor.
8. Modern Divider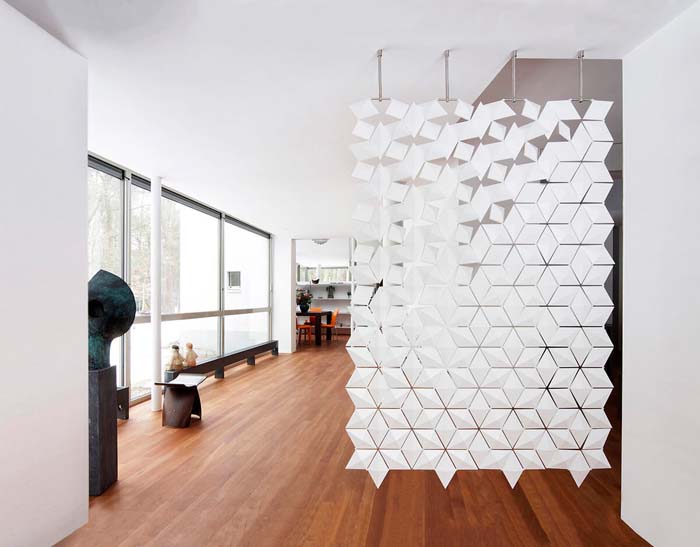 This is a modern artistic room divider that will add a point of interest with the geometric shapes of the sections!
You can adjust each piece to the desired angle and thus make part of the divider more open to the space behind it or keep all pieces flat to keep the area behind them private.
Breaking the pattern is a great way to change the texture of the design and keep the interest in your contemporary home.
via Bloomming
9. Framed Divider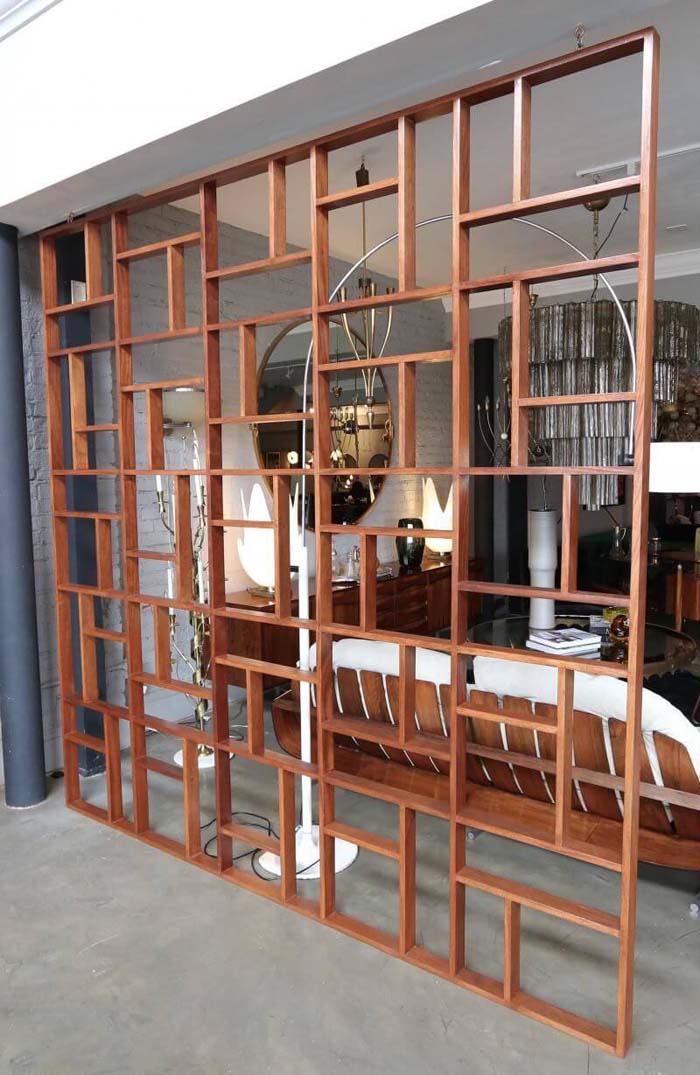 If you are looking only for a way to break up two zones in a room, go for this divider design. It doesn't block the view of the space behind it.
It features a wood structure formed by squares. Slats are inserted in the square to create a different visual pattern.
The final look is a geometric light wall that adds a point of interest able to match any interior style.
via Incollect
10. Movable Partition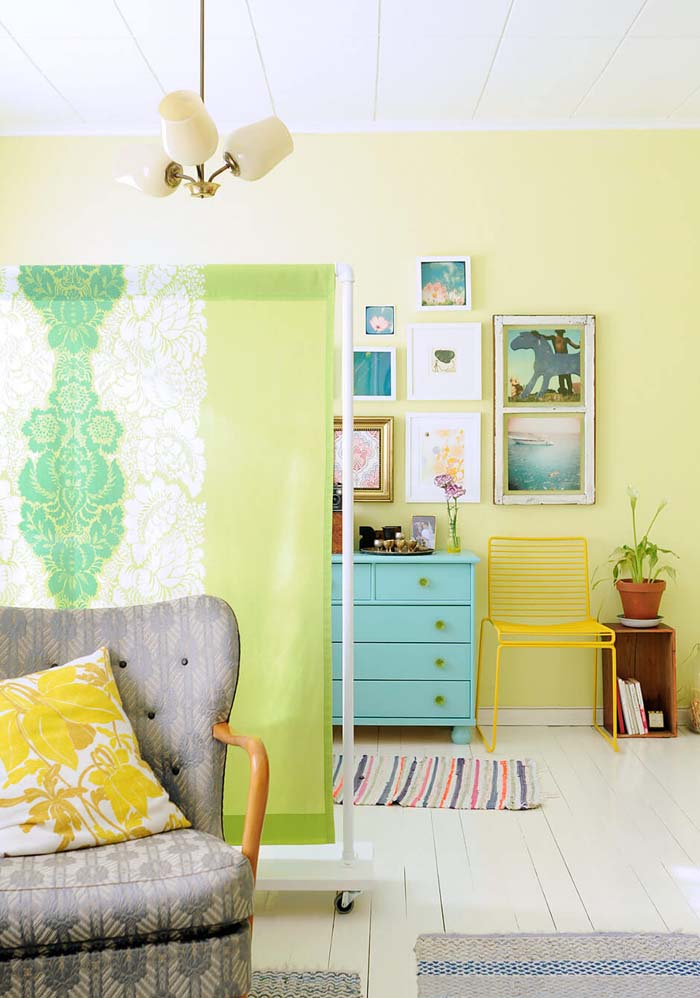 This is one of the easiest room divider ideas, and let's be honest- one of the most functional ones. It is made from a stand for hangers and a curtain.
You can use a piece of fabric already on hand or get a textile in a pattern that will bring color to your room.
This idea is an easy and fun DIY project that will let you use the partition in any place of your home thanks to the equipped casters.
via Kootut Murut
11. Sliding Farmhouse Divider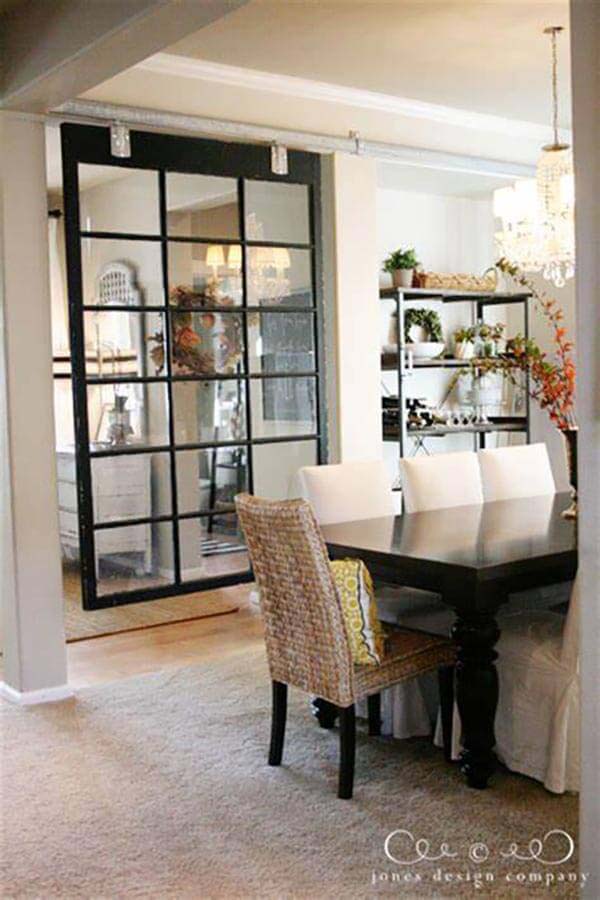 Upcycle old windows to make a modern farmhouse divider! The glass will divide the space without blocking the light and airy feeling.
The sliding function is great not only in a decorative way but also in a practical aspect because you can always open it without taking any inch from the adjacent space.
via Jones Design Co.
12. Fabric Three-Piece Partition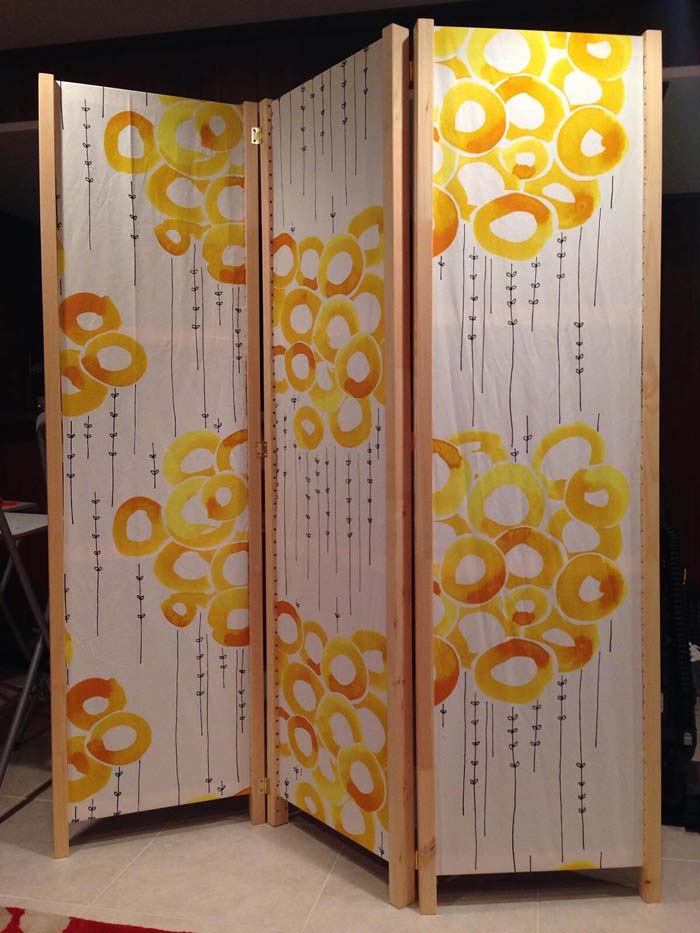 This is another divider idea with upcycled pieces of fabric. This time, you need a structure to stretch the fabric on.
For those of you that don't have the needed equipment, there is a creative hack inspired by IKEA's IVAR side units. Connect the number of units needed for your space with hinges.
via Helen Blog
13. Rattan Partition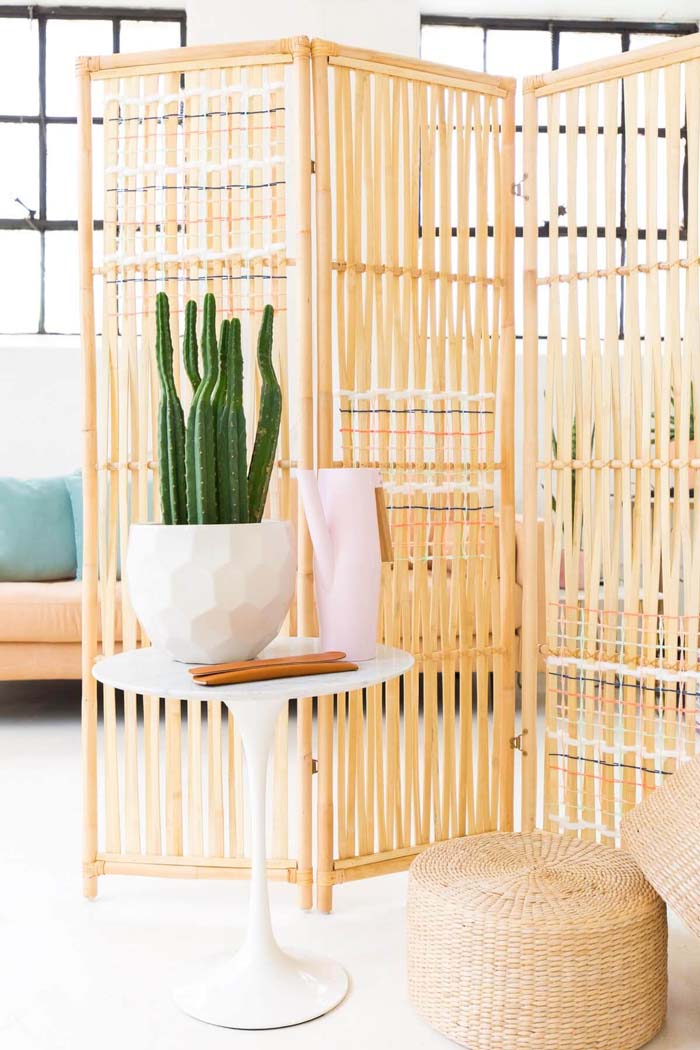 This rattan room divider fits perfectly in a casual airy interior. It is beautiful with its natural look and warm color.
Added yarn lengths let it be used dually as a display for photos.
You can vary the look of the rattan partition by changing the yarn color and the number of strings stretched.
via Sugar and Cloth
14. DIY Cardboard Divider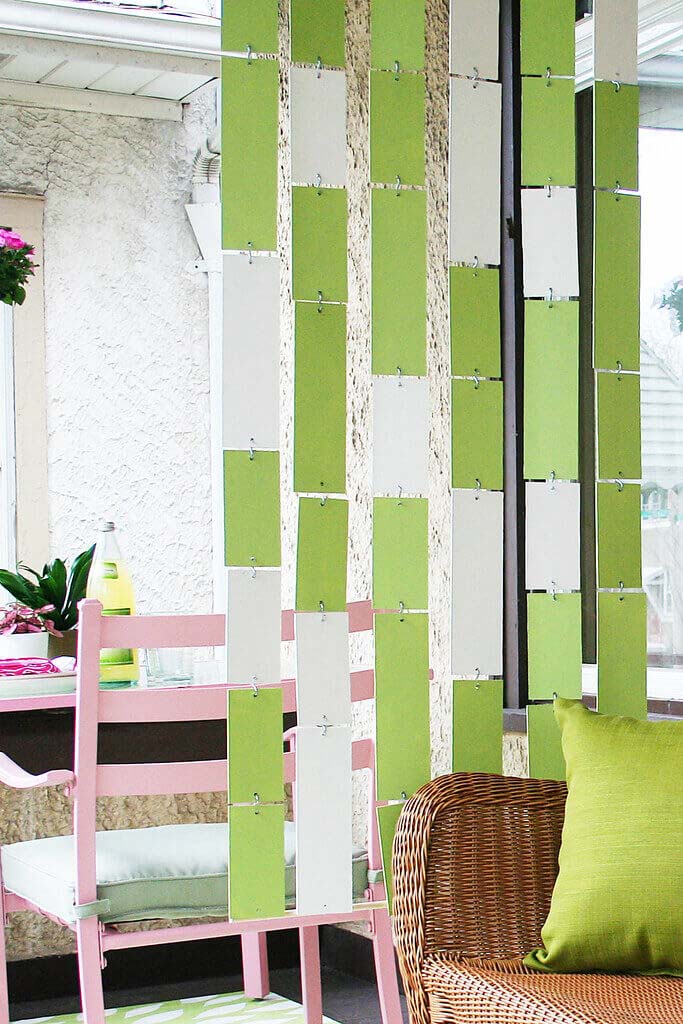 This a very easy partition idea that can be done by anyone admiring DIY projects. You need cardboard sheets in two colors, a liner, a scissor and hooks to attach the sections.
The function of this kind of divider is more of a decoration than a privacy screen but yet it can visually separate zones.
via Making It Lovely
15. Shiplap Divider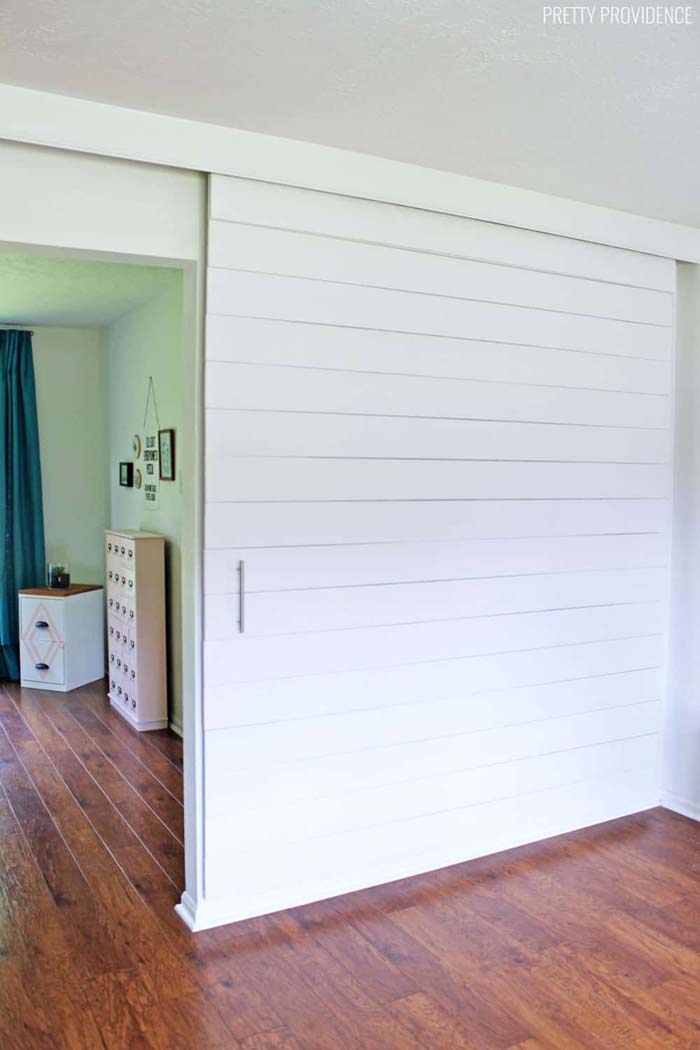 Is the room too big? You can quickly resolve this problem without building thick walls. Simply install a divider that looks solid.
This farmhouse shiplap divider is sliding on a guide hidden by ceiling molding. The texture of the shiplap boards and the installation method give the partition the faux look of a wall.
16. Artistic Nature-Inspired Partition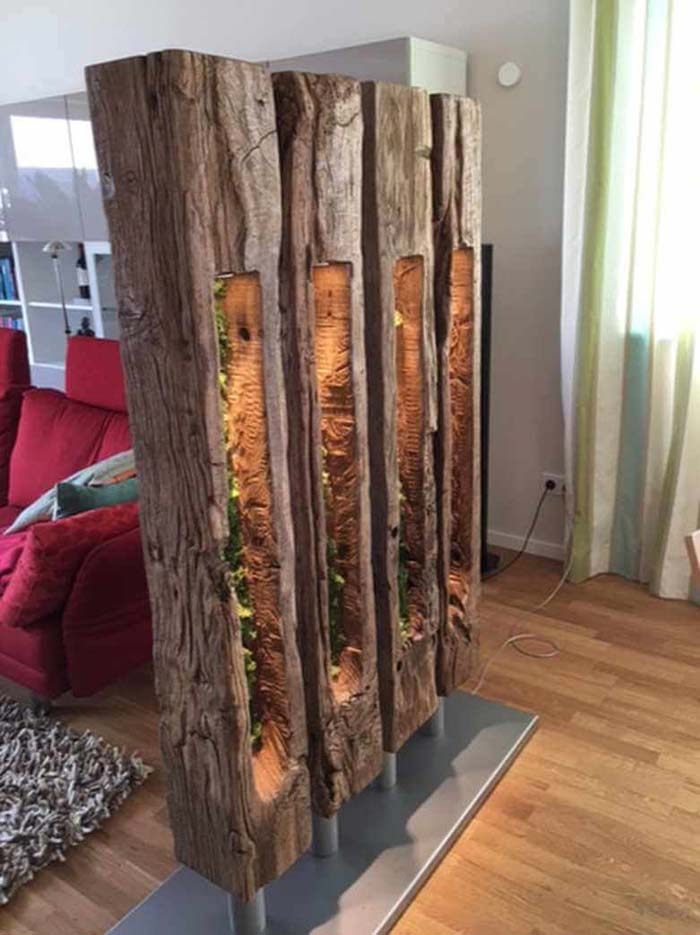 This is an artistic design of a partition. Instead of using typical supplies, here pieces from nature are repurposed to add a unique rustic touch to the indoors.
Beams are hollowed in the middle and equipped with light bulbs. This gives the divider a dual function that can be appreciated at night.
During the day you can enjoy the added decorative moss that enhances the natural origin of the partition.
17. Macrame Divider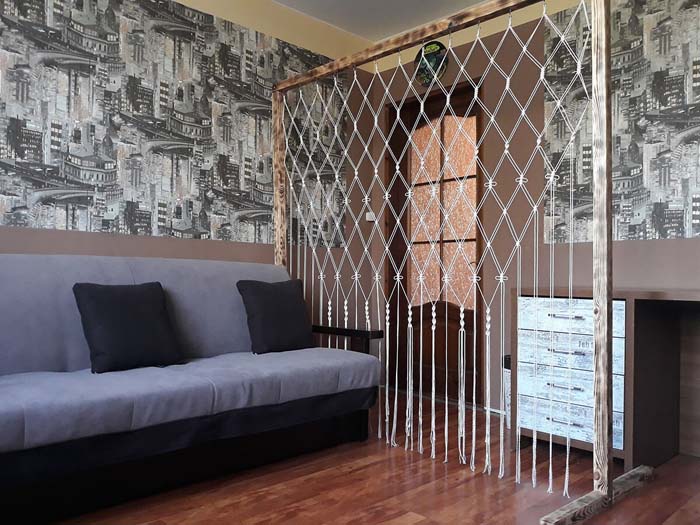 This macrame divider is another example of a room partition with a decorative function. It is obvious that it does not add privacy.
However, it adds loads of charm and an authentic look with the handmade weaving of cotton rope.
For this idea, you need to prepare a wooden stand first which will keep the macrame hanging stretched and at the desired size.
18. Asian-Inspired Divider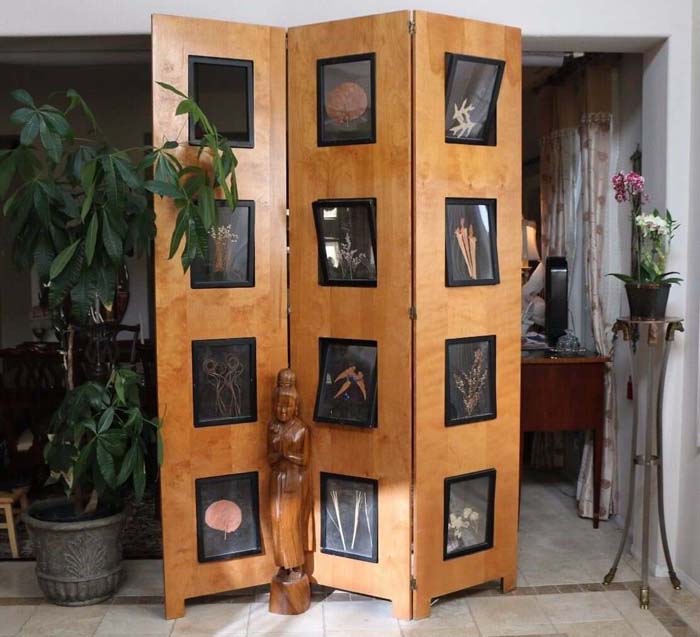 This room divider instantly adds relaxation and harmony to the space. The traditional three-section divider is equipped with Asian arts.
The botanic representatives are sealed in picture frames that can be rotated on an axle holding them through the middle.
19. Minimalist Divider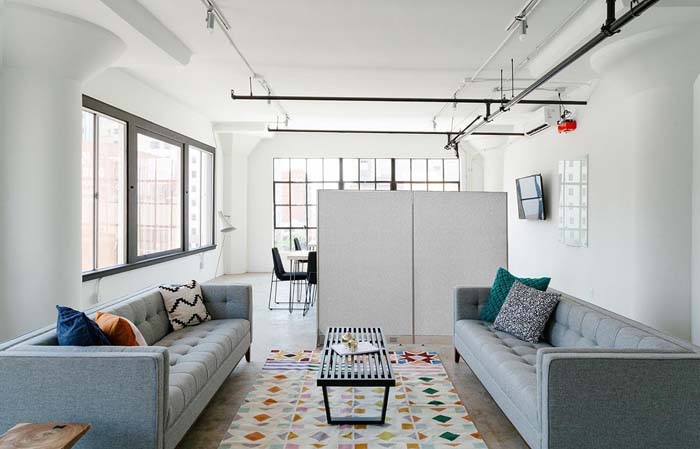 This room divider idea is great for modern minimalist homes and shared office spaces.
It is simple in look and fulfilling the initial intention for a partition- to physically and visually separate zones.

20. Laser-Cut Divider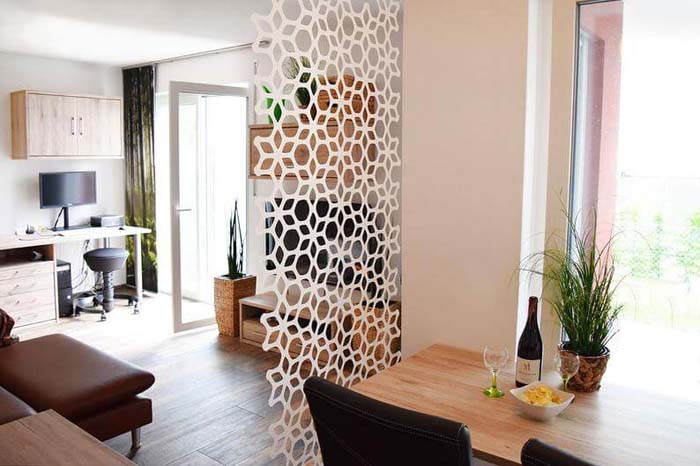 This laser-cut divider features a beautiful flower pattern cut from a thin plastic sheet. The white color and the openings made by a laser machine let the divider be the first item you notice when you enter the big room.
The effect it creates is a modern and also aesthetic flair that separates the living room from the dining room.

21. Three-Piece Macrame Divider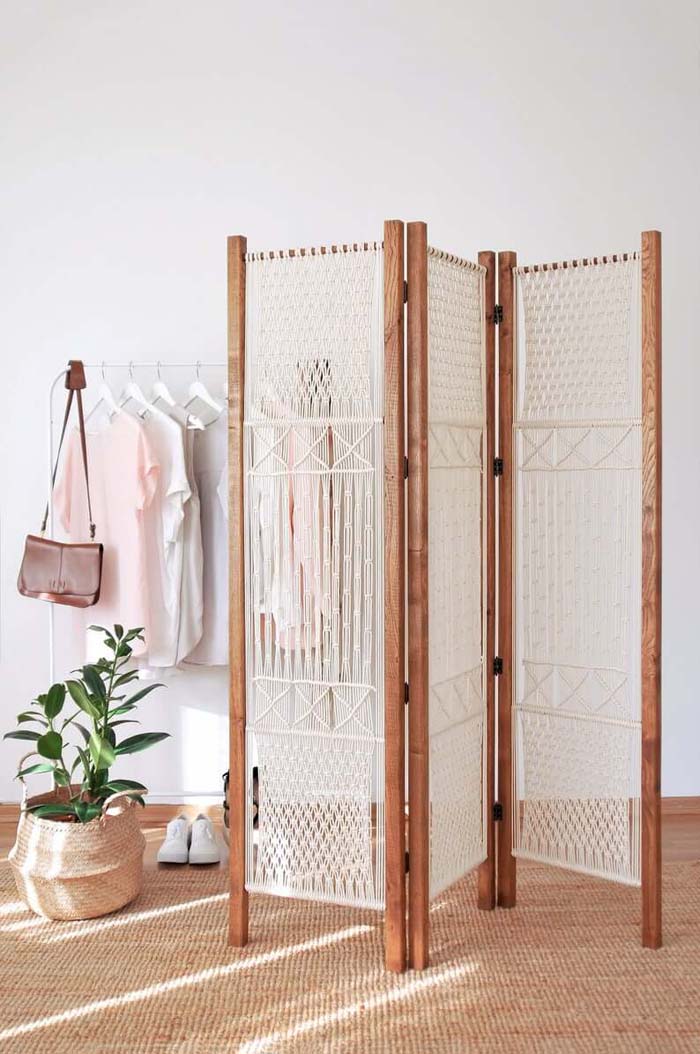 Do you remember the IKEA hack with Ivar side units? Well, you can fill the frames not only with fabric but also with macrame work, especially if you like to give the partition the function of a visual divider.
This divider showcases beautiful macrame patterns stretched between brown wooden frames to tie up together in a boho chic feature.

22. Free-Standing Fabric Divider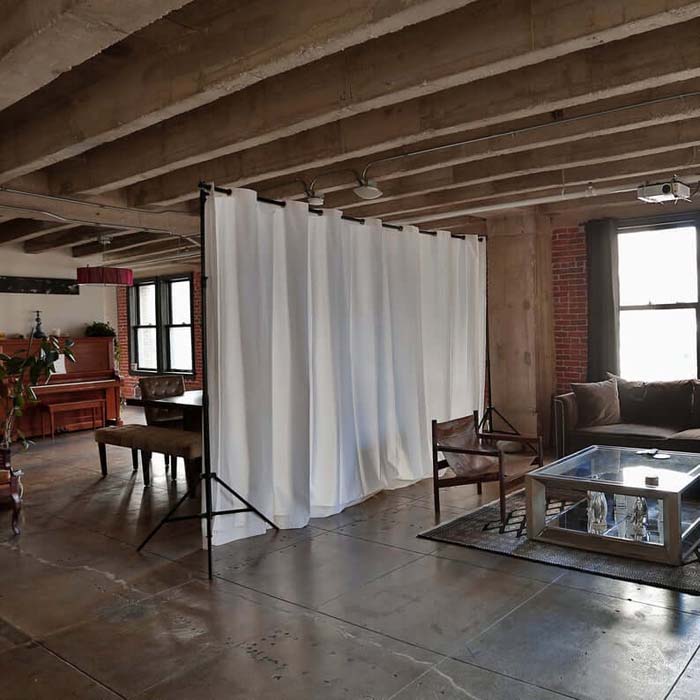 If the ceiling doesn't allow the installation of curtain rods, you can build a free-standing metal structure that will let you drape curtains down at the desired place from the room.
The curtain rods are attached to tripod stands that keep the partition rigidly in place.

23. Painted-Glass Divider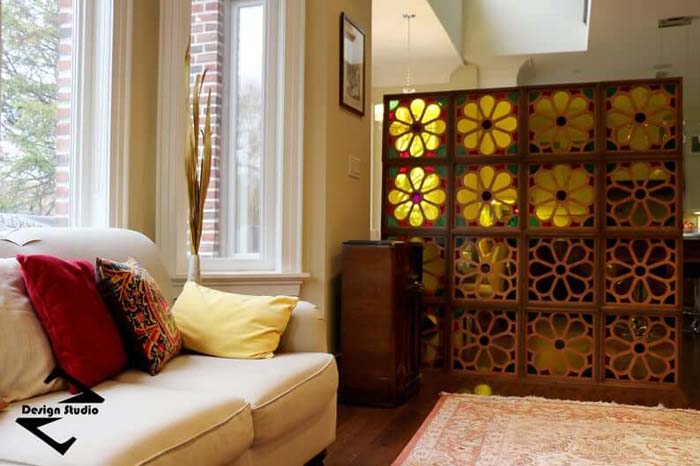 If you prefer a more classic room divider, go for this traditional look. It features glass panes inserted in a wood structure.
Each glass section is stained with glass paints in a daisy pattern. Colors create a harmonious image that lets light go through and at the same time blur the sight to the area behind the divider.
24. Hanging Divider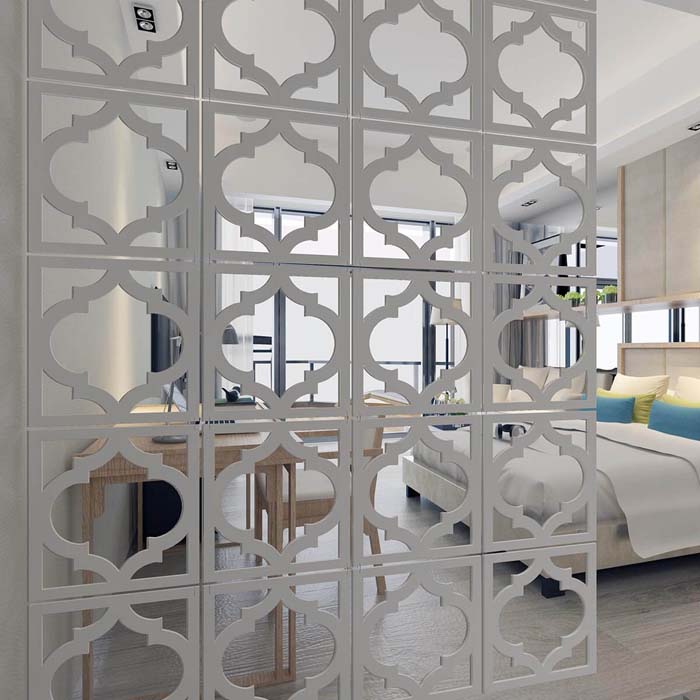 This divider idea features a number of identical sections with a cut-out shape. The Moroccan patterns hang from the ceiling down leaving a small gap on the floor.
The connection between panels is done with metal hooks that are barely visible to give an illusion of an integrated piece.

25. Macrame Curtains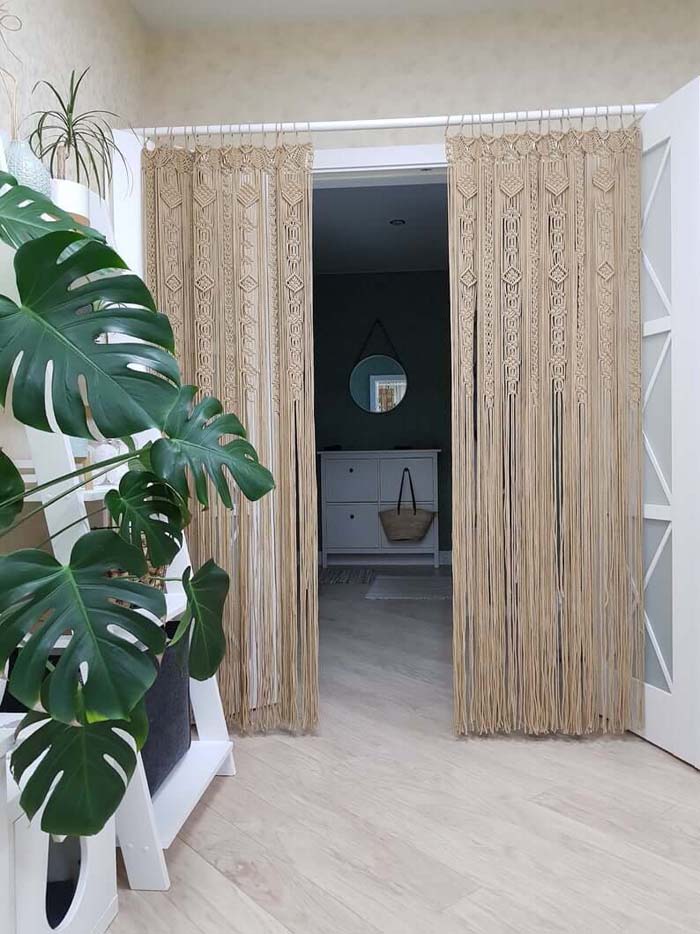 The macrame pattern here makes the curtains more thick and able to add privacy. Two identical macrame works are attached to a curtain rod to separate the living area from the bedroom.
In this home décor idea, the macrame curtains are attached to a transition wall. It is possible to install a door there but hey, doors can be boring sometimes.
The macrame curtains can add texture, depth and uniqueness to the space which a standard door can't.
26. Laser-Cut Wood Panels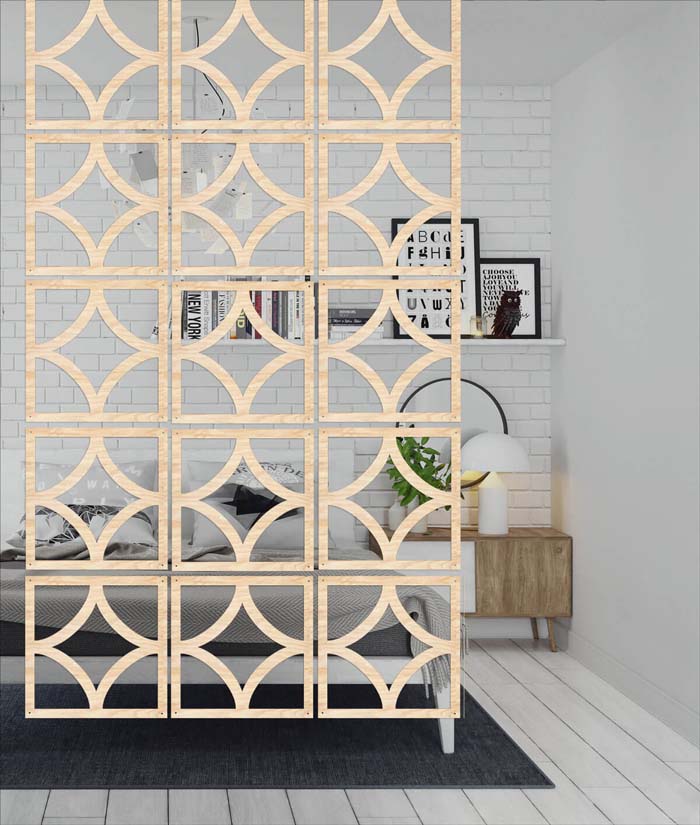 This is another interesting laser-cut divider idea. The wood or the plastic sheet can be given the look you want- white, natural wood, metallic.
The effect of this separator is rustic to coordinate with the vintage nightstands and to make a beautiful contrast with the white bedroom wall.
27. Plywood And Wallpaper Divider Idea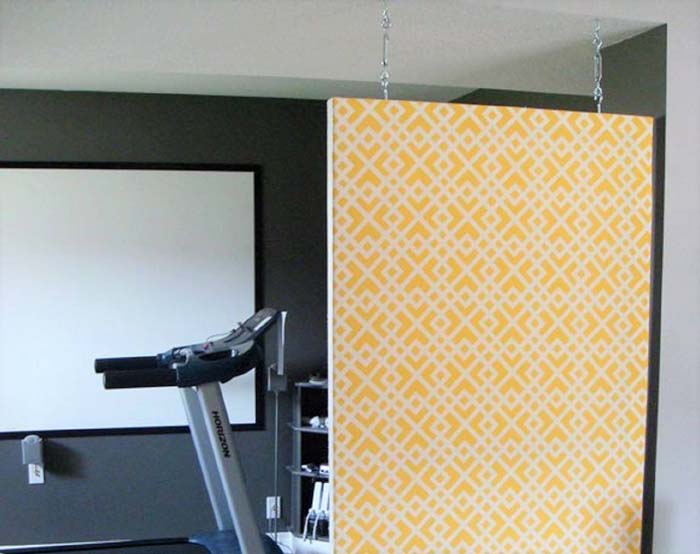 This is a DIY divider project that can be done in a couple of hours. A sheet of plywood hangs down two hardware hooks installed directly in the ceiling.
The plywood surface can be left in its original look when you are looking for a cabin loft flair.
If you want to change its look and let the divider add a cheerful touch to the ambiance, use colorful fabric or wallpaper.
28. Traditional Sliding Divider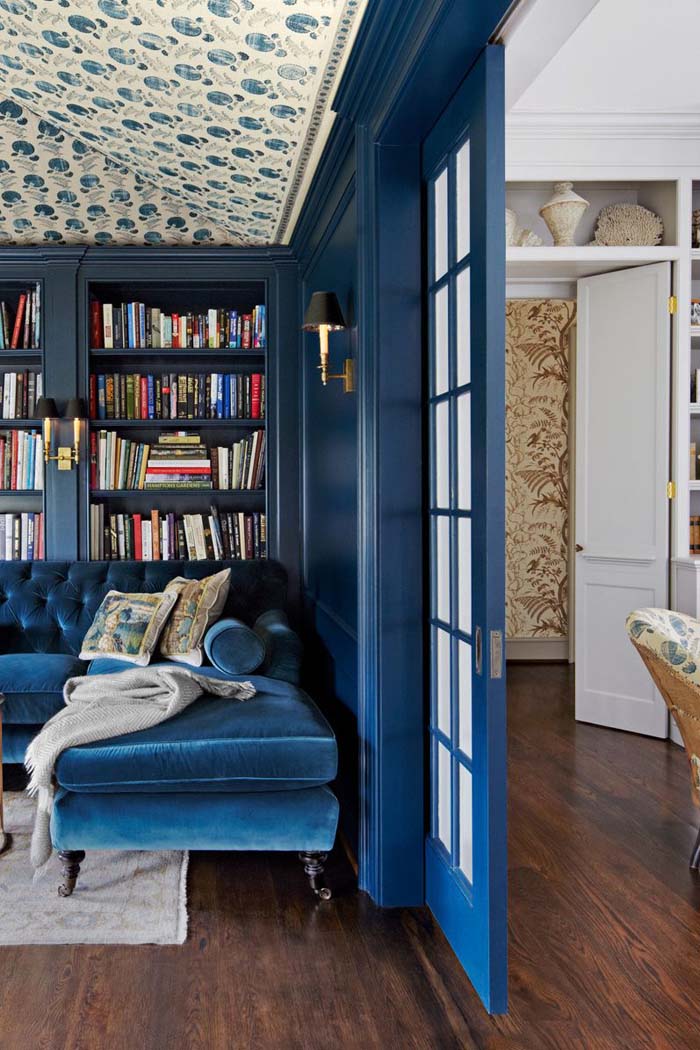 This divider looks like an extension of the wall. To replicate this look, you need to stick to the same material and the same color for the divider as the wall it is attached to.
The sliding mechanism also helps the partition feel like an incorporated part of the area. Combine glass panels with wood for an airy look without compromising the visual separation.
via Simon Watson
29. Storage Unit For Partition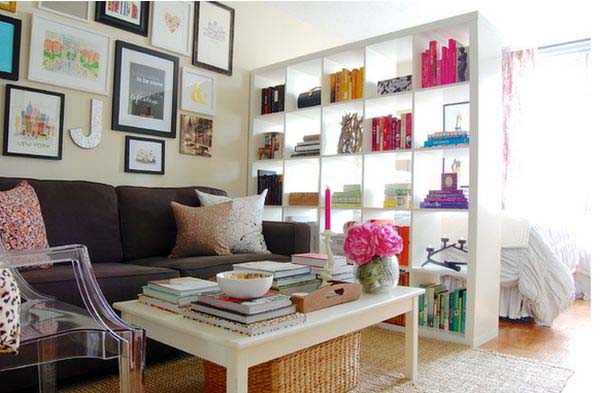 Dividers can be an essential part of the room when they are provided with an additional function- as a storage unit. Usually, smaller spaces do require more storage space.
This open shelf unit is tall enough to divide the areas and offers plenty of sections to organize different stuff.
We need to note that this is one of the most affordable room divider ideas that doesn't require any additional work or adjustments.
via Homedit
30. Wire Mesh For Elegant Industrial Touch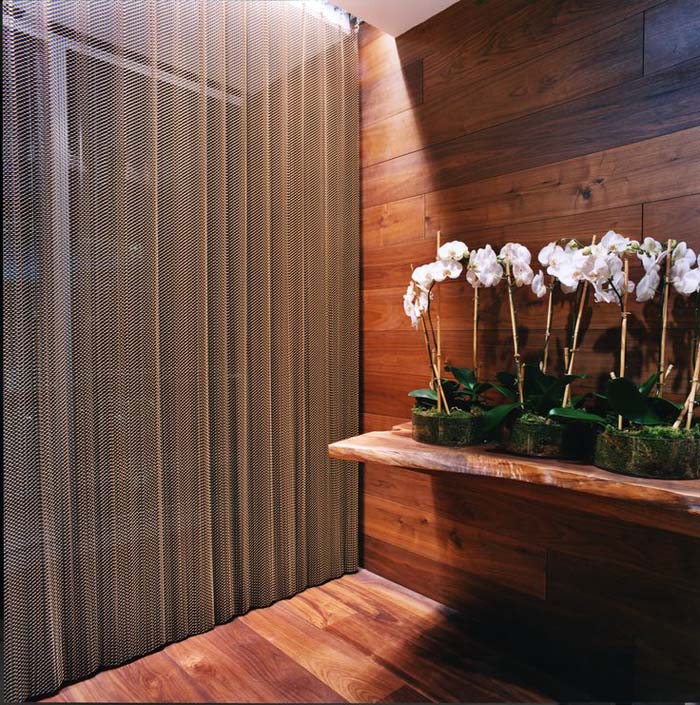 When you have read that this is a metal wire mesh you have probably thought that this is not a possible indoor application of this material. Well, it is possible and it is also very successful as a partition.
The mesh drapes down in perfect and symmetrical folds. It drapes down heavily which a fabric can't do.
31. Divide The Room With An Arch Instead Of A Wall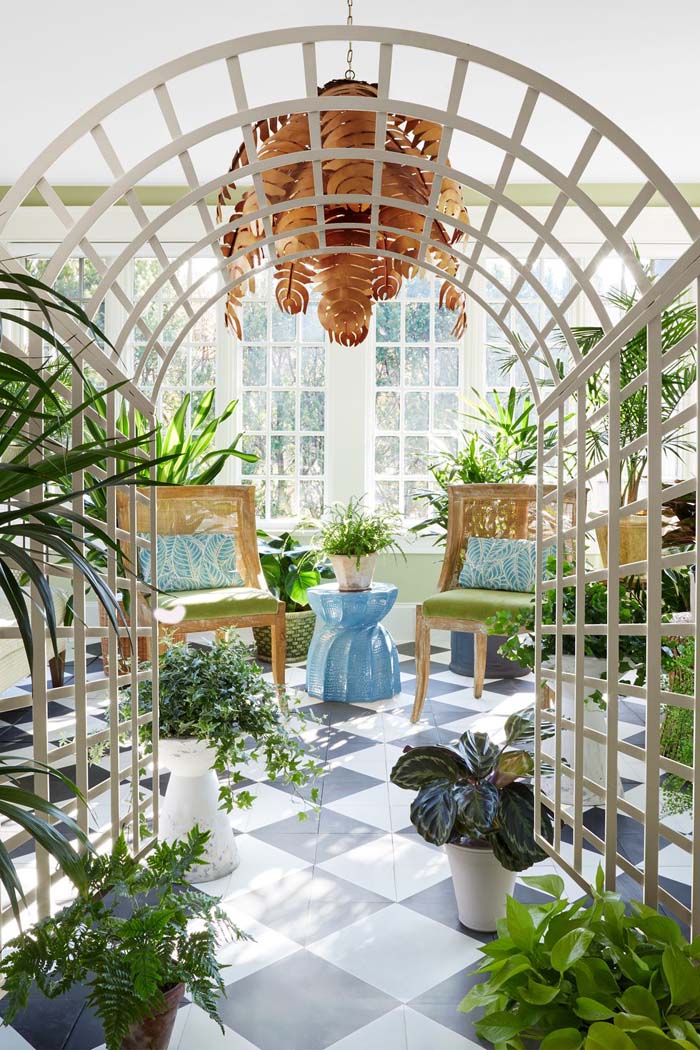 Use a trellis in an arched shape to make a wonderful transition between the indoors and covered outdoor living space or between a sunroom and a sitting area.
via Alison Goote
32. Slat Room Divider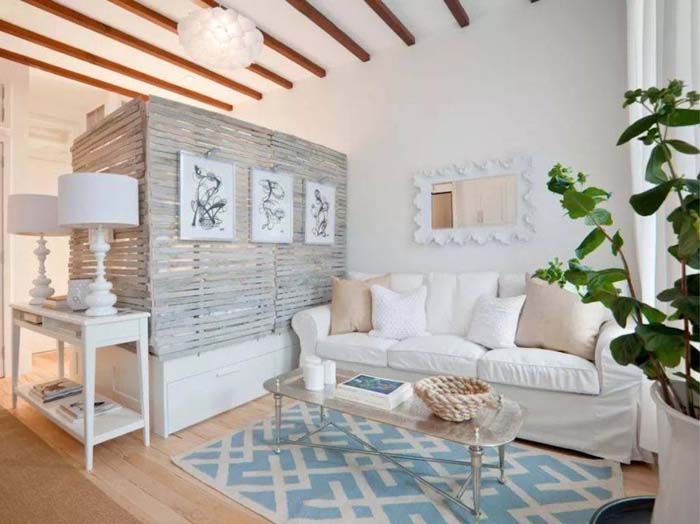 This slat divider has been built in a 20-square meters room. The divider has a semi-square shape which ensures good privacy and appreciated separation from the living room zone.
To make it, you need a big number of slats and a wood structure to nail them on. Whitewashing gives the wood texture a coastal look that coheres with the adjacent space décor.
33. Affordable Room Divider With Curtains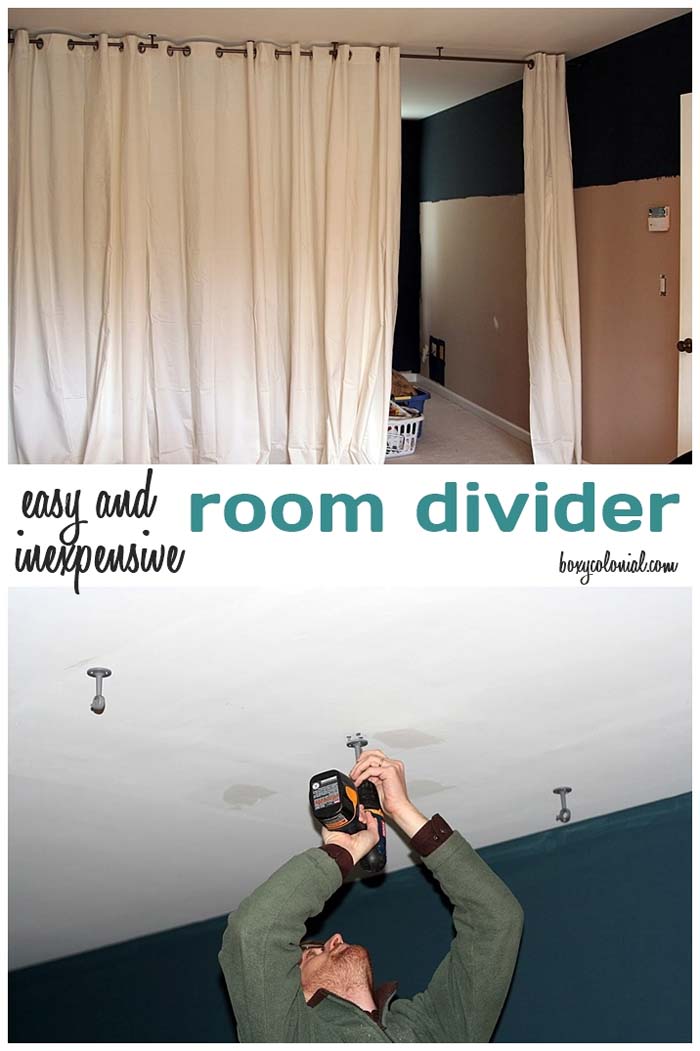 This easy and functional partition idea has been inspired by the welcoming of a newborn. It is essential for the mum to be with the baby 24/7 and at the same time not detach completely from the life before the baby.
The lack of a separate nursery room has also made the parents go for this bedroom feature- separating the parents' bedroom into two areas.
The simple DIY divider idea includes a curtain rod attached to hardware ceiling hooks and a beautiful white curtain to separate the bedrooms.
via Boxy Colonial
34. Hinged Doors For Your Unique Divider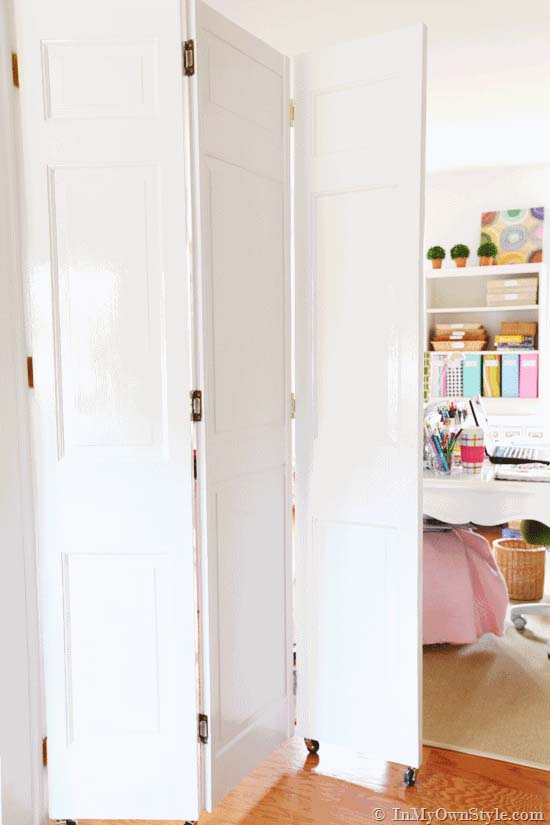 The idea for creating a partition from closet doors has been upgraded with one simple addition- casters to the bottom of the wood doors.
They let folding be easier and scratchless. This idea is functional for areas that are prone to active human flow.
via In My Own Style
35. Dividers Can Hide Unwanted Parts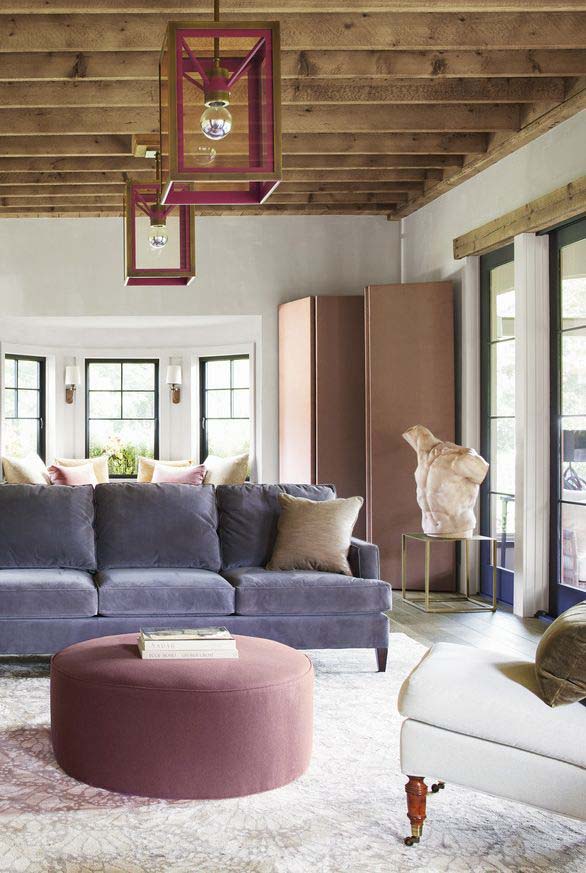 The dividers come in help when ugly but essential home elements need to be hidden.
This folding screen is attractive but also functional as it keeps an exposed pipe hidden behind.
The color choice complements feminine décor touches in the living room to create together a stylish and harmonious ambiance.
via Max Kim Bee
36. Home-Office Divider With Macrame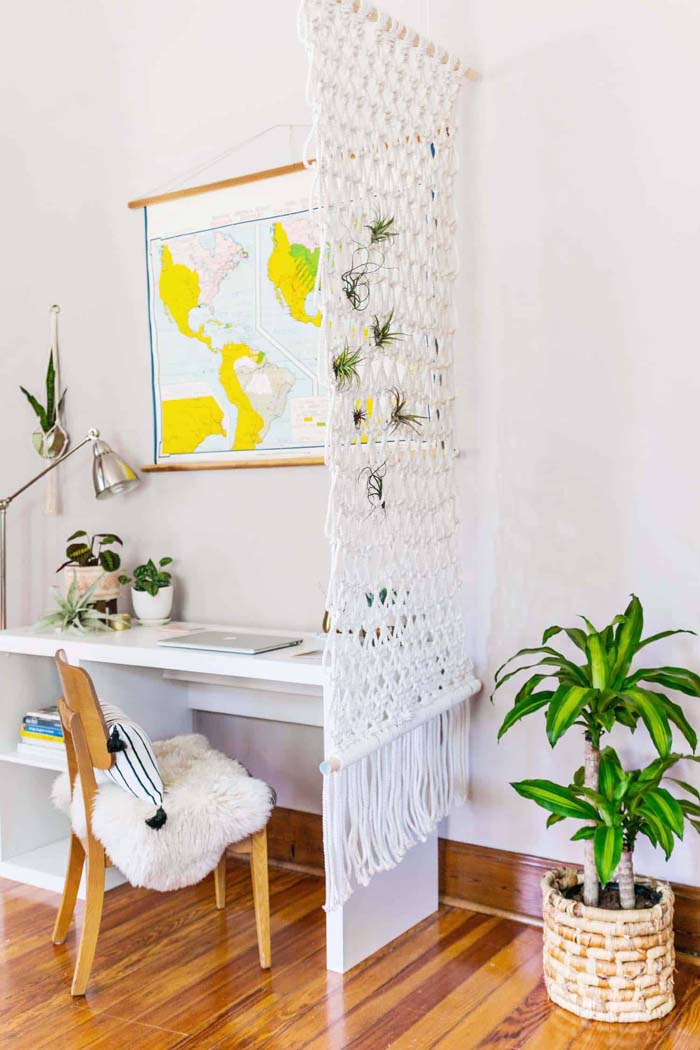 A practical and fun project for a macrame hanger inspires with its functionality. We are used to seeing and using macrame works as a wall decoration but they are perfect also for small partition features.
The tutorial below will also ease the macrame knitting pattern for all of you that are beginners willing to make their own hand-knitted work.
via A Beautiful Mess
37. Partition With Music Sheet Decoupage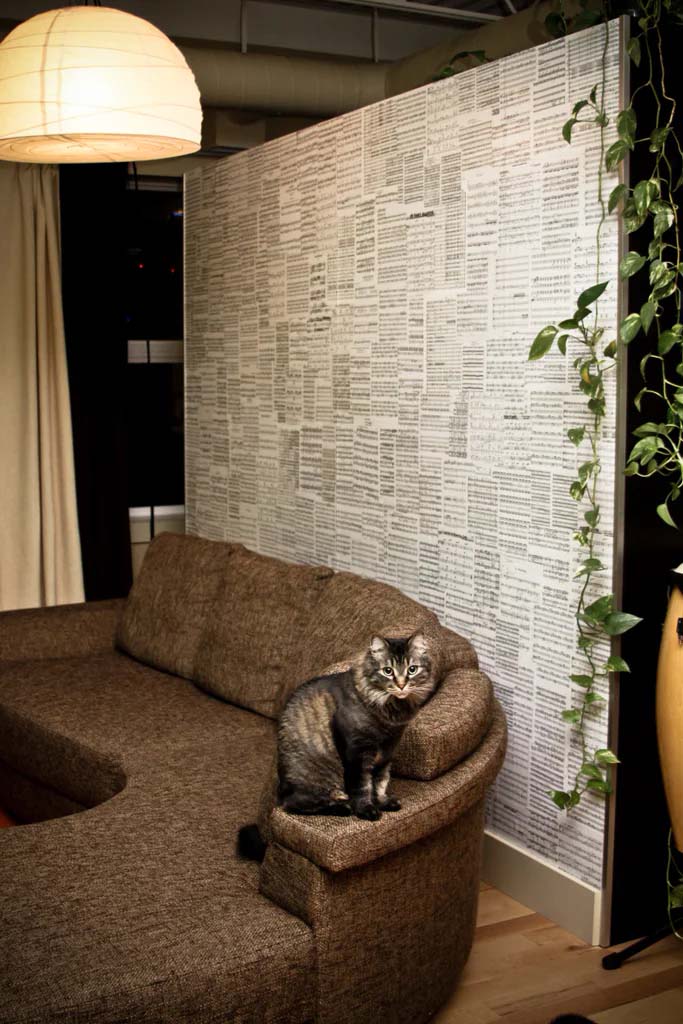 Affordable, artistic and functional room divider! The Ikea Pax wardrobe room divider has been given a customized and unique look with a simple surface technique. Check the tutorial for inspiration and instructions.
via Instructables
38. Fretwork Folding Screen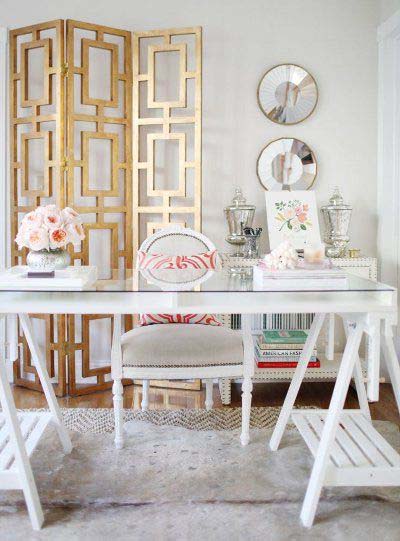 This partition aims to create a focal point in a neutral décor. The geometric sections of the divider screen and the natural wood color add the irreplaceable warmth of the wood texture.
The slat alignment creates a beautiful pattern that mimics fretwork.
The design of the screen can be upgraded by adding a thin sheet of paper or transparent fabric if you are looking for an improved privacy feature.
via Remodelaholic
39. Fabric And Chalkboard Folding Screen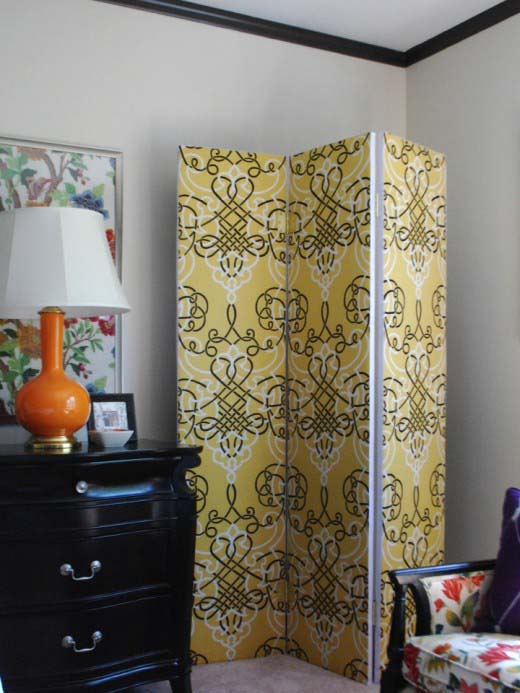 When space is limited, great ideas occur. This screen idea acts as a partition spreading lively colors to the classy interior and also as a display for notes with one easy flip.
via Effortless Style
40. Simple But Charming Bead Partition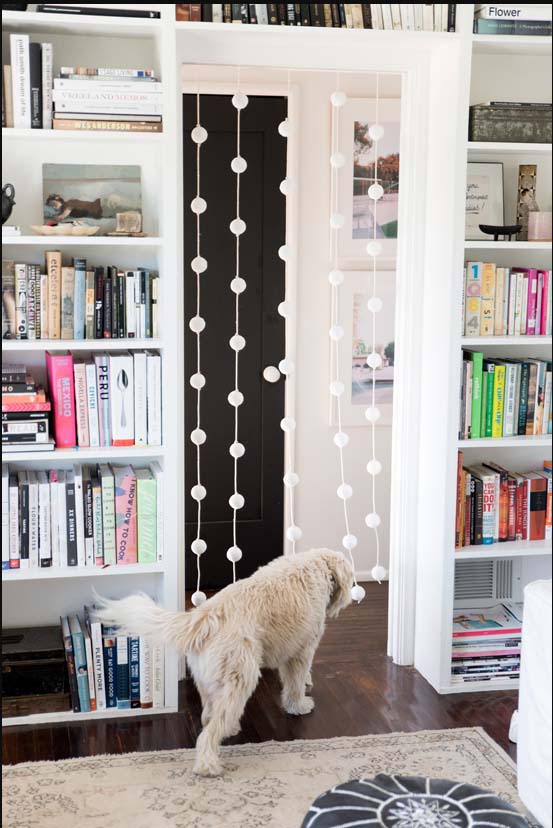 If that transition between the rooms feels odd, why not add a charming curtain? This idea features a beaded curtain made from Styrofoam balls threaded through yarn.
They drape down the case to visually divide the spaces and add some texture to the opening.
via Design Love Fest
41. Small Space Divider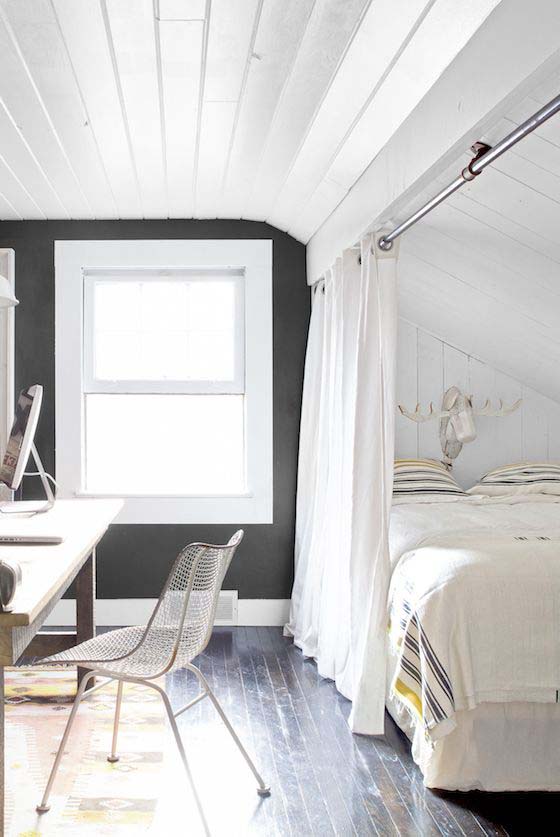 Finding a ready-made partition for an attic space is a mission impossible. Usually, customized solutions can help you divide the area but they can be quite expensive being tailor-made.
So here is an affordable and easy-to-make idea with fabric. A curtain rod tracing the ceiling and a curtain draping down to the floor make the office and the bedroom feel and look separated.
via Leanne Ford