Wooden slats in the interior or the exterior of our home are a fashionable, affordable and eco-friendly upgrade solution. Whether used to create a small statement feature, a partition, a roof or build an entire wall or fence, the slat panels easily grab attention.
You can experiment with the width, thickness, texture and color of the slats. You can place them vertically, horizontally, with a big clearance or almost tight to each other.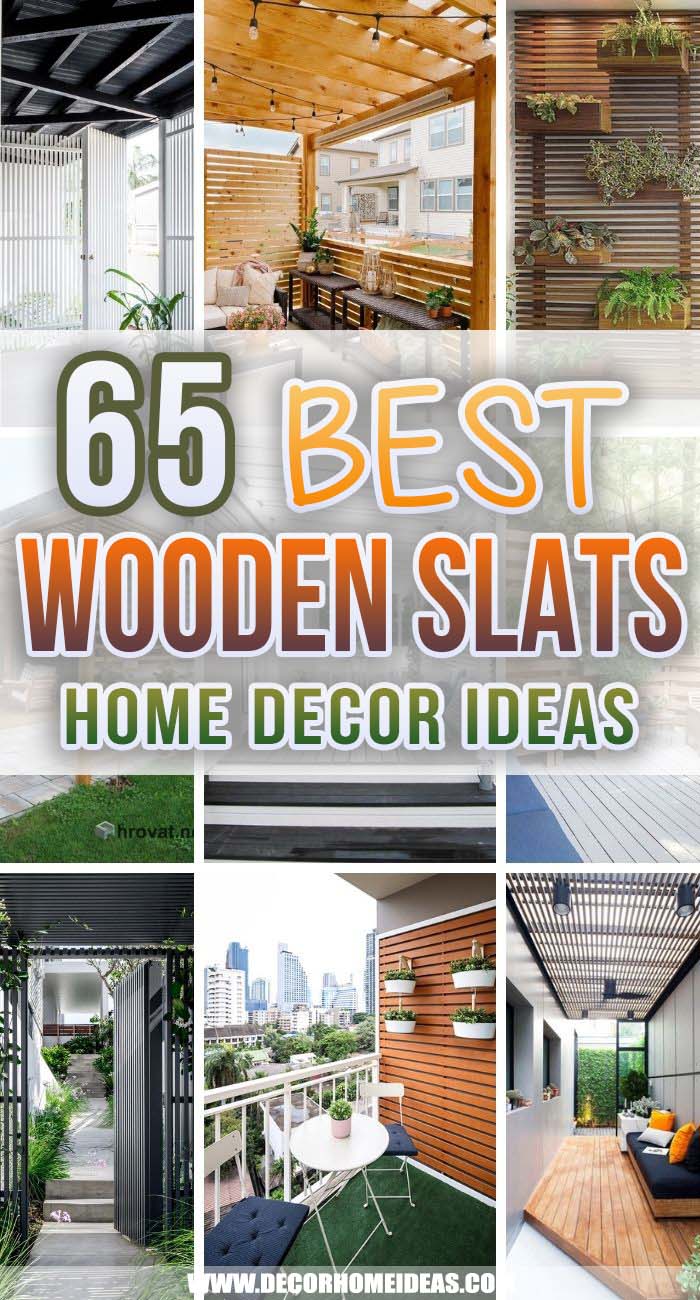 The slat panels have many advantages- in terms of ventilation, reduction of sunlight, blinding when used in the exterior. Let's check the most inspiring ways to adopt the slat trend in your own home.
1. Bring Farmhouse Charm with Slats and Plant Wall Decor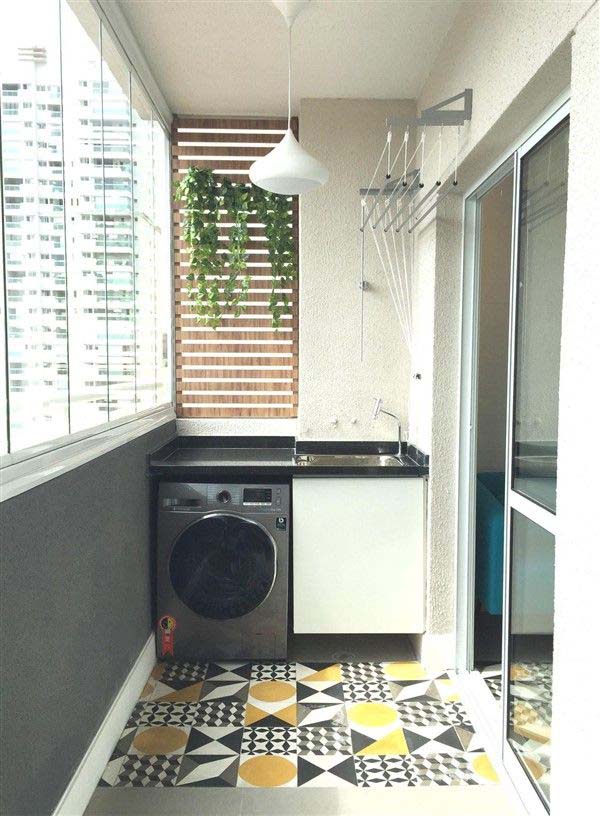 A panel from slats fits perfectly a covered balcony window to make the space cozier and add some privacy.
2. Add Privacy to Your Backyard with a DIY Slat Wall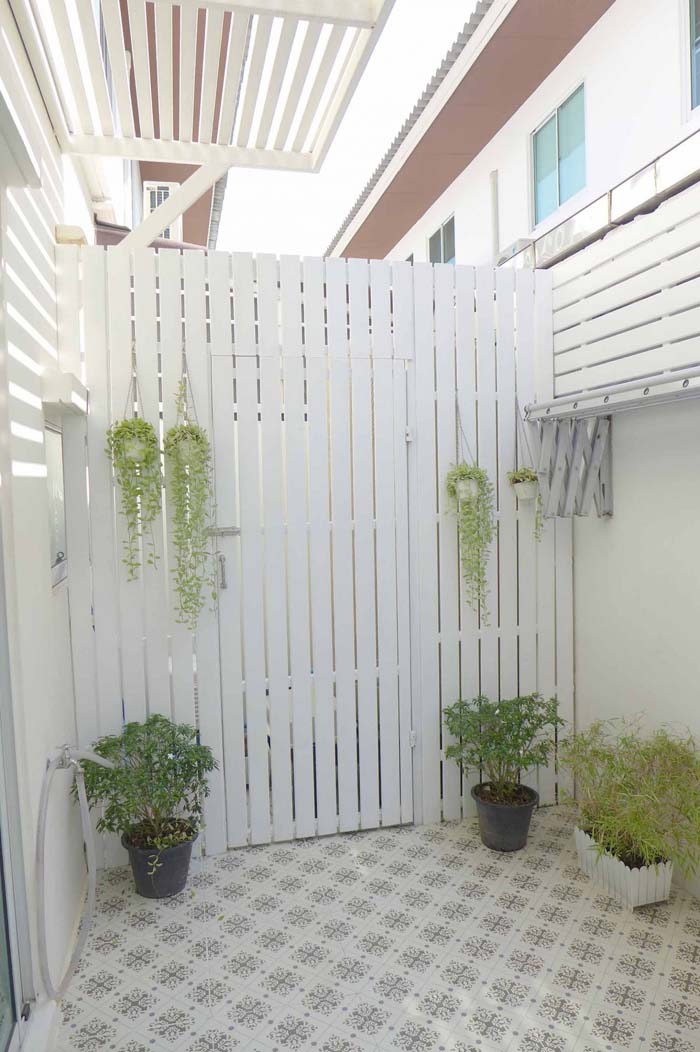 Vertically arranged slats easily make the dream divider of your backyard.
Especially, when you want to differentiate the garden from the clean space, lamella-like walls fit the idea perfectly as they are affordable, awesome and customized.
3. Build a Customized DIY Window Shelter with Slats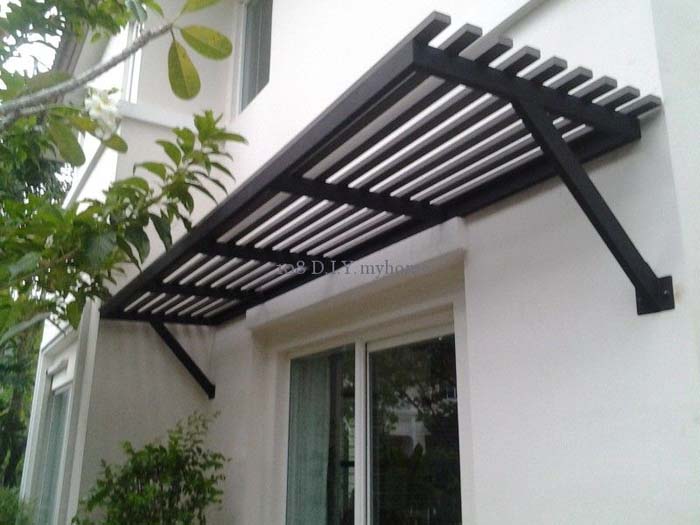 Finding a good window shelter could be difficult when it comes to style and color. Not the case if you make it yourself from slats. Paint them the color you wish and arrange them as tight as needed.
You can give the shelter another function if vine plants are planted nearby. When summer comes they will crawl on the slats to form a living shading feature.
4. Impress Your Guests with a Rustic Slat Fence Gate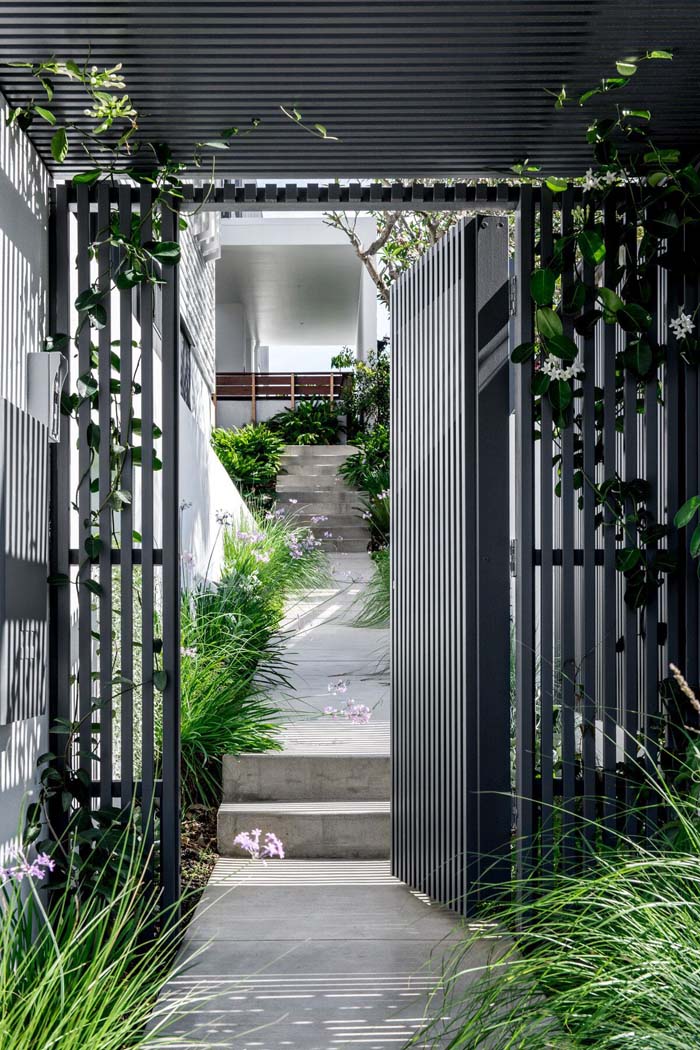 The fence gates are a simple solution to limiting unwanted animals and let's be honest, mostly neighbors.
Made of vertical wooden slats they act as a balance between function and privacy.
5. Unwind in Luxury with a Balcony Slat Wall and Planters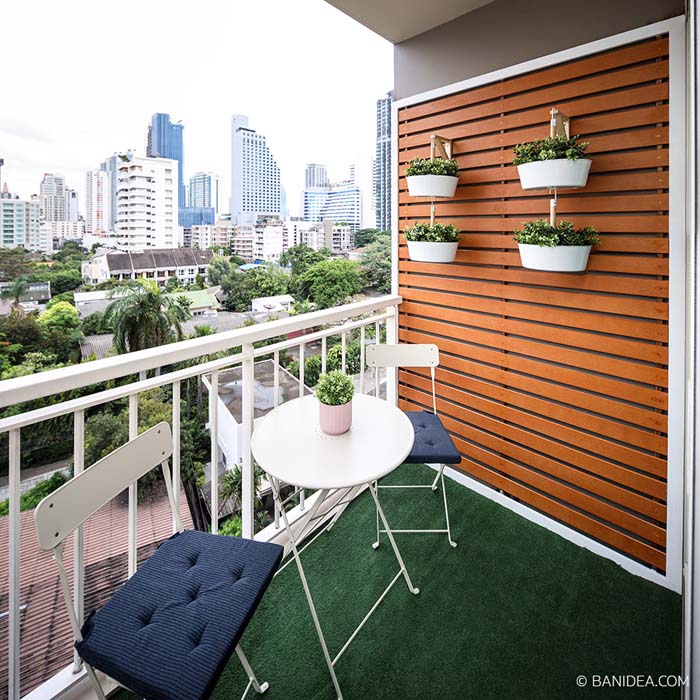 Added slats to a balcony wall make it possible to hang flower pots in a very space-saving way.
6. Craft Wooden Slats Partition Wall with Bookshelf Display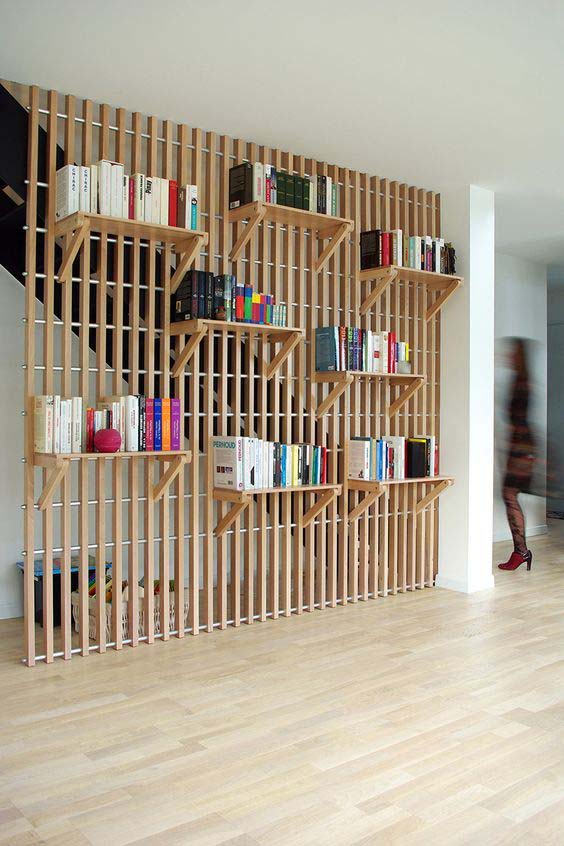 Experiment with wooden slats to make useful and decorative furnishings like a partition wall with added shelves for displaying a collection of books.
7. Elevate Your Patio with a Artistic Wooden Slat Partition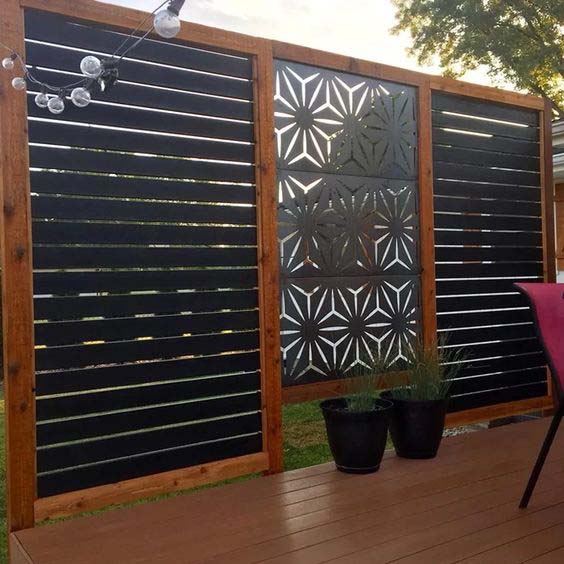 Slat walls are an easy solution to add some privacy to the patio. The slat wall can be one entire wall or consist of several panels which will improve the interest.
Painted in a bold color, the slat partition is also a good way to decorate the external part of your home.
8. Maximize Small Porch with Space-Saving Vertical Planters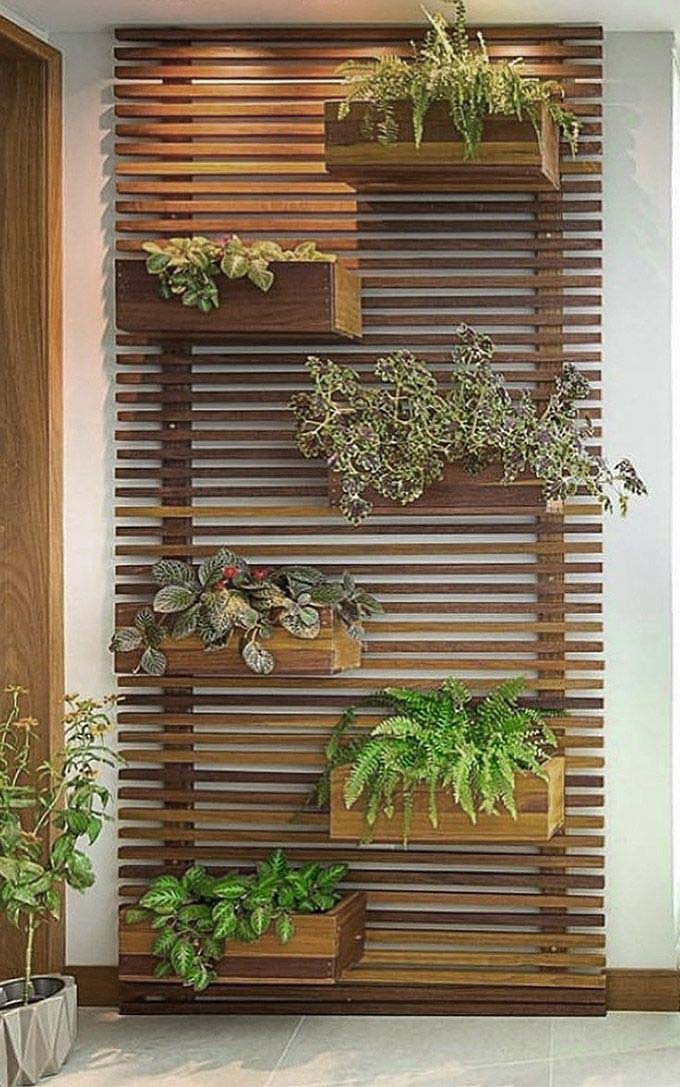 If your porch is small, then you should be looking for space-saving decor displays.
The vertical planter is probably the most trendy decoration. Made from slats it gives the bare wall texture and depth.
9. Create a Visual Connection with Wood Slat Partition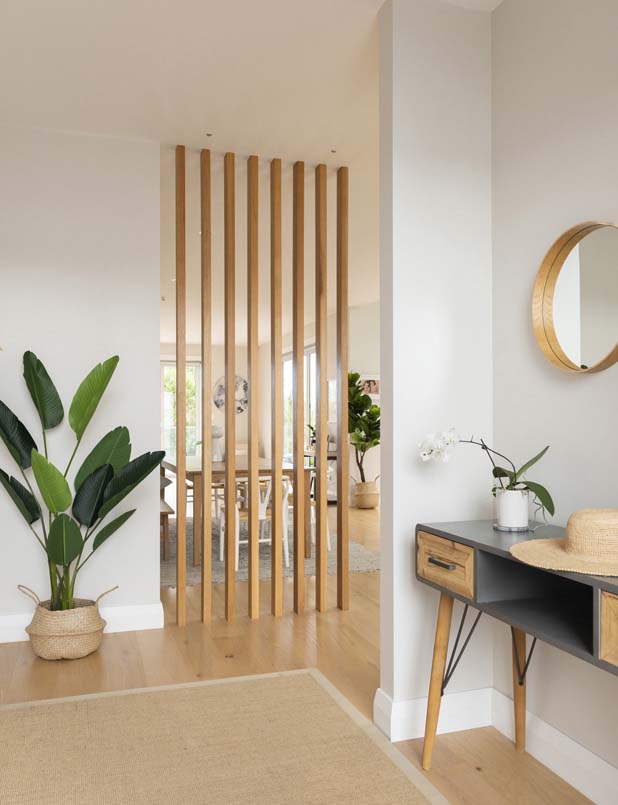 The wood material is used as a repetitive element to unite adjacent rooms with an open concept.
The transition zone between the entryway and the living room is decorated with a partial partition from wood slats letting you see the next room but yet defining it as a separate space.
10. Expand Outdoors with Pergola Sides for Ultimate Privacy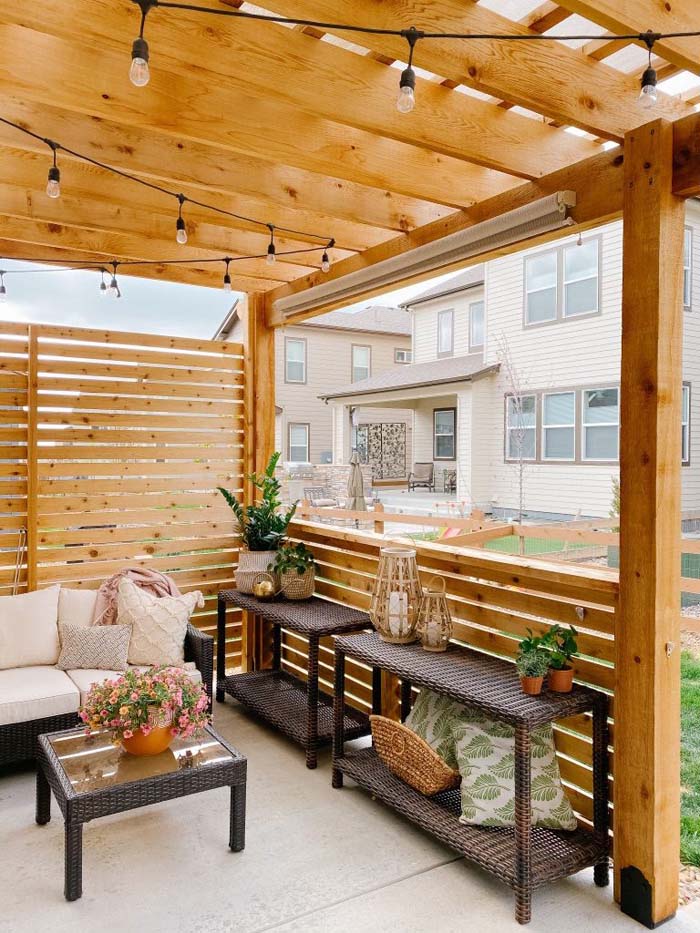 Extend your pergola with sides from slats to form the outdoor sitting area as a special entertainment zone.
The privacy they will create is an irreplaceable feature, especially if your house is surrounded by neighbors.
11. Separate Garden and Backyard with a DIY Slat Fence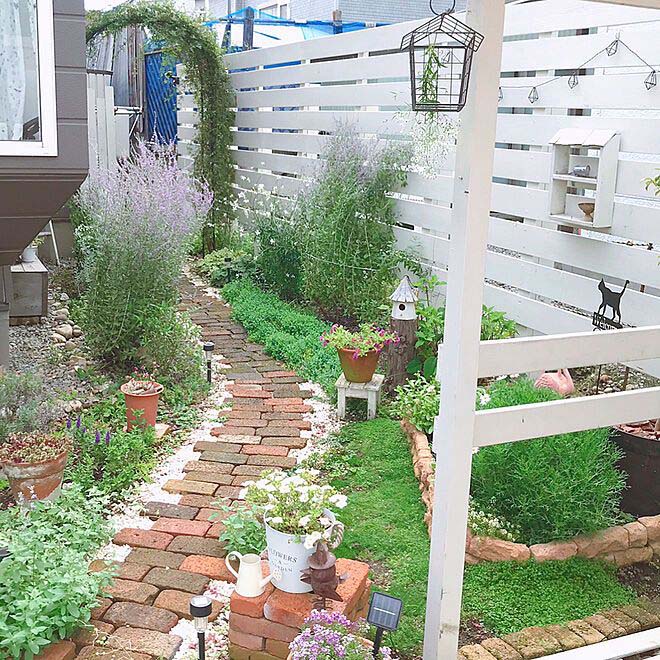 Whether to separate the vegetable garden from the flower garden or to separate your backyard from your neighbor's, the slat fence is an affordable and fun DIY idea.
You can upcycle slats from pallets and give them a good sanding and a thick coat of paint to equalize their surface.
12. Make an Impression with Wooden Slats Ceiling Planters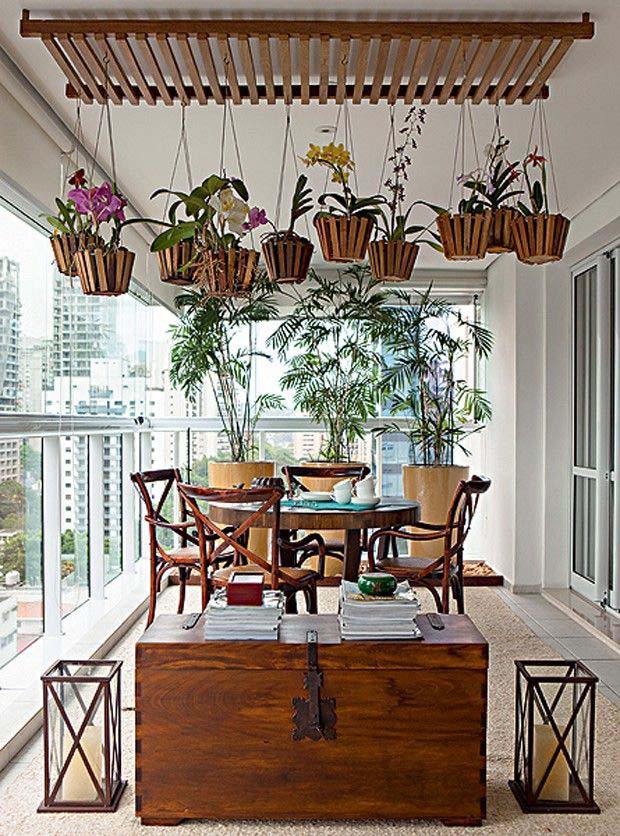 We have seen ladders suspended on the ceiling acting as a support for light fixtures. Another beautiful decoration with functionality for the ceiling could be the slat panel.
This rustic balcony embraces the wood lamella panel to increase the places for displaying flowers.
13. Create a Stunning Entryway Design with Slats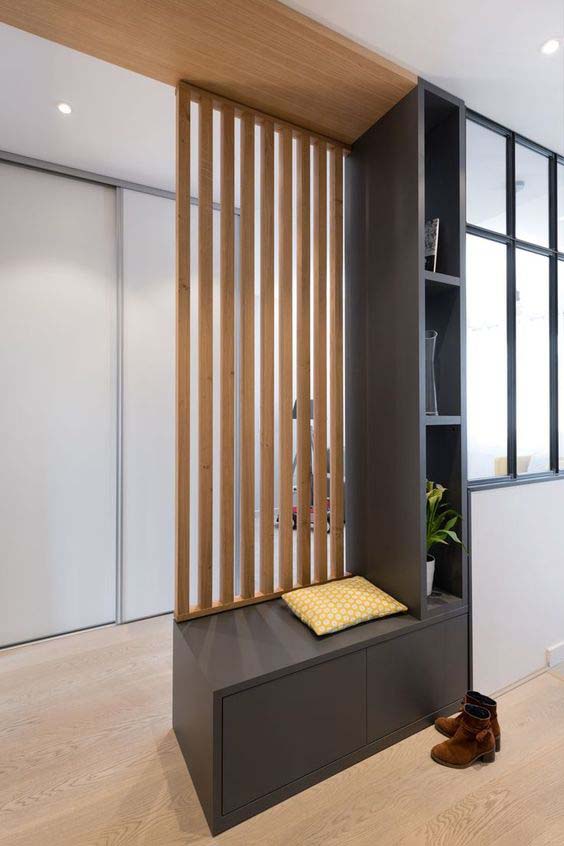 Make a gift for your small entryway with a customized storage unit providing cabinets for shoes, a flat surface to sit on, shelves for decoration.
The slat partition replaces the standard thick wooden back support to enhance the airy feel.
14. Enhance Your Porch Pergola with Slats Privacy Screens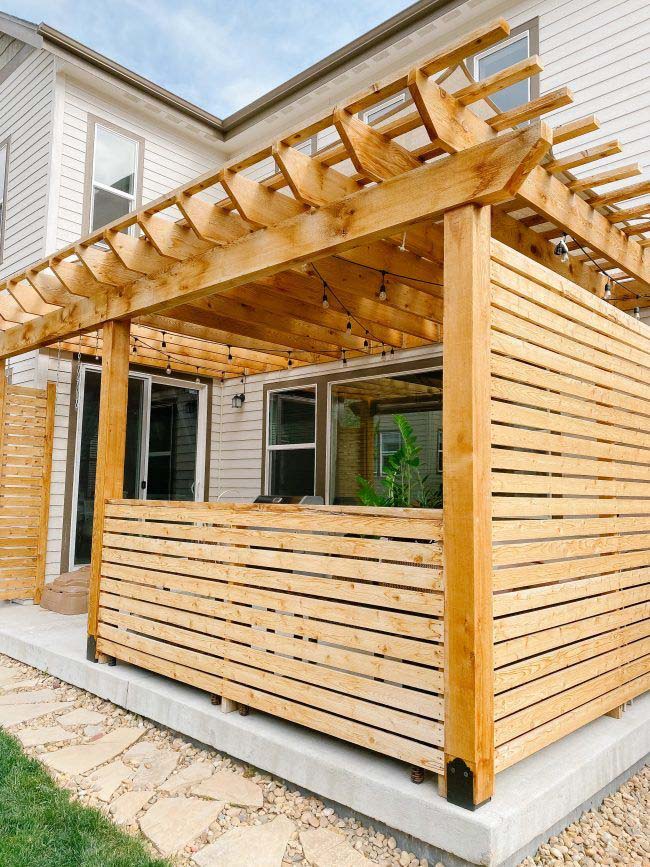 In case you are looking for a more permanent solution for your porch, you can build yourself a tent from slats instead of buying a fabric one.
Prepare wood posts, boards and slats and suitable hardware to fix the supports to the basis.
15. Upgrade Outdoor Space with a Dark Wood Slat Fence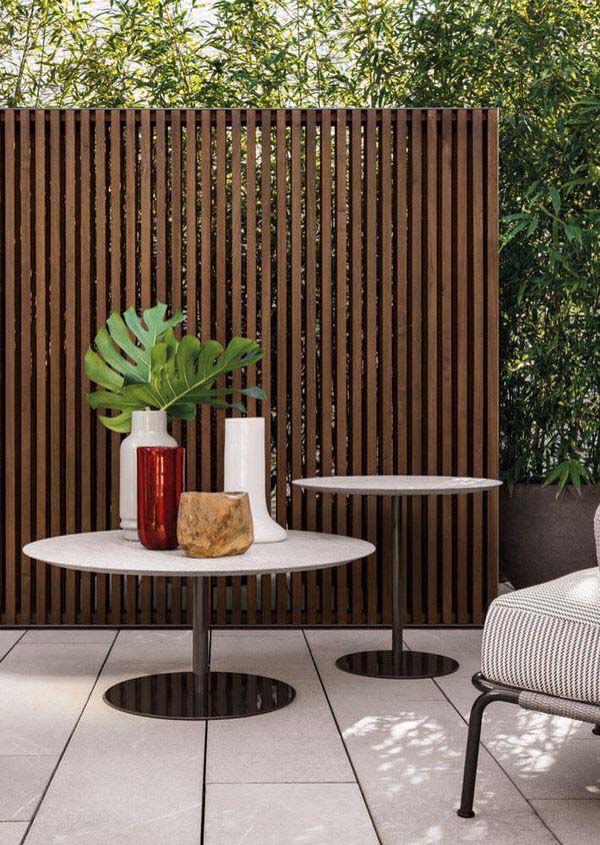 Hide your outdoor private space with a tall wood slat fence.
Stain it a dark color to match the accents of the decor and to let it blend with the greenery.
16. Solid Wood Patio Walls for Vertical Garden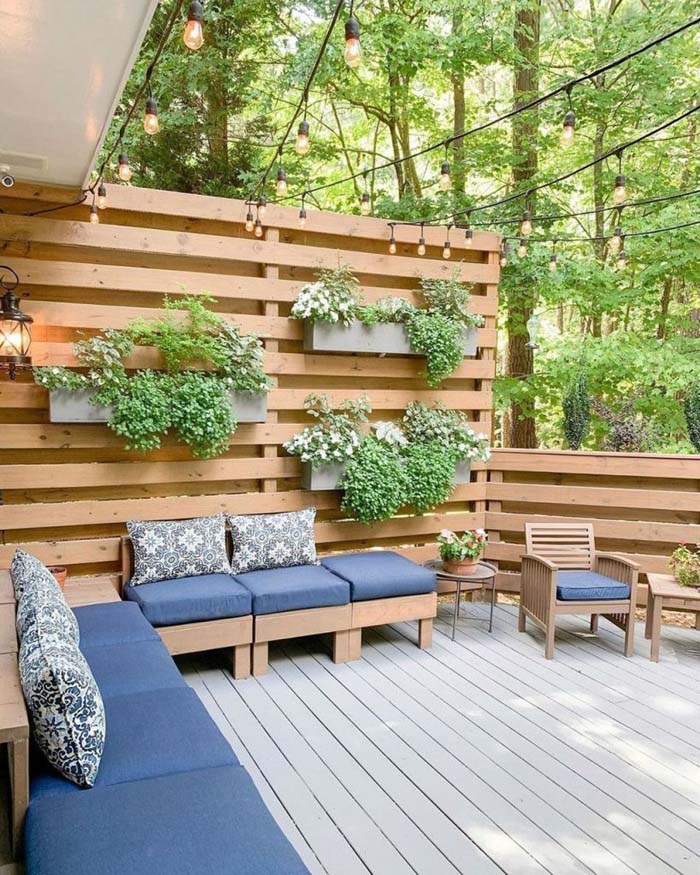 These patio walls are double-solid wood and lamella cladding.
The gap left between them can be used for planting climbing plants or attaching planters.
17. Build a Simple DIY Pergola From Slats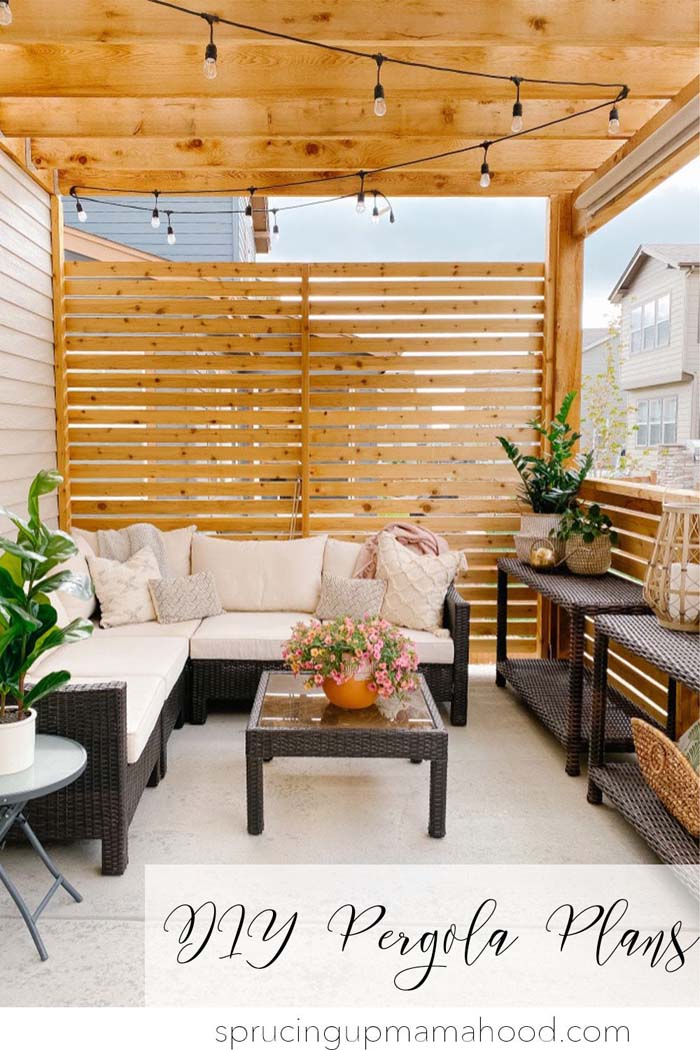 To feel undisturbed on your balcony, install a privacy screen with an Arabic vibe.
That one is a modish idea of getting the most from your small outer space.
18. Make a DIY Climbing Plant Arch with Slats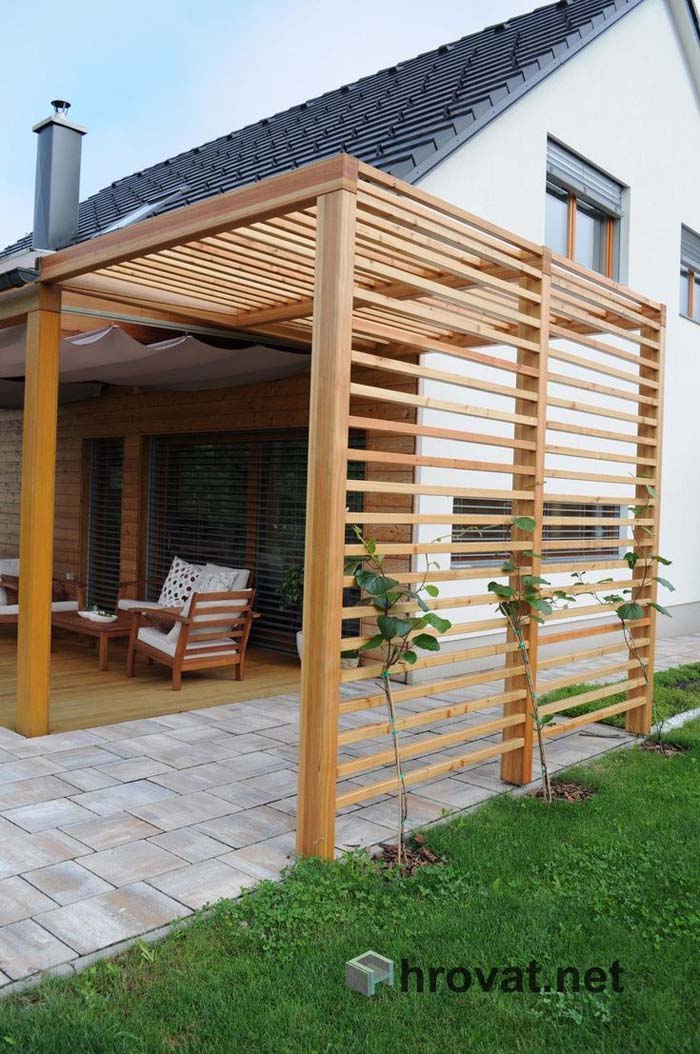 Create an arch for climbing plants from slats. You don't have to assemble them tightly as they will not support heavy items, only the greenery.
That will decrease the number of needed slats and make this DIY totally on the budget planned for garden improvements.
19. Get a Polished and Trendy Look with Slats Room Divider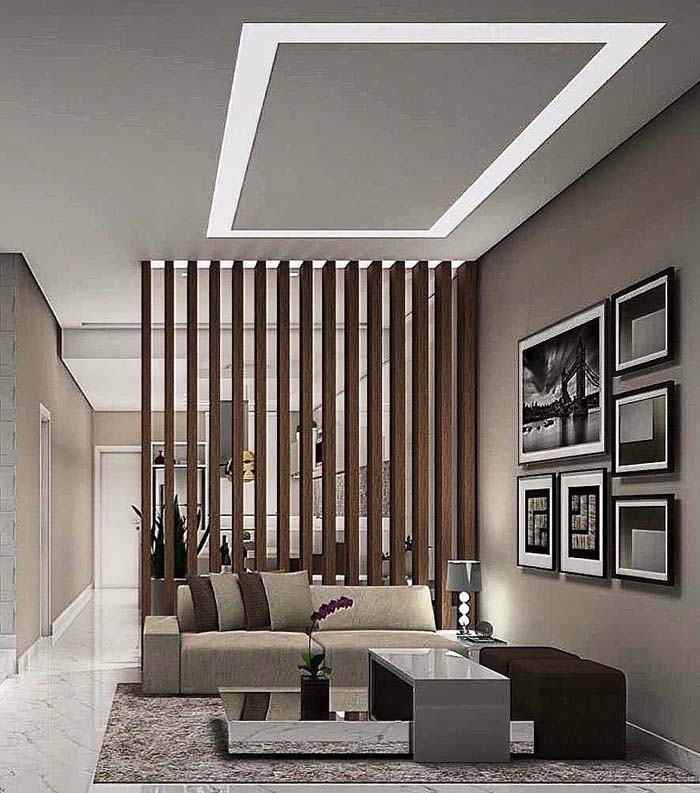 These partition lamellas are installed at a big distance from each other to let the light pass through.
This pattern also gives the interior a special effect. Although it aims to separate the zones, they still feel connected.
20. Light Up Your Porch with a Functional Slat Wall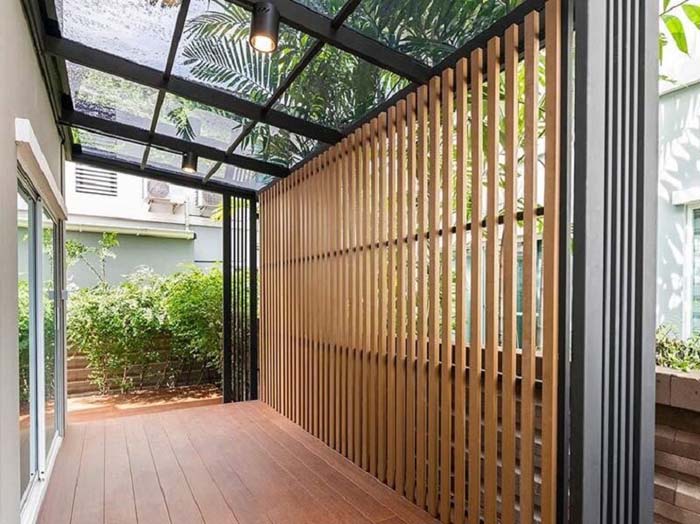 If you have decided to increase the living space of your house, you can turn an external part of it into a covered space belonging to the interior.
A metal structure filled with glass panels isolates perfectly from the outdoor conditions. Added slats make the space cozier ensuring privacy and yet letting light get through.
21. Add Texture to Your Garden with a Rustic Slat Divider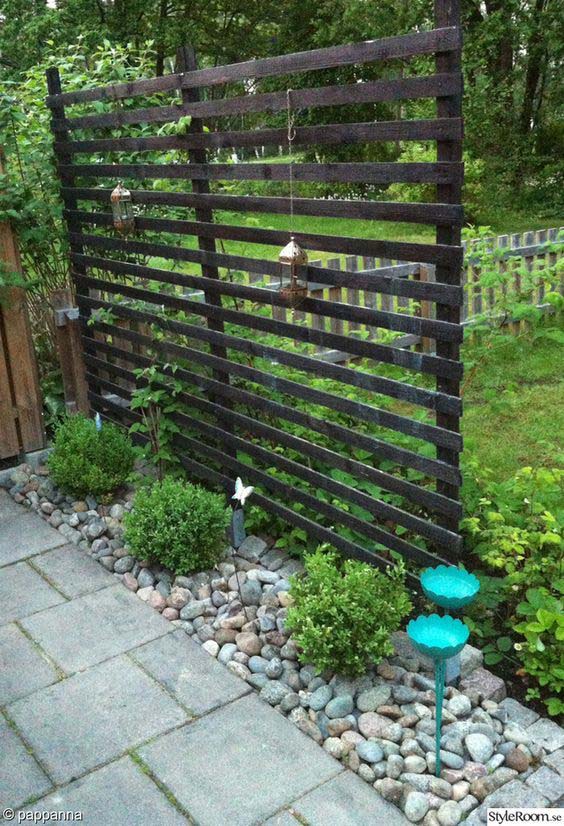 A quick and very fun idea for improving your backyard this summer is to separate the walkway from the lawn with slat panels.
The frames can be repurposed pallets with slats spaced at a bigger distance from each other.
22. Create a Stylish Entryway with a Half-Solid Half-Slat Wall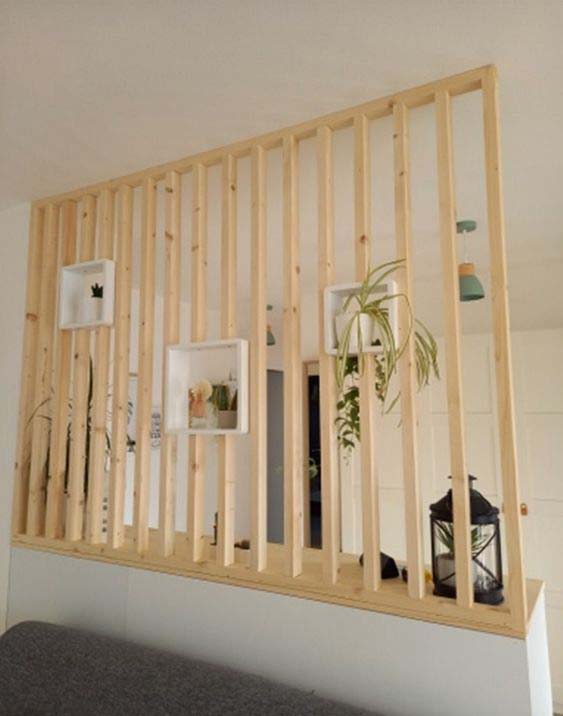 Experiment with the wood slats on half a wall. The additionally built half solid-half slat wall makes defining two zones in a shared room possible.
This trendy idea could inspire you to divide the entryway from the living room.
23. Utilize Slat Partitions for Home Offices in Living Room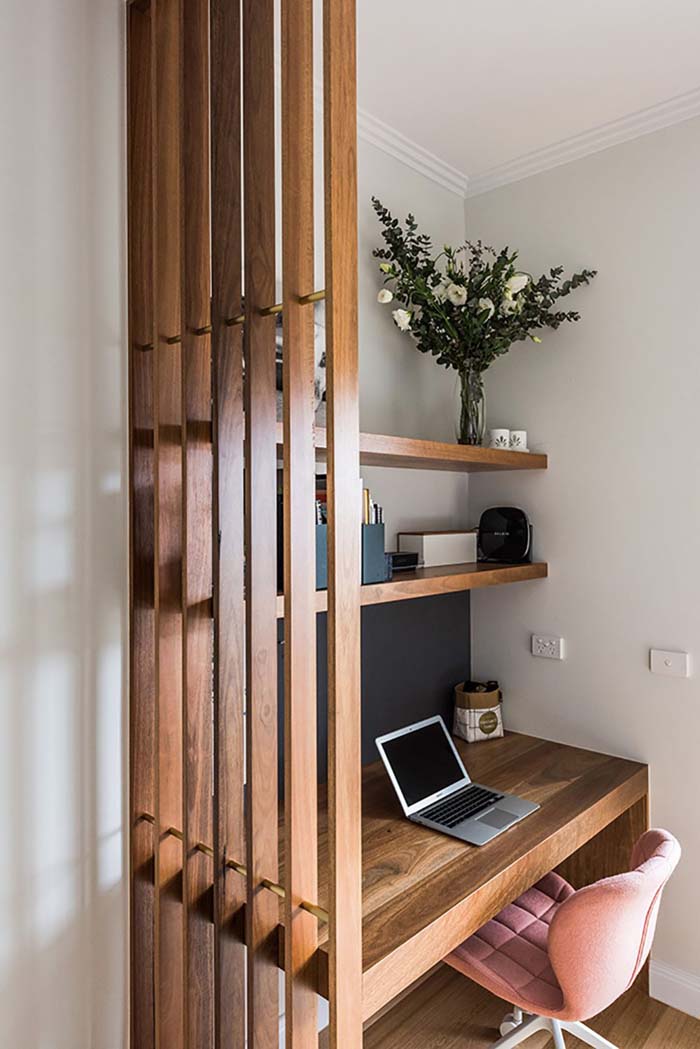 The slat partition can be cleverly used for other zones in a shared room. The home office desk is usually situated in the living room so that parents have a good look over the entire room.
Installing a slat partition to differentiate the home office from the rest of the room is a good way to add privacy without hiding it entirely from the eyes.
24. Instantly Boost Curb Appeal with Porch Slat Partitions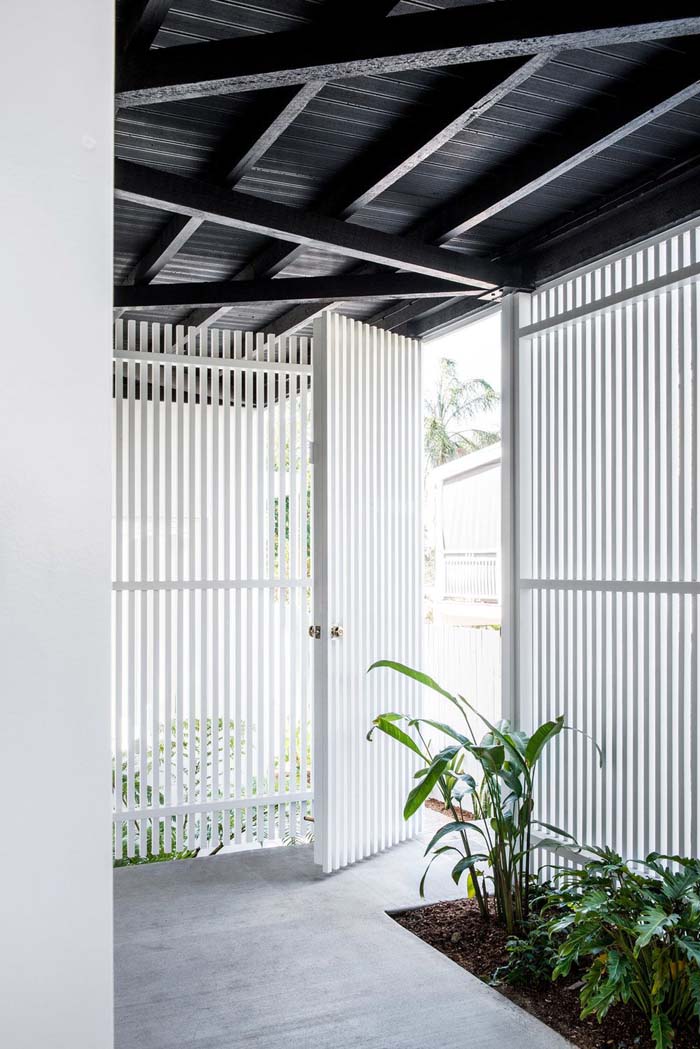 Even if there is no backyard belonging to your house, there is a small porch before the front door. Let your home feel more private with slat partitions.
Installed next to each other, they outline the tiny porch letting it be more maintained. Although slats are arranged at distance, they function as blinds when looked at from the outside.
25. Blend Your Living Room Decor with a Slat Partition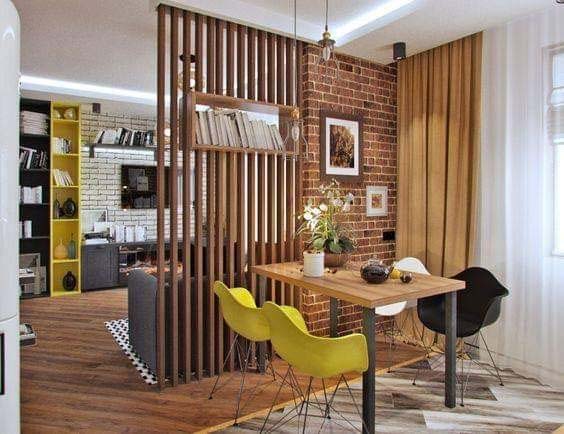 A living and a dining zone are created in one big room. Building a wall to separate them would have been difficult, uncomfortable and expensive.
The slat partition comes to solve the issue and let these spaces feel separate. The earthy brown color matches their interiors and the yellow accents act as a uniting element.
26. Modernize Your Space with Vertical Wall Slat Planters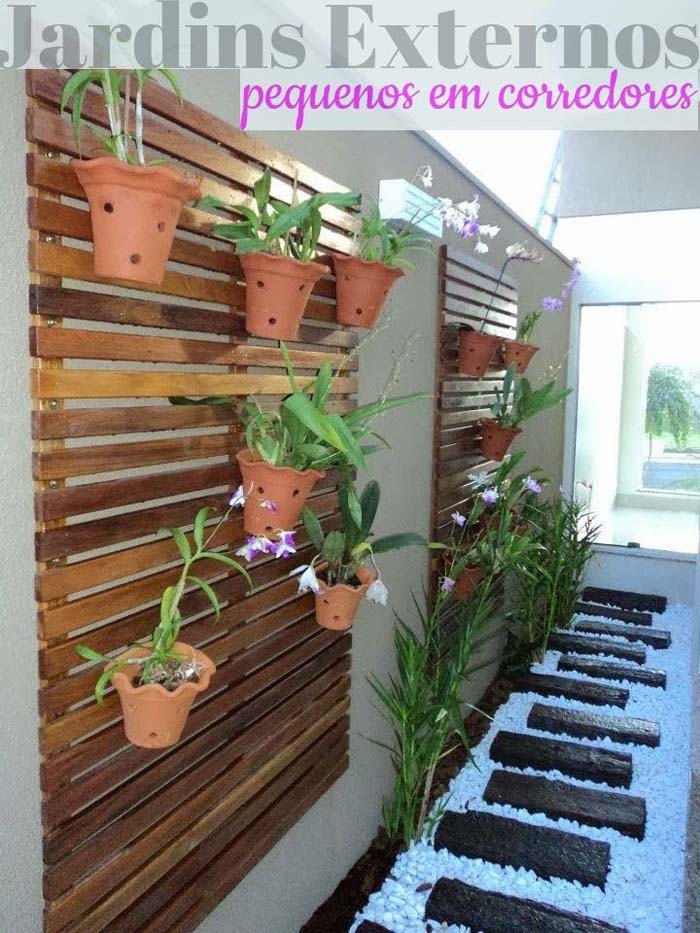 Vertical planters appear to be very functional both in the interior and the exterior.
The wooden texture of the slat planters adds coziness and gives the bare walls a point of interest.
27. Create an Outdoor Summer Kitchen with Slat Walls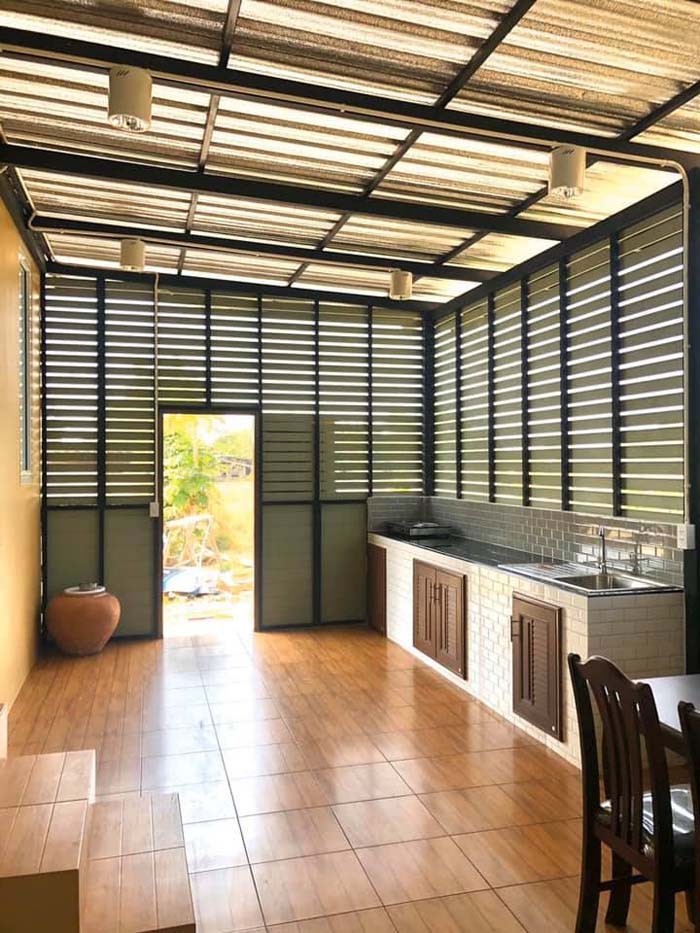 This is another inspiring idea for turning an outdoor space into a functional sheltered zone. It can be called a summer kitchen as it will be used more often when the temperatures outside are positive.
Slat cladding covers the outside of the framing walls to make this new zone feel like belonging to the original house and let the light come in to make cooking or simply walking through the new room comfortable.
28. Protect Outdoor Cat Play Zone with Slat Partitions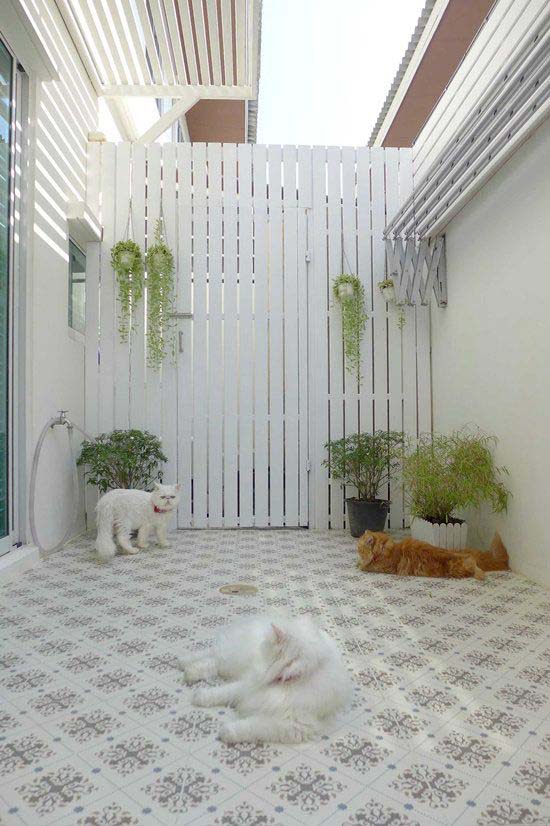 Want to treat your cats to a special entertaining zone outside in the backyard? You should well protect it or otherwise, they may quickly get scared and run away.
The slat partitions are the cheapest and best-looking material to differentiate a special patio for your cats. When it comes to quality, they will last longer than plexiglass or any other cheaper material.
29. Zen-Inspired Backyard Oasis with Slat Makeover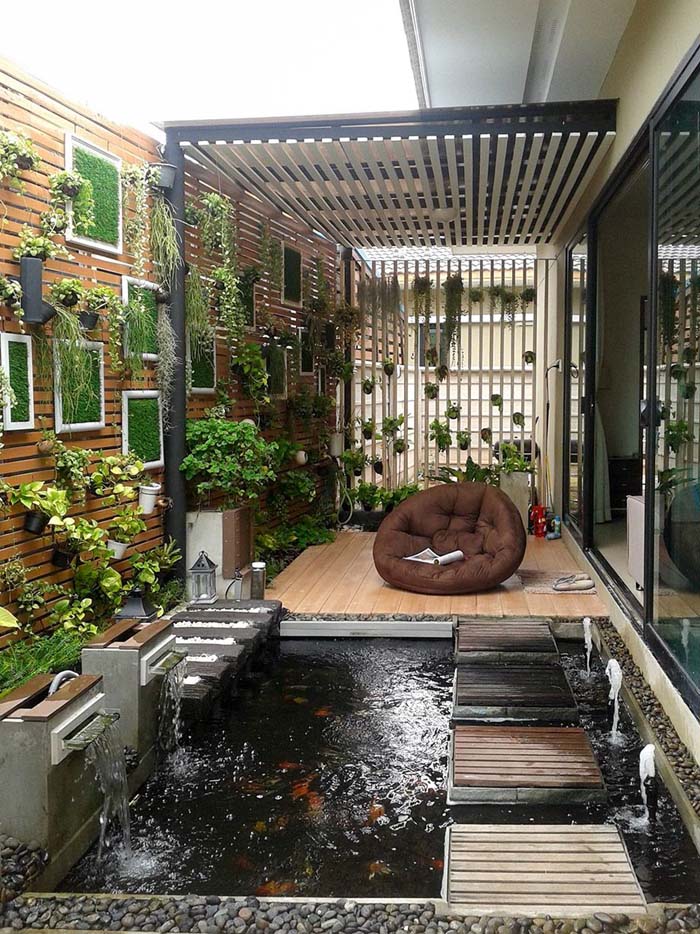 Set your patio as a comfortable, private and nature-inspired zone with slat cladding. It facilitates increasing the number of greenery planted.
The pond at the end of the small backyard enhances the relaxing vibe and zen look of the outdoors. Added steps with slats over the pond ensure safe passing across the water feature.
30. Outdoor Kitchen with Slatted Screens and Cladding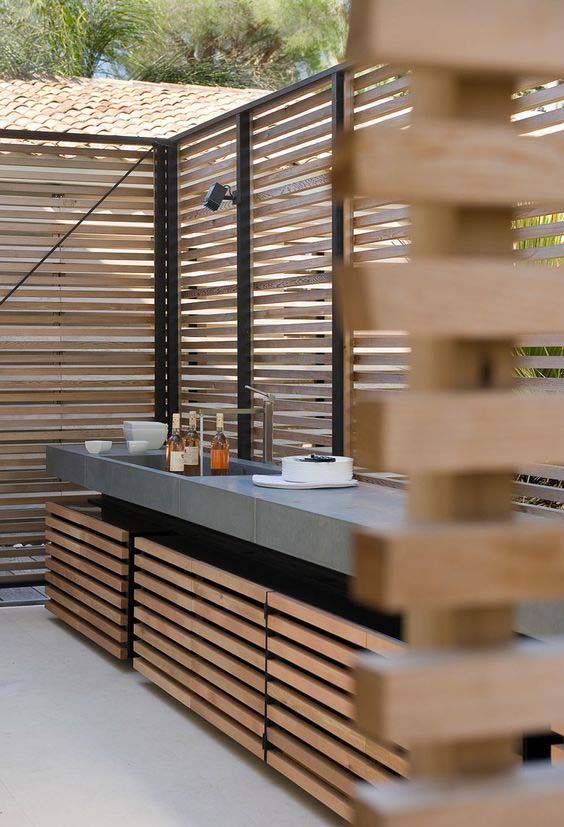 The outdoor kitchen could be made on a budget if instead of solid walls, screens with slats are installed. The circulation of air is ensured with the distances left between the lamellas.
Added slats on the cabinets below the countertop continue the line of the modern cladding to make the zone very appealing.
31. Improve Your Mud Room Ventilation with Slat Panels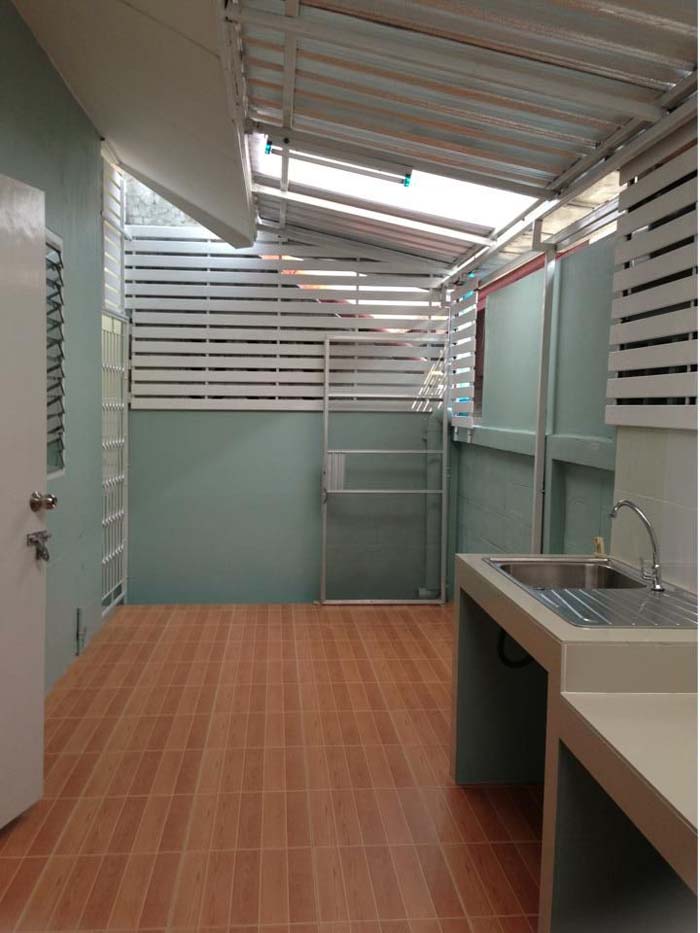 Air circulation and a sufficient amount of light are very important for this mudroom. That is possible with halfway wall and ceiling slat panels.
The top ones are installed on rails so that moving them to open up to the sky is possible.
32. Upgrade Pergola Extension with a Slat Vertical Garden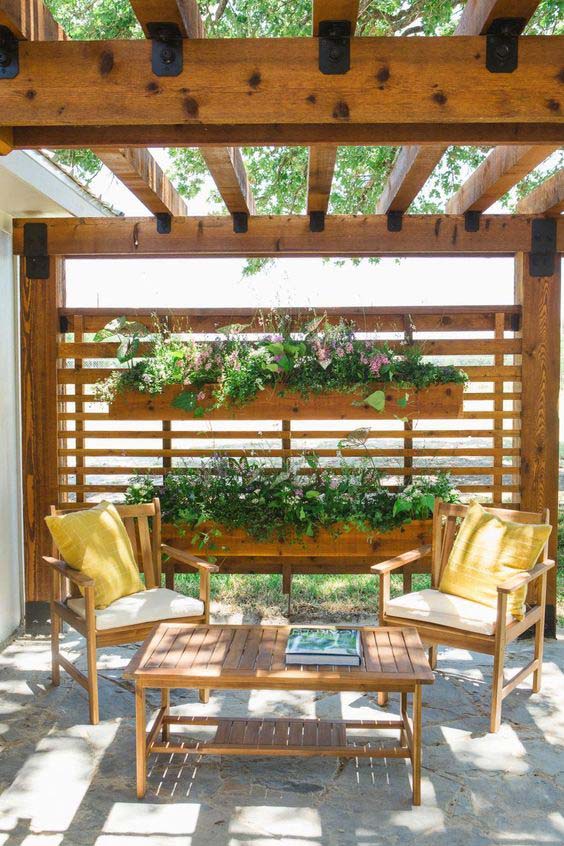 The wooden slat partitions are an accent to every exterior, regardless of their size and color.
Most of the time they do more than add privacy as you can see from the inspiring idea above.
33. Make a Bold Statement with a Full Slat Patio Pergola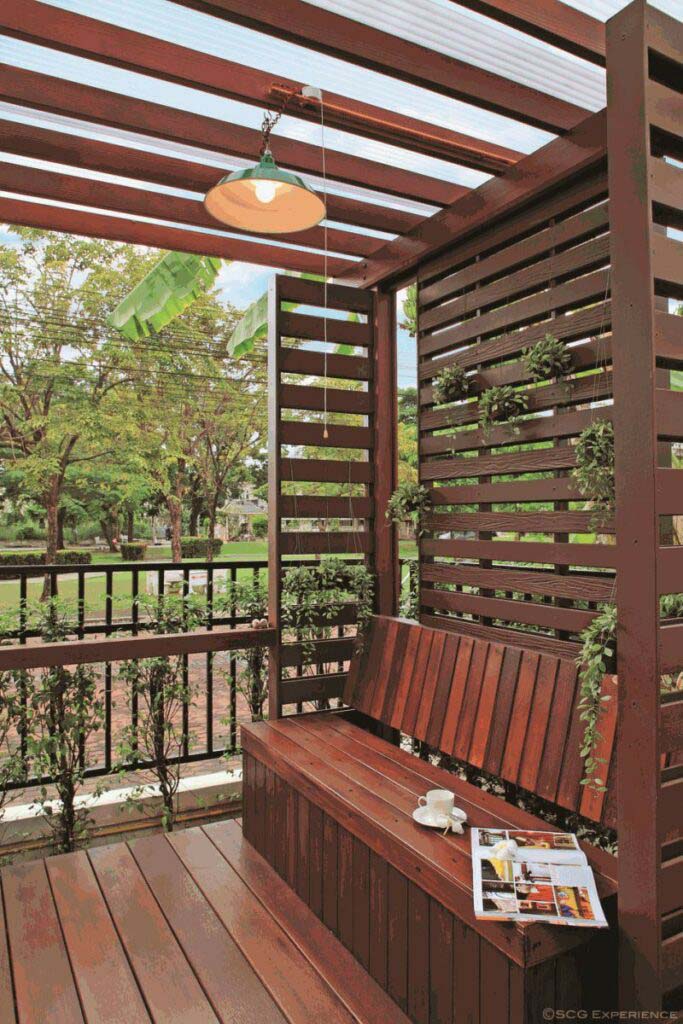 If you are keen on making yourself a patio pergola, you can use the same slat material to make the furnishing.
The design of this bench features a tight arrangement of the slats to make the back stable and comfortable.
34. Create a Rustic Atmosphere with a Slatted Garden Fence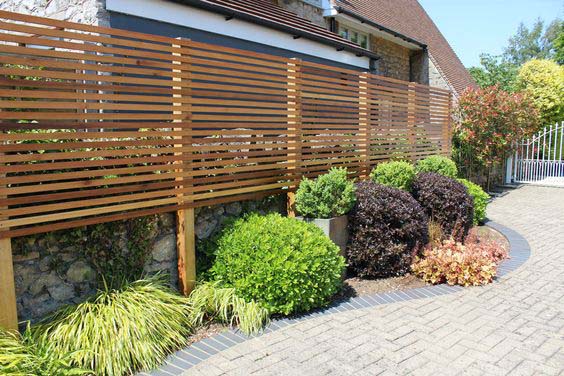 For a rustic effect, you can extend your stone fence with slat panels.
Edging garden with shrubs and ornamental grass gives this structure a lively feel.
35. Hide Garden Eyesores with DIY Slat Partitions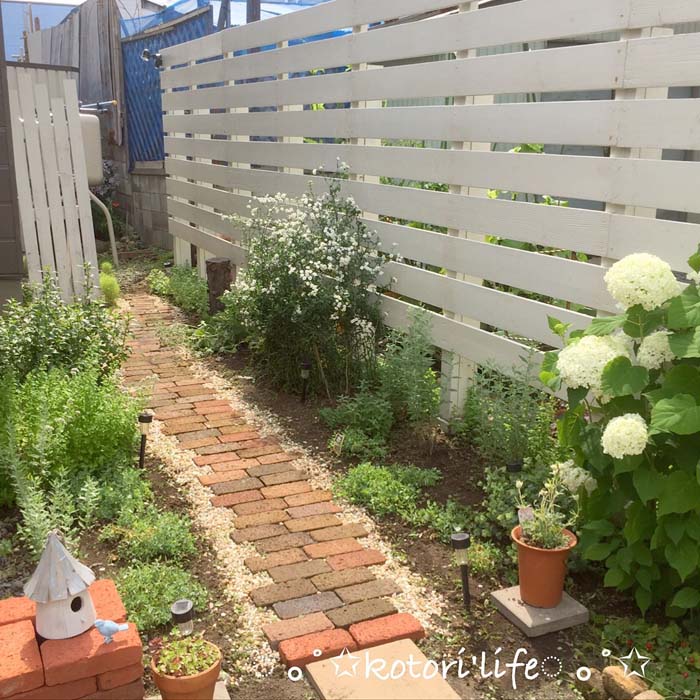 If there is a part from your garden which needs better organization or maintenance but hasn't found the time to do that, you can hide it from the eyes of your guests with hand-made slat partitions.
This type of divider is also a quick and good-looking means to zone the garden types.
36. Add Privacy to Your Porch with a Slat Wall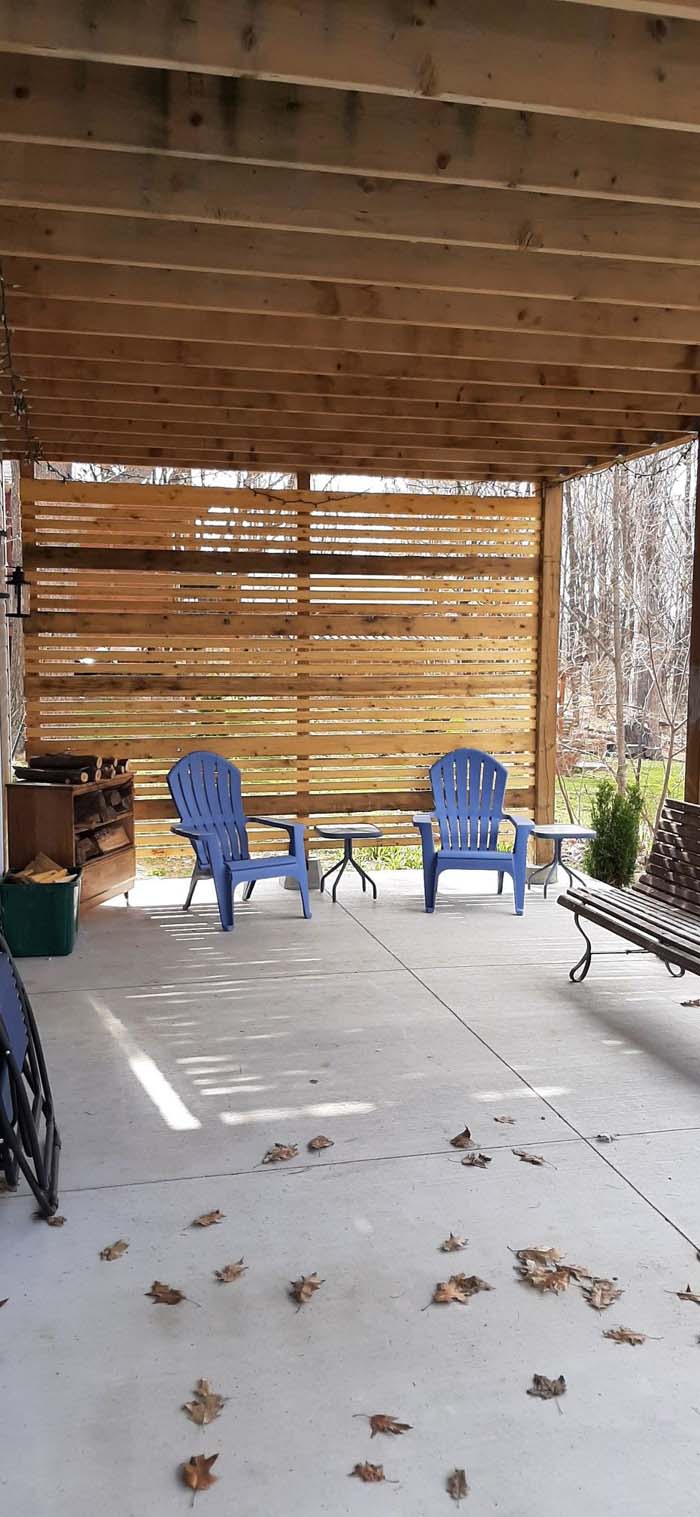 If the location of your house is not that favorable and winds keep on accumulating dirt on the porch floor, you can limit its action with a screen.
Air will still go through the slat clearances, however, its intensity will be decreased.
37. Get Unmatched Aesthetics with a Movable Slat Screen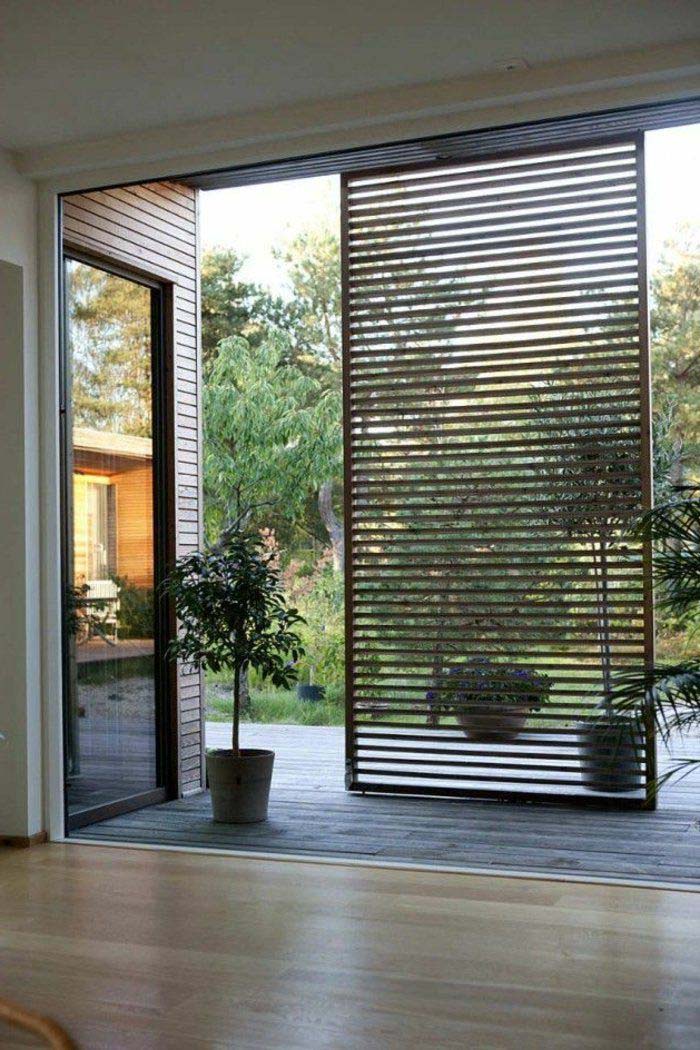 Movable screens let you adjust where, when and to what extent you need privacy.
They are remotely controlled and able to cover an empty wall or tuck away to clear the opening.
38. Modify Your Summer Kitchen with Slat Panels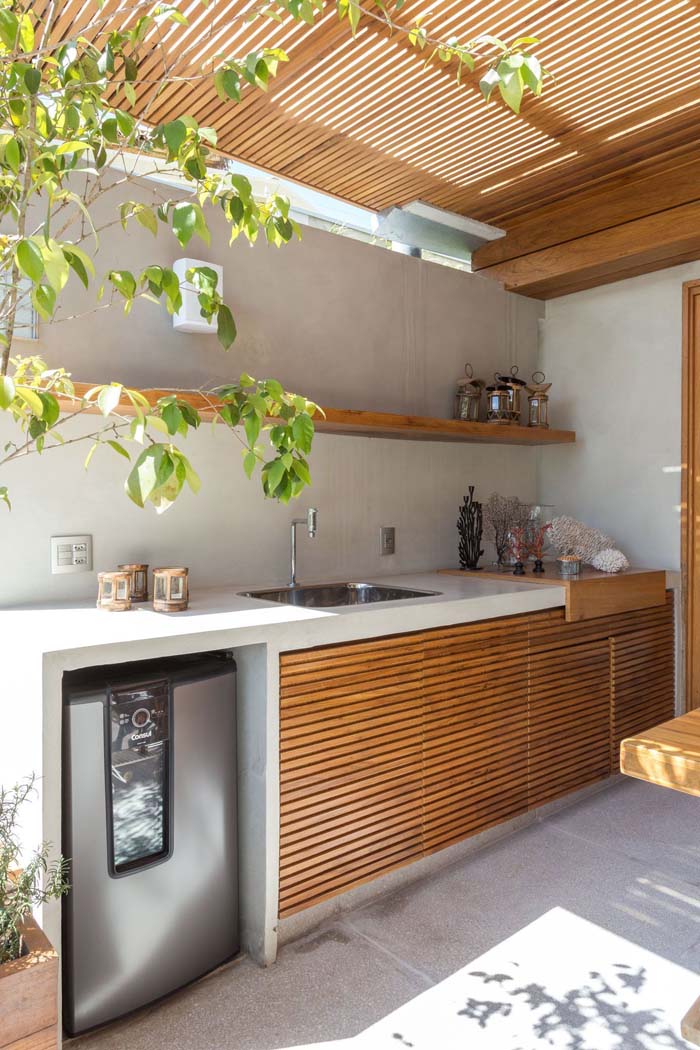 The outdoor kitchen can be as comfortable and appealing as the internal one. What we recommend is using slat panels for the walls and the ceiling.
The alignment of lamellas will help with the ventilation and airing out the smells.
39. Uplift a Room with a White Painted Indoor Slat Partition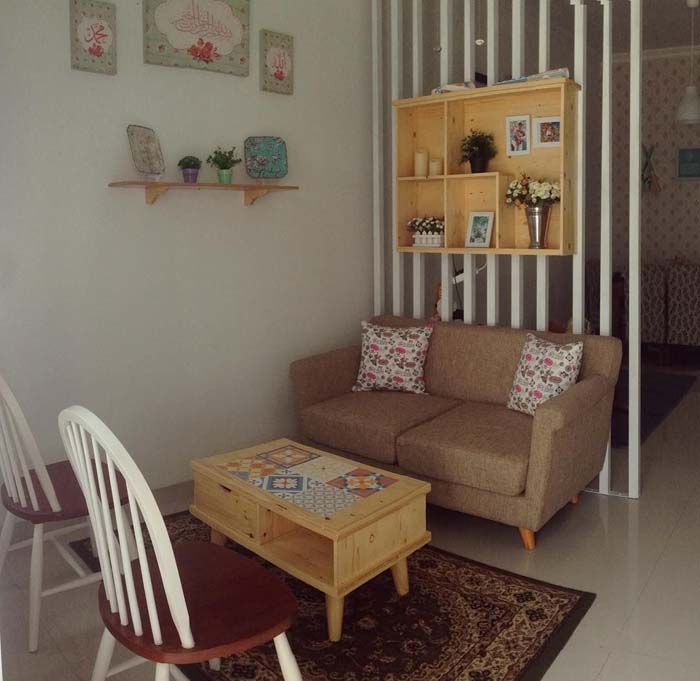 This is what your indoor slat partition can look like when painted white.
It gives the shared space a fresh vibe and additional space for storage units.
40. Add a Hint of Nature with Slats and Climbing Vines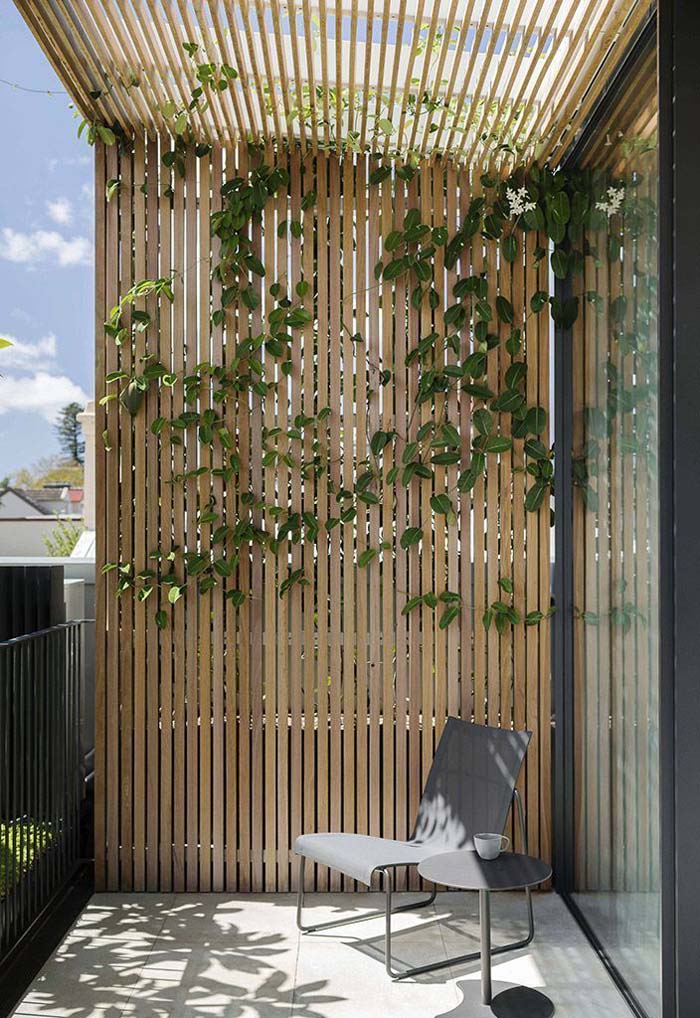 If you have a slat partition outside on your balcony or on your porch, then you shouldn't miss the opportunity to use it also as a trellis.
The vertical slats and the gaps between them will let the vining nodes grow and beautifully fill.
41. Combine with Slat Panels and Chicken Wire Screens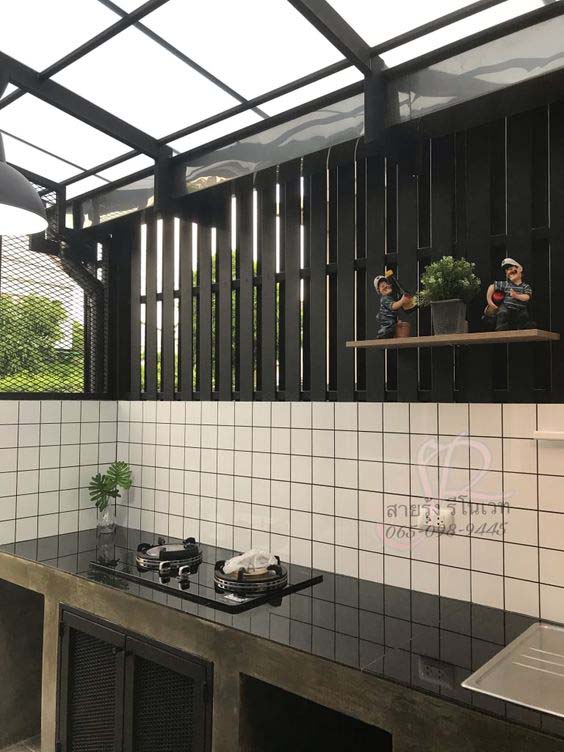 The rustic appeal of the slat panels makes the most adorable match with chicken wire screens.
Square subway tiles and black marble countertop keep the design simple and easy to be maintained.
42. Illuminate Your Sunroom with a Slatted Ceiling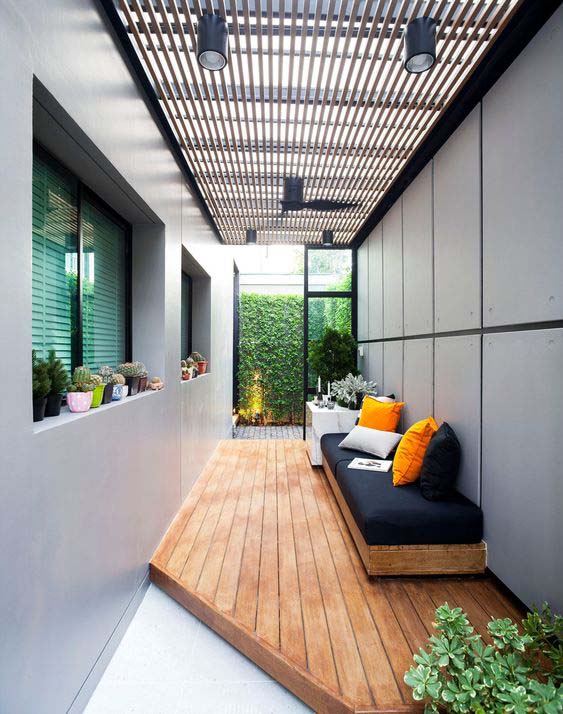 This corridor has once been part of the outdoors.
With metal panels, a deck platform and a glass ceiling with lamella cladding, the exterior turns into a covered space for comfortable relaxing under natural light coming through the gaps between the slats.
43. Staggered Planter Upgrade for Slat Fence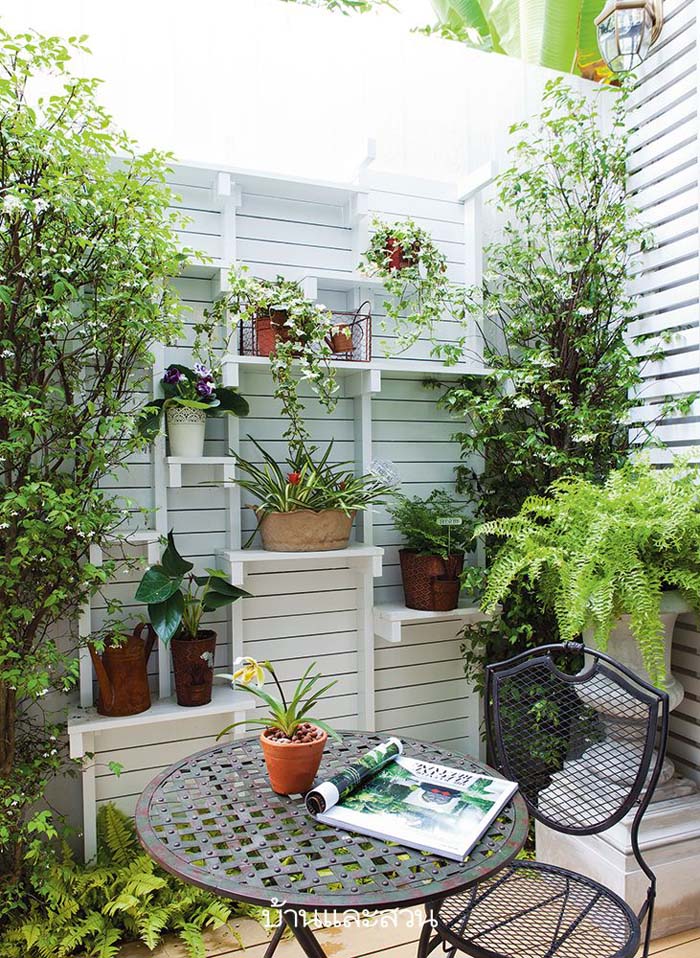 The slat fence can be upgraded with a staggered planter. Left-over slats trace the vertical support of shelves placed at different heights.
They can be made from any wooden material, including reclaimed pieces as long as it is in good condition.
44. Give a Kitchen Fresh Air with Slat Windows and Walls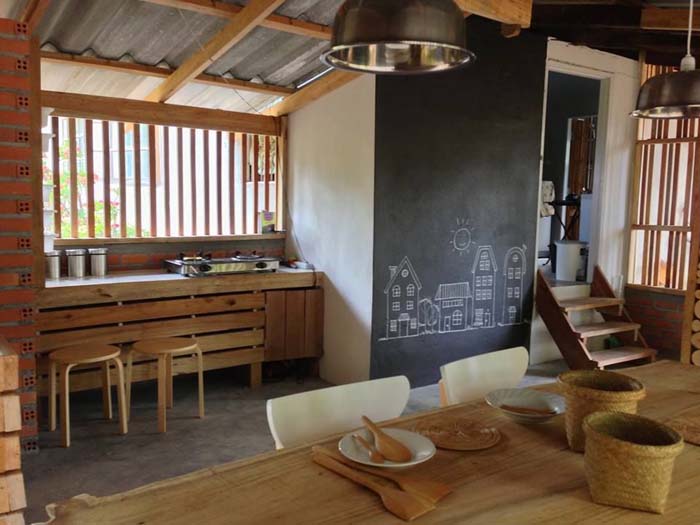 This idea for a summer kitchen is perfect for housewives that experiment with seasonings with sharp smells.
The focus of the design is openness and ventilation thanks to the slat panels covering the window spaces and part of the walls.
45. Turn Exterior Corridors into Inviting Sheltered Spaces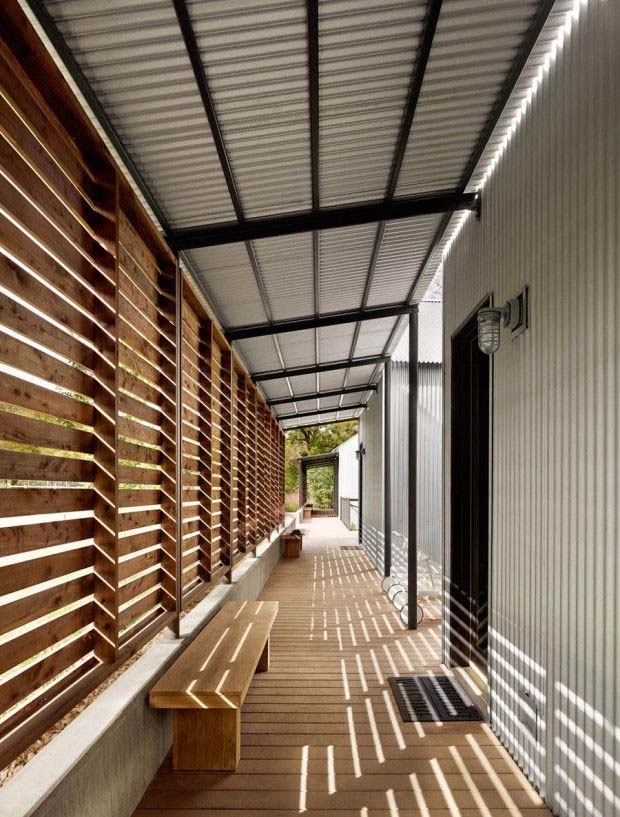 This is another idea of utilizing part of the exterior into a comfortable sheltered space.
Acting as a corridor of a multi-family house or of a hotel, this is the place where a person can sit for a while or simply take off their shoes. The wall built from slat panels lets the corridor air out and the natural light come in.
46. Add Artistic Flair with a Chic Vertical Slat Wall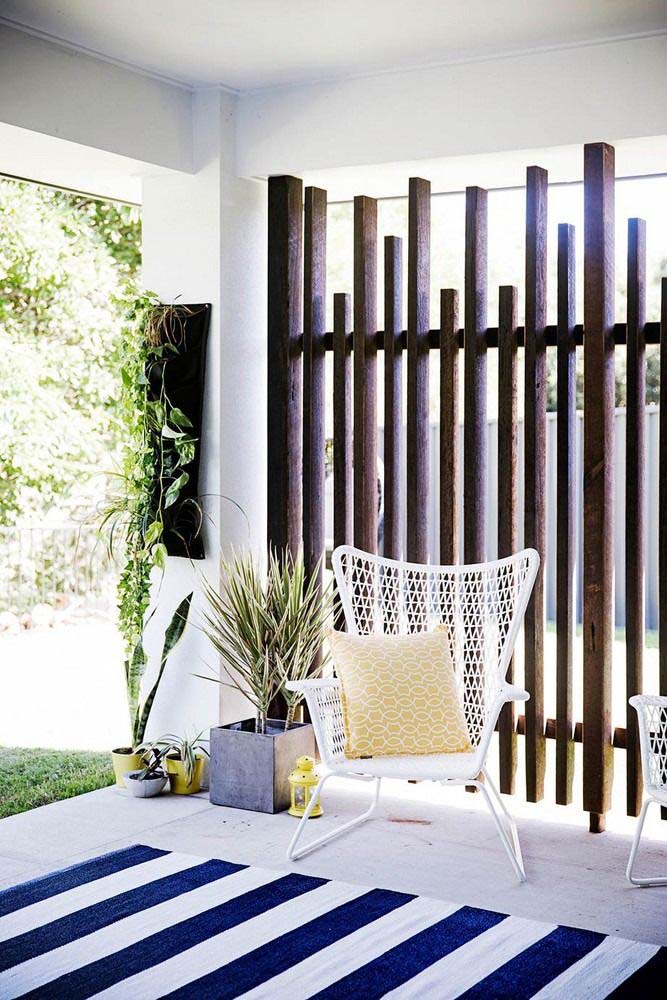 Isn't that porch wall a chic idea? The gap between the support columns is filled with vertical slats ending at different heights.
The stain and the gaps between the wood create an interesting collaboration with the white color of the surroundings and the natural light.
47. Be Bold and Creative with Slatted Stairway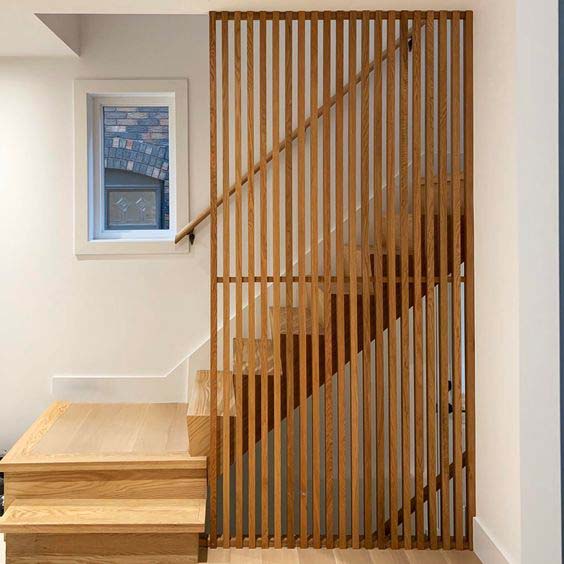 The slat partition here removes the need for a railing as it goes all way up to the ceiling.
The color of the slats is the same as those of the stairs to unite the elements in a stylish way.
48. Bring Comfort and Style with a Unique Slat Wall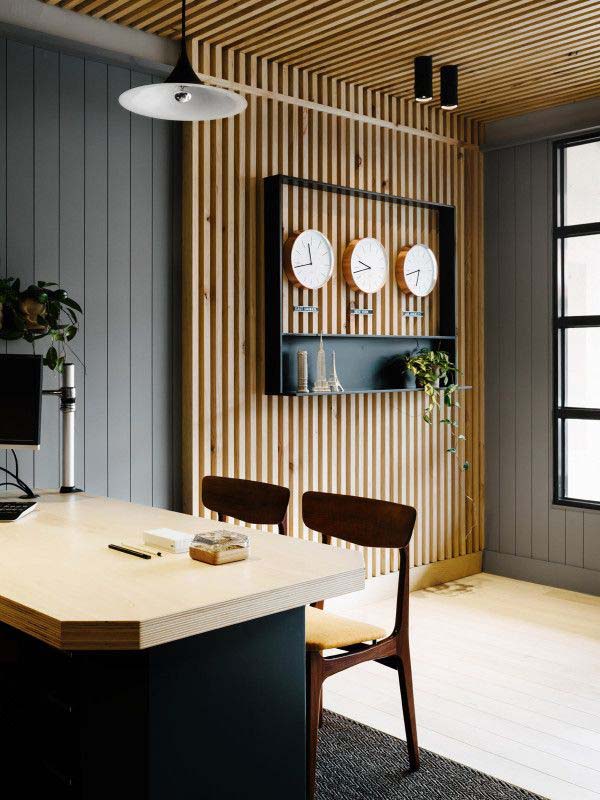 Pinewood slats are usually used for decorative cladding of walls or ceilings.
They create a special and cozy atmosphere. When placed over a dark wall, they become a focus that relates to nature.
49. Bring a Zen Vibe with Stylish Slat Shutters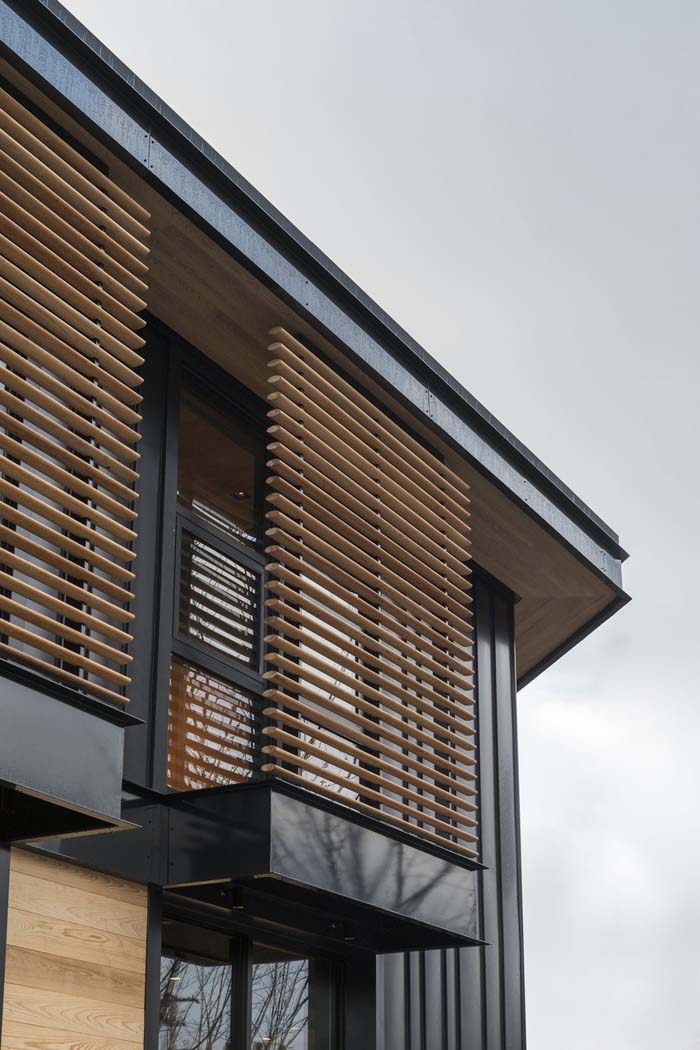 Cladding the exterior of French type of windows with lamellas with gaps ensures good lighting, panoramic view hidden from the eyes outside.
50. Unwind in Total Luxury with a White Slat Pergola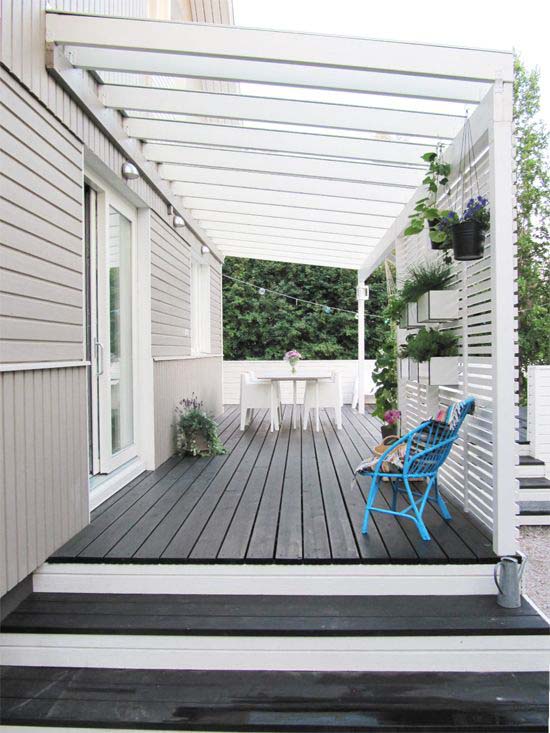 A modern design doesn't mean extraordinary supplies and colors. On the contrary, simplicity is usually at the core of interesting, appealing and stylish.
The deck and the pergola structure are made from wood boards and slats. What grabs attention in this DIY porch idea is the color combination- grey, white and black, an evergreen classic.
51. Add Glamour with Slat Pergola and Privacy Screen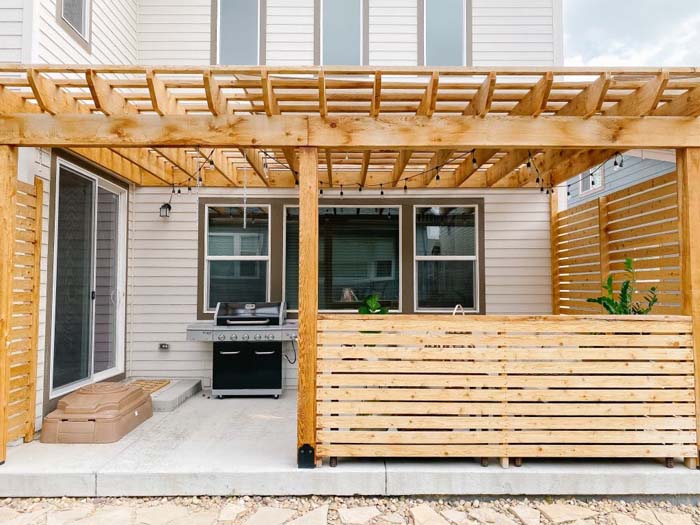 Upgrade your porch with a pergola and privacy slat screens installed by yourself!
Believe it or not, building and installing it is not as difficult as you may think and will cost you much less than purchasing it from a company.
52. Cozy Up with Slatted Partitions and Wooden Furniture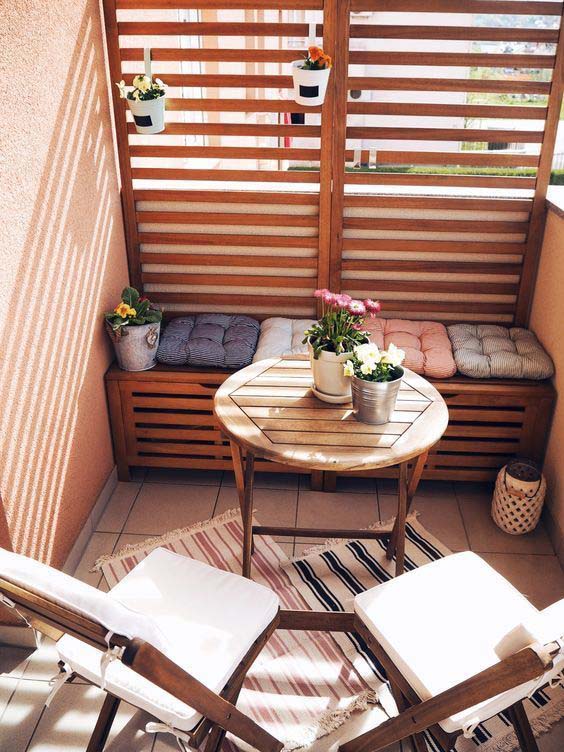 If you don't want to limit the sunlight and air on your balcony but yet want to feel protected from neighbors' eyes, add slat partitions on both of its sides.
Wooden furniture with slats will complement the cozy vibe created by the slatted wall and all together will make the balcony look and feel homely.
53. Extend Backyard Fence with Wooden Slat Panels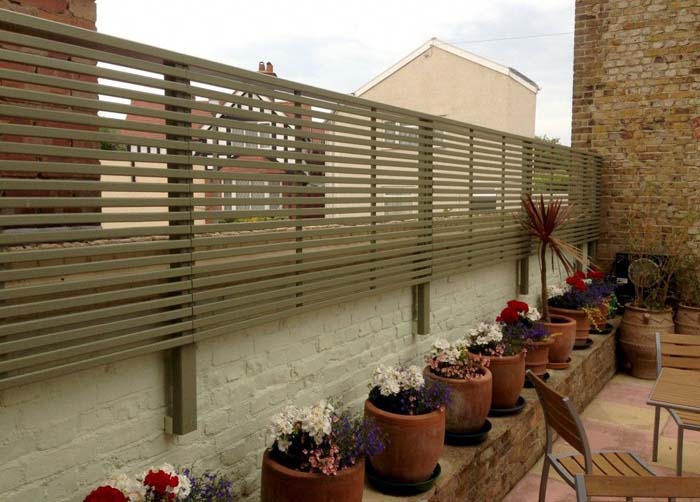 When you already have a backyard fence but it is short, you can extend it with wooden panels. Screwing them in a solid structure is not difficult if you have the suitable hardware and tools.
Depending on the decor, the slat panels can repeat the color of the existing fence or stand out against it to match another aspect of the exterior.
54. Add an Invigorating Verdant Slat Arch to Your Patio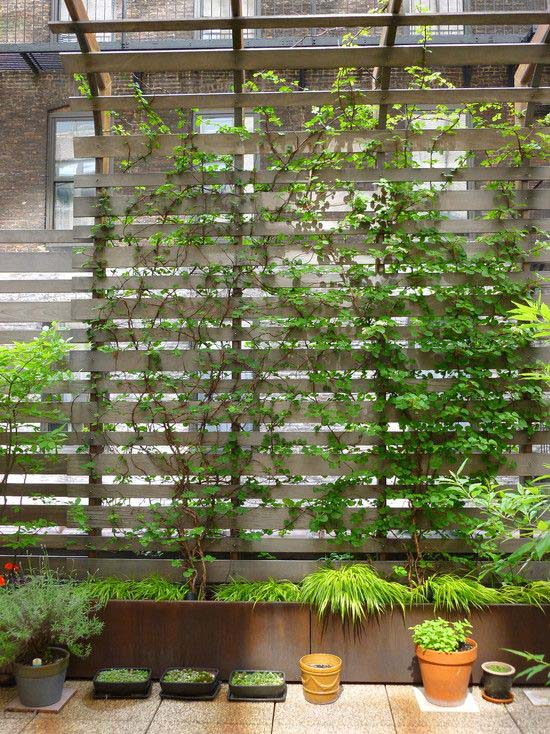 Large planters with greenery let vines grow and climb on a slat arch acting also as a fence. The nature elements seen on all levels create a vivacious feeling.
Once the vines develop well, they will cover most of the arch to freshen up the patio and provide natural shade.
55. Add Intrigue to Your Patio with a Stylish Slat Wall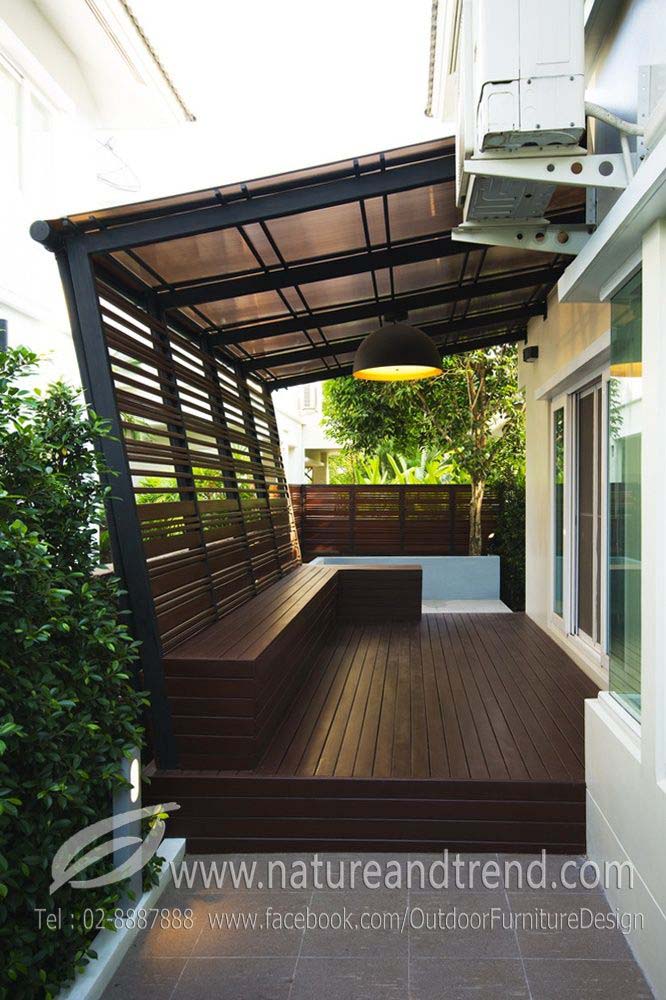 The natural look of this porch blends the exterior with nature. The deck and the L-shaped bench are made from wood beams in a calming deep brown color.
The slat partitions follow the line of the sitting furniture looking as if they emerge from the bench. It is sure that sitting on that bench will ensure relaxing moments.
56. Adorn Your Entryway with a Slat Wall Rack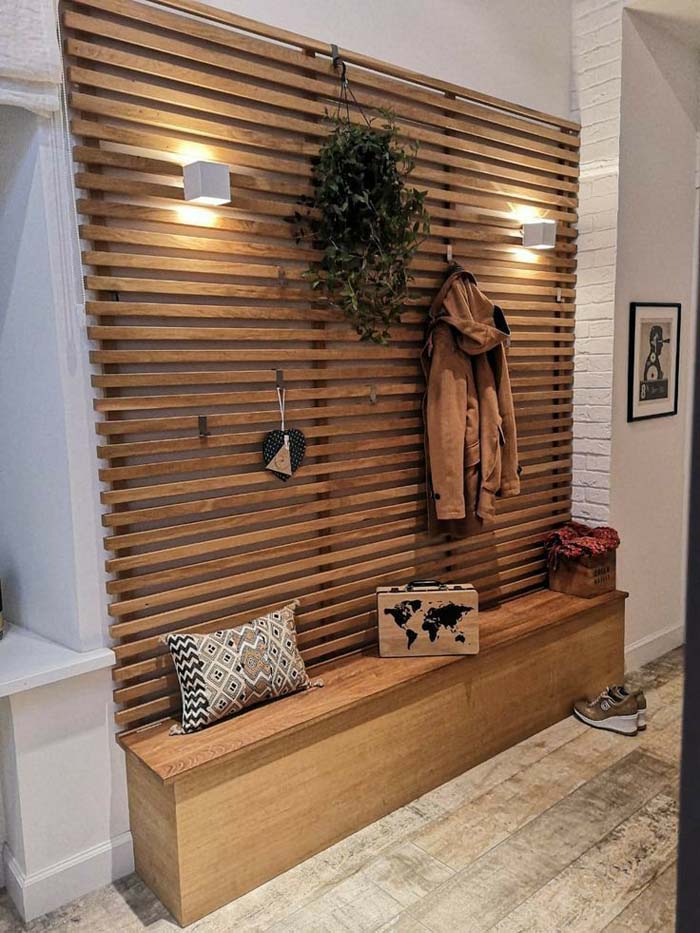 Slat wall racks are very trendy as they are beautiful and very very functional. Although installed on the same surface as a traditional rack, the slat wall succeeds in doing more than just storage.
It acts as a back of the bench, as a display of decorations as support for light fixtures.
57. Bring a Farmhouse Feel with Customized Slat Shutters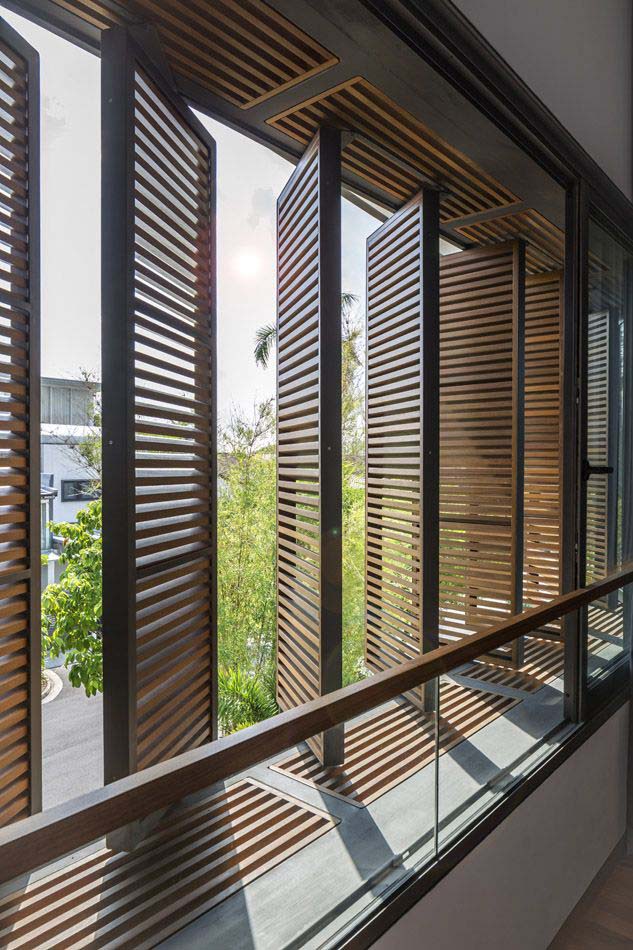 These look like window shutters but actually, there are no windows. These are slat panels that replace the need for walls for rooms created from the exterior.
That could be pieces of the backyard or the balcony, in all cases, they add privacy and let you adjust the extent to which you want to see the outside.
58. Enchanting Scene with Patio Screen and String Lights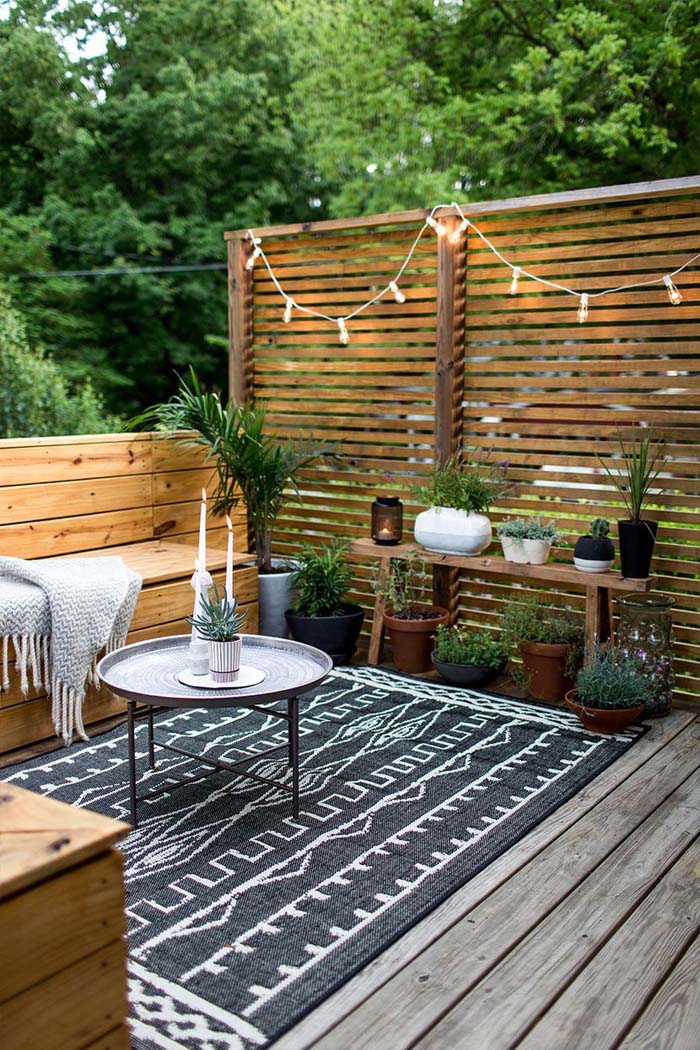 Give your patio a special touch with the slat partitions.
Although made of simple and affordable materials, they do so much! They give this outdoor space a cozy feel and look as if you are inside the house.
59. Elevate Your Coastal Style with Vertical Slat Porch Fence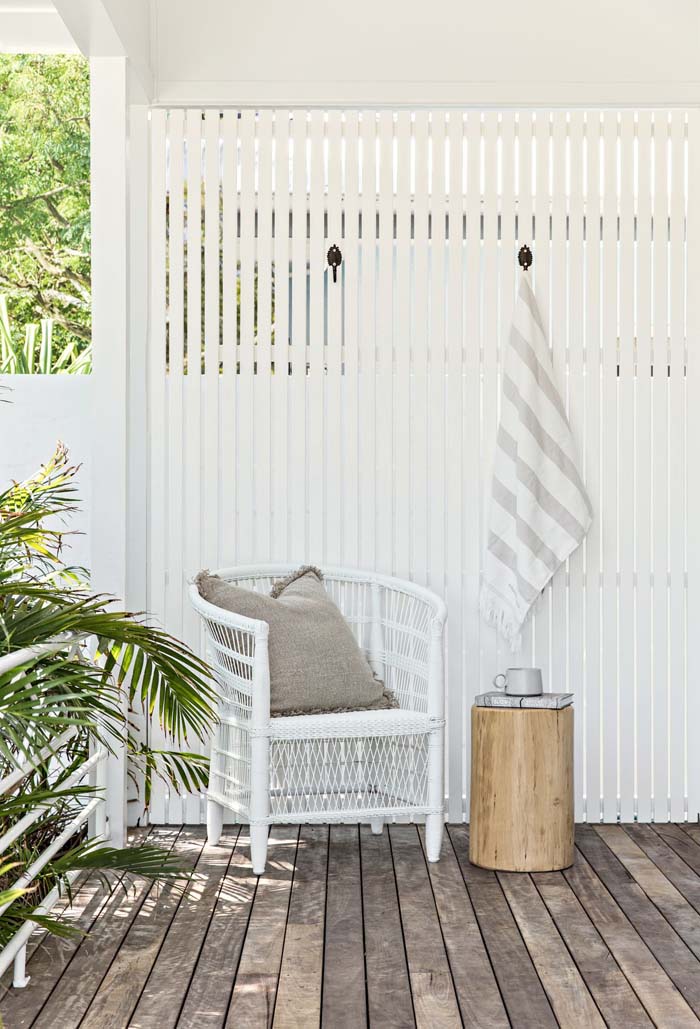 Enhance the relaxing vibe of your coast-inspired home with a porch fence from vertical slats. The white color gets in the concept of the appealing and addicting nautical style.
When combined with wood, it makes any space more comfortable, relaxing and unique.