Decorating your home yourself is a challenge and most probably you face the problem of finding the best proportions of functionality, coziness and style.
The right combination is most often not related to money. You may spend hundreds of dollars on stylish furniture and decorations, however, when you take a look at the room you get the feeling that something is missing.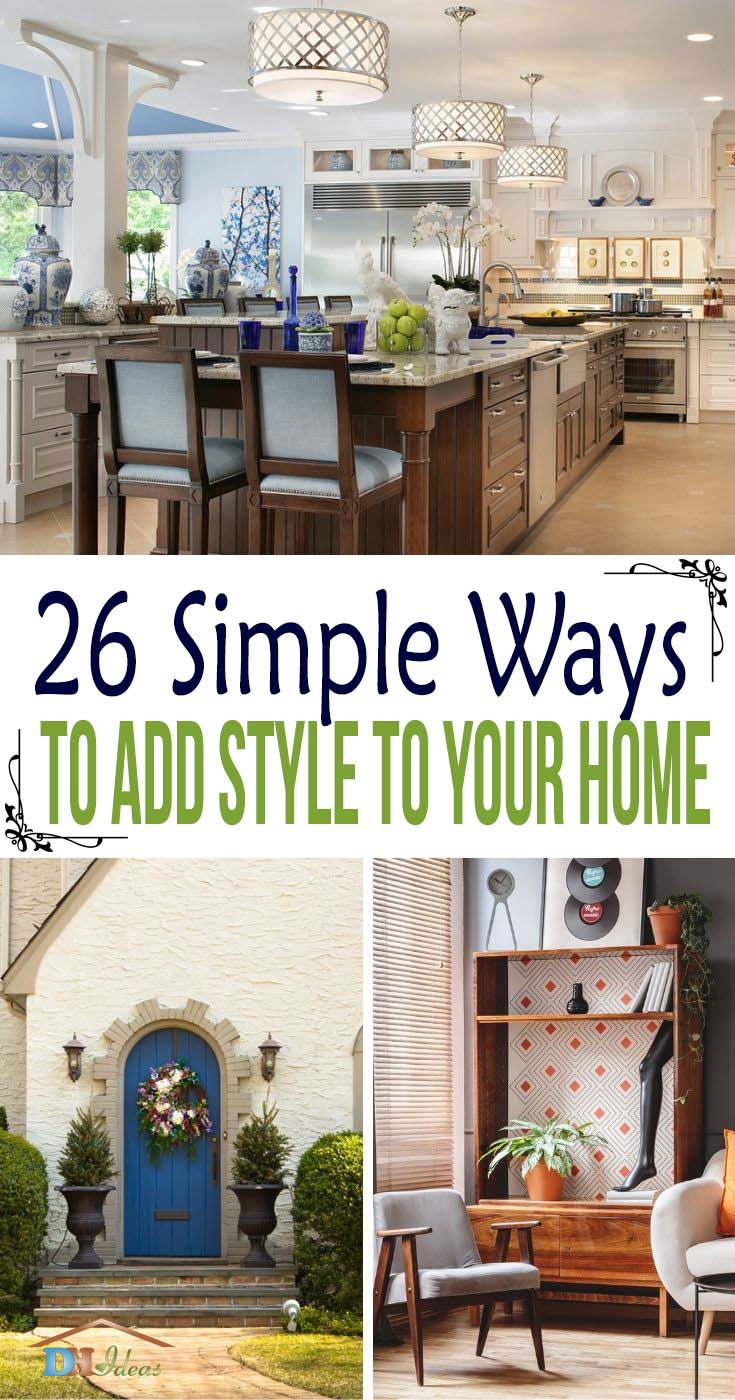 Before spending more money on decor items that may not work on improving the interior, the situation can be solved by implementing a few small tricks. They are quick to do, budget-friendly and impressive.
Go through the tips below and see how quickly you can turn your home into a more stylish place with no effort at all.
1. Add Natural Beauty to Your Living Room with Plants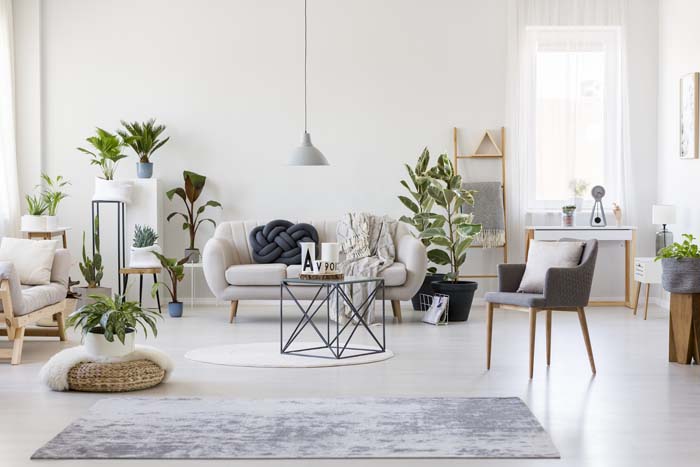 Plants are considered a great and easy way to upgrade any living space. Along with the well-known benefit as purifiers of air, they also add style to the room. The characteristics of the plants can be used to create points of interest. You can experiment with the varieties of kinds, sizes, shapes, heights and colors when using the plants as decorative pieces.
Fill empty spaces, decorate side tables, define a zone, possibilities are many but one thing is certain- plants will enrich the interior with natural beauty.
One piece of advice that shouldn't be underestimated- when you choose the place for the pot, make sure that it is good for the plant kind to feel well and to grow.
2. Personalize Your Space with Books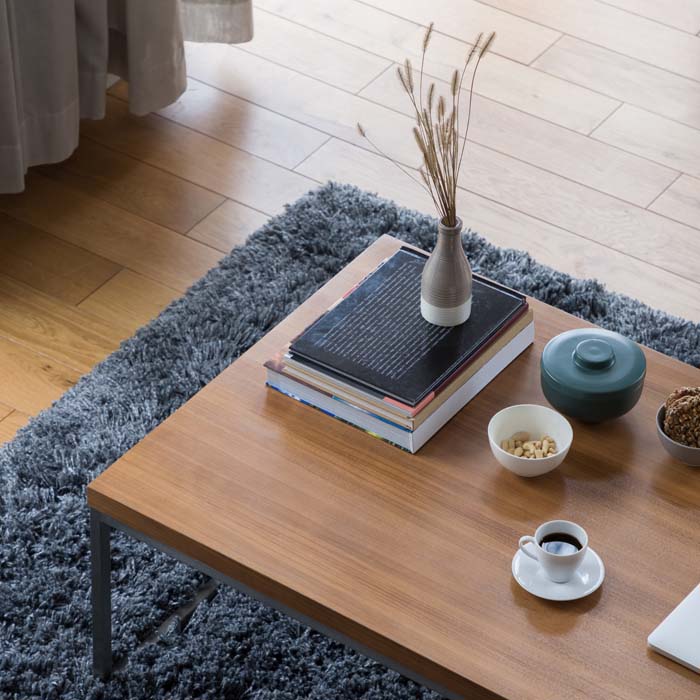 Books are a must in the interior. They not only add style and speak for sophisticated taste but they also ensure great entertainment memories with your guests.
When you create your own library, include books that you love but don't forget to give your guests a variety of choices by adding different genres.
You can keep the books on the bookshelves or bring them closer to the gathering by stacking them on the table. Apply the rule of three to form the piles and combine them with decorative elements like a vase, for example.
3. Transform Your Home Decor with Simple Items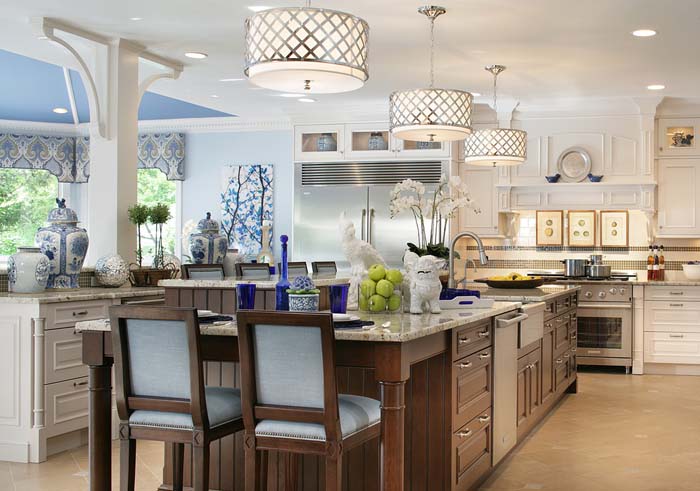 Make a bunch of items you have on hand to create a room's focal point. Fruit is one of the best items as they come in bright colors. Vegetables will also work and why not stones, pinecones or wood pieces?
Put the identical items in one big transparent container like a glass vase or a bowl and place it in an apparent place. In the kitchen, that place could be the island or the countertop. In the living room, the best places are the table, a shelf, the mantel.
To achieve an impressive visual effect, make sure that you keep things simple- one and the same element and simple container.
via Ulrich
4. Add Personality to a Home with Conversational Pieces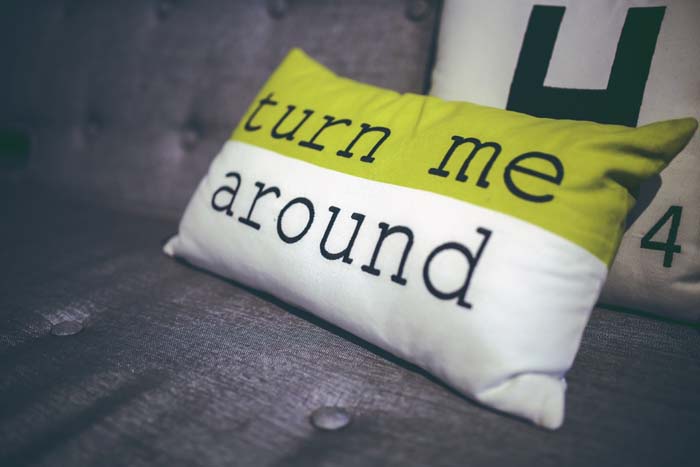 If you want to impress people with conversation pieces, you should be careful with their place. Place them against a neutral background so that they easily draw attention.
No need to worry about what piece would be worth displaying. As long as it is dear to you, showing special memories or being related to them, it turns instantly into a conversation piece.
That could be a picture, a pillowcase with a special phrase, a sign, even a piece from the thrift shop.
5. Make Your Home Feel Refreshed with Fresh Flowers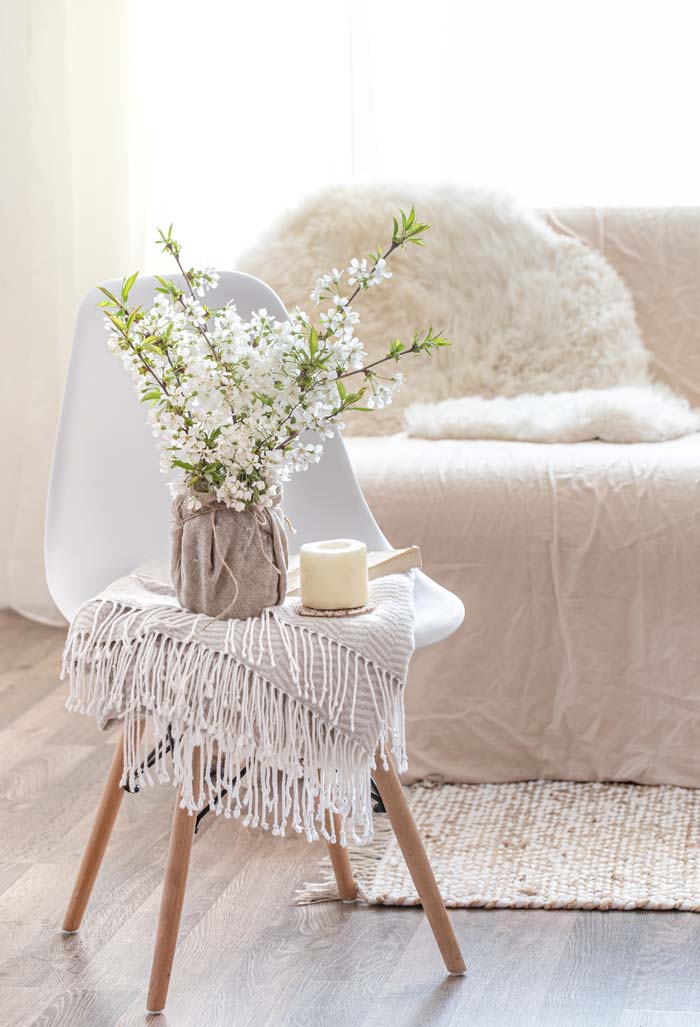 Flowers always make things better and that is also applicable to the home interior. Whether taken from a street vendor or from the garden or a combination between these two, put them in a vase and place it somewhere not too central.
That will create a casual look, especially if the bouquet kinds are mismatched. The texture, the colors and the scent from the flowers will be easily noticed. The random placement will help creating an impression that you decorate your home with flowers all the time for the pleasure of yourself and not to impress others.
6. Get the Perfect Decor Look with the Rule of Three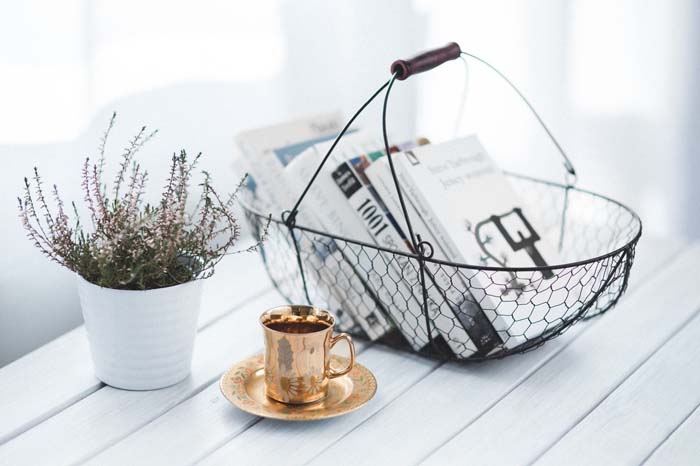 If you have read enough about home decor, then you know that there is a golden rule of three. When you create a decor arrangement, include three items.
The trio will be easily noticed, it is more attractive visually and creates a style balance. There are no other limits- you can play with the heights, the sizes and the materials of the decorations. Just keep them in the same style.
The first place you would like to try implementing this rule could be an empty corner or the dining table. Once you have put the arrangement in the place, take a good look to assess if you have achieved the searched effect.t.
7. Add Texture and Definition with a Hobbies Corner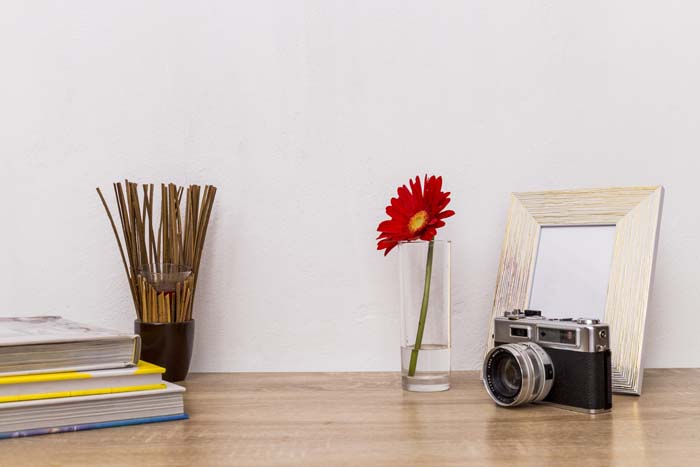 Use your hobbies to give your home a personal touch. They deserve a special place in your interior as they easily describe who you are.
Don't be shy to display a photograph you have taken, a painting you have done or a hand-made decoration. If you have displayed your photos, you can even add the camera next to them as part of the journey of getting to know you.
Such personal items will act not only as great decor additions but also as discussion topics. Choose the places for your creations according to their size. Leave them on a shelf or hang them on the wall. The bulkier things can be left on the floor. This is the most effortless hack to upgrade the style of your home.
8. Repurpose Your Fireplace with an Unconventional Hack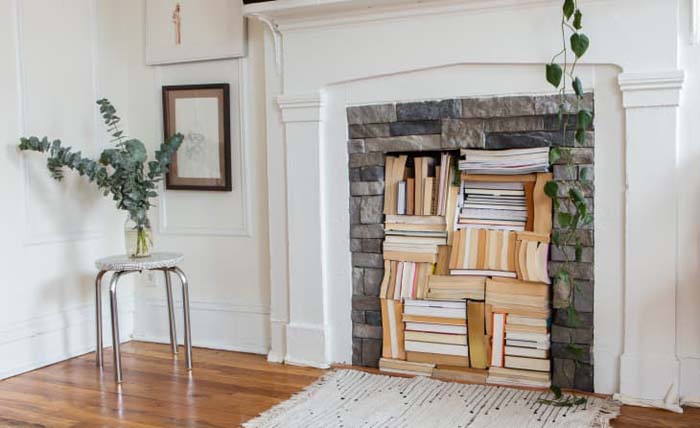 If you have a fireplace, then you know that you can use it to style up the interior in any time of the year. When the days are warmer and you are no longer using it, you can fill it with faux logs. This is the classical touch.
It would be far more intriguing if you put anything different than logs. The image speaks clearly about this tip impact. You can apply the hack to other parts of your home like windows with partial or no view, corners, niches. Place unexpected items there to add style to the space.
9. Get Creative with a Whimsical Wall Decoration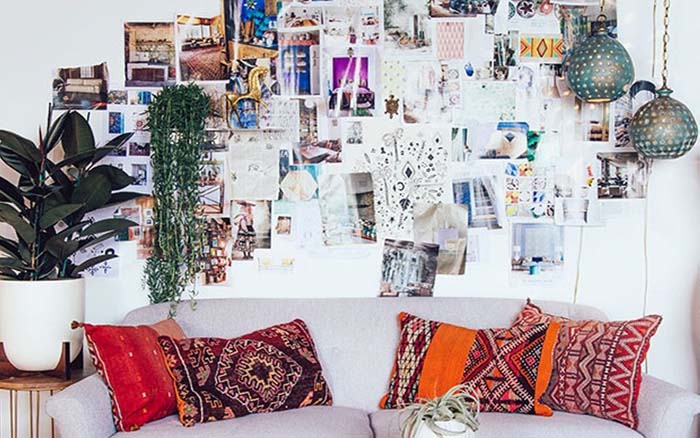 There are many people who leave their walls empty. Some of them can't afford real art, others don't want to damage the wall surface. There is another group of people who believe that wall decoration gives the home a cheaper look.
Well, that is not true if you find the right pieces to hang. That can be family photos, art posters, replications of classic paintings. They can be with or without frames. This doesn't matter. The point is to choose the piece that fits your interior and evokes feelings and inspiration in you.
If you are one of the crafty people, you can try making your wall collage from magazine pages. The inexpensive supplies can be joined together with tape. You can experiment with the theme, the colors and the size of each page to create a unique art piece.
10. Bring Rustic Charm with Woven Baskets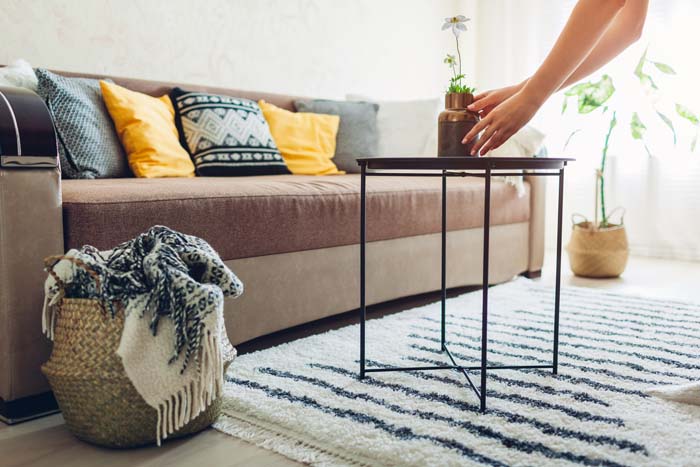 This style hack will be very helpful especially for living rooms in farmhouse or rustic style. Baskets are perfect for storage of bulkier items like pillows and throws or just for a quick declutter of the room before guests arrive.
Their effect on the interior can be improved if you increase the number of baskets and place them at a few visible spots. You will quickly realize that they give the interior an exotic touch. Having more of them requires keeping them in the same material or in the same color to help them blend with the existing decor.
11. Improve Your Home Decor with Placemats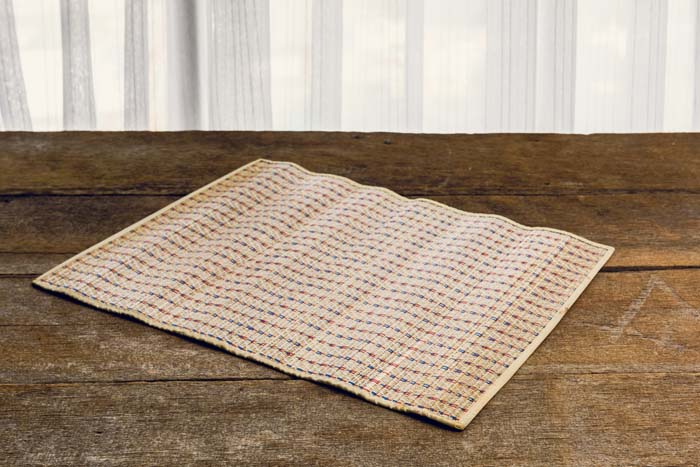 Placemats could do wonders with the style of your home! Even when you don't use the table at the moment, leave them there to create the illusion of tidiness and organization.
You can choose from variety of colors and textures of placemats so you can also save the problem with the boring interior or when it is missing a pop of color.
Placemats are usually cheap but if you want to save money and give your dining table a personal touch, why not make them yourself from fabric or useless sheets?
12. Avoid Dust Build Up in Your Home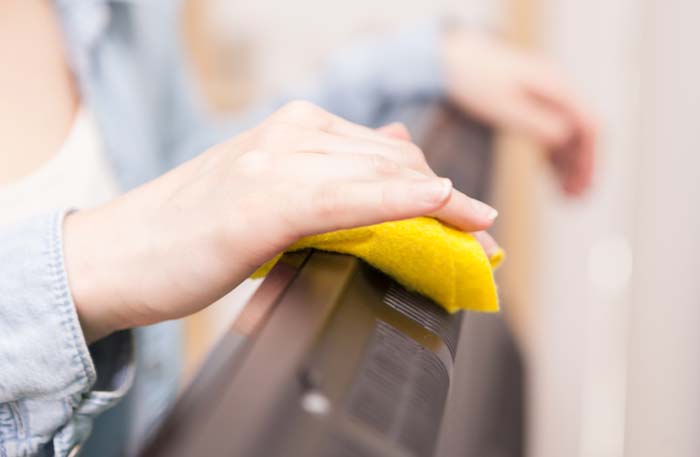 Dust is the style killer, especially on darker and polished surfaces where it gets more visible. Although you may have cleaned it one or two days ago, seeing it accumulated again will ruin the general look of a neat and cozy room.
Make a test for yourself and have a thorough look all over your home to spot the surfaces that are more visible in the daylight and swipe them more often.
Turning this into a habit will let you feel less stressed when guests stop by. If you find it difficult to turn swiping off the dust as a part of your daily routine, you can leave a package of wet wipes close to the problematic areas to let yourself be reminded.
13. Create a Cozy Look with Throws and Blankets on Sofa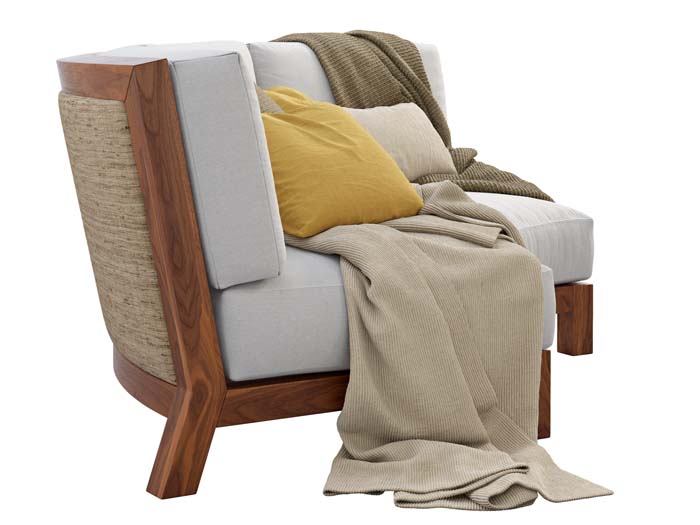 How do you imagine cozy and warm? Laying on the sofa under a soft blanket with your beloved one. Throws and light blankets have the ability to make a room look homely and cozy.
You probably also know that they can be used as an interior accent. This is one of the most effortless and budget-friendly hacks for adding texture and color to a room.
You can find throws in many fabric patterns so matching them with the existing interior will not be an issue. Another hint for enhancing the warmth of the space with a throw is to throw it a bit loosely on the sofa. When there is more than one blanket, try different placing to get the best look.
14. Add Glamour to Your Bathroom with White Towels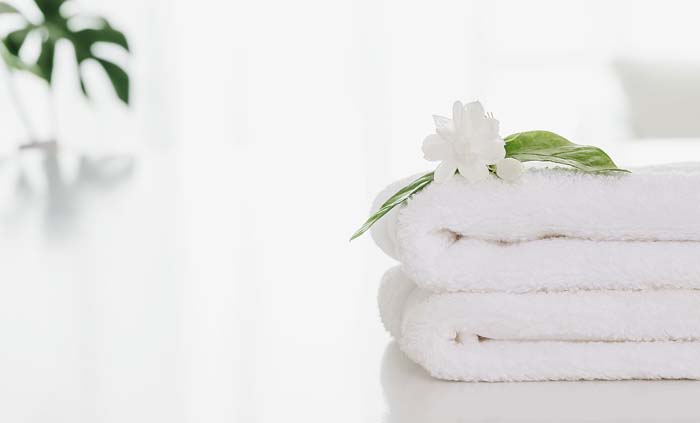 Another idea that will quickly make your home more stylish features a simple hack for the bathroom. Replace the colorful towels with white ones.
They naturally create a fresh and clean look. Put them in a pile that is easy to be accessed to effortlessly show your hospitality. You can add a terra-cotta pot with a faux bonsai tree to improve the elegance and create a spa-like interior.
15. Spruce Up Your Decor with Multiple Layers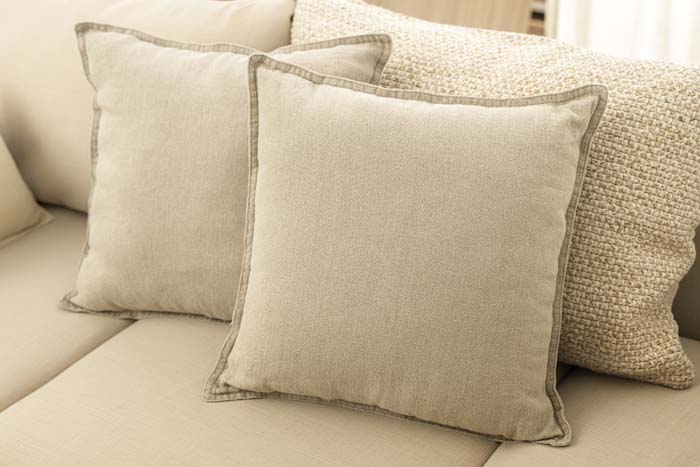 Have you ever noticed that design magazines tend to show sofas or beds with layers of pillows? Well, this is a hack that works flawlessly on getting a styled look.
To practice this trend, start small and continue adding layers until you get satisfied with the dynamics, feel and look of the place. A great place to start with is the sofa playing with the sizes and textures of pillows. You can continue with the floor placing layers of rugs and carpets. There you can experiment with the colors, the textures, the materials and the sizes.
16. Customize a Home with Combinable Carpets and Rugs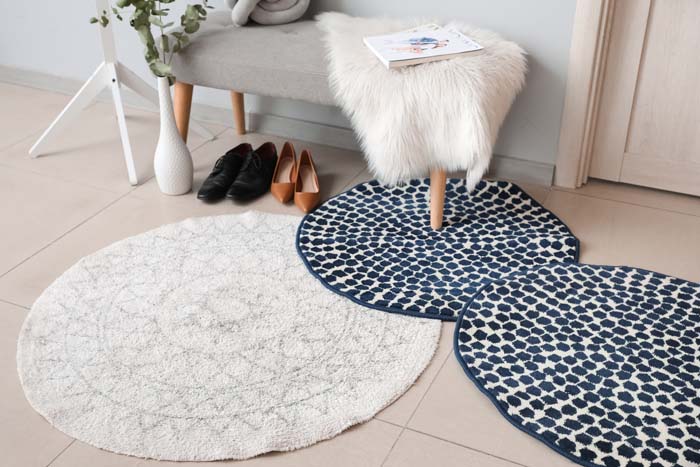 This is a hack that comes right from the professionals in home designing. Instead of spending a lot in getting one complete carpet customized for the size of the room, you can combine many carpets and rugs together.
The first advantage is sure the lower investment. Secondly, you are not limited to one pattern only. You can be bolder by layering a small textured rug on top of a neutral carpet or rug to make the whole room look more stylish and feel cozier.
17. Add Imprints of Your Personality to Your House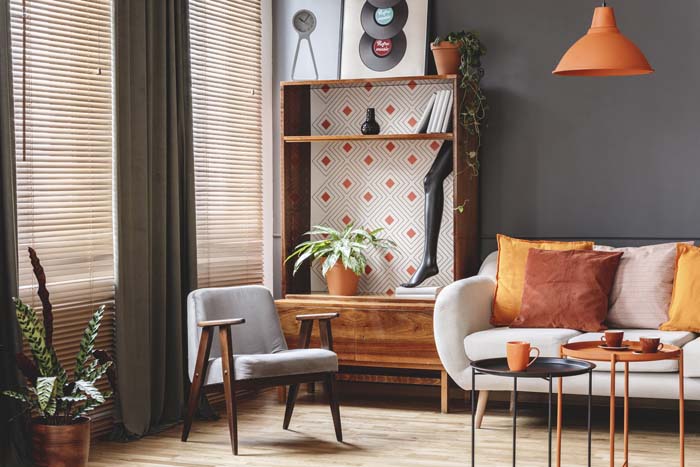 The most inviting home is the one that reveals the imprints of its owners. The easiest way to make your place stylish and unique is to add more pieces and touches that reveal who you are.
You have probably noticed that artists tend to show their work or hobbies around their homes. Their places feel like tailor-made but actually, it has been the owners that have given special life and look to the building.
When you decorate your place with things you like or make, you will see how it transforms and makes you want to spend more time in it. And if you love your home and feel good in it, then it is no doubt that your guests willl be impressed with it.
18. Light Up Your Home with Grouped Candles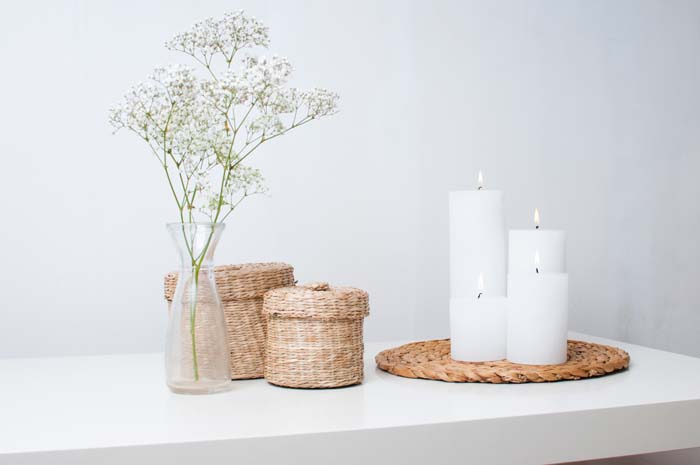 The candles are a symbol of light and warmth and that make them a preferable decoration in our homes. To let the candles also work on the style of your home, gather all the candles you have and define small groups.
Candles arranged in groups are noticed more easily and have a greater effect than displayed individually. You can easily get convinced of this when you light them. The group will provide a stronger glow that will improve the welcoming vibe in the room.
That hack works perfect for evening gatherings or parties. You can also use candles to decorate the entryway of your home as they will create an impression of a hospitality and warmth.
19. Add Intrigue to Your Liquid Soap Bottles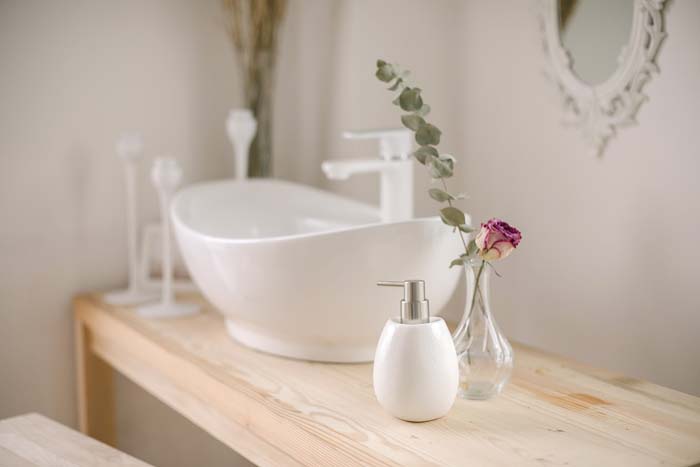 The secret to a stylish and welcoming home is paying attention to the details. The soap bottle is one of them. You can buy one looking fancier and save it to refill it with a cheaper soap.
Transparent bottles are usually easier to be cleaned from the labels. Just soak the bottle in warm soapy water until the label soaks and becomes easy to be peeled off.
To enhance the comfort and the feel for luxe in your bathroom and on the kitchen sink, add a bottle of lotion to hydrate your hands after washing them or doing the dishes.
20. Revamp Your Home by Moving Furniture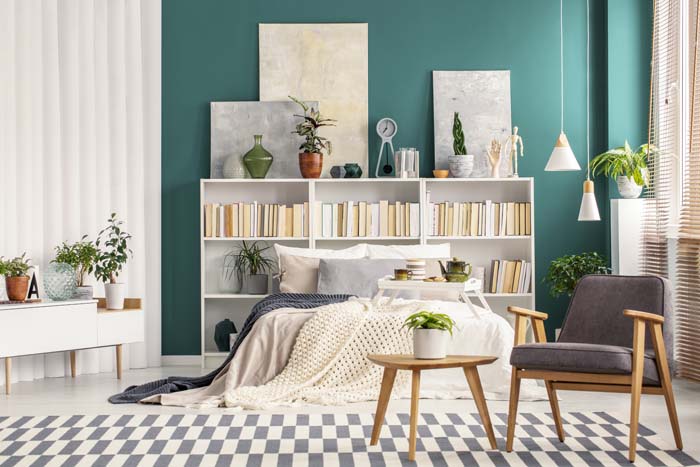 Instead of buying new pieces of furniture, you can swap them over the rooms. We are not used to thinking about this possibility and we keep on moving things around in one and the same room.
Moving them from room to room will create new layouts, new zones and brand new looks. The small sofa from the living room could be moved to the bedroom to give it a more luxurious and contemporary look. It will also make getting dressed and ready for work far more pleasant.
Thus you will free space in the living room for a new rocking chair or a side table with an armchair that will freshen up the room instantly.
21. Paint Your Furniture for a Cohesive Look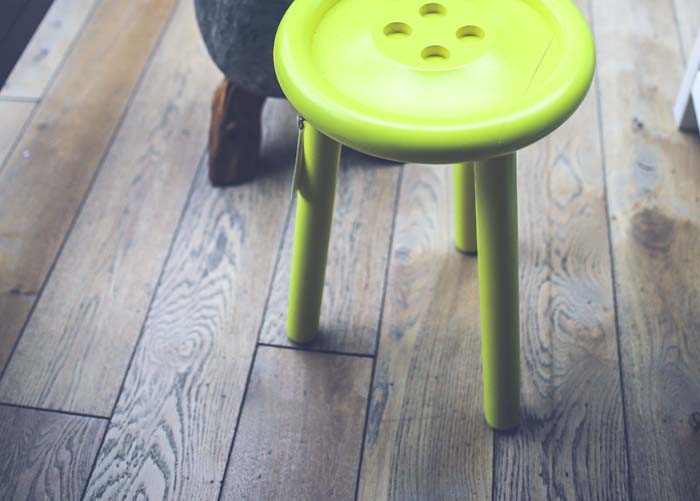 If there are pieces of furniture around your home that clearly don't match together because of their color, style or finish, there is a genius hack to try to change this.
Of they are not many, get them together and paint them the same color. If they are more, choose those of them that are not staying close to each other in the room and give them an identical color. You can use any type of paint as long as it works on particular surfaces.
Once the paint dries, return the pieces to their original places and watch them acting as one united accent to the interior.
22. Use Containers for Your Home Storage Solutions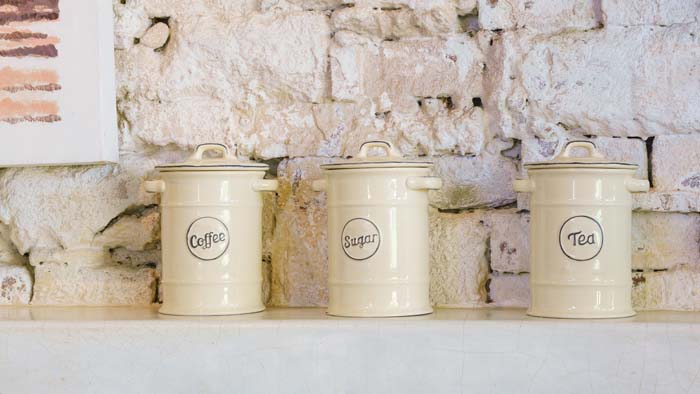 This piece of advice will make your kitchen or pantry clutter-free and more stylish looking. All of the things you tend to buy and leave on the countertop should be removed from their original package and placed in a nice-looking container. Glass containers make an amazing food ingredients display but if you don't find them on a deal, they could cost much.
There are many ideas of how to make yourself customized kitchen containers from jam or sauce jars, tins, Mason jars or porcelain containers.
Since they will all stand on the countertop, they need to be of a matching or identical look to create a neat and organized look.
23. Redesign Your Interior for a Minimalist Look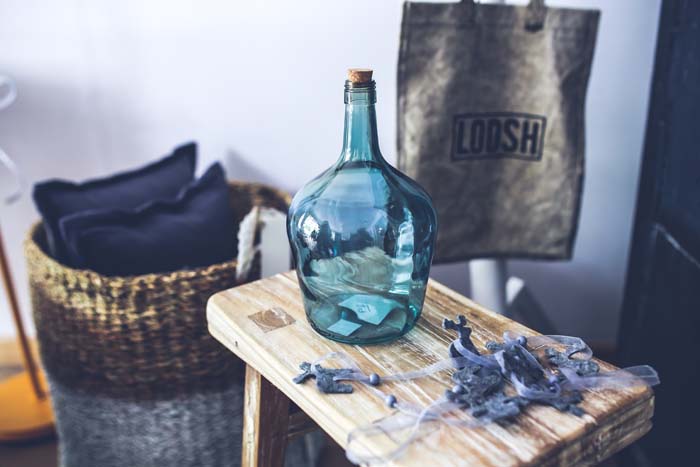 If you believe in the style rule "more is more", then you probably have a thing for the eclectic style. Otherways, you haven't found your style yet.
Eitherways, you may want to take advantage of the next tip that will help creating a more stylish home. Give it a try on a particular room. Take away a few items. That could be wall art, rygs, deocrative accents, pillows, thorws. Stop taking pieces out when you achieve a simpler and cleaner look.
That is the key point when the "horizon is clear" and you can refresh your mind. Now start moving things back, one by one. Take a look at the entire room after every new addition to assess the interior.
Don't worry about ending with a minimalist interior. This hack will help you put things in their best places by rediscovering their value and potential and getting rid of those that create an overwhelming feel.
24. Delight Your Guests with Water in a Pitcher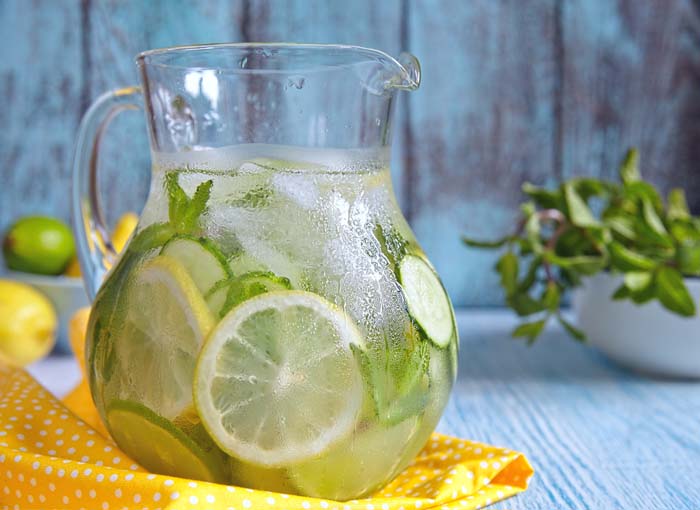 Regardless of the source of the water, serving it in a pitcher will allow easy access to it for all guests. In addition to that, this container looks fancier than a bottle.
When the meal is ready, serve a pitcher with cool water on the table. Add slices of lemon or cucumber to the water for a fresher taste.
The pitcher with water could be handy in the bedroom as well. Water vapors will hydrate the air and will improve sleep. The transparent glass and the stylish shape of the container will enhance the style in the bedroom.
25. Refresh Your Library with Alternating Book Storage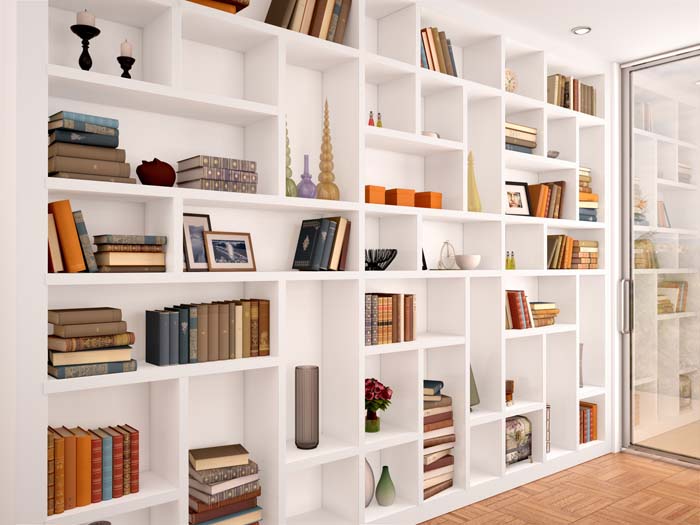 The organization and the neat look are very important. This home hack idea twists this rule to feature an alternative way to store the books on the bookshelves.
Alternating between vertical and horizontal book piles on the shelves will create a bolder look for your own library. Another piece of advice for giving the bookshelves a point of interest is keeping the pattern for alignment random. The strict pattern could create an overwhelming look and ruin the effect.
26. Welcome Guests with a Lush Inviting Entryway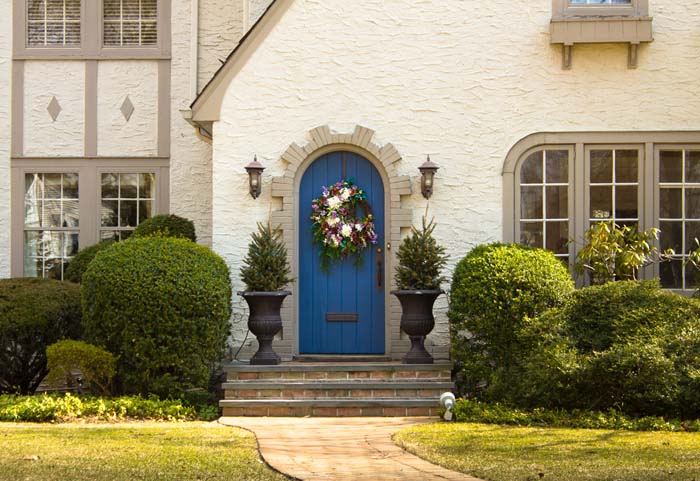 First impressions are made not when people get inside your home but when they arrive at it. Therefore, the outside of your place whether a house or an apartment should be appealing and welcoming.
Treat it with the same attention as you would treat the inside and you would impress your guests. Style could be easily added to the entrance with a seasonal wreath, flower pots, a house number sign.