Are you considering a corner kitchen sink as an option for your kitchen design? Or maybe you are planning a remodel and using the corner for the sink seems like the best idea?
In both cases, we have you covered with all the best kitchen corner sinks available, pros and cons, specs and all the little details that matter.

So first, let's answer your main concern:
Is a Corner Kitchen Sink Right For You?
There is a lot of debating about whether or not to put a kitchen sink into the corner.
The interesting part is that most of the opinions are so polarized that you can't make your mind up without reading a ton of information, but here is the best part:
We will make it easier for you!
Let's start with the basics:
Even though corner sinks can't be compared to regular ones in a matter of benefits they do offer a number of features and advantages that you should know about…
…and probably the first thing that you have in mind when thinking about placing the sink in the corner is space-saving.
Yes, that's the main reason to put it there, but there is a lot more to be considered.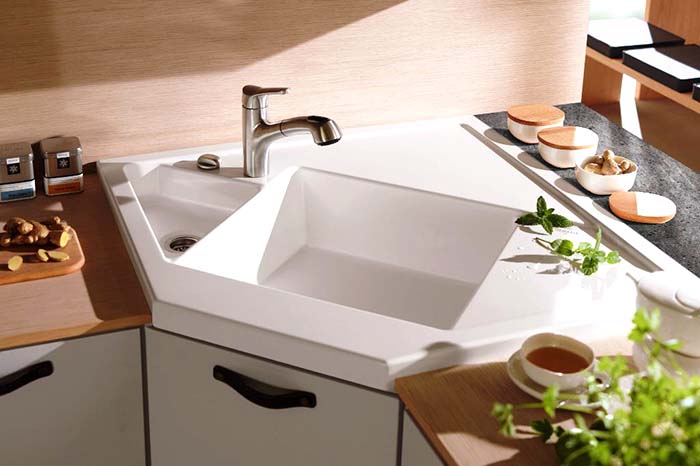 One concern is where the dishwasher would go so that you don't trip over it. Another concern is the large amount of counter space that will be located BEHIND the sink…and even more questions:
How to design corner sink kitchen layout?
Consider all options and choose what's best for your taste and way of cooking.
What to do with space behind corner kitchen sink?
You can put a drying rack, plants, decorations. Be sure that it's within your reach. Most of the time corner kitchen sinks are not too big, so you won't have problems with it.
Is it possible for two people to work together around the corner sink?
Depends on the size of the kitchen, bigger means no problem with more people cooking together. It could be a problem with a smaller kitchen though.
How much space will save with this type of sink?
You can save some counter and floor space, but you'll get a dead space behind the sink.
Do sinks come with tap included?
No, taps are not included.
If I don't put a sink in that corner, what should I put there?
You can put kitchen cabinets or some tools.
What are kitchen cabinet dimensions around the sink?
It really depends on your kitchen layout and design, so it's best to ask your interior designer about it.
Where could I find affordable kitchen corner sinks?
You can find a lot of options at:
Wayfair – hundreds of sink designs
Amazon – a lot of affordable options
Homedepot
I'm sure that by the end of this article all your questions will be answered!
So let's start with the main advantages and disadvantages:
Pros
Here are all the advantages of the kitchen corner sink that you should consider.
More Floor Space
Having more than one person in a tiny kitchen could be a nerve-wracking experience.
In this case, a small corner sink could do a wonderful job.
Since work at the sink is usually immovable, the corner sink gives room for another family member to move around, dealing with groceries or washing the dishes.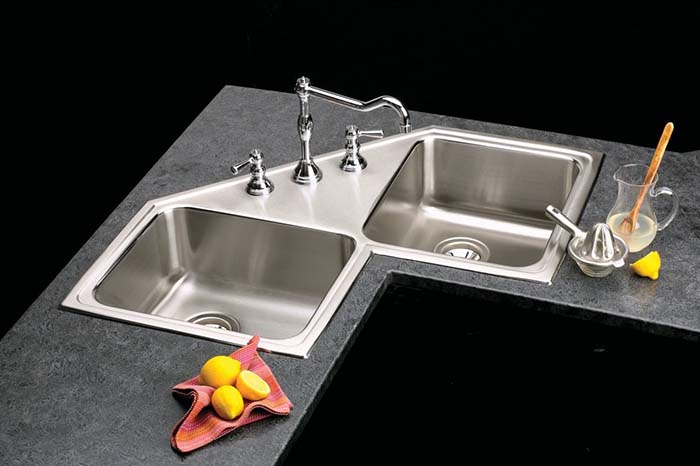 More Counter Space
Installing a cornered sink in the kitchen saves extra counter space and gives you a longer stretch of the workspace. That's essential, especially for very compact kitchen spaces.
This type of sinks works as a natural extension and does not destroy the flow of countertops along the kitchen wall.
If you are lucky enough to have a spacious kitchen, then you can install a corner kitchen sink as an addition to the large, regular one ( always check sink dimensions ). You'll see how useful it could be if you are preparing a dinner for more than 3-4 people.
More Available Storage
Here is another major advantage of a sink placed in the kitchen's corner – it provides you with more available storage.
How? If you choose to install one of those, instead of a large, traditional rectangular sink, you would have more space for a big cupboard and extra shelves.
Better Appearance
With thoughts to appearance, a sink in the corner is surely exceptional and timeless. Takes your kitchen design to another level.
Moreover, its impressive appearance doesn't make it pointless and there is nothing wrong with it as long as it is functional and practical.
More Design Options
In the kitchen where the space is very limited, we need to plan well, think thoroughly and use every inch in the most practical and appealing way. Of course, buying a kitchen sink is a big deal, and you must consider all the opportunities you've got. Searching for product guides and recommendations is one of them, especially if you are looking for a corner kitchen sink with unique design solutions.
The corner kitchen sink definitely creates opportunities for a more flexible design.
No More Dead Corner Spaces
Say NO to the dead spaces in the kitchen! The corner sink easily fills unusual niches that otherwise would have drooped.
Cons
As with every interior decision, the sink in the kitchen's corner has some disadvantages as well. Let's have a look!
Price
To start, it often costs more than the regular sink as it needs to be custom-built according to the particular kitchen.
Moreover, the storage space underneath the corner sink can't be utilized as it often has an odd shape and size.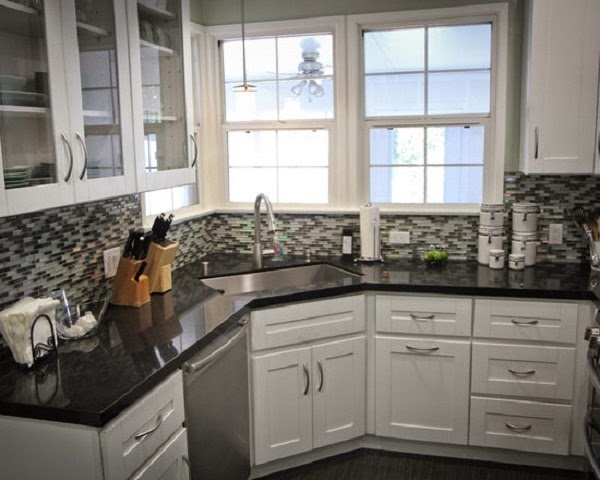 Sink Size Issues
Corner sinks are usually quite smaller compared to the regular ones.
If you have lots of appliances, such as liquid hand-washer, sponges etc., it may be a better option to install a bigger sink (if the kitchen space allows). 
Also, if there are more than 2 people living in the household, it could be a dreadful experience to wash all the dishes in a small, corner sink.
Cleaning Issues
The corner sink surely makes washing a little bit more challenging than usual so if you pick to get one, think onward and come up with a plan. You can either leave the corner empty or use it to store things or to display a few items in a clean and organized manner.
Lighting Issues
Even though it is not a must, it would be practical to have a window over the sink, mainly because of the need for proper ventilation from time to time.
Moreover, the daylight will help you see if there are some dirt or food marks on the dishes.
Worry not, every problem has a simple solution. Under-cabinet lighting can fix the problem and add style to your kitchen.
Staring at the Corner
Some people find it very uncomfortable to wash the dishes against the corner as it looks odd to them especially when there are no windows.
The Dishwasher Challenge
The last cons of the corner kitchen I could think of is the dishwasher challenge. What do I mean?
If you put the dishwasher right next to a corner sink, opening its door will block your access to the sink, making it irritable to stand at the sink and load dishes into the dishwasher.
So plan on well or ask an expert for advice. The best thing is to place the dishwasher about 3 feet away from the corner sink counter's center point.
20 Best Corner Kitchen Sink Designs
Here is a collection of 20 fantastic corner kitchen sink ideas that could give you an idea about your own sink.
1. Stainless Steel Corner Sink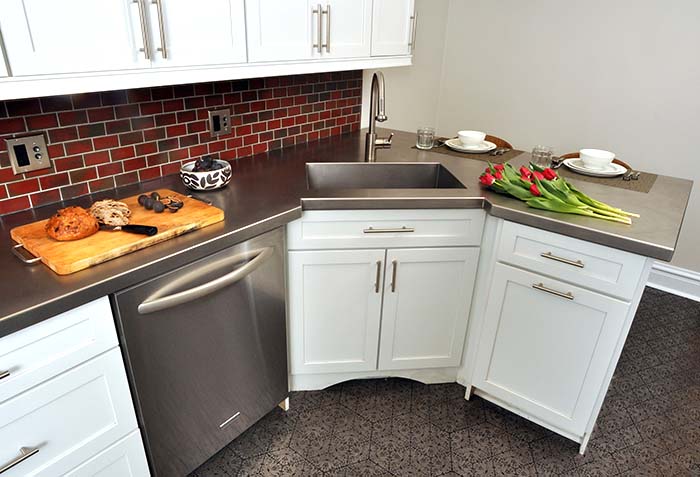 This corner sink is a N.M.Interiors creation and is made of stainless steel to blend perfectly with the countertop. It also saves a lot of counter space and floor space.
All is made from a single steel sheet which doesn't allow food and dirt to get between the sink and the countertop.
Additional space behind this sink could be used for serving drinks and food.
2. Apron Corner Sink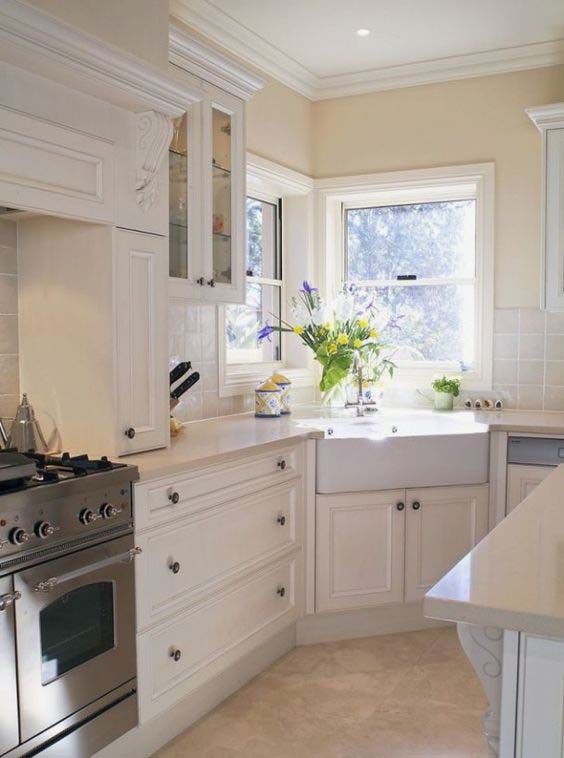 If you are in love with apron sinks, they could fit perfectly in the kitchen corner. Countertops cover the sink on both sides and create a smooth transition.
Having windows in the corner instead of cabinets gives more natural light and makes the kitchen look more spacious. This kitchen layout gives enough room for two people to cook together.
3. Double Basin Kitchen Sink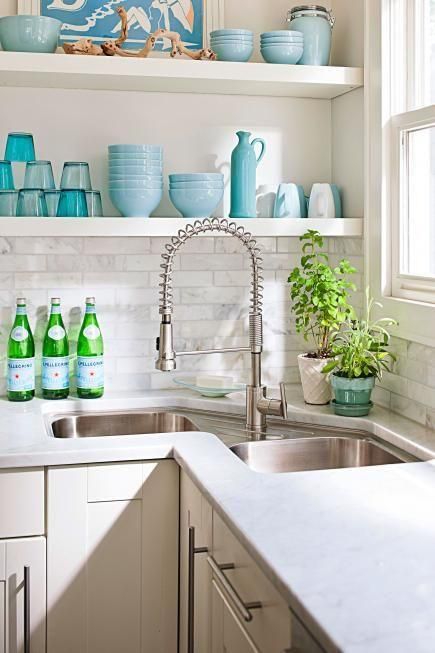 Suitable for tiny kitchens or when the space is limited, so you could make use of the corner part and install this corner kitchen sink. While it looks a bit small, it could handle most of the dish-washing easily.
It's made of shiny stainless steel and contains two basins – in first you can make food preparation, while in the second you could wash dishes. It could save a lot of time on food prep.
The space behind the sink is used for decoration with some plants because they get enough natural light coming through the windows.
4. Dark Kitchen Layout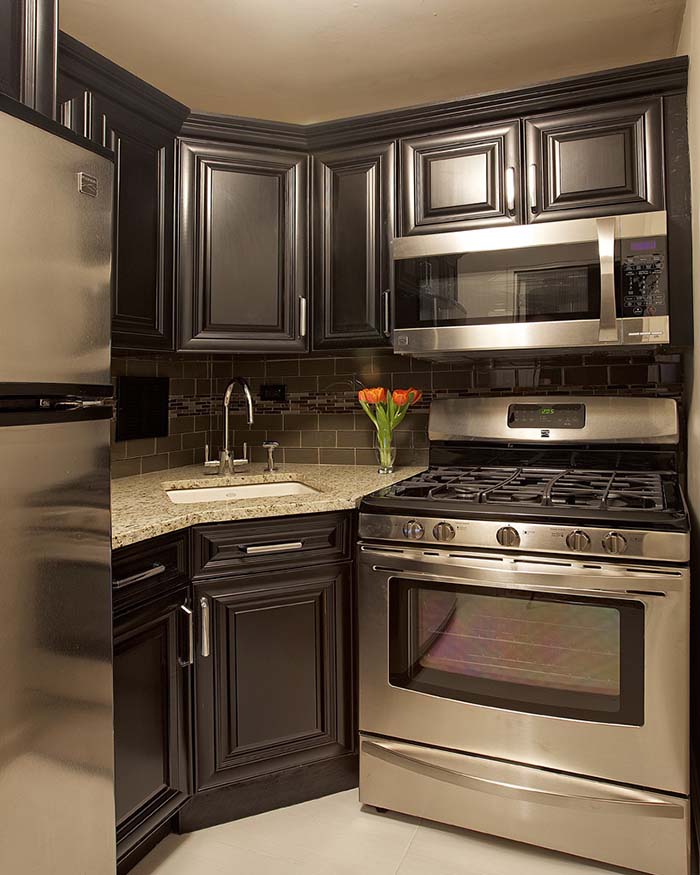 This kitchen design is made by Marie Burgos Design and combines dark wood cabinets with a granite countertop.
The sink is placed in the corner beside the stove and not far from the fridge. It's a single bowl corner sink. Additional over the sink lighting is installed to make the food prep area well-lit.
5. Multifunctional Hexagon Corner Kitchen Sink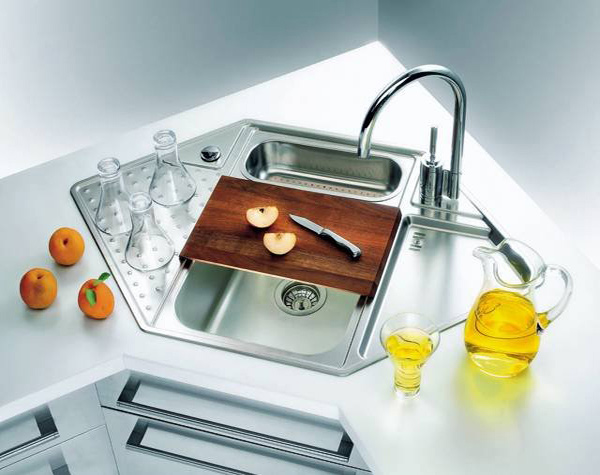 Even though corner sinks are not very spacious, they could offer a versatile working space not only for dish-washing, but also for food preparation. They are also known as corner kitchen sink with drainboard.
There are several different areas for special tasks – each one of them well incorporated in the overall design of the sink. Having a hexagon shape saves a lot of counter space.
6. Copper Corner Sink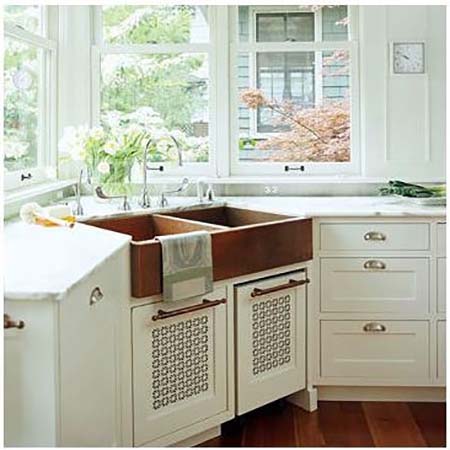 As we have always insisted that corner sinks are small, here is an example of farmhouse sink which is placed in the corner and is really big.
It also has two basins so that you can do all the dish-washing easily. Those big windows are making this kitchen corner sink layout a dream come true for every housewife.
This is another example that shows two people can cook together without a problem.
7. Simple Corner Sink Design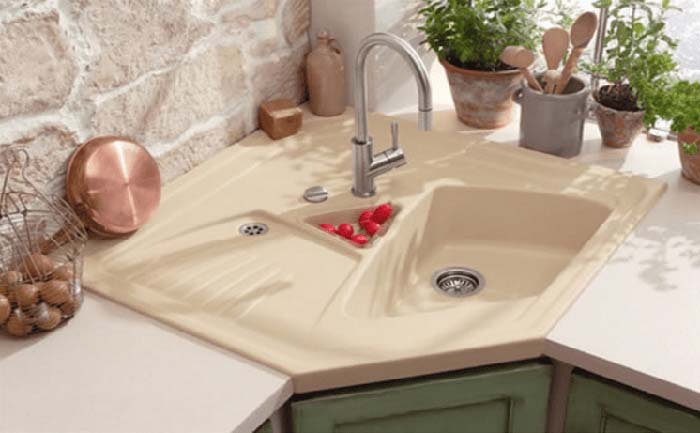 This one is very simple, but yet has some great advantages. It has compartments for washed vegetables and also an area for a quick rinse.
It's big enough to make dish-washing easy and convenient. It also has a drainboard. This one is another big space saver.
8. Open Shelves Kitchen Corner Layout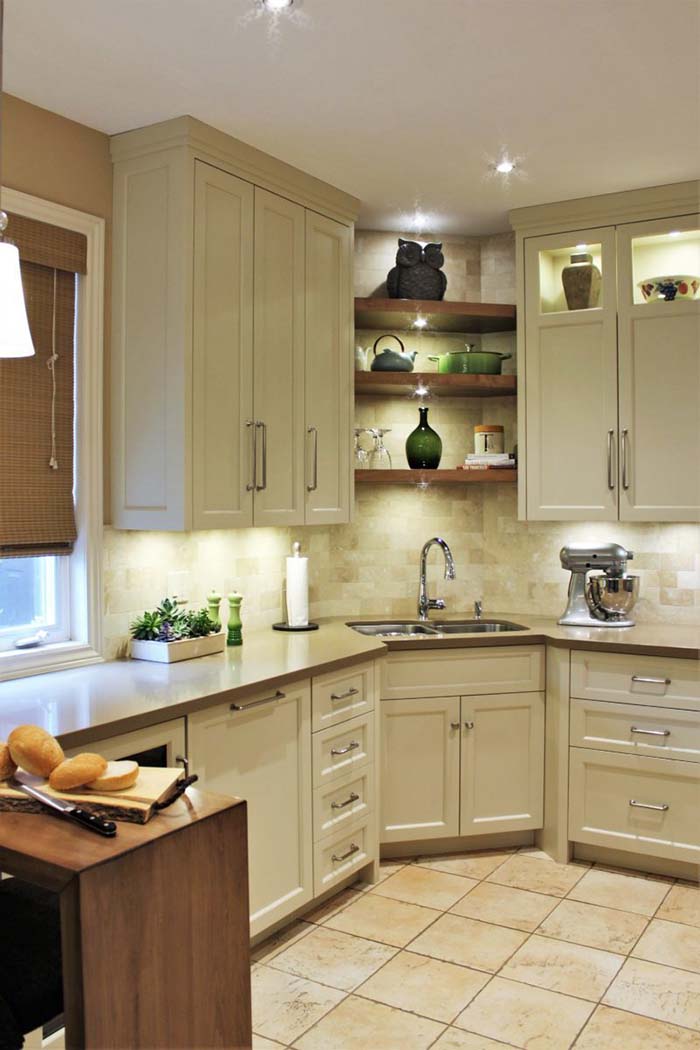 This corner layout is created by Cranberry Hill and what's best is the open shelves concept above the sink. It's a great way to get more storage without spending a lot on cabinets and a nice example of how to design corner sink kitchen layout!
The sink is not getting in the way so two people could work perfectly together. Install additional downlights for maximum illumination.
9. Rounded Corner Sink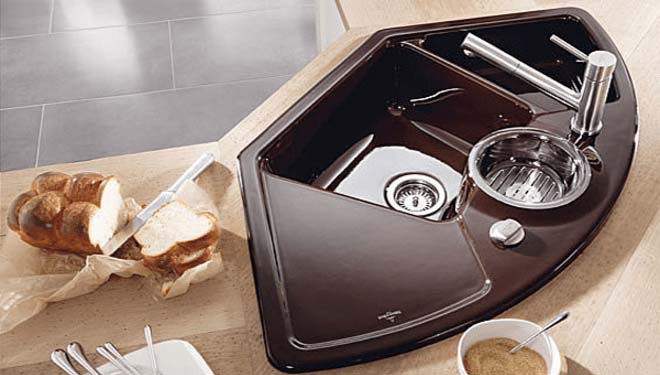 While a dark colored kitchen sink could be a focal point in your kitchen it also tends to ruin your design, so be careful when playing with colors.
This sink has rounded back side that makes it even more appealing and interesting and if you already have some rounded elements in your kitchen, this sink will make the overall design complete.
Having an additional compartments and drainage could save a lot of space and make it easier for you to cook.
10. Super Tiny Sink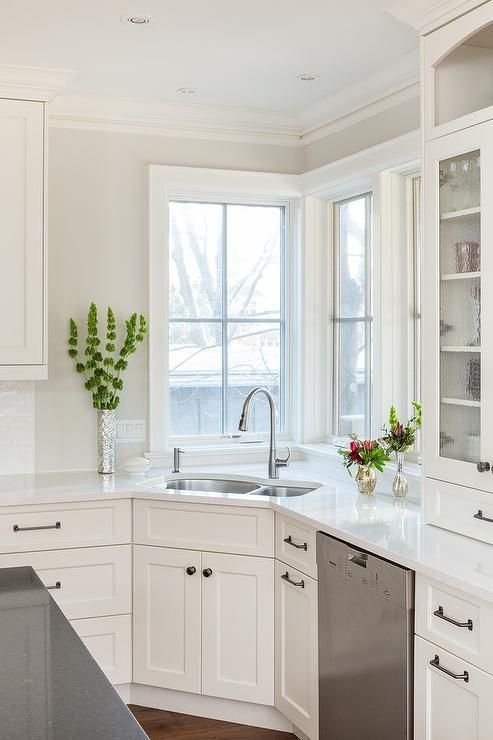 If you don't need much space or bigger sink, this one placed in the corner is just perfect. It's double basin and you can't expect to easily wash pots and pans in it, but it will do the job for everything else.
Perfect sink for people that are not cooking very often and prefer just some light meals.
11. Marble Countertop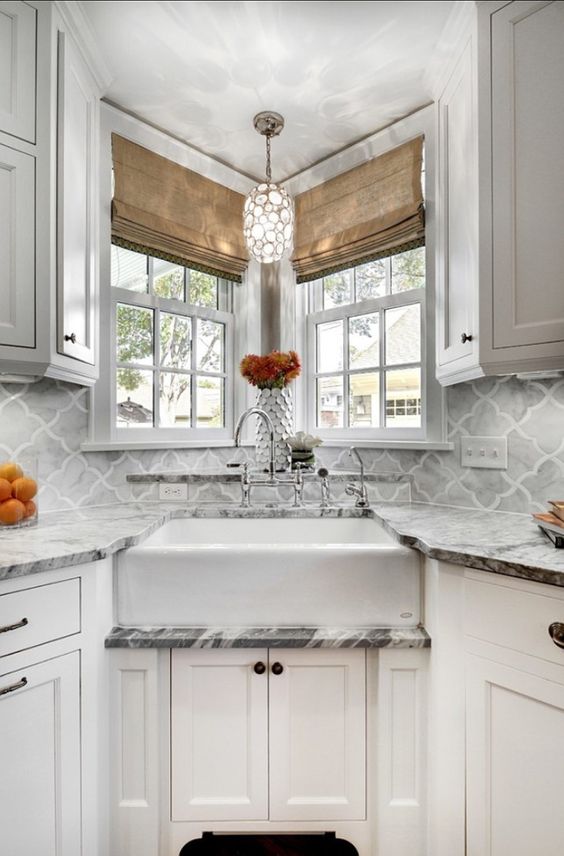 This fantastic sink layout is designed by GNH and shows how you can incorporate an apron sink with a marble countertop. It's always difficult to use the corner space – having a sink, cabinets, shelves and windows, but good design can solve all these problems.
Natural light from the windows is combined with a pendant light. One disadvantage here is the corner kitchen sink cabinet which is smaller than usual.
12. Contemporary Sink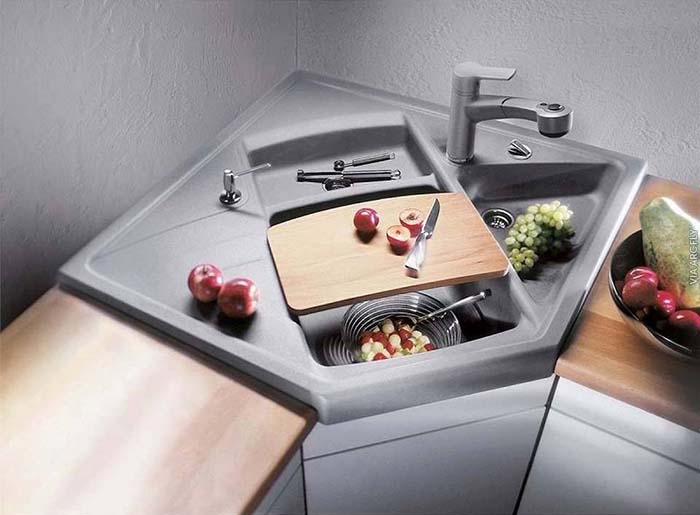 If you like modern kitchen interior then you would probably fall in love with this corner layout. It's one of my favorite sinks with drainboard.
It's designed so you get the most from your kitchen sink. Tons of features included to support all of your food preparation needs. You can't imagine a better use of the corner, right?
The three compartments could be used simultaneously to manage the food preparation process.
13. Top Mount Corner Sink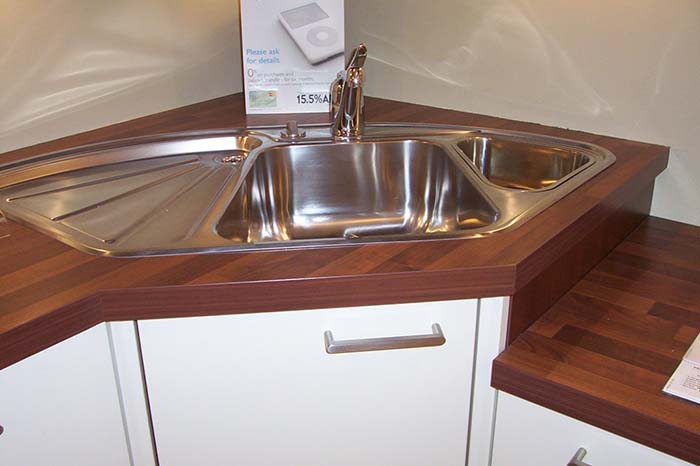 This one is the standard top mount corner kitchen sink that you could find in any big home improvement store like Wayfair or Homedepot.
It could be ordered with the furniture and kitchen cabinets minimizing the chance for mistake with the installation and dimensions.
14. Traditional Kitchen Design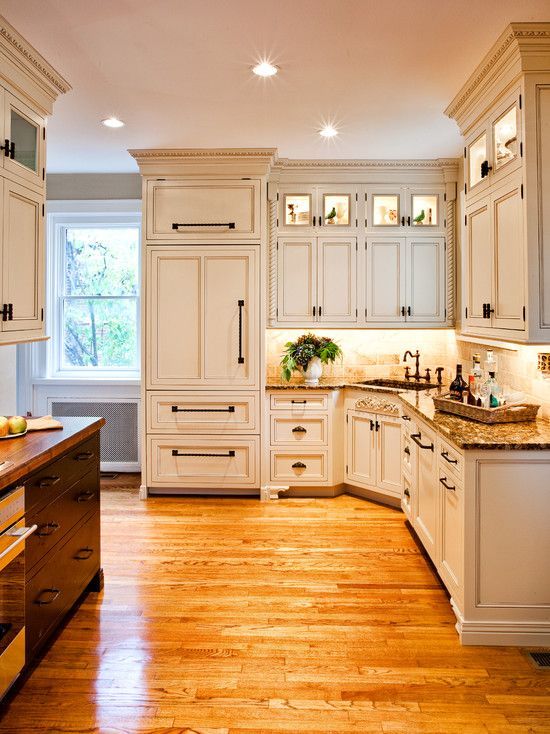 Sometimes even if you have a lot of space in the kitchen, you can still put your sink in the corner and it would be perfect. It creates a stunning visual appearance and when incorporated in such fantastic kitchen furniture it's more than just a sink – it's a piece of art.
15. Modern Black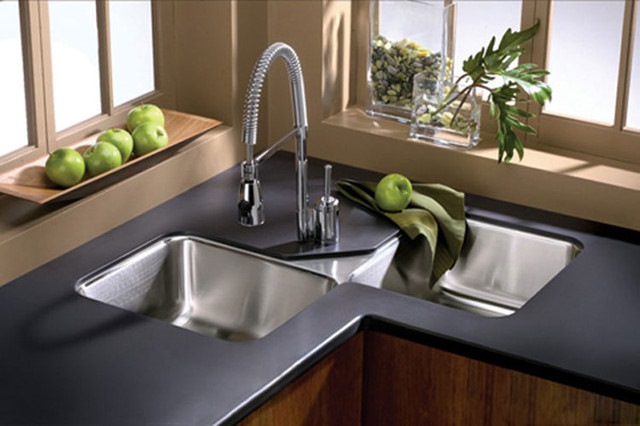 This ultra-modern double basin sink situated in the corner is a perfect addition to any kitchen. You can add a pull down faucet to easily switch between the basins.
Sink is incorporated in a black glossy countertop to add this chic and contemporary look of the whole kitchen.
16. Corner Kitchen Island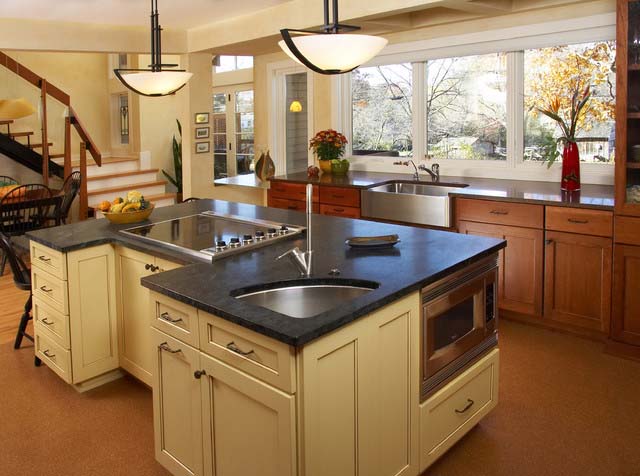 You can also have a corner sink built within your kitchen island. If you have that big kitchen, you definitely won't be concerned about the dish-washing machine location or whether there is enough space for two people to cook together…
I think you can have your whole family join the process of cooking and there still be plenty of room left. This kitchen is designed by RDM Architecture.
17. Wide Corner Design Sink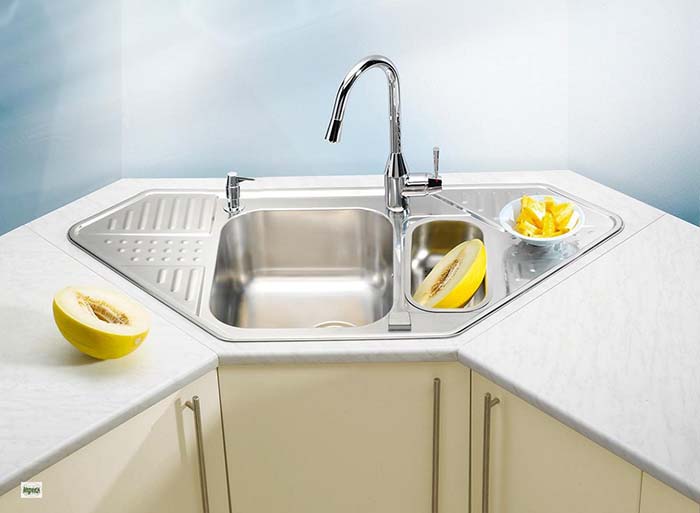 This design is suitable when you have a wide corner or narrow wall where you can put the sink. It's an option to use that unused space and create transition from one countertop to the other.
18. Straight The Corner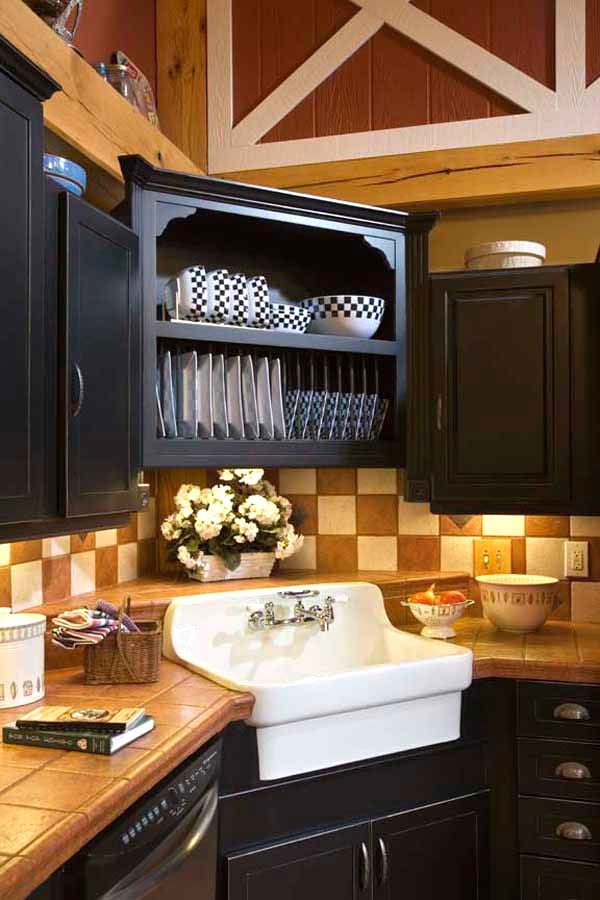 Here is a great idea how to pull your sink away from the corner. This apron sink is a natural connection between the two countertops.
Elevated shelf behind the sink gives an extra storage space. Although the space behind the sink is used for decoration only, it gives more farmhouse style to the area.
19. Contry Kitchen Layout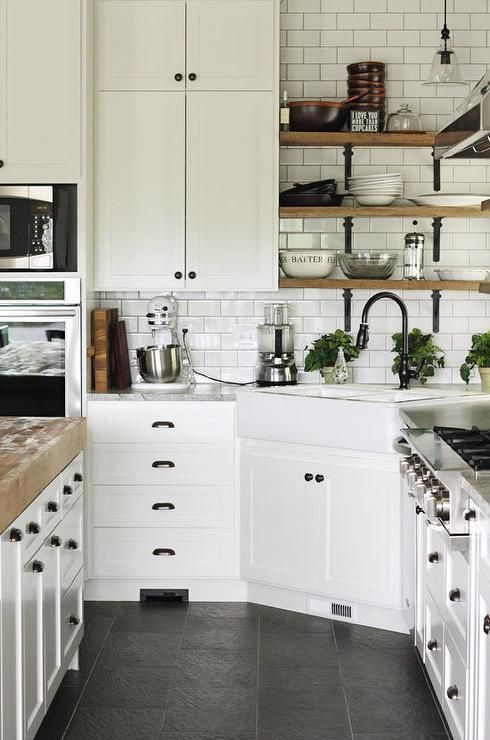 This country kitchen design shows how the sink is placed in the corner, where is the stove and those open shelves that add a lot of storage.
White kitchen cabinets and highly contrasting dark floor along with some greenery give the kitchen the cozy and welcoming look we are all in love with.
20. Undermount Sink For Kitchen Corner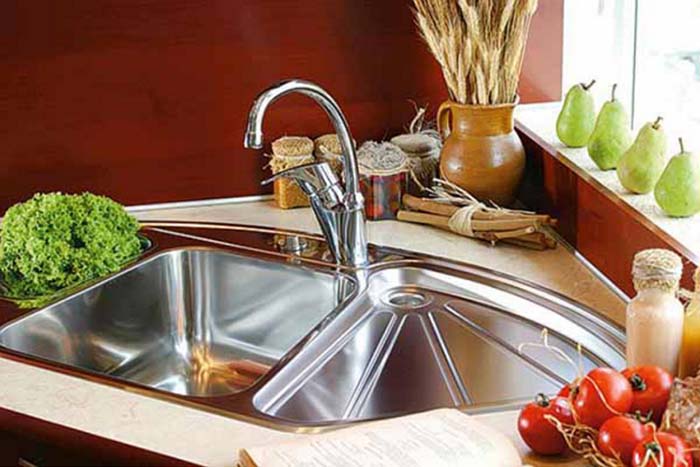 That's the classic one, with additional sections for food preparation and drainage. Made of shiny stainless steel it's durable and easy to install.
The undermount kitchen sink is a good option for your corner spot. It's easy to install as you don't need to mess with the furniture.
You can see that the space behind the sink could be used for decoration or storage of herbs.
Final Thoughts
If you are still in doubt, let's summarize it all.
Corner kitchen sink could really make your kitchen look stunning and chic, so if you would like to have one-of-a-kind design, that's the way to go. Moreover if you are not cooking very often, opt for the best design possible.
On the other hand, if your kitchen is small and tiny or space saving is the most important thing, you should definitely consider putting a sink in the corner.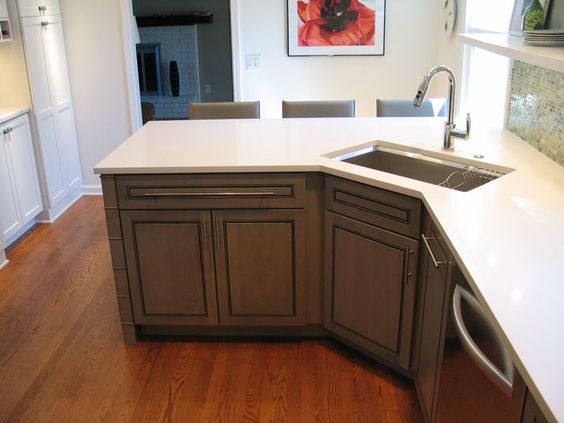 Actually, most of the problems are caused by the dishwasher placement, but putting your dishes in the machine takes no more than a minute or two, so shouldn't be a big deal.
What about the other main concern – two people cooking together…well, it really depends on the size of your kitchen. If it is small and tiny, even with or without a corner sink it would be difficult to team the food preparation.
While if it is big enough, you can easily put a corner sink and have plenty of room to operate around the kitchen.
Don't forget to consult with your designer or plumber about the pipes and connections as once they are installed in the corner it would be very hard to move them. Corner kitchen sinks are no harder to install than a regular sink, you just need to be sure that the corner space is precisely measured.
If you wonder – what to put in that dead corner space if not the sink, don't worry. You can use the corner for kitchen cabinets, lazy susans or tools. There are a lot of options for kitchen storage to put in the corner.
Another idea for the space behind the sink is to place a drying rack, but you have to be sure you can reach it easily.
What I think is the best way to find out if a corner kitchen sink would be right for you is testing one in a friend of yours.
I hope these corner kitchen sink ideas will inspire you to create the kitchen of your dreams.