Kitchen islands are a dream for many home cooks.
The trouble is, a custom model can cost thousands of dollars!
A DIY kitchen island is a perfect solution — by making your own island, you can transform your kitchen for a fraction of the cost. Not sure where to start?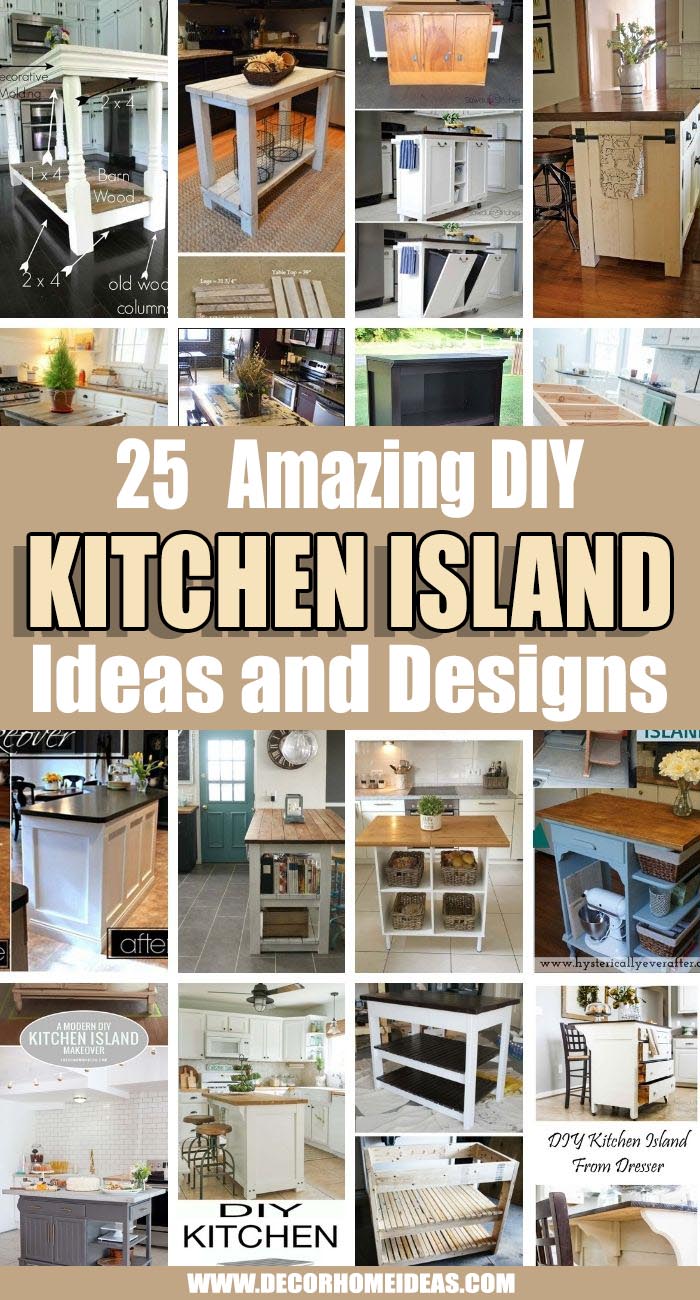 If you are looking for an inexpensive kitchen island to buy here are some of the best kitchen islands and carts – check prices here.
These beautiful DIY projects offer something for everyone, whether you're a woodworking novice or a furniture-making pro.
1. Big Kitchen Islands can Double as Breakfast Bars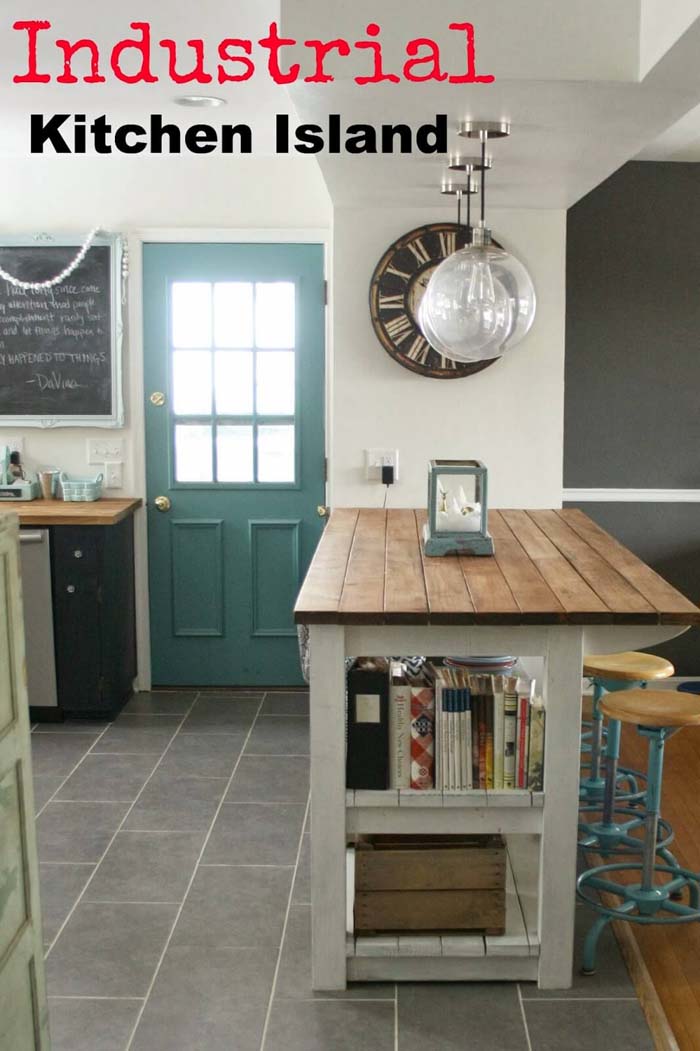 A breakfast bar is a handy option for quick meals, but most kitchens can't accommodate an island and a bar.
Fortunately, there's a simple solution — create a large DIY island with an overhanging countertop.
The overhang creates space for a row of stools, so you can prep dinner while your kids enjoy an after-school snack.
DIY Project Details: Cassie Bustamante
2. DIY Kitchen Island From an Old Dresser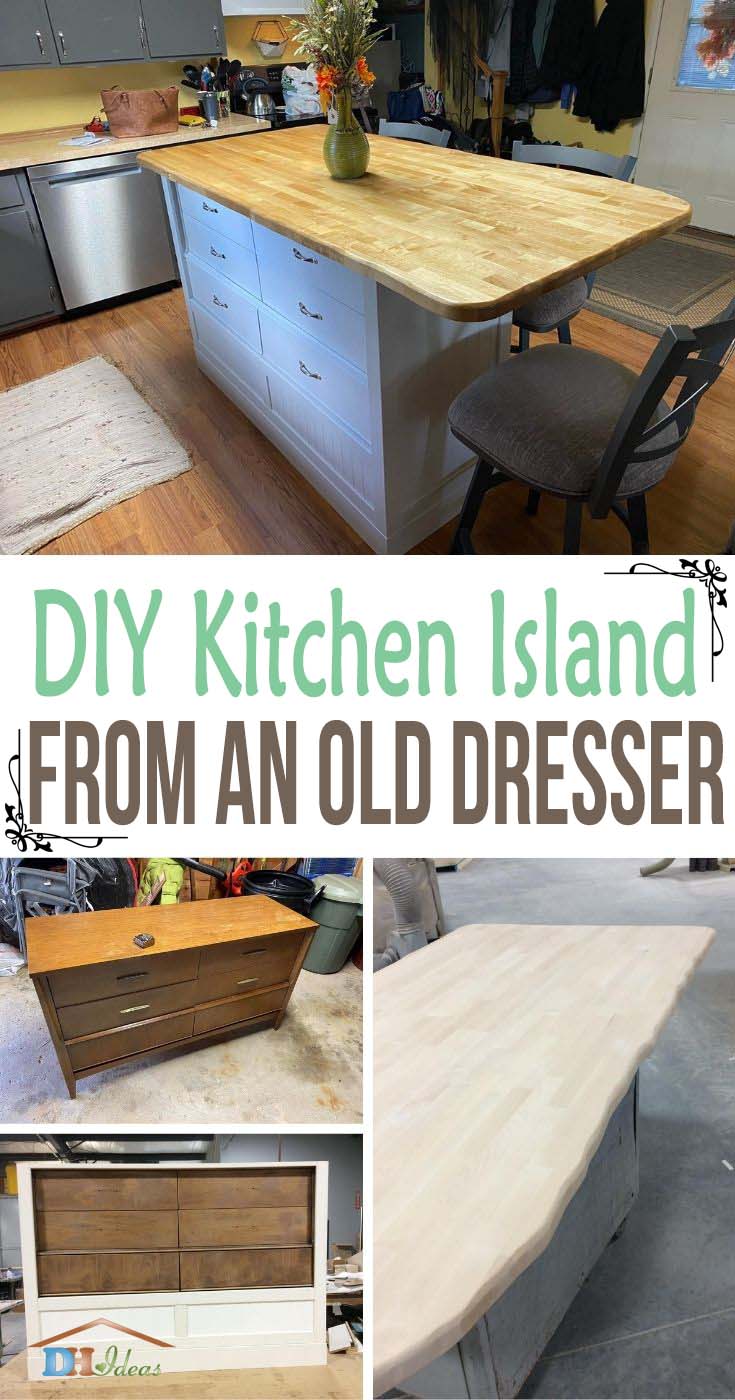 The design would work in a cottage style or country farmhouse kitchens. The best thing is that if you know the basics of woodworking, it won't take much time at all.
See a full tutorial and step-by-step instructions here: DIY Kitchen Island From An Old Dresser
2. Combine Rustic with Practical in this DIY Bar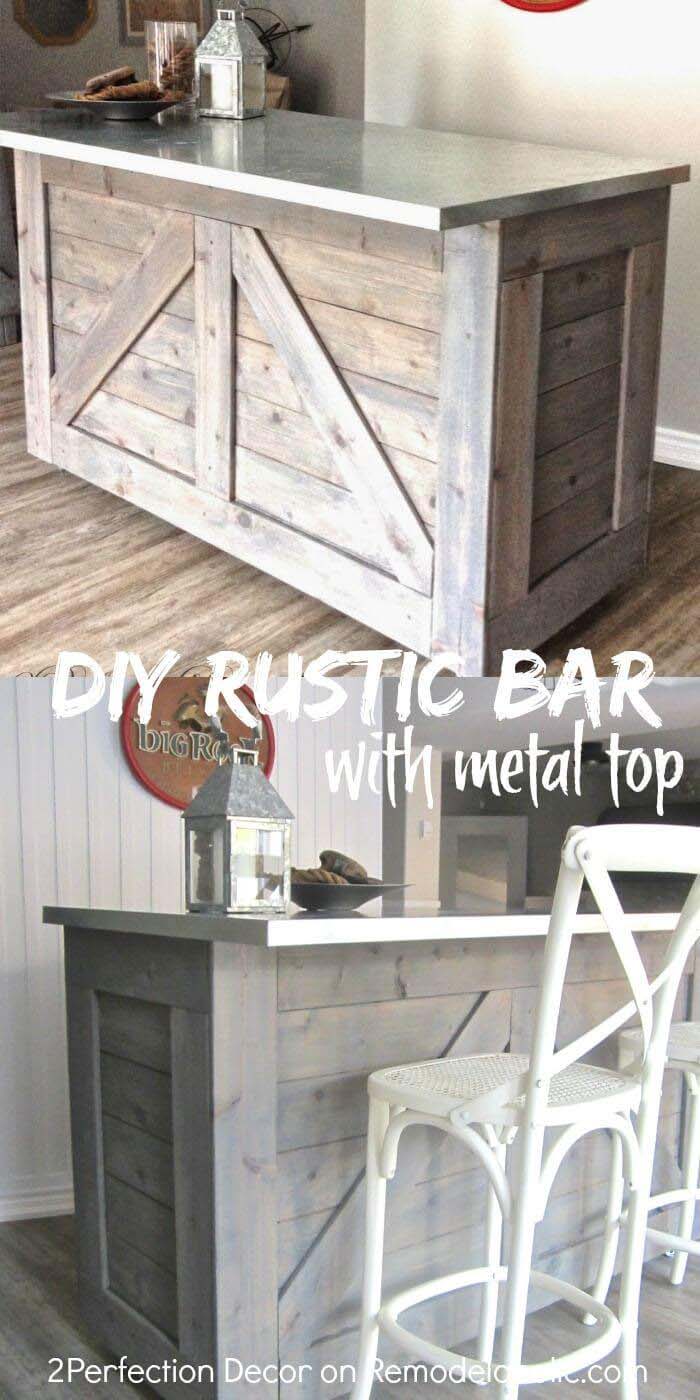 Don't have woodworking skills?
You can still make a DIY island or bar.
All you need is an old buffet, console table, or dresser; inexpensive IKEA pieces or thrift-store finds are a great starting point.
Nail planks across the exterior and replace the countertop to create an easy, rustic-chic island that will impress all of your guests.
DIY Project Details: Remodelaholic
3. Consider Quick Access to your Trash Bin

One of the benefits of building your own kitchen island is design flexibility.
This DIY model solves a common kitchen problem: where to put the trash bin.
A convenient tip-out bin supports the garbage can and allows easy access when you need it.
The rest of the island features open shelving, side-mounted hooks, and a thick top.
DIY Project Details: Shades Of Blue Interiors
4. Custom Built Your Island to Size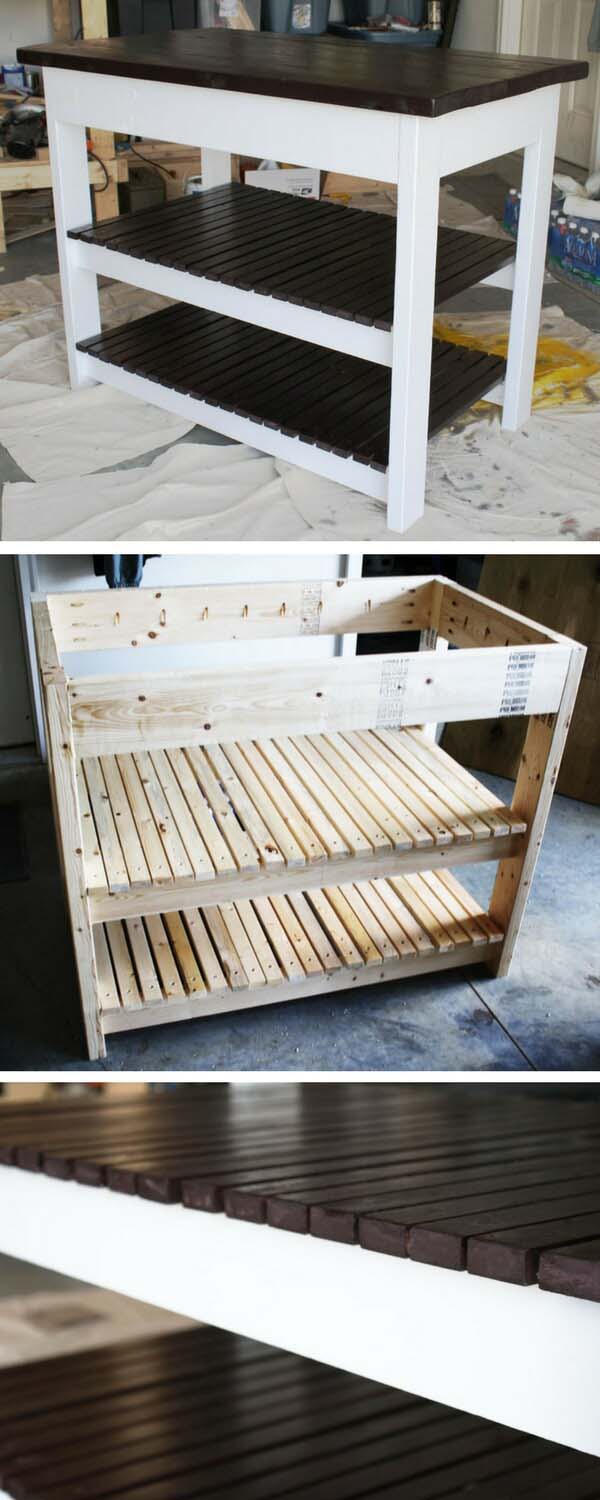 When you have a small or unusually shaped kitchen, it can be challenging to find an island that fits.
A custom-built model enables you to choose the perfect size and shape.
This model features open slatted shelves that allow ventilation and prevent moisture buildup.
It looks elegant, but the construction process is remarkably easy to master with basic tools.
DIY Project Details: Jen Woodhouse
5. Customize Flat-Pack Furniture to Suit Your Needs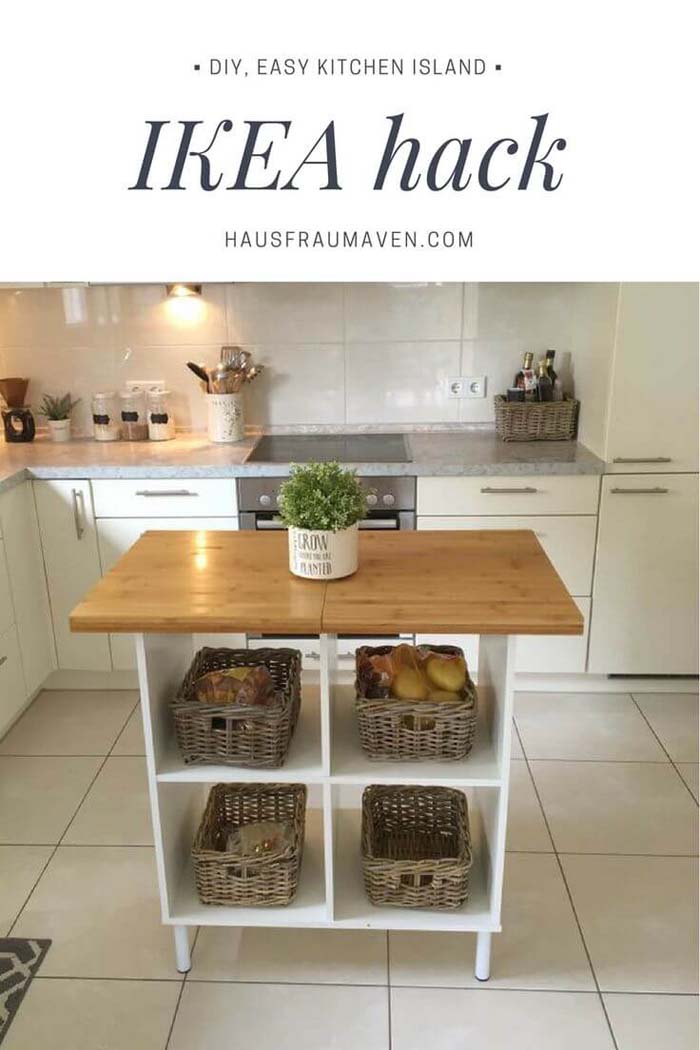 Here's another clever way to turn an IKEA piece into a custom island.
Using affordable flat-pack shelves and a cheap countertop, you can create an island in an afternoon.
If you're on a budget, head to the local thrift store — it's easy to find furniture that you can repurpose.
We love how the wood top elevates a simple engineered wood piece.
6. Customize your DIY Kitchen Island for Style and Function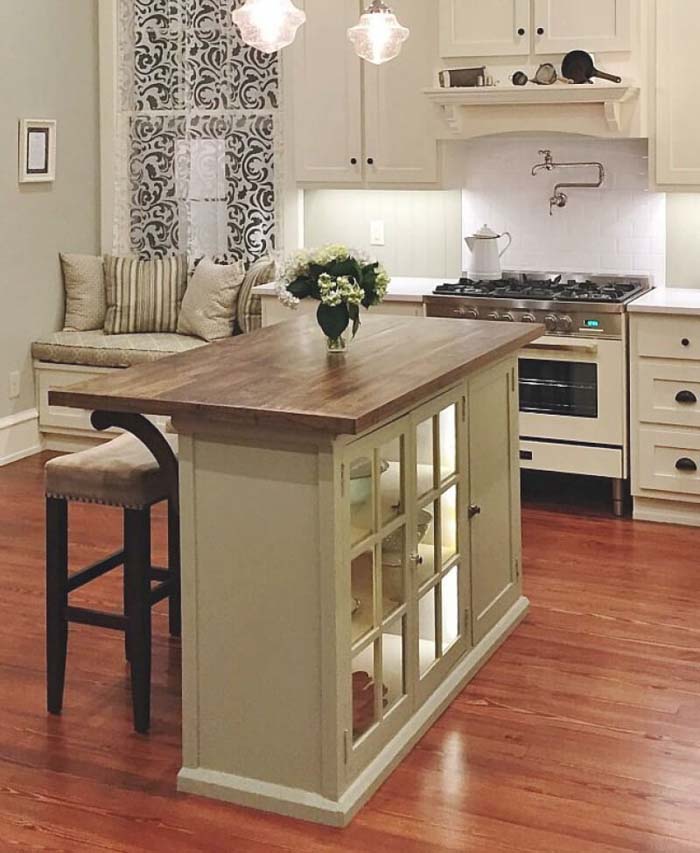 An island is one of the most visible pieces in a kitchen.
When you make your own, you have complete freedom to turn it into a design focal point.
We love this model, which features lighted interior shelves and clear glass panes that show off the dishes within.
Another key design element is the curved bracket, which adds a soft, French Country-inspired twist.
DIY Project Details: Thsitlewood Farms
7. DIY Doesn't Have to Look Simple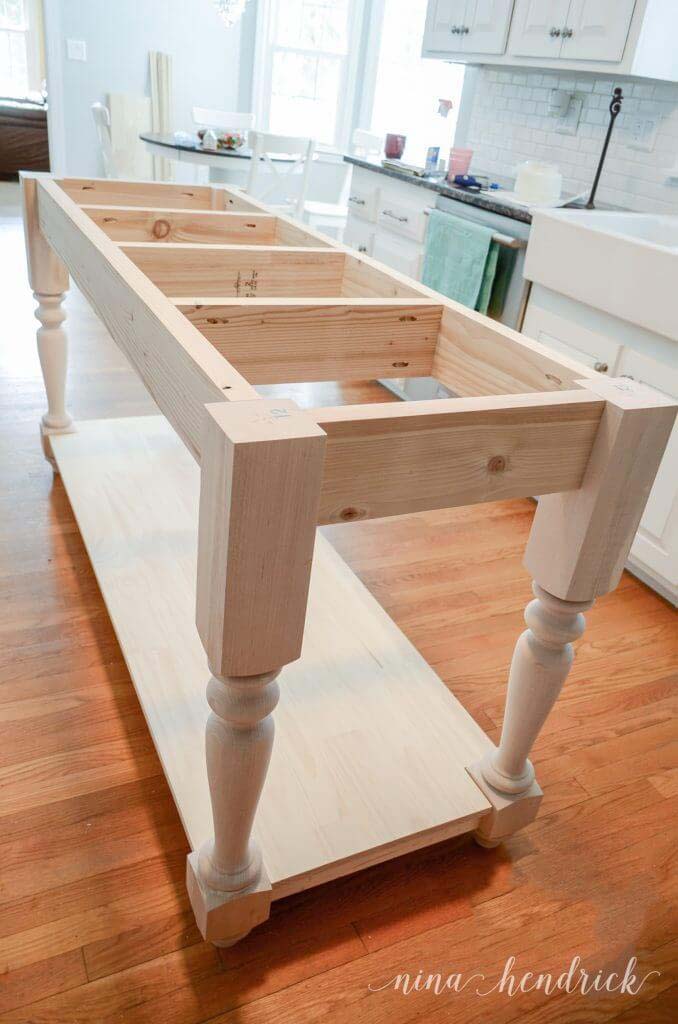 Don't let "DIY" fool you — handmade furniture doesn't have to look simple or rustic.
If you have the skills and the tools, you can create a stunning kitchen island that would be right at home and in a high-end store.
With this piece, it's all about the turned wooden legs. Don't have a woodshop? You can buy unfinished legs to elevate your design.
DIY Project Details: Nina Hendrick
8. Expand on an Existing Kitchen Island

Do you have an island that's too small?
There's no need to start from scratch. Simply add an apron, four legs, and a new countertop to create more space.
The "after" shot of this project is an impressive feat, particularly when you see that the original is a hodgepodge of salvaged items!
DIY Project Details: I Should Be Mopping The Floor
9. Find Free Kitchen Island Tutorials Online

When you're building a kitchen island, plans and tutorials can help you achieve a professional-looking result.
This project includes free plans, so you know exactly what to buy and how to build.
The result is beautiful — your friends will never believe you made it yourself.
DIY Project Details: Cherished Bliss
10. Give an Old Bookshelf a New Life as an Island

Do you have an old bookshelf hanging around the basement or the attic?
Give it new life by turning it into a kitchen island.
This DIY island works best with a shelving unit that comes with an inexpensive folding back panel.
Remove it, add some elegant detailing and a new top, and you can create a gorgeous piece for a remarkably small amount of money.
DIY Project Details: Little Glass Jar
11. Give Your Island a Face Lift with New Facing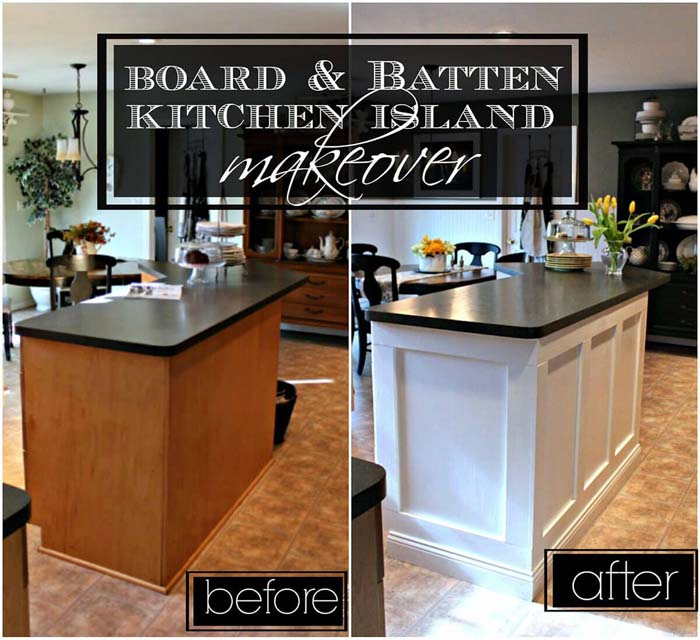 When your island looks outdated, there's no reason to tear it out — give it a quick makeover with a new facing.
A few boards can turn a flat, uninspiring island into an artisan-inspired work of art. The best part?
The makeover looks expensive, but you can get it done for less than $50.
DIY Project Details: Bloglovin
12. Make a DIY Island that Looks Professional

The secret to a professional DIY island is simple: pay attention to the details.
Nothing says homemade like flat boards and unfinished surfaces.
Small accents, such as a tiered apron, beadboard doors, and turned wooden feet, can take your DIY project from fine to fabulous.
13. Make an Island Part of Your New Open Floor Plan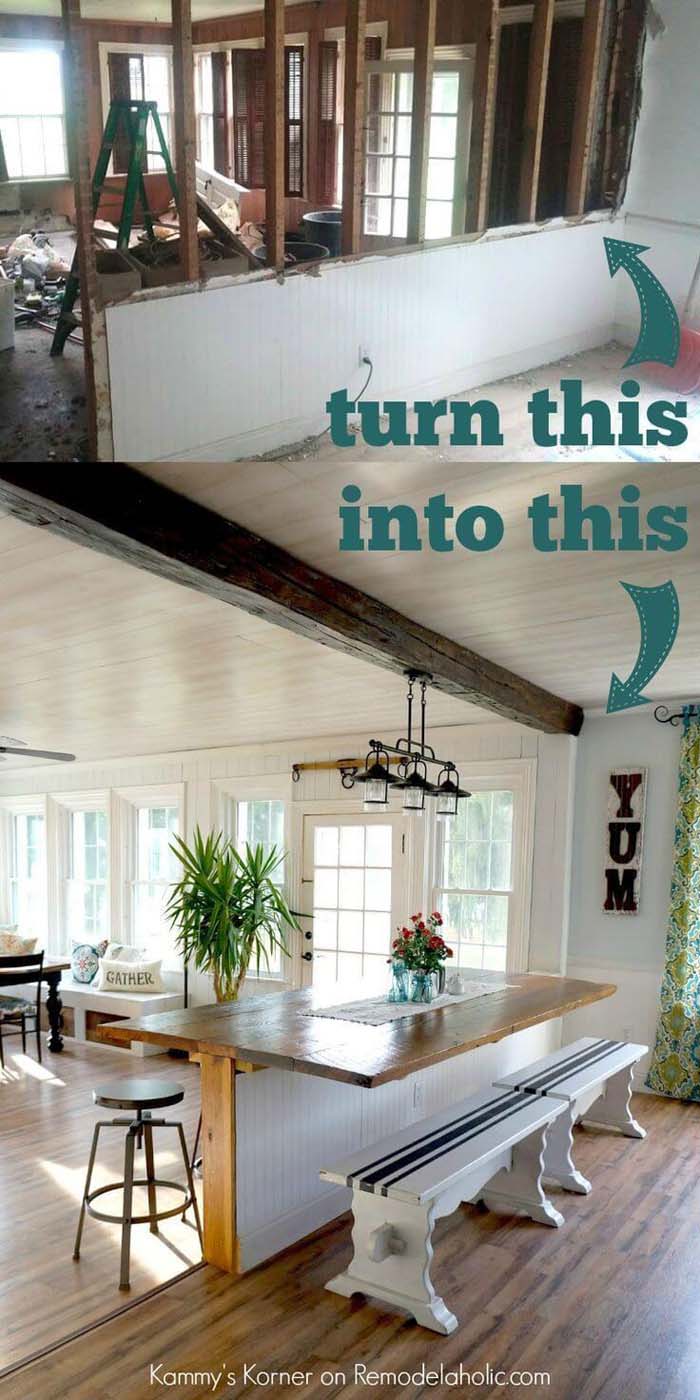 Are you renovating your home?
Take advantage of the existing structure and integrate an island into the floor plan.
This creative layout adds an island in the middle of an open floor plan.
In doing so, it breaks up the space without compromising the bright, airy vibe.
DIY Project Details: Remodelaholic
14. Make Your Kitchen Island with a Few Mods to This Desk

Take a look at this kitchen island — would you ever guess that it was once an ordinary desk?
With a few simple adjustments and some affordable boards, you can create a gorgeous rolling island.
Use it in the center of the room as needed, and move it off to the side when you're not working in the kitchen.
DIY Project Details: My Repurposed Life
15. Pull-Out Drawers are Super Space Savers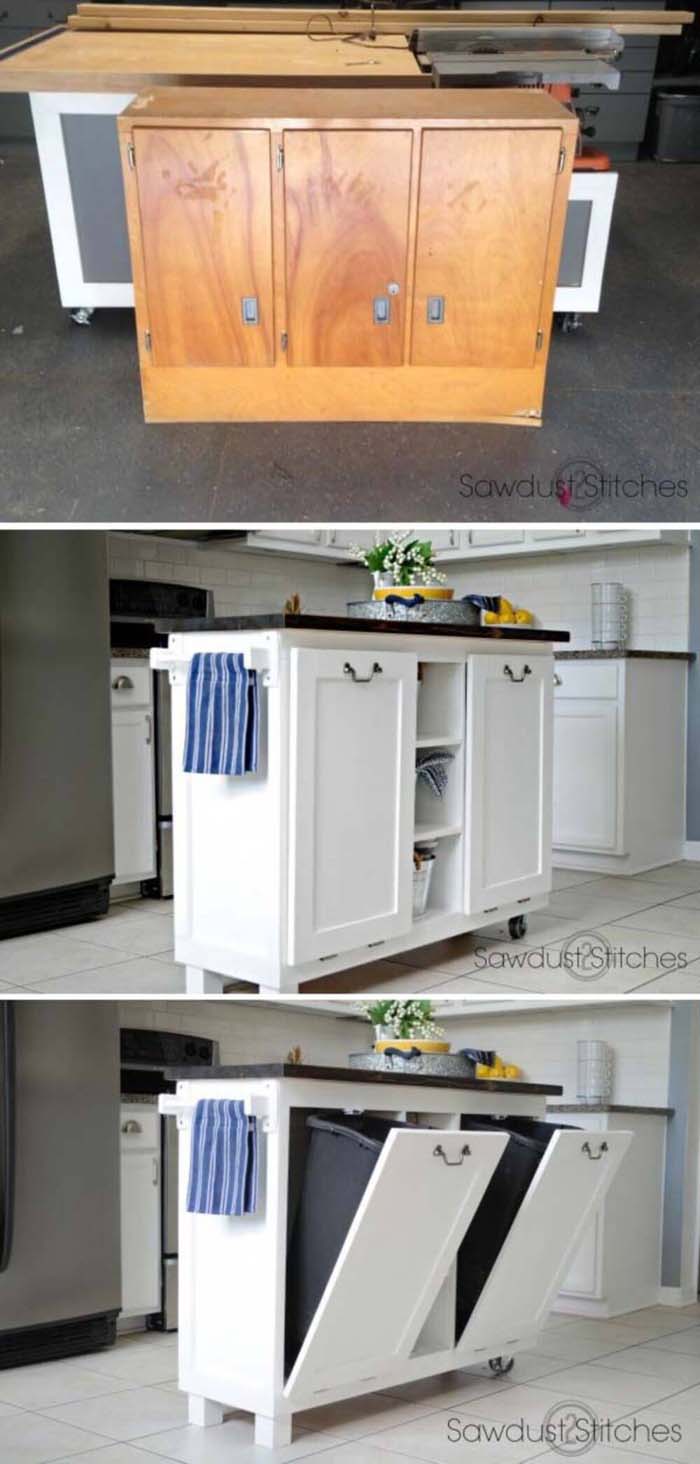 Have you ever wondered where to put your trash and recycling bins?
Our favorite solution is to hide them inside your kitchen island.
This model started as an old set of cabinets; with some wheels, new hardware, and a coat of paint, the homeowner turned it into a super-functional piece with space-saving, tip-out bin drawers.
DIY Project Details: Sawdust 2 Stitches
16. Simply Stunning Woodwork Kitchen Island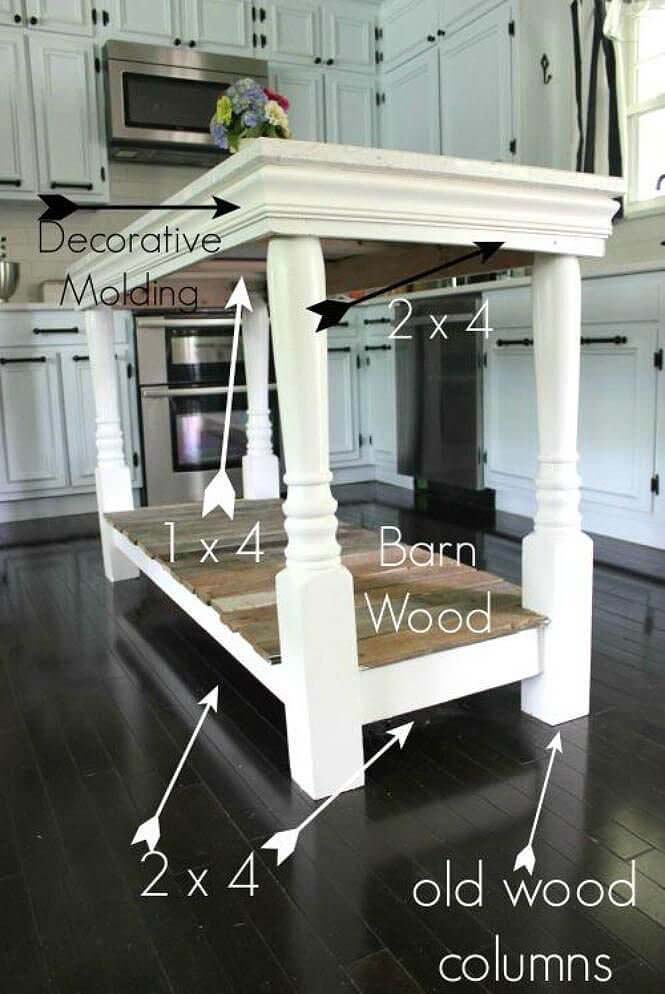 In a French Country or cottage style kitchen, details matter.
Build a kitchen island that's as beautiful as your cabinets with a few simple hacks: premade turned wooden legs, reclaimed scrap wood, and decorative molding.
A coat of paint ties everything together, creating a piece that looks far more expensive than it is.
DIY Project Details: Rain on a Tin Roof
17. Small Kitchen Island is Rustic and Simple to Make

Don't worry if you've never built furniture — as long as you can use basic tools, you can make this rustic kitchen island.
The simple joints create a strong structure and maintain the style of a farmhouse or country home.
You'll find all of the boards you need at any lumber store; you can even ask the staff to cut them to size to speed up the project.
DIY Project Details: Kruse's Workshop
18. Transform an Old Desk into a New Island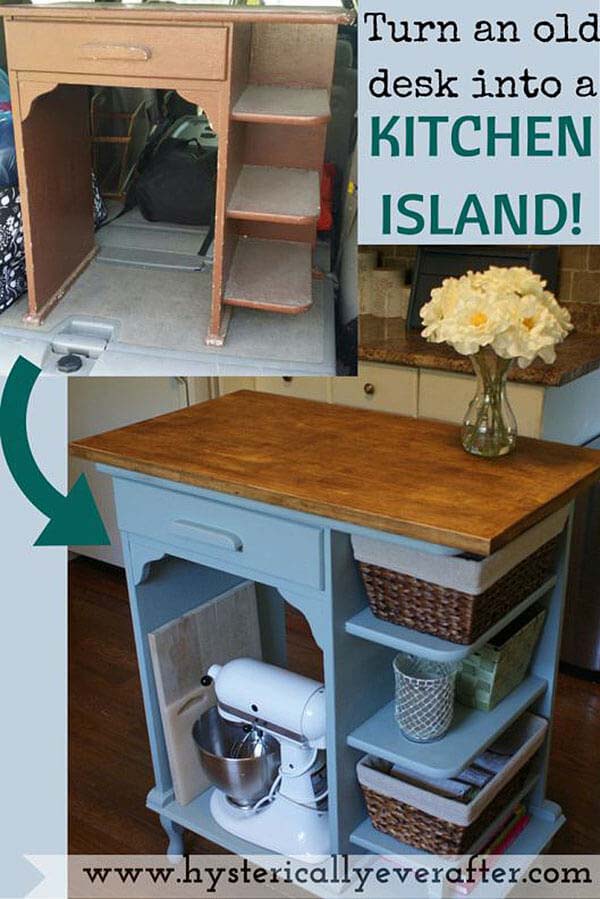 The next time you see a small, old desk at a garage sale, pick it up — it's the perfect base for a DIY kitchen island.
Some boards and a coat of paint transform this lovely desk into a functional piece, all without losing the special vintage details.
It's so simple, in fact, that you can make it in an afternoon with basic tools.
19. Trick Out a Dresser for an Island with Big Storage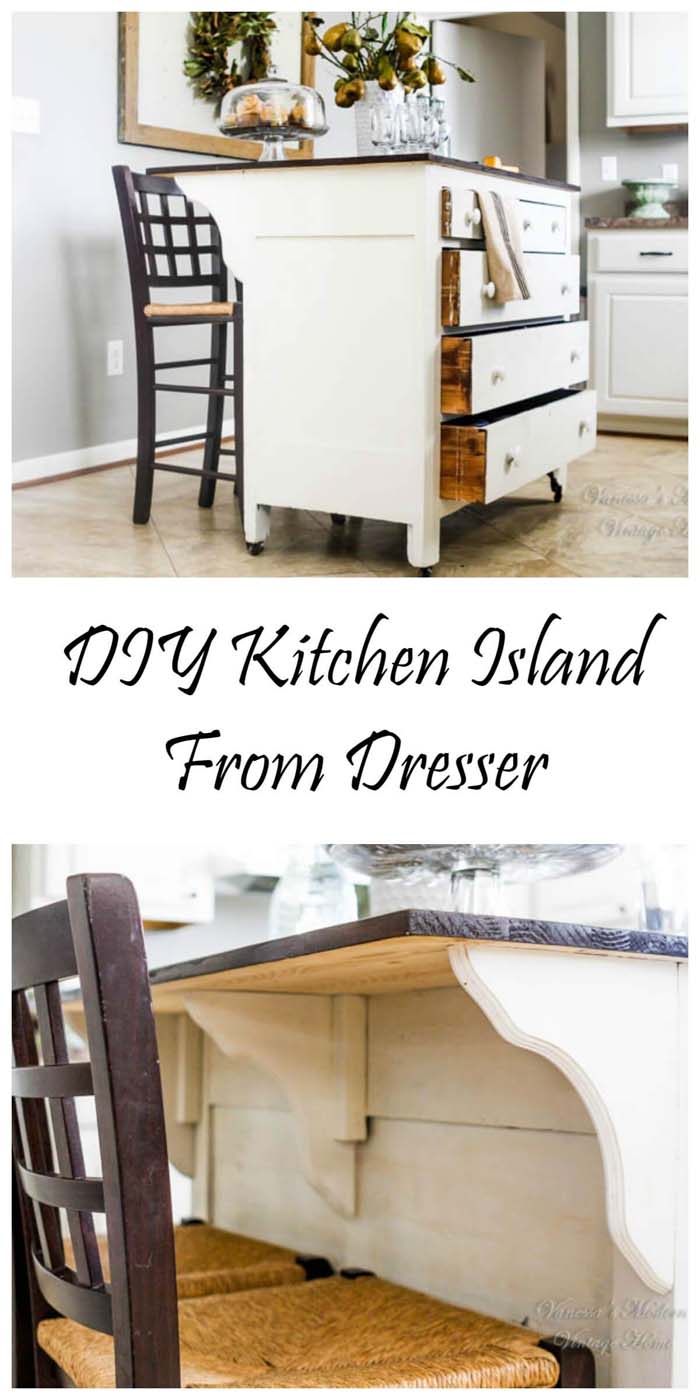 Are you in need of more kitchen storage?
Use an old dresser for your DIY kitchen island project. The drawers create plenty of space for dishes, pans, or food.
If you want a breakfast bar, you can even add an overhanging top.
DIY Project Details: Angela This Is Life
20. Upcycled Door Doubles as Eating and Workspace

If you have a big kitchen, an old door makes a fun, attractive island.
Don't worry about sanding and painting the door; top it with tempered glass or plexiglass, and the beautiful details will show through.
An open base with shelves adds a huge amount of useful storage.
DIY Project Details: T.C. Designs
21. Use Paint and Wood Finish for that Farmhouse Look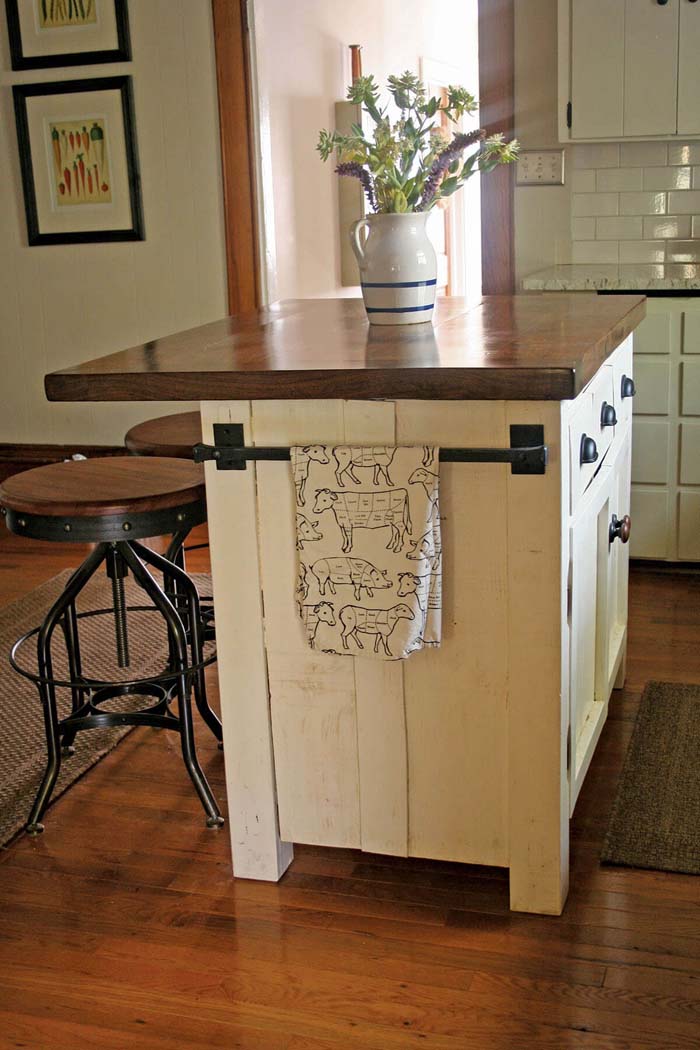 Farmhouse style is all the rage, particularly in kitchen designs.
Achieve a rustic look for your DIY kitchen island by using rustic wood planks.
After you paint, use sandpaper to distress the sides lightly for a well-loved look that fits into your country kitchen.
DIY Project Details: Grit
22. Whimsical Wash Tub Island for Country Home Charm

This adorable washtub island is completely unique, so it sets your kitchen apart from the crowd.
Your only task is to build a simple planked top, which you can stain to match your furniture.
The side handles on the washtub double as a towel holder, and a tray mounted to the bottom cross braces serve as a shelf.