When you upgrade or refresh your cabinets, you're often left with a collection of loose doors.
Before you throw them away, consider a repurposing project; with a bit of creativity, you can transform a cabinet door into a piece that's both functional and beautiful.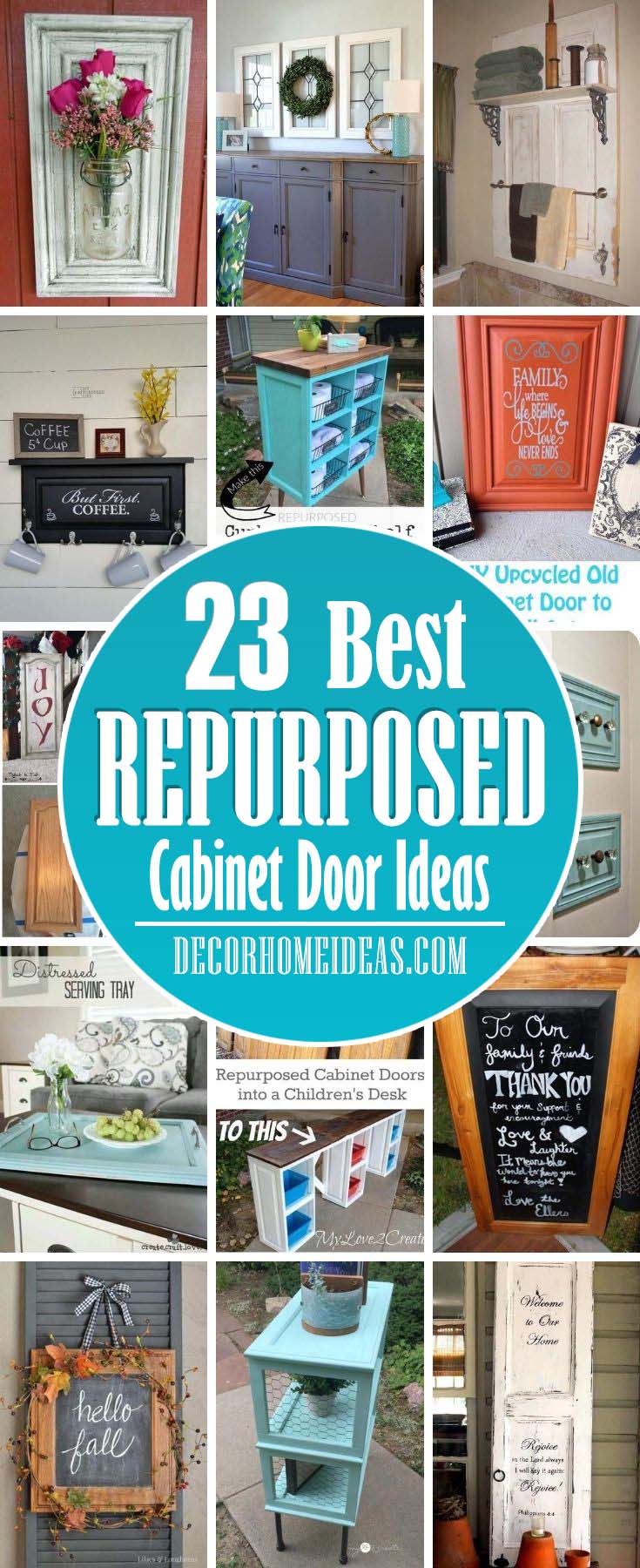 Need some inspiration? These 20 projects are a great place to start — each one is stunning, but even more importantly, easy to do.
1. Transform an Old Cabinet into a Stylish Kids' Desk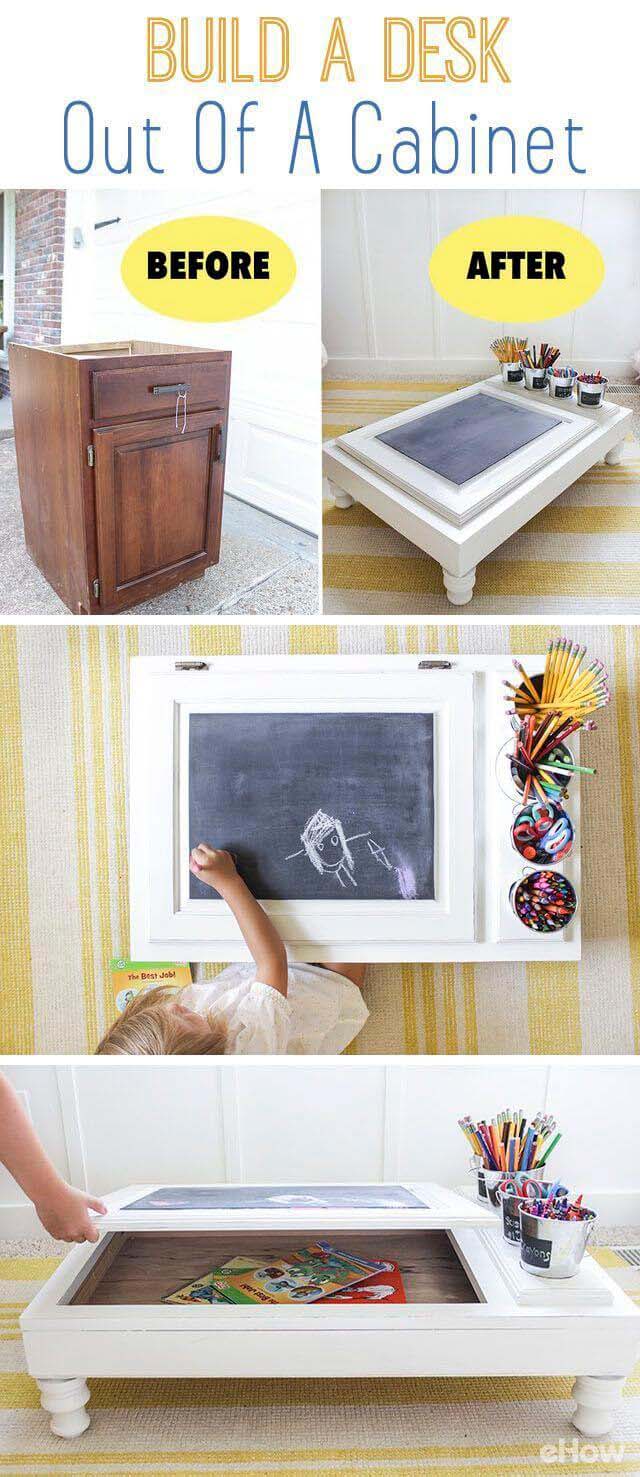 If you have little ones, this adorable desk is the perfect project.
It transforms the front face of an old cabinet into a beautiful, low-slung work area. Set it on the floor to create an accessible spot for your toddlers' art projects, or put it on a table for older kids.
via Ehow
2. Rustic Cabinet Door Display for Showcasing Bouquets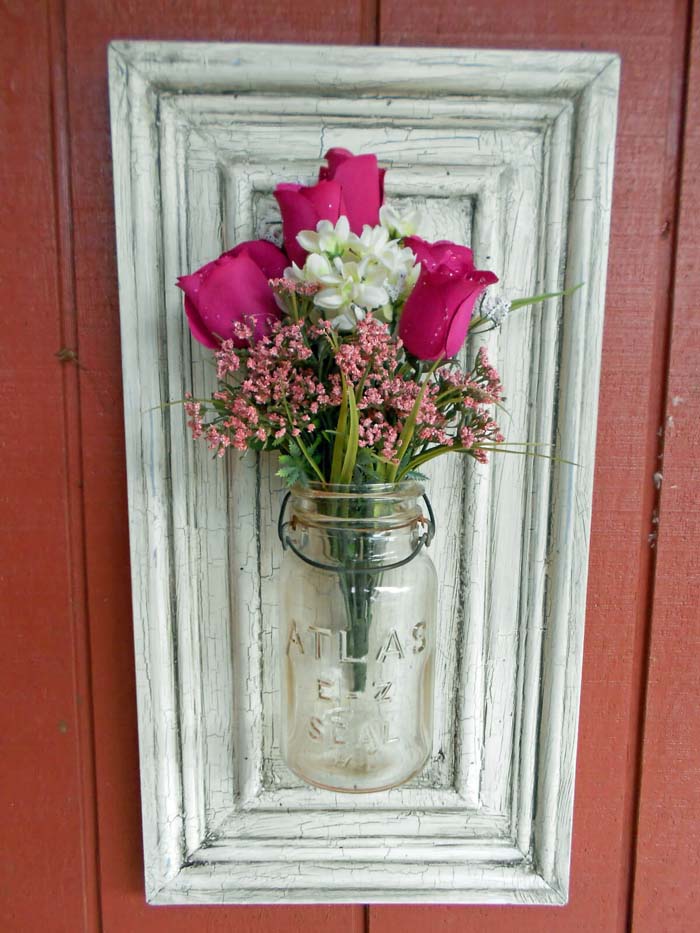 Display a gorgeous bouquet of flowers in this display, which uses an intricate cabinet door as a backing plate.
The simple glass canning jar complements the rustic construction and weathered paint, creating a look that fits right into your traditional or farmhouse-style home.
Use it indoors or outdoors; the effects of the sun, wind, and rain will add to the casual vibe.
3. Repurpose an Old Cabinet Door into a DIY Breakfast Tray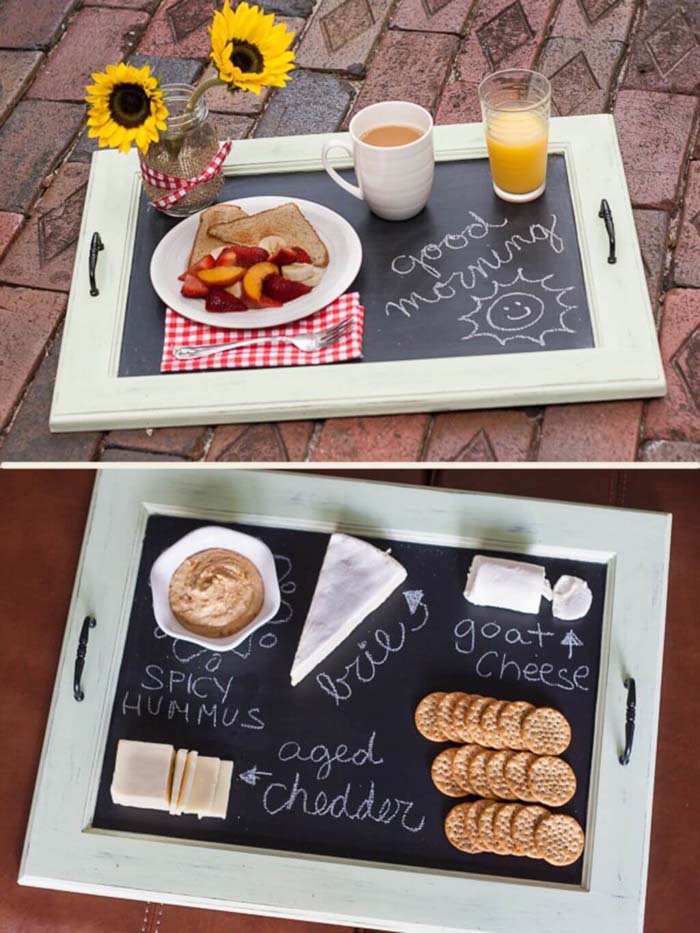 Surprise a loved one with breakfast in bed or a sweet selection of snacks using this DIY serving tray.
Using a can of chalkboard paint, it breathes new life into a traditional cabinet door.
The side-mounted handles are a clever way to repurpose the old drawer and cabinet hardware you have around the house.
via Taunie Everett
4. Christmas Cabinet Door Sign with Whitewashed Stencils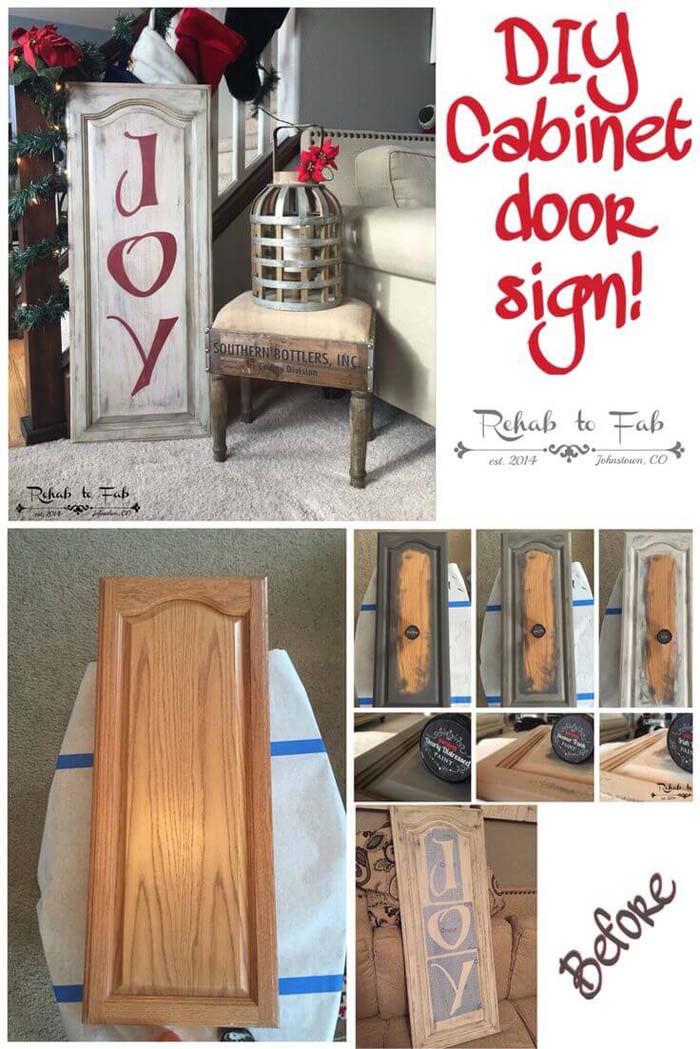 Switch up your holiday decor with this cute Christmas cabinet door sign.
It works best with an intricate beveled door front, but a Mission-style door is also a lovely option.
A coat of whitewash paint and a few stenciled letters create a stunning sign you'll be excited to bring out every year.
5. Create a Stylish Mug Hanger with a Cabinet Door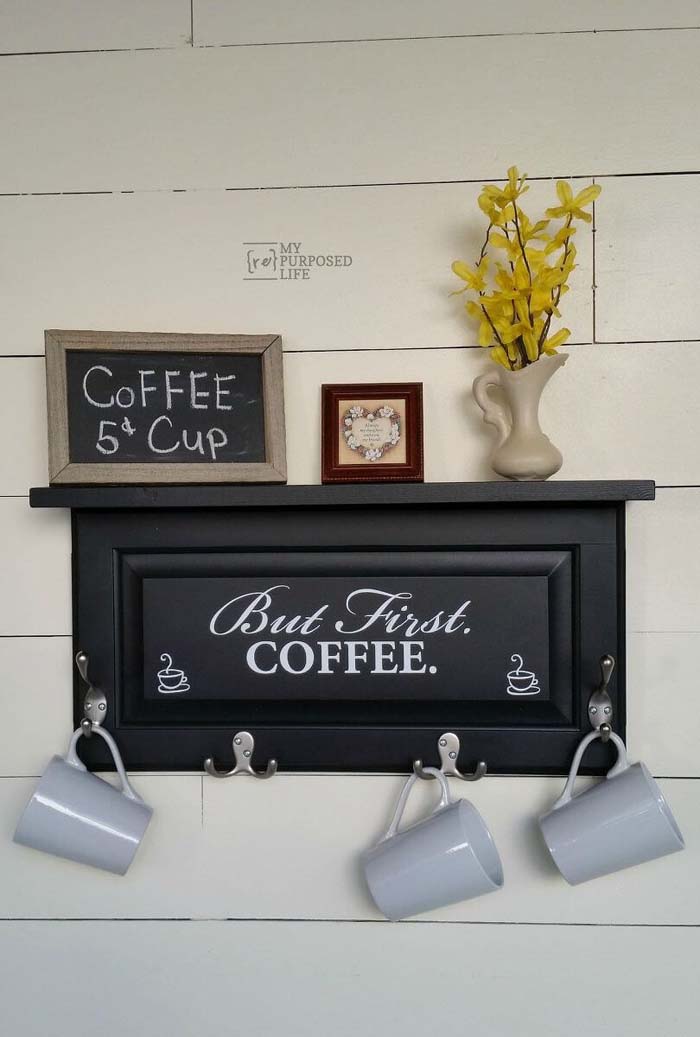 Do you ever struggle to find your favorite coffee mugs?
Solve that problem and create a lovely piece of wall decor by transforming a cabinet door into a mug hanger.
All you need to do is attach a few metal hooks to the bottom edge — leave the door blank for a sleek look, or paint a charming coffee-themed saying.
6. Revamp Your Cabinet Doors with a Gorgeous Serving Tray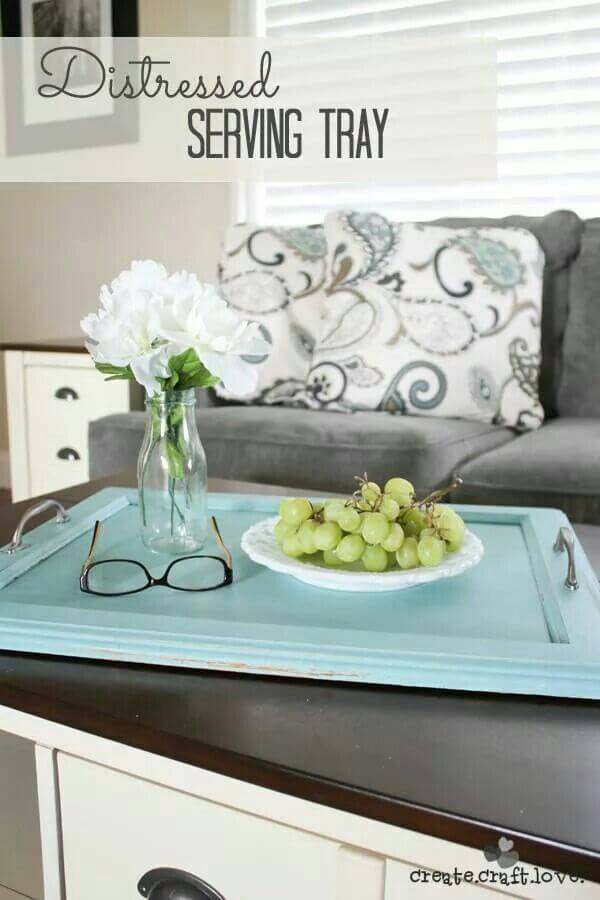 Nothing makes your afternoon snack feel more indulgent than an attractive serving tray.
This project is extremely easy to do; just move the handles to the shorter sides of the cabinet door and do some light distressing.
If you want extra flair, add a brilliant coat of paint for a pop of color.
7. Transform an Ordinary Cabinet Door into a Statement Piece

Who knew a cabinet door could be so beautiful?
To look at this project, you'd never guess it was once a run-of-the-mill door; a coat of chalk paint with a crackle finish works wonders.
The jaunty hanging wreath is the ideal finishing touch.
8. Welcome Guests with a Repurposed Cabinet Door Fall Wreath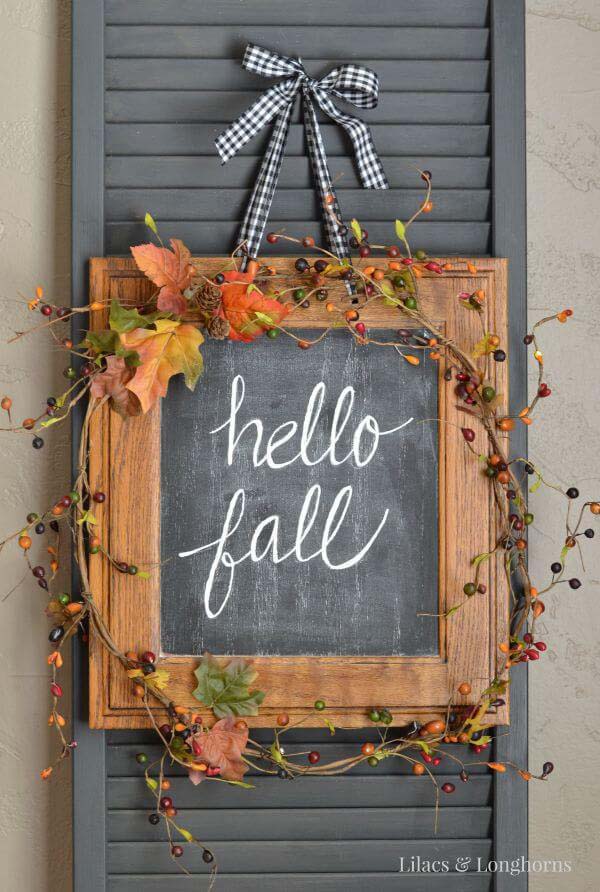 Replace your traditional fall wreath with this repurposed cabinet door.
A scattering of fall foliage and a gingham ribbon create a charming touch of color and texture that's perfect for autumn.
The chalkboard center is the perfect spot to write a message that makes your guests feel welcome.
9. Utilize Wall Space with a DIY Cabinet Door Hat Rack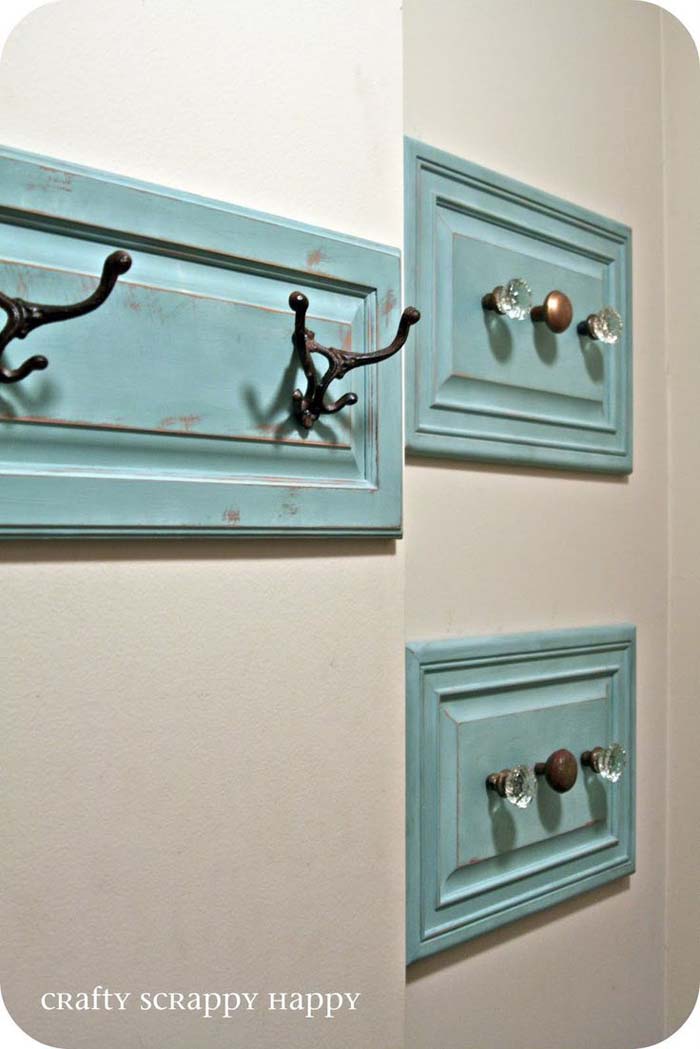 Conserve valuable floor space in your entryway, with this cabinet door hat rack.
Although it looks like an upscale artisan piece, the construction process is a breeze — just use screws to attach ornate hooks and gorgeous knobs, and you're ready to go.
10. Upcycle an Old Cabinet Door into a Sign with Quotes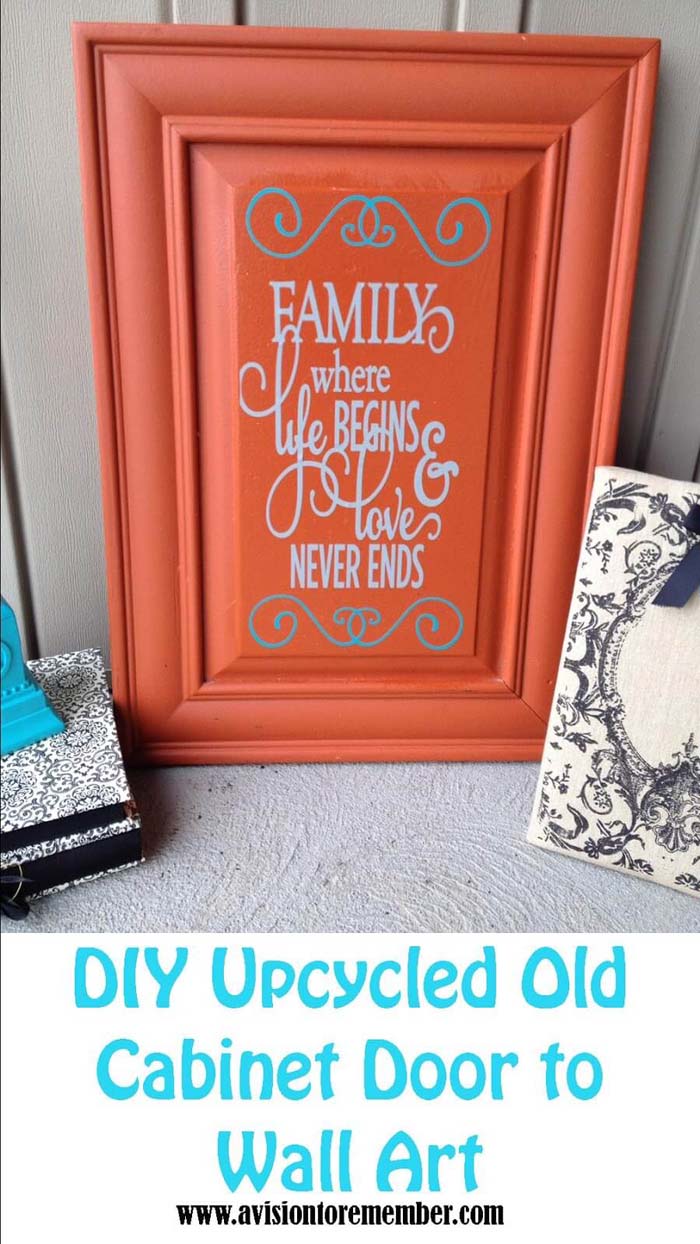 If you love the look of decorative signs, why not paint your favorite quote or inspiring saying on an old cabinet door?
Try out your hand-lettering skills or use a Cricut to create a custom stencil. We love the pop of orange paint that sets this sign apart.
11. Welcome Guests with a Creative Cabinet Door Sign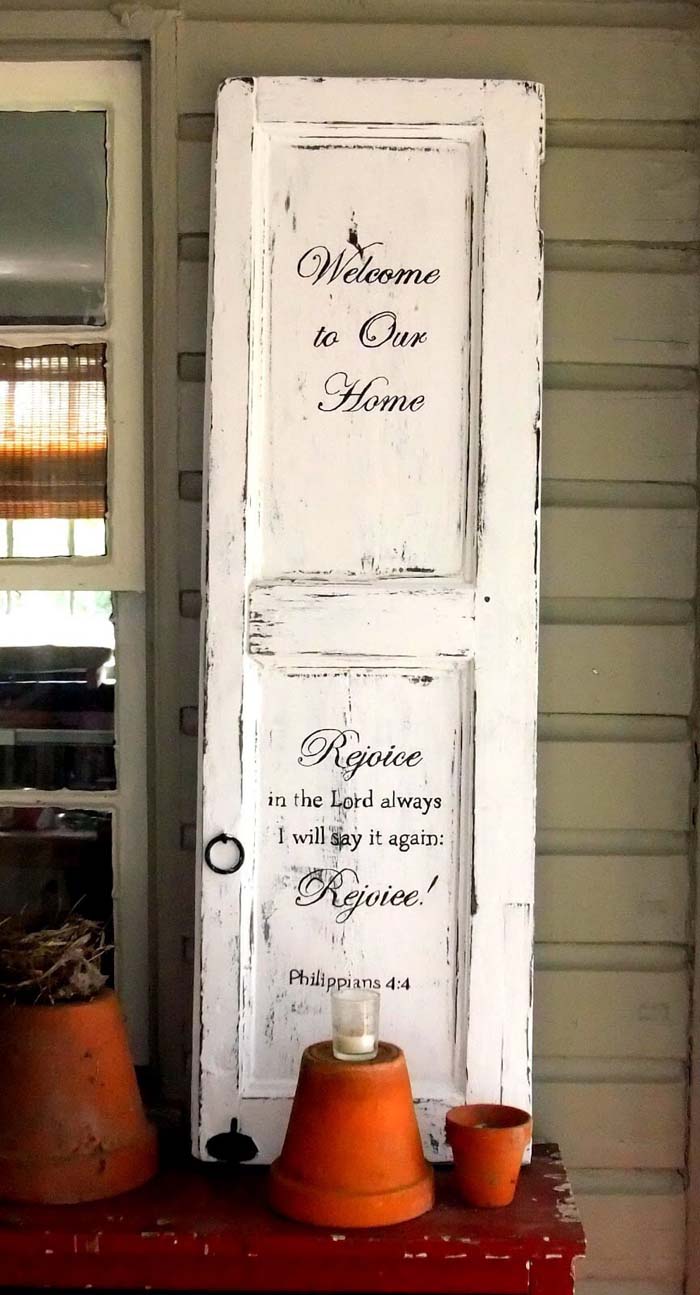 Make your entryway more welcoming with this creative door sign.
A tall, narrow cabinet door gives you plenty of space to include a favorite quote or Bible verse, but you can achieve a similar effect with a shorter door. A bit of paint or sandpaper adds a vintage look.
12. Transform Old Cabinet Doors into Practical Bathroom Storage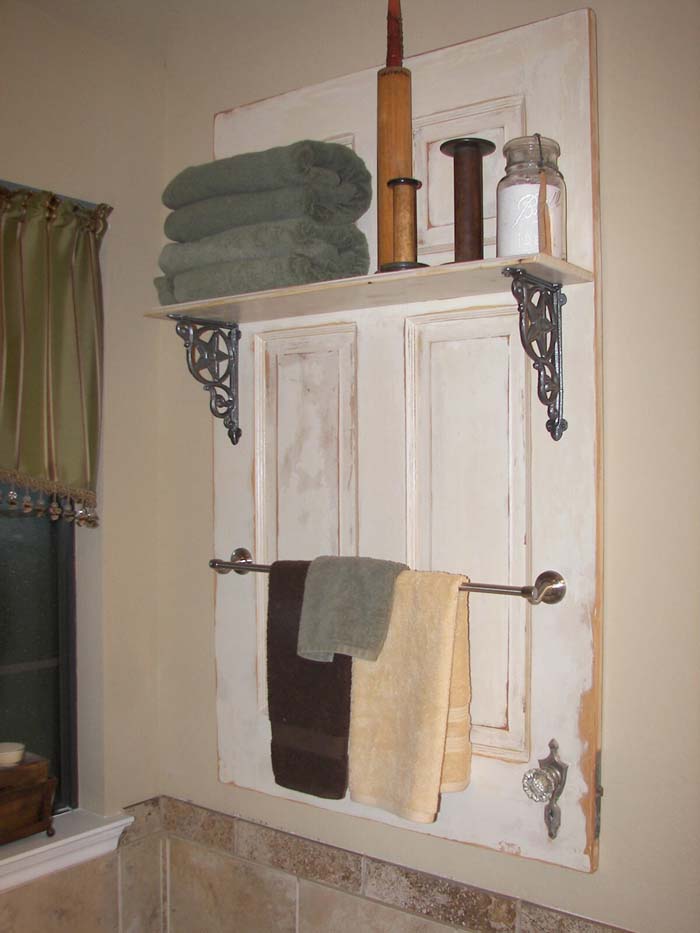 Do you have a large cabinet door that's currently collecting dust in a closet?
Turn it into beautiful and practical bathroom storage with a few brackets, a shelf, and a towel bar. As long as you know how to operate a drill, this project is quick and easy.
13. Monochromatic Repurposed Cabinet Door Ideas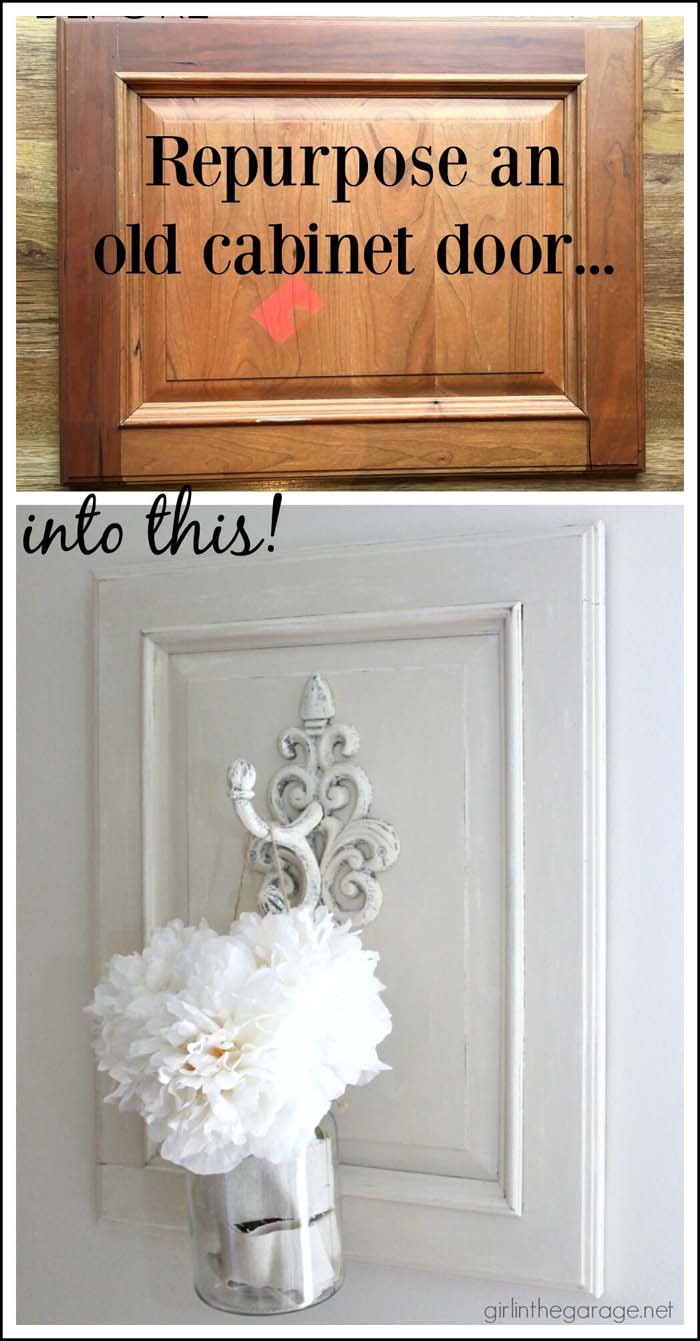 There's something impossibly chic about a monochromatic color scheme, as proven by this repurposed cabinet door.
It's the perfect way to use an ornate door hook — just coat everything in white paint to create a piece you'll be proud to hang on the wall.
14. Customizable Child-Sized Desk with Upcycled Cabinet Doors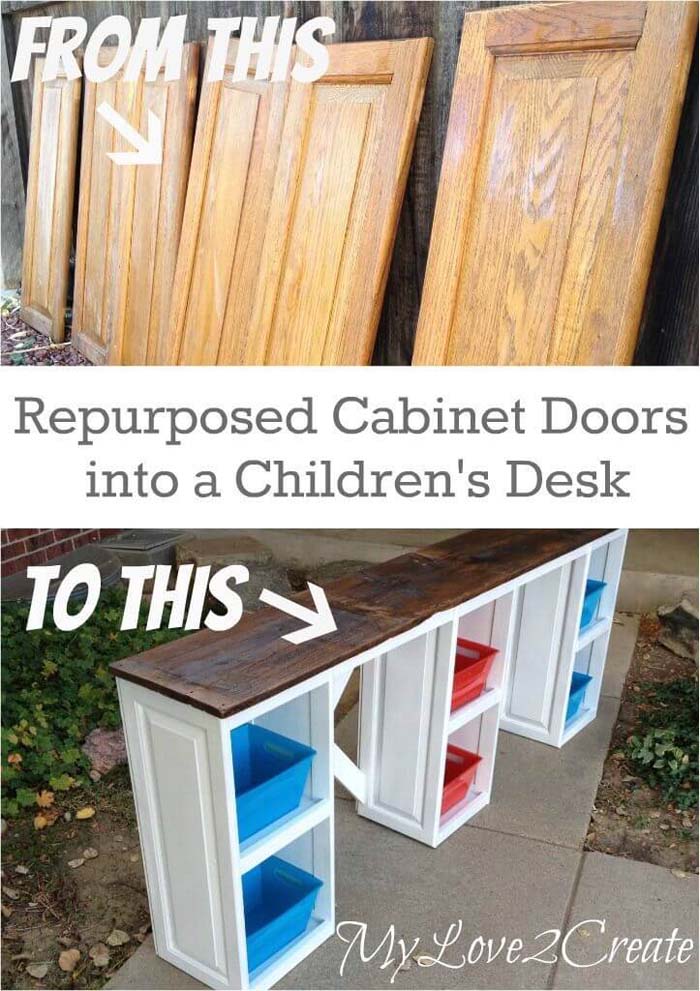 If your kids need a special spot for homework or craft projects, turn a few old cabinet doors into a child-sized desk.
This project requires some time and a few extra pieces of wood, but the result is a durable piece of furniture that will last for years.
15. Bring a Rustic Charm with DIY Chicken Wire Bookshelf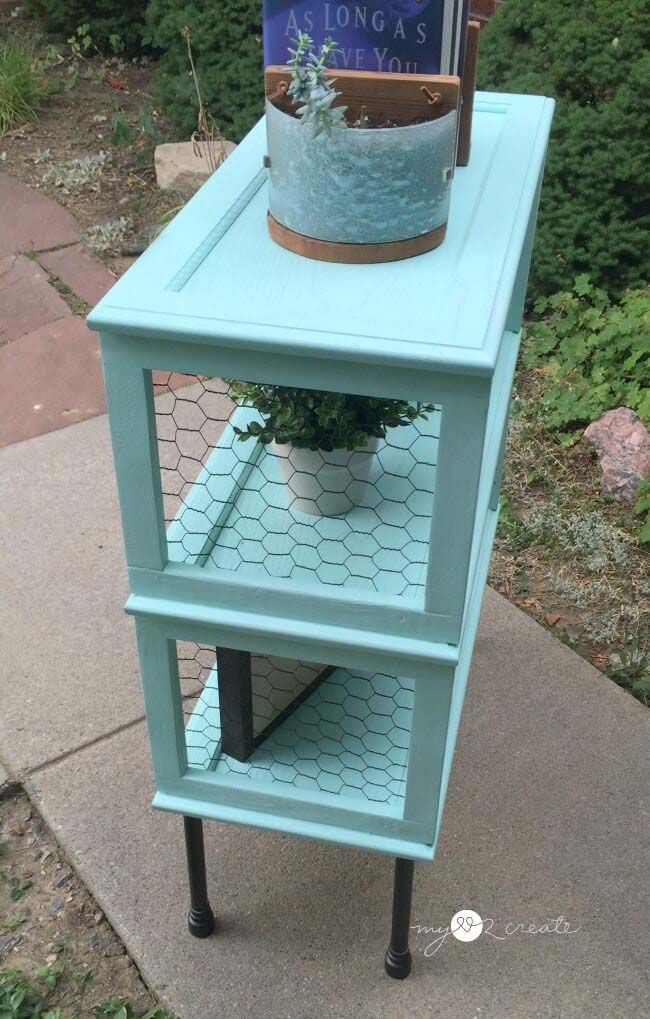 Chicken wire adds the perfect farmhouse charm to this cute DIY bookshelf.
All you need are three or more identical cabinet doors and some scrap wood; the lower legs are optional.
A coat of paint covers the dated wood finish and makes your decor pop.
16. Upcycled Cabinet Door Shelving Unit with Mid-Century Legs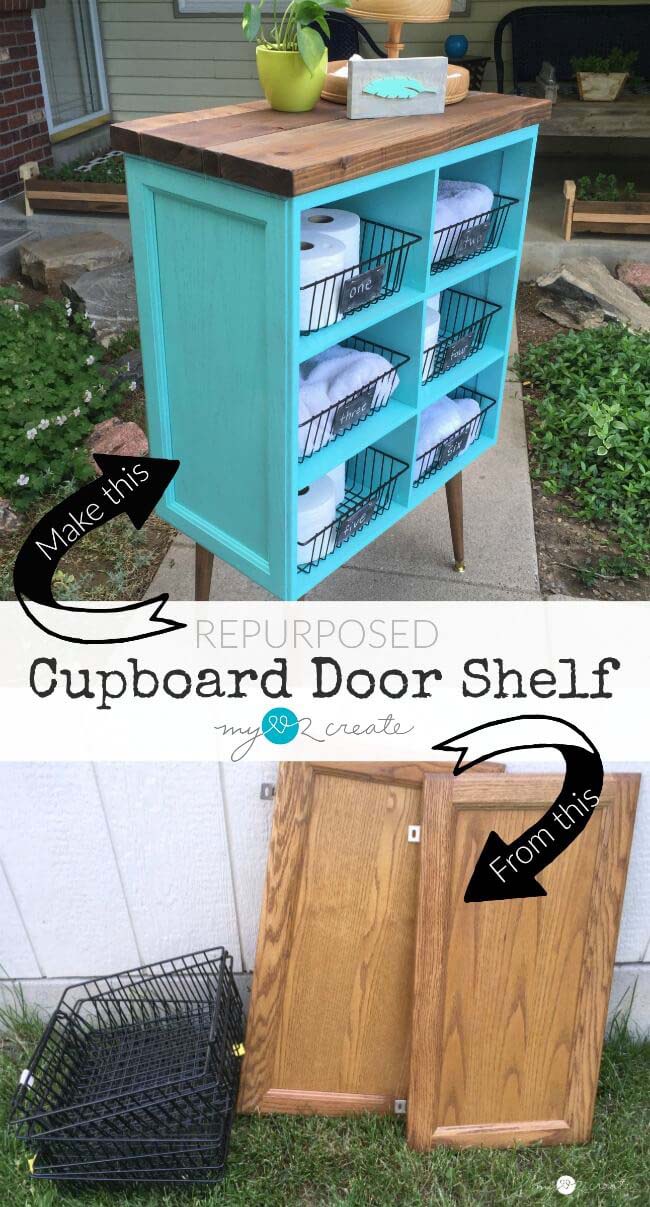 To look at this shelving unit, you'd never guess that it's made from old cabinet doors!
The stained plank top and mid-century modern legs create a piece that's an instant hit. Use it in the bathroom to hold essentials, or place it in a child's room to serve as a toy organizer.
17. Make Customized Signage with Cabinet Doors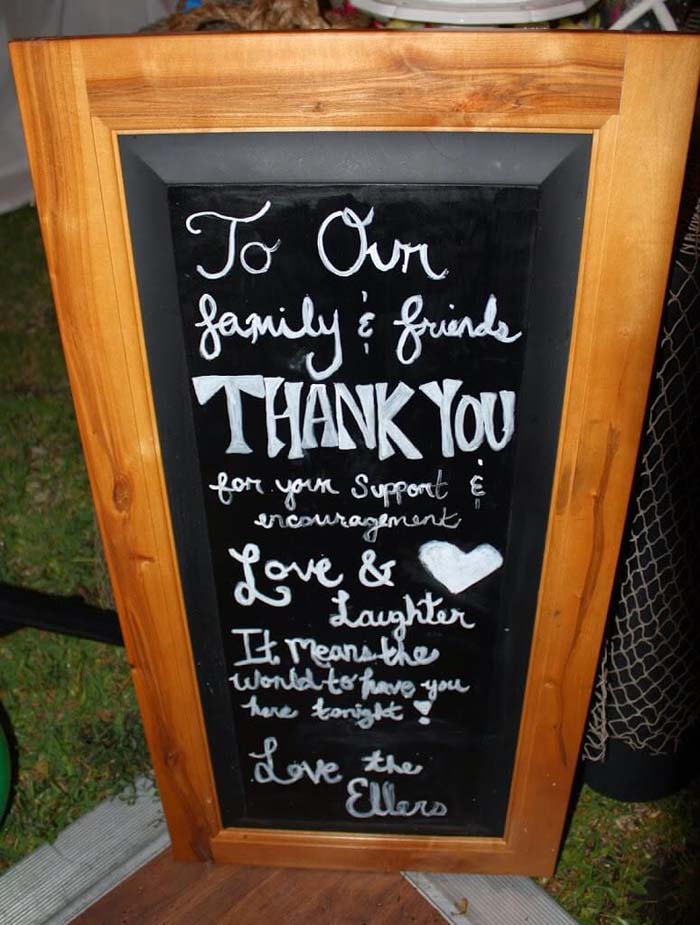 It's no secret that weddings are expensive — cut costs by creating personalized signs out of cabinet doors.
The wood grain creates an appealing rustic look for a casual outdoor event. Use them to welcome guests, identify the gift table, or provide directions to the cocktail hour.
18. Transform a Cabinet Door with Distressing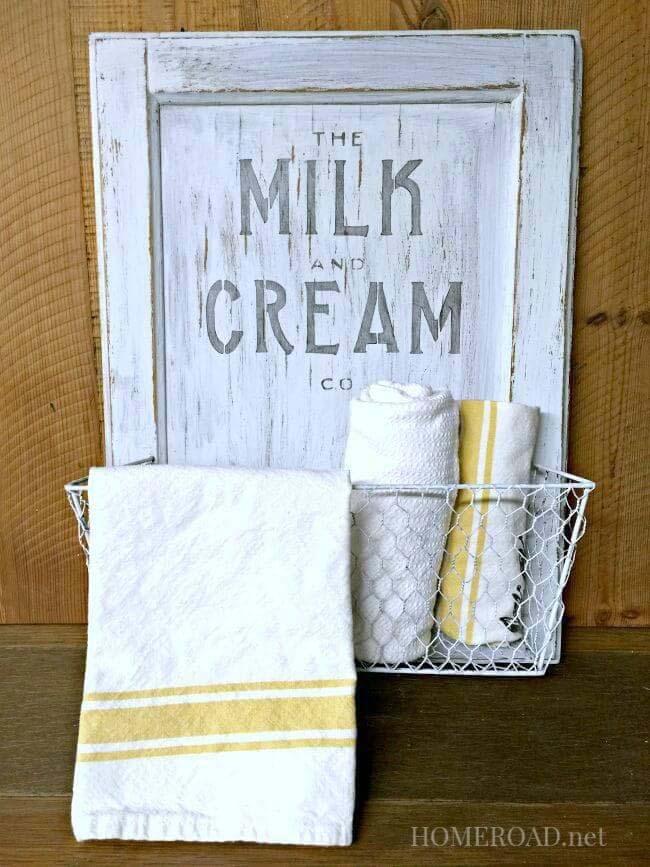 A bit of distressing turns a standard cabinet door into a truly gorgeous decor element in this upcycling project.
If you use mineral paint, you don't even need to worry about priming — with that shortcut, this product can be done in an hour or less.
The wire basket and vintage stencil complete the farmhouse-inspired design.
via Home Road
19. Vintage Wall Hanging with Cabinet Doors and Paned Glass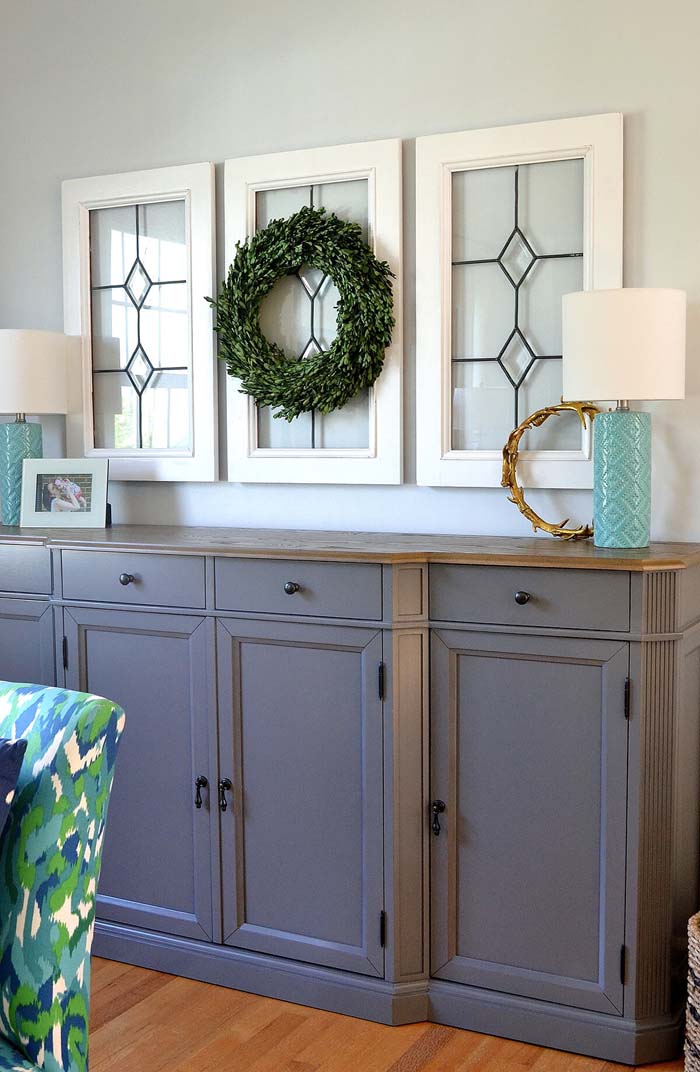 Do you have a set of cabinet doors with framed fronts?
Knock out the back panel and add a piece of paned glass to create an antique wall hanging.
Simple yet surprisingly sophisticated, these pieces look lovely alone or in groups. Add a different wreath for every season to complete the unexpected window-like effect.
via Burlap and Blue