Not keen on throwing old furniture away? You can repurpose it or at least part of it and transform it into functional pieces for the contemporary way of living.
Drawers usually remain in good shape so take them out to make something interesting for your home. Extra shelves, additional bedroom storage, special beds for kids' toys, an ottoman to relax your feet, a vintage chic porch planter?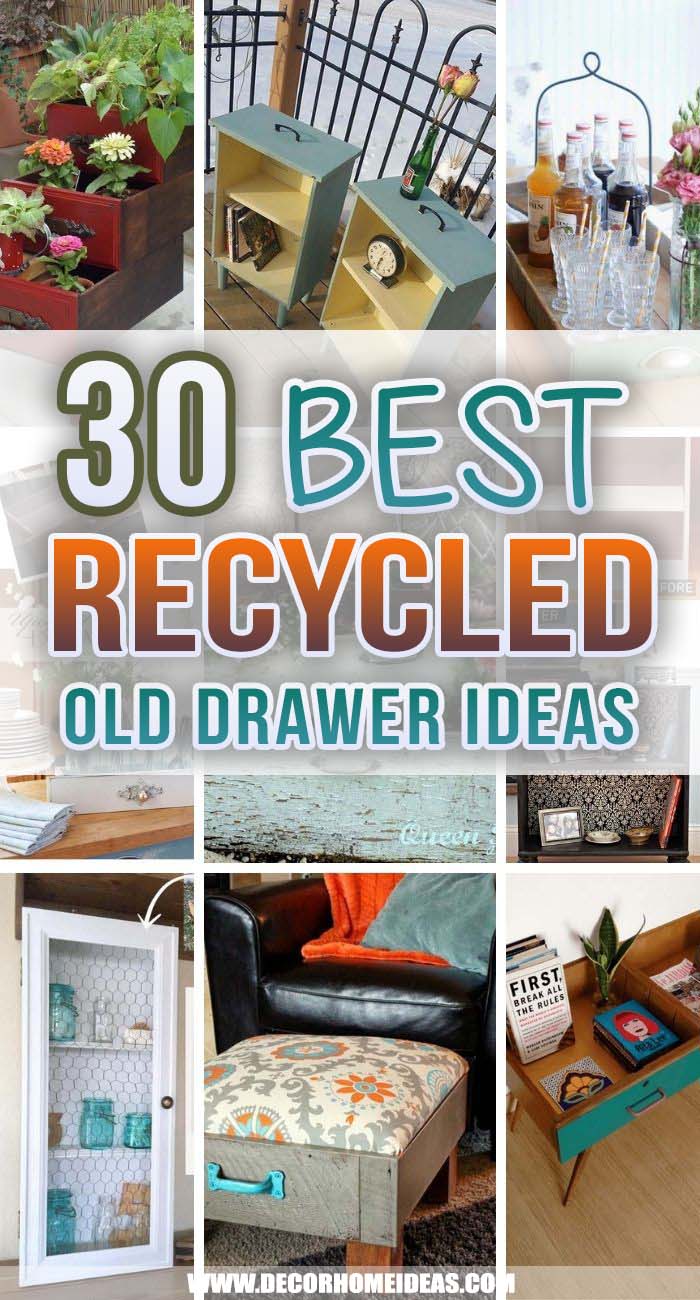 You can do all these with old drawers. Keep on reading to find out creative ways to get inspired and give the old furniture drawers new life!
1. Repurposed Dresser Drawer with Teapot Bird Feeder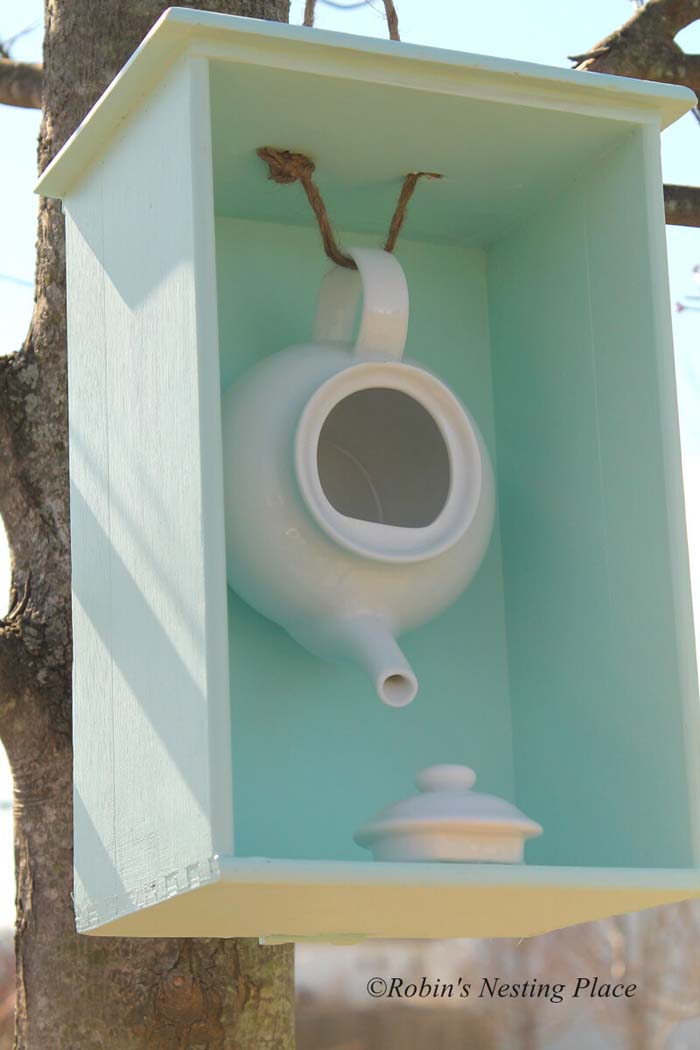 Are you looking for DIY ideas to attract wildlife to your garden? This cute DIY birdfeeder will cheer your exterior up with its vintage design and bright colors.
The birds will feel more than welcome to have a meal in the comfort of a repurposed dresser drawer with a teapot feeder.
2. Upcycle Old Drawer into a Rustic Wine Corks Organizer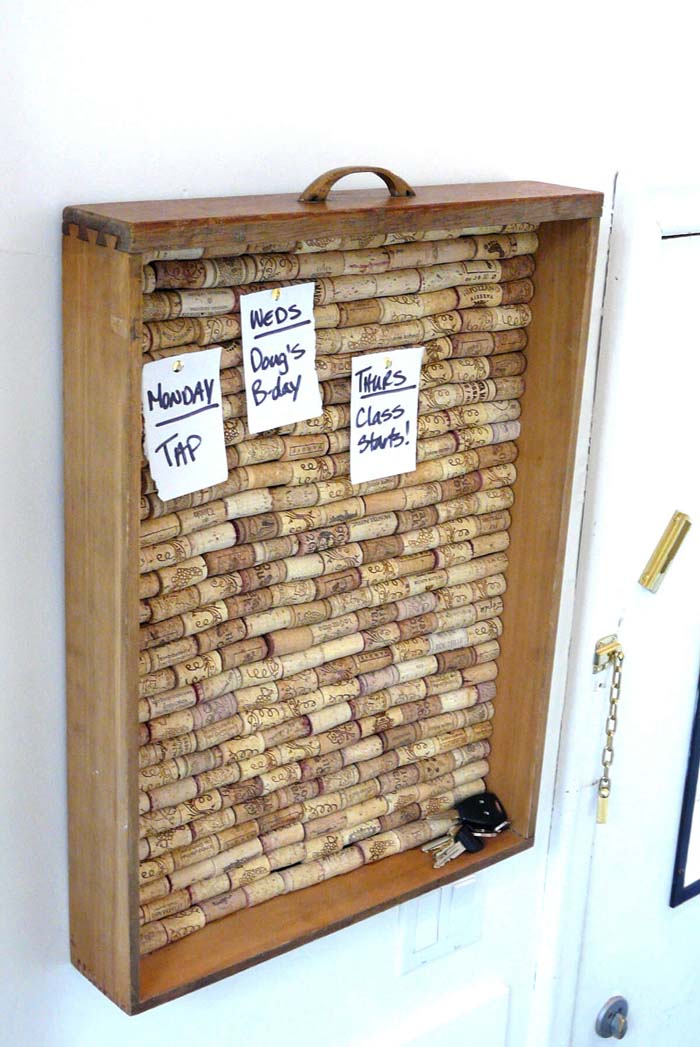 A tall and shallow old drawer could be the perfect supply for a trendy rustic wall organizer.
The bottom of the drawer is covered with wine corks that create a unique texture that easily accommodates the notes.
3. Vintage Drawer Transformed into Stylish Antiques Stand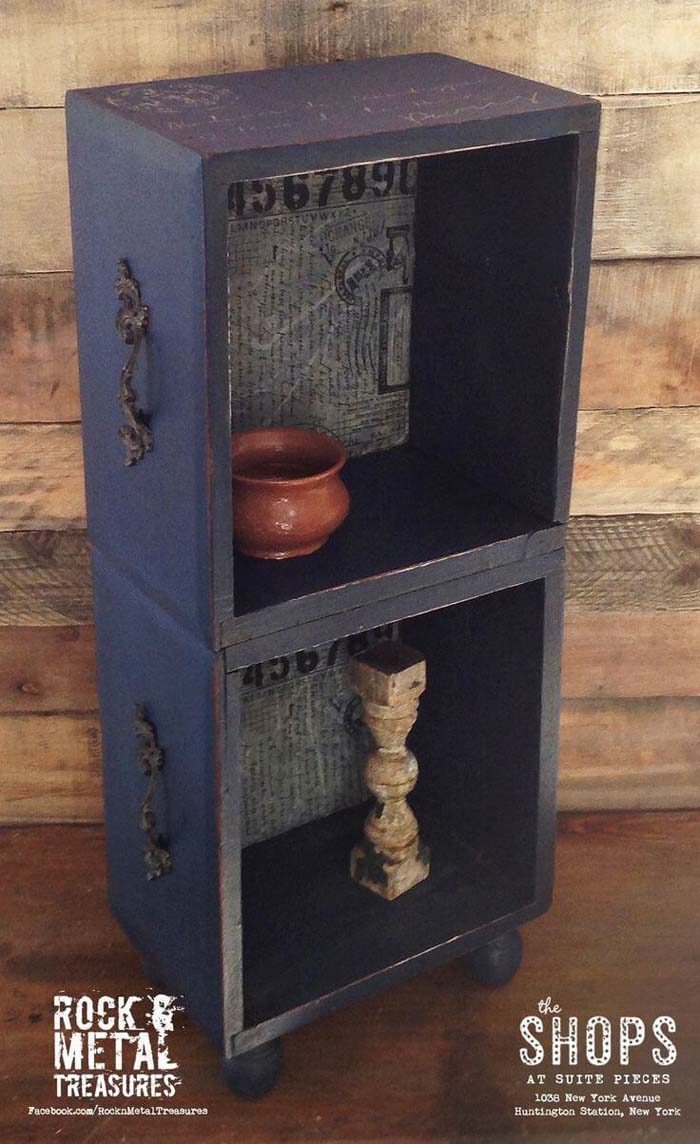 A wonderful combination of old pieces of furniture creates a treasure for the sophisticated modern home- a small stand for antiques.
Two drawers are stacked together to provide two levels for open storage. Four doorknobs are screwed to the bottom drawer to keep the shelving unit upright.
Drawer fronts are untouched holding the original wrought iron pulls which enhance the vintage elegance of the stand.
4. Store Jewelry in Style with a Simple Wooden Box Shelf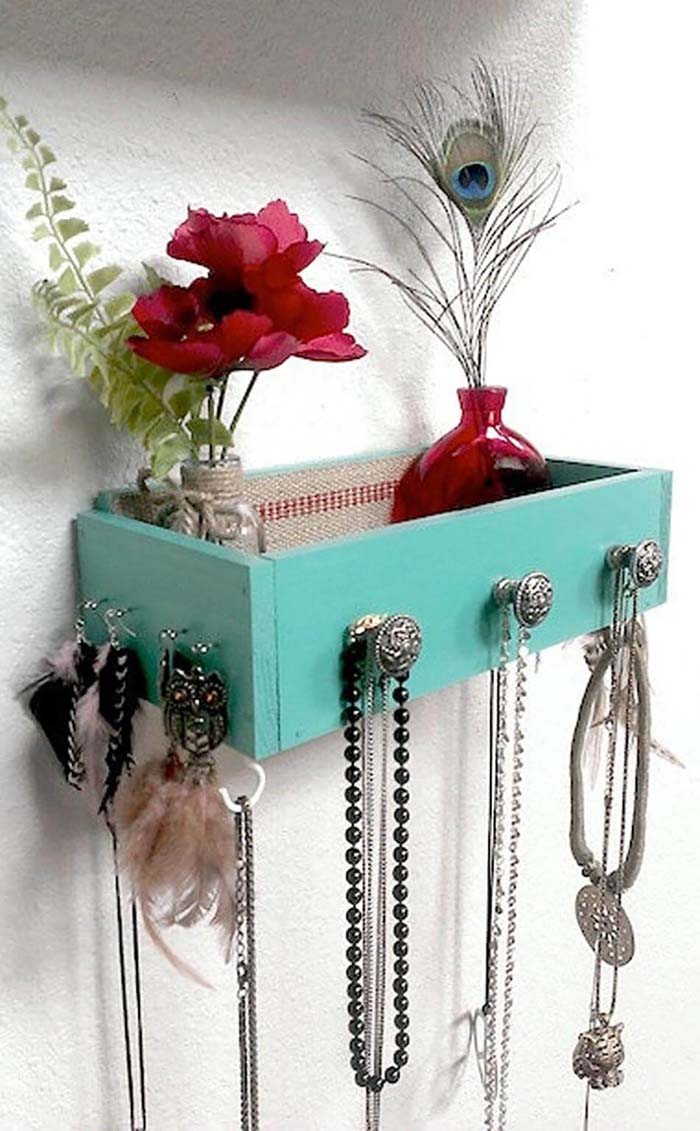 Organizing your jewelry is a mission possible with a handmade wall display. No need to invest any money, just take an old drawer, screw hooks or knobs to its sides to use as necklace and bracelet organizers.
Paint the drawer a bright color to give your bedroom a pop of color in a fabulous vintage way.
5. Upcycle Drawers into Toy Bed for Kids Room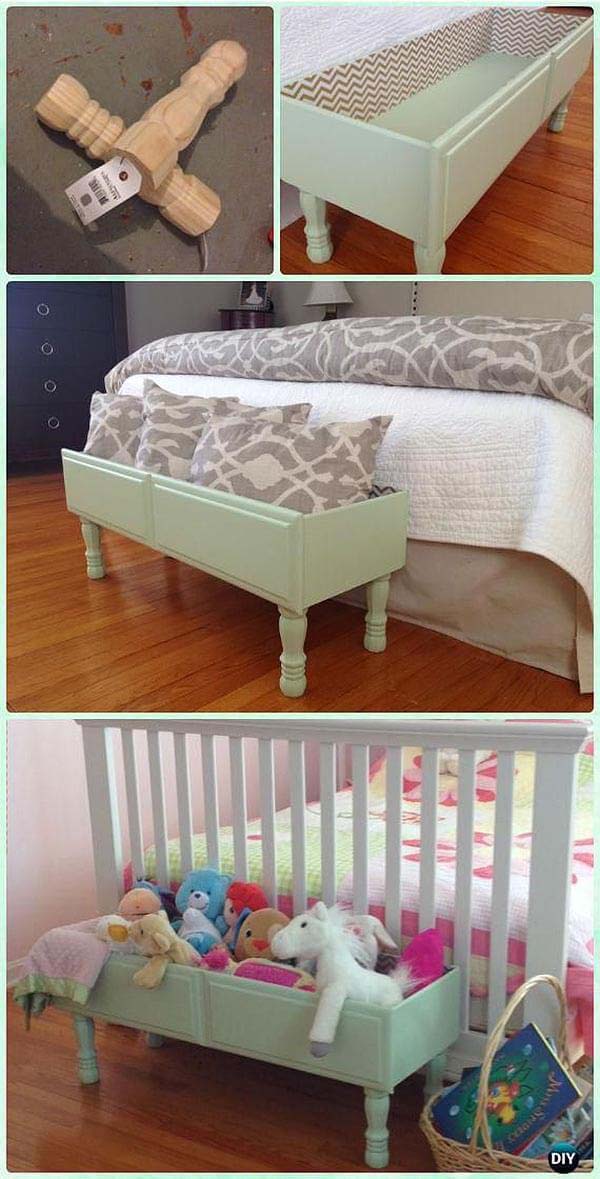 The upcycling of a drawer could be a fun project for kids and parents. Two drawers and four spindles are enough to create a special bed for the kids' toys.
Imagine how organized and neat will their room become once they feel intrigued to put the toys into their special home!
This idea can be upgraded to a better storage unit if only the drawers are used. Put them under the bed when kids are not playing and the room will feel and look tidier.
via Two It Yourself
6. Add Warmth to Entryway with a Rustic Drawer Wall Shelf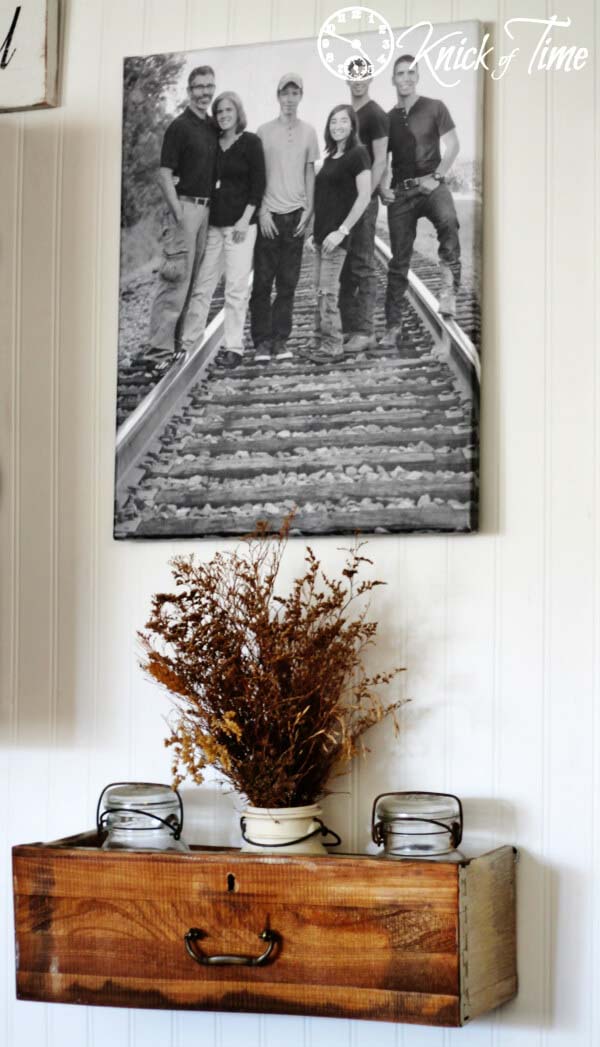 Does your entryway need a touch of coziness? Hang a drawer on the wall and use it as a display of lanterns and a vase.
The stained surface of the piece reveals the texture of the solid wood and that makes the wall shelf so unique.
via Knick of Time
7. Maximize Storage Space with Under Bed Drawers

Need more storage places in the bedroom? You can do it in a space-saving way without investing any money in new organizers.
Prepare drawers, as many as you may need, paint them a nice fresh color to match the interior and screw castors to their bottom.
Put the drawers under the bed to keep your stuff well stored and the room neat and tidy.
8. Adorn Your Living Room with a Stylish DIY Drawer Stand

To make your home decor more welcoming, you need to put a piece of yourself in the interior. Family photos, items with a special value and history deserve a special place. What could be a better match for their uniqueness than a handmade drawer stand?
Create tiers by adding another drawer. Paint the wooden surface a color that matches the room's interior. For a bold statement, you can line the bottoms with wallpaper.
via Redoux Interiors
9. Build a Vintage Farmhouse Cabinet with Upcycled Drawer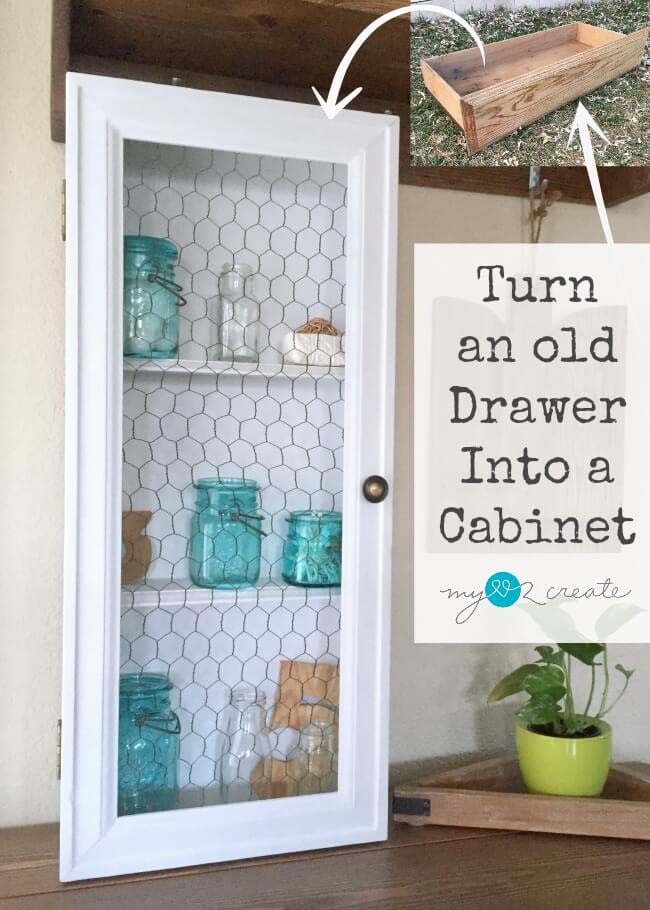 This vintage cabinet is the perfect complement to an entryway antique drawer or the living room mantel. To keep the stored items dust-free and give the upright standing unit an enhanced farmhouse look, a door is added.
A small window frame is lined inside with chicken wire and then attached to the drawer side with plain hinges.
The added iron knob makes accessing the stored vintage glassware easy.
10. Turn Dresser Drawers into Chalk Painted Organizer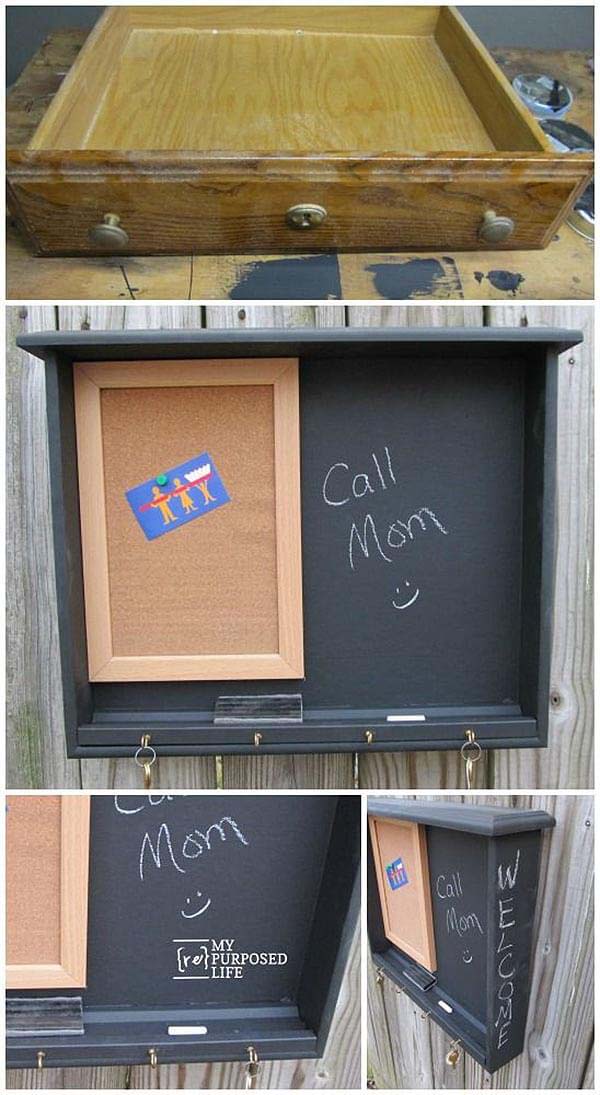 Chalk paint can do miracles with almost all surfaces. Applied on wood, it creates a thick even coat and gives the item a new function- as a board for notes.
This repurposed dresser drawer idea is upgraded with added corkboard where notes can be stuck. Screw hooks at the bottom help keep all keys in one place and limit the fussing around the house in the mornings.
11. Store Your Cutlery in a Rustic Drawer and Jars Organizer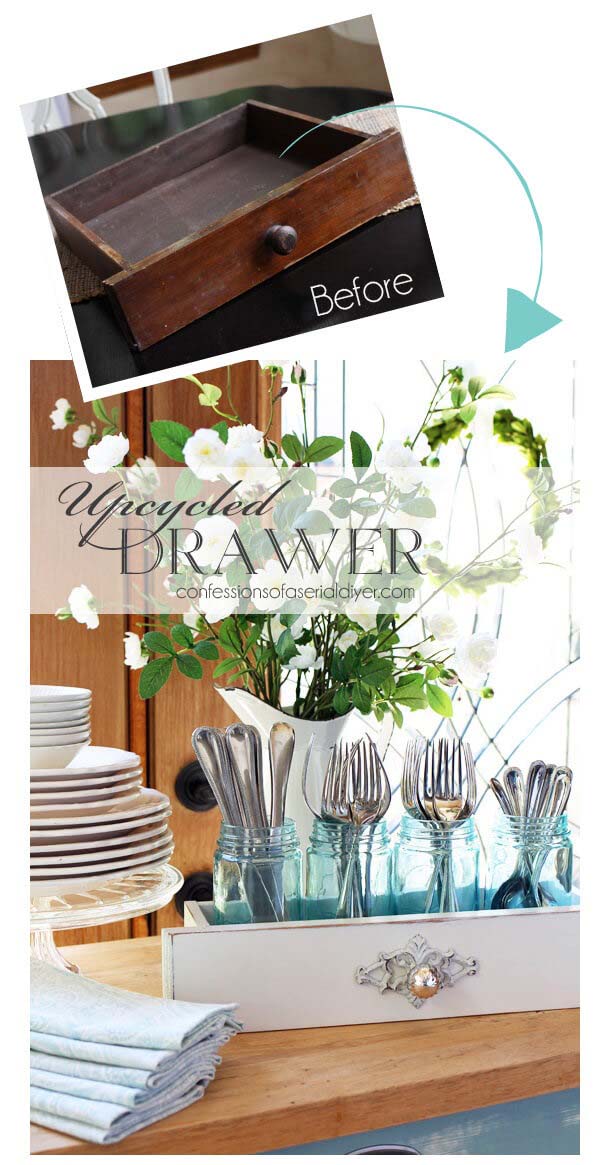 Use a rustic-looking drawer as your functional centerpiece for your holiday decor. Some distressing on the new fresh paint coat and sleek pull with ornaments and the drawer transforms into a tableware organizer.
After the dinner is over, you can simply replace the stored items with seasonal decorations to adjust to the ordinary interior.
via Confessions of a Serial DIYer
12. Uplift Your Patio Time with Drawer Stands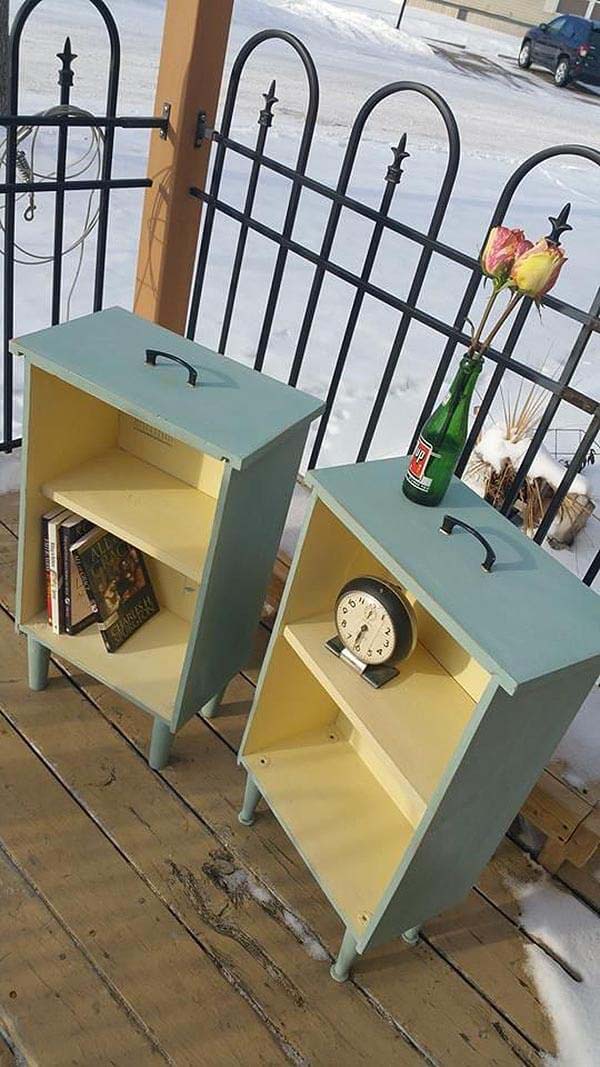 If the drawers you are going to repurpose are deeper, your work will be less and the making easier. To increase the storage places of the free-standing storage units, just screw boards to the middle of the inside.
Depending on your decor and the drawers' state, you may want to give them a fresh paint coat or leave them weathered for an improved antique vibe.
Old spindles are simply screwed to the bottom to give the shelving units height and rigidness.
via Hometalk
13. Hang Your Earrings Elegantly with a Drawer Organizer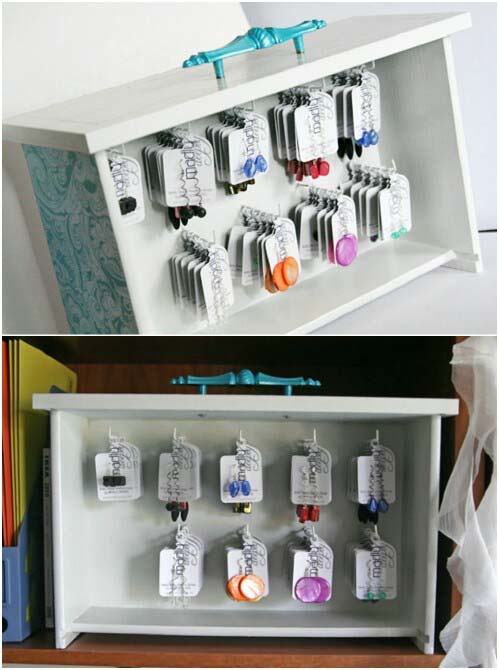 Organizing is the key to a neat and welcoming home. The organizer from an old drawer is one of those DIY projects that are easy, fun and super functional.
You can apply the new storage item to any room but the idea here features how the organizer can be used for storing earrings in a shop. Screw hooks to the bottom of the drawer and arranges the earrings by their design.
The attention of people attending your shop will be easily attracted because of the unusual storage place and the unique design.
via Mikaela Danvers
14. Embrace Minimalism with a Drawer Bookshelf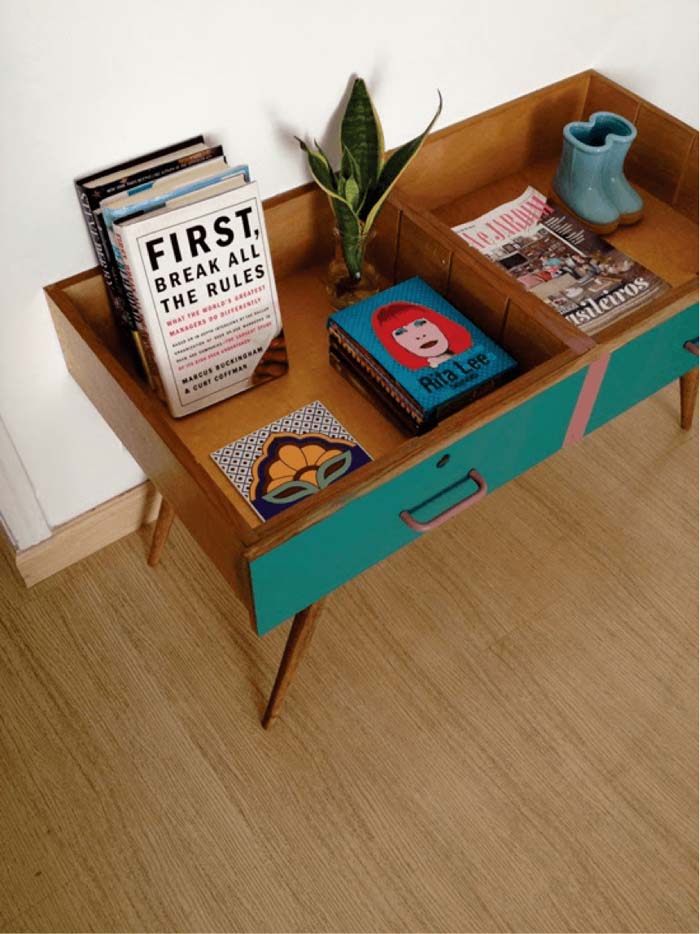 Your favorite books and special magazine issues should be differentiated from the mass. Storing them in a wall shelving unit won't reveal the rarity of the editions.
But placing them on a storage table with a boutique design will surely speak for their value.
via Recyclart
15. Bring Rustic Charm with a Distressed Drawer Holder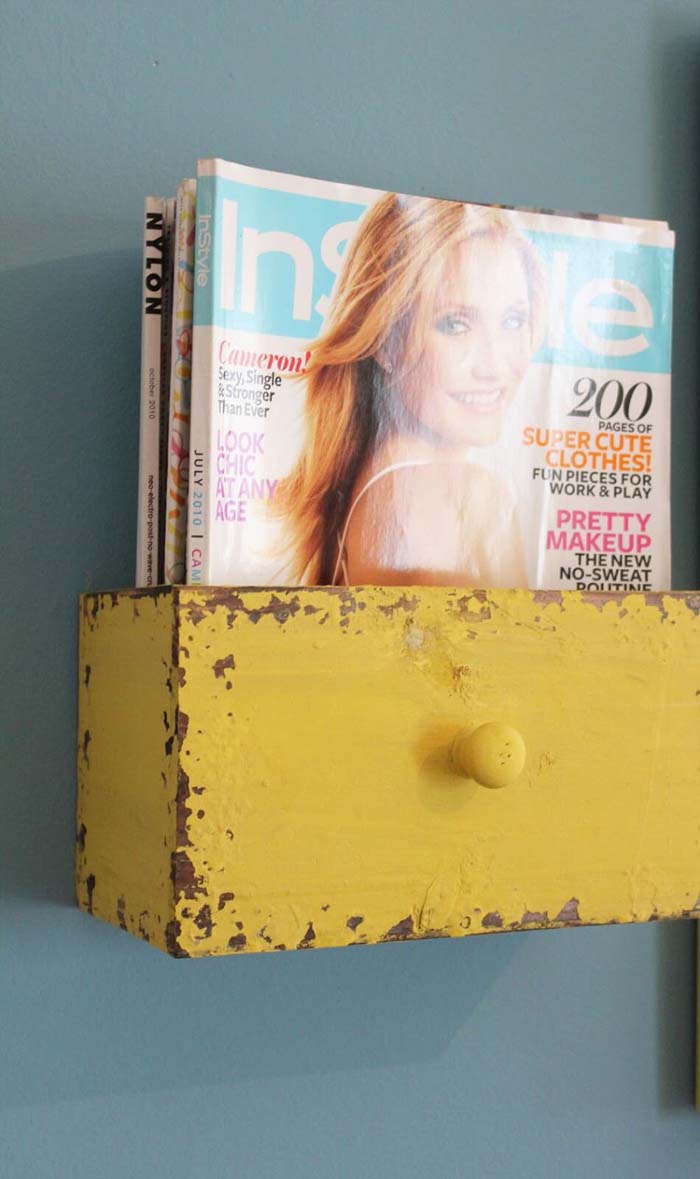 The magazine storage can be space-saving if the drawer is hung on the wall. Leave the surface weathered to make a sensible vintage impact on the contemporary interior.
This idea could be very helpful for hairdressing salons, offices or other workplaces.
16. Repurpose Vintage Drawers for a Modern Look

The vintage look of the repurposed drawers can be given a modern twist by arranging them in a zigzag pattern on the wall.
Use suitable hardware to fix them rigidly to the wall and place the decorations on the shelves.
Personal items like photos and the devices you practice your hobby with will leave a strong imprint on the interior and will give the space a homely look.
17. Elevate Your Mini Garden with Drawer Planters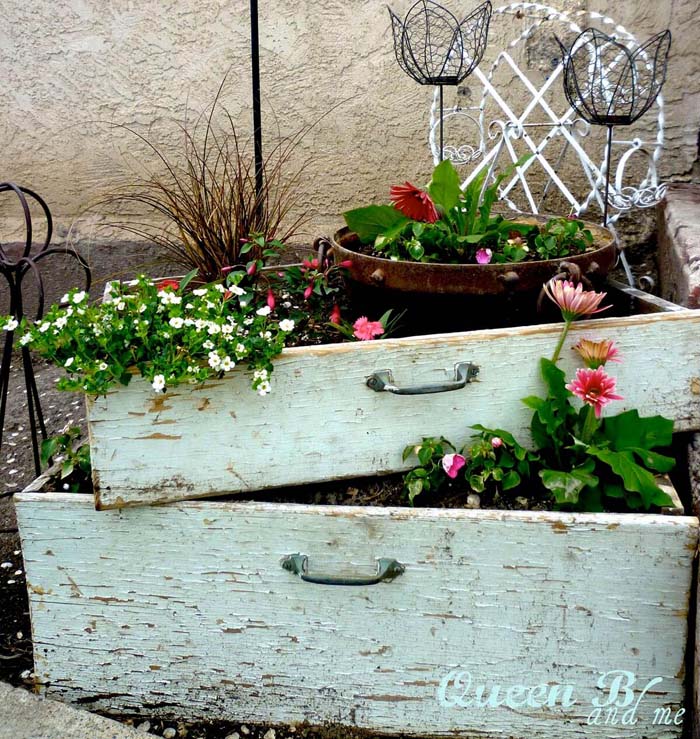 No need for expensive garden planters. Just grab the old drawers out of the garage and stack them leaving gaps for the plants to peek out.
Don't waste time sanding the paint off or re-painting them since the outdoor conditions will leave their prints on soon. Use the weathered look like a design effect of the unique upcycled garden idea.
18. Optimize Bathroom Storage with Drawer Wall Shelf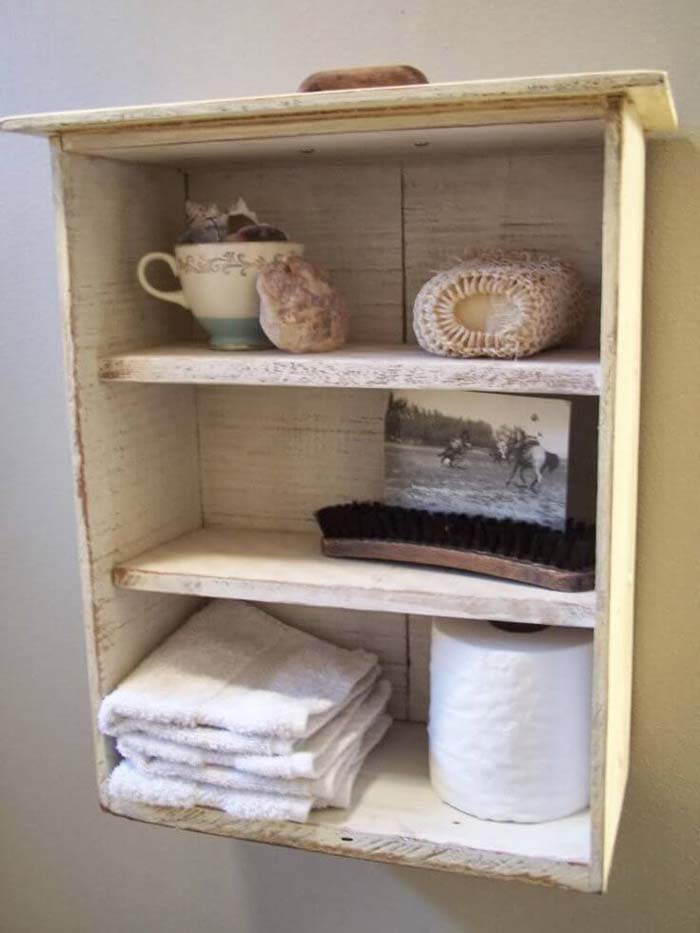 The wall over the toilet could be far more helpful if utilized with a shelving unit. This spot is perfect for the storage of towels and toilet paper rolls at a one-hand distance.
If you are inspired by the idea of increasing the storage units in a space-saving way, no need to spend any money. Ask a friend or look into the garage for furniture leftovers or scrap wood. Take one drawer, clean it well and hang it on the wall.
19. Let Your Kids Have Fun with a Chic Drawer Dollhouse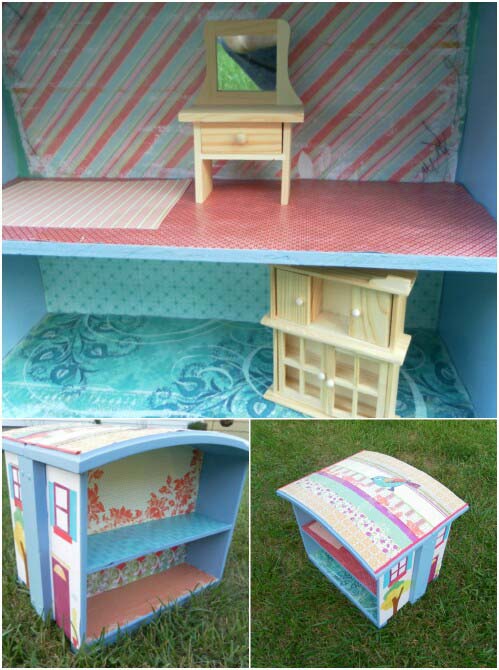 Dollhouses could be quite expensive. This idea lets you make the doll place from your girl's dreams from nightstand drawers.
You need two drawers and paints for this DIY idea. Put the drawers back to back and fix them with screws or glue. Customize the house with additional levels from scrap wood.
via Semiproper
20. DIY Polka Dot Cubic Shelves Using Old Drawers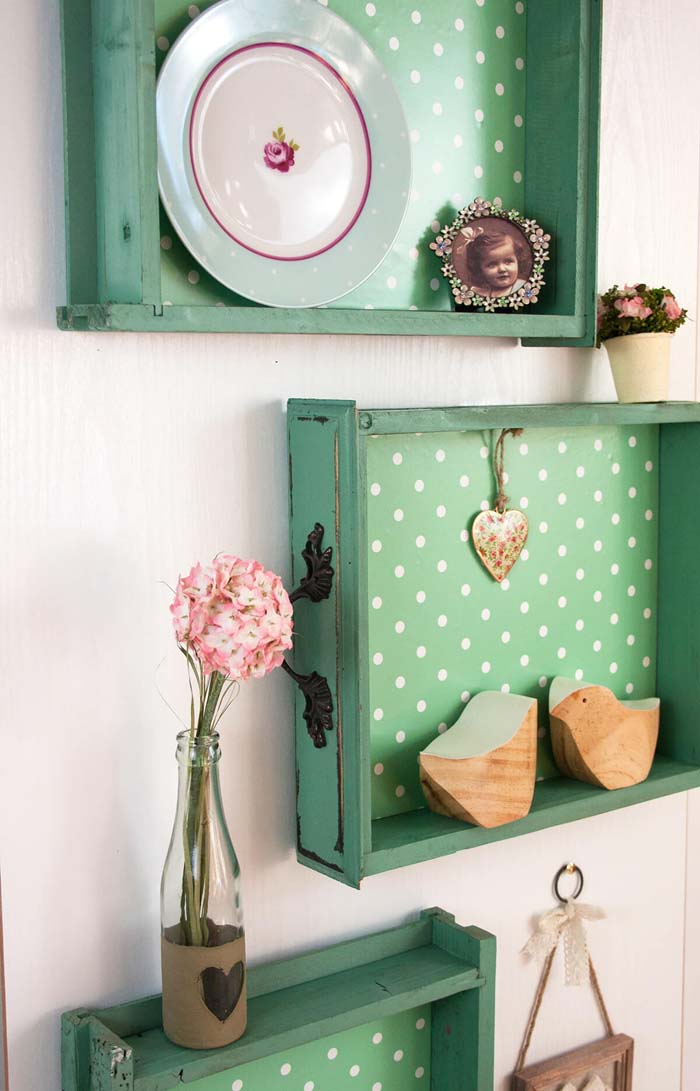 Aren't these polka dot cubic shelves adorable? If you are looking for something extraordinary, you won't find it at the shop. You should make it yourself.
Old drawers come in hand to help you make the entryway or any other part of your home decor charming and personalized.
21. Build a Rustic Ottoman Bench with Old Drawer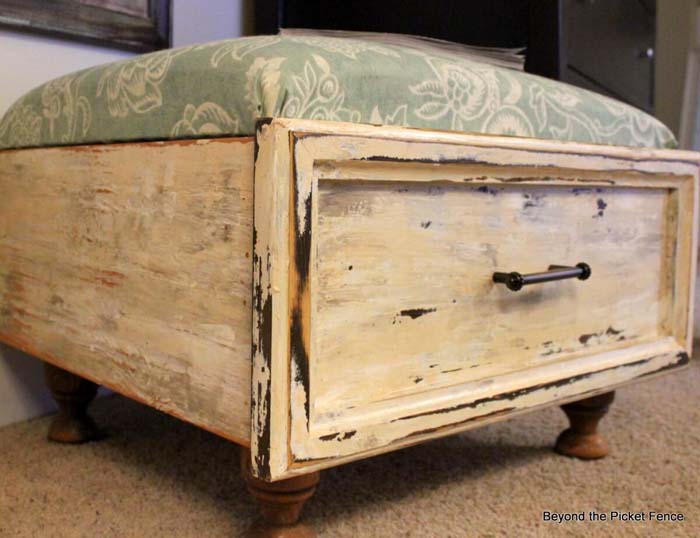 The drawer from an old dresser is of the perfect size to make a functional ottoman to relax your feet on. As simple as it looks, you need legs cut from spindles to give the drawer height and mobility.
The fluffy cushion can be bought or hand-made to size. The repurposed drawer idea provides another function- as a storage place. Isn't that amazing?
22. Transform a Bathroom with Cabinets from Old Drawers

The bathroom also needs special attention when it comes to organization. Probably, you need a space-saving idea on a budget?
You can make as many bathroom cabinets as you may need from old drawers. Paint them white or decorate them with wallpaper, decoration possibilities are unlimited!
Leave them open or equip them with doors from old window frames! The design is entirely up to you!
23. Add Texture and Character with Drawer Ottoman Bench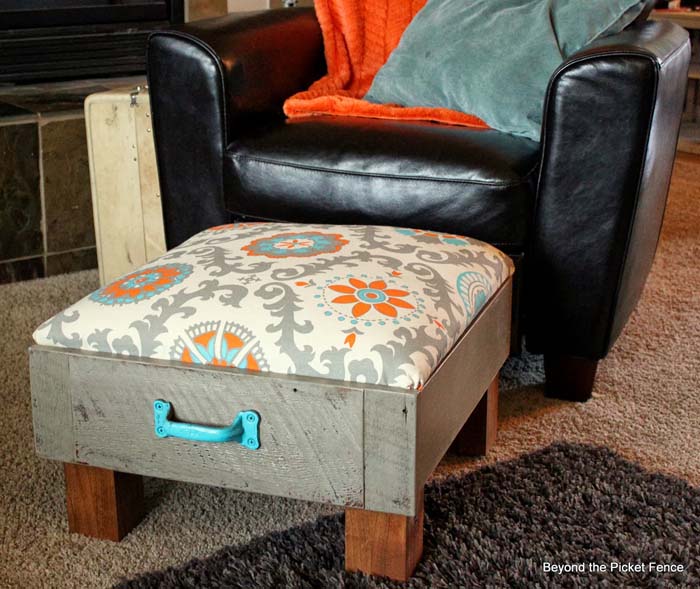 If you have already loved the idea for a drawer ottoman, you may want to read a step-by-step tutorial. The part with the cushion could seem like the most difficult one but actually, it isn't.
You need a flat board cut at the size of the drawer opening and a hinge to attach it.
Glue the cushion on and enjoy the multifunctional hand-made ottoman.
24. Bring Vintage Charm with Old Wood Drawer Organizers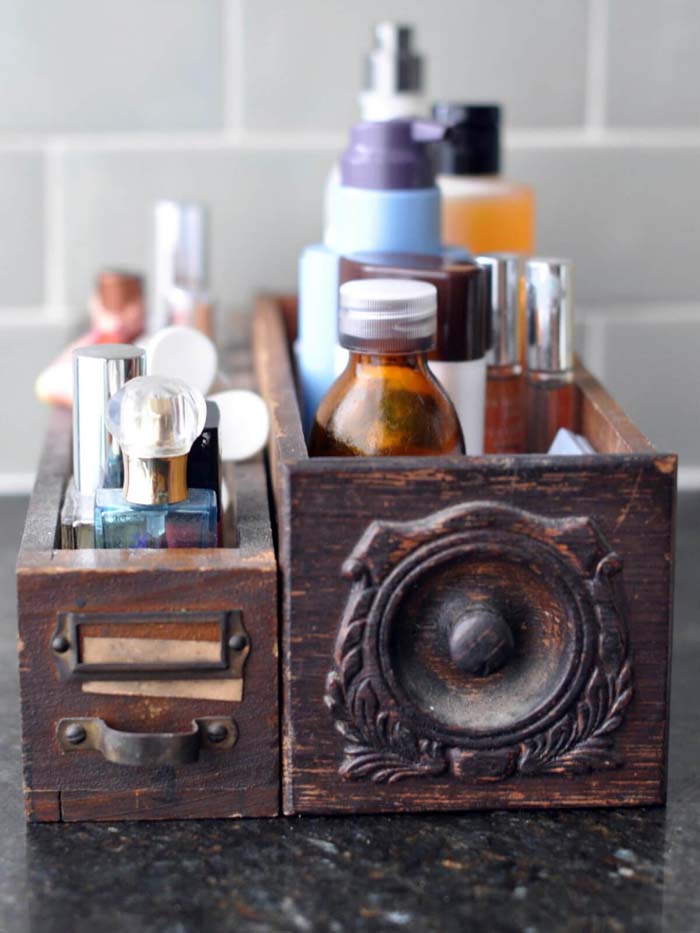 If you need storage units for your bathroom that will give the sink top charm and a homely look, go to the thrift store. Look for narrow drawers from vintage dressers.
Usually, they have beautiful engravings and pulls which make the piece so valuable and outstanding.
In case their surfaces don't match in color, apply a coat of stain or paint to give them a united look.
25. Make Sandwiches Easily with a Drawer Shelf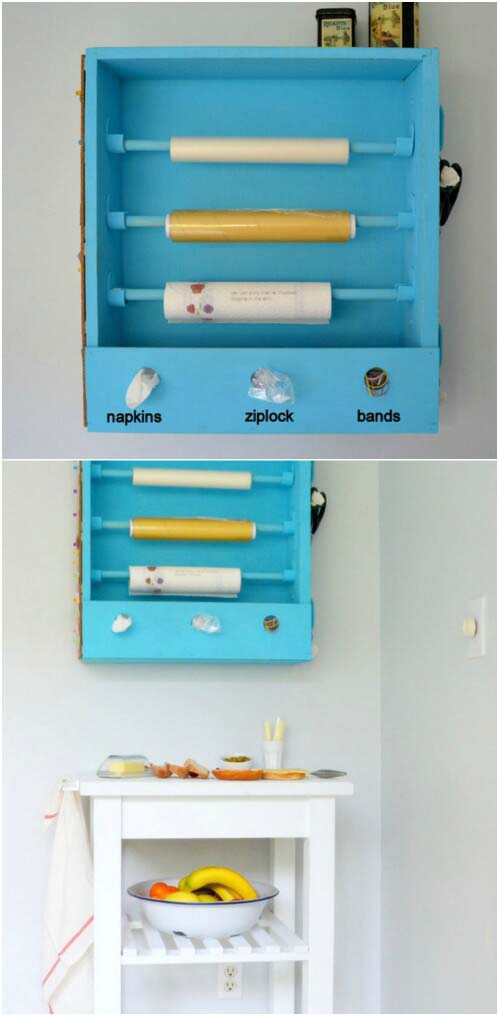 Looking for a repurposed drawer idea to use in the kitchen? Turn it into a functional sandwich station that won't take any of the space.
All wraps and foils are put on dowels inside the drawer so that you can easily pull whichever you need. The wrap station is a great way to add a pinch of charming country chic to your kitchen.
via Curbly
26. Modify an Entryway with a Personalized Drawer Display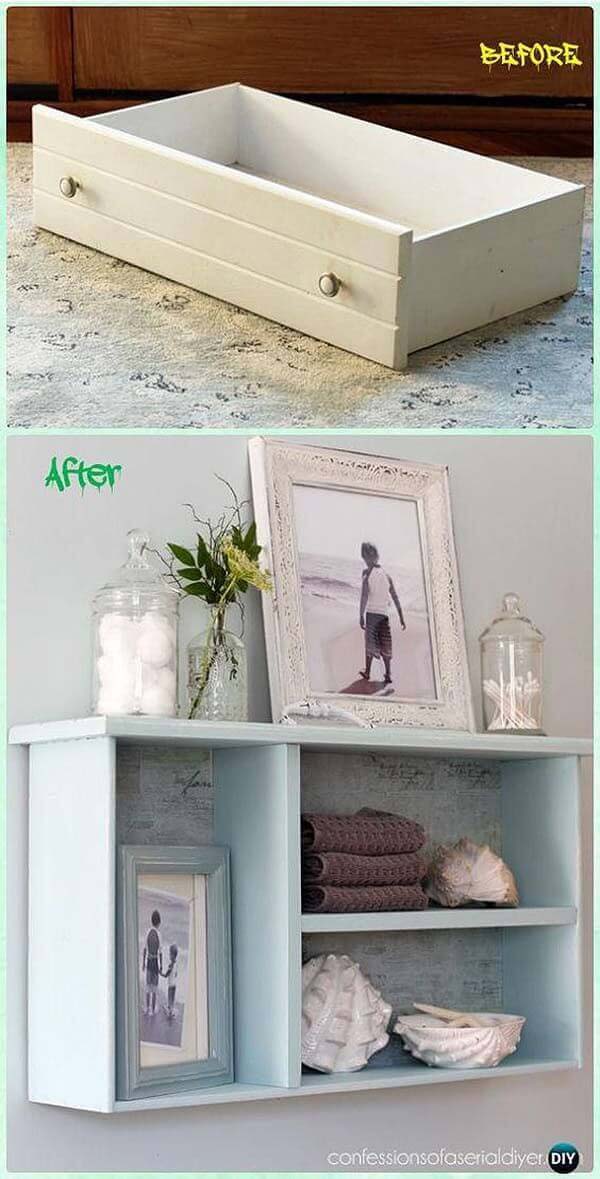 This is another great idea that makes it possible to turn the entryway into an inseparable part of your home.
Displaying decoration possessing a personal meaning coheres with the interior of the rest of the rooms.
Hang the drawer on the wall and put family photos, candles, vases, treasures from the ocean on the shelves.
via Confessions of a Serial DIYer
27. Make a Statement with a Tall Drawer Stand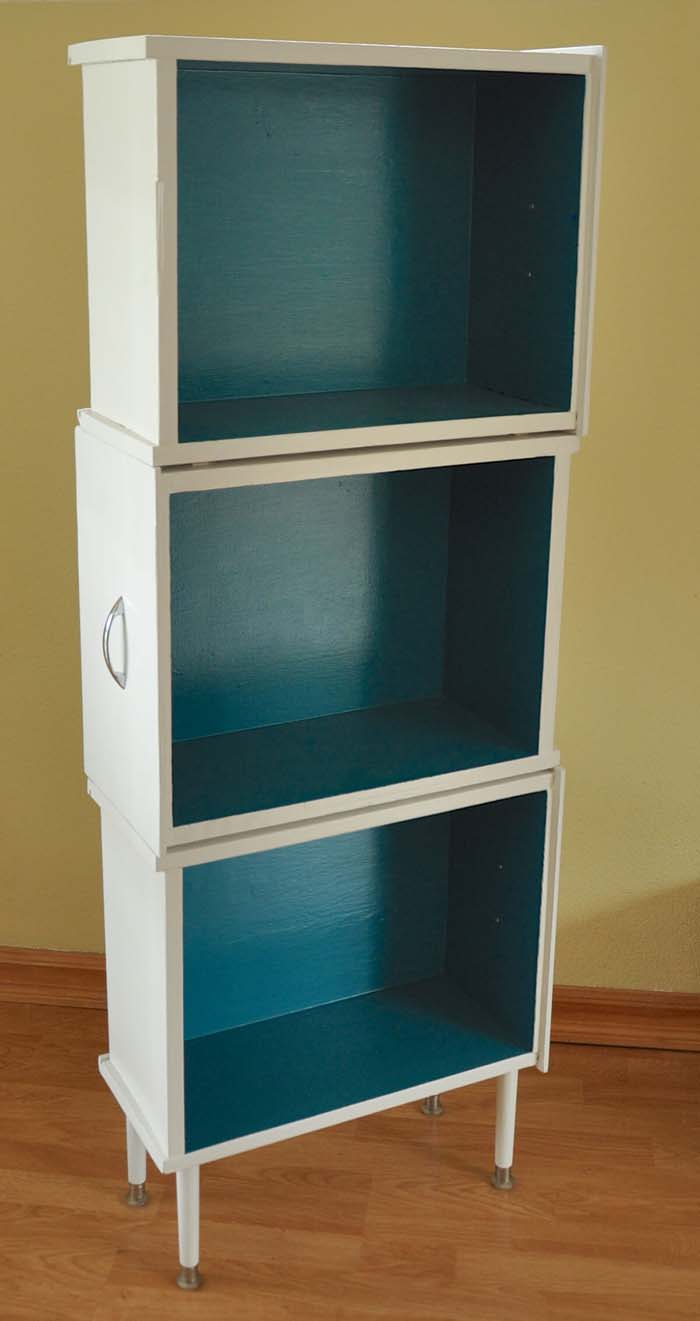 Give your bedroom a customized book shelving unit with tiers! It has a small footprint and will easily find its spot. Stack drawers up and secure them with screws.
Add legs to the bottom one to lift the lower level at an accessible height.
Good sanding and painting will recover the wood surfaces and give them a brand new look.
28. Be Bold and Creative with a Drawer Tiered Garden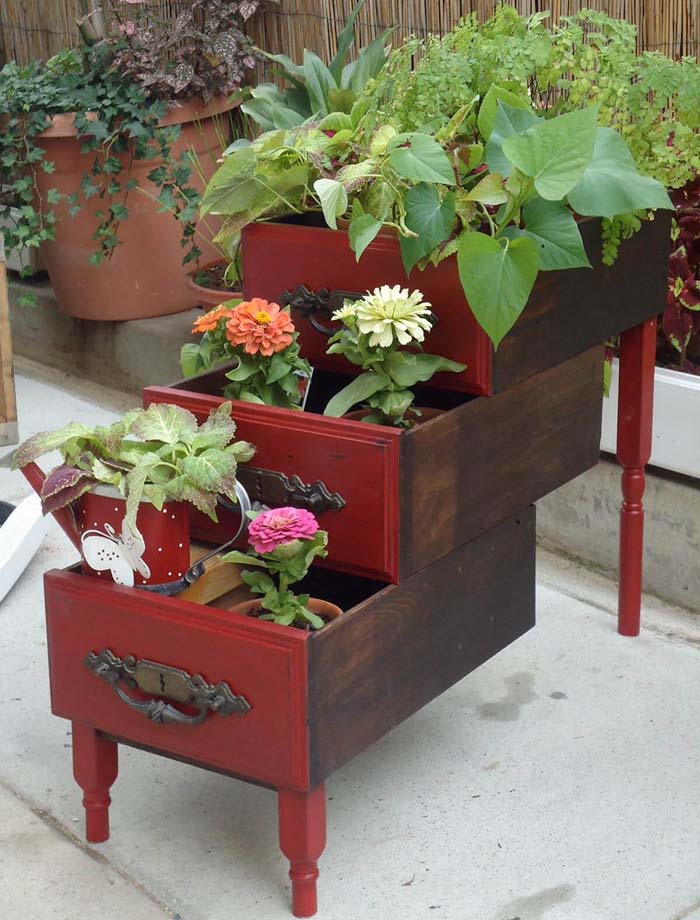 This is one of the greatest old drawer ideas. A tiered garden planter is made by stacking identical in size drawers. The different lengths of the pairs of legs provide the planter with stability.
Paint the drawers or apply a dark stain on the wood surface to let the handmade garden feature stand out.
You can fill the inside of the drawers directly with soil or accommodate pots inside in case you are looking for a more universal and easy-to-maintain solution.
29. Step Up Home Library with a Rustic Drawer Bookshelf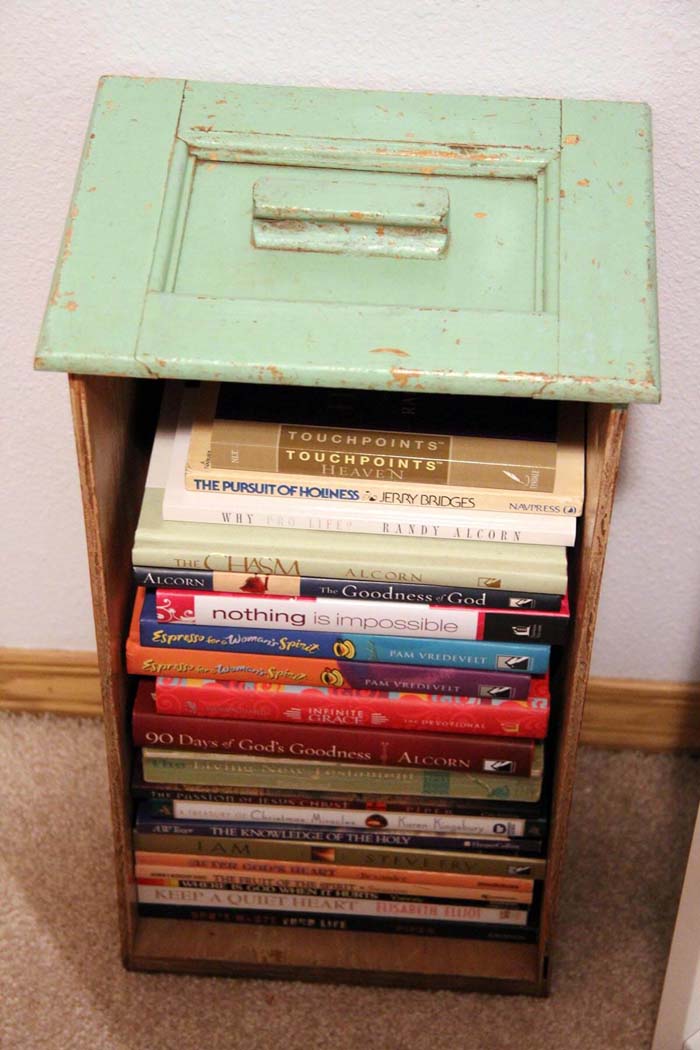 Do you love reading books before falling asleep? Then you must be looking for a compact bookshelf which can handle many books.
Does it sound impossible? Not with this drawer repurposing idea! Simply by flipping the drawer over, you receive a generous surface for neat storage of your new books.
Space is not enough? Double it by stacking another drawer up.
via Indulgy
30. Keep the Party Going with a Drawer Serving Tray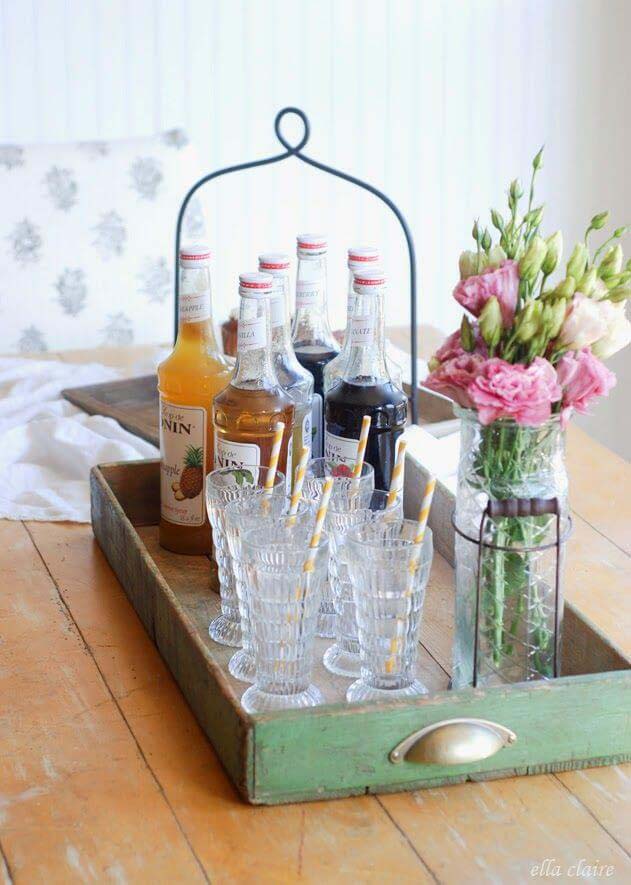 The old dresser may have fallen apart but the drawers have remained hale. Don't throw them away as they can be given a practical function in the kitchen or in the living room.
The new chance for the old drawers doesn't require any modifications, only a new place. Place the drawer on the table and fill it with glasses and bottles of cocktails.
via Ella Claire Co