Reusing and recycling old household items hold many benefits.
This not only saves money, but allows you to have some fun times, either alone or with family. 
Making use of old things to make creative, new things brings out the artist in you. Once you start getting hold of tips and tricks, you will start enjoying it.

Many people have turned recycling into money-making projects.
Recently, more and more people have been seen turning towards this activity and you will be amazed by what things they have come up with.
These DIY furniture hacks will have you awe-struck. Look at some of these hacks to get the motivation you need.
1. Old Chairs to French Style Bench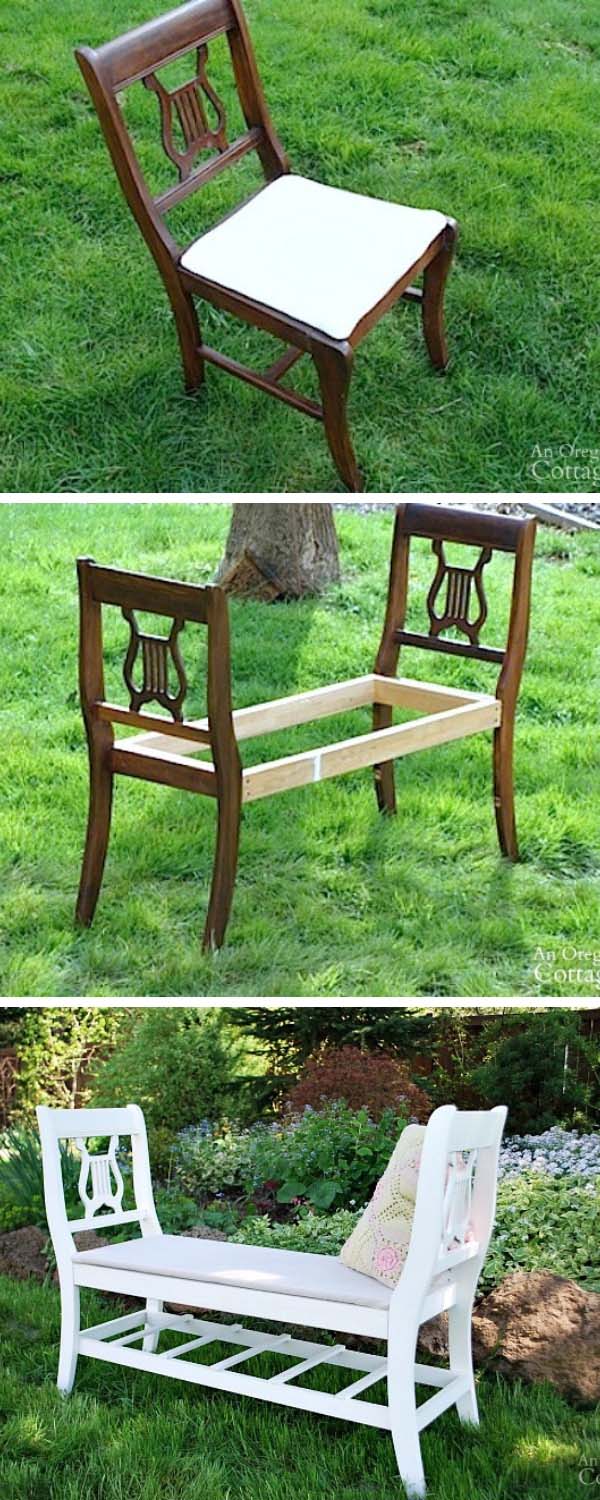 If your old chairs have become wobbly and are falling apart, you can reuse them to make a French style bench.
Just by following simple steps, you can make a beautiful bench that can be placed at the foot of your bed, or in your garden.
Who said you have to spend a hefty amount of money for a French style bench?
via: anoregoncottage.com
2. Old Door to Picture Frame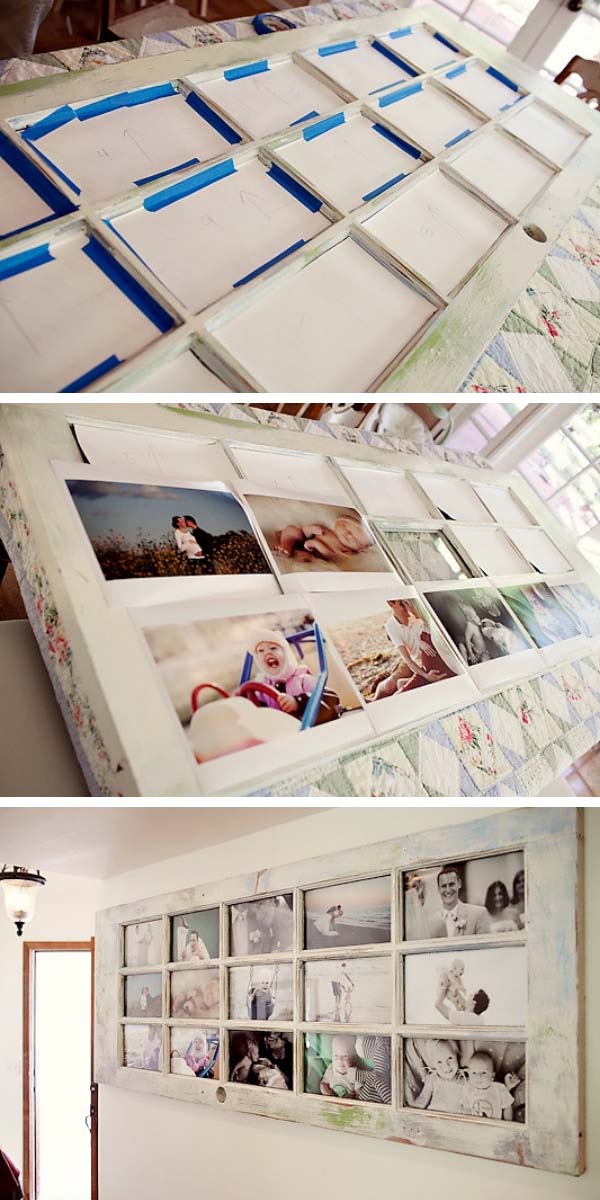 An old door with glass panes will make an eye-catching wall decoration.
Just get some family pictures developed and tape them at the backside of the door.
Decorate the wooden door frame with printed fabric or spray paint and hang it on the wall of your living room.
via: photogmommie.com
3. Old Crib to Toddler Bed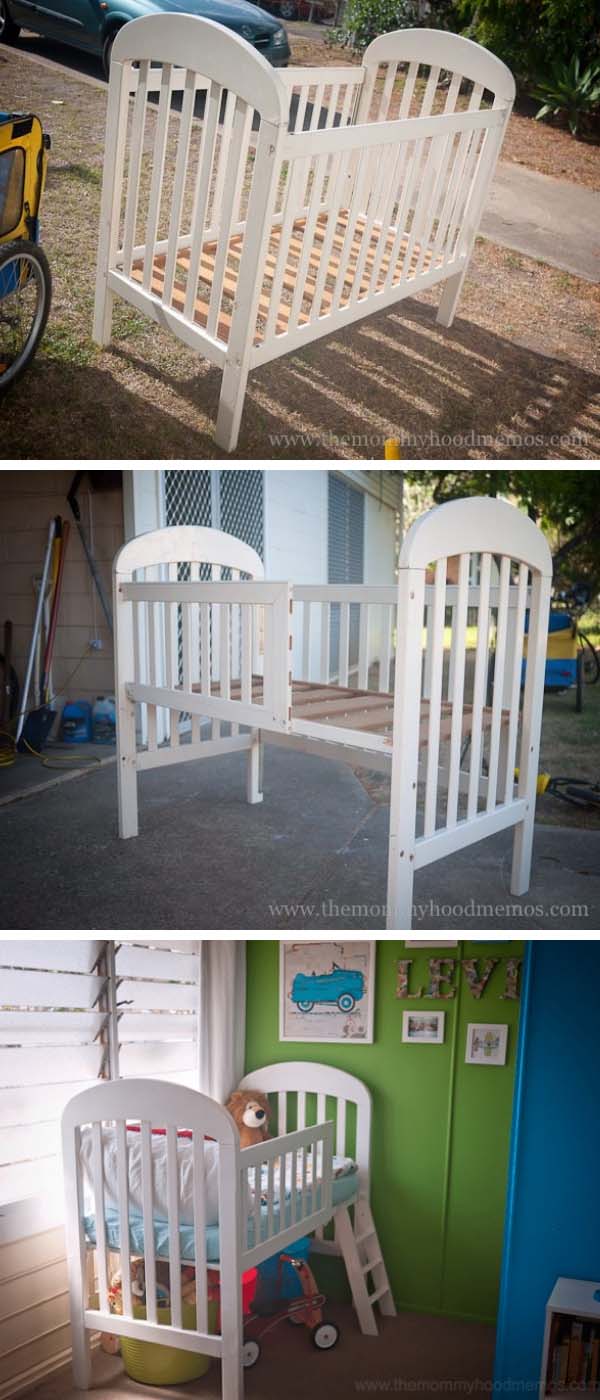 You can reuse the old crib of your baby to transform it into a toddler bed.
It will look adorable and cute and you won't even have to spend any money.
Preparing a bed for your toddler by yourself will also showcase how much you love your baby.
via: adrielbooker.com
4. Old Unused Dresser to a Bench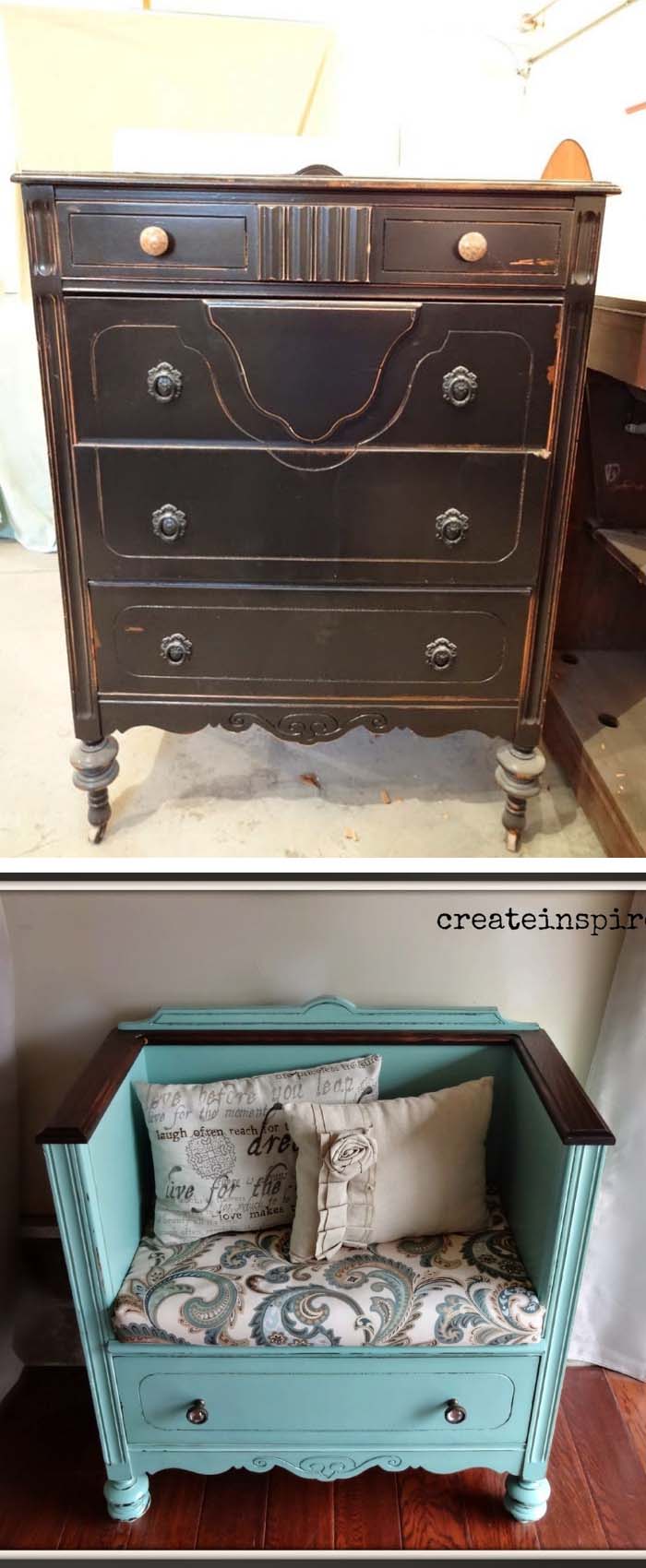 If your old dresser has become too old – drawers not smooth anymore, color not as bright, and the legs not too strong, you probably would want to get a new one.
A great idea though is that you can recycle your old dresser into a bench that can be placed by the window or anywhere you want.
via: createinspireme.blogspot.com
5. Old Table to Lego Table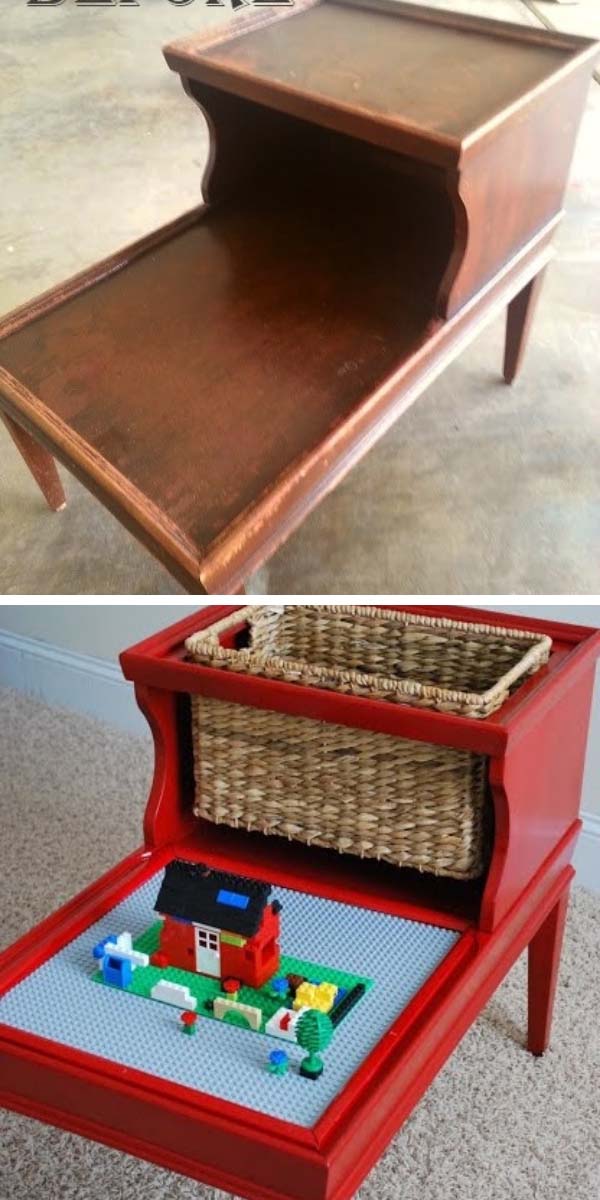 You can make a Lego table from an old table.
Your child can play on this table and then keep the blocks in the basket after playing, so it's also a great toy storage idea.
This way, the blocks will stay in one place, your house will look organized and tidy, and your child will learn how to keep his things organized.
via: fussymonkeybiz.blogspot.com
6. Old Cabinet to Renewed Cabinet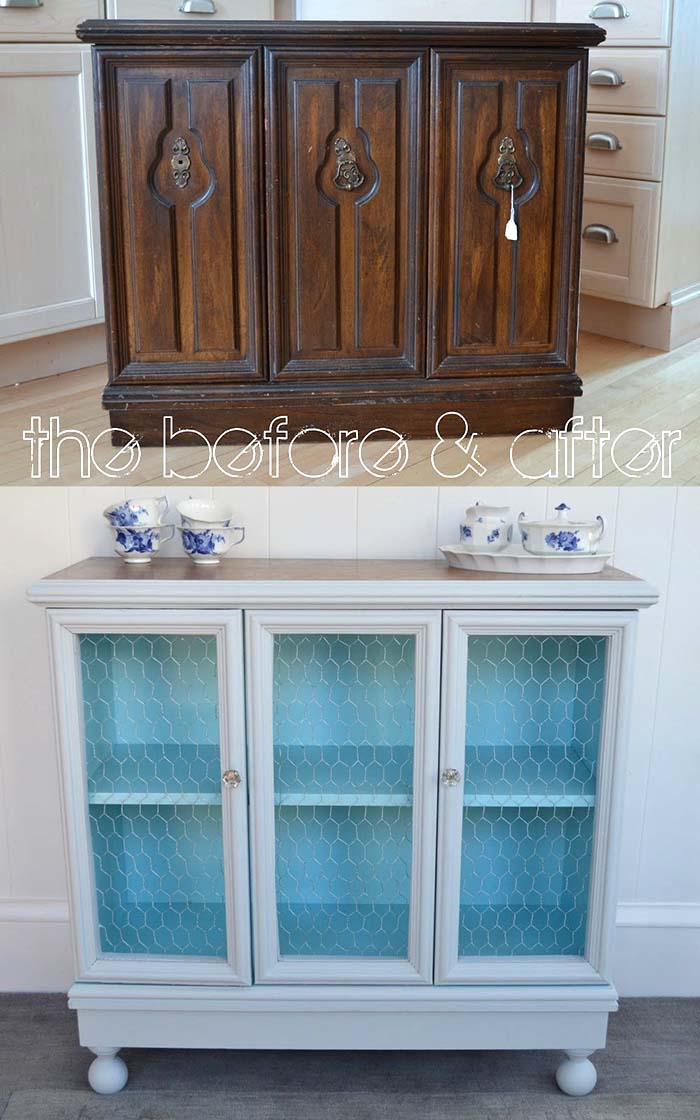 You can renew your old cabinet into a stylish and modern design.
The best thing is, once you have completed the remodeling, nobody can tell it was an old cabinet. Not even you yourself!
via: thelovelyresidence.blogspot.com
7. DIY Drawer Ottoman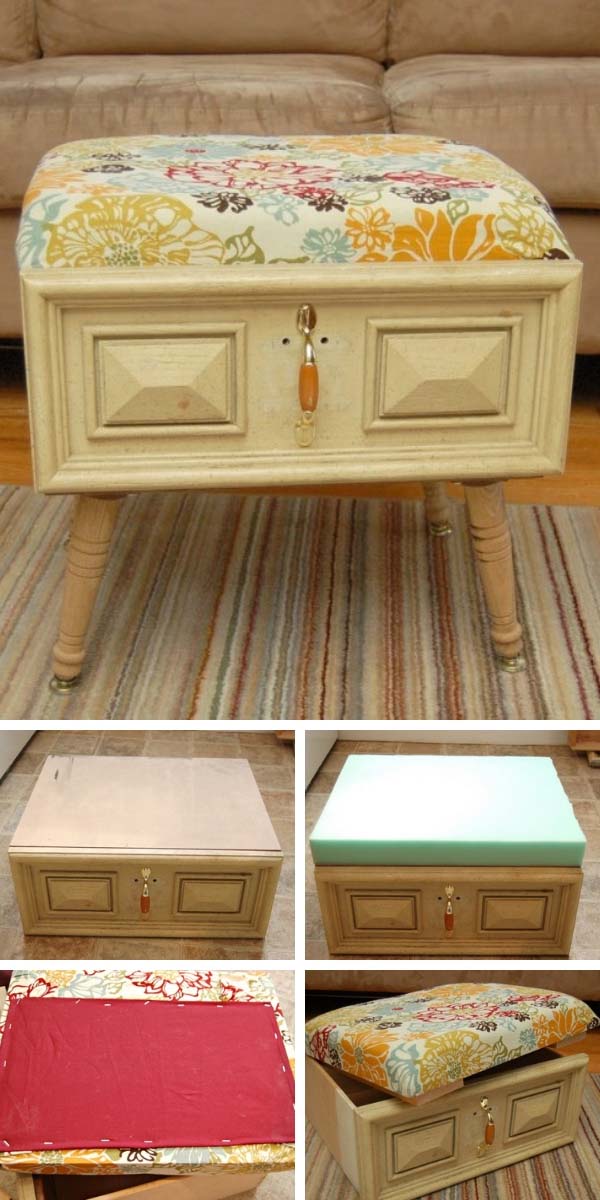 Old drawers can be made into classy ottomans.
They will offer a comfortable seat to sit on which will also be great for décor and will serve its purpose of storage. 
Who thought drawers could be reused in such creative way?
via: theownerbuildernetwork.co
8. Old Table to Bathroom Vanity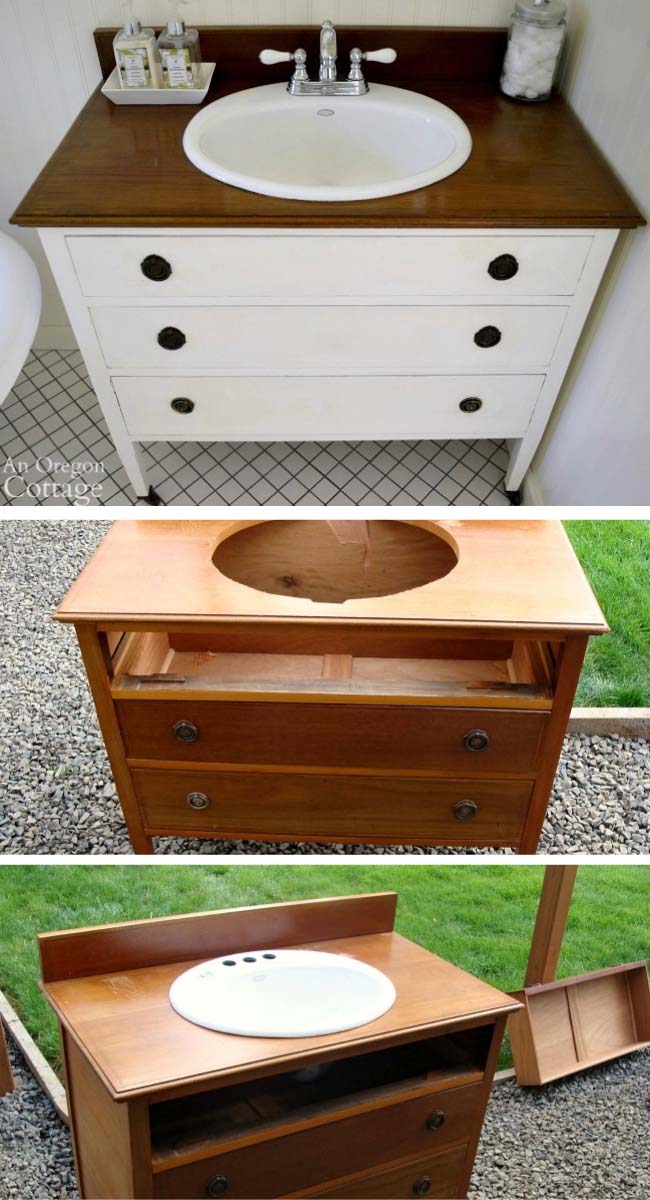 You can easily recycle and reuse an old dresser (either from your home or from a garage sale) and make it into a bathroom vanity.
The new bathroom vanity will look modern and fresh. Nobody has to know how you managed to pull it off with almost no expense!
Reusing and recycling old things not just saves money but also gives a sense of achievement.
If things are used in the right way, you will be amazed at how great DIY furniture hacks can turn out to be.
via: anoregoncottage.com
9. Upholstered Coffee Table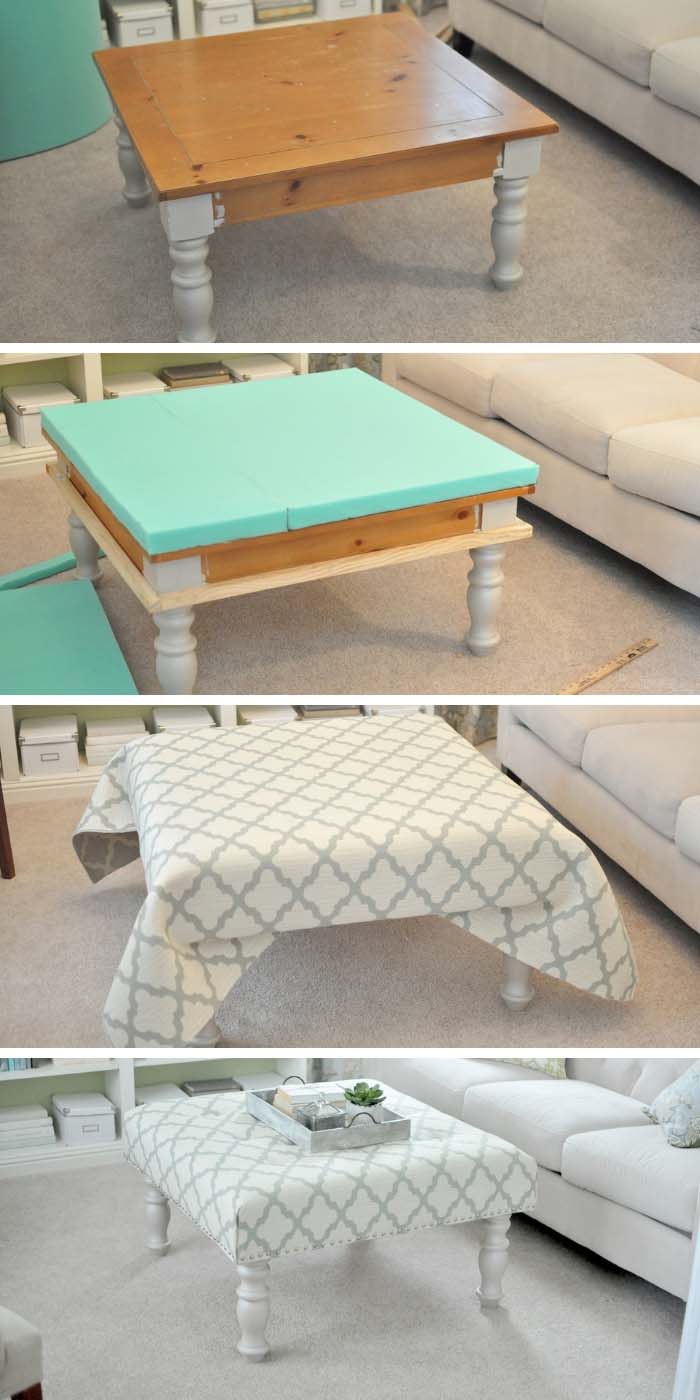 You can bring your old center table into good use by transforming it into an upholstered coffee table that will look more stylish and comfortable in your living room. You can also add a glass table top to it to keep the surface clean.
via: newlywedmcgees.blogspot.com
10. Door to Headboard

You can use your old door to make a creative and stunning headboard and make your bed look gorgeous and brand new.
11. Functional Storage

If your dresser has started looking old and out-of-place, you can convert it into functional storage that can keep your things organized and neatly arranged.
12. DIY Ice Chest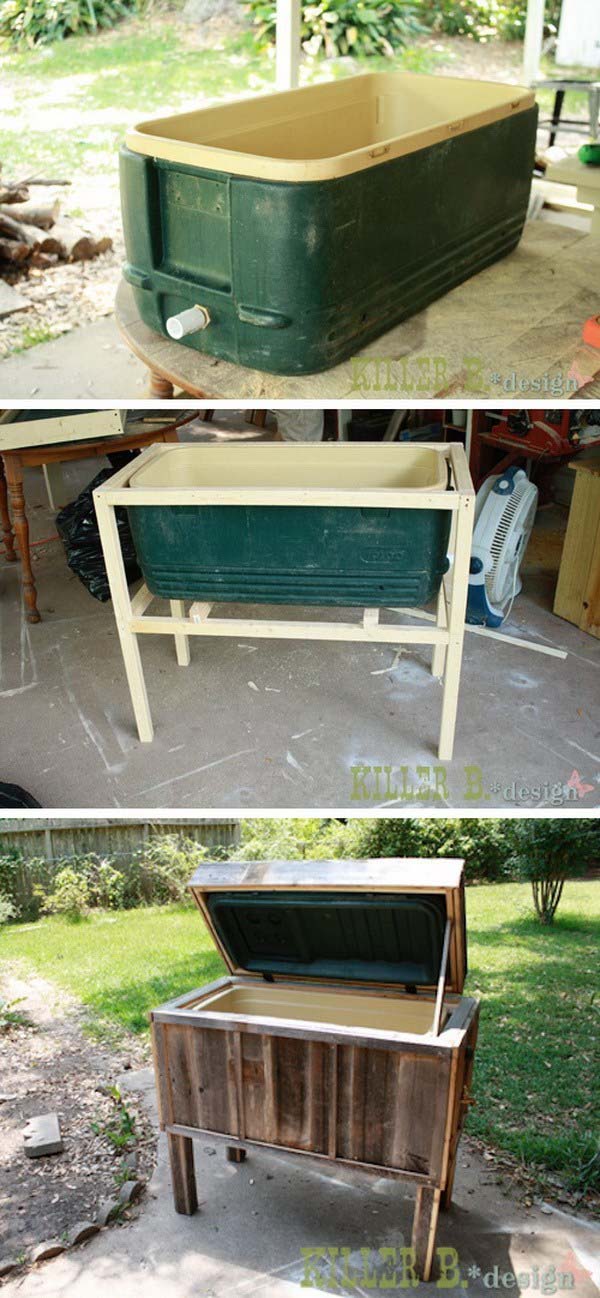 You don't have to keep an ice chest that looks boring.  With the help of this DIY ice chest guide, you can completely change the look of your ice chest.
via: killerbdesigns.com
13. Multiplying Nightstands

If you have a small table that you never use, use it now. Divide them into two and arrange them on each side of the bed. Sounds cool, right?
14. Ottoman with Storage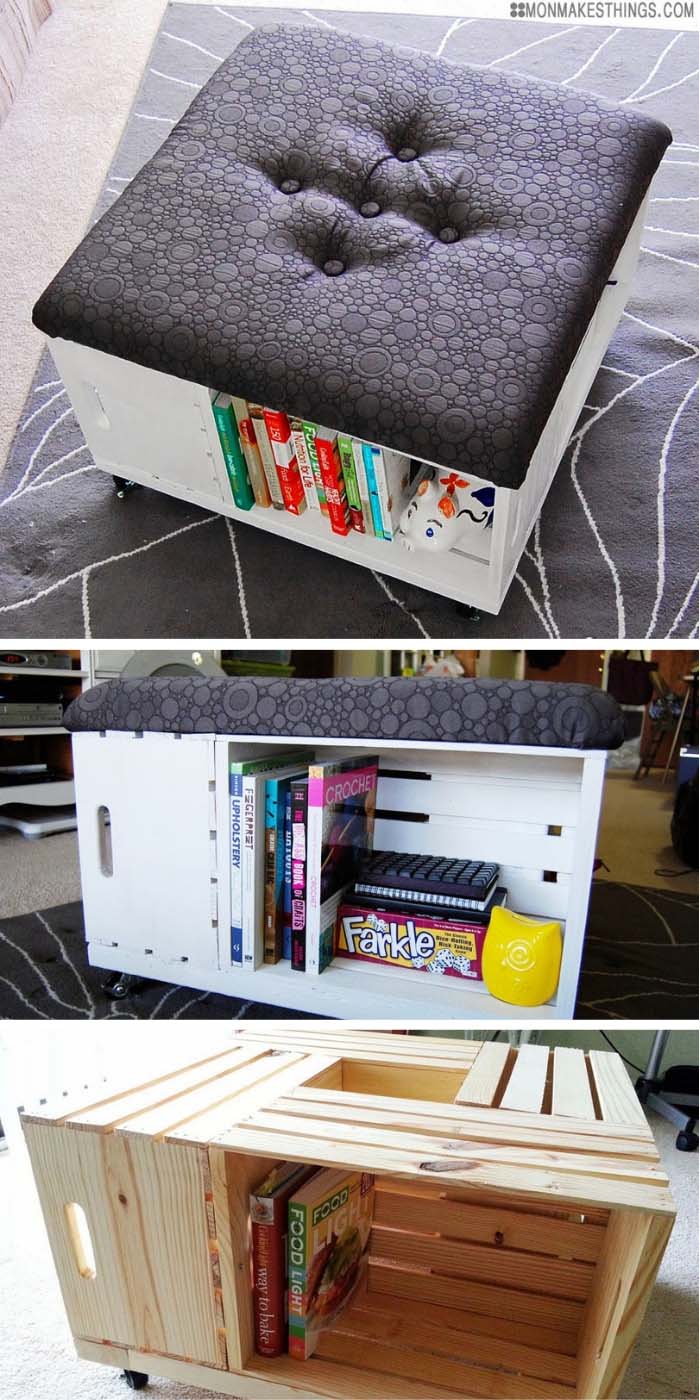 With the help of this DIY project, you can bring your ottoman into better use with both seating and storage purposes.
via: monmakesthings.com
15. Suitcase to Coffee Table

If you have a suitcase that is lying idle, reuse it and make a stunning coffee table. Its simple, easy, and costs you nothing.
via: shopruche.com
16. Old Dresser to Bookshelf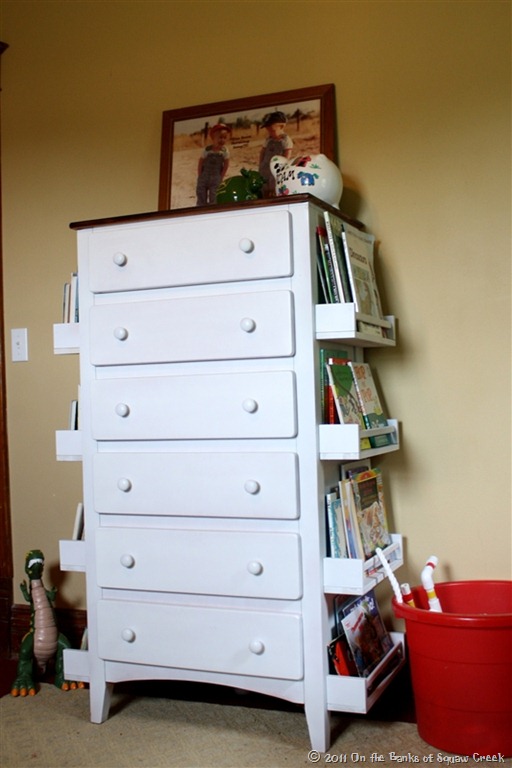 If you are tired of your old dresser, recycle it to make a gorgeous bookshelf that your kid will totally love.
via: onthebanksofsquawcreek.com
17. Old Cabinet to Play Kitchen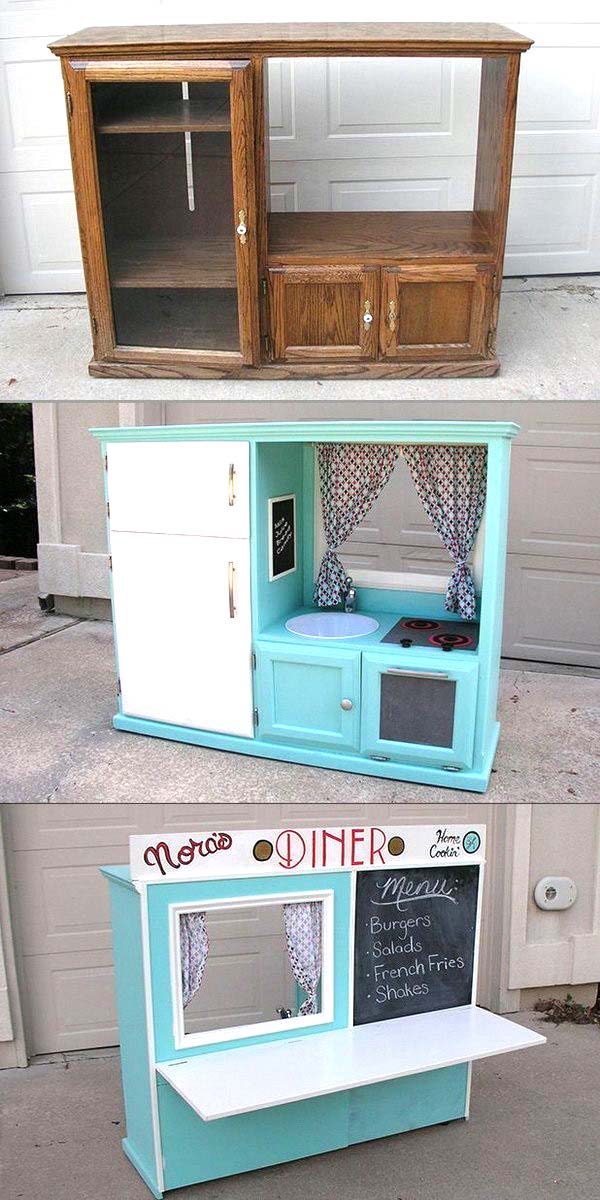 If there is an old cabinet at your home that you wish to use for something, this DIY project is for you.
Convert an old cabinet into a play kitchen for your children.
via: ehow.com
18. Dresser Revival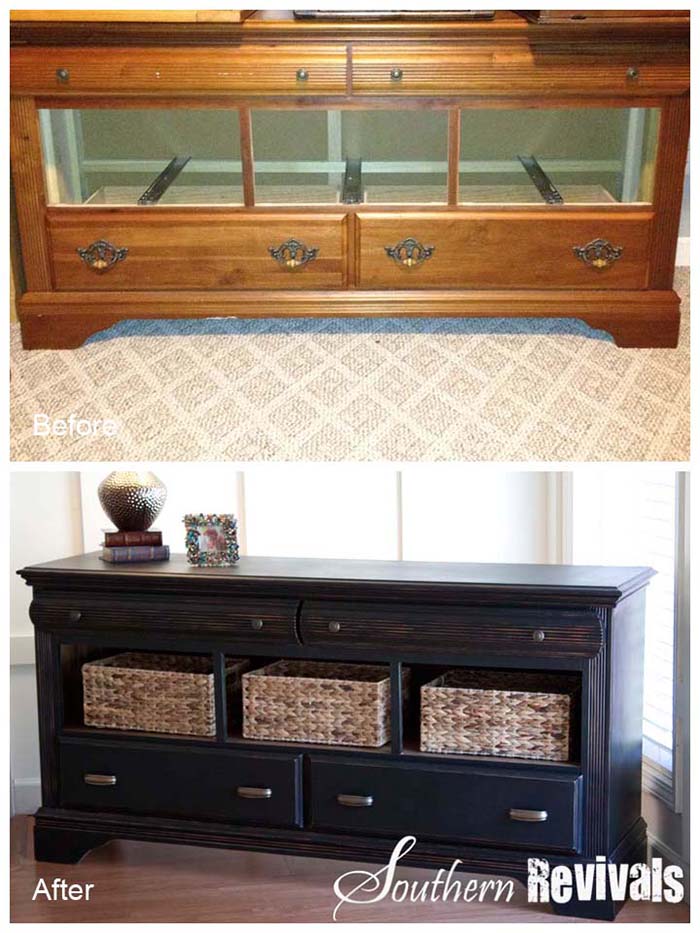 If the drawers of your old dressers broke or are missing for any reason, you can reuse it.
Turning your dresser into pottery barn style storage is a super cool way to do it.
via: southernrevivals.com
19. Cupboard Doors to Shelves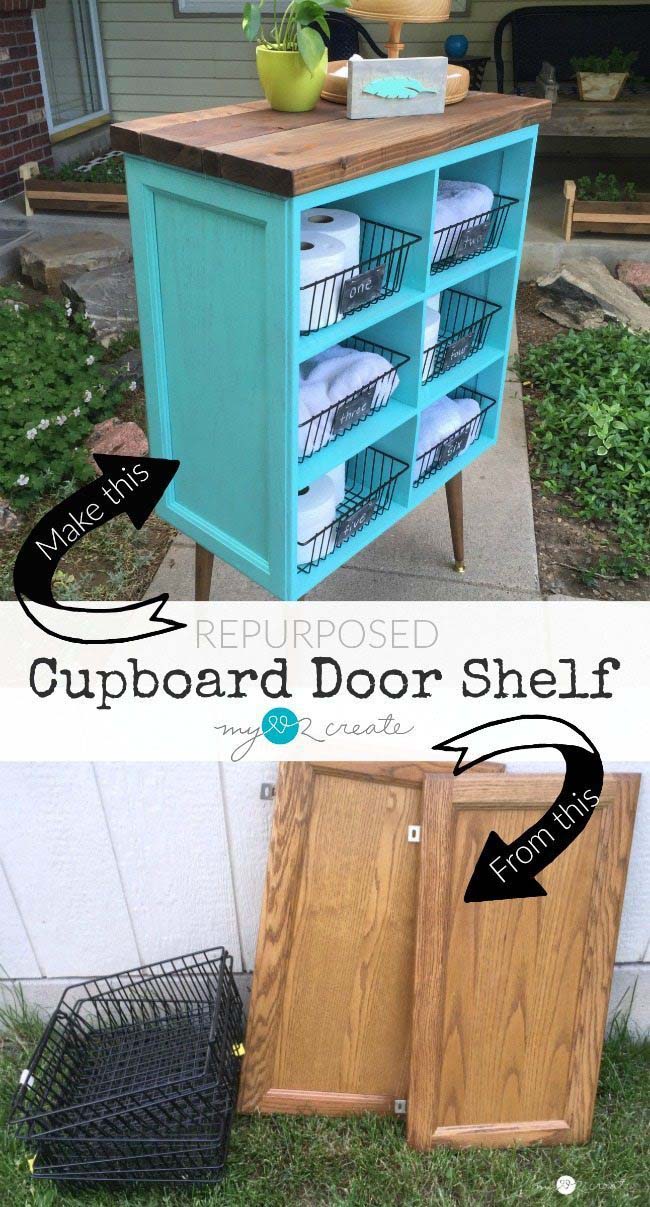 Reusing your cupboard doors to make purposeful shelves is a great way of bringing your old things to use.
20. Headboard to Coat Rack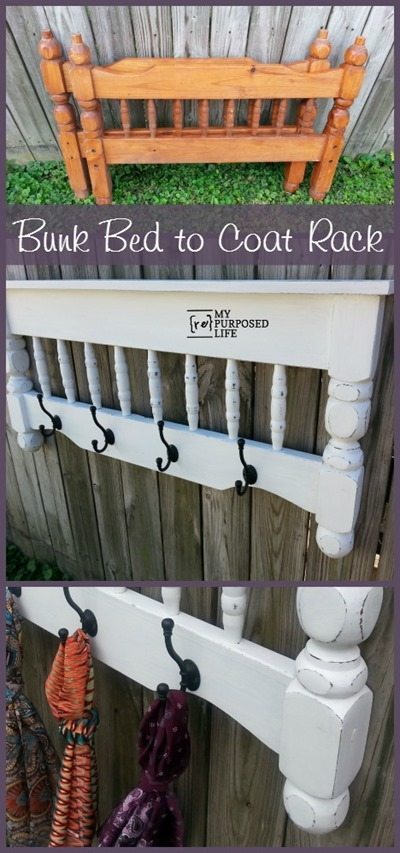 You can reuse almost anything. Look at this DIY hat rack that has been made from headboards of the bunk bed. How amazing is that?
via: myrepurposedlife.com
21. Kitchen Cabinet to Child's Desk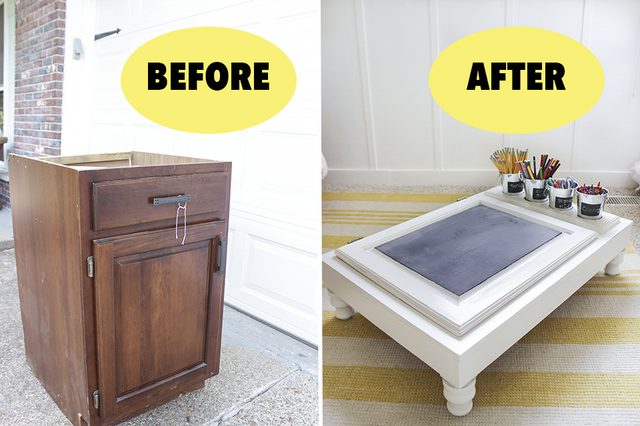 Converting an old kitchen table into a desk for your child is a fun way to put your old kitchen cabinet into good use.
via: ehow.com
22. Old Window to Center Table

Old windows are something you will never use. Convert your old window into a stylish center table for your living room.
via: martysmusings.net
23. DIY Stylish Filing Cabinet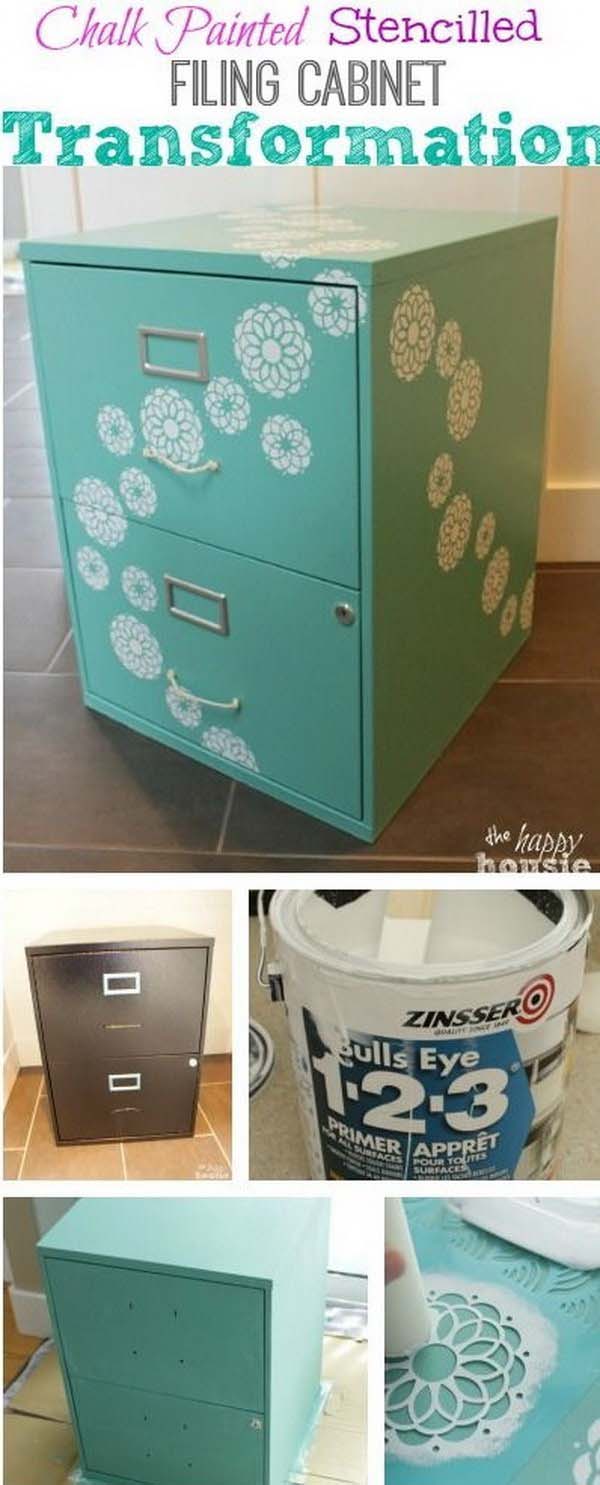 Filing cabinets are usually dull and boring. Here is a cool way to completely change the look of your old filing cabinet.
24. Drawers to Side Tables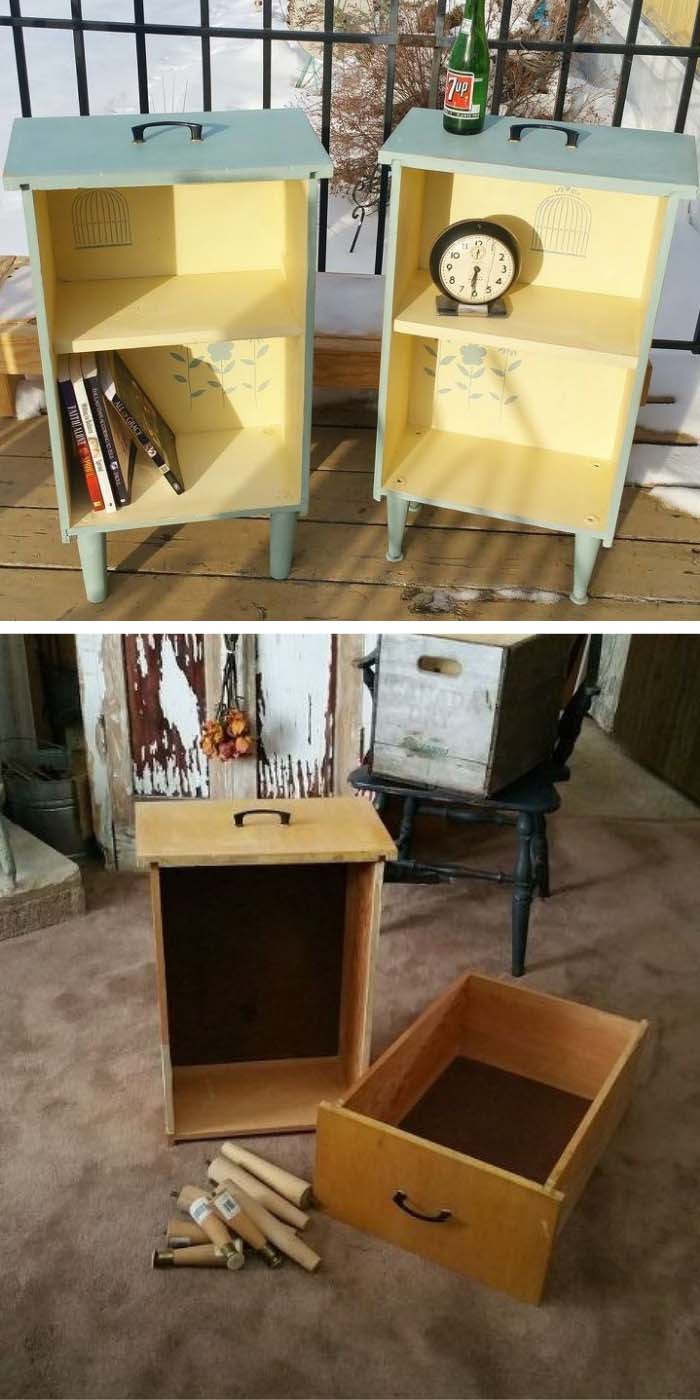 You can bring the level of your creativity up by using old drawers to make these cool side tables.
via facebook.com
25. Entertainment Center to Kids' Closet

With the growing popularity of LED TVs, entertainment centers have become outdated. You can recycle your old entertainment center to make a cute closet for your little one.
26. Entertainment Center Built From Crates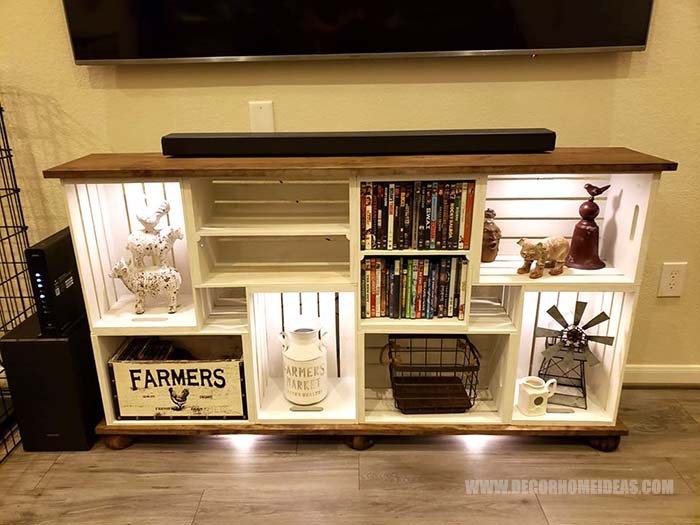 Lisa used wood glue and small screws to attach crates, she painted crates with white chalk paint.
Then she stained the top and bottom wood and the bun feet and glued and screwed to the crates from inside. Also used plates on the back.
Then ran lights. She also took a crate apart to make 1/2 shelves and used quarter round for the ledge.
27. Ladder Wall Art With Building Blocks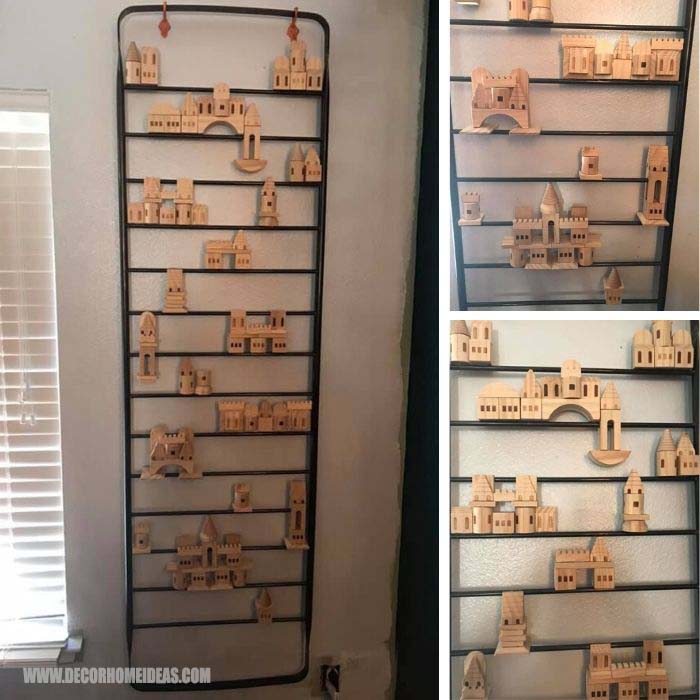 This amazing wall art project was made by Sierra Wall and she said: "My sons have sadly outgrown their building blocks and I had a blanket ladder I was no longer in love with so I combined the two to make a cool art piece. It's also a little bit of nostalgia so I can keep sweet memories of my sons close by."
28. Galvanized Pipe Hanging Shelves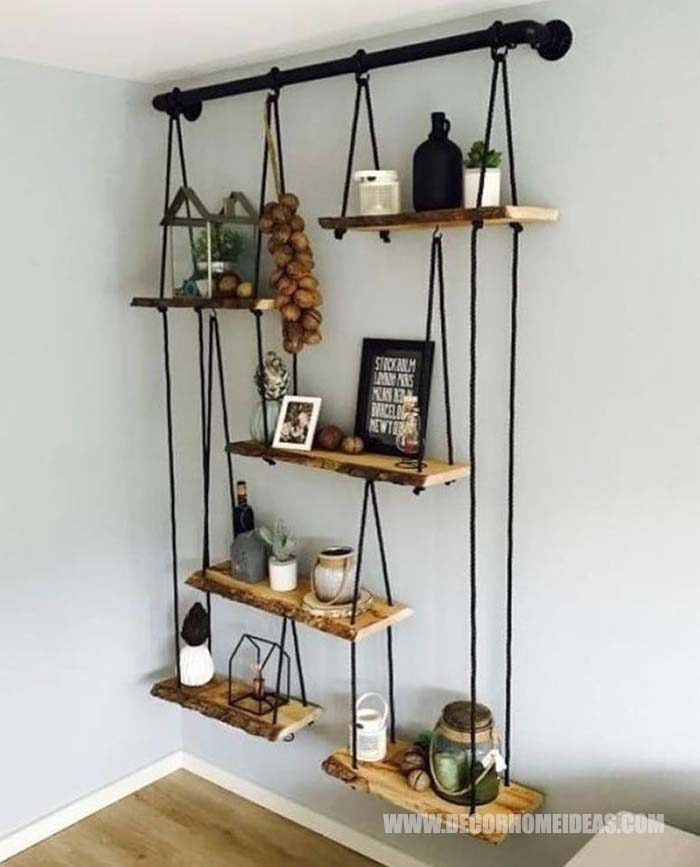 These hanging shelves on a galvanized pipe are not very easy to do. The hardest part is to level properly each shelf, align them and connect them with the rope.
29. Decorative Door To Hide a Pantry or Closet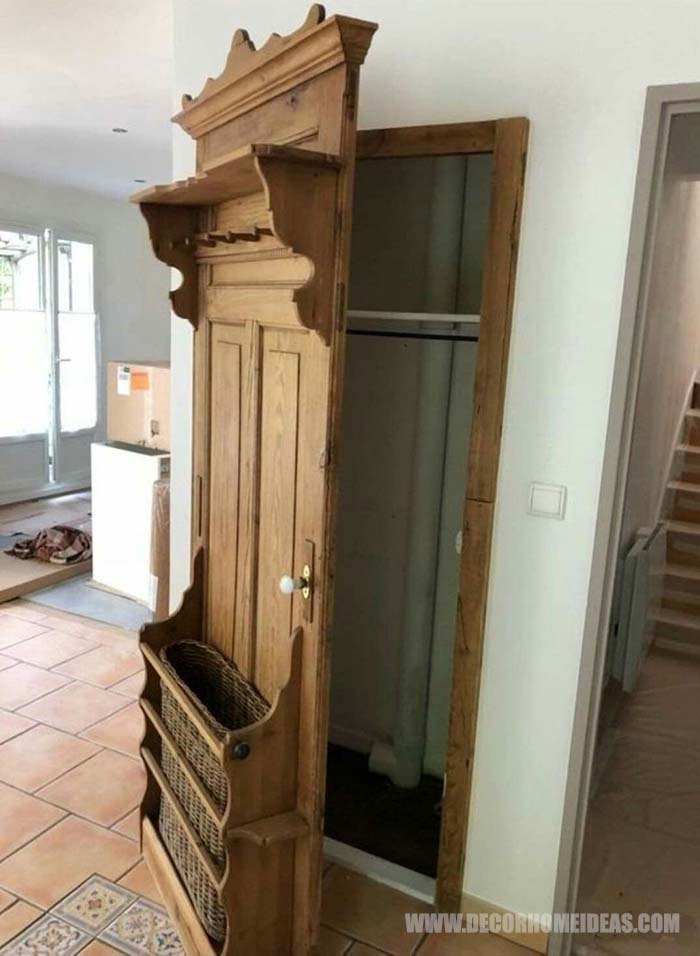 Great idea to hide a closet or pantry with a decorative door that could be used for coats and hats. Could be very useful in a hallway or entryway.
30. Dining Table With Built-In Storage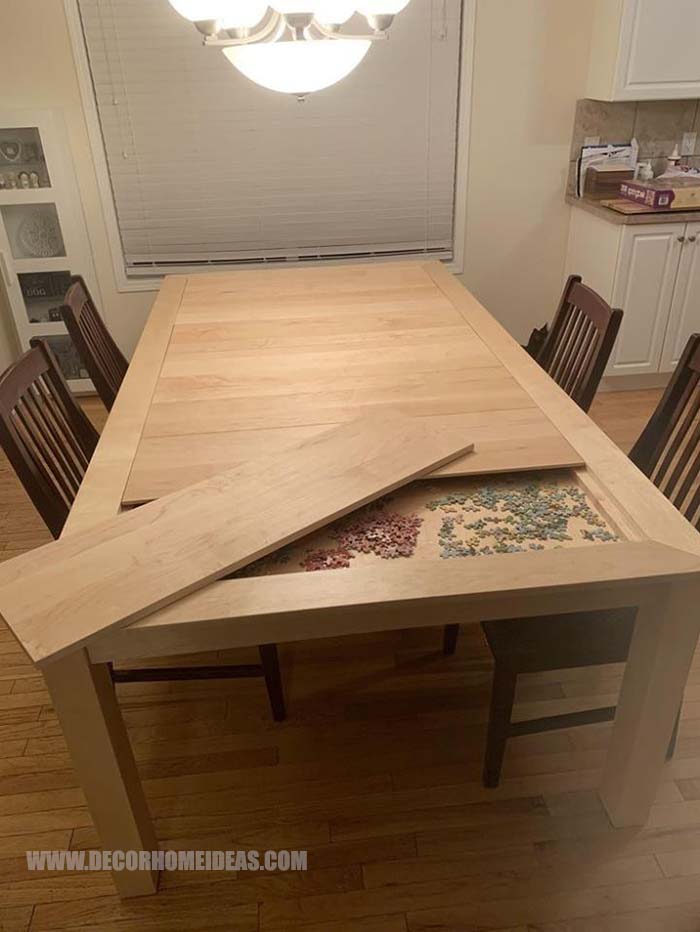 Nice storage solution to keep all the puzzles and board games and easily access them when needed. If you are concerned about spilling liquids, just use a tablecloth and you are good to go.
31. Turn an Old Door Into a Headboard

If you are in doubt about what to do with an old door, here is a great idea! It could be repurposed into a beautiful headboard.
Window Frames Made Out Of Foam Board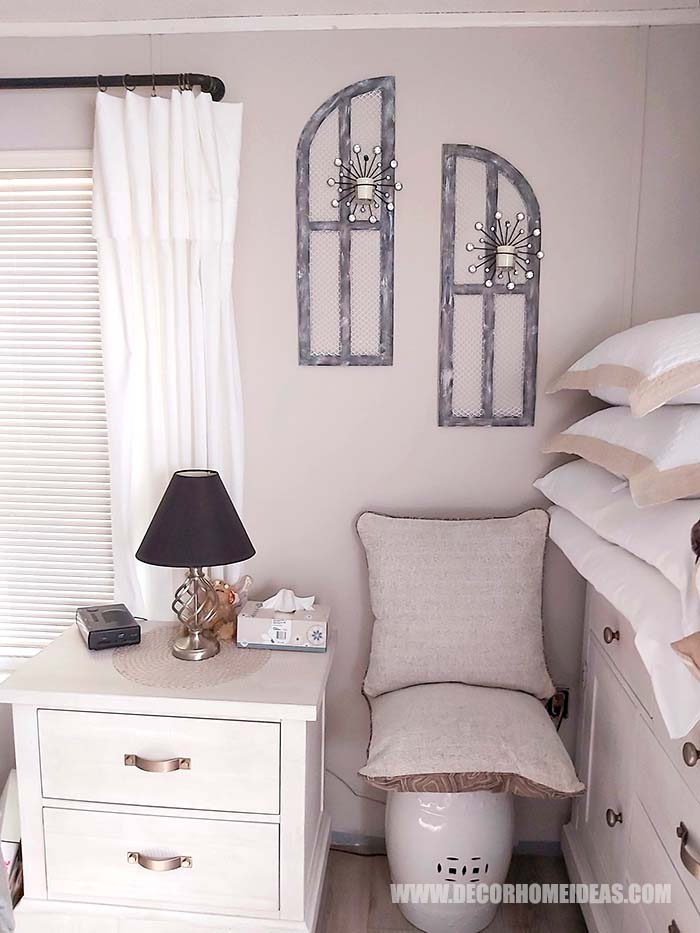 You wouldn't believe these are made of foam board as they look like an old window frames.
Pattie made these a couple of weeks ago and just got them hung. She didn't want to put any more holes in her walls so she just hung them with the sconces that were already there.