Floating shelves are those universal storage systems that let the small rooms have extra places for storage and larger rooms benefit from the unique statement they make.
Floating shelves are so stylish and versatile- perfect for bathrooms, living rooms, kitchens, entryways and bedrooms. There is so much potential for function and style in them that they must be part of your interior.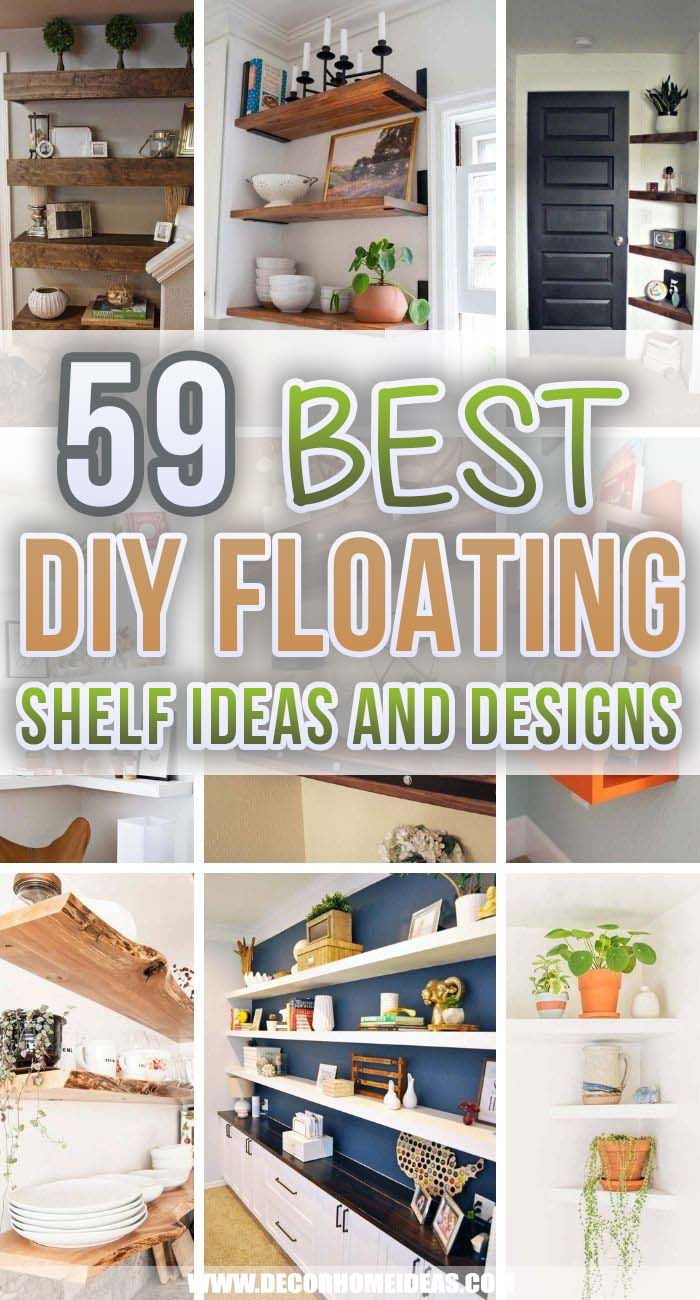 Floating shelves are one of the trendiest storage solutions that takes up the items scattered on the tables or on the countertops and make the space decluttered and organized.
And since there are numerous styles for floating shelves, we want to show you the 59 best DIY floating shelves ideas and designs to make your space more appealing and organized.
1. Display Your Finds With 3D Style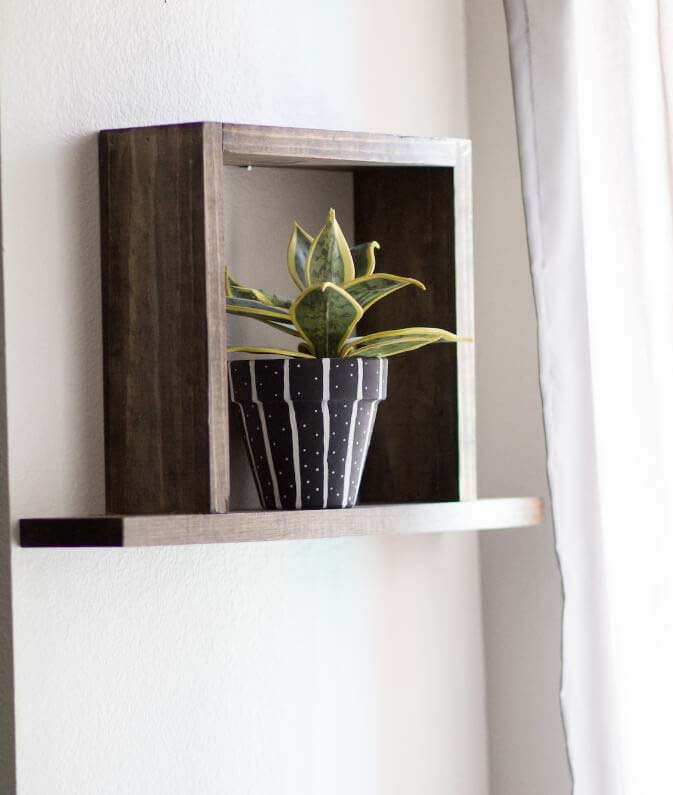 You can upgrade the existing floating shelves by adding sides that frame the decoration displayed. Use reclaimed wood or leftover pieces from furniture or floor slats to create the box.
The final result is a shelving unit with a dimensional design that creates an interesting point of interest.

2. Narrow Shelves as Nursery Book Display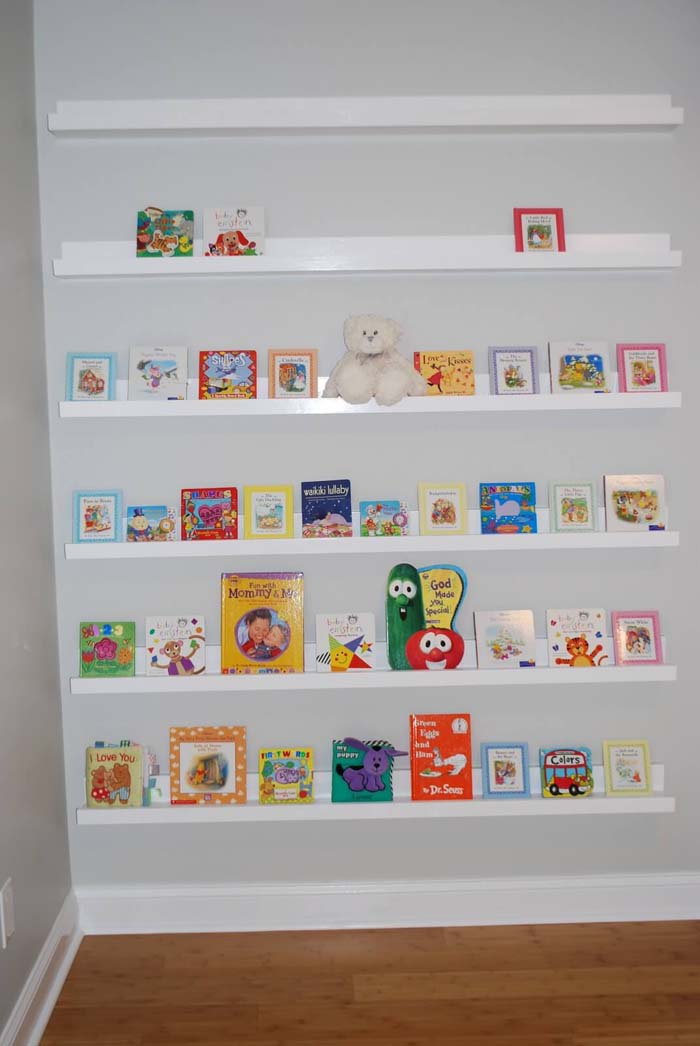 The floating shelf design is a great storage solution for kids' rooms because it lets the kids easily access the needed item and also teach them to be organized.
The floating shelves can be customized in size and color but what you should always consider is to place them at suitable height so that they are easy to be accessed.
via Kara's Korner
3. Hexagonal Shelves for a Beehive Vibe

Intriguing shape adding a trendy design in the living room- this is a short description of these DIY float shelves.
They can be upgraded by changing the color of the outer wooden surface. Their size can also be changed depending on the blank space available.
via I Spy DIY
4. Faux Beams Add Interest to Empty Wall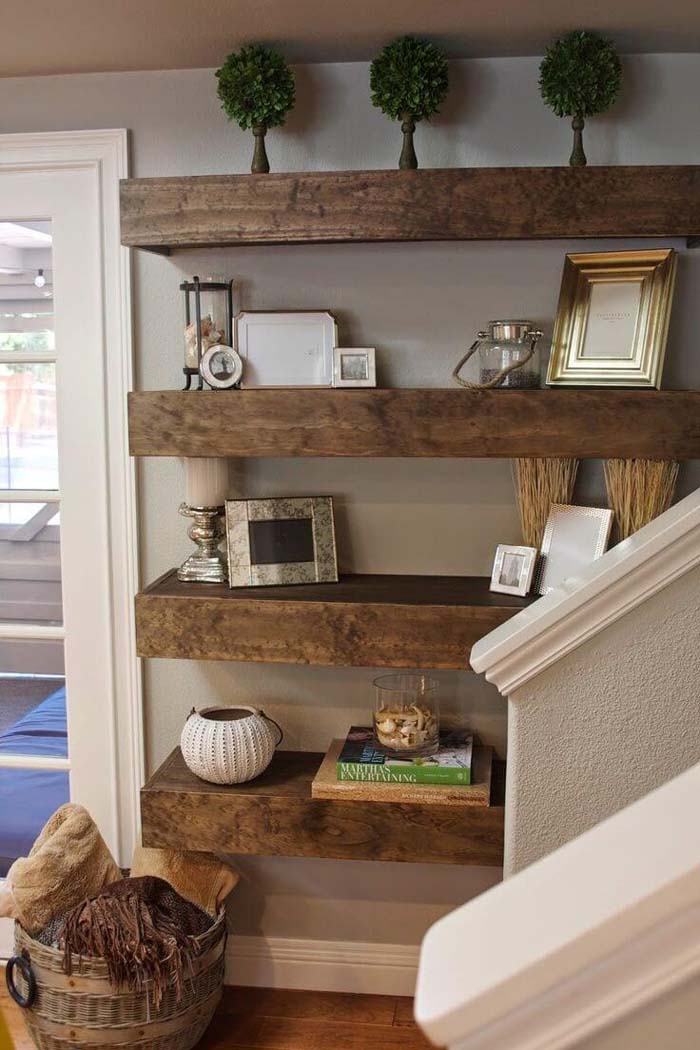 There are spaces in our homes that look so odd and impossible to be turned into a practical part of it. Well, not if you cover them with floating shelves. You can have them made in the size you desire and of a style that fits in the existing interior.
The design here features added front and side slabs that create dimension and interest. Each of the shelves displays decorations revealing the characters of the homeowners.
Added basket with throws below the lower shelf adds the homely vibe to this transitional space and prepares the guests for the welcoming ambiance of the living spaces.
via Simply Organized
5. Get Organic Style With Rough Cut Lumber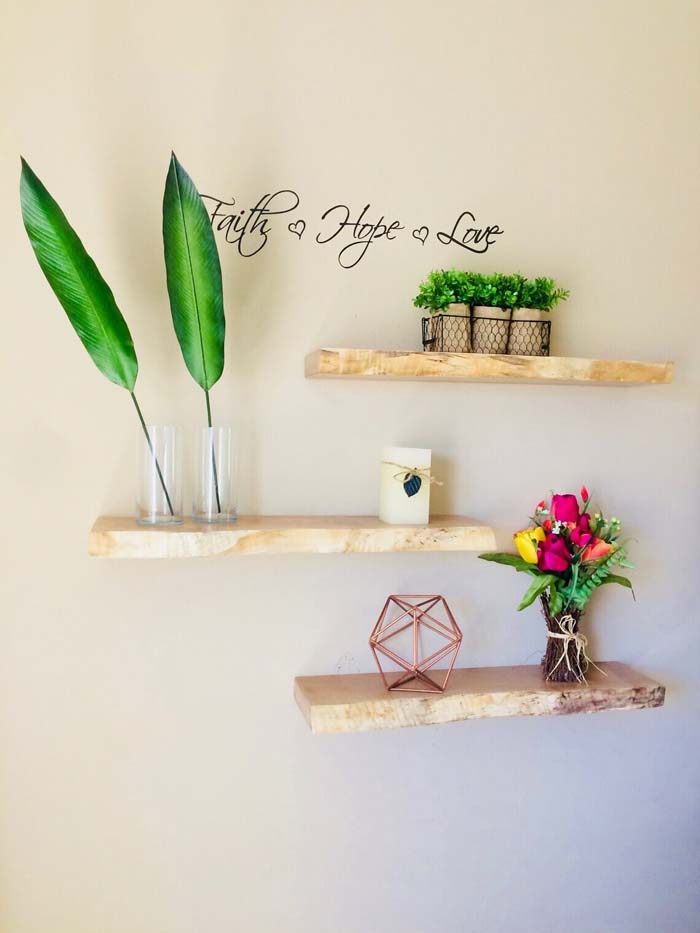 Untreated wooden slabs are aligned in a zig-zag pattern on an empty living room wall to create a one-of-a-kind decoration display.
59 Creative DIY Floating Shelf Ideas To Create Clutter-Free and Chic Space video:
The combination of blonde and beige hues reveals a natural texture that makes an appealing match with the smooth blue color of the wall.

6. Add Floating Shelves Over Wallpaper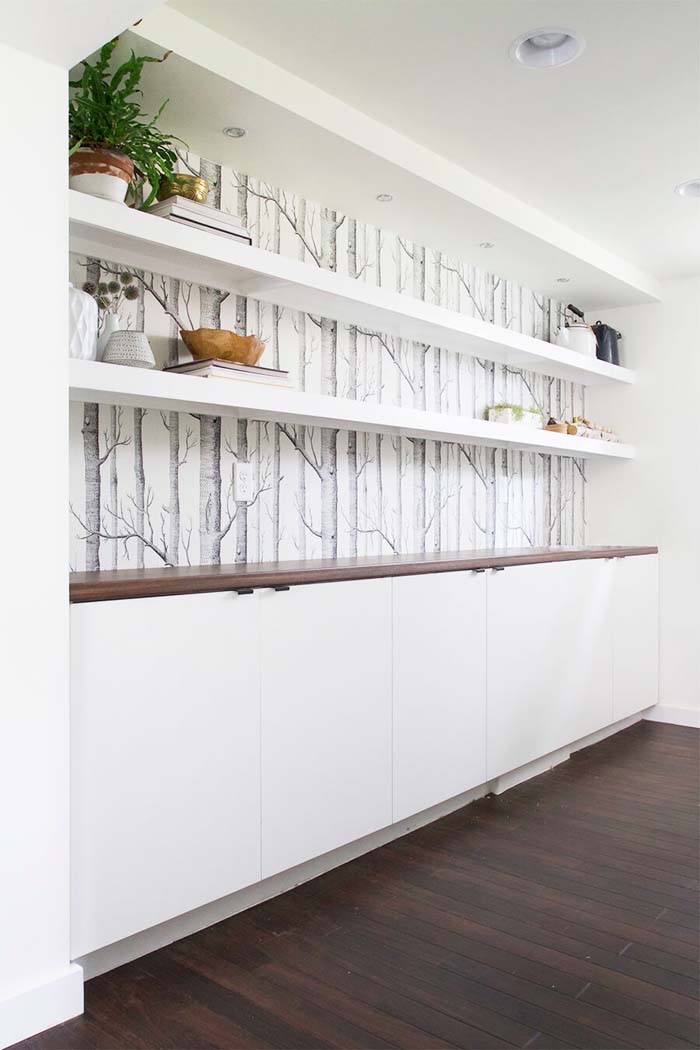 If you feel that cabinetry will create an overwhelming feel and yet need extra storage space, go for floating shelves instead.
Their open design do not affect the airiness of the room and yet provides the so much needed storage area.
Make sure that you match the color and the design of the shelves with the existing storage furniture to create a pleasant-for-the-eye general look.
7. Try Ikea Hack for Easy Floating Shelves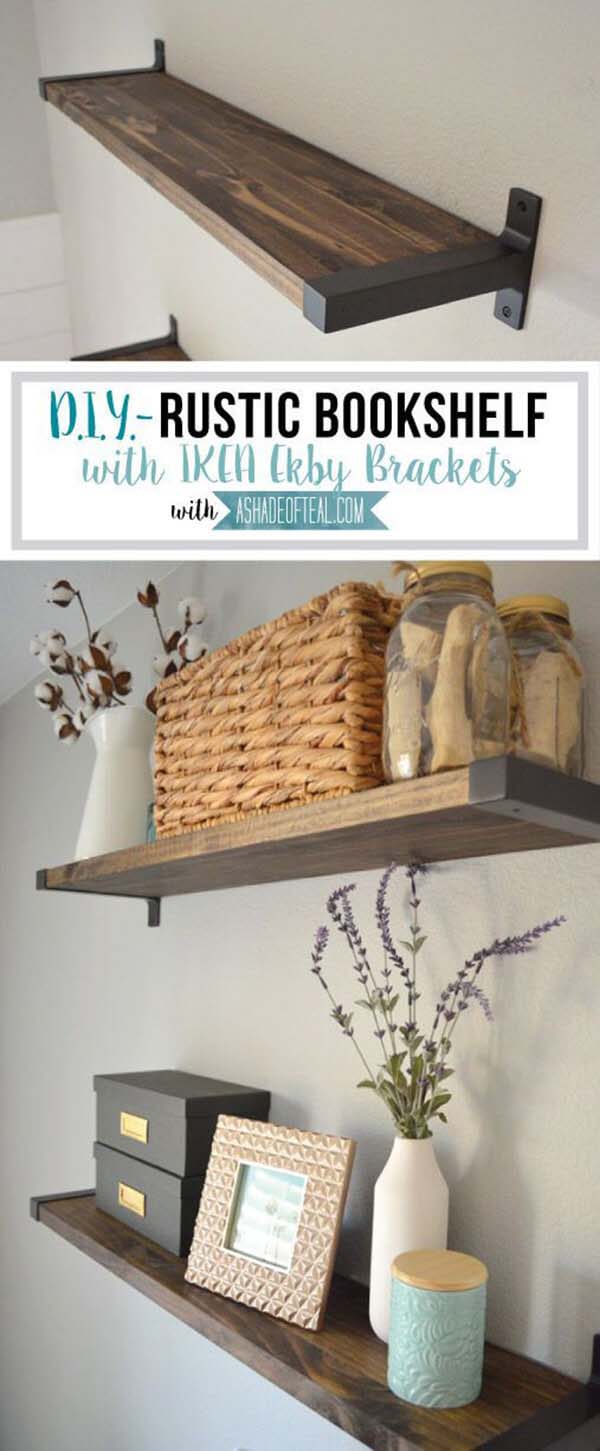 This Ikea hack lets you build your own floating shelves on a budget. Get the number of wooden slats you need the number of Ikea bracket sets to create the support for the shelves.
The dark stain of the wood works perfectly with the black metal finish of the brackets. Leaving the wood untreated will also be interesting, especially if you display darker in color decorations on it.
via Bloglovin
8. White Floating Shelves Are Decidedly Modern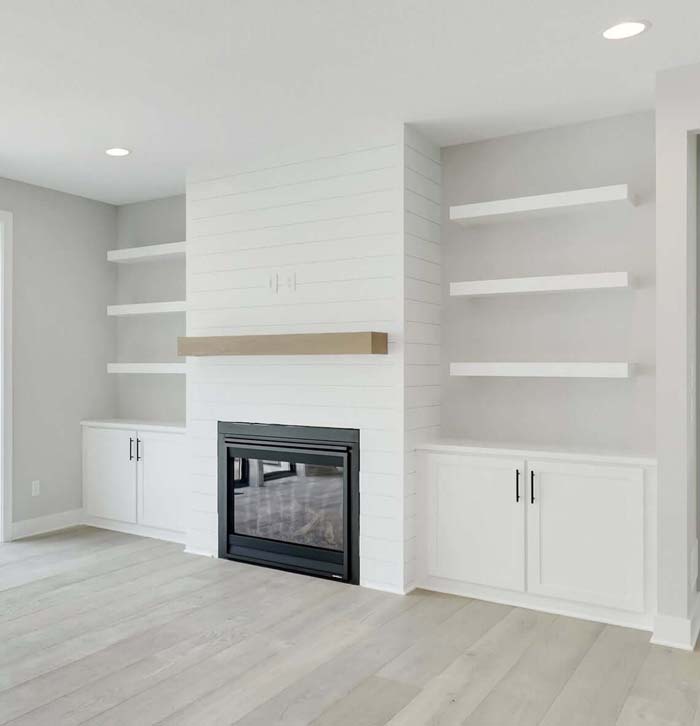 When you want to cover the fireplace wall with storage places but you are not keen on the traditional cupboard design, go for the airy open-concept of the floating shelves.
They look far more modern and create a point of interest. The storage amount they ensure is immense and suitable for decorations, books, entertainment station accessories which will be given a nicer look when displayed on the shelves.

9. Add Style to an Empty Corner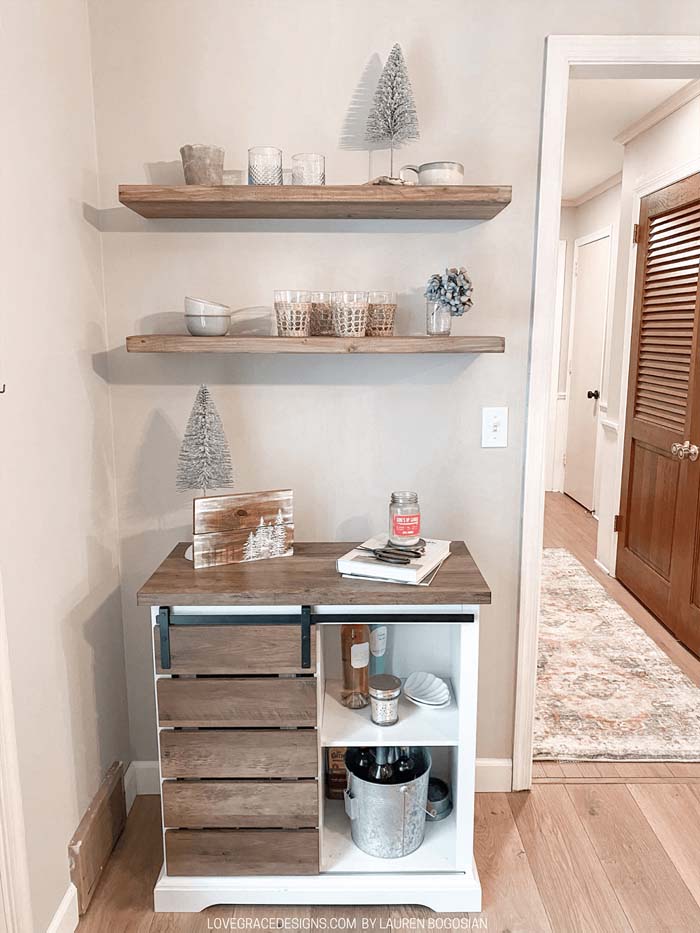 This empty corner in the hallway has been turned into practical and beautiful storage place adding nature and style to the interior.
The combination of a cabinet and floating shelves made of identical materials give the pieces a united look which sets a certain decor theme on. That can be a coast-inspired decor easily implemented by displaying shells, sand in a glass jar and sea-themed statues.
You can easily change the decor impact by replacing the ornaments.
10. Open Shelving Displays Farmhouse Dinnerware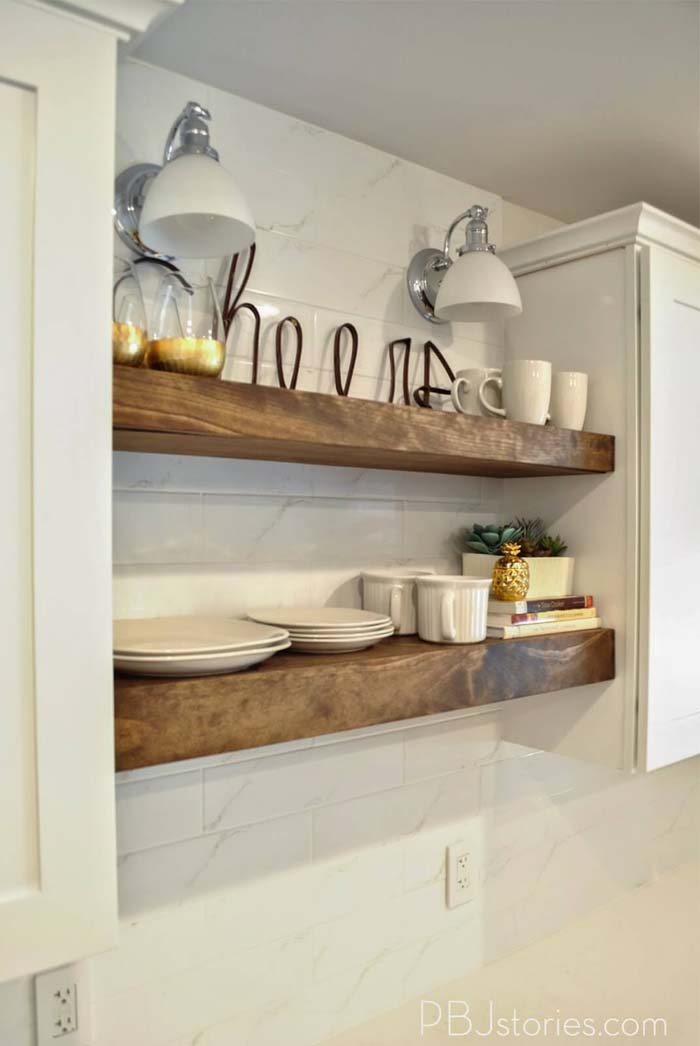 No need for a kitchen overhaul if you only need a little more storage space. That can be done easily and without any dirt by adding floating shelves on an empty part of the wall.
A kitchen design including subway tiles and white cabinetry will embrace the warm charm of the solid wood from which these two wall shelves are made.
Support them well with metal brackets to make sure that they resist the load of the items displayed.
11. Live Edge Floating Shelves Have Natural Style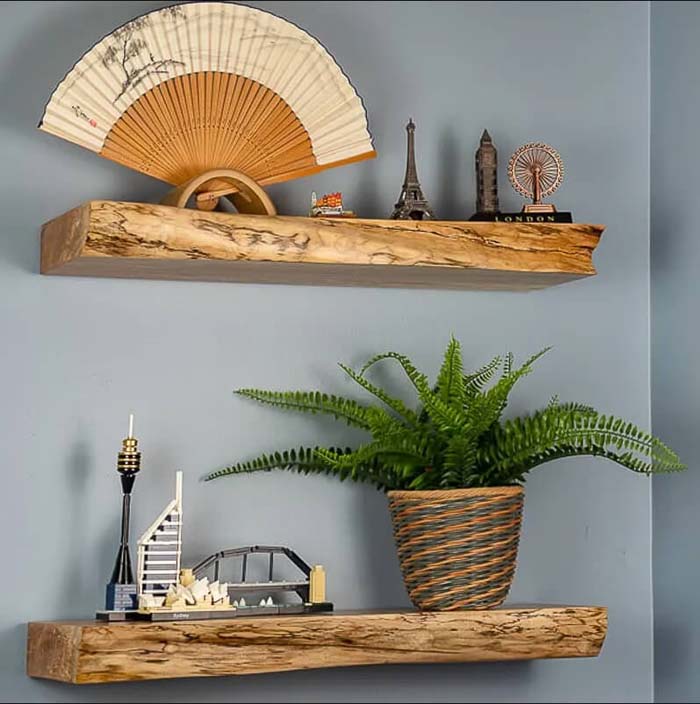 The untouched surface of these slabs add nature to the inside in an amazing and impacting way. The golden beige tones combined with dark lines reveal the authentic texture of the wood.
They add much style and interest to the modern home. Added travel-inspired decorations enhance the visual interest and personalize the storage unit as a special place for dear memories.
12. Fit Corner Floating Shelves with 'L' Shape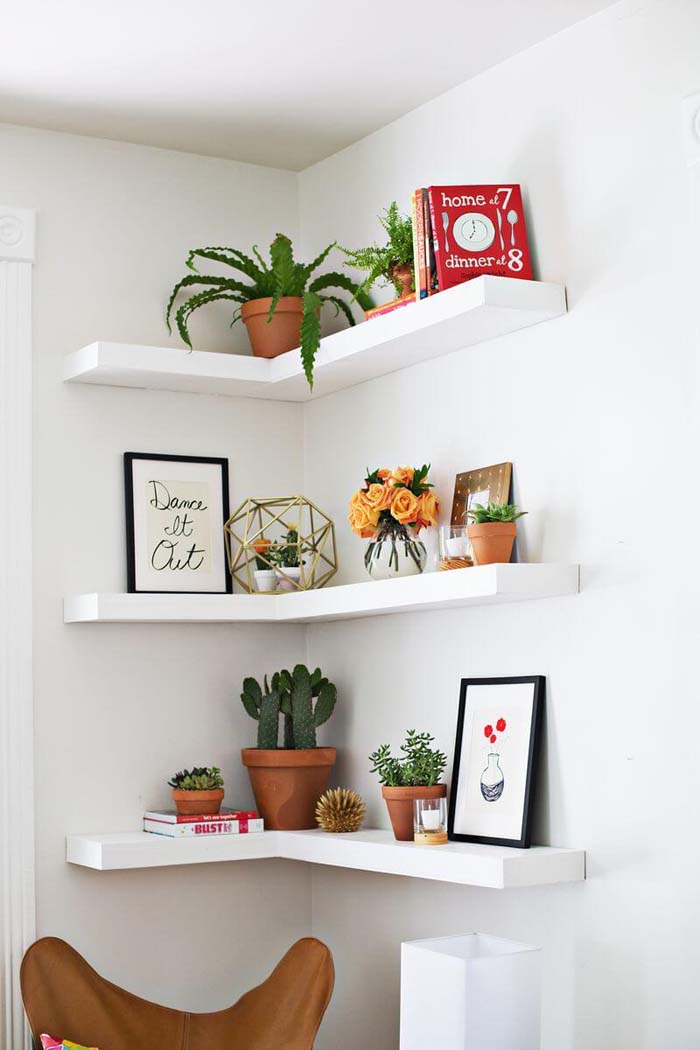 Make the shelves an interesting shape for improved visual appeal and for useful utilization of a corner space. The L-shape featured here doubles the storage space.
White floating shelves are with glossy texture to match the existing furniture. Decorations displayed contrast with the white background to stand out and add a homely vibe to the nook.
via A Beautiful Mess
13. Rustic Wood Stained Corner Shelves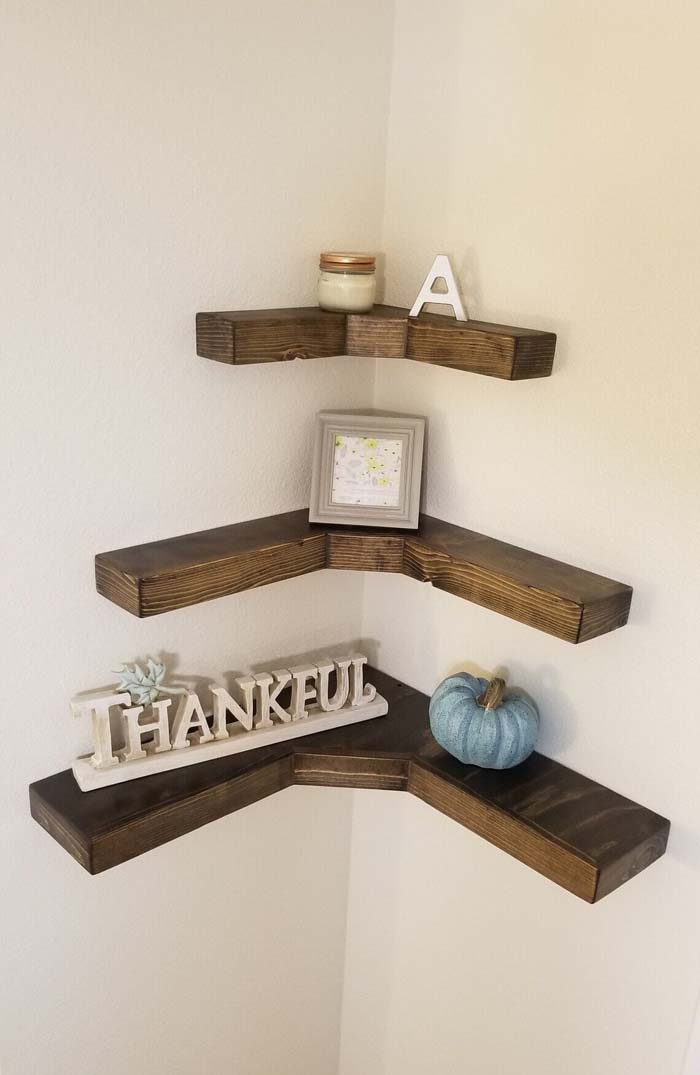 Make a clever use of the odd corner with this interesting set of floating shelves. It features three storage places in a unique shape with ensures safe storage of the items displayed.
This corner shelf storage system can be used for seasonal decor, for picture frames with wedding photographs, for statues from travel destinations or any pieces that will speak about yourself.

14. Add Decorative Elements With Hardware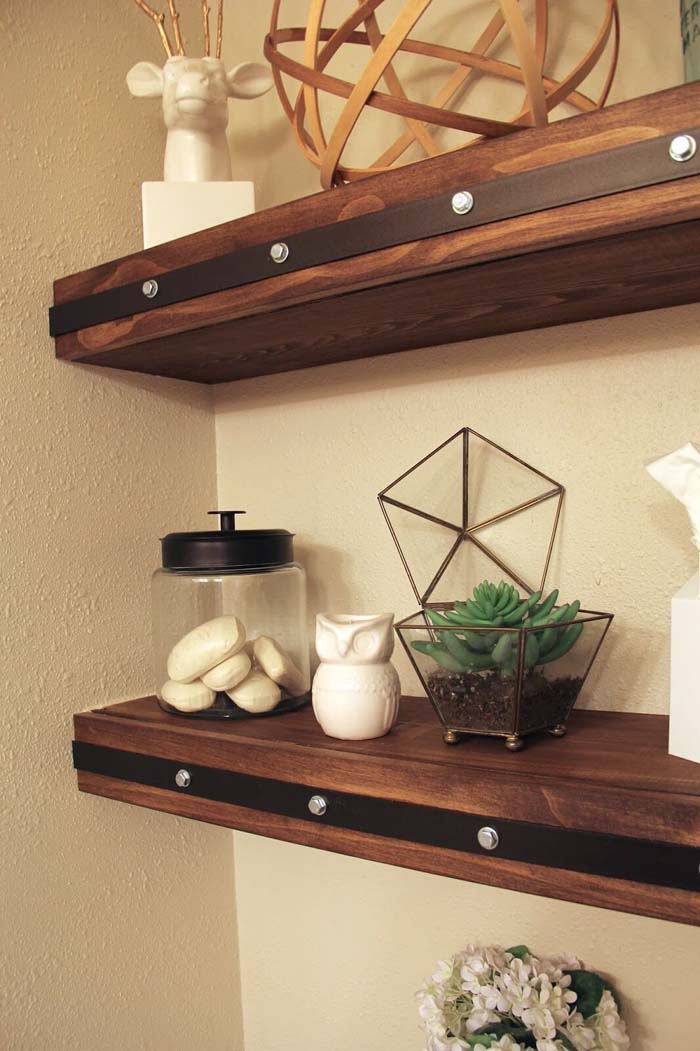 Wood can be easily given the needed look with paints and stains. If you want to improve the farmhouse look, you can add leather stripes along the front side of the shelves and fix them with screws.
The result is amazing- modern farmhouse with an industrial touch. These shelves can be a practical storage means or display for decorative items in a place where style and coziness are missing.
15. Floating Bookshelf From Crates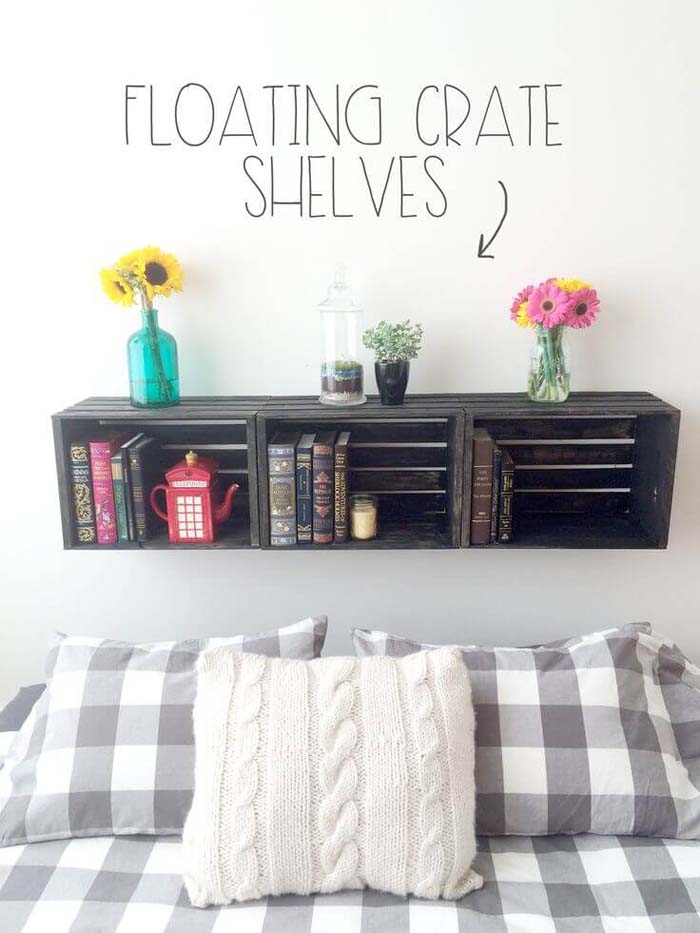 Who says that floating shelves should be only flat wooden boards? The mounting system is what has given their name because they look like an integrated part of the wall.
Therefore, any surface that can hold items in place could be turned into a floating wall shelf, including crates and baskets.
via Amber Apple
16. Decorate Bookshelves With Clouds for Kids Room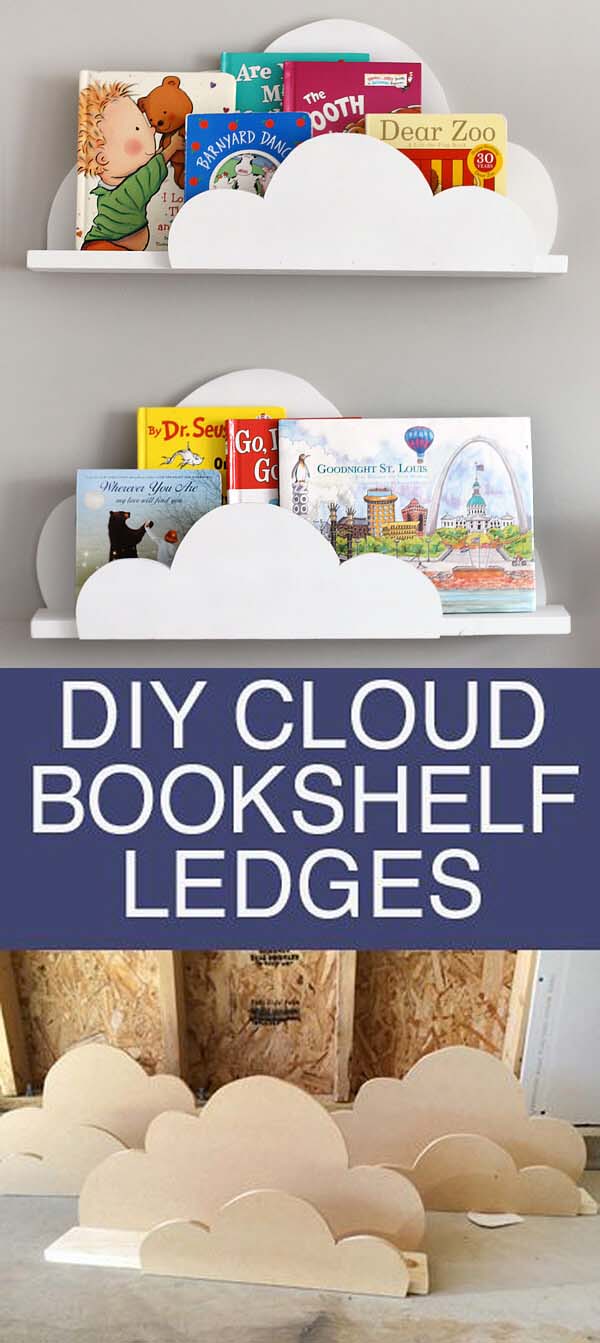 These cloud shelves are so adorable. Their shape adds magic to the nursery and makes sure that everything put on the slat will stay in place.
17.  Floating White Bookshelves Look Built In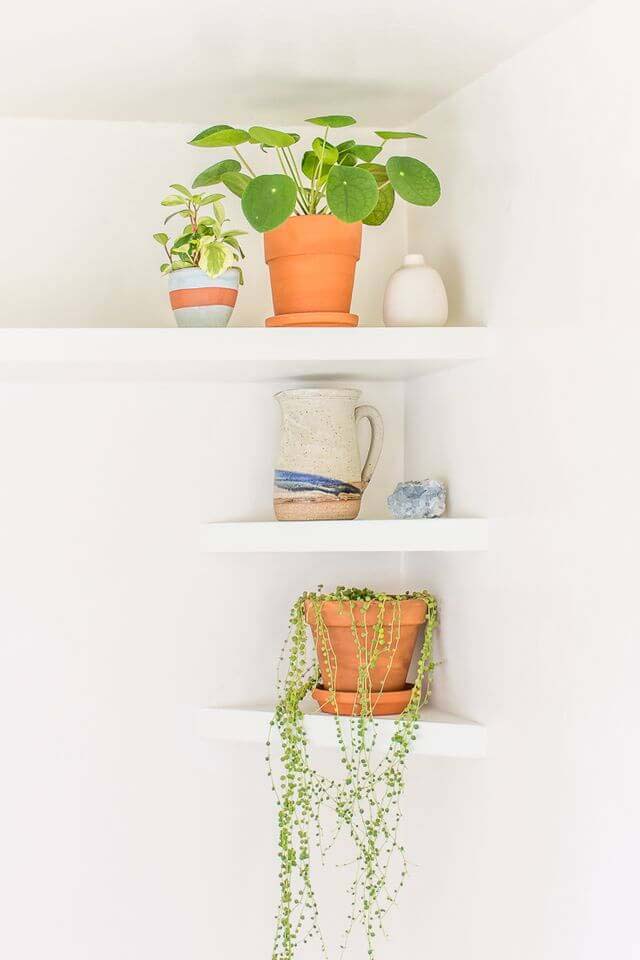 If you want to improve the nature presence inside your home, you can create a small corner nook for plants.
This clever idea showcases how space can be utilized easily and practically. The shelves follow the shape of the wall corner to fit tightly in it and blend with it.
via DIY In PDX
18. Glass Shelves Allow More Light for Plants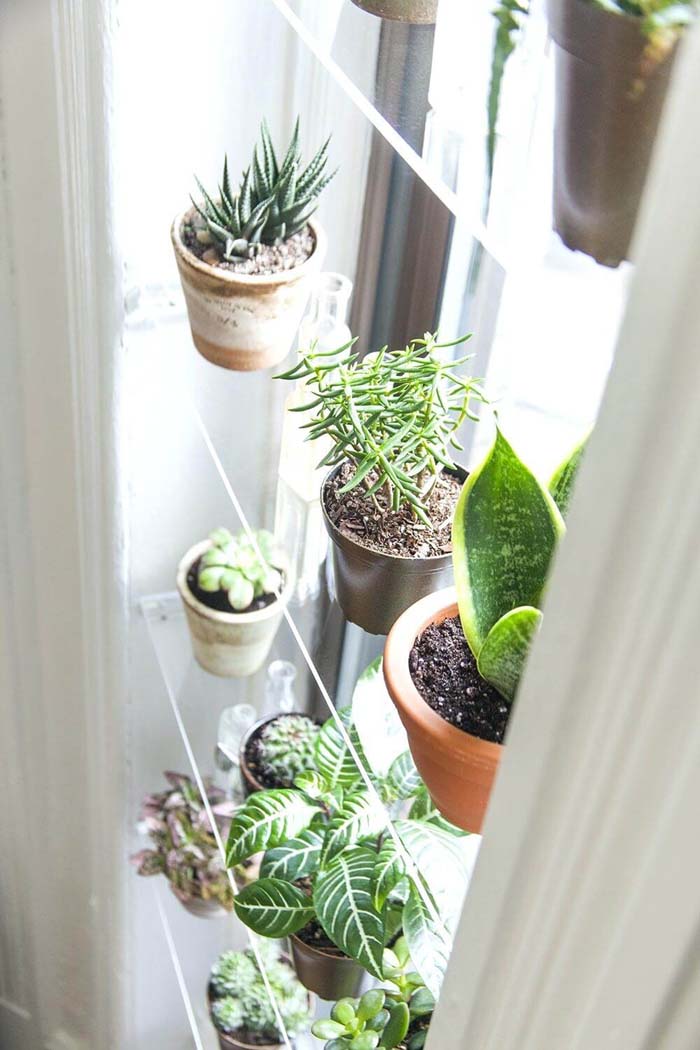 Shelves made from glass are pretty stylish and loved by minimalist who want to keep things simple and clean. You could barely see what is holding these pots in place from first sight.
Especially, when the shelving system from glass is built next to a window, the glass looks invisible because of the natural light.
19. Floating Shelf With Secret Storage
This floating wall shelf idea features more than a wooden display for decorative items. There are six hidden storage compartments where smaller items can be kept away from sight.
The featured design is perfect for the decoration of entryways because of its compact size and increased storage space.
via Kreg Tool
20. Turn Your Key Holder Into a Floating Shelf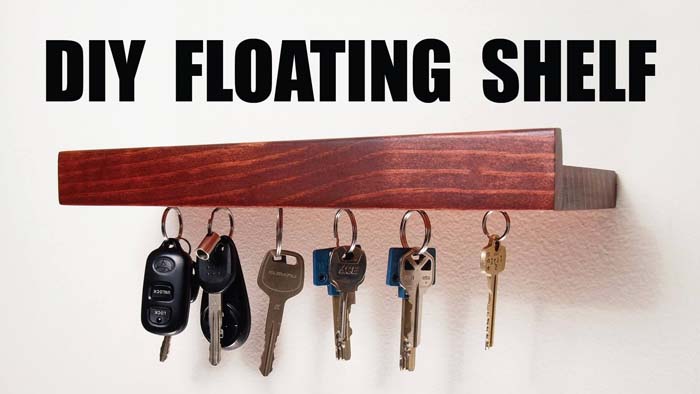 Use screw hooks to increase the storage place of the floating shelf. This idea works best for a key organizer in the entryway or for a mug display in the kitchen.
via Makify
21. Floating Shelf Lifts Nightstand off the Floor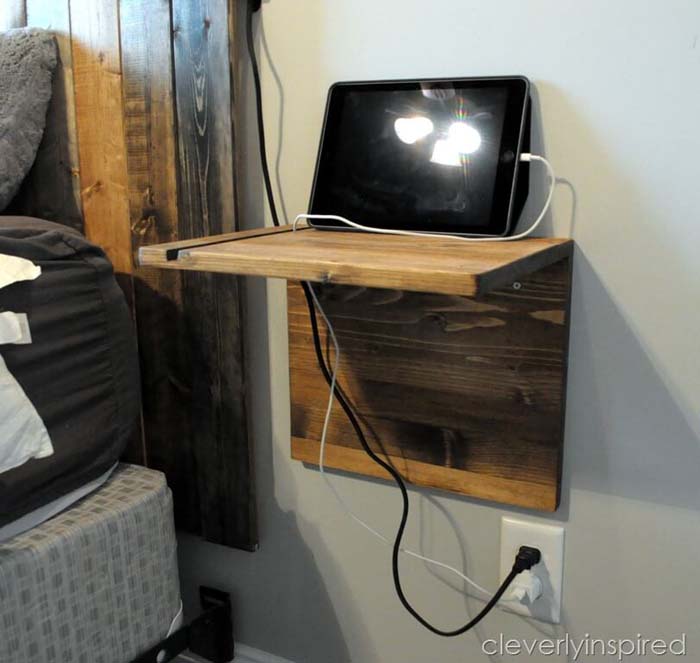 Floating shelves are practical for small bedrooms where there is no floor space for nightstands.
Built on the wall, the shelves don't take up any of the floor and at the same time function as good as the traditional nightstand.
22. Floating Shelves Display Your Vintage Kitchen Finds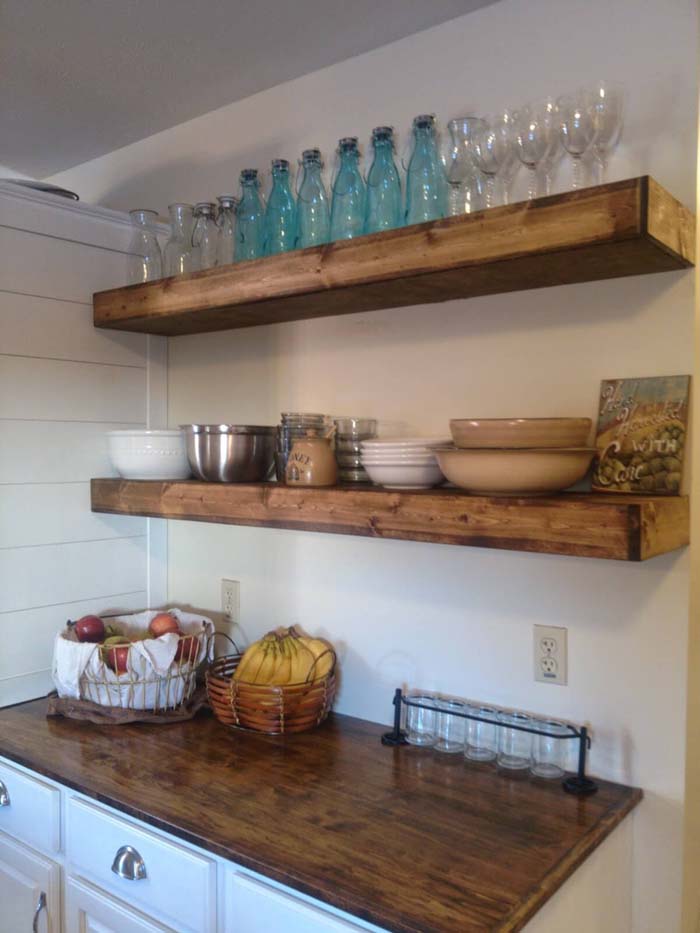 In case you have a collection of vintage tableware, you should use it as part of your farmhouse kitchen decor. It will create a unique point of interest with hues of nostalgia for country life.
The best way to display it without taking any of the so much-needed counter space is to place it on a floating shelf.
23. Rectangular Shadow Box Storage Project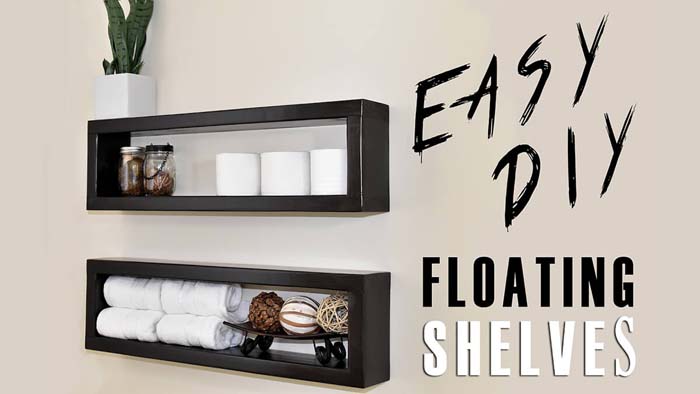 The color and the shape of these floating shelves create a visual illusion for built-in the wall niches. The rectangle shape is quite practical when it comes to the increased storage area.
The black color and the framed design make them blend with the grey empty wall in a fantastic modern and stylish way.
The design of these shelves will match any room where extra storage is needed.
via DIY Creators
24. Dining Area Gets Wall-to-Wall Shelves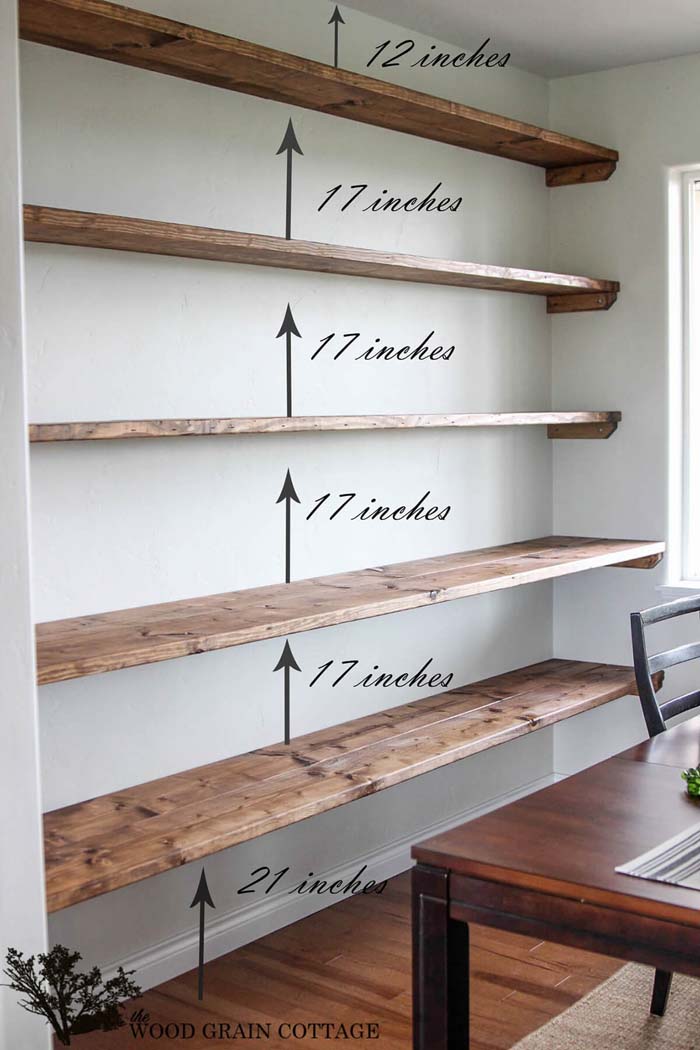 Are you in love with the classic stained wood texture and modern concept for storage? Indeed, this floating shelf idea is gorgeous. It is created to cover a wide wall in the dining room, give it dimension and interest and provide plenty of space for organizing all kinds of items.
The boards are attached to the wall with small metal brackets you could see only if you lean down.
They should be placed on a few spots along the length of the board, not only at the sides to make sure that they do not bend when loaded with stuff.
25. Turn Birch Slices Into Floating Shelves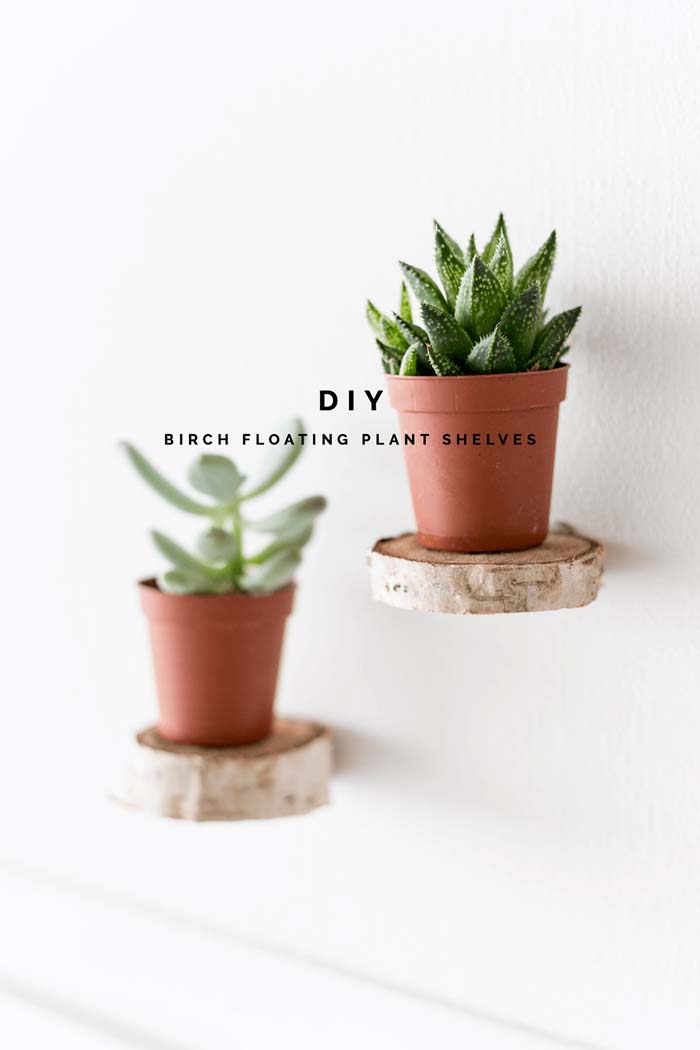 These birchwood slices are just adorable and surely after you have once seen them and how easily they are made you would like to add them to your home.
Their size is so compact that only a small flower pot can fit on. Nevertheless, you can install as many as you wish to make a vertical garden inside your home.
via Bloglovin
26. Floating Shelves Slide Onto Supports

This is how a traditionally looking floating shelf can be built.
There is no sign of the hardware used to attach it to the wall and that happens thanks to the additional wooden structure that goes on the supports and hides them.
via DIY Pete
27. Create Nesting Boxes of Framed Storage

This set of cubes is very modern and appealing- a great way to decorate a blank wall and dedicate places for smaller accessories.
It consists of multiple floating shelves in different square sizes glued to each other in an interesting overall pattern.
via I Spy DIY
28. Floating Hexagon Shelves Make Room for Creativity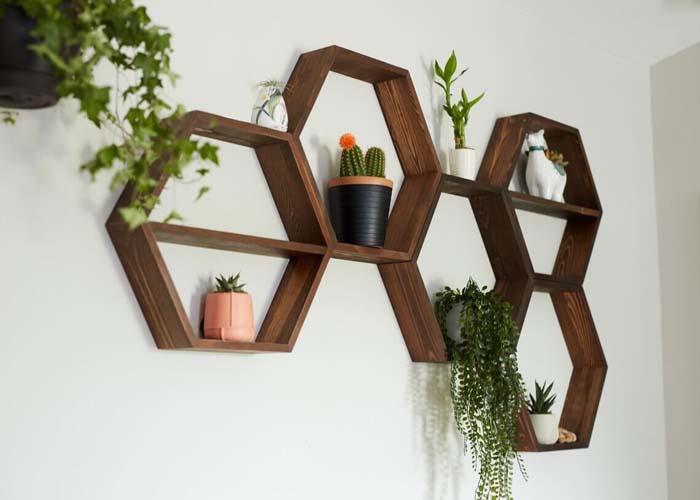 The trendy hexagonal shape for a floating shelf can be upgraded into a whole system for storage consisting of five hexagons.
This stylish storage unit will give a fresh touch to a living room or a bedroom. Filled with a collection of succulents it will make the atmosphere more cheerful and modern.

29. Thick Wood Stained Shelves Anchor the Room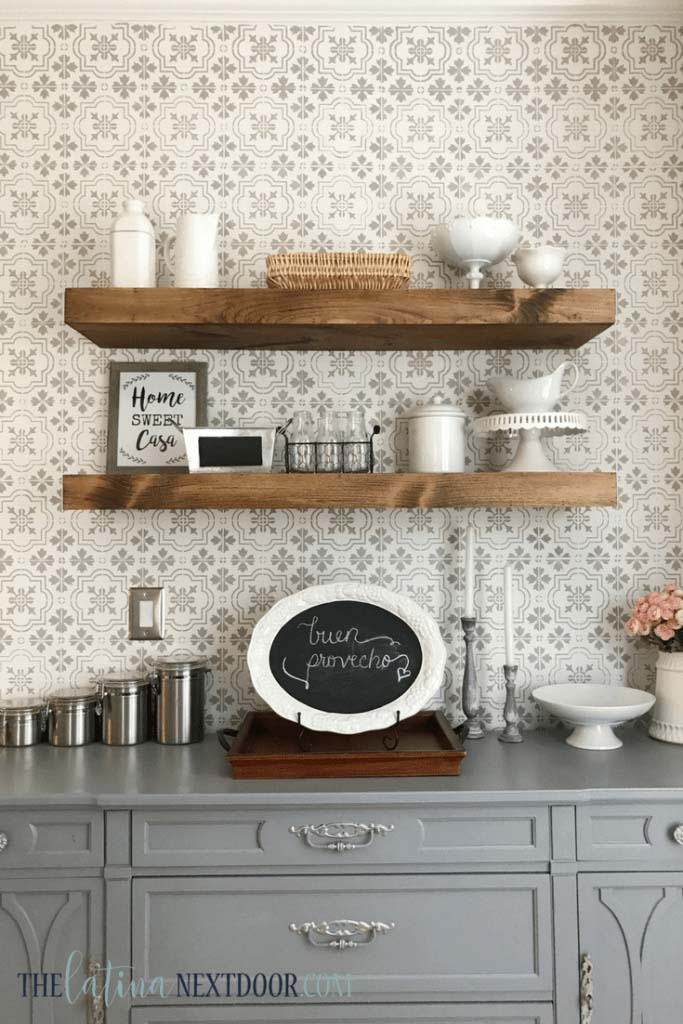 The chic vintage kitchen decor embraces a floating shelf system made from sturdy wooden slabs.
Placed in the center of the backsplash, the stained wood makes a beautiful contrast with the patterned tiles and the grey cabinetry.
This color combination also adds a warm touch to the otherwise neutral grey hue. The open storage concept is perfect for adding decorations that succeed in enhancing the coziness of the room.
30. Holder Dinnerware With Sturdy Shelf Project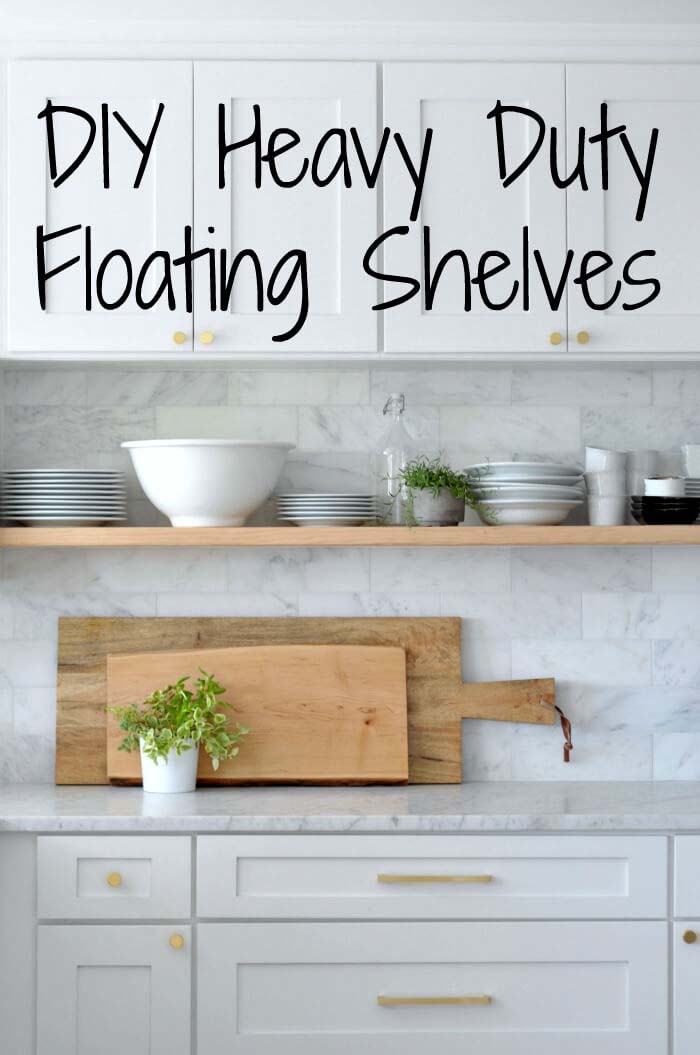 You can build an additional storage place for mugs and tableware right below the upper cabinets.
This idea is very practical and space-saving, and furthermore doesn't require any free wall space.
31. Storage in Floating Shelf Clears Clutter

Use the inside of the floating shelf practically by equipping it with a drawer for storage.
Depending on the floating shelf location, you can store jewelry, keys, remote controllers and any small items that are easy to be lost and create a clutter look when randomly placed on a top.
via Life Hacker
32. Industrial Look With Black Metal Cabinet Pulls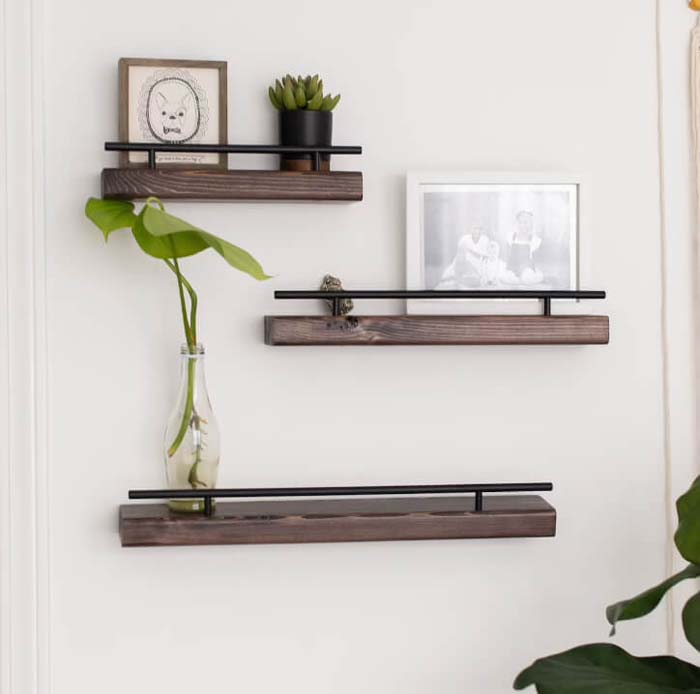 Give your living room a touch of industrial farmhouse with this wooden floating ledge shelf set. Metal and wood work perfectly together and provide a stable surface to display artistic pieces, pictures and pots.
The materials combination works well with minimalist living space or an airy bedroom.

33. Bright Color Shelves for Kids Books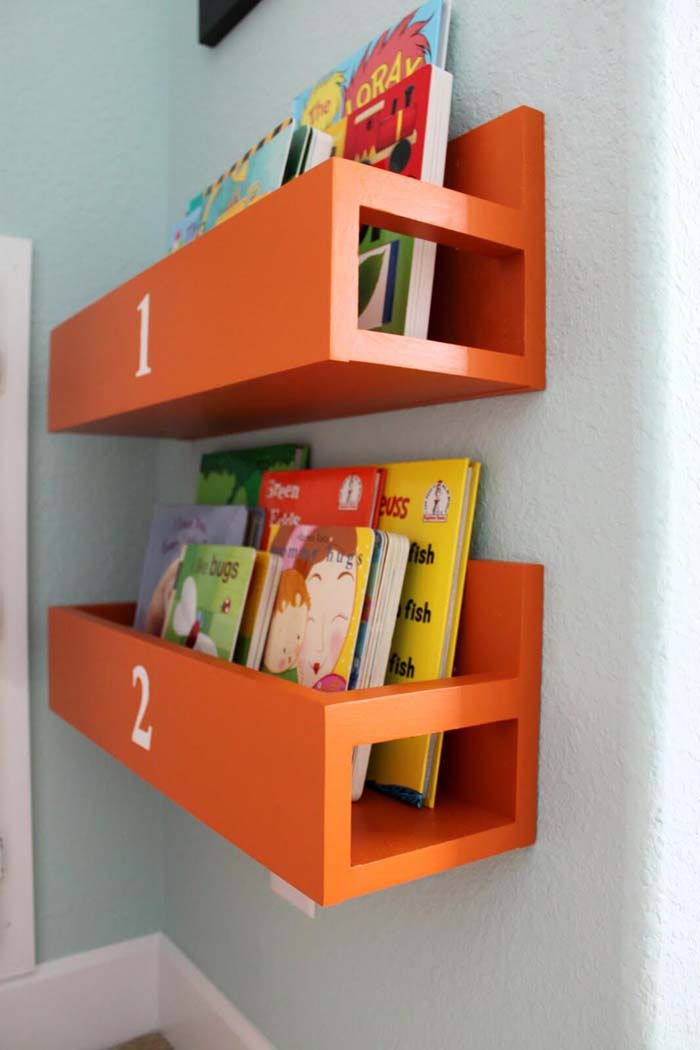 Another floating shelf idea suitable for a kids' room features bright and cheerful shelves with ledges that keep the stored books in place.
This additional furniture set is given also a sorting function thanks to the numbers added to the front. Thus every kid knows which is the shelf belonging for his or her favorite reads.
via Backless Shirt
34. White Floating Shelves Are Securely Anchored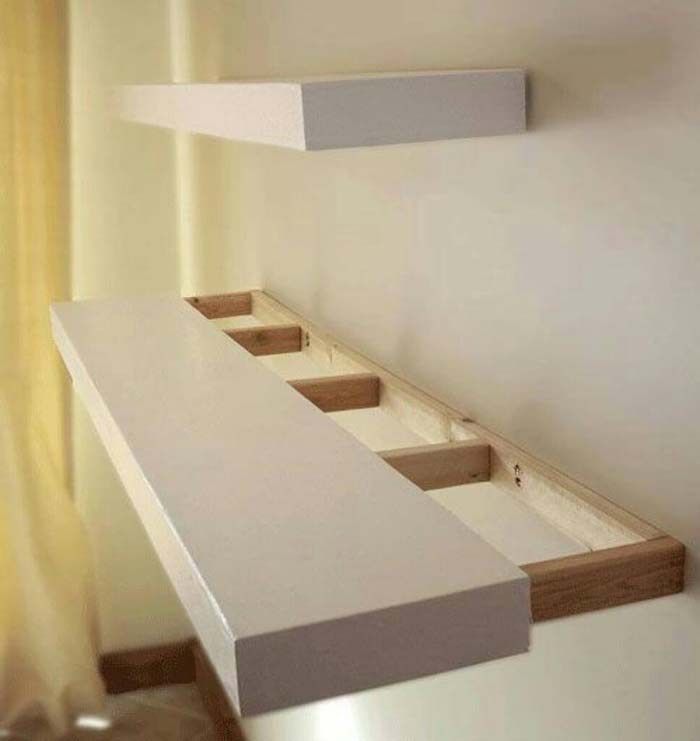 This is another interesting shelf idea that perfectly reveals the floating design. No signs for hardware attachment, the boards look like integrated with the wall.
The white color additionally enhances this visual look because it blends with the wall color.
35. Live Edge Shelves Show off Organic Style
Give your kitchen a modern farmhouse touch with this live edge slab for storage on the wall. Reclaimed solid wood in a good condition is great for making this design yourself.
You can use metal brackets or wooden corbels to support the boards to the wall. The displays can be used for storage of various kitchen stuff such as sets of vintage plates or bowls, a herb garden.
Add more charm to the room with some antique pieces.

36. Add Floating Shelves to an Entire Wall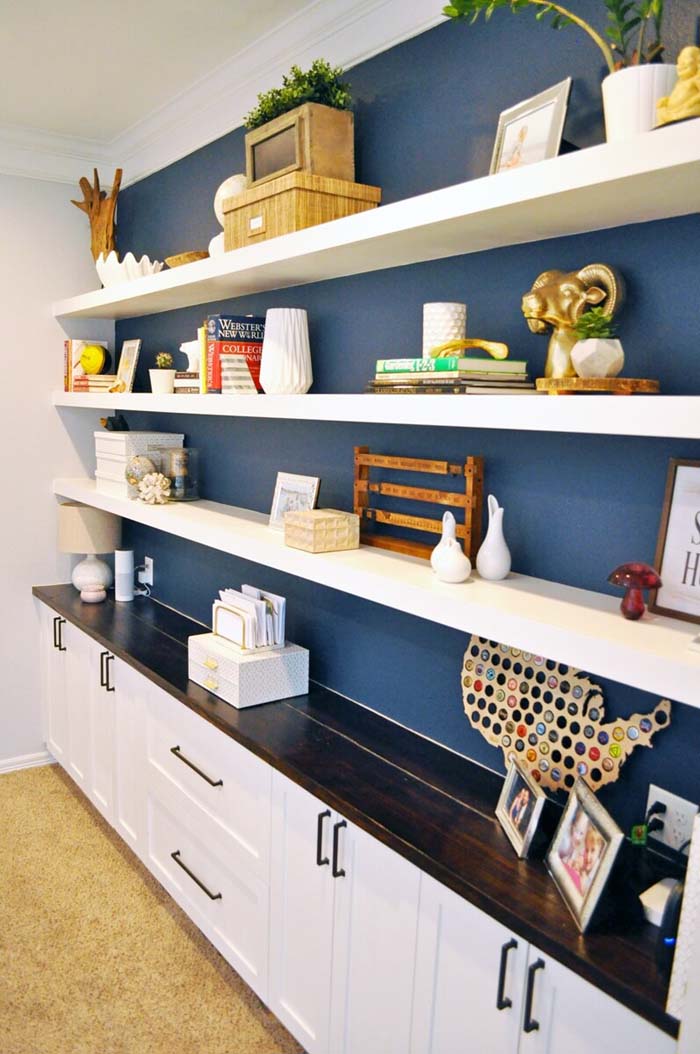 These long and lean shelves cover a wall on its entire length to create a large storage place and a great interior impact.
They complement the statement wall in royal blue with their polished white texture and dimensional design.
Such storage solution is perfect for contemporary living rooms or for home office work spaces where the interior should offer modern functionality, comfort and coziness at the same time.
via Stacy's Savings
37. DIY Fireplace Distressed Wood Floating Shelf Mantel

You can faux a mantel over your solid built in the wall fireplace with this DIY floating shelf project.
Made from weathered wood pieces, the mantel looks like an integral part of the rustic fireplace.
via Remodelaholic
38. Unfinished Lumber Looks Great Against White Wall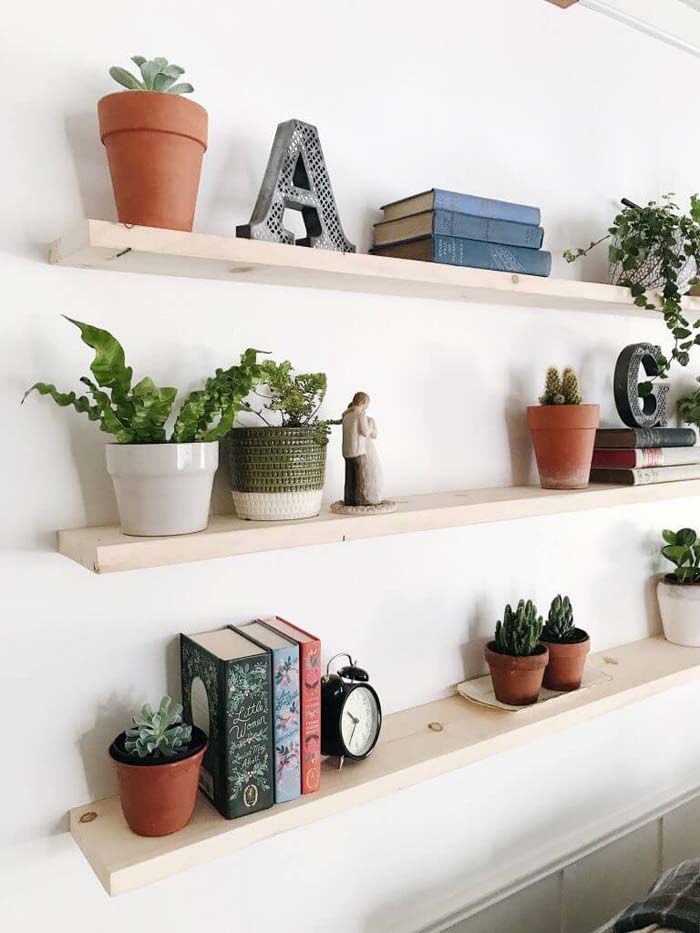 Are you in love with the airy Scandinavian style? It can be easily incorporated in the floating shelf system. Blonde untreated wooden boards positioned on the wall are perfect to display various items depending on the location.
In the kitchen, the unfinished wooden floaters can store your mug collection, in the kids' room they can display their favorite books.
In the living room, the Scandi-inspired storage shelves add extra storage for plants, picture frames and signs.
via Iekel Road Home
39. Display Photos With Floating Wall Ledge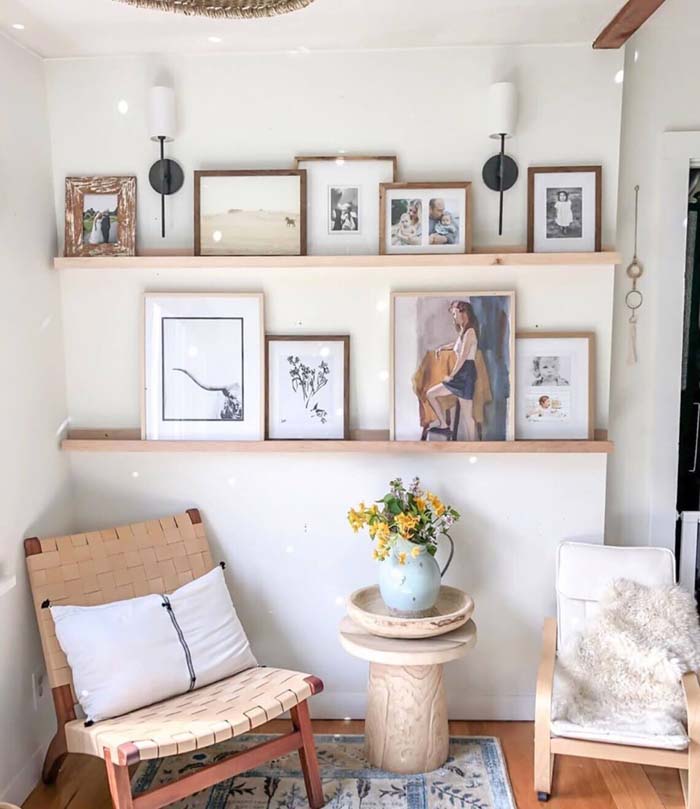 Instead of hammering nails in the wall to display your favorite family photographs, create a special display for them that will group them together as a collage and improve their impact on the decor.
This idea happens easily with a set of floating shelves designed in size and color that suit the overall ambiance. The convenience the floating shelves offer is sufficient space, easy to place different size frames, versatility.

40. Customize a Linen Closet  With Floating Shelves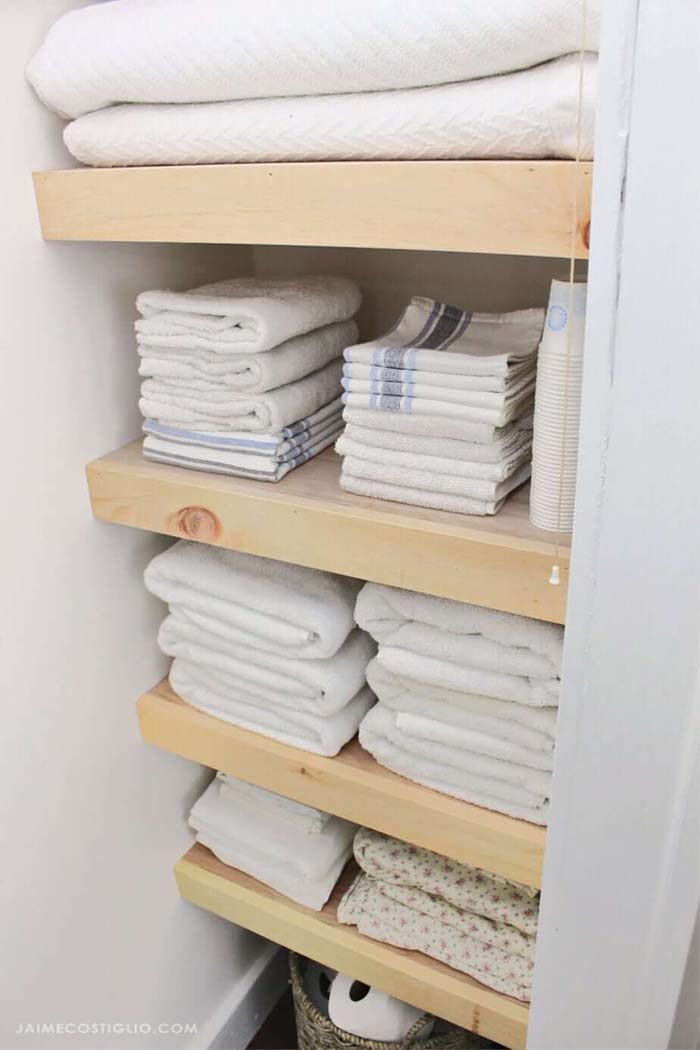 Greate a dedicated place for the linen sets in your closet with this practical floating shelf unit. It is built in a small empty corner in the closet where no standard cabinet or other storage unit would fit.
The wooden shelves are made to fit the space and when inserted they provide sufficiently deep and wide boards for storage.
via Jaime Costiglio
41. Single Floating Shelf Has Stylish Functionality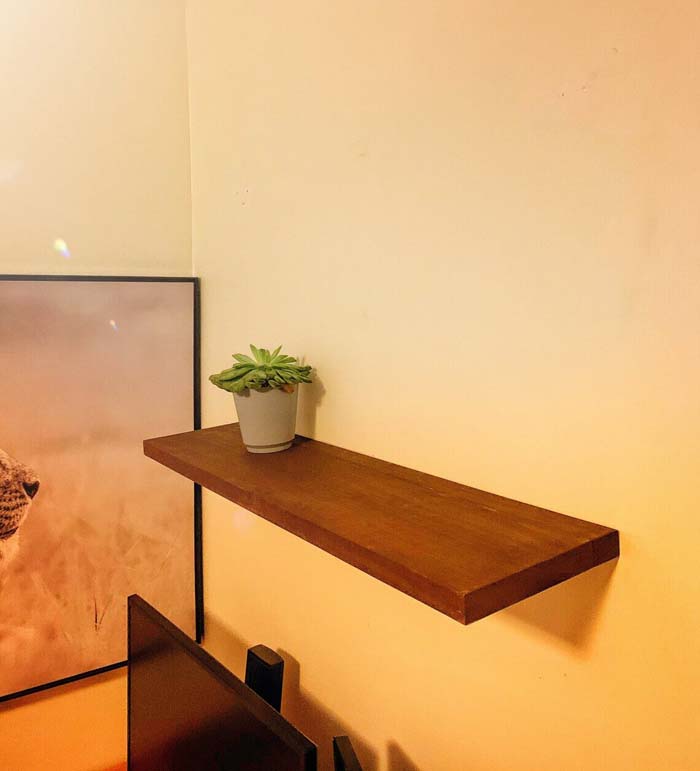 If you need a special place for the media units to give the living room a decluttered look, add a floating shelf above the TV.
This single piece of wood is simple and perfect for the storage of small items that you would like to organize and leave out of the attention.

42. Brilliant Wall Shelving Design From Plywood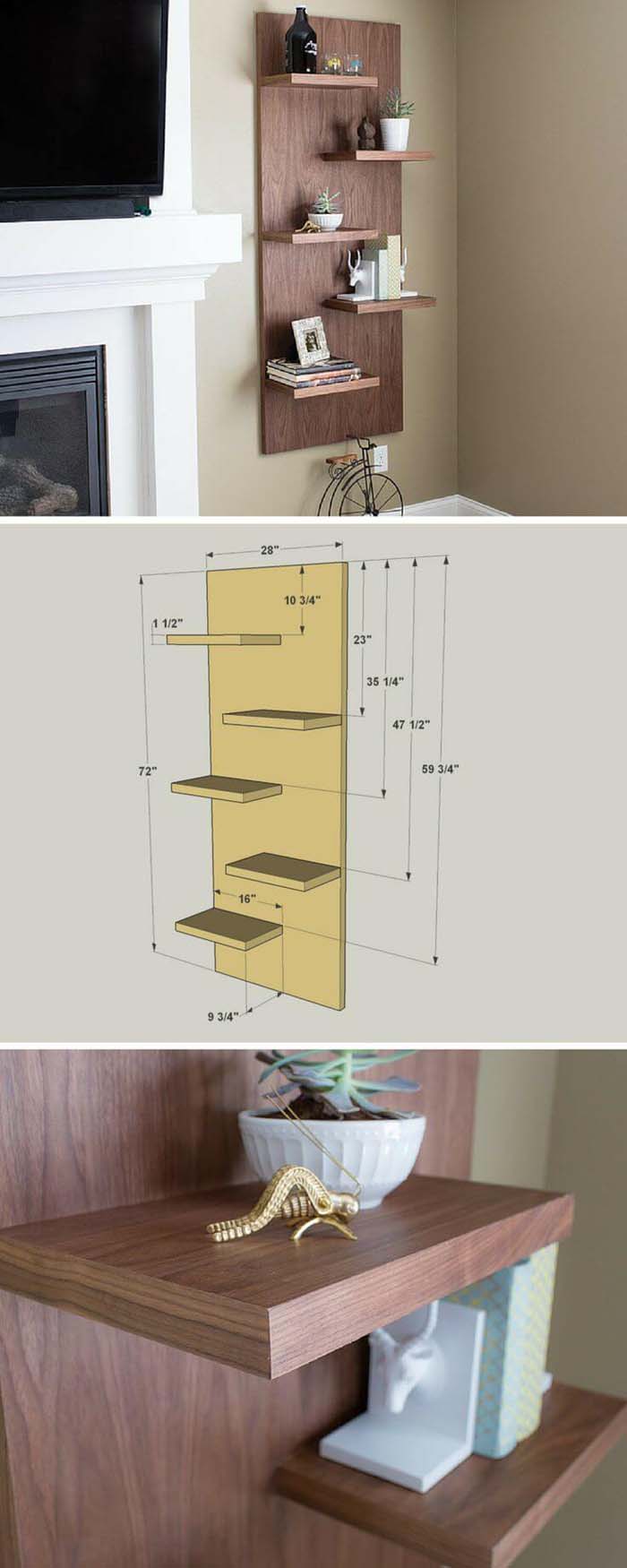 You can faux not only the floating shelf design but also the wood type. There are iron-on edgings that cover the inexpensive plywood and mimic textures like walnut, maple or oak.
The design of this shelf unit is actually different than the typical floating shelf look because of the added backsplash which aims to make the storage unit bolder and make a more dramatic statement.
via Kreg Tool
43. Create Unique Floating Shelves With Industrial Accents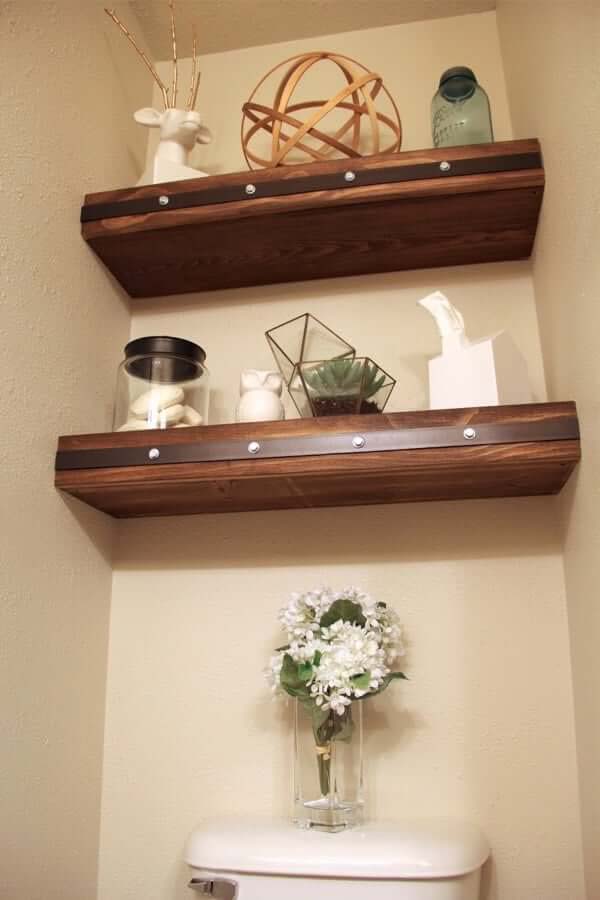 Create modern farmhouse floating shelves on the wall above the toilet to add extra storage place and make this part of the bathroom also appealing when it comes to style.
The combination of stained wood and leather strips create an impacting design that offers also sturdiness and functionality. Place bathroom or toilet accessories on the shelves together with decor pieces to make the shelf unit seemingly blend with the existing decor.
44. Dark-Stained Floating Picture Shelves in Bedroom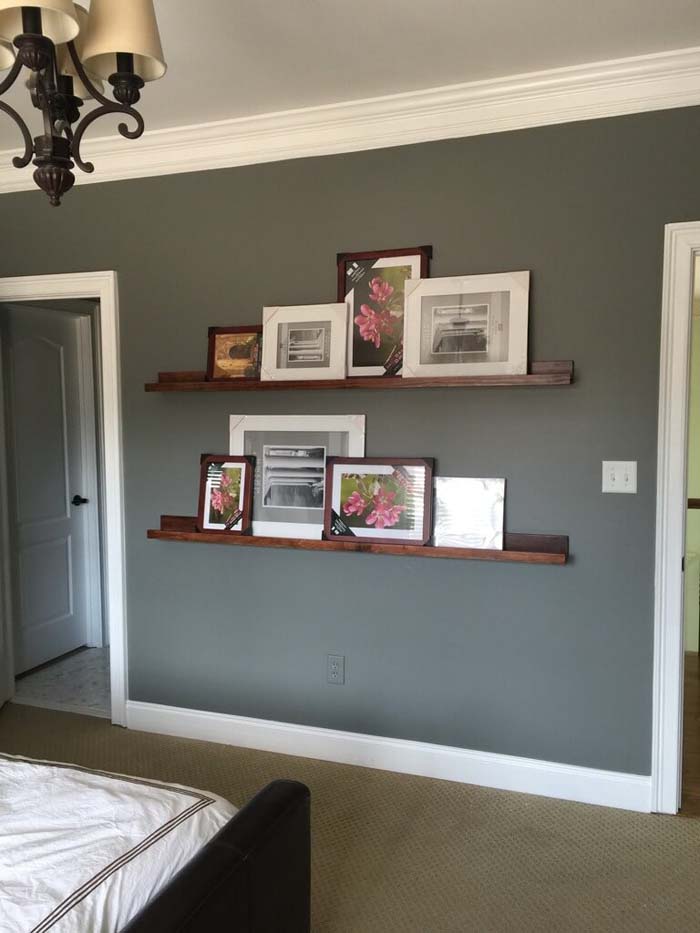 These floating shelves have been made to store a collection of framed photographs, hence their narrow but long size.
They are suspended on the wall with their back ledges that also serve as a decorative element.
via Bower Power
45. Brackets Lend Support to Floating Shelves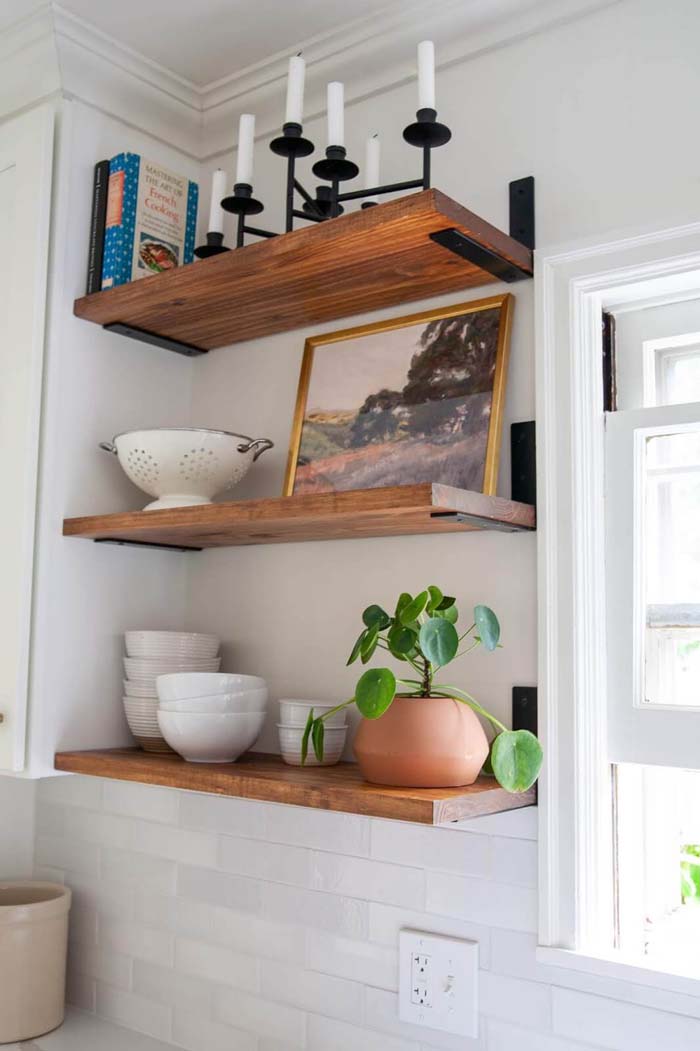 This floating shelf system has been made next to the cupboards of the kitchen to provide extra storage with an open-concept design.
Made of solid stained wood, the shelves look as extension of the upper cabinets thanks to their matching alignment.
They are secured with black metal brackets and can take up heavier items such as flower pots, dishes, mugs and bowls.
via Create Enjoy
46. Picture Ledge Shelves Show History in Photos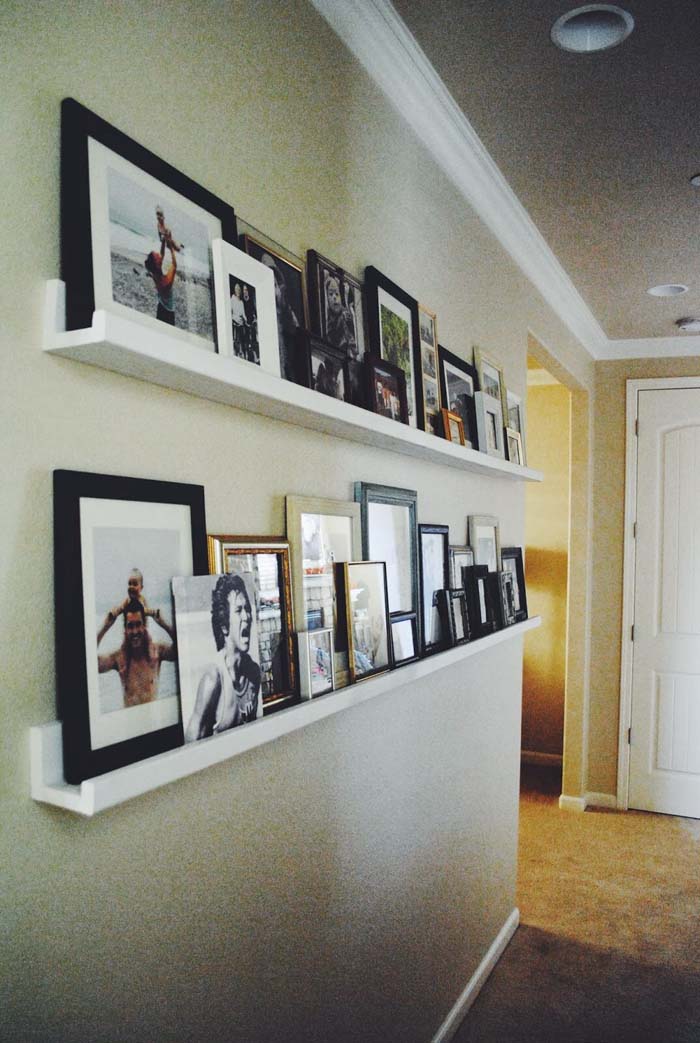 This is another example of the narrow but long shelves used as photo displays. The long ledge is the means for anchoring the wood to the wall.
The shorter one at the front is actually the picture ledge which keeps the items stored securely in place.
via Notes From Nessa
47. Floating Shelves Add Storage in Bathroom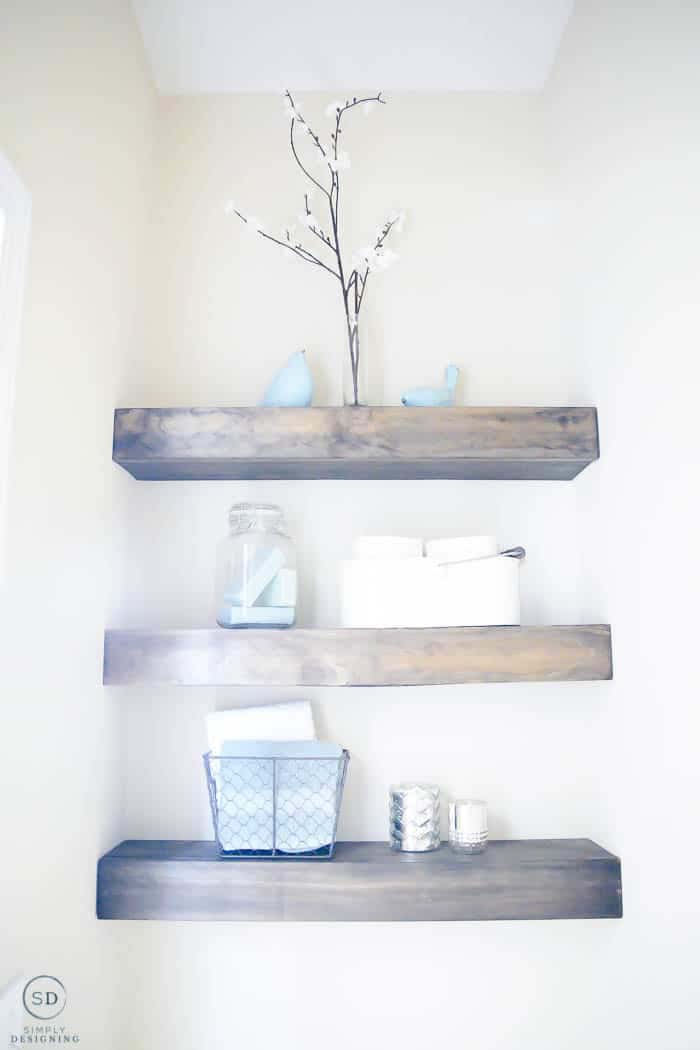 This set of three floating shelves can be positioned in every room to provide an extra useful storage place. Thanks to its compact size and wall positioning, the storage shelves can utilize a small part of a wall such as the part next to the door.
The design and the open concept of this floating shelf system are great for additional bathroom shelves to display the fragrance collection.
via Simply Designing
48. Mini Floating Wood Shelf From Scraps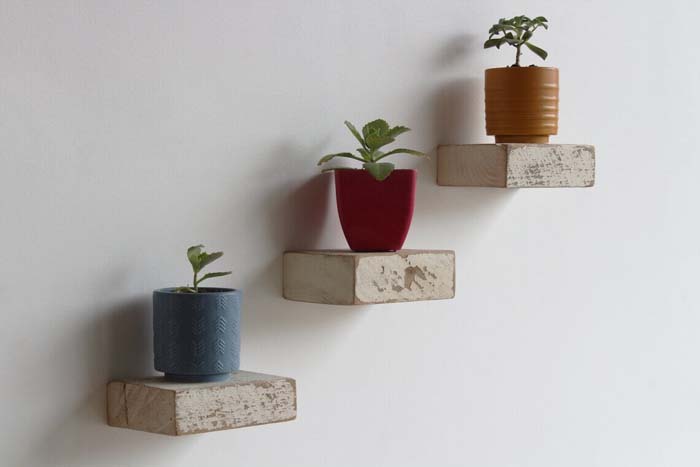 These small square floating shelves are perfect for entryways and hallways where a homely decor touch is needed to unite the transition spaces with the living spaces.
They are made from reclaimed wood and are additionally coated with white paint to give the wood a fresh look. Edges are a little distressed for enhanced rustic impact. Arranged in a group of three and in a step-like pattern, the shelves take up a tiny space from the wall but make a great impact.

49. White Floating Shelves Are Almost Invisible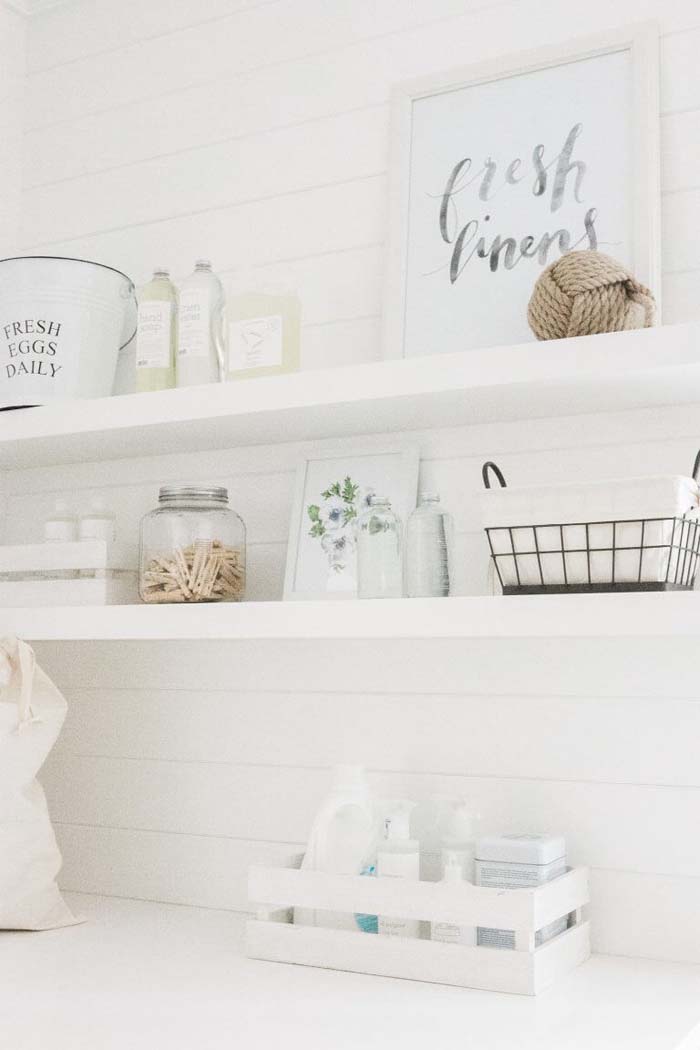 These floating shelves continue the airy interior of the mudroom. Built on a white shiplap wall, they add a useful extra storage place for items frequently used such as the detergent, the bleach, the stain remover, etc.
Storage of smaller items is ensured in wire baskets and wooden crates which sort the products and also help create a decluttered look.
via Monika Hibbs
50. Floating Shelves Maximize Every Inch of Space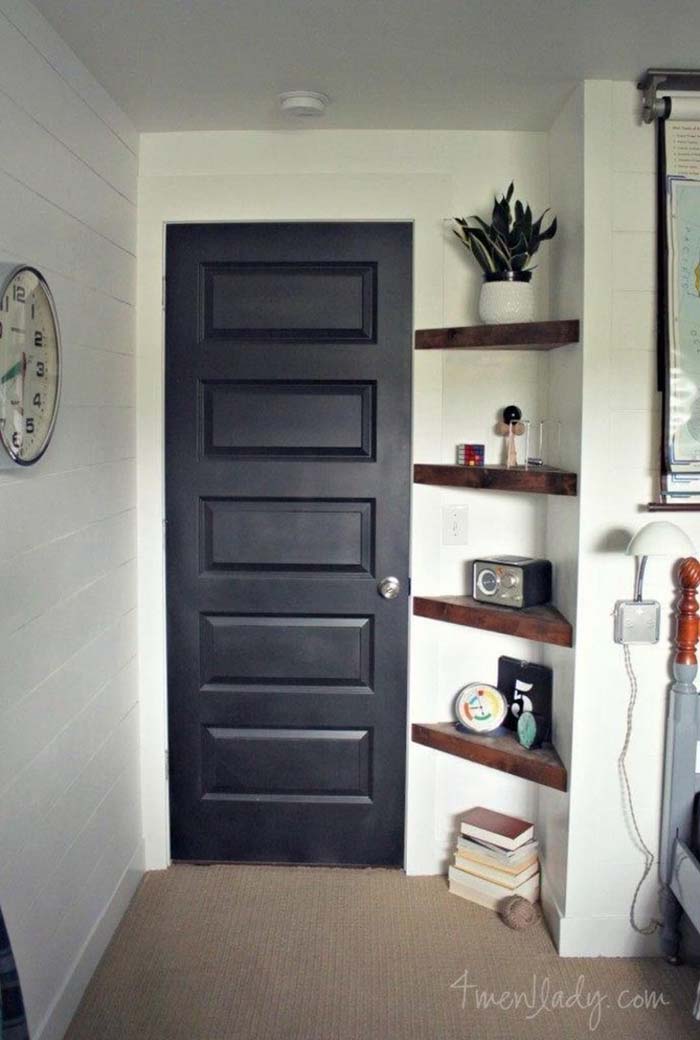 You would never think such a corner can be a functional part of the room if it wasn't for this inspiring idea. The triangle wooden corner shelves are cut precisely to fit tightly in the corner space.
Four of them are enough to display hobby accessories and decorations that speak about the room's owner.
The number of the shelves is also coordinated with the door case being adjacent to the corner so that the end result is stylish and symmetrical shelf unit.
via 4 Men 1 Lady
51. Small Wooden Boxes Bring Big Style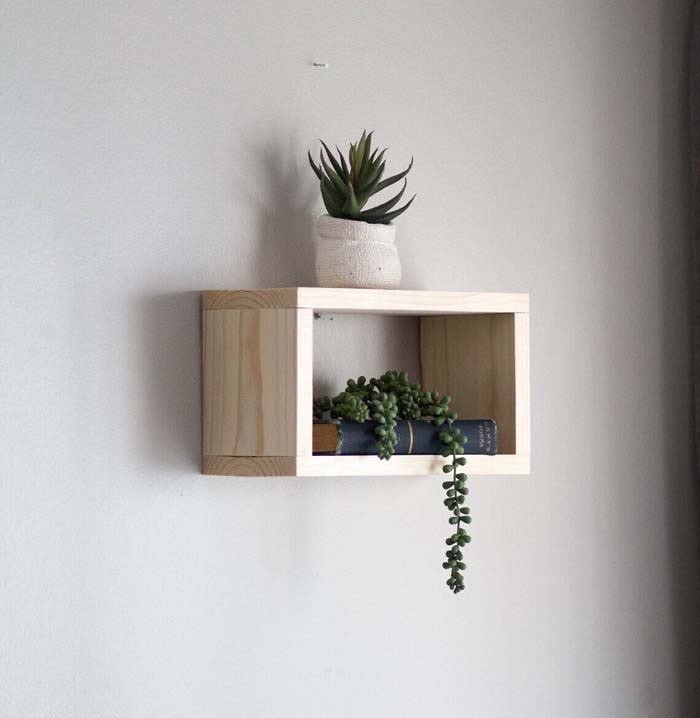 An alternative design of the floating shelf features an open box made of natural blonde wood. Simple square made from wooden beams creates a special place for unique decoration.
The look of the untreated wood is perfect to add delicately nature inside your home.

52. Rustic Wood Floating Shelves Organize Your Office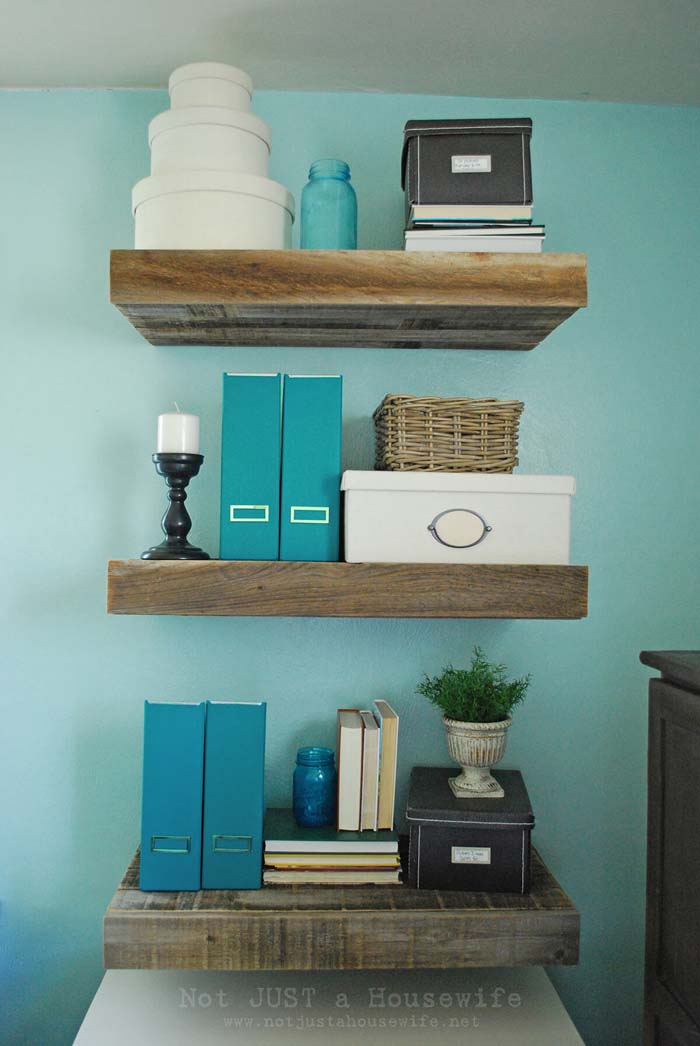 Need an improvement in your home office? Some extra space will never be too much especially when it also succeeds in making the general feel more appealing.
The set of three rugged wood floating shelves is great for filling it with files. Combine them with succulent pots, candlesticks and books to turn the extra storage place into a stylish nook.
53. Plan Ahead for Beautiful Glassware Display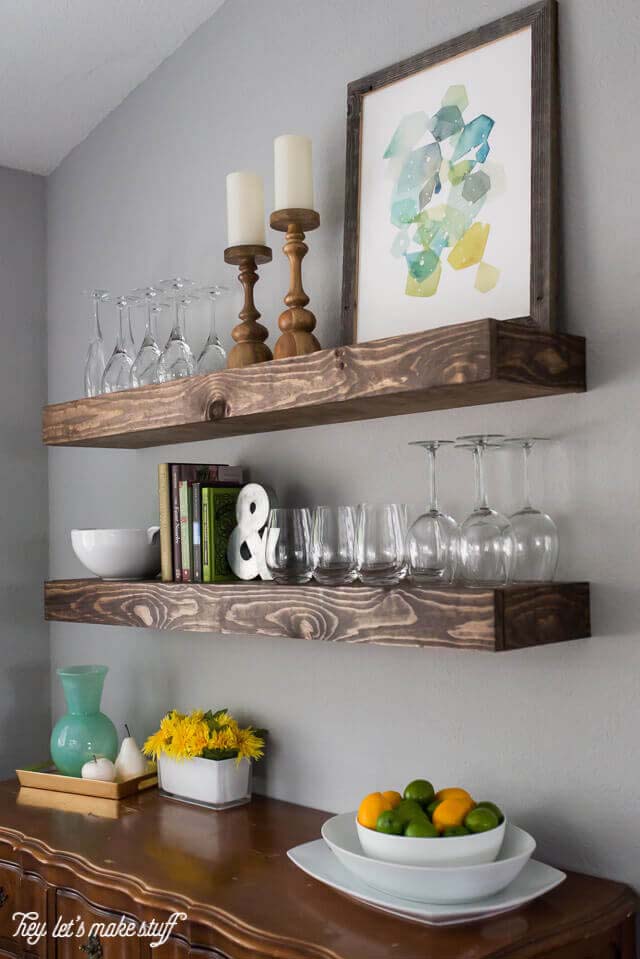 When your living room storage is ensured with vintage cabinets and drawers, you can add to them a floating shelf system that blends with their design.
The wood of the floating shelves is finished with a modern, yet natural pattern combining dark and blonde stains.
The number of shelves is just enough to place glasses and define this nook as a beverage station. Added pictures, books and candlesticks let the station feel like belonging to the cozy ambiance.
54. Live Edge Wood Floating Shelves for Kitchen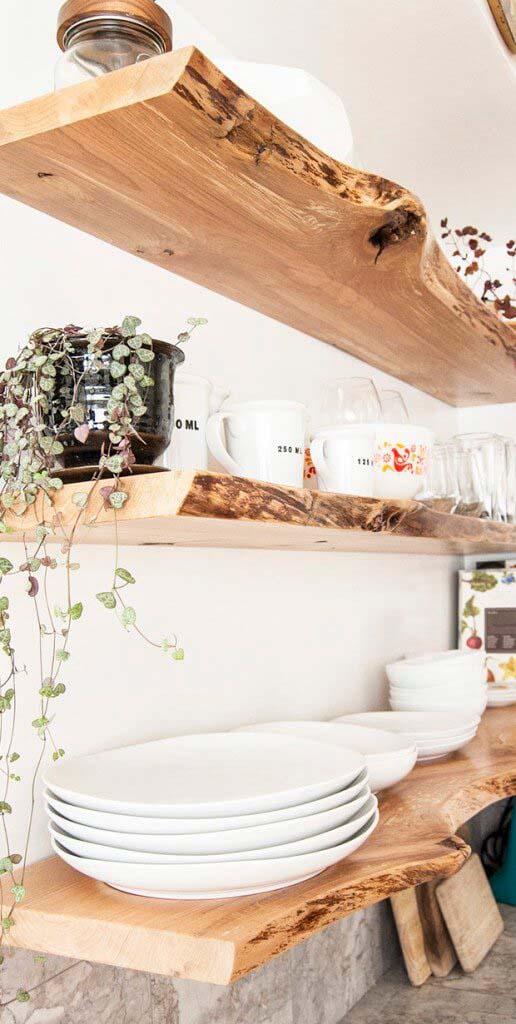 You can make a total transformation of your kitchen with one simple change- replacing the cupboards with floating shelves.
You must take a look at the tutorial below to convince yourself of the great interior impact the live-edge shelves create in that rustic kitchen.
via DIY In PDX
55. Mount White Floating Shelves Onto Subway Tile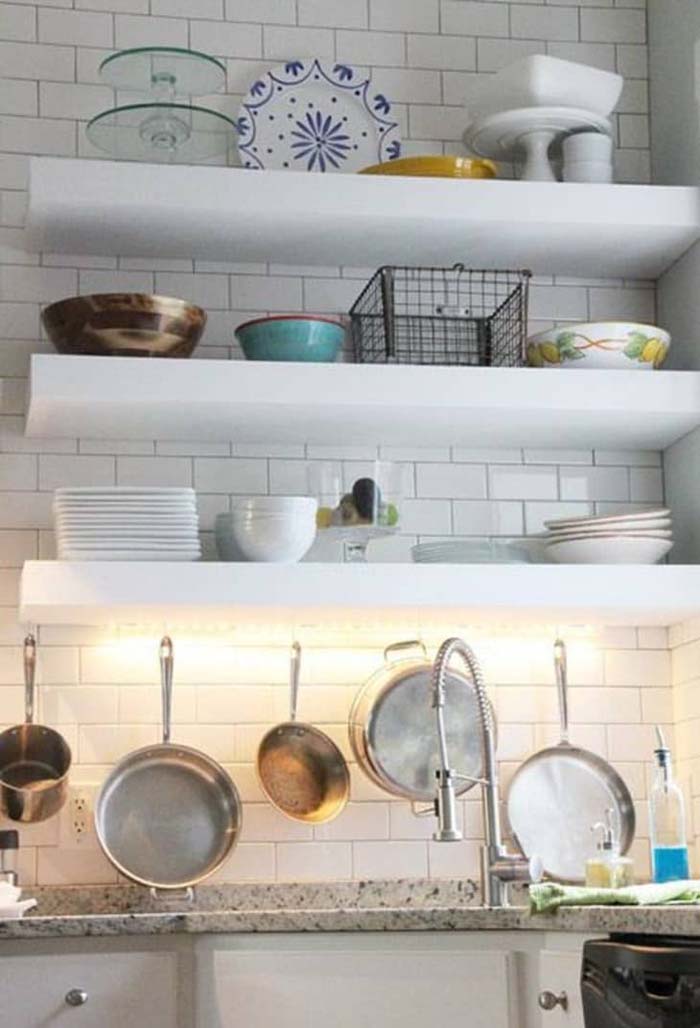 Need some extra storage space in your kitchen? You can declutter the countertop quickly with this DIY floating shelves idea.
The boards are thick enough to bear the load from the sets of plates and bowls displayed. The lower surface of the bottom shelf can be additionally utilized and turned into a rack for cookware.
56. Use Two Tones and Accents for Modern Look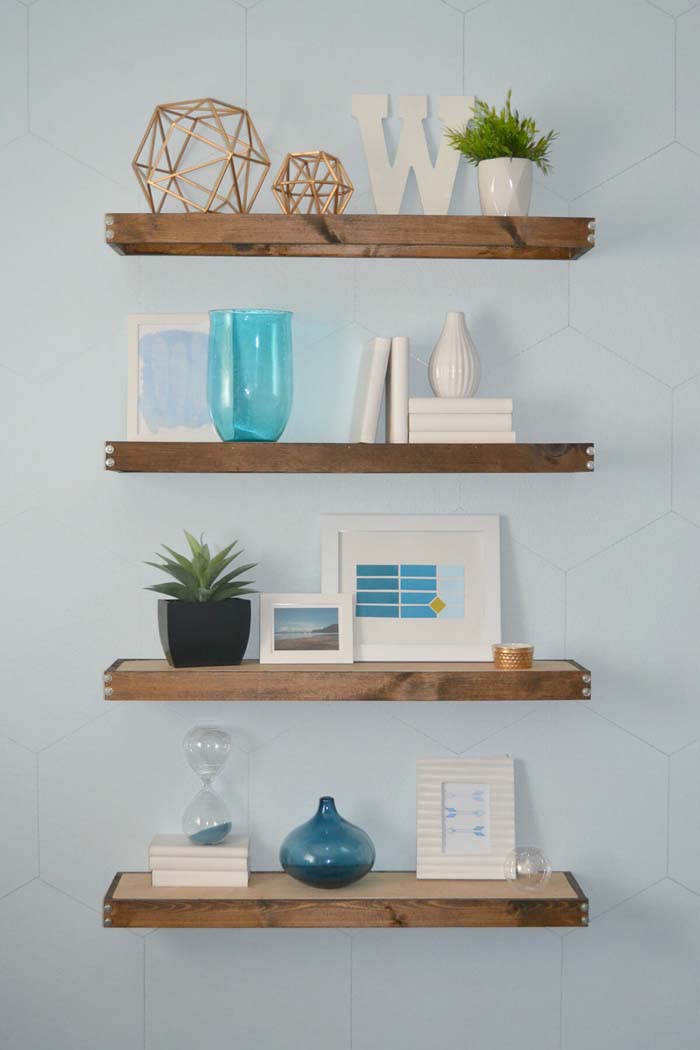 Provide your living room with a definition and a special place for displaying of beautiful things with this interesting DIY floating shelf idea.
The project uses two types of wood which give the classic wood shelf a modern touch.
via Hey There Home
57. Extend Your Kitchen Window Sills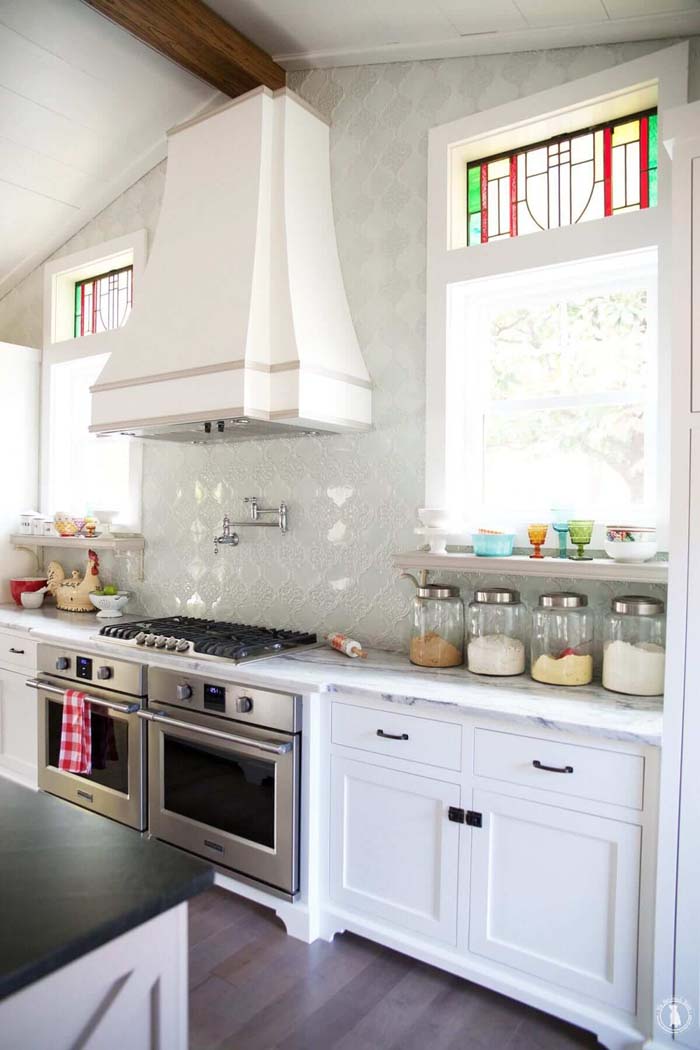 You can use the windowsills as an extra storage place in the kitchen if you extend them with a floating shelf.
The location of these extra storage shelves is great for creating an indoor herb garden.
58. Use Vintage Crates for Headboard Storage
An easy and very beautiful floating shelf idea reveals a new application of the crates. They are attached to the wall with their bottom side to let the opening be used.
The dark stain applied lets them stand out against the airy white color of the wall. This storage set can be used for organizing favorite books, remote controllers and chargers.
via Amber Apple
59. Change Stain When Mounting on Wood Wall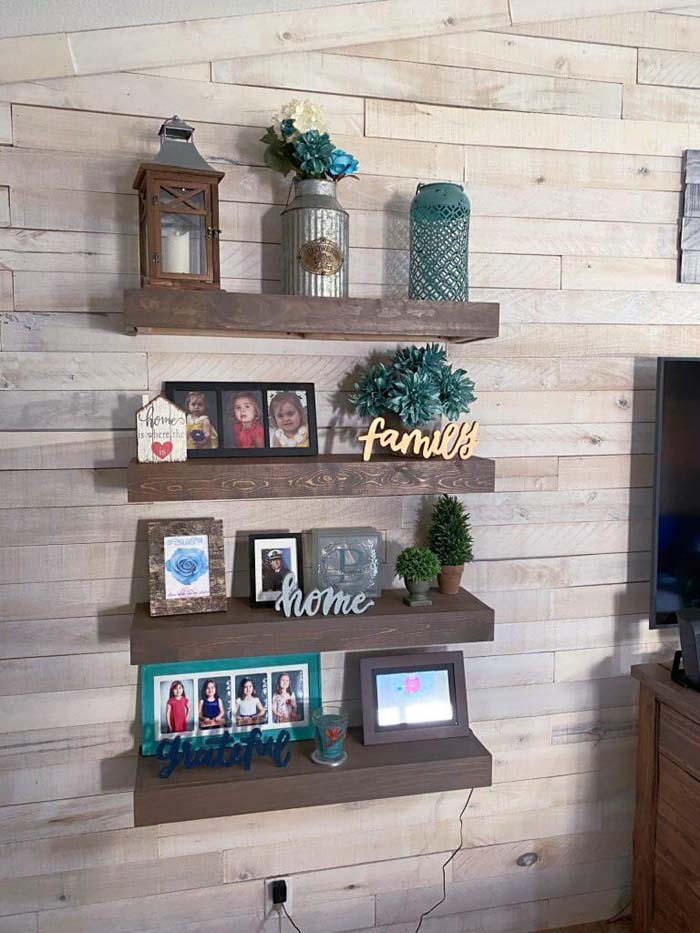 Floating shelves with wider rims make an outstanding platform wooden shelf system that takes up minimal wall space. The platforms are painted dark brown with a warm hue that stands out against the neutral slat-planked wall.
Any lighter color decorations will create a point of interest when displayed on the shelves. So you can turn the storage unit into a family memories corner that will enhance the coziness and the welcoming vibe.
60. Distressed Look Floating Shelf Has Hidden Drawer
These weathered wood shelves are more then just displays for pretty rustic things, they are also drawers. You would never recognize this additional function which is hidden behind the top slat.
You can keep small items away from the sight in there or expensive stuff that you would like to be treasured in a very secret place.