If you love farmhouse decor as much as I do then you probably know that getting more storage space and organizing stuff at home is not so easy.
I have some gorgeous organization ideas that can maybe ease your way around the kitchen. Flip through and see if you will get a practical idea that you can take, twist or tailor.

If you are in love with farmhouse decor check out: 28 Best Selling Farmhouse Pendant Lights You Need To See
1. Maximize Kitchen Space with a DIY Wooden Glass Rack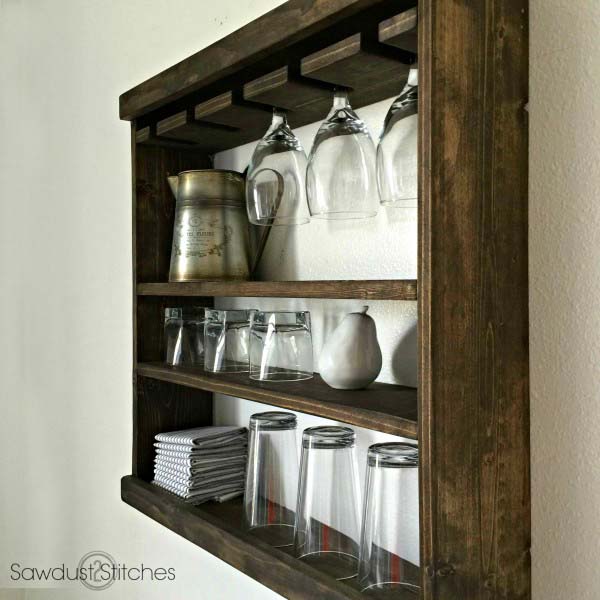 This would make a great project for someone who doesn't have room for a full-size dining room hutch, or simply want more space for drinkware.
Ever thought of lining up your cups and glasses on a simple wooden rack? It can save so much space!
It is easy to do and won't take much time or resources to be done.
Follow the steps in the tutorial to create a similar or the same glass rack. You can change the type of wood and color and also the size and shape. Be creative and create whatever suits you.
Even if you are not experienced in DIY,  you will be surprised how easy is to create these type of projects at home. Some tools will be needed though. Enjoy it. Tutorial
2. Give Your Kitchen a Rustic Look with Wooden Shelves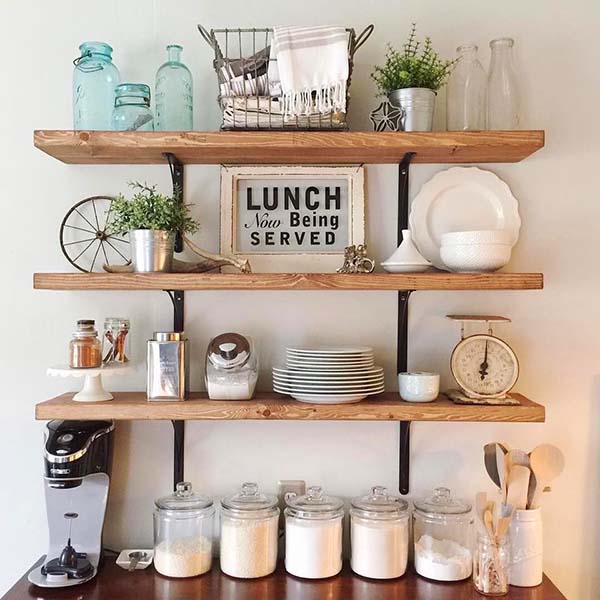 If you need more storage space then first thing is to mount some shelves. These are made of natural wood and are easy to DIY.
via: living.repurposed
3. Make a Rustic Wine Bottle Carrier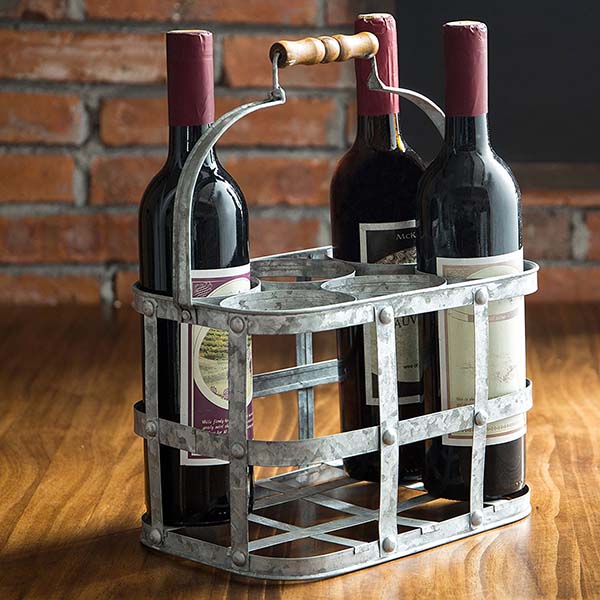 If you want to carry or store your wine bottles this great carrier is all you'll ever want!

4. Repurpose Graters to Store Utensils in the Kitchen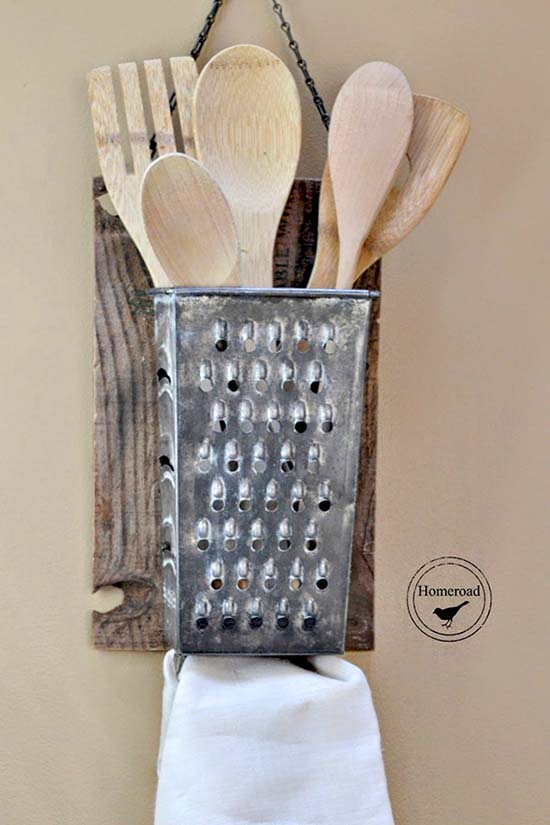 This just gives me another reason not to throw out old graters – they can be used to store spoons and utensils. They also look wonderful in a country kitchen.
Don't be in a hurry to toss out old graters! You can turn them into a hanger or a container for the utensils in your kitchen. By keeping everything in sight, it will be much easier to locate it.
This is great for a summer house, a villa or somewhere where you don't need super fancy design. Tutorial
5. Utilize Countertop Space with a Towel Side Hanger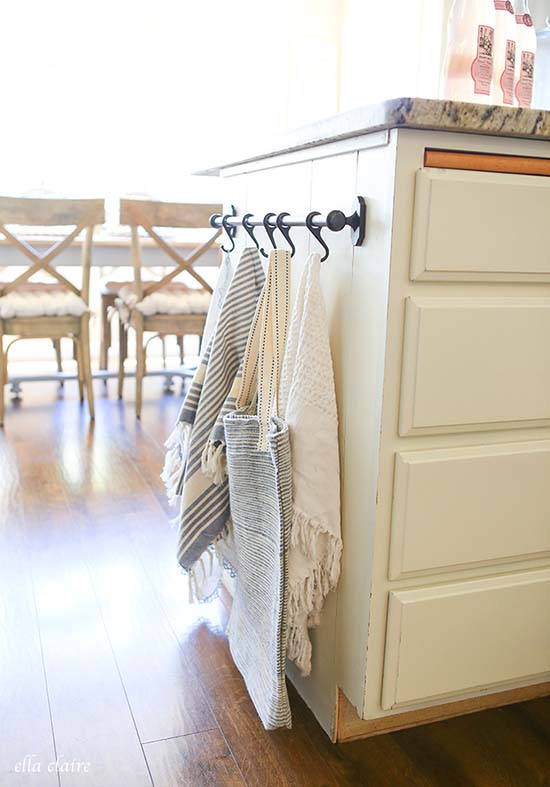 Photo:Credit
You need a place to hang your towels, right? So why not mount a side hanger to the countertop?
6. Add a Rustic Wrought Iron Rack for Kitchen Supplies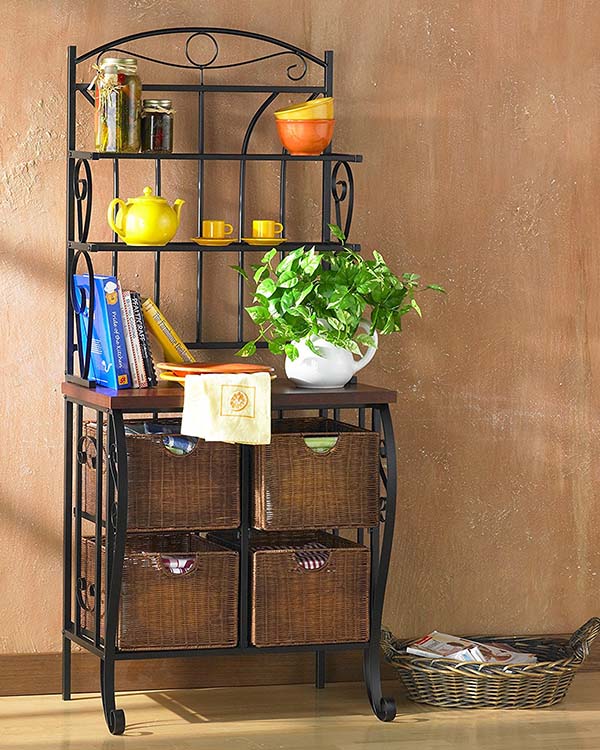 Everybody loves this rack – here is a customer review: Super easy to put together and looks great in my Tuscan-inspired kitchen. Our monstrous microwave was a bit too tall so we were able to leave off the middle shelf. Very convenient.
I did a lot of research on racks before settling on this one and I am so glad I did it. We have a very narrow galley kitchen and storage is very minimal. The extra storage drawers at the bottom of this rack are great for little kitchen gadgets that otherwise get lost in cabinets.

7. Turn Bookshelves into Extra Kitchen Storage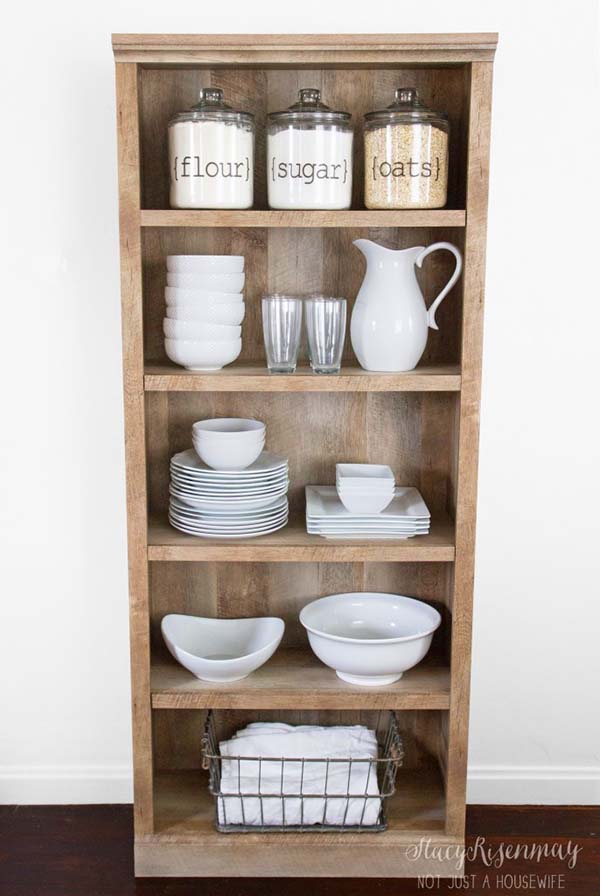 I love that she took a preexisting Better Homes & Gardens bookshelf and turned it into extra kitchen/pantry storage. Who said bookshelves were only good for books?
Storage and organization are sometimes easier to do than we can imagine. If you don't have enough cabinets and drawers in your home, simply install a tall rack.
You can nail it to the wall for stability. Then simply add cups, dishes and all the kitchenware that needs organizing. Tutorial
8. Create a Farmhouse Look with Wire Mesh Baskets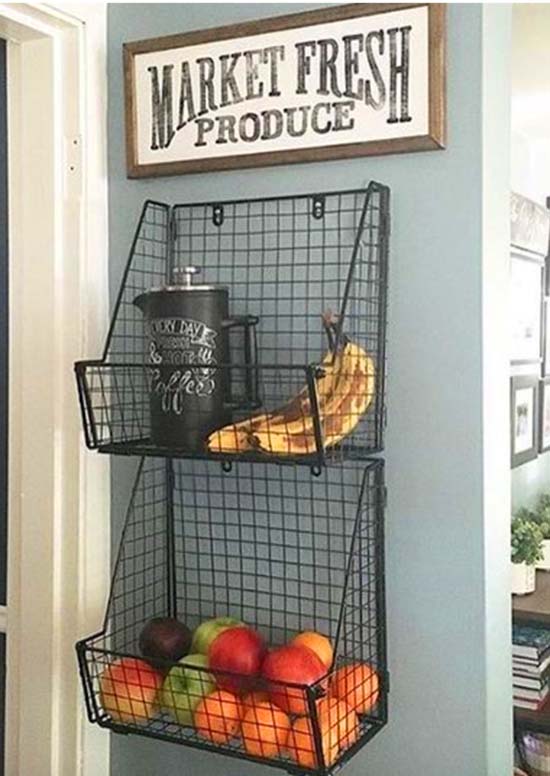 Photo:Credit
Get some wire mesh baskets, hang them on the wall and put your favorite farmhouse sign above. That's all you need to do to replicate this design.
9. Get Organized with Mason Jars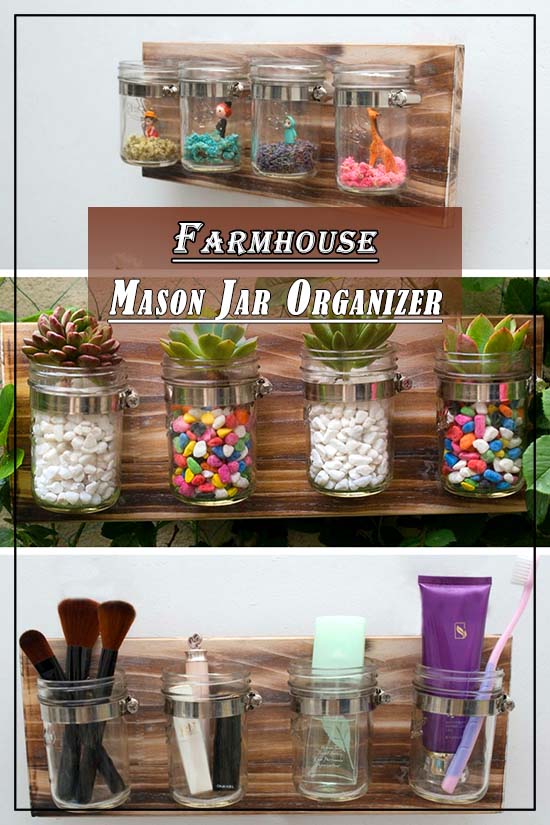 You can use some mason jars to organize a lot of things, not only in the kitchen but also in a home office or use them for makeup.

10. Turn an Old Gym Locker into Versatile Home Storage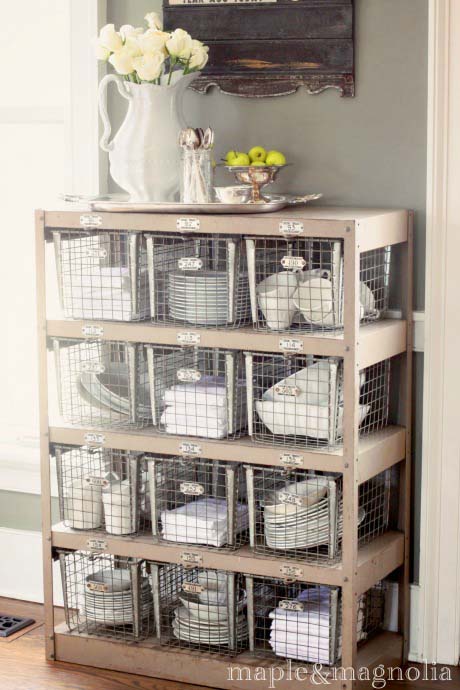 So, these used to be gym lockers. Hard to believe, right? Something like this could definitely work in other areas of the house.
Okay, ladies and gentlemen, I have something pretty unusual here. Do you have any furniture with no particular purpose around? This rack used to be a gym locker!
Well, no it stores towels, plates and platters, utensils, etc. Funny, right? Somewhat ingenious, too. Just take a look around and change its purpose! Tutorial
11. List All Your Kitchen Tasks on a Chalkboard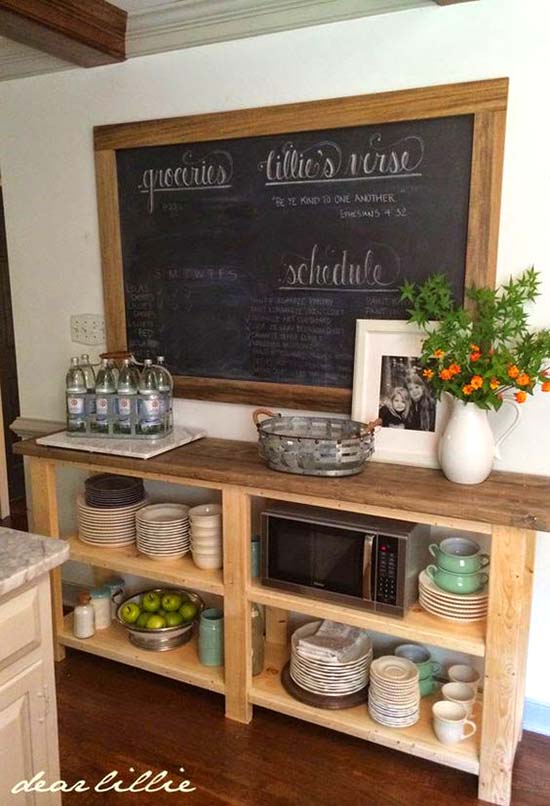 Photo:Credit
Chalkboard decoration is a great addition to any farmhouse interior design. You can write some beautiful home quotes and sayings or you can just use it to write down a schedule, groceries list, etc.
12. Upcycle Cans for Your Kitchen Utensils Storage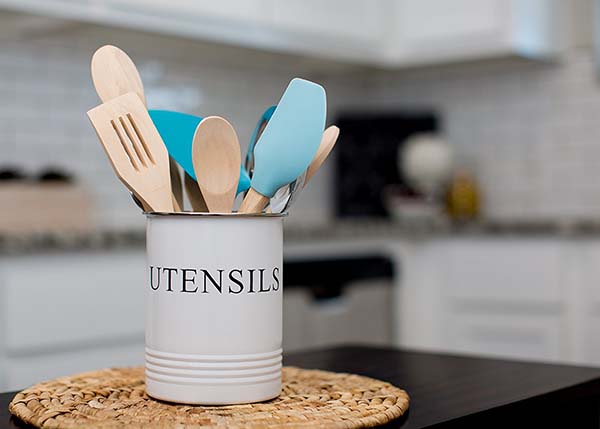 Learn more: Here
This utensil holder is not only cute but functional too! It is the perfect size for placing under upper cabinets and provides ample room for many utensils.  It fits with my farmhouse decor and is completely functional
13. Store Your Pantry Essentials in a Woven Basket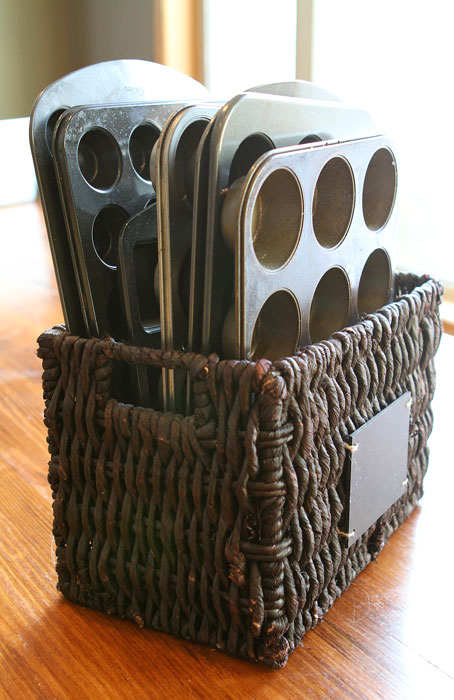 It seems like such a simple little change, but using woven baskets like this can really make a difference in the kitchen or pantry.
Pantries often become the garbage disposal spots for many families. Why so? Well, lack of time and possibly a lack of energy to go into all that old mess and fix it.
If you wish to organize your pantry for the better, use baskets and containers that can help you keep all the baking trays in order. Tutorial
14. Farmhouse Storage with Wicker Trunk and Mason Jars

Photo:Credit
These shelves are also a display for the mason jars. The wicker trunk at the bottom makes it the perfect farmhouse storage idea.
15. Make a Distressed Whitewash Kitchen Storage Rack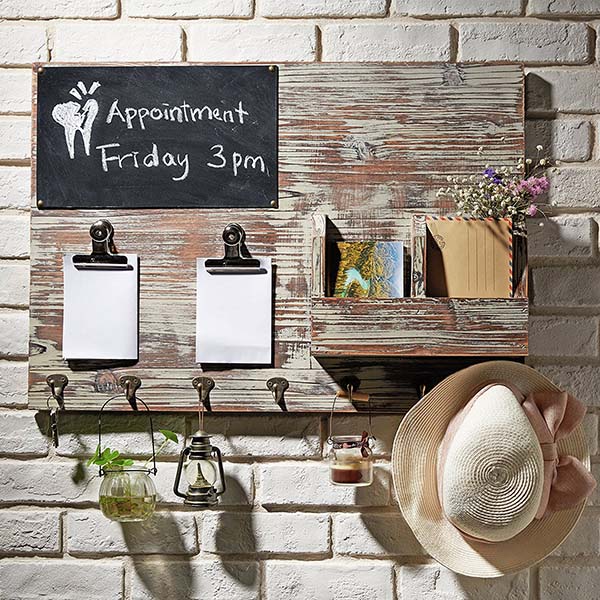 Farmhouse style decorative wood and metal kitchen storage rack with natural distressed whitewash finish that can be used for a lot of things. From memo clips to recipes and mail.

16. Store Glassware on Unfinished Open Shelves 

Photo: Credit
These kitchen shelves have so much charm to them. They look like they would be incredibly easy to DIY and a great alternative to floating shelves.
How adorable is this! If you wish to have a spot that is just as beautiful and bright, simply buy a white rack – install it and start decorating.
Jars, plates, flowers and candles – they are all going up there. You can even add books and still keep it a tastefully decorated place.
17. Build a Farmhouse Hanging Ladder Shelf for Bathroom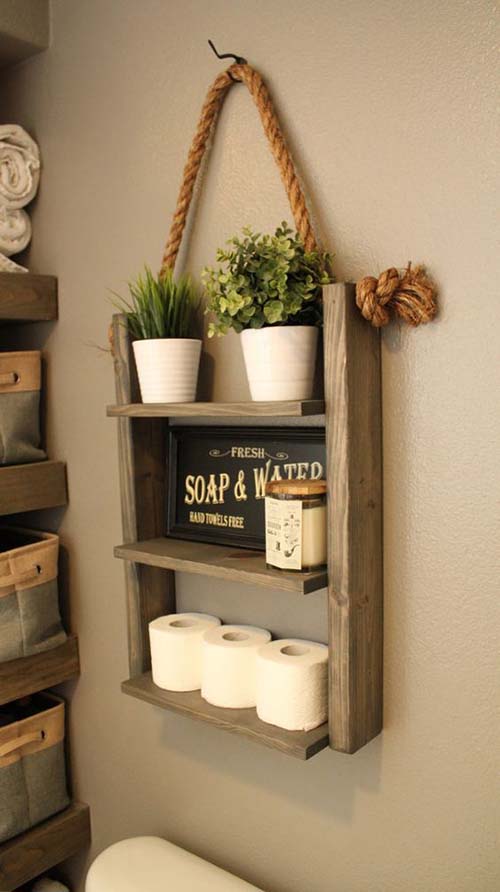 This ladder shelf is hanging on a rope to create a real farmhouse atmosphere where everything is natural and eco-friendly.

18. Rustic Elegance with Galvanized Tea Cups and Kettle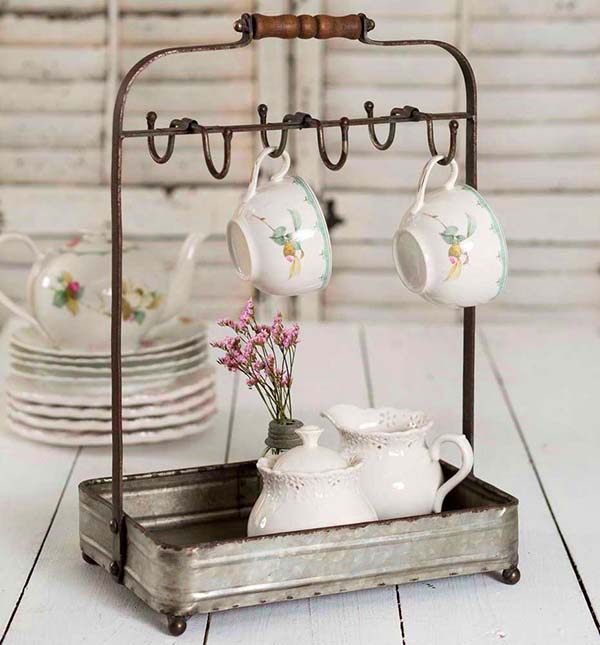 This terrific display can keep your coffee and tea items, sugar and cream and honey all organized in one location with hanging mugs!

19. Make Wall-Mounted Racks for Your Plates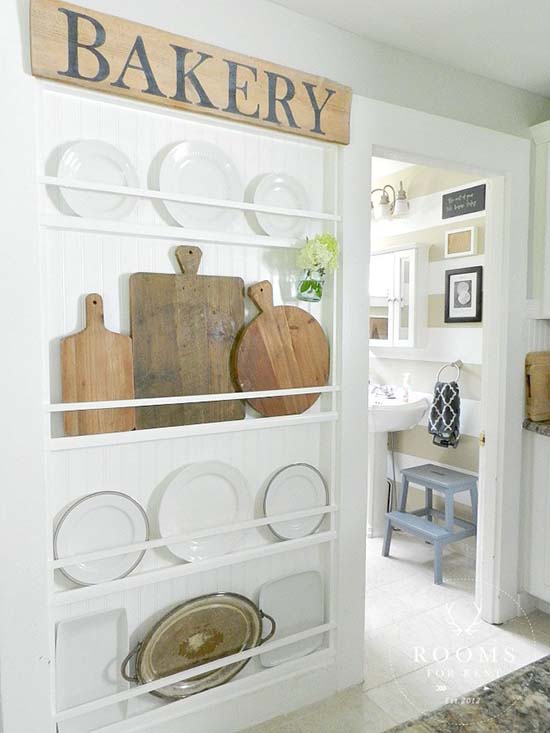 Photo: Credit
Built-ins are a great way to create more storage without taking up additional space.
Built-in furniture is not going away from the stores anytime soon. So many people live in a limited space that organizing becomes a prerequisite for mental health.
Built-in shelves on the wall are a positive addition to the house. Not only do they look good, but they also keep everything else look better!
20. Create a Farmhouse-Style Laundry Room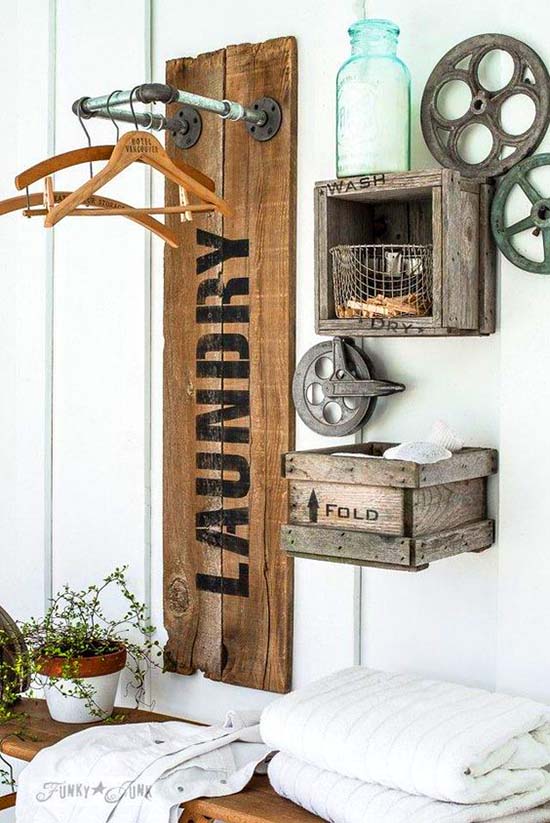 Photo:Credit
Creating a laundry-specific area with farmhouse decor is easy. Add a stencil and some old wooden crates and arrange them as per your taste.
21. Upcycle a Metal Tub into a Flower and Beer Storage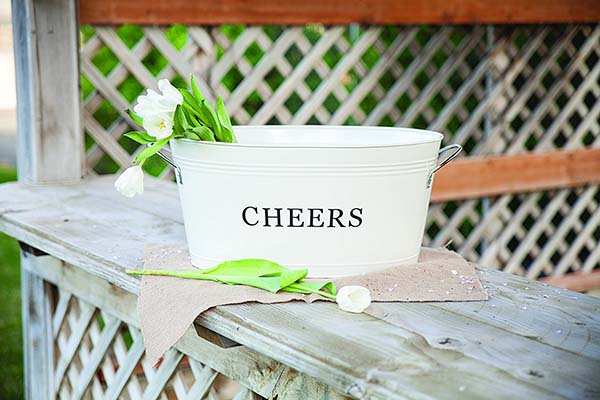 If you like to hold your beer bottles or flowers in a farmhouse decor drink tub, this is a great item.

22. Upcycle an Old Crate to Store Wooden Kitchen Utensils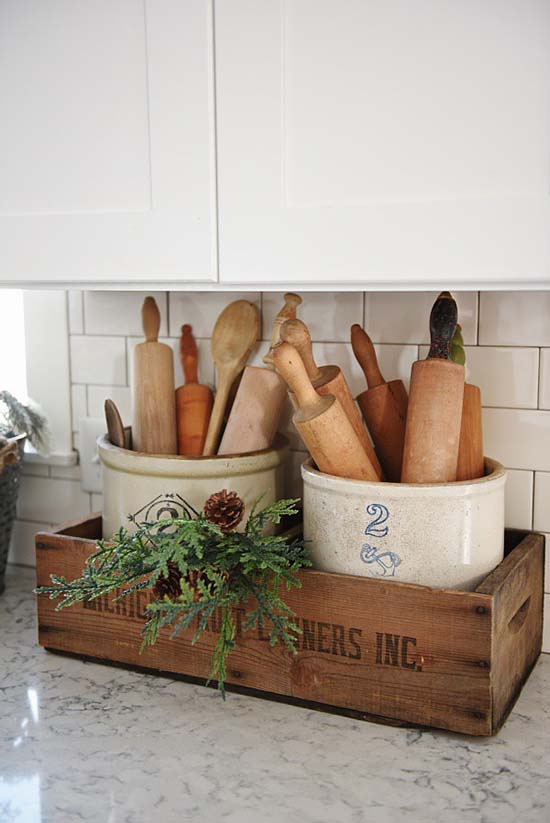 Photo: Credit
Use old crates and crocks to store your utensils. Doesn't that look charming?
Utensils can be stored in old crates. If you are not favoring the crates that much, then simply add a charming tray instead.
Like the ones that are used to carry the coffee and croissants in bed in the morning. Yapp, those ones. They are perfect for our purpose! You can even have some fun and paint it!
23. Use Built-In Wooden Crate Cabinets for Food Storage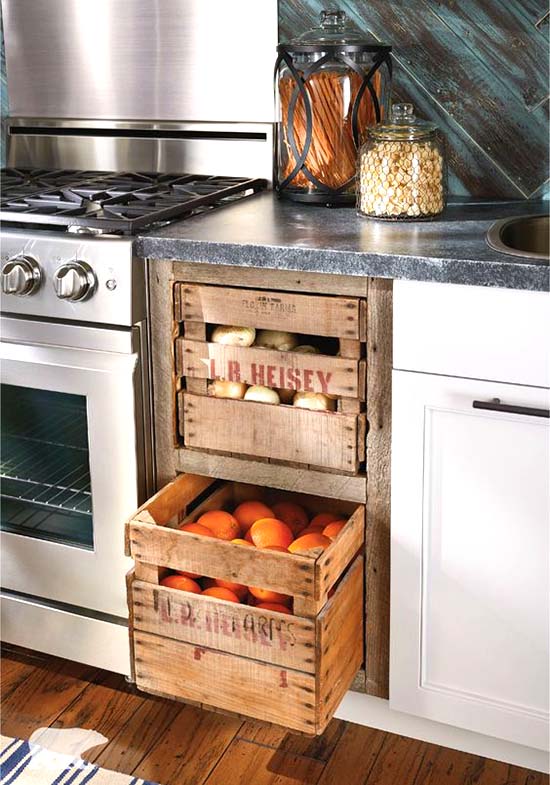 Photo:Credit
These wooden crates are used as cabinets, but you shouldn't load them with so many fruits as they will become too have to be pulled out. Anyway, it's a great food storage idea!
24. Organize Cookbooks, Recipes, and Magazines Easily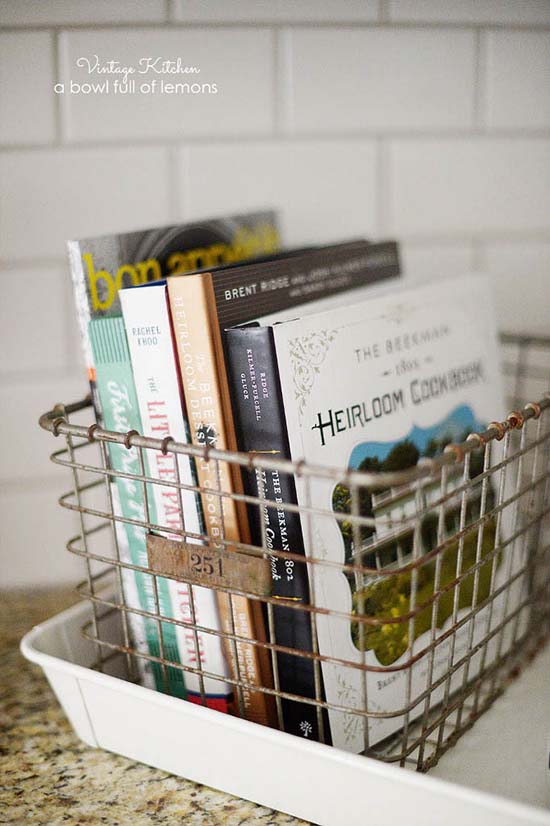 This is a nifty way of storing cookbooks, recipes and magazines.
Magazines, cookbooks, notebooks, drawing boards, and all sources of inspiration, can easily be organized like this.
It is funny, but there are very few homes that have this type of organization. It actually saves lots of space. Keeping it fresh, clean and organized – always the best idea!  Tutorial
25. Add Rustic Charm to Your Kitchen Countertop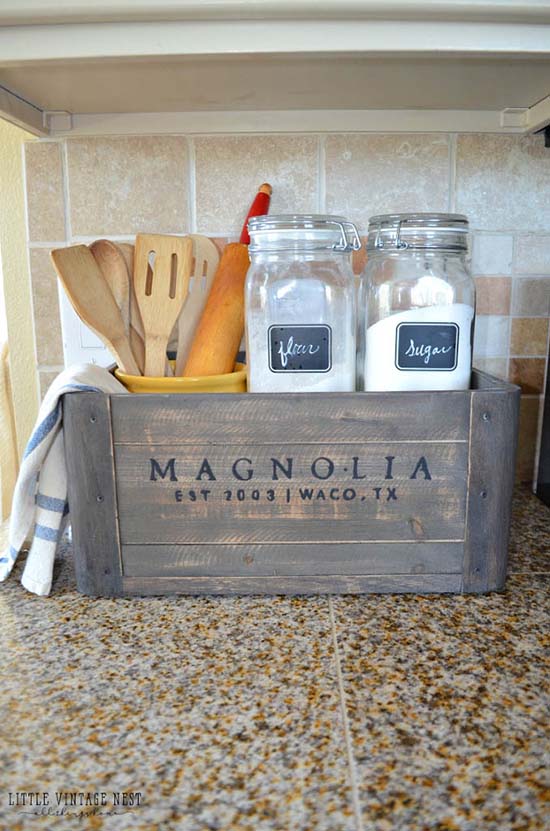 What a great way to add a rustic touch to the kitchen.
Last but not least, follow my lead in this kitchen and take a look. This is an example of creating a rustic look in a minute.
Simply place the jars full of salt, sugar, and spices on a platter or in any other storage base. Keep everything labeled, organized and in your sight. Better results with minimum efforts! Tutorial
26. Brighten Your Kitchen with a Vintage Magazine Holder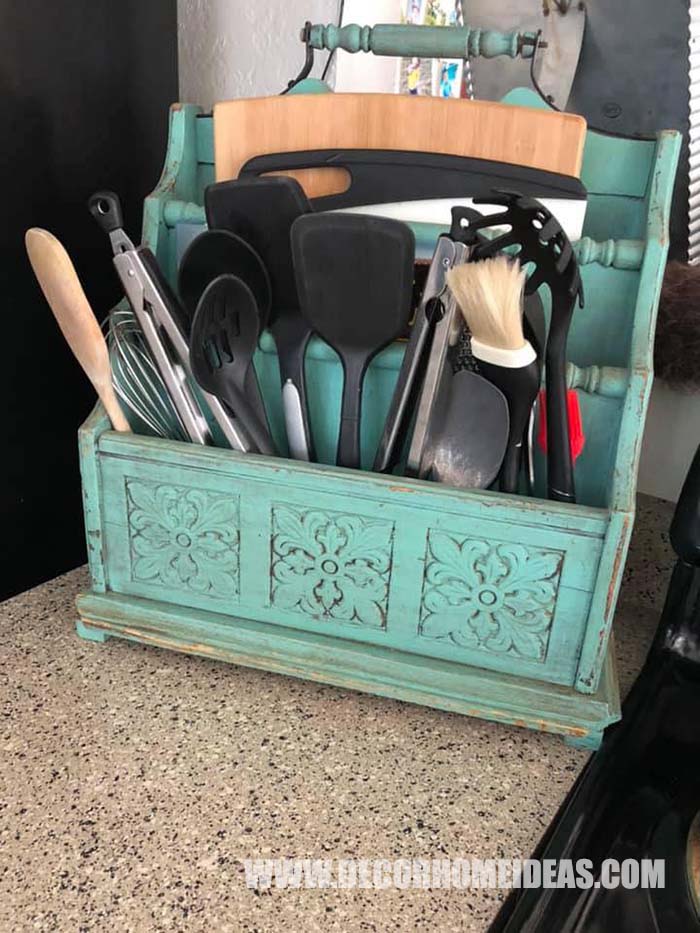 If you find an old magazine holder at an antique store you can put it on your kitchen counter to hold cutting boards and utensils.
This will give you a very rustic and vintage look to your kitchen.
If you liked these farmhouse kitchen storage ideas, please SHARE or PIN for later.