A farmhouse shelf is the most desired extra storage idea. We are not surprised because farmhouse shelves use effectively space and make stored items look better.
The Farmhouse Shelf Décor Ideas and Designs here will make your home décor more appealing and the atmosphere cozier.
A farmhouse shelf is the most desired extra storage idea. We are not surprised because farmhouse shelves use effectively space and make stored items look better.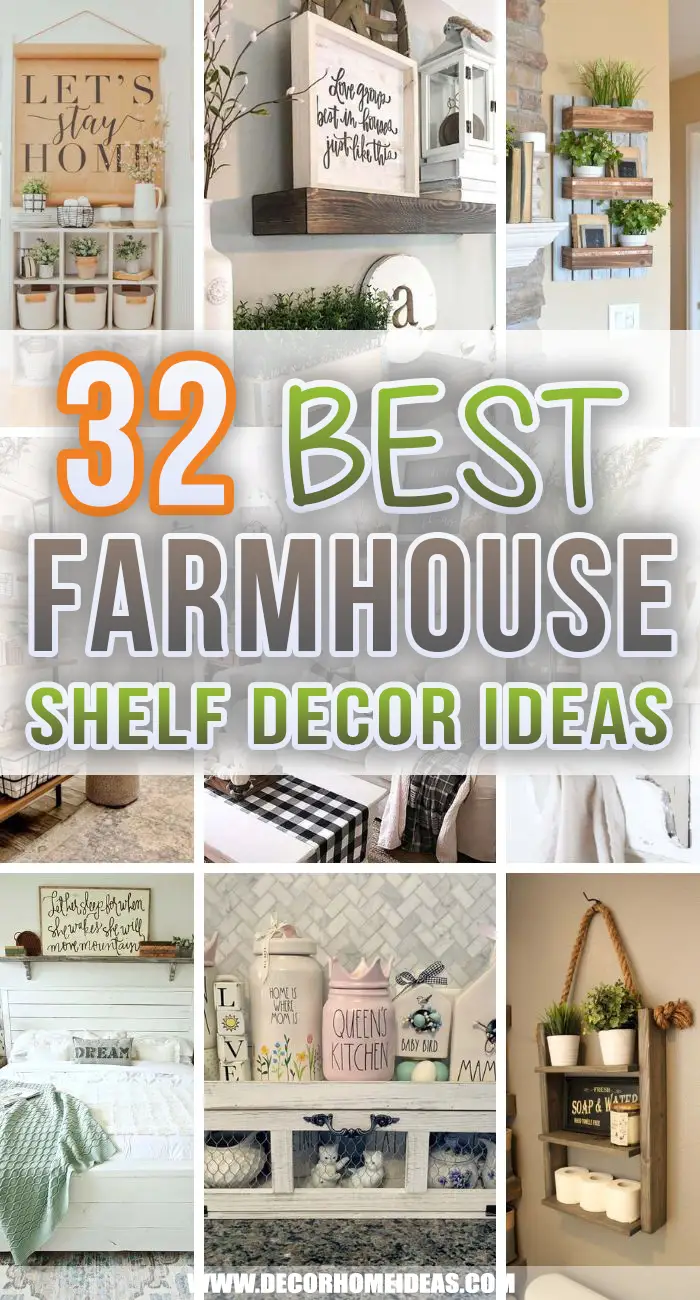 The Farmhouse Shelf Décor Ideas and Designs here will make your home décor more appealing and the atmosphere cozier.
1. Blonde Wood Shelves For Your Airy Kitchen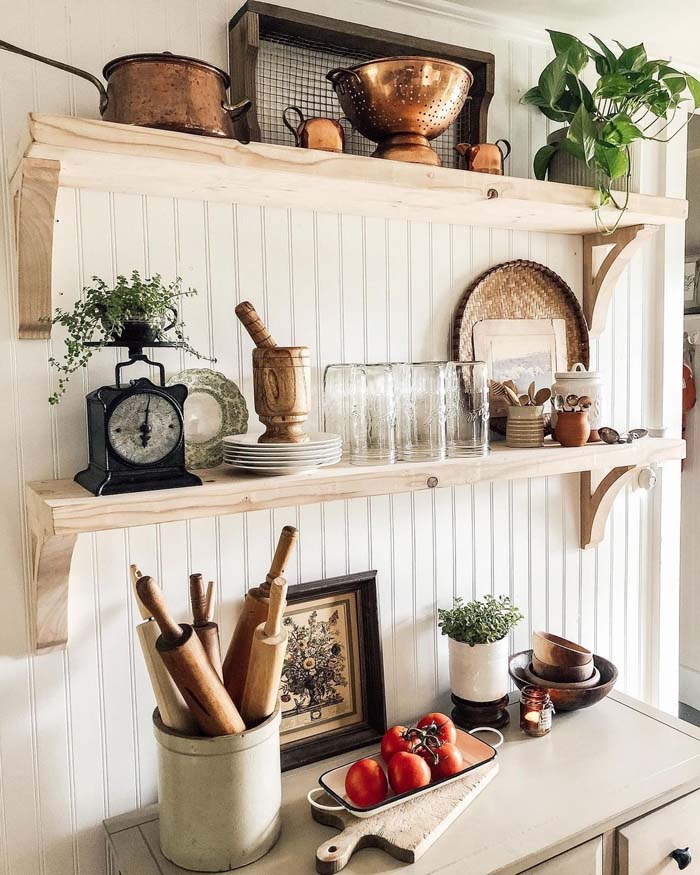 To keep the airy look of your kitchen and at the same time increase the storage space, you can try this DIY farmhouse décor shelves idea. It features two long shelves supported by wood corbels.
Both elements are in a light wood color that completes the white slat wall to create together a farmhouse point of interest with a layered texture.
2. Farmhouse Vertical Layers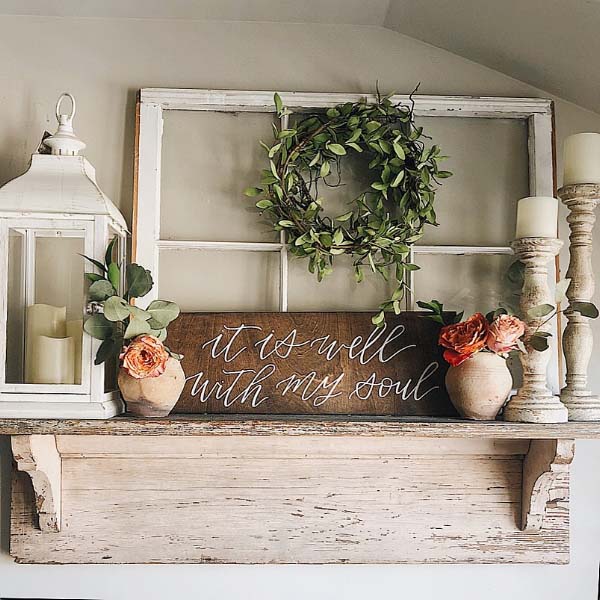 Use a reclaimed rustic shelf to create a lovely display for farmhouse accents. Here the idea features a layered arrangement consisting of a weathered window decorated with a greenery wreath setting the background for a handmade sign. On both sides of it, there are rustic light fixtures that create symmetry.
The shelf is left with its weathered white paint that lets the original dark color of the wood be seen in some places.
This color combination continues on the accents displayed on it to create together an eye-pleasing and welcoming home décor.
via She Gave It a Go
3. Farmhouse Ladder For Vertical Bathroom Storage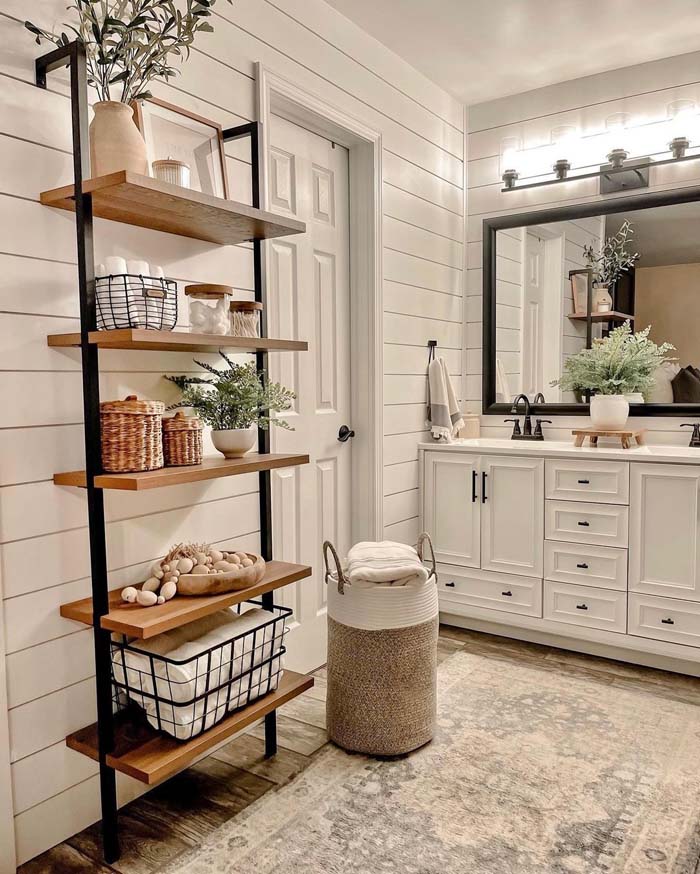 You can enjoy the number of advantages provided by this rustic shelf idea. It is standing up against the wall to offer 5 wood shelves for storage.
It is made from black metal profiles secured to the wall and good quality wood boards with grooves for stable mounting to the metal supports.You can use this type of shelf unit in any room where space is limited.
4. Bring The Outdoors Inside
This arrangement stands on the wall above the sofa to make the living room casually inviting and cozy with the distressed look of the rustic elements included in it.
Glass vases with seasonal flowers stay at the ends of the distressed wooden shelf to frame three small black lanterns. This farmhouse setting is backed up by a large reclaimed window frame decorated with a large boxwood wreath.
5. Small Shelves For Décor Accents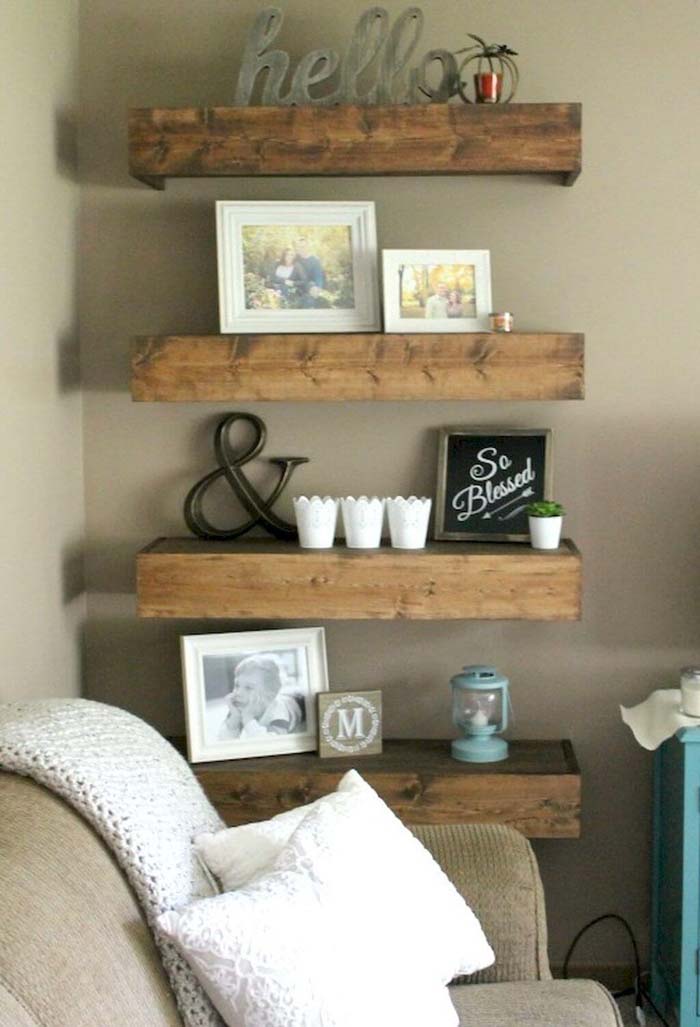 This farmhouse shelf idea is great for the decoration of small blank walls. That can be a reading corner, a transition wall or other empty space.
The design mimics floating shelves made from solid wood. The stain color of the wood complements the milky brown of the wall. The displayed decoration aims to add a personal touch expressed by family photos and meaningful signs.
6. Farmhouse Indoor Flower Stand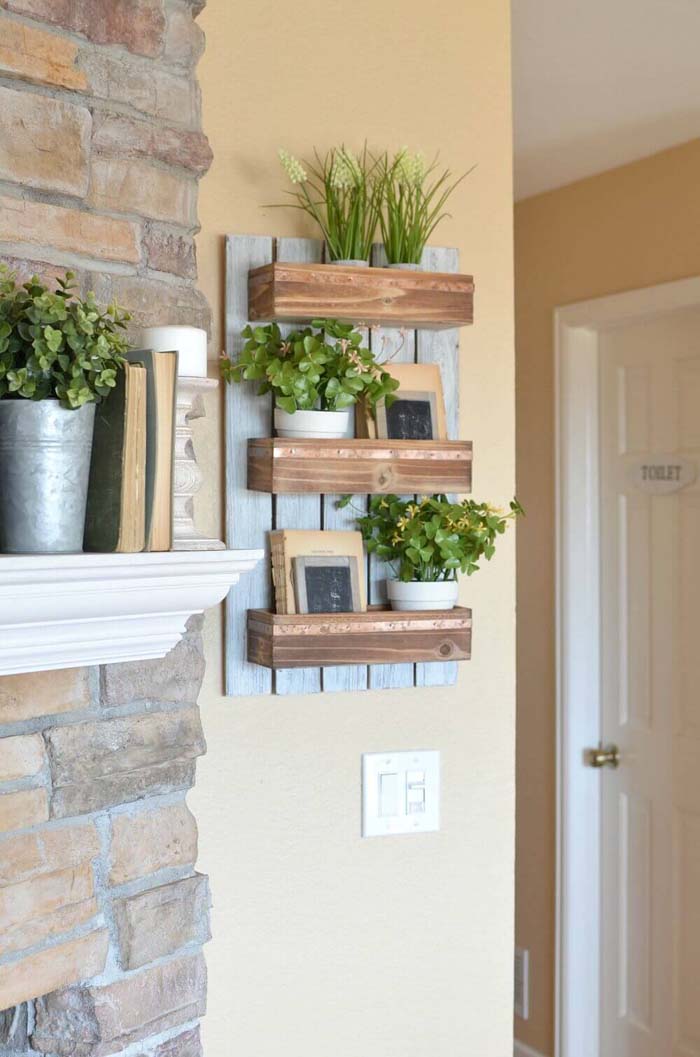 The farmhouse look of this flower stand coheres with the design of the fireplace. They are both made from natural materials revealing beautiful authentic textures that make the atmosphere more welcoming.
The stand is made to accommodate flower pots on three shelves. They are all assembled on a small pallet with a whitewash finish.
via Sarah Joy
7. Cottage Style Shelf Unit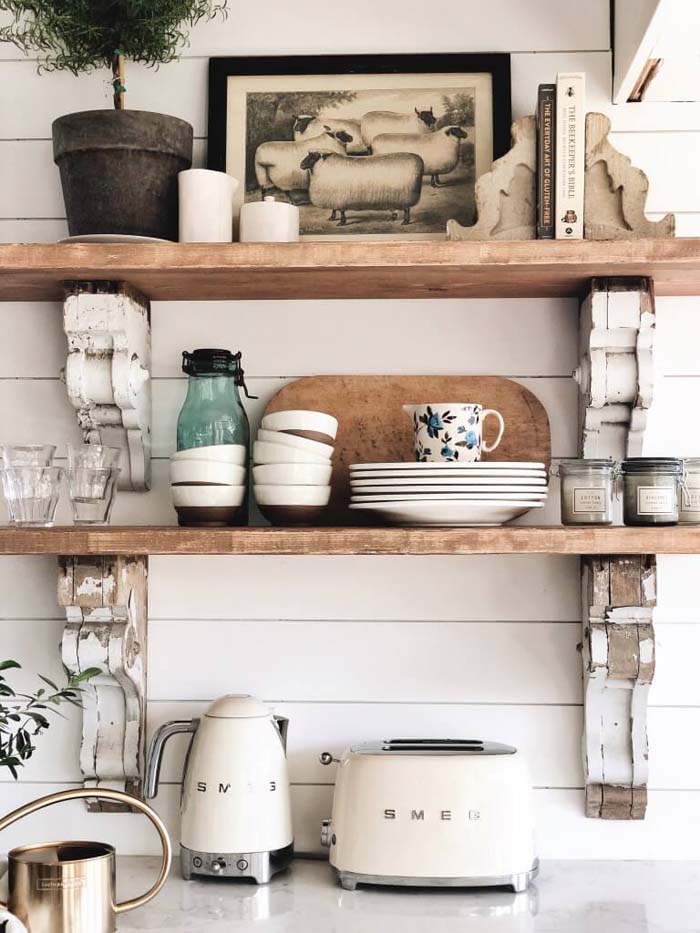 It has been the corbels that have inspired this kitchen shelf unit. They are antique in their look, finish and age and create a unique point of interest when reused and exposed against a smooth and evenly painted shiplap wall.
The shelves are made from medium-thickness boards. They are stained brown to create a contrast and enhance the rustic design of the storage unit.
via Liz Marie
8. Bedroom Headboard Shelf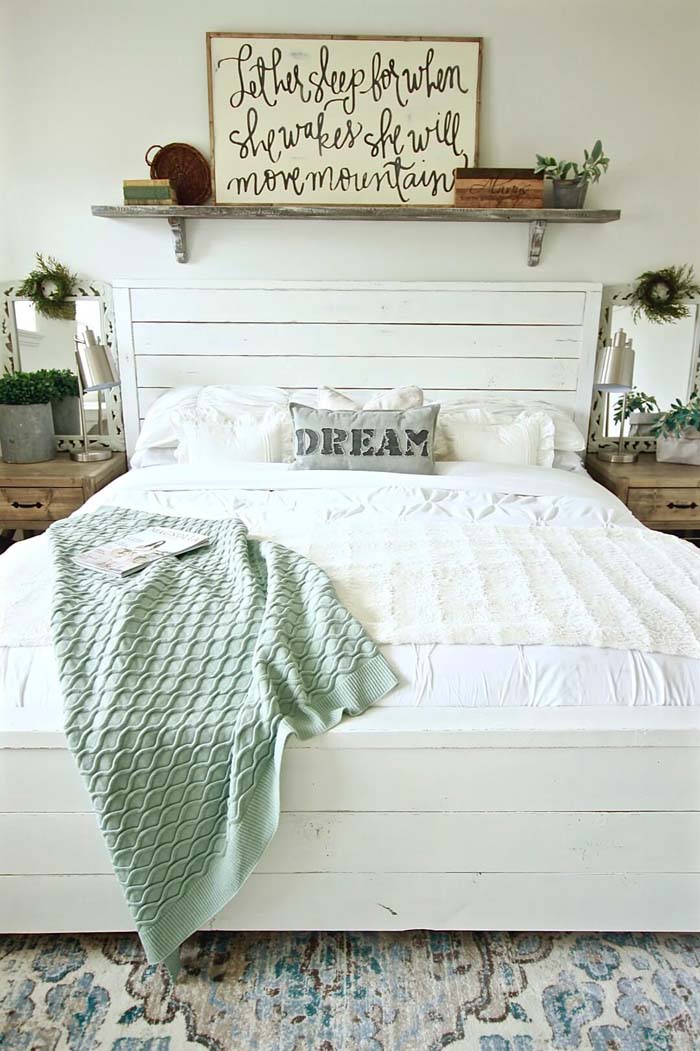 Adding rustic decoration to the bedroom is the easiest way to make the atmosphere more private and cozier and give an accent to the simply furnished and decorated space.
Here the farmhouse style marks the nightstands, the headboard and the shelf above the headboard.
All of these are made from lumber treated with different paints and stains to have an aged and distressed look. The shelf above the headboard keeps a special DIY sign in the center of the wall and in the focus of the décor.
9. Industrial Farmhouse Shelf Unit With Vintage Accents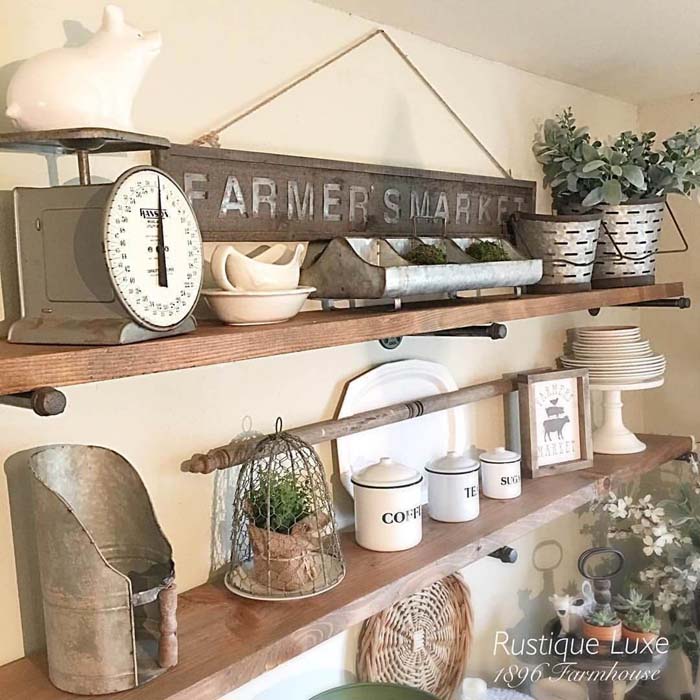 Industrial and farmhouse style match perfectly together. They create a balance between the modern and the aged so no doubt they will fit any décor style.
This shelf idea is made with industrial plumbing parts anchoring the wooden boards.
The shelves are long to accommodate many vintage accents that add a stylish touch to the farmhouse storage unit.
10. Movable Bookshelf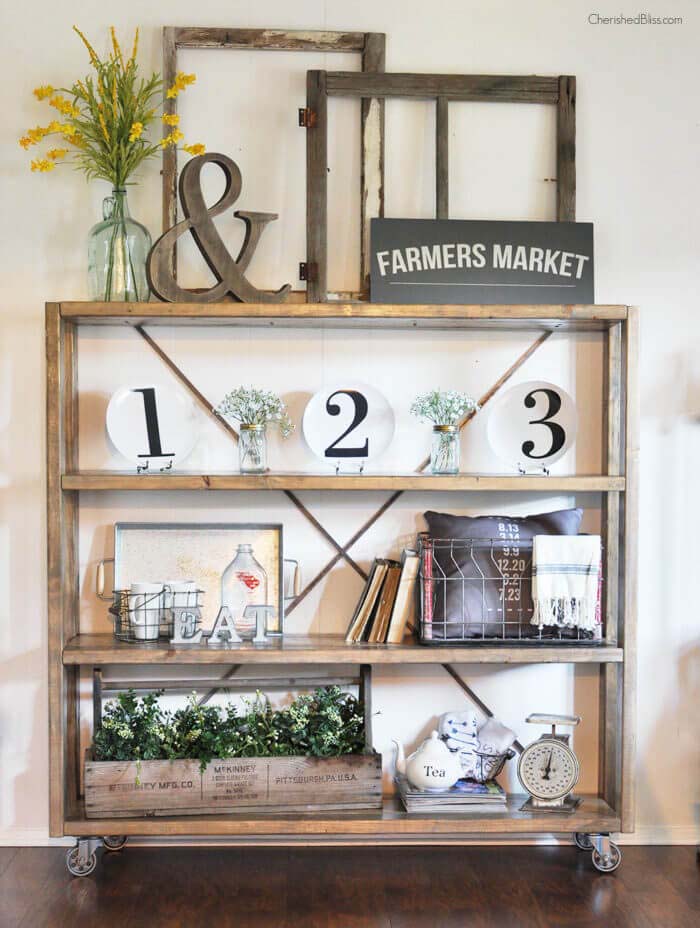 Those old bookshelves that seem to no longer be useful can easily be turned into a focal point of your home with two simple changes.
Work on the wood surface to give it a fresh yet aged look. The updated texture will let the stored items stand out.
The next upgrade is adding casters to the bottom board which will let the bookshelf be moved to any room you want. This movable bookshelf can be used as a temporary storage place for party supplies, seasonal décor displays or for a whimsy farmhouse nook.
via Cherished Bliss
11. Bathroom Shelf For Expanded Storage Places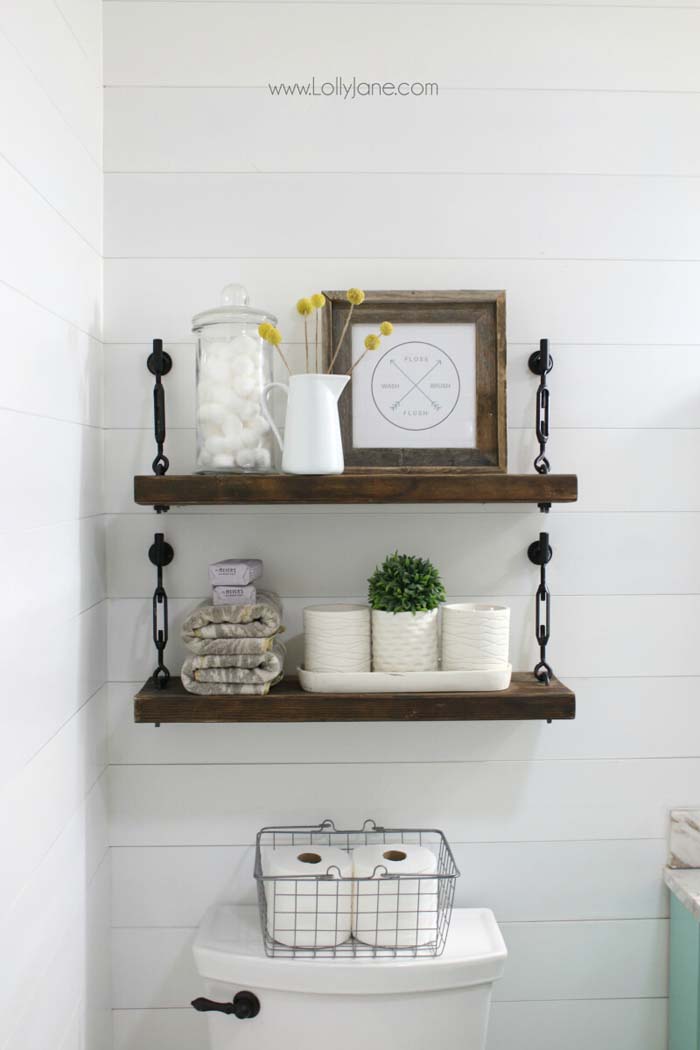 Have you admired the turnbuckle shelves seen at a friend's home? Well, you can easy add them to your home with this DIY Turnbuckle Shelves Idea.
The shelf unit is created for mounting on a small blank wall, particularly the wall above the toilet. There you can keep toilet essentials mixed with small decorations displayed.
via Lolly Jane
12. Vertical Storage In A Bedroom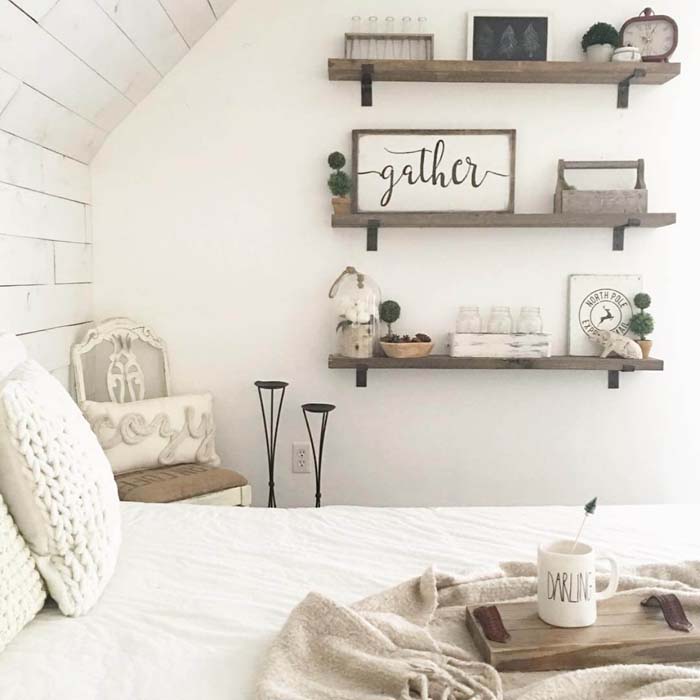 The metal brackets are an alternative to the wooden corbels when you are looking for a modern twist on the farmhouse shelves.
Use the black color as an accent for some of the decorations to create a united and appealing overall look.
via The Little White Farmhouse
13. Shelf For Holiday Decor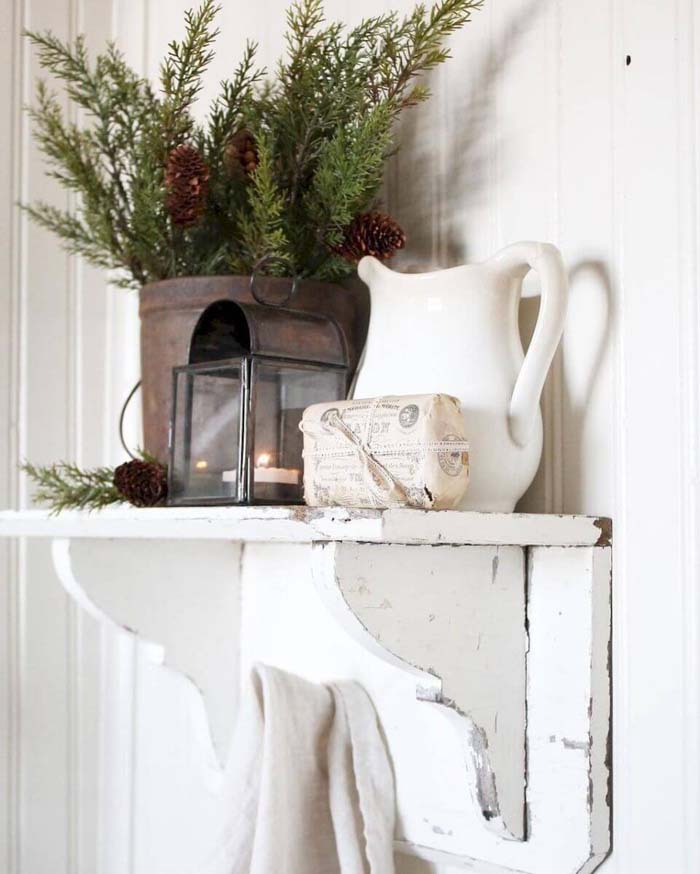 This is a tiny shelf made from reclaimed wood. It functions mostly as a towel holder.
The small space provided by the wooden board is perfect for displaying holiday or seasonal décor.
This is a wonderful and easy way to make the kitchen or the bathroom festive.
14. Industrial Pipe Storage Unit With Shelves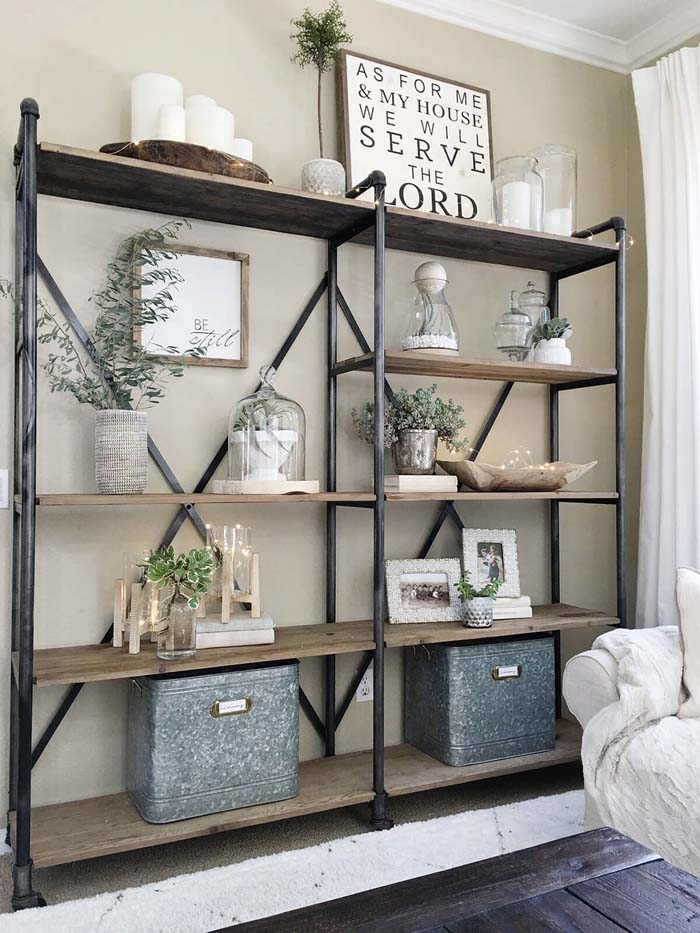 This is another interesting idea combining industrial pipes and wooden boards.
The unit is large and with open shelves that will not affect the airiness of the room.
Mismatching the shelf positions in the two sections makes an interesting décor effect and also taller space for storage of bulkier decorations.
15. Ledged Shelves For China Dish Display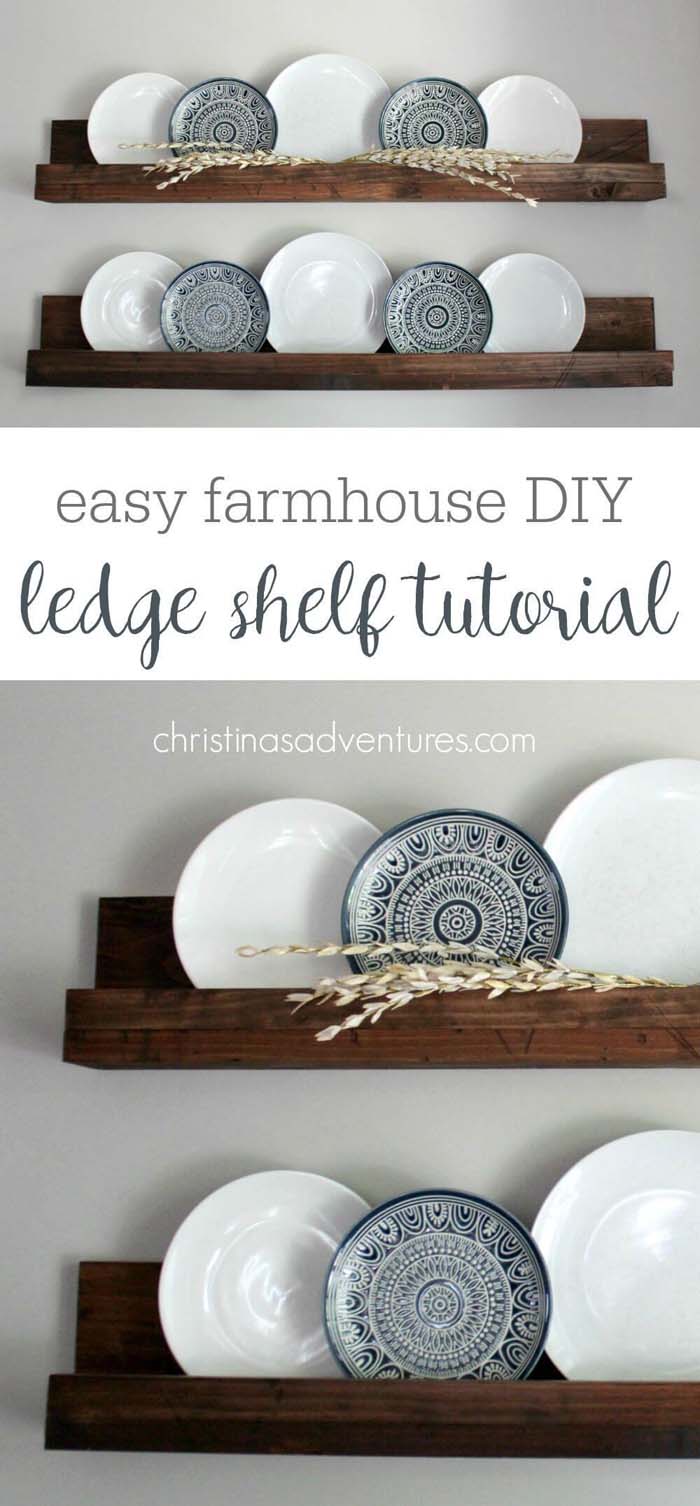 Do you like the depth effect the ledge shelves create? With this tutorial, you can easily make as many shelves as you need to create a rustic basis for antique decorations.
The ledged shelves here are installed on a blank kitchen wall to store unique China dishes. If you are looking for an improved farmhouse effect, you can add vintage elements as decoration.
via Christina Maria
16. Barn Wood Shelf And Corbels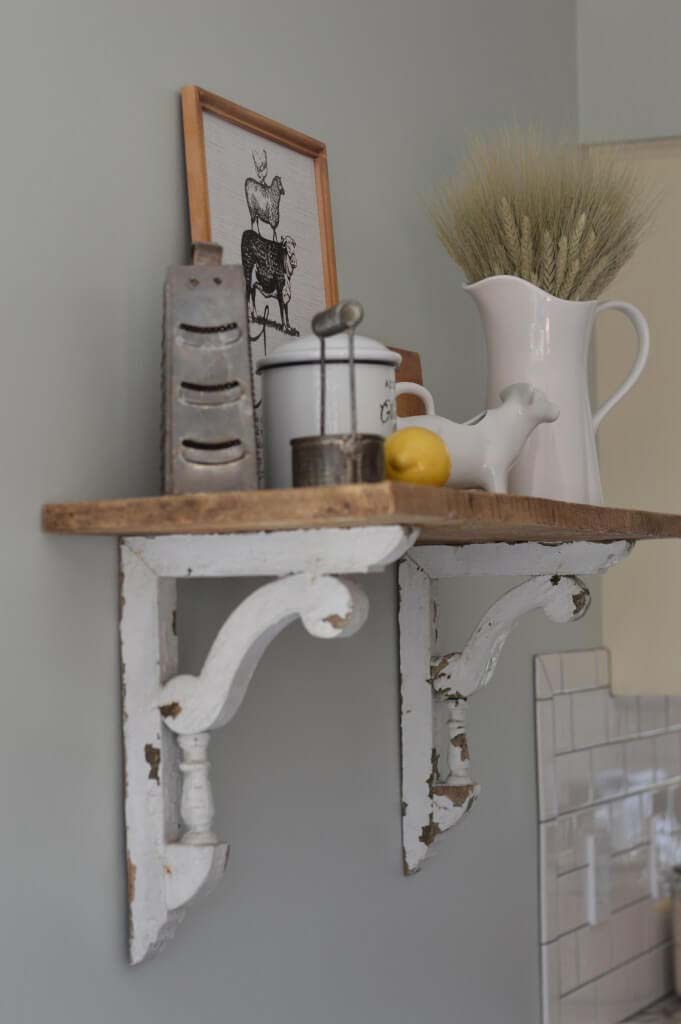 This is another great inspiration for a small farmhouse shelf aiming to add seasonal décor to the room. The combination of rich wooden board and white distressed corbels is adorable and whimsy.
If you don't have antique corbels on hand, you can always buy newly-made ones and give them the farmhouse makeover with stain, white chalk paint and sandpaper.
17. Industrial Farmhouse Shelf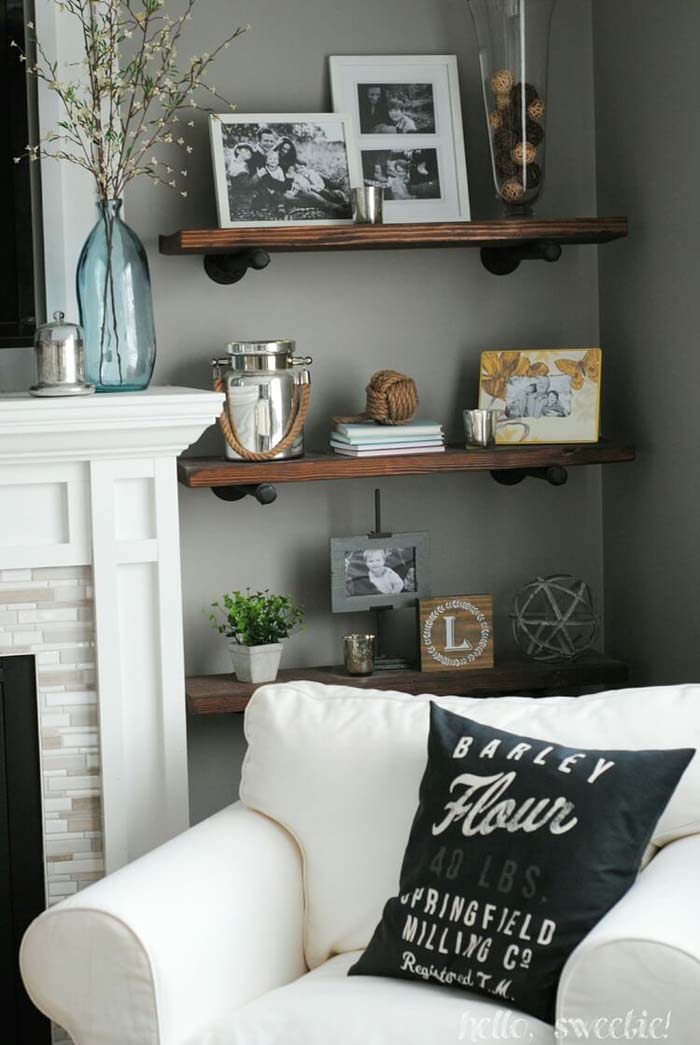 These shelves are mounted to a small wall right next to the fireplace. They are of farmhouse style to match the natural and vintage origin of the fireplace and improve its effect on the interior.
The shelf idea combines industrial pipes in the place of corbels and rich wood boards.
The author chooses to display family photos and signs on the shelves to give the space a personal touch.
18. DIY Bathroom Shelf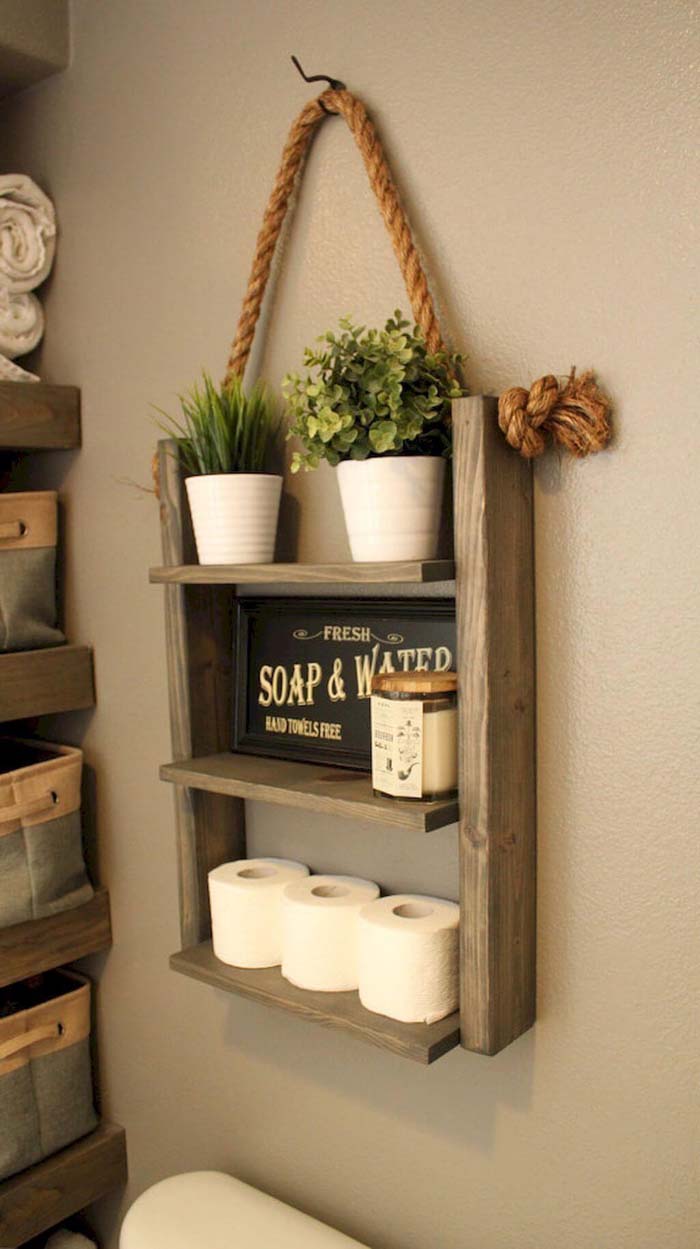 This small bathroom shelf looks like half a ladder. The steps of the ladder are shelves where you can store toilet paper and beautiful accents.
19. Floating Shelves With Farmhouse Decorations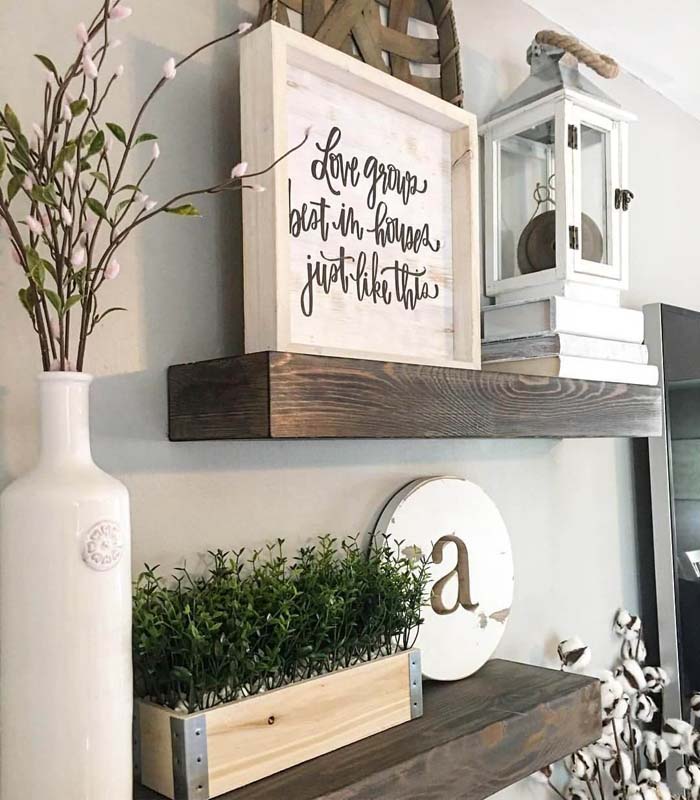 Floating shelves are probably the most universal design of vertical wall storage. They are simple in look, modern and stable.
These floating shelves are entirely DIY with cedar wood and anchors. The dark stain pairs amazingly with the modern grey tone of the walls. It also helps the farmhouse décor accents stand out.
via Rock and Robs
20. Shelf Unit To Display Rae Dunn Canisters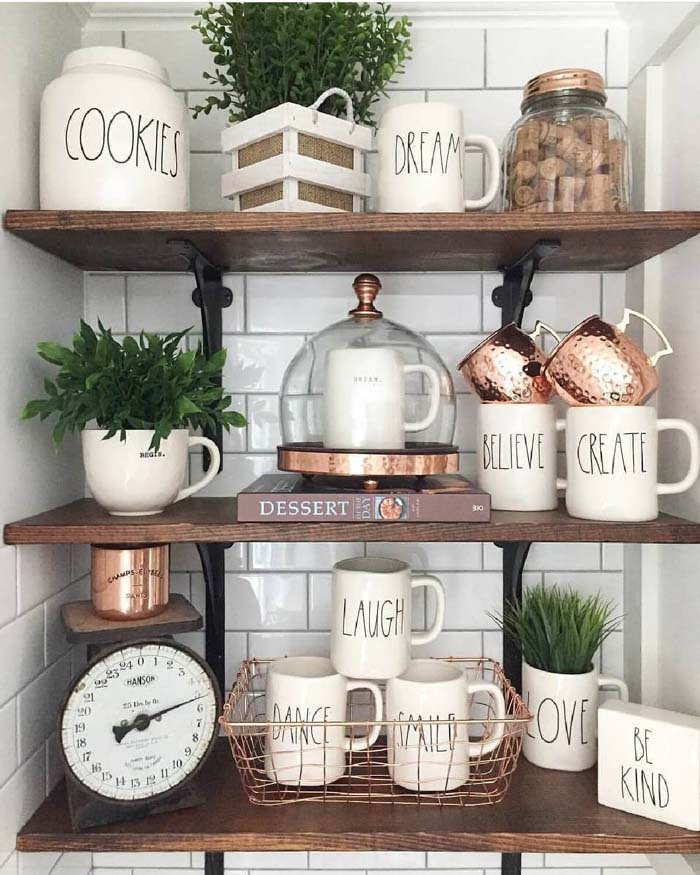 Do you love the Rae Dunn script? It has become popular for all kinds of decorations, especially mugs and canisters. The size of the letters and the thin lines let the script be easily read and mimic a hand-written effect.
Because of the natural look of the script on the canisters, there is no better place to display them but on farmhouse shelves that match the natural design idea.
21. Rustic Shelf Against Black Chalkpaint Wall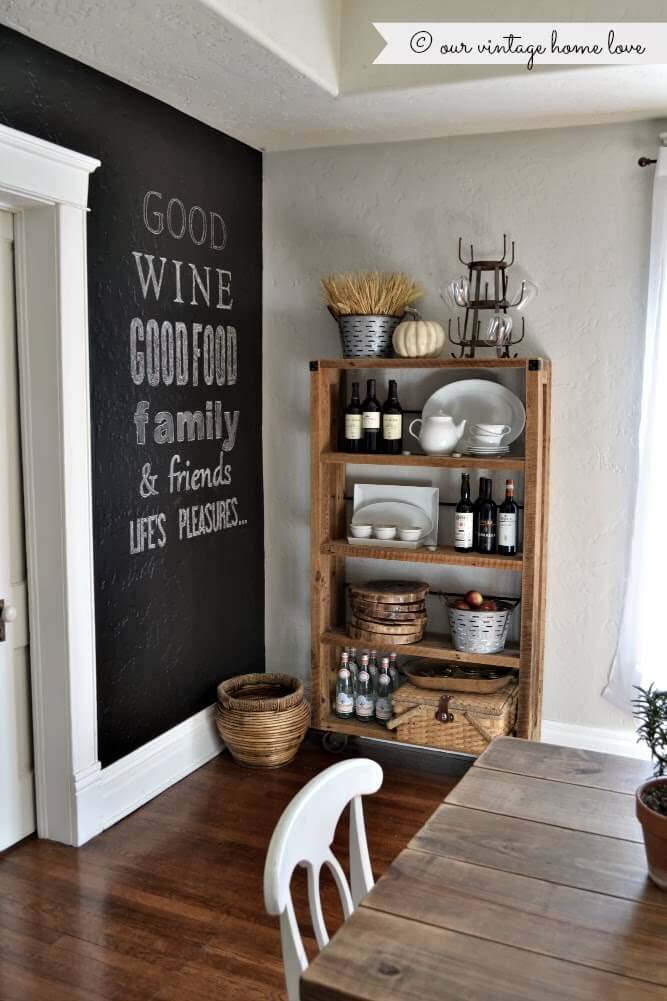 This is another bookshelf repurposed into a storage unit. Casters are added for a modern touch and also flexibility since bookshelves are heavy.
This shelf unit is made from reclaimed wood. Its texture and color stand out against the white wall behind it and the black wall next to it. The bookshelf is repurposed into a wine rack and vintage tableware display.
22. Repurposed Bookcase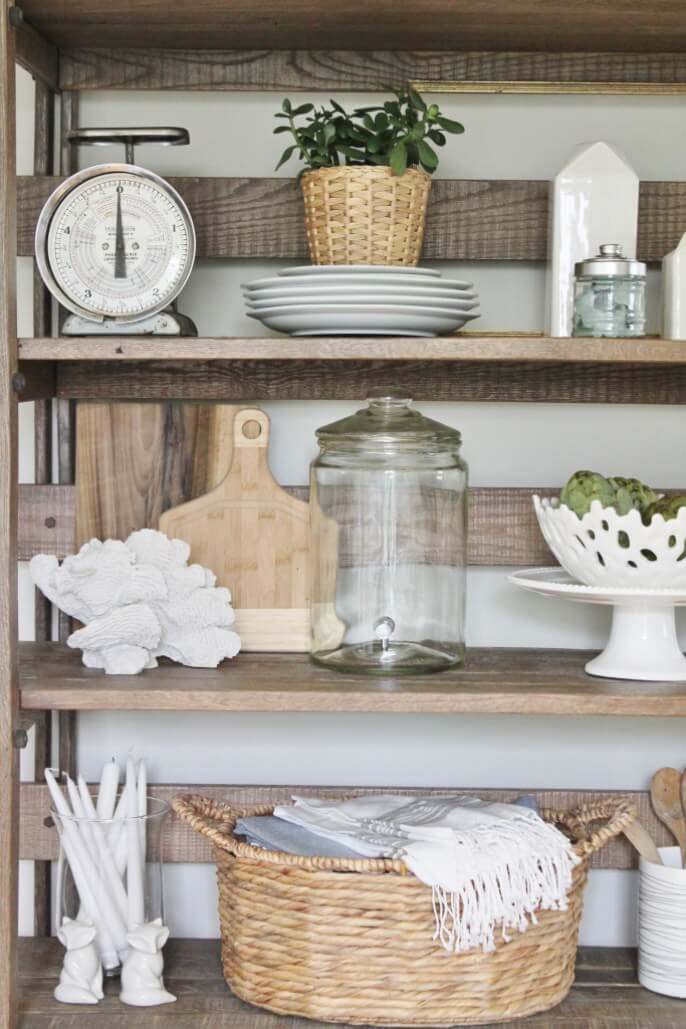 Do you love the inspiring ideas for repurposing a bookshelf into a storage unit? Well, here is another design and application of an old bookcase. Vintage plates are not only stored but also piled to lift up a small decoration and let it stand out.
There are various farmhouse containers included to store neatly a bigger number of identical items such as towels and candles. The overall look is balanced because of the inclusion of natural textures and only three colors.
via City Farmhouse
23. DIY Farmhouse Buffet With Shelves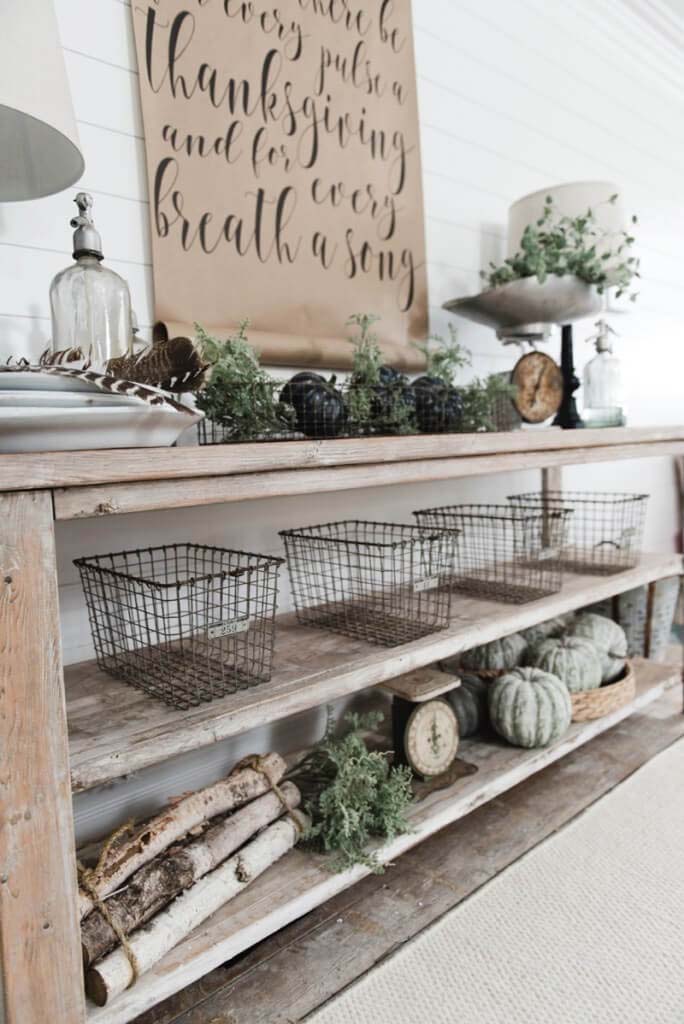 Bookcases are usually tall. If you prefer a shorter version of this repurposed unit, then go for a farmhouse buffet. This one is open to reveal the items stored on it.
It can be used for combined storage of room essentials and decorations or only for décor pieces. The application here is only decorative- many farmhouse containers and seasonal decorations.
via Liz Marie
24. Floating Shelves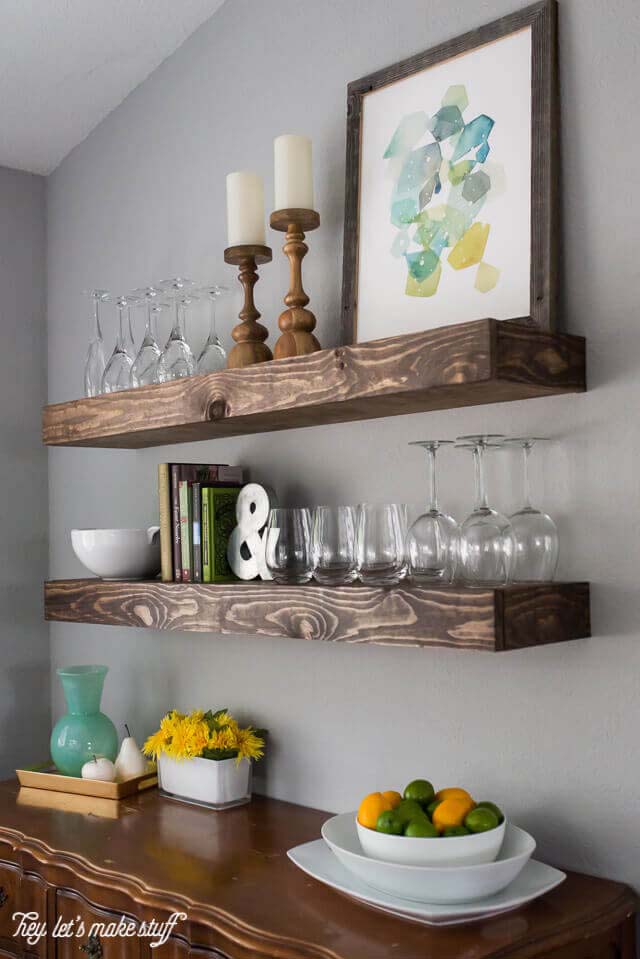 The set of two floating shelves here coheres with the vintage look of the buffet below it and makes sure that there is open space for displaying beautiful vintage decor accents.
The shelves are made from wood boards treated with stain and letting the wood texture be visible- so charming, so helpful and so easy to do!
25. Simple Bookshelf With Shiplap Back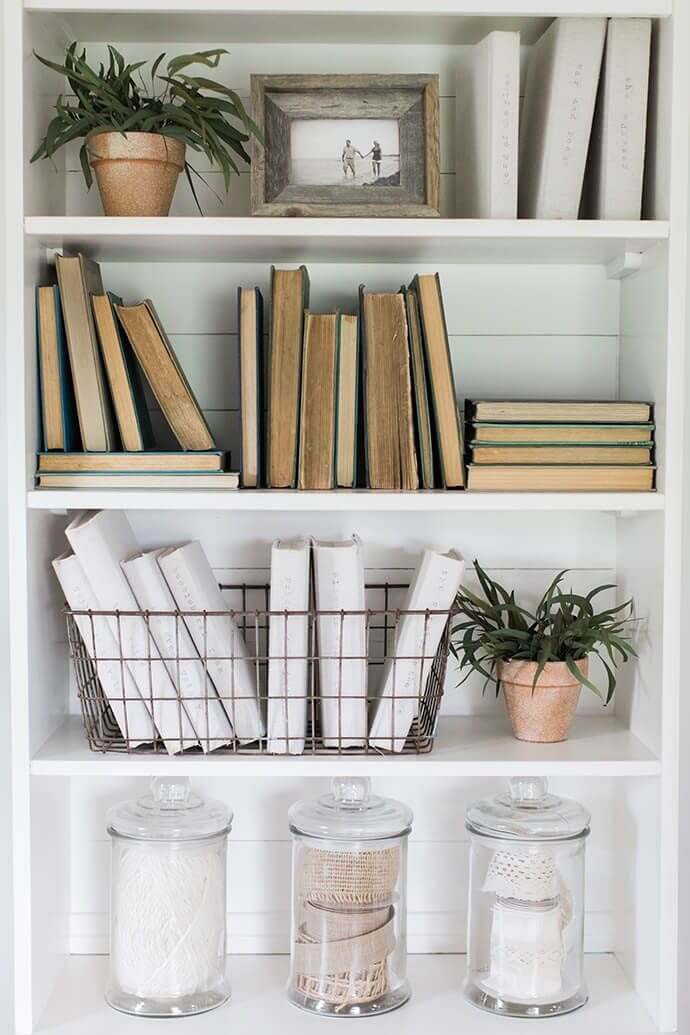 If you like the shiplap texture, you can include it in your bookcase makeover. Add the boards onto a thin solid board measuring the size of the entire shelf unit and then nail them down.
The shiplap will instantly add a pinch of rustic charm to the bookshelf. Then, it is time for decorating shelves!
via Home and Hera
26. French Country Wall Shelf Unit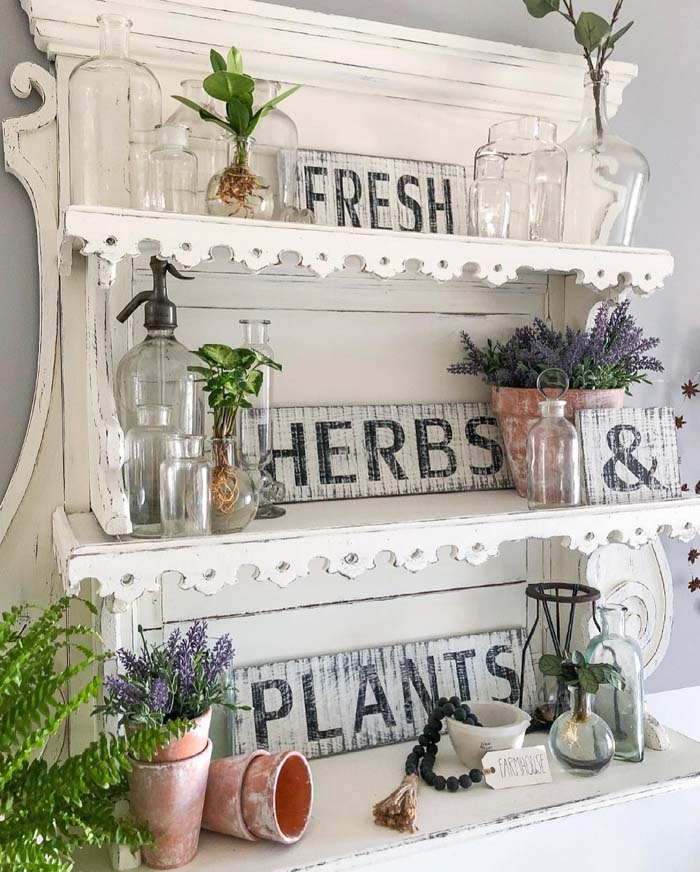 This shelf unit is assembled right above the buffet top to let them look integrated.
The stand is made from pieces of furniture with beautiful shapes and carvings which make the piece of furniture act also as wall art.
They are all covered with white paint and then distressed to look united and aged.
The stand is functioning as a décor display gathering vintage containers with flowers. Layering and grouping the décor pieces are important for this décor impact. Added signs make a cute finish to this farmhouse indoor garden.
via Vidal Geoffrey
27. Pretty Storage Canisters On Free-Standing Display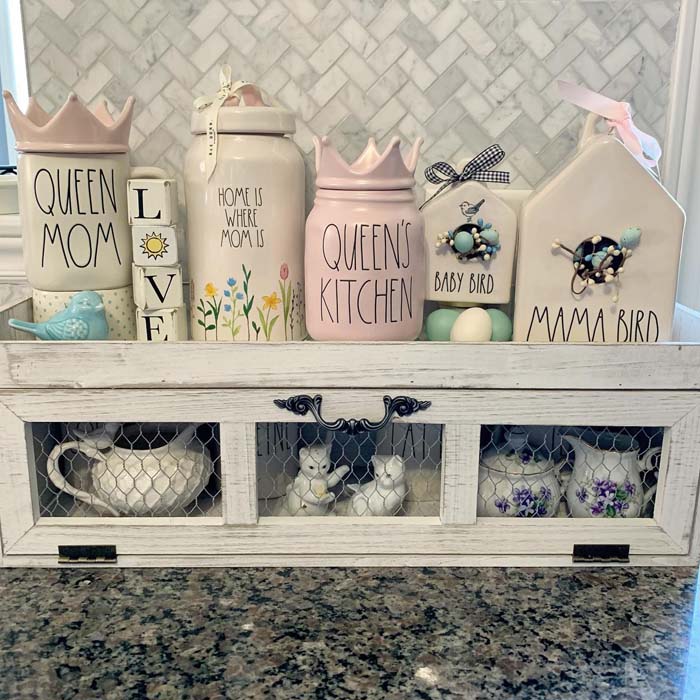 You can get this free-standing cubic shelf from Hobby Lobby. It is pretty amazing with the combination of wood, chicken wire and wrought iron hardware.
In addition to the ledged shelf at the top, you can also use the inside of the box for storage.Added canisters with Rae Dunn labels create a cute arrangement and a fun word game.
via Flutter Bloom
28. Faux Floating Shelves With Vintage Accents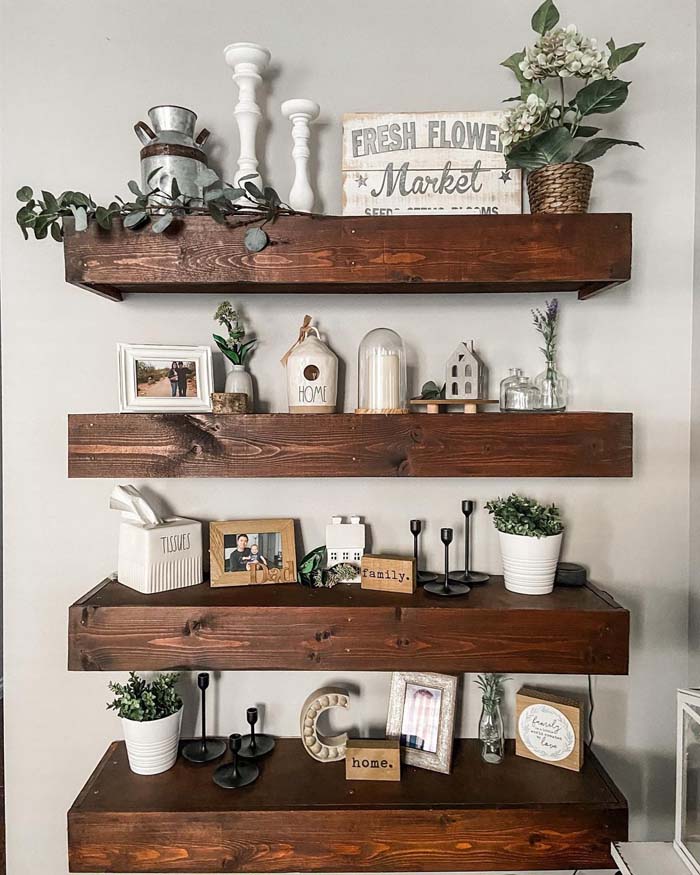 These floating shelves create a pleasing farmhouse interest and are also very helpful for making the home décor look finished and homely. The items on these shelves are symmetrically placed.
When we take a look at one shelf only, we are able to see the key to this harmony. Smaller decorations are grouped together, larger ones stand alone. This décor model is repeated on the rest of the shelves and this makes the overall look so amazing and finished.
29. Simple Shelf Décor For Farmhouse Focal Point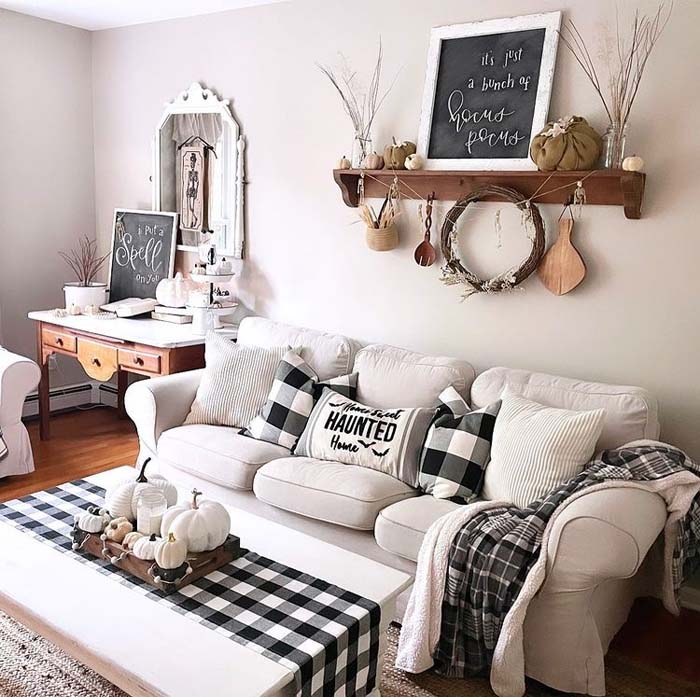 If you are lucky, you can find an antique shelf at a thrift shop. If its condition is good, don't change any bit of it. Use it to create a more impacting décor interest.
In this inspiring farmhouse shelf idea, the author has only added a few screw hooks to the bottom of the shelf to increase the storage spaces.
Various farmhouse elements are displayed and hung on the shelf to create the focal point of the living room.
30. Kitchen Farmhouse Display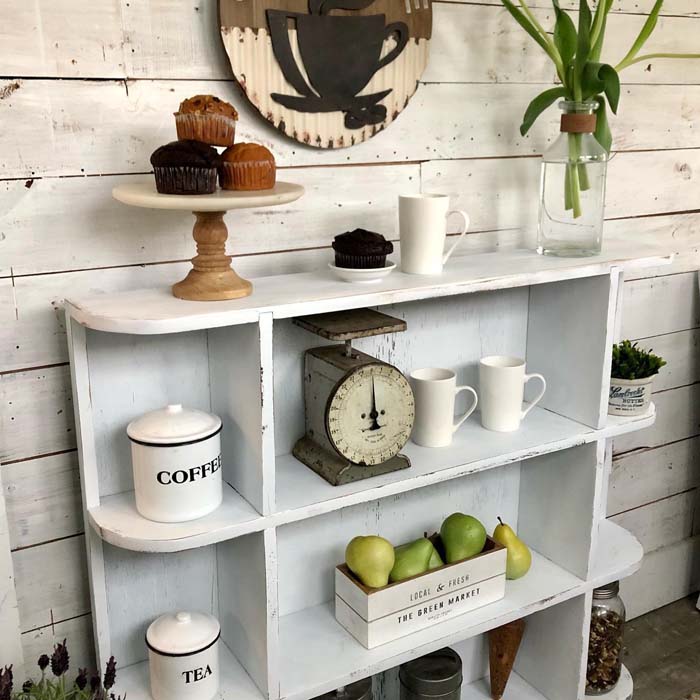 This old piece of furniture has been given a new life in three easy-to-do steps. Cleaning, painting and distressing.
It is functional and application possibilities endless- office organizer, kitchen display, bookcase, powder room storage unit, bedroom storage item and many more.
via Jill Bruke Rombo
31. Reclaimed Wood Storage Furniture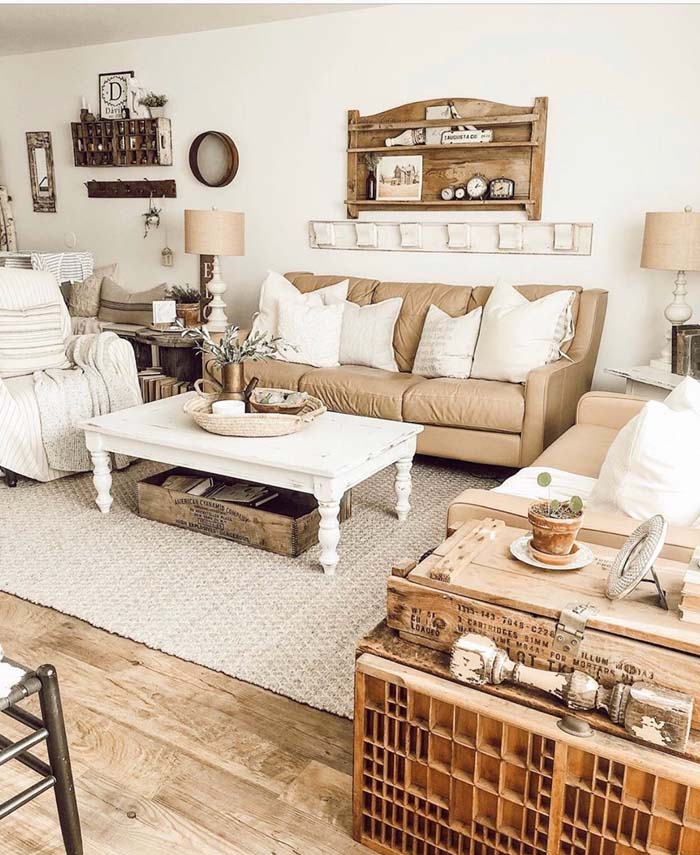 This is an example of how to decorate a living room with rustic pieces to make it chic, airy and appealing.
Instead of the modern storage furniture, we see old cottage-style pieces that are both beautiful and functional.
Crates, apothecary cabinets, an old headboard, and a coat rack add color, texture and character to this elegant living room.
32. Farmhouse Cubby Storage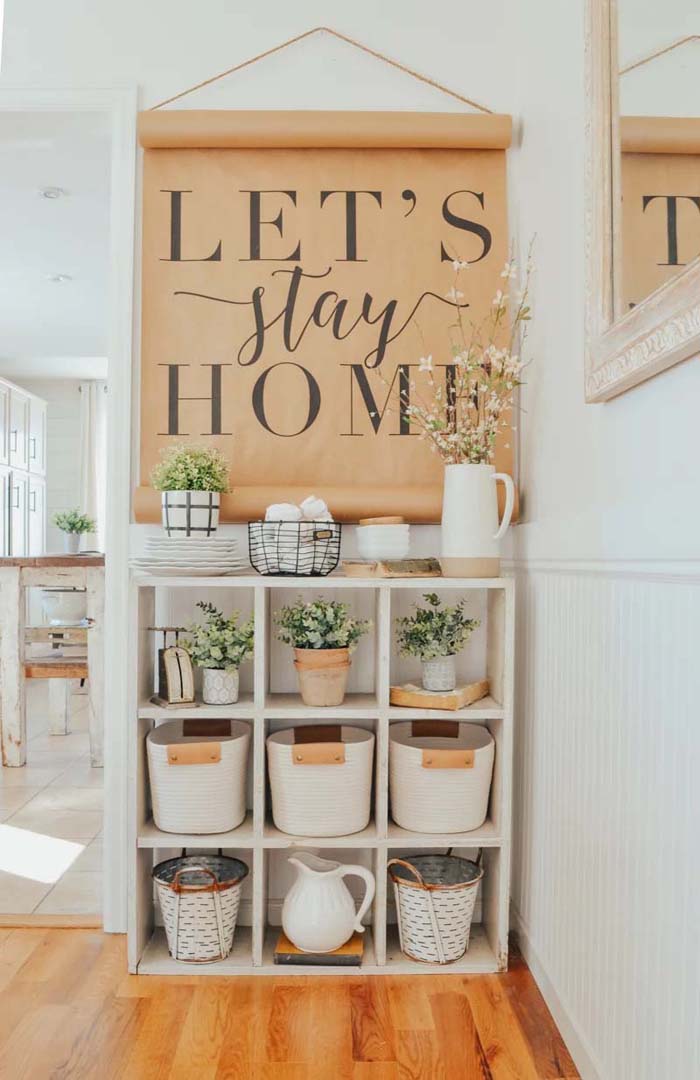 Last but not least we want to present to you the perfect balance of colors, size and textures. This storage piece is assembled in the modern cubby design but showing signs of age thanks to paint distressing.
The farmhouse touch is completed by vintage containers and decorations inserted in the cubbies and a large paper sign urging you to stay where you belong most.
via Sarah Joy