A toilet paper holder is a practical item with boundless design potential.
Whether you're looking for something ordinary that keeps some extra rolls on hand and is out of sight, something that provides additional storage for other bathroom accessories, or a fashionable piece, there are plenty of DIY toilet paper holders that will fit your style.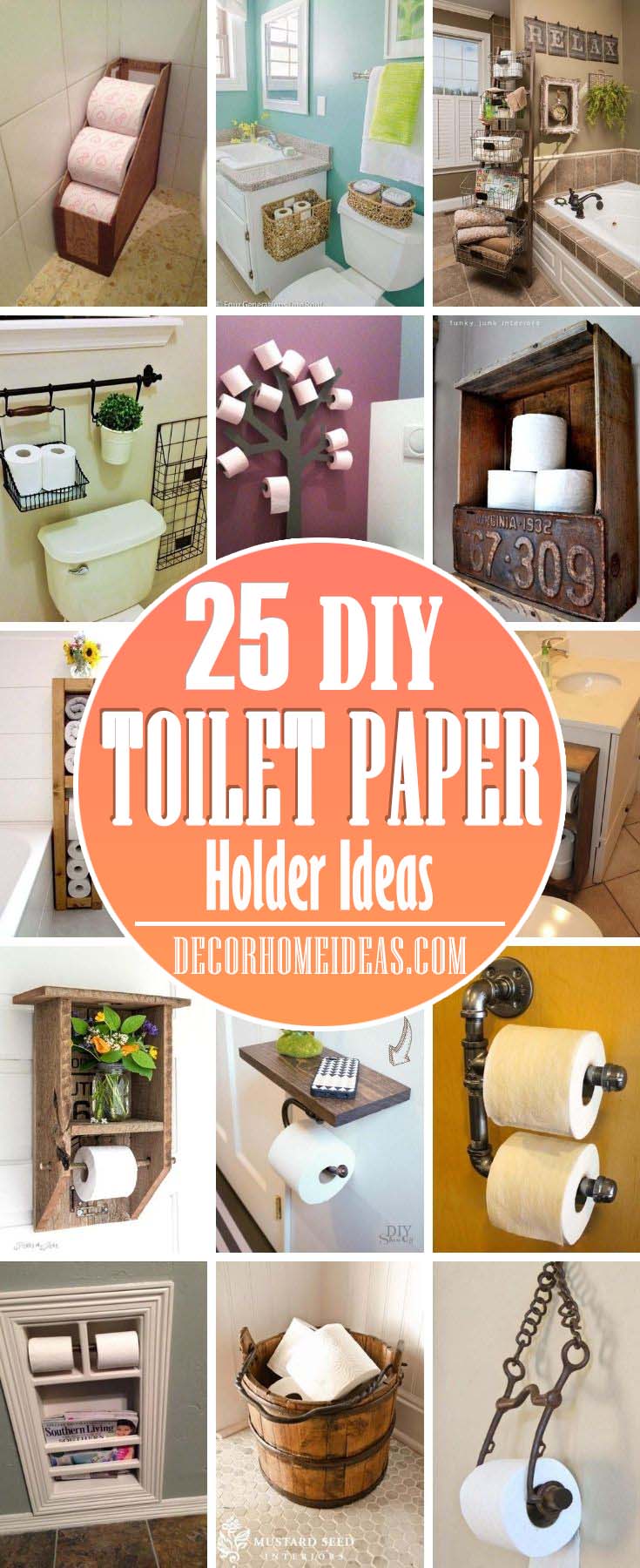 Toilet paper holders could be an accent to your bathroom decor even though they are overlooked most of the time, but don't worry…
…these 25 ideas will get your bathroom looking trendy and stylish in no time.
1. Get a Tropical Vibe for Your Bathroom with Wicker Baskets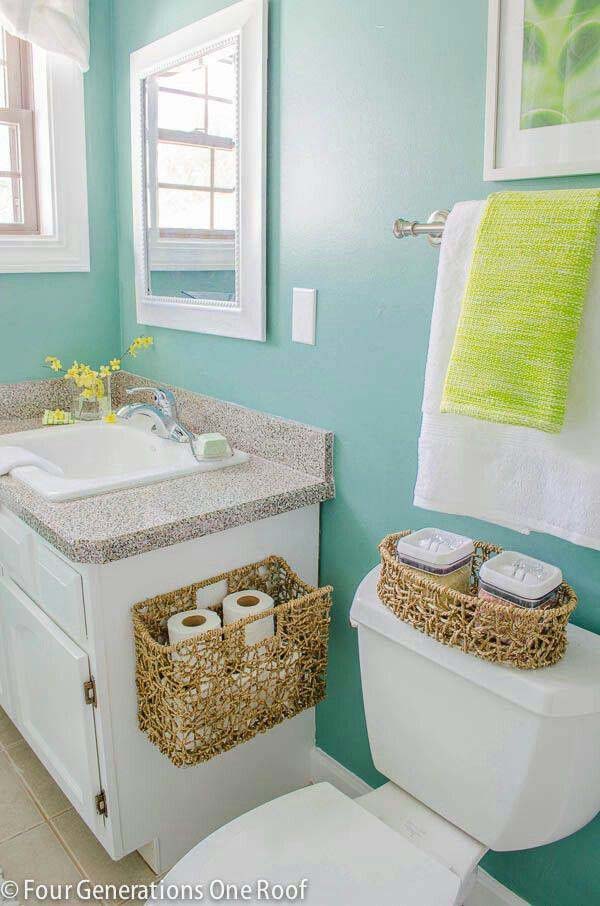 Wicker baskets can give your bathroom a fun and tropical vibe.
One of these cute baskets has been attached to the side of the sink for easy toilet paper access.
Add a second basket for visual symmetry, and use it to store your favorite bathroom accessories.
via Home Goods
2. Stylish Leather Toilet Paper Dispenser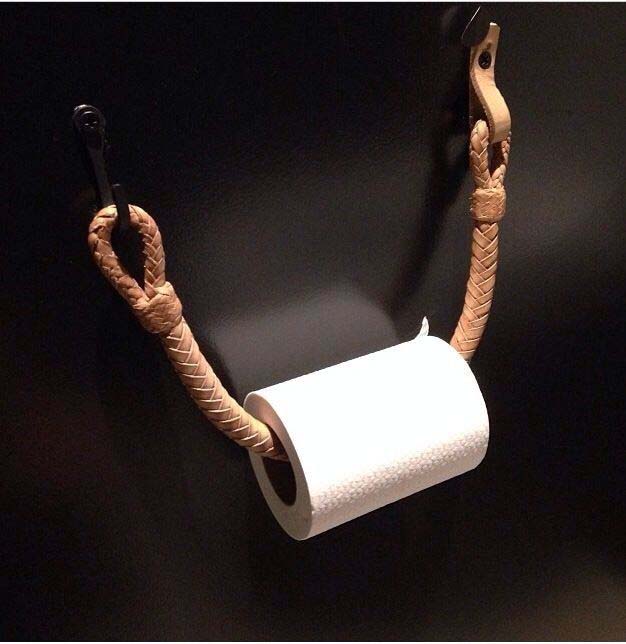 This dispenser idea would look great in a sleek, rustic, or upscale bathroom design.
The leather swings freely, which means it can be used to hold any size of toilet paper roll. Try choosing a color of leather that works with the other accents in your bathroom.
3. Set Up Two Rolls for Maximum Convenience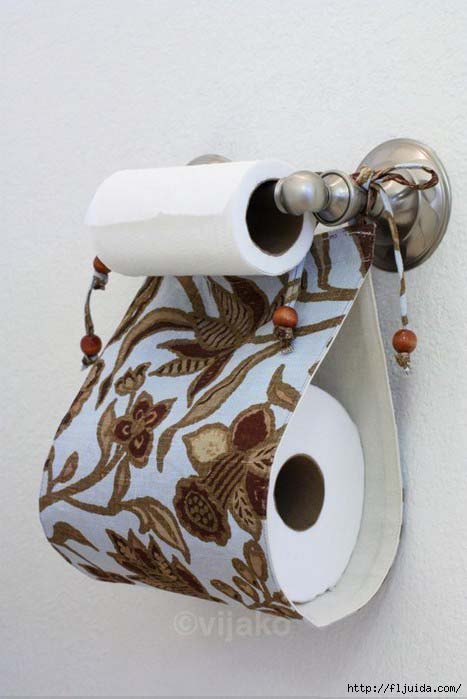 Why grab one roll of toilet paper when you can set out two?
This clever design will make sure you're never desperate for another roll.
You can use any type of fabric you have around, as long as it's strong enough. Bright patterns are a good choice if your bathroom needs flair while smooth colors will blend into an already-designed environment.
4. DIY Toilet Paper Holder with a Basket and Dowel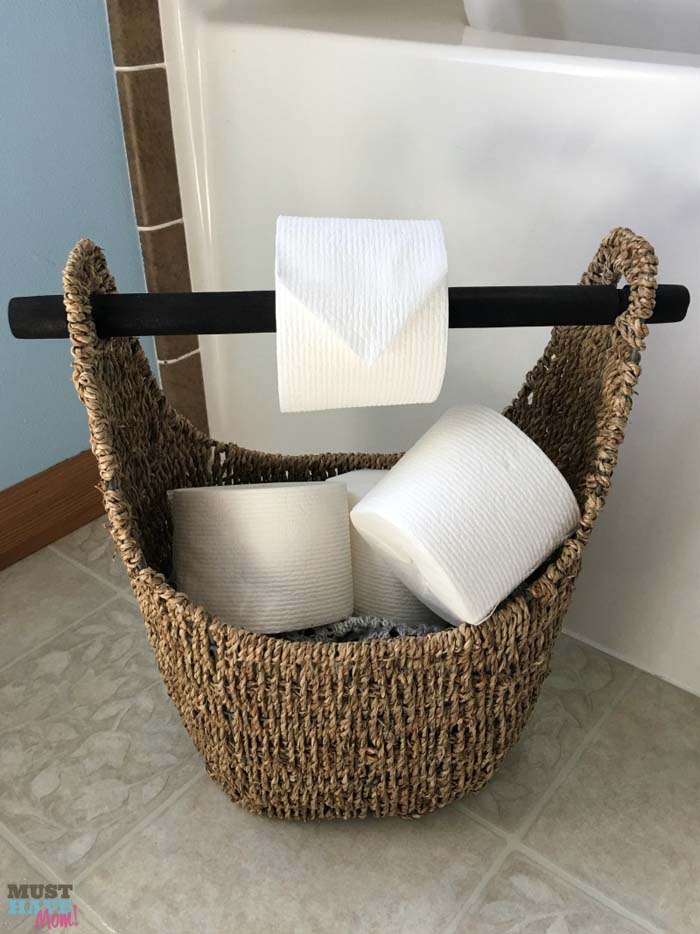 You can make this brilliant toilet paper holder with any basket that's tall enough.
This basket already had holes in the handles, making it a perfect choice to hold a long-painted dowel. Keep additional rolls in the basket for convenient access.
via Must Have Mom
5. A Rustic Look for Your Toilet Paper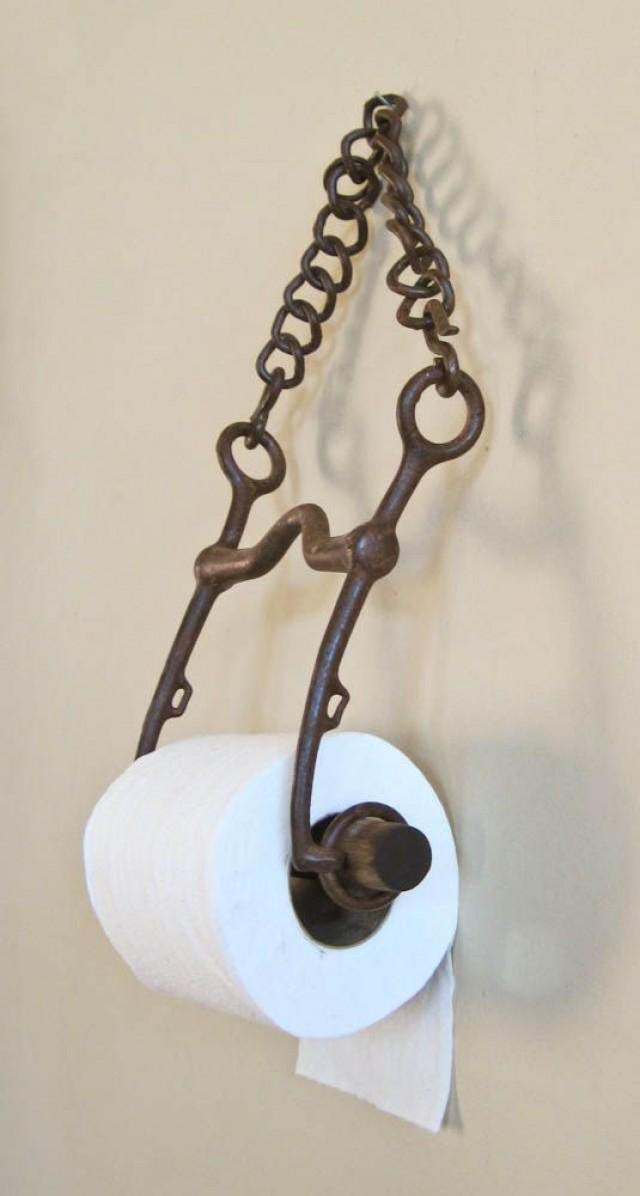 If your toilet paper is bolted tightly to the wall, you might not be able to use any size of roll you like.
That's why this genius design includes a chain that can swing freely. The rustic appeal of the piece is perfect for a bathroom in a country-style home.
via Wedd Book
6. Floating Shelf Adds Modern Style to Bathroom Decor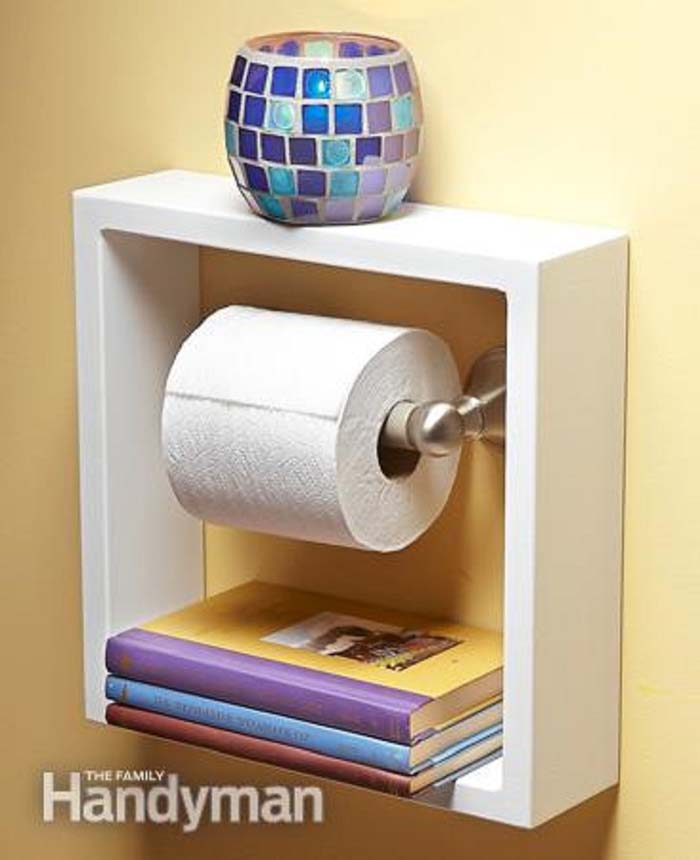 This cute floating shelf occupies the space around the toilet paper holder and adds a bit of 21st-century flair.
Include a few of your favorite pieces of reading material; bonus points if the colors match your decor.
via Family Handyman
7. Repurposed Galvanized Steel Bucket Toilet Paper Holder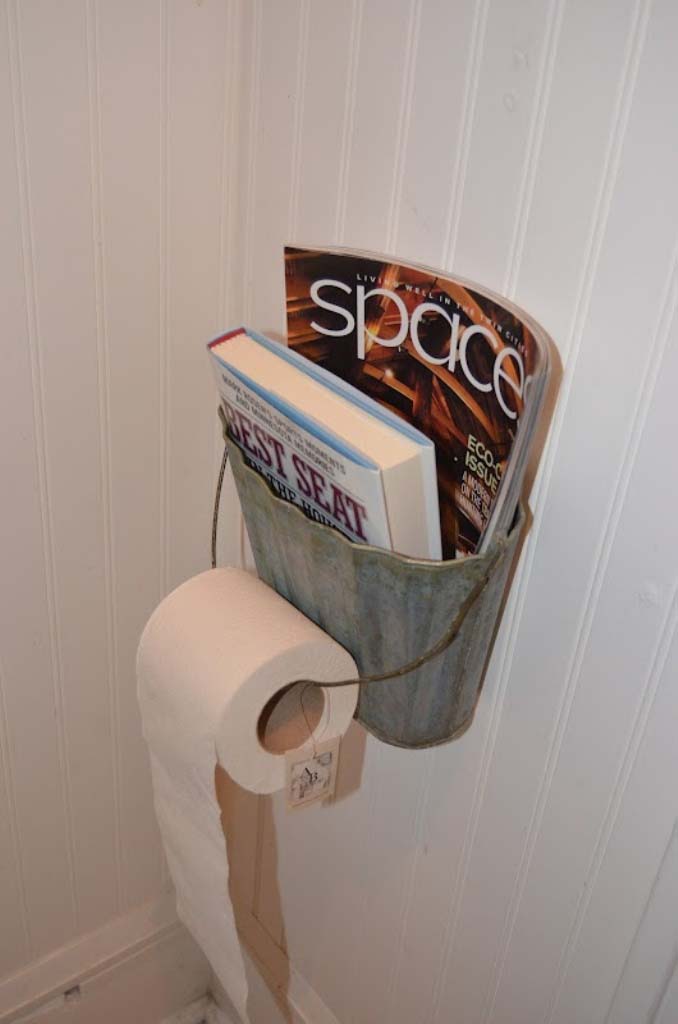 This toilet paper holder is made out of a repurposed galvanized steel bucket.
The handle of the bucket is the perfect place to hang a roll of any size. The steel itself is attached firmly to the wall and is strong enough to hold several books or magazines.
8. Maximize Your Bathroom Storage with Hanging Baskets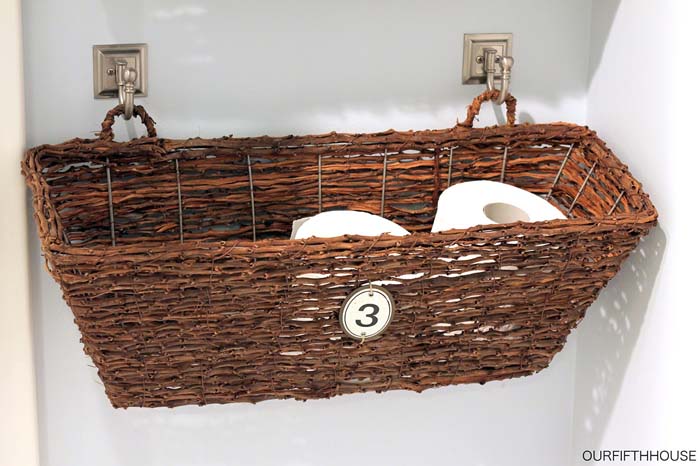 Hanging baskets are the perfect storage option when you don't want to add another shelf.
Whoever designed this basket also added a charm decoration to the center; try finding something that matches your bathroom theme.
via Our Fifth House
9. Add Visual Interest with an Elegant Wooden Storage Tower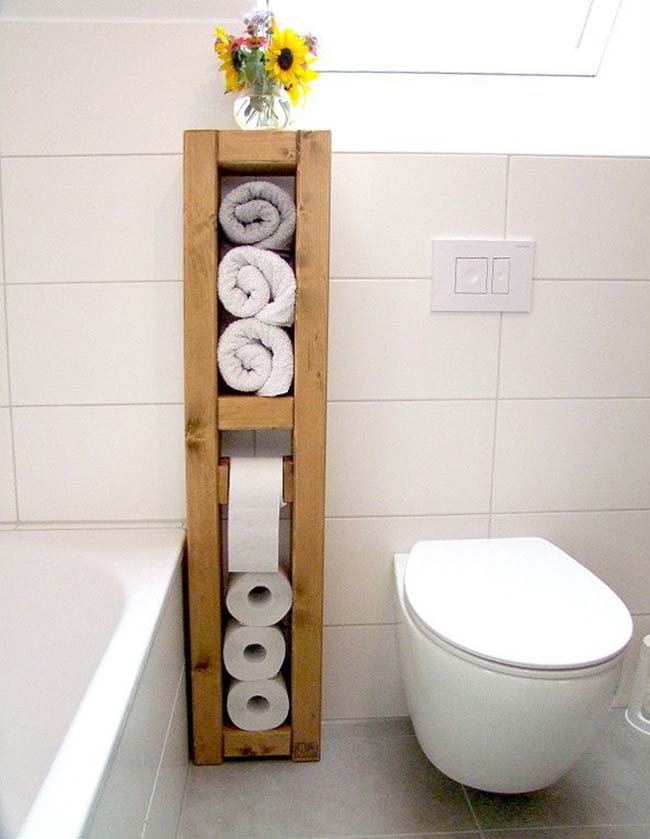 In an all-tile bathroom, this wooden storage tower really stands out.
A clever peg in the center hangs the roll that's currently in use, and the remaining space is used to store extra rolls and fluffy bath towels.
A vase of flowers at the very top is the perfect bit of minimalist decoration.
10. Repurposed Shutter Makes Charming Bathroom Accent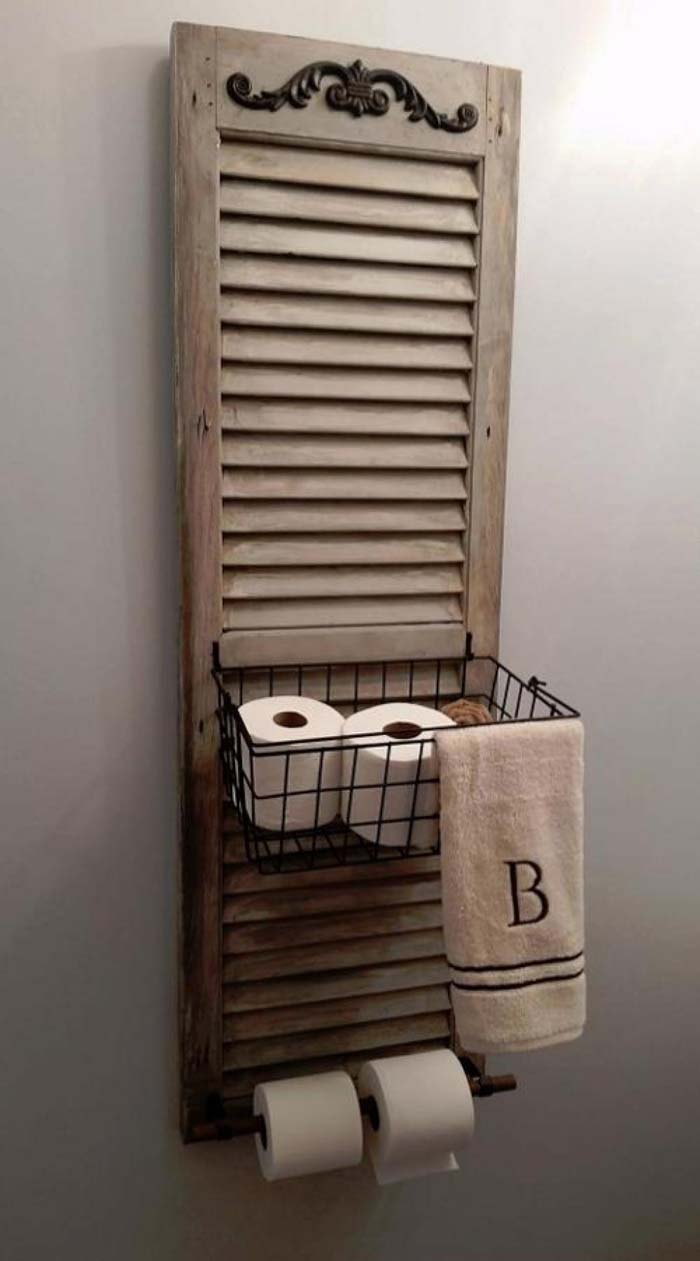 This old shutter has been given new life as a rustic bathroom accent piece.
Choose a shutter that works with your bathroom; then, add one, two, or even three storage baskets. A metal holder on the bottom makes sure your toilet paper spins freely.
11. Maximize Space with Recessed Shelves for Toilet Paper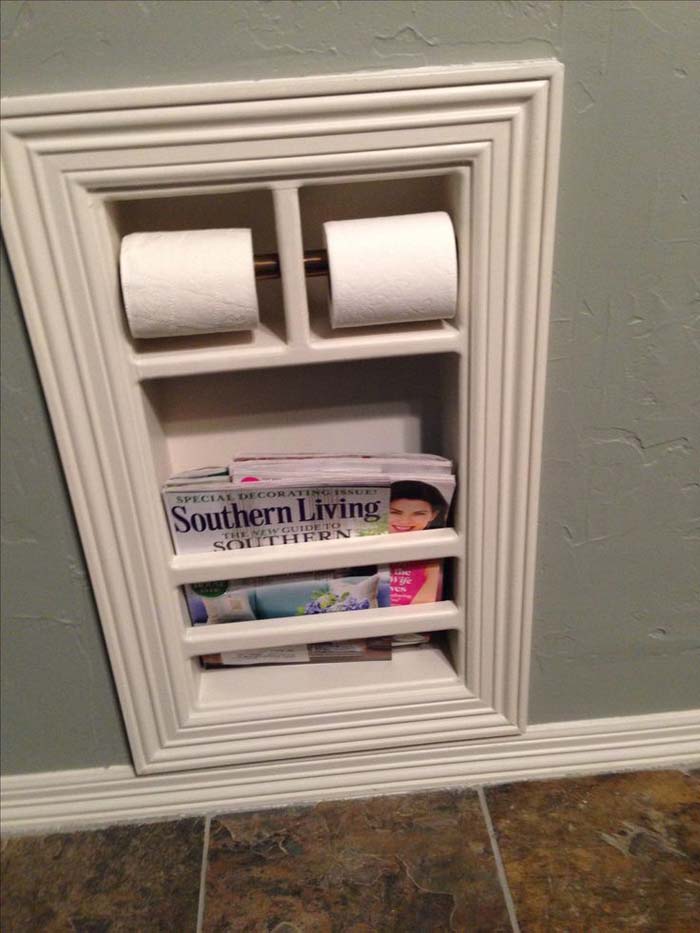 Bathrooms never seem to have enough space, which is why the designer of this holder decided to recess the shelves into the walls.
There's plenty of room for two rolls of paper and a few cheerful magazines that peek out from behind the bars holding them in place.
12. Bring Nature with Upcycled Toilet Paper Holder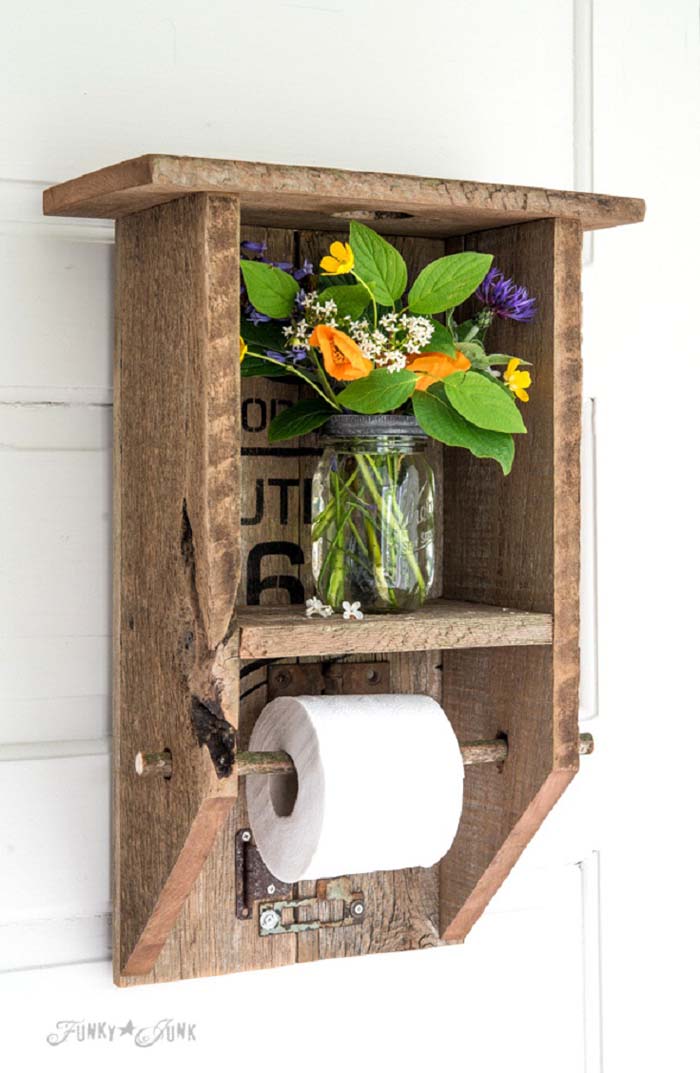 Bring nature into your bathroom with this upcycled toilet paper holder idea.
The reclaimed wood has been turned into a unique shelf that can be hung anywhere within convenient reach.
The toilet paper rolls on a natural-looking wooden dowel, and the shelf above has just enough space for a jar of wildflowers.
13. Maximize Your Bathroom Storage with a Magazine Holder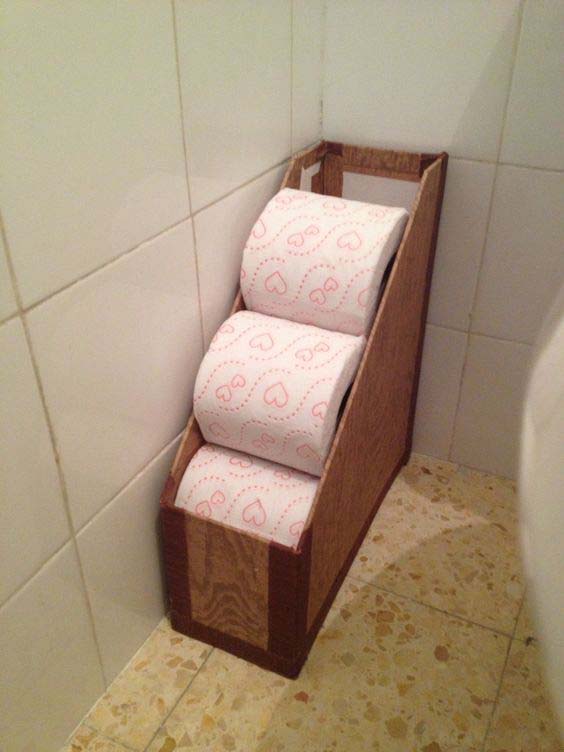 Magazine holders aren't just the perfect shape to hold magazines. If you get one that's wide enough, you can also use it to store your toilet paper.
The triangular design creates a beautiful angle that really blends in with the corner.
14. Compact Cabinet for Toilet and Sink Storage Needs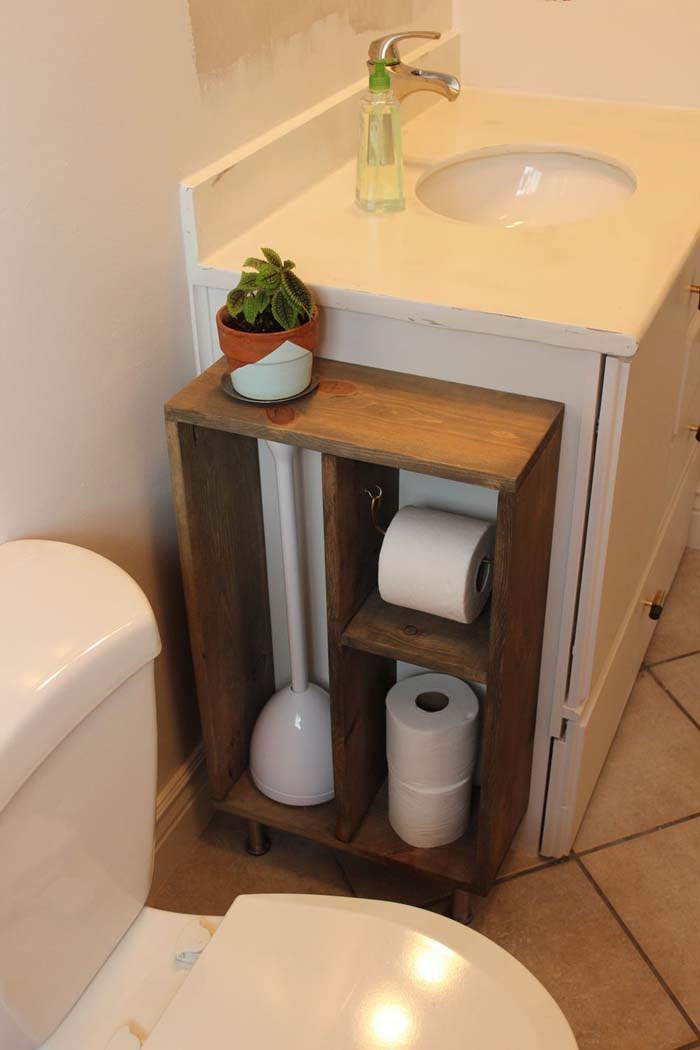 This cabinet is just the right size to fit in the space between the toilet and the sink.
It's got room to store extra rolls of paper, and there's even a place to hide the plunger until you need to use it.
via DIY Samodelki
15. Retro Steampunk Toilet Paper Holder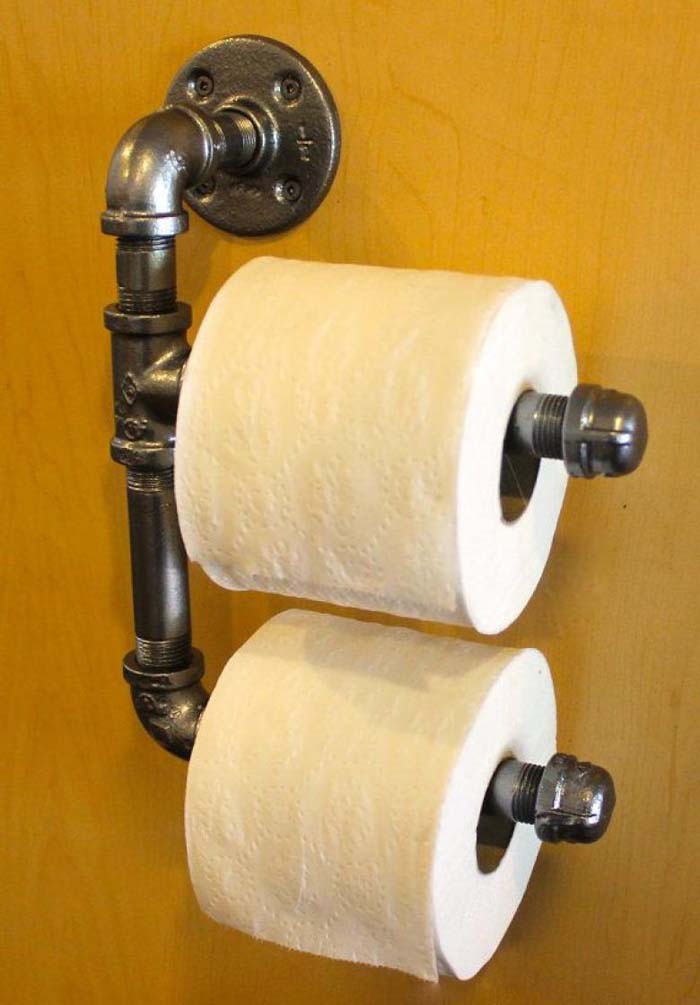 Steampunk themes are a great choice for bathrooms, especially if you already have copper or iron plumbing exposed.
This holder can handle two rolls at once, meaning you'll never have to worry about running out.
16. Utilize Toilet Space with a Wire Rack for Storage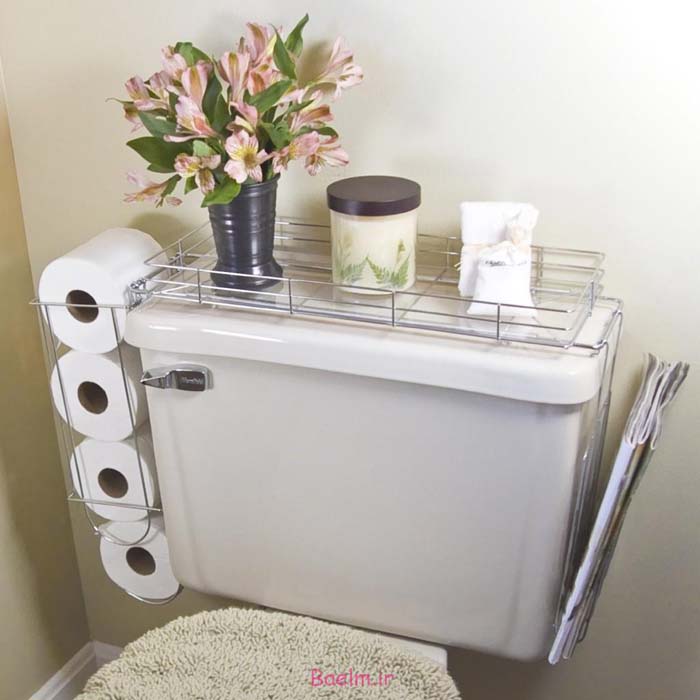 The space on top of your toilet typically isn't being used, which makes it a great place to store toilet paper and other items.
This wire rack has a simple design and is easy to remove in case you need to perform maintenance work.
17. Compact Bathroom Shelf with Toilet Paper Storage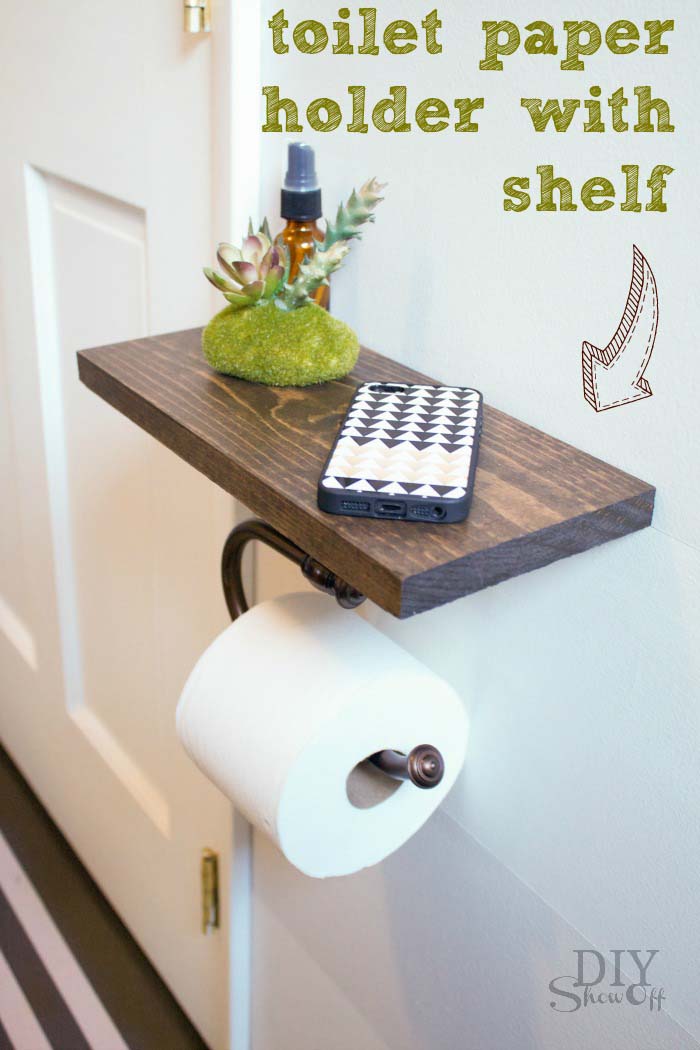 This cute little shelf will barely take up any space in your bathroom.
The toilet paper hangs under the shelf, which leaves the top open to momentarily store your phone.
via DIY Showoff
18. Toilet Paper Holder with Reclaimed Wood and License Plate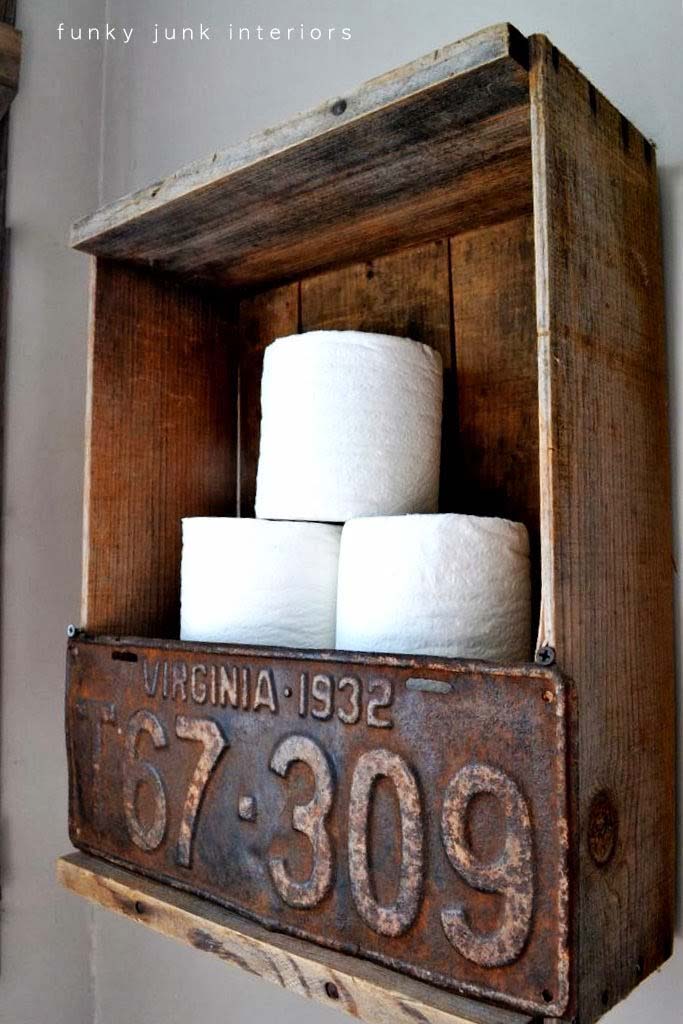 With reclaimed wood and a recycled license plate, this toilet paper holder couldn't be more environmentally friendly.
This rustic design can hold three or even four rolls at once; they really pop out against the dark wooden background.
19. Store Toilet Paper in a Vintage Bucket for Decorative Appeal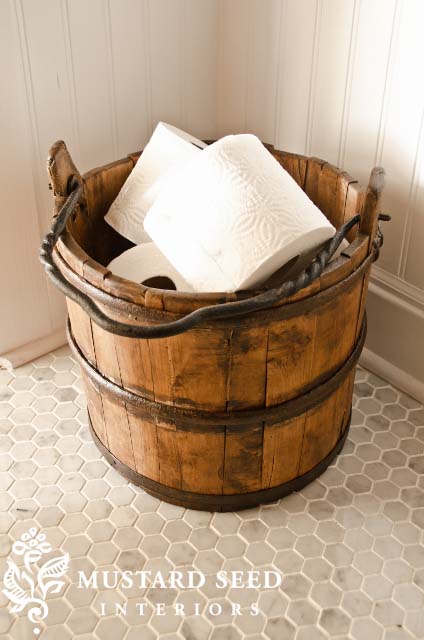 Toilet paper doesn't have any special storage requirements, so you can use any decorative piece that you like.
This vintage bucket is classy and can be tucked neatly in the corner.
20. Enhance Toilet Paper Holder Design with Bold Round Shapes 

Whoever designed this piece really knew how to make round shapes stand out.
You'll need to keep your toilet paper stocked up to get the full effect, but the end result is definitely worth your trouble.
via Lyon Beton
21. Make a Tree to Act as Your Toilet Paper Holder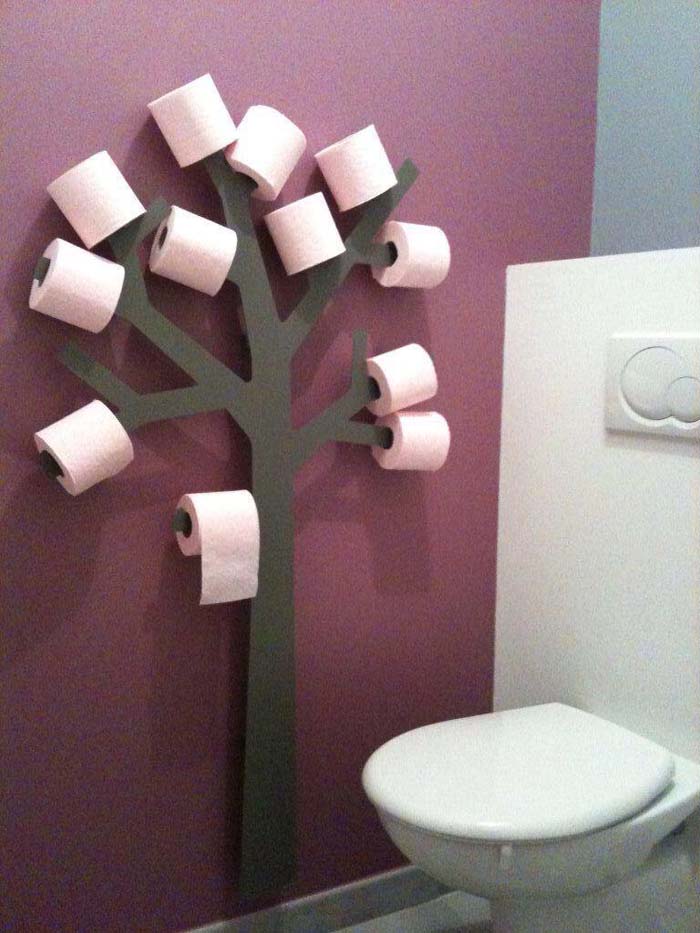 Paper is made from trees, but these rolls of toilet paper are literally stored on a tree.
This design is a great choice for the upstairs kid's bathroom.
22. Maximize Unused Bathroom Space with Hanging Wire Baskets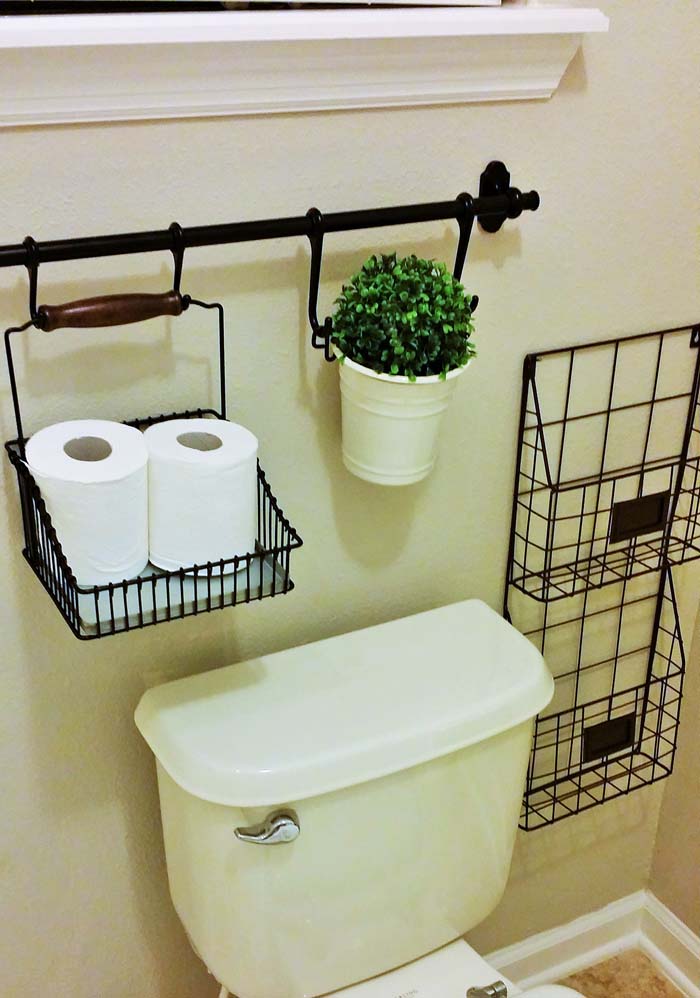 Great bathroom designs always take advantage of unused space.
These hanging wire baskets can be used to store anything; once you've got the essentials in place, fill the remaining baskets with decorative towels and friendly plants.
via Denise Cooper
23. Reclaimed Wood Bathroom Organizer with Modern Accents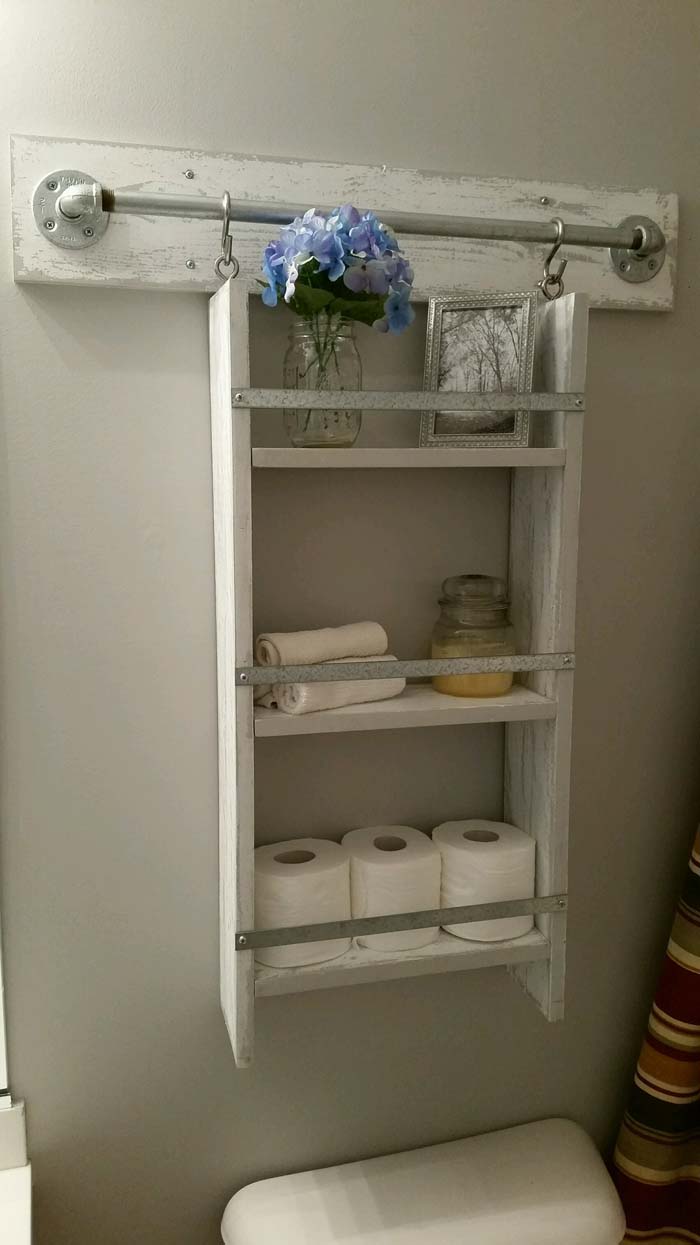 This organizer has been built from reclaimed wood and decorated with modern and practical bathroom accents.
Three shelves provide plenty of space for toilet paper, towels, and decorations.
via Ana White
24. Chalkboard Labels for a Decorative Touch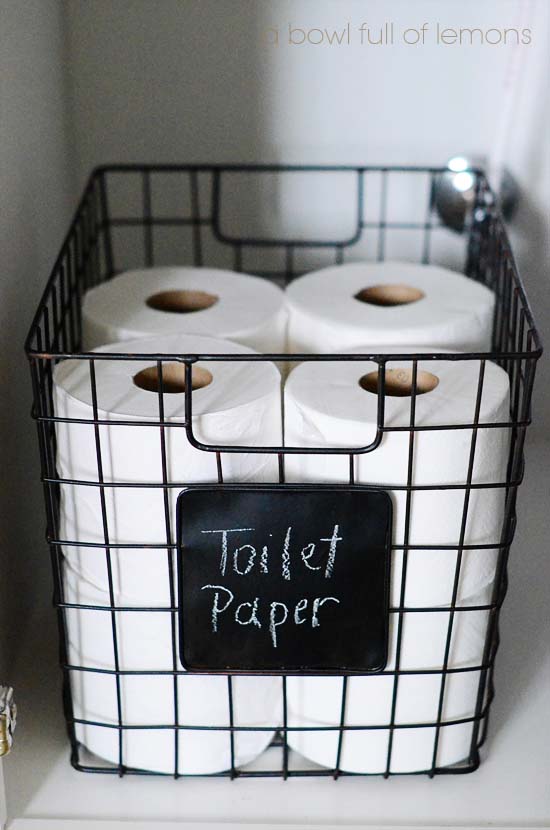 Chalkboard labels add a cute bit of flair to any decorative environment.
This basket is currently being used for toilet paper, but if you decide to rearrange the room, you can easily change the label to something else.
25. Maximize Your Bathroom Storage with a Ladder Shelf Combo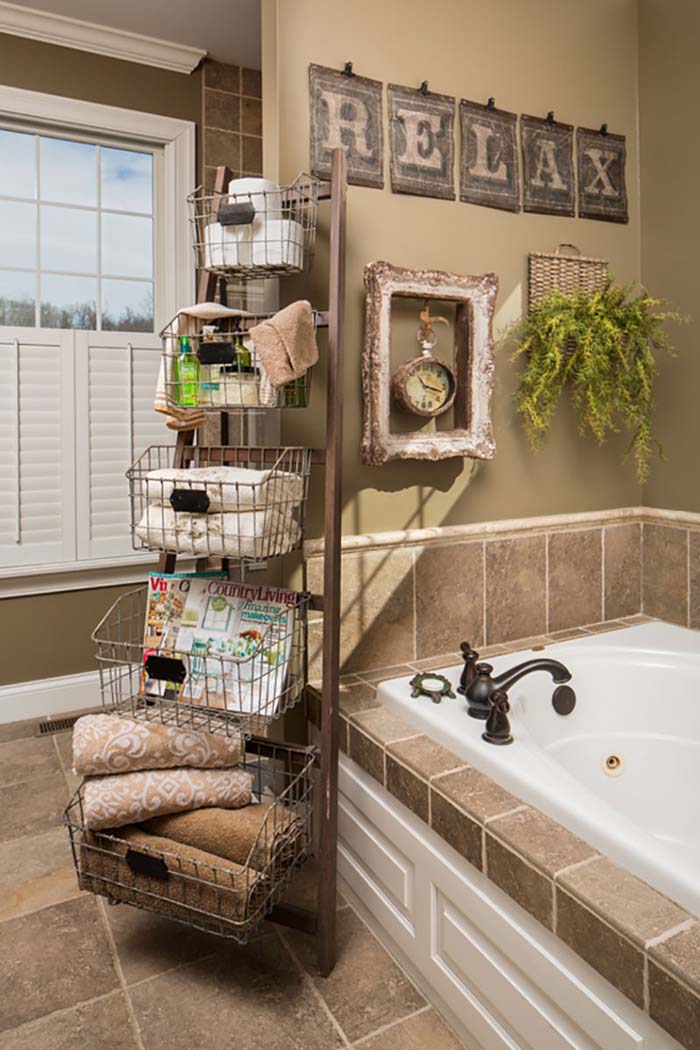 The only difference between a ladder and a set of shelves is the storage space.
The designer of this piece added a collection of wire baskets that get smaller as they reach the top. The end result is a cute bit of bathroom storage with room for toilet paper alongside everything else.
via Penny Harrison