One of our favorite activities during summer is to enjoy the warm days at the beach. The soft sand, the turquoise water and the shells that you find on the coast are part of the exciting experience.
Since these days go away too fast, we have been thinking about how to extend at least the memories by making some decorations from the treasure found at the beach.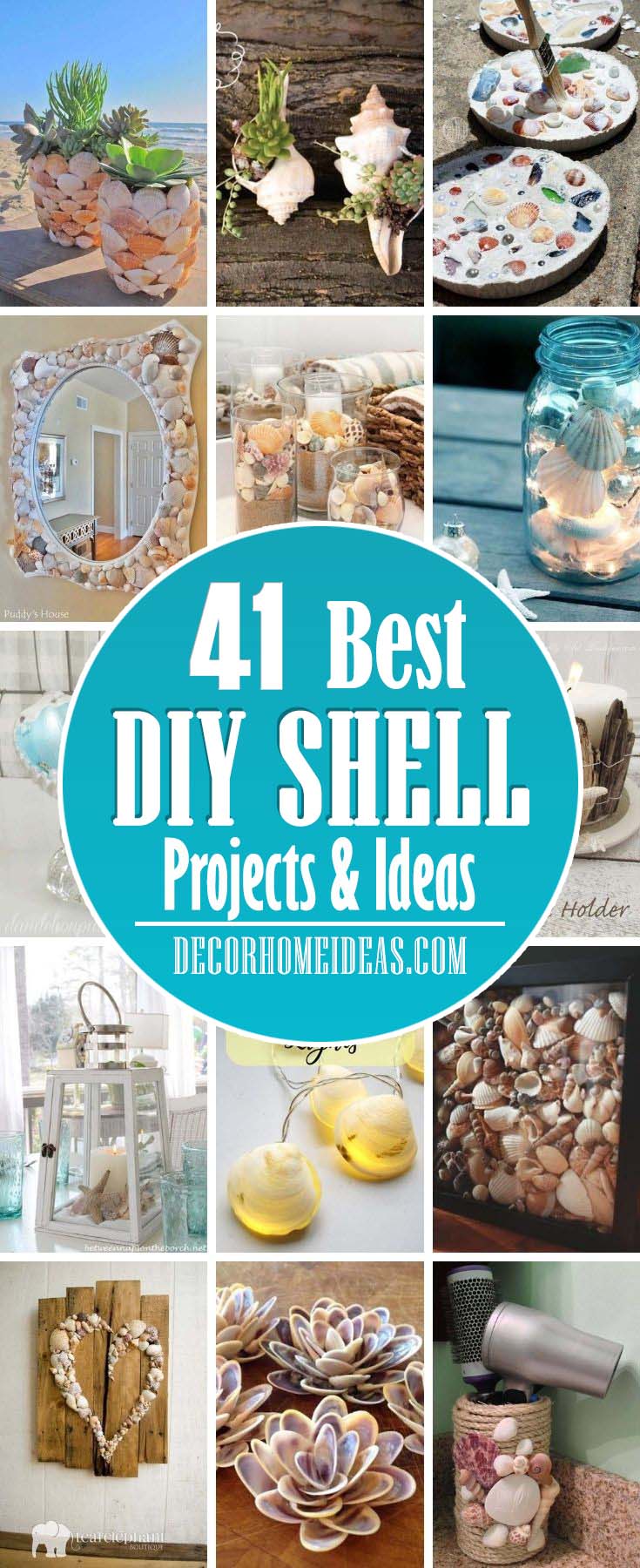 Shells can be used to easily decorate picture frames, flower pots, candles, garlands and many more. There are many DIY shell projects that will take a piece from the coast, keep the summer emotions and bring it into our homes.
If you want to welcome summer vibes and memories into your place, use one of our ideas for decor with seashells.
1. Welcome Guests with a Seashell Pineapple 'Aloha' Greeting

Welcome your guests with the traditional Hawaiian greeting "Aloha". It screams summer with its origin, motifs, colors and supplies.
Take a cabinet door, a drawer's front or a wooden board, paint it in white and write the letters in teal blue.
The "o" letter is represented by a cute seashell pineapple. Aloha is more than just a hi or goodbye, it stands for love, peace and compassion.
2. Upgrade Your Home with a Beach-Inspired Mason Jar Decor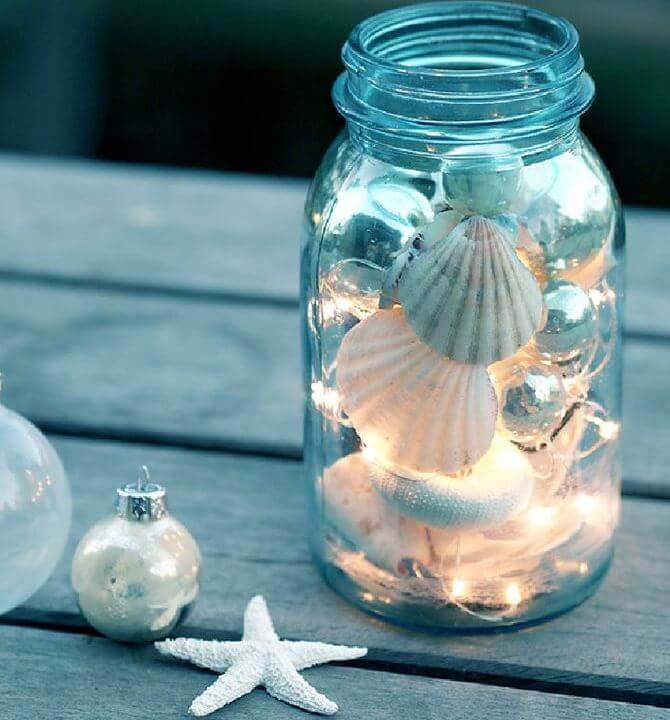 A quick, easy and affordable beach-inspired decoration that will spread sparkling light during the summer nights in or out.
Fill a mason jar with fairy lights, seashells and small Christmas balls.
3. Create a Seashell Centerpiece with a Glass Holder and Pearls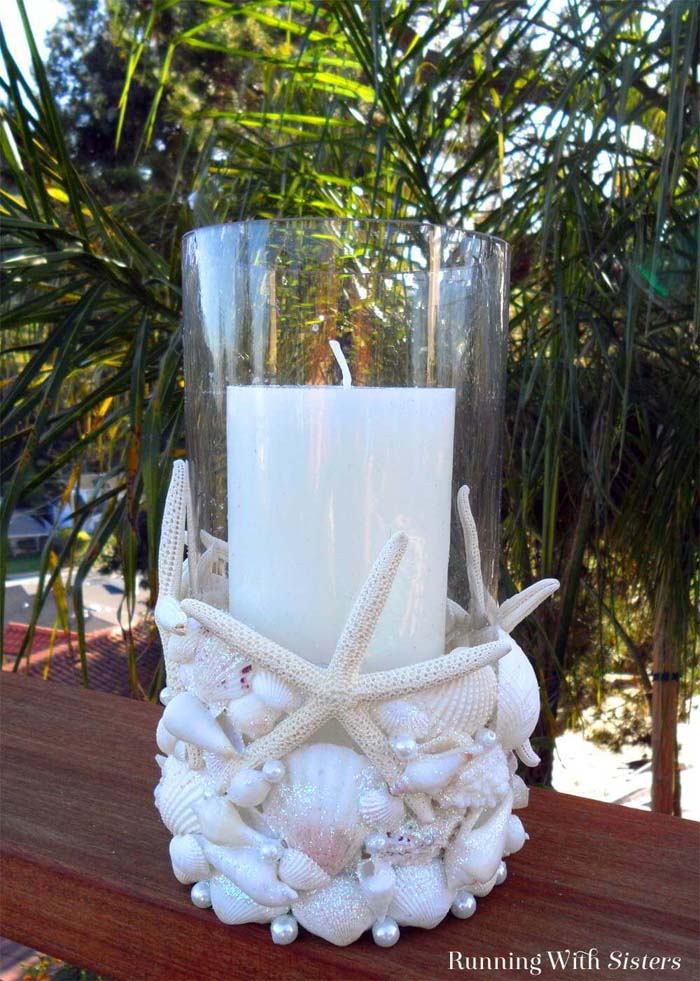 A glass holder from the dollar store, various seashells from your collection, some pearls and glitter are all the supplies you need to make a centerpiece for your interior or exterior.
Cover half of the glass with seashells, starfish and pearls by gluing them. Give them a sparkling look with glitter.
4. Turn Wooden Candleholders into an Artistic Shell Decoration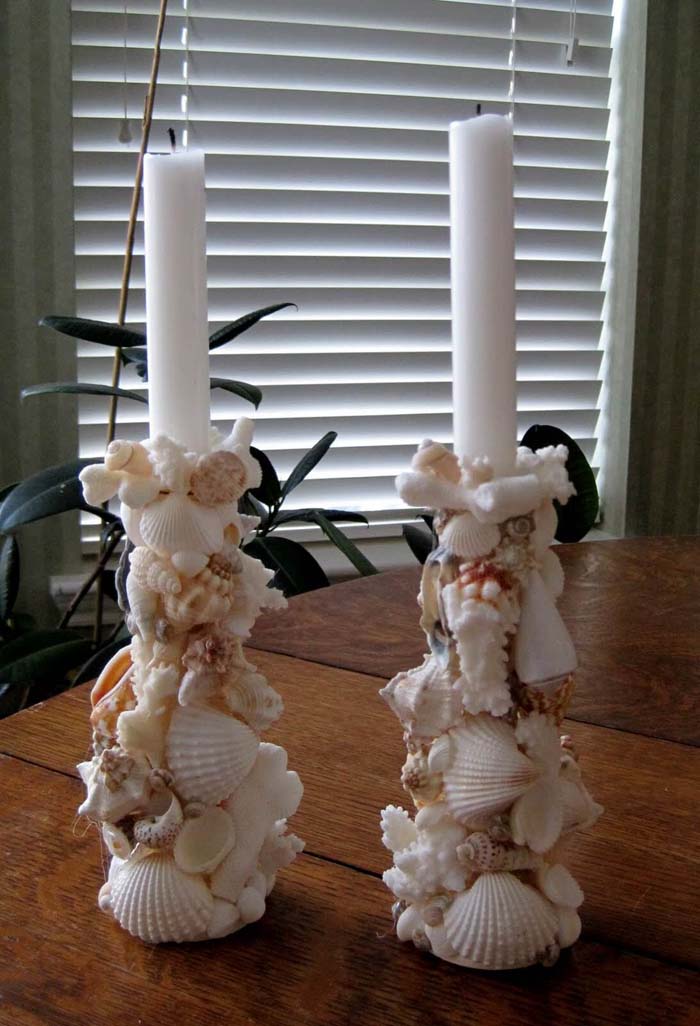 Two plain wooden candleholders are turned into an artistic decoration only by gluing various seashells onto the surface.
Use a hot glue gun to secure them tightly. You would be amazed by the final result of one of these DIY shell projects which would otherwise cost you $750 for a store-sold pair.
5. Create Unique Wall Art with Seashells and Frames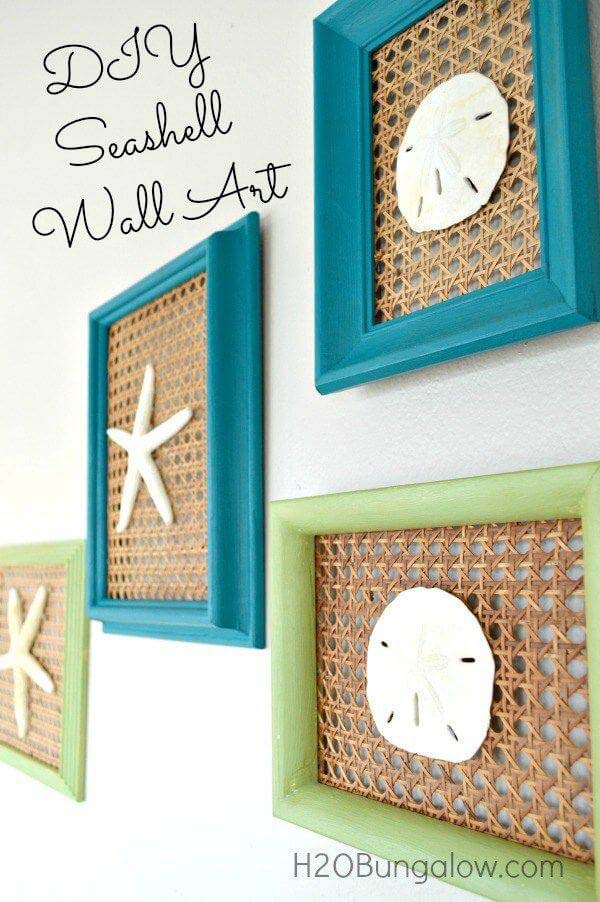 Make wall art with seashells. A few old frames, an old cane and a hot glue gun make these beautiful coastal treasures displays.
Paint the frames in colors that suit your interior and hang at a pattern.
via H2O Bungalow
6. Coastal Mirror with Sisal Rope and Starfish Embellishments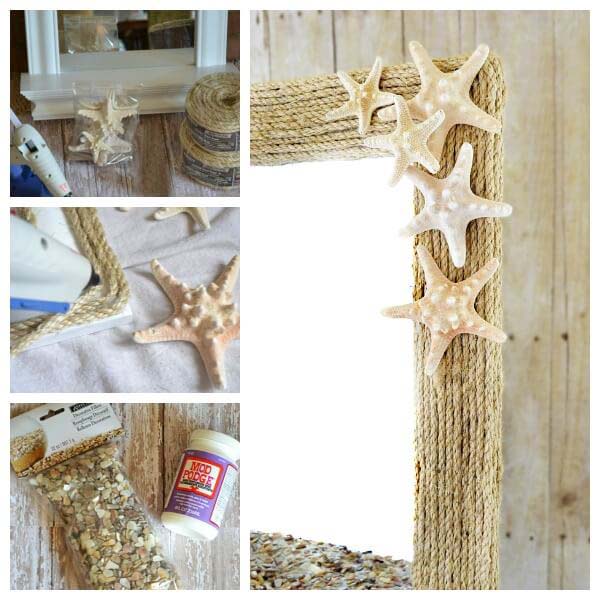 Combine the rustic naturalism with the coastal beauty to make a charming transformation of the plain mirror.
Glue sisal rope lengths onto the frame evenly and tightly and let dry. Then decide where to put the starfish accents.
7. Make a Succulent Garden in a Seashell for Home Decor

Enhance your interior beauty with a mini succulent garden in a seashell. The gorgeous arrangement is made with faux succulents, inserted into half from a foam ball.
Since the succulents are tiny, a larger glass seashell is a suitable holder that looks like a gentle coastal nest.
8. Create Delightful Seashell Candles for Outdoor Decoration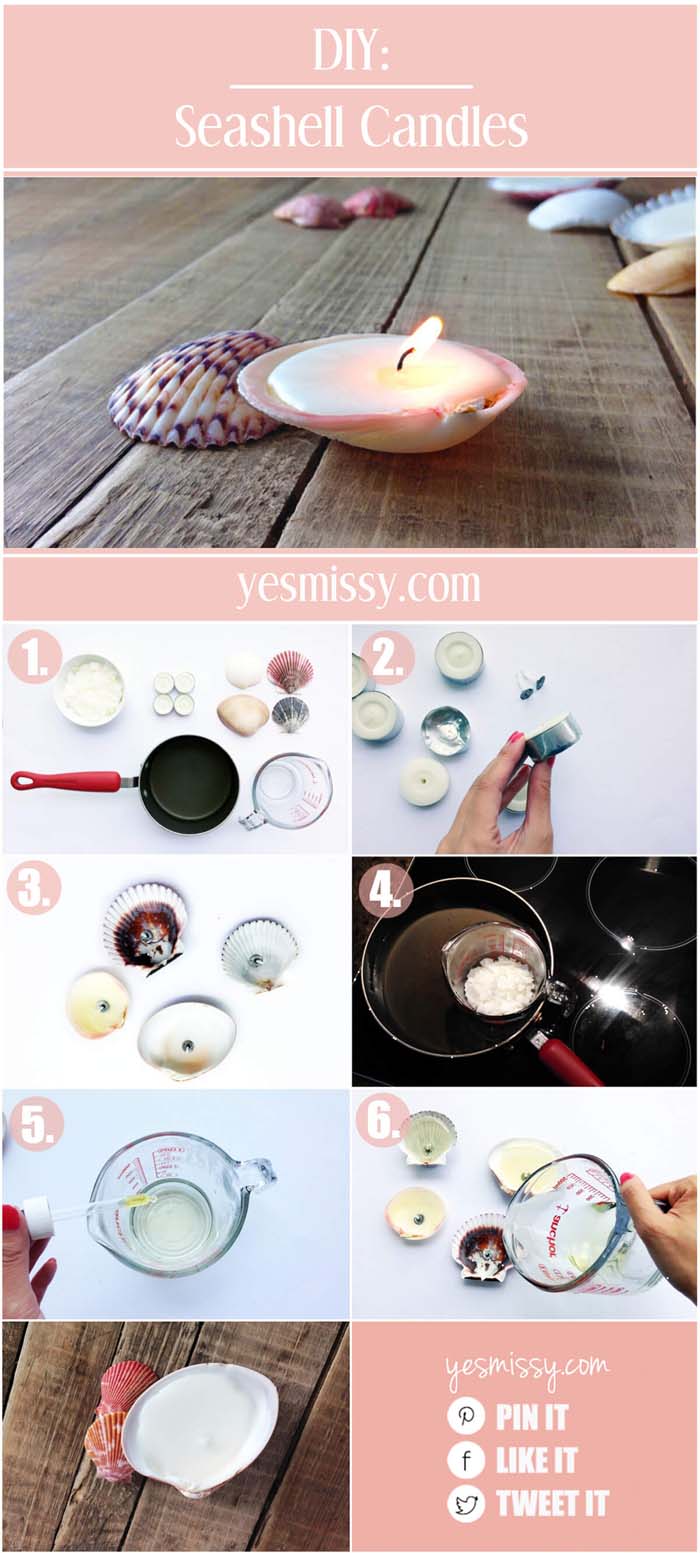 This photo series gives enough details about how to make your own small seashell candles.
They will be an appealing outdoor decoration that will not remain unnoticed regardless of their size.
via Yes Missy
9. Create a DIY Craft Area with a Thrifted Mirror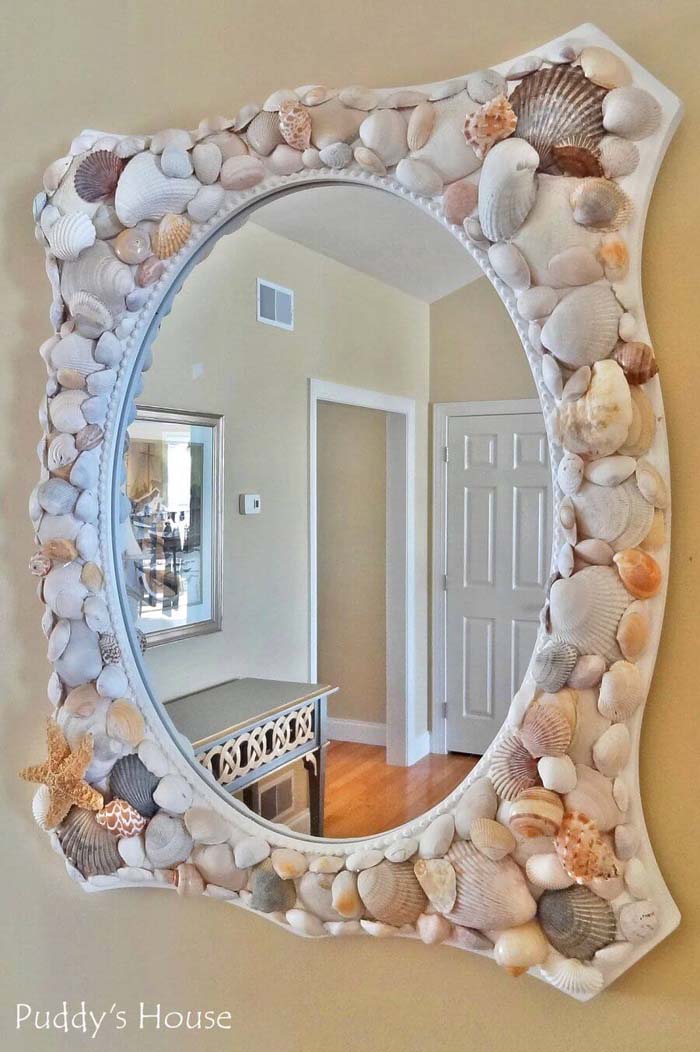 On your next trip to the thrift shop, look around for a heavy mirror. The wider the frame is, the bigger the craft area will be.
Arrange your seashells collection along with the frame and attach it with a hot glue gun.
via Puddy's House
10. Decorate Flower Pots with Seashells for a Coastal Touch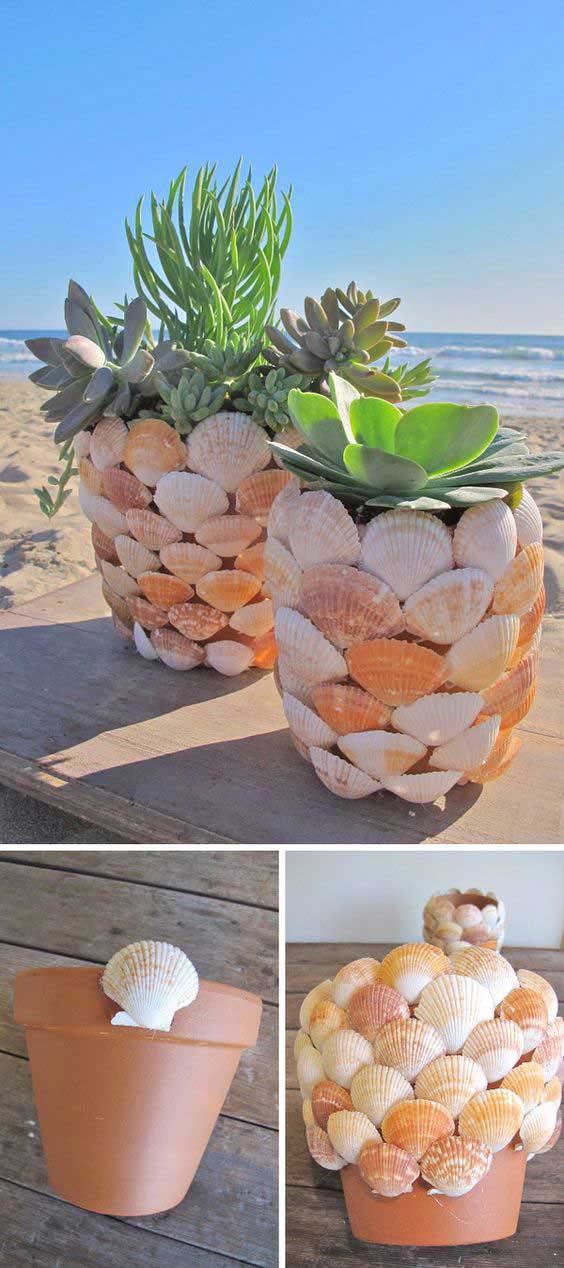 Even flower pots can remind of the coast simply by decorating them with seashells. Gather flat seashells of almost uniform size. Glue carefully in rows, starting from the bottom.
The shells of every next row should be placed in between the seashells below.
via Billabong
11. DIY Seashell String Lights: Captivating Home Decoration

You won't find this unusual string light in the stores so get ready to make it yourself. Apply glue on the rims of two identical shells and close them tightly so that they close the light bulb.
This magical light will be a delightful beach decoration if woven on the pergola or around a tree in your yard.
12. Rustic Seashell Terrarium to Enhance Your Living Room Decor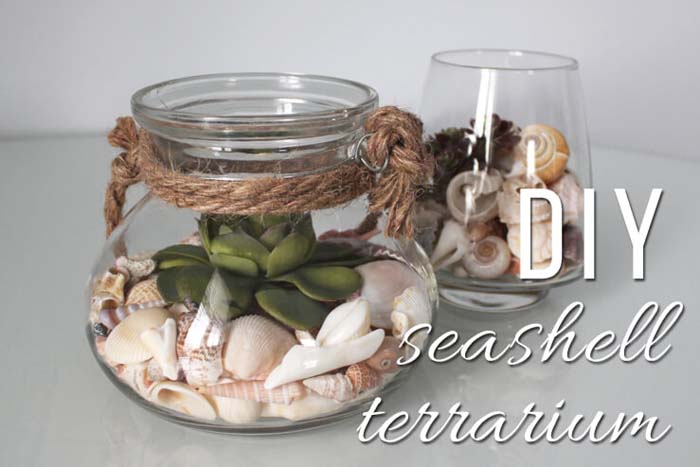 If you haven't found a centerpiece for your living room, there is a great idea for you!
This elegant seashell terrarium will add both rustic beauty and beach relaxation vibes to your home.
Since succulents are quite trendy, small and very cute, use them as greenery in the glass bowl. Surround them with various seashells.
via Lauren Sena
13. Rustic Coastal Candleholder with Driftwood and Seashells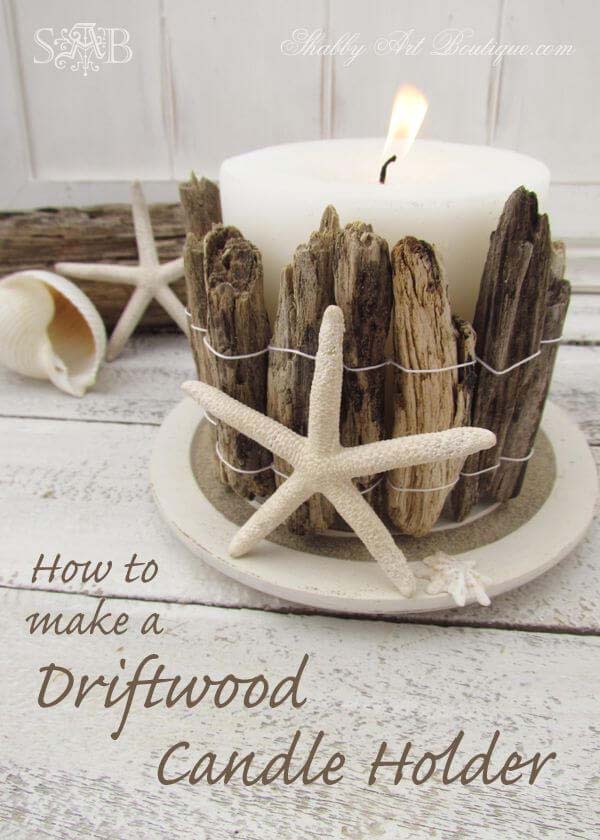 The creativity behind this simple project is big. The impact from the final result, even bigger!
Driftwood pieces are tied together around a candle. Glue one large or a few smaller seashells onto the wood pieces. The soft greys of the driftwood add a little color to the otherwise standard candle.
14. Make a Beach-Themed Wreath with Driftwood & Seashells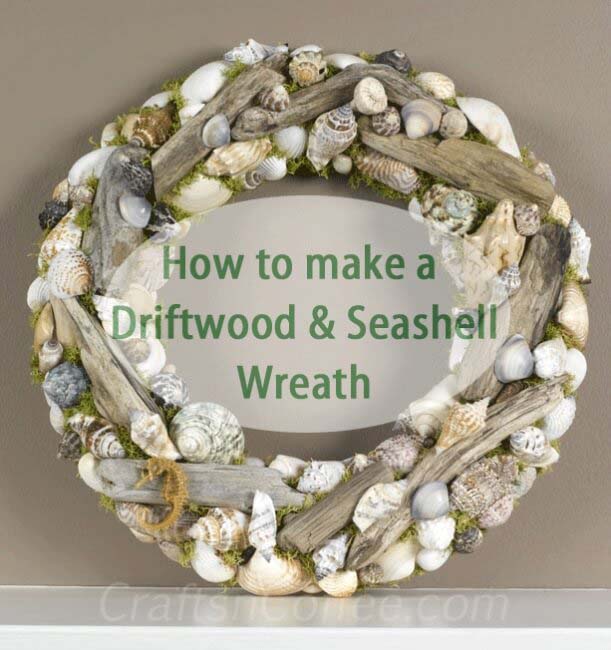 Our front doors can also be decorated in a coastal spirit. Make a wreath with beach treasures that will reveal the beauty of the ocean.
Cut a circle from a foam board or cardboard and glue driftwood pieces and seashells of different shapes and sizes on it.
15. Add Beach Decor to Your Room with Seashell Bottles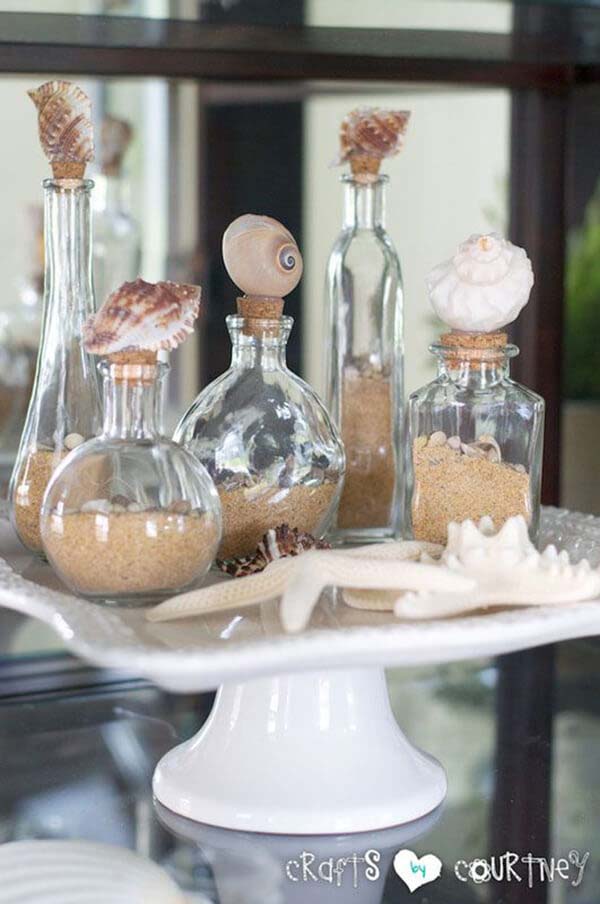 If you have a beach-themed room, then beach decor is never too much and you will find the best place for these interesting seashell bottles.
If you don't already have the supplies, go to the nearest dollar store.
16. Seashell Wall Art with Rustic Beach Vibe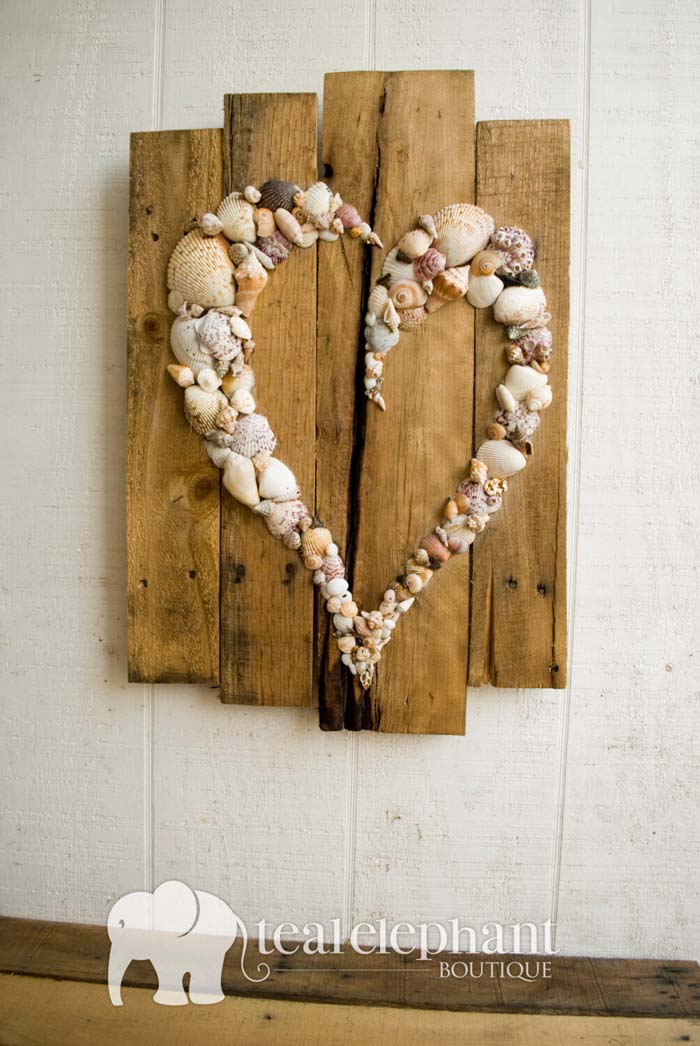 We proved that rustic and beach go well together. Another example for the great outcome from that combination is this wall art with a heart design.
The background for the seashell art can be flat driftwood pieces or weathered pallet slats. Arrange the seashells in advance and then fix them with a hot glue gun.

17. Create Decorative Home Accessories with Seashells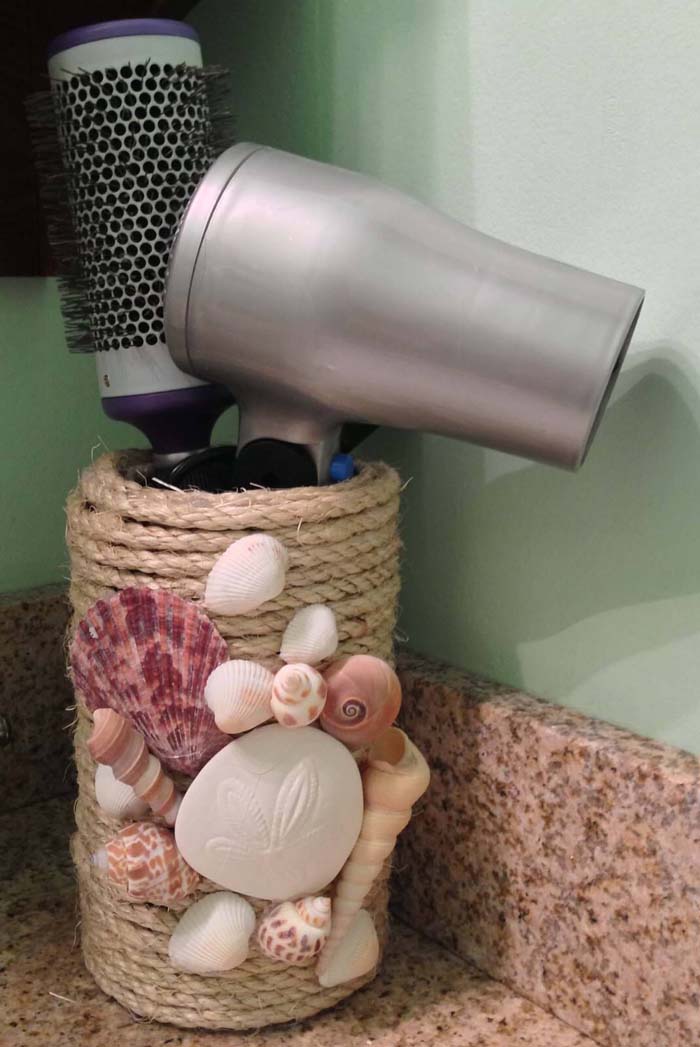 All kinds of items can be decorated with seashells as long as you have a suitable surface and glue.
A container, like a glass jar or baby food can, can be transformed into a decorative holder of kitchen utensils, bathroom accessories etc.
18. Make a Beautiful Coastal Lantern Centerpiece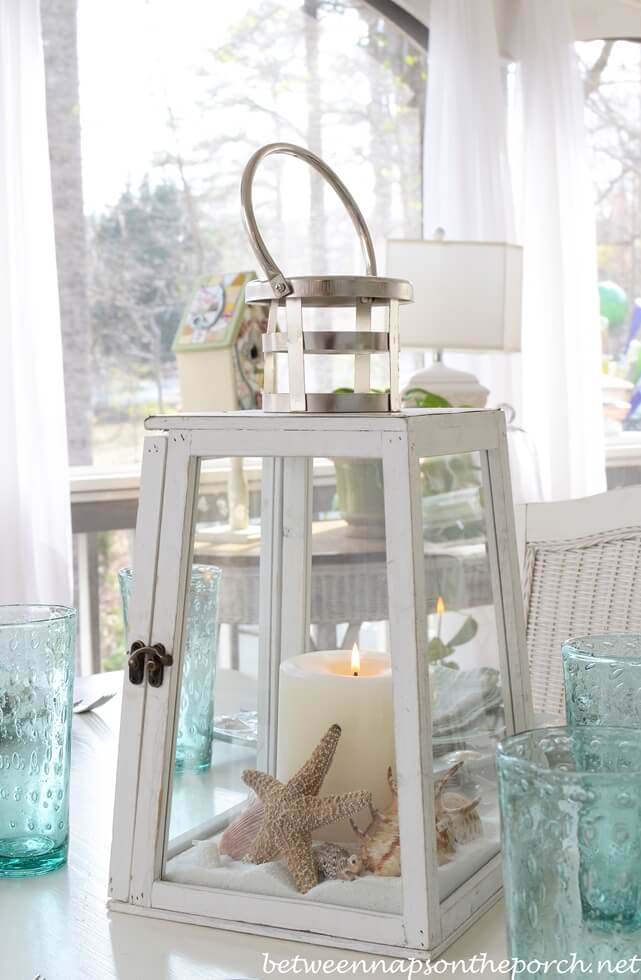 Looking for an easy beachy project? This one will take you less than 10 minutes if you have the supplies on hand.
A large lantern, a few seashells and starfishes, real or decorative sand and a candle. This arrangement will turn the lantern into a seasonal centerpiece.
19. Explore Crystallization of Seashells with Borax Powder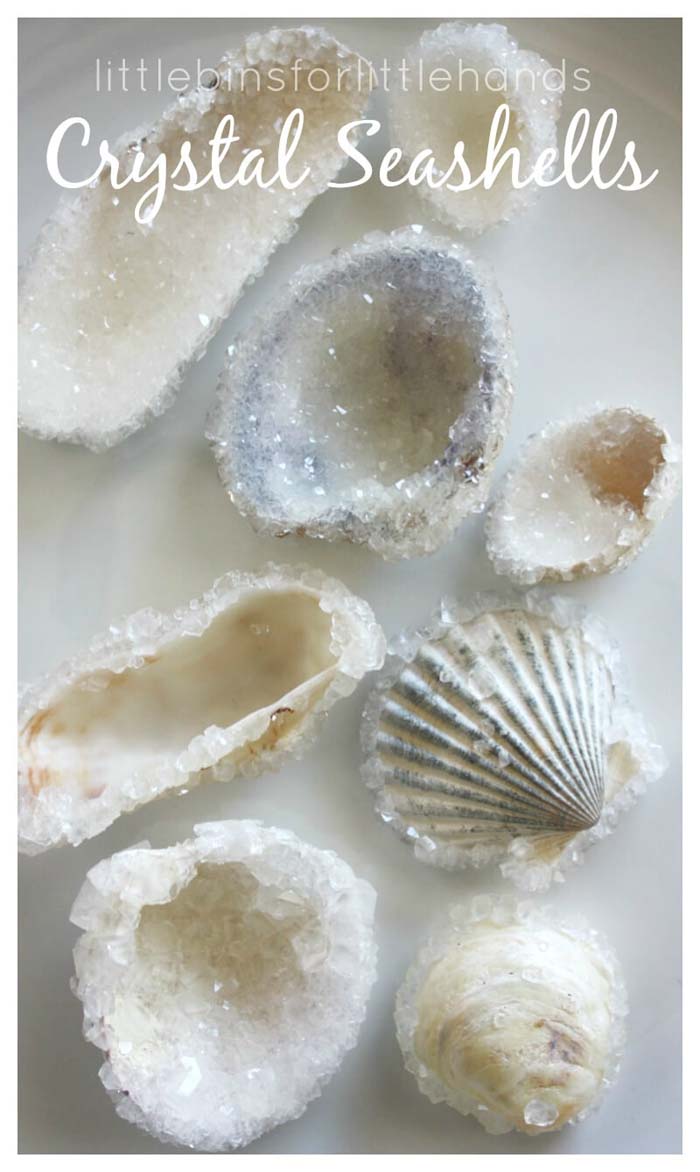 This experiment can go to the classroom activities but it will also give an interesting effect to the seashells for your beach art.
Mix the borax powder in a solution and see how the crystals form onto the nearest surface, the seashells in this case.
via Little Bins For Little Hands
20. Create a Beach Vacation Keepsake with a Shadow Box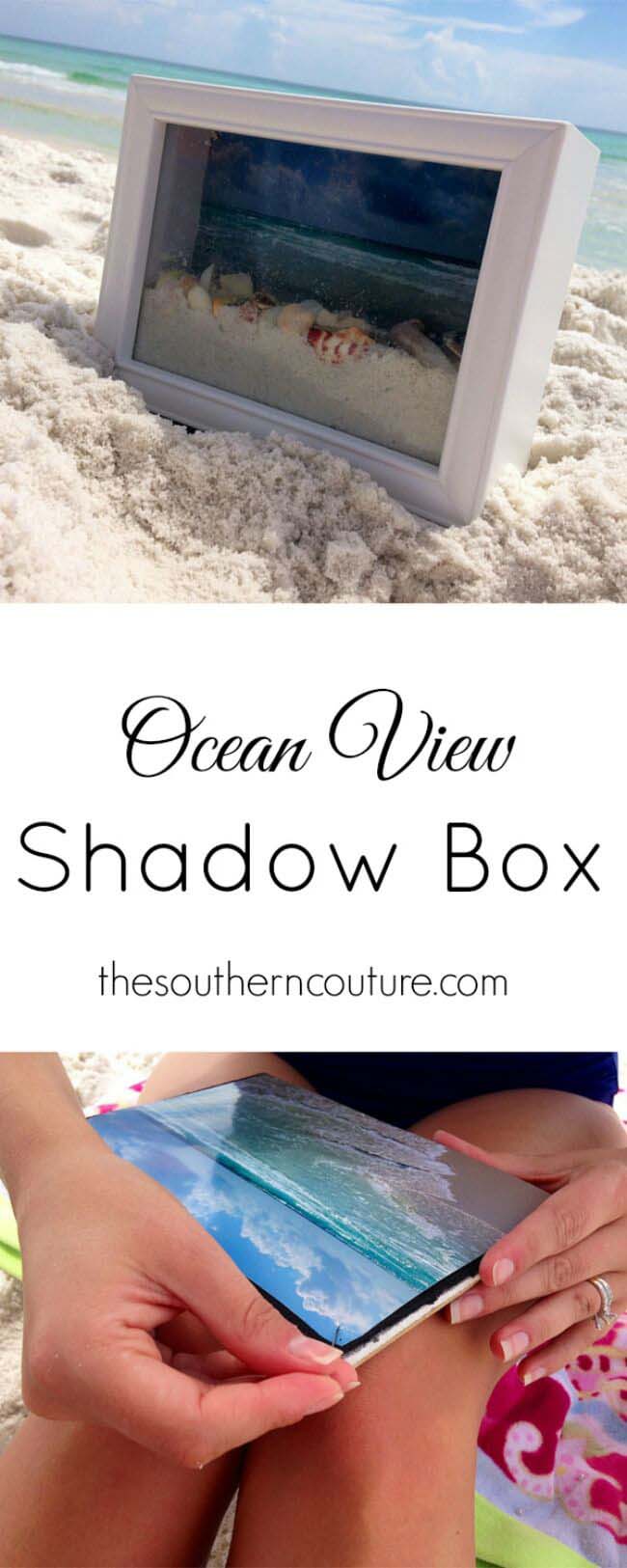 Keep the memories from the vacation alive by recreating them in a smaller version in an ocean view shadow box.
Usually, shadow boxes are not that cheap so take one at a sale or use a coupon. Use a photo taken from your recent beach holiday, glue seashells and fill in with sand.
via Southern Couture
21. Create a Summery Escape in Your Living Room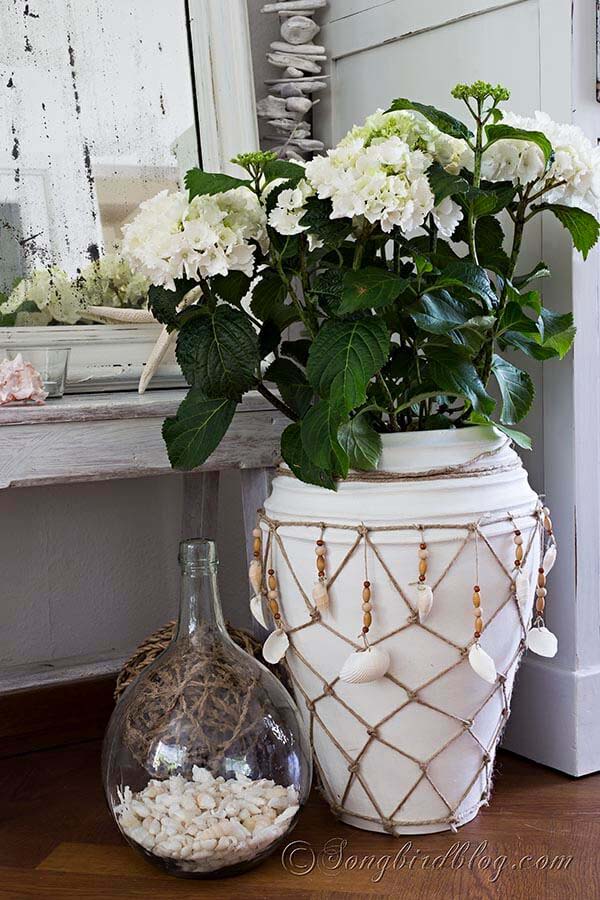 Create a summer corner in your living room to get drifted away in the memories any time you need a get-away.
A plain vase makes a huge difference with simple supplies like twine and seashells.
via Song Bird Blog
22. Add Beach-Inspired Romance with Candle Holders

Is there anything more romantic than the sound of the waves in the quiet night and the mist light from the moon and the stars?
Recreate the same ambiance outside your porch with beach-inspired candle holders. They are very easy to do and will add a touch of ocean romance to the place.
via Stone Gable Blog
23. Utilize Seashells in Garden Decorations for Unique Mosaics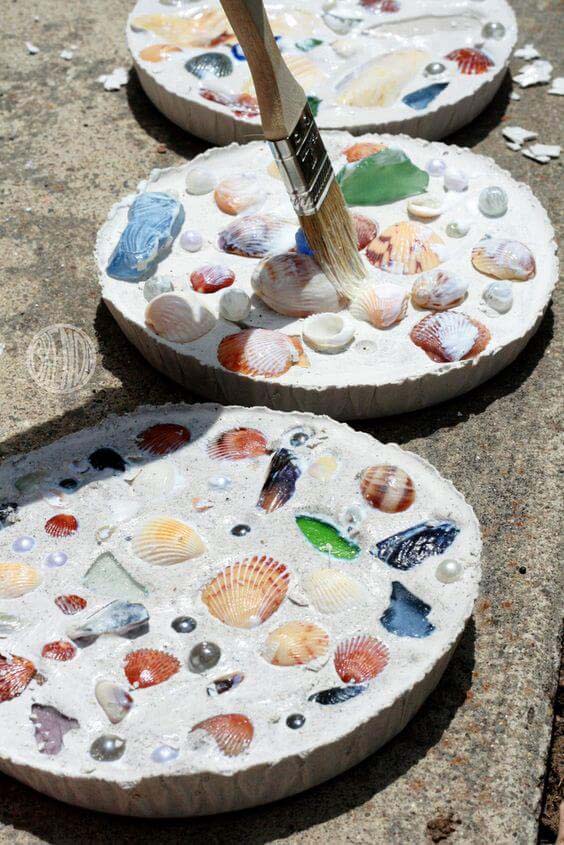 When the seashell collection is more than the crafts to incorporate, you have to be more than creative and find an application for your treasures.
These mosaics can be used as garden decorations around a tree or shrub or even for stepping stones.
via Alpha Mom
24. Revive An Old Piano Bench with Seashells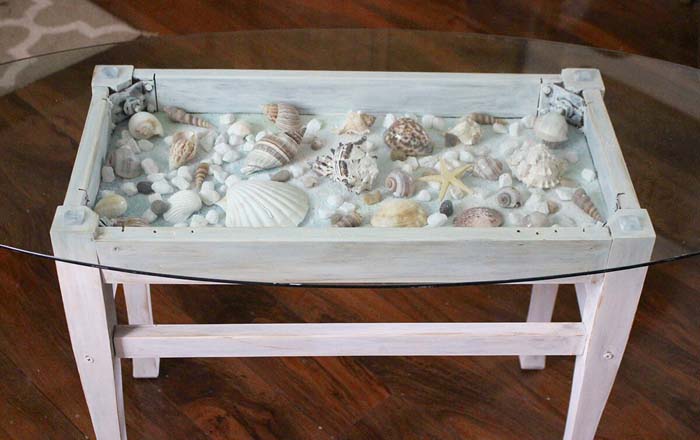 This shadow box is entirely a DIY art piece based on upcycling. The seat of an old piano bench is taken off and replaced with a glass top.
Before that, the wood has been painted in white and finished with a wax coat. Add seashells gathered through the years to display the special memories.
via Our Crafty Mom
25. Transform a Thrift Store Basket into a Beachy Decor Piece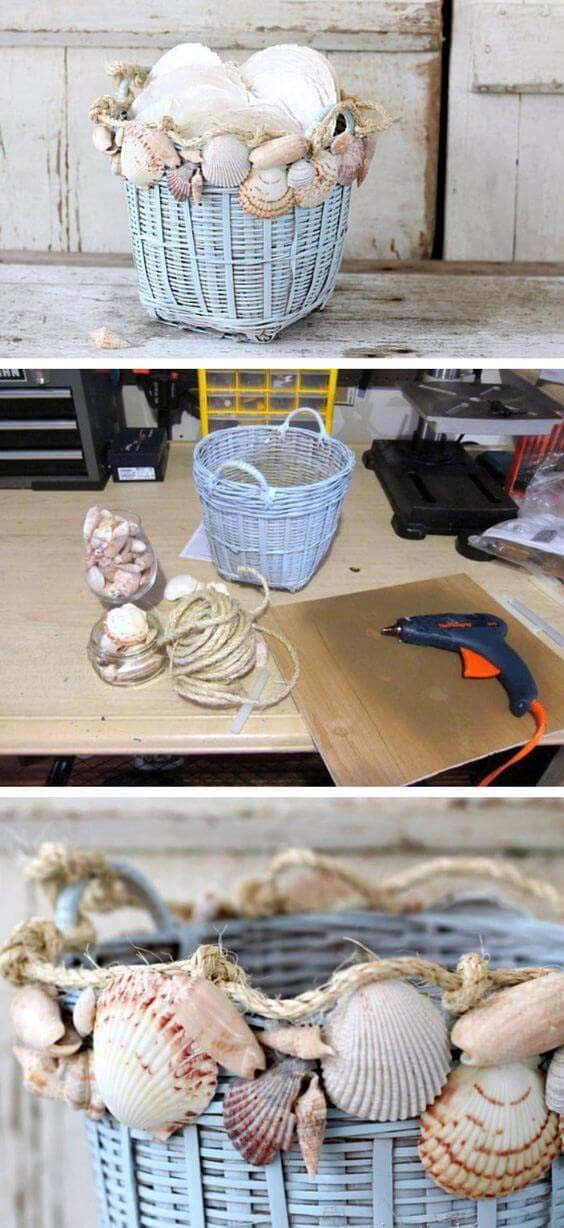 Farmhouse baskets are very beautiful, very practical and can be used in various applications. This one, for example, takes a basket fund at the thrift shop.
Since it will be decorated with beach motifs, the surface has been painted in a suitable color. Blue and white are usually related to the coastal design. Decorate the top with twine and randomly glued seashells.
26. Make Beach Room Decor with Seashells and Pearls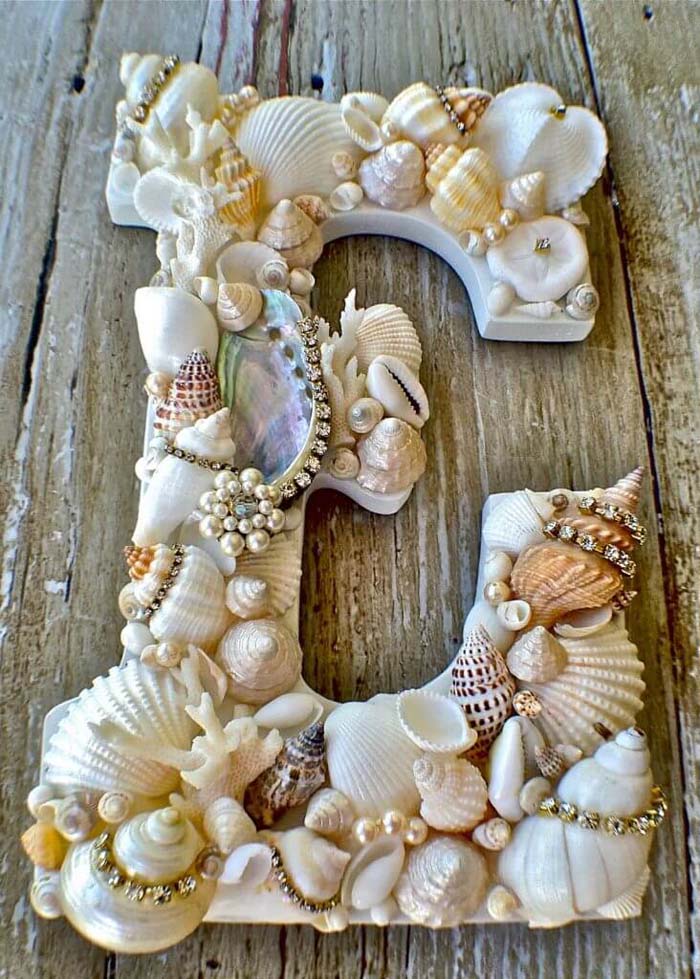 If you have a beach room or corner in your home, you can decorate meaningful to you letters with ocean treasures. Choose the glue depending on the letter material and start arranging the shells.
Use large, tiny, pieces of shells so that all empty spots are covered. For a more chic look, add a piece of pearl cord to some of the larger shells.
27. Enjoy Beach Ambience with Homemade Seashell Wind Chimes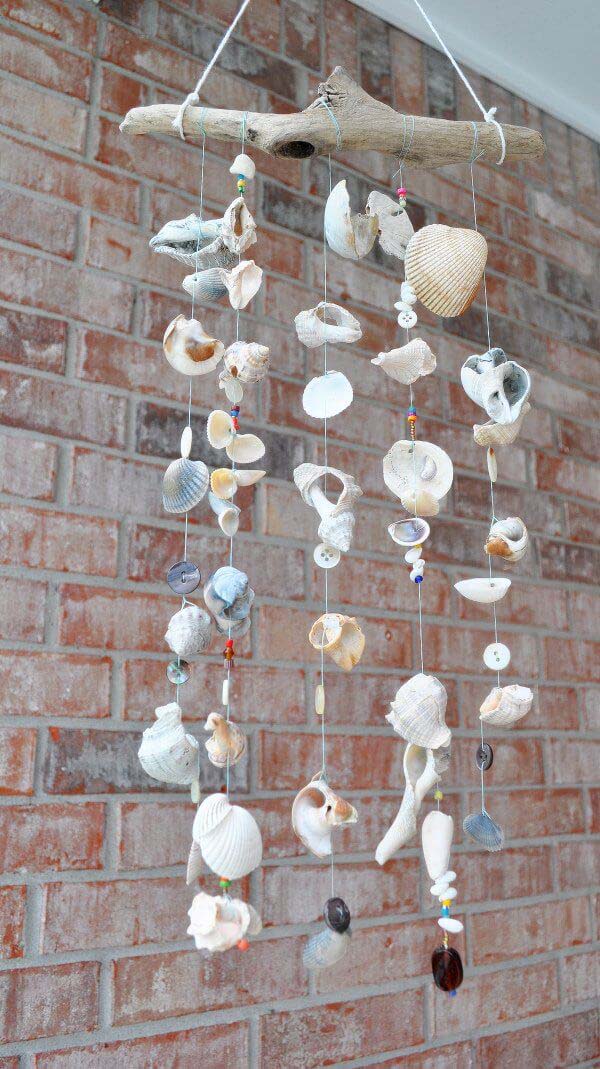 Seashell wind chimes are an irreplaceable part of the outdoor beach decor. Making them is very easy and requires materials picked up from the beach which means that their value as a memory reminder is guaranteed.
28. Craft a Beautiful Jewelry Holder Using Clamshells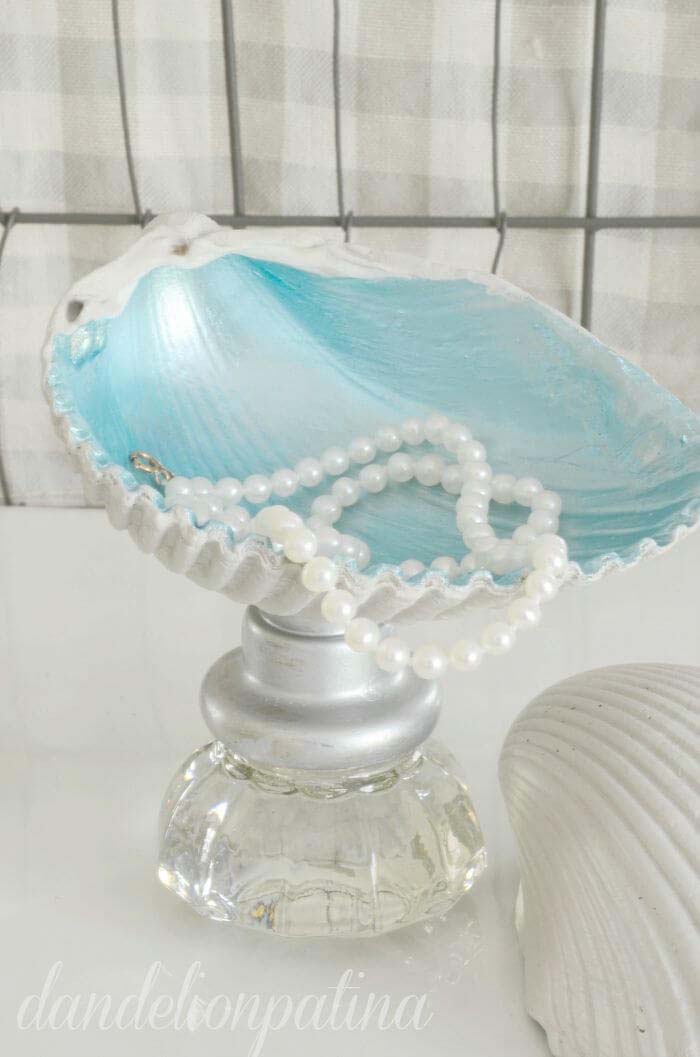 You have probably heard that clamshells hold pearls but have never actually seen it. Well, you may never see that but you can use it as an inspiration for a jewelry holder.
via Dandelion Patina
29. Transform Your Home with Faux Silver-Coated Seashells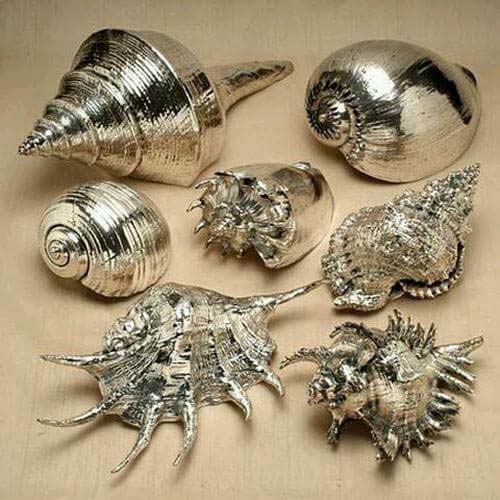 This photo is a presentation of silver-coated seashells which cost a fortune. Indeed, these will look fascinating anywhere- in a beach house, in a traditional home, in a minimalist loft.
Rather than breaking into the bank, we suggest that you make a faux silver coat with spray paint.
via Style Blue Print
30. Make an Impressive Seashell Wall Art with a Shadow Box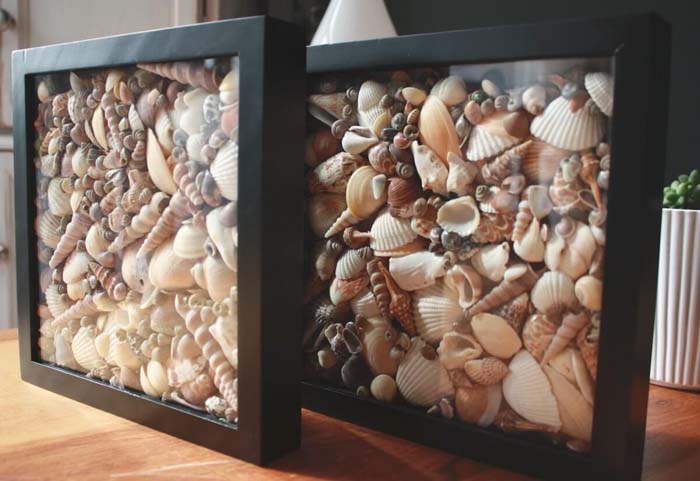 Want a more realistic shell wall art? As easy as a piece of cake, you just need to fill a shadow box with your seashell collection.
It will be a valuable complement to your beach room, beach corner or even as a lone decor in the hallway.
via It's The Little Things That Make a House a Home
31. Create Glam Gold Seashell Candles at Home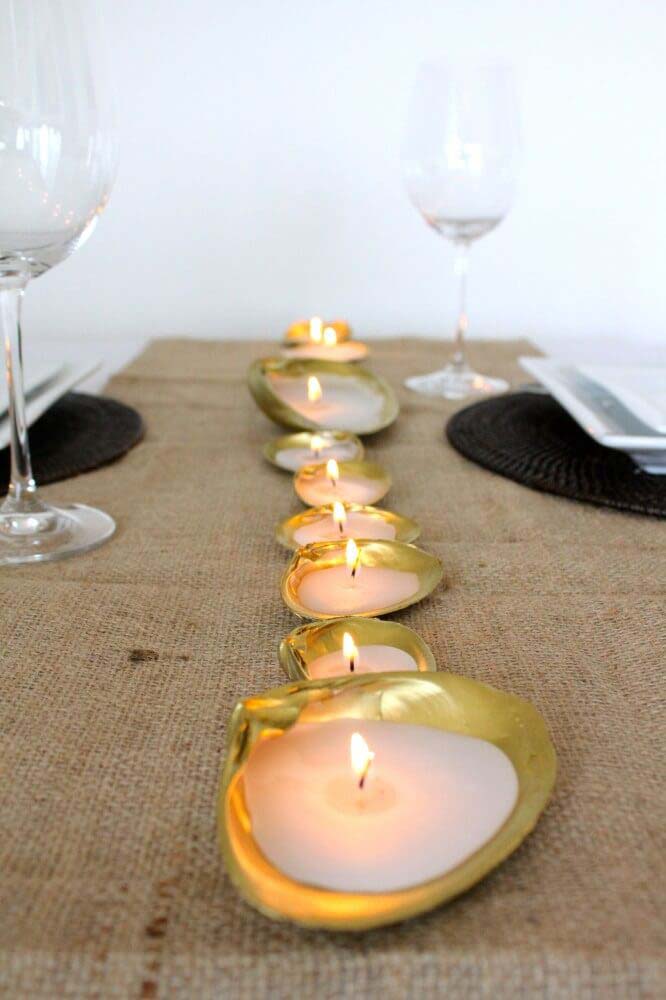 Remember how to make seashell candles? The difference about this DIY is that the shells are preliminary spray-painted to give them the glam gold effect. The process of making the candle is the same.
via Kumi Dreams
32. Use Veined Rapa Whelks as Decorative Succulent Planters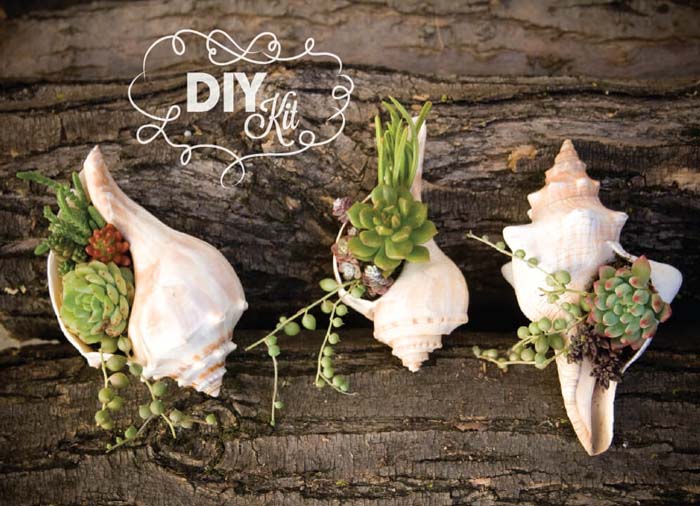 Do you know that when you put a veined Rapa whelk you can actually hear the ocean waves? Here is another way to use their relatively big cavity.
Fill it with soil and plant real succulents in it. That idea can be used not only as decoration but also as a gift.

33. Make Stunning Succulent Arrangements from Seashells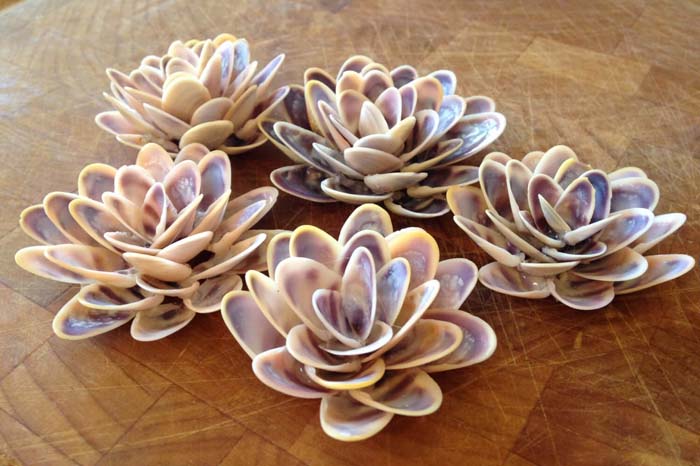 You can convert the seashells into marvelous succulents. Glue flat seashells following the pattern of the beautiful Rock rose.
For a bigger eye-catching impact, make more from these and group them in a large glass bowl, dough bowl or a tray covered with sand.

34. Coastal Glass Seashell Hurricanes for Bathroom Makeover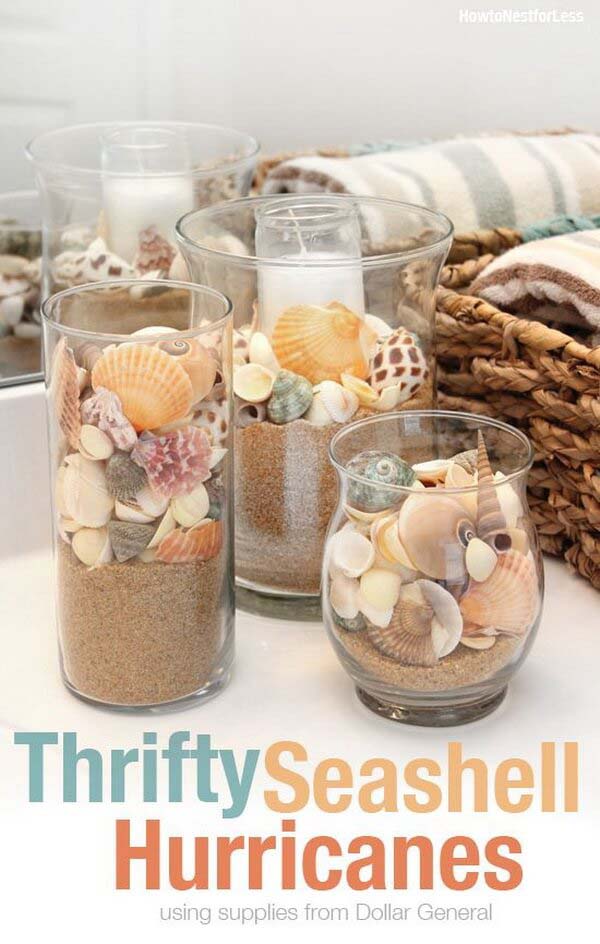 These glass seashell hurricanes have been made for a bathroom makeover decorated in the coastal design. They will look amazing next to a rattan basket holding the shower accessories or in a niche.