The bathroom is one of the most frequently used rooms in the house, which means that it's a prime candidate for a refresh.
If your bathroom is looking a little worse for the wear, there's no need to break the bank with an expensive renovation — these affordable bathroom makeover ideas can help you transform a powder room or master bath into the space of your dreams.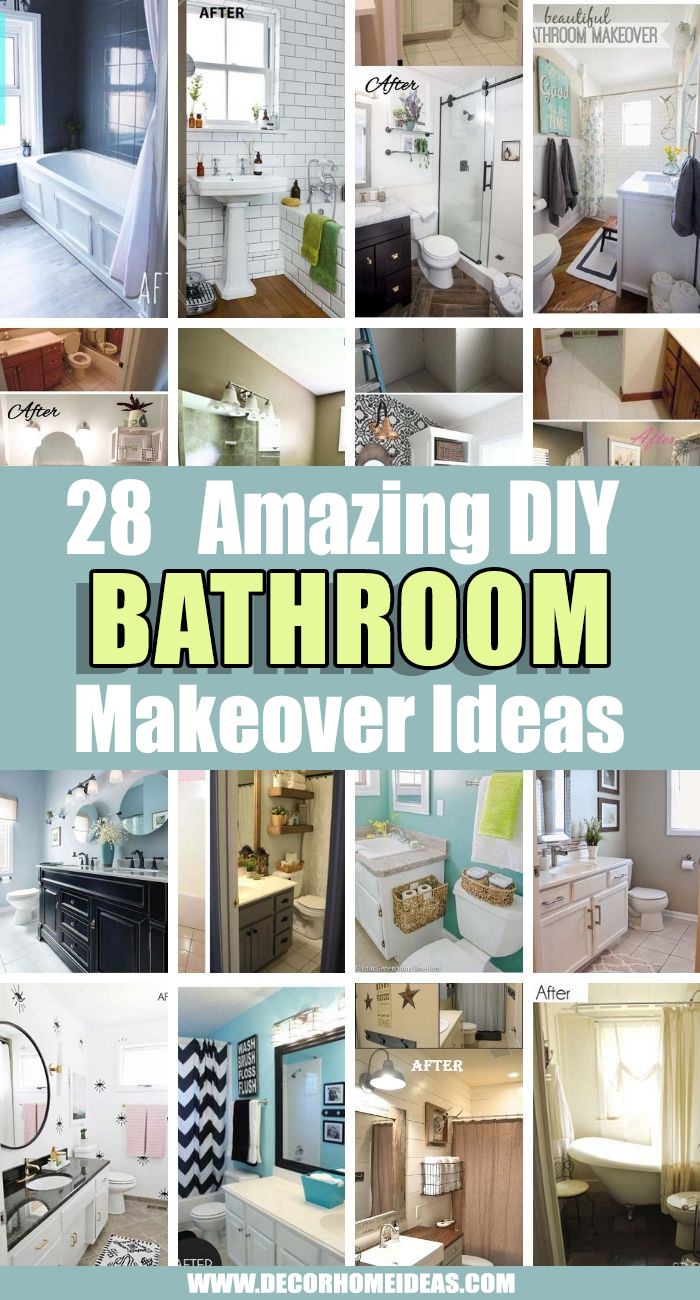 1. Paint And Fixtures Make A Difference

Can you believe this is the same bathroom?
It looks like a completely different space, but the makeover is deceptively simple — it's all about the paint.
A freshly painted vanity instantly brightens the room, setting off the wall color. Upgrade the light fixture, mirror, and faucet, add a simple DIY tile backsplash, and you have an elegant bathroom on a budget.
2. A Tile Wall Adds Bold Impact

An accent wall is an easy way to transform your bathroom.
When you're dealing with a high-humidity space, why not consider tile? The depth, texture, and geometry make a big, bold difference, whether you have a big bathroom or a tiny water closet.
For extra impact, pair your accent wall with coordinating mirrors, light fixtures, and vanities.
via Jenna Sue Design
3. Utilize Space With A Double Sink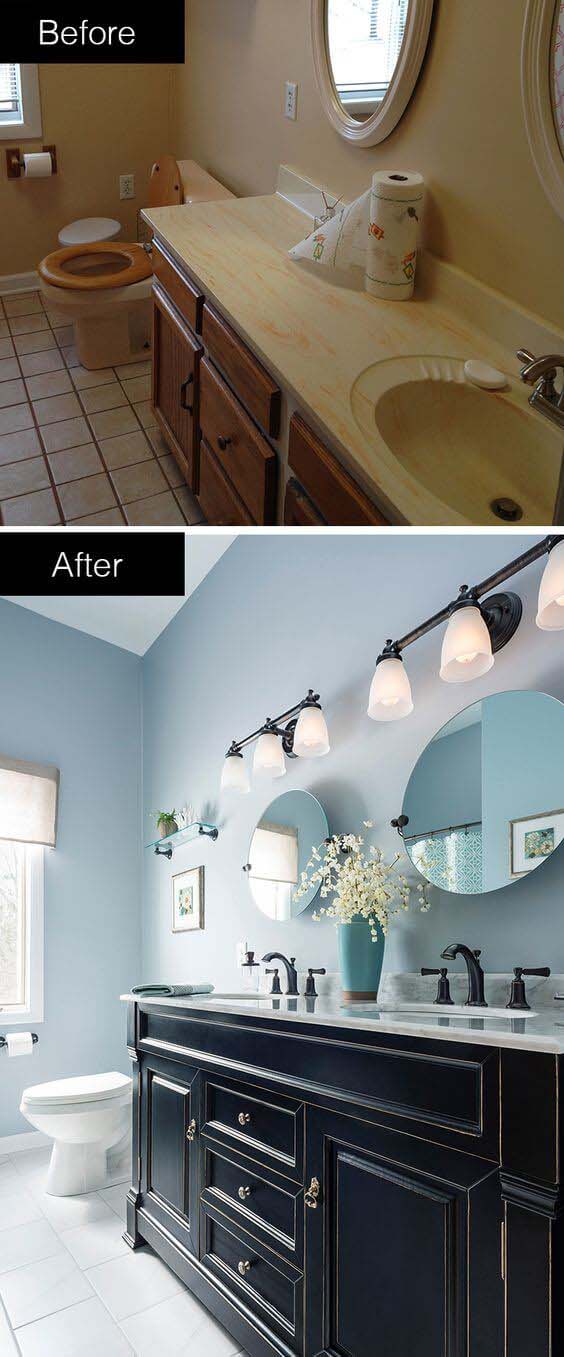 In a master bathroom or a family bathroom, a double sink can be a lifesaver.
Tip: Check double sink vanity models HERE
Here, the owners replaced the original vanity with a two-sink model for an instant upgrade; to save money, simply replace the countertop and repaint the base.
A coat of paint creates a bright, spa-like atmosphere, and elegant mirrors and light fixtures complete the design.
via Lowes
4. Small Changes Add Farmhouse Style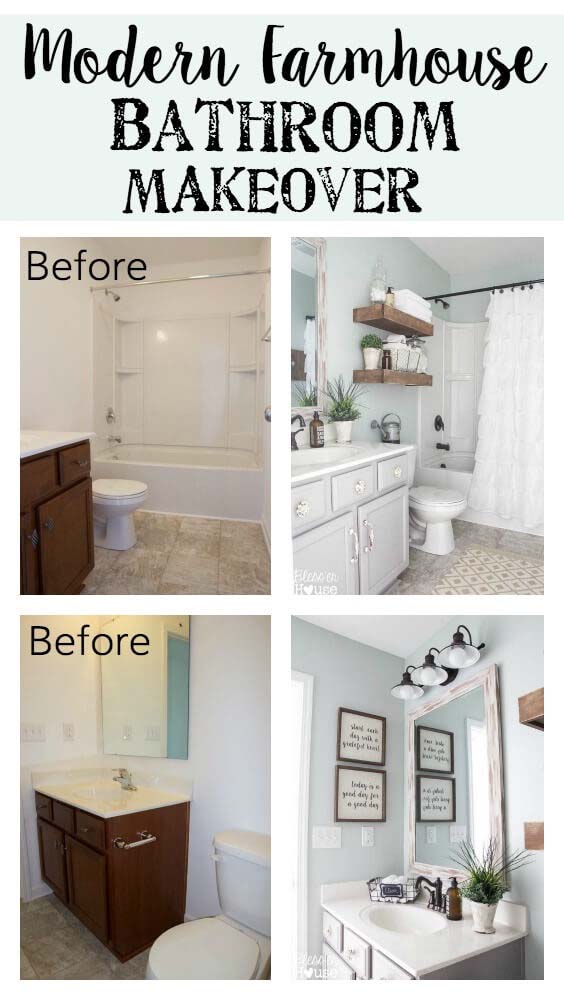 When you're looking to get the biggest bang for your buck, the bathroom is a great option — since it's small, every change has a strong impact.
This bathroom is a masterpiece of small updates: a new rug, shelves, shower curtain, and decorative accents add a fun, fresh look.
The biggest change is the vanity, which looks like new with a new paint color and updated hardware.
via Bless'er House
5. Add Built Ins For Stylish Storage

Does your bathroom have an unusual box structure that covers plumbing or other elements?
This homeowner shows you how to transform an unsightly bump into a beautiful built-in.
With a bit of molding and paint, you can create a stunning spot to store all of your bathroom essentials.
via White Cottage Home and Living
6. Updated Vanity And Mirror

Here's another testament to the restorative power of paint — a bright shade of white makes your bathroom feel big and airy.
To complement the new look, add an updated vanity; it plays perfectly against a new mirror and coordinating shelves.
The effect is intentional and stylish, thanks to additions like a plant and industrial-chic storage.
via Cherished Bliss
7. Easy Cabinet Makeover Project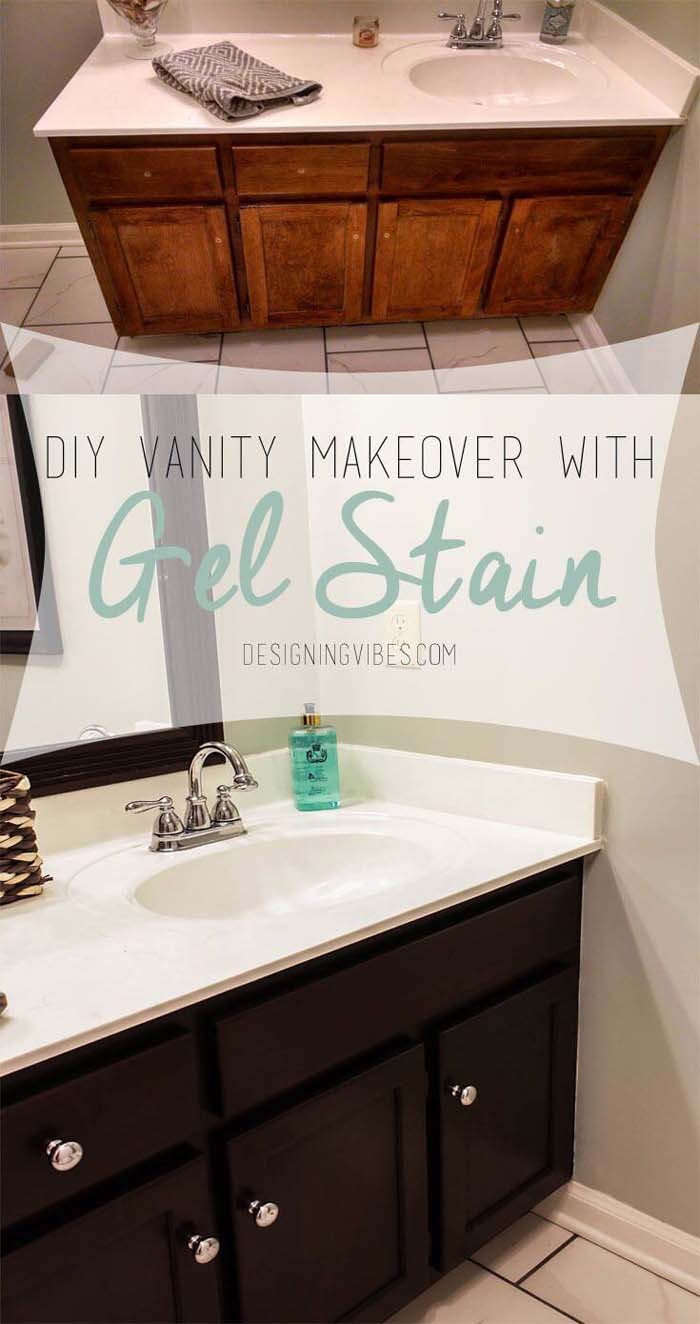 In most bathrooms, the vanity is the biggest and most visible piece.
With a coat of gel stain, you can turn an old, unsightly cabinet into a gorgeous, perfectly finished work of art.
The best part? You can do it yourself without spending much money.
via Designing Vibes
8. Stay Consistent With Your Design Style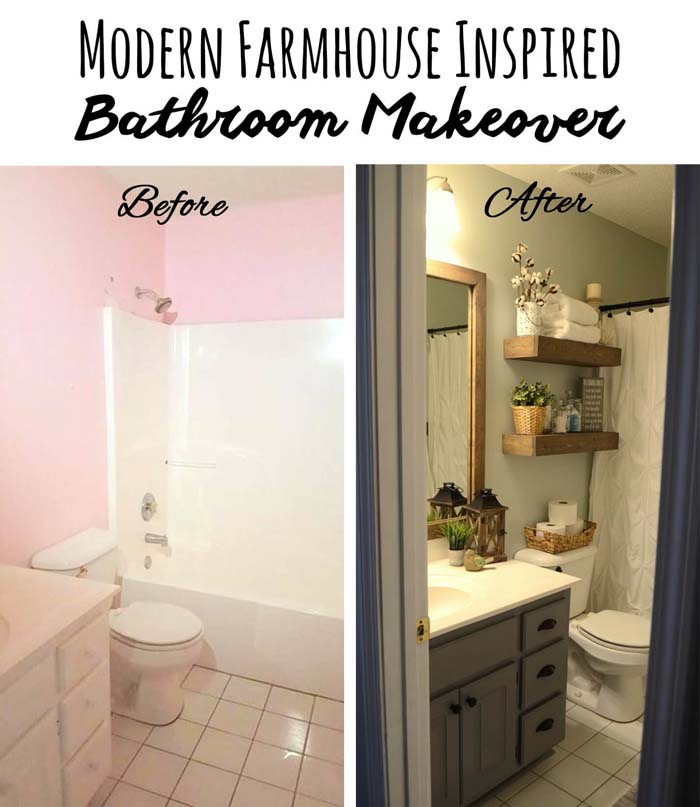 Is your bathroom plain and boring? Refresh it quickly and affordably by picking a theme.
Here, a farmhouse theme makes it easy to choose a ruched shower curtain, rustic wooden accents, and decorative plants.
The soft grey vanity complements the relaxed, country-style vibe.
9. Small Details Create Budget Friendly Makeover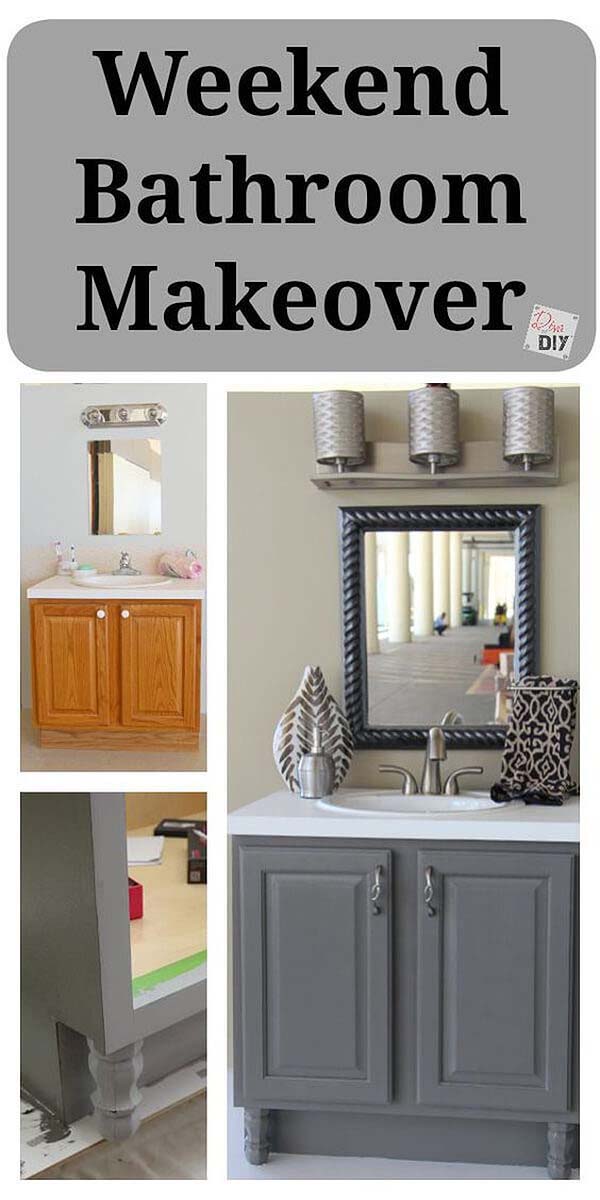 Take your powder room to the next level with small, thoughtful design details.
Start by painting or resurfacing the vanity; then, upgrade your light fixture and replace the mirror.
As a finishing touch, add affordable decorative accents that match your new color scheme — soap dispensers and hand towels can tie everything together without breaking your budget.
via Diva of DIY
10. Work With The Space You Have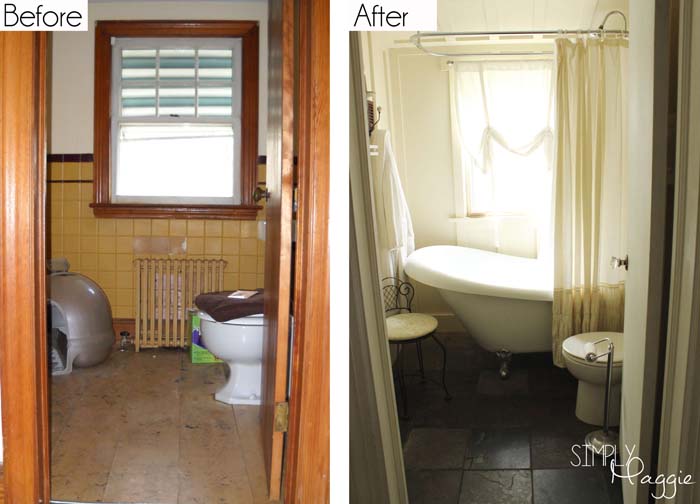 Plumbing is the biggest obstacle to bathroom renovations.
If you don't want to reroute your pipes, simply work around them. In this space, a gorgeous clawfoot tub sits in front of a radiator without blocking the heat.
Since the water lines for the toilet and sink are on one wall, it's easy to add a supply for the shower and tub.
via Simply Maggie
11. Outdated Bath Gets Western Makeover

Are you tired of your country-inspired decor?
Don't let it go to waste — you can repurpose many of the same items with a chic Western update.
All you need to do is switch out the accessories and decorations, and your bathroom will feel like a brand-new space.
12. Brighten With Paint And Shiplap

When you're doing a bathroom makeover on a budget, start with the biggest items first.
In addition to painting the cabinetry, the homeowner removed some of the bottom drawers to create trendy open shelves.
New lights draw the eye upward, adding a pop of style.
Don't have money for new mirrors? Sand and refinish the frames on your existing mirrors for an affordable update.
via Lily Pad Cottage
13. Bright Colors Maximize Low Light

If your bathroom has tiny windows, stick to one rule of thumb for your makeover: use light colors.
Lighter tones reflect the natural sunlight, making the space feel more cheerful and spacious.
You don't need to use an all-white palette — colors like teal and bright green work wonders.
14. Update Your Mirror With A Frame

Frameless mirrors were popular in decades past, but today, they can make your home feel dated.
To make a huge impact, add a simple frame to your mirror using molding. It's cheap, easy to do, and it instantly makes the room feel fashionable.
Strengthen the effect by adding matching framed art and coordinating hand towels.
via Oh Me Oh My Blog
15. Banish Bulk In A Small Bath

Bulky cabinets and dark colors can crowd a bathroom, making it feel small and cramped.
There's no need to get rid of your valuable storage — just replace it with open shelving in light colors.
Open sides reduce visual bulk and increase ventilation, so your space is less prone to mold and mildew.
via Seas The Moment
16. Go For Bright Open Walls

Does your small bathroom have dark wallpaper borders, curtains, or decorations?
Switch them out for light paint and white accessories for a dramatic transformation.
If you want a bit of variation, stick to pastel accents or natural wood tones for a look that's chic and airy.
17. Make Over Your Tub Facing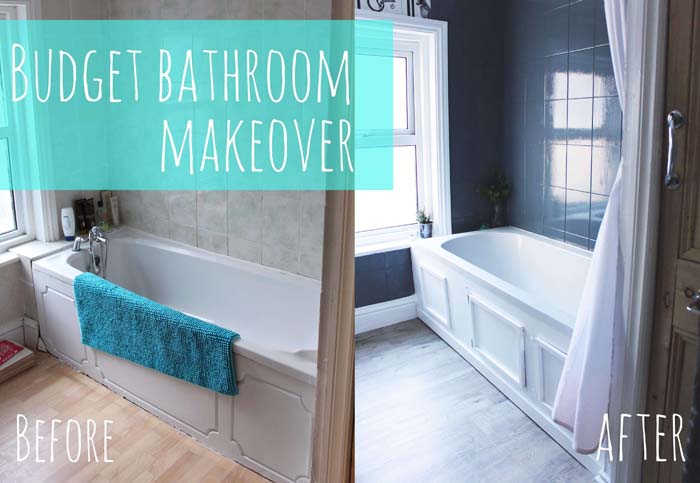 Save money on a bathtub makeover by adding a new facing.
This inexpensive update makes the tub look newer and more elegant, but it's exceptionally affordable.
If the tub is the centerpiece in your bathroom, this small change can make a big difference.
via Handmade Home
18. Extend The Walls With Glass Doors

Outdated shower doors can bring down even the most beautiful of bathrooms.
The solution is simple: replace the old frosted doors with a glass version.
Tip: Check shower door offers HERE
The clear glass opens up the space, and the frameless design looks cool and modern.
via Decorist
19. Lighten The Space With Paint And Shine

A boring bathroom becomes a trendy escape with two simple shifts: new paint and beautiful artwork.
In a big space, a soft color looks warm and inviting. To complement your chic new walls, add interesting art that speaks to your personality.
If you have room in the budget, invest in a gorgeous new mirror for an extra-elegant look.
via Live Love DIY
20. Cover An Outdated Vanity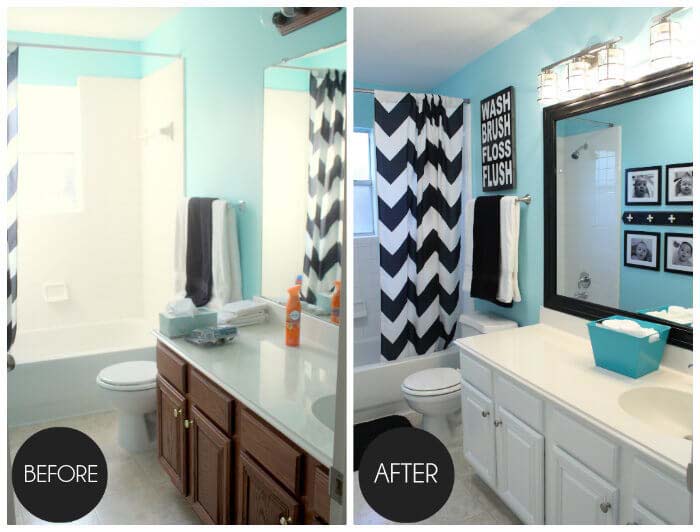 Is your bathroom vanity made from dated wood? A coat of white paint hides the original stain color.
Don't stop there — here, a new mirror and a fun light fixture turn the space into a designer-inspired space.
Note how the black and white accents pop against the bold turquoise walls, creating a room that looks crisp and pulled together.
21. Bold Design Choices Freshen Dated Bath

If you love big, bold decor statements, why not use your bathroom as a blank canvas.
Bid farewell to minimalism and embrace fun, eclectic pieces. License-plate accents, a full-height ladder towel rack, and a wall-mounted jewelry tree create a personality-packed room that will make you smile every morning.
22. Easy Wall Changes For Big Impact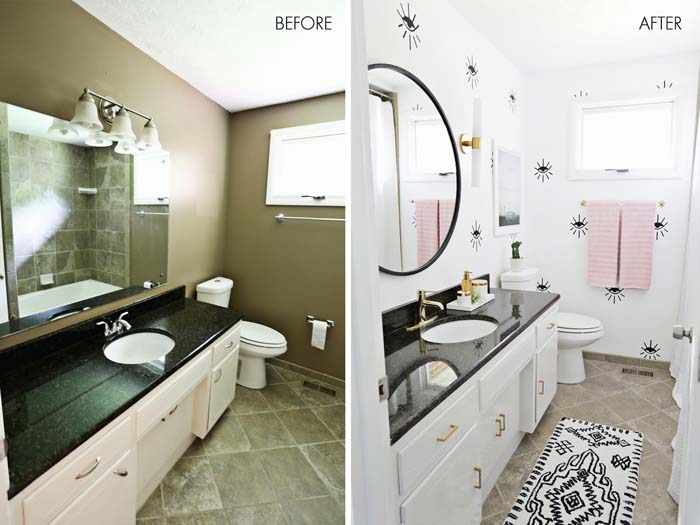 A dedicated color scheme is a great way to unify your bathroom and turn it into a showpiece. In this bathroom, it's all about the black and white color scheme; it makes the pale-pink towels pop.
The bold eye-print wallpaper and tribal rug make a striking statement — and since you can install them yourself, the project is budget-friendly!
via A Beautiful Mess
23. Full Bath Subway Tile Makeover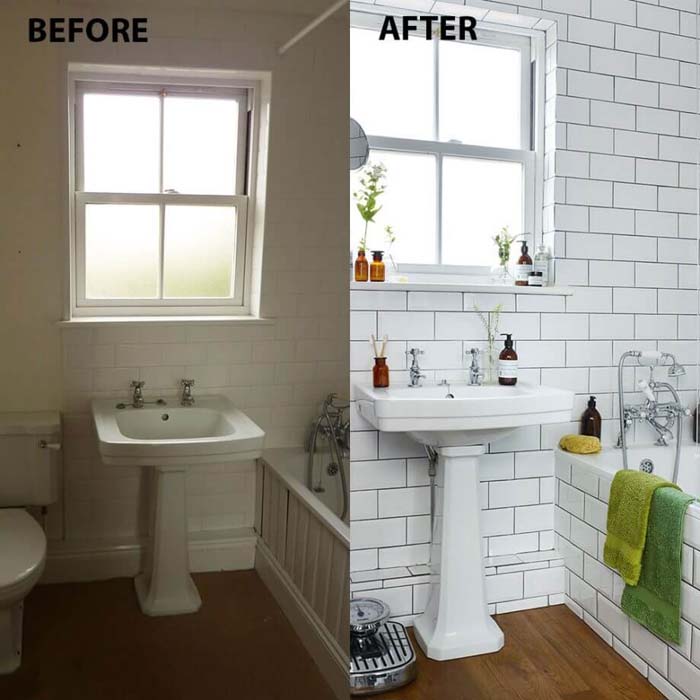 Do you know how to install tile?
Change your bathroom's personality with an eye-catching tile.
White subway tile is a timeless classic; pair it with a dark grey grout to show off your tile work.
We love how the tile extends to the front of the bathtub, creating an unexpected three-dimensional effect.
via Ideal Home UK
24. Stunning Budget Friendly Elegance

Can you believe that this stunning bathroom makeover is possible on a budget?
It all starts with the coordinating paint on the vanity and walls; they set the stage for the elegant molding accents on the lower half of the room.
From there, add a selection of shimmering gold accents and a few tasteful decorations — you'll have a magazine-worthy space in no time at all.
25. Big Impact From Tile Changes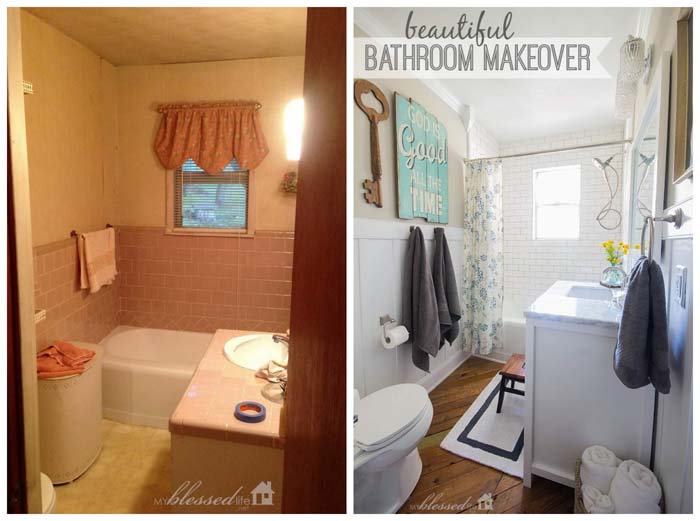 A bathtub is great for kids, but a shower is a must as your family grows.
With a new tile wall and a carefully hung shower curtain, you can complete a tub-to-shower conversion.
You might need to add a bit of piping, but the job can be completed in an afternoon with the help of a licensed plumber.
via My Blessed Life
26. Make A Big Statement In A Small Space

When you're refreshing a small powder room or guest bathroom, don't be afraid to choose bold details such as unexpected mirror shapes.
The unique design makes a big statement, changing the vibe of the space without requiring a big investment.
Add an equally eye-catching piece of wall art for a total transformation.
via Hello Hayley
27. Complement, Don't Fight A Unique Floor

Are you stuck with funky floors?
You don't need to rip them up to makeover your bathroom — just choose colors that don't clash with the floor.
With white walls and accents, these hexagonal tiles become a design feature rather than an eyesore.