Got a craving for country living? Prefer casual simple comfort? An affinity for basic furnishing? If you replied 'yes' to some of these questions, the country-style might be the right fit for you!
Integrate rural references, ancient bath, cute patterns, and farmhouse style furnishing to craft a serene, easy-feeling country bathroom at your home.

I've got 19 lovely country bathroom decorating ideas for you, so let's get started!  😎
1. Upcycle an Old Ladder into a Rustic Bathroom Storage Unit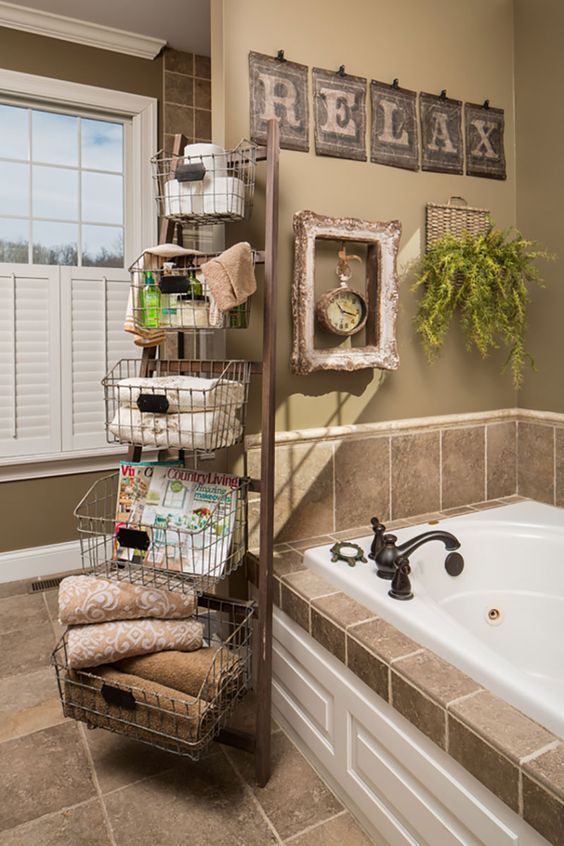 Photo:Credit
To start, I've got an example of a perfect country bathroom decor for you.
The farmhouse elements are well integrated into this lovely contemporary space. The natural foliage gives a strong fresh accent of color.
2. Add Rustic Charm to Your Bathroom with Mason Jars Set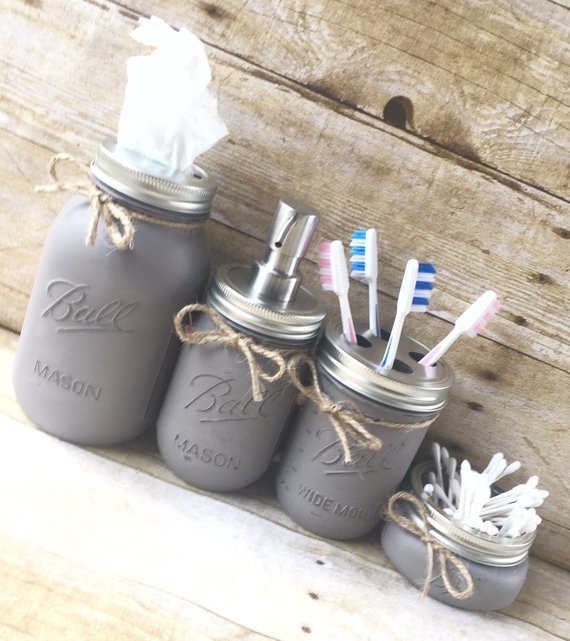 If you want to re-create a rustic country bathroom decor, this beautiful DIY set of Mason Jars, including one for tissues, a soap dispenser, and a toothbrush holder, might help you.
Choose the color that will fit you best and go for it!
Learn More: Here
3. Enhance Your Bathroom with a Rustic Toilet Sign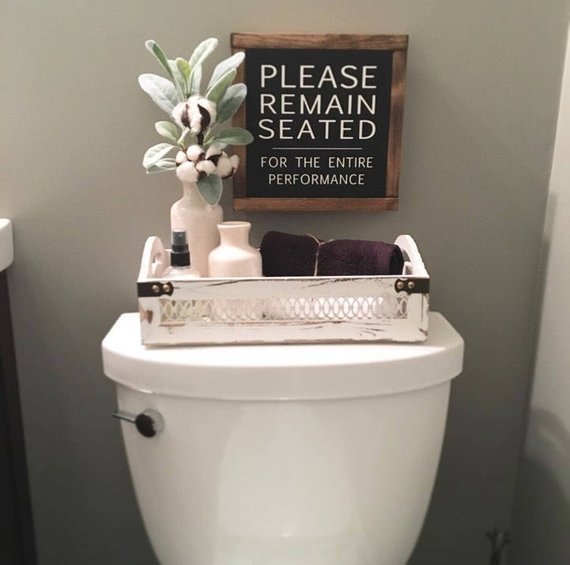 Do you wanna be different? I'm sure that you will fall in love with this unique country bathroom wall decor – a fun handmade "Please remain seated" bathroom sign.
Learn More: Here
4. Bring Farmhouse Charm with Metal Bucket Sinks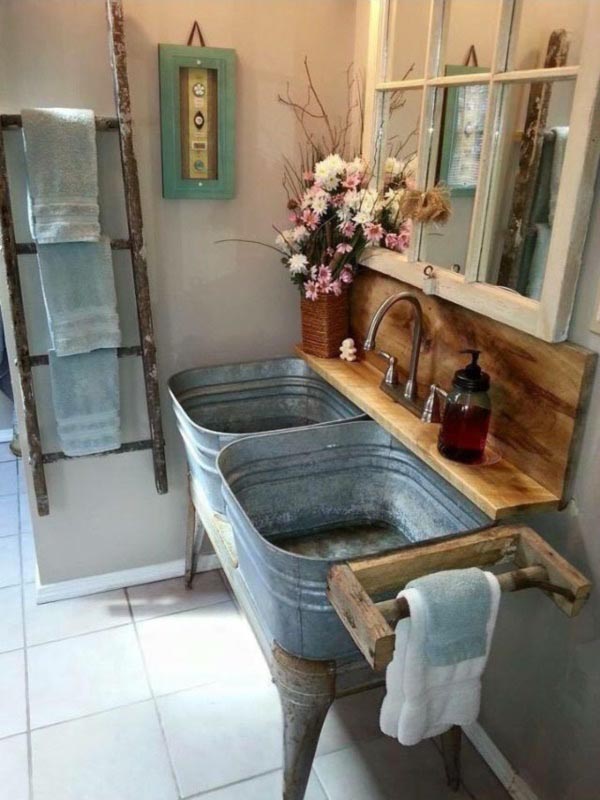 The galvanized bucket used as an ad hoc sink is a timeless country themed bathroom decor.
It is inexpensive, durable, rust-resistant, and easily fit the rest of the interior.
5. Get Creative with Bathroom Storage with a Ladder Shelf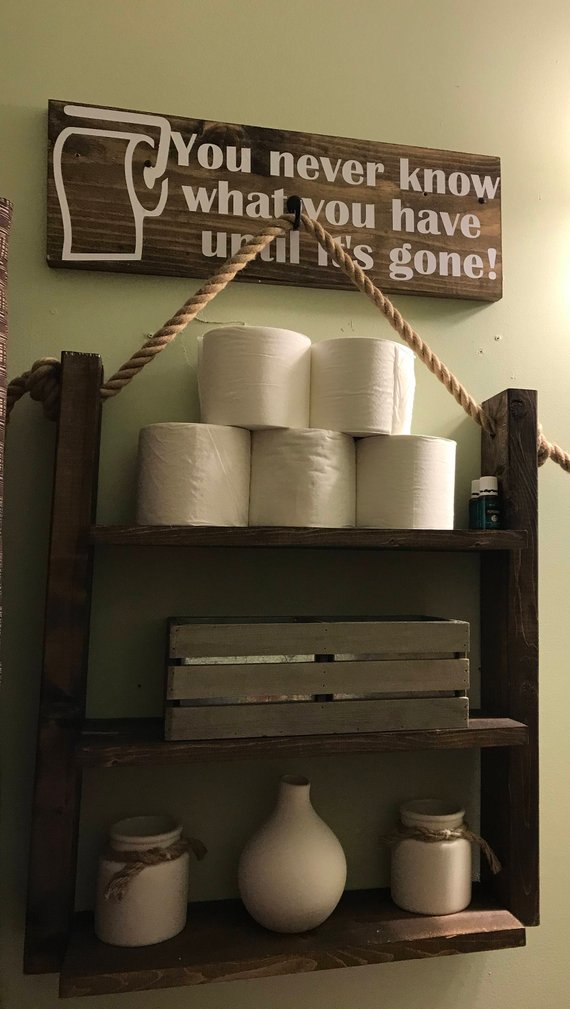 The French country bathroom decor on the picture above presents a homey ladder shelf made of rustic wood and rope.
The designer combines several techniques such as calligraphy, woodworking, carpentry, and painting. Such a wonderful piece of art!
Learn More: Here
6. Maximize Your Bathroom Space in Style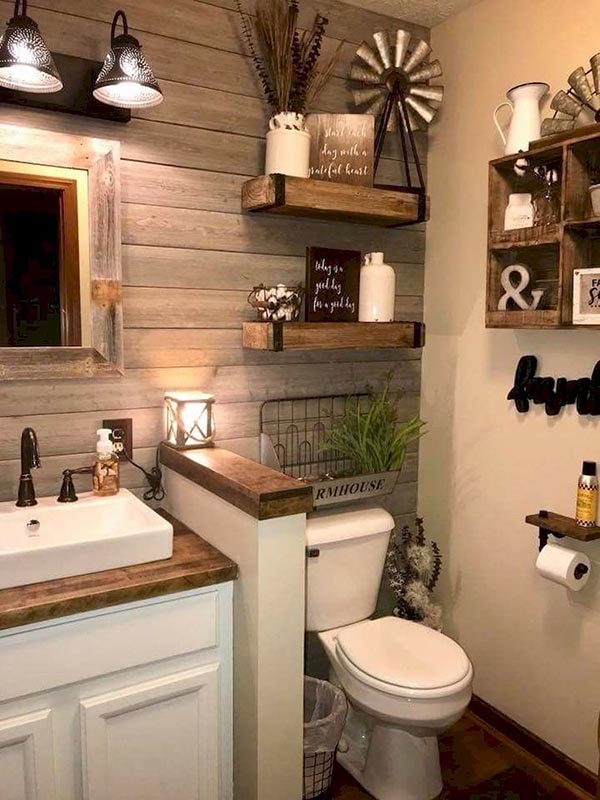 Photo:Credit
Pick up some soothing paint for your farmhouse style bathroom walls to create a relaxing vibe, great for a good soak after a long day.
This design, in particular, gives you tons of smart country style bathroom decorating ideas that won't necessarily cost a fortune.
7. Liven Up Your Bathroom with Cute Wall Art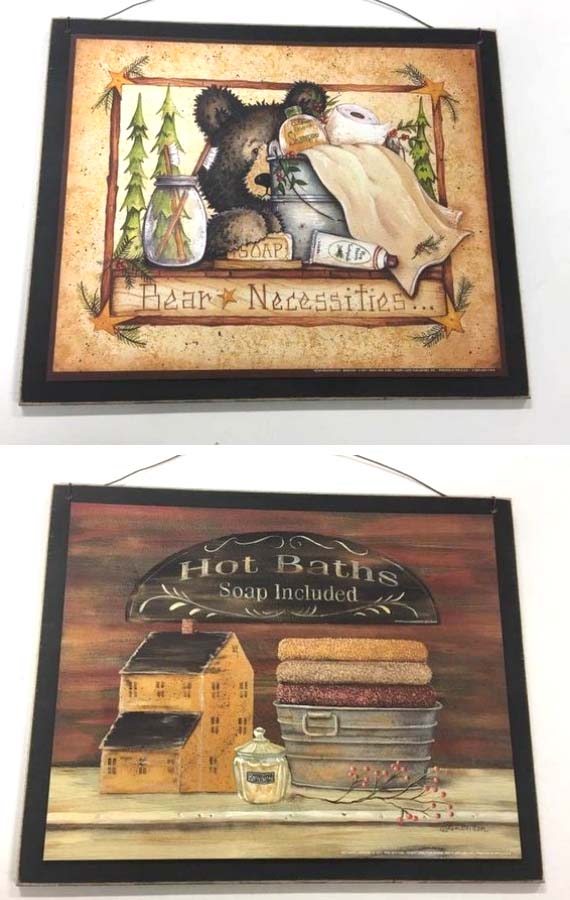 Once I saw these Bear Necessities wall art decoration, I knew I should share it with you!  😀
It is a great country bathroom decor that would complement the style of every cabin interior.
Learn More: Here
8. Transform Your Bathroom with a Rustic Vanity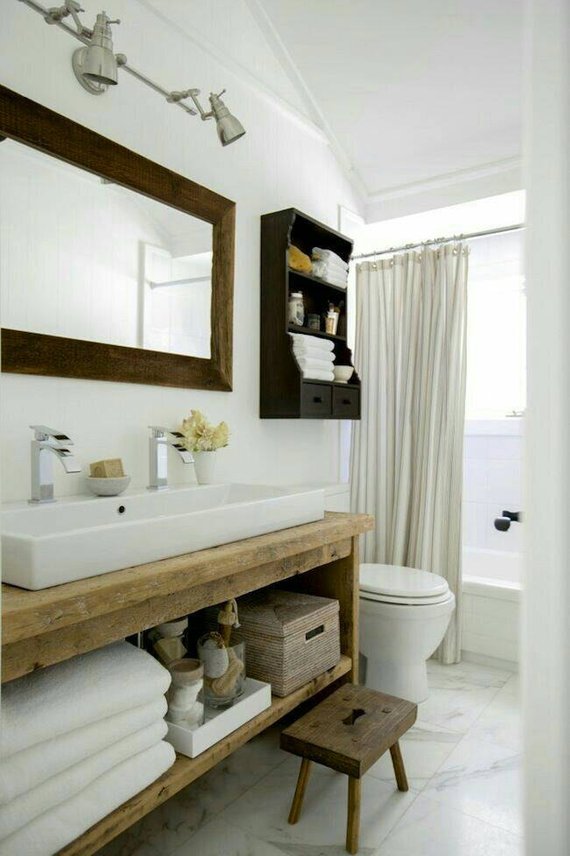 If you want to enjoy a unique, one-of-a-kind country primitive bathroom decor, why don't you have a look at this beautifully made, custom designed bathroom vanity?
It reminds me of my grandma's old house in the countryside.
Learn More: Here
9. Escape to a Beautiful Bathroom Retreat with Bath Flowers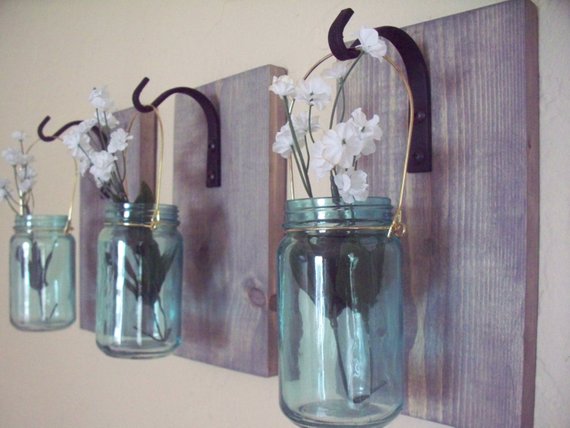 Here is another country bathroom wall decor I'd love to show you!
This lovely set of 3 turquoise jars that are firmly fixed to knotty pine wood is a refined detail to create a romantic bathroom design.
Learn More: Here
10. Bring Fun to Your Bathroom with a Rustic Wall Sign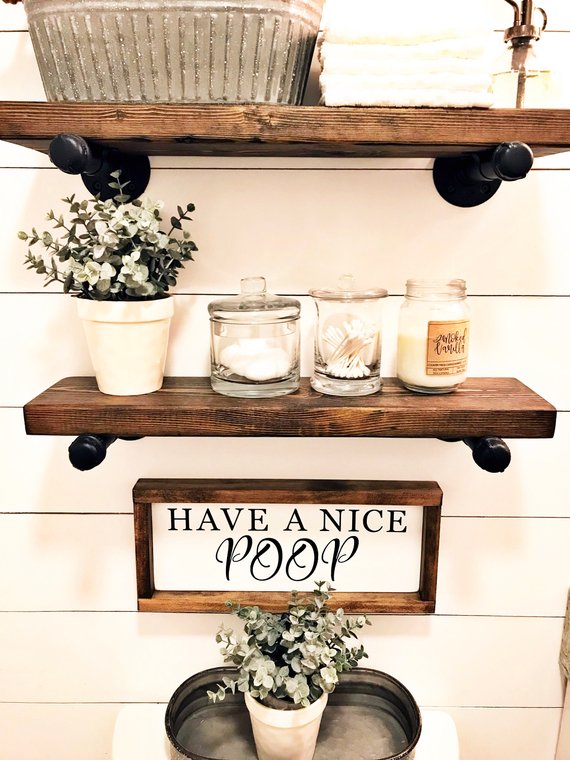 Continue the rustic feel by using this fun farmhouse inspired bathroom wall sign, fully made of natural material.
It surely makes a strong statement. Are you planning to add it to your list of country bathroom decor accessories?
Learn More: Here
11. Create a Charming Rustic Atmosphere with Mason Jars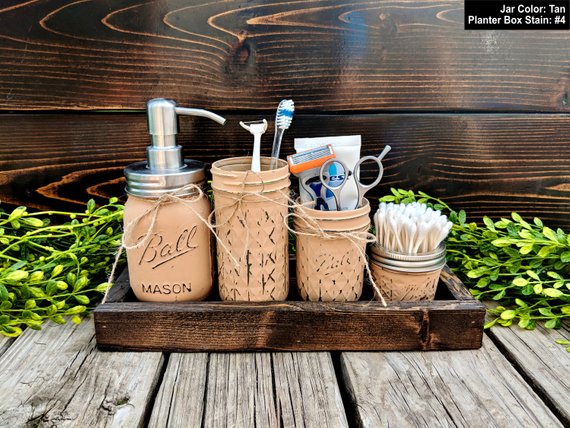 Let's take a look at another classic DIY Mason jar set for a country bathroom decor.
Designed with active, working women in mind, these painted Mason jars in a rustic wood tray help you to organize your chaotic day!
Learn More: Here
12. Add a Classic Vibe to Your Bathroom with Vintage Furniture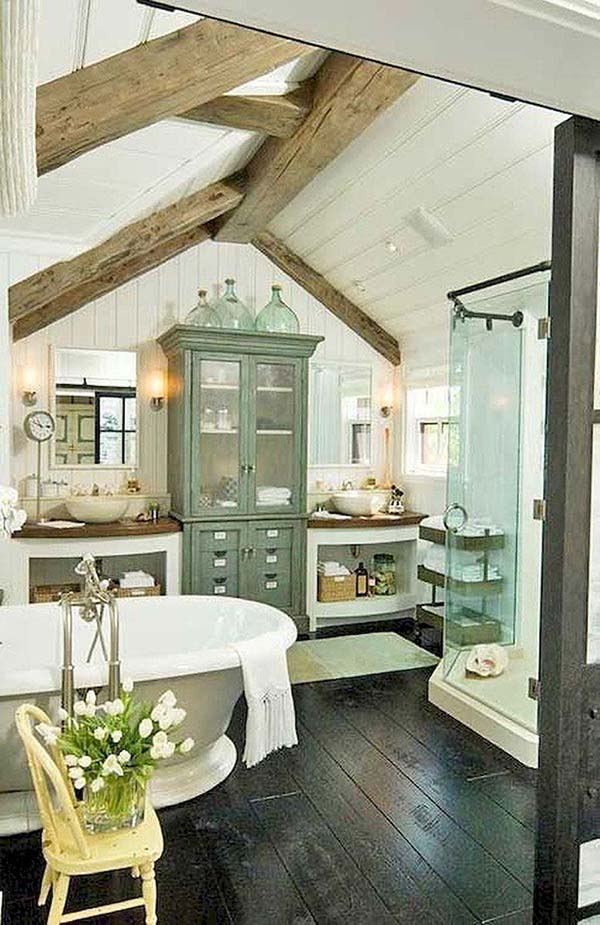 Photo:Credit
In my opinion, this is the ultimate country style bathroom decor!
I love the stylish vintage elements in this master bedroom, such as the dark wooden floor, the ancient cabinets, the soapstone countertops, and the footed tub.
13. Impress Guests with a Bathroom Door Sign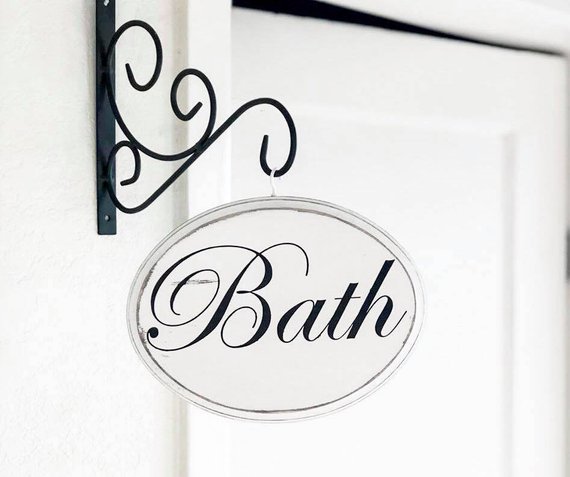 Your guests will never ask you again where the bathroom is and you get to brag with your great taste at the same time…this country-style hanging bathroom door sign is a show stopper!
Learn More: Here
14. Craft an Unrivaled Space of Simplicity and Style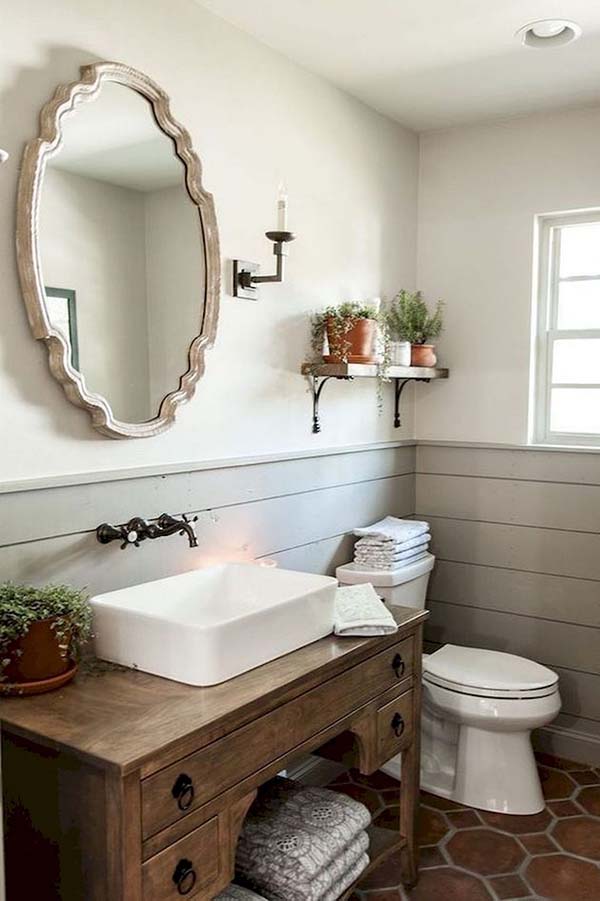 Photo:Credit
A little bit country, a little bit cottage, this master bathroom design combines the old and modern.
References to the farmhouse theme include the shape of the mirror frame, the ancient cabinet, and the lighting.
15. Take Bathtime to the Next Level with a Wooden Caddy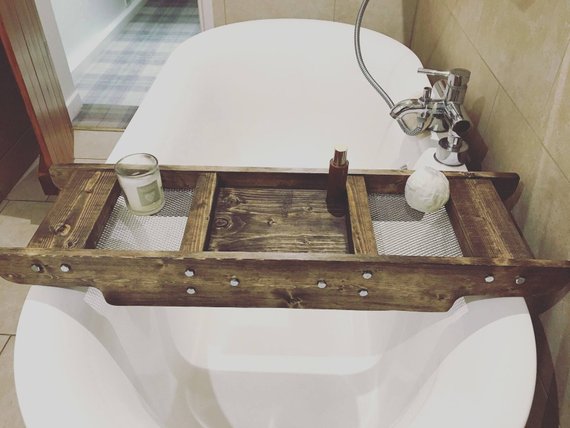 This redeemed wooden DIY bath caddy will be the ideal country bathroom decor if you want to make a strong statement.
It is glazed and curved at the edges to fit cuddly onto the edges of your bathtub, firmly fixed together with galvanized coach head screws, giving it a very solid and rustic feel.
Your neighbors will surely envy you!  😎
Learn More: Here
16. Create a Chic Laundry Corner with a Wooden Sign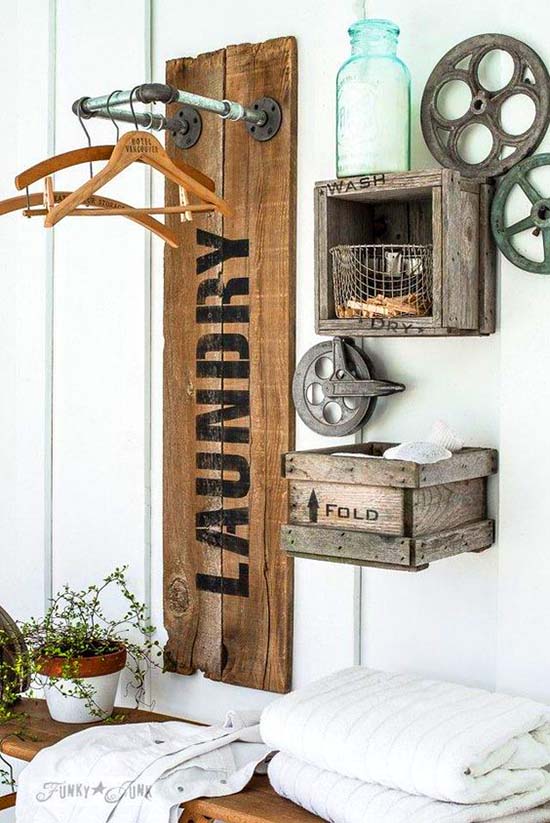 Photo:Credit
This spacious master bathroom's vestal shine is well-balanced by a bunch of rustic vintage treasures.
17. Lay Out Your Bathroom Rules with Cute Hanging Signs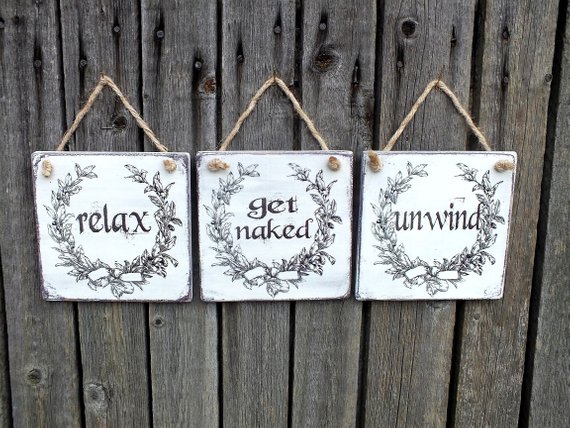 The DIY country bathroom decor sets are an adorable way to bring the farmhouse into your home.
This set of 3 rustic rules wall sign will be surely the centerpiece of your master bathroom.
Learn More: Here
18. Utilize Distressed Wood Furniture for a Vintage Vibe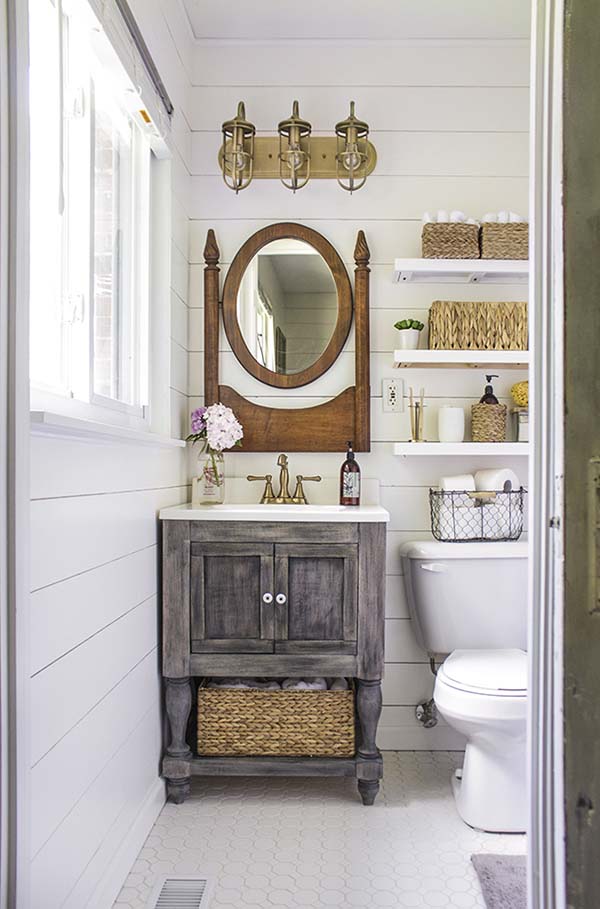 Photo:Credit
The circle mirror and the industrial lights detailing are adding an additional charm to this tiny master bathroom. 
Moreover, the violet flowers keep the all-white palette from feeling too cranky or cold.
19. Bring Rustic Elegance with a Wooden Bathroom Shelf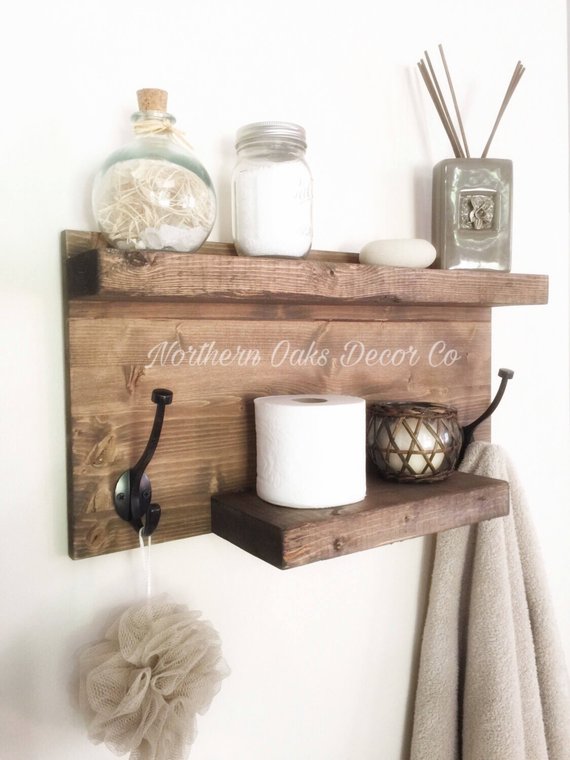 This DIY rustic shelf, made of wood and metal, is the perfect country bathroom decor and a real space-saver!
Tip: You can easily personalize it with a sign or name of your choice as the logo you see is for picture purposes only.
Learn More: Here
Hope you gained some inspiration to remodel your washing space and will use at least one of our country style bathroom decorating ideas to make over your bathroom with a breezy flea market touch and rough-hewn motif. Enjoy!