Decorating a gray and white bathroom can be intimidating, but you can get it done with a few tips. As usual, it starts with some careful planning and the right materials.
The results can be stunning. We've compiled a list of grey and white bathroom ideas to show you how others have succeeded in achieving the bathroom that spa dreams are made of.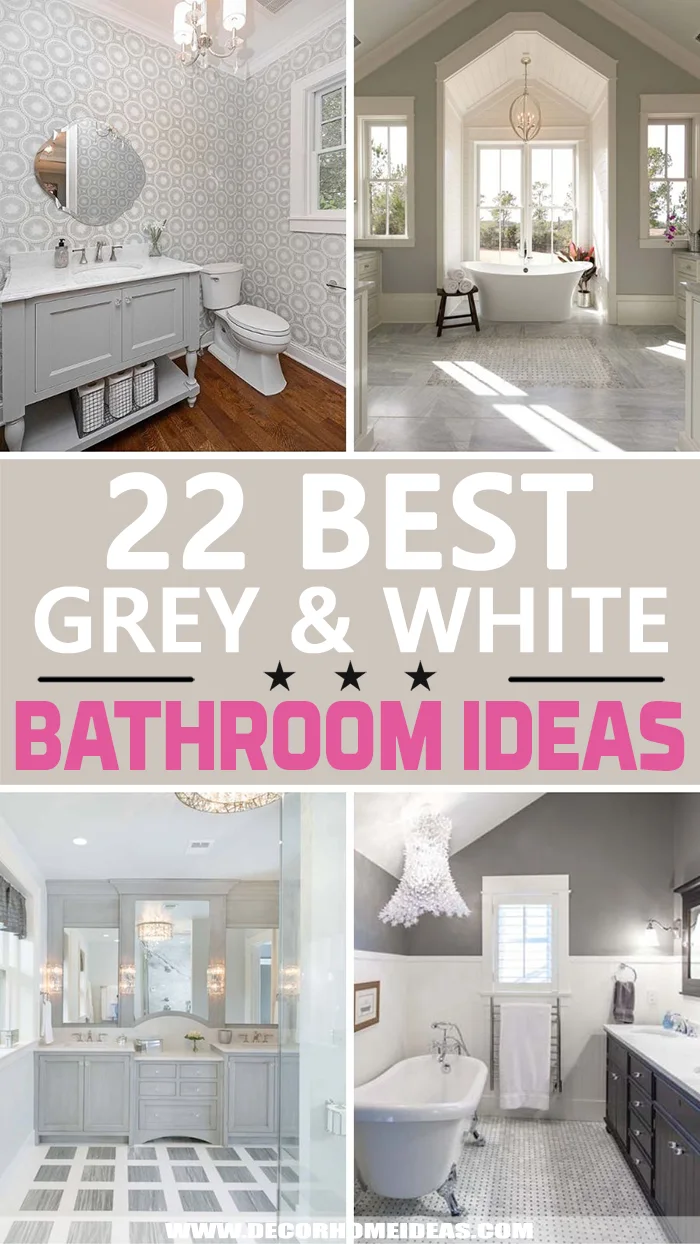 What colors go with gray and white in a bathroom?
Navy blue. It's the go-to combination when you are thinking of a nautical theme. Like any other color, you can add in this classic as part of your bathroom decor. Think about towels, bathmats, or shower curtains.
Soft pink. Soft pink or rose adds a feminine vibe. It works well with gray paint colors that have red undertones.
Black. Since it's a neutral color, you can add black as a fixture or part of the decor. It's a dramatic color, so be sure you use it sparingly if you're trying to create a relaxing mood.
Green. Soft greens bring a mellow vibe to a bathroom. Choose a gray with green or blue-green undertones for the most cohesive look.

Metallics. Nothing brings glamour like metallics. Gold and silver can be added just about anywhere. Use a light hand because a little goes a long way.
How do you style a white and grey bathroom?
Add Texture. Textures add depth and interest. While standard decor items like a bath mat and towels will work, also consider adding thorough paint techniques such as a whitewash.
Play with Patterns. Mixing patterns is a great way to add visual interest to a neutral color scheme. Consider using a patterned shower curtain or a geometric bath rug to add texture and pattern to the space.
Use Style-centric Accessories. Accessories can make a big impact, but be careful to choose items that are in keeping with the overall style. For instance, don't use a crystal chandelier in a coastal bathroom.
Introduce Natural Elements. The beauty of organics is always welcome in a bathroom. It's a simple addition that allows your décor to change with the seasons.
Experiment with Lighting. Warm lighting creates a relaxing ambiance. Dramatic lighting fixtures can be the focal point of the room.
How do you add warmth to a gray bathroom?
Keep it personal. You may want to add an accent color that resonates with you. Organics textiles and natural plants (or natural-looking plants) can go a long way to bringing warmth. You can even use framed prints of plants. The greenery brings warmth every time.
1. Fantastic Farmhouse Bathroom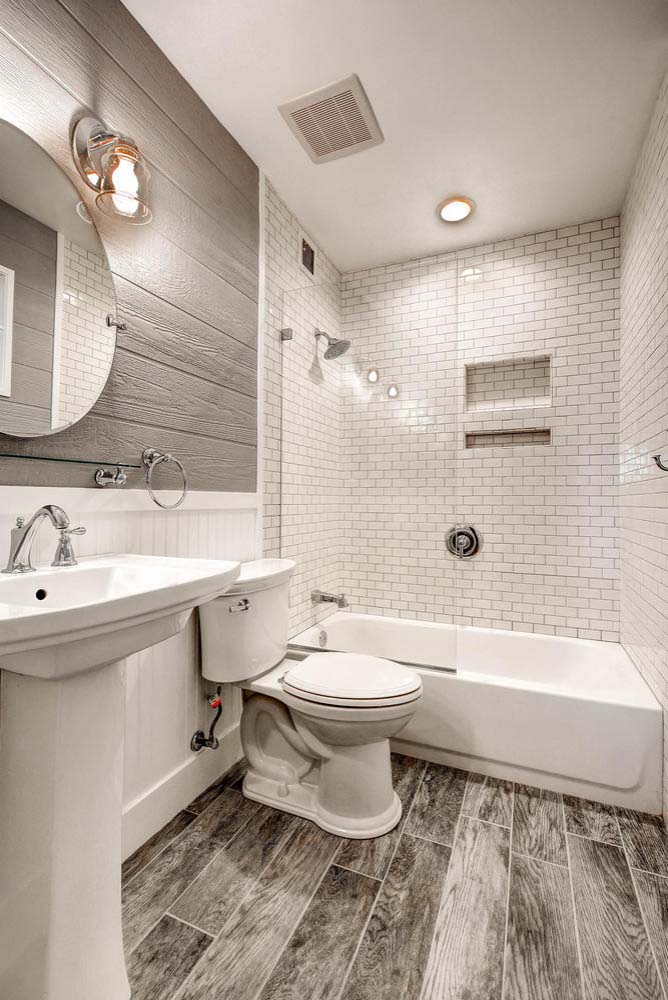 A grey hue doesn't have to mean slate. The floor tiles in this farmhouse bathroom have a wood finish, perfecting the shiplap wall.
2. Darker Gray Enhances Marble Tile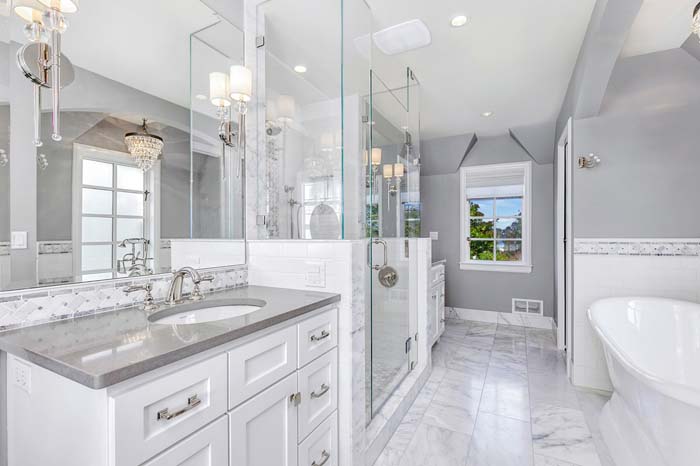 Grey is a great colour choice for a modern look with the veining found in marble tile. The walls and countertop bring our attention to the beautiful floor tile.
via Beverly Bradshaw Interiors
3. Frosted Windows and Wood Panels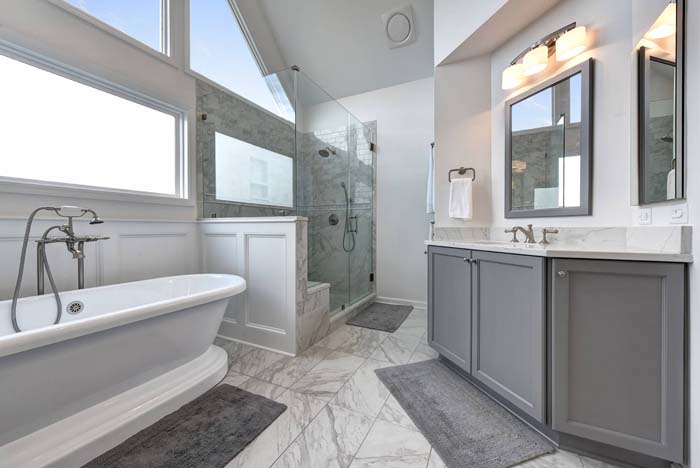 Use gray on traditional cabinets. It's easy to bring modern color to cabinets with classic lines. This entire bathroom pays homage to the classic hotels of the past. Substituting gray for a wood stain finish brings a modern feel to the space.
4. Graphic Gray Tile Floor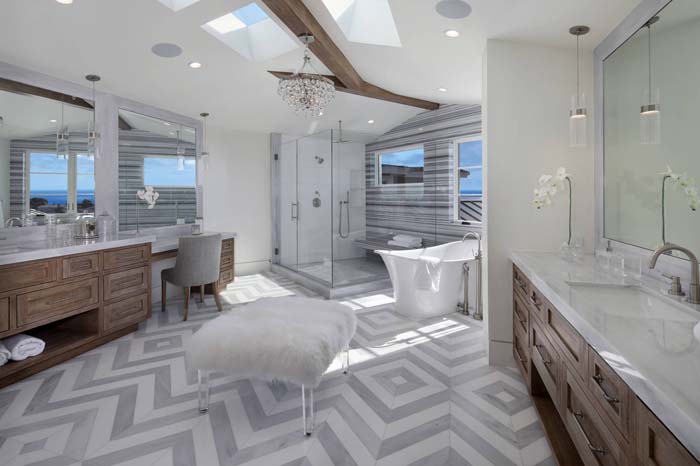 A bold pattern on the floor brings a dynamic energy to this spacious contemporary bathroom. A neutral palette like gray and white can work in many styles and complement wood cabinets.
5. Full Glass Shower Wall Panels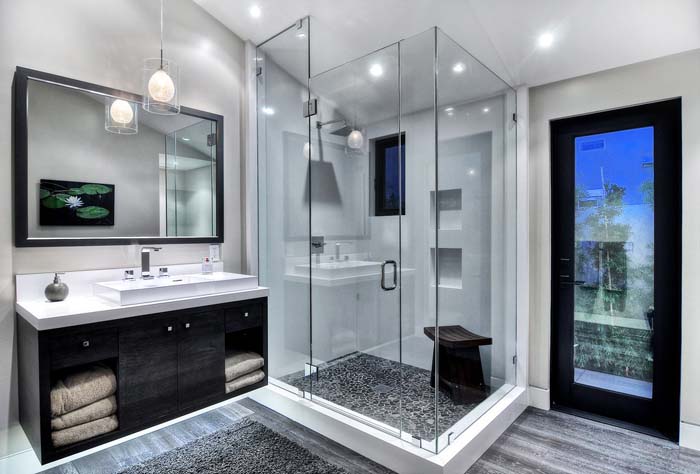 Eliminate the curtain. Go for a glass partition or eliminate the barrier altogether. Even soft shower curtains are a visual barrier that closes in a space. This gorgeous corner shower stall needs to be showcased.
6. Mixed Subway Tiles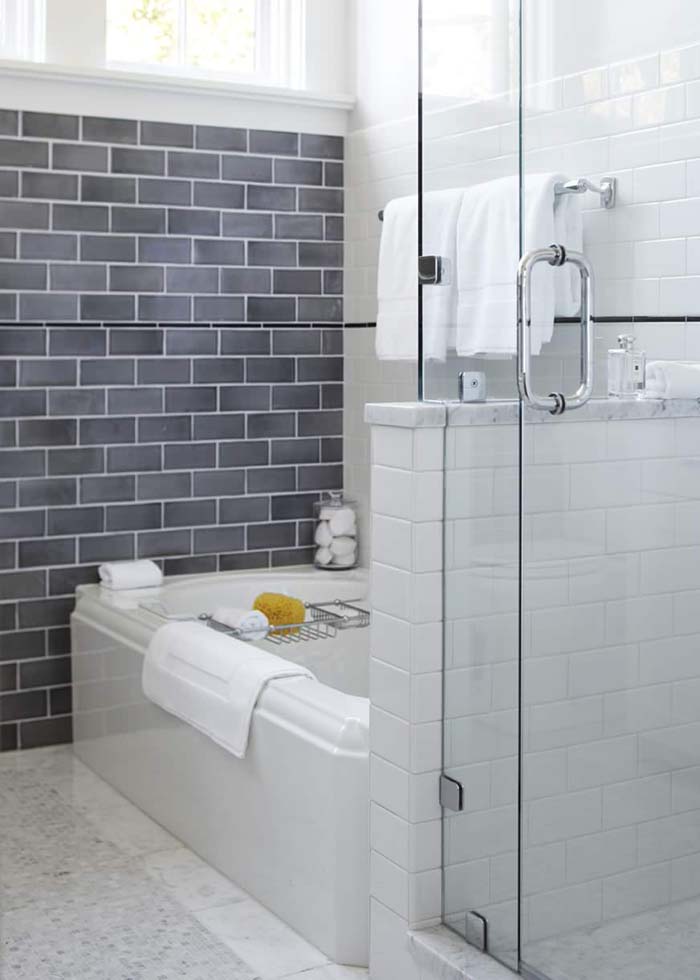 An interesting variation on the subway tile is changing out one bathroom wall to a dark gray one.
Change of color adds interest, but keeping in the same subway tile brick keeps the style looking industrial and less sterile.
via Urrutia Design
7. The Perfect Soaking Tub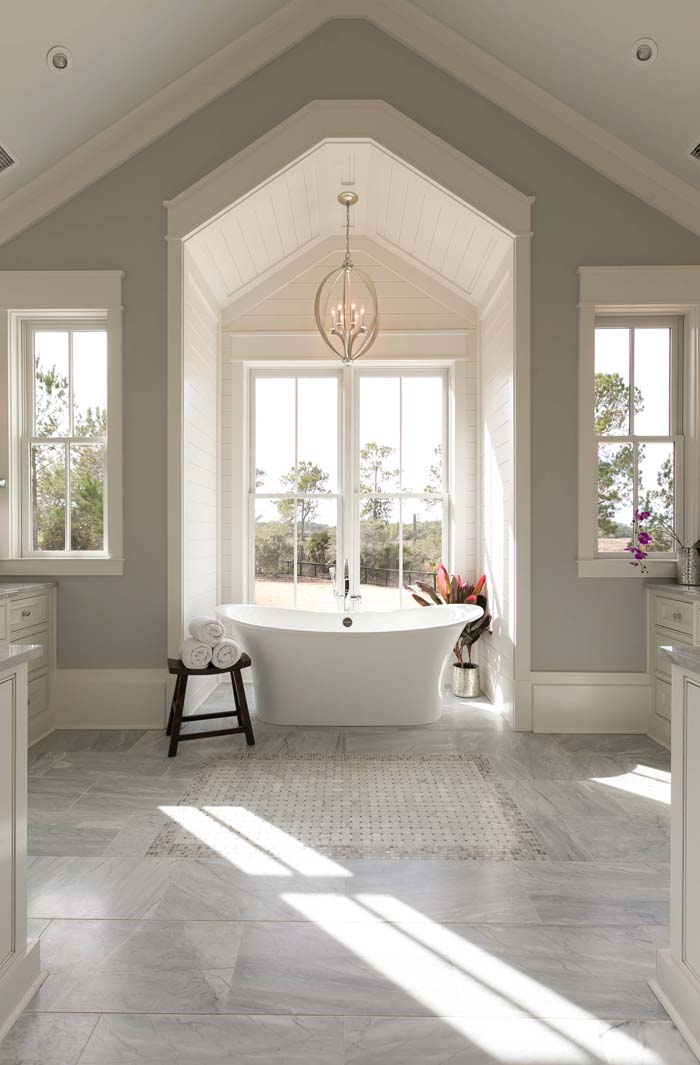 Light gray or greige walls with a green undertone match the floor's gray tile color.
The bath nook stands out as a focal point by using a muted neutral in the rest of the room.
via Lowcountry Premier Custom Homes
8. Customize a Small Bathroom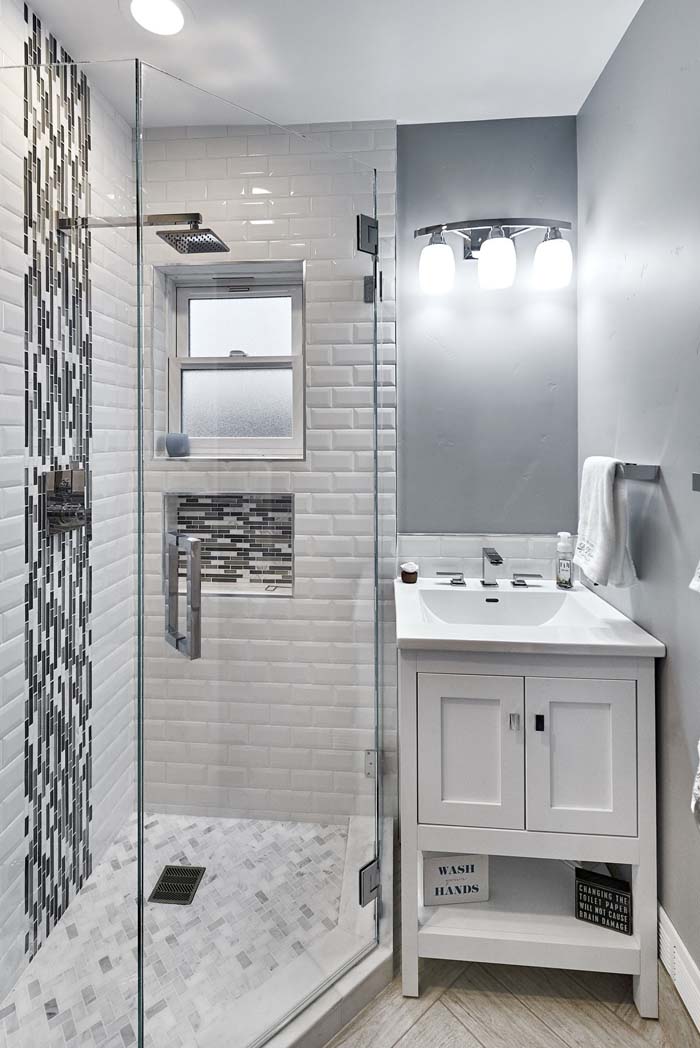 This tiny bathroom packs a big punch. When you have awkward corners like this one, the bathroom furniture will probably have to be custom built.
Small mosaic tiles should be avoided unless they're used in a niche or on the floor. They're also used here as part of a feature wall behind the plumbing fixtures.
9. Thick Crown Molding and Large Mirror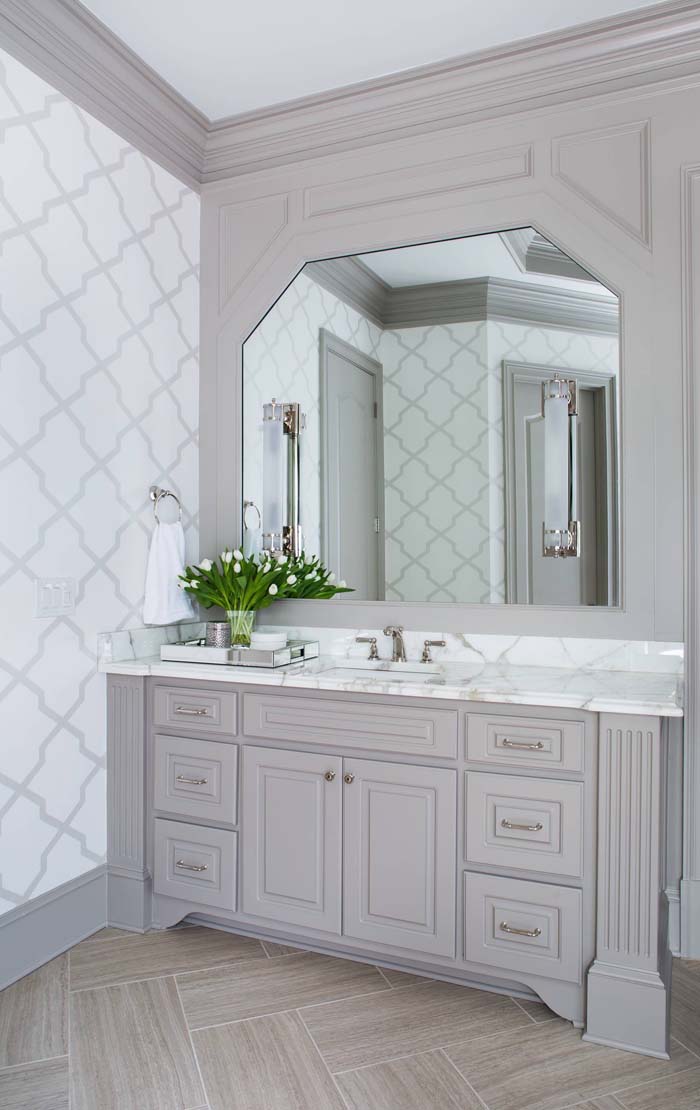 Here is another example of how light gray works so well with a marble countertop.
The quatrefoil pattern on the wallpaper also picks up on the neutral color scheme. The majestic mirror is all the wall decor this bathroom needs.
10. Warm Yellow Lighting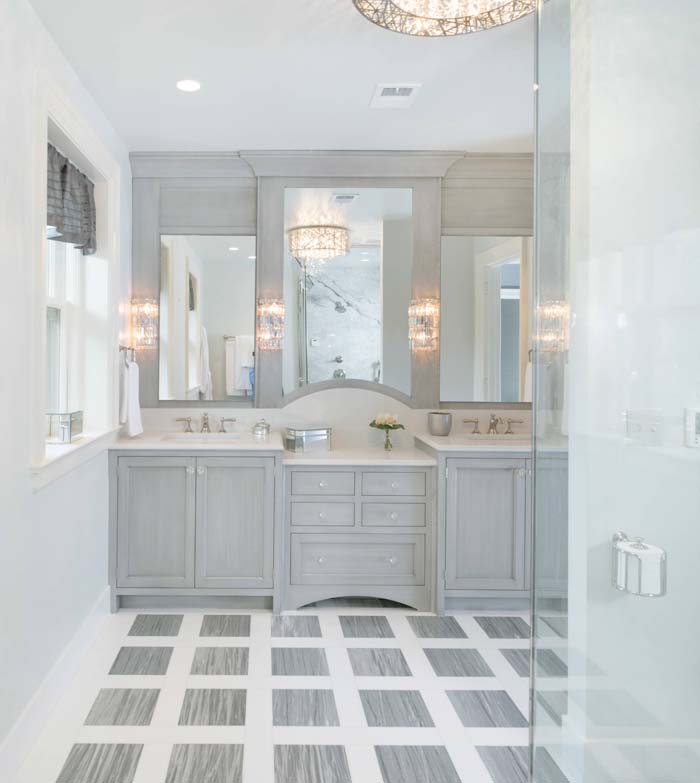 The variegated tiles on the floor almost look like a walnut inlay. Light gray cabinets keep the large space from feeling heavy and overwhelming.
The use of a traditional chandelier and sconces brings classic sophistication to the space.
via Kitchen Studio: Kansas City
11. Add a Pattern to the Floor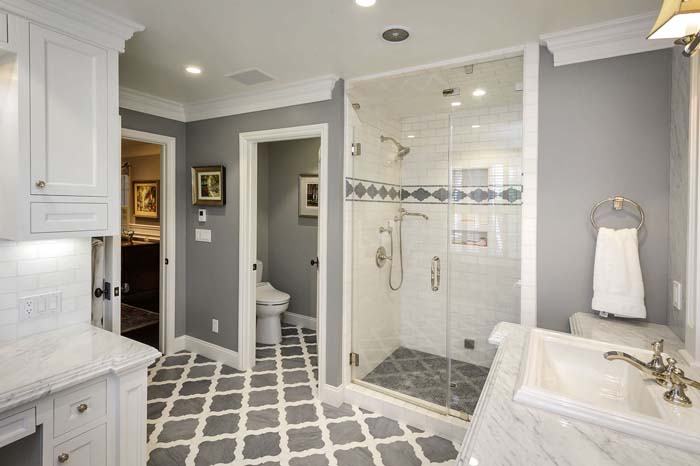 The quatrefoil tile pattern on the floor is extended into the water closet. It's also paired with the white tile in the enclosed shower. Brass fixtures change the look by adding a third color to the neutral palette.
via Dennis Mayer – Photographer
12. Add a Pattern in Unexpected Places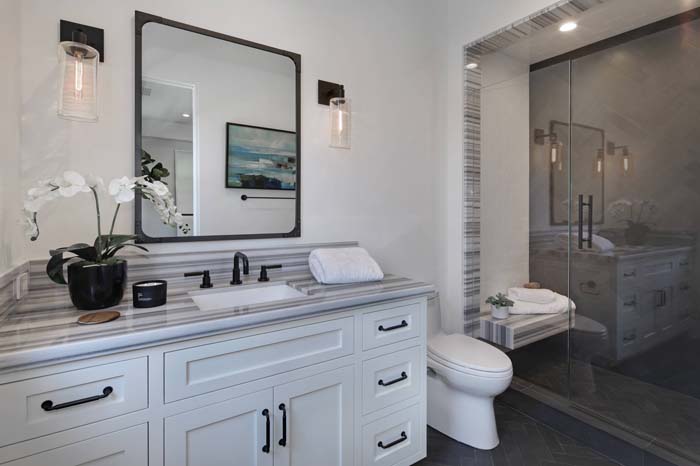 Monochromatic variegated stripes is a mouthful to say. It simply means that there's a lot of gray variations within the stripes of the tile.
It brings a lot of movement to the room. The rest of the space is set in a traditional white wall color with black accents. This allows the tiles and sink to stand out. It's a striking idea in an industrial style bathroom.
13. Geometric Pattern in a Traditional Bathroom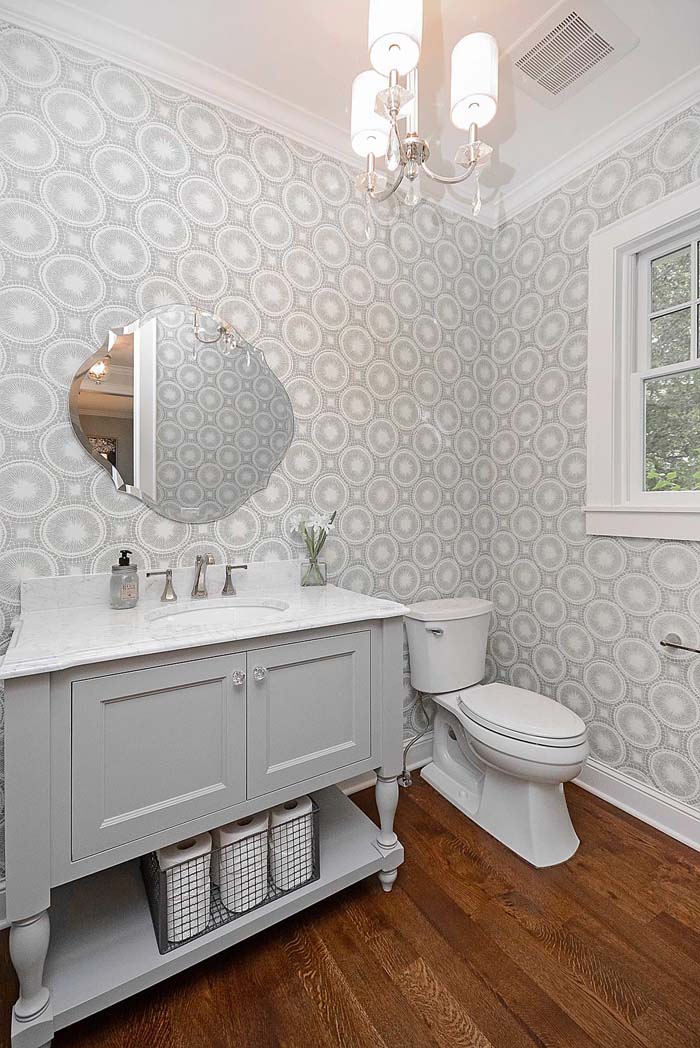 A single shade of gray paired with a wooden floor and geometric pattern on the wallpaper is all that's needed to bring life to this farmhouse powder room.
It gets its elegance from simple finishes such as the crown molding, chandelier, and crystal door pulls.
via Universal Stone
14. Dark Walls and a Dramatic Mirror Frame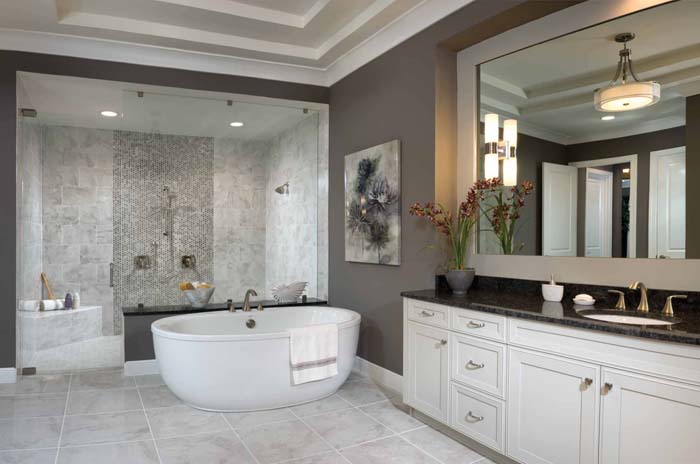 Solid colored walls and cabinets bring more focus to the stunning double walk-in shower spa.
The muted grey color of the floor tile adds a flowing quality to the modern bathroom layout that leads to the shower and soaking tub.
15. White-Washed Walls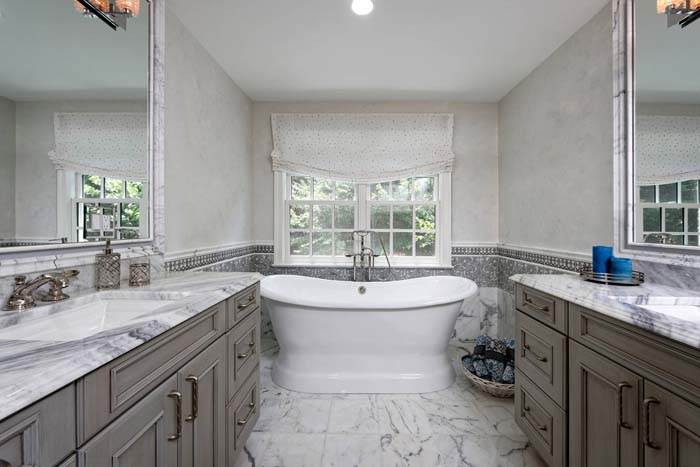 Since they're working with a monochromatic theme here, there are many possibilities for changing up the patterns. A mosaic is used under the chair rail.
The floor tile is a different style than is used in the sinks and mirror frames. All in all, you can choose whatever you like as long as you keep the color of the walls and cabinets simple.
16. Create a Period Piece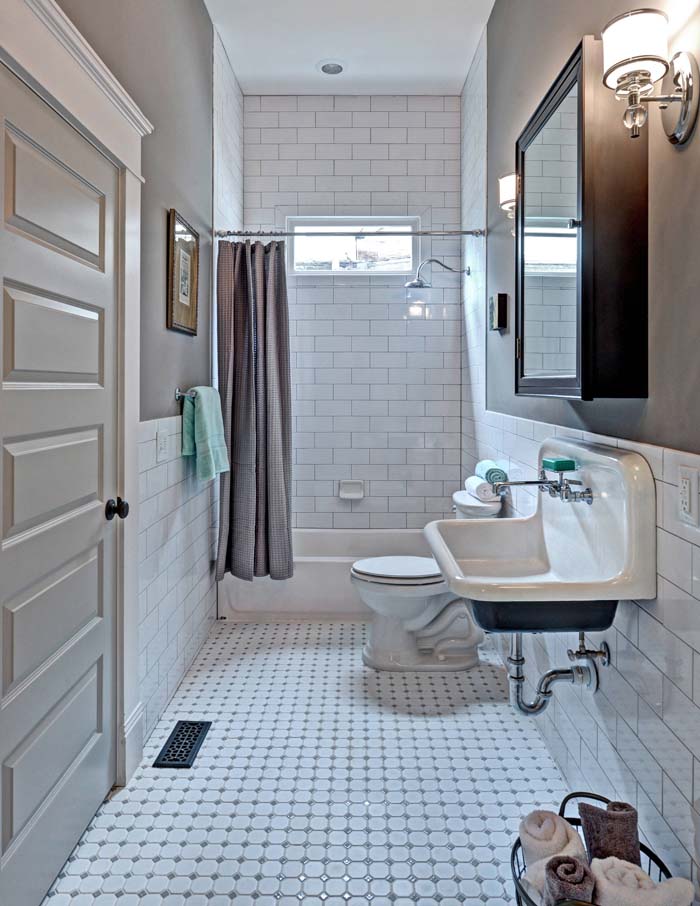 There are a lot of small bathroom ideas pictured here. Subway and penny tiles are classic patterns used in 20th century bathrooms.
They get an upgrade here with the refreshing dark grey paint on the door and walls. Classic fixtures and a wooden box vanity help bring a bygone era to life.
17. Sleek Finishes for a Modern Bathroom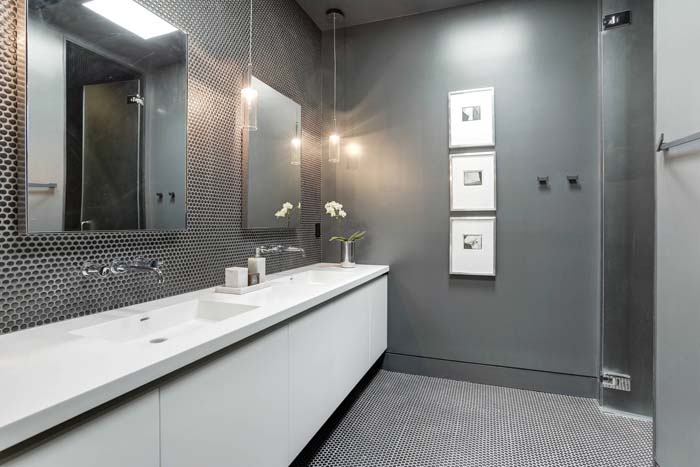 A masculine bathroom uses small mosaic tiles for the vanity backsplash, brilliantly breaking the rule of avoiding small sized wall tile. It works because its colors match the white vanity and adjacent wall.
A lighter grey tile for the floor keeps the room from feeling like it's sinking.
18. Stunning Architectural Focal Point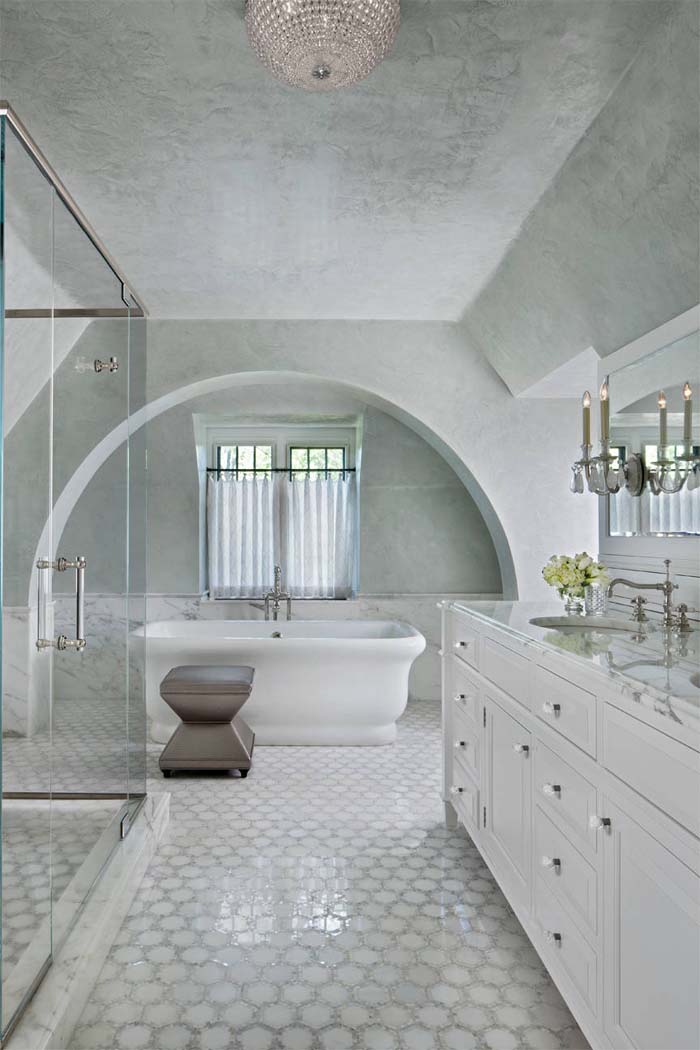 Many of the photos in this list play up different types of tile on the walls. In contrast, this masterpiece nearly hides its marble tile as wainscoting underneath a pale grey wall. It's the architecture itself, especially the arch, that is breathtaking.
The interior designer was smart to keep an old world feel by using a whitewash technique on the walls and ceiling. This allows the fixtures and tiles to stand out.
The simple arch and high-end fixtures elevate this attic retreat.
We want one.
19. Black and White and Chrome All Over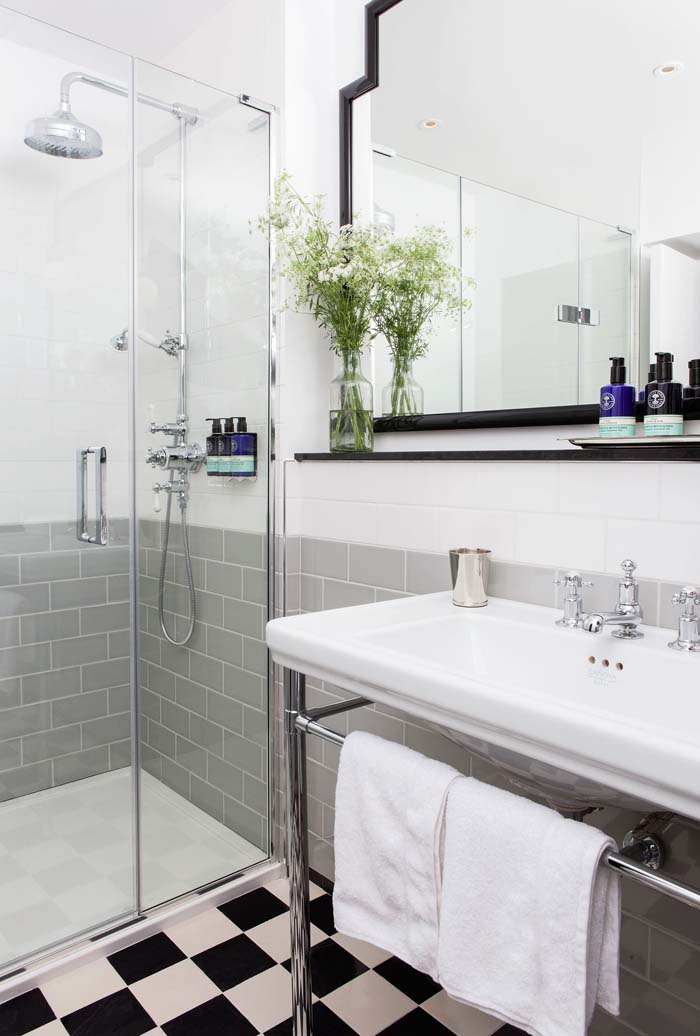 A classic checkerboard pattern sets the tone of this grey and white bathroom.
Chrome hardware adds shine while the large, black framed mirror adds drama. 
20. Farmhouse Getaway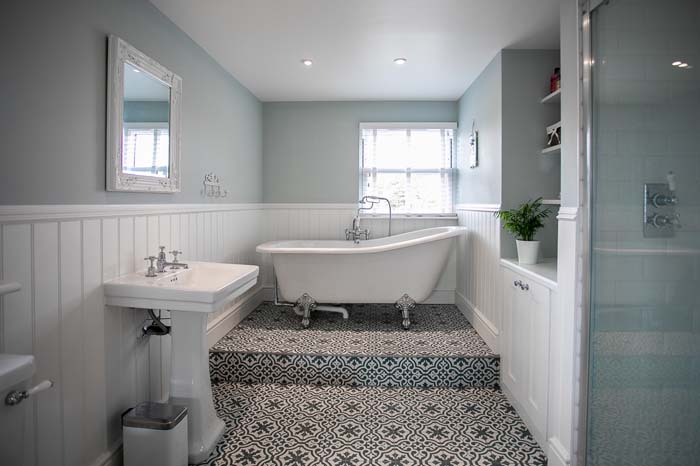 The intricate pattern on the floor tile looks almost like carpeting.
Paneled wainscoting works well with the freestanding tub in the modern farmhouse style. Green undertones in the gray walls bring a serene feeling.
via SkyLofts
21. Stately Glamour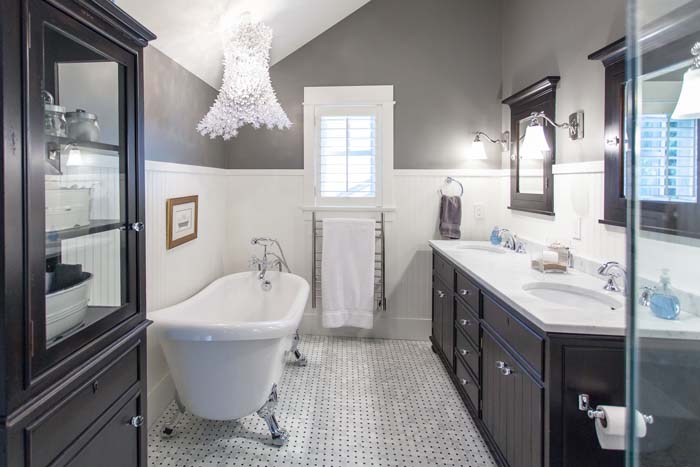 This bathroom looks like it would fit right if it were found in an old, grand hotel.
The penny tile floor, clawfoot bathtub, crystal chandelier, and deep wood cabinets all contribute to the scene.
via Synthesis Design
22. Putting it All Together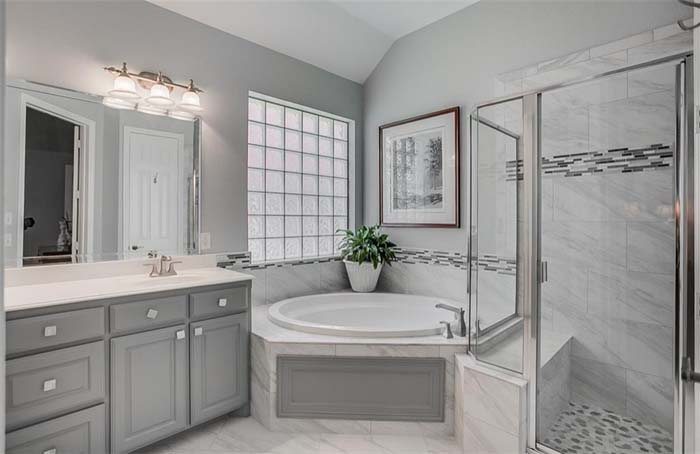 This bathroom design has many grey bathroom ideas that we can use in any size bathroom. The mosaic tile feature on the back wall matches the shower floor.
Gorgeous white marble fits right in with its grey veining. Eliminating the shower curtain keeps that vision going. A glass block wall brings plenty of light while maintaining privacy.
via LR Designs