A million-dollar question: What are the best tile shower ideas for small bathrooms?
Well, a million might sound a bit too much, but it's really important to choose the best possible tiles for your shower or small bathroom as you will probably won't replace them for years and believe me installing tiles that are mismatched in size or color will cost you a fortune to replace so let's help you on that.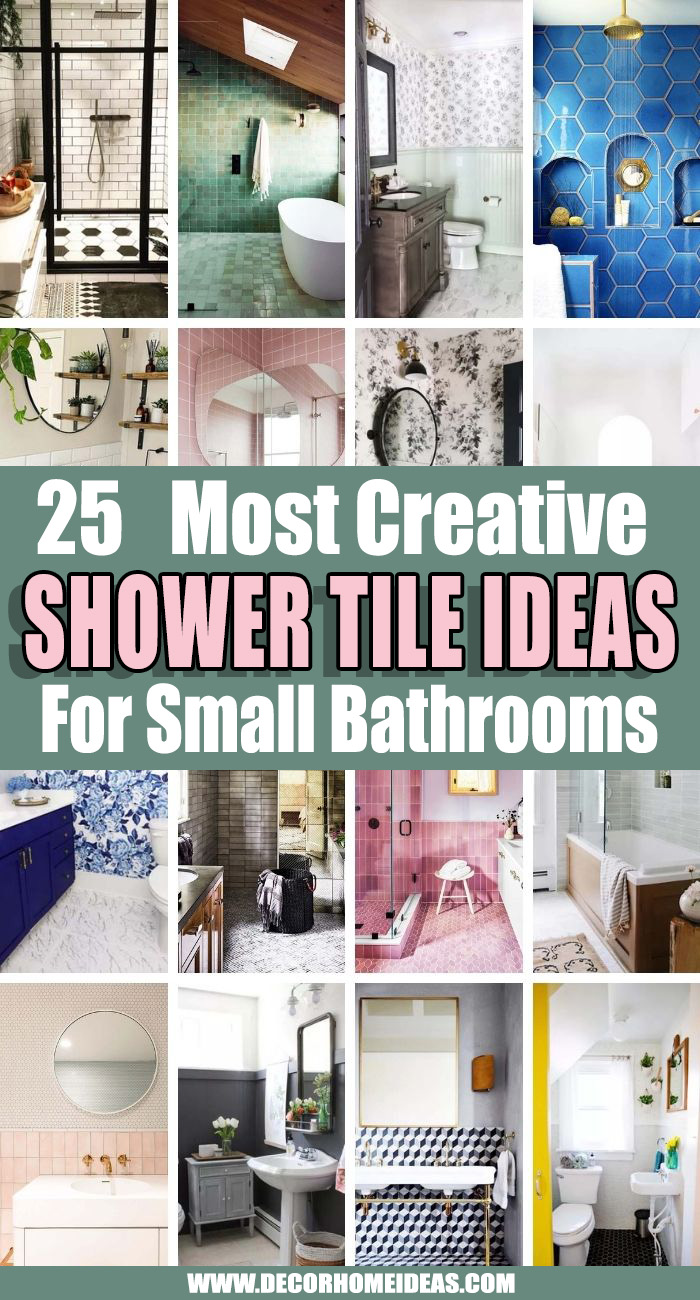 Not to mention they will make you nervous each time you take a shower.
When it comes to choosing the right shower tiles for a small bathroom we have a lot of options, so let's take a look at the best ideas and by the end of the article, you will know exactly which one is for you.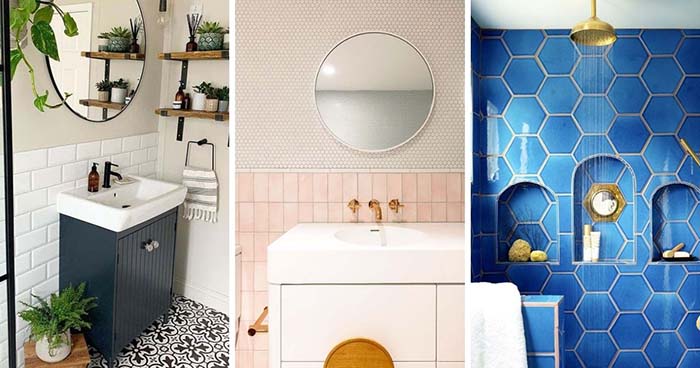 Hang on a second….before showing you a gallery full of tempting shower tile designs let's answer all the questions that might pop in your mind about tiling your shower:
What size tile looks best in a small bathroom?
If you really want to make your small bathroom look bigger a medium sized tile would be your best bet. Of course, small bathrooms can also look great with large and small tiles, so don't exclude them as an option. If it is possible take some samples home and test how they look.
What color tile is best for a small bathroom?
Choosing a neutral color scheme for your small bathroom will make it look bigger. Bathroom shower tiles such as cream, white or light gray are also a good option as they will reflect more light.
Related: 23 Best White Subway Tile Shower Ideas And Designs
What is the easiest tile to install in a shower?
Shower tiling is relatively hard task so hiring a pro is a must. You can check for free an estimate price in your area HERE.
As a general rule lighter colors can make your bathroom look bigger – white, soft blue and cream are most common. But you can go with any other light color you like.
Related: 10 Best Paint Colors For Small Bathroom With No Windows
Are big tiles better in a small bathroom?
Small bathrooms can actually benefit from large tiles as there will be fewer grout lines and it will be less visually cluttered.
How can I make my small bathroom look luxurious?
We have a comprehensive guide here:
10 Simple Ways To Make Your Bathroom Look More Expensive
Is tiling a shower expensive?
On average, tiling a shower costs about $20-25 per square foot.
Do we need a professional to install tiles ?
If you have some experience or you are confident enough in your skills you don't need one, but if you are on the look for the best results, hiring one could be your best option.
The best thing is you can Get a free estimate online from top local tiling pros and services in your area.
It would be nice to get a quote from a pro before starting the tiling and then decide if you can afford it or not. It's FREE.
Summing it all up, the best shower tile ideas for small bathrooms are medium sized and in these colors: soft green, white, pale gray or soft blue.
1. Add Drama With Retro Hex Tiles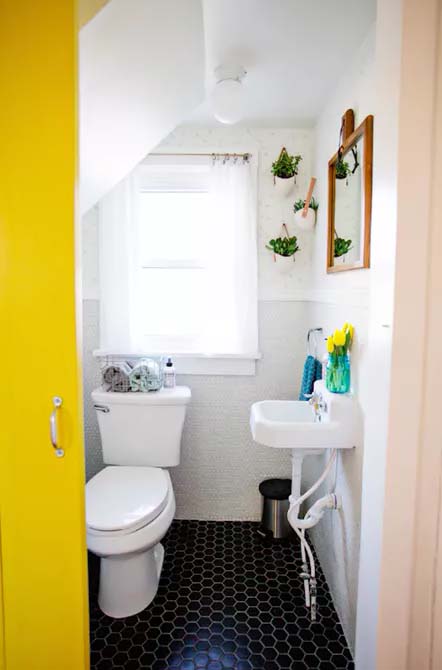 Small hexagon tiles are a fun way to add visual interest to a small bathroom without making the space feel cluttered.
Here, a light-colored grout shows off the unique shape of the tiles; it also turns the floor into a focal point, so you can get away with minimal wall decor.
via A Beautiful Mess
2. Hexagonal Tiles Are Not Just For Floors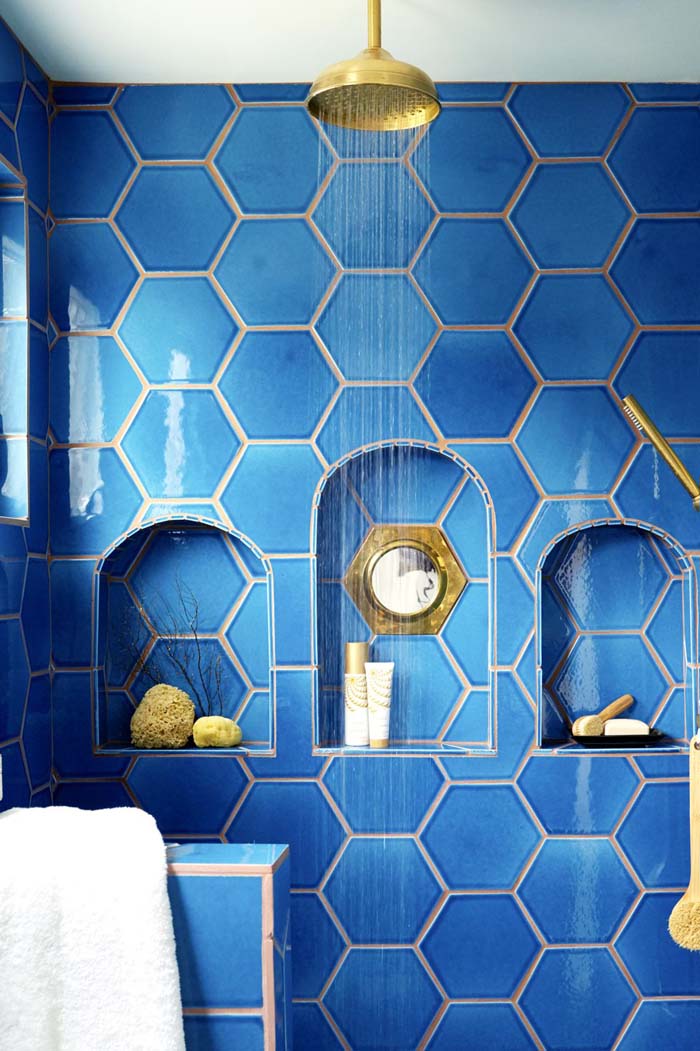 When your shower takes up the bulk of your bathroom, it's the perfect centerpiece.
Large blue hexagon tiles are a natural fit for a spa-themed space — add gold-colored grout for a luxurious twist.
Golden fixtures and a gorgeous inlaid hexagon mirror complete this unexpectedly opulent design.
via Justina Blakeney
3. A Small Bath Can Still Be Bold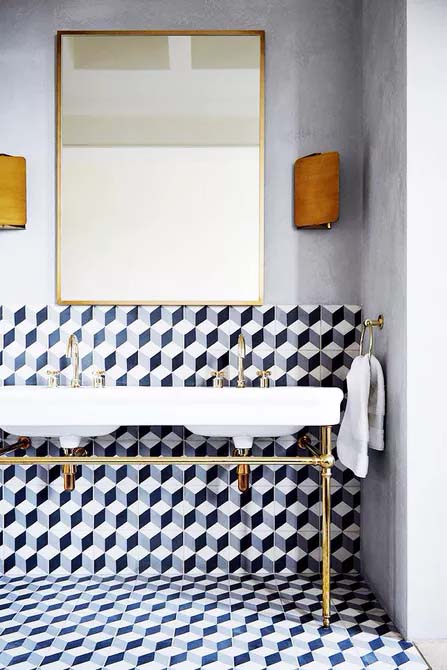 Simplicity is crucial in a small bathroom, but that doesn't mean you can't have any fun!
Illusion tiles create a sense of depth that turns your space into a work of art.
To maximize the effect of these tiles, keep the rest of the room simple with streamlined fixtures and a sleek rectangular mirror. We love how the gold accents add a vintage vibe.
via Suzy Hoodless
4. Cottage Flair With Pretty Pink And White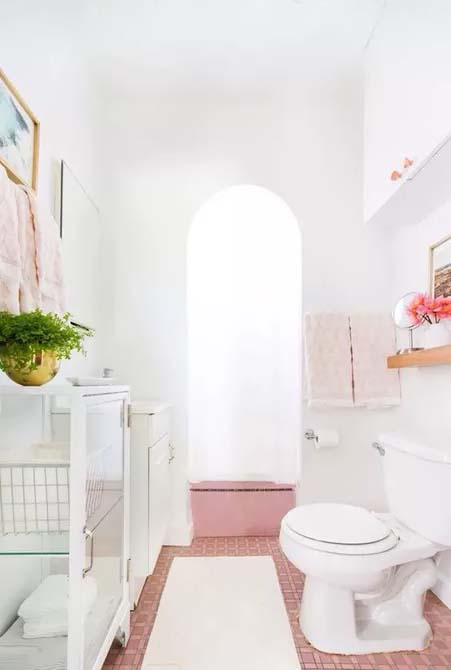 Lots of colors can be overwhelming in a tiny bathroom, but this homeowner found the ideal solution: a colorful floor.
The unexpected burst of color on the floor brings the entire space to life.
All you need to complete the look is an all-white design paired with oh-so-subtle echoes of the floor color.
via Emily Henderson
5. Add Light But Go Interesting With Chevron Pattern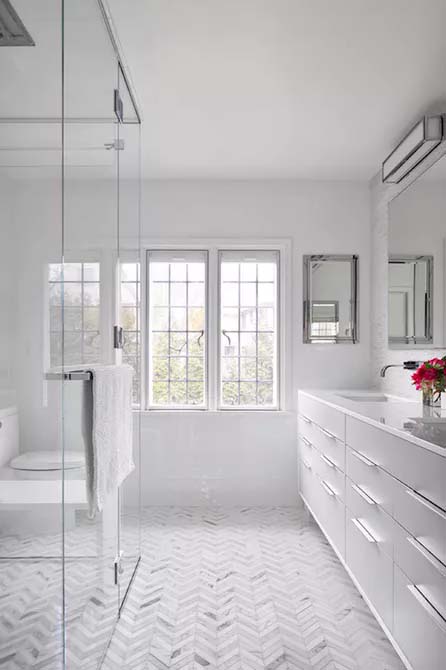 White is a fantastic way to make the most of the natural light in your bathroom.
To add a hint of visual interest, use herringbone tile ( also known as chevron ) in shades of white and grey.
The low-contrast look maintains the airy feeling, and the touches of grey look stunning with the silver fixtures and hardware in the rest of the space.
via Donna Dotan
6. Go Big With Bold Color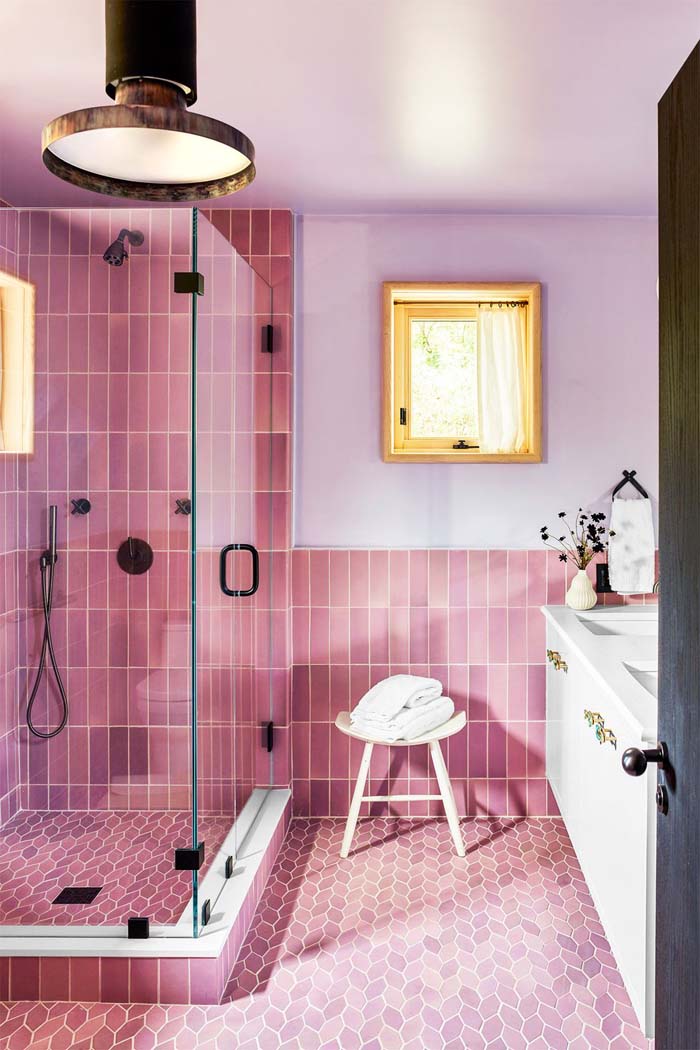 If you're not afraid of a bold, surprising bathroom style, borrow this gorgeous monochromatic design. The trick?
Choose similar shades for your floors, showers, and walls.
This is a great way to use different tile shapes in a small space — note how the leaf-shaped floor tiles and subway-style shower tiles work together seamlessly.
7. Tile Walls Create A Bright Backdrop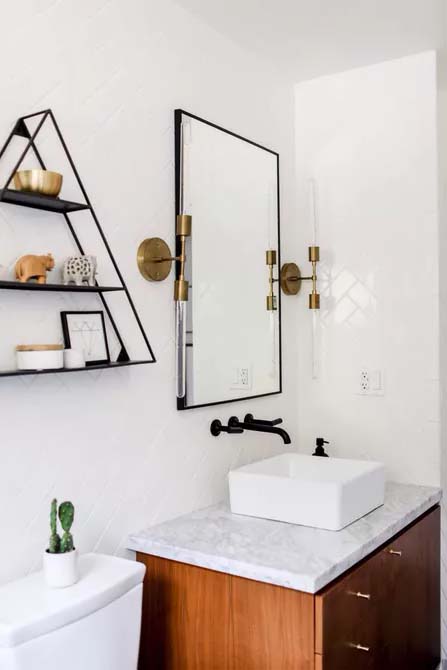 At first glance, you might not even notice the tile work in this little bathroom — that's because it blends in beautifully with the toilet and sink.
By using white subway tile in a herringbone pattern, you can add a hint of pattern without sacrificing the bright, fresh feeling of the space.
via Glitter Guide
8. Create A Cool Pattern With Subway Tile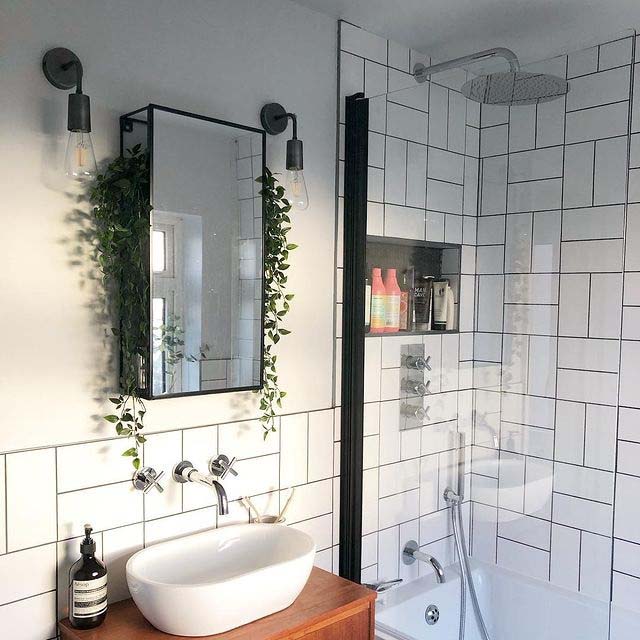 Subway tiles are a classic for a reason: the simple rectangular shape never goes out of style.
This clever arrangement features alternating square arrangements, each with the tiles oriented horizontally or vertically.
Black grout showcases the unique design and adds a modern-industrial twist that's just right for a small bathroom.
9. Go For Classic White With Gray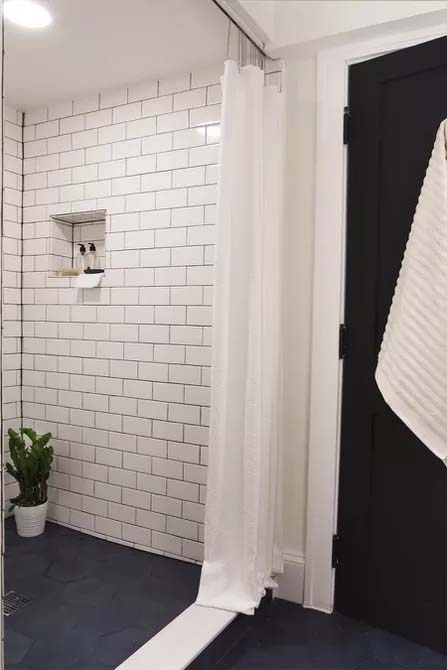 High-contrast grout is a fantastic way to show off beautiful shower tiles, but it can be a bit bold in a small space.
Here, the owner has chosen a grey grout; it highlights the traditional subway-tile layout and still manages to create a sophisticated style.
Simple slate floor tiles bring out the grey color.
10. Make A Dramatic Impact In A Small Space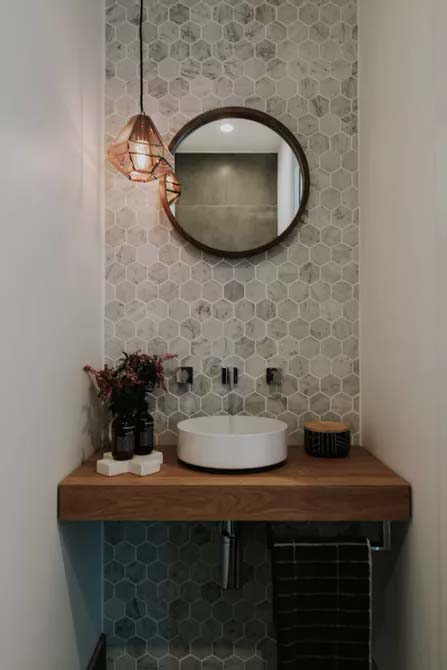 Marble tile adds instant luxury, but the costs can add up.
That's why this is such a smart solution — by adding the tile to a full wall in a small bathroom, you can make a big, sophisticated statement without breaking the bank.
Floor to ceiling design gives more spaces to the eyes.
The soft colors feel elevated, and the white grout keeps everything looking fresh and bright.
via Style Curator
11. Keep It Bright With Light Gray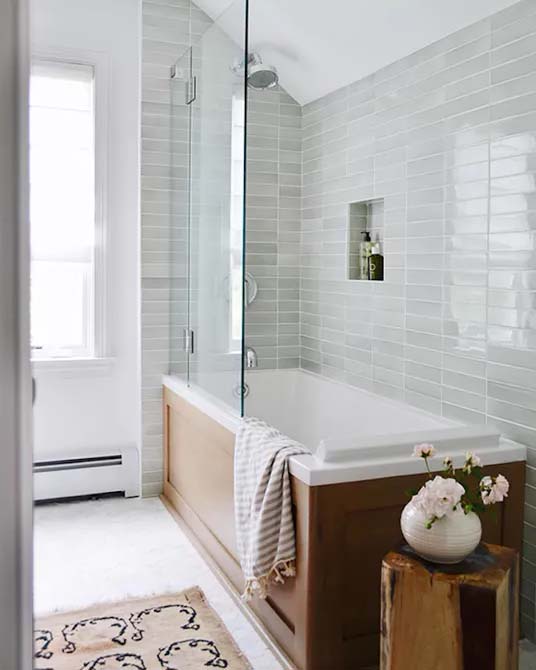 When you want to make the most of a naturally bright bathroom without an all-white design, pale grey is a great alternative.
Here, soft grey glass subway tiles look remarkably fresh and light, all while adding a soft, relaxing feeling to the space.
Wooden elements complete the look for a design that's stunning and completely unique.
via At Home In Love
12. Metallic Modern In An Eclectic Bath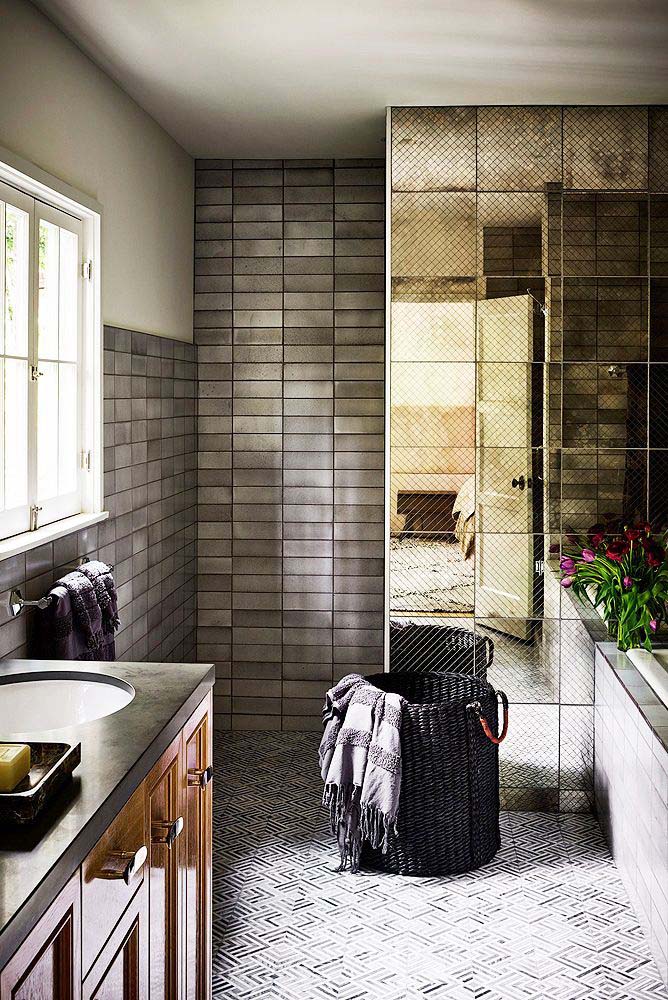 Metallic bathroom tiles fill your space with a soft, opulent gleam.
If you're feeling bold, don't stop at brushed-metal shower tiles — go for broke with tarnished mirror tiles, a concrete countertop, and a high-contrast floor tile with a bold geometric pattern.
The effect is thrilling, and the similar colors create a surprisingly unified design.
13. Add Luxe To Pale Gray With Gold Accents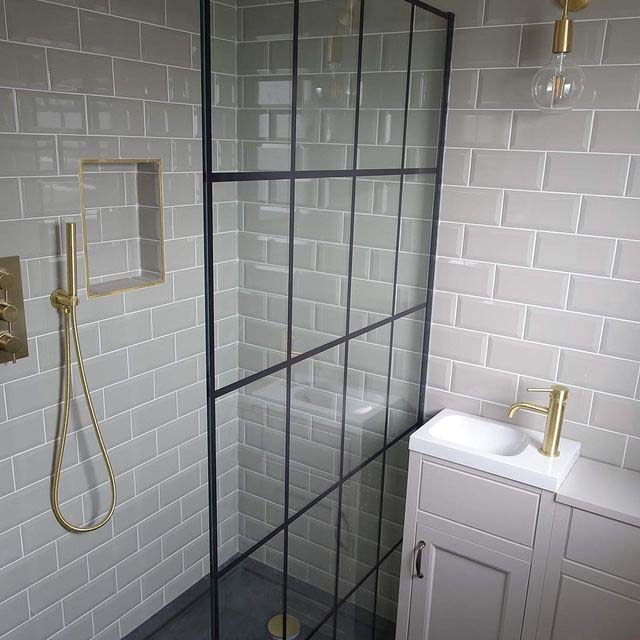 Grey and gold make a spectacular color combination in a small bathroom, as evidenced by this tiny space.
The soft color is soothing yet airy, and the gold fixtures lend a sophisticated vibe. The trick?
Use a clear, fixed shower wall to maintain the lines of sight and help the room feel bigger.
14. Let The Walls Take Center Stage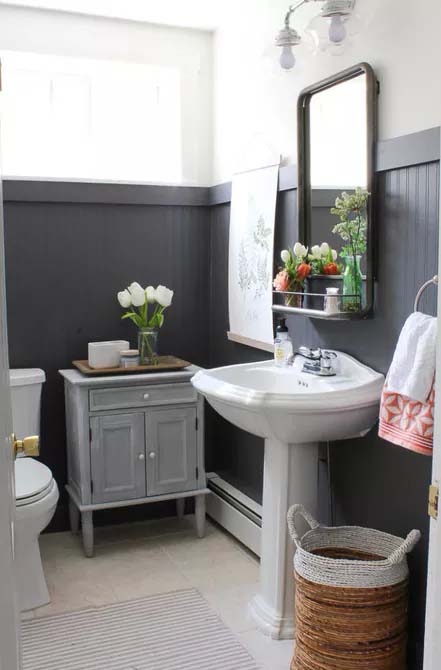 This artisan-style bathroom blends vintage and cottage styles.
The wainscoting is the star of the show, with its high-contrast paint job and distinctive vertical lines.
To add subtle texture to the floor, use simple, cream-colored tiles that warm the space without pulling focus.
15. Subtle Pattern Complements Vibrant Walls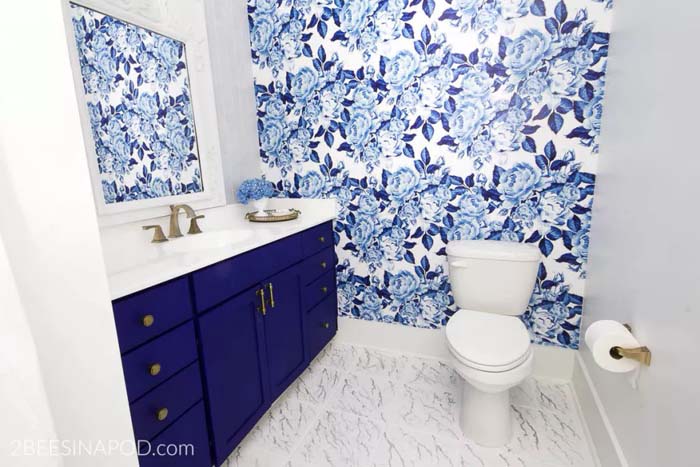 Bold wallpaper is a big bathroom trend — it turns your tiny powder room into a bold work of art. Not interested in plain tile?
Opt for a subtle, versatile pattern to take the space to the next level.
This marble-look tile looks great with the floral paper, but it also transitions to a new style with ease as trends change.
via 2 Bees In a Pod
16. Marble Look Tiles Work With Traditional Style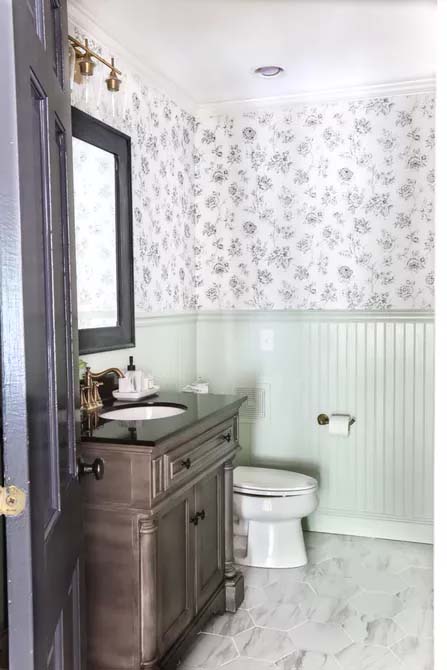 A cottage-style bathroom is a fixture of many historic homes.
If you want to infuse your vintage space with a bit of modern charm, why not try picket-shaped tiles?
The light color and white grout downplays the strong lines, so they pair beautifully with delicate floral wallpaper and wainscoting.
via Bless'er House
17. Floor To Ceiling Pink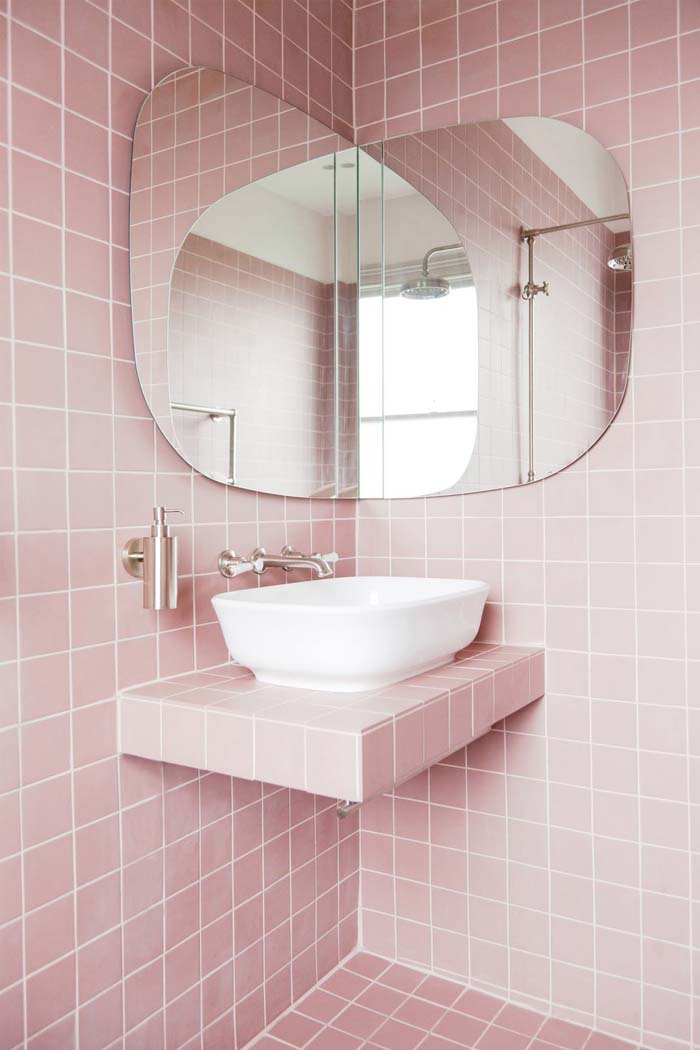 A tiny bathroom might become your favorite room in the house when you give it a makeover with all-over tile.
Go with pink tile, as you see here, or choose any other shade that strikes your fancy. The secret?
Select a lighter color to make the space feel bigger and more open.
via 2LG Studio
18. Vary Tile Sizes For Visual Interest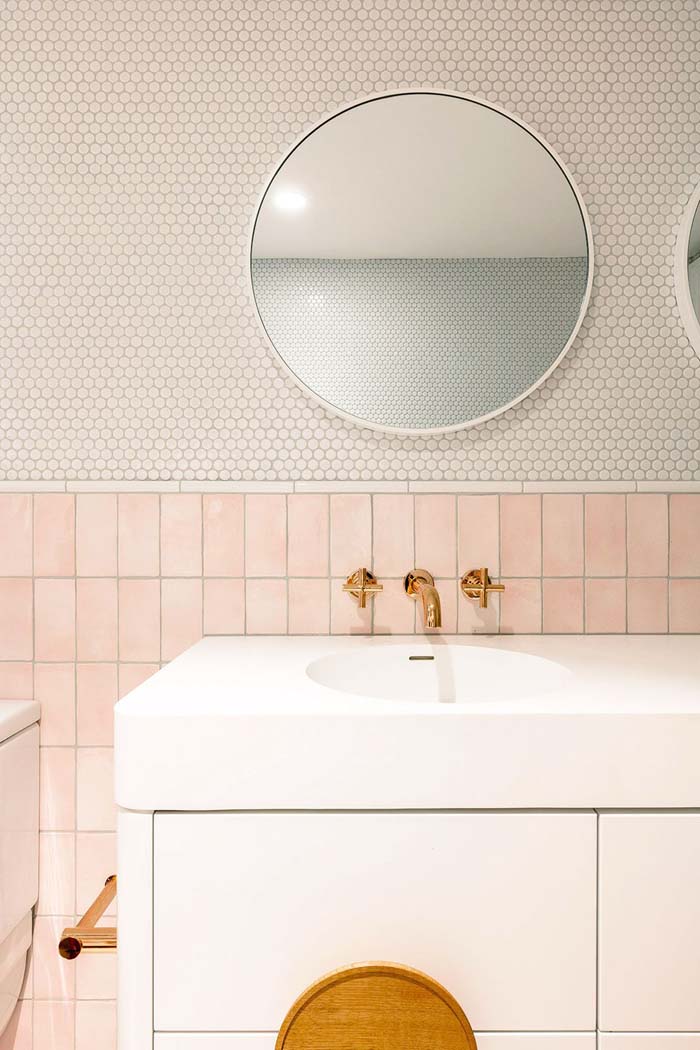 You've heard of pattern mixing — why not use tile to recreate this trend in your bathroom?
In a small bathroom, the trick is to use tiles that add just the right amount of contrast in terms of color, size, and detail.
Here, tiny white hexagons look lovely next to pale-pink subway tile.
The light-colored palette feels fresh, making it a great fit for a modern or vintage home.
via Arent & Pyke
19. Bring Natural Style With Verdant Green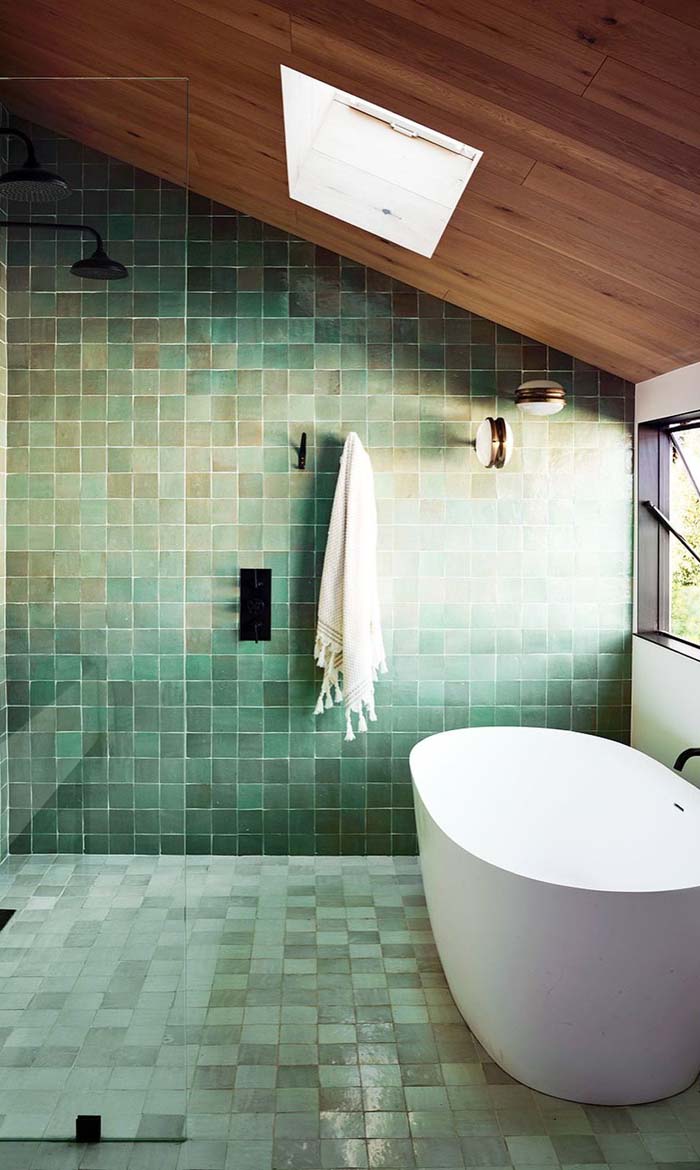 When you love color, a small bathroom presents a challenge.
Here, the homeowner brings the space to life by covering the walls in a cheerful green tile; a slightly lighter version covers the floor, adding definition to the room.
The slight color variation between tiles adds visual interest; just keep the rest of the bathroom simple to let the tile work shine.
20. Reflect Low Light With Bright White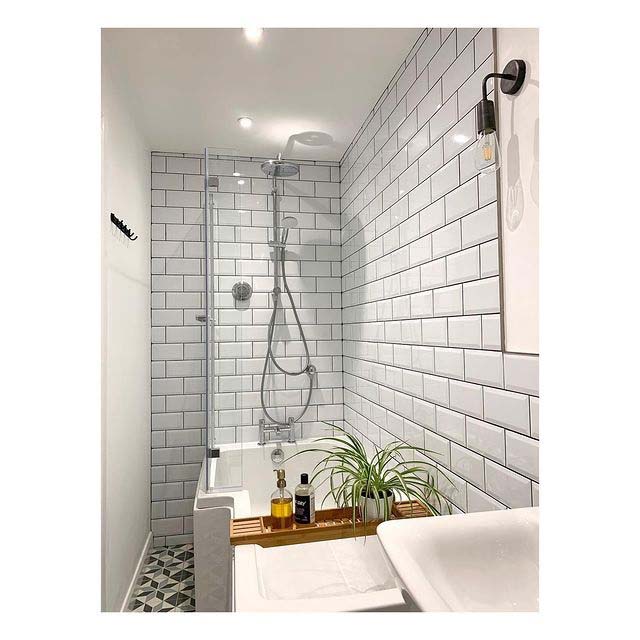 White is a natural fit for a long, narrow bathroom without any natural light.
To keep things from looking boring, try a strong tile shape with dark grout — these gorgeous subway tiles are the perfect fit.
A bold geometric floor tile adds just a hint of contrast.
via Megan Hopper
21. Black And White Gives A Stylish Contrast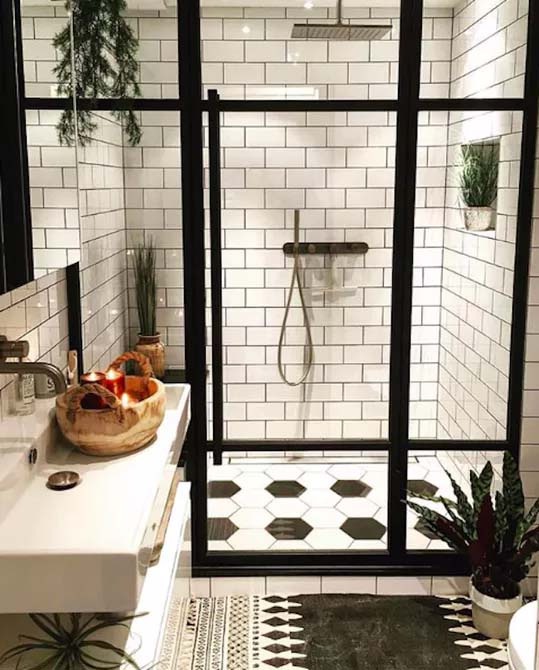 This bathroom might be small, but it makes a big splash.
The design is all about black and white. The shower features white subway tiles with black grout, creating a fun contrast with the black and white hexagons on the floor.
Matching accents and a few green plants add a contemporary twist.
via Becki Owens
22. Elegant Traditional With Subway And Hex Tile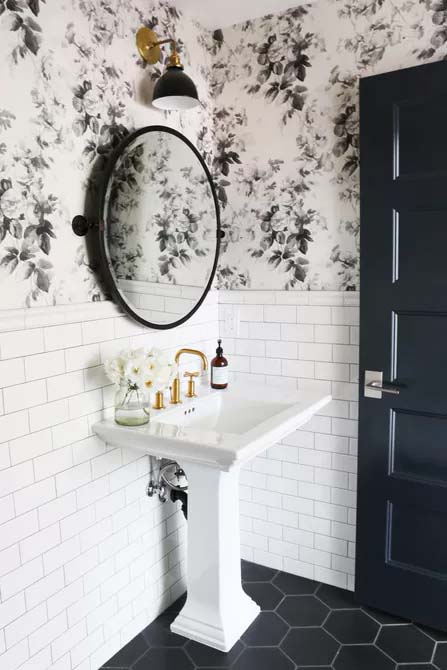 If you love to mix and match styles, look to this beautiful small bathroom for inspiration.
Hexagon floor tile and subway tiles on the wall make a thrilling combination with the half-height wallpaper.
Everything is rendered in black and white for a unified look.
via Studio McGee
23. Save The Drama For The Floor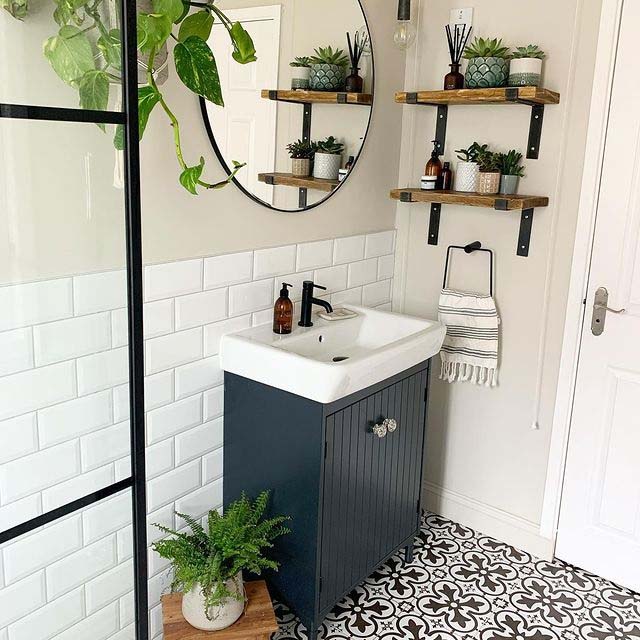 Here's another great example of how to use bold floor tiles in a small space — the striking black and white geometric pattern anchors the room.
We love how the owner uses white subway tile on the lower half of the room and pale beige paint on the upper half; it adds depth without making the space feel too busy.
If you add extra accessories, try to stick with similar colors and a single bright accent shade.
via Alys Elizabethi
24. Small Patterned Tiles Add Subtle Style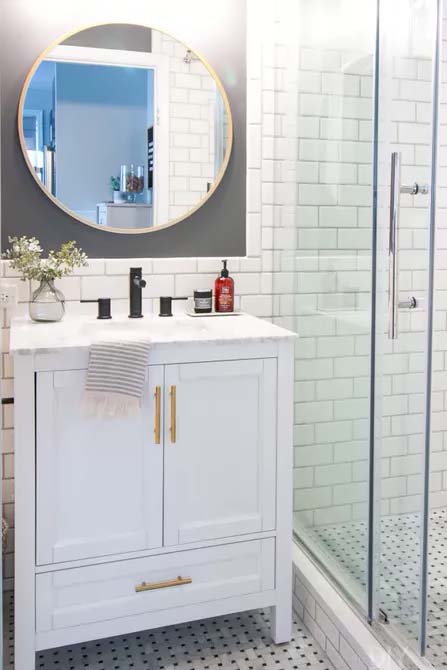 Metro white shower tiles could be combined with small floor tiles with a black accent to create openness without adding too much color or different patterns.
via The DIY Playbook