Small bathrooms have limited space, but they're a delight to design.
In such a compact area, every detail makes an exciting impact, so you can do more with less.
As you plan a makeover for a powder room or your apartment's master bath, these beautiful small bathroom design ideas can help you make the most of the space.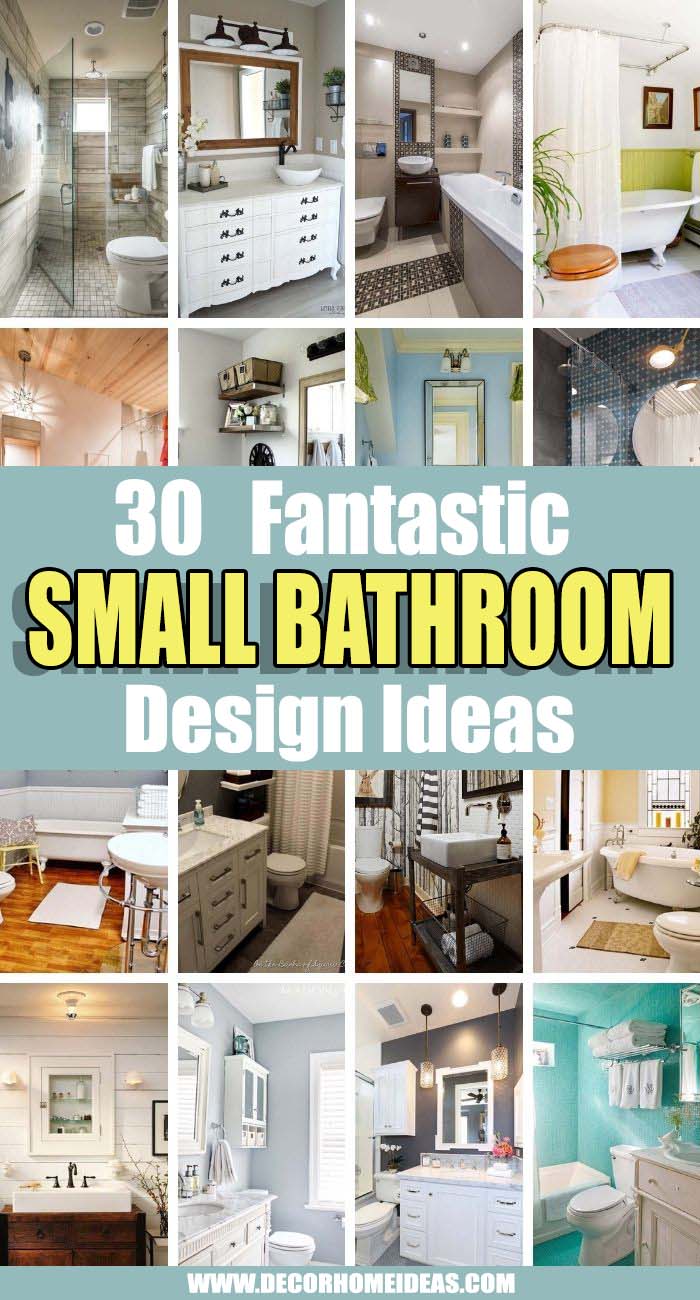 1. Add Visual Impact With Wood Walls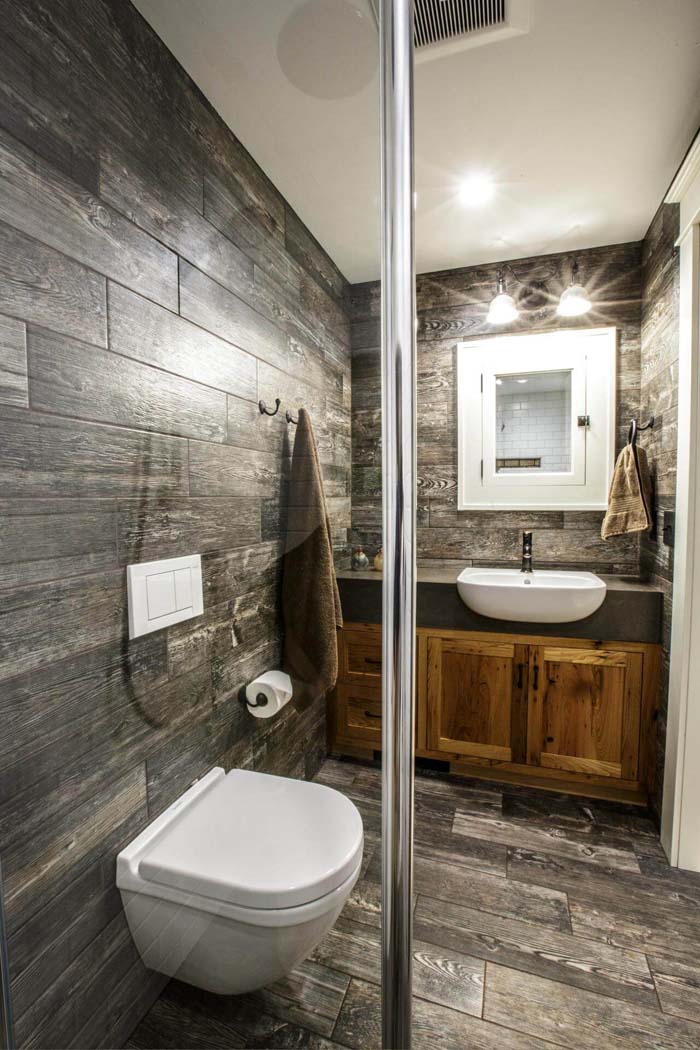 Looking to make a dramatic statement in a small bathroom?
Cover the entire space in tiles that look like weathered wood.
The effect is striking but not overwhelming — the key is to keep it simple with other design elements so the tile can stand out.
2. Keep It Light With Nautical Blue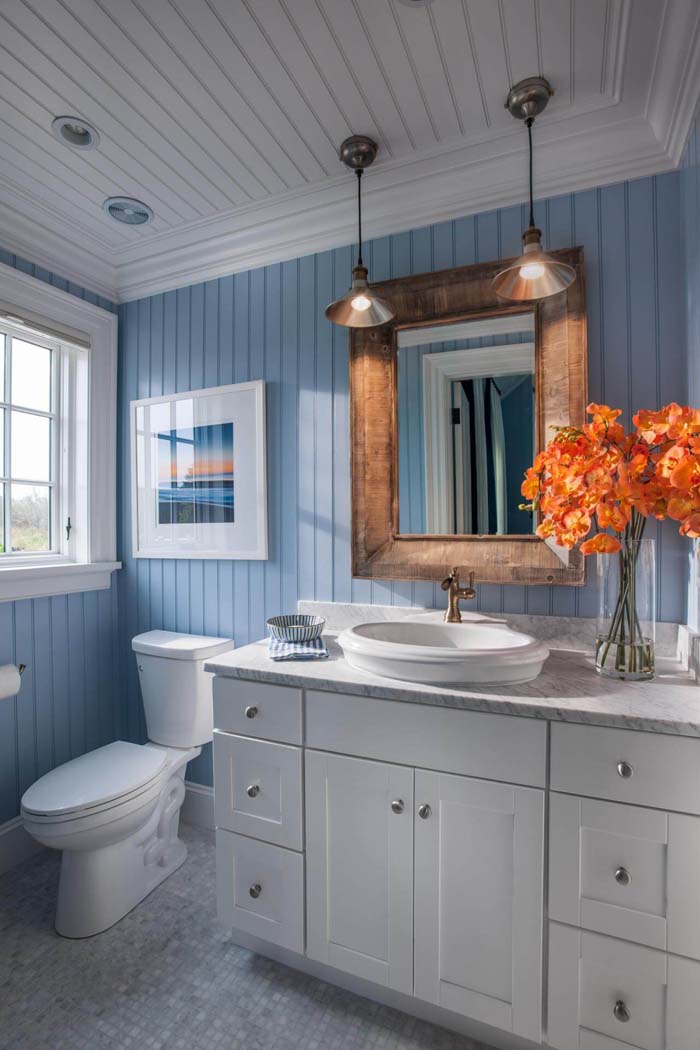 Pale blue and white is a beautiful way to create a fresh, beachy feeling in your bathroom.
Here, wainscoting adds depth to the simple room, while copper accents bring an unexpected pop of color and texture that keeps the space feeling modern.
3. Dramatic Stone Accent Shower Wall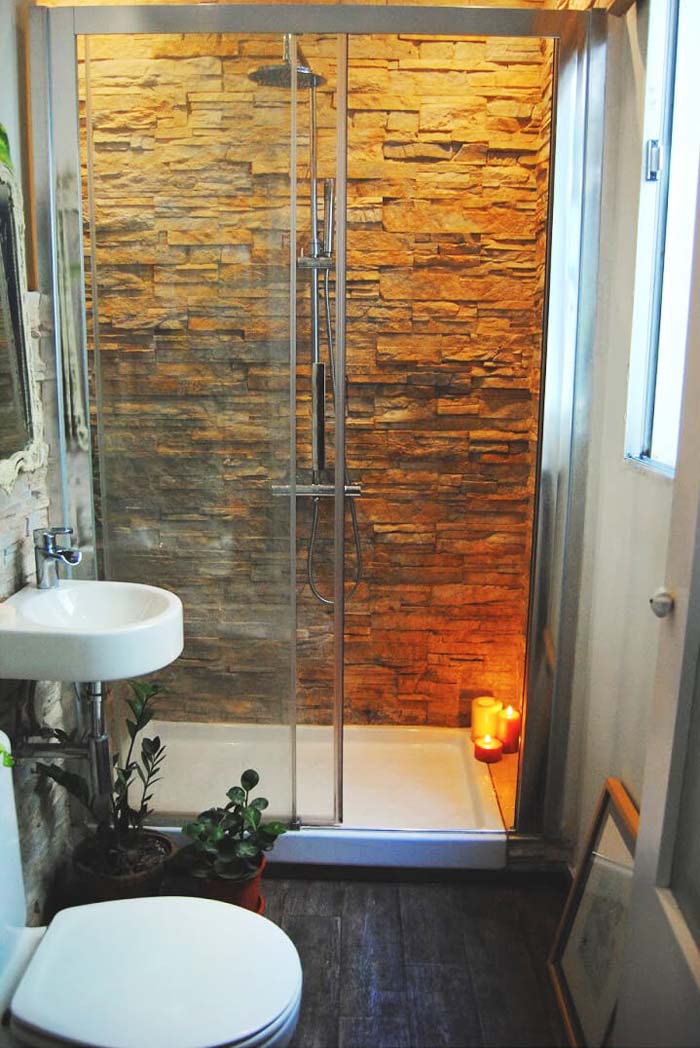 Extend the beauty of indoor-outdoor living to your bathroom by using natural elements in the design.
A natural-stone accent wall in the shower can serve as the focal point of a small space; tiny green plants enhance the earthy vibe.
4. Add Texture To White With Marble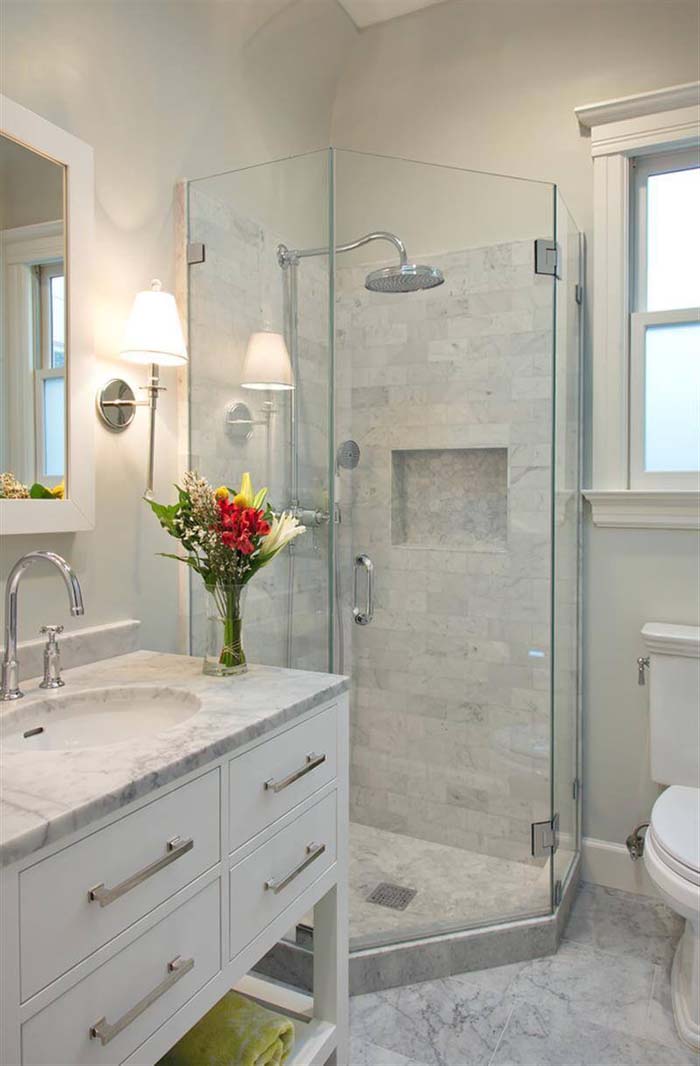 If you're craving a spa experience, don't despair at your small bathroom — all you need is a great design and beautiful materials.
White marble is an excellent option; the natural color variations create a calming vibe that's reminiscent of an upscale hotel or salon.
5. Vertical Interest Adds Visual Height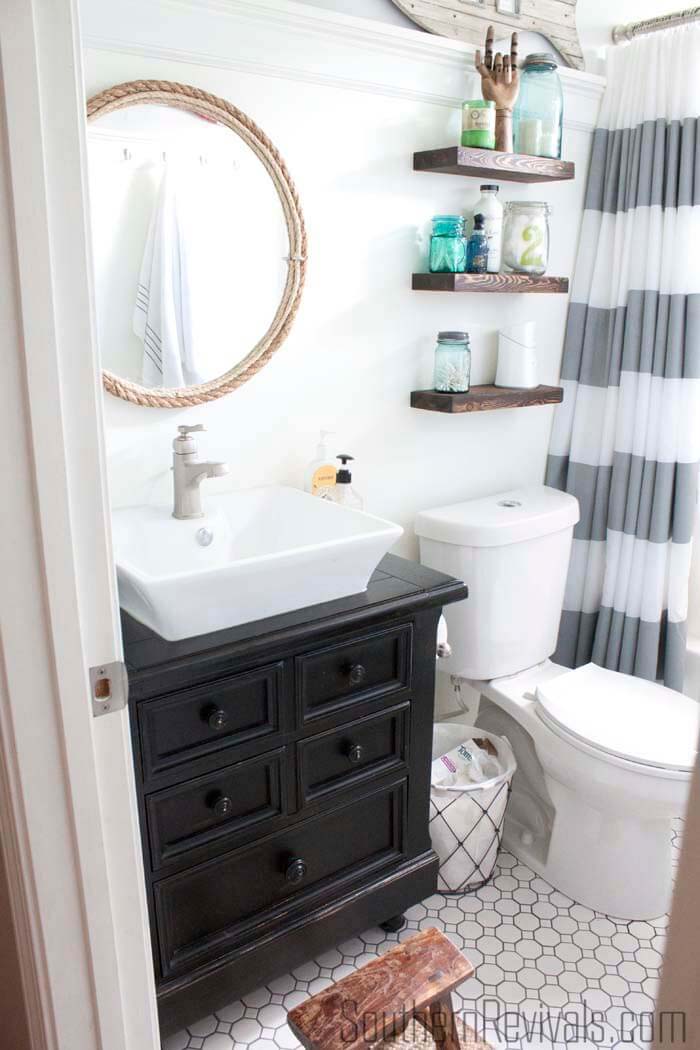 To make the most of a tiny space, draw the eye upward.
Here, you'll note how the shelves, molding, and decorations reach almost to the ceiling.
This trick creates the illusion of extra height, making the room feel more spacious.
6. Soft Blue Contrasts With Warm Neutrals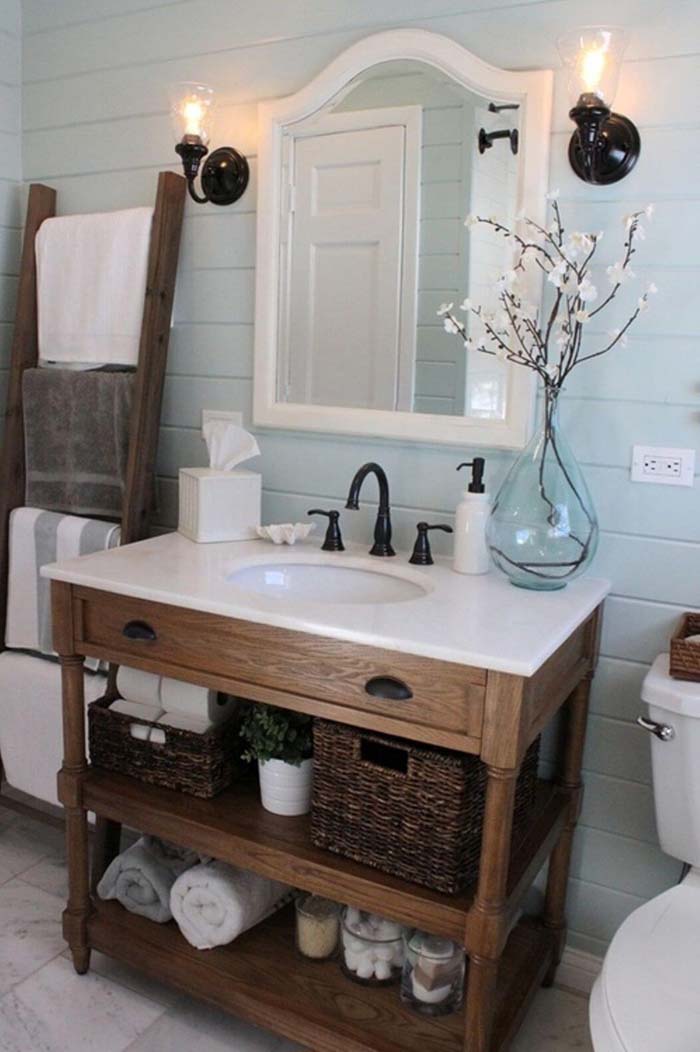 For a bathroom that feels airy, cozy, and contemporary, consider pairing icy blue walls with soft brown accents.
The effect is unexpected and elegant, and the gentle contrast between the colors creates a relaxing, inviting atmosphere. Natural wooden furniture fits right in.
7. Valances Add Color Without Weight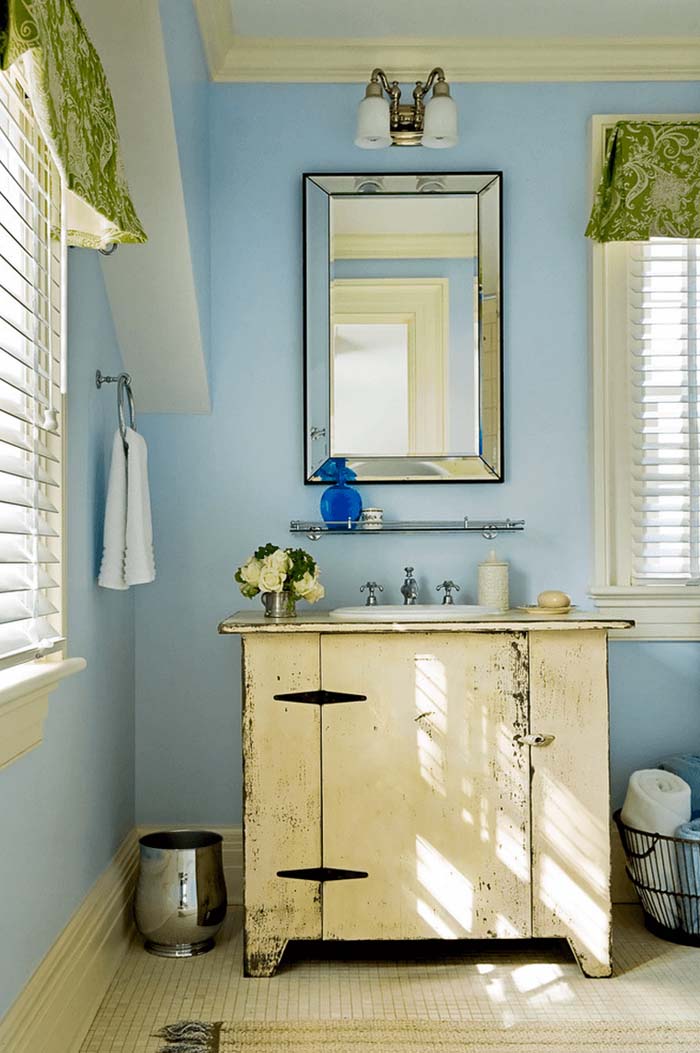 Natural light is everything in a tiny bathroom — but how do you ensure privacy?
This clever solution pairs colorful valances with white blinds.
The valances add just the right touch of color, brightening the room without going over the top, and the blinds open and close as needed.
via Dec and You
8. Maximize Small Space With A Wet Room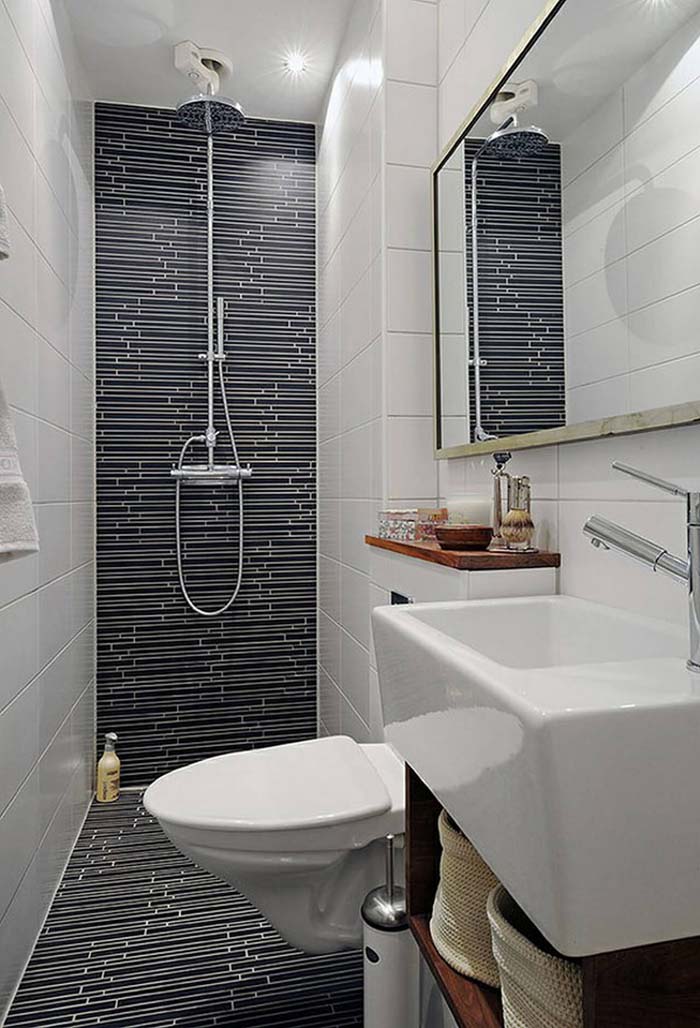 When you have a truly tiny bathroom, take a cue from European design — do away with shower enclosures and create a wet room.
Since the rest of the room is tiled, it drains and dries quickly after a shower.
As a bonus, the lack of a shower curtain makes the space feel bigger.
9. Creative Layout Uses Every Inch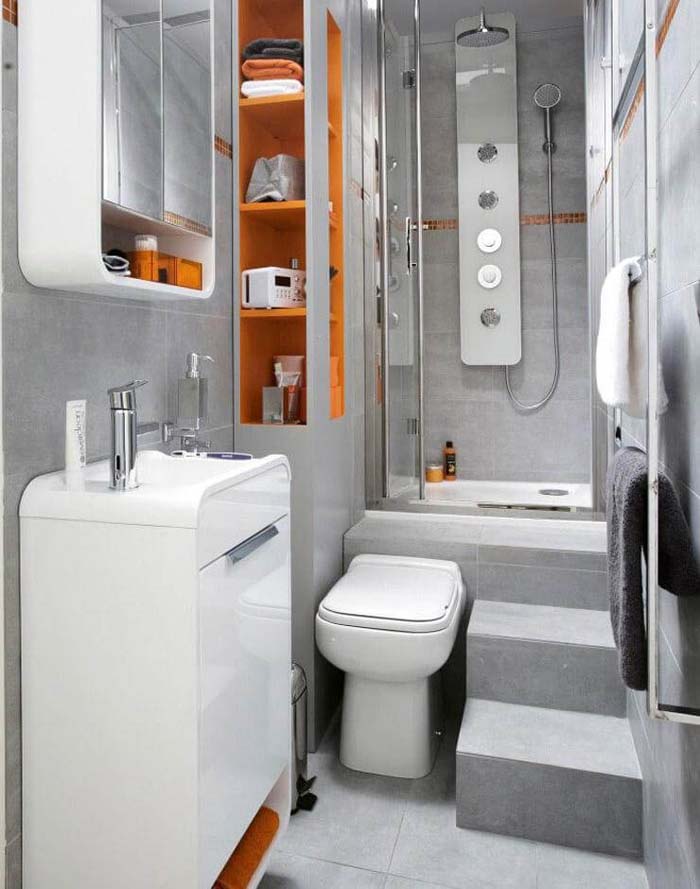 Maximize an unusual bathroom layout by getting creative with the space.
Tuck a toilet into a corner and build shelves into the walls to create storage.
Rounded edges keep you safe and add designer flair to the tiny area.
10. Use The Countertop For Décor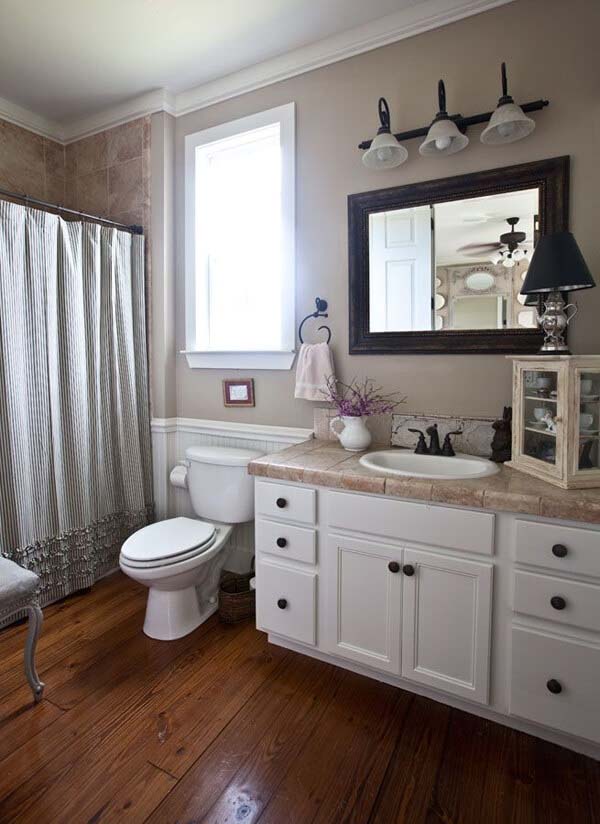 Are you working with limited wall space for decorations?
Make the most of your counterspace with a clever display case.
Depending on your needs, you can use it to show off tiny decorative items or your most beautiful cosmetics and perfumes.
11. Let Your Décor Multitask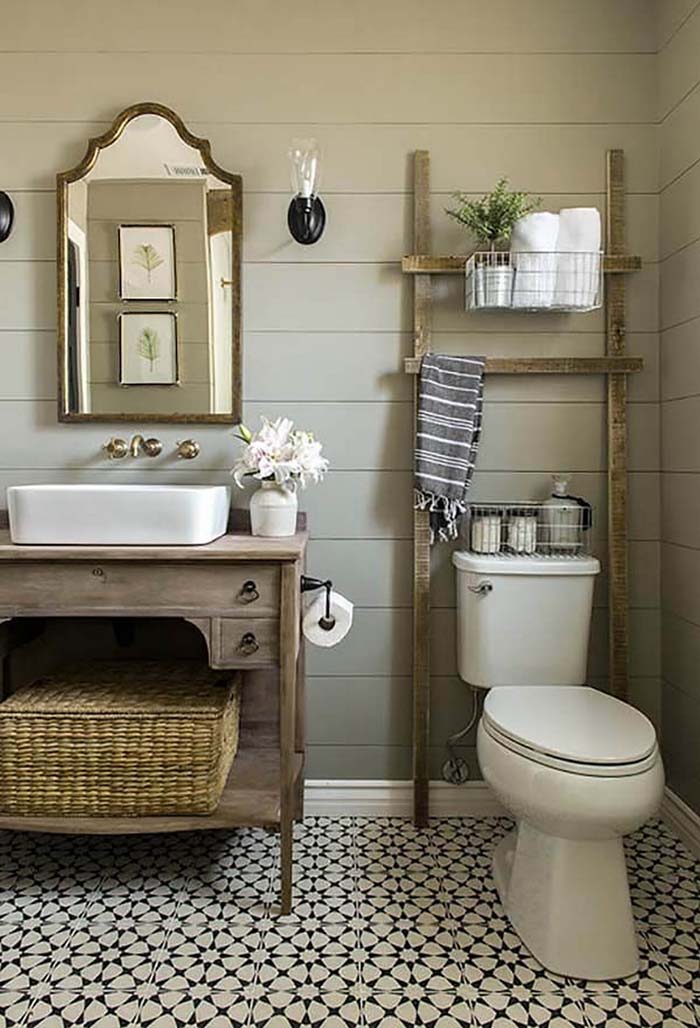 With its neutral color palette and elegant simplicity, Scandinavian style is the perfect fit for a small bathroom.
Get the most from every item by choosing pieces that are both beautiful and functional.
A ladder-style decoration can double as a towel holder and a mount for a wire towel basket, while a beautiful natural-seagrass bin adds texture and storage.
12. Clean White With Luxe Finishes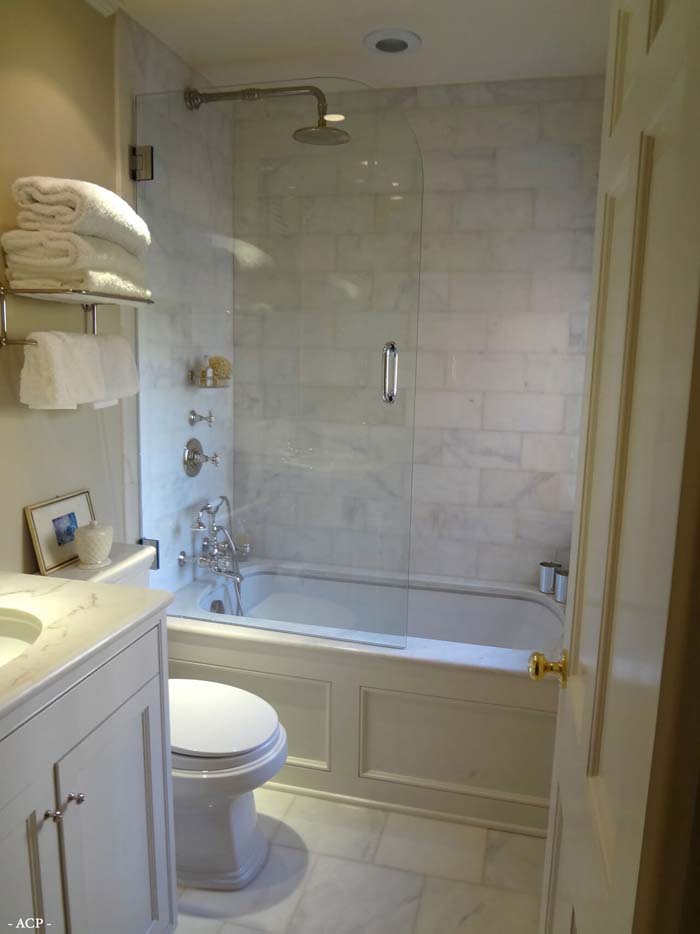 Go all in on modern European style by decorating your bathroom with a minimalist approach. The secret?
Use upscale materials and a limited color palette to avoid crowding the space. The result feels fresh, open, and decidedly luxurious.
13. A Large Mirror Creates An Illusion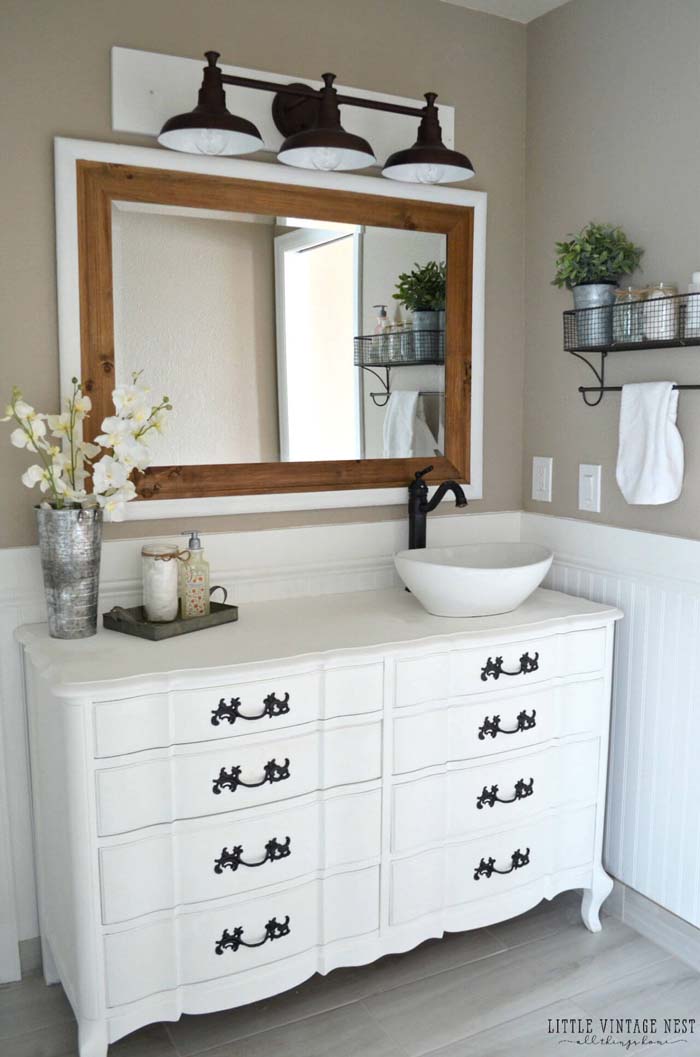 Mirrors are a godsend in small spaces — they look great and they reflect sunlight.
As you're decorating your bathroom, consider filling the wall above the sink with a large mirror; it will create the optical illusion of a bigger room.
Choose a model with a gorgeous frame, and the mirror turns into the decorative focal point.
via Sarah Joy Blog
14. Spa Luxe Cedar Plank Walls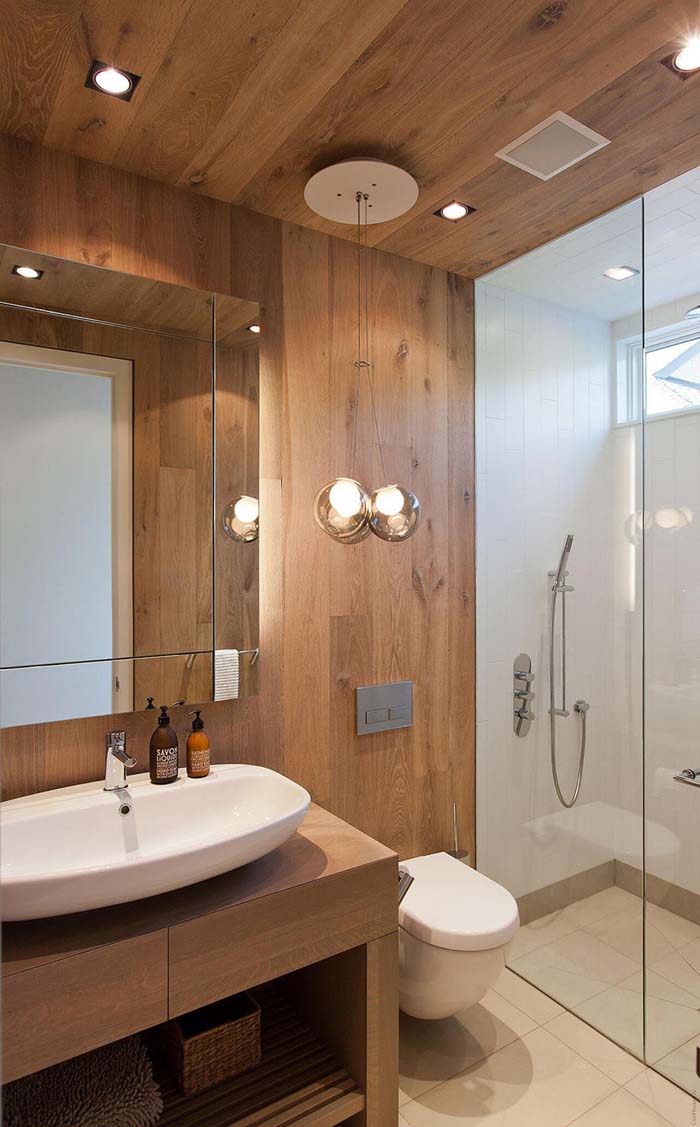 Have you ever been inside a cedar sauna?
Bring the same relaxing, natural vibe to your small bathroom by covering the walls in cedar planks.
The wood is naturally rot-resistant, and the fragrant scent will make every shower feel like a trip to the spa.
via Architizer
15. Go Bold With Monochromatic Tiles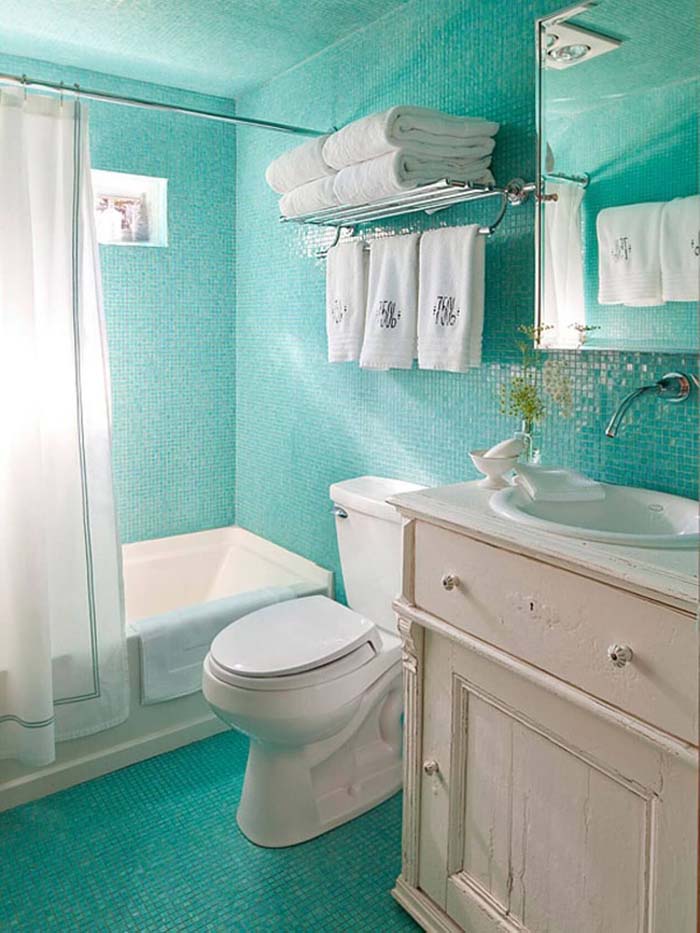 If your style tends toward bright and bold, there's no reason to change it because you have a small bathroom.
Instead, choose a brilliant tile and use it to cover the walls and floor.
Keep everything else in the room simple and monochromatic — that way, the tiles are the star of the show.
16. Contrast White With Chic Gray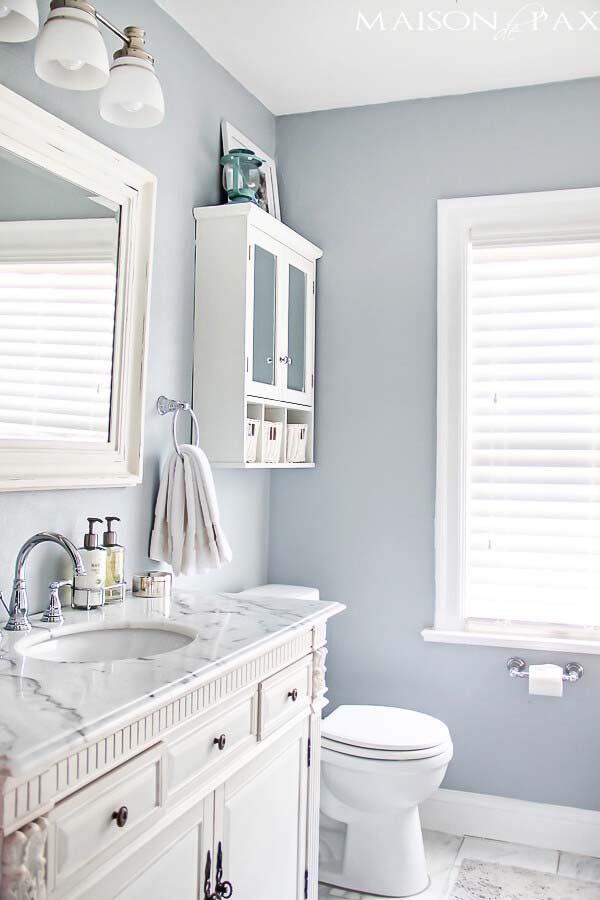 Pale colors are an easy way to make your small bathroom seem bigger and brighter.
If you don't want an all-white room, try adding silver and gray accents.
The combination is impossibly chic and stylish. Plus, since silver and gray reflect light, the room still feels airy.
via Maison De Pax
17. Inexpensive Updates With Hardware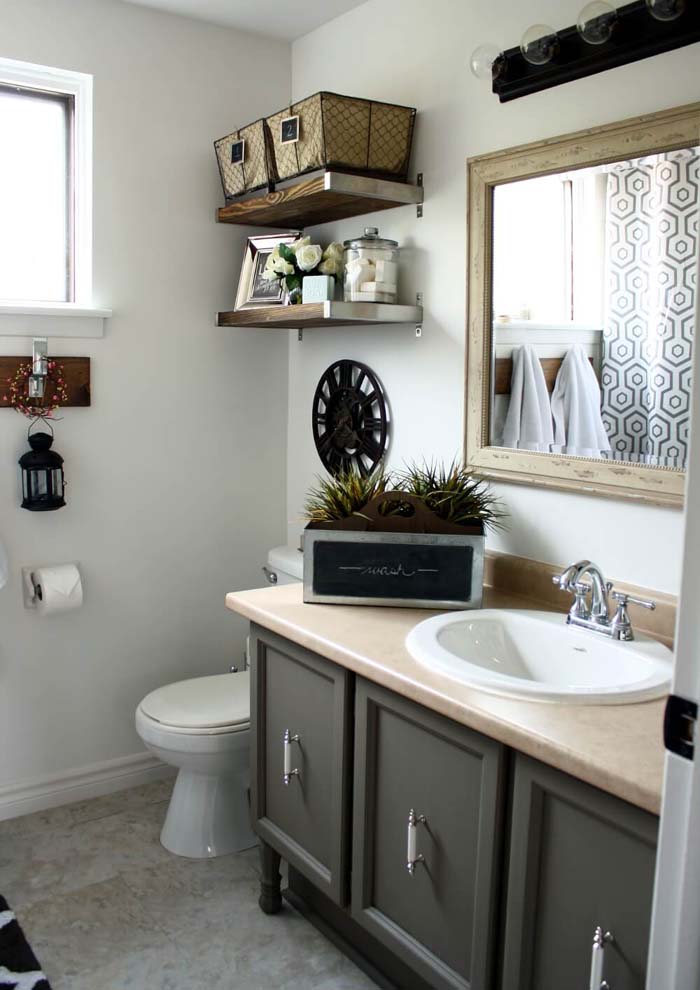 Dated fixtures are an eyesore, especially in a small bathroom.
For a quick and easy update, try switching out your old faucets and light fixtures for industrial versions.
The beautiful details, dark iron, and metal finishes stand out in the compact space, making it feel professionally designed on a budget.
via A Beautiful Mess
18. Keep It Light With A Half Wall Of Color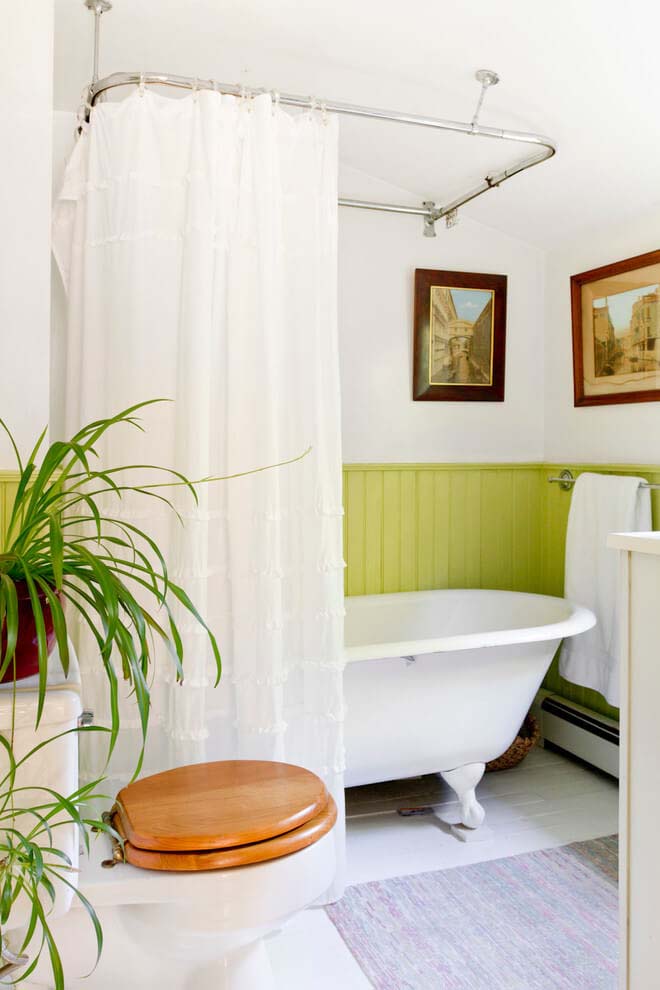 Are you longing for modern color in a vintage bathroom?
Maintain the historic vibe by adding lime green wainscoting. The burst of green instantly energizes the room, and the traditional woodwork pairs beautifully with antique fixtures.
via Cybball
19. Add Style To A Small Bath With Textiles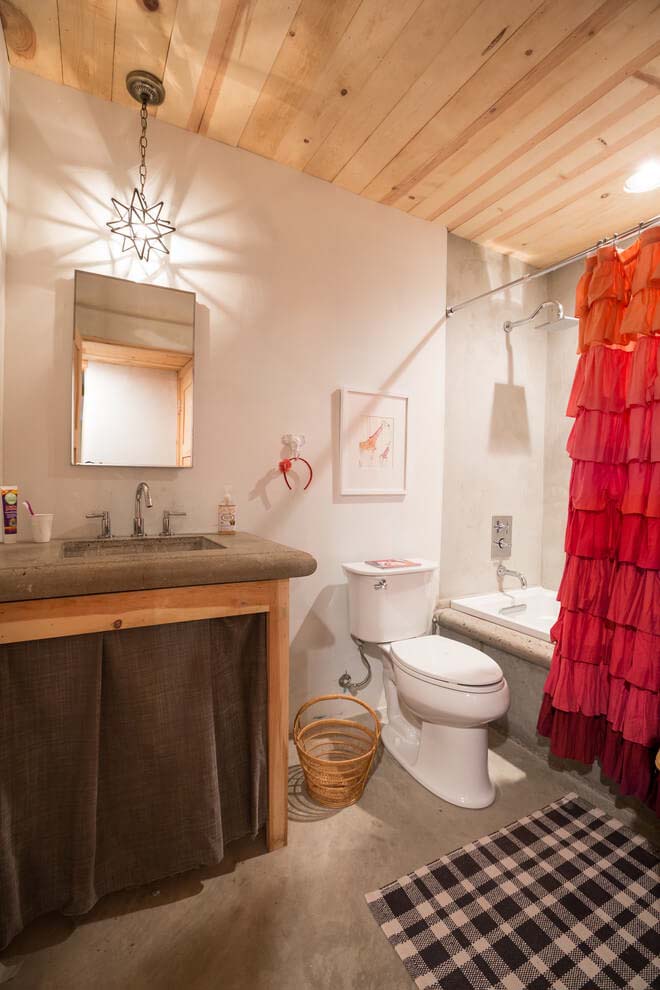 Linens are a quick way to update a small bathroom without breaking the bank.
Switch out your shower curtain, bath mat, and hand towel for models with ruffles, bright colors, or interesting prints.
If your sink has an open base, add a dust ruffle for extra softness.
20. Rustic Corner Shower Saves Space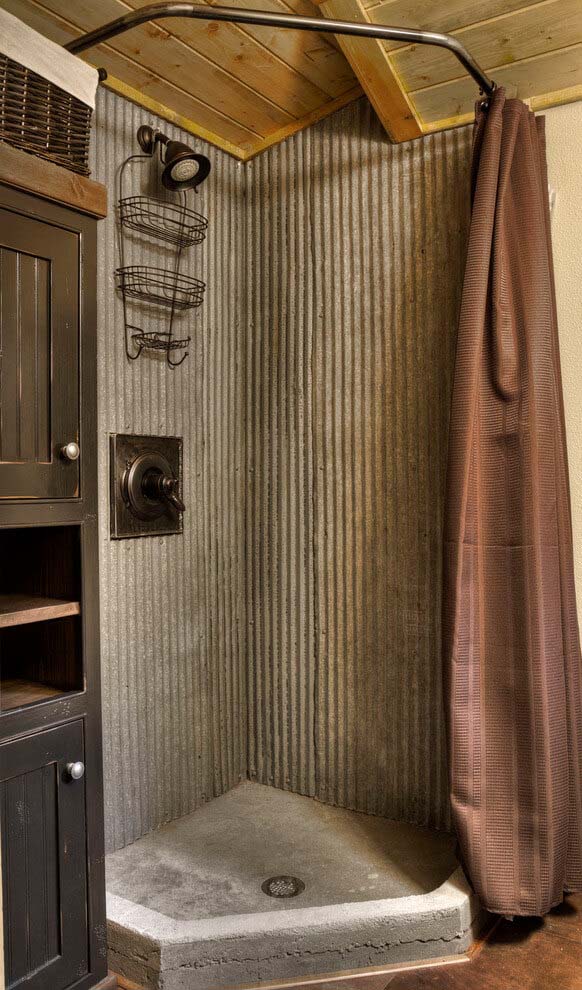 Corrugated metal is the perfect way to make a big transformation in a small space.
Frame the shower with wood to create a look that's masculine and stylish; it also fits easily in a farmhouse, a rustic cabin, or a home with country-inspired decor.
21. Small Can Still Be Bold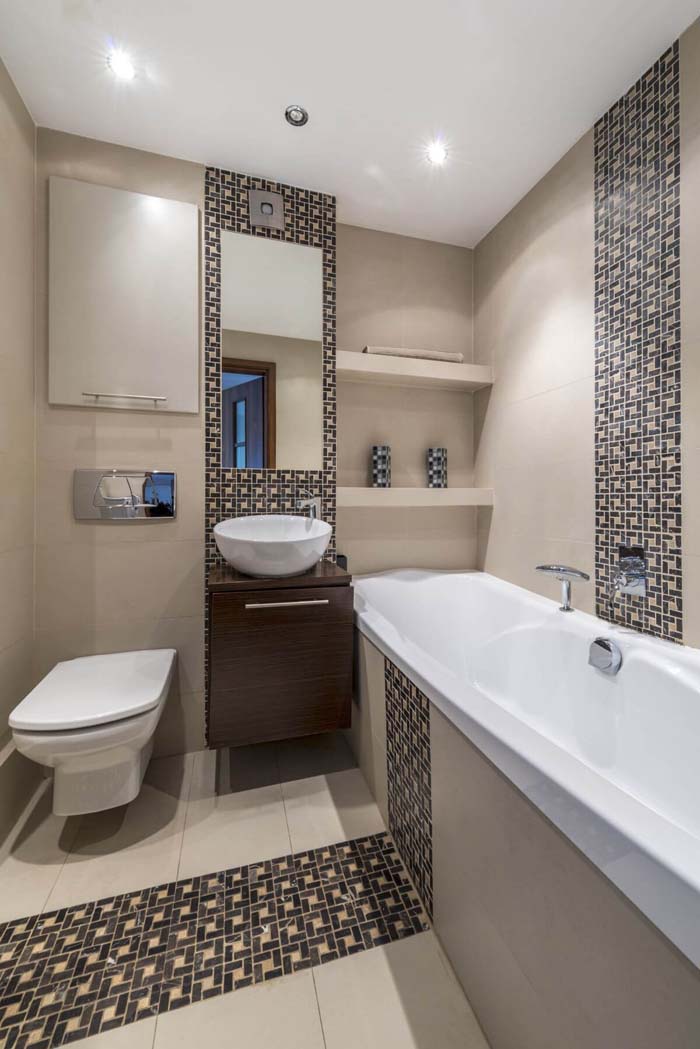 Minimalist designs are a great way to make a tiny space feel more soothing.
If you're ready for a pop of pattern, try adding contrasting tile patterns.
Here, the same pattern shows up in three different places for a design that's bold and unified.
22. Colorful Mid Century Accents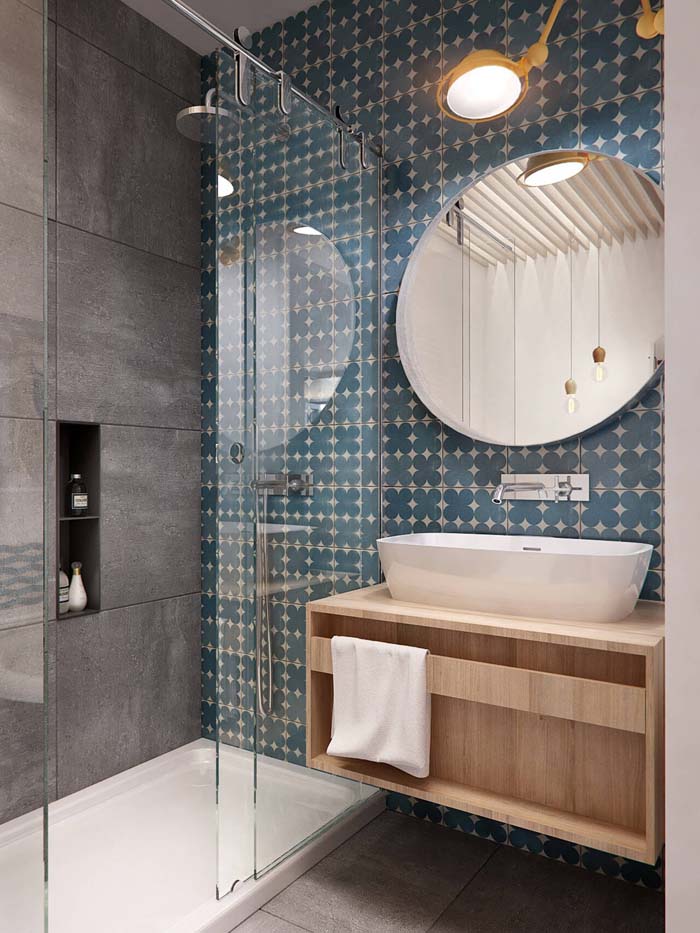 When space is limited, a few changes go a long way.
This bathroom features mod elements: a round mirror, a vintage light, patterned tile, and a gorgeous vanity with a mid-century basin sink.
The blue tile brings color, and the rest of the room is restrained to let the retro elements shine.
via Archilovers
23. Space Saving Built In Shelves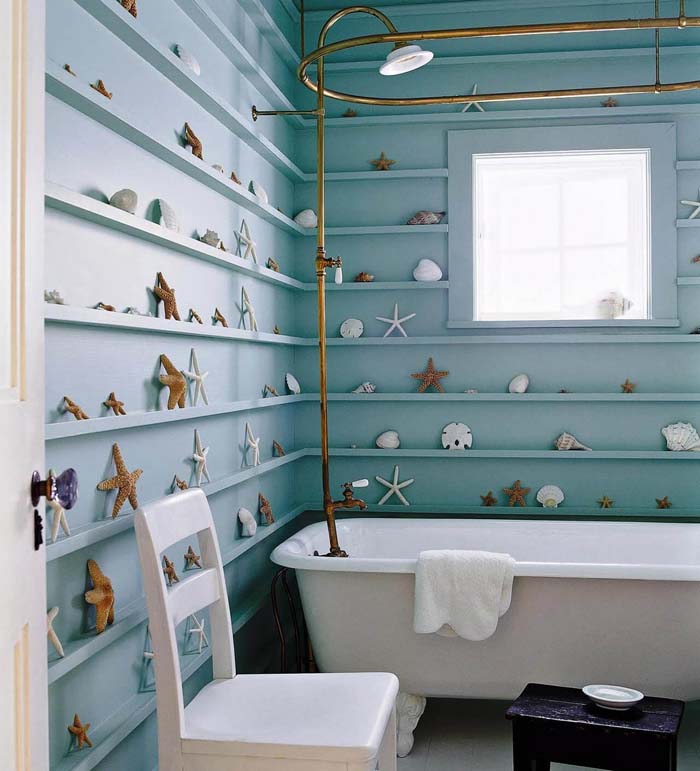 Beachy and unexpected, this bathroom is a work of art.
Most of the room is exceptionally simple; that way, your attention is drawn to the narrow ledge shelves that display a selection of ocean treasures.
24. Choose Serene Tile Hues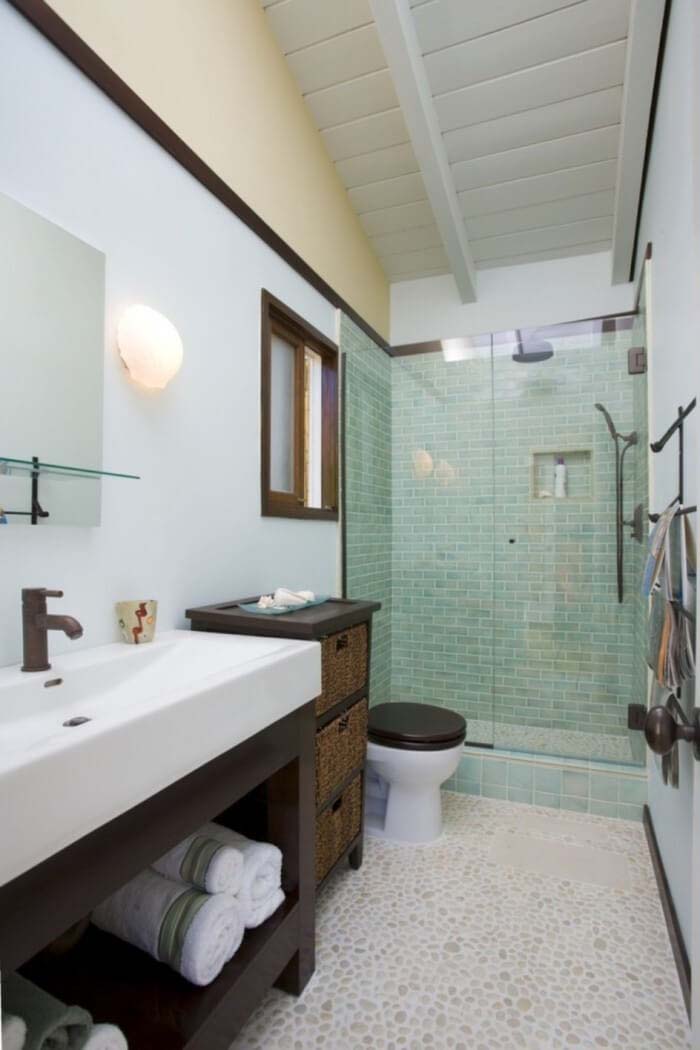 Multiple textures can overwhelm a small bathroom, but you can avoid that pitfall by choosing light colors.
Pale aqua tiles and light white and grey stone floors strike just the right balance.
Dark wooden accents add a touch of contrast.
25. Farmhouse Chic With Recessed Cabinet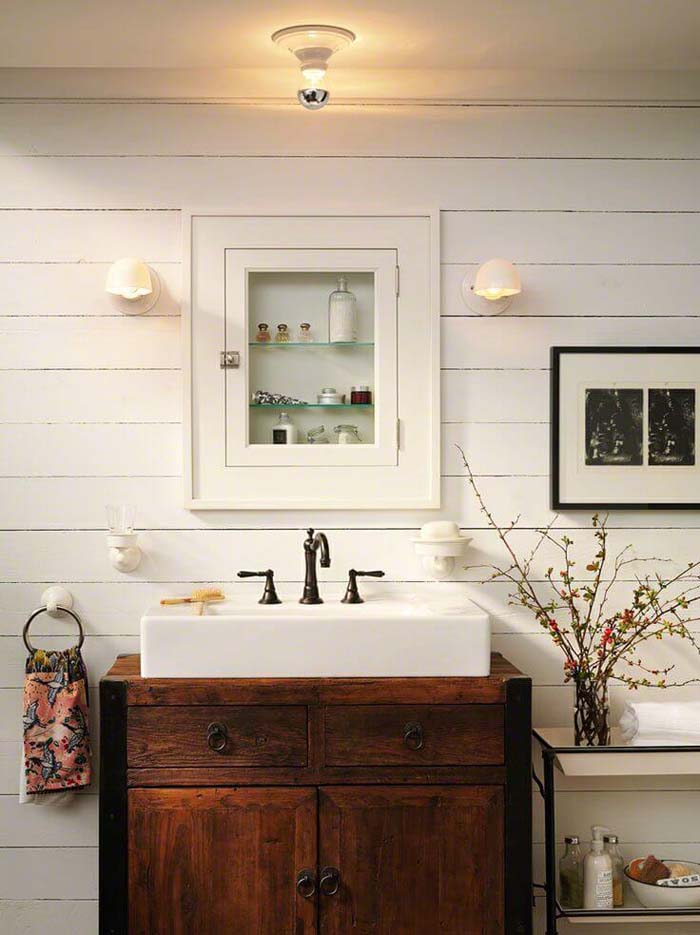 Space-saving furniture is a must in a tiny bathroom.
Here, a recessed medicine cabinet and a gorgeous farm sink create a vintage vibe that pairs beautifully with the shiplap walls. The effect is striking and restrained.
26. Horizontal Tiles Have Widening Effect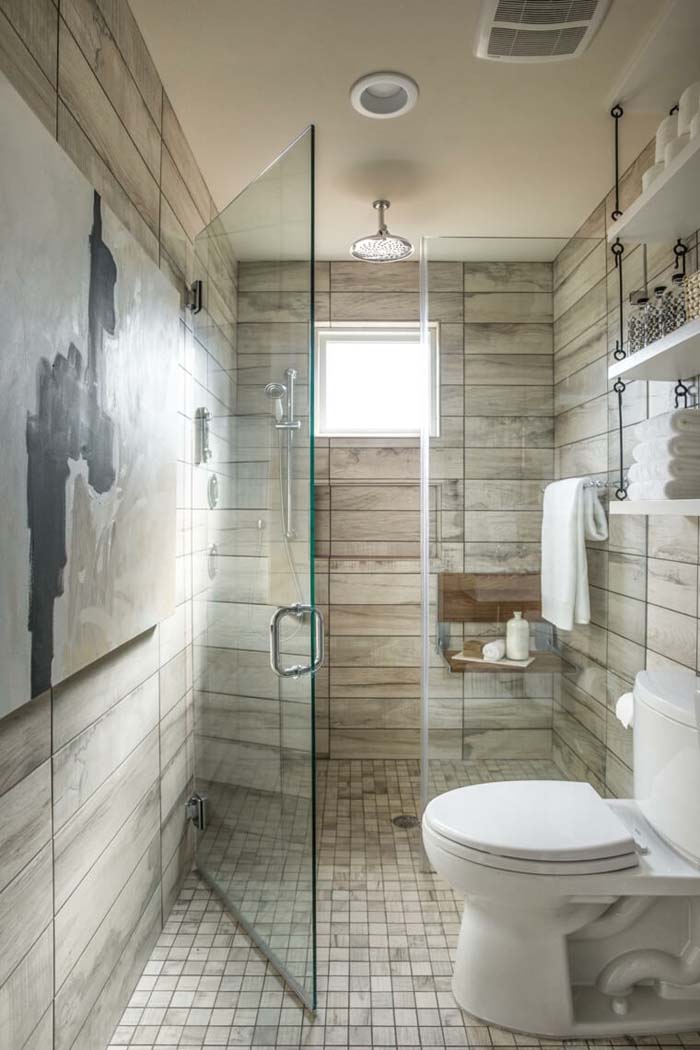 Do you know how horizontally striped shirts can make you look wider?
Put this illusion to work in your bathroom by using long horizontal tiles to expand the space. Keep the color palette neutral for maximum brightness.
via HGTV
27. Open Bases Save Visual Space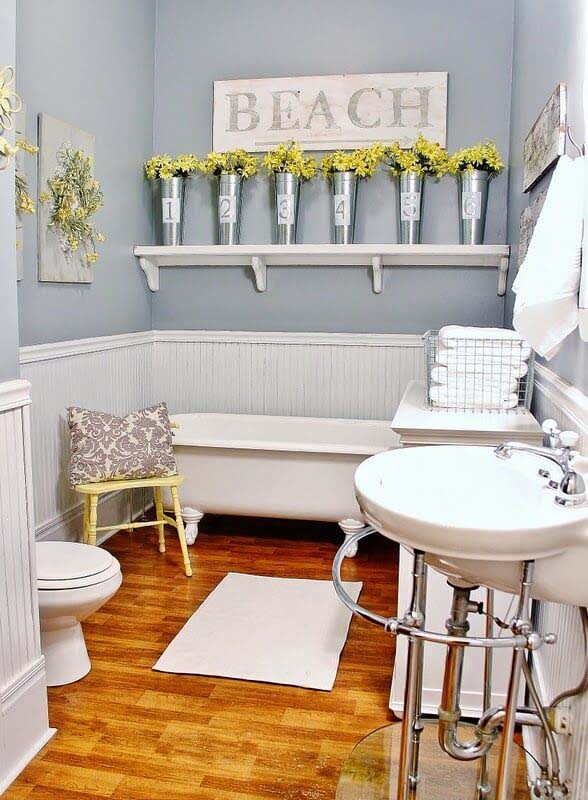 Delicate fixtures reduce bulk in a bathroom, so it seems larger.
Retro fixtures, including pedestal sinks and clawfoot tubs, are great options — they make your small room functional and stylish without crowding.
28. Striking Gray And Clean White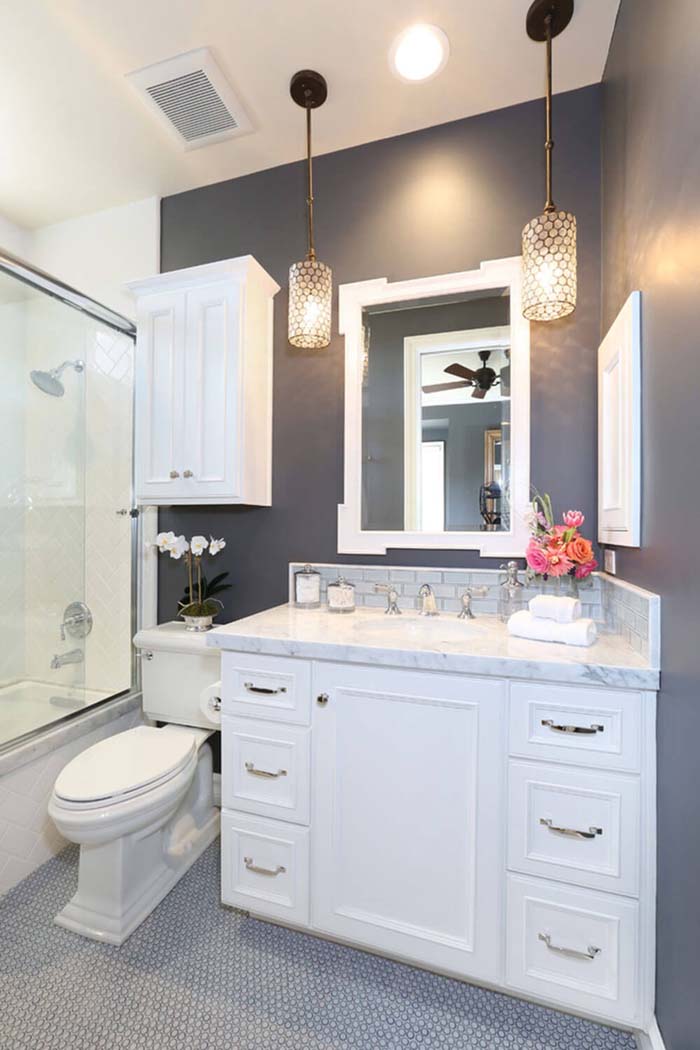 Clean, simple lines always look beautiful in small bathrooms.
Here, dark gray walls add a contemporary vibe, while all-white furniture and accessories keep the space looking fresh and sunny.
29. Imaginative Use Of Vintage Objects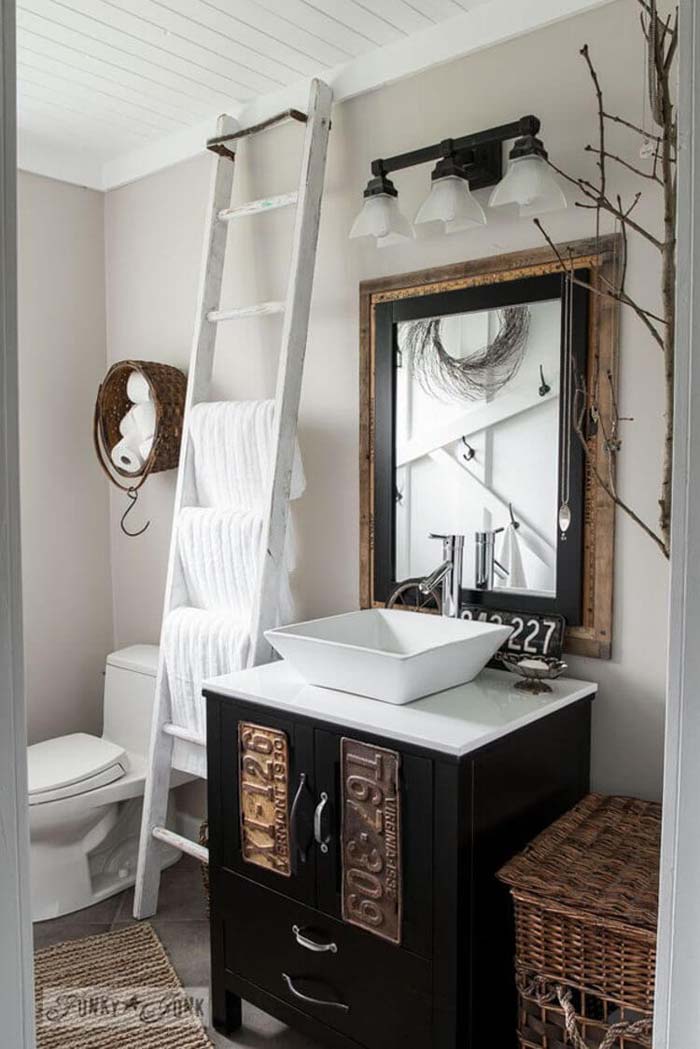 If you like your home to have as much personality as you do, why not get creative?
Upcycled items, like ladders, baskets, and tree branches, are great pieces that work as decorations and storage.
The ladder holds towels, the basket doubles as a toilet paper holder, and the branch becomes a jewelry tree.
30. Add Shine To A Gray Bath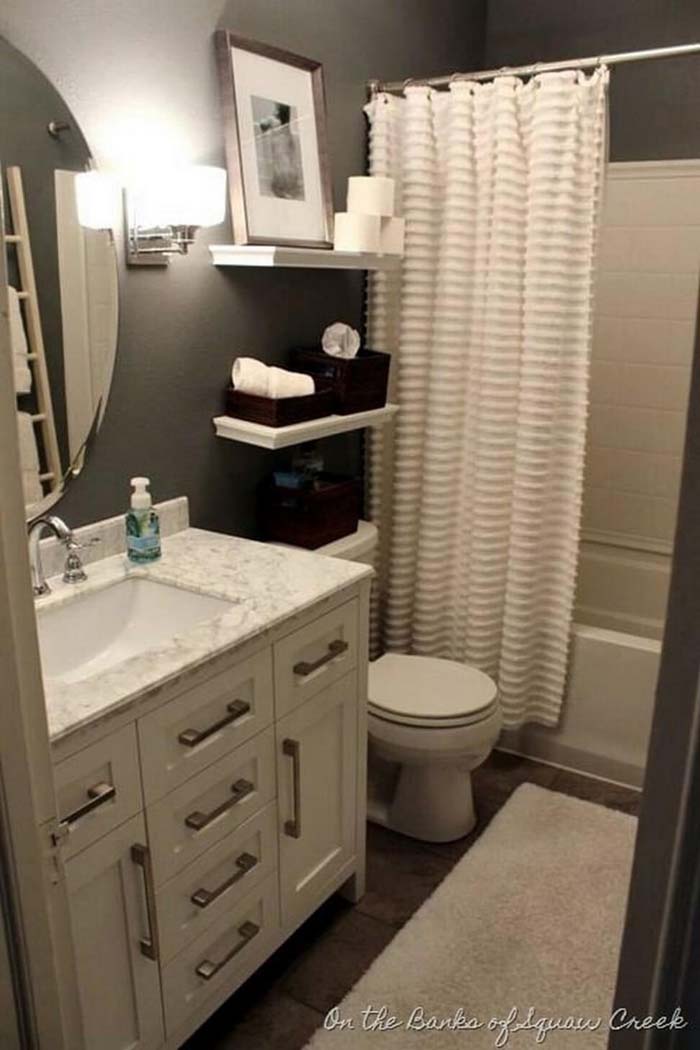 You can't go wrong with dark gray walls and all-white furniture in a small bathroom.
If you're looking for a bit of an edge, why not consider metal accents?
The gleaming chrome finish adds a hint of shine and style to the miniature room.
31. Bring The Woods Inside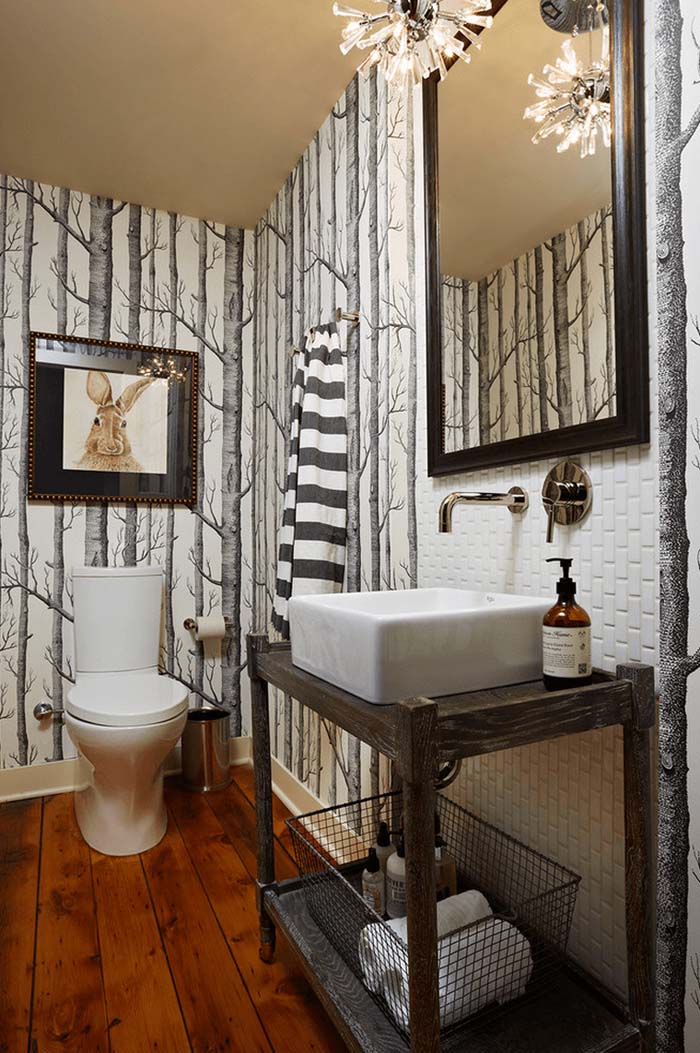 Bold, patterned wallpaper is a big trend — and in a small bathroom, you can maximize the style on a budget.
A nature-inspired print turns your powder room into a charming forest; add a few animal-themed accents to complete the look.
32. Sunshine Yellow And A Smart Layout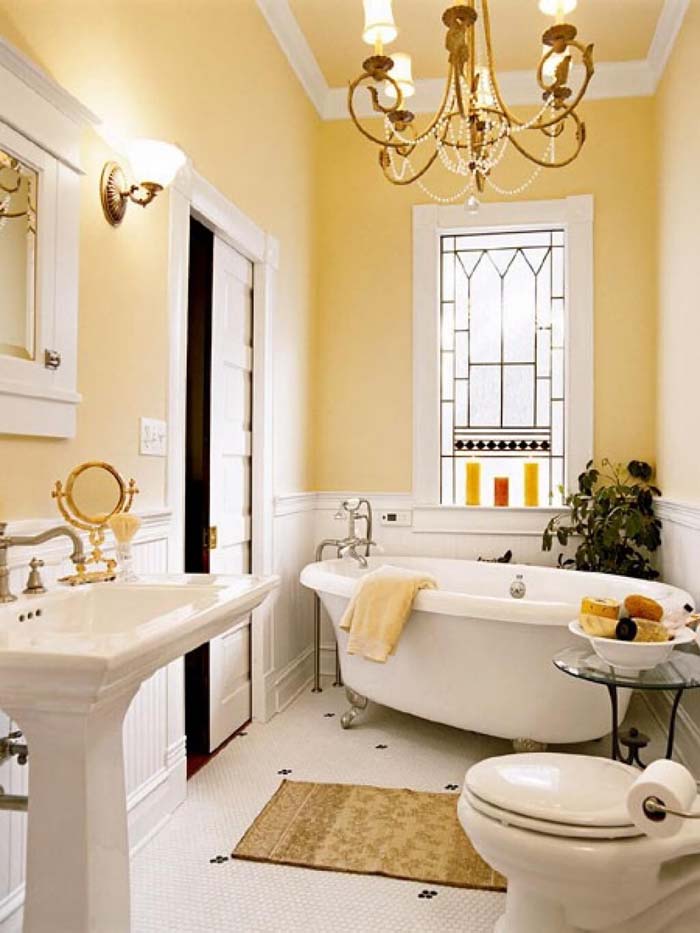 This bathroom is all about vintage glam — the shimmering golden fixtures pair perfectly with the leaded window and clawfoot tub.
To help the room feel bigger and more luxurious, the walls are painted in white and buttercup yellow.