Indoor gardening can bring a lot of pleasure if you have a planter suitable for the space of your home.
Are you short of space? This is not an issue anymore as the ladder-shaped planter will create extra space for your plants without taking too much from the floor.
Along with bringing nature inside, the vertical ladder planter will also create a point of interest.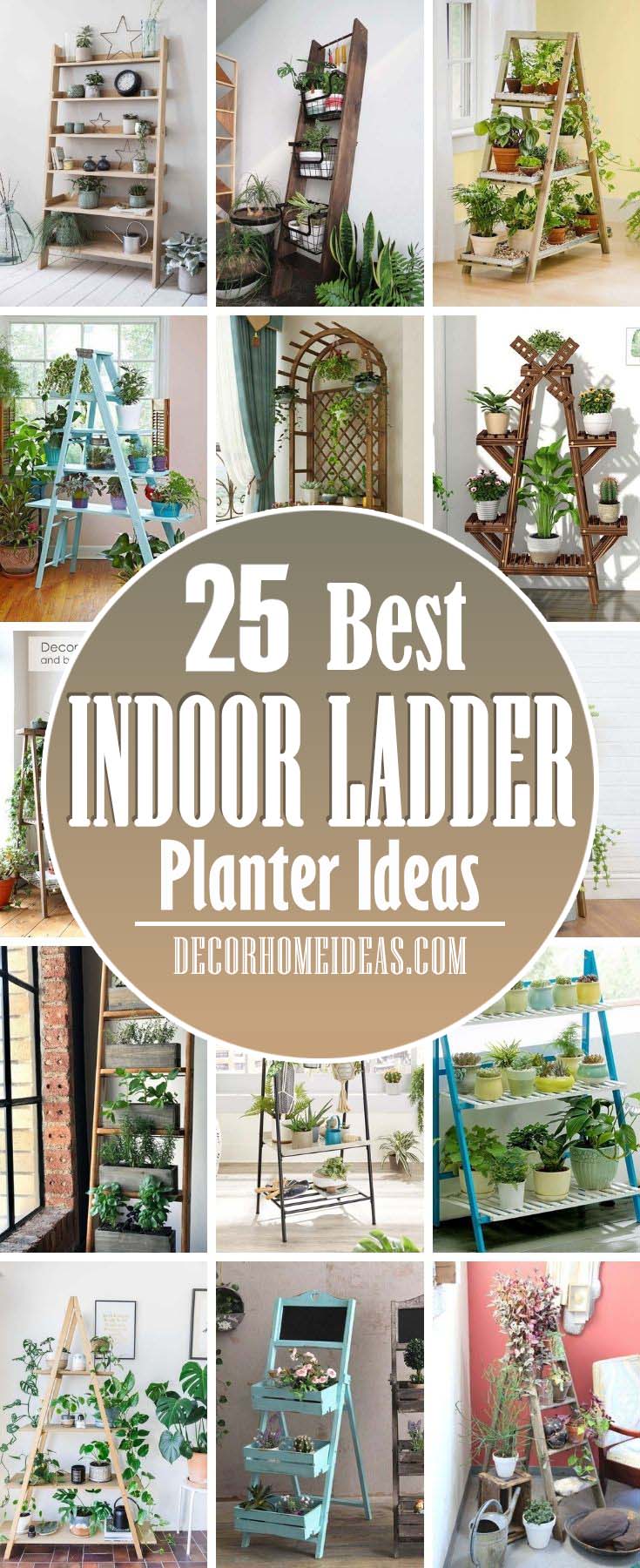 We have collected different vertical ladder planter ideas that will give you inspiration for indoor gardening and will add an interesting accent to the interior.
1. Decorative Triangle Ladder Planter with Windmill Accent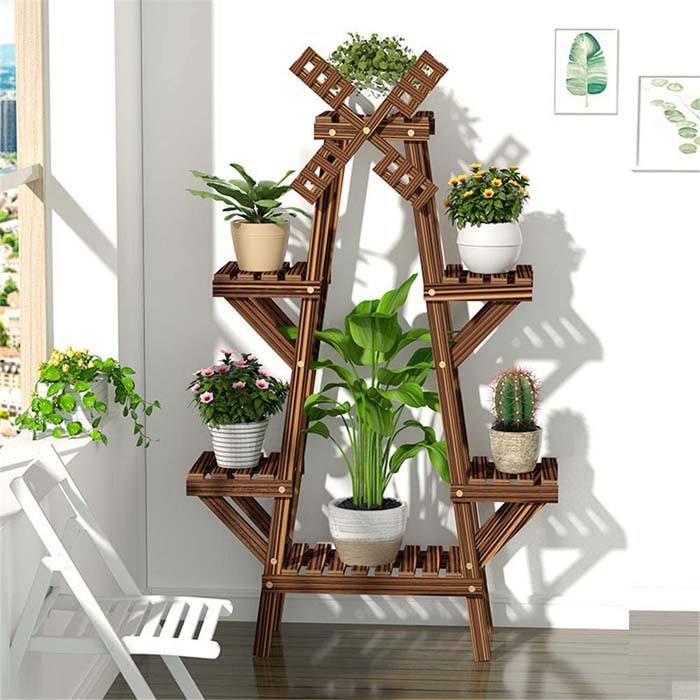 This triangle ladder planter provides space for the growth of multiple plants. The top of the triangle shape finishes with a windmill accent to give the stand a unique design.

2. Build a Customized Ladder Planter for Your Favorite Plants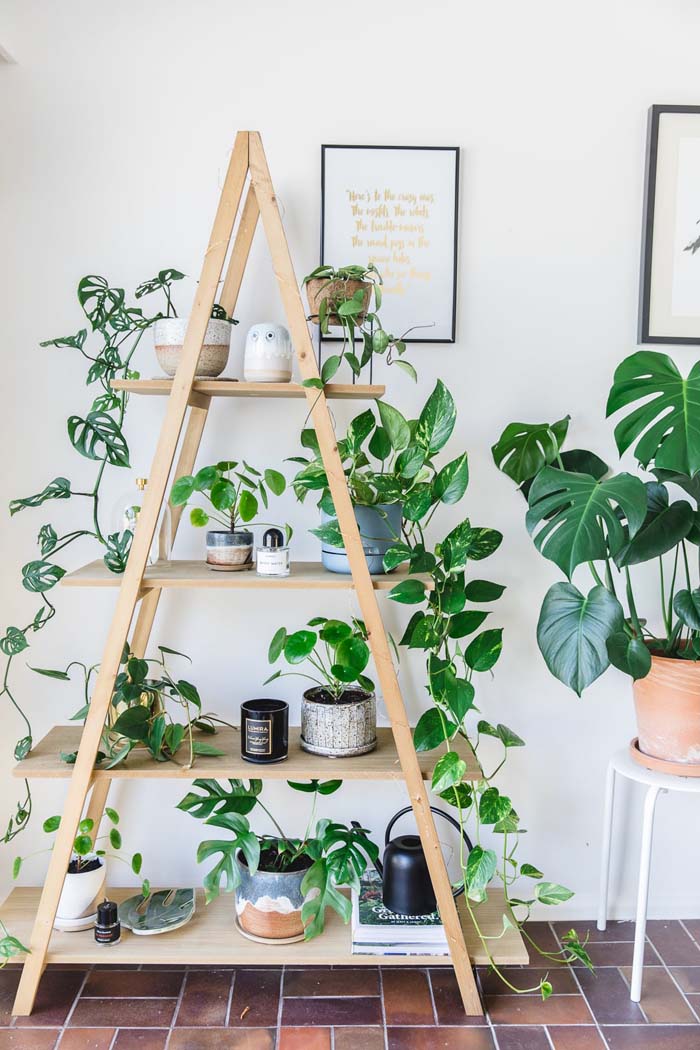 This design of a ladder planter is easy to make. Four wood posts create the frame of the ladder. Instead of steps, insert boards that will be used as plant displays.
The ladder planter can be as wide and tall as you may need to make a customized version that will accommodate your favorite plants.
via Connie and Luna
3. Make a Rustic Ladder Stand with Repurposed Furniture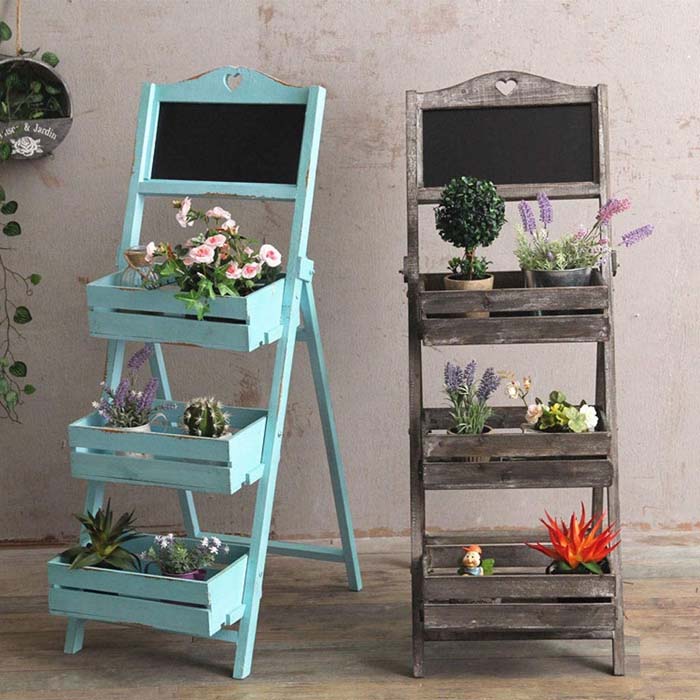 The ladder stand can be made out of old furniture. A chair, crates and an old ladder frame are combined to result in a stand that will charm with its farmhouse beauty.
To add further interest, part of the back of the chair is painted with chalkboard paint where inspirations and fun notes can be inscribed.
via Amazon
4. Aesthetic Wooden Ladder Planter with Modern Style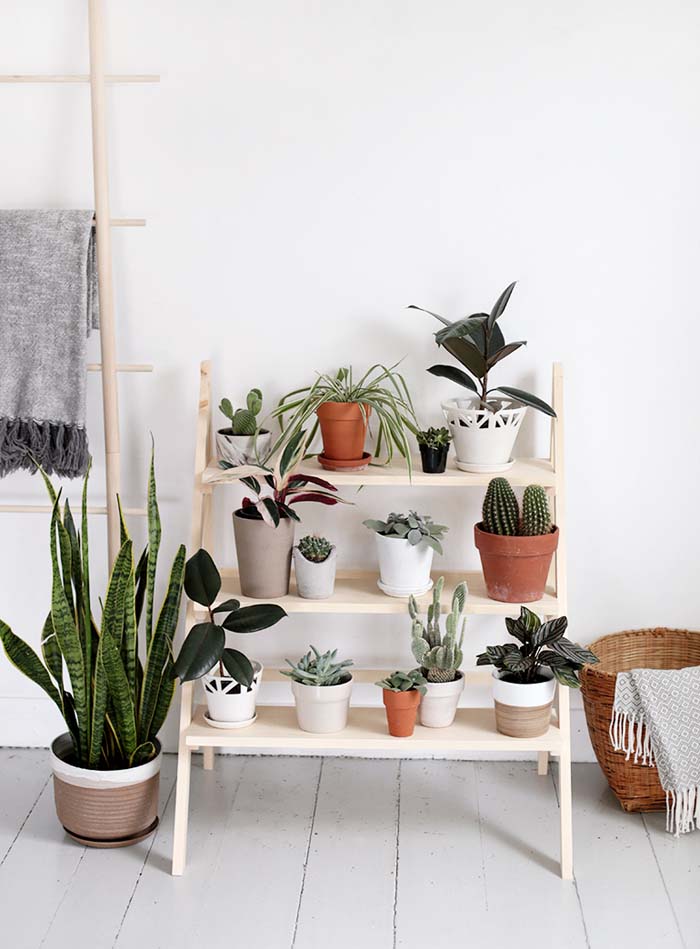 This small ladder planter has a modern look expressed by the fine sanded finish of the wood, the plain design and the light color of the wood.
5. Stylish and Compact Ladder Flower Stand for Small Spaces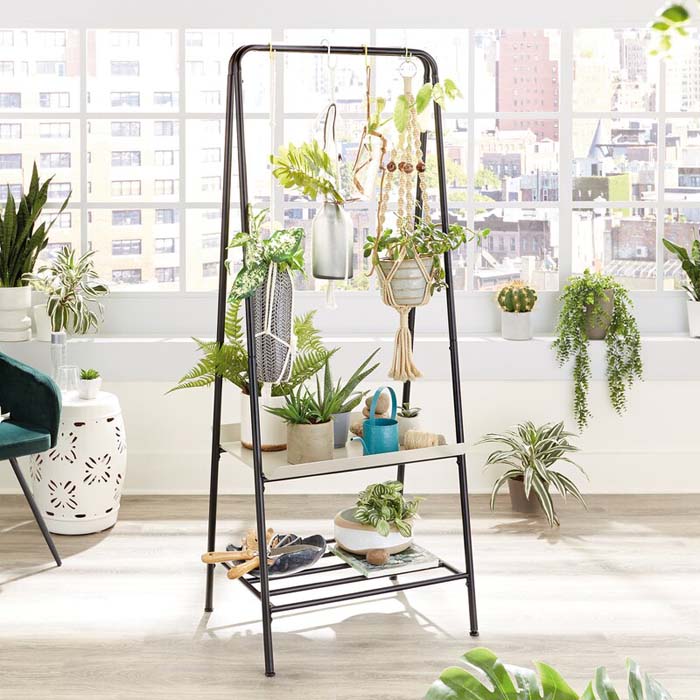 Since ladder flower stands are preferable for tinier spaces, the market offers them in a variety of materials, sizes and designs.
This metal one could fit a more contemporary interior where airy feeling and space are important.

6. Ladder-Shaped Planter with Vine Support Arch Frame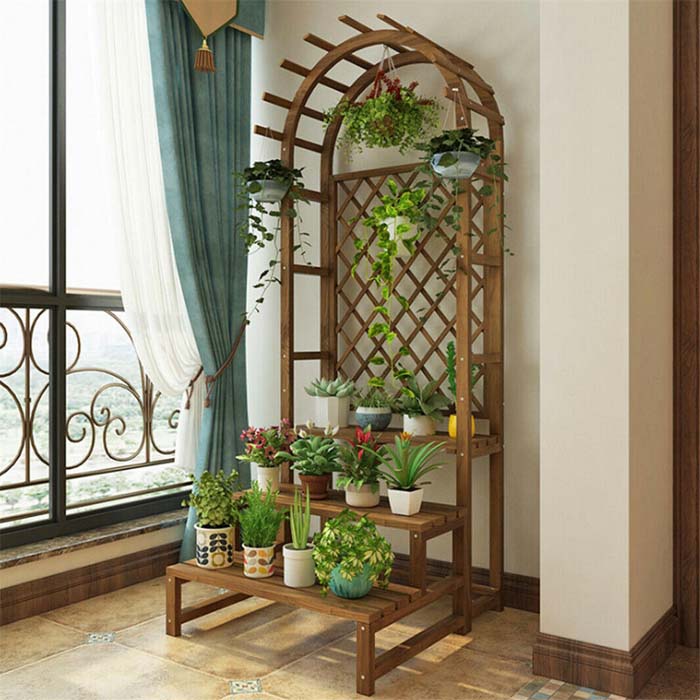 Such a ladder-shaped planter involves also an arch that can support vines on its top tier.
The advantage of this planter comes with the additional laths spread around the arch frame where planters can be hung.
via Sears
7. Grow Fresh Herbs Indoors with this Ladder Stand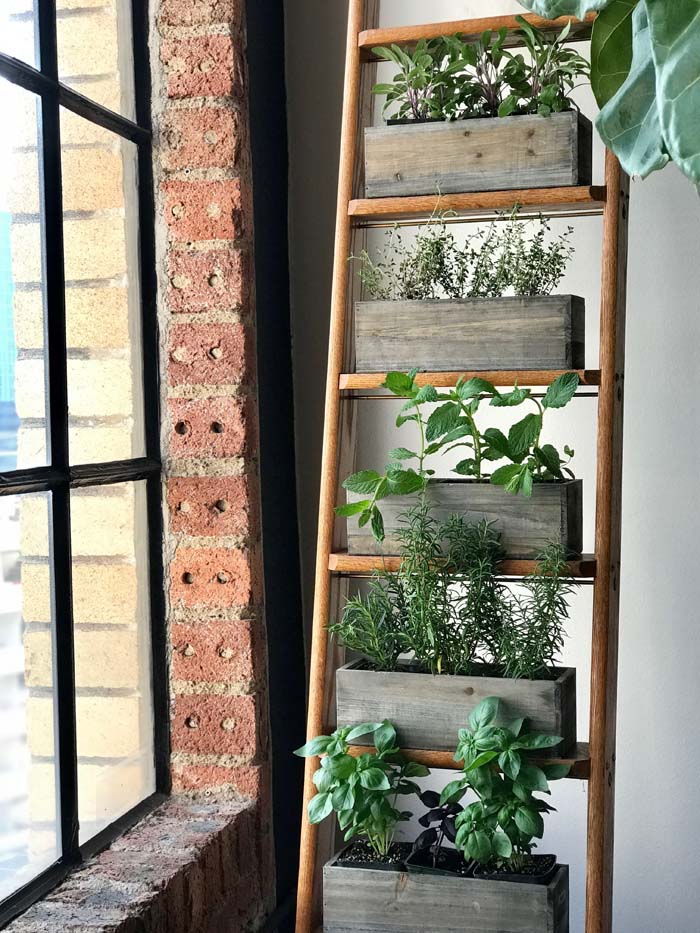 If you prefer cooking with fresh herbs, then you must miss your outdoor summer garden. Well, you shouldn't be any more as a ladder stand will let you grow the herbs you like indoors.
Place it in a niche or against a wall and enjoy the fresh taste all year long.
8. Elegant Indoor Vertical Planter in the Shape of a Ladder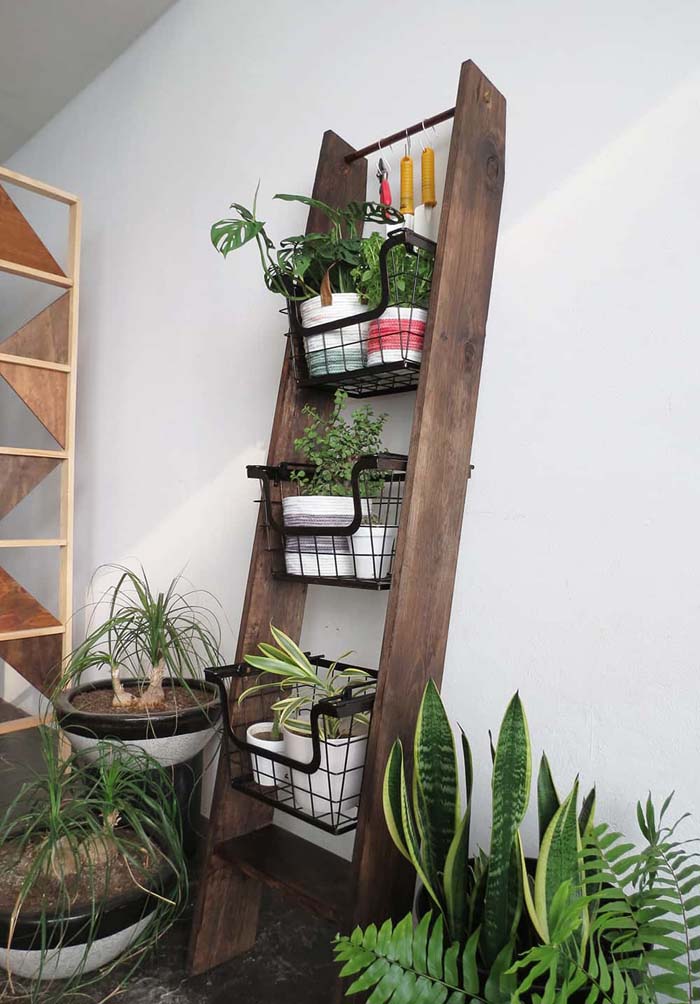 The tutorial below explains in detail how to make yourself an indoor vertical planter in the shape of a ladder.
Its rustic finish will add charm and calmness to the interior and will give enough levels for displaying of plants having a very small footprint.
via Oh Oh Deco
9. Create an Indoor Living Wall with Ladder-Shaped Planters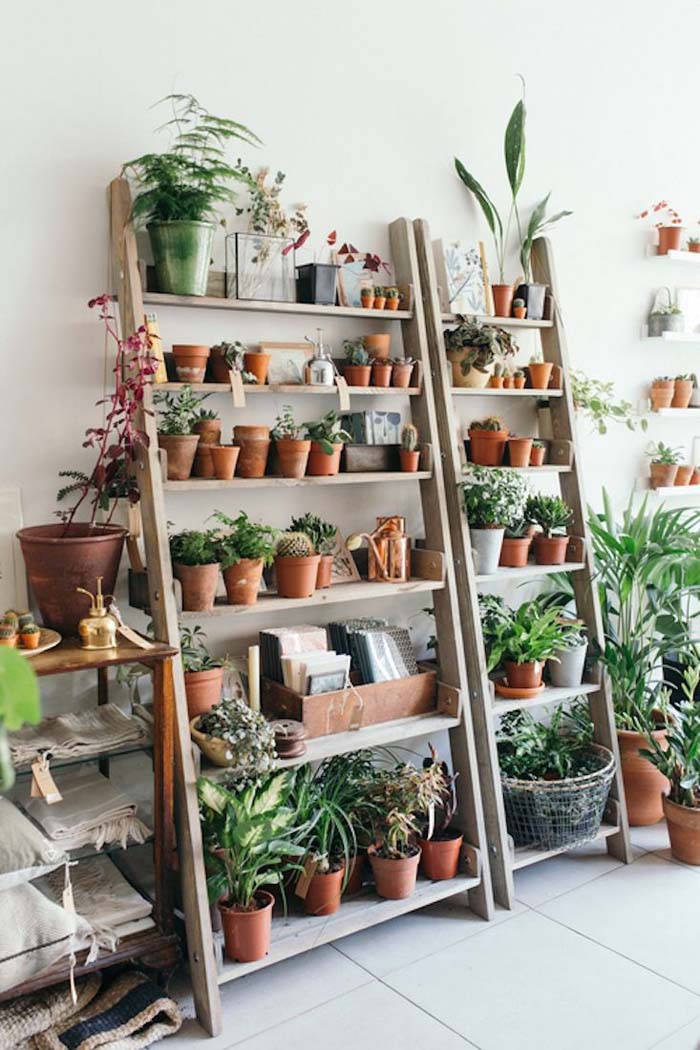 Displaying the potted plants on a few ladder-shaped planters will create a living indoor wall.
Such an idea will bring nature indoors in an outstanding way and will ensure space for all flowers during the colder seasons.
10. Add Rustic Beauty with an A-Shaped Planter Design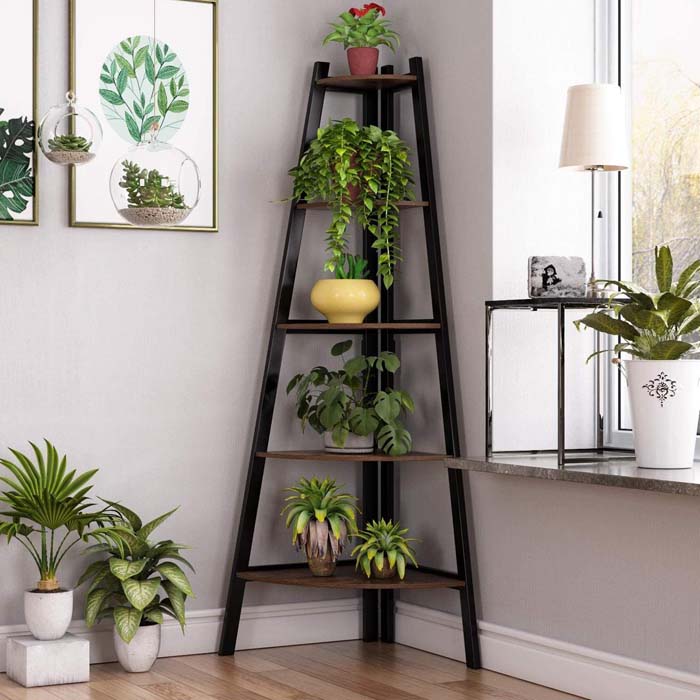 If you need a decoration for an empty corner, this A-shaped planter design will add both freshness and rustic beauty to the living space.
The five tiers are of different widths which makes storage of all kinds of plants possible.

11. Utilize Standard Ladders as Wall-Mounted Planters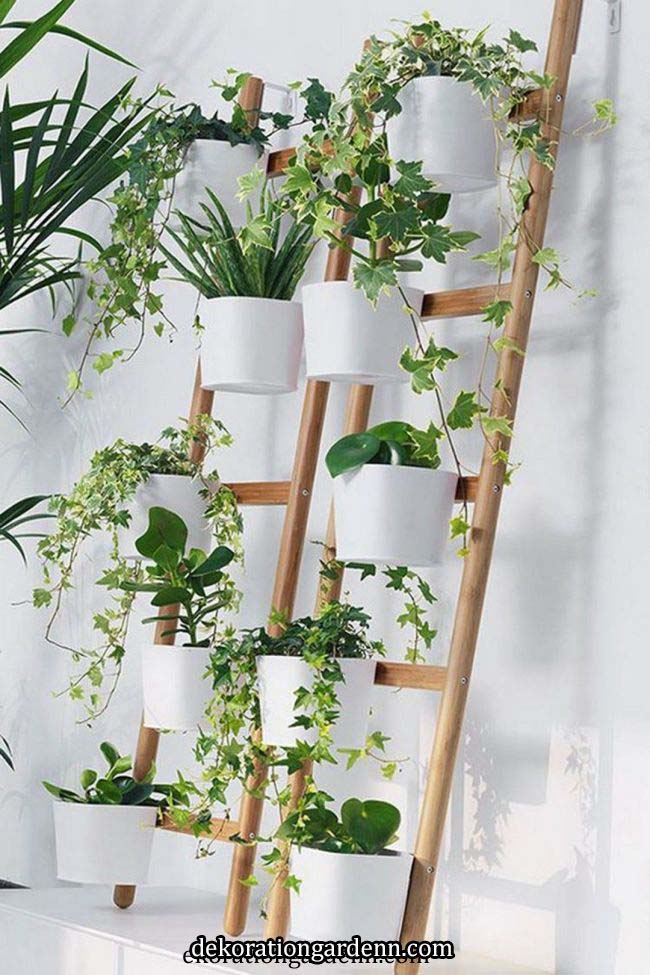 This is an idea of how to use standard ladders as planters without doing any modification to their design.
Lean them against the wall and if needed, secure them to the wall at their top. To hang the plants, use pots with hooks.
via IKEA
12. Create a Point of Interest with DIY Zig-Zag Planters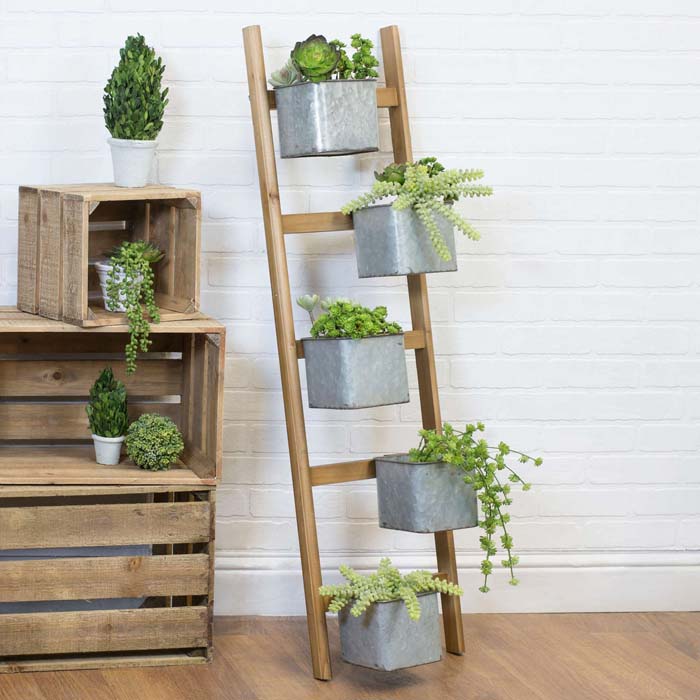 If you want to create a point of interest for your ladder planter, make identical plant containers placed in a zig-zag pattern.
To achieve a rustic effect, make the containers out of tin or use galvanized containers.
13. Add Colorful Nautical Vibe with a Three-Tiered Ladder Planter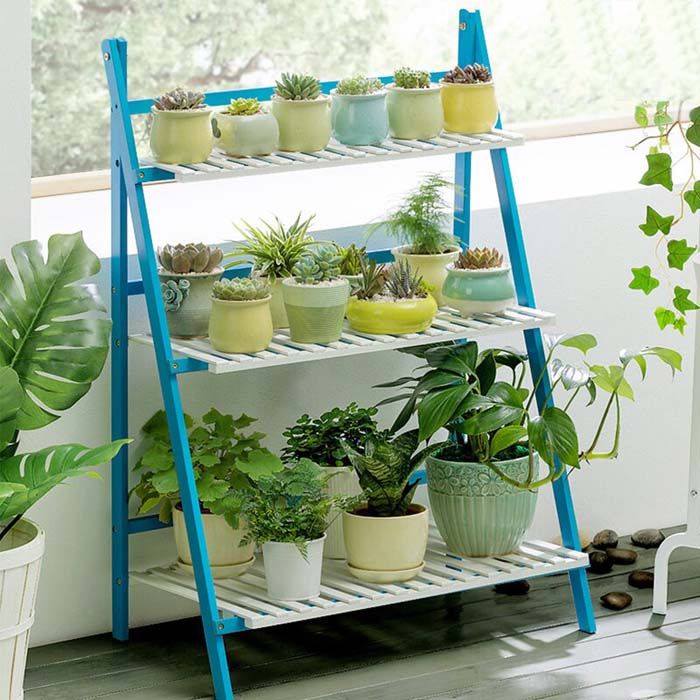 The ladder planter can also add a pop of color to the space. The combination of blue and white gives a nautical vibe indoors regardless of the season.
The three tiers make the storage of various sizes of plants possible.

14. Stylish Ladder Planter for Indoor and Outdoor Use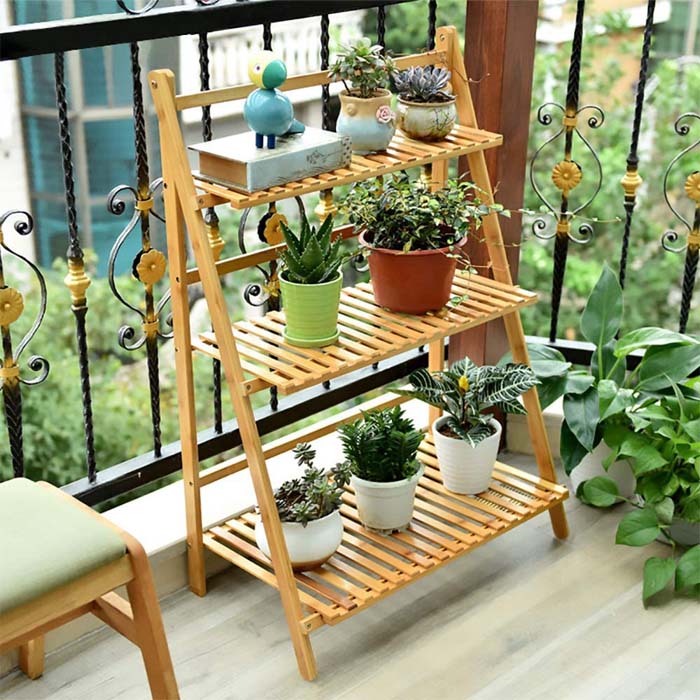 This rustic ladder planter is suitable for indoor and outdoor exposure. Once summer ends, just fold it and move it into the living room to continue to admire the beauty of the plants.
The distances between the laths of each tier make the cleaning easier.

15. Showcase the Beauty of Nature with a Vertical Plant Stand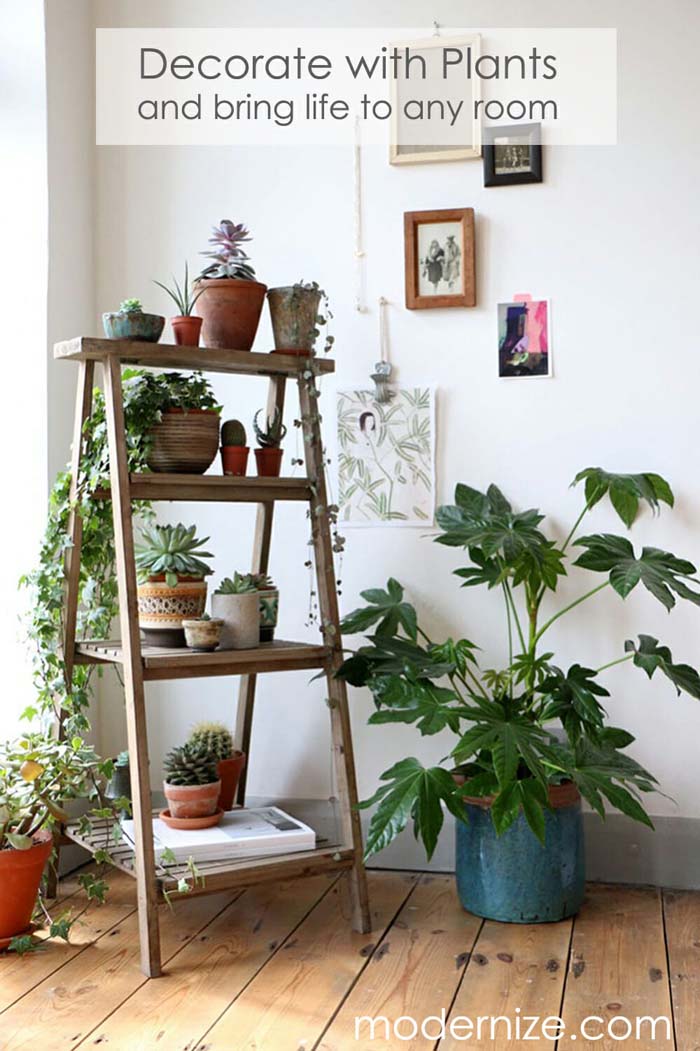 With the vertical plant stand you can create a focal point in your room. Complement the indoor garden with large-sized pots of interesting design.
via Modernize
16. Maximize Sunlight and Plant Growth with a Ladder Planter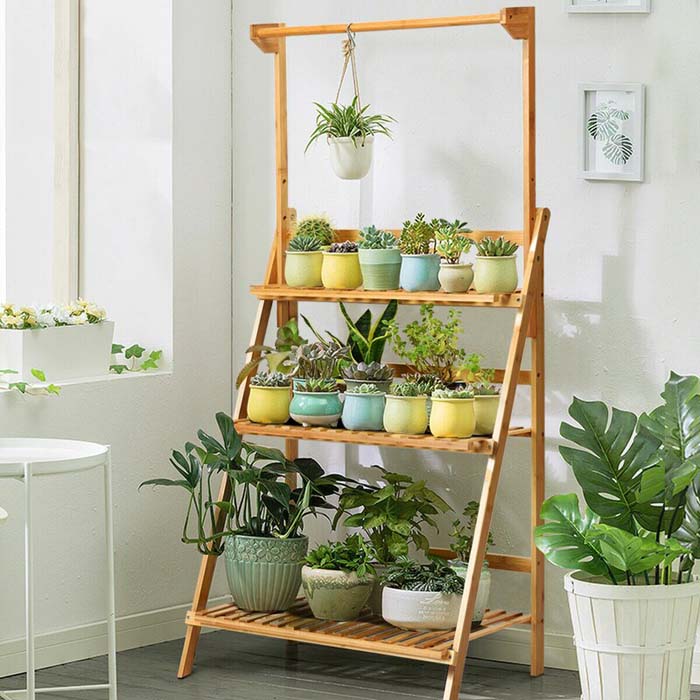 If you have only one good spot indoors where optimum conditions for the growing plants are ensured, then you must be wondering how to arrange the pots so that each gets a good amount of sunlight.
This won't be an issue if you have a ladder planter as it will be right in the correct place, ensuring a few tiers for all of the pots.

17. Powder Blue Ladder Planter for Stunning Flower Displays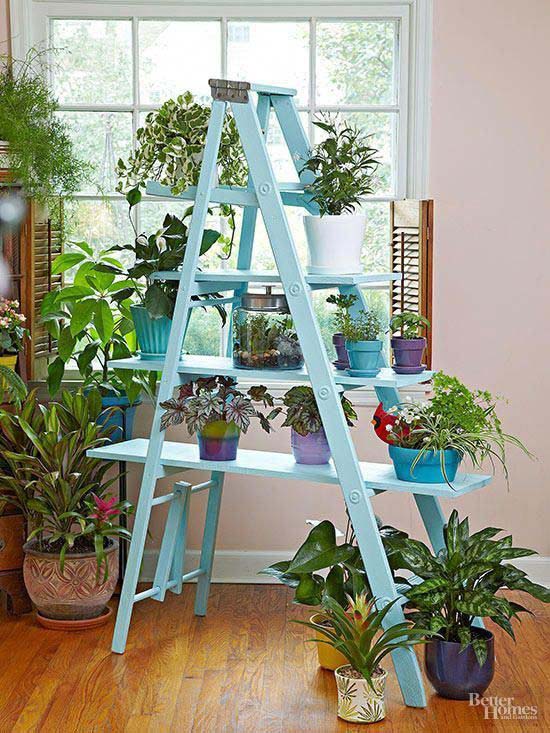 This powder blue ladder planter intrigues not only with its color but also with its design.
Reminding of a plain A-shaped ladder, the bottom steps are left untouched to provide space for flower pots beneath the ladder.
Each tier is made out of boards that are secured to the existing steps.
via BHG
18. Transform an Old Ladder into a Farmhouse-Style Planter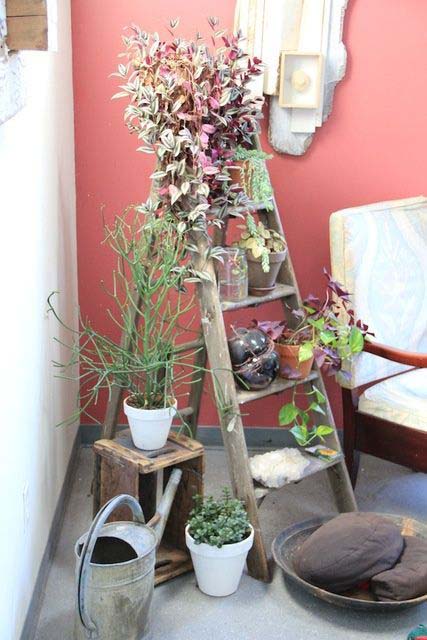 If you have an old ladder with paint splashes, don't throw it away. Its weathered look can become an appreciated accent in your home only by repurposing it into a planter.
All you need to do is to stretch it and place small pots onto the steps. To increase the farmhouse impact, add crates, galvanized watering cans, pots, etc.
19. A Simple DIY Project for Your Home Garden

This ladder planter is an easy and fun DIY project even a beginner can do. Made of wood boards, it takes only two hours to be made.
There are two tiers provided that can accommodate most of the plants. The clearance between the floor and the first level makes the storage of larger pots possible.
via Chemistry Cachet
20. Compact A-Shape Ladder Planter for Small Spaces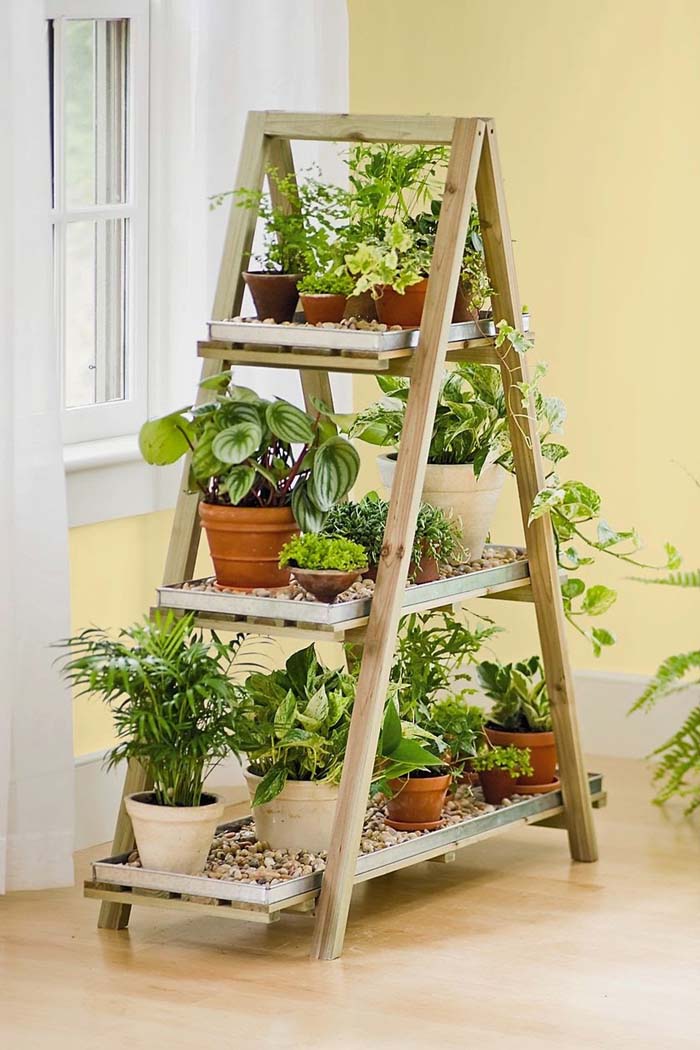 This A-shaped ladder planter is small but very functional.
The three levels for storage ensure a place for a big amount of pots and its compact size makes it great even for the tiniest apartments.
via Katrina Blair
21. Add Farmhouse Charm with a Galvanized Ladder Display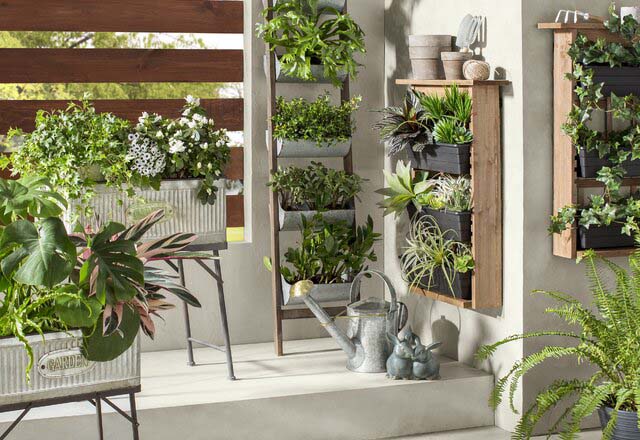 The ladder stand will impress with an individual touch if the steps are replaced with containers.
This example aims to add a farmhouse charm to the interior by the galvanized tiered containers. Placing this tall ladder in a corner will let you group plants together.
via Joss and Main
22. Solid Tiered Planter with Unique Ladder-Shaped Frame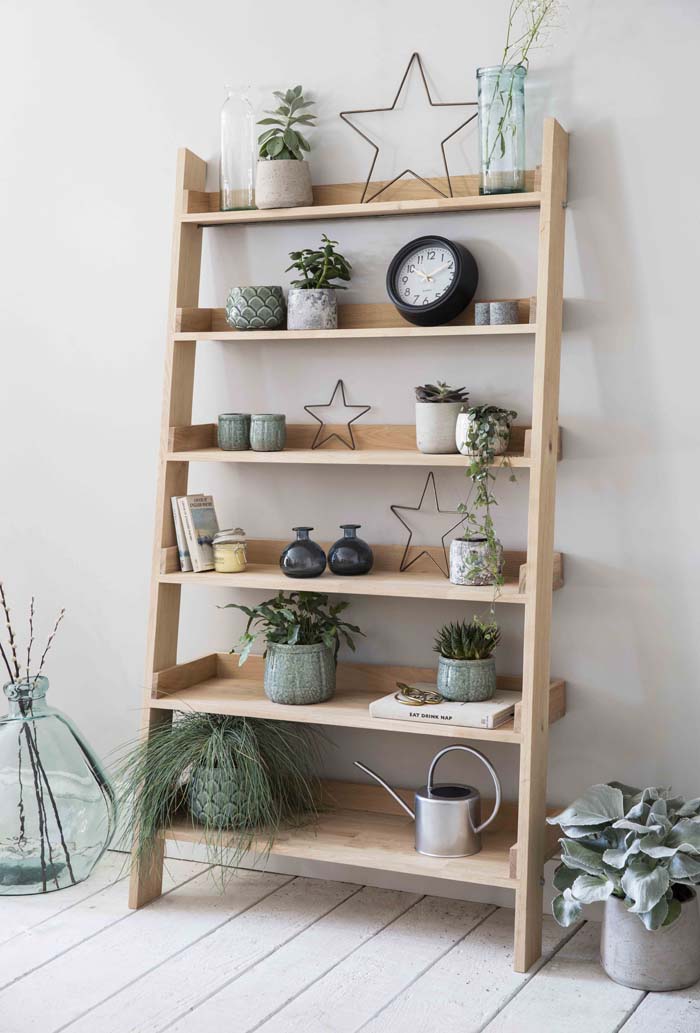 This planter fascinates with its solid tiers reminding of a shelving unit because of the identical size of each.
The ladder-shaped effect is achieved by the framing on both sides which is actually the support of the whole stand.
23. Build an A-Frame Plant Stand for Your Home Décor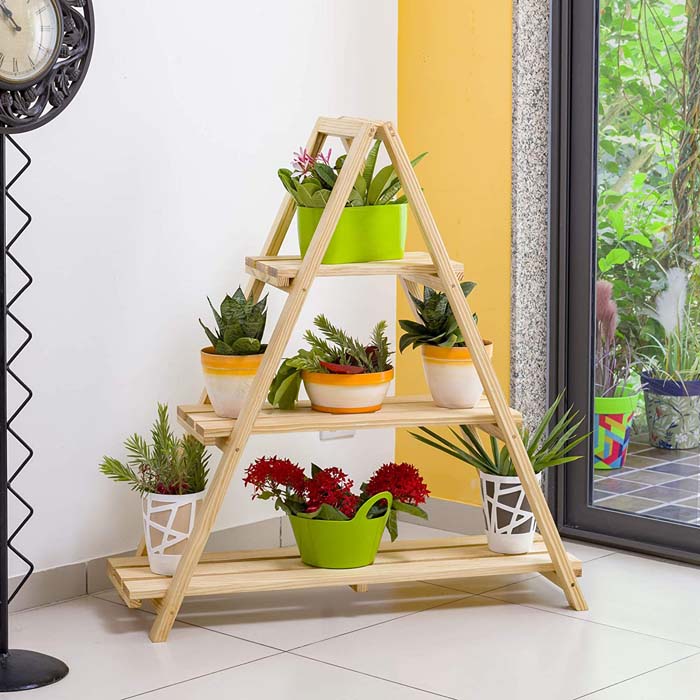 Making such a planter isn't difficult. A few posts will be enough to create the A-shaped frame and the tiers.
Make it as tall, wide and of a number of levels as your space allows. The finish can also be customized depending on the remaining interior style.
via Amazon