When the ladder is no longer in a good condition as to be safely used, it quickly goes to the pile with forgotten things.
Whether wooden or metal, the old painting ladder shouldn't be left in the garage or in the closet.
It can become a unique designer's addition to the interior and exterior only if you had some inspiration and ideas.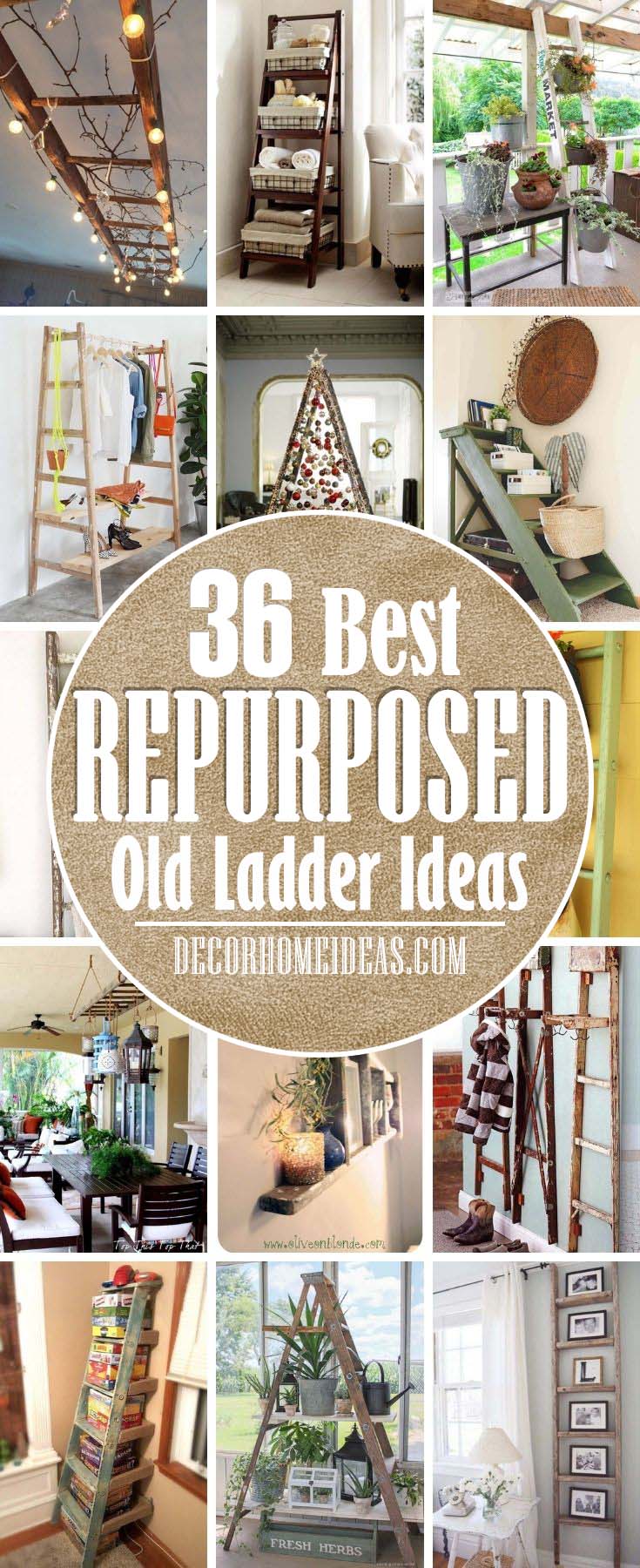 Well, let's see how you can bring that old thing to life again, turning it into a valuable possession you would never replace!
1. Create an Indoor Tiered Flower Garden with Limited Floor Space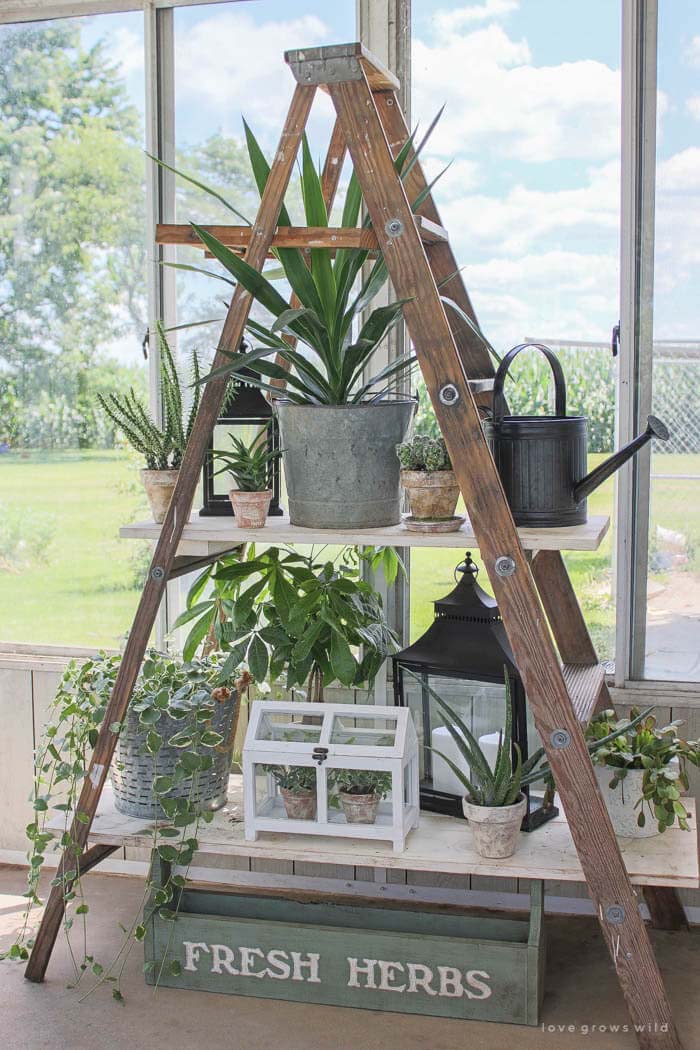 Placing long boards over the steps of the ladder is just enough to get an indoor planter that would accommodate a huge amount of pots.
And the best of it all is that it wouldn't take up much from your floor space so you can enjoy the tiered flower garden regardless of the square footage of your home.
via Love Grows Wild
2. Utilize Old Ladders As an Innovative Storage Solution

Old ladders can find their place in every room. Since they are quite tall, their height could be used for storage in the place of a small nightstand that couldn't accommodate more than just a reading lamp.
Covering the same floor space, the ladder will ensure at least three levels where you can store favorite readings, a lamp, some photographs or other decorations.
3. Add Character to Your Living Room with a Decorative Ladder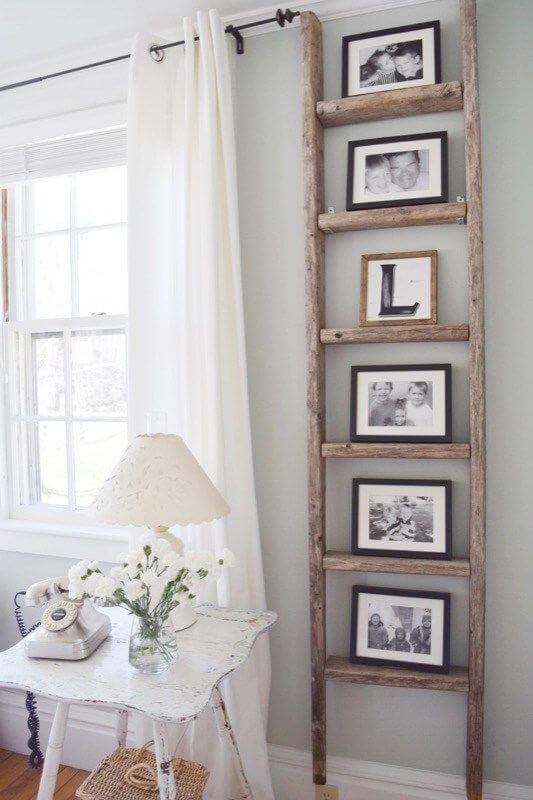 You can use the ladder to emphasize an important decor from your living room. The photographs are meaningful as they are but sometimes their frames can be too plain to let the memories pop out.
In those cases, you can just lean an old ladder against the wall which will surely attract attention because of the unusual application it has been given.
via Silvia Craft
4. Transform a Painter's Wooden Ladder into a Wall Décor Stand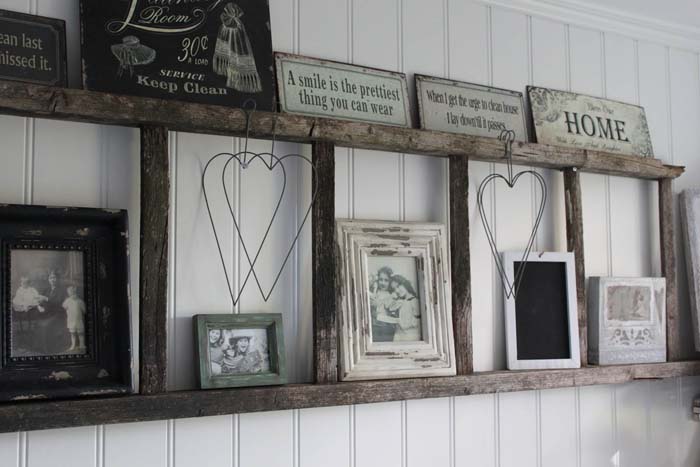 Placed horizontally on the wall, the old painter's wooden ladder can be used as a stand for decoration.
Because of its size, it is very suitable for wall decor on the wall above the sofa.
Leave it weathered if your living room is decorated with farmhouse accents or simply paint it to let it blend with more contemporary decor.
via Mias Interior
5. Decorate Your Archway with Corbels and a Ladder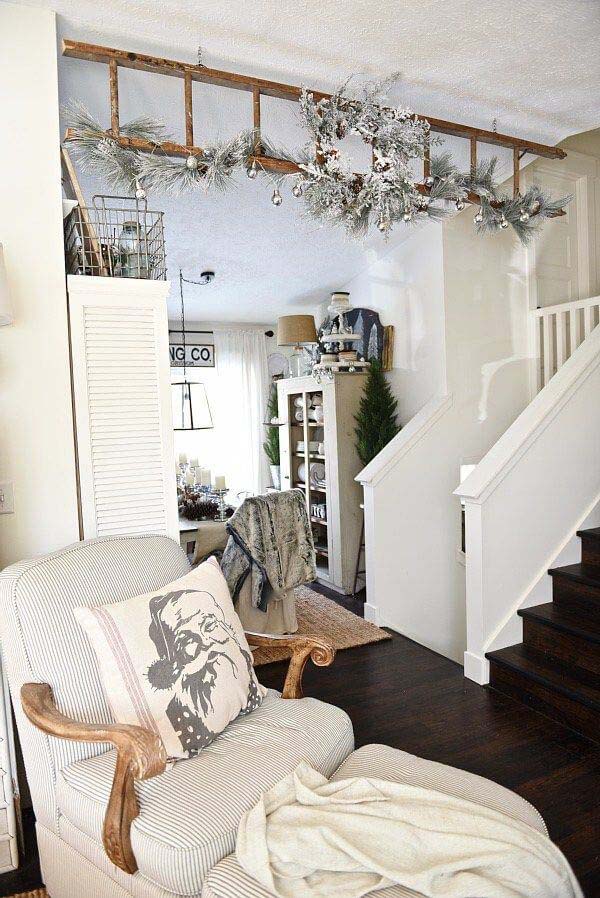 If there are open spaces in your home, you must have wondered how to decorate the arch to make the transition from room to room smoother.
One of the ways to make this non-standard architectural decision look and feel more right is to use corbels.
The other way is to hang a tall ladder that will also attract attention. Depending on the seasons, you can use it as a support for decoration.
via Scarlett Scales
6. Transform Your Basement Ladder into a Shoe Organizer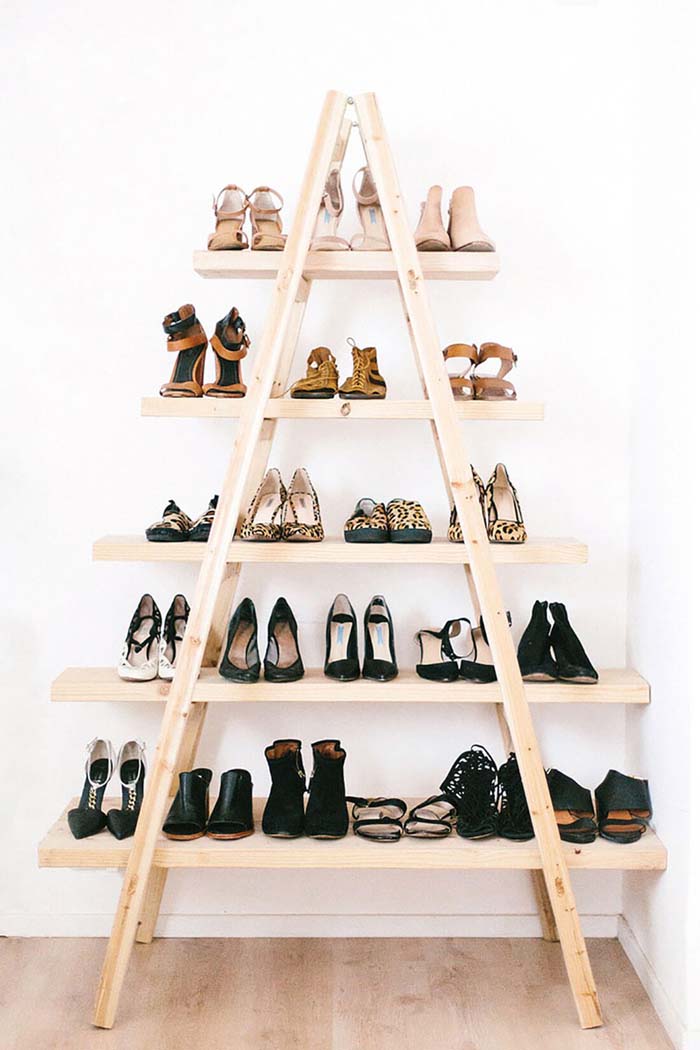 Are you looking for a space-saving shoe organizer? Use the ladder shape as an inspiration or upcycle that old ladder in the basement.
This is affordable and very appealing storage means that will store all of your most often worn shoes. Depending on the room you are going to place it, decorate to blend with the rest of the interior.
7. Transform a Wooden Ladder into a Unique Patio Planter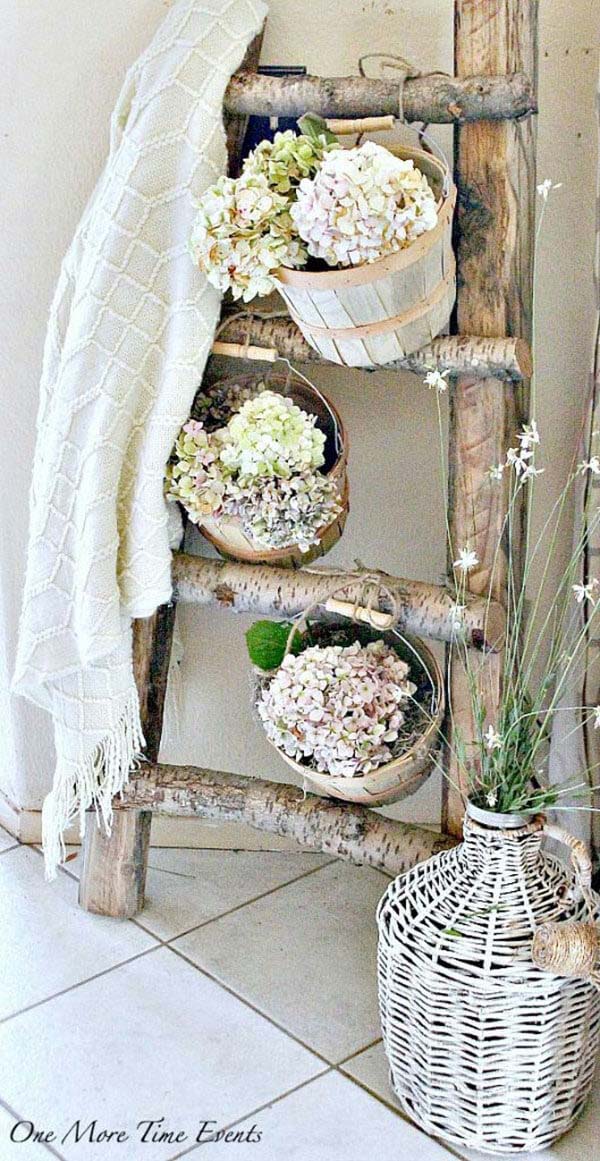 Don't throw away your wooden ladder even if it has already rotten. If the supports have some life left in them, that would be just enough to use them for a unique planter for the patio.
Nail twig pieces in the places of the steps and hang flower metal baskets on them. Their round shape will let you also decorate with wire supports for larger pots.
8. Utilize a Hanging Ladder as an Entryway Coat Rack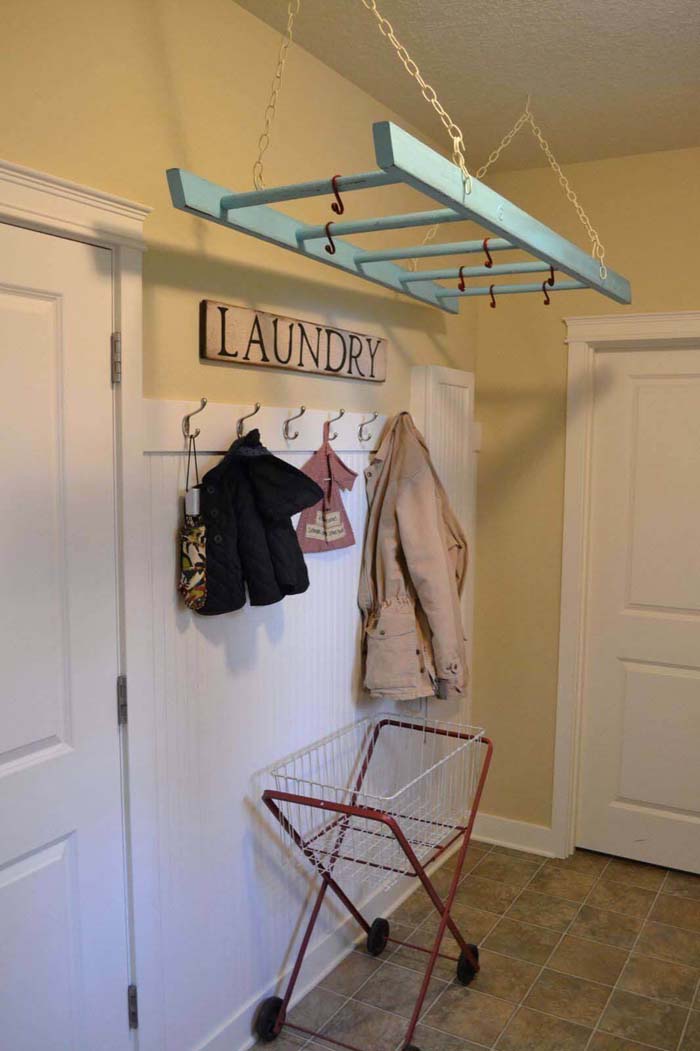 If you are lacking space in the entryway, use a part of a ladder as a coat rack. Suspend it to the ceiling with metal chains on both ends.
To make the hanging of clothes easier, provide small S-hooks.
9. Weathered Wooden Ladder for Creative Storage and Display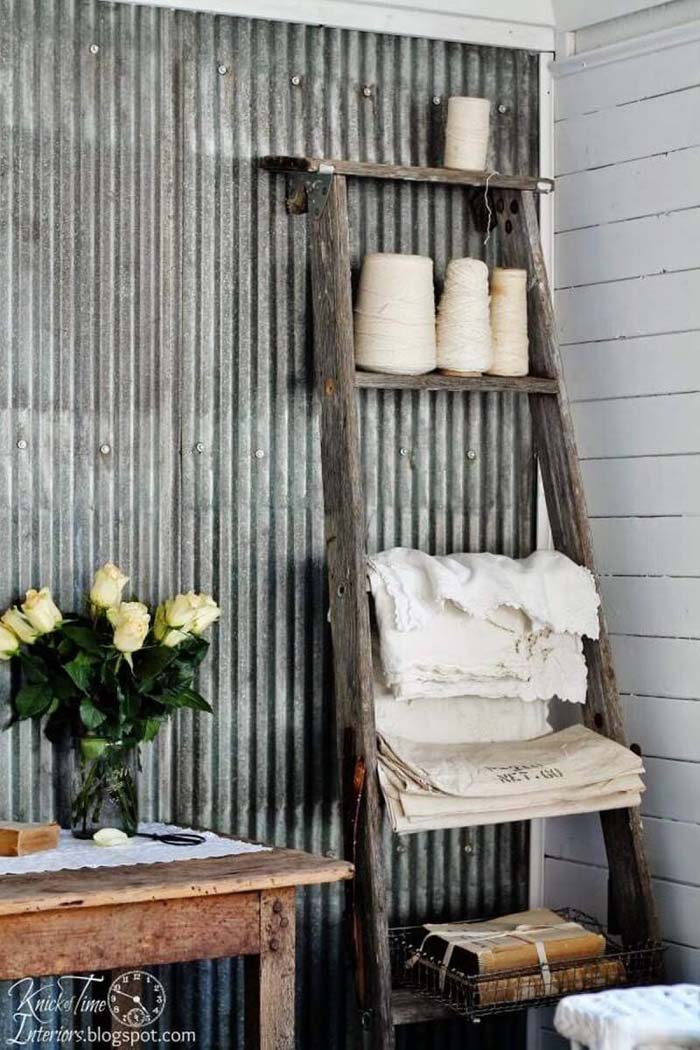 A weathered wooden ladder leaned against the wall is a simple, cheap and unique vertical shelving module. All of the steps can be used as a holder or a display of stuff depending on your idea.
If placed in the bedroom, it can take up part of your linen. If used in the living room, it can show off a beautiful collection. If leaned against a wall in the kitchen, it can support the herb pots. The possibilities are endless!
via Knick Of Time
10. Create a Magical Christmas Ladder Decoration for Your Home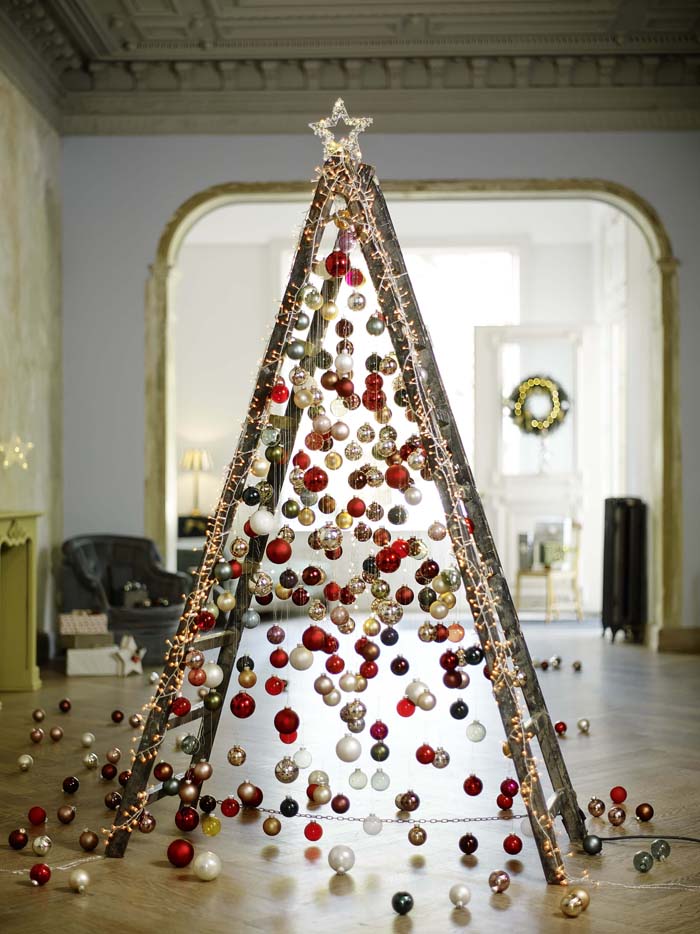 Are you looking for a unique Christmas decoration? Grab the wooden ladder and use it as a basis for your creativity and imagination.
Let colorful balls down on cords, weave fairy lights on each side and finish with a large and sparling star on the top.
via Couch Style
11. Vertically Accentuate Your Home with a Ladder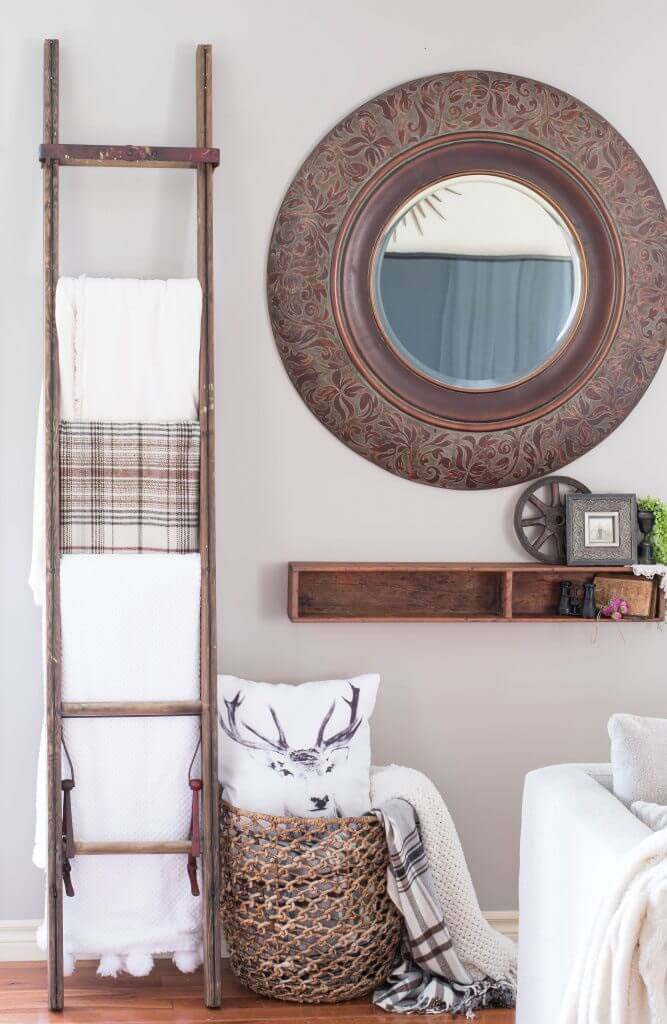 Use the ladder as a means to add vertical attraction to your home.
Lean it against the wall and hang textured fabrics of patterns and colors that match the remaining decoration.
via Vin Yet etc
12. Hang a Decorative Wooden Ladder as an Elegant Light Fixture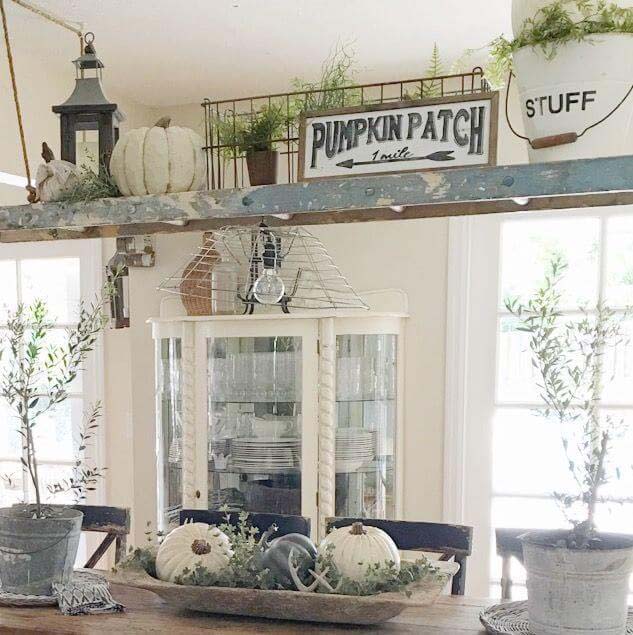 Hang the wooden ladder horizontally to the ceiling, using metal chains or thick ropes.
If you want to add functionality to the decorative feature of the ladder, use the ladder also as a light fixture over the dining table.
13. Illuminate Your Outdoor Space with a Rustic Ladder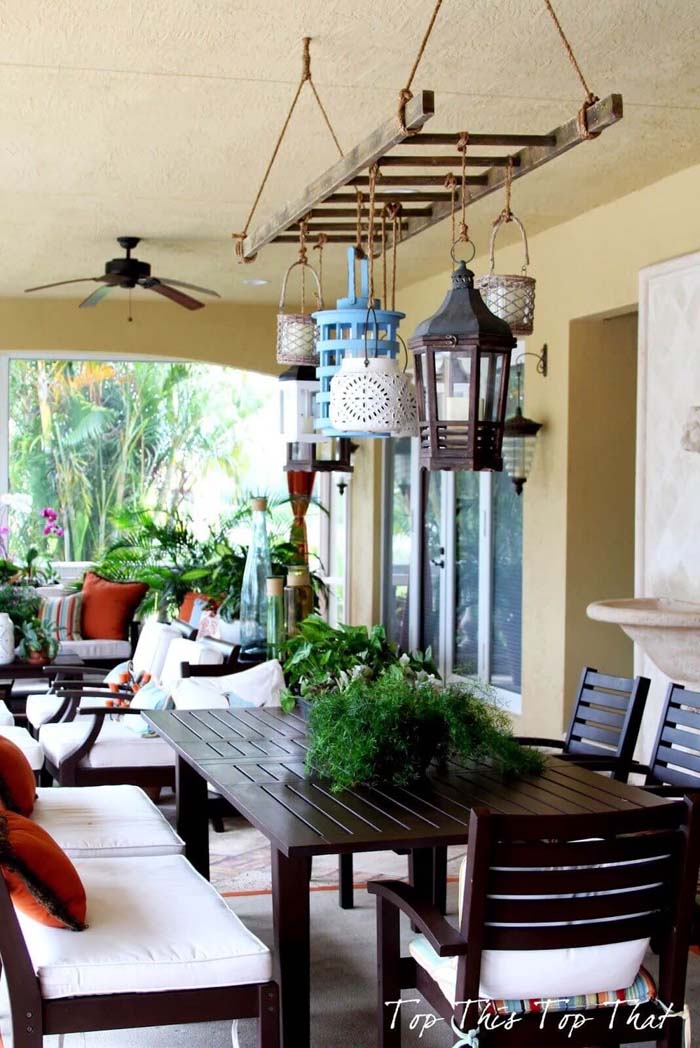 You can use the ladder as support for illuminating elements outdoors. Its specific rustic look will make the porch very welcoming and appealing for sweet chats outside.
Suspend it with thick ropes or metal chains as safety is first! Then you can hang a collection of lanterns, fairy lights or candle holders.
via Duke Manor Farm
14. Add Color and Character to Your Space with a Painter's Ladder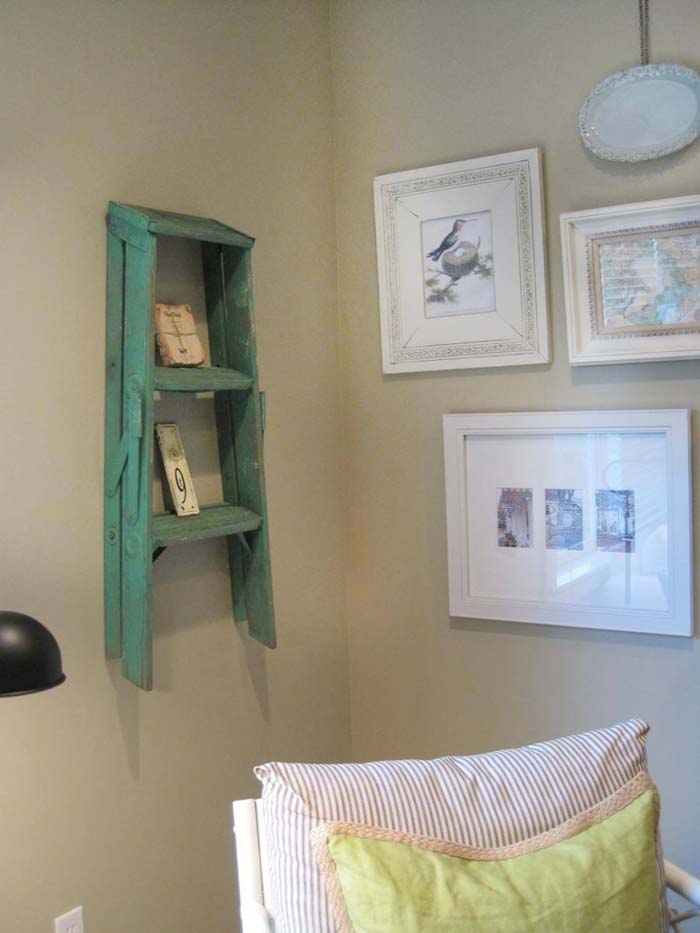 Add interest to your place with a small painter's ladder. Hang it on the wall and use the steps as shelves for decoration.
via HGTV
15. Creative Use of Ladder for Bathroom Storage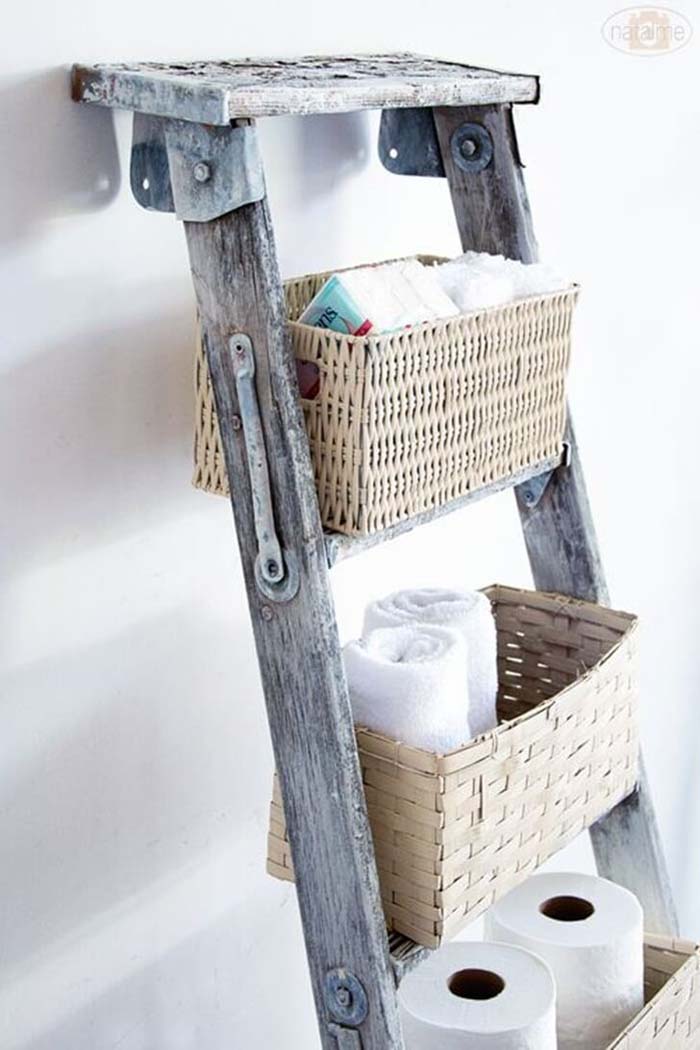 It would be smart to use the ladder as a leaned against the wall dryer for towels. It would be even more impressive if you use it as an inclined vertical storage place for bathroom accessories.
Use only one of the sides of the ladder to ensure the smallest coverage of the space and place baskets for neat organization of the stored items.
via Natalme
16. Upcycle a Ladder into a Decorative Planter for Your Home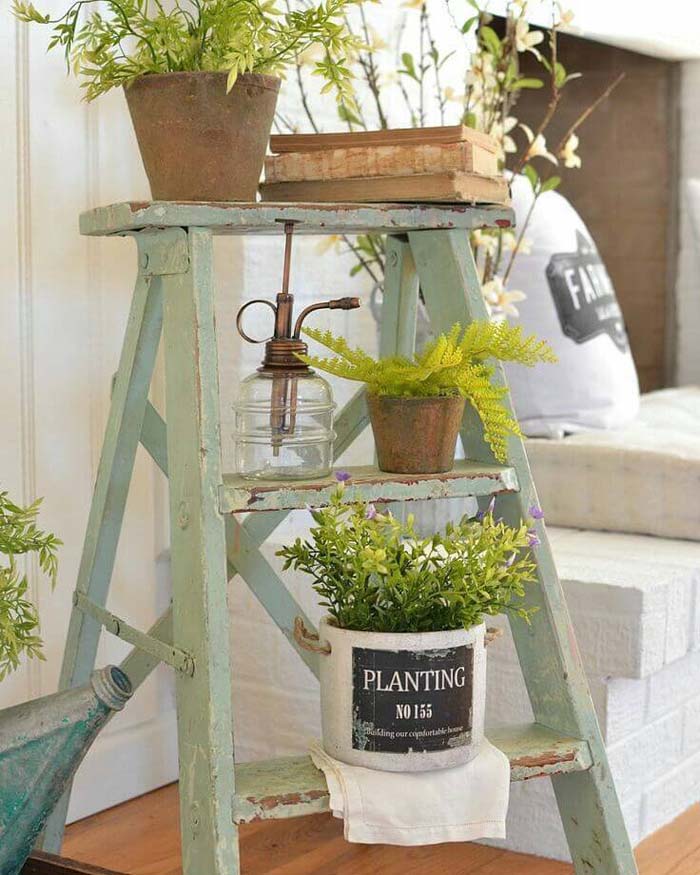 Smaller ladders are very appropriate for indoor or outdoor planter. To turn this old tool into an appealing decor, do some paint tricks.
Distress some of the edges or make decoupage. Make sure to place pots that will suit its farmhouse look.
17. Vintage Tall Ladder Planter with Galvanized Containers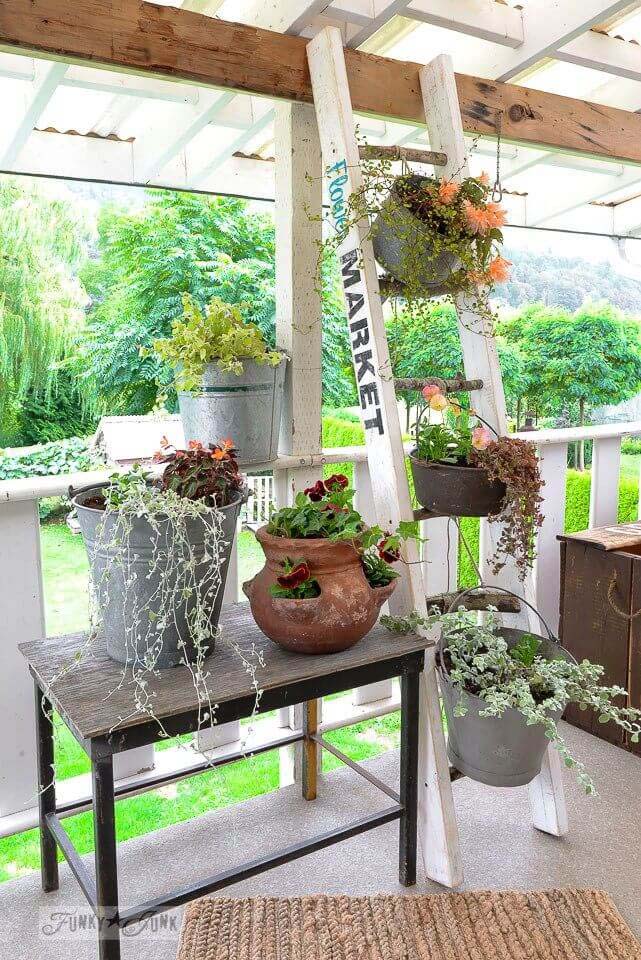 A tall ladder can also be turned into a planter if the height of the space allows it. Lean it against a wall or a ceiling beam to ensure its stable position.
An alternative to the pots is the galvanized baskets and containers. Their charming vintage look will ensure a welcoming and non-pretentious atmosphere.
18. Organize Your Kitchen with a Suspended Ladder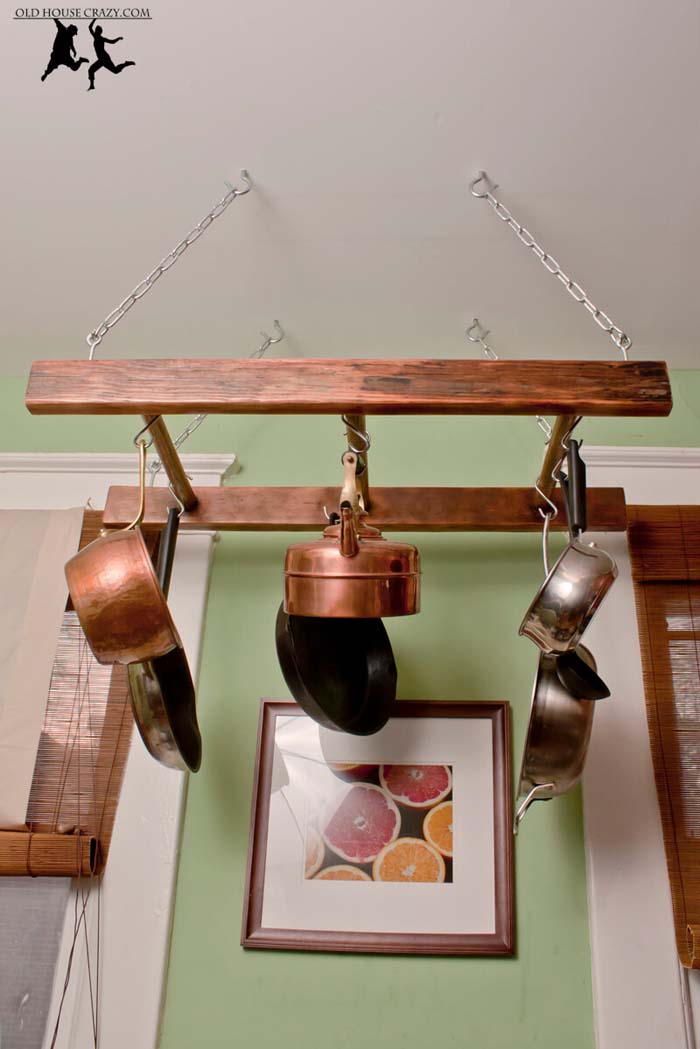 When the ladder is suspended to the ceiling it can be used as an organization tool for various items. If placed in the kitchen, you can put an order in the pot mess.
All you need to do is to attach S-hooks to the steps and hang the pots.
via Old House Crazy
19. Create a Cozy Nook with a Ladder and Farmhouse Baskets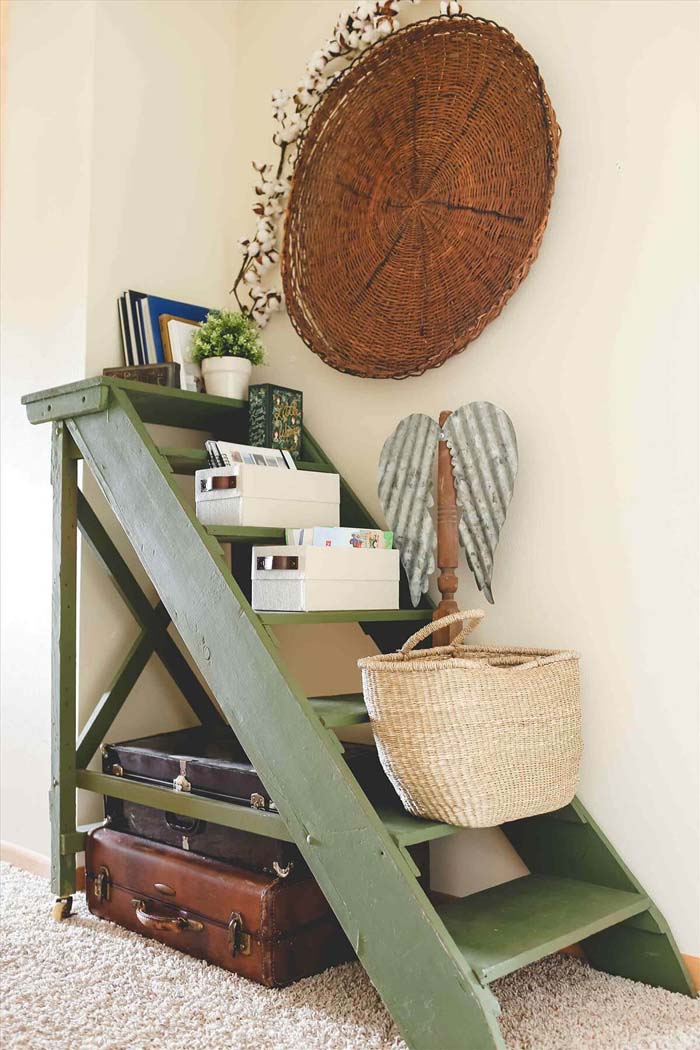 The shape of the ladder allows creating a special nook in the room. Since it embraces a certain area, it will not only add interest but also define the space.
Antique items and farmhouse baskets complement magically the nook.
via Homestead 128
20. Creative Ladder Display for Crawling Plants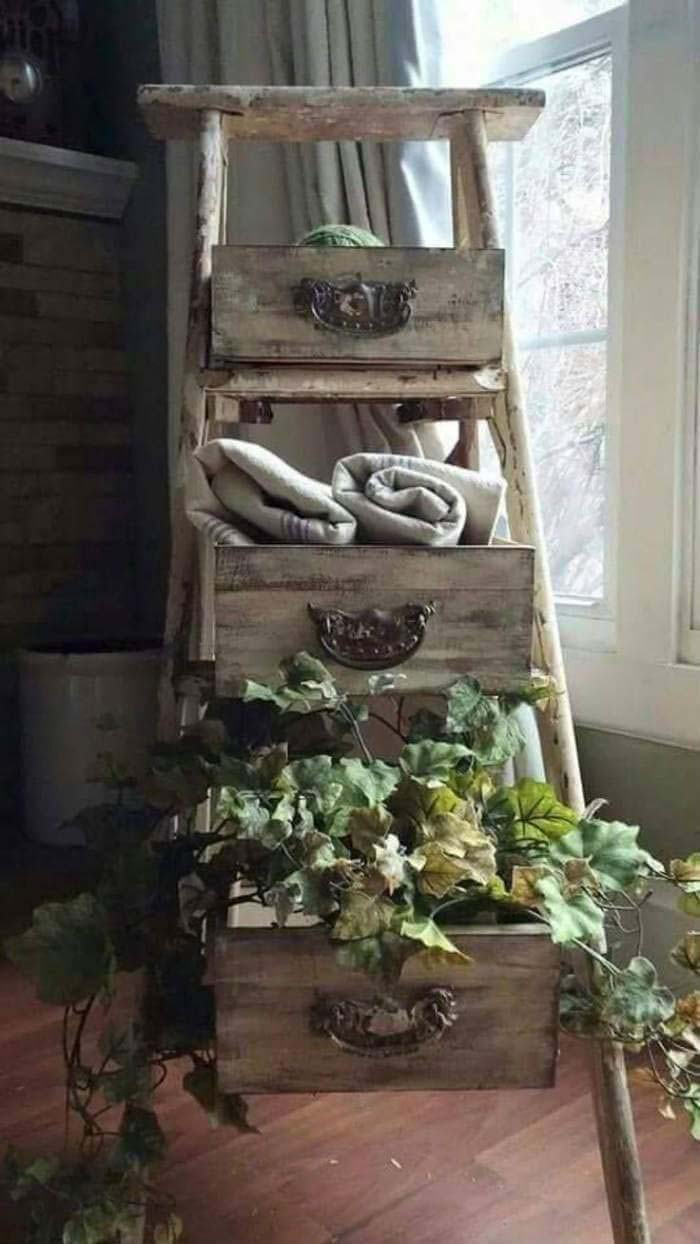 Because of its tiered design, the ladder could be a great display for crawling plants.
The plants placed on each level will form rich tuffs and nodes that will partially cover the wood material. When they mature, they can even hide the entire ladder and create a picture of a living vertical element.
via Kitchen Fun With My 3 Sons
21. Transform an Old Ladder into a Weekly Activity Board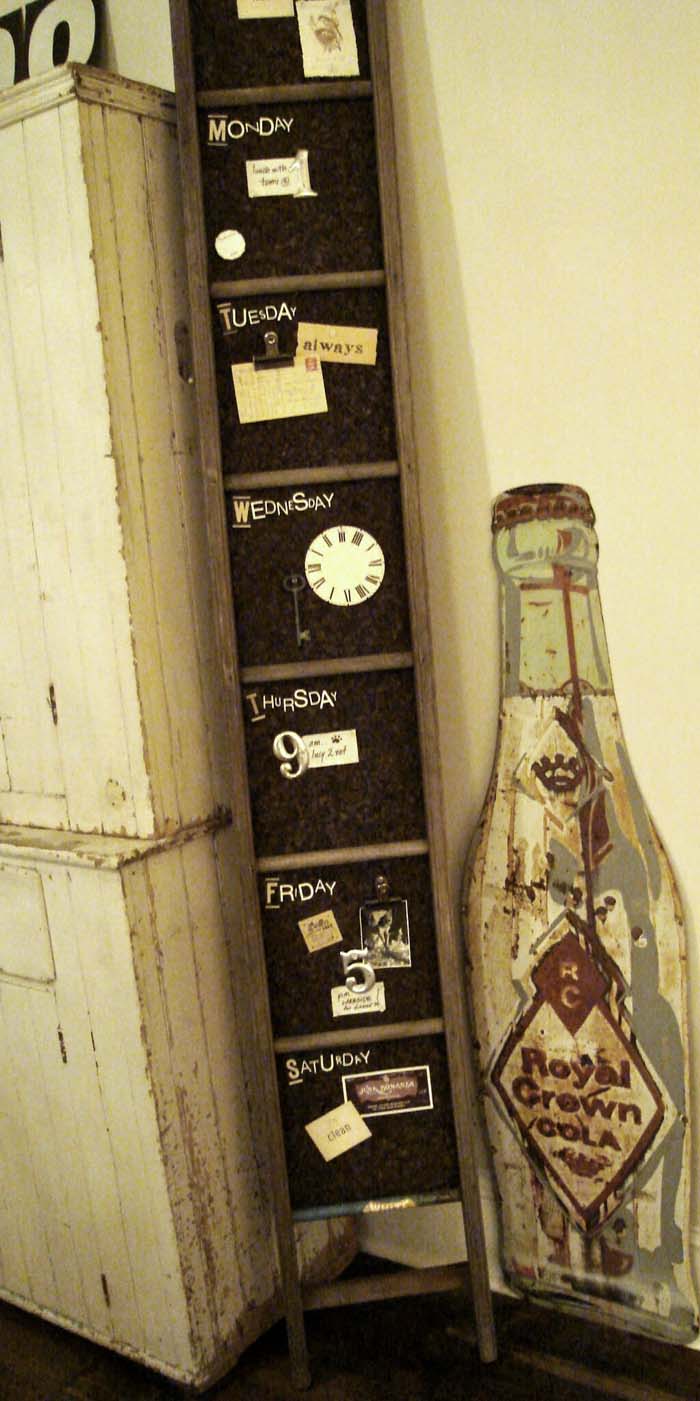 Another creative way to repurpose the old ladder is to turn it into an activity weekly calendar.
Nail a wooden panel preliminary painted in chalkboard paint along with the height of the ladder. Use each section formed by the steps to differentiate the day from the week.
via Patina White
22. Craft a Stylish Glass Table Using a Short Ladder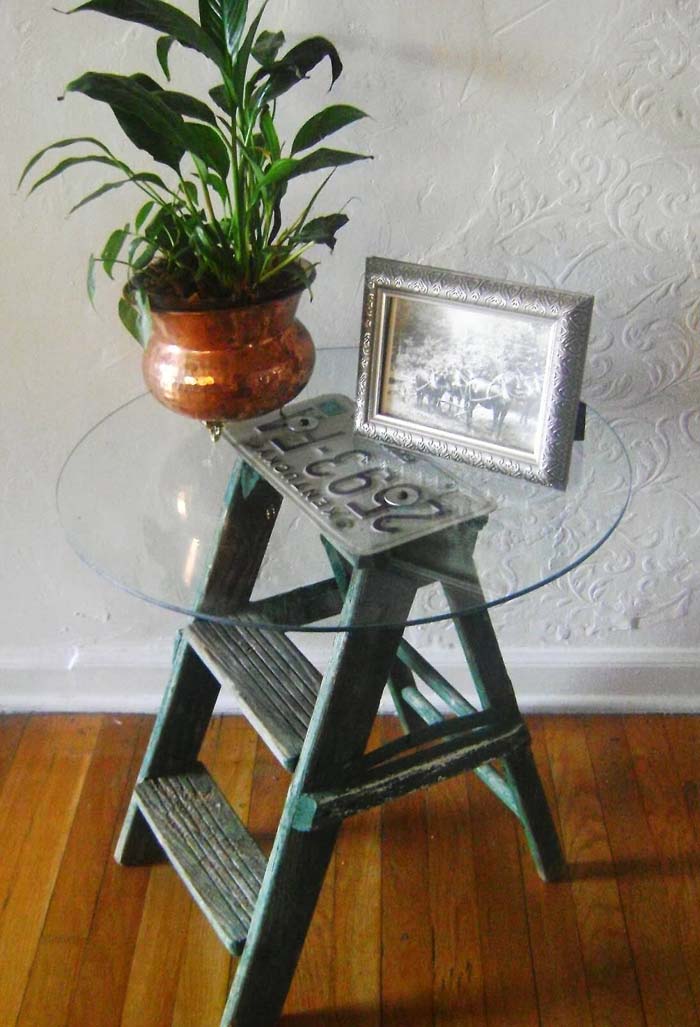 Use the strong supports of a short ladder as legs for a handcrafted table.
You can either leave the top step uncovered or decorate it with a meaningful license plate number.
To let the bottom be seen and not lose the aged effect, use a glass top.
23. Repurpose Old Ladders Into Wall Shelves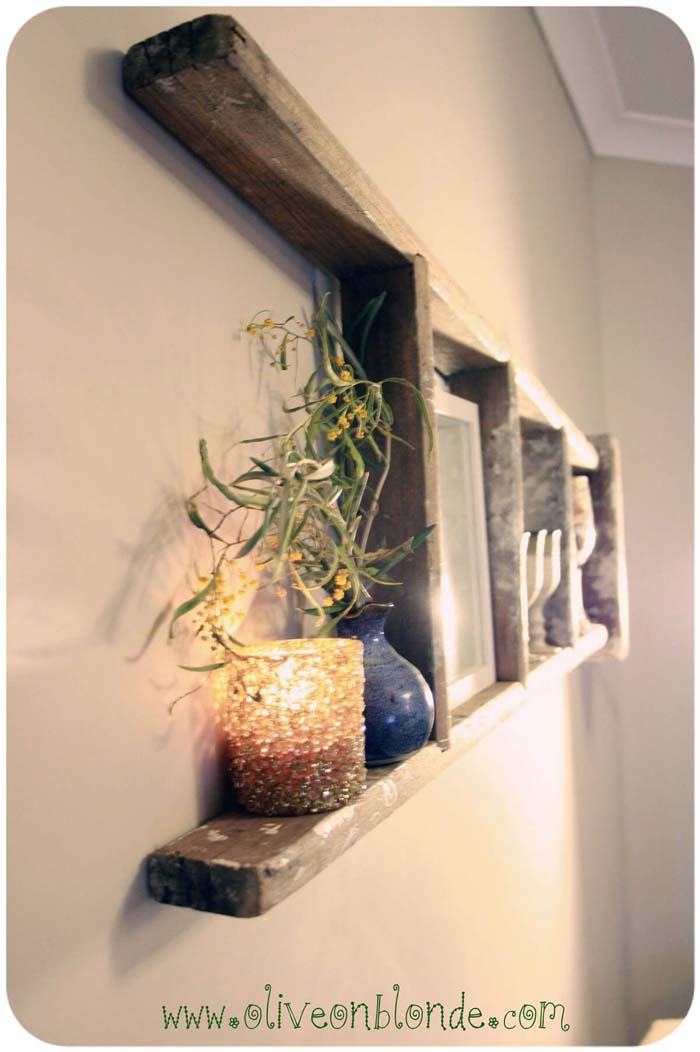 Another repurposed application of the old ladder is to turn it into a horizontal or vertical shelf for photos and souvenirs.
Whether used in the bedroom or the living room, it should be well fixed to the wall.
via Olive and Blonde
24. Decorate Your Front Door with a Vintage Ladder Planter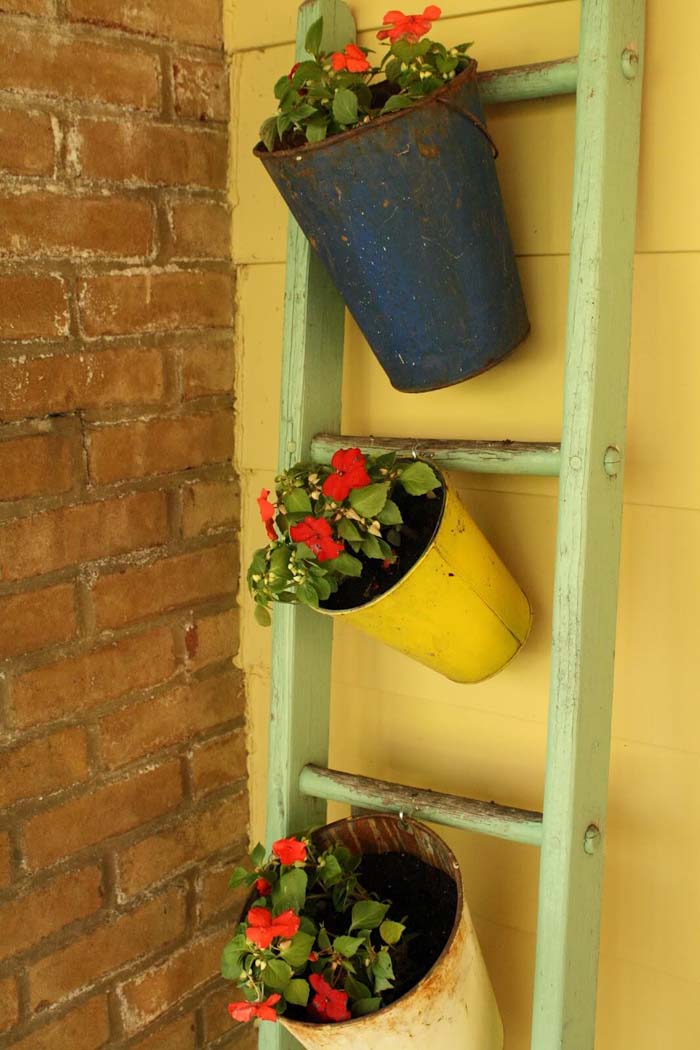 Decorate the front door in vintage and aromatic way! Simple as it looks, you just need to lean the ladder next to the door and add a hook on each step.
Use old small baskets as flower pots holders to increase the aged look of the decoration. To hang the baskets to the hooks, make a hole in each container.
25. Utilize a Ladder for Multi-Purpose Storage and Display Shelves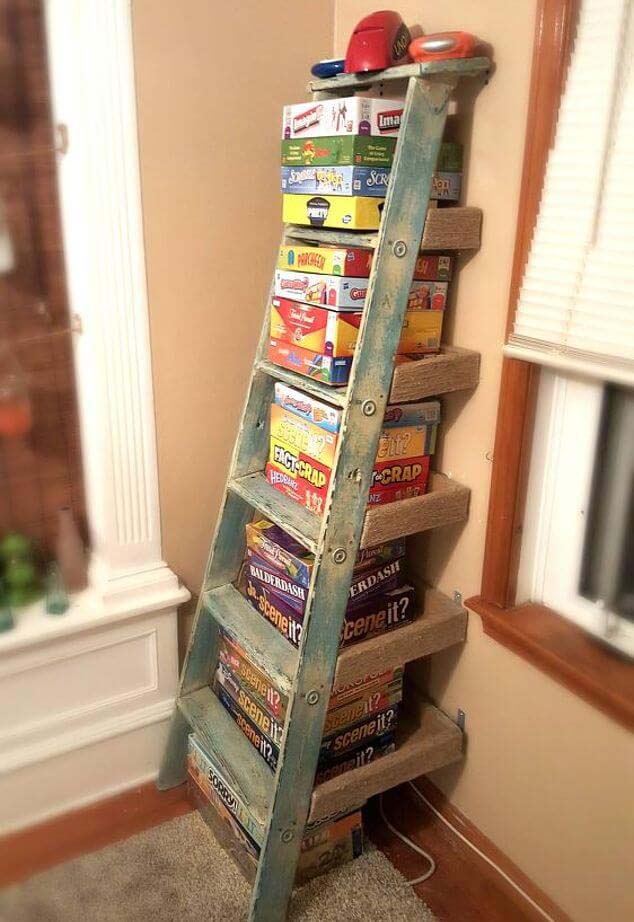 Use a side of an old ladder to define floating shelves and make the whole assembly look like a framed storage furniture.
The tiered levels and the wide enough space ensure plenty of usage possibilities- from the storage of board games in the kids' room to a bookshelf in the living room.
via Hometalk
26. Maximize Storage with Rustic Ladder Rack Décor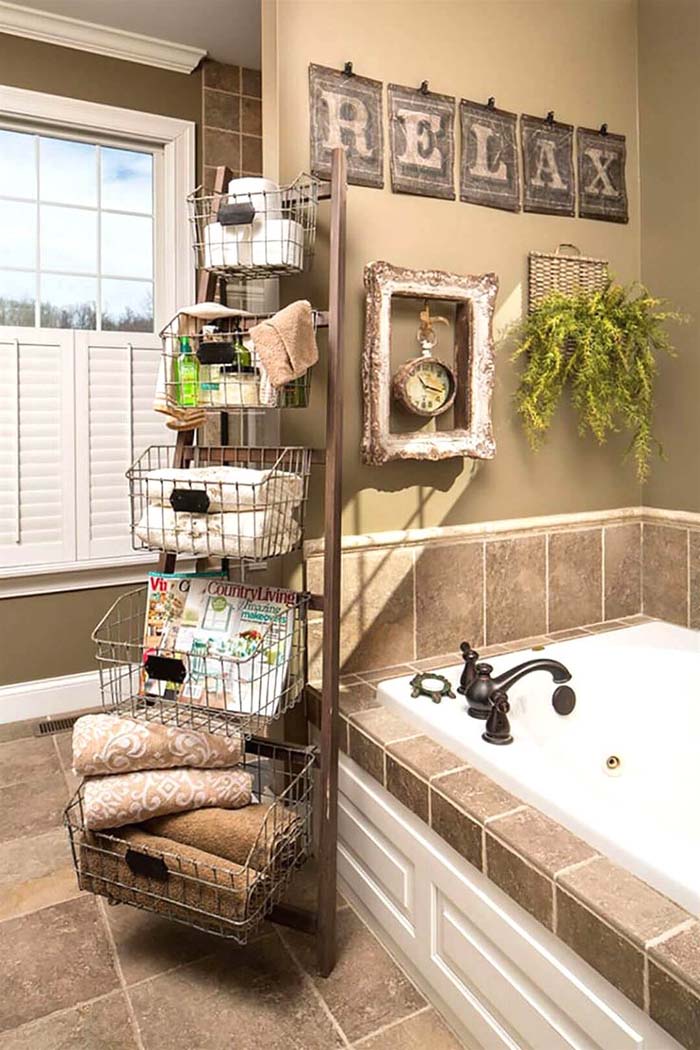 Get some baskets from the Dollar store and hang them onto the ladder steps. Thus you would increase the storage space on each tier and will make it look tidier.
Such rack can become an irreplaceable and comfortable organizer for every room of your home, even the bathroom.
27. Make Your Guest Room Tidy with a Ladder Clothes Stand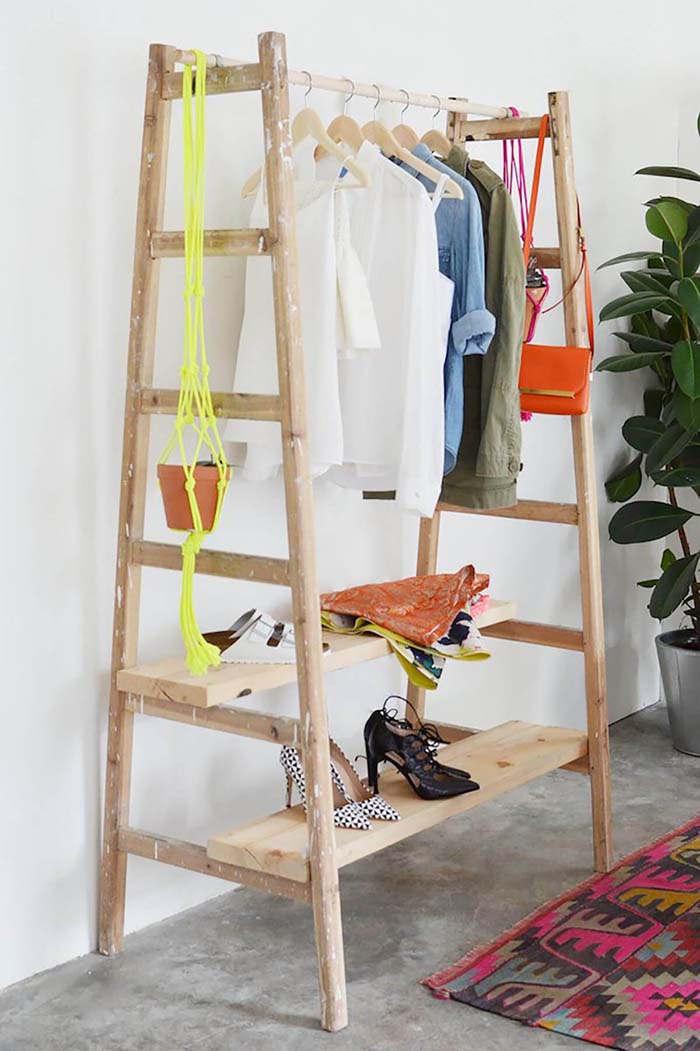 Make the guest room comfortable as if it is regularly used. Instead of covering it with wide and heavy wardrobes and cabinets, let it remain airier by using a ladder for clothes stand instead.
Insert a wooden dowel at the top for hangers and two wooden boards across the bottom steps for shoe storage.
via Marie Claire
28. Refresh an Old Ladder with a Dark Stain and Storage Baskets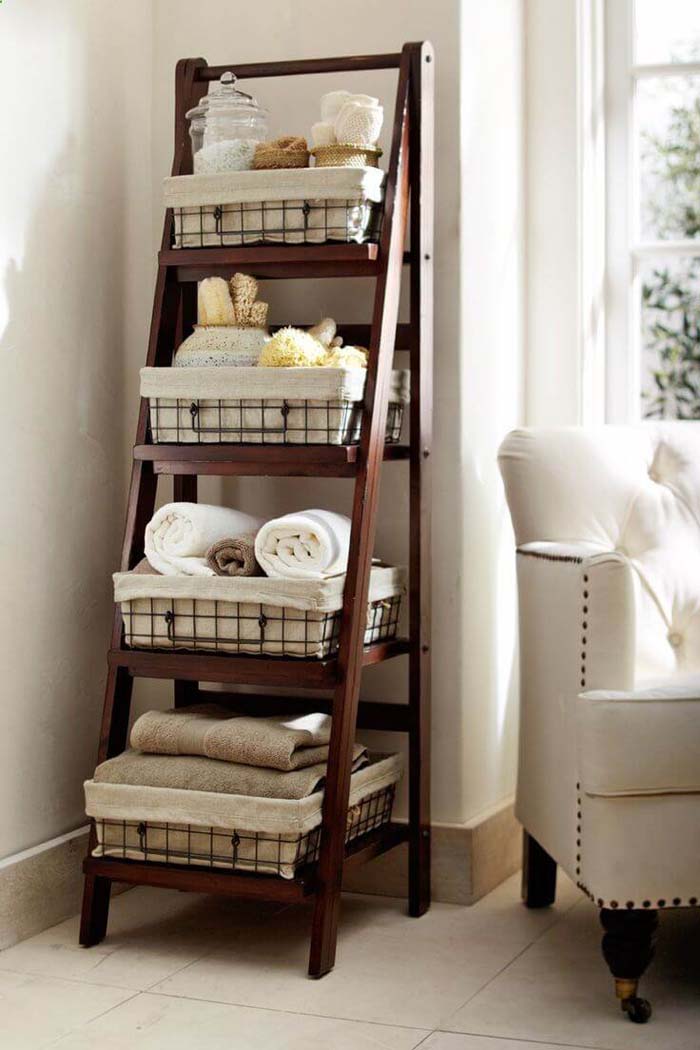 Repainting the old ladder in the dark stain will give it a fresh and very clean look. In those cases, it will rather be another clever organizer than an accent.
If you prefer this application, compensate the plainer look of the wood with the storage containers on the steps.
Metal wire baskets wrapped inside with burlap will pop out against the dark surface.
29. Decorate a Ladder with Twigs for an Enchanting Illumination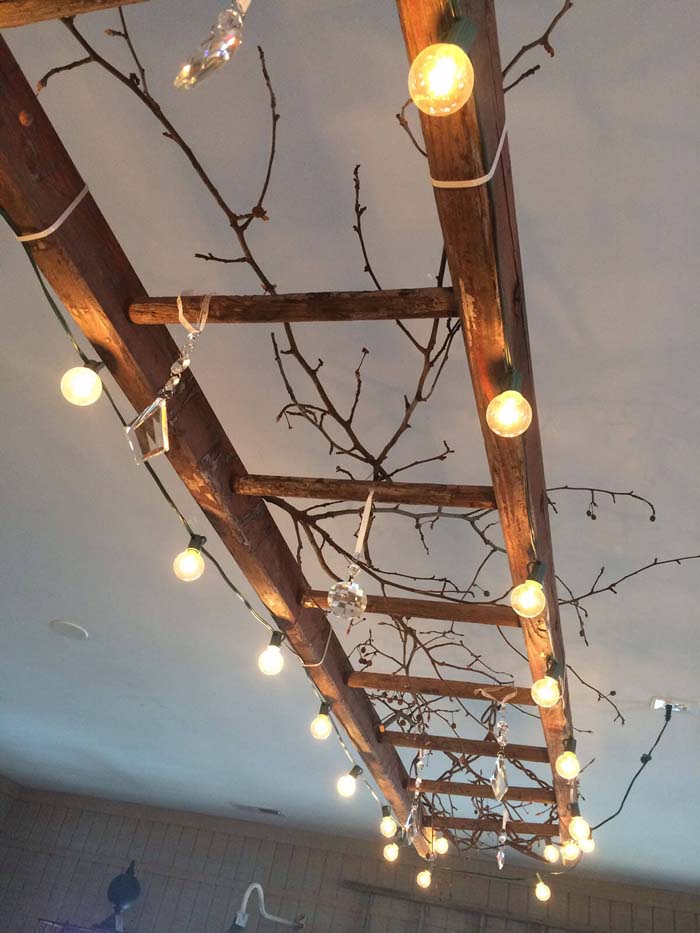 If you have used a ladder as outdoor support for illumination features, you can use twigs to further decorate it.
They will add intriguing and fairytale charm to the ceiling by bringing nature closer to the space.
30. Decorate a Wooden Ladder with Rope and Personal Touches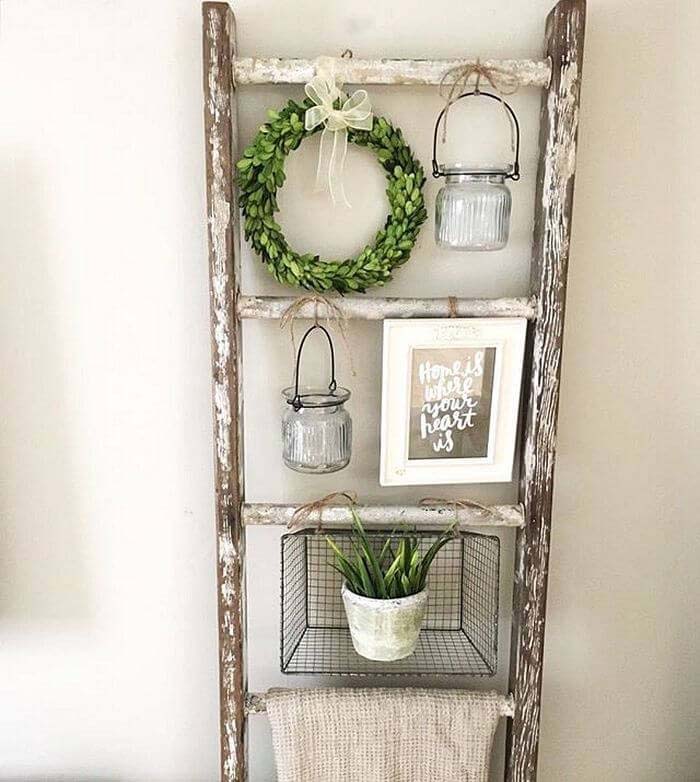 You can hang almost everything on a wooden ladder using a rope.
This is an example of a ladder decoration that includes a wreath from fake greenery and an arrangement from jars and frames.
You can change the decoration on the ladder as the seasons change.
via Shop Harvest
31. Transform Old Ladders into Functional Entryway Racks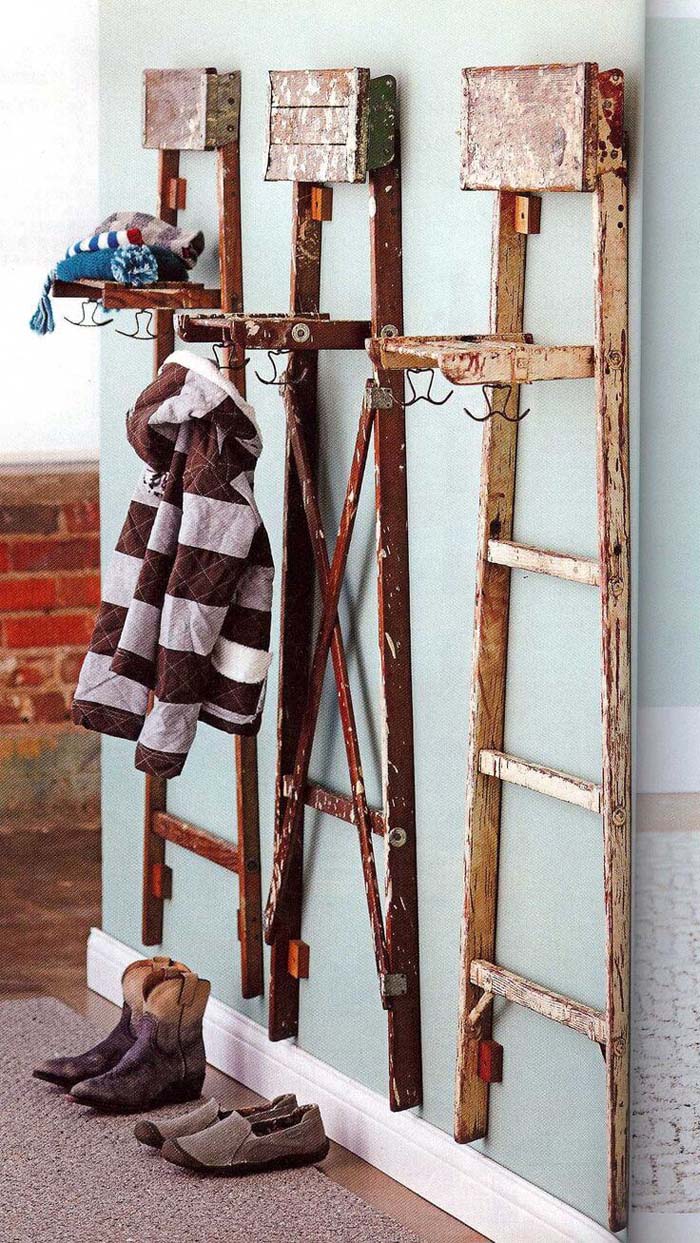 Transform the old ladders into entryway racks. Hung onto a bright clean wall, these weather wooden ladder sides look like artistic furniture that is there to help with the storage.
To increase the storage possibilities, add hooks to the steps.

32. Give Your Bedroom a Nice Décor Accent with an Old Ladder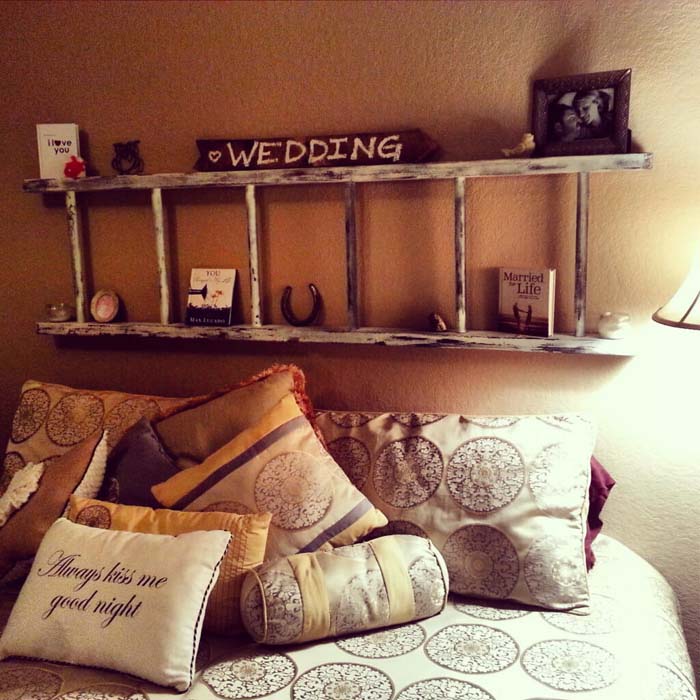 If you have ever doubt how an old ladder will look as a decor accent in the bedroom, don't be anymore!
It adds so much interest and charm to the room! Although it covers a big part of the wall above the bed, it doesn't make the room look overcrowded.

33. Use a Ladder as a Canopy Headboard for Your Bedroom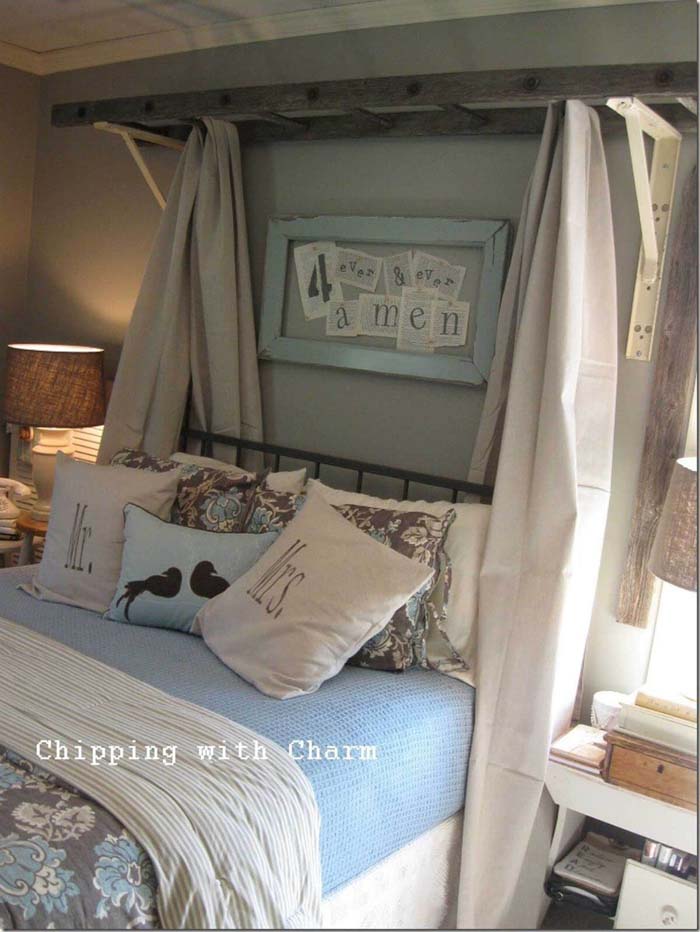 One of the most ingenious ideas ever is to repurpose a ladder for a canopy headboard.
This amazing decor ensures privacy in the master bedroom although it doesn't hide the entire bed area.
To create the ladder roof over the bed, you need to make sure that it is very rigid and securely attached to the wall.
Lastly, weave on both of the ends drop cloth to define the bed.
34. Complete Your Porch with a Stylish Ladder Arrangement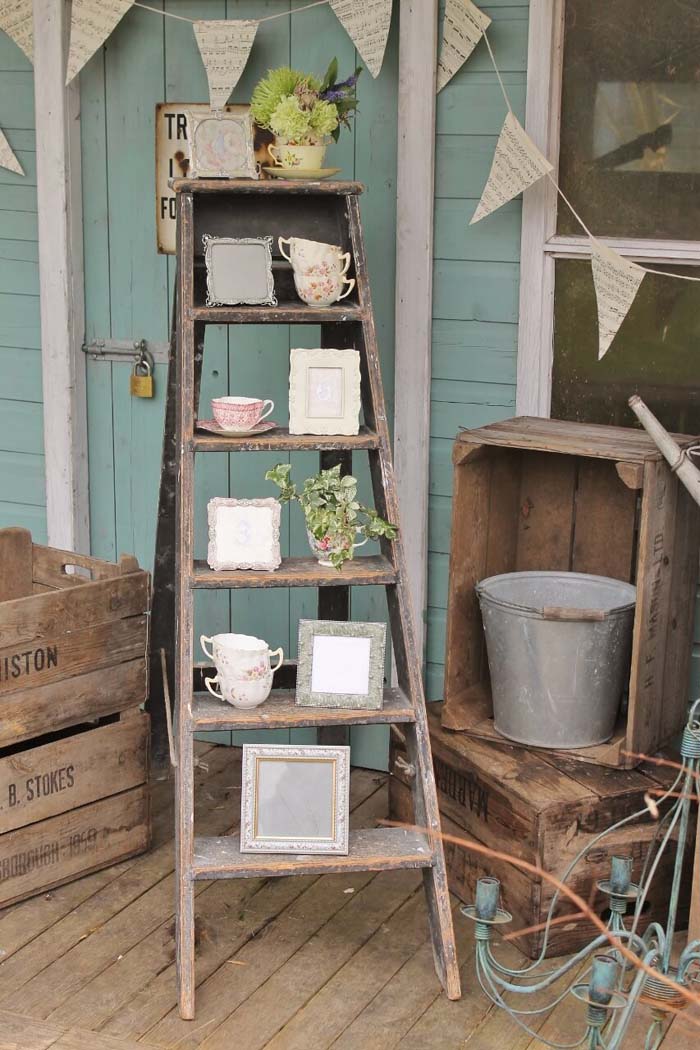 Complete the farmhouse arrangement on the porch with a ladder. It will ensure a few levels for additional decoration that will define the style of the space.
Decorate with vintage frames, china pots and some flower pots.

35. Utilize a Ladder to Create a Balanced Farmhouse Design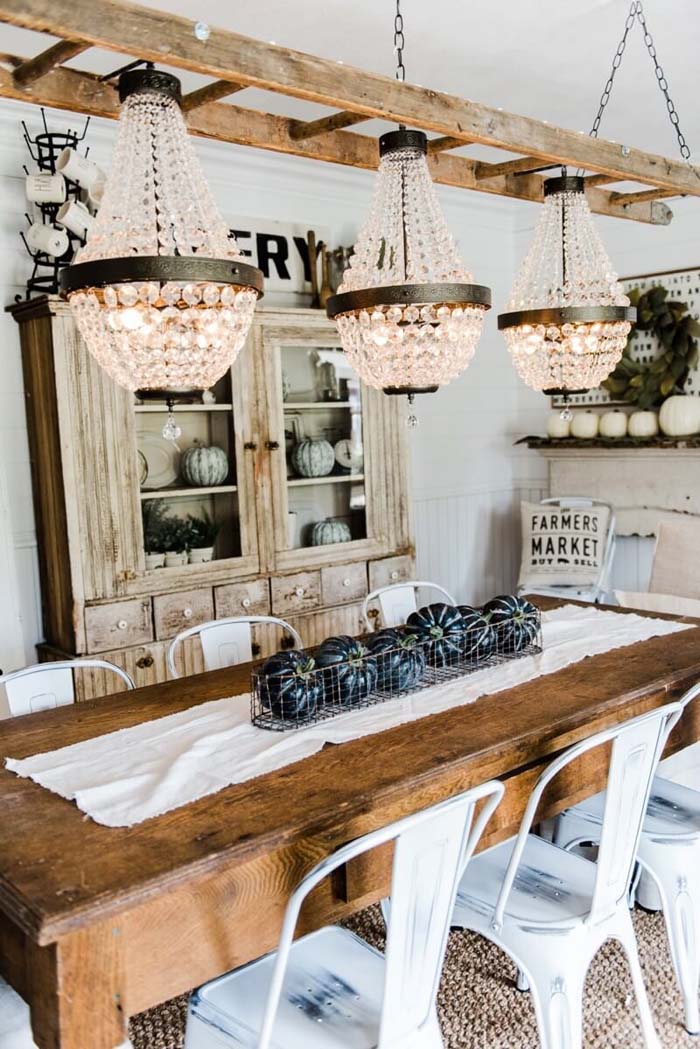 Use a ladder as a framing ceiling element that will balance the mix of luxury and farmhouse elements.
The wood material and the extended line of the ladder will smoothen the geometrical and rich design of the chandeliers.
via Liz Marie Blog
36. Transform a Ladder Into an Intriguing Bookshelf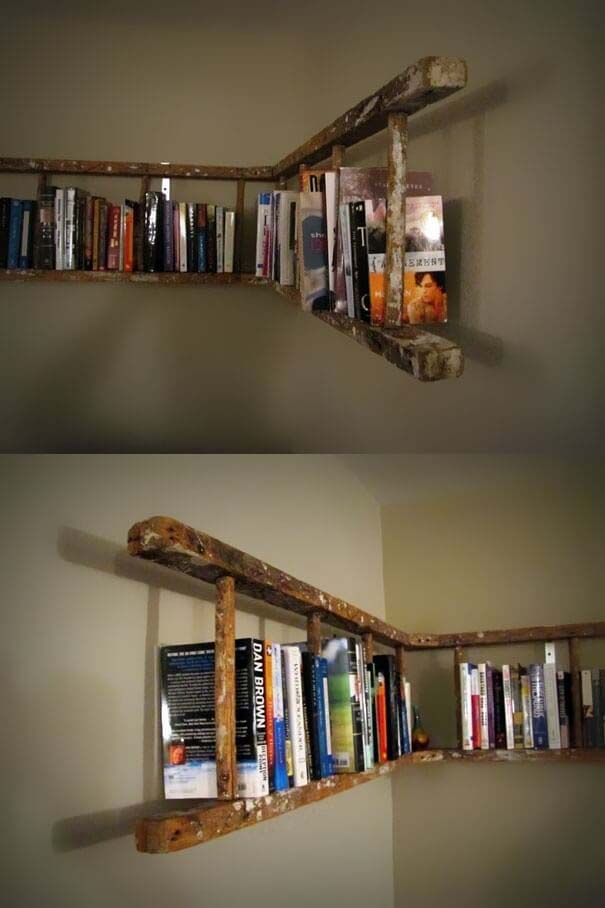 Such application will transform the old ladder into an intriguing bookshelf that can be positioned along the width of the wall or in the corner.
Leaving a clearance between the wall and the ladder will give sufficient space to store the books neatly and safely.