There is a saying "Trash for some people is a treasure for others" and we are just about to prove it!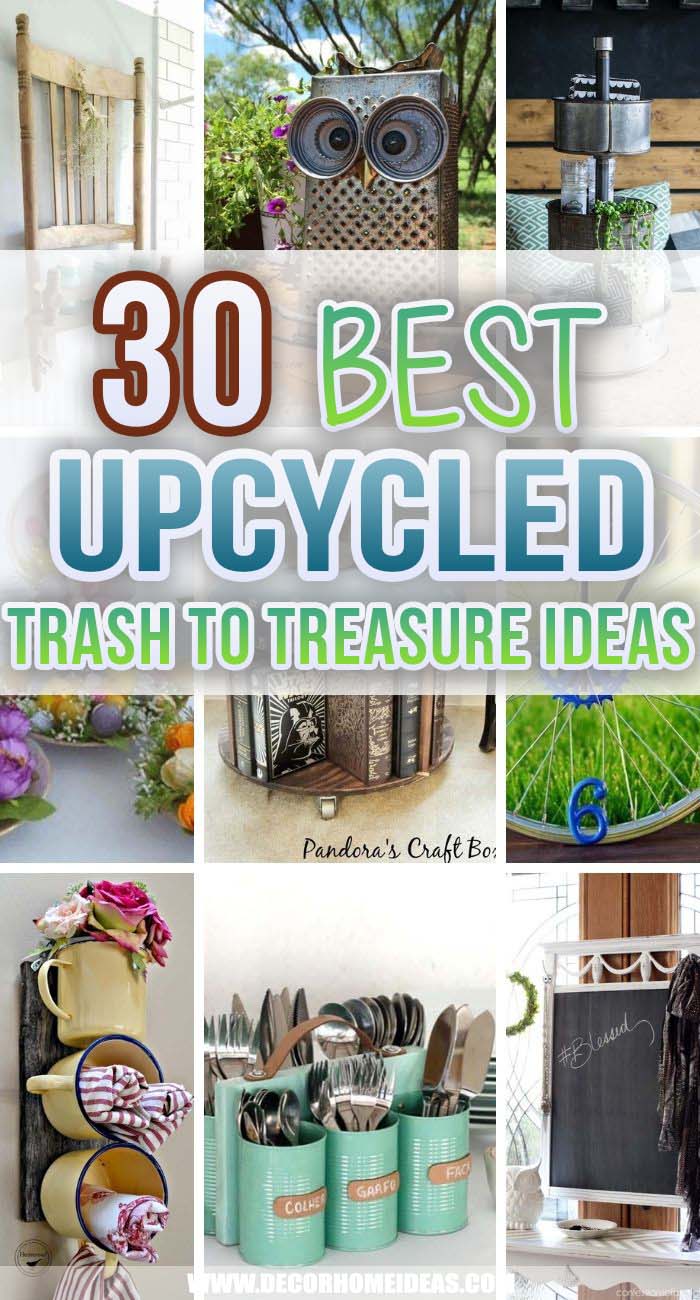 Check the unique decor ideas for upcycling ordinary items from our daily life.
1. DIY Cheese Grater Owl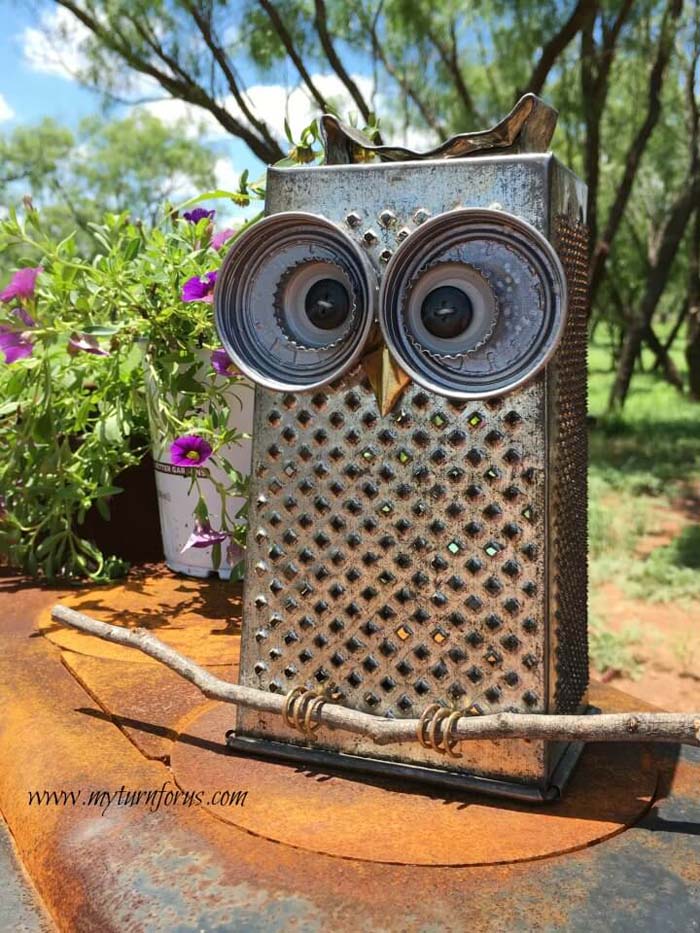 When metal utensils start to rust, they usually go directly into the garbage. Well, the rust has its charm and this cute owl figure proves it.
Adding other scrap materials like metal caps, buttons and springs gives the grater a brand new look! Added to a flower arrangement on the patio, the owl quickly adjusts to its natural setting and peeks out from greenery and blossoms.
via My Turn for Us
2. Fairy Light PET Bottle Lamp Project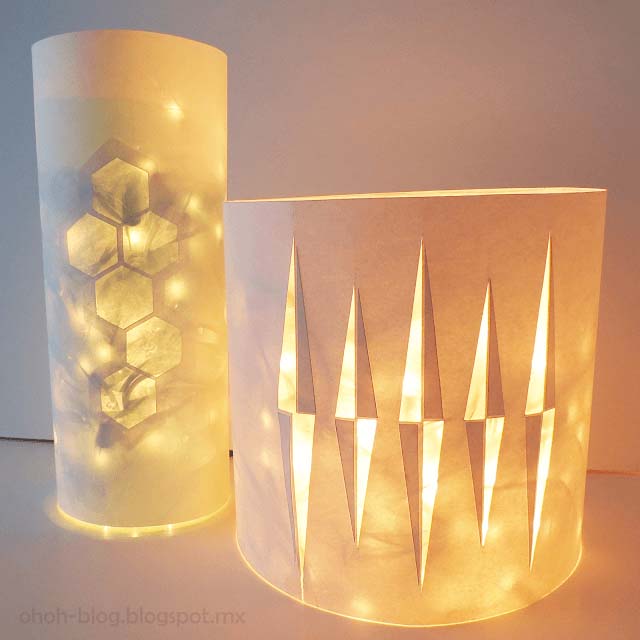 The structure hidden behind this unique standing lamp is a PET bottle. The material is dangerous for the environment, so the more recycled applications it has, the better.
Cut the neck of the bottle and weave a string of lights inside it. Then just wrap a plain sheet of paper around it to enjoy the smooth illumination.
via Oh Oh Deco
3. Easy DIY Clock From A Bicycle Wheel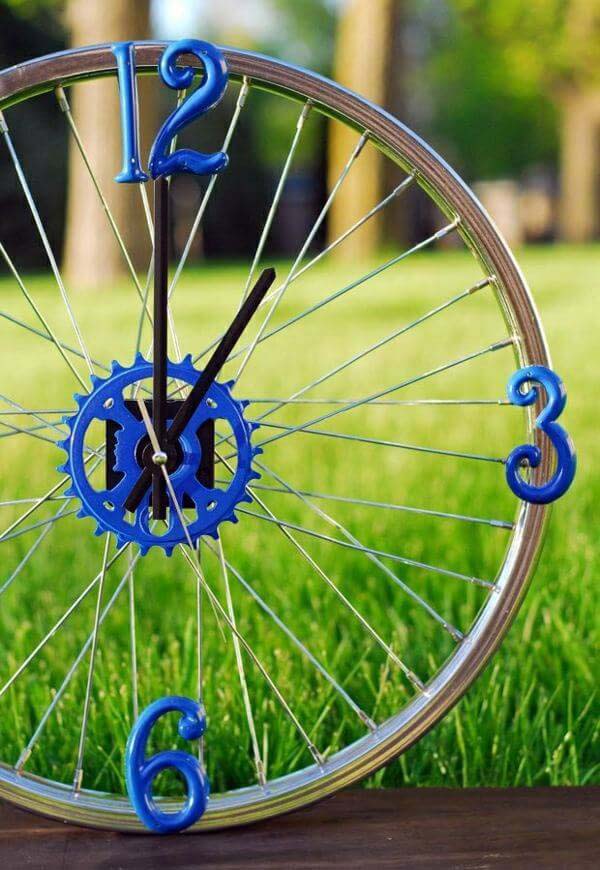 The bicycle rim transforms into a vintage unique clock in two quick steps.
Because of the round shape, there is no need to do any modification. Just glue plastic numbers on and add a clock mechanism in the center.
via eHow
4. Rope Wrapped Box Basket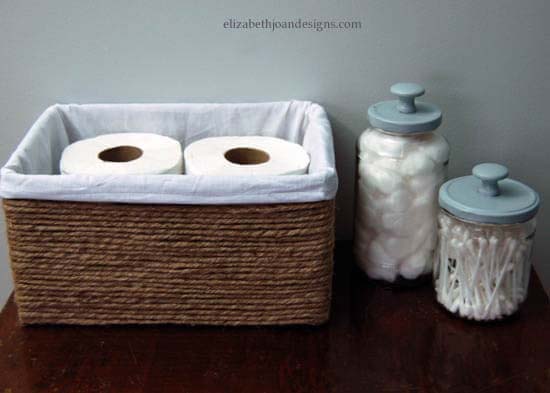 These trash-to-treasure ideas are not only about saving money, they are about finding a way to be environment friendly and aware.
An easy and quick idea to replicate the store-sold rustic baskets is featuring decorating a plain cardboard box with linen inside to hold things tightly and neat and rope glued on the outer surface.
via Elizabeth Joan
5. Upcycled Plain Plastic Bucket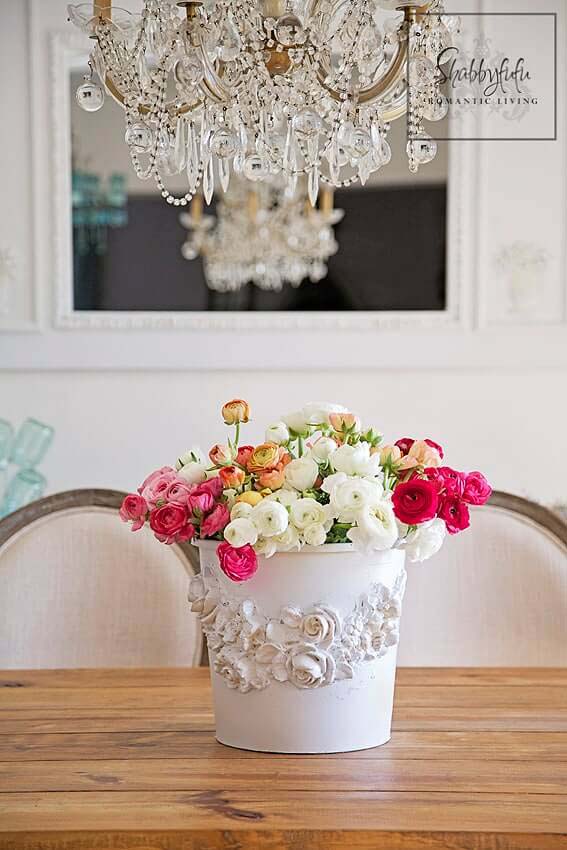 You would be amazed to understand that this satin beauty has been once a plastic black bucket. Those ones that florist sell flowers or you buy a new plant in. What is the secret?
A rose furniture applique made of resin has been slightly heated to become flexible and to be glued to the surface.
via Shabby FuFu
6. Creative Towel Holder From Old Mugs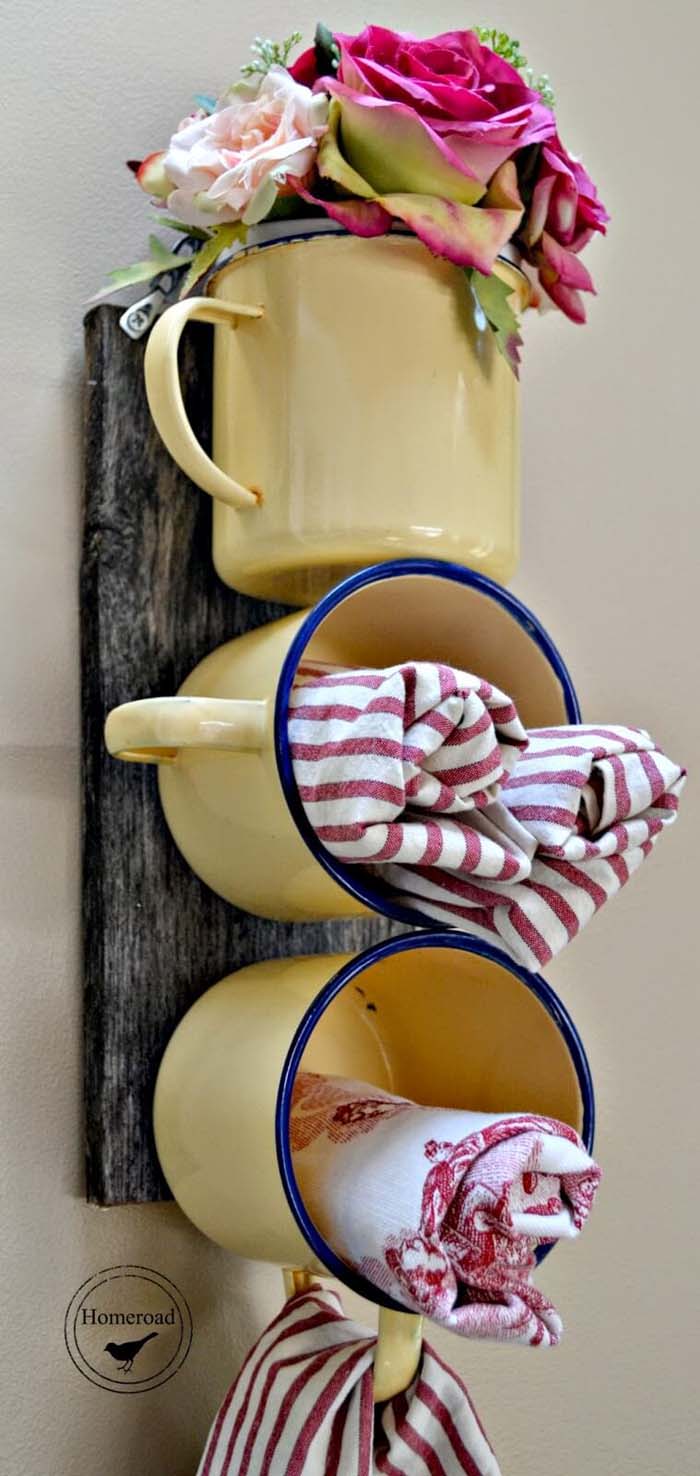 Looking for an additional kitchen organizer? Use the old metal mugs to create a vertical compact towel organizer.
via Homeroad
7. Dramatic Chicken Wire Lampshade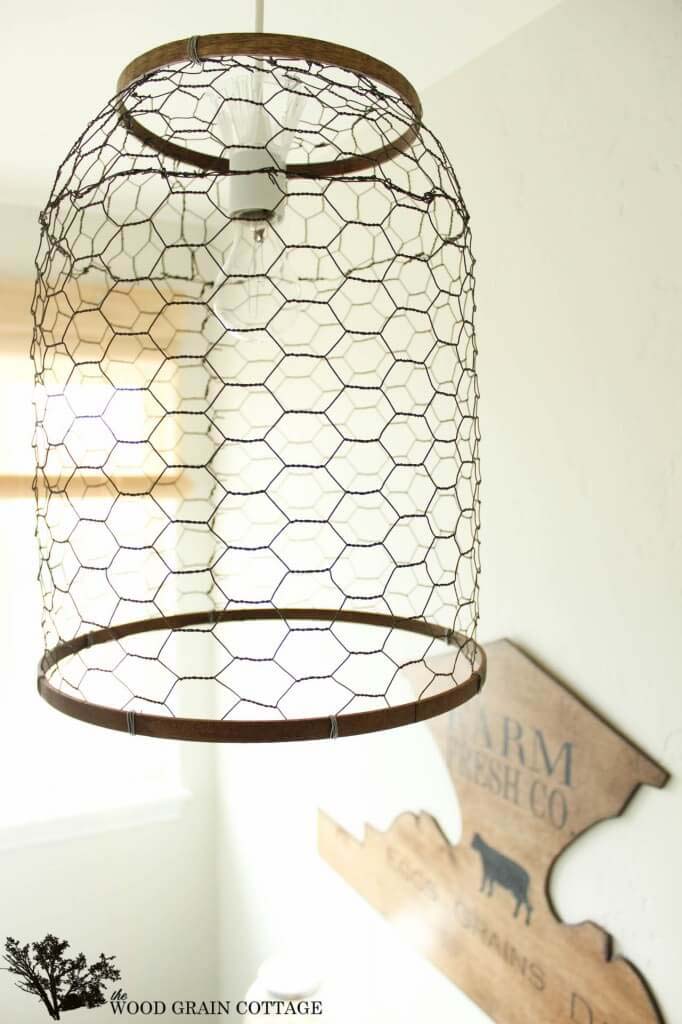 The secret to influencing decor is its uniqueness. Repurposing and upcycling supplies and items always achieve that impact. So is this extraordinary chandelier.
The handmade lampshade repurposes a piece of chicken wire net to turn it into the focal point of a cozy living space.
8. Colorful Hanging Flowerpot Colander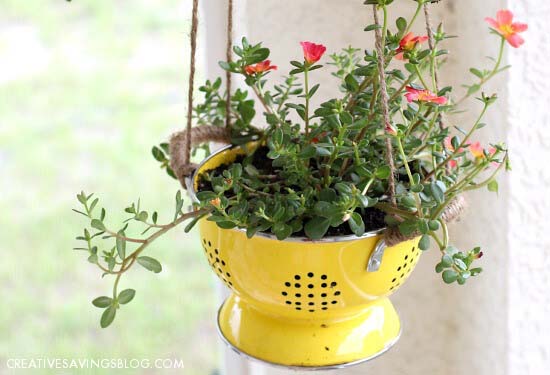 The original design of the colander makes it suitable for repurposing it into a hanging planter.
The existing holes deal with the drainage and the handles make suspending it to the ceiling or to the pergola so easy.
via Kalyn Brooke
9. Repurposed Sweater Adds Texture To A Lampshade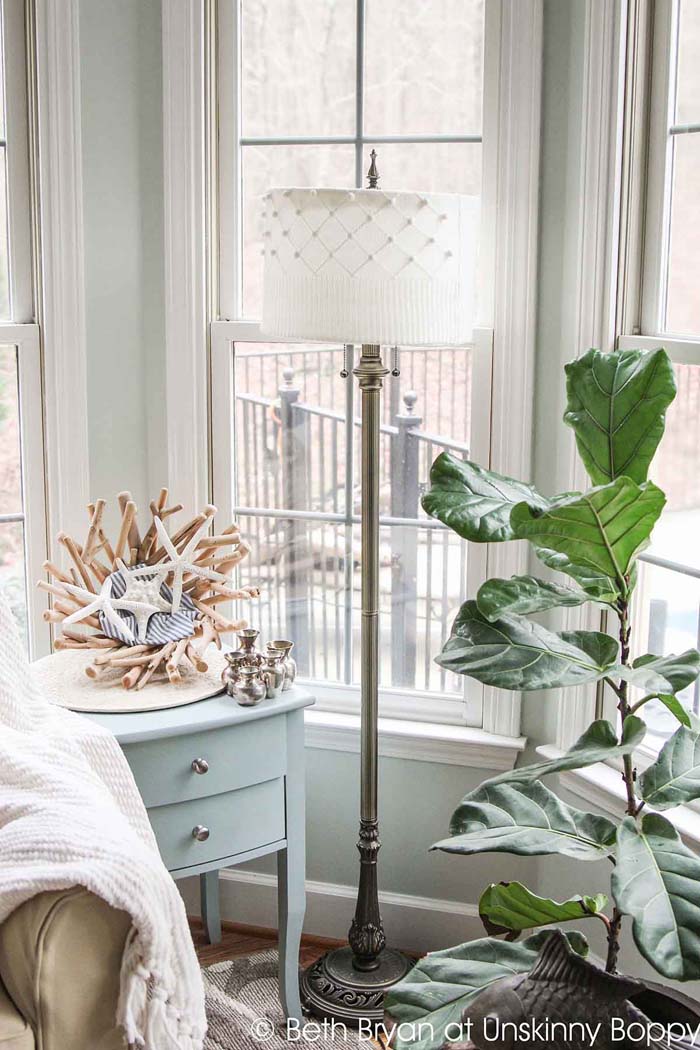 Wrap the lampshade with a piece of a sweater to give it a winter-themed look. If you are looking only for temporary decoration, join the two ends with a thread.
10. Upgrade Your Trash Cans With Rope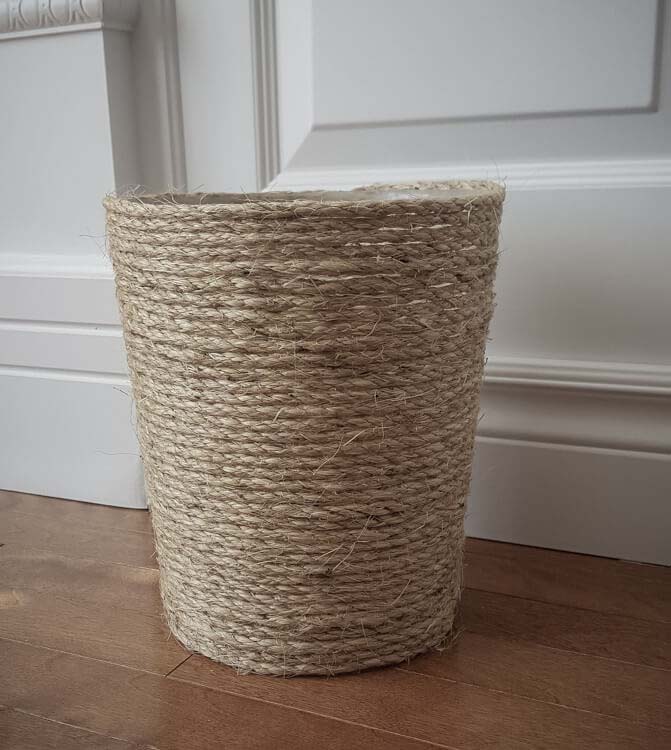 For less than $4 the plastic bin becomes a rustic bathroom accessory. Well, and with 6 glue sticks but you already have them, right?
via Neli Design
11. Upcycle An Old Tire To A Cozy Seat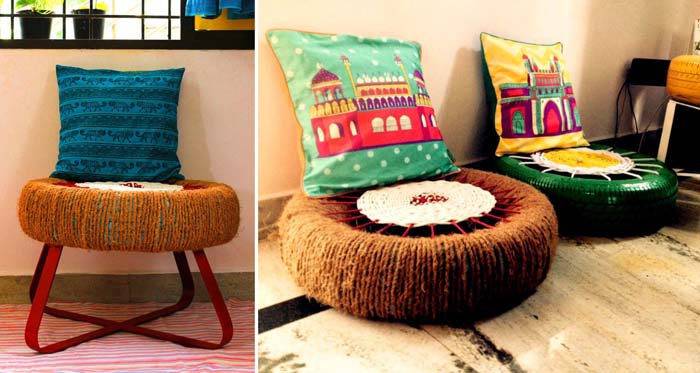 These boho ottomans make the atmosphere so cheerful! Plus they ensure comfortable sitting in cases where more people gather together.
The old car tires become part of the furniture easily- with some paint, rope and cushions.
via Inhabitat
12. Refresh Vintage Finds With Paint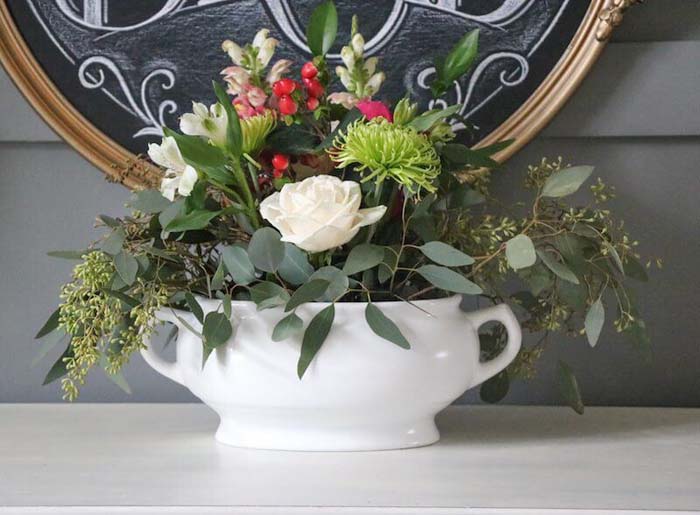 Decor dishes are quite expensive but with this upcycle idea that is no longer valid!
A set of thrift shop findings and a glossy white paint spray combine together to change the aged surface into a stylish decoration.
via Sincerely Sara D
13. Spring Centerpiece Of Waterfall Blooms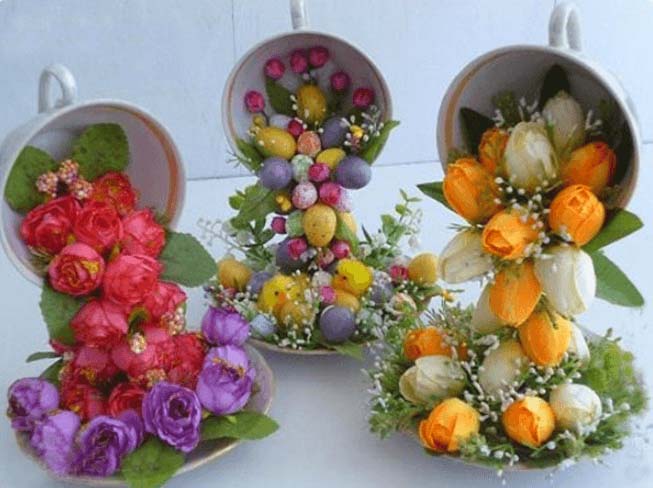 Have you ever wondered how these blossom fountains are made?
The secret is revealed- a piece of two-wire cable is first glued to the inside of the cup, then bent and the other end glued to the dish to give the creation this elevated look. Get your spring bouquet of faux flowers and glue to the cable.
via DIY Enthusiasts
14. New Use For Old Baking Tins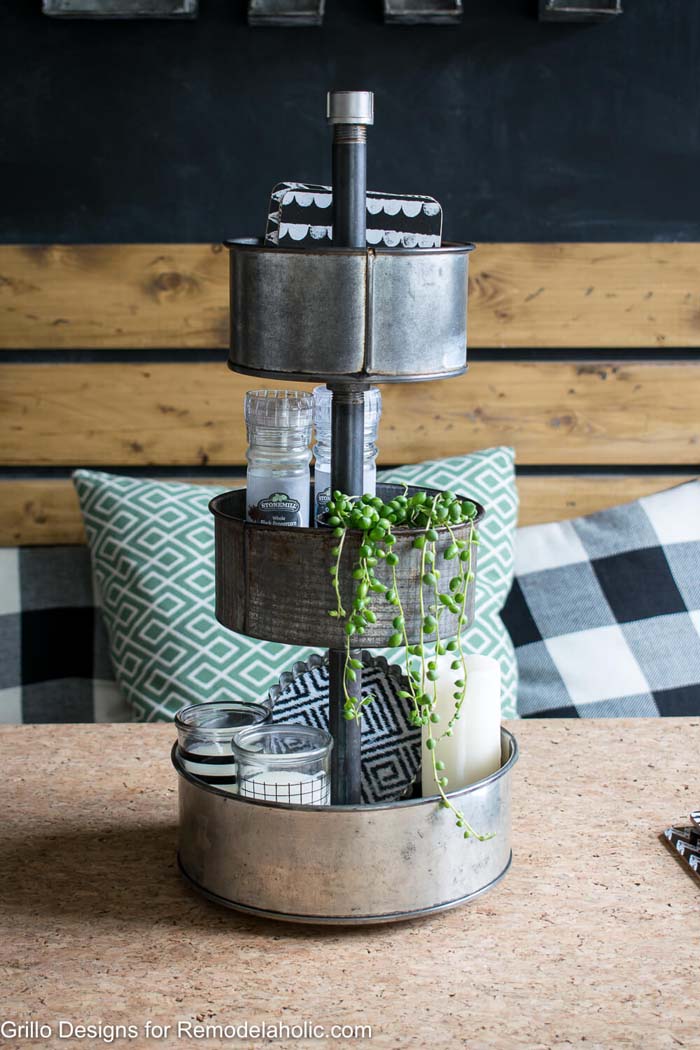 Get a Lazy Susan mechanism and create your own functional and space-saving organizer.
The tin baking tins quickly wear out so you probably already have three of them ready to be incorporated into the elevated storage unit.
via Grillo Designs
15. Repurposed Chair Adds Bathroom Storage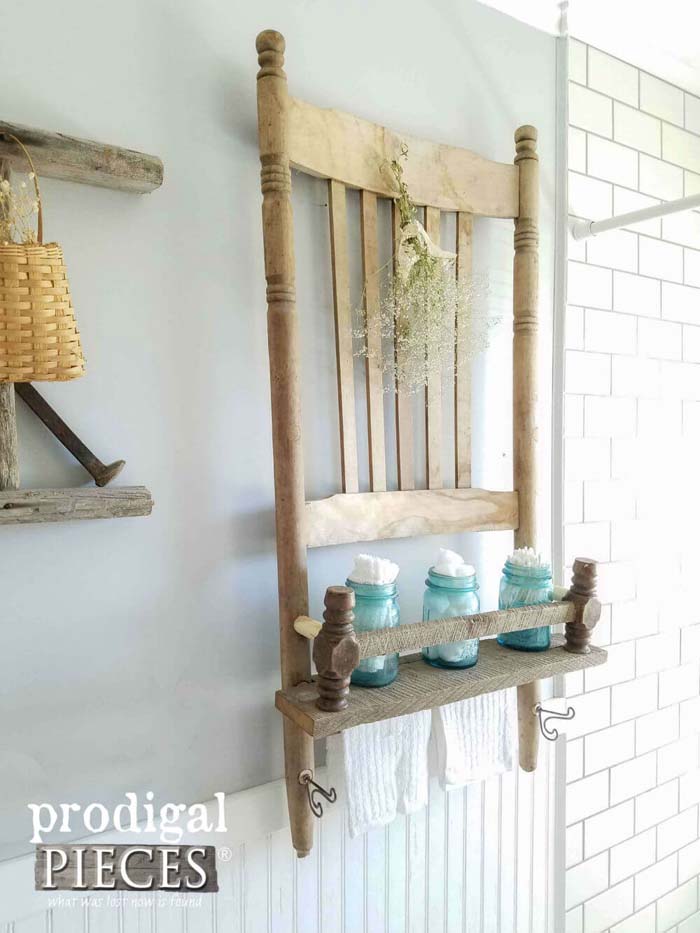 The piece of a wooden chair that usually breaks down is the seat. When that happens, we do not see the opportunities behind and just throw the chair away.
This idea inspires how to give the back of a wooden chair a new purpose as a bathroom shelf. Very comfortable, of small size, space-saving as it is attached to the wall and mostly with a unique rustic charm.
via Prodigal Pieces
16. DIY Wine Glass Bell Jar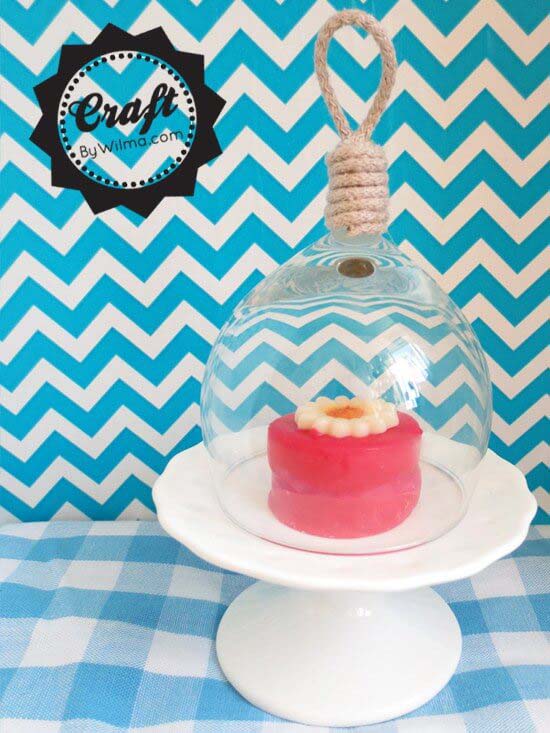 The broken wine glass becomes a fancy decoration when repurposed into a bell jar. The key to making it a useful treasure is to cover the sharp glass end with thick rope.
Doing a double function, the decorated end gives the elegant piece a rustic shade.
via By Wilma
17. Recycled Bottles Allow Clear Storage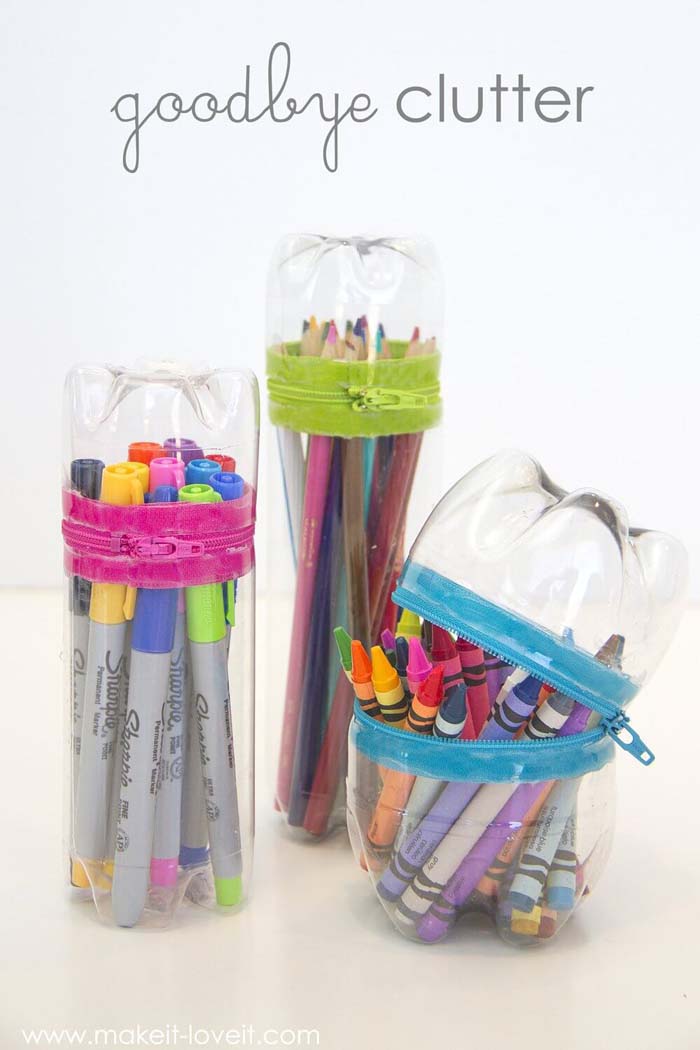 All of you who have small kids know that organization is a blurry goal, especially in their room. So instead of investing a lot in fancy containers that may last only 2 days, try figuring out other ways to make their belongings and accessories sorted.
The PET bottles are a great solution because you can easily accumulate the number of them you need. Add a zipper between the two parts to connect them and to keep things tightly inside the plastic organizer.
via Make It Love It
18. Decorative Plate To Decorative Mirror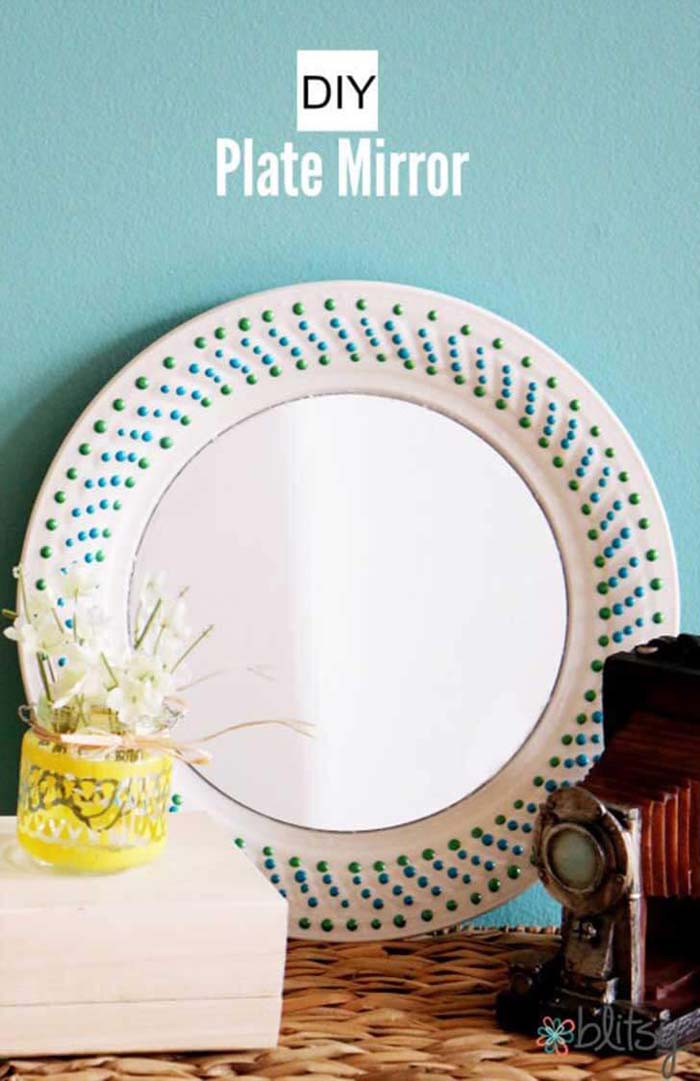 Add a sticky mirror decoration to the center of a large plate to make it a unique interior piece.
19. Upcycled Lotion Bottle Phone Caddy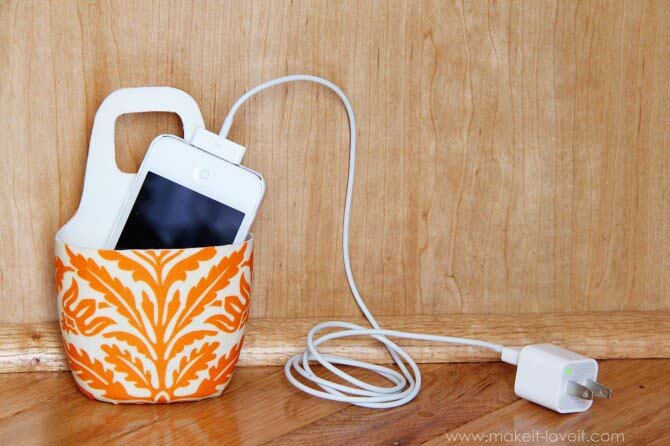 This phone holder is very practical and very easy to be made.
An empty lotion bottle is cut in the shape of the image and then decorated with a piece of fancy fabric.
via Make It Love It
20. Get Creative With Coffee Cans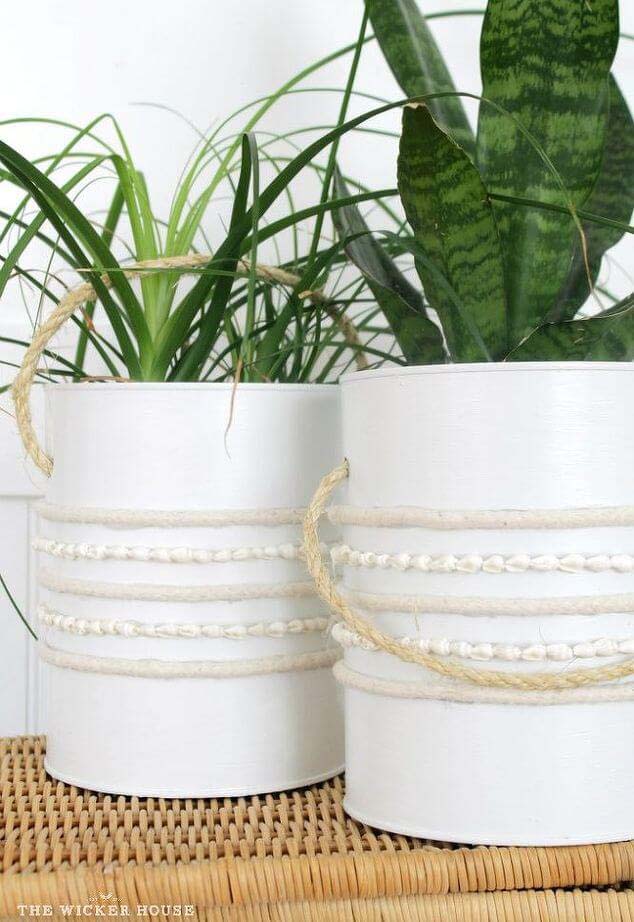 All metal tins can be transformed into planters- the baby and dog food containers, the coffee cans.
Some paint, decoration like threads, lace, decoupage paper, etc. and the tin surface fades away to give the planters a customized look.
via The Wicker House
21. New Life For A Vintage Mirror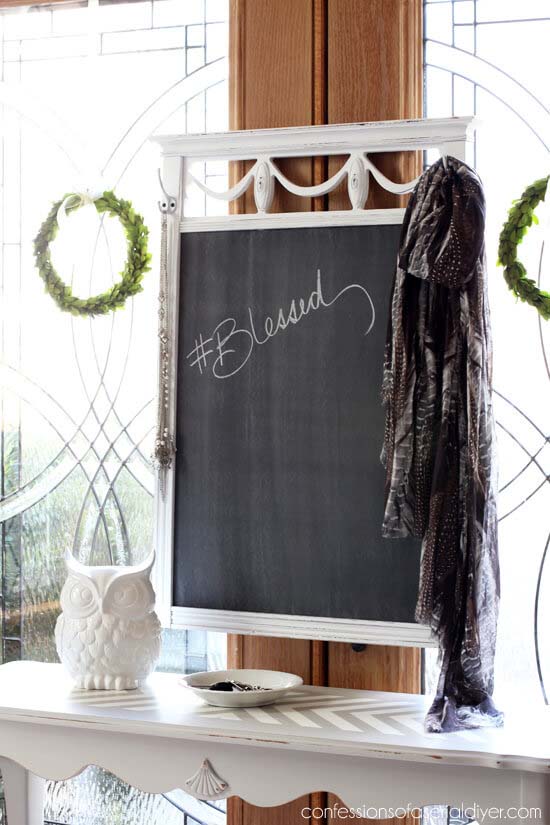 When you go to the thrift shop, don't pass through damaged items. Instead, think about how the parts that are not damaged can be used.
For example, a mirror that is broken still has life. Replace the mirror with a chalkboard piece or a wooden board painted with chalk paint. The new wall art offers multifunctionality for writing notes, inspiring thoughts or simply as an addition to the farmhouse interior.
via Confessions of a Serial DIY-er
22. Cable Spool Bookcase Stool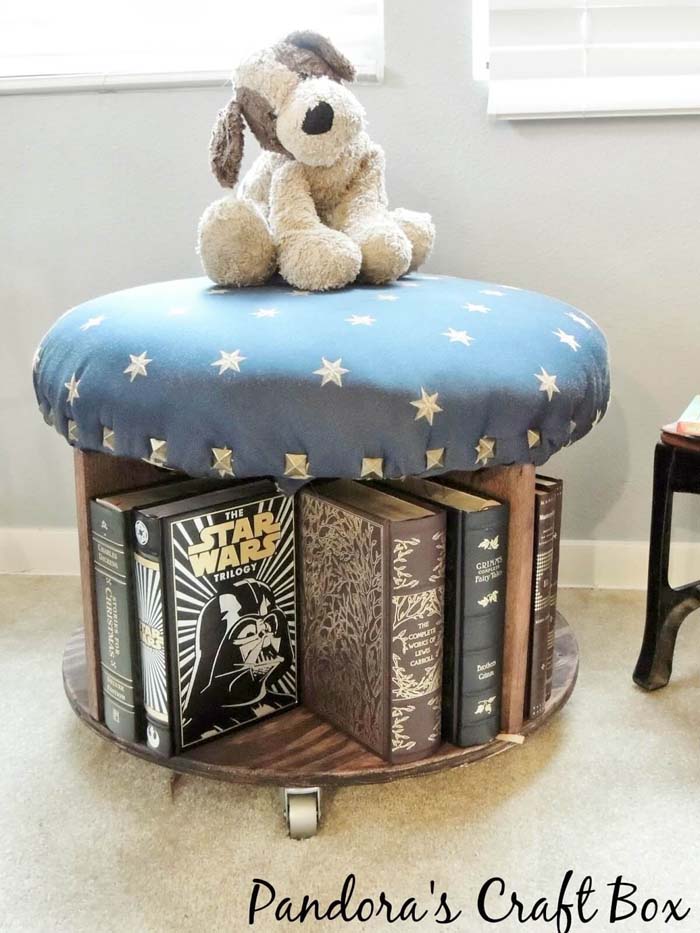 The cable spool can be repurposed into a side table easily.
Add casters to the bottom of the side table to turn it into a movable library.
via DIY Inspired
23. Add Charm With Unusual Textiles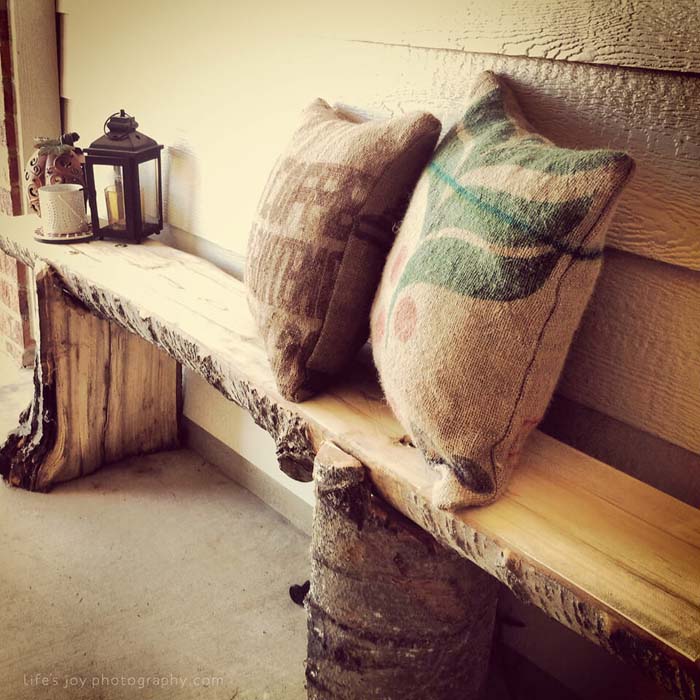 The coffee bean bags change their shape into pillow cases to enhance the comfort of a rustic entryway.
No special sewing machines are needed, even the basic sewing skills are sufficient to give the bag a smaller size.
24. Easy Decorative Boxes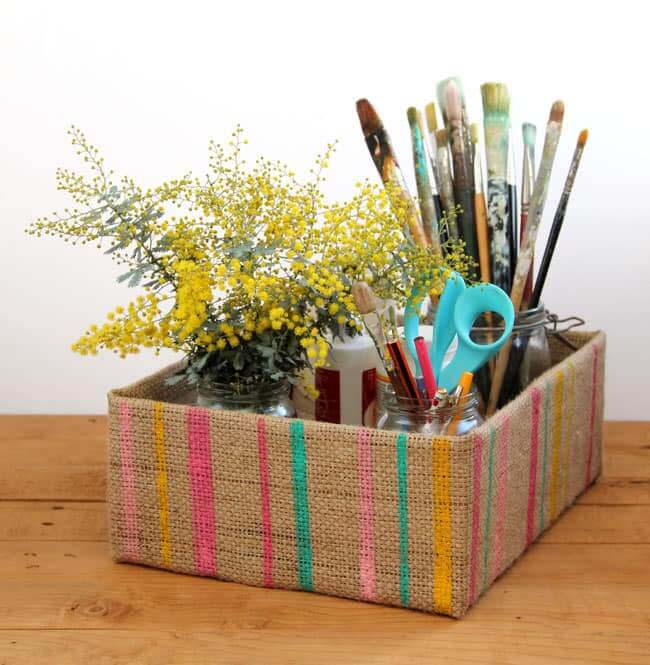 Another upcycling idea with coffee bean bags turns cardboard boxes into rustic storage containers.
They can function in many ways- in the kitchen for spices, in the living room as a table centerpiece, in the bedroom as a make-up organizer.
25. Candle Holder Mason Jar Project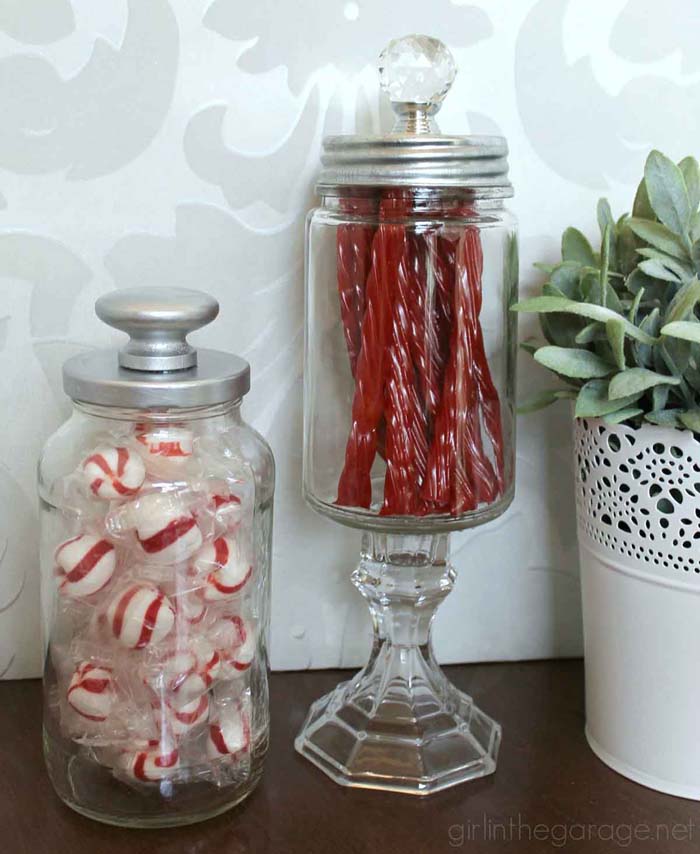 Random glass jars turn into a luxe addition to the mantel or to the living room by upgrading them with holders and knobs from the Dollar Store.
Because of the glass material, these containers are very protective so including them in the bathroom organization is also possible.
26. Upcycled Tin Can Utensil Storage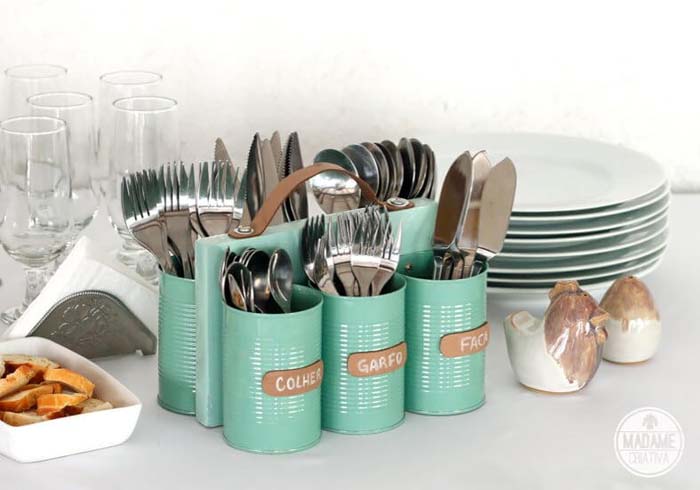 Add a pop of color to your kitchen with baby food cans. They are a sentimental memory from the baby years of the kid and throwing them away is difficult.
This idea gives them a new application that helps the de-cluttering of the kitchen countertop.
via Handimania
27. Repurposed Pallet Vase Shelf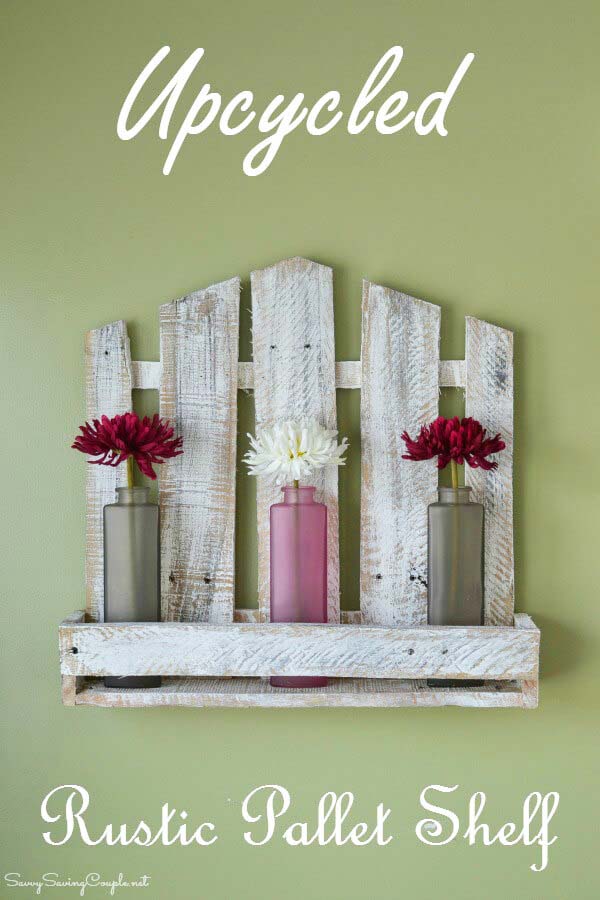 A piece of pallet transforms into a compact wall shelf that adds a unique farmhouse charm to the living room.
The shelf at the bottom is sturdy enough to accommodate heavier items like pots with flowers.
28. New Table From Vintage Luggage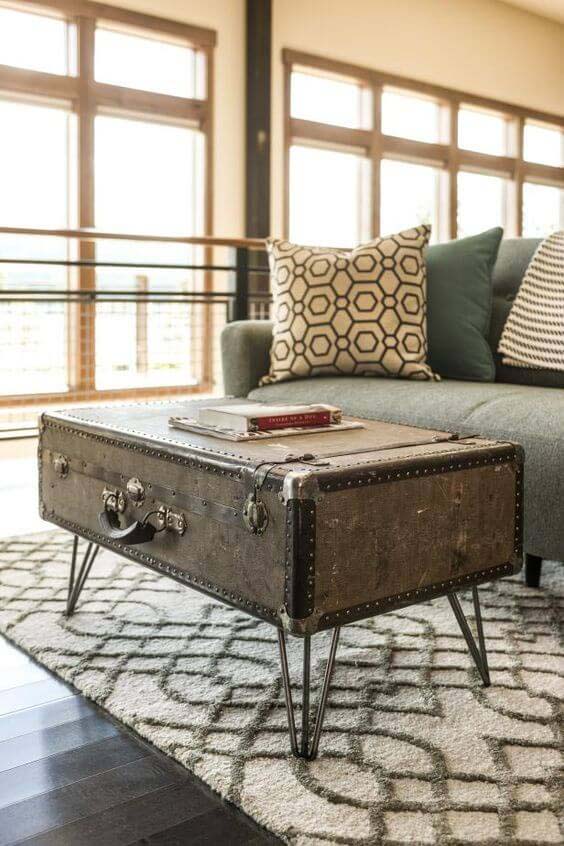 The retro suitcases are quite heavy and therefore using them for their original application is not possible nowadays. However, their design is so unique that throwing them away is a crime.
Thanks to their shape and strength, they can easily become part of useful furniture. Add hairpin legs to the bottom to turn the trash suitcase into a coffee table or line the lid with a pillow to use as an ottoman.
via DIY Network
29. DIY Mason Jar Light Fixture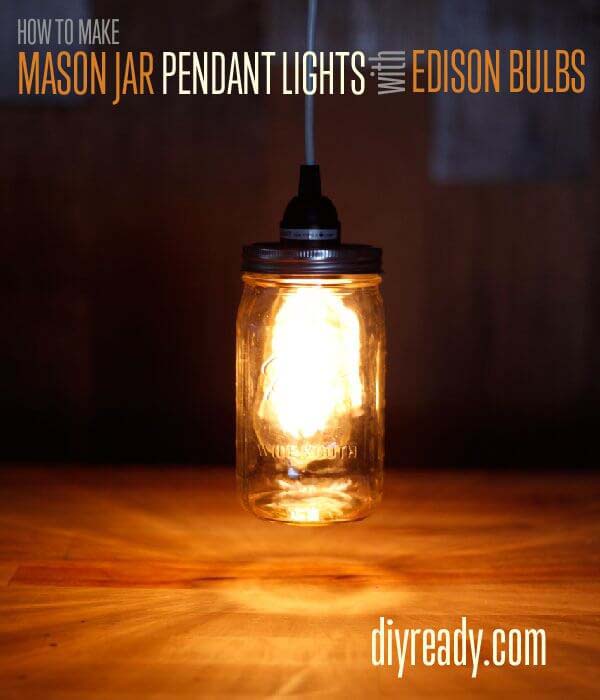 Another upcycling idea with jars turns the Mason jars into a pendant light. Drill a hole in the lid to put the supply cable through.
Screw the bulb and close the jar. The final result is a functional and impressive pendant light with a unique design.
via DIY Projects