String lighting transforms your yard, filling it with a soft, romantic glow.
Whether you have a small patio or a large backyard, the right lighting arrangement makes the space more functional and inviting.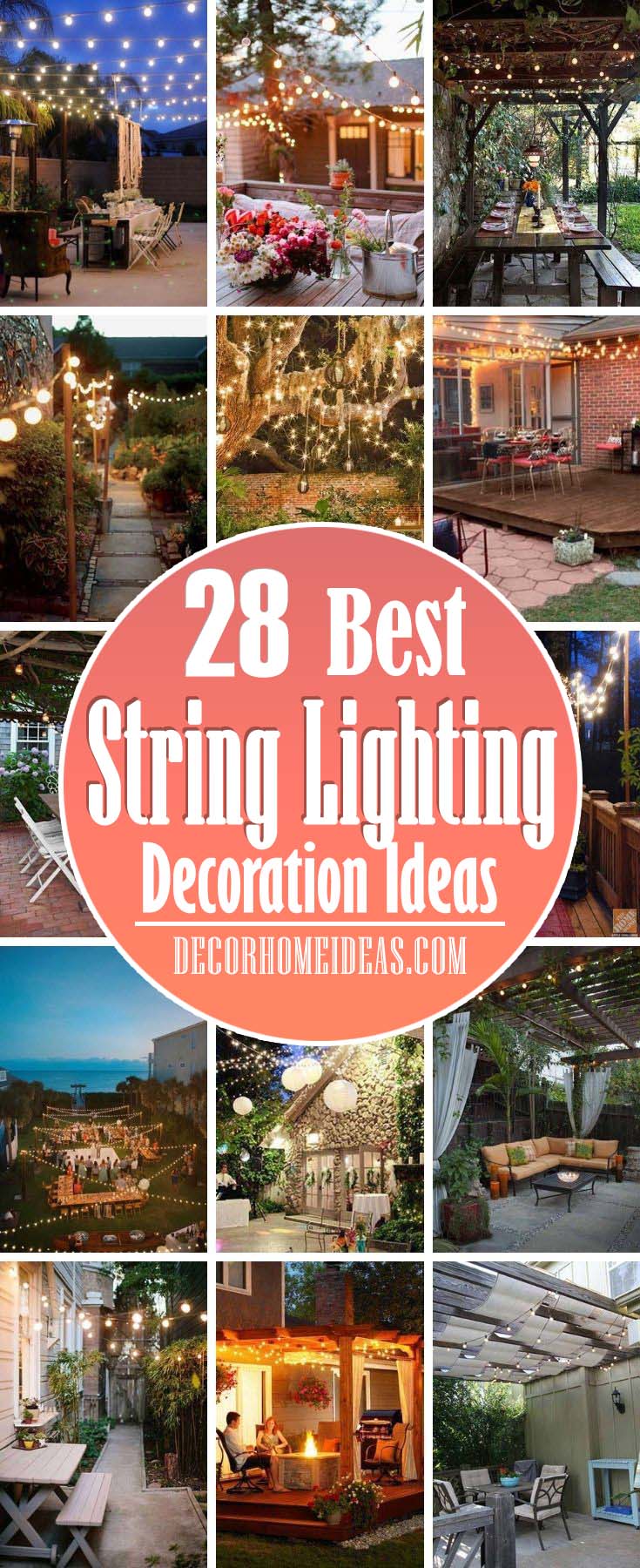 As you figure out how to add string lights to your home, turn to these 26 design ideas for ideas and inspiration.
1. Create a Cohesive Outdoor Space with White Lights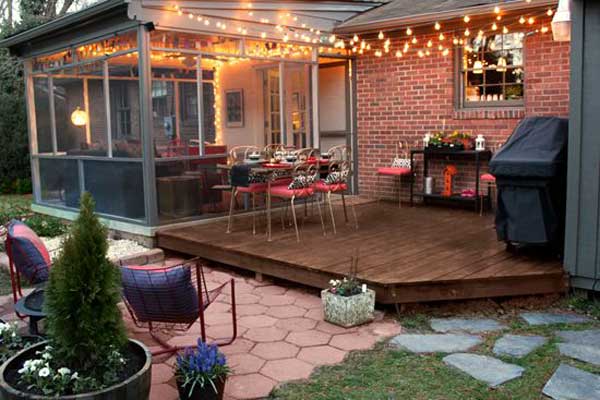 Make your screened-in porch and exposed patio feel like extensions of the same space by running identical white lights across each area.
Turn them on to brighten a cloudy afternoon, or use them to expand the party area during a big gathering.
via U Fab
2. Transform Your Balcony with String Lights and Sheer Curtains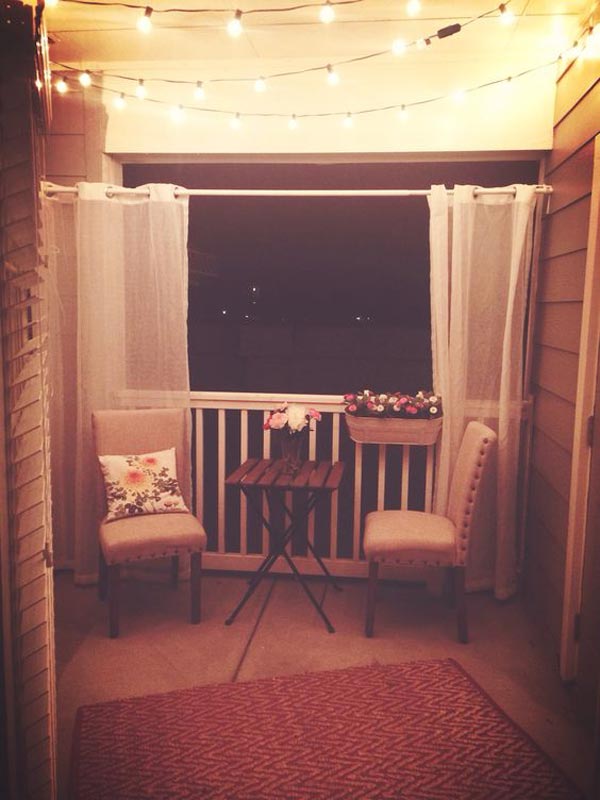 If you live in an apartment, your outdoor space is probably limited.
Take inspiration from this clever decorator — with a few string lights and some sheer white curtains, you can enjoy romance and privacy on a small balcony.
3. Illuminate Your Outdoor Space with Bright White String Lights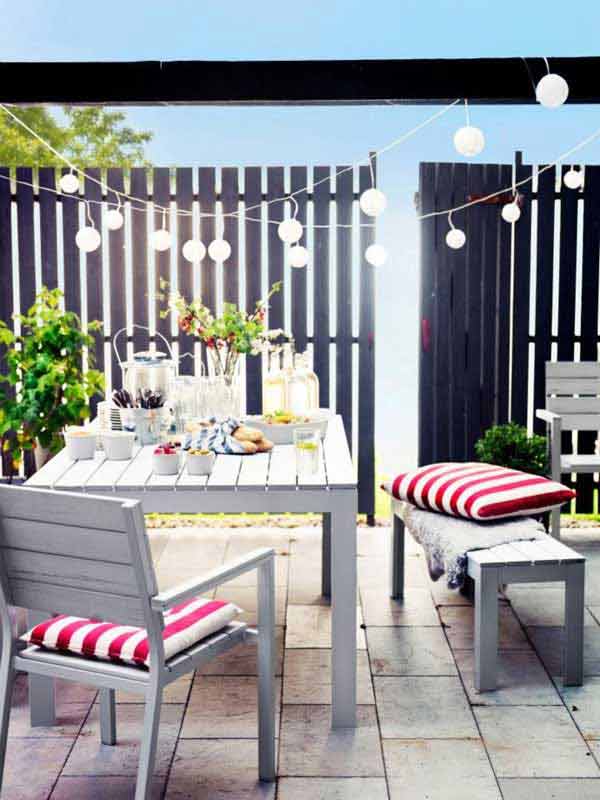 Are you going for a beachy vibe in your outdoor space?
Try using large, bright white string lights.
The extra surface area amplifies the illumination, creating a feeling that's fresh and fun.
4. Welcome Guests with a Magical Entryway of String Lights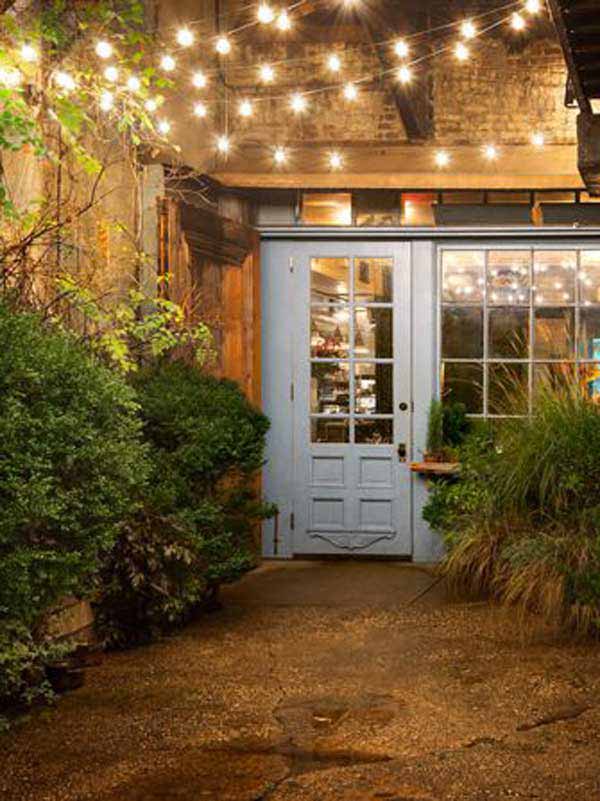 Make guests feel welcome and at ease by adding string lights over your entryway.
The soft, warm light helps even a simple dinner party feel like a special event.
via Refinery 29
5. Enjoy the Warmth and Glow of String Lights on Your Patio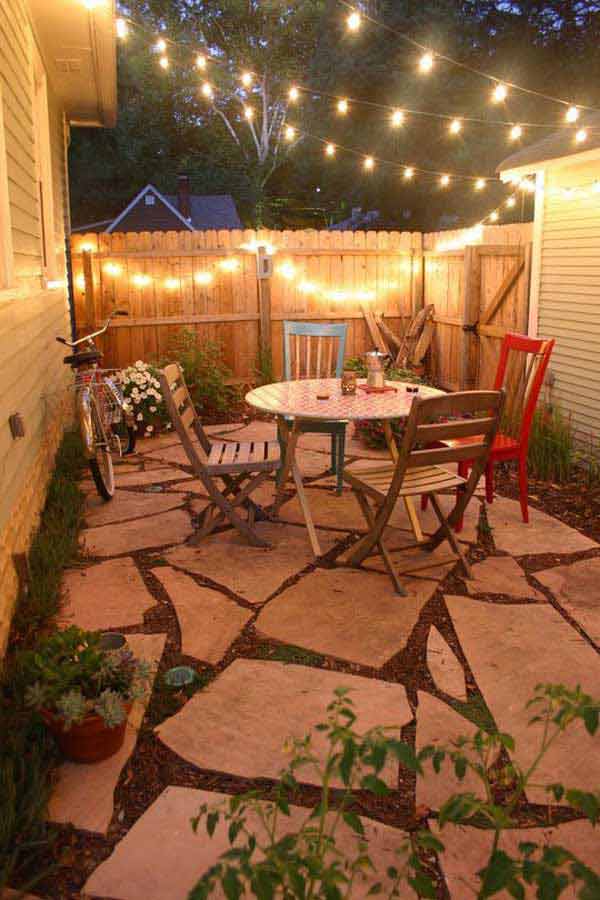 Fill your patio with a bright, cheerful glow by using string lights overhead and on the fence.
The additional bulbs amp up the illumination, giving you plenty of light to play cards, enjoy dinner, or hang out with friends.
6. Light Up Your Pergola with String Lights and Fabric Canopies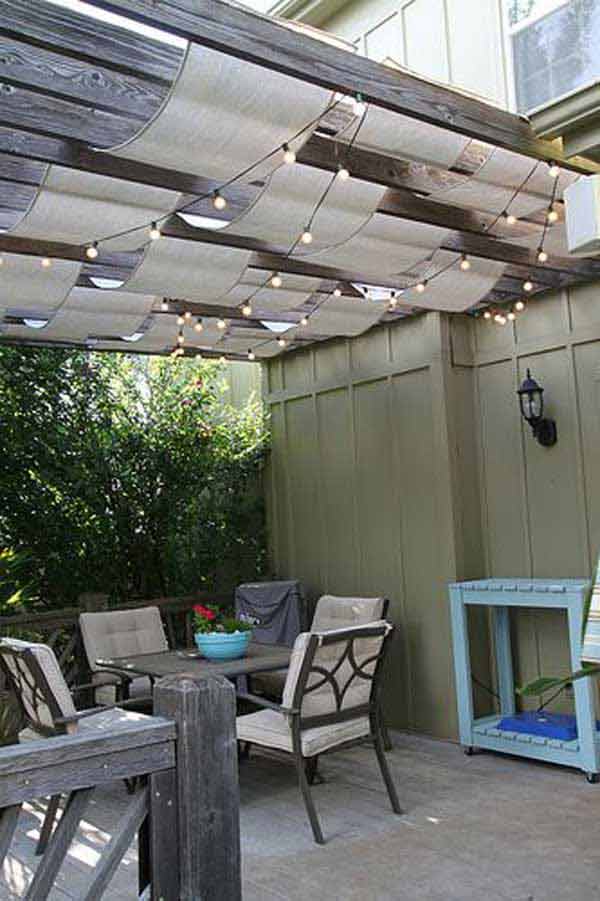 Do you have a bare wood pergola?
This creative project combines white fabric canopies with simple string lighting. After dark, switch on the bulbs and watch the material glow.
via Shelterness
7. Upgrade Your Outdoor Party with Criss-Crossed String Lights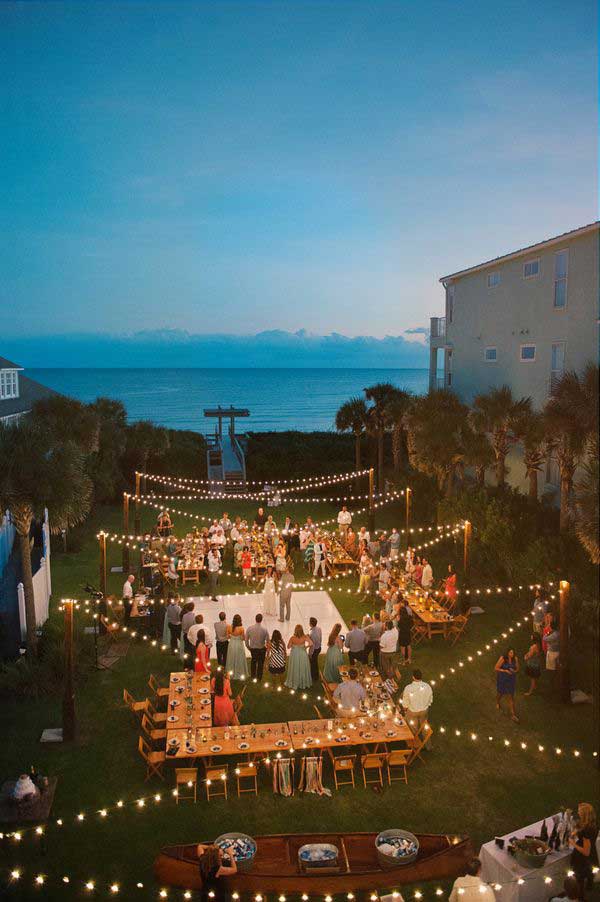 Are you hosting an outdoor wedding or party?
Create a ceiling of crisscrossed white string lights to give the event an instant upgrade.
The design creates the perfect amount of ambient light for dancing, dining, and cocktails.
8. Add a Minimalist Touch with Romantic Outdoor Lighting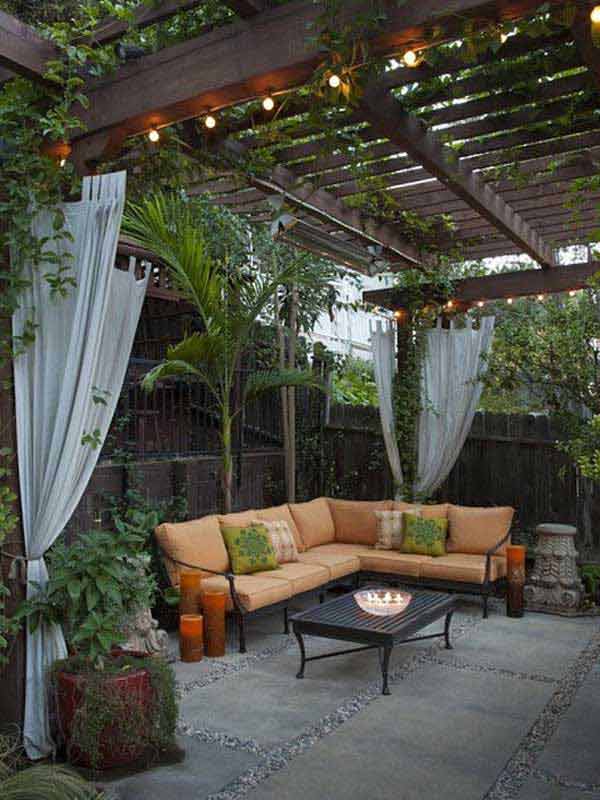 Create a dark and romantic vibe with minimalist string lighting.
Here, the homeowner pairs two strings with a few candles to create a beautiful spot for an outdoor date or a relaxing evening.
9. Create a Serene Spot with String Lights and Vines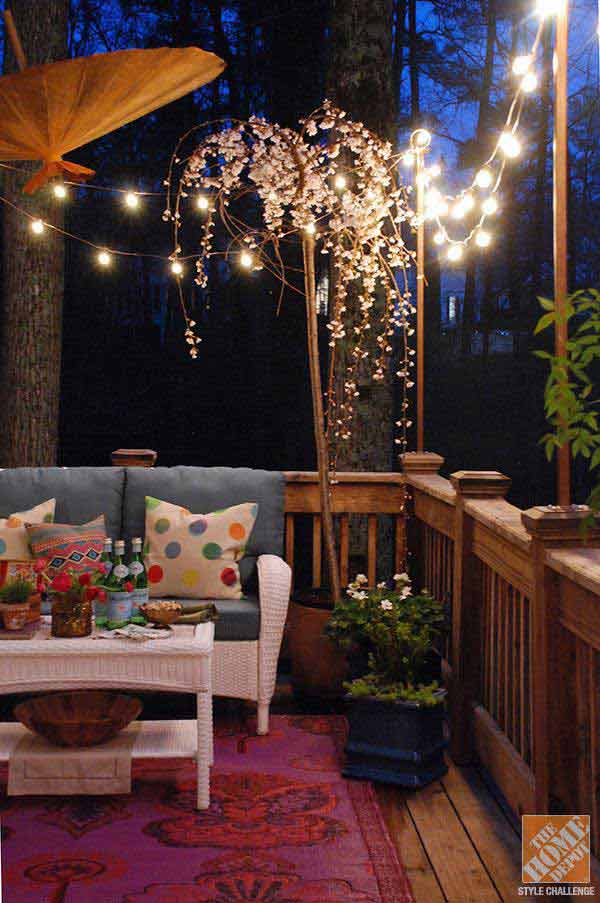 Create a spot for string lights on your deck by mounting tall, thin poles to the top of the posts.
Here, a stunning flowering vine and a paper umbrella create a sweet Japanese-inspired setting.
via Home Depot
10. Modify Your Fire Pit into Cozy Elegance with String Lights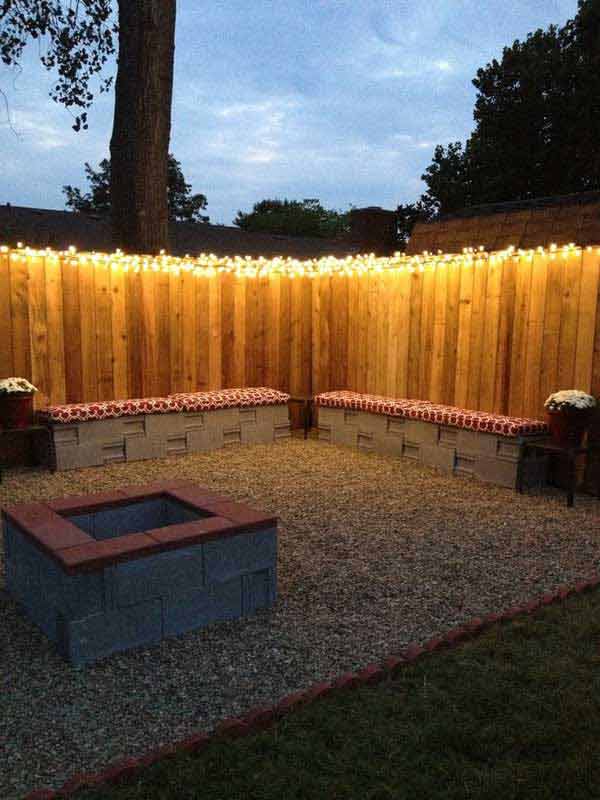 This project perfectly illustrates the power of the string light — a few strands on top of the fence makes cinder-block seating look elegant and cozy.
We love the layered look; the extra brightness shows off the beauty of the wood posts.
11. Create an Enchanting Pathway with String Lights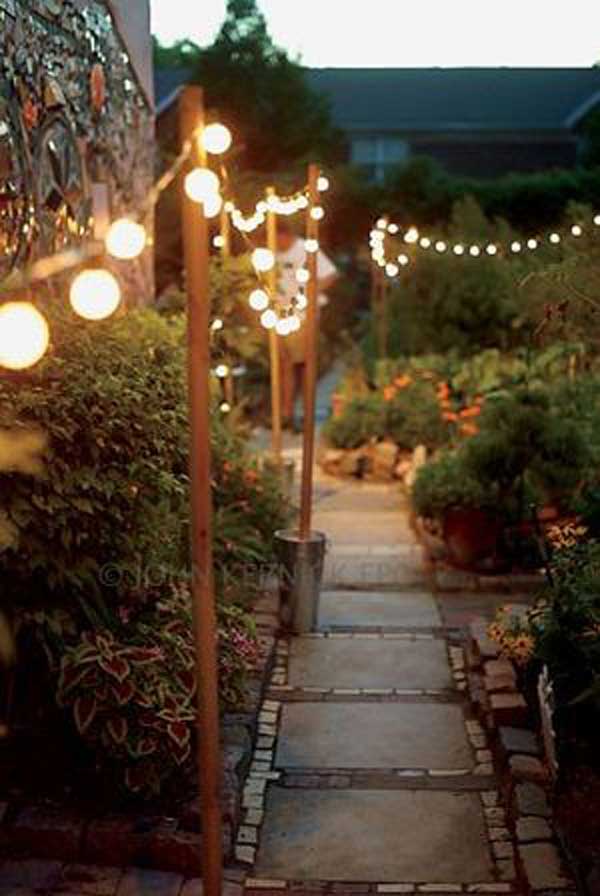 String lights are useful even when you have a limited amount of outdoor space.
Hang them along your walkway to set a whimsical and charming tone for a holiday party or dinner with friends.
12. Create an Alluring Atmosphere with String Lights on a Pergola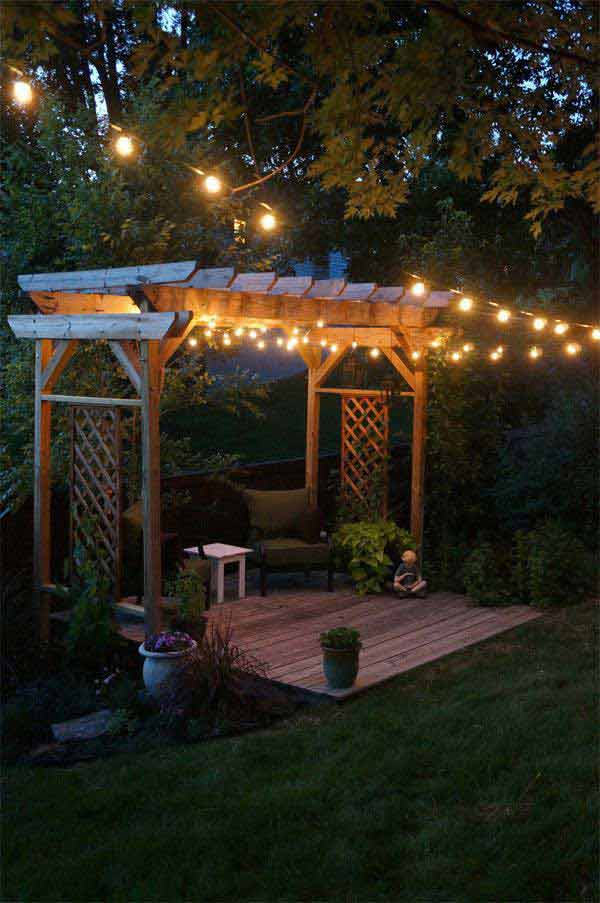 Here, a few string lights turn a small pergola into an intimate sitting area.
This DIY project is a cheap and easy way to enjoy your yard during the day and at night.
Read a book on summer evenings, or invite a friend over for a cozy cup of tea.
13. Brighten a Patio with Wall String Lights and Ground Lanterns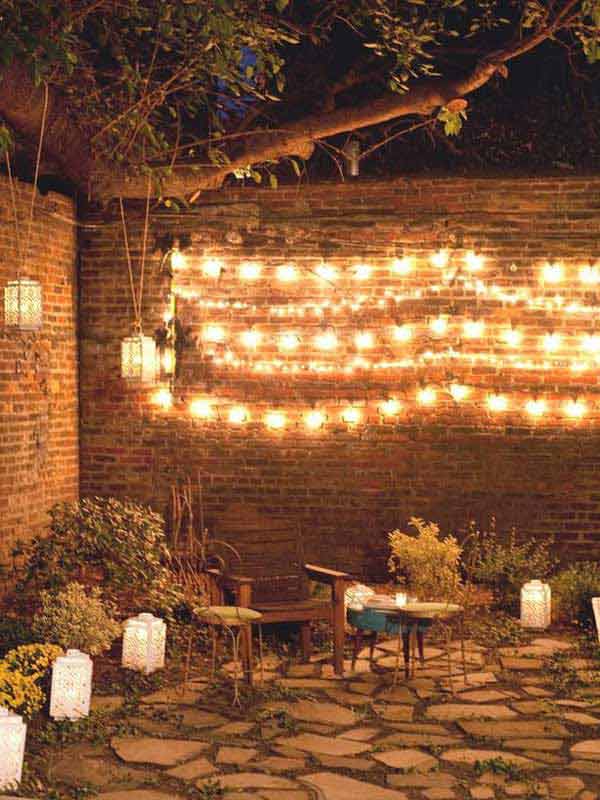 Show off a stunning fence or garden wall with rows of string lights.
This gorgeous arrangement is bright but not glaring — in fact, it can illuminate your entire patio.
Add a few ground lanterns for an extra hint of romance.
via HGTV
14. Create a Mystical Nighttime Ambiance with String Lights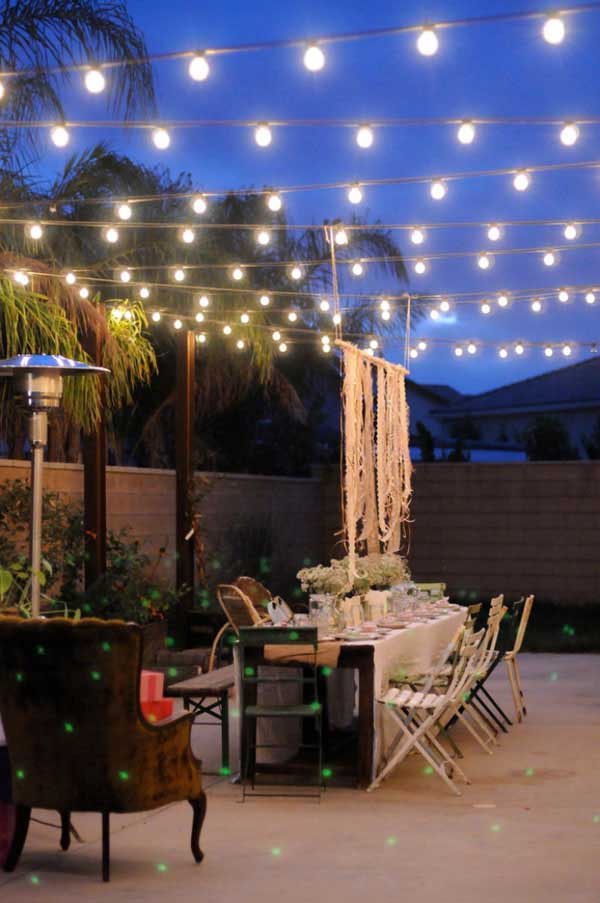 Elevate a casual backyard wedding reception by stringing lights across the space.
The parallel rows create a glowing ceiling, so the festivities can keep going well after the sun goes down.
As a bonus, the soft illumination flatters your face in photos.
15. Stunning Romantic DIY String Light Centerpiece Arrangement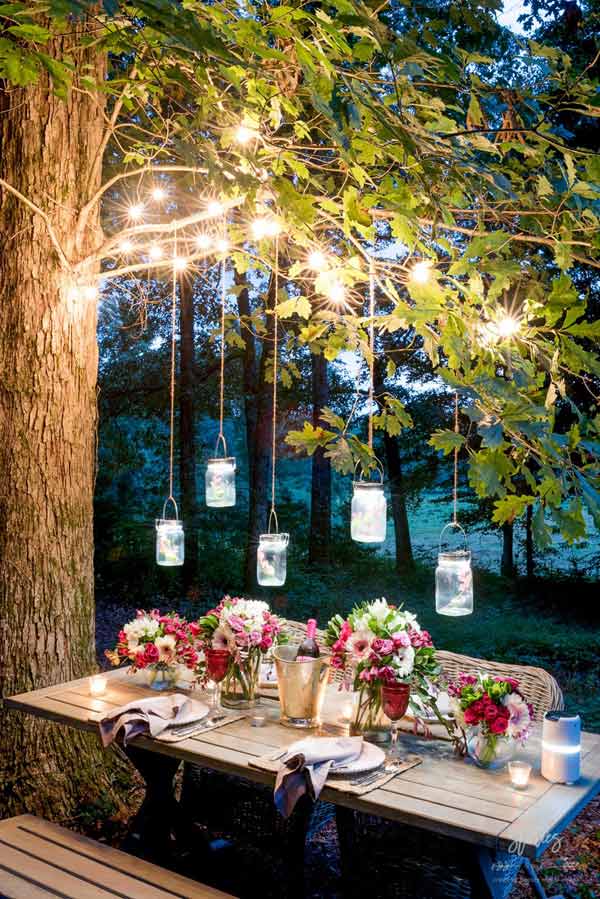 This impossibly beautiful arrangement uses two kinds of string lights — large bulbs tucked among the leaves make the tree appear to glow, and tiny fairy lights sparkle from inside the jars.
Whether you're hosting a dinner party or a bridal shower, this romantic arrangement is a fun DIY project.
16. Brighten Your Deck with Simple and Elegant Strand Lighting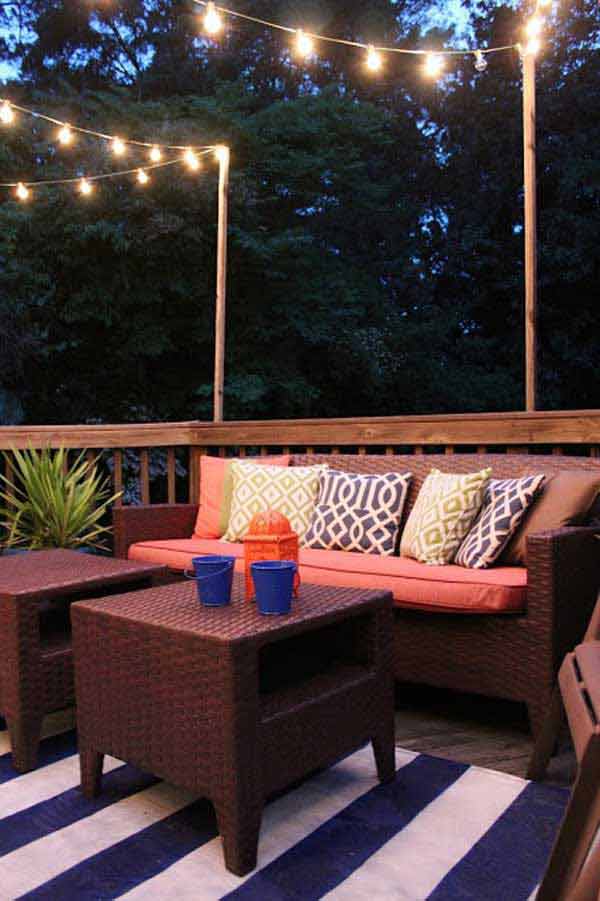 Simple and elegant, this project brightens a deck with just two strands of lights.
Attach the ends to your house, and use two raised poles to lift the lights high above your seating area.
17. Brighten Up an Outdoor Dining Area with Simple Patio Lights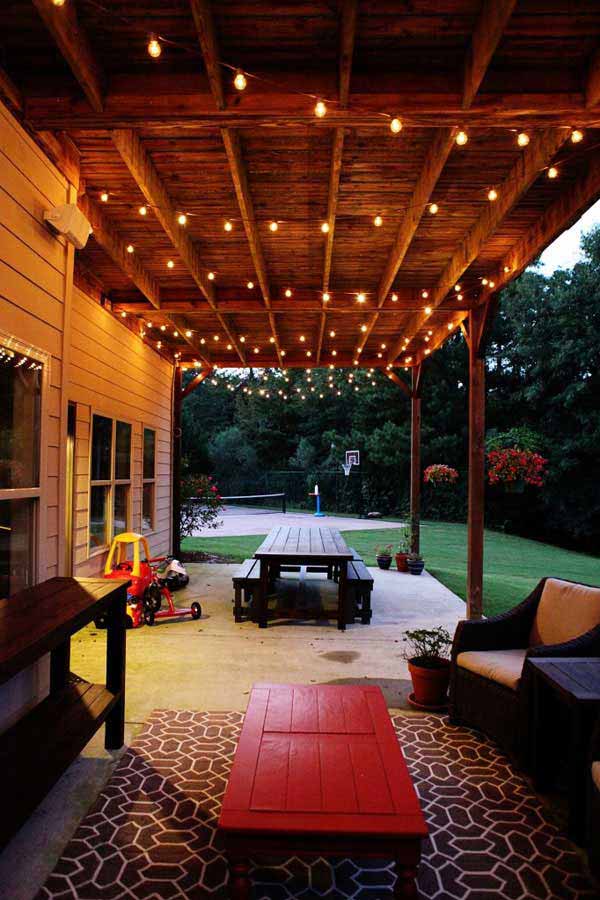 A patio roof is a great shelter from the weather, but it can lead to a dim dining area.
Here, the homeowner uses a simple set of white lights to make a simple cement patio into a cozy space.
via Bower Power
18. Transform Your Backyard into a Magical Oasis on a Budget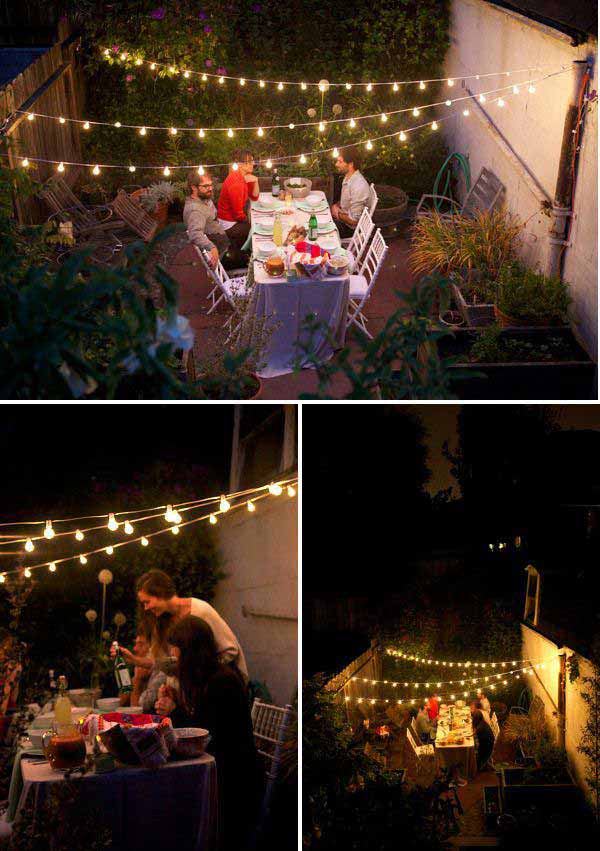 Looking to upgrade your backyard on a budget?
This design proves that less is more — with just three strands of white string lights, it turns a simple patio into a magical outdoor dining room.
via Oh Happy Day
19. Create an Inviting Outdoor Dining Space in a Small Yard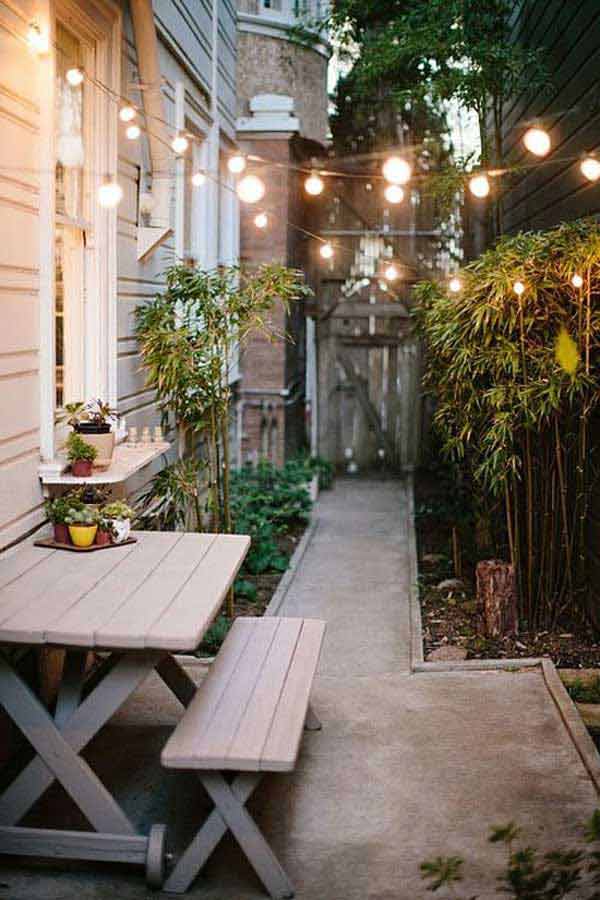 This adorable setup proves that you don't need a big yard to enjoy outdoor dining.
With a tiny picnic table and large globe lights, this narrow walkway is transformed into a spot you'll love to use.
20. Illuminate Your Shaded Garden or Patio with Twinkling Lights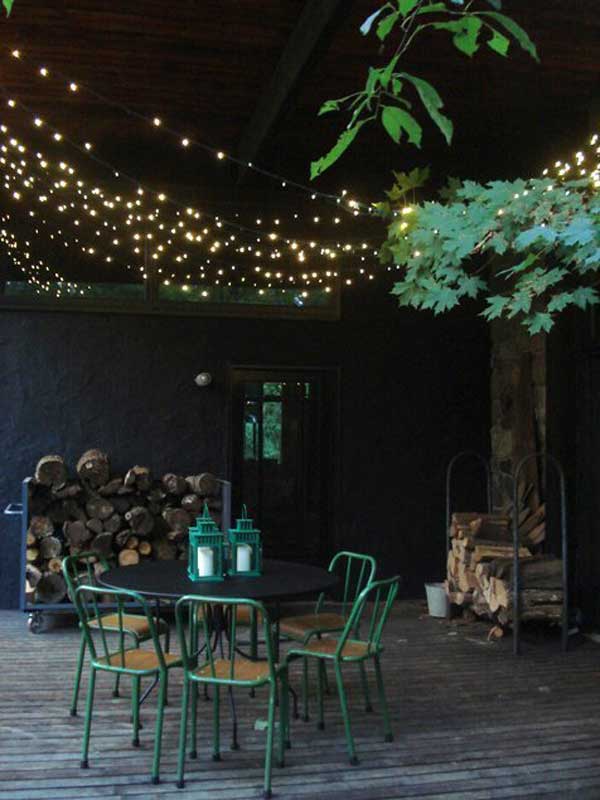 Do you have a corner of the yard that's heavily shaded?
A canopy of tiny white lights can bring the space to life.
Turn them on to brighten the area on a cloudy day, or flip the switch after dark to create an outdoor dining or relaxing space.
21. Create a Magical Garden Wonderland with Lights and Lanterns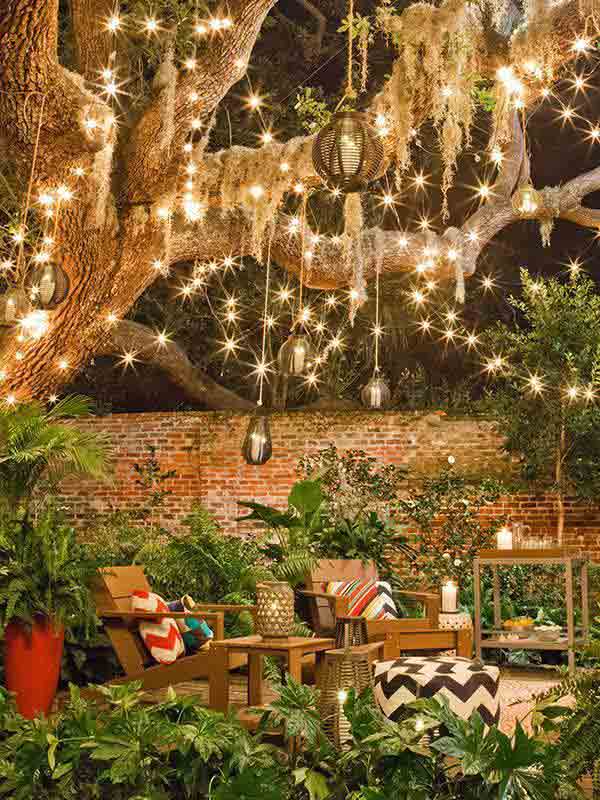 It doesn't get more magical than this garden wonderland.
The trick is to use multiple light strings; wrap them around the branches and allow some to drape like vines for a natural look.
Add in a few candle lanterns to complete the fairytale effect.
via The Good Life
22. Create a Vintage Feel with Edison Lights for Historic Homes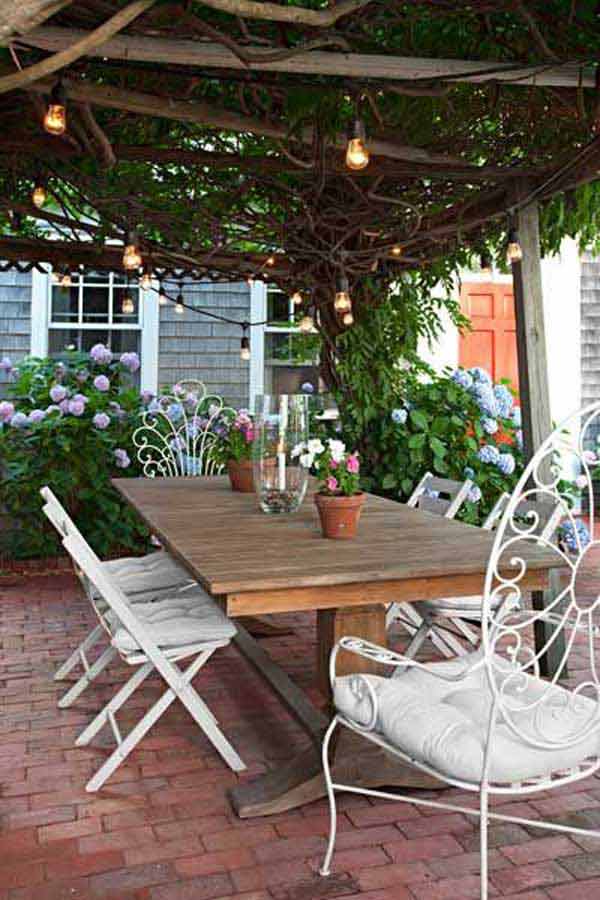 If you own a historic home, lean into the vintage vibe with Edison bulbs.
The exposed filaments enhance the adorable garden furniture, creating a spot that's perfect for tea or elegant lunches.
Small potted flowers and a hurricane candle complete this charming picture.
via This Old House
23. Achieve a Mystical Atmosphere with Starry-Themed Décor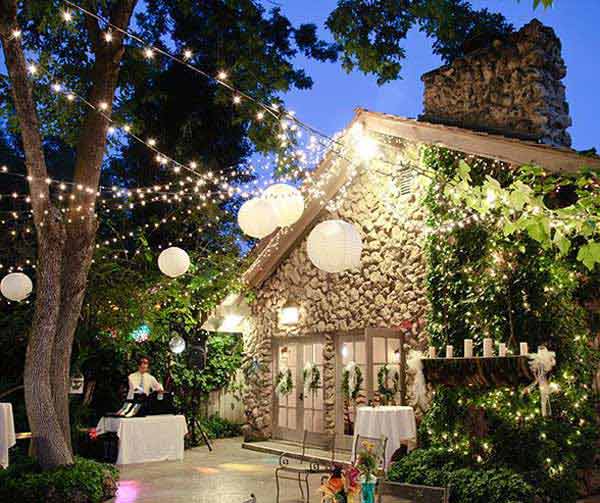 Create the impression of a starry sky by hanging strings of tiny lights high above the ground.
Here, the host has added large paper lanterns and lights in the vines for full-on romance.
24. Add Fresh Flowers and Lights for a Garden-Themed Magic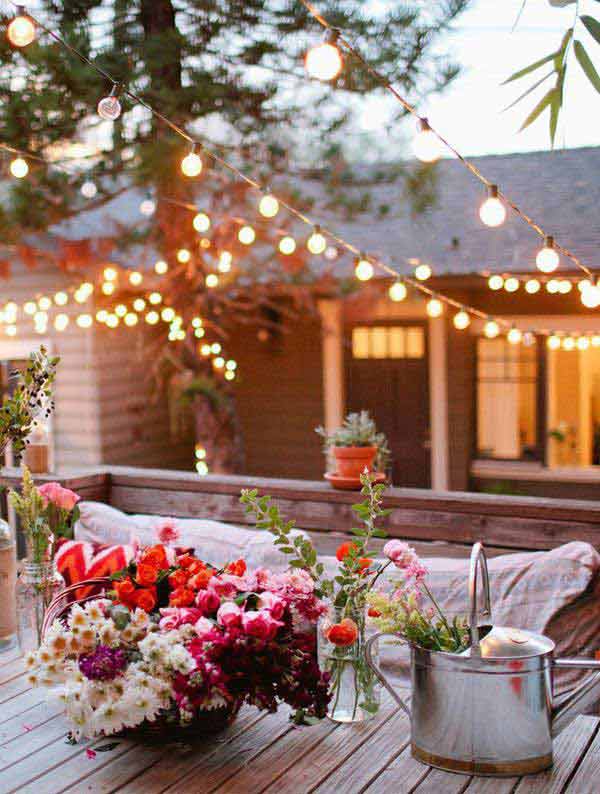 Whether you're hosting a summer dinner party or showering the bride-to-be, you can't go wrong with fresh flowers and small white lights.
We love the creative watering cans and clear glass jars, which contribute to the garden-themed charm.
via Sugar and Charm
25. Italian-Inspired Oasis with String Lights and Vines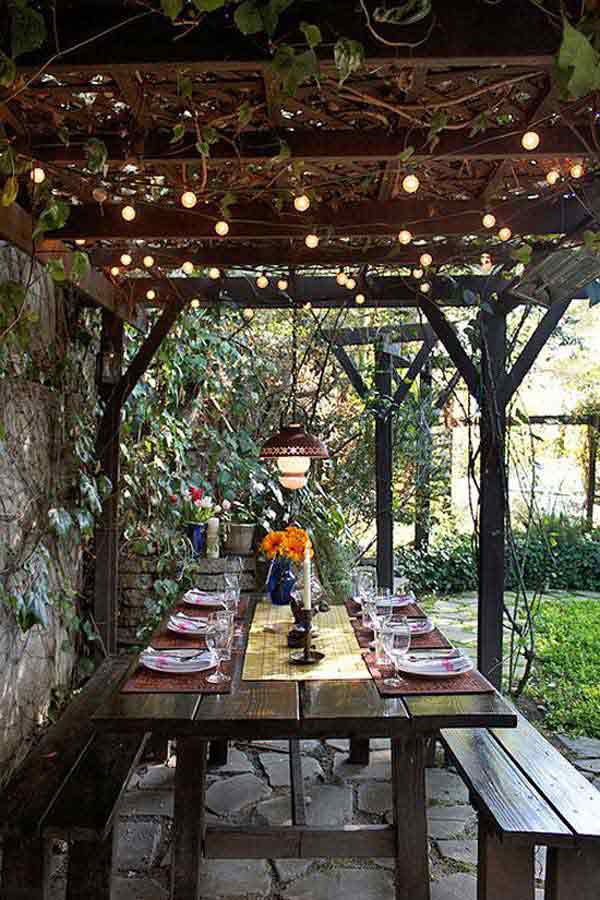 Is there a more magical combination than string lights and vines on a wooden pergola?
Add in a long wooden table, and you're ready to host elegant dinner parties.
You'll feel like you've stepped into an Italian vineyard wedding every time you sit down to eat.
26. Brighten Your Fire Pit with a Pergola Lit by String Lights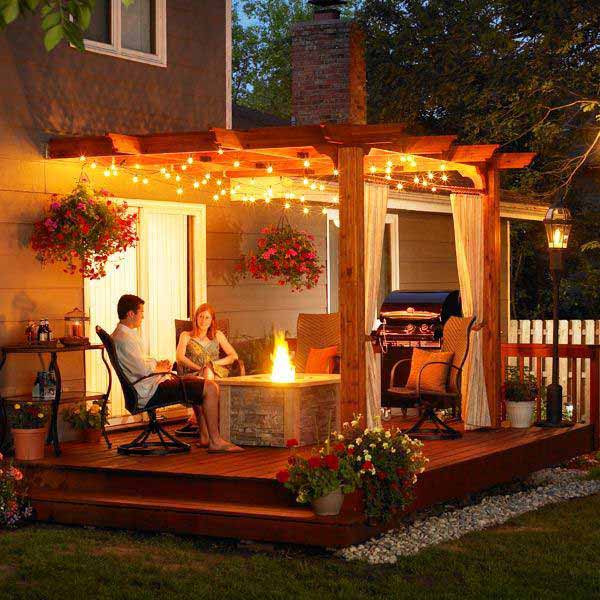 The fire pit isn't the only thing making this deck glow — the stunning pergola covering is lined with twinkling string lights.
Add in a few cozy chairs and a grill, and you're all set for summer entertaining.
via Wedding Chicks